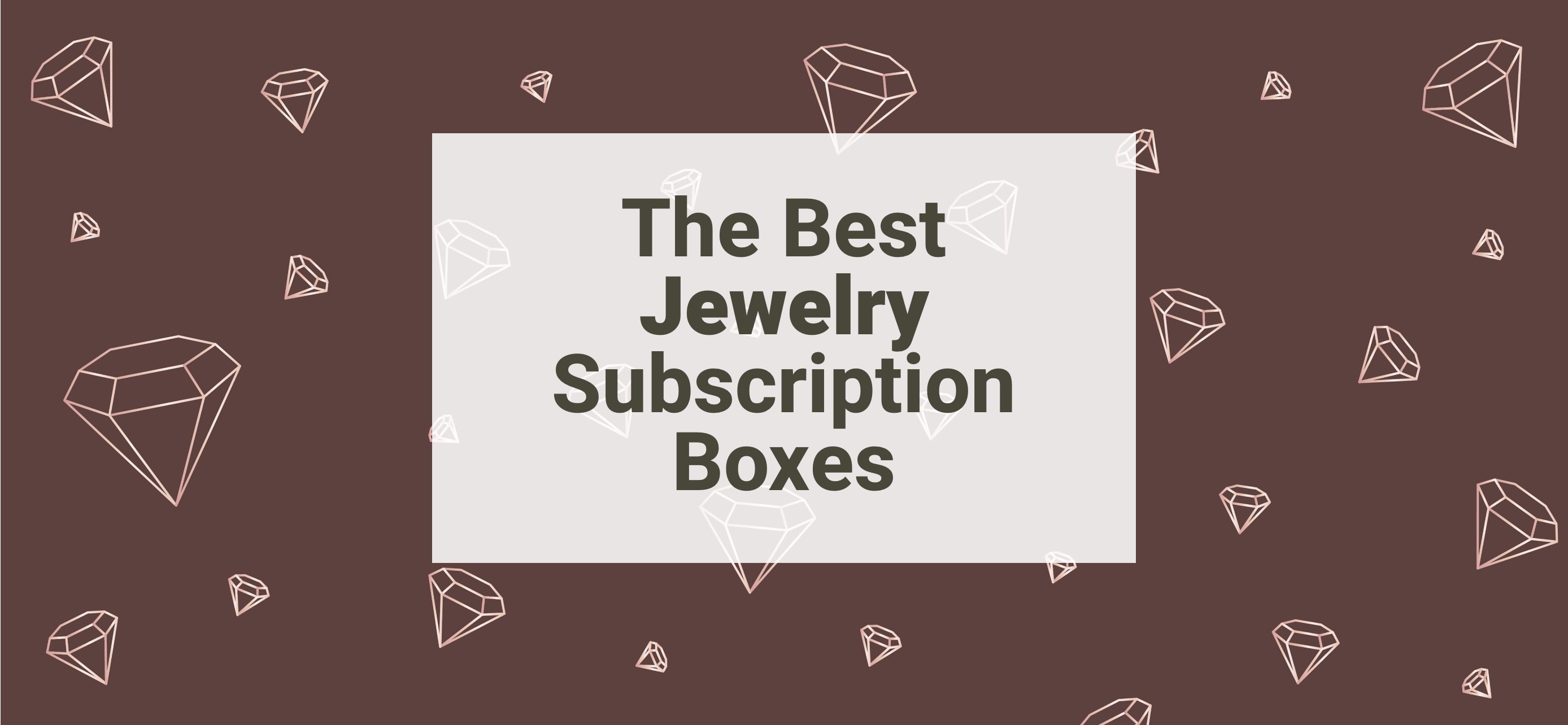 Pairing clothes, whether for work or play, with various types of jewelry is always fun and exciting! From artisan-made accessories to high-end bijouterie, there are lots of subscriptions that deliver jewelry to help you jazz up your looks. Some of them even consider your particular style preferences to give you the kind of jewelry that fits you the most.
Still looking for the perfect jewelry subscription for you? We rounded up the best jewelry subscriptions, by asking our readers to vote for their favorites! Below are all the jewelry subscription boxes that made it to the cut!
The Top Subscriptions Our Readers Recommend Most for Jewelry!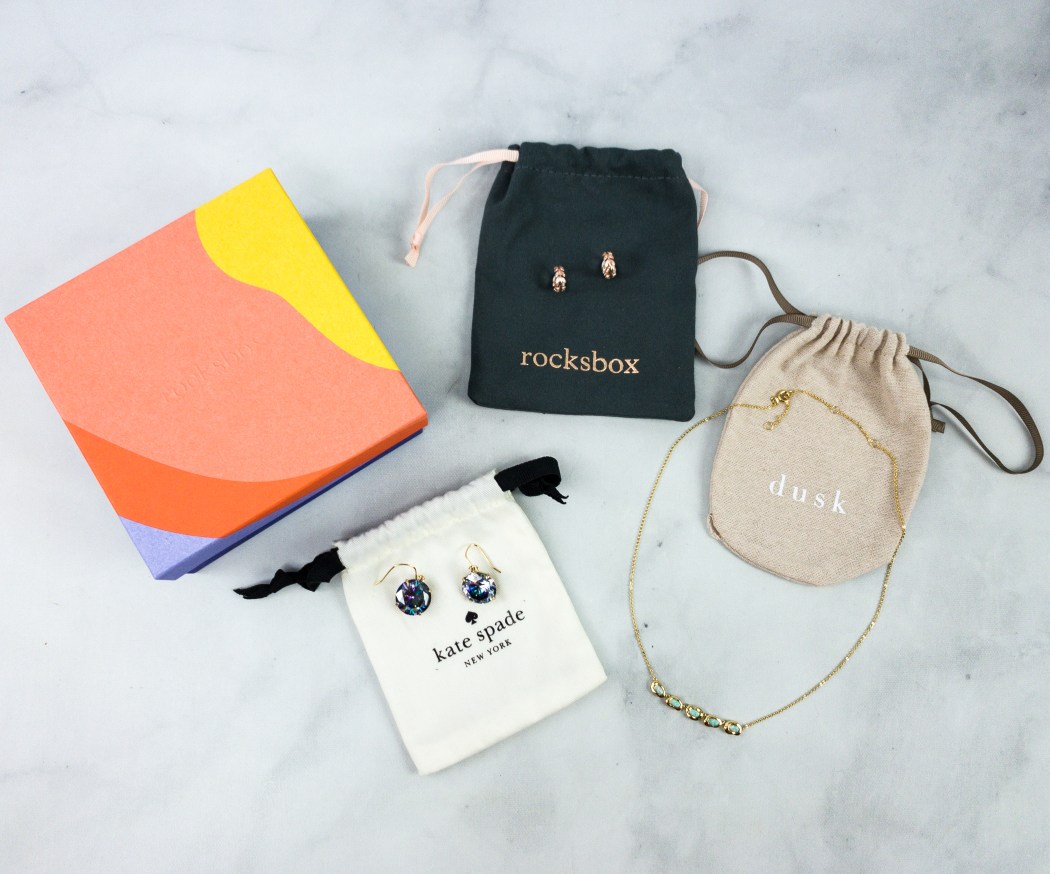 Image from: our review
After the initial parade of statement necklaces from the early days of subscription boxes, I find that I love just swapping my jewelry out and not having jewelry overload. I need to wear the latest things, but I don't need to own them. I buy pieces from my box about 3-4 times a year! – Adriana

Most of my jewelry is from Rocks Box. Quality pieces from familiar brands and new ones to discover. You can't beat their selection! – Ash

The price and quality is amazing!!!! I look forward to new jewelry pieces!!! They're always different and unique!! – Lindsay Mary

Rocks Box makes jewelry an adornment full of celebrating the everyday rather than just special occasions.  -CeCe

Super fashionable jewelry that gives me the opportunity to switch up my style.  – Brittany M.
What You Get: Jewelry adds flair to your style, whether there's an occasion or just an ordinary day. With Rocks Box, there's no need to break the bank because you'll be able to try a wide variety of jewelry with their affordable rental service. They will send you three gorgeous pieces to try out every month – wear the jewelry as much as you'd like and return them whenever you're ready for the next batch! They also have a wish list that you can easily update to get the styles you'd like to try. Who wouldn't love this convenient subscription that lets anyone glam up minus the hefty price?
Check out the Rocks Box Reviews to find out more!
Price: The monthly membership fee of $21 allows you to continue to wear and refresh your sets as often as you'd like.
Deal: Get your first month free! Use coupon code mommysplurgexoxo.
---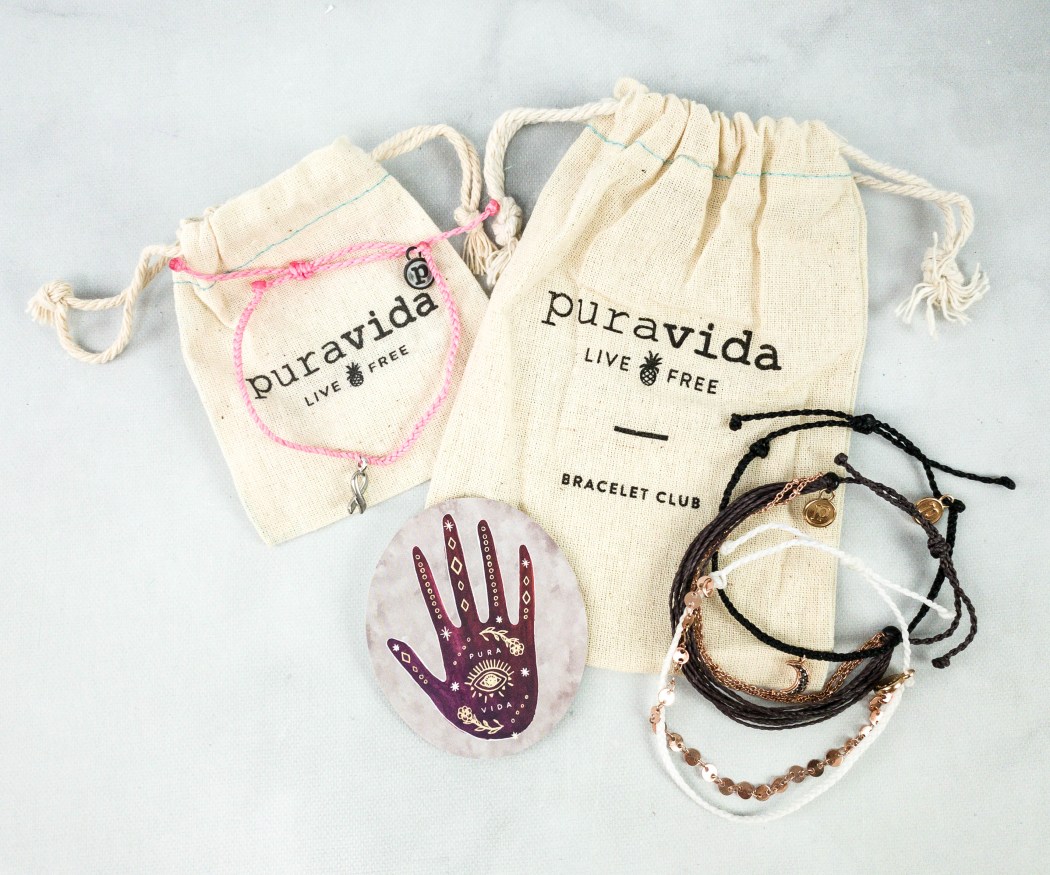 Image from: our review
This box is so fun for teens and they have a good mission too with their fair trade items – Lori

Love their bracelets and changing up my arm candy! – Susan A

My teen daughter loves these bracelets – MeLinda C

This bracelet box is awesome. It also makes a great gift. I have gifted it to my daughter and my granddaughters. It's great for all ages. – MaryA
What You Get: Pura Vida Bracelet Club sends trendy and fun bracelets you'll want to stack on your wrist, as most of the designs go well together! This subscription asks subscribers to choose between two exclusively designed bracelet packs every month, or leave it as a surprise! Each pack is worth over $45 and comes with three hand-picked bracelets from their most recent and popular collection, plus a monthly sticker. You'll receive an exclusive collection of artisanal jewelry, so you can glam up every time! 
Read the Pura Vida Bracelet Club Reviews for more details!
Price: The box costs $14.95 per month, plus FREE shipping.
Deals:
---
Image from: our review
Nice pieces every month with a choice of metal or mix and some unique pieces – Marcy

They have fun jelwery and add-ons I enjoy receiving a package every month! -Tiffany H

Every month is a new set of gorgeous jewelry that comes with a pretty picture and inspirational "story" on how she came up with that months set to make.  And the "she" being a momma of three that makes time making the beautiful pieces along with making her subscribers feel like they're all part of a big family together.  -Amanda

I LOVE MintMongoose, jewelry subscription box! Helena does a wonderful job with coming up with new jewelry desings each month….I get so many compliments on my jewelry! – Lisa K
What You Get: Receive the perfect jewelry you can wear on any occasion! Simple but stunning, that's what defines mintMONGOOSE! They'll send you three pieces of handcrafted jewelry each month, where you can choose between silver, rose gold, or gold tones. Inspired by real stories, you can find an explanation of the real-life inspiration behind each month's selection, plus a lifetime warranty. You can also add more fun by snagging a pair of earrings, rings, or even a graphic shirt for an additional low fee. Loyal subscribers also receive a gift every three months!
Want to know more? Visit our mintMONGOOSE Reviews.
Price: Receive three pieces of jewelry for $16.99 per month.
Deal: Get a FREE thank you gift every 3 months! Deal applies automatically, just visit and subscribe.
---
Image from: our review
I really think this is a step up from the bracelets box – still has the beachy look but wearable every day! – Cynthia V
What You Get: Step up your fashion game with beautiful jewelry pieces from Pura Vida Jewelry Club. This monthly subscription offers an exclusive sparkle and shine collection for artisanal jewelry lovers and collectors. Receive at least two pieces of jewelry each month, with up to $60 in retail value, plus an exclusive sticker. Whether it's earrings, a necklace, a bracelet, or something else, each piece is in line with the latest trends and is breathtakingly beautiful, fit for any occasion!
Check out the Pura Vida Jewelry Club Reviews to learn more!
Price: Subscriptions start at $19.95 monthly or less on prepaid plan options.
Deals:
---
Image from: our review
Super pretty, keeps my wardrobe interesting for a low price. – Amanda L.
What You Get: Glamour Jewelry Box is all about trendy and classic boutique accessories! This jewelry subscription keeps your accessorizing game on point by sending two gorgeous boutique pieces monthly (in your chosen color option) that are sure to elevate your look. It can be a mix of necklaces, rings, bracelets, or earrings with a promised retail value of over $70 in each box, and they're all for you to keep! It's an affordable and convenient way to expose yourself to new selections that you may not have encountered before.
Read Glamour Jewelry Box Reviews for more details!
Price: A box costs $34 each month.
---
Image from: Switch
I think this box helps me keep my jewelry game on point. Otherwise… I probably wouldn't wear any…. -Linda
What You Get: With Switch, finding the best jewelry to pair with your mood is as easy as A, B, C! It is a rental service created to empower people to discover and express their best selves using jewelry. It allows you to try authentic luxury designer jewelry from iconic brands like Hermes and Chanel in the comforts of your own home without breaking the bank! Once a member, you can wear one (Gold Plan), two (Platinum Plan), or three pieces (Black Plan), depending on your chosen membership plan, for as long (or as little) as you want and send them back when you're ready for the next batch. If you fall in love with a piece, you can purchase it at a special member price!
Check at how glamorous every piece of jewelry is when you visit Switch Reviews.
Price: Gold plan costs $45 a month, Platinum is $75 a month, and Black costs $95 a month.
Deal: Get $10 off your first box! Use coupon code FIRST10.
---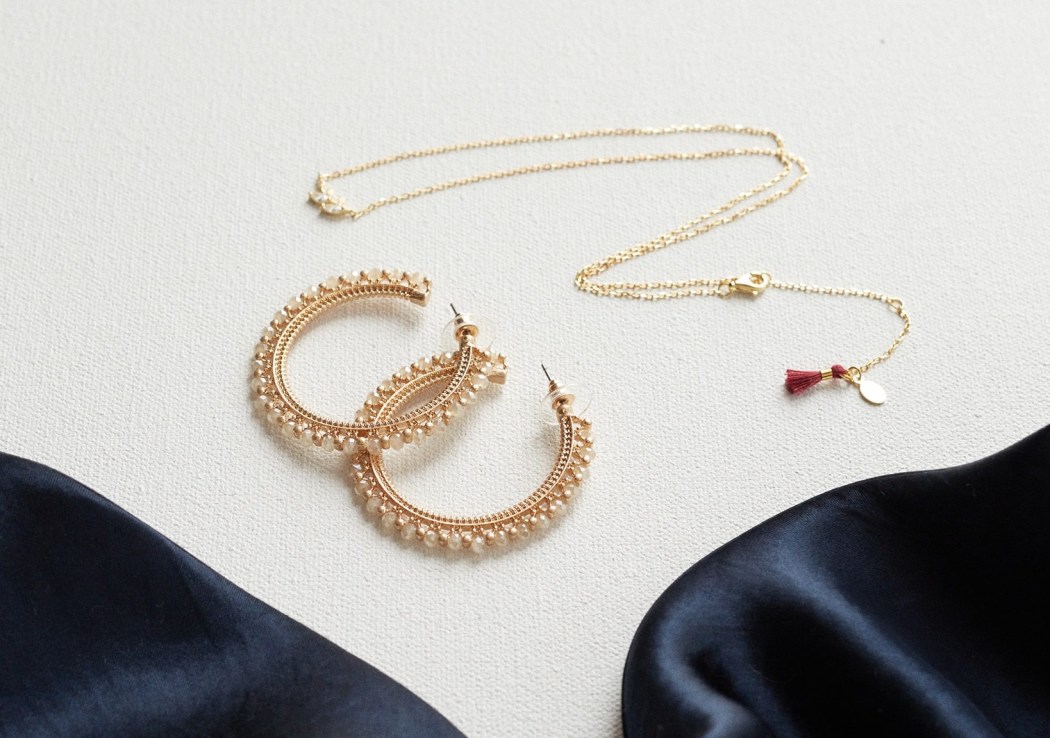 Image from: Stitch Fix
Love the accessories they selected with the outfit -Brandie P

While more Stitch Fix is popular for their clothing,  their accessories are just as great!
What You Get: Through Stitch Fix, you can find your perfect fit with personalized pieces hand-selected to match your style and size – all without leaving your home. If you want the latest jewelry trends to come knocking at your door, let a personal stylist do all the work for you! Feel free to be as detailed as you want and leave notes to your stylist because it helps them to send you only the best items. You'll always find fancy jewelry to pair with any outfit they send you. And just in case there's something that doesn't fit you or something not in line with your fashion sense, you can return them without an additional cost!
See more from past Stitch Fix Reviews!
Price: Styling fee is $20 per box. If you decide to keep everything, you save 25% on your whole fix. Returns have no additional cost.
---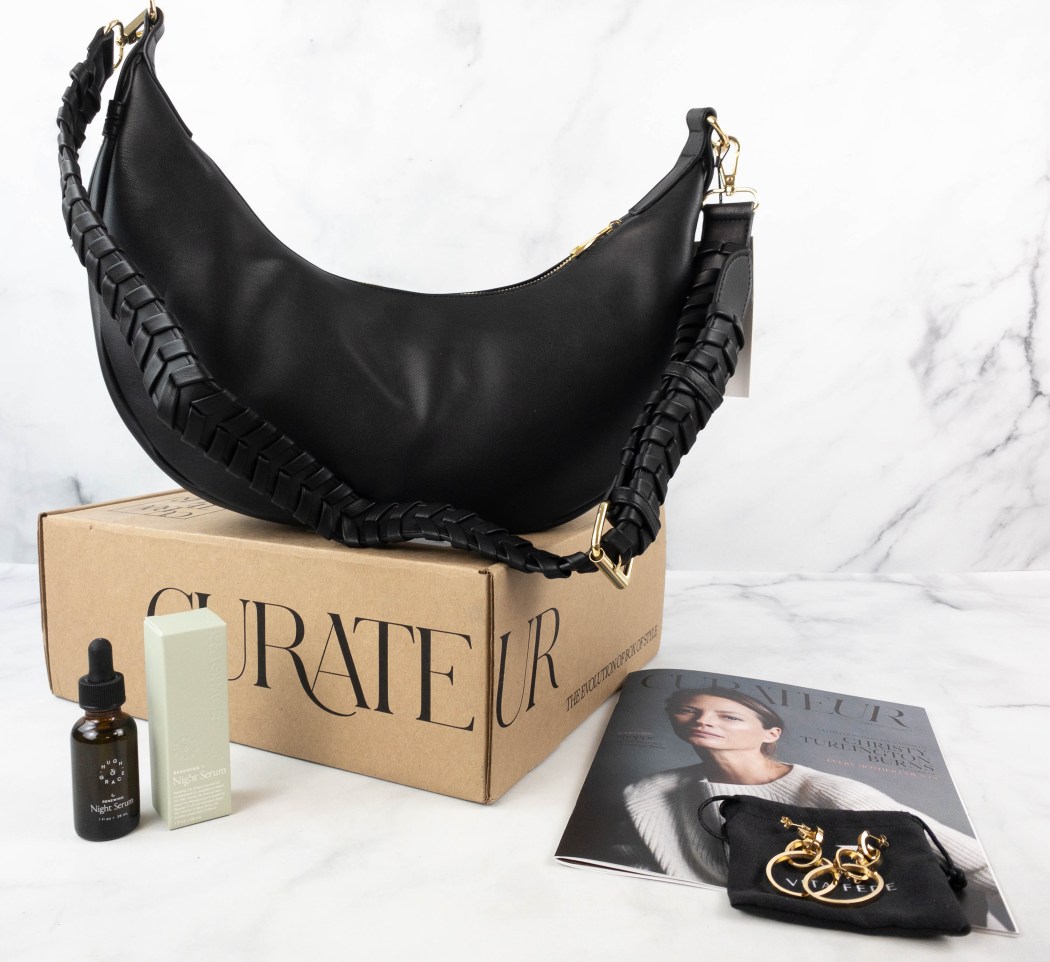 Image from: our review
If you like the Glam Hollywood almost throwback look, this is the box. Everything is very high quality and I always use everything in my box. I think it helps keep my work wardrobe chic, and the summer boxes are super fun. – Mimi P

This box isn't just for jewelry. The pieces I have received are gorgeous, good quality pieces that can used to dress up just about any outfit. They're high quality and versatile. These are the pieces I find myself reaching for day after day. – mecularmuse
What You Get: Curated by none other than Rachel Zoe herself, each CURATEUR is anchored by an exclusive seasonal collab. It is one of the most coveted box subscriptions around, and we're not surprised! Quarterly boxes are full of carefully selected products, including stunning jewelry that can be worn with every outfit – talk about versatility! They send out high-quality products from the most-loved luxury brands while introducing you to up-and-coming brands as well. All items are full-sized, giving you a bang for your buck! Subscribers can choose if they want to pay per box or get an annual prepaid membership, which has more perks.
Visit the CURATEUR Reviews to see past boxes!
Price: Ships quarterly for $99.99, or get the yearly subscription for $349.99 and save $50! Shipping is FREE in the US.
Deal: Save 25% on your first box! Use coupon code FALL25.
---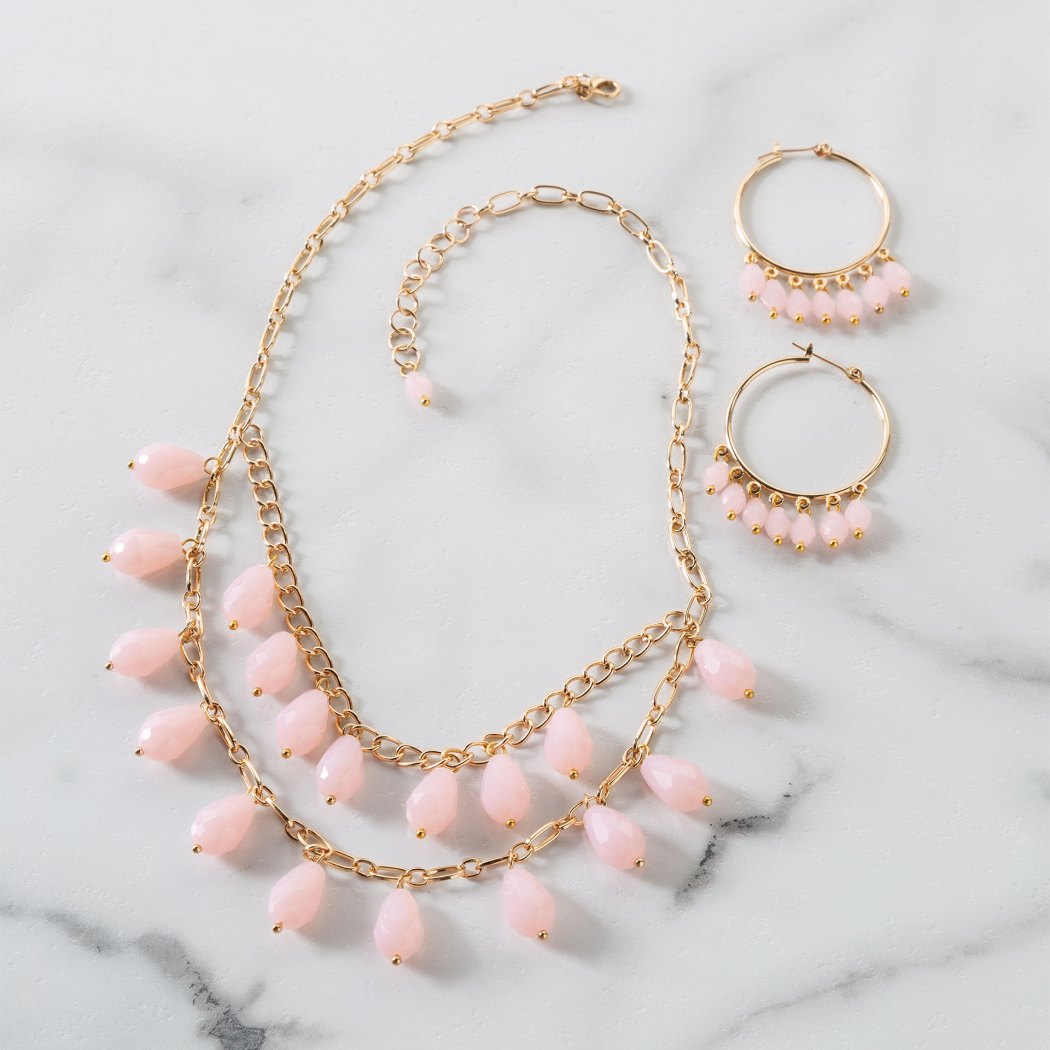 Image from: Annie's Simply Beads Kit-of-the-Month Club
Everything is included in the kit, and so many different techniques are used.  Nice variety of clasps, beads, and jewelry sets.
What You Get: Annie's Simply Beads Kit-of-the-Month Club is for those who like their jewelry with a personal touch! This fun subscription sends a kit loaded with high-quality beads and findings for you to be able to create different styles of jewelry pieces and sets monthly, ranging from bracelets to earrings to necklaces. It also includes step-by-step instructions and access to video tutorials, so even beginners can make DIY jewelry with ease. Aside from creating unique and versatile pieces for any occasion, you can also hone in on your beading skills at the same time!
Interested to know more? Check out Annie's Simply Beads Kit-of-the-Month Club Reviews!
Price: Get the subscription for $19.99 a month.
Deal: Get 50% off your first month! Use coupon code SHARE50.
---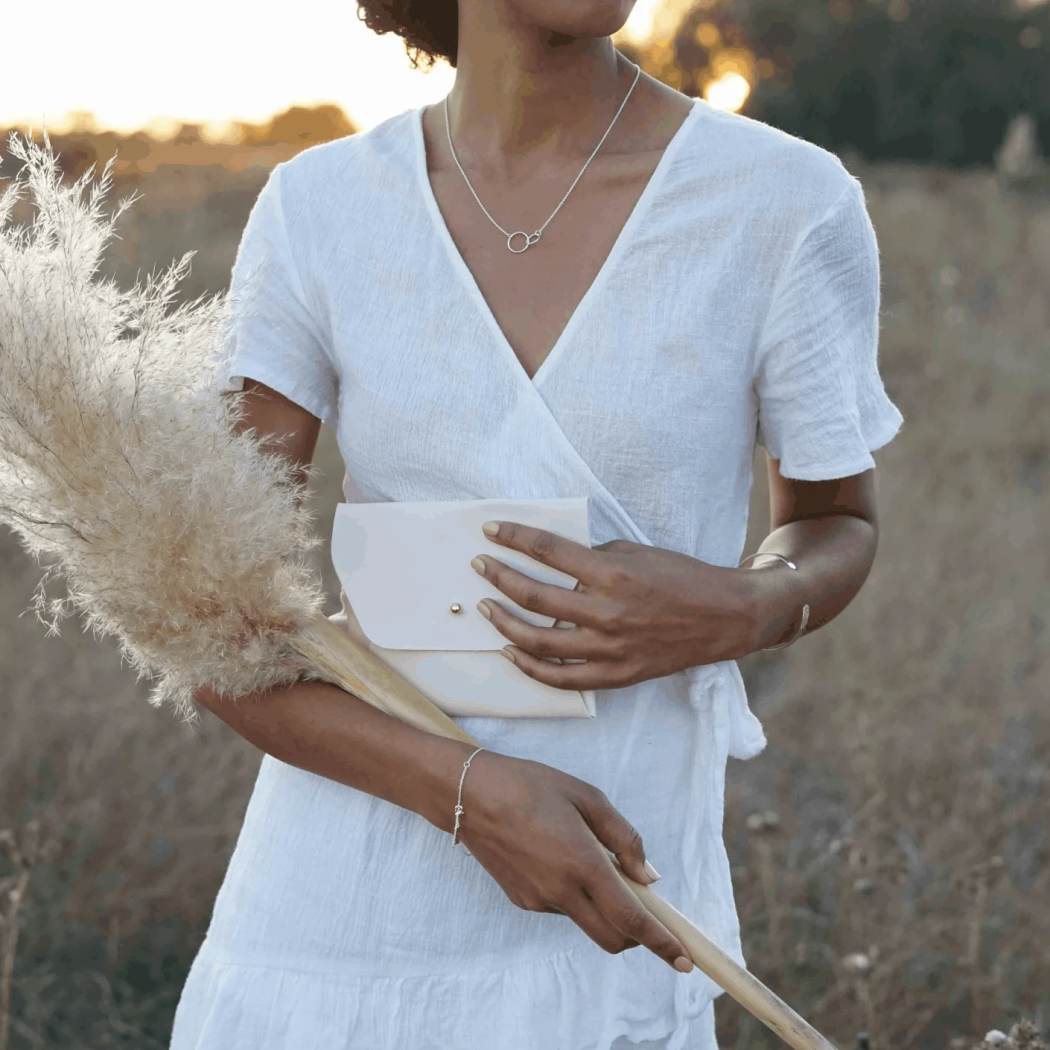 Image from: Penny + Grace
I like how sweet it is! – Emma

Affordable and caters to my sensitive skin -Erin

I absolutely love how allergen friendly they are! It's so difficult to find nice jewelry at decent prices that won't break me out!  Penny and Grace takes care of that issue!  – Intentionally Laura
What You Get: Penny + Grace delivers a trio of fresh styles and glamorous jewelry that you can wear every day, tailored to your color/metal preferences. Mix and match them, or layer them with other accessories that you have in your collection, and they'll still look gorgeous! Subscriptions are available in Gold, Silver, or a rotation of the two, which you can change at any time throughout the life of your subscription. These jewelry pieces are yours to keep, made from 100% lead- and nickel-free materials, so even those with sensitive skin can wear them!
Learn more by visiting the Penny + Grace Reviews!
Price: Subscription costs $29.99 per month.
---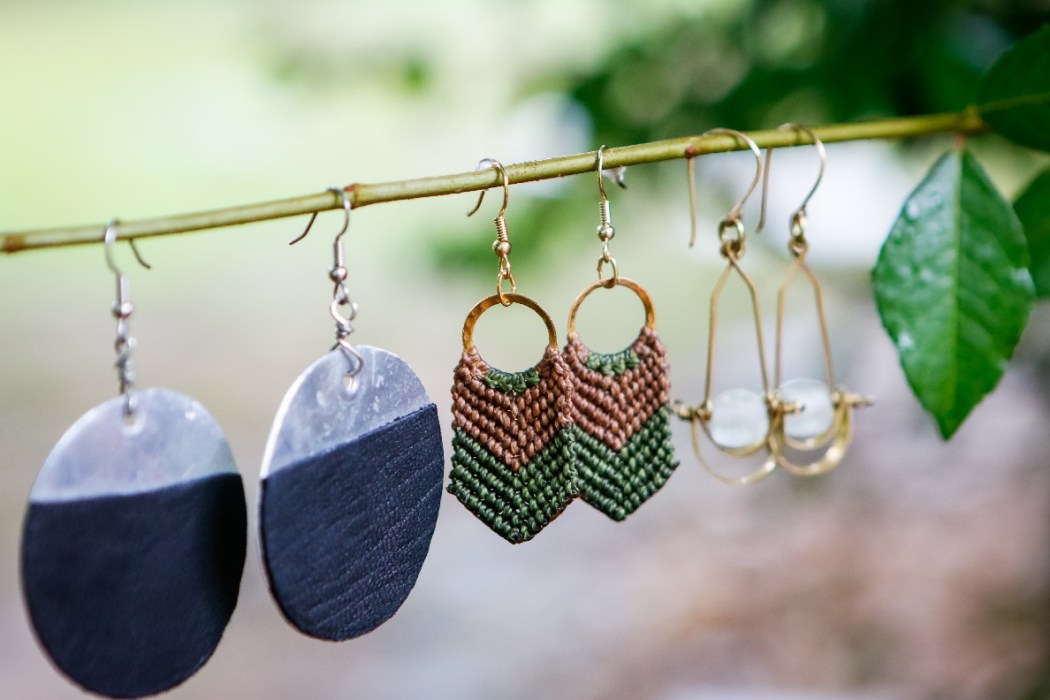 Image from: Fair Trade Friday Earring of the Month
What You Get: Fashionistas can now fill their jewelry stash with accessories made by global artisans! Fair Trade Friday Earring of the Month is committed to empowering women around the globe by providing jobs and an outlet through which they can distribute goods and overcome poverty. Supporting a good cause while receiving beautiful earrings every month is a definite plus! Snag a pair and let your ears shine. The designs are just so stunning and well-thought-out that it's difficult not to fall in love with every piece!
Read all our Fair Trade Friday Earring of the Month Reviews to find out more!
Price: Subscription costs $12.99 each month, with minimal savings on longer subscription plans.
---
Image from: Claire's Cdrop
What You Get: You'll find style, fun, and good vibes in every box you'll receive from Claire's Cdrop! Whether you're into cute & fun (BitsyDrop), trendy vibes (VibeyDrop), or enchanted with a dash of bling, sparkle, and glitz (GlitzyDrop), they have a box for every style and age range. It's the kind of surprise you'll get obsessed with every season. They send earrings, necklaces, bracelets, and more, so it's easy for you to accessorize and jazz up your look. Just pick a box, and receive a collection of jewelry most suited to your preferences!
Price: Subscription costs $30 per quarter.
---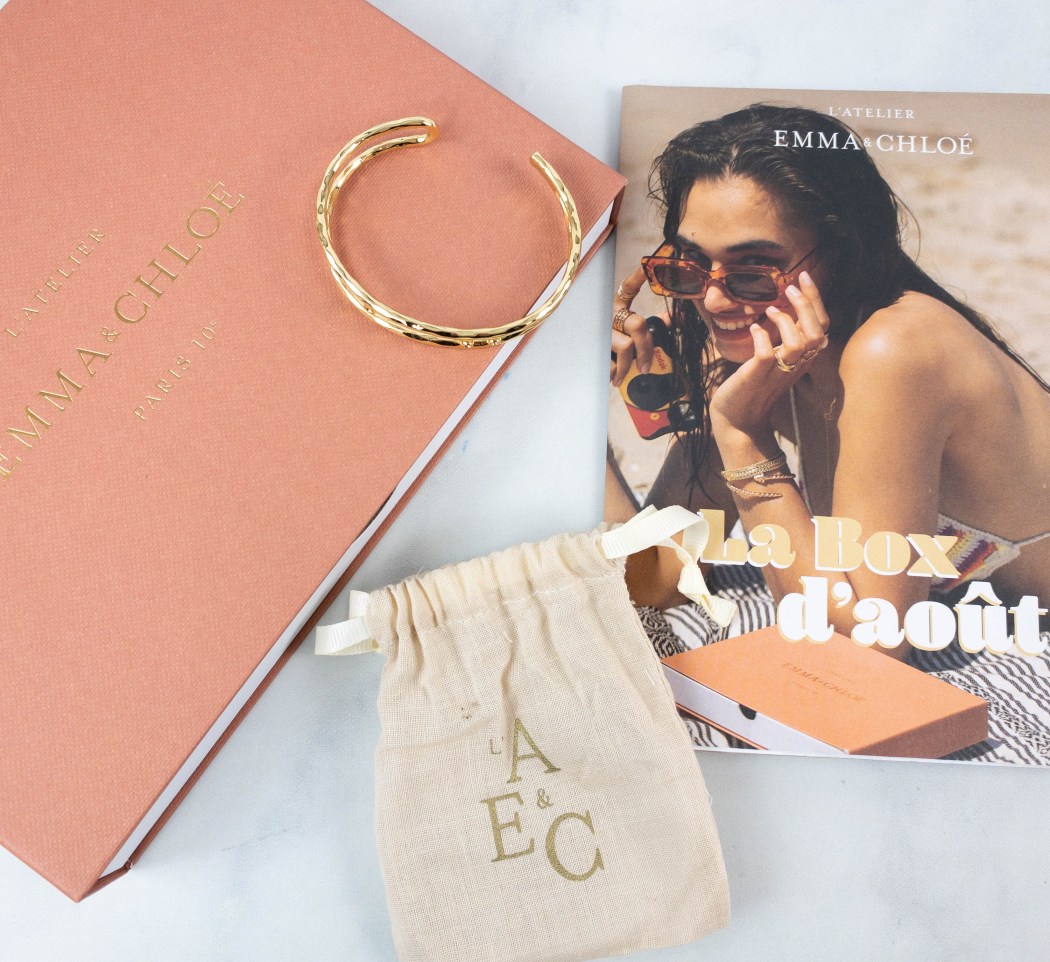 Image from: our review
Beautiful jewelry but customer service needs some work. – For the love of boxes!

Admittedly uneven on shipping, but I like their jewelry the best!!! – Adriana
What You Get: If you love French-designed jewelry, which is known for being elegant and sophisticated, then Emma & Chloe is for you! They'll transport you to a luxurious jewelry shop in the heart of France without leaving the comforts of your own home. Every month, subscribers will receive exclusive creations of up-and-coming French designers – the perfect accessories to complete anyone's Parisian look, valued at more than the price of the whole box! Where else can you find French fine designer jewelry at an affordable price? They also include a fashion guide with look inspiration for the jewelry.
Visit the Emma & Chloe Reviews to see past box contents!
Price: Each month, the subscription will cost you $35.
---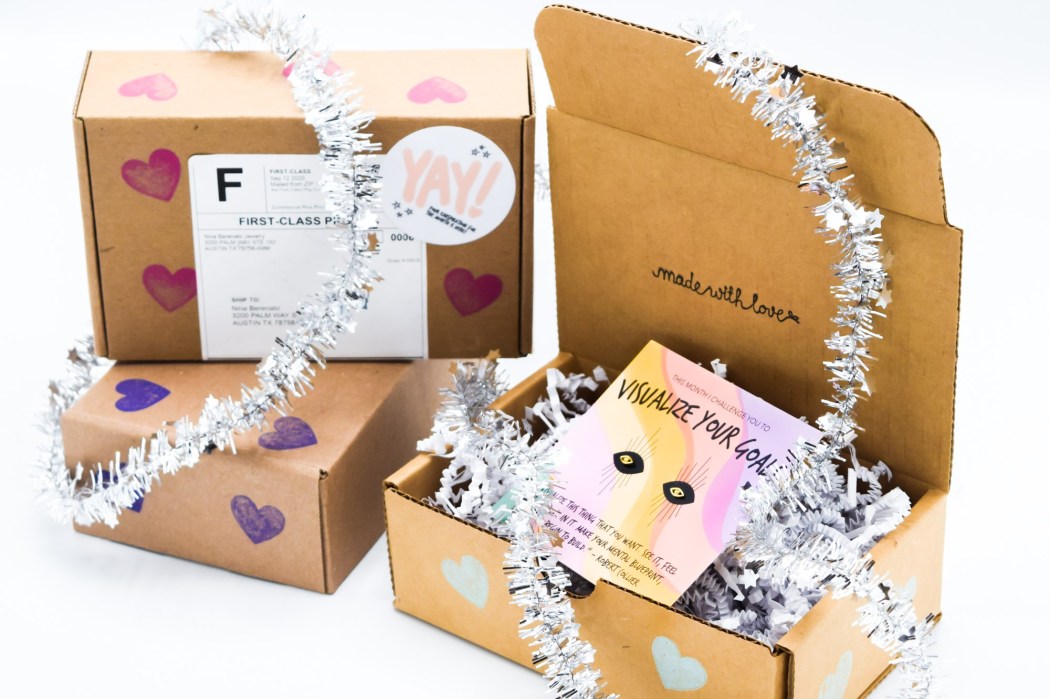 Image from: Earspiration of the Month
What You Get: Earspiration of the Month provides you with not only gorgeous earrings to wear but also motivation to reach your goals. This woman-owned business focuses on bringing joy by sending a cute pair of high-quality, hypoallergenic earrings monthly, along with a challenge that inspires you to push yourself to be the best! There is also a QR code that links you to the Earspiration community, where you can share your monthly challenge achievement. There's glam and inspiration that come in every box!
Price: Get the box for $18 each month.
---
That's your list for 2022's Best Jewelry Subscription Boxes! Which is your style?
Want more? Make sure to check out all the readers' choices for the best subscription boxes in every category!
Say Hello to More Subscriptions with Jewelry!
Find more jewelry options in these lists: