Socks may be little, but your wardrobe won't be complete without these staple items that keep the feet comfy in whatever footwear you wear! Socks are not just about comfort, but you'll also want trendy and stylish ones while cushioning your feet to prevent rubbing and blisters. Sock subscriptions remove the hassle of getting fresh pairs of socks to complement your look.
These subscription boxes are for busy professionals, casual sock lovers, or anyone who could use a new pair but doesn't have the time to go out and shop for socks. There's a subscription for kids, tweens & teens, men, and women. Some offer basic styles, but there are also themed sock subscriptions available for folks with specific tastes, such as geeks!
Fashion and function, that's what these subscription boxes are here for! Here's our list of the best sock subscriptions, so you'll never deal with missing pairs!
The Top 17 Sock Subscription Boxes To Rock Your Sock Game!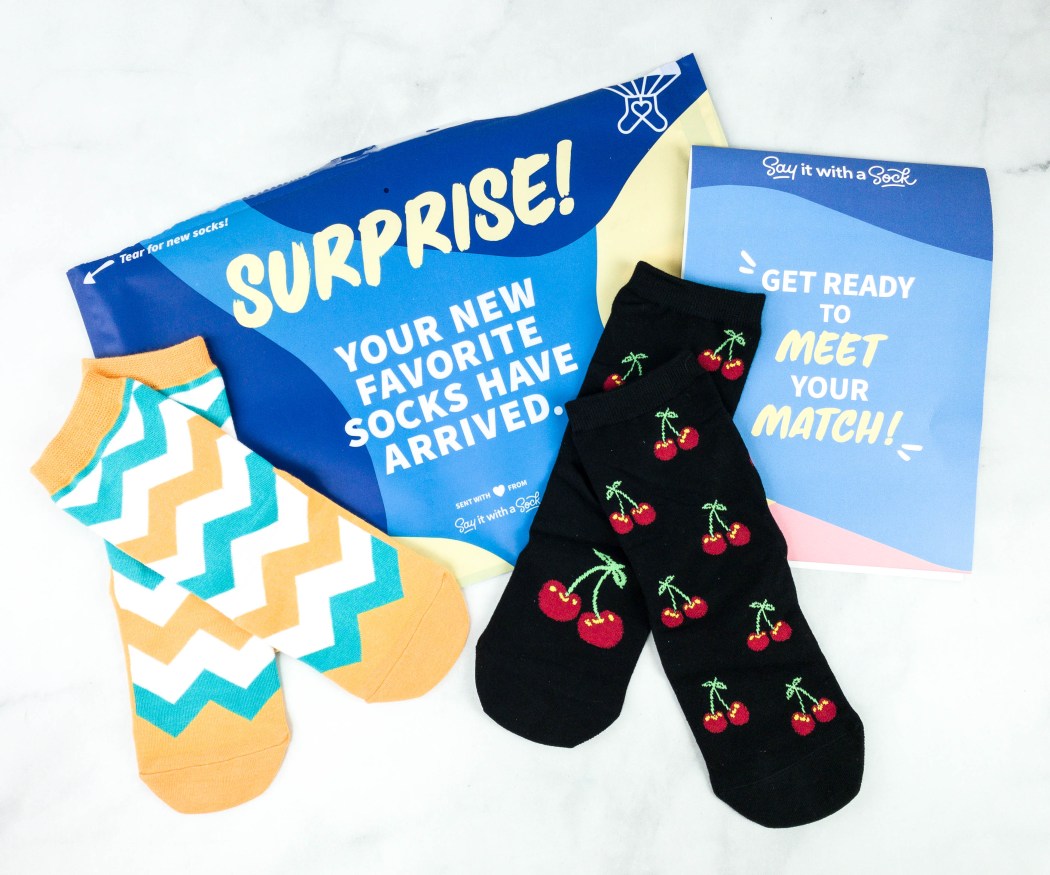 Image from: our review
Why We Love It: Say It With A Sock provides comfy socks made from the highest quality combed cotton every month, anyone – men, women, and kids, can pair with their fave footwear! Their mission is to help you discover awesome sock styles and brands to love. You'll be asked a few questions to help them personalize the subscription. Receive graphic socks or patterned ones with reinforced heels and toes in each box. You can also get an extra pair or get both sock styles for an additional $5 a month that fits great and looks great! Of course, there's no holding you back. You can upgrade, change, pause or cancel your subscription anytime.
Visit the Say It With A Sock Reviews to see past sock designs from the subscription.
Price: The box costs $12.99 per month, with a free pair for 12-month subscriptions.
Deals:
---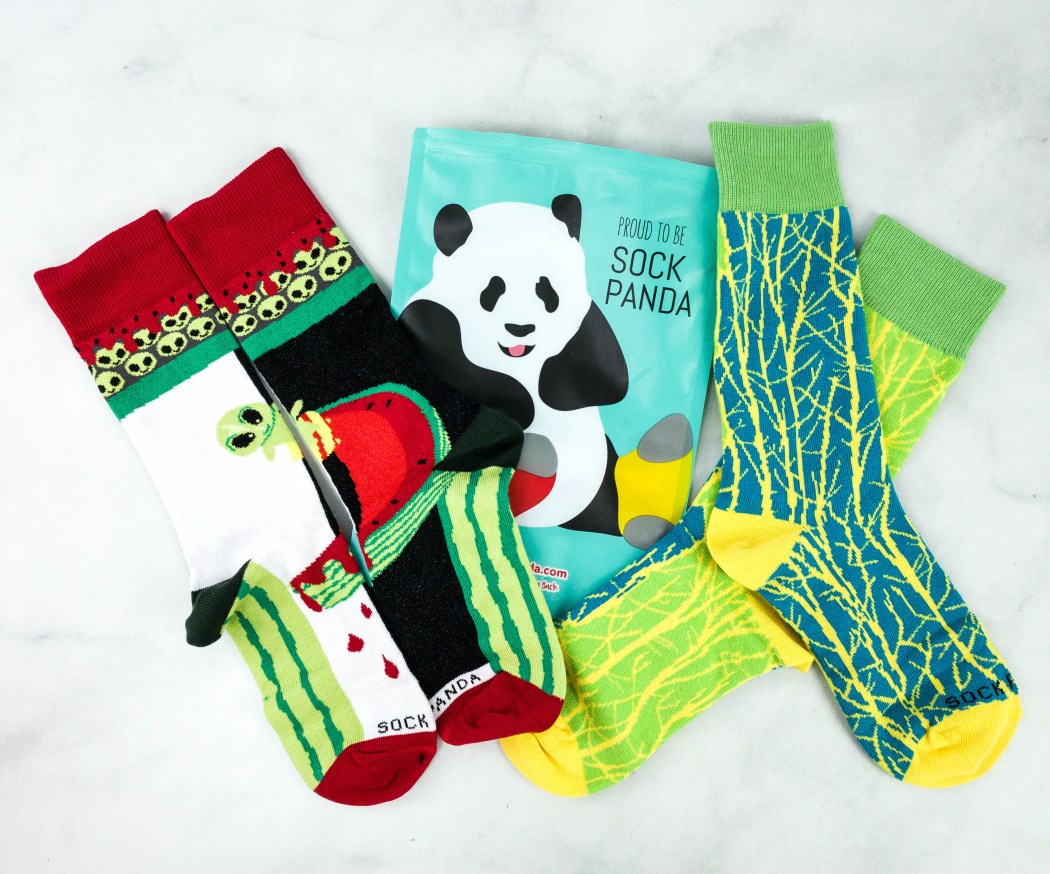 Image from: our review
Why We Love It: For the makers of Sock Panda, socks are more than just socks — it's a fashion statement! They make such bold and vibrant patterns as a means of expressing oneself and as a conversation starter. From crazy prints to bright patterns, each pair from the subscription is sure to help you stand out! They offer subscription options for men, women, tweens, and kids. There are two pairs in each package, and they make sure that you won't receive the same pair twice! What's even great about this subscription is they donate a pair to someone in need for every sock purchase.
Check out Sock Panda Reviews for more details.
Price: A pair of socks costs $14 per month, while 2 pairs cost $21 a month. Save more when you opt for longer subscriptions.
Deal: Save 10% off a new subscription! Use coupon code PANDA10.
---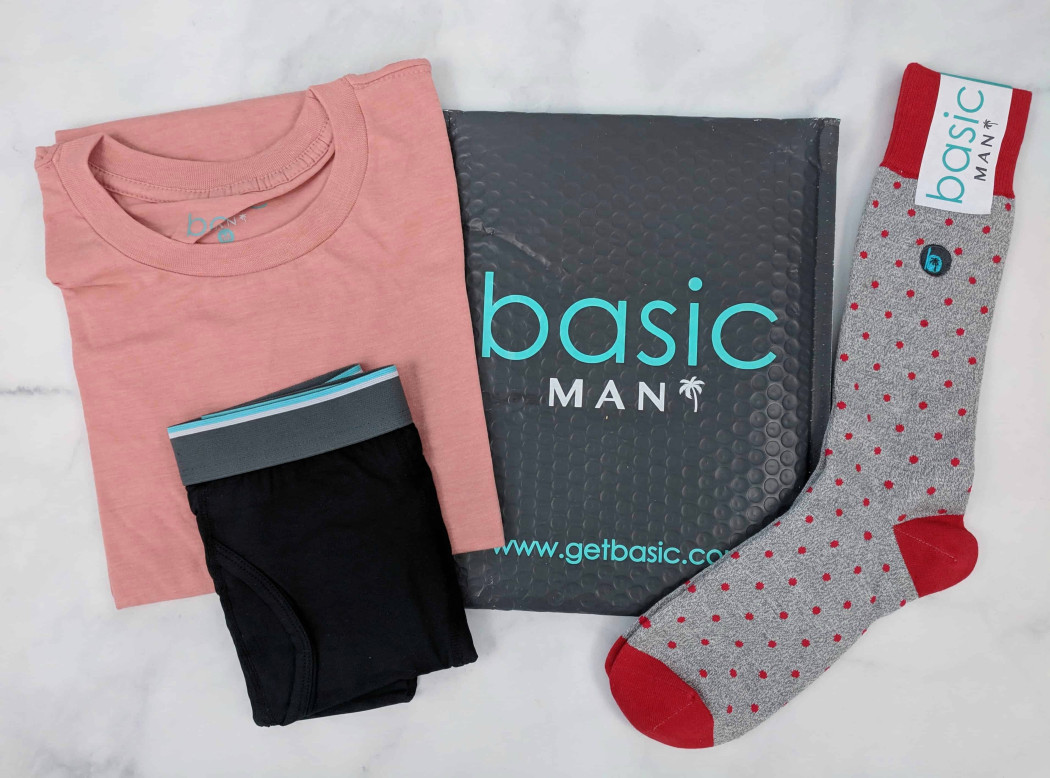 Image from: our review
Why We Love It: Basic Man offers premium quality socks together with other clothing basics like shirts and boxer briefs – definitely not your average department store basics! These products are environment-friendly and basically desirable basics for everyday use. What makes it really convenient is that there's no commitment, which means you can cancel anytime. They make it easier to shop for the essentials – all you really have to do is choose your size and then wait for the items on your door. The styles and designs may vary from month to month, which adds a little surprise to your monthly delivery. Also, items have an expiration date or what they call "destroy by" dates, encouraging you to donate, recycle or repurpose them when they expire.
Read the Basic Man Reviews for more information.
Price: Subscription is priced at $24.99 per month, with savings for longer subscriptions.
Deal: Get 50% off your first month! Use coupon code HELLO50.
---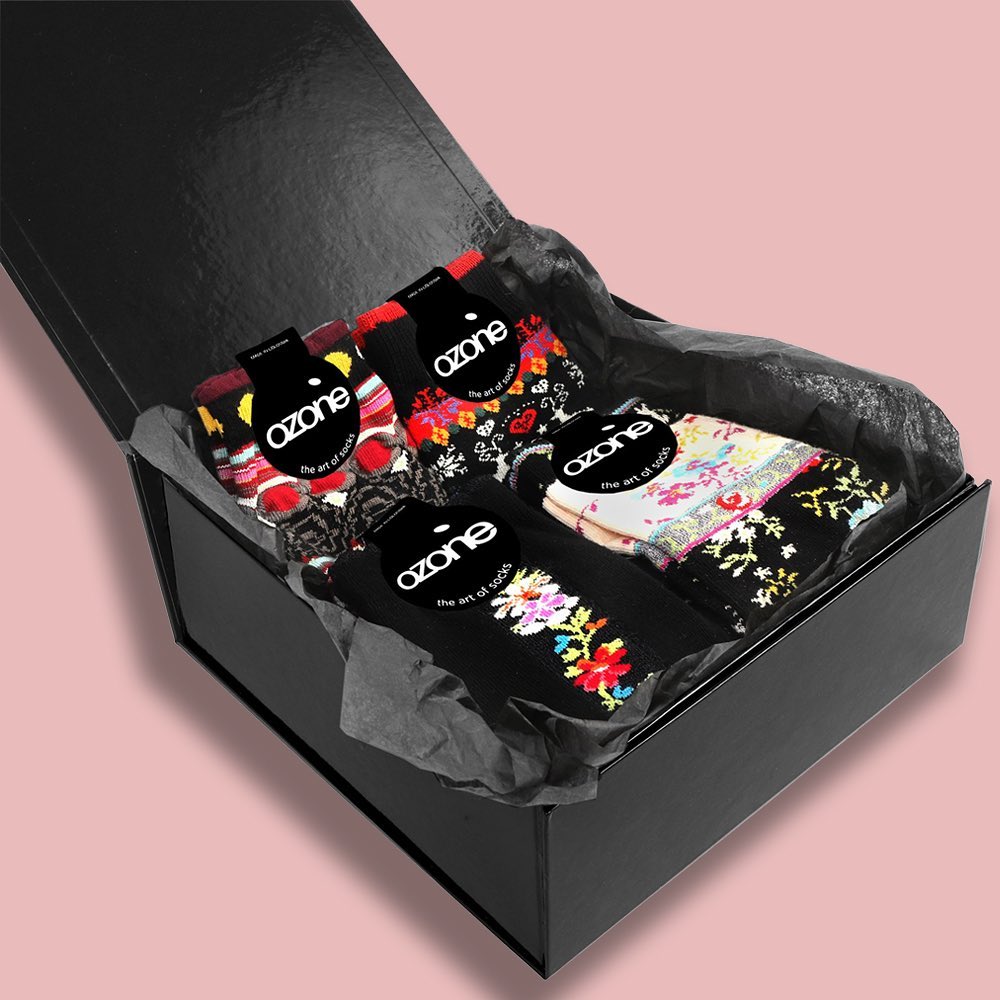 Image from: Ozone
Why We Love It: Ozone Sock of the Month Club offers socks for both men and women – one can use for every kind of occasion. From cool geeky designs to geometrical patterns, they have everything to knock your sock obsession! They've partnered with family-owned mills to produce unique socks with the best materials there is. Join the Sock of the Month Club and receive a fresh new pair every month with exciting designs that'll boost happiness to your sock game! Subscribers also get 25% off all full-priced purchases, early access to big sales & new designs, and a free pair on their birthday (12-month membership).
Price: $75 for a 6-month subscription, and $150 for a 12-month subscription.
Deals:
Save $10 On Orders Over $80! Use coupon code 10offover80.
Get 25% Off Orders Over $50! Use coupon code A25OVER50.
---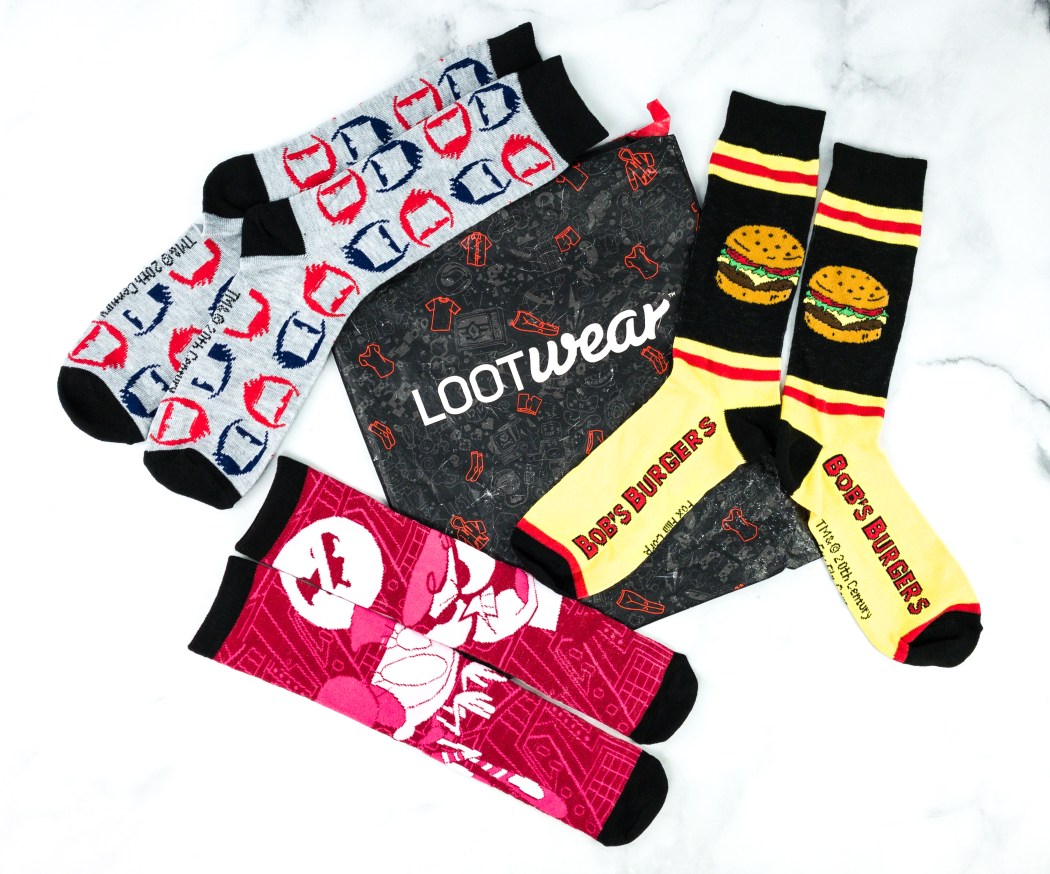 Image from: our review
Why We Love It: Loot Socks is a part of Loot Wear by LootCrate, and it is the ultimate sock subscription for geeks! Every month, geeks of different fandoms will be served with two exclusive pairs of fun, nerdy, pop-culture socks in each package, inspired by your favorite movies, TV shows, video games, comics, and more! Styles might include crew socks, dress socks, and sublimated socks. You can always have your fandom with you wherever your feet take you!
Check out Loot Socks Reviews to see past geeky sock designs from them!
Price: Subscriptions start at $9.99 per month. You can bundle this subscription with Loot Tees for additional savings!
Deals:
---
Image from: Foot Cardigan
Why We Love It: Foot Cardigan is a fun sock subscription for men, women, and kids, loved by many! Their only goal is to make your feet ridiculously good-looking and feel fancy. They allow anyone to treat their feet with high-quality socks on repeat by sending one or two pairs of no-show or graphic crew socks every month. These socks combined color, comfort, and cheer as each pair is made with combed cotton and designed with fun in mind for your ultimate sock-ing pleasure!
Read our past Foot Cardigan Reviews for more info.
Price: Subscribe and get a pair for $12.99/month or two pairs for $18/month.
---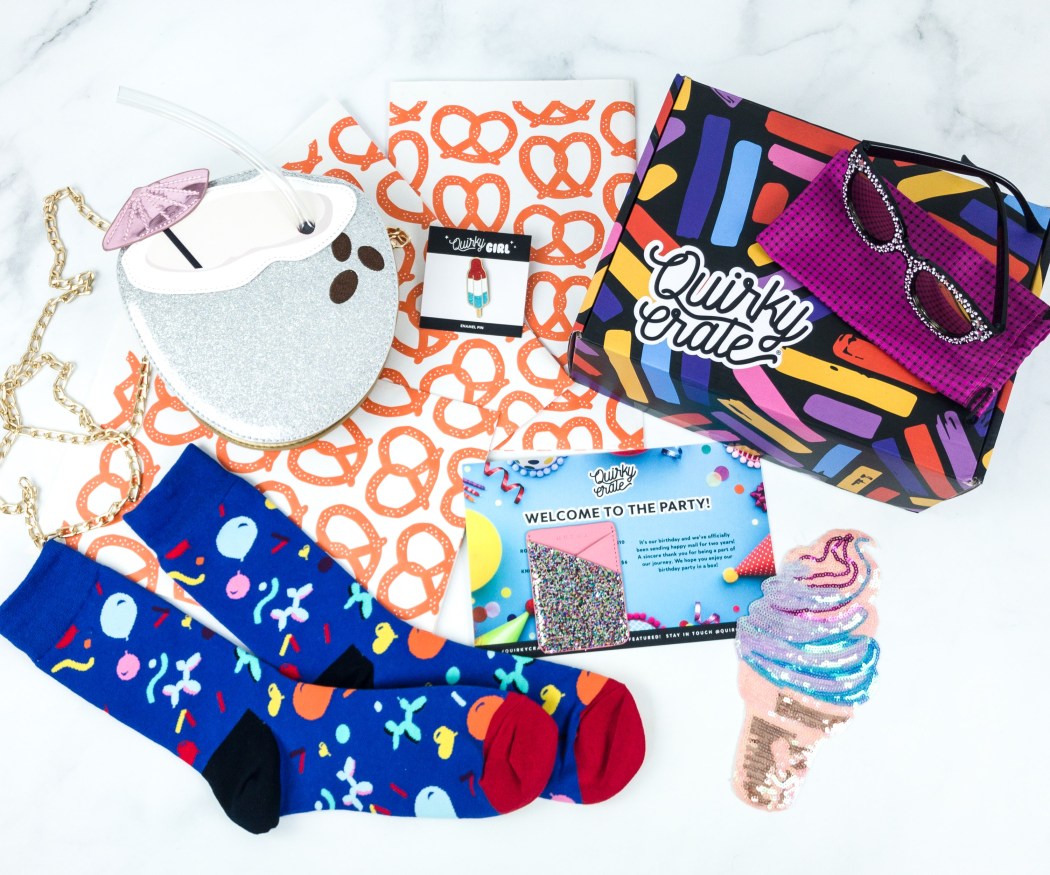 Image from: our review
Why We Love It: From the name itself, Quirky Crate is all about the well-curated quirky stuff. They send a wide range of items, and it always includes socks! They also often collaborate with indie artists to introduce subscribers to up-and-coming talents, as well as quirky women who excel at what they do! With this subscription, you can expect anything from a cool pair of socks to eccentric handbags and accessories to stationery items and stickers, and it's always colorful. There's a promised value of $70+ in every box – definitely worth it, especially if you love collecting unique and novelty stuff!
See quirky socks from past boxes by visiting Quirky Crate Reviews.
Price: Monthly subscriptions start at $36.95 per month.
---
Image from: our review
Why We Love It: Society Socks have subscription options for both men and women. Two pairs are included in every package, and socks range from simple to bold. The socks are made from ultra-soft combed cotton, have unique and fun patterns, and even a non-slip cuff to keep you comfortable while wearing them – no more tugging and pulling! This subscription also pledged itself to donate a pair of socks to a homeless shelter for each pair of socks sold. Truly a sock subscription with a social cause!
Head on to Society Socks Reviews to get an idea about the socks they send.
Price: Subscription starts at $20, with 10% savings for 6-month subscriptions and 20% savings for 12 month-subscriptions.
Deal: Take 50% off your first box. Use coupon code TAKE50.
---
Image from: our review
Why We Love It: One of the men's staple pieces of clothing is socks, and Southern Scholar Socks is all about fashionable socks for them without sacrificing comfort. They pick the best sock styles to go with men's finest business attires. Each box contains one pair of dress socks, plus a well-detailed styling card that will help you match it with various outfits to make sure you'll always look your best! They even describe their socks as simple, subtle, and sophisticated, so you can always expect that their pairs have a nice fit. Also, the socks are engineered to fit any foot size, so they're really for everyone!
Visit the Southern Scholar Socks Reviews to know more.
Price: $15 per month, or less with longer plans.
---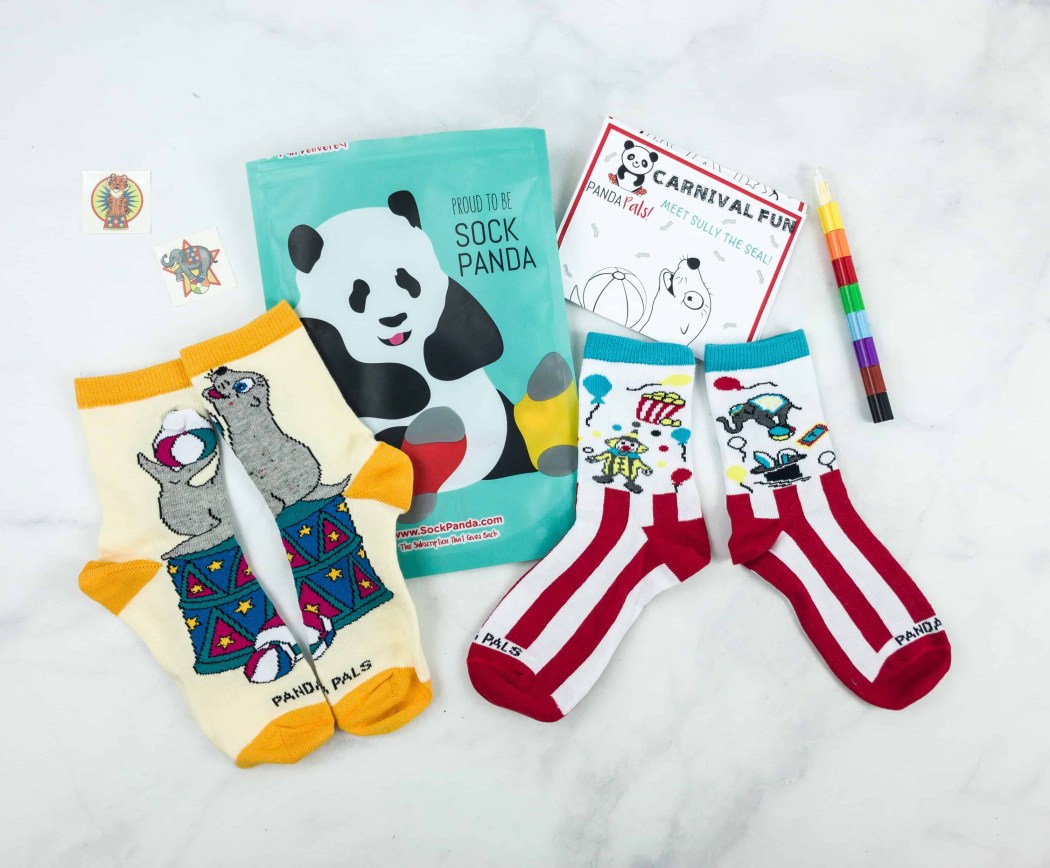 Image from: our review
Why We Love It: Panda Pals does not just send fun and colorful socks, but they also encourage play and learning by including bonus items like stickers and learning pages in every package! The items come in a pouch instead of a box, and it contains two pairs of cute socks that kids will be delighted to wear, featuring adorable characters, animals, and shapes. Plus, fun facts, activities, and fun extras, all centered around a theme. Past themes include Robots, Honeybee, Giraffe, Rainforest, and more! The subscription also gives back to the community by donating socks to those in need with every purchase made.
Take a look at our past Panda Pals Reviews.
Price: It's $16 a month, or less when you opt for longer plans.
Deal: Save 10% off a new subscription! Use coupon code PANDA10.
---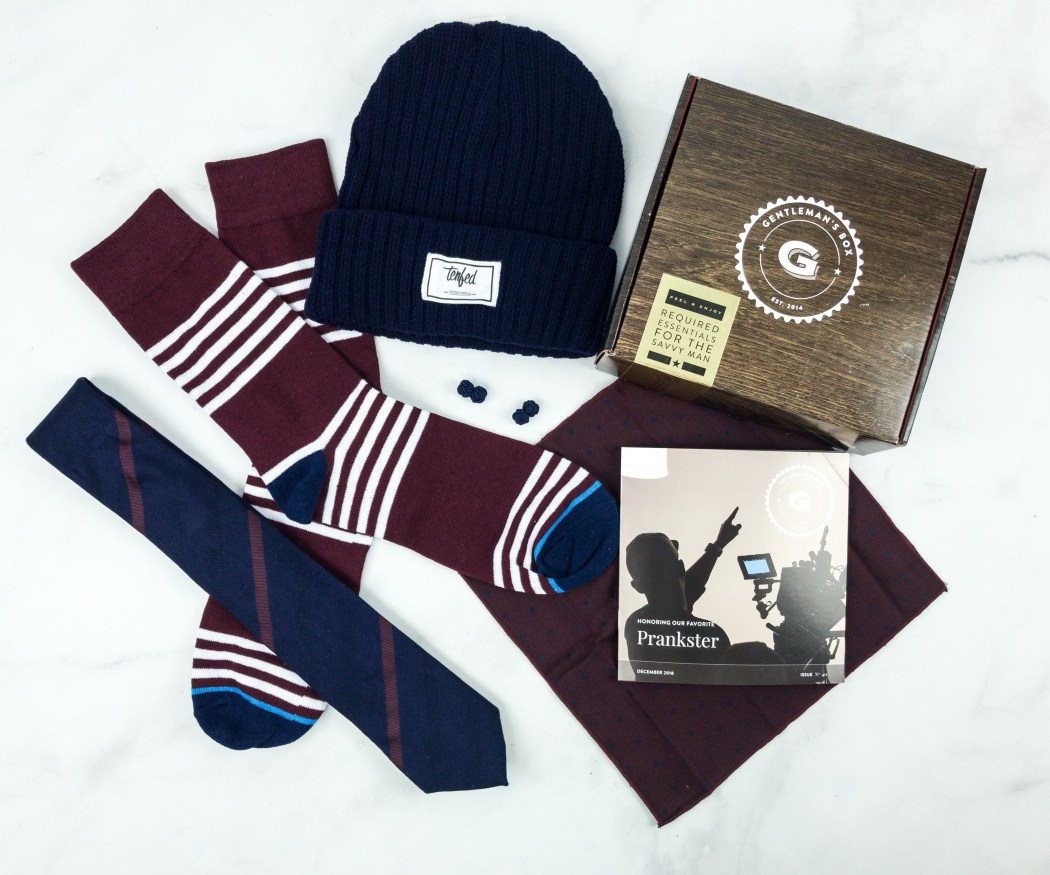 Image from: our review
Why We Love It: The Gentleman's Box aims to help every man out there become the gentleman they're supposed to be by providing essentials that'll enhance one's lifestyle, and that includes a pair of high-quality socks. Each box includes 4-6 hand-picked fashion and lifestyle accessories items like genuine leather goods, necktie, lapel pin, watch, and of course, comfy socks. Sometimes, they do throw in grooming samples for you to try! They also offer a premium subscription that ships quarterly with content centered around the season and inspired by luxury brands. Whatever subscription plan you choose, you'll surely be served with perfect fashion and lifestyle accessories to complete your look.
Have a look at The Gentleman's Box Reviews to know more about the subscription.
Price: Boxes start at $35 per month, with free US shipping.
Deal: Save $5 on your first box. Use coupon code HELLO.
---
Image from: Blacksocks
Why We Love It: Blacksocks mean it when they say premium socks. This sockscription sends three pairs of luxury socks delivered every quarter straight to your doorstep. They'll help you discover and find the right socks to accompany your feet in whatever shoes your wear. You can choose from classy black ones, colorful socks, sneaker socks, and funky socks. Take your pick and enjoy the comfort that comes with every sock you choose to wear. From cotton to organic cotton, wool to cashmere material, the choice is always up to your feet!
Price: It's a quarterly subscription priced at $98.
---
Image from: Boldfoot Socks
Why We Love It: Boldfoot Socks Sock of the Month Club allows you to enjoy differently designed socks every month! The package they'll send you includes one or two pairs of casual/dress socks at fair prices that aren't available in local stores. These could be in existing designs available in their shop but new colors, or something entirely new. These socks are manufactured in the USA with materials sourced in the US as well – it's 100% American-made! In case your socks ripped, tore, or developed holes in the span of three months from purchasing, they'll gladly replace them for you. Also, 5% of their profits go to veterans in need.
Price: Prices start at $41, with minimal savings for longer subscriptions.
---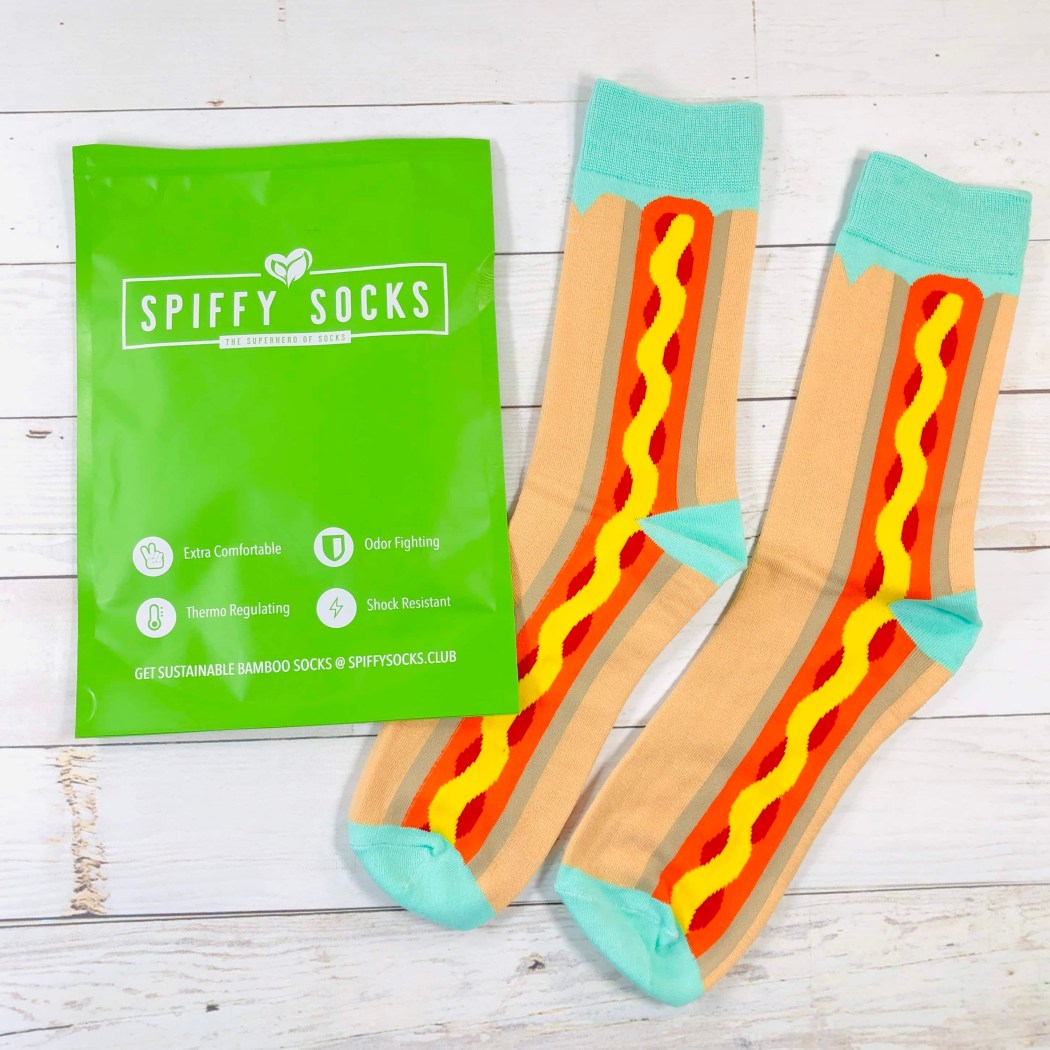 Image from: our review
Why We Love It: Spiffy Socks provides sustainable comfort as the socks they send out are made with bamboo fiber, which is known to be lightweight and moisture-wicking. It also combats odor naturally and has a thermo-regulating ability, and that's why this sock subscription is loved by many. Each month, you'll receive one cool and stylish pair of socks you'll ever wear! If you don't believe that a pair of socks could be this amazing, you should give this subscription a shot!
Learn more about this subscription by checking out Spiffy Socks Reviews.
Price: $11 per month, shipping is free.
Deal: Get 10% off for the life of your subscription! Use coupon code HELLOSUBSCRIPTION.
---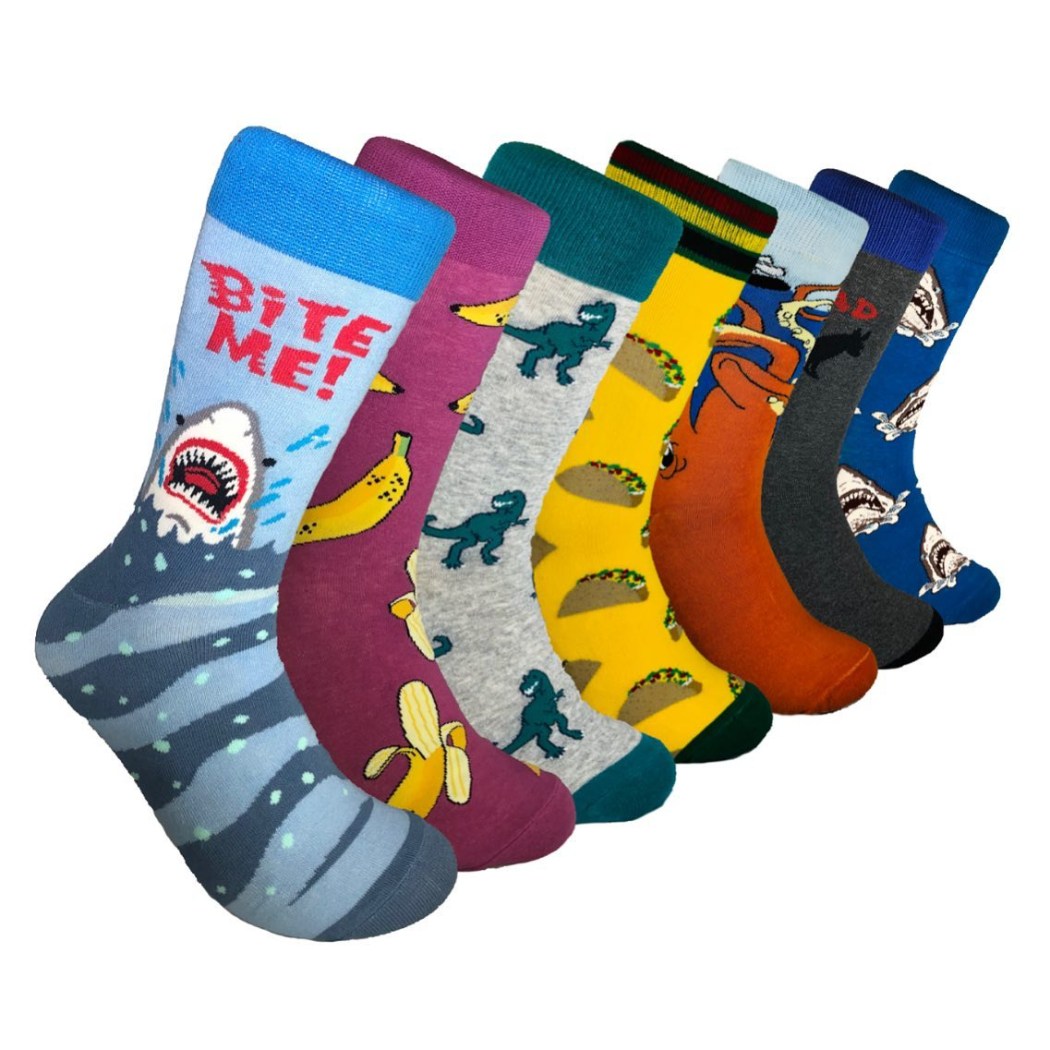 Image from: Threaded Pear
Why We Love It: With Threaded Pear, you'll receive an amazing pair of socks that show great details and style! You will get high-quality, long-lasting socks every month, delivered to your doorstep for a fair and reasonable price. Personalize the subscription by answering a short survey, including just how bold you want your socks to be. Getting a fresh pair each month for less is absolutely awesome! Guaranteed, these are socks that don't suck!
Price: You can get a single pair for $13.99 per month.
Deal: Get your first pair for only $3! Use coupon code 3BUCKS.
---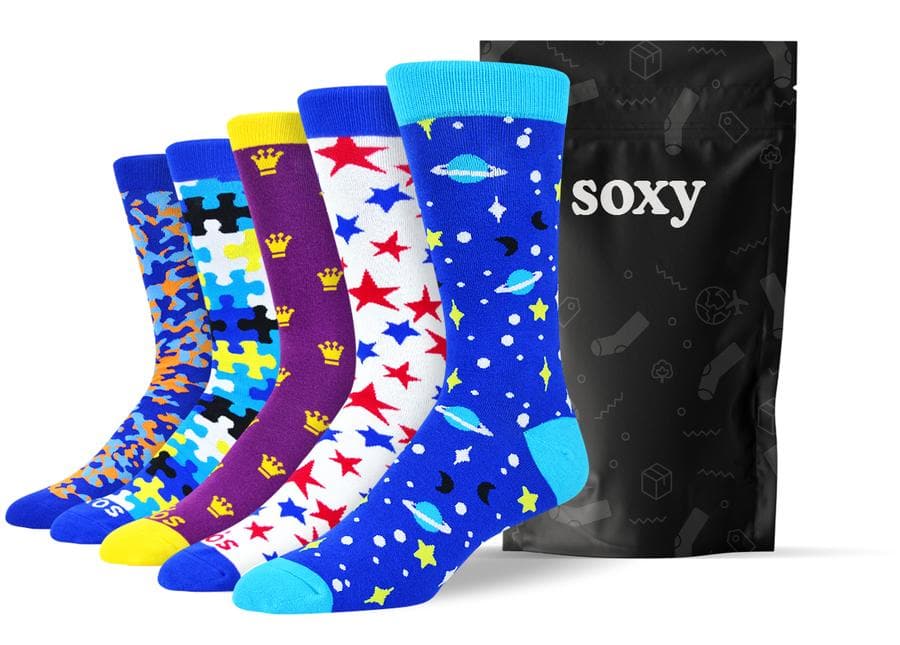 Image from: Soxy Socks
Why We Love It: When you're tired of the same old-styled or plain-looking socks, Soxy Socks have a variety of socks to choose from! Believing in the power of self-expression helped them offer the coolest and most comfy socks to wear for different style profiles. Their sock club applies to both men and women, and they'll send 5 limited edition socks in your chosen delivery frequency – monthly, bi-monthly, or quarterly. It's guaranteed that there's a style for everyone, and you'll never get the same sock twice!
Check out Soxy Socks Reviews to learn more about this amazing socks subscription.
Price: The subscription costs $50 each month.
---
Image from: our review
Why We Love It: Sprezzabox sends premium socks along with other curated accessories for modern men, like ties and pocket squares. Every month, subscribers have the option to choose from different packages valued at at least $100, and everything in it is yours to keep. A team of skilled stylists curates each box, and the curation always complements one other, resulting in a sharply coordinated ensemble!
Visit the Sprezzabox Reviews for more information.
Price: $28 per month, or less with longer plans.
Deal: Take 20% off the first box! Use coupon code HELLO20.
---
And there you have it, our rundown of the best socks subscription boxes! Have you seen your favorite on the list?
Discover more exciting subscriptions! Check out our list of the best subscription boxes for 2022!
Say Hello to More Socks and Gift Ideas Subscription Boxes!