For busy women, department store shopping is simply not an option. But how can we be fashionable on every occasion? Well, that's where these women's clothing subscription boxes come in. These subscriptions customize the boxes based on your personal style or your lifestyle. Most subscriptions ask you to fill up a style profile upon sign up and after that, you just have to wait for your new clothes to be delivered at your door. From workwear to casual clothing, they deliver the best brands and some up-and-coming brands as well. Some of them even offer rental subscriptions so you don't have to keep everything. You can check out the full list of women's clothing subscription boxes to find out more!
Overwhelmed with the choices? To make things easier for you, we've listed the best women's clothing subscriptions! Feel free to use it as a guide and don't forget to hit the heart button at the top of this post to save it for later so you can try more boxes on the list!
The Best Subscription Boxes for Women's Clothing!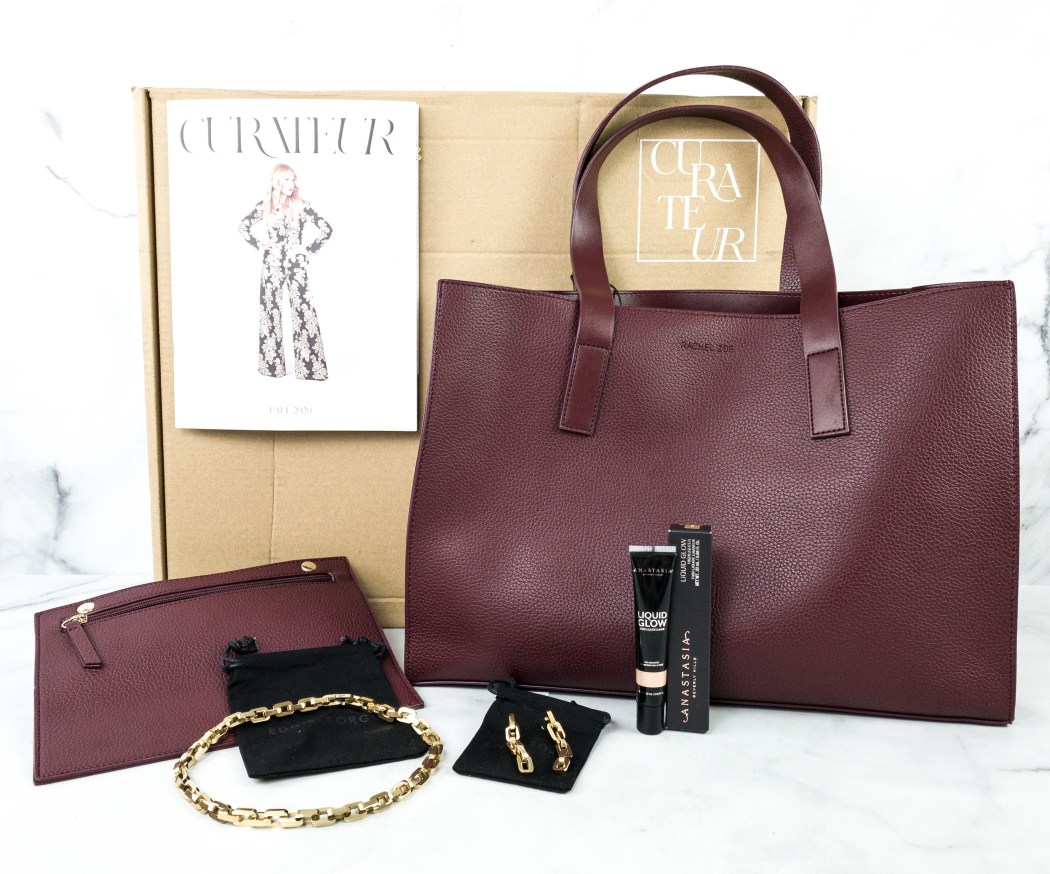 Image from: our review
Why we love it: Rachel Zoe and her team curate bags, accessories, and the like so you can get the premium styling experience in a box. Get dressed just like one of her clients without breaking the bank! At just a hundred dollars per month, Curateur – formerly Box of Style, sends you 5 stylish accessories and practical items that you can use to update your wardrobe and your entire look. You also have the chance to select one of two featured items that you can include in your box!
Choose a membership plan – Star or Icon, and unlock their exclusive member benefits. They select these products from the fanciest and most sought-after brands. Never fear, all items are Rachel Zoe approved and these are offered at 60% off retail value.
Visit the CURATEUR Reviews page and see items from past boxes!
Price: The annual membership is $349.99 a year and a seasonal membership is $99.99, billed four times a year.
Deal: Save $25 on your first box! Use coupon code SPRING25.
---
Image from: our review
Why we love it: Catering to sizes 0 to 32, Gwynnie Bee offers a wide range of styles that ensures you never wear the same outfit twice! Initially, subscribers can select 25+ items that they can add to their closet. Depending on your chosen plan, they will send you one, two, three, or more items from your online closet that's currently available. Keep the clothes as long as you want and will only get a new set once you have returned the previous items!
You can also prioritize the items that you wish to receive. Some of the brands they feature include Vince Camuto, Lucky Brand, eShakti, London Times, Karen Kane, Taylor, and more. If you fall in love with an item and you know you have to keep it, you can get it a discount off the retail price! 
Read Gwynnie Bee Reviews to learn more about it!
Price: Subscriptions start at $49 per month.
Deals:
---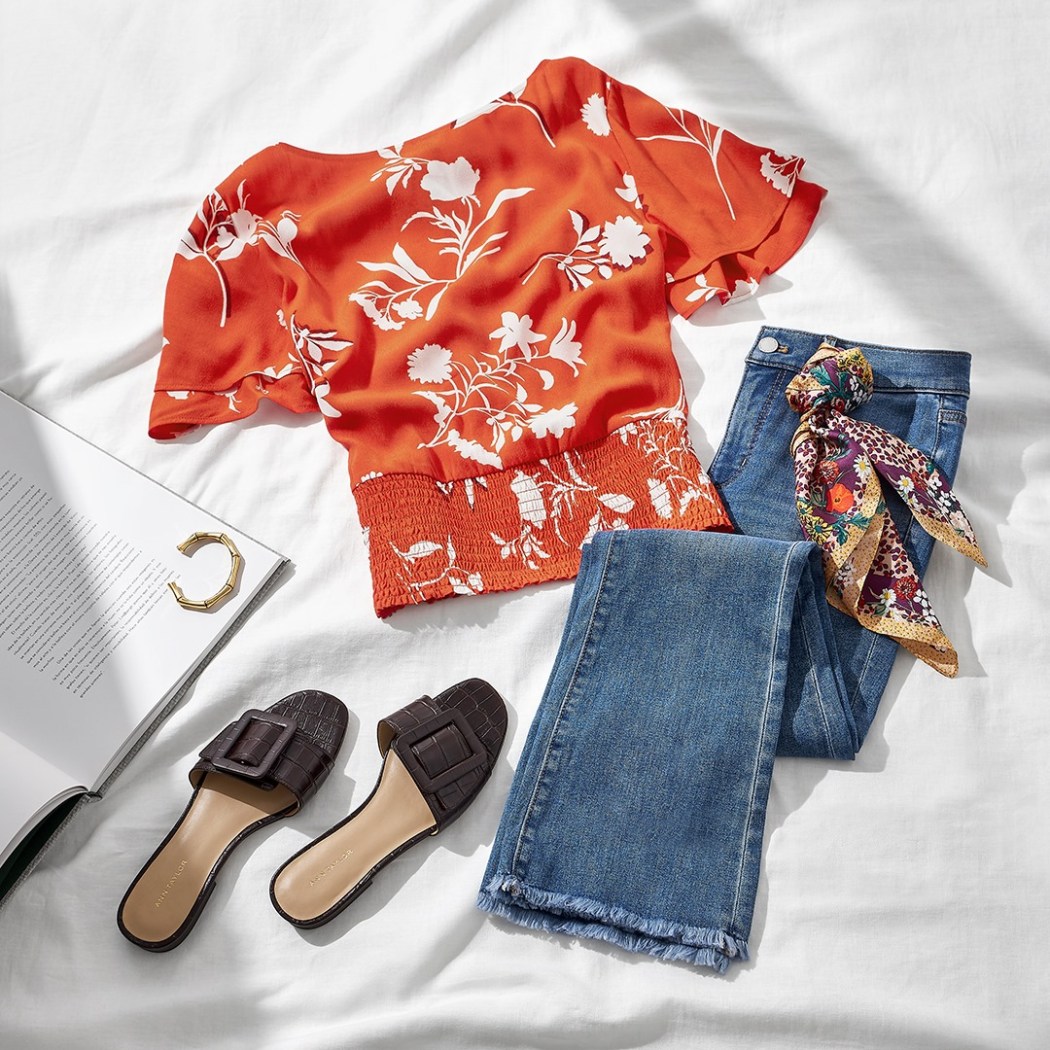 Image from: Infinite Style by Ann Taylor
Why we love it: Infinite Style by Ann Taylor is a monthly subscription that lets you rent an outfit for a flat fee. You can get three styles in every meticulously hand-packed package. Choose from their wide selection of clothing pieces and they will ship it for you. They offer women's sizes 00-18, XXS-XXL, 00-16 Petite + XXS – XL Petite. With unlimited exchanges, you never have to worry about wearing the same outfit twice!
Add as many clothes as you want to your closet. The Try-and-Buy is also an option. If you love it, keep it! With only a few clicks, you'll receive on-trend items that work for your style and schedule.
---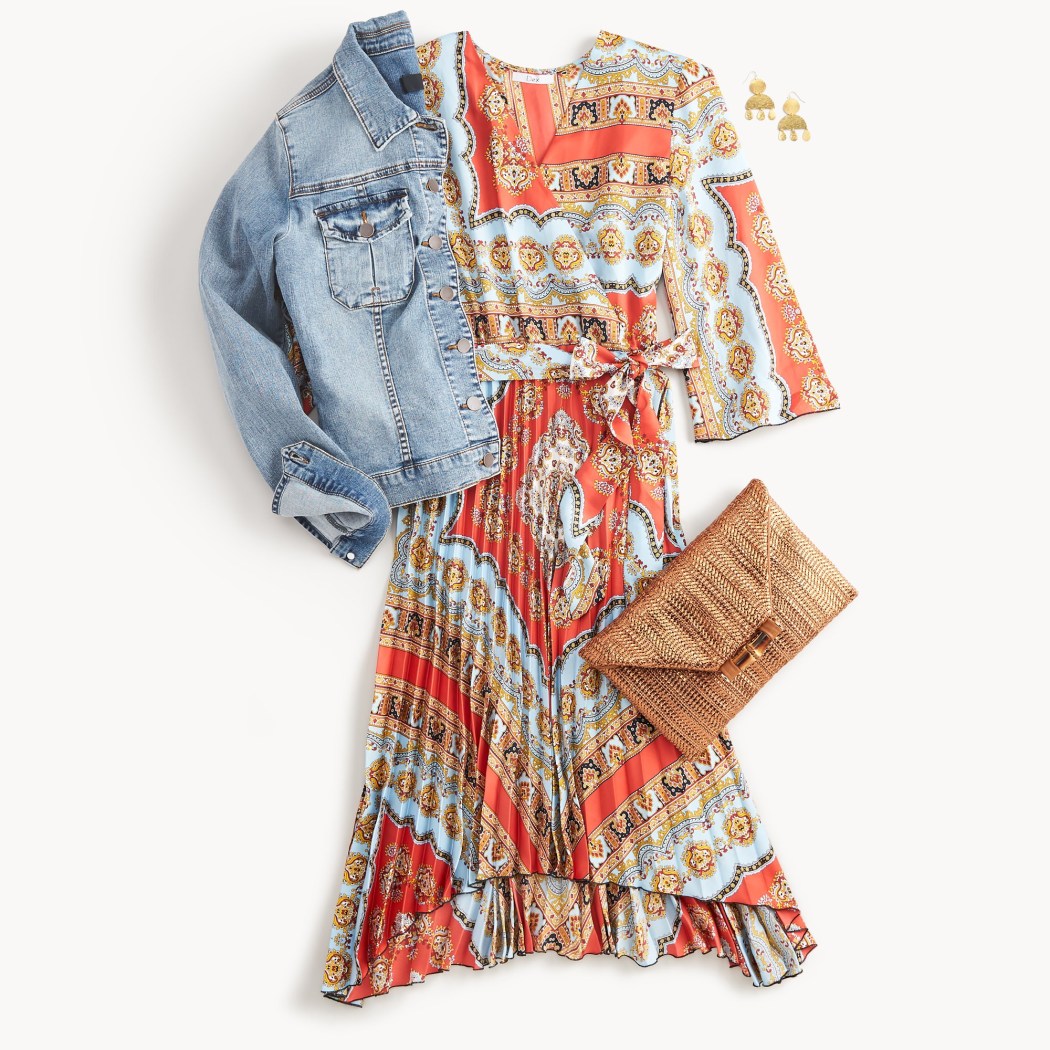 Image from: our review
Why we love it: Try, try, and try until you find the perfect style! Wantable Style Edit allows us to do just that, with 7 clothing items in every box. They have a style editor who chooses your clothes based on your style profile, so be thorough with your answers and notes to help the stylist assigned to you. The style quiz includes questions about your size, fit and price preferences. The clothes they offer come in sizes XS-3X, so this subscription is really for everyone!
Some of the premium brands they partner with include Hudson, Cupcakes & Cashmere, Kensie, Kut From the Kloth, Lyssé, Onzie, Beyond Yoga, Wear it to Heart, Rhone and Alternative Apparel.
Want more? Visit our Wantable Reviews page!
Price: Pay for what you keep. Styling fee is $20 per month.
---
Image from: Trunk Club
Why we love it: Dressing to impress is now a walk in the park thanks to Trunk Club by Nordstrom! They pair each subscriber with a style editor who will take a look at your style profile and provide clothing suggestions first. If you agree with the choices, the first Trunk will be sent to you and you'll have up to 5 days to decide whether to keep them or return them.
They offer subscription plans for men and women! Subscribers are free to request Trunks whenever they like. However, if you'd like to receive Trunks monthly, quarterly, or at any other specific interval, you can set up a Trunk Schedule or just let your stylist know.
Price: Prices vary depending on the items you pick but a $25 styling fee is credited to the final purchase.
---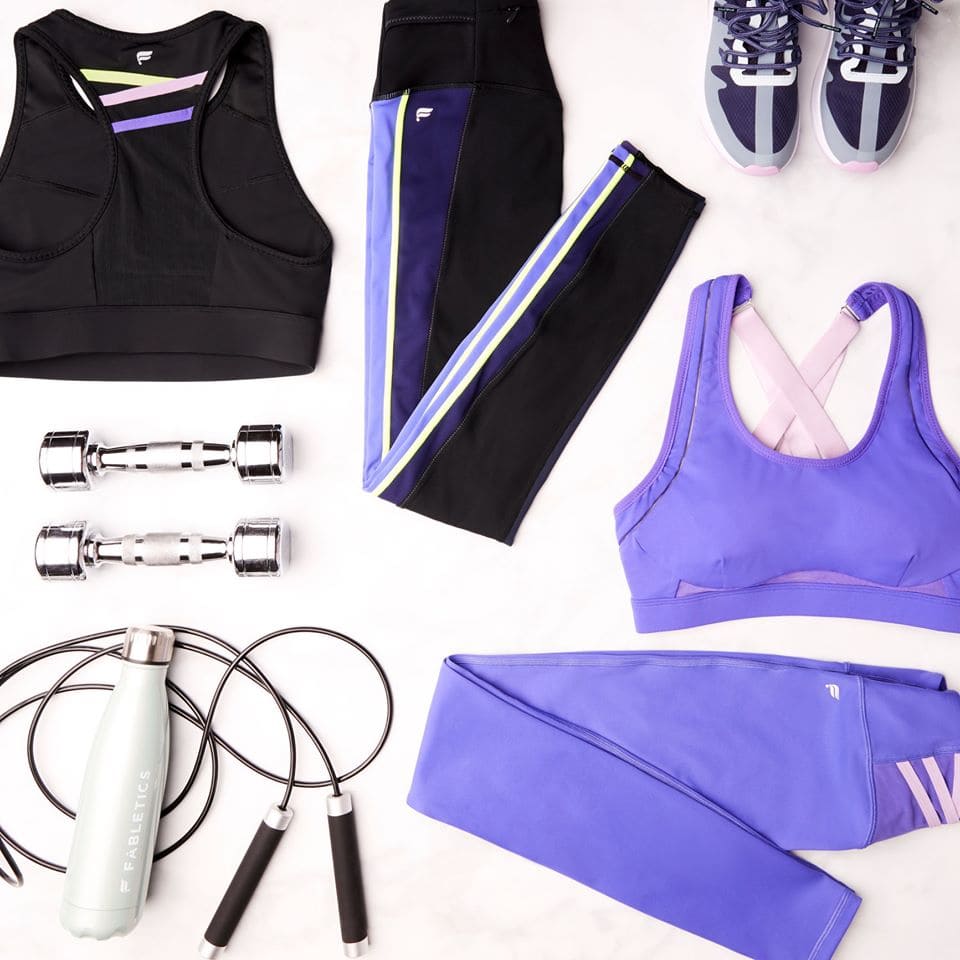 Image from: Fabletics
Why we love it: Fabletics is an online subscription retailer that focuses on athleisure and Kate Hudson is one of the co-founders. If you want a look approved by our favorite actress and overall fitspiration, watch out each month as she shares her favorite outfits that you can shop!
Aside from Kate's picks, there are also new monthly collections available online or in store with outfits curated just for you. Put it to the test and keep it if you love it or return within 30 days if you don't. Exclusive VIP perks also include early access to new launches, cash rewards, free gear, discounts, and more!
Check out Fabletics Reviews and see items from past boxes!
Price: Monthly boxes start at $49.95.
Deal: Get 2 pairs of leggings for just $24! Use this link to get the deal. Valid to new subscribers only.
---
Image from: Le Tote
Why we love it: With Le Tote's fashion subscription service, all you need is to do is pay a monthly flat membership fee and enjoy wearing the pieces before you return and repeat! They style your tote based on an easy questionnaire upon sign up, but you can still change items and decide what actually ships. The number of items in each tote depends on what membership plan you have. Aside from clothes, they also have an option for accessories. Some of the brands they carry include Vince Camuto, French Connection, Calvin Klein, Nike, Kate Spade, and Nine West!
Wear clothes and accessories as many times as you want, and if you plan on keeping anything, you'll only pay half of the retail price, which means more savings!
Price: Membership is $79 per month for Classic and $89 per month for Maternity.
Deal: 25% off your first month of unlimited apparel and accessories! Use coupon code HELLOSUB25.
---
Image from: our review
Why we love it: Frank and Oak Style Plan is a styling service that makes sure you can wear trendy clothes for various occasions on a regular basis and, most importantly, at a low cost. They carry their own brand, but sometimes they collaborate with other brands and artists too. Past collaborators include Jason Polan, Sue Doeskin and Naked & Famous Denim.
Upon registration, you will fill out a short style survey that includes details about your size and style taste preferences. Every month, 3 items will be picked out for you by a stylist and you'll get to preview them before shipping, so you can modify or skip. You can try on the items from the comfort of your own home, and pay for only those you decide to keep! Subscribers can save up to 20% on every order with free shipping and returns!
Check-out the Frank and Oak Women's Style Plan review for additional information!
Price: Styling fee is $25.00 per month.
Deal: Get FREE Styling FEE, plus $35 off your first box! Use coupon code HELLO35.
---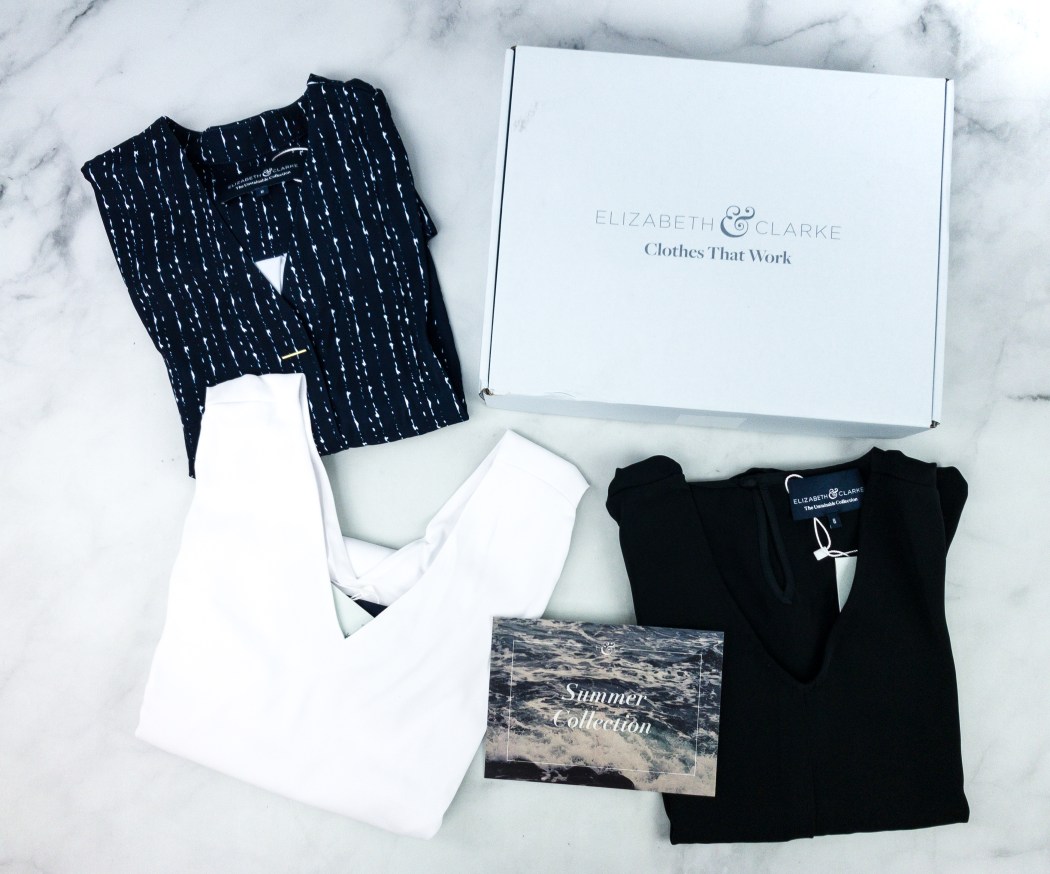 Image from: our review
Why we love it: Elizabeth & Clarke offers quality RTW womenswear. They are focused on giving chic and accessible clothing for working women. Based on your chosen plan, you'll receive one, two, or three items per box. You can also return some or all of the items that you don't like for an exchange or for a refund! These tops are made with unstainable technology keeping stains away from it.
Each top also comes with bra strap holders so you don't have to worry about falling straps. Every item in the box goes to match the season. You can choose the style that you want, or let them surprise you!
See our Elizabeth & Clarke reviews to know more about this box.
Deal: Save 10% on your first box! Use coupon code CHELLO10.
---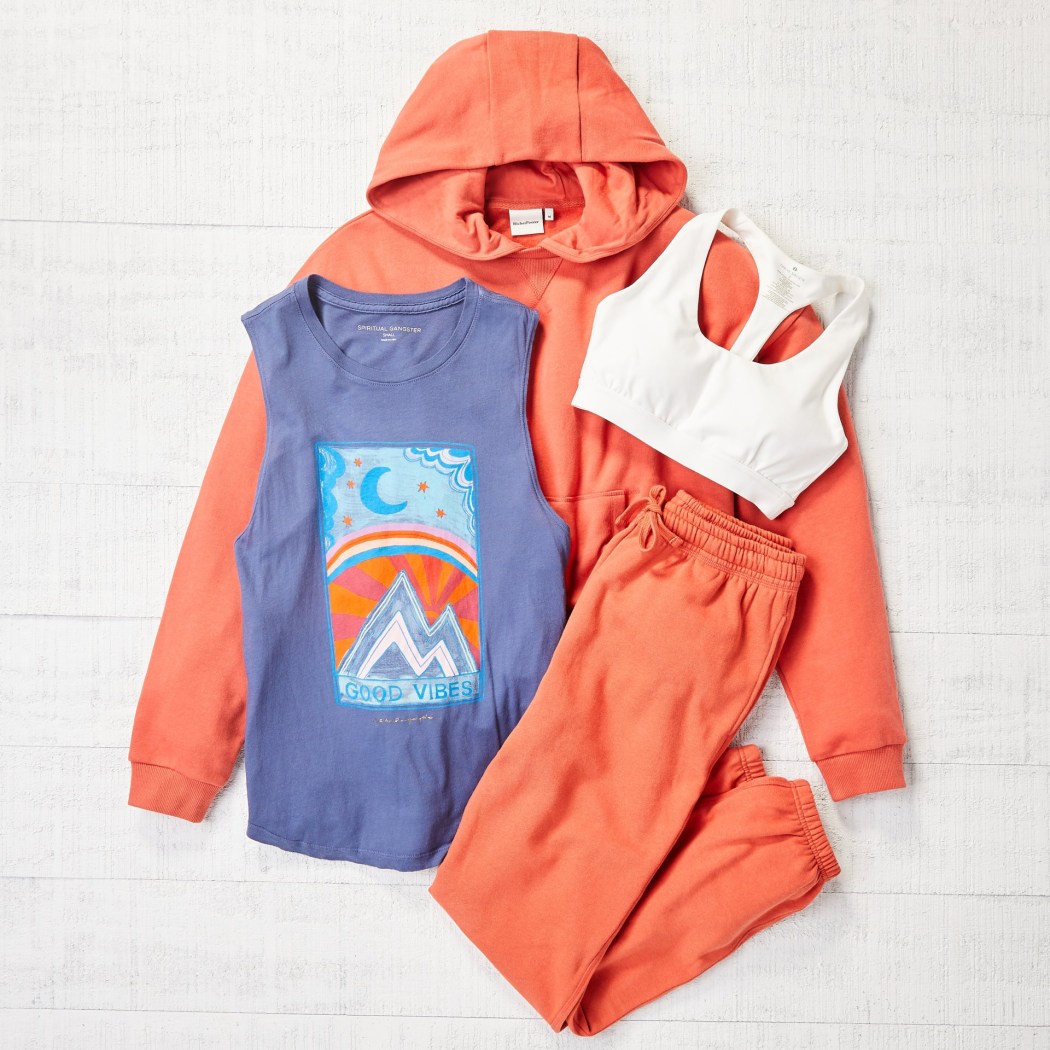 Image from: Wantable
Why we love it: Wantable Active Edit is a personal styling service that uses the combination of technology and stylists to handpick the perfect fitness apparel based on your budget, size, and preference. Every Edit includes 7 styles picked out just for you. Items generally cost $30-$70 per piece.
Upon sign up, you'd need to answer a style quiz, which also includes questions about the colors you prefer and your usual workout activities. If you wish to leave a specific note for your stylist, there will be a space for it at the end of the quiz. It's a great chance to let your stylist know if you have any special requests for a particular order!
Learn more at our Wantable Fitness Edit Reviews!
Price: Pay for what you keep. Styling fee is $20 per month.
---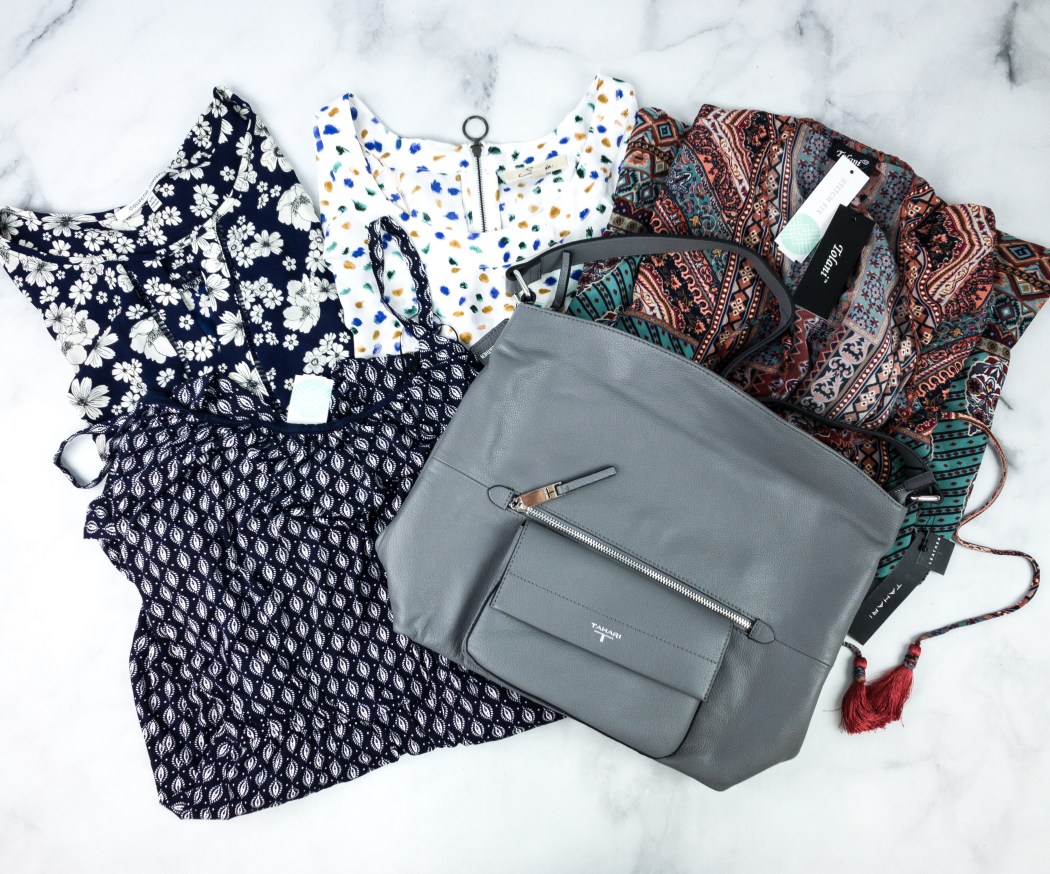 Image from: our review
Why we love it: Stitch Fix is like having your own personal stylist, except that you don't have to leave the house and you just have to wait for your new clothes and accessories to arrive in a box! They choose up to five clothing and accessories items just for you, based on the style profile you fill out upon signing up. It includes style, budget, and other specifics. Feel free to be as detailed as you want and to leave notes to your stylist because it really helps them to send you only the best items. This subscription now carries premium brands such as Kate Spade, Rebecca Minkoff, Equipment, and many more!
There are no coupons for Stitch Fix but if you hit the jackpot and keep everything, you save 25% on your whole fix! Just in case there's something that doesn't fit you or something not in line with your fashion sense, you can return them without additional cost.
Check out Stitch Fix Reviews to know more about the subscription!
Price: Styling fee is $20 per month. If you decide to keep everything, you save 25% on your whole fix.
---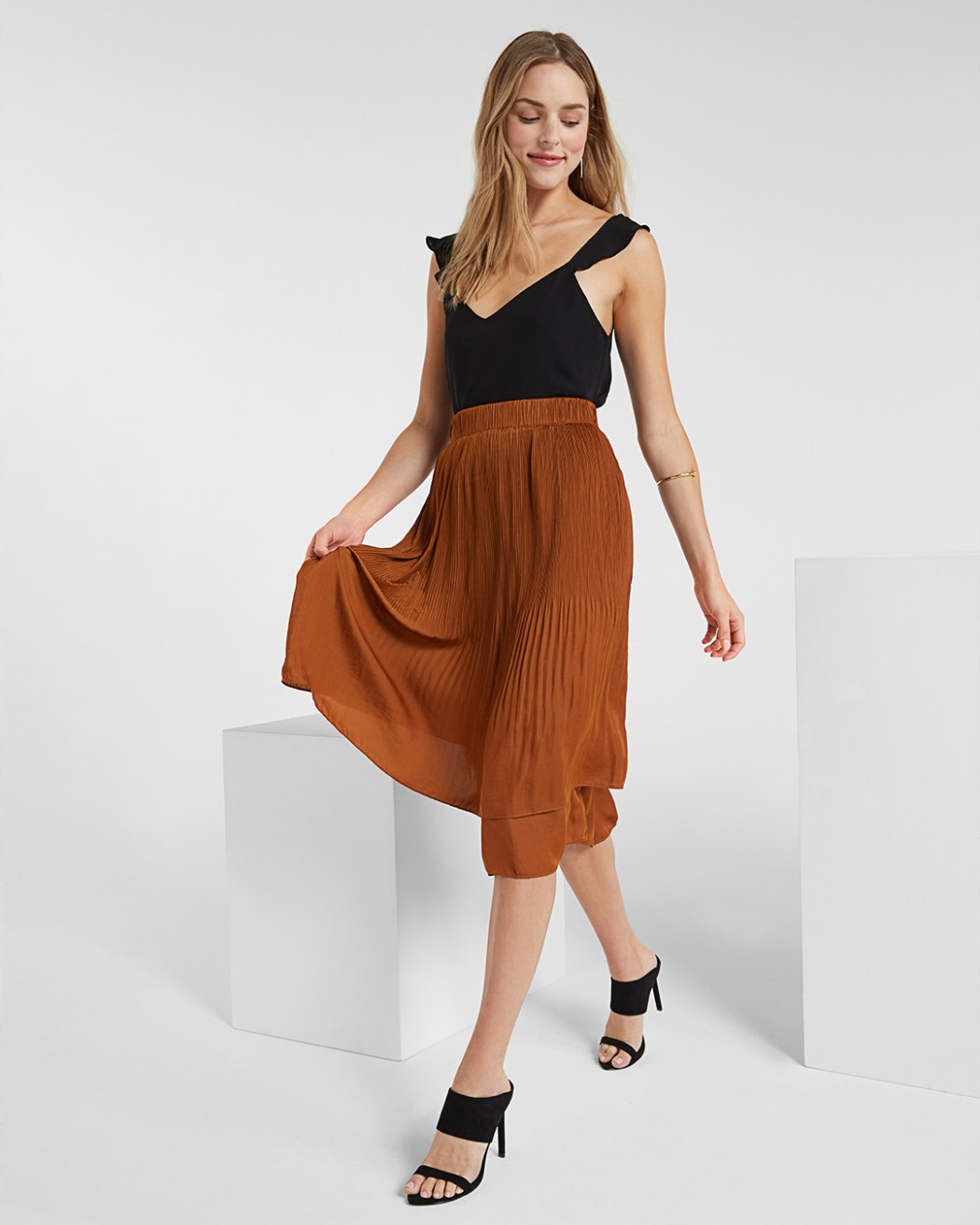 Image from: Haverdash
Why we love it: Haverdash sends 9 items for a minimum fee for each month and they also give out 20% off on your first month! You can choose from over a thousand of amazing styles and brands plus, you get to answer a short questionnaire to help them get your sizing right!
Price: Subscription is at $59 a month.
Deal: Get 20% off your first month! Deal applies automatically, just visit and subscribe.
---
Image from: Urbane
Why we love it: UrbaneBox gives you stylist-selected clothes when you subscribe to them. Tell them your style preferences by creating a profile and they will curate a box delivered every month at your door. You'll have a stylist assigned to your account so you can ask them for requests or questions. There are 2-3 wardrobe staple items in every package.
What's good about this subscription is that they donate $1 for each purchase to help children all over the world. They work with organizations to help build shelter or orphanages for children who are homeless and in need. They work with Unicef, Railway Children, Magic Bus, and more!
Deal: Get $30 off your first box - just pay $35! Use coupon code SAVE30.
---
And there you have it, the best clothing subscription boxes for women! Which one matches your style and preferences?
Take a look at our full list of the best subscription boxes!
Say Hello to More Subscription Boxes for Women!