Most people start their day with a cup of joe, as it awakens their senses and helps them to keep going throughout the day. Some do not just take their coffee during the morning, but they also drink it any time of the day. There are many subscription boxes that offer different types of coffee, and there's definitely one that appeals to your palate. You can get your regular supply by signing up for one, and just wait for it to arrive at your door, some also arrive depending on the frequency you chose, if not monthly. You can choose from local coffee, international coffee blends, artisan, gourmet, and even instant ones.
Check out this list of the best coffee subscriptions! To see more coffee-related boxes, you can check out our complete list of Coffee Subscription Boxes!
The Best Subscription Boxes for Coffee Lovers!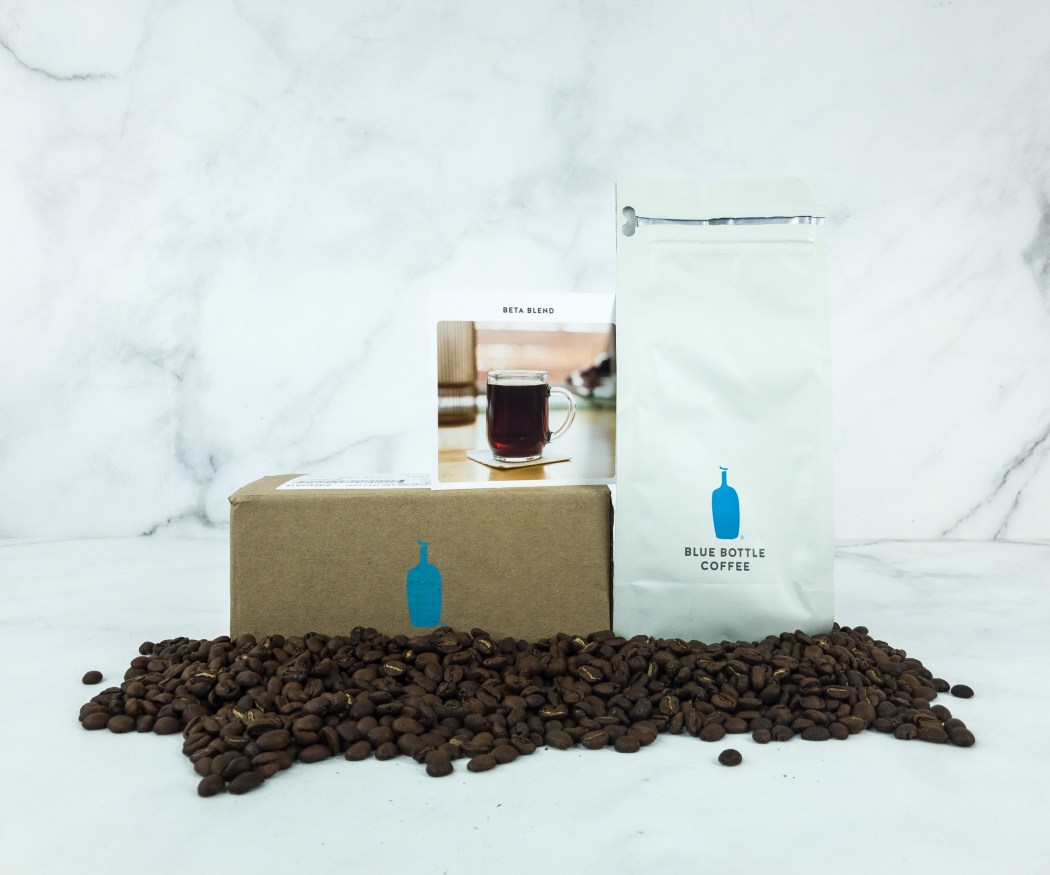 Why we love it: Some coffee subscriptions focus on surprise. Others, like Blue Bottle Coffee, are more interested in providing you with control. To do this, they provide 11 different types of subscription to select from. This includes Single Origin Assortment, Beta Blend, Three Africas, and Night Light Decaf. There is also a matching quiz to help you discover the best coffees for you!
Read the Blue Bottle Coffee Reviews for more info!
Price: Most subscriptions start at $8 for 6-ounce bag, but you can also purchase 12oz of whole beans bag for just under twice the price. Then decide whether you want your coffee delivered every two weeks or monthly.
Deal: Grab a free trial of Blue Bottle Coffee! Use this link to get the deal. Just pay $5 shipping.
---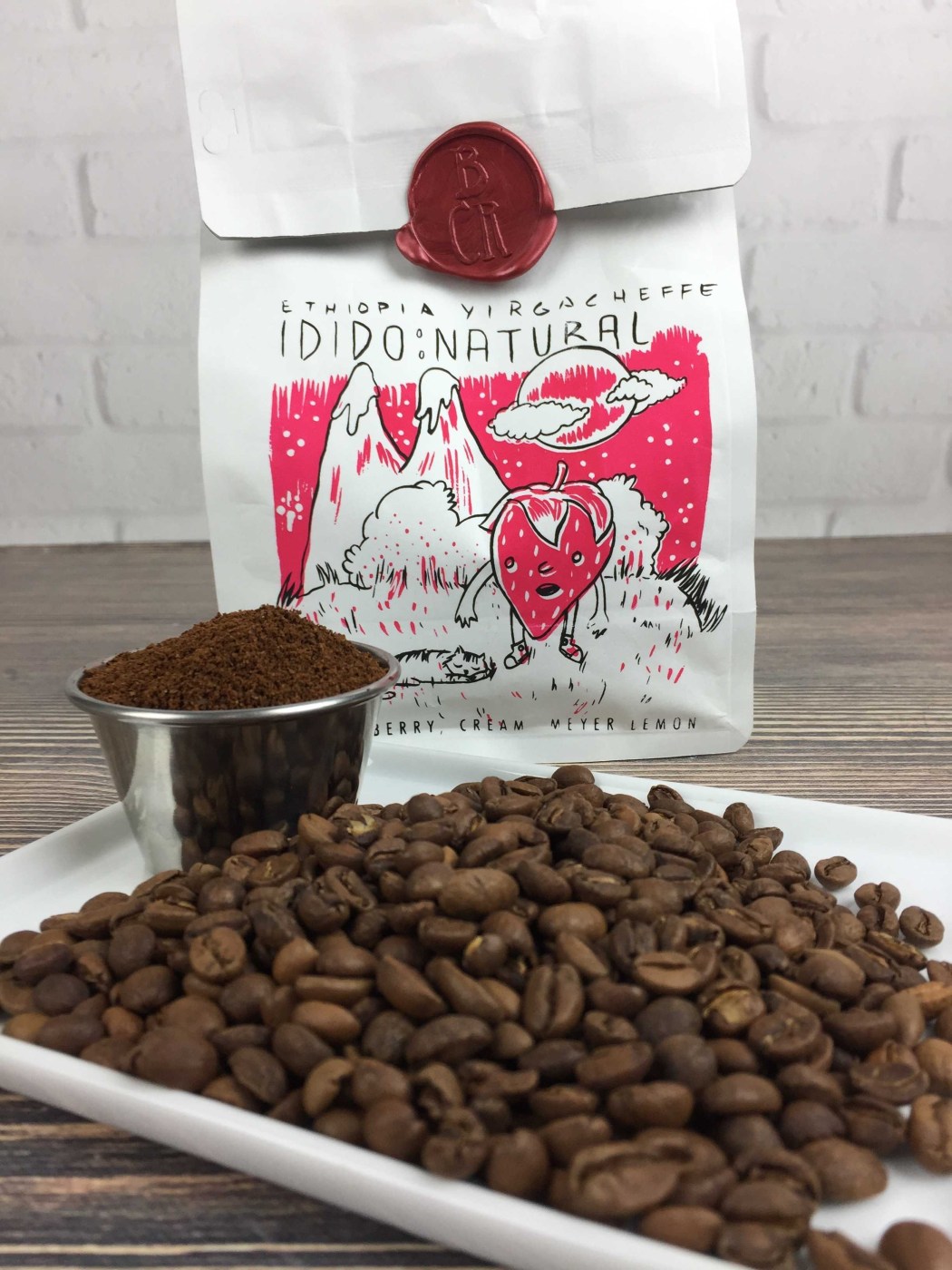 Why we love it: Still haven't found your perfect coffee match? Angel's Cup got you covered! It's a subscription coffee sampler that offers several ways to discover great coffees. Take your coffee game to the next level by trying out their blind taste test! They will give you a chance to sample their coffee blends without bias and decide for yourself what you like. A number on the bag will help you identify the coffee after you've tried it. It's truly the coffee subscription for the curious!
Check out the Angels' Cup Reviews page to learn more!
Price: The Black Box contains 4 larger samples and costs $19.99/month, free shipping. Their Cupping Flight has 4 smaller samples for $9.99/month plus $3 shipping and the All-Stars Subscription has a single bag of top-rated coffees from light to dark roast for $17.49/month plus $5 shipping. or pay for 6 or 12 shipments upfront and get up to 10% discount!
Deal: Get 25% off your first month! Use coupon code birds25.
---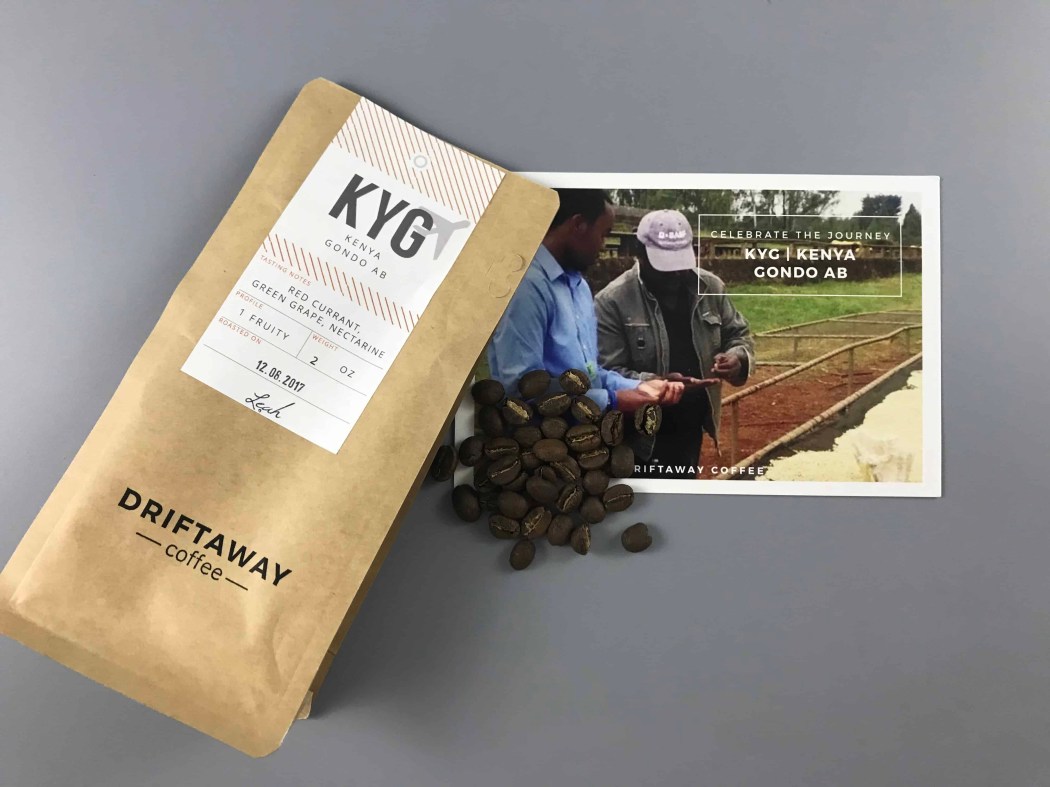 Why we love it: If you enjoy geeking out over coffee, Driftaway is for you! Aside from the coffee, each box includes notes on everything you want to know about the drink. This subscription is rather unique too, because the first product they send you is a sample box with 4 different 2-ounce bags of coffee that is used to tailor the coffee you will receive in the future. The bags are even personalized for each customer and shipped within 6 hours of roasting.
Check out Drift Away Coffee Reviews for more info!
Price: Subscription is at $12 every week
Deals:
Get 15% off on all other gift subscriptions! Use coupon code THANKS15.
Get 25% off on annual gift subscriptions! Use coupon code THANKS25.
Get 50% off your initial kit! Use coupon code HELLO50 .
---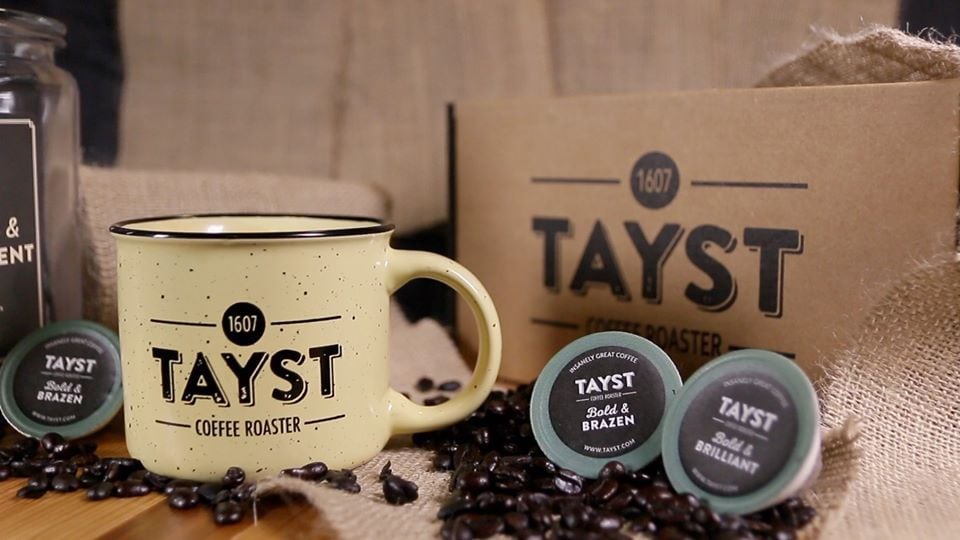 Tayst is an earth first coffee company. We're focused on transitioning homes & offices from plastic Keurig cups into 100% compostable pods for Keurig. Our coffees are sustainably grown as part of Rainforest Alliance. Our beans are roasted deep, then cooled slow and packed into our Keurig Compatible pods. It's coffee you'll love to drink!
Price: $22 per month for 30 cups, or less with longer plans!
Deal: Get 30% off on your first order! Plus, get a FREE Tayst Mug! Use coupon code 30OFFANDMUG.
---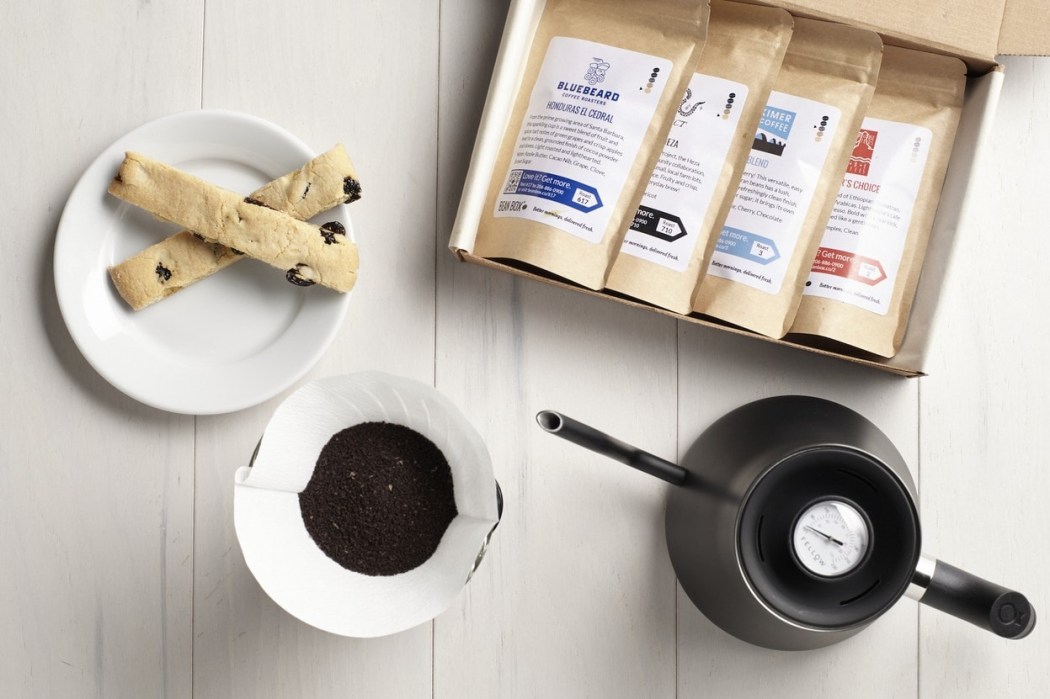 Why we love it: Bean Box manages to balance choice and surprise well. First, you can choose between two subscription styles: the Bean Box Sampler provides 4 bags of whole bean coffee or ground version (1.8 ounces each) and the Coffee of the Month includes a single 12-ounce bag which you can opt for a weekly or bi-weekly delivery. You can select your roast preference with either of the styles. All of the coffees included are handpicked. The company relies on gourmet coffee roasters in Portland and Seattle.
Read Bean Box Reviews for more exciting info!
Price: Monthly subscription is at $20.
Deals:
Save $5 on your first box! Deal applies automatically, just visit and subscribe.
Get the $5 trial coffee kit - ships FREE! Use this link to get the deal. Just pay $3.99 shipping!
Save 20% on your Bean Box 6-Month Coffee Sampler Subscription! Use this link to get the deal.
---
The online home to 400+ of the freshest coffees from 50 of the nation's best craft roasters, we're turning coffee drinkers into coffee lovers — one at-home
Price: Find your perfect coffee match starting at $15 per week!
Deal: Get 30% off + FREE Cold Brew Bags! Deal applies automatically, just visit and subscribe.
---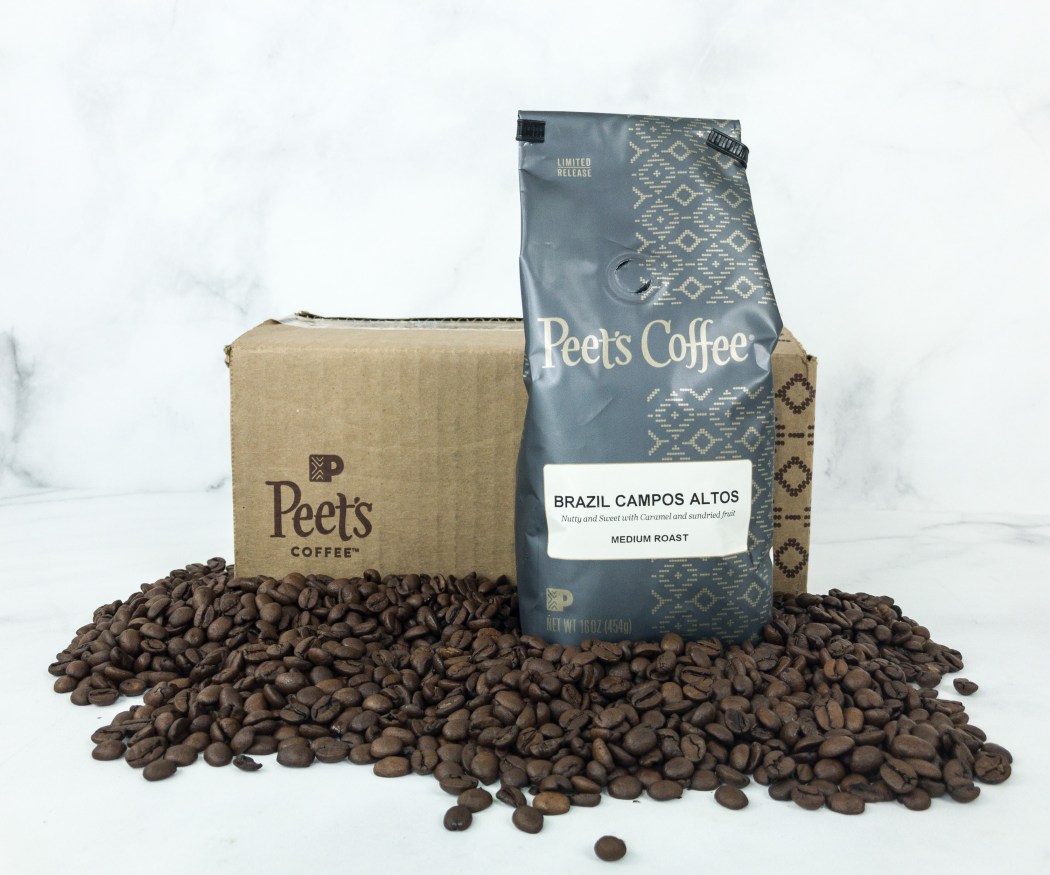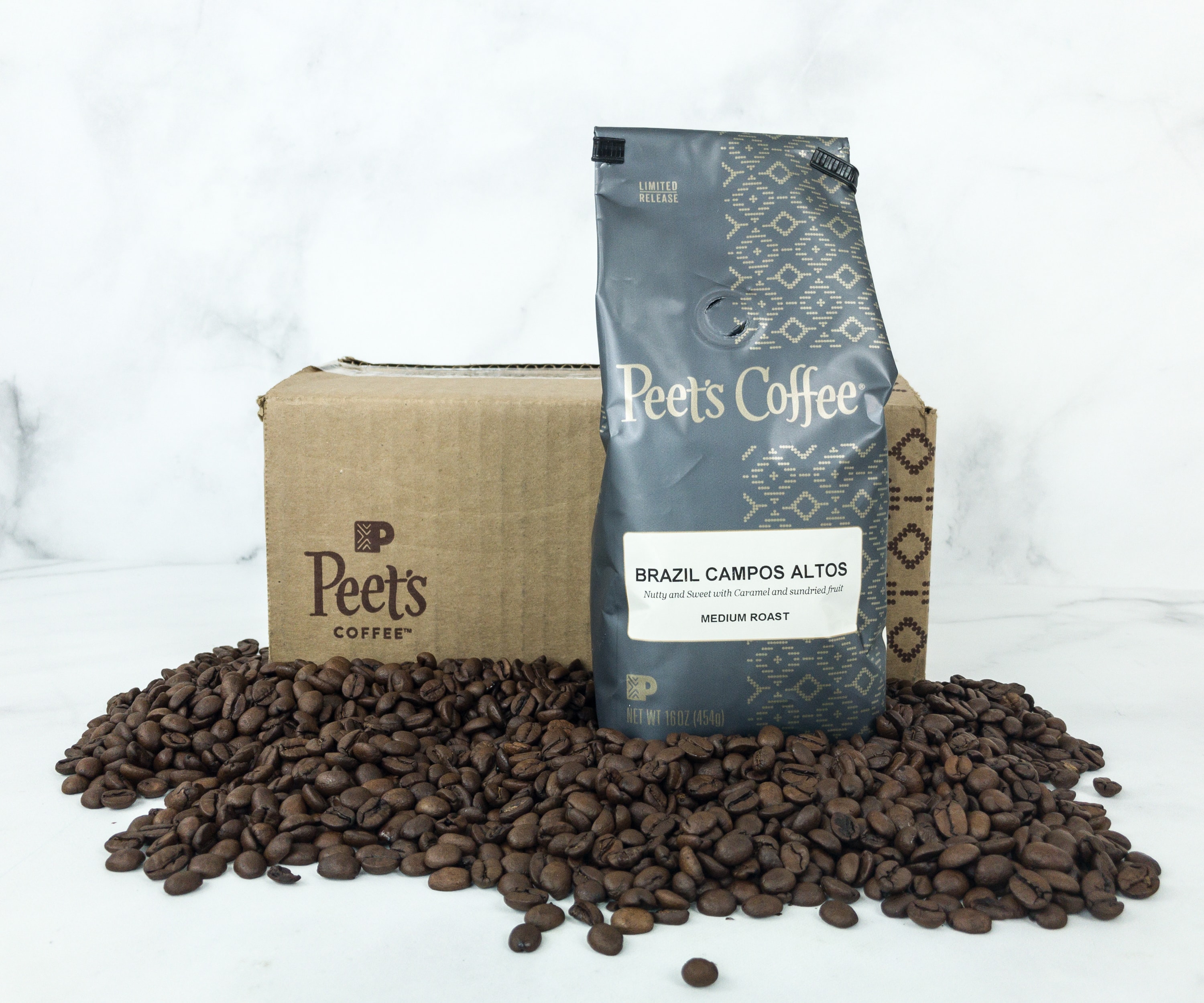 Why we love it: Peet's Coffee Explorer Series cater to both business and personal coffee needs, with choices like whole bean, ground drip, ground espresso, ground for a press pot & percolator and ground for a commercial brewer. Plus, you can get them in larger quantities! Who would say no for an extra cup of coffee?
Check out Peet's Coffee Explorer Reviews to know more!
Price: Starts with $18 a pound, $35 for 2 pounds and $49 for 3
Deals:
Enjoy $10 off your first order of any new subscription of $29+. Use coupon code NEWSUB.
Get 30% off on new subscriptions! Use coupon code NEWSUB30.
---
Every month we'll send you 100g of coffee that is mind-blowingly good from a new roaster - enough to try without breaking the bank. These are the limited geishas, the cup of excellence winners, the competition beans, the rarest most complex beans that will change your perception of what amazing coffee can be.
Price: Monthly Subscription is $25 per month
---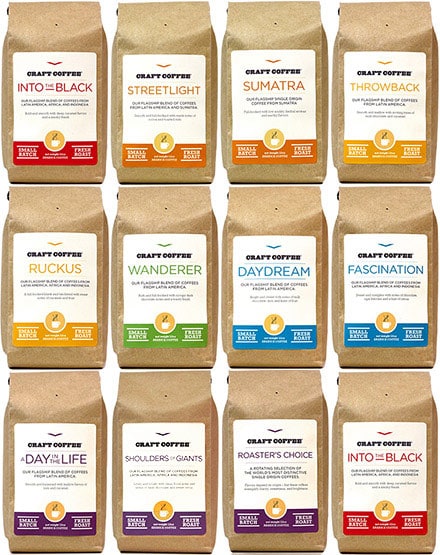 Why we love it: They keep it simple. No surprises, no curated boxes. Instead, they let you select the coffee yourself, along with the delivery schedule and the grind. The price of the subscription depends on the coffee you choose and whether you pay upfront. Craft Coffee also promise to help you find the right coffee of your taste by doing a survey on the blend you currently enjoy which they will use as a guide in giving a recommendation that comes with a 100% guaranteed satisfaction!
Visit Craft Coffee Reviews page to know more!
Price: Subscription is at $6.99 per bag and the shipping is FREE.
Deal: Get 15% off + FREE Bag of Coffee! Use coupon code l42-5fh.
---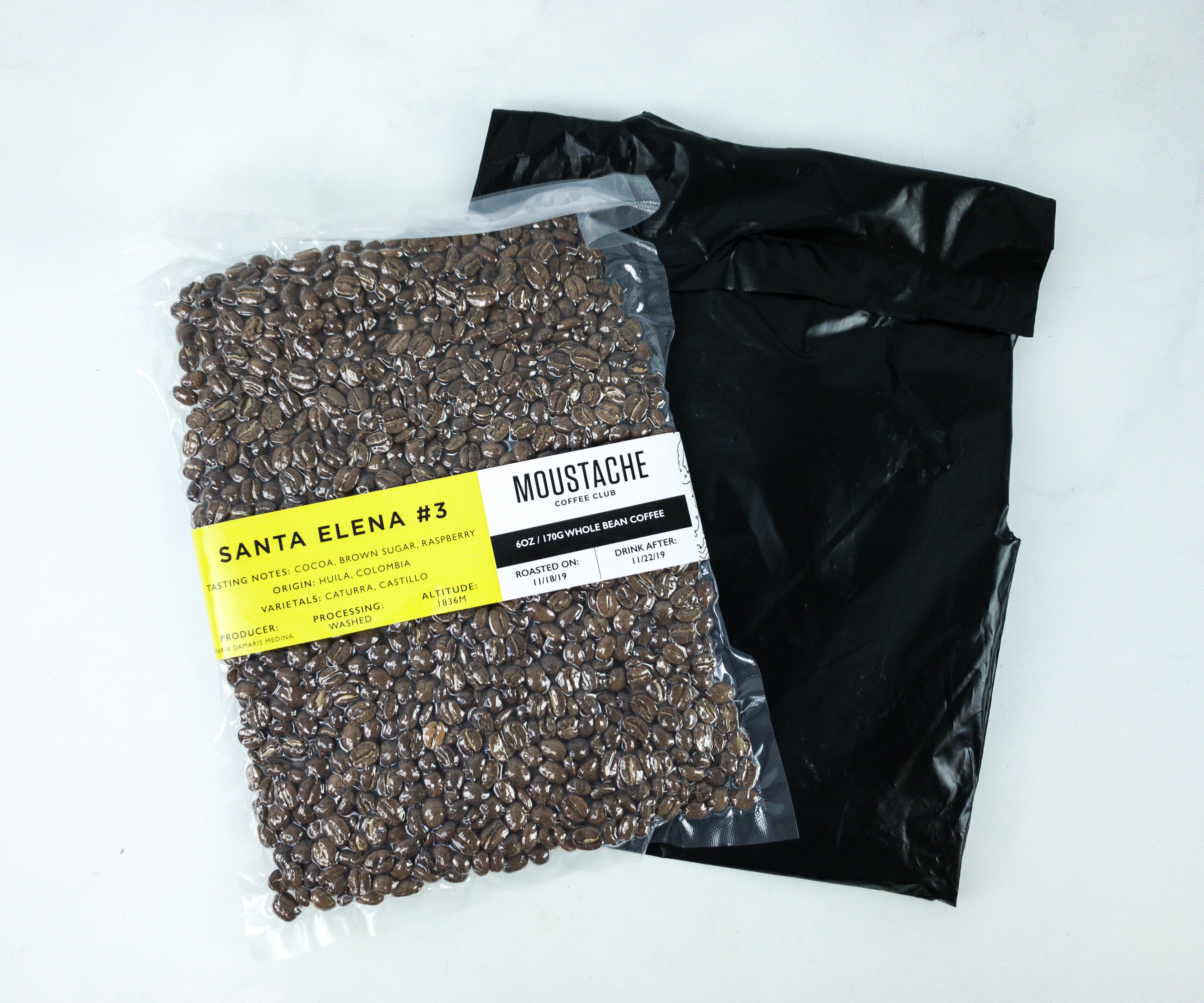 Why we love it: Moustache Coffee Club is more than just a coffee delivery service because they offer membership to a club of like-minded coffee lovers throughout the world! They are all about the pursuit of the perfect cup of coffee, day after day. Taste the best lots of premium single-origin coffee from renowned growing regions worldwide that they curate for their selection of coffee with superior quality and unique taste!
See Moustache Coffee Club Reviews for more info!
Price: Plans start at $13 per shipment.
---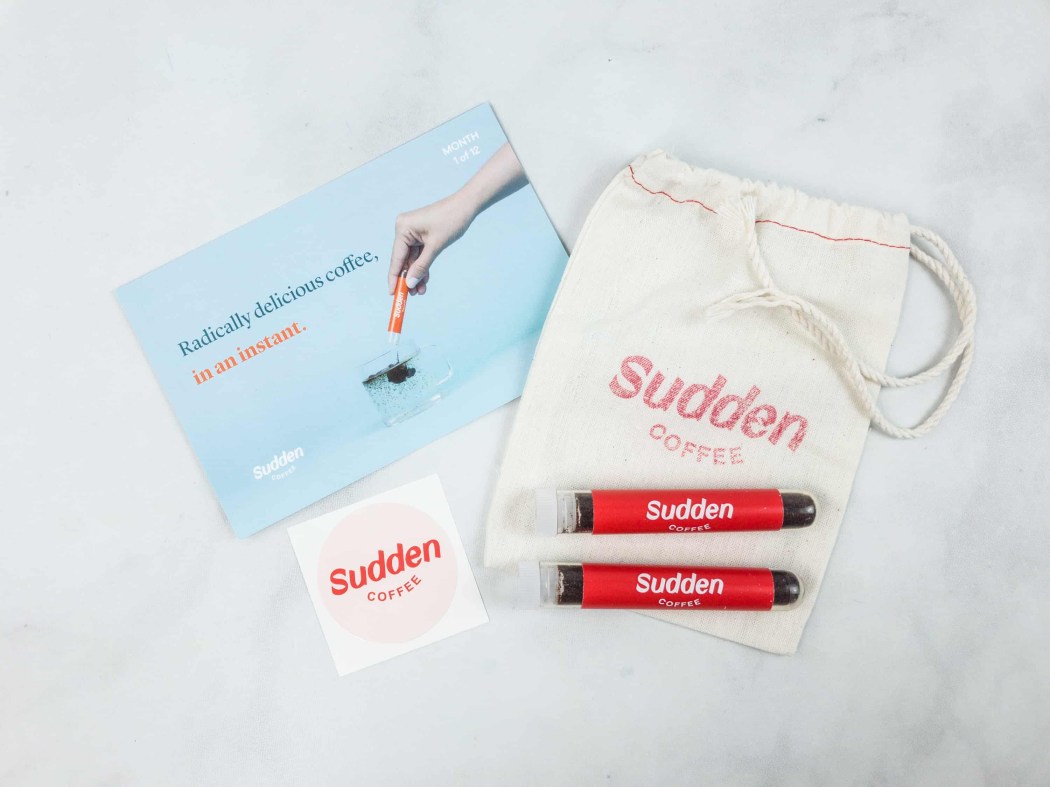 Why we love it: Taking the creation of instant coffee to the next level, Sudden Coffee uses state-of-the-art method to crystallize freshly hand-picked beans. Ever heard of instant brewed coffee before? That's what they offer to their subscribers. Another impressive thing about the subscription is that each box is packed according to your preference and all subscriptions start with a testing kit.
Learn more by visiting Sudden Coffee Reviews page!
Price: $22 per month with a free trial offer just add $3 for shipping fee.
Deals:
Free trial with $3 shipping fee. Use this link to get the deal.
Get 20% off on the 8-Cup Subscription! Use coupon code JOY.
---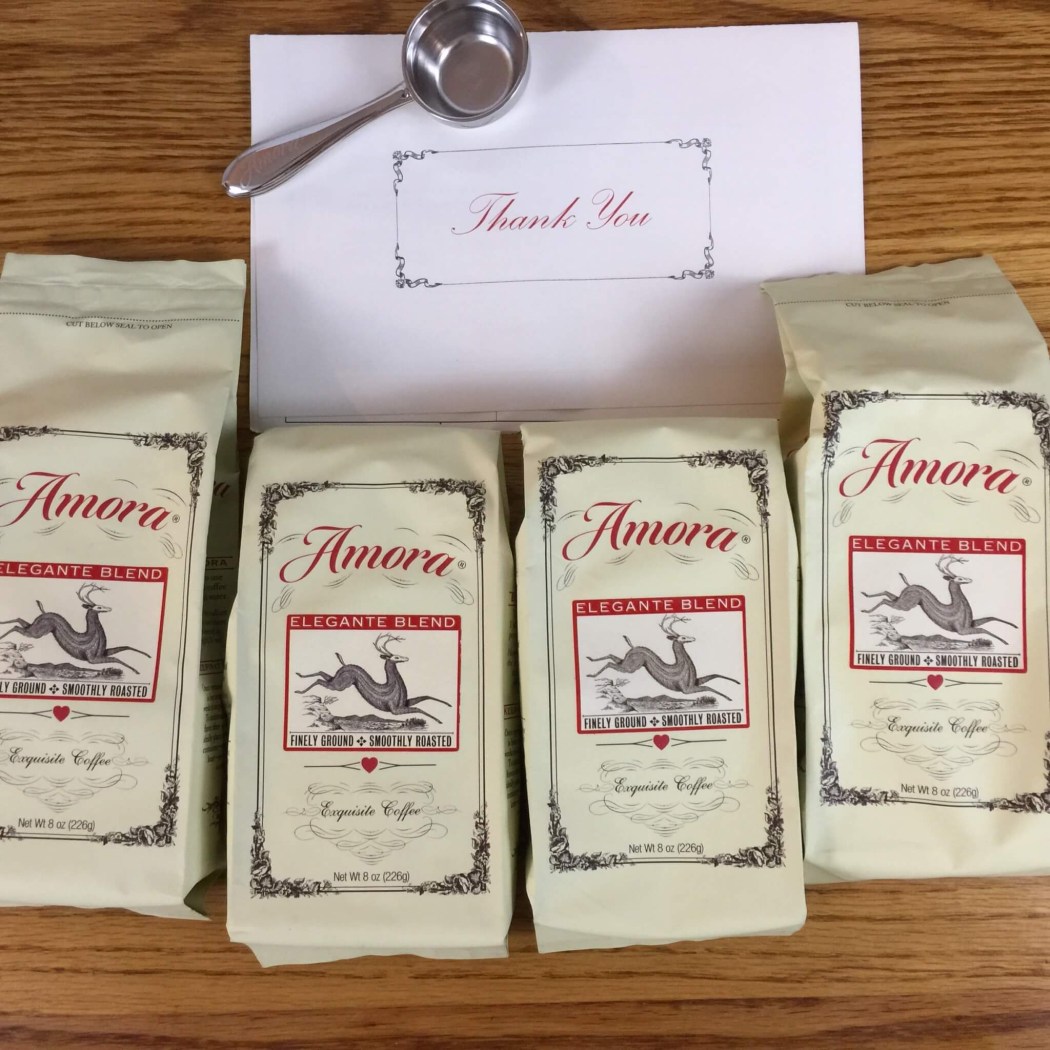 Why we love it: Amora Coffee offers only premium coffee which is made more special by their exclusive 9-step roasting process. They offer coffee blends in various flavors and intensities, including Delicata, Elegante, Vigorosi, and Intenso. It's the perfect subscription for any discerning coffee enthusiast!
See Amora Coffee Reviews for more info!
Price: Regular monthly cost is at $67.75; 2 bags of starter box are for free a charge of $14.95 will start two weeks of subscription. Just add $8.95 for shipping fee.
Deal: Get a FREE bag of coffee! Deal applies automatically, just visit and subscribe. Just pay $1 shipping!
---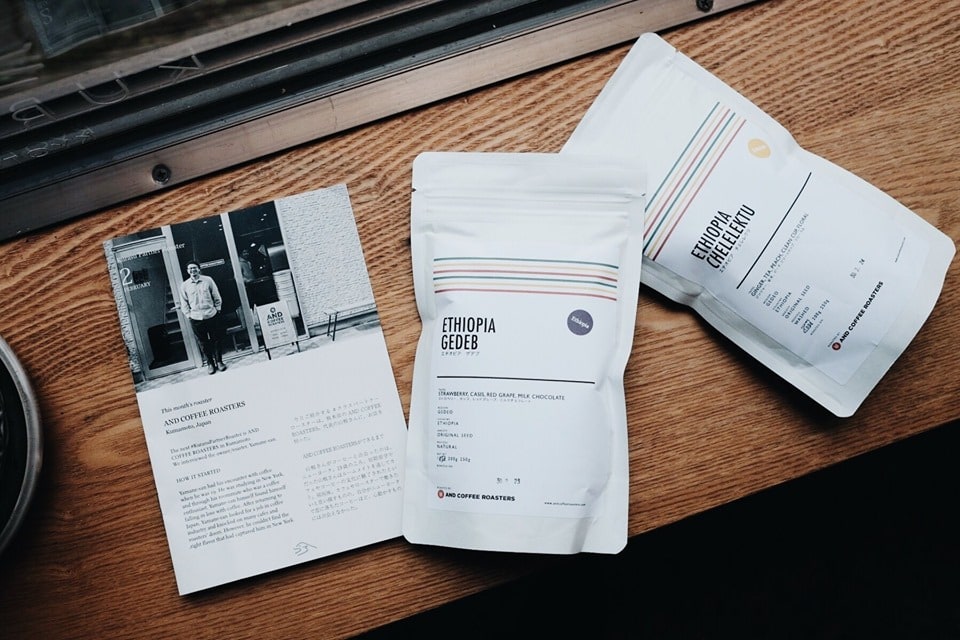 Why we love it: Wherever you are in the world, the goal of Japanese Coffee by Kurasu is to connect you with the best coffee from the Land of the Rising Sun. That's why they are partnering with different roasteries all over Japan to ship freshly roasted beans every month directly to your door! Coffee types depend on the specialty of the roaster. You won't need a plane ticket to experience their roasted coffee. You can just sit back, relax and wait for your specially curated Japanese coffee!
Price: Their 200g pack is worth $31. Worldwide shipping is for free.
---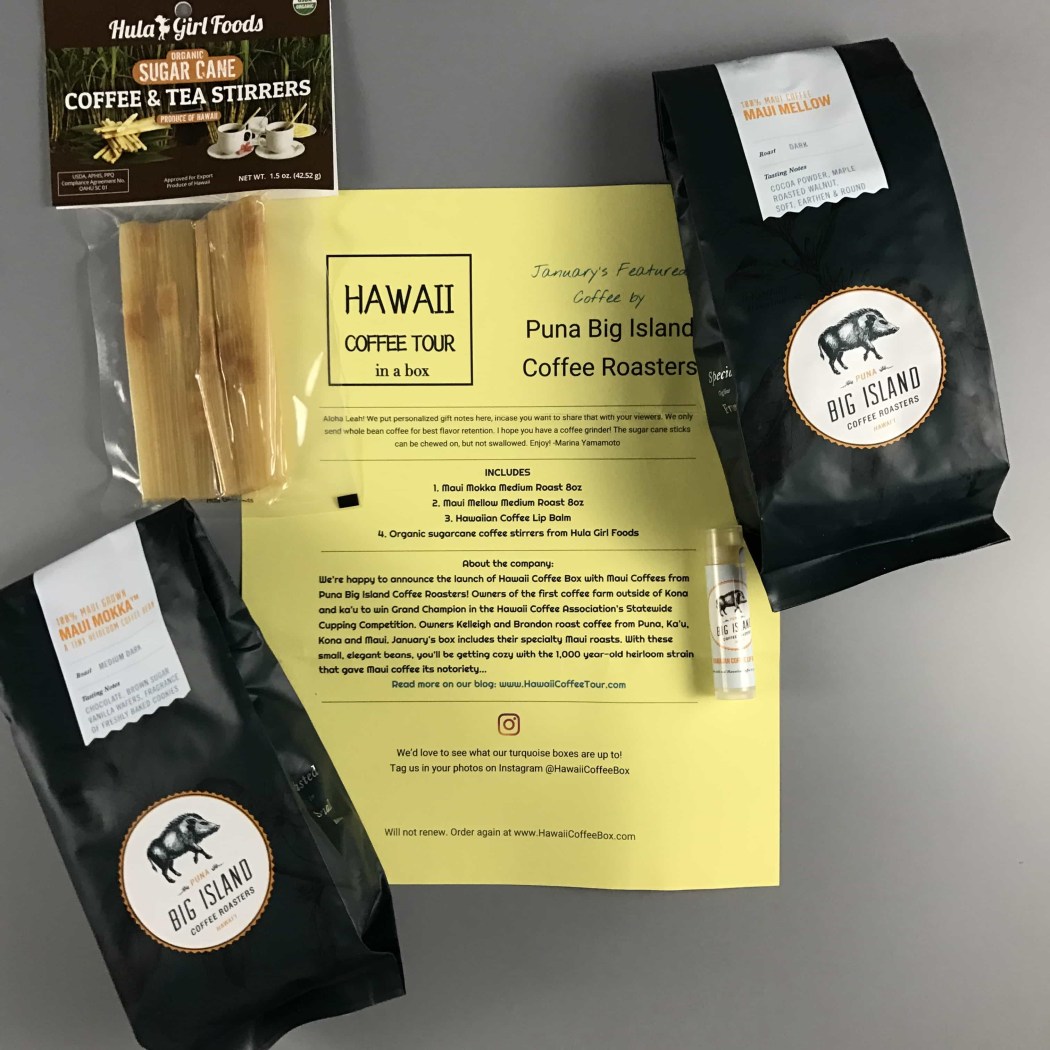 Why we love it: Each month, Hawaii Coffee Tour features a different coffee company from across the state of Hawaii! Trying their curated mix of coffee is like experiencing a coffee tour (in a box) as they deliver internationally. Occasionally, they also add other products from the featured brand. You can also send a smile to someone even abroad with their single gift box!
Visit Hawaii Coffee Tour [In A Box] Reviews for more info!
Price: Try their best coffee and goodies at $34.99 a month.
---
Copper Cow Coffee blends the uniquely rich flavors from the Central Highlands of Vietnam, with the sweetness of creamy California milk.
Price: Just Black- $30 per month, Classic- $37 per month and Party- $42 per month.
Deals:
Get $5 off your orders $50 or more! Use coupon code SAVE5.
Get 25% off your first subscription! Use coupon code COFFEECLUB25.
---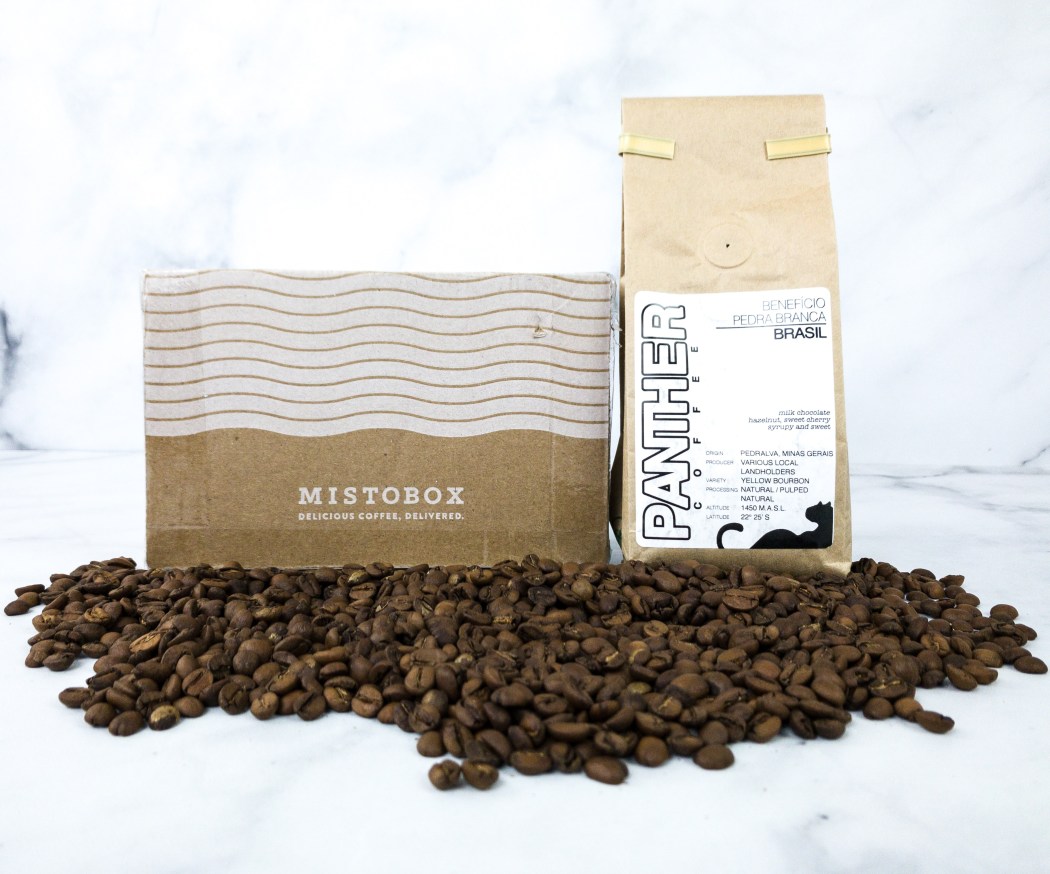 MistoBox delivers hand-selected coffees from unique artisan coffee roasters across the country. Each box contains a 12-ounce bag of whole bean coffee. Upon sign-up, you will need to answer a short quiz so that your subscription can be customized to your preferences. It also ships on your preferred schedule.
Price: Get this box for $29.99 per month.
Deals:
Get 25% off your first box! Use coupon code HELLO25.
Save $10 on your first box. Use coupon code V7PP.
---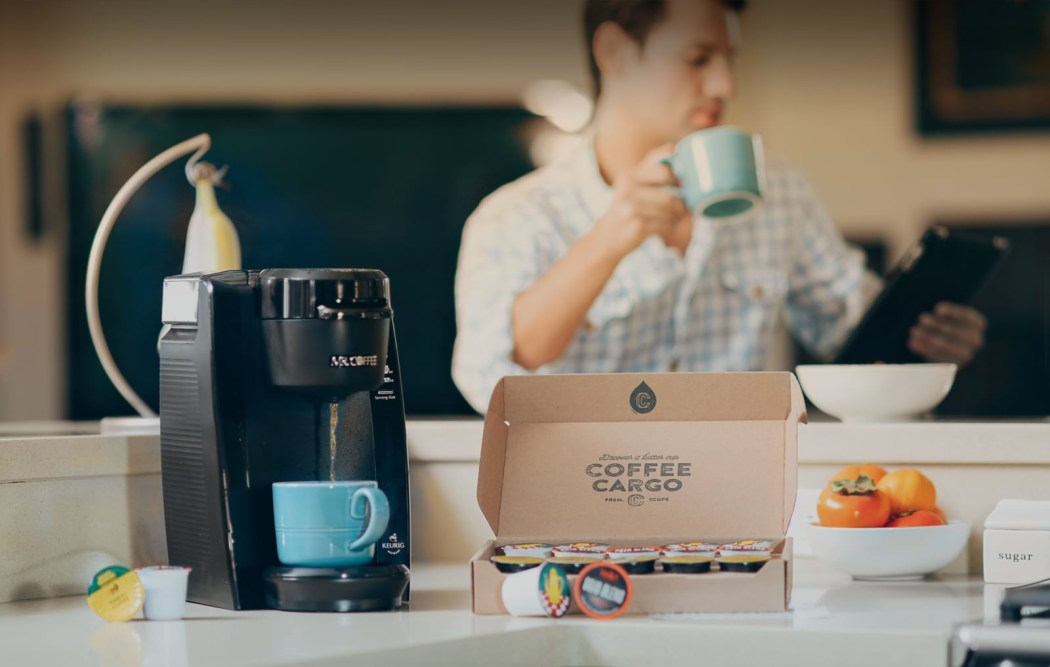 Get new K-Cups delivered to your door each month. You will receive 3 different roasts, 15 cups total!
Price: Monthly $19, 3 Months $54 (save $3), 6 Months $102 (save $12) and 12 Months $195 (save $33).
---
Why we love it: Although all subscriptions provide fresh coffee, JavaPresse is the only option that ships your coffee within hours of it being roasted, which is a seriously impressive feat. It means that your coffee will always be fresh and will taste better. Furthermore, it's their dedication to delivering additive free and organically grown coffee from around the world for the avid coffee drinkers.
Visit Java Presse Coffee Reviews for more info!
Price: Subscription starts at $23/week.
Deal: Get 10% off your first order! Use coupon code 10JAVA.
---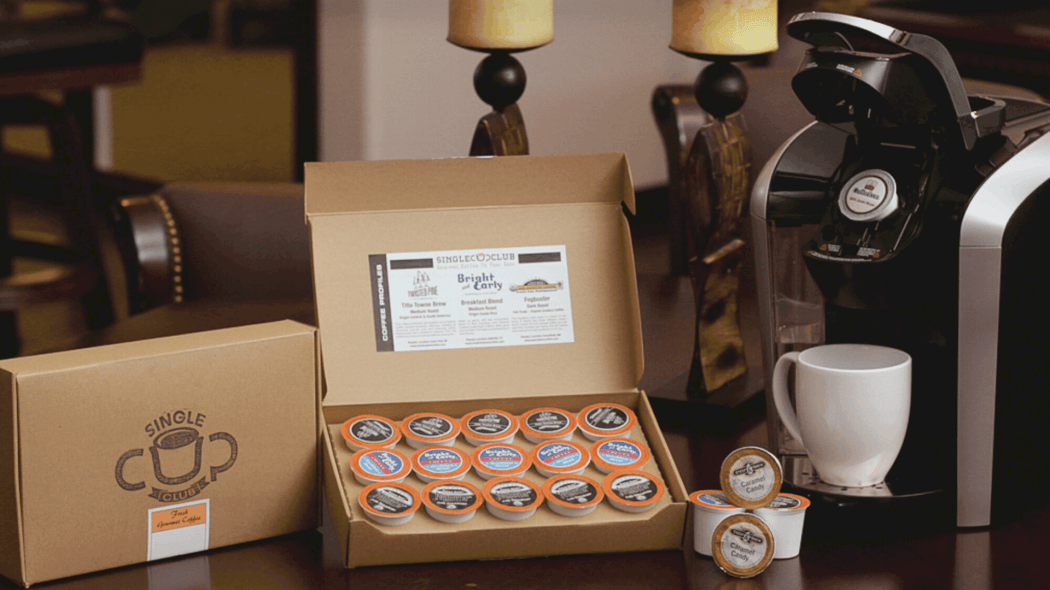 As a member of Single Cup Club you'll experience small batch roasted coffees in the convenience of single serve cups. Every month you'll discover 3 unique blends of artisan coffee and have enough coffee to brew 15 savory cups. Come explore the world of artisan coffee and discover your passion for amazing coffee.
Price: Pay monthly for $12.99. Or save up to $48 if you subscribe for longer plans.
Deal: Get free shipping! Use coupon code FREESHIPPING.
---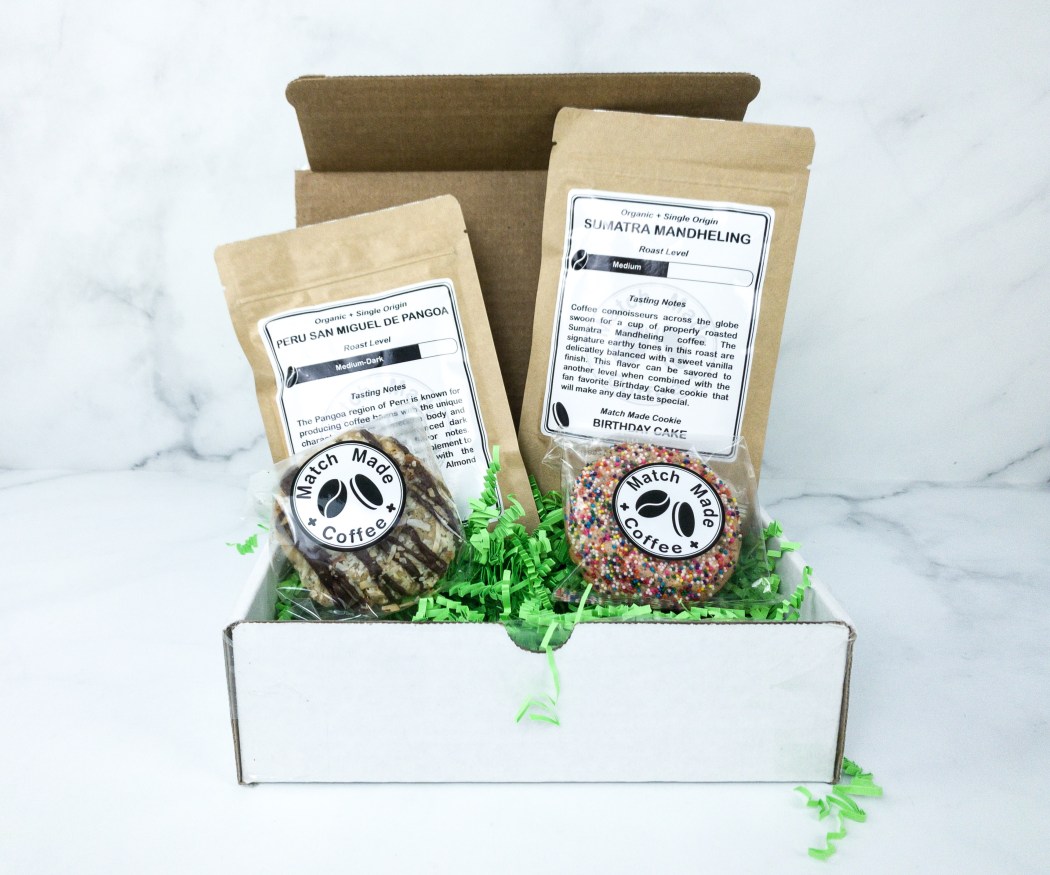 New craft coffees paired with snacks from across the world, delivered monthly. Enjoy expertly crafted artisanal coffees and experience treats from around the world designed to expand your palate and enhance your coffee experience.
Price: Monthly subscription is $19.95. Save more with their longer plans!
Deal: Get 10% discount on your first subscription box with any subscription purchase! Use coupon code HS10.
---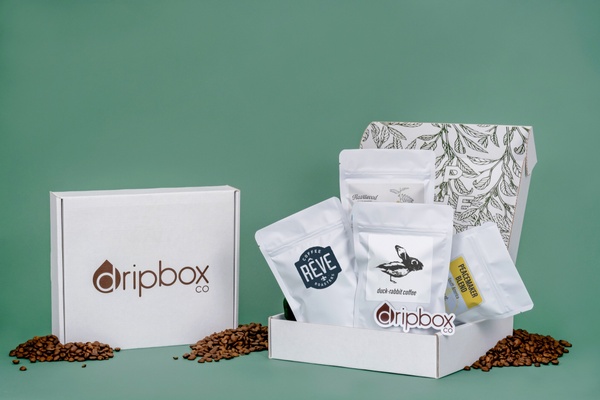 Hey there, we're Dripbox! Our passion is to connect you with independent artisanal roasters across the US to deliver fresh, quality coffee to your doorstep. We believe in supporting small business and getting to know the names and faces behind them. We believe in the simple art of connecting over a cup of coffee.
---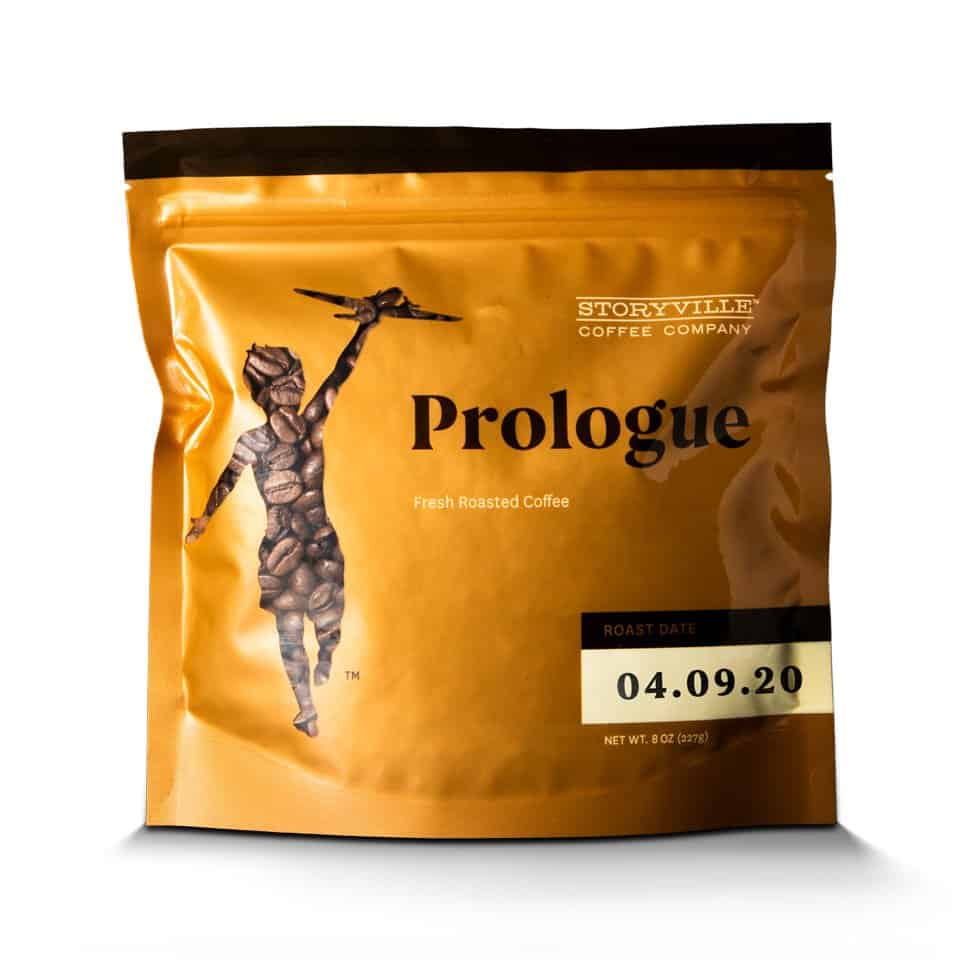 Enjoy the perfect coffee any time and every time. Just choose how you brew and we'll rush the freshest roast to your door. Simple.
Deal: Get 66% off your subscription! Use coupon code COFFEE.
---
And that's our list of best subscription boxes for coffee lovers! Did you find the perfect subscription box for you?
Discover more exciting subscriptions!  Check out this list of all the best subscription boxes!
Say Hello to More Beverage Subscriptions!
Find more beverage subscription options in these lists: