Most people start their day with a cup of joe since it stimulates their senses and keeps them going for the whole day. Some do not just take their coffee in the morning, but they also drink it any time of the day whenever their palate asks to! The taste, the smell, and the warm feeling that goes down your throat and tummy make everything feel so good! And if you're the type to love coffee that much, you can get your monthly fix with coffee subscription boxes.
Many subscription boxes offer different types of coffee, and there's definitely one that will appeal to your palate. You can get your regular supply without visiting local stores by signing up for one. All you have to do is wait for it to arrive at your door! Some are shipped depending on the frequency you chose, if not monthly. You can choose from local coffee, international coffee blends, artisan, gourmet, and even instant ones.
For your caffeine needs, here are the best coffee subscriptions to grind and brew! Don't miss out on the best ones around, and start your day with a coffee ritual to perk up your mood all day long!
The Best Subscription Boxes for Coffee Lovers!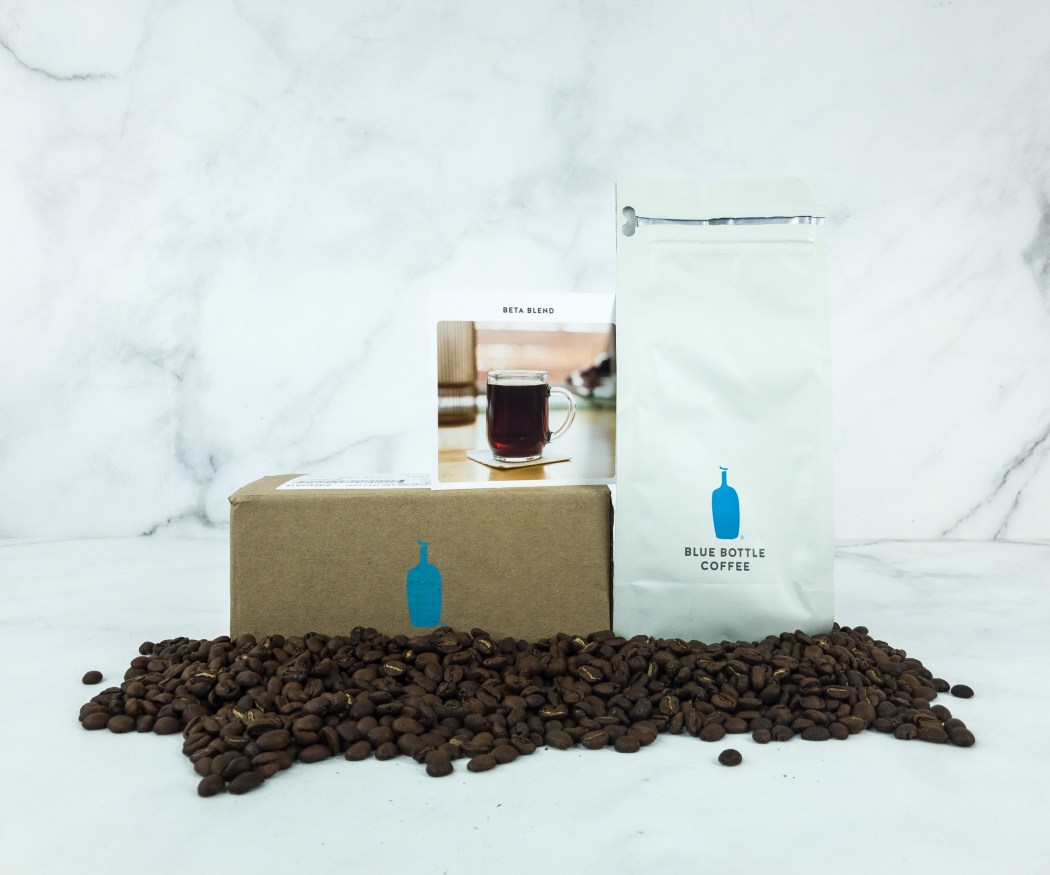 Image from: our review
Why We Love It: Some coffee subscriptions focus on surprise. Others, like Blue Bottle Coffee, are more interested in providing you with control! To do this, they provide you with 12 different types of subscriptions to select from, including Single Origin Assortment, Beta Blend, Three Africas, Night Light Decaf, and your pack will be delivered on the frequency of your choice. There is also a matching quiz to help you discover the best coffees your taste buds will love! Everything is roasted and shipped within 8 hours of order to ensure they are fresh, aromatic, and at the peak of flavor when they arrive at your door! It's a great subscription to try for those who want multiple coffee options.
Read Blue Bottle Coffee Reviews for more info.
Price: Most subscriptions start at $11 for a 6-ounce bag, but you can also purchase a 12oz of whole beans bag for $18. Then decide whether you want your coffee delivered every two weeks or monthly.
Deal: Grab a free trial of Blue Bottle Coffee! Use this link to get the deal. Just pay $5 shipping.
---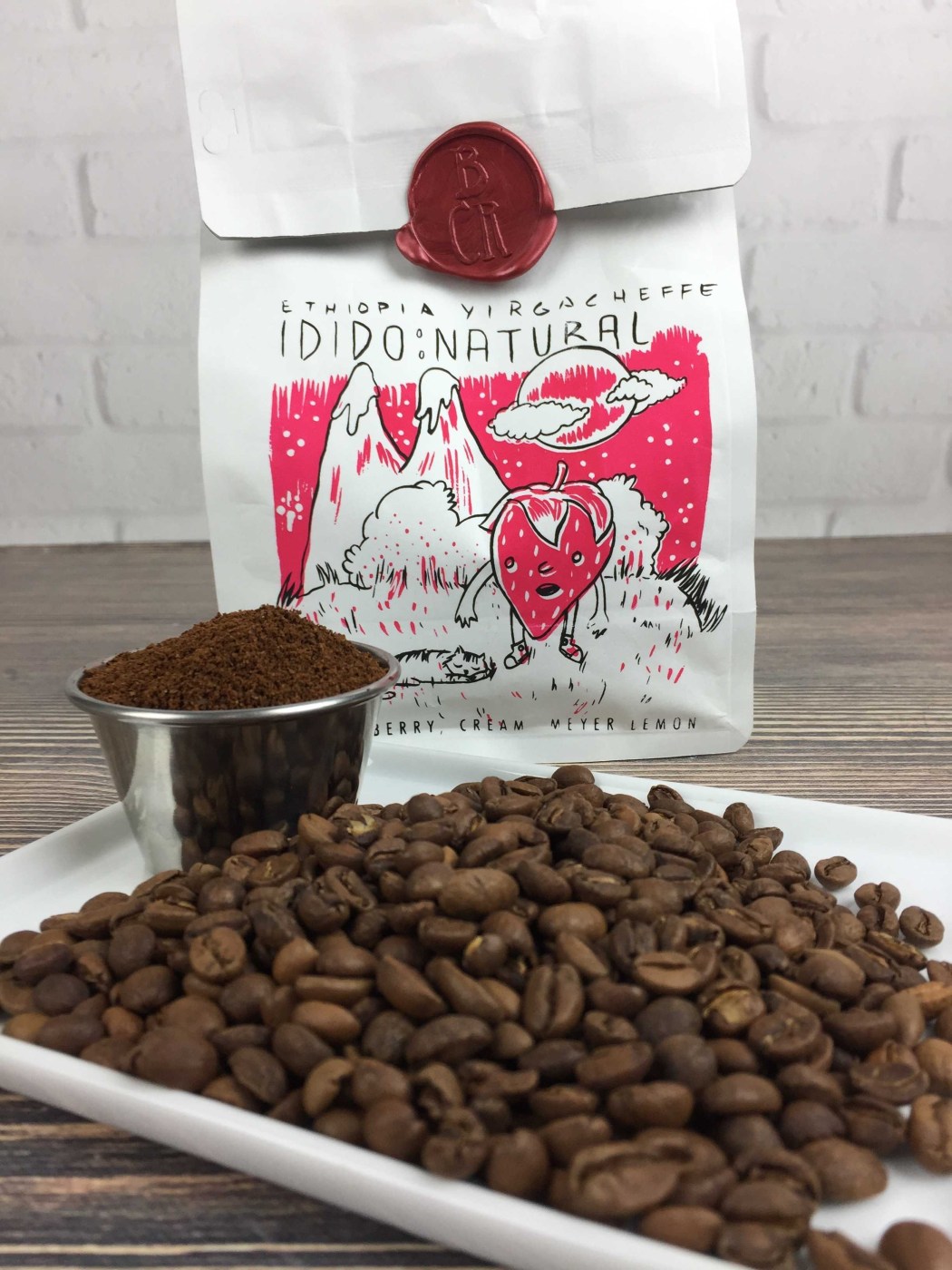 Image from: our review
Why We Love It: Still haven't found your perfect coffee match? Angels' Cup got you covered! It's a subscription coffee sampler that offers several ways to discover coffee-growing regions and great coffee flavors. Whether you're a coffee connoisseur or a newbie, you can take your coffee game to the next level by trying out their blind taste test! There are three subscription options to choose from: The Cupping Flight with four 1oz samples, the Black Box with four 2.75 oz samples, and the All Stars subscription with a 12oz bag. They will give you a chance to sample their coffee blends without bias, so you can decide for yourself what you like most. A number on the bag will help you identify the coffee after you've tried it. It's truly the coffee subscription for the curious!
Check out Angels' Cup Reviews to learn more.
Price: The Black Box contains 4 larger samples and costs $19.99/month, free shipping. Their Cupping Flight has 4 smaller samples for $9.99/month plus $3 shipping, and the All-Stars Subscription has a single bag of top-rated coffees from light to dark roast for $17.49/month plus $5 shipping. Or pay for 6 or 12 shipments upfront and get up to a 10% discount!
Deal: Get 20% off your first box when you sign up for a pay per shipment plan! Use coupon code HELLO20.
---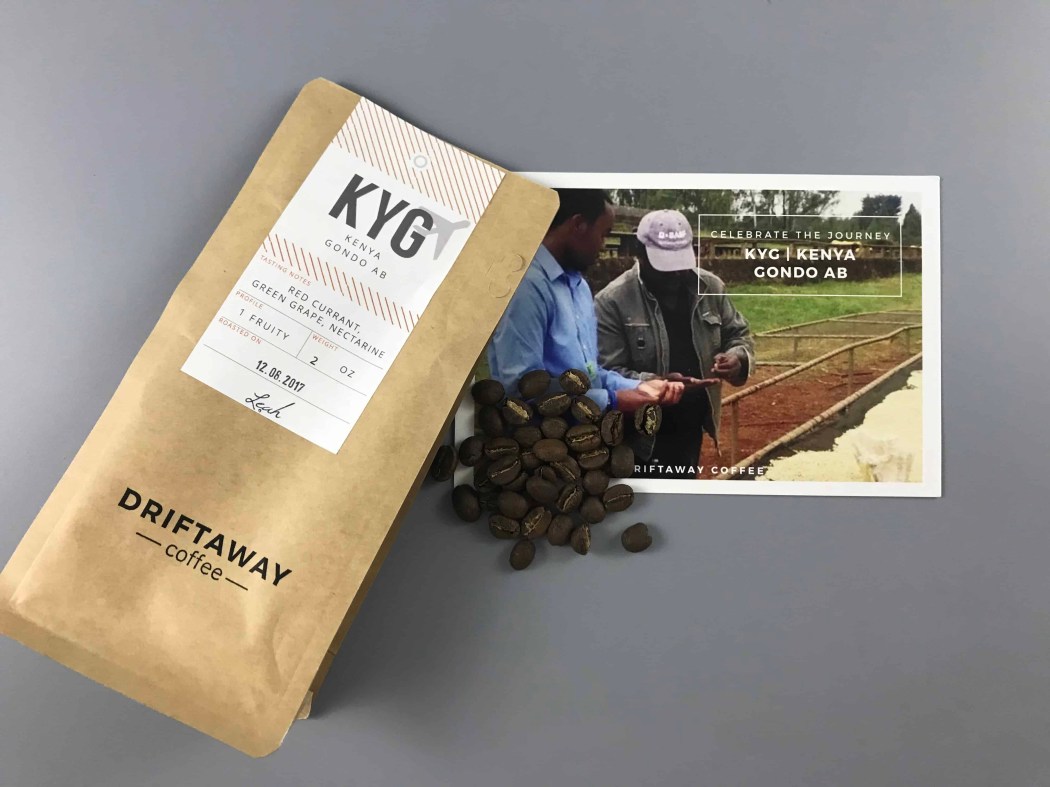 Image from: our review
Why We Love It: If you enjoy geeking out over coffee, Driftaway is for you! They'll first send you a sample box, which will include four different 2-ounce bags of coffee that will be used to tailor what coffee you'll receive in the future. Discover new flavor profiles from around the world each month that's similar to the taste you love! Aside from the coffee, each box includes notes on everything you want to know about the drink. The bags are even personalized for each customer and shipped within 6 hours of roasting in eco-friendly packaging.
Check out Driftaway Coffee Reviews for more info.
Price: Subscriptions start at $16 every week.
Deal: Get 50% off your first month of a subscription! Use coupon code HELLO50 .
---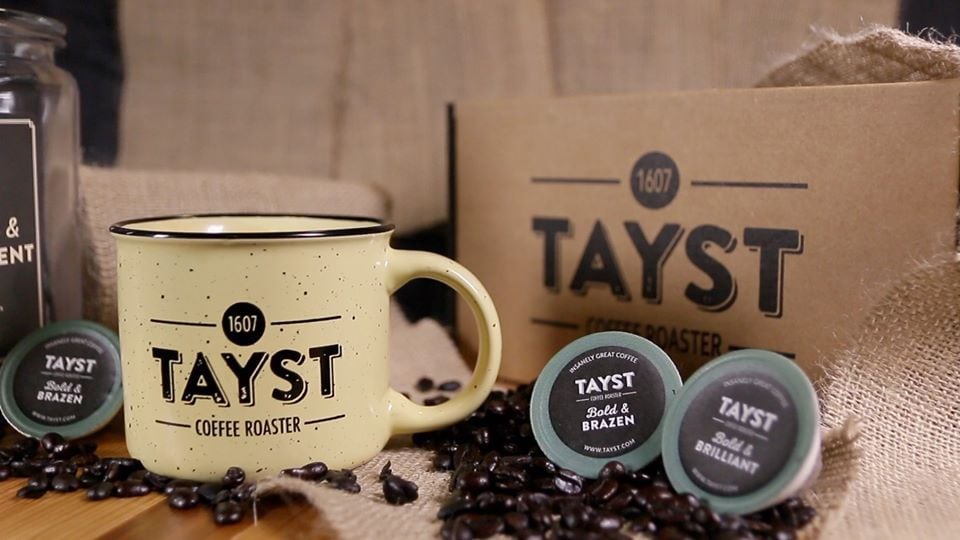 Image from: Tayst
Why We Love It: You can still enjoy coffee without having to worry about plastic Keurig cups. Tayst has the solution to this concern, still allowing you to enjoy and savor coffee without harming the planet! It's an eco-friendly subscription that sends 100% compostable pods for Keurig. Yes, you've read it right – compostable single-serve pods. And you're in control of how many cups you want per month, plus your choice of coffee brews too! You also have the option to purchase add-ons like a coffee mug, tote bag, coffee jar, travel mug tumbler, and cold brew jar if you wish. With this subscription, you do not only help support the families and the communities where the coffee is grown, but you also help save the planet by reducing plastic wastes while enjoying your cup of joe!
Price: $29 per month for 30 cups, or less with longer plans!
---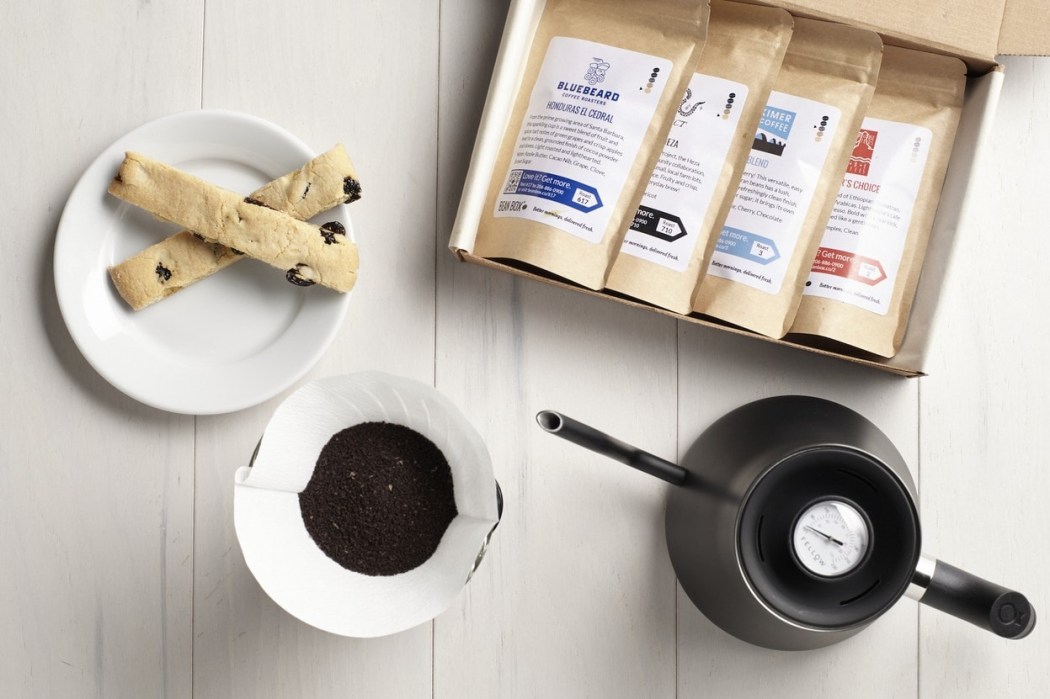 Image from: Bean Box
Why We Love It: Bean Box manages to balance choice and surprise well. This subscription features coffee from top artisan roasters from around the world for adventurous coffee drinkers. First, you choose between two subscription options: Coffee Tasting, which provides four 1.8oz bags of coffee every month, or Coffee Bag, which includes a single 12-ounce bag delivered weekly, bi-weekly, or monthly, and all are freshly roasted and packaged to guarantee peak freshness and flavor. Subscribers can even choose their roast preference with either of the styles – light, medium, dark, decaf, and espresso, as well as the grind setting – whole bean or freshly ground. It's one of the best coffee subscriptions to go for, so you can have better mornings!
Read Bean Box Reviews for more exciting info.
Price: Coffee Tasting subscription is $16.50 per month, and Coffee Bag Subscription is $20/week, $22/bi-weekly, and $24/month.
Deal: Save $5 on your first box! Deal applies automatically, just visit and subscribe.
---
Image from: Trade Coffee
Why We Love It: Trade Coffee made every possible way to rethink the model for home brewing. They partner with roasters across the country to bring you high-quality, ethically sourced coffee to make your morning better than usual. As to date, they offer 400+ coffees from the best craft roasters, all handpicked and tasted by their team! Take the quiz and get matched with coffees based on your liking. Subscribers can customize delivery frequency, grind setting for their coffee beans, and the number of coffee bags they'd like to receive. With this coffee subscription, you'll surely find the best fit for your taste buds! Also, as a subscriber, you automatically receive discounted pricing in curated coffees plus free shipping always.
Price: Find your perfect coffee match starting at $15 per week!
Deal: Get 30% off + FREE Cold Brew Bags! Deal applies automatically, just visit and subscribe.
---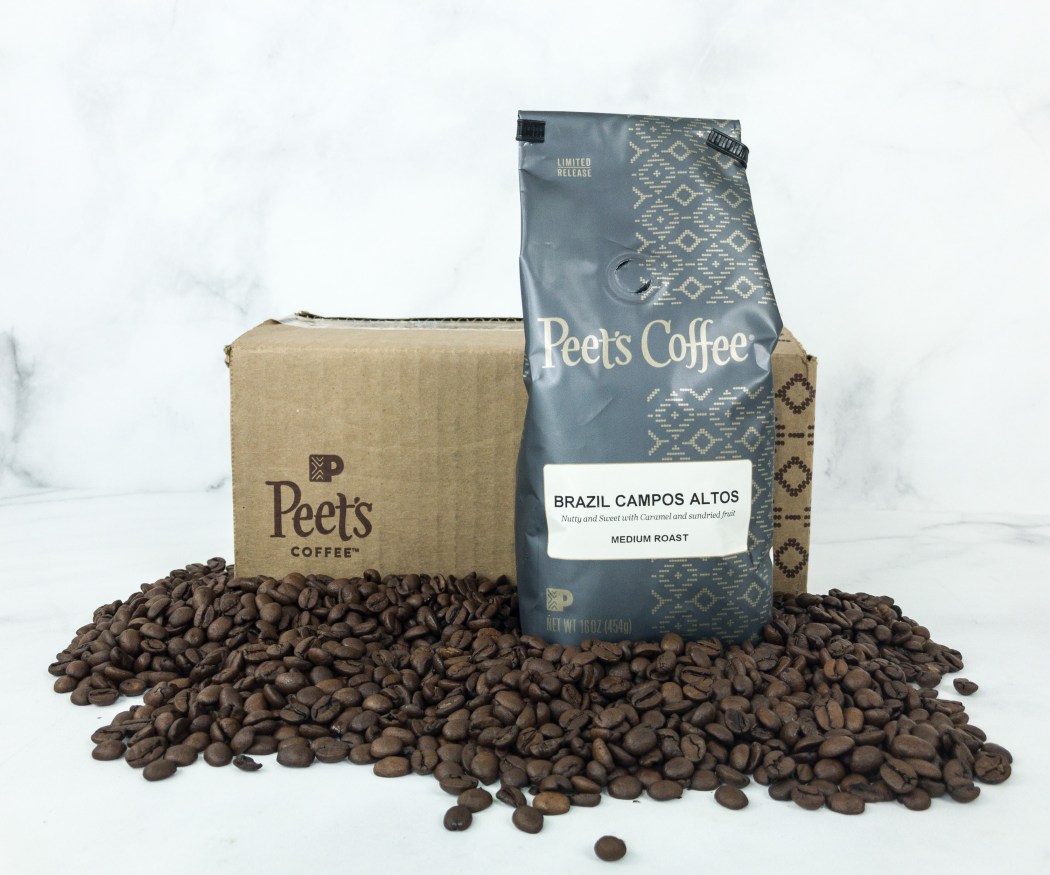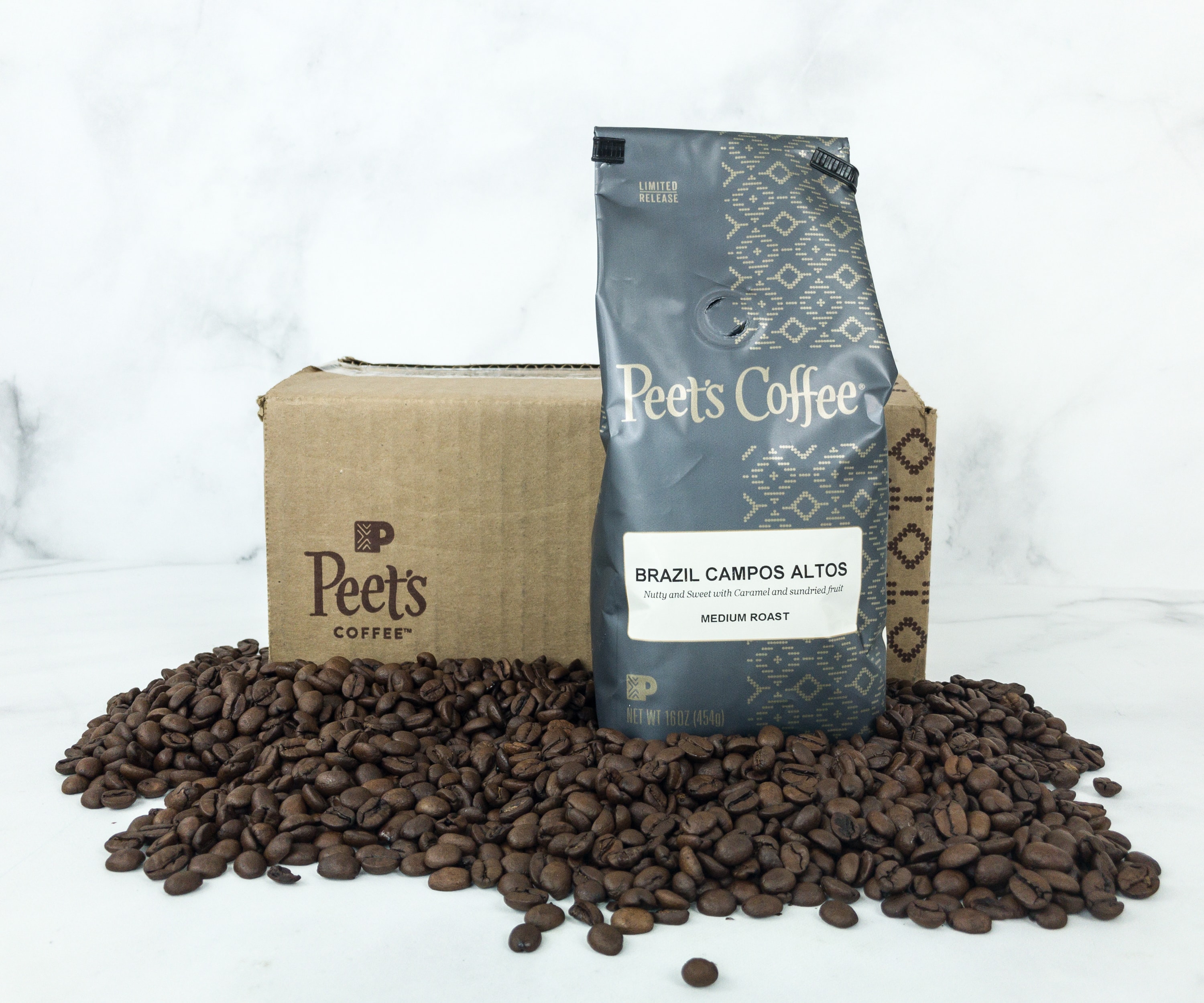 Image from: our review
Why We Love It: Peet's Coffee is one of the best subscription options for all the coffee lovers out there! They give you the power to choose from four curated subscriptions or build your own box with flavors you love most with their Frequent Brewer subscription. The Carbon Neutral Series allows you to have great tasting coffee as you break up with carbon (2lbs of coffee=3 mangrove trees); Small Batch Series with a different limited release, rare micro-lot from small farms in the world's best coffee-growing regions with grind choices like the whole bean, drip, espresso, or press pot/percolator; Single-Origin Series, which lets you experience the world through unique coffee flavors; and Signature Blend Series, which is all about the classics. Plus, you can get them in larger quantities – 1lb, 2lbs, or 3lbs. Who would say no to an extra cup of coffee anyway?
Check out Peet's Coffee Explorer Reviews to know more.
Price: Coffee subscription starts at $18 a pound, $34.20 for 2 pounds, and $48.60 for 3 pounds.
Deals:
---
Image from: Sans Coffee
Why We Love It: Get a head start for your day with Sans Coffee. Receive 100g of the rarest, top-shelf whole bean coffees from the worlds' most celebrated roasters every month without breaking the bank! The coffee you'll get monthly comes from ultra-limited micro-lots that'll sure to makes your tastebuds dance and change your perception of what a good cup of joe can taste like. Along with it comes brewing guidelines so you can make the most out of your coffee. Imagine tasting mind-blowingly good coffee in the comfort of your own home, delivered hassle-free? It's what this amazing coffee subscription is all about! Truly a coffee without compromise!
Price: Monthly subscription is $25.
---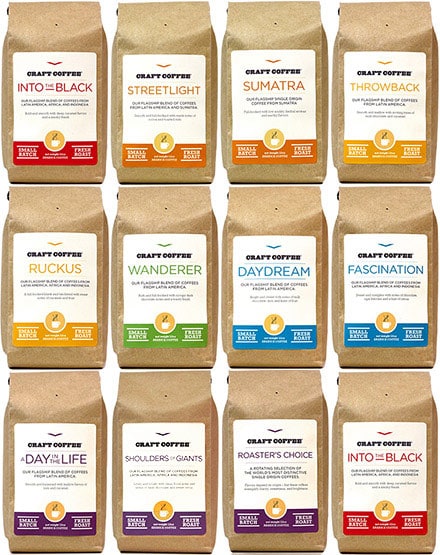 Image from: Craft Coffee
Why We Love It: Craft Coffee keep it simple. No surprises, no curated boxes. Instead, they let you select the coffee yourself, along with the delivery schedule and the grind. The price of the subscription depends on the coffee you choose and the bag size as well. They also promise to help you find the right coffee for your taste by doing a survey on the blend you currently enjoy, which they will use as a guide in giving a recommendation that comes with 100% guaranteed satisfaction! All coffee blends arrive in 12-ounce bags, freshly roasted! You can also choose to have the 3-Roast Sampler, which will give you four ounces of each coffee flavor. No hassle included – just better coffee for less!
Visit Craft Coffee Reviews to know more.
Price: Subscription cost starts at $6.99 per bag. Shipping is FREE.
Deal: Get 15% off + FREE Bag of Coffee! Use coupon code l42-5fh.
---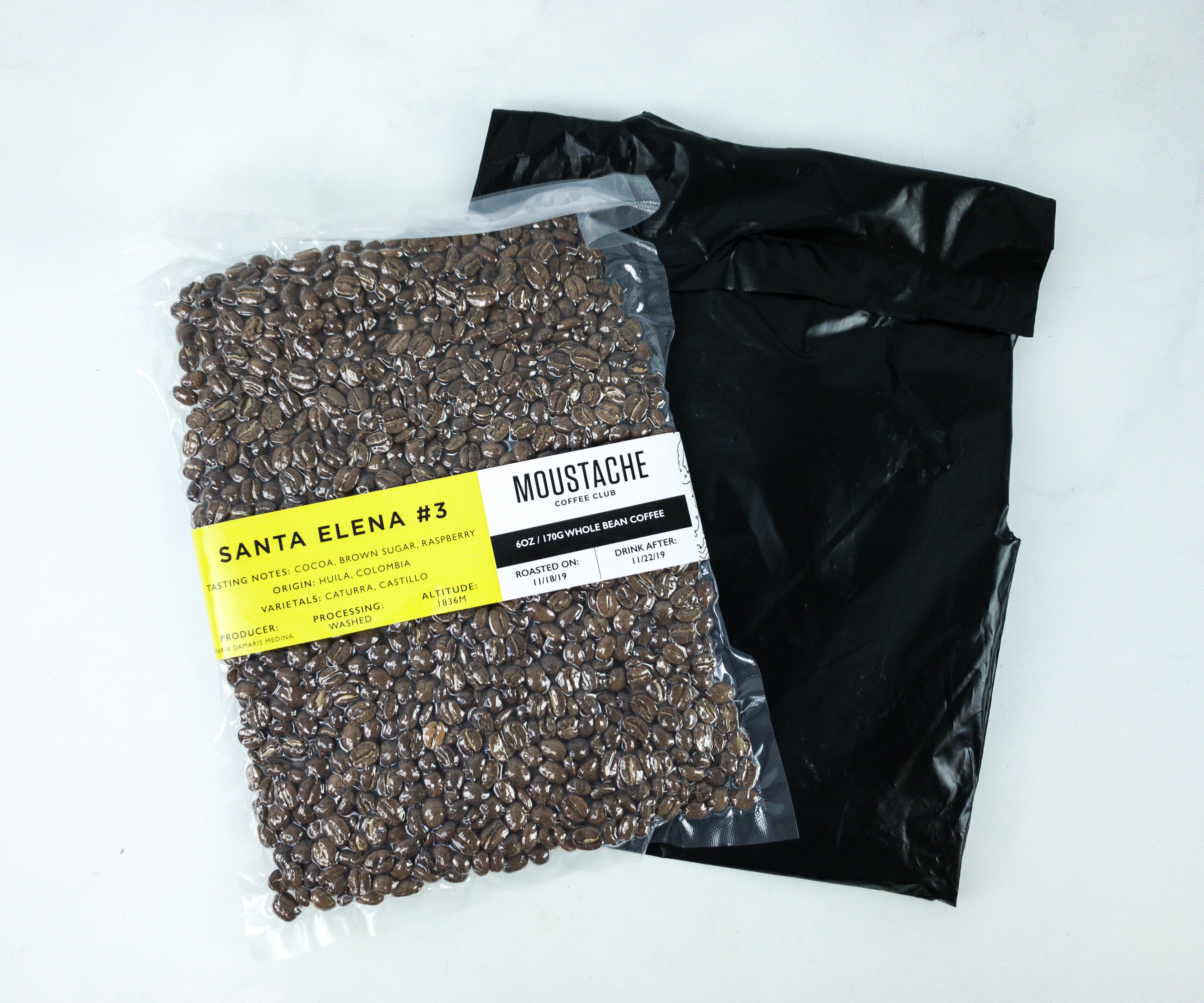 Image from: our review
Why We Love It: Moustache Coffee Club is more than just a coffee delivery service because they offer a membership that connects like-minded coffee lovers throughout the world! They are all about the pursuit of the perfect cup of coffee, day after day. Through this, you can taste the best of premium single-origin coffee from renowned growing regions worldwide. They find superior quality and unique taste to serve subscribers only the best tasting coffee they can indulge in! These are expertly roasted and shipped on the day they are roasted, which means they arrive at the peak of freshness. Just choose how much coffee you need – 12 or 6 oz, and customize delivery frequency as well to receive the coffee you'll be excited to drink every single day!
See Moustache Coffee Club Reviews for more info.
Price: 6oz bag subscription is $13/week, and 12oz bag subscription costs $22/week.
---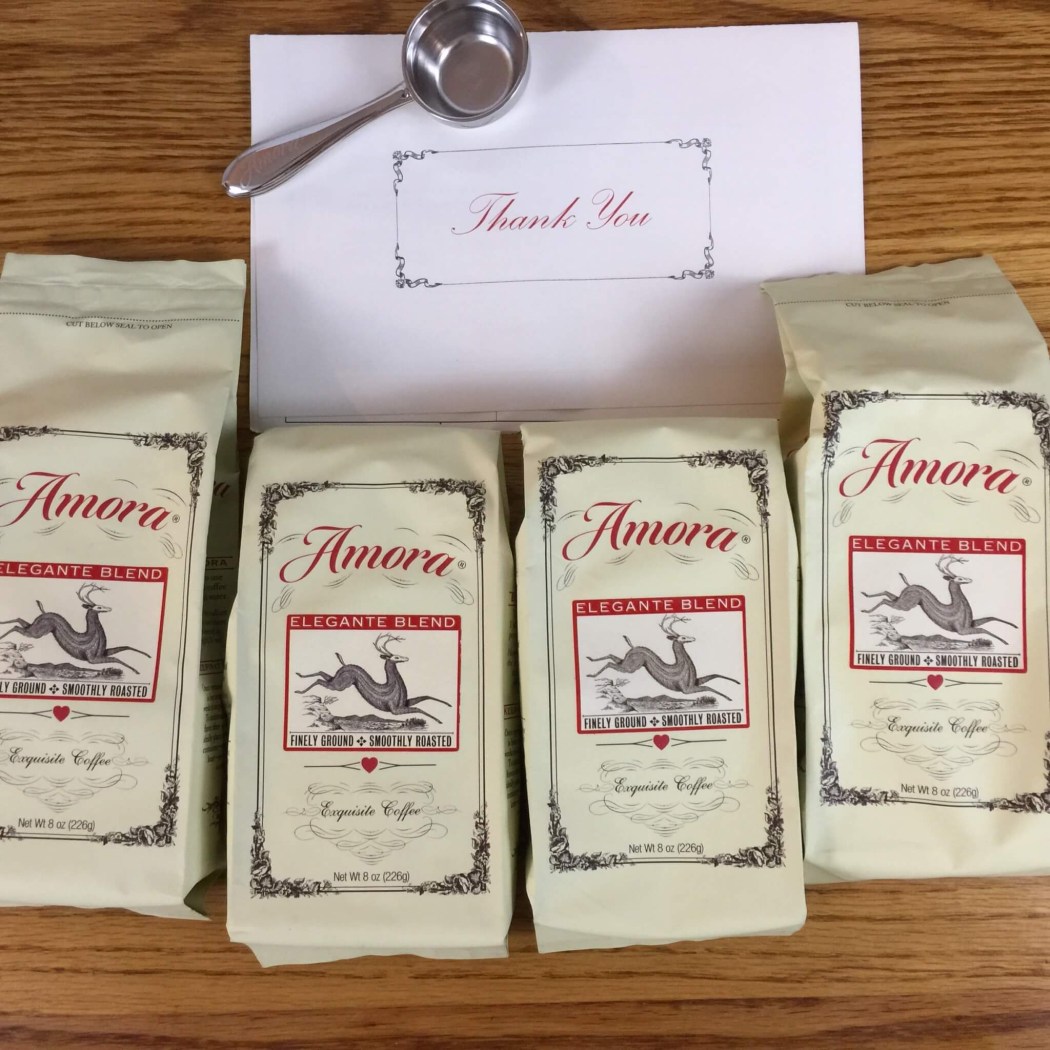 Image from: our review
Why We Love It: Amora Coffee offers only premium coffee, made more special by their exclusive 9-step roasting process! They are fifth-generation master roasters that are truly devoted to bringing the perfect cup of coffee to coffee connoisseurs and even starters. You can choose between the Regular Blends in various intensities, such as Delicata (light), Elegante (Medium), Vigorosi (medium-dark), Intenso (dark), and Espresso (extra dark), or the flavored ones. Subscribers also have the option to choose their grind setting (whole bean or finely ground), as well as whether they want regular or decaf coffee. It's the perfect subscription for any discerning coffee enthusiast!
See Amora Coffee Reviews for more details on the subscription.
Price: One-time purchase costs $14.95. A coffee bag subscription is priced at $11.96 every two weeks.
Deals:
---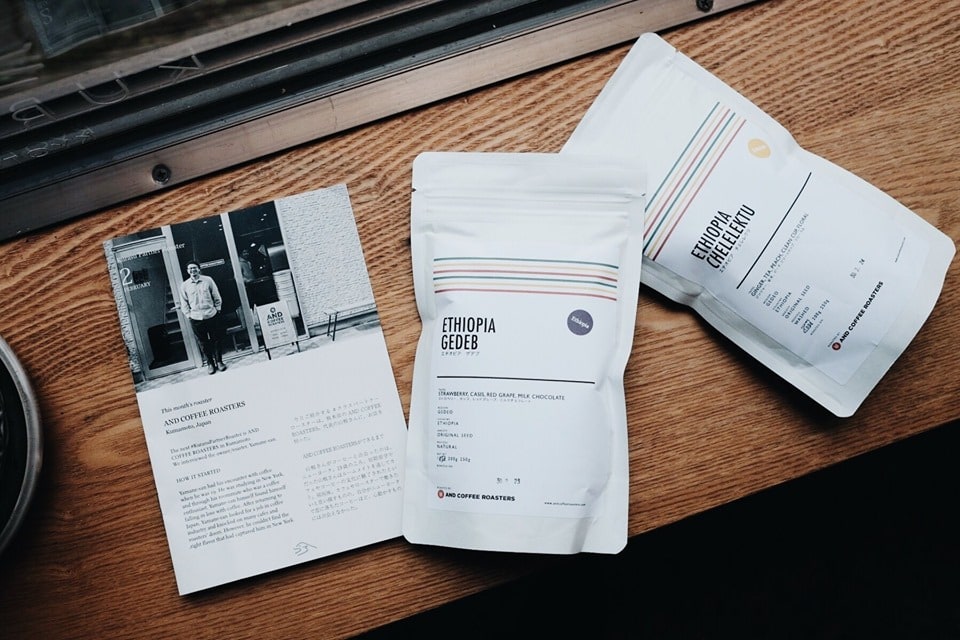 Image from: Japanese Coffee by Kurasu
Why We Love It: Wherever you are in the world, the goal of Japanese Coffee by Kurasu is to connect you with the best coffee from the Land of the Rising Sun. That's why they partner with different roasteries all over Japan to ship freshly roasted beans every month directly to your door! You'll receive two selections of specialty coffee, and the coffee types depend on the specialty of the roaster chosen for that month. You won't need a plane ticket to experience their roasted coffee and learn amazing stories too. Just sit back, relax, and wait for your specially curated Japanese coffee in the comfort of your home!
Price: The coffee subscription is $32 a month. Worldwide shipping is for free.
---
Image from: Copper Cow Coffee
Why We Love It: A quality obsessed, eco-friendly, and women-owned company, that's what Copper Cow Coffee is. It is a monthly subscription offering organic, all-natural pour-over Vietnamese coffee combined with real California milk creamers. What makes this coffee even better is that coffee is grown in the temperate Central Highlands of Vietnam using volcanic soil and organic farming and agricultural techniques – no chemicals, no pesticides, no GMO! Choose your coffee flavor – Classic Black, Churro Coffee, Vanilla Coffee, Salted Caramel Coffee, or Lavender Coffee, and receive 8 coffee packs every month. You can also create a box by telling them how you like your coffee, and they'll deliver 24 packs straight to your doorstep monthly. Once your coffee arrives, you can just tear the bag of coffee grounds, hang the wings on each side of the cup, pour enough water, and taste barista-quality coffee at home!
Price: A box of 8 costs $14. Subscribe and save 20%. Create a box is also an option for $48.90 a month.
Deals:
---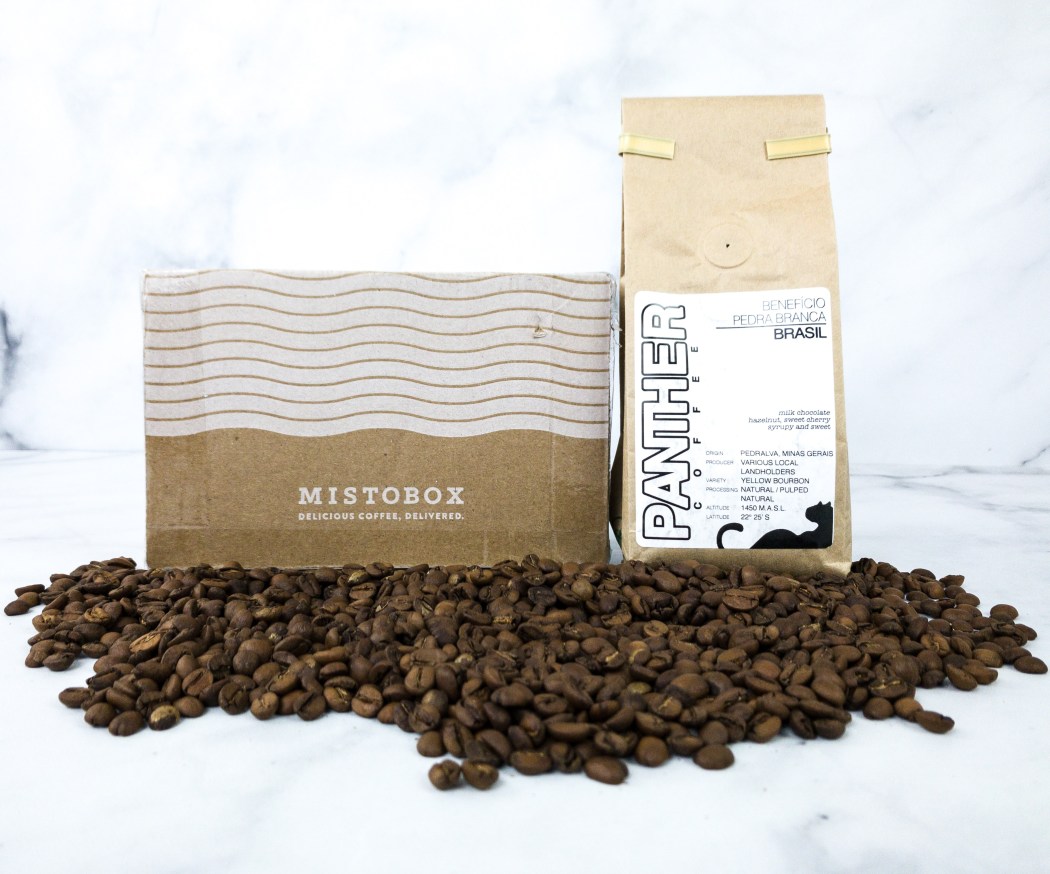 Image from: our review
Why We Love It: Days get better with a cup of coffee, and for fans of artisan coffee, Misto Box makes it easy to discover and brew the world's best coffee at home. They feature the best-tasting coffee roasted by 50+ of the country's award-winning artisan coffee roasters. Choose a tier (Basic, Deluxe, or Exclusive) and receive a 12oz bag of coffee that's freshly roasted for your order and will be shipped directly to your door on your preferred schedule. They search high and low for the most talented roasters, sample them, and choose the best ones for you, so all you have to do is sit back, relax, and enjoy the coffee your way!
Check out different artisan coffee they've sent us in the past on Misto Box Reviews.
Price: Deluxe Plan costs $14.95/week, and Exclusive Plan is $17.95/week.
Deals:
---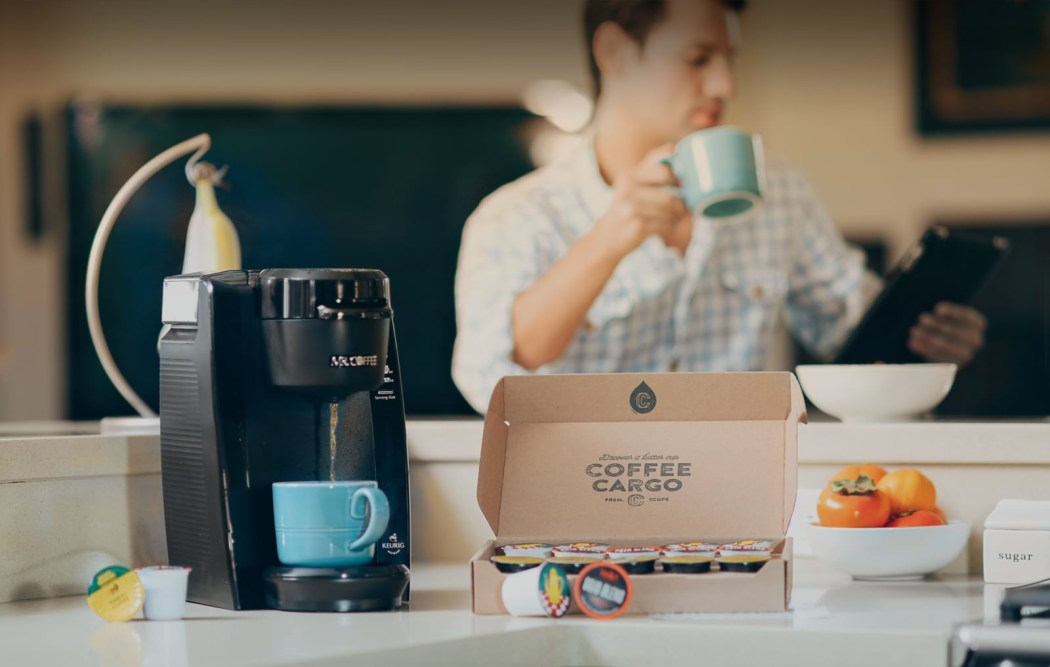 Image from: Coffee Cargo
Why We Love It: A coffee a day keeps the bad vibes away, and Coffee Cargo is here to help you discover and enjoy new K-cup coffee blends. They scour every corner to give you the best of the best premium blends of Arabica coffee and small-batch roasted coffees to drink and enjoy every day, including rare, organic, single-origin, and limited edition. Each box includes 15 K-cups in three different hand-picked coffee blends (5 of each) that are hard to come by on the shelf of your local stores! It also includes information about cupping notes, roast level, and fun facts about the coffee you received for the month.
Price: Monthly $19, 3 Months $54 (save $3), 6 Months $102 (save $12), and 12 Months $195 (save $33).
---
Image from: our review
Why We Love It: Although all subscriptions provide fresh coffee, Java Presse is the only option that ships your coffee within hours of it being roasted, which is a seriously impressive feat! It means that your coffee will always be fresh and will taste better, in addition to it being ethically sourced, all-natural, and additive-free! Avid coffee drinkers will receive 12oz of freshly roasted coffee from family-owned farms every two weeks or monthly. Plus, you also get to select your coffee brew – light roast, medium roast, dark roast, or brewer's choice, and the number of bags in your shipment as well. The first shipment also includes a free grinder that's worth $39, making it easy for you to brew tastier coffee at home.
Visit Java Presse Coffee Reviews for more info.
Price: Subscription is priced at $18.99 every two weeks.
Deal: Get 10% off your first order! Use coupon code 10JAVA.
---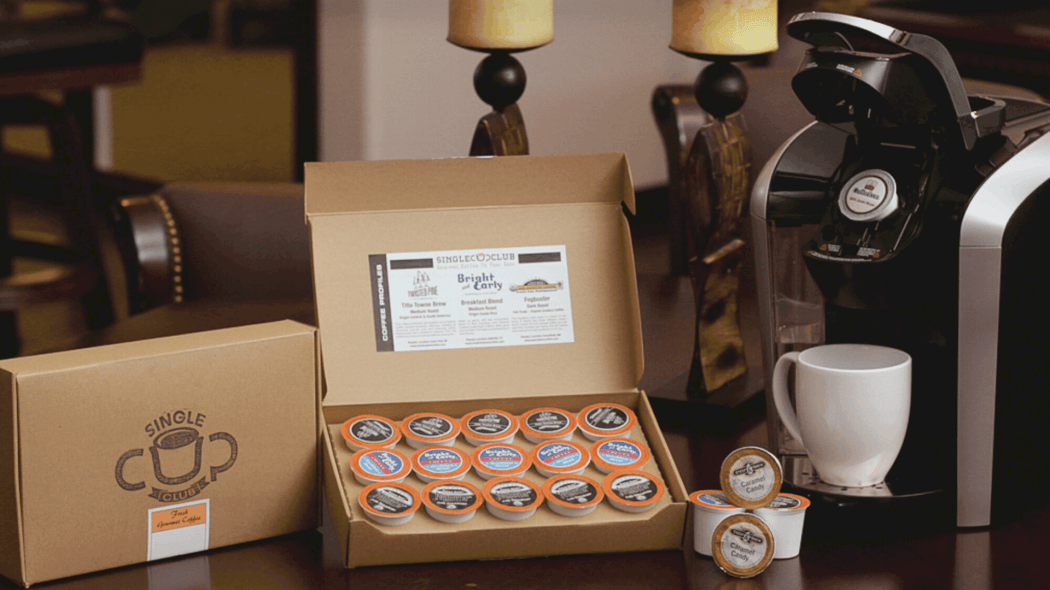 Image from: Single Cup Club
Why We Love It: Single Cup Club lets you experience the convenience of what single-serve cups bring. Every month, you can discover three savory unique blends of artisan coffee delivered straight to your doorstep. Explore the world of small-batch gourmet coffee with convenience and variety but minus the hassle! Receive a selection of 15 K-cups roasts – 5 of each kind, all handpicked by their artisan roasters. Each box also includes a detailed description of the coffee you received and get to know more about the sponsored roaster of the month. With this subscription, you'll get to try the countries best small-batch coffees to perk your day up or gift to someone to help them have better mornings!
If you want to see what coffee they've sent us, visit Single Cup Club Reviews.
Price: Pay monthly for $13.99. Save more on longer plans.
Deal: Get free shipping! Use coupon code FREESHIPPING.
---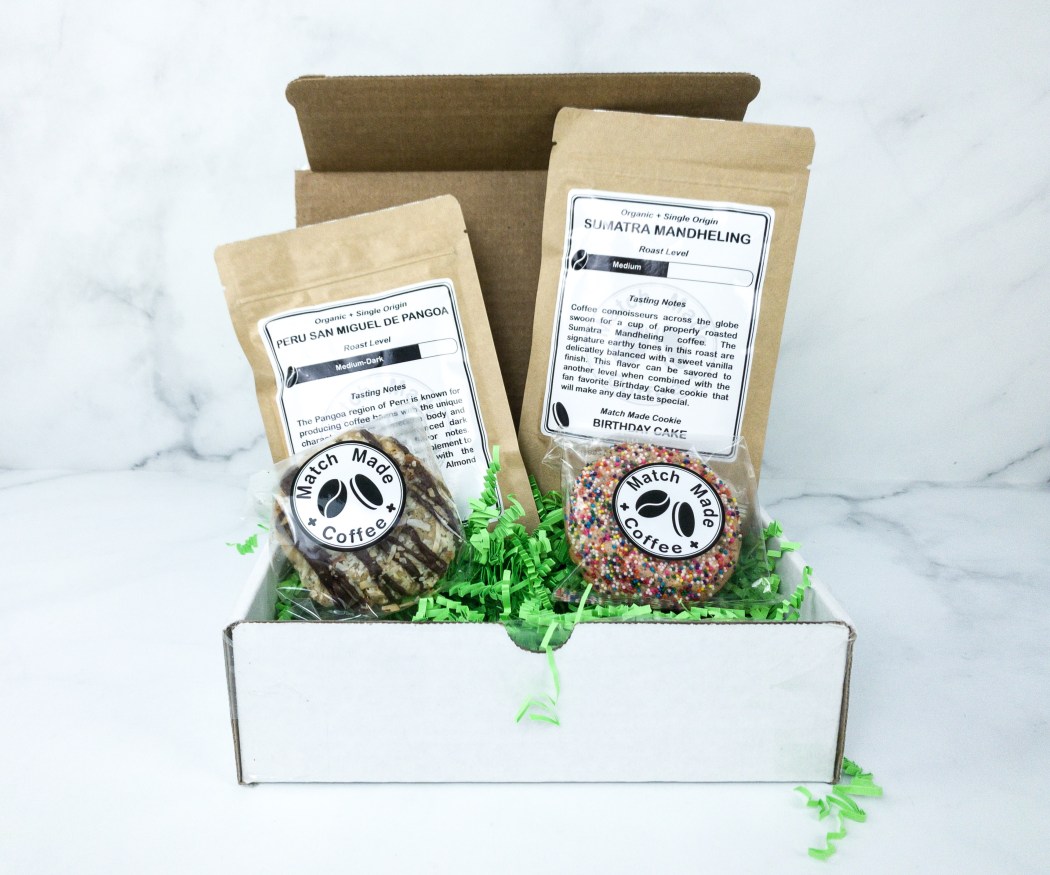 Image from: our review
Why We Love It: Coffee tastes even better when paired with gourmet cookies, and that's what Match Made Coffee is all about! They let subscribers have a taste of their organic, small-batch coffees that are roasted and ground fresh to orders, along with award-winning gourmet cookies that are baked fresh and designed to maximize the coffee experience like no other! Each box comes with an international coffee roast that measures 4 oz (perfect amount for two) and two gourmet cookies to pair with. It also includes a flavor note guide describing the roast and the cookies you received in your box. With this subscription, you can now say coffee has finally met its match!
See best pairings on our Match Made Coffee Reviews.
Price: Monthly subscription is $19.95. Save more with their longer plans!
Deal: Get 10% discount on your first subscription box with any subscription purchase! Use coupon code HS10.
---
Image from: Dripbox
Why We Love It: With the passion to connect people with independent artisanal roasters across the US, Dripbox delivers fresh, quality coffee to your doorstep each month. Aside from getting incredible tasting coffee, you'll be introduced to small roasteries and learn more about them. They have a large array of unique single-origin and blends to enhance your coffee tasting experience and make it extra memorable! Choose the coffee package that suits your coffee drinking game the most – a Sampler Box, which contains 4 bags of 3oz coffee, or a Bag of Coffee, where you'll get one full-size bag of coffee. You even have the option to choose what roast you prefer: Light, Medium, Houseblend, or Surprise me! Roasters and coffee rotate to give you a new coffee experience every month!
Price: Sampler Box is $29.99 a month, and Bag of Coffee subscription is $19.99 a month.
---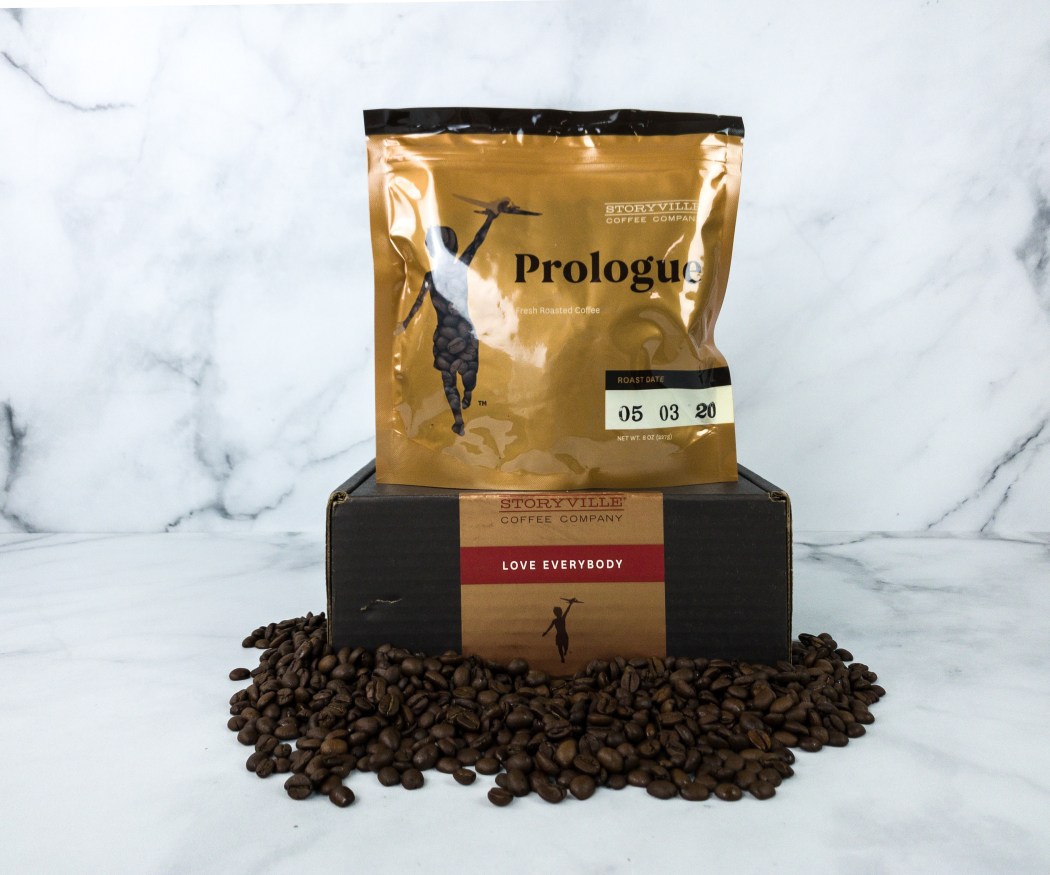 Image from: our review
Why We Love It: Storyville Coffee is a monthly subscription delivering the most delicious beans sourced only from the top 2% of the world. Just choose your kind of brew – capsules, whole beans, or pods, and they'll deliver it straight to your door, so you can enjoy the perfect coffee anytime your taste buds crave! You can choose how many bags, cups, or capsules you want to include in your box and even customize the delivery frequency. It's where luxury taste and convenience meets, so expect freshly roasted coffee shipped to your door for free!
Visit Storyville Coffee Review for more details.
Price: Whole Bean coffee subscription starts at $14 every two weeks; Keurig Pods and Nespresso Capsules starts at $20 every two weeks,
Deal: Get 66% off your subscription! Use coupon code COFFEE.
---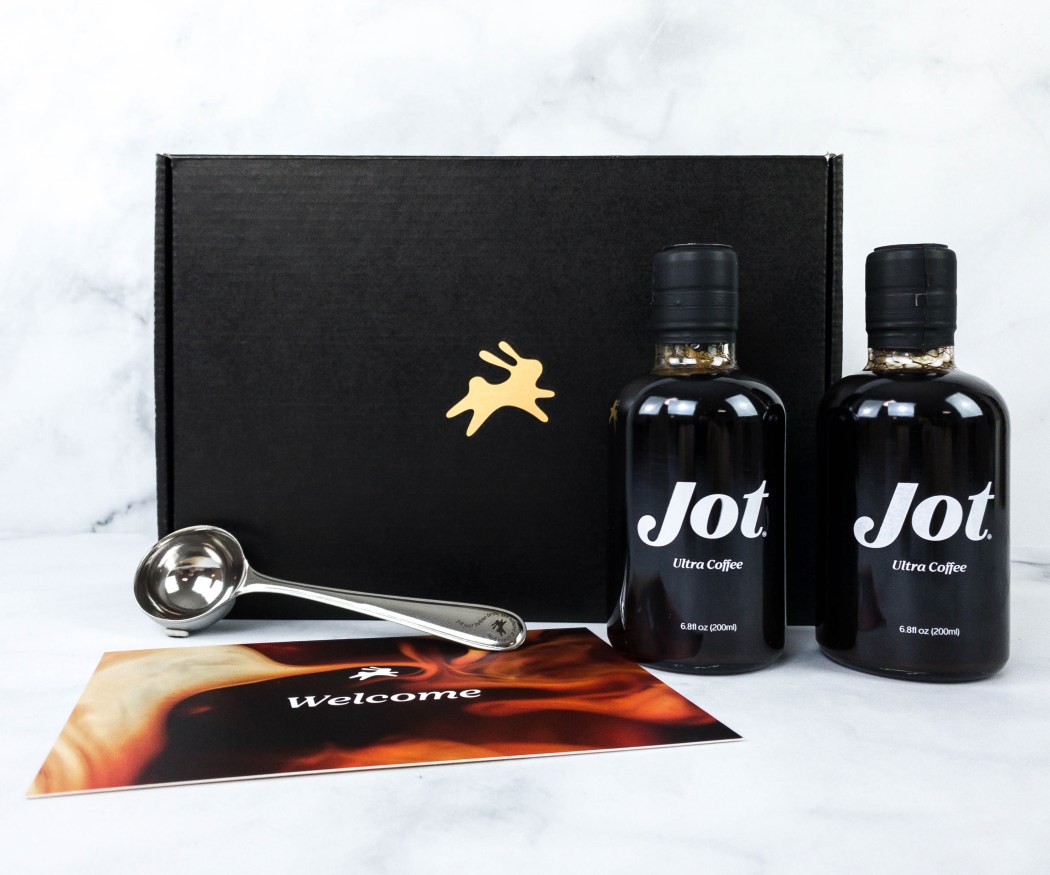 Image from: our review
Why We Love It: Jot Ultra Coffee is a concentrated coffee that brings out the natural flavor and freshness of coffee beans. Using the extraction process, they get the purest, most delicious liquid form of coffee that is 20 times more concentrated than usual. There are endless possibilities with just one tablespoon of this concentrated coffee – espresso, cappuccino, Americano, name it, and you'll have it in seconds! The only ingredient you'll find in this ultra coffee is the highest-quality organic, fair trade, and sustainable coffee beans from Central and South America. Transform your daily morning coffee routine with just a splash of water or milk!
Check out Jot Review to know more about the subscription.
Price: Subscription starts at $18 every two weeks.
Deal: Get 15% off + FREE shipping on your first bottle of Ultra Coffee! Use coupon code HELLO15.
---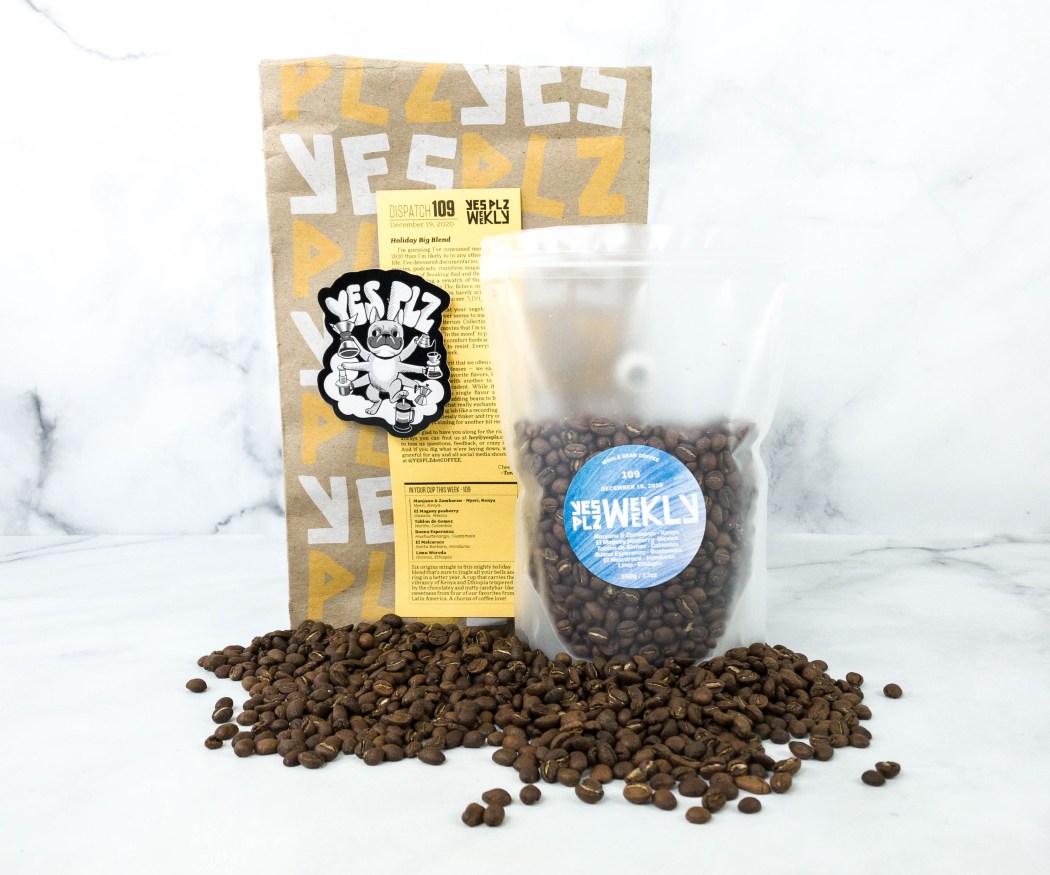 Image from: our review
Why We Love It: The best coffee you drink should be the coffee you made in your own kitchen, and that's where Yes Plz Coffee is coming from! Holding this premise, they roast coffee with great care in their kitchen in Los Angeles so you could have the best beans to brew. These are sourced from small importers and exporters who emphasize transparency and long-term relationships with the best farms and mills from around the world. Whether you're a newbie trying out coffee to find what suits your taste buds or a connoisseur exploring more delicate taste, with new and unique blends every week, there's so much for you to savor! Get full control over what bag size you'll receive on your preferred delivery schedule. What you only need to do is wait for it to arrive at your door and experience coffee like never before!
To learn more, visit Yes Plz Coffee Review.
Price: 250g bag is $17/shipment, and 340g bag costs $23 per shipment.
Deals:
---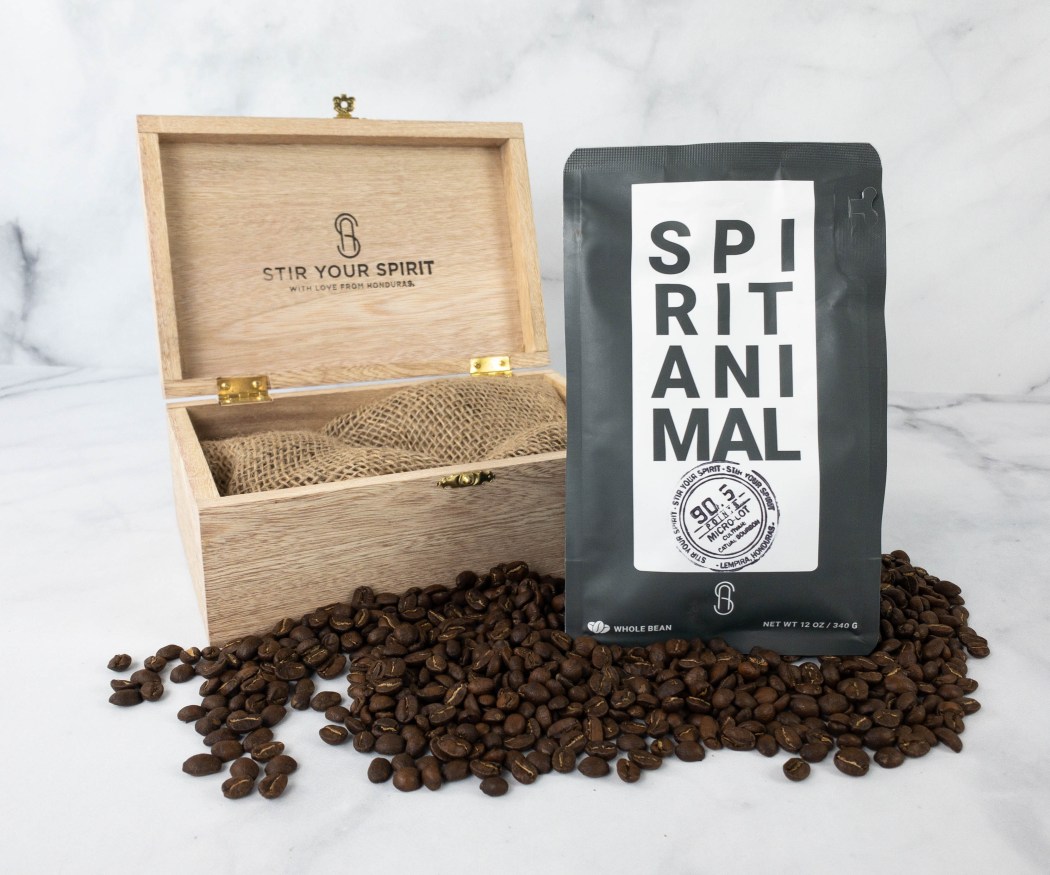 Image from: our review
Why We Love It: Creating premium specialty coffee is what Spirit Animal mostly does. They want everyone to have a taste of exceptional coffee in Honduras, so they roast them there, pack them immediately, and travel it via air freight instead of sea freight, which means less travel time to ensure perfect humidity and temperature conditions. The single-origin coffee beans are grown organically in high-elevation shade micro-lots with zero use of pesticides. Subscribers get priority access to limited-edition coffee each month that will bring a new coffee experience that's sure to change not just their palate and but the planet too! You'll definitely taste the difference when you sip a warm cup of coffee from this subscription!
See more on Spirit Animal Review.
Price: Get a bag of coffee starting at $23.20/week.
Deal: Get 10% off on your subscription! Use coupon code HELLO10.
---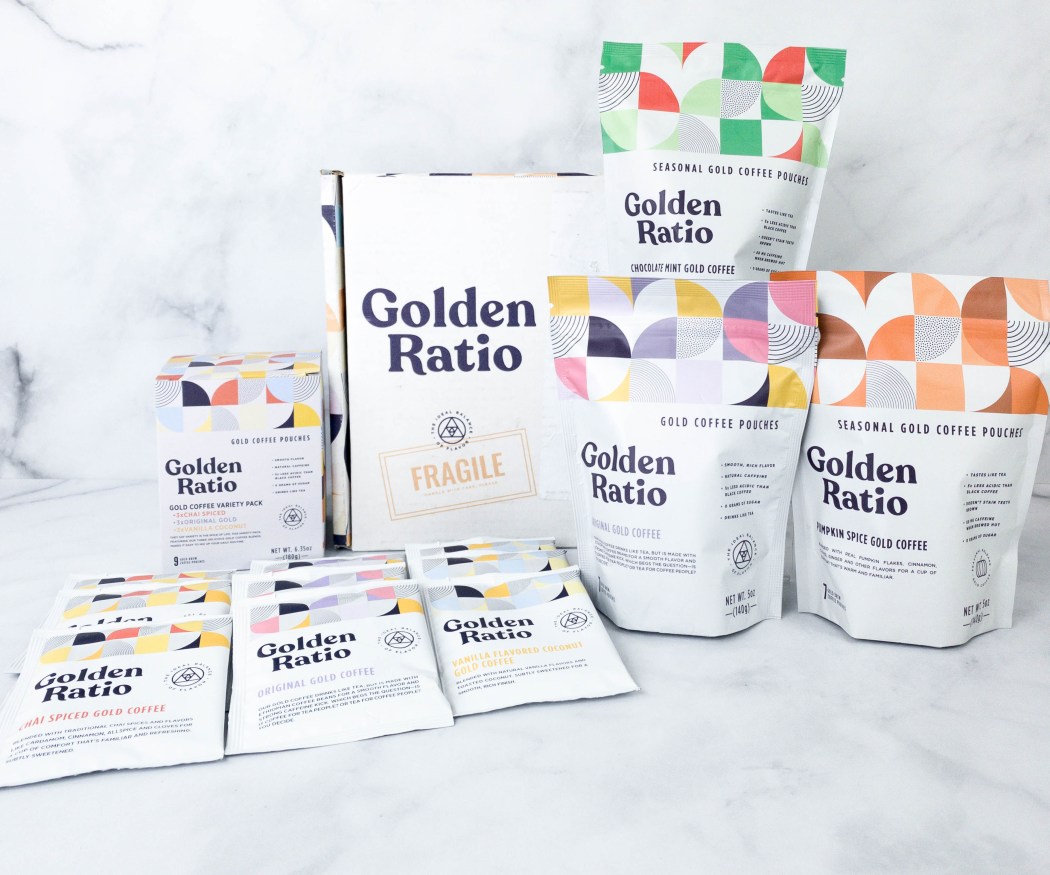 Image from: our review
Why We Love It: Ever heard of a perfect ratio between bitterness and smoothness on your coffee? Well, now, you do! With Golden Ratio Coffee, there's no bitter taste on your coffee, only a smooth taste. They roast these beans low and slow to create a coffee that's gold in color, which basically looks like tea, tastes more like tea, and is 5x less acidic than regular coffee! Whether you want your coffee hot or cold, it's up to you! It can be easily brewed with pouches that look more like teabags. Not to mention, this golden coffee contains all-natural ingredients and is diet-friendly, be it vegan, paleo, or keto, as it contains zero sugar. All you have to do is select which gold coffee you want (chai spiced, original, vanilla coconut) or taste them all in a variety pack!
Head on to Golden Ratio Coffee Review to know more about the subscription.
Price: The subscription starts at $15.29 a month.
Deals:
---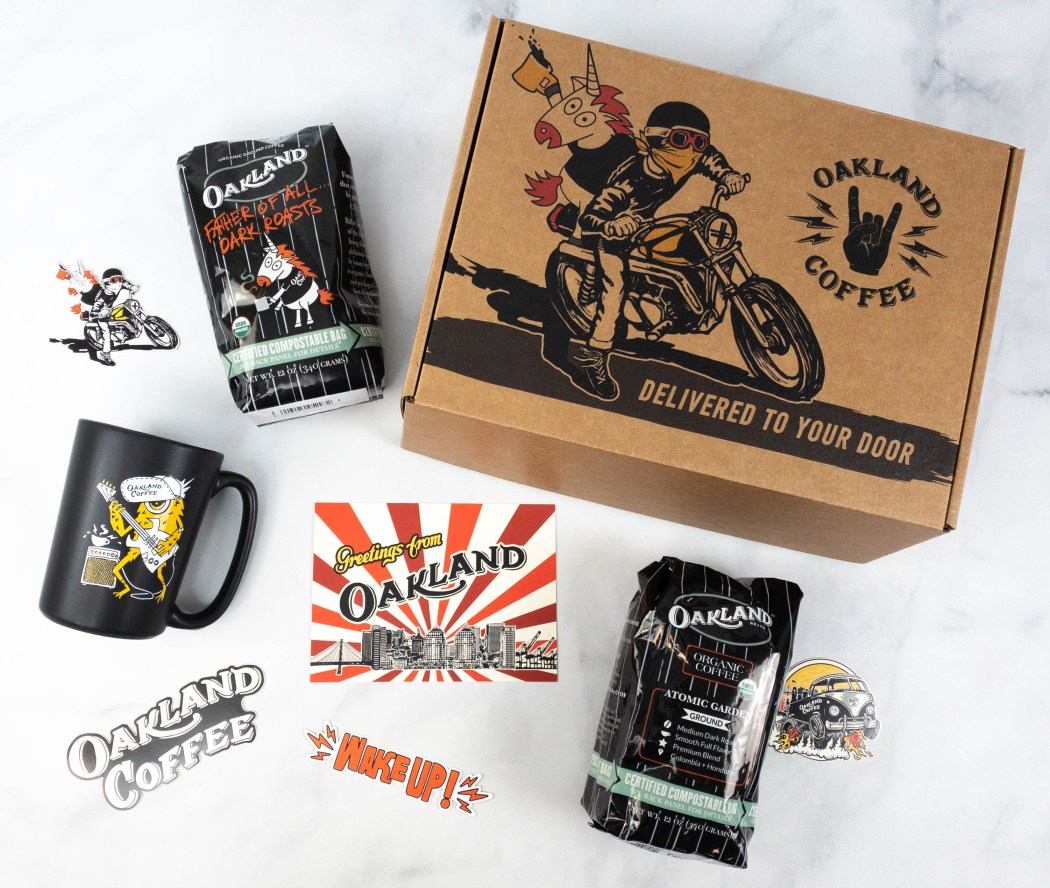 Image from: our review
Why We Love It: With Oakland Coffee, the great coffee will show up at your door like magic! The coffee they offer is made from premium, organic, and sustainably grown beans, then slow-roasted for a bold, rich taste that's not bitter! You can choose to have their mix of fave blends to find your new coffee favorite – be it ground, whole bean, or a single-serve mix – or Build Your Box with flavor profiles you truly love! Everything is roasted perfectly and even packaged in compostable packaging. Drink all you want and boost your energy with strong for the soul and easy on the planet coffee delivered conveniently to your door.
Check out Oakland Coffee Review to know more.
Price: Indulge in a coffee rut starting at $37.99, delivered on your desired delivery frequency. Build your box is also an option starting at $9.50.
---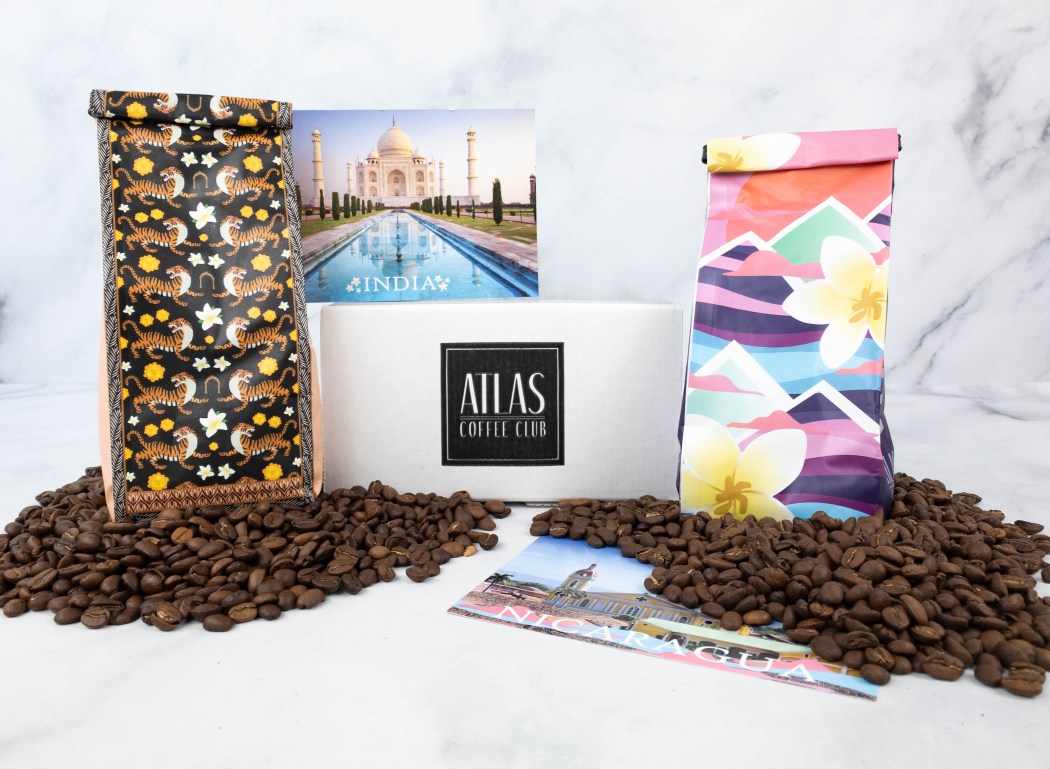 Image from: our review
Why We Love It: Atlas Coffee Club curates the world's best exotic coffee exported from different countries each month, including Tanzania, Kenya, Colombia, and more! Each box is a curation of the world's best single-origin coffee. With a pack of coffee – Half Bag (6oz), Single Bag (12 oz), Double Bag (24oz), sent monthly or every two weeks directly to your door, they also include flavor notes, a postcard, and brewing tips. Subscribers can also select their roast preferences and the grind type as well. They are definitely our "coffee tour guides," sending amazing exotic coffees we don't usually find online or on the shelf of retail stores!
Learn more on Atlas Coffee Club Review.
Price: Half bag subscription costs $9/two weeks, Single bag is $14/two weeks, and Double bag is $28/two weeks.
Deal: Get 50% off your first subscription purchase! Use coupon code HELLOSUBSCRIPTION50.
---
And that sums up our list of best subscription boxes for coffee lovers! Did you find the perfect coffee box that'll satisfy the coffee lover in you?
Discover more exciting subscriptions when you check out this list of all the best subscription boxes!
Say Hello to More Subscriptions for Your Daily Caffeine Fix!