Cats can be a rewarding companion to humans life. And the greatest way to ensure that they live comfortably is to provide them what they need. Toys and treats, especially food, are essential to a cat's life. Looking for the right sources to have the highest quality food you can feed them is quite a task. Gladly, cat food subscriptions break off your search for healthier pet food these feline pals can enjoy.
Considering your pet's current state and health goals, it's one of the fantastic options to consider! These subscriptions even cut back-and-forth trips to the pet store to obtain large bags of your furry friend's food. They deliver the right nutrition straight to your doorstep without the guesswork. Most of which are also tailored to cats' age, gender, weight, and activity level!
A balanced diet is vital to the overall wellness and health of pets, and every cat has different needs and preferences. So if you want your cat to have the best life (better than the 9 lives they have), check out these best cat food subscriptions!
The Best Food Subscription Boxes for Your Cats!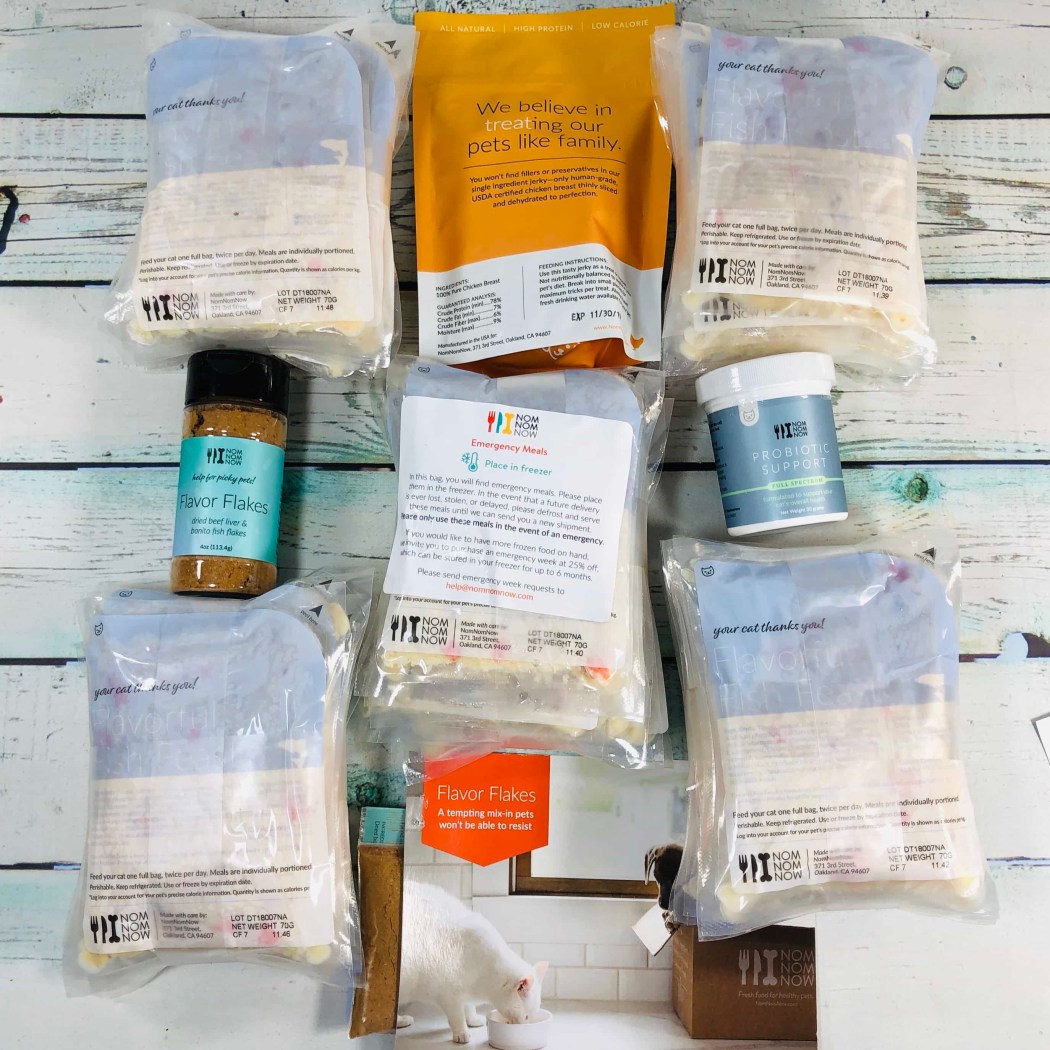 Image from: our review
What You Get: Real, fresh, and healthy pet food, delivered right to your door each week – that's what Nom Nom is! Mixed and packed with lots of care in the kitchens of San Francisco, they offer nutritionally balanced pet food that every feline parent could feel good about. Everything is made fresh (never frozen!) using whole food, restaurant-quality ingredients, vitamins & minerals, and fit for human consumption. For them to create the perfect meal for your finickiest eater, all you need to do is provide them with information like weight, age, lifestyle, and body condition. Recipes are high in protein, moisture, and truly craveable that your kitty would never say no to!
Learn more about the subscription on Nom Nom Reviews.
Price: A subscription starts at $33 every week, plus discounts for multi-pet families. The price depends on factors such as your pet's age, weight, and activity level.
Deal: Get 50% off your first order! Use coupon code 50off.
---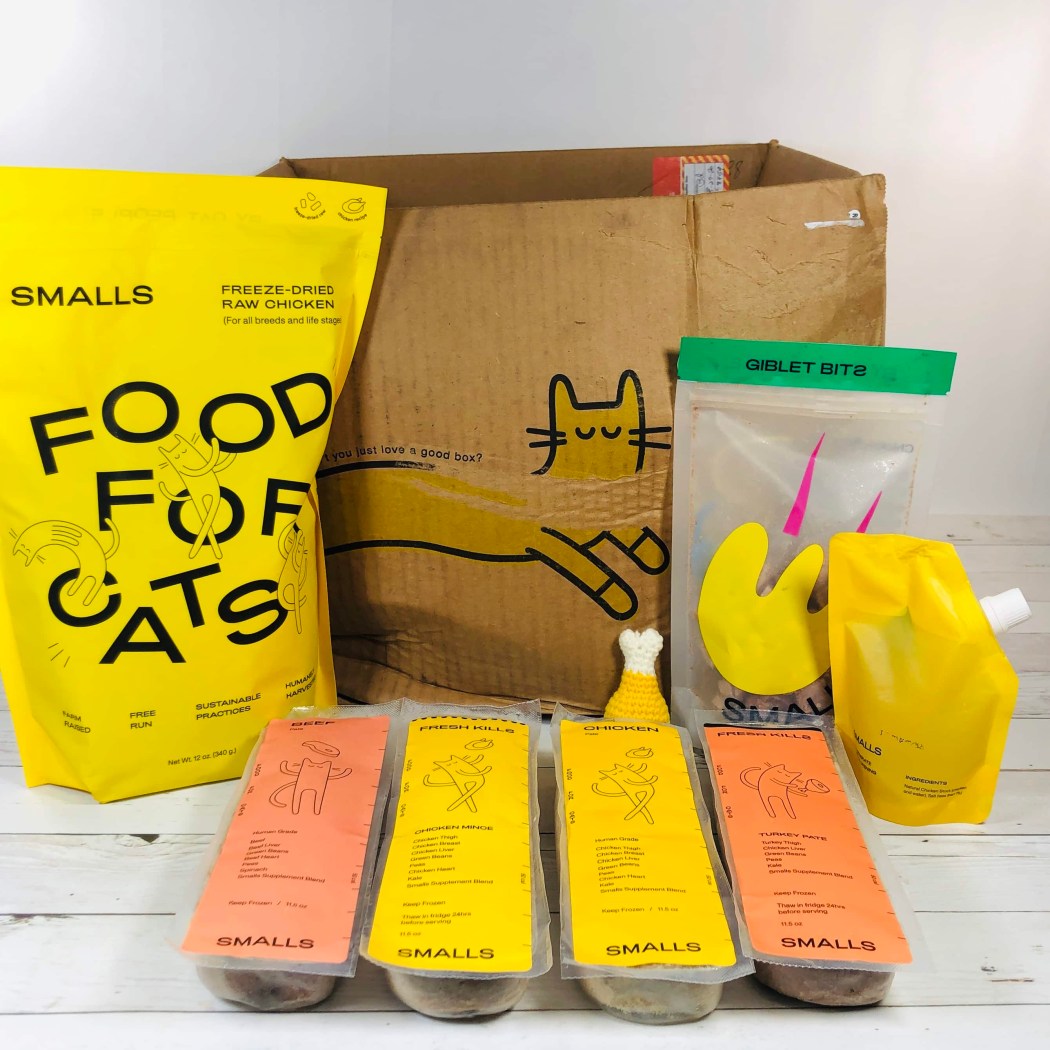 Image from: our review
What You Get: Smalls is a monthly subscription that sends healthy cat food without compromise as they're all about bringing what's the best for your feline friends. They offer cat foods that are high in protein, cooked using only UDSA certified, humanely harvested, and sustainably sourced ingredients to keep pets happy and healthy for all their nine lives. Tell them about your cat, including age, gender, and built, and they'll curate a box tailored for your pet! You can even get a sample box, so you can let them try recipes first before committing fully. With this subscription, you can feed your cat healthy, delicious, and human-grade foods (high in protein, no fillers!) and hear positive purrs from them!
Check out Smalls Review for more info.
Price: Fresh food plans start at $1.93/meal. Human Grade Fresh costs $9 per 11.5 oz, and Freeze-Dried Raw is $30/bag.
Deal: Get 25% off your first order! Deal applies automatically, just visit and subscribe.
---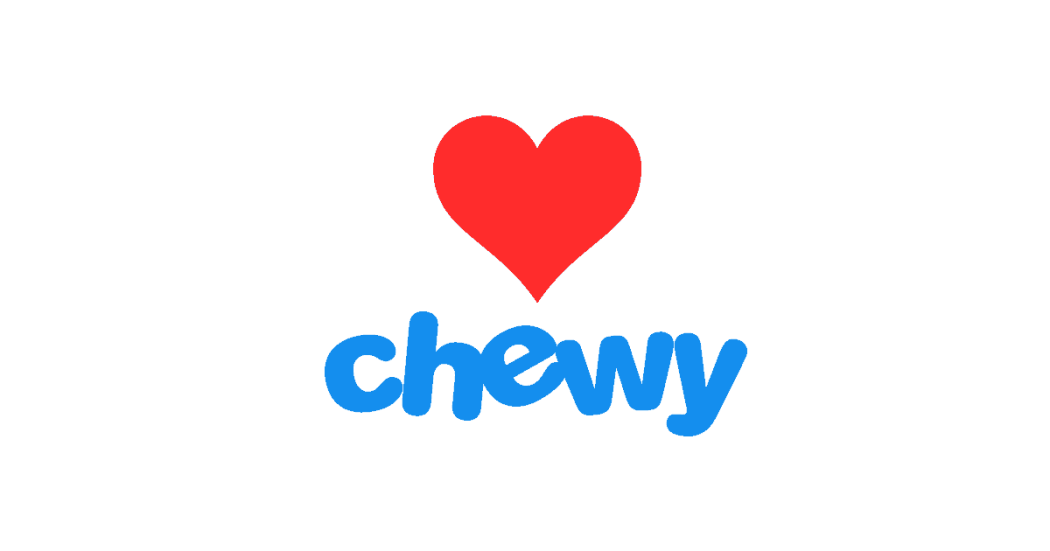 What You Get: For pet food choices, there is Chewy Pet Food Auto-Ship that'll send your preferred cat food directly to your door. This online marketplace carries a vast range of pet food, including dry, wet, premium, raw, freeze-dried, frozen, and even vet diets and toppings. They're all into delivering pets' happiness by conveniently shipping all the stuff you need to satisfy your furry pal's life. You can choose exactly which brands you trust and save more bucks with every shipment. It auto ships in your desired delivery frequency, and you'll even get free access to real-time advice from licensed vets! Aside from pet food, they also carry treats, toys, healthcare, and more.
Price: The price depends on what type of pet food and brand you choose.
---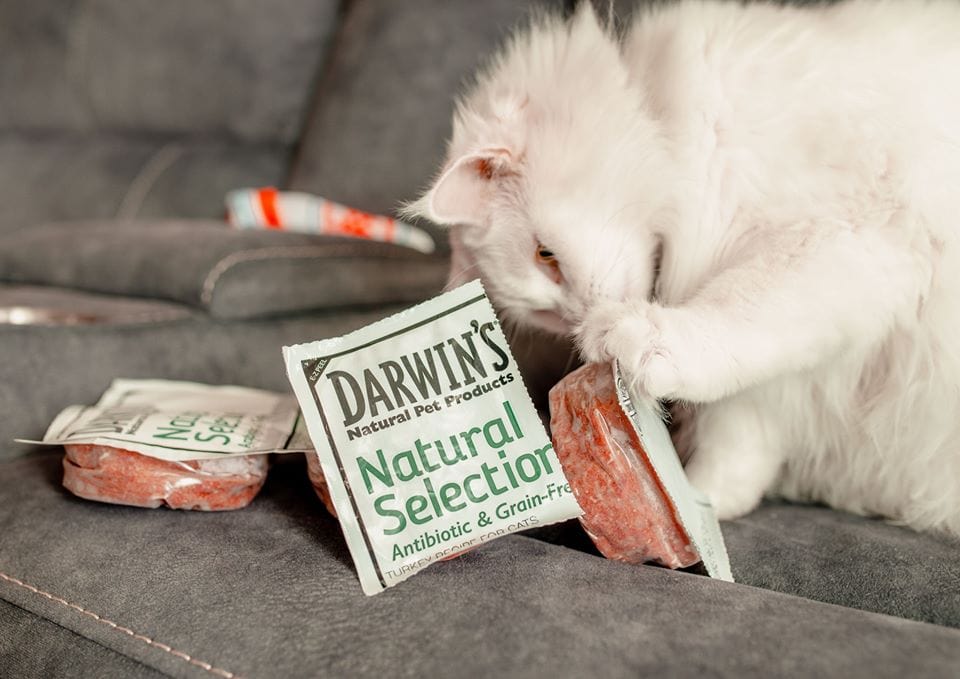 Image from: Darwin's
What You Get: Darwin's mission is to help pets and their owners to enjoy more years of healthy companionship together, which is why they developed a revolutionary method for feeding pets the right nutrition they need. By offering complete and balanced, fresh, raw pet food that's inspired by nature and informed by science, you'll definitely satisfy your pet's hunger and even make their lives happy and healthy. These minimally processed raw food are made from fresh ingredients that your cat instinctively craves – 100% real meat and organic veggies (no grains, fillers, or preservatives). Just take a short quiz and leave everything up to them. What's left for you to do is wait for the package to arrive and see your little furball enjoying every bite of it. It's really worth two paws up!
They also offer food for dogs! read Darwin's Review to know more.
Price: Customize your box starting at $13.30/package for chicken, $14.54/package for Turkey, $20.16/package for Lamb.
Deal: Get 10 lbs. Premium Raw Food for just $14.95 + FREE Shipping! Deal applies automatically, just visit and subscribe.
---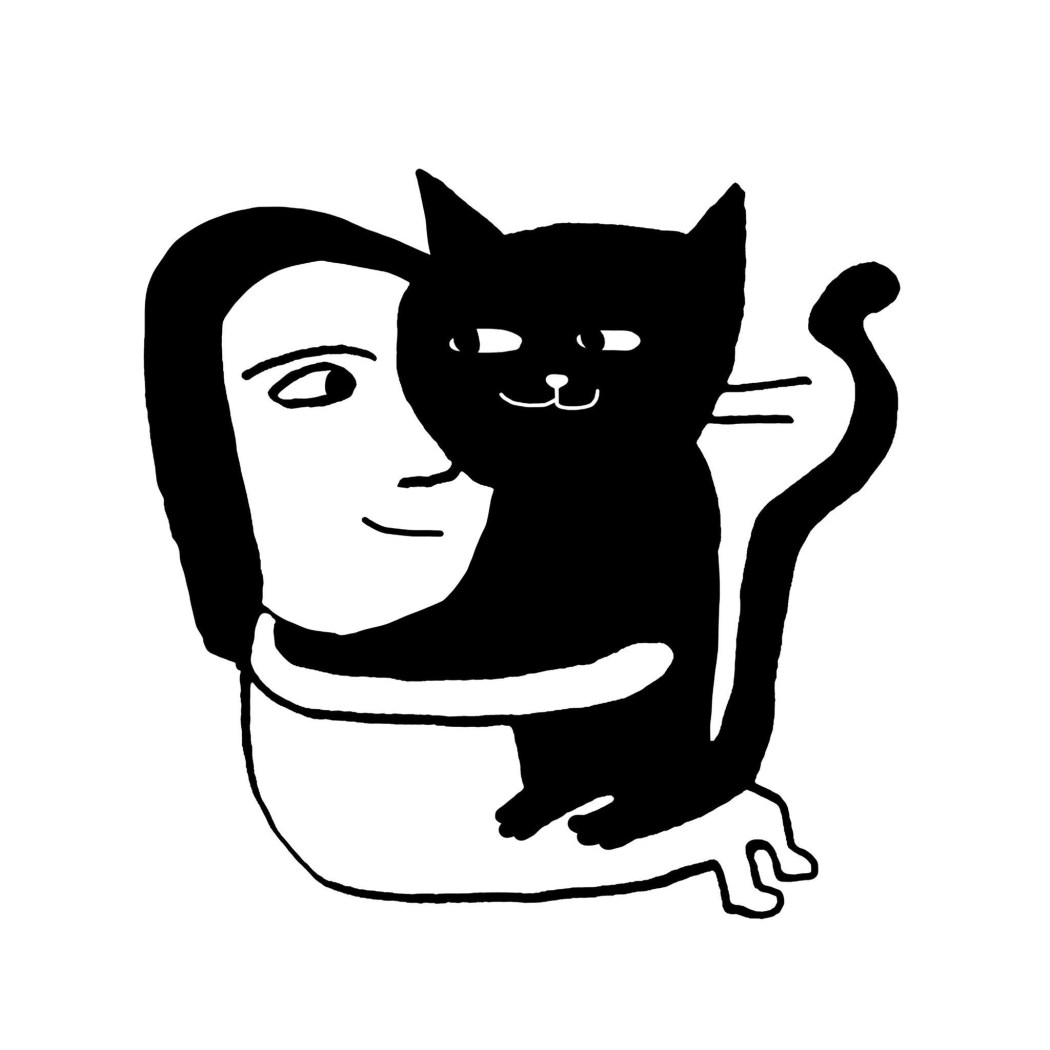 What You Get: Even our feline friends need good food packed with essential nutrients. Cat Person offers cat food without the fuss. They're all about maximizing the good stuff and ditching the bad, so you'll get grain-free & low carb yet high in protein cat meals made from clear and straightforward ingredients that surely each cat would love to munch on! Take a quiz about your cat's preferences and food consumption, so they can assess and suggest a meal plan that's suited for your pet's needs. For your first box, you have the option to choose a wet & dry starter or just a wet starter – all good to last for about 2 weeks. Feed them with this high-protein meal and see them lick the dish up to the last piece. Truly purr worthy!
Price: Try the wet & dry starter box for $25.50 or a wet starter box for $29. The price for a monthly meal plan varies, depending on different factors such as age, breed, allergies, etc.
---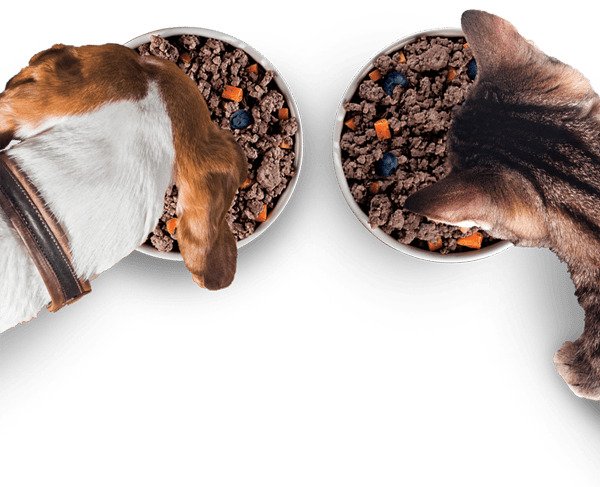 What You Get: With Raised Right Pets, you can raise your cat really right with their human-grade pet food. They offer a whole food diet that's been lightly cooked and frozen to seal in freshness so you can serve one tasty meal to your beloved pet. All recipes are complete and balanced using a single source of animal protein without any preservatives and fillers. Choose between Original Recipes or Paté Recipes, and receive a full box (16 bags) or a sample box (4 bags). Each bag contains 1lb of cat recipe – turkey or chicken, that your cat is sure to devour quickly. It's a home-cooked style for the home buddy you love most!
Price: Full box costs $159.84 for a weekly meal plan. The Sample Box is $49.95.
---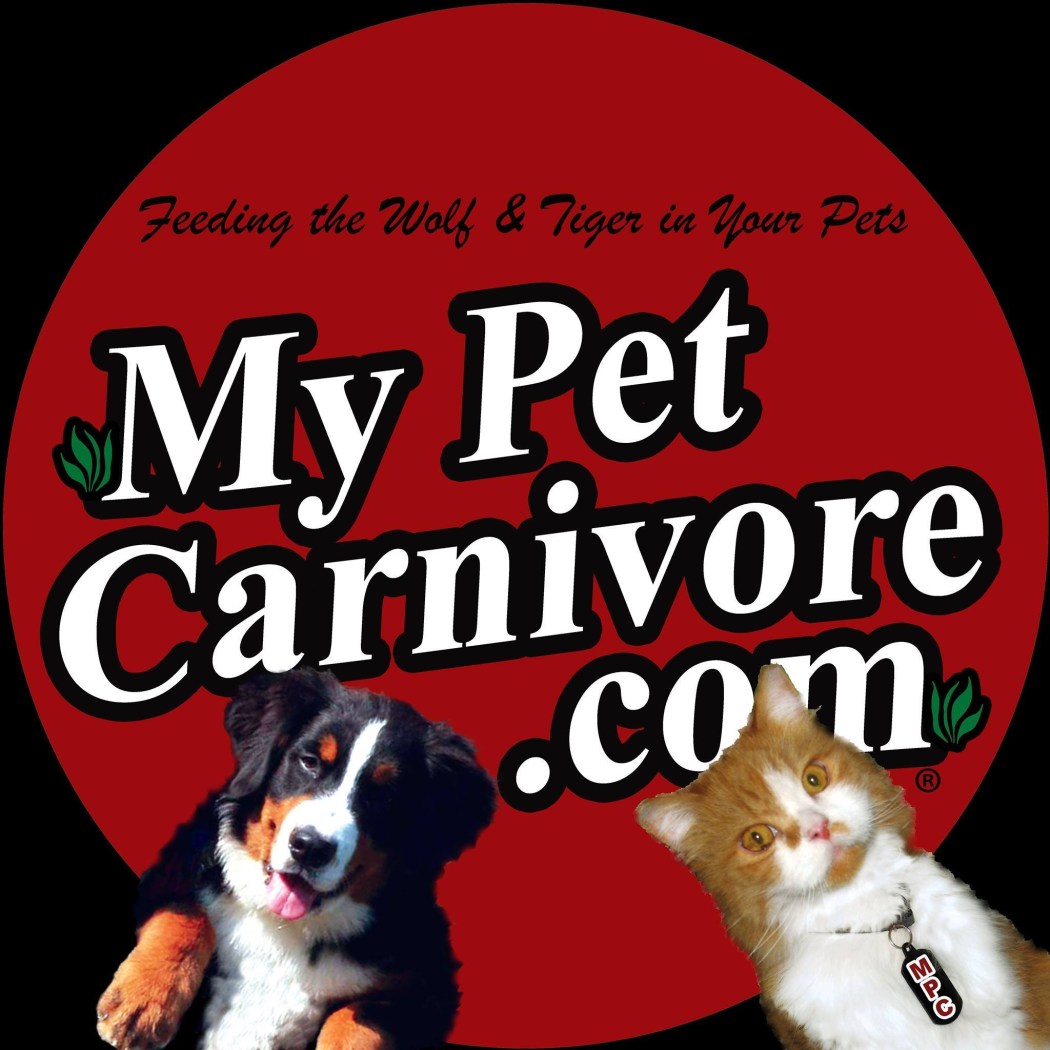 What You Get: My Pet Carnivore is on a mission to feed pets the kind of foods their bodies were designed to eat: raw meat, bone, and organ diet. It is to deliver the best nutrients that are vital to your cat's life but in the form of a natural diet. You can choose among their wide selection of cat food, including fine ground whole chicken, beef, turkey, pork, ground lake herring, rabbit, and more. Everything they offer is from healthy animals from healthy environments – no added colors, no preservatives, and definitely no artificial ingredients. It's the carnivore diet the mother nature intended for your feline friend!
Price: Product prices range from $2.21 to $16.87.
---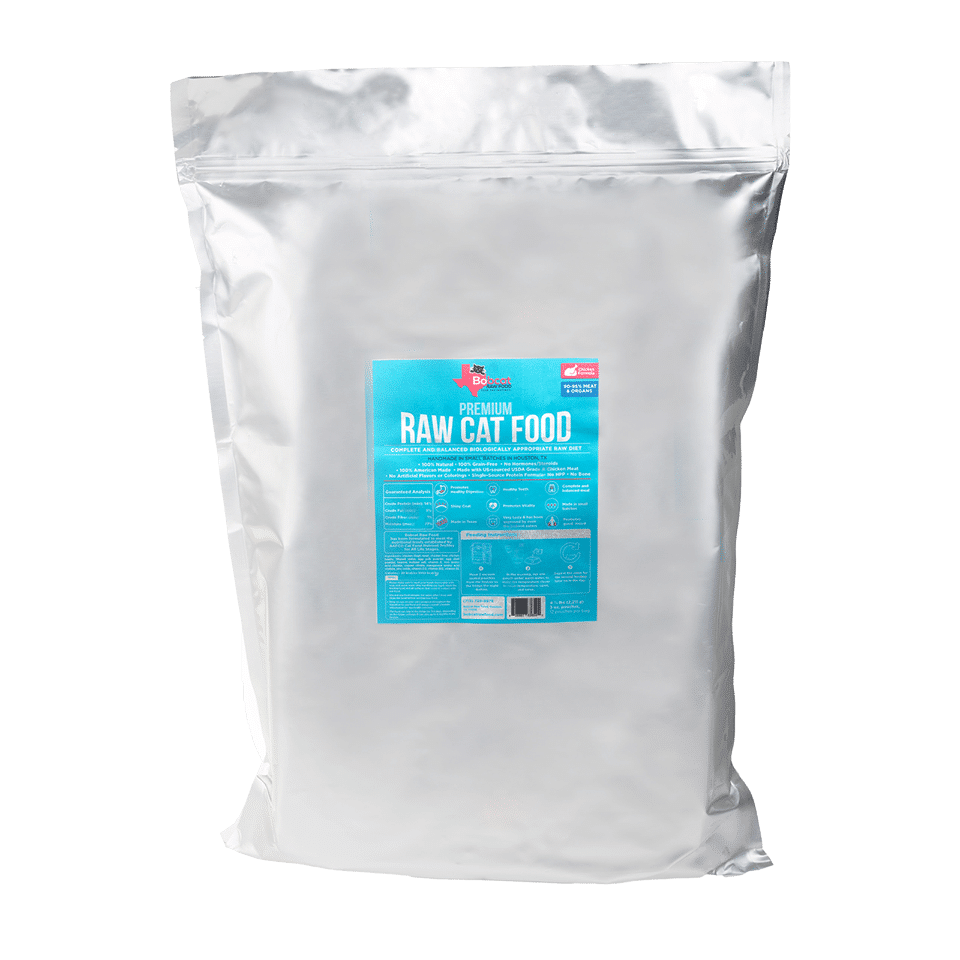 What You Get: For healthy raw food your cat needs, there is Bobcat Raw Food that'll send pet food directly to your door. The raw food they send is handmade with natural human-grade ingredients, including high-quality meats and organs, plus essential vitamins and minerals for the overall health of your furry friend and vitality. You can choose among the chicken formula, pork, elk/venison, and rabbit. Each recipe is made to be flavorful and great even for picky eaters. 100% natural with no artificial flavors or colorings, just the best raw food they can really enjoy!
Price: Subscriptions start at $19 every 2 weeks.
---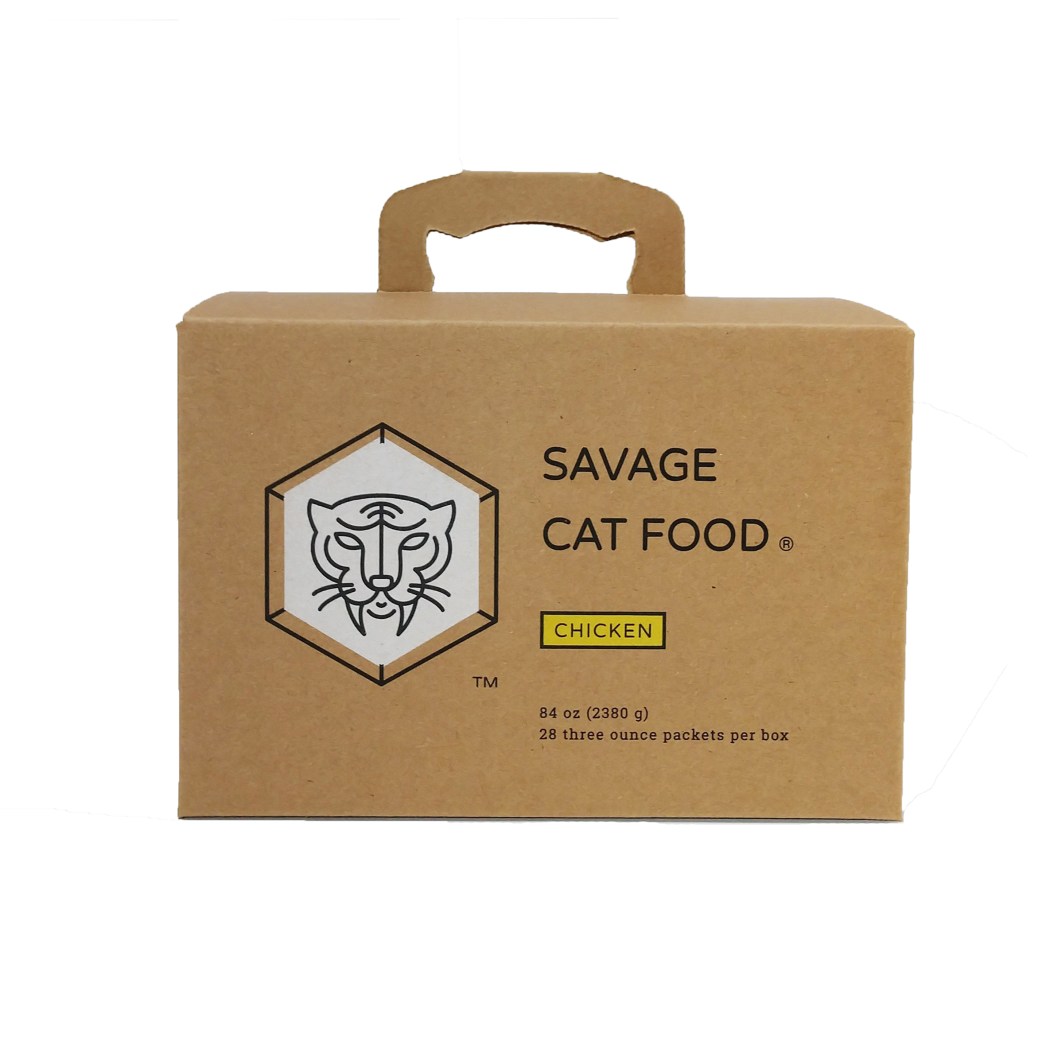 What You Get: Savage Cat Food offers raw prey-based food for cats to increase health and longevity. The cat food they offer is made from high-quality proteins like chicken, rabbit, lamb, quail, and duck with no artificial colorings, flavorings, preservatives. The cat food membership sends you 28 three-ounce packets (totaling 84 ounces) in your chosen delivery frequency – every 2, 3, 4, 6, or 8 weeks. Each packet contains actual muscle chunks that encourage chewing and gnawing. Keep them in the freezer, and when needed to feed to your feline pal, thaw them, and they're good to be eaten!
Price: Memberships start at $75 every two weeks.
---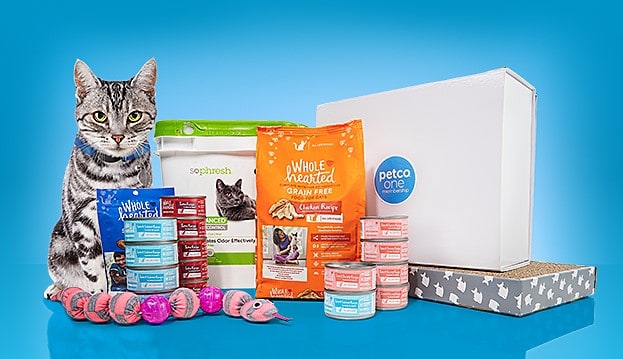 What You Get: Petco is one of the leading health and wellness companies that's focused on improving pet's life. It is an online marketplace for every pet's needs, and that includes pet food! They carry a wide array of brands, available in different textures, ingredients, and flavors. Dry, wet, or vet authorized diet food are available for you to choose from. Pick out exactly which type and brand you'd like to feed your cat, and they'll deliver it conveniently to your doorstep on repeat. What's even great about them is that same-day delivery is also eligible for certain brands.
Price: Price depends on the brand and type of cat food you choose.
---
What You Get: To make your cat feel more loved and cared for, there's Open Farm that'll send wholesome cat food they'll be obsessed with! Their cat food offerings are cooked-to-perfection using ethically and sustainably sourced ingredients with no antibiotics, ever – high in protein, low in carb! There are dry and wet food options, but you can take the quiz for a personalized meal selection. It will depend on your cat's age, breed, activity level, and health goals. Each cat food is made with 100% traceable ingredients, so you know they're up to good things!
Price: Prices for dry cat food start at $24.22 a week and $30.39 a week for wet cat food.
---
And there you have it, the list of the best cat food subscription boxes for 2022! Have you made up your mind yet on which subscription to try?
Check out more worthy subscriptions on our list of all the best subscription boxes in every category!
Say Hello To More Subscription for Feline Friends!