Candy is a delectable treat for the sweet tooth. The sugary flavor that melts in the mouth feels amazing! Like, who could say no to such treats? Eating sweets give you a quick burst of energy too! So who's up for sweet confections? If you're the type of person who loves candies as much as we do, subscribing to a candy box is one of the easiest ways to get a regular supply of the best, freshest, and yummiest candies.
Candy subscription boxes are a fun treat that people of all ages can enjoy! Many of these subscriptions cater to your sweet tooth, but there are also boxes that contain a wide range of candies, including chocolate bars, sour candies, spicy ones, gummies, and more! Some subscriptions even include a selection of candies from around the world, because why not? It's a fun way to discover more of what you don't usually experience!
So grab a sweet treat and enjoy a sugar rush. Read our list of the best candy subscription boxes below for a sweet surprise! These subscriptions make great gifts to someone who loves sweets too!
The Best Candy Subscription Boxes For Sweet Tooth Cravings!
Image from: our review
Why We Love It: Universal Yums will take you on an exciting journey around the world by sending themed snack boxes to your door each month. You can sample different flavors and experience worldly cultures even when you're in the comforts of your own home. This subscription brings you an incredible yummy experience featuring unique and extremely difficult (or even impossible) snacks and candies to find in the US. Please your taste buds with various delicious treats, available in three box sizes: Yum Box (5-7 snacks), Yum Yum Box (10-12 snacks), and Super Yum Box (18-20 snacks). An interactive booklet is also included in the box to steer your adventure! Munch on different snacks from different countries each month while learning about their culture, recipes, and more. So grab your snack box and immerse yourself in an adventurous snacking!
Price: The Yum Box costs $17 per month, the Yum Yum Box $29 per month, and the Super Yum Box is $45 per month.
Deal: Save 10% on a 6-month or longer subscription! Use this link to get the deal.
---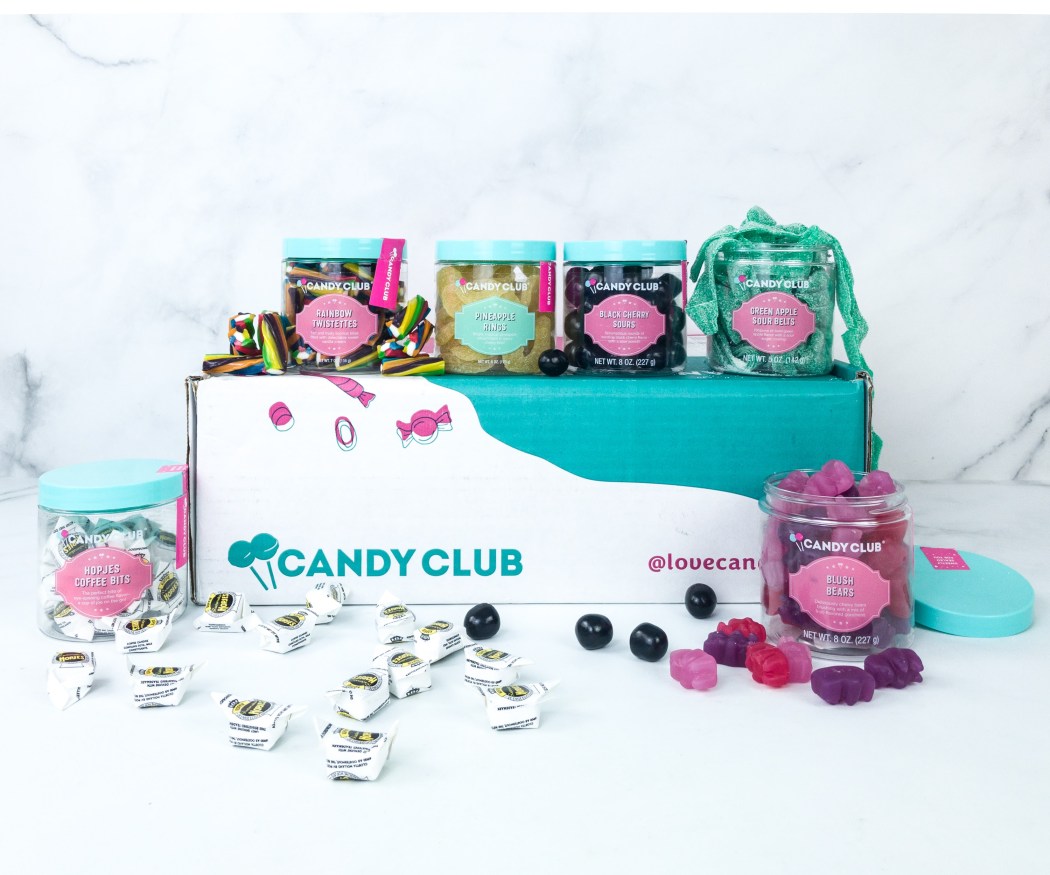 Image from: our review
Why We Love It: Candy Club offers the world's best candies in stylish cups for you to indulge and make your day a little sweeter than usual! It is a premium candy subscription that gives anyone an extraordinary candy experience at home. Featuring both classic candies and new candy discoveries, this subscription will surely hit the spot! They collaborate with artisans and famed candy producers to fill boxes with a thoughtfully curated selection of delectable treats. Get the Fun Box and receive six 6oz candy cups, or double the fun with Party Box, which comes with six 13oz candy cups in twist-lid jars. You can also choose between Mostly Sweets or Mostly Sours to satisfy your sweet tooth cravings!
Price: The Fun Box is $29.99 per month, and you can also get the Party Box size for $39.99 per month, plus shipping.
Deal: Get free shipping on your first month. Use coupon code SWEETFS.
---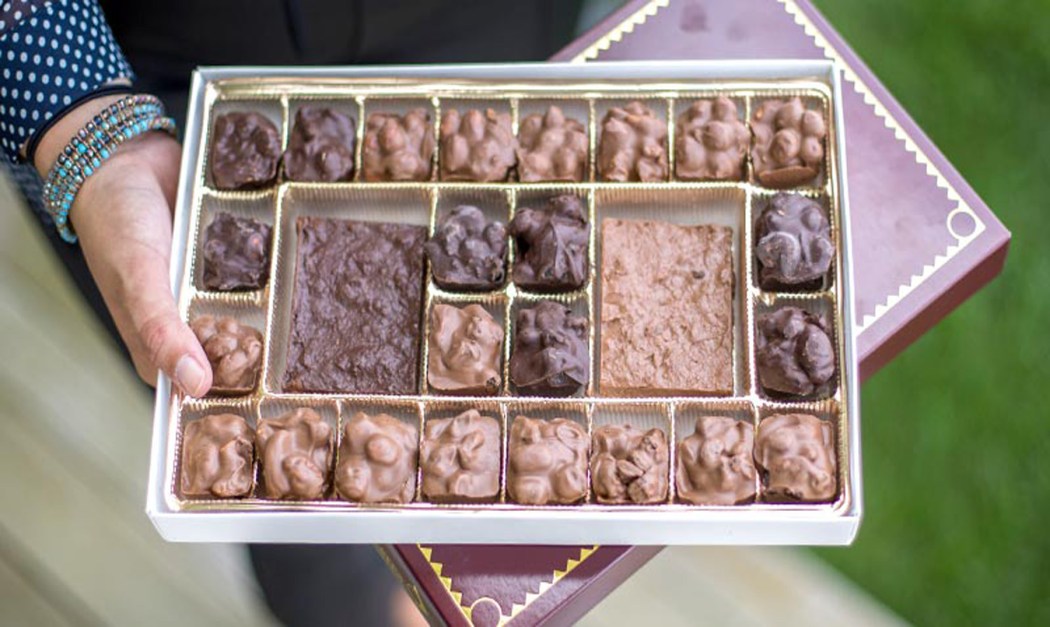 Image from: Chocolate of the Month Club
Why We Love It: Chocolate of the Month Club delivers creamy, premium chocolate to all who love the indulgent flavor of cocoa. All chocolates are made from the finest, freshest, and all-natural ingredients, carefully judged and approved by a tasting panel for your chocolate desires! Every month, you'll receive 1 pound of gourmet chocolate hand-dipped by a renowned confectioner, delivered straight to your doorstep in a styrofoam container with ice packs inside to make sure they don't melt while in transit. It then comes with a newsletter with details about the chocolates you've received for the month. Past selections include truffles, chocolate mousse, macadamia delights, and more.
Price: You can get the subscription starting at $85.90 every other month.
Deal: save $10 off a 6-month subscription Use coupon code Discount1.
---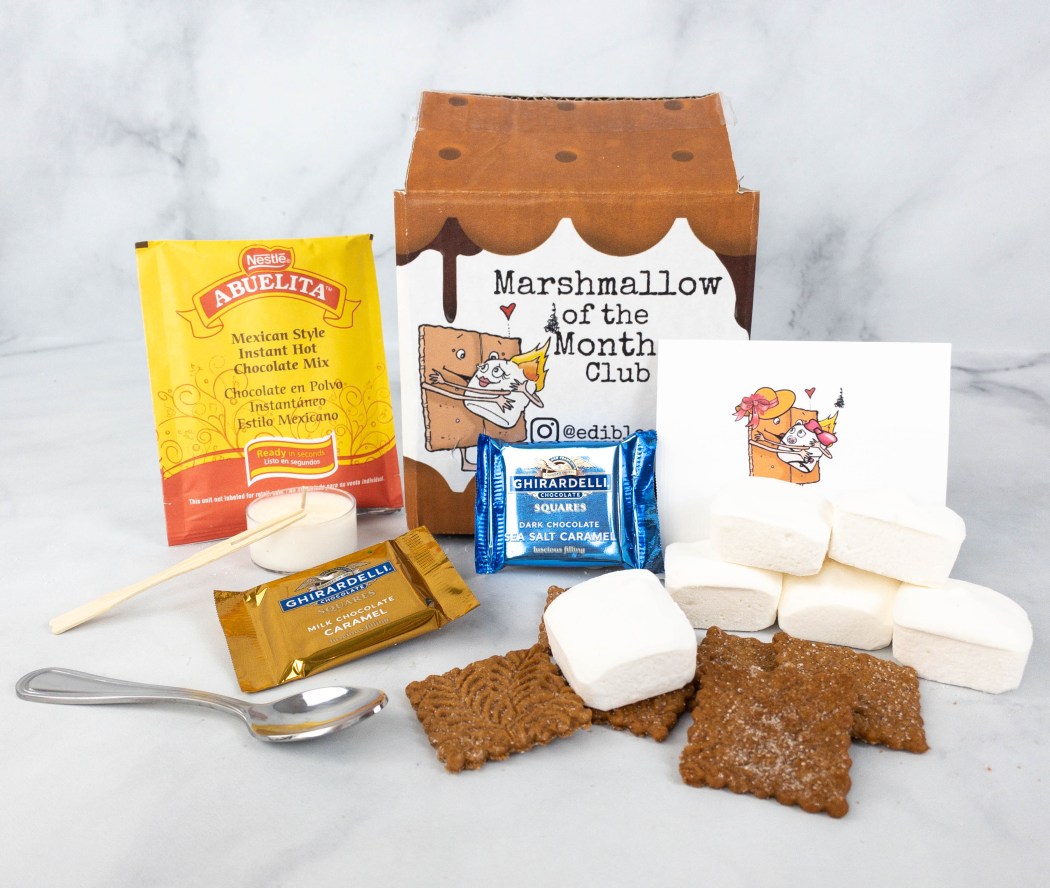 Image from: our review
Why We Love It: Marshmallow of the Month Club by Edible Opus uses all-natural ingredients to infuse flavor into their luscious marshmallows. It is packed with all the fresh-baked, gooey-goodness your palate will sure to love! Instead of pork or bovine gelatin, they use fish-based gelatin for everyone to enjoy. Aside from a half-dozen marshmallows that are egg- and corn syrup-free, you'll also receive graham crackers and a chocolate surprise, making s'mores easy to prepare indoors, leaving the guilt behind while snacking! Every month, they also pair their marshmallows with a single serving of hot beverage drink powder packets – can be chocolate, tea, or coffee, based on your preference.
Price: The subscription costs $33.99 a month.
Deal: Get 50% off your first box when you subscribe to a 3 month prepaid plan! Use coupon code HALFOFF.
---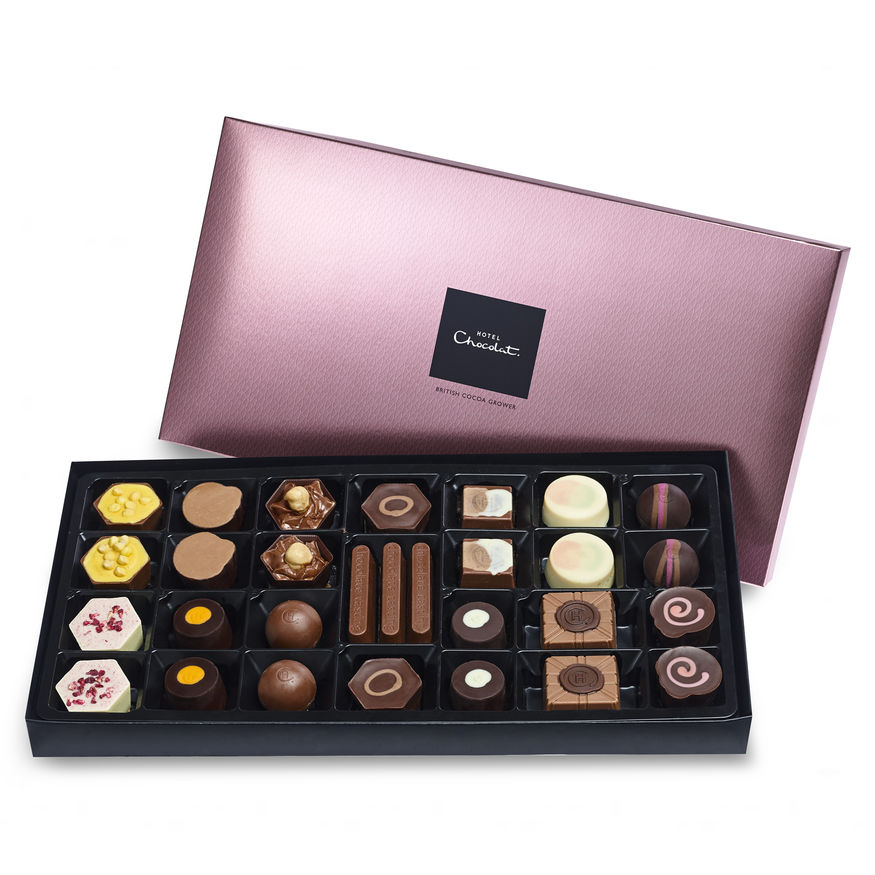 Image from: Hotel Chocolat Tasting Club
Why We Love It: Get the pure and authentic goodness of cocoa from every box of  Hotel Chocolat Tasting Club. Cocoa is the number one ingredient of their chocolates and not artificial additives or extenders. Each month, expert chocolatiers invent new recipes to debut alongside a lovingly chosen selection of classics and high-scorers, and these are delivered straight to your door! There are 4 subscription plans available:
The Inventing Room – monthly subscription for the latest creations. Receive four new filled chocolates (two of each), along with at least four other recipes.
Rabot Coterie – limited edition annual subscription that gives back to the cacao farming community
The Monthly Curated Collection – a minimum of four individually wrapped items every month. You can choose from four genres – mellow, dark & high cacao, tipsy, or everything.
Sleekster – a selection of 27+ chocolates every 1,2 or 3 months; available in six different genres, everything, milk to caramel, serious dark fix, exuberantly fruity, tipsy truffles, and patisserie
You just have to enjoy goodness when they arrived!
Price: Boxes start at £25 (about $35.53) per month.
---
Image from: our review
Why We Love It: If you love to try eclectic and interesting snacks and candies from around the world, Treats will allow you to do so! Every month, a new country is featured for you to travel and explore, even when you're comfortably relaxing in your own home. There are 2 pack options to choose from: Standard offers 5+ snacks, while the Premium offers 10+ snacks and may include cookies, crackers, chocolates, candies, chips, and more delectable treats. There is also a fun and informative postcard with trivia and recipes from the featured country. Everything comes in its original packaging, which makes it really exciting!
Price: The standard pack costs $16.95 per month while the premium pack costs $27.95 per month.
Deal: Save 15% on your first box! Use coupon code HELLOSUBSCRIPTION15.
---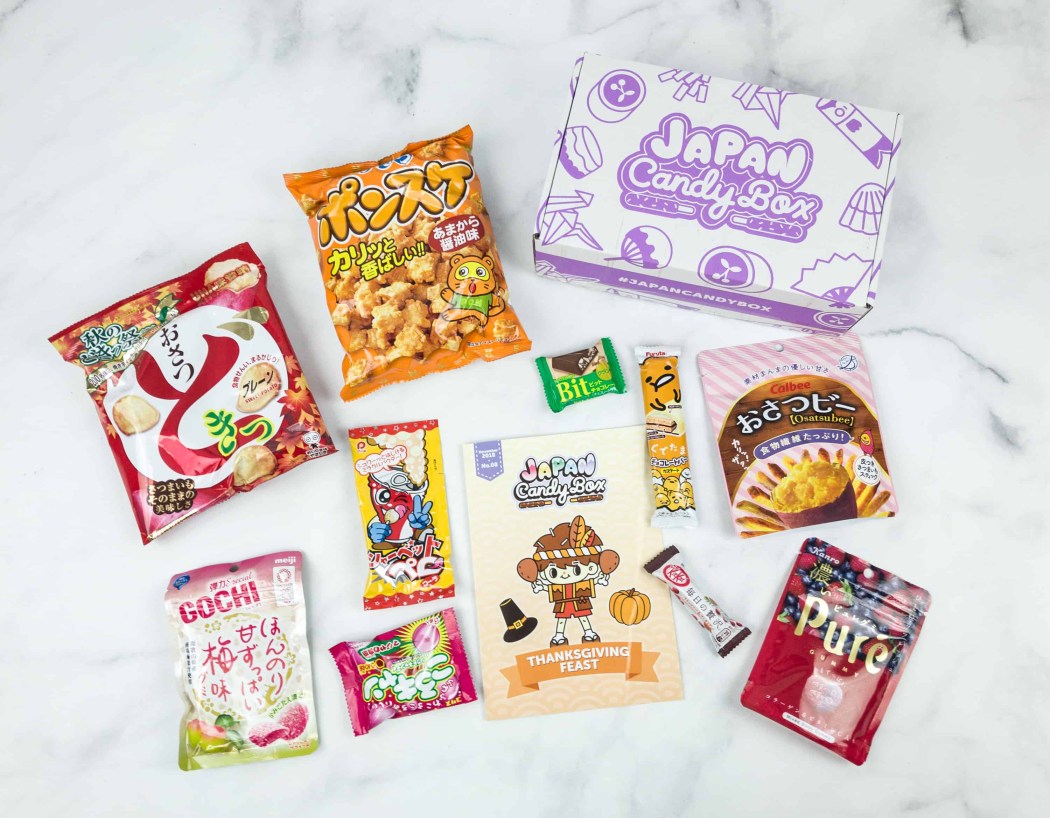 Image from: our review
Why We Love It: Japan Candy Box is not your ordinary candy routine. This monthly subscription provides subscribers with all things tasty brought by the land of the rising sun, making sure you get the best and freshest ones even without boarding a plane! Each thoughtfully curated box comes with 10 exclusive Japanese snacks to chew on and will certainly put a smile on your face. Such snacks may include traditional ones, popular snacks, dagashi, DIY candy kits, and Japanese exclusives from popular brands like Calbee, Pocky, Meiji, Milky, Hi-chew, and more. It's one cool way to reward your taste buds with fun and unique flavors that are not available elsewhere!
Price: The box costs $24.90 per month, or less when you prepay 6 months and 12 months.
---
Image from: Classic Candy Box
Why We Love It: If you miss the awesome candies from yesteryears, there's Classic Candy Box that'll send retro, classic candies from the 40s, 50s, 60s, 70s, and 80s right to your doorstep. Take a trip down memory lane with candies that you enjoyed during your younger years. Each box comes with 1 lb-1.5 lb of full-sized, hard-to-find classic candies (at least 25 pcs) with a variety of chocolates, chewy candies, and anything in between throughout the decades. From pop rocks to red hots, wax lips to quarter chocolate coins, Zagnuts to zots, these will definitely bring back your childhood happiness! Feel extra nostalgic as you savor and chew every bite!
Price: You can subscribe for $34.97 every month.
---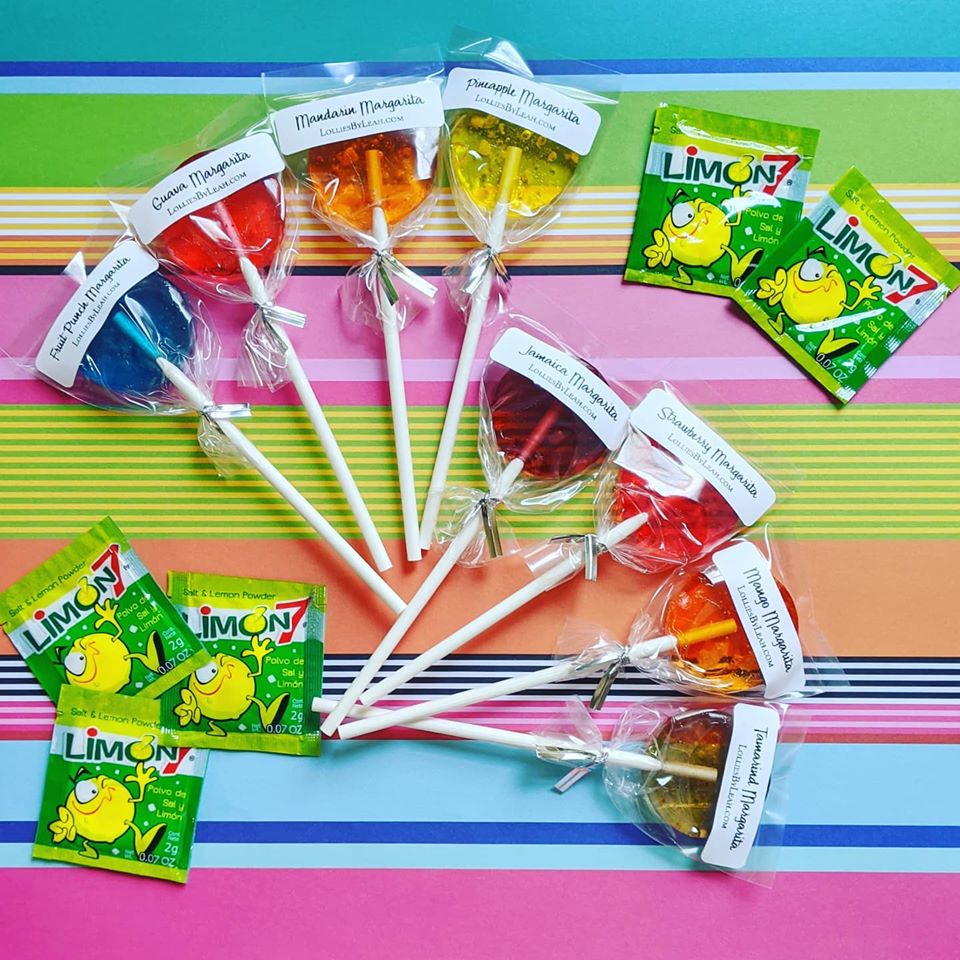 Image from: Lollies By Leah
Why We Love It: Looking for the sweetest candy box for your sweet tooth cravings? The LollyBox by Lollies By Leah sends exactly what you want in a candy! They'll deliver lollipops in a variety of flavors right to your doorstep every month. Each box you'll receive comes with 16 unique, hand-poured, gourmet lollipops curated around a new theme. These lollies are individually wrapped, labeled, and sealed, plus they come in fresh fruits, salty snacks, creamy, and sucker punch sour flavors. Past themes include Return to Hogwarts, Disney, BooBox, Alice in Lollyland, and more exciting ones! It's also the perfect gift to share with your family and friends!
Price: Subscribe for $24.99 each month.
---
And that's the list of the best subscription boxes for candies! Have you decided on which ones to get to cure your sweet tooth cravings?
We also have a list of all the best subscription boxes in various categories! If you want more recommendations, check it out!
Say Hello to more Subscription Boxes for Sweets Lovers!