Knitting is often compared to crocheting. Both require needlework, and the process is mostly the same. If you are a very detailed person and have a lot of patience, knitting might be the best option for you! There are plenty of knitting subscription boxes on the market where you can get all the materials you need to start a handmade project.
From knitting pins to yarns, these subscription boxes are the best bets! They include the highest-quality yarns with varying colors as well as cool and unique patterns. Some also let you choose your own color scheme, so they can give you fibers that are based on your color preferences. Creating your own knitted goods feels quite rewarding, so take your knitting needles and get working on that handmade project!
No more rummaging on that shelf or rack to get your knitting materials because these subscription boxes will deliver all you need right at your doorstep. Sew and weave whatever you want to, whenever you feel doing so with our list of the best knitting subscription boxes. Check them out below!
The Best Subscription Boxes for Knitting Your Hearts Out!
Image from: KnitCrate
What You Get: Treat yourself with luxurious natural fiber yarns at affordable prices from KnitCrate delivered to your door monthly. Each box contains premium and beautifully dyed yarns made from ethically sourced, biodegradable fibers, a knit pattern, and bonus goodies for a fun knitting project! You can expect solids, kettled-dyed, variegated, and self-striping yarns in a variety of weights. You also have the option to choose the color palette you'd like to receive most! Whether it's eco-friendly or traditional packaging, they still have the same goodies inside. As a subscriber, you can enjoy 50% off all products in their Member Central Shop. They also plant a tree for each eco-friendly subscription box purchased.
Price: Subscription costs $29.99 per month + $7.95 S&H.
---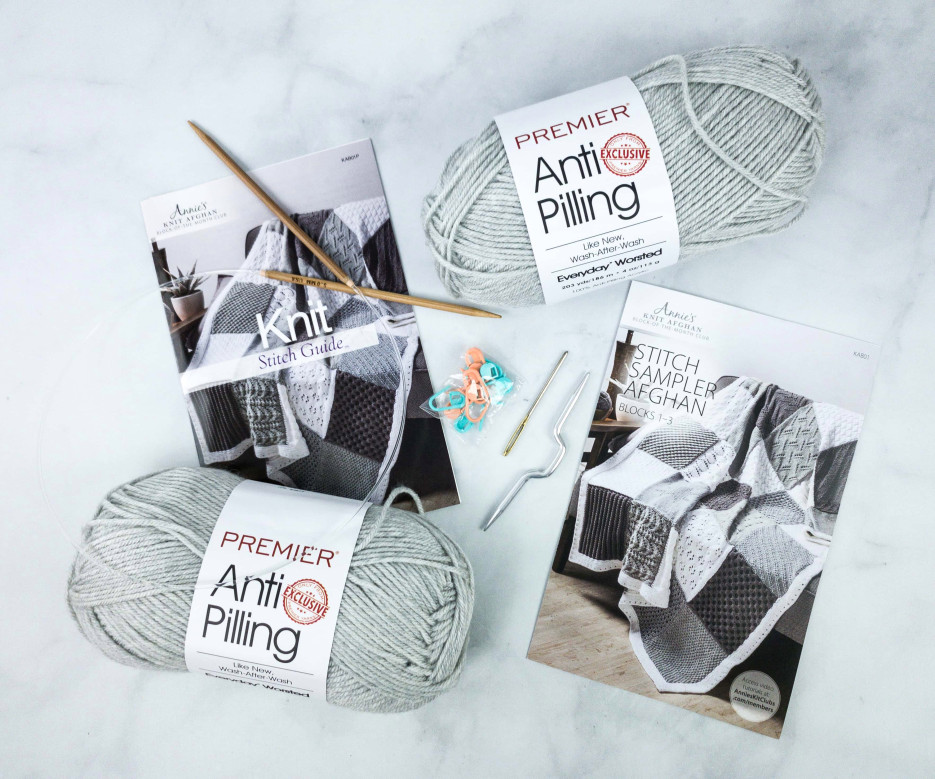 Image from: our review
What You Get: Annie's Knit Afghan Block-of-the-Month Club provides everything you need to build an heirloom-quality afghan. You'll receive two skeins of yarn, written pattern instructions to build new 3 unique blocks, and access to the online video tutorial and digital stitch guide. Enhance your knitting skills through this 11-month course. For the final kit, you'll learn the borders and some finishing details for a cozy, comfy, and stylish hand-made 50 x 60 afghan. Choose from their color combinations: Coastal Gray, Warm Sand, or Natural Pearl, and wait for the box to arrive so you can start knitting!
Check out Annies Knit Afghan Block-of-the-Month Club Reviews for more info.
Price: Block-of-the-Month Club Membership costs $19.99 plus shipping and tax.
Deal: Get 50% off your first month's kit on any clubs! Use coupon code SHARE50.
---
Image from: Knit-Wise
What You Get: Create hand-knit projects even if you don't have the experience. Knit-Wise delivers basically everything you need to start a knitting project. You'll get exclusive yarns, bamboo knitting needles, notions, and the instructions in each box! You can also choose between beginner or intermediate/advanced projects. There is also the Just The Yarns monthly subscription, wherein you'll get 2 cakes of yarns, plus occasional Knit-Wise swag.
See more at Knit-Wise Reviews.
Price: The monthly knitting box costs $29, while the Just The Yarns box is $12 a month.
---
Image from: Yarn Cartel
What You Get: Yarn Cartel delivers high-quality hand-dyed yarns from the UK to your doorstep every month. They want knitters to enjoy a variety of premium yarns they dye. You will receive a themed subscription box that contains one or two skeins of lace, fingering, or DK yarn plus mini-skeins. Included with your brand new skein is a broadsheet newspaper written by Countess Ablaze. These are all enclosed in a box that's made from recycled cardboard and printed using plant inks to limit the usage of plastic. Subscribers will also receive a gift, access to an exclusive group, and early access to shop updates.
Price: 1 Skein Box costs $43.78 and 2 Skein Box is $68.60. Ships every other month.
---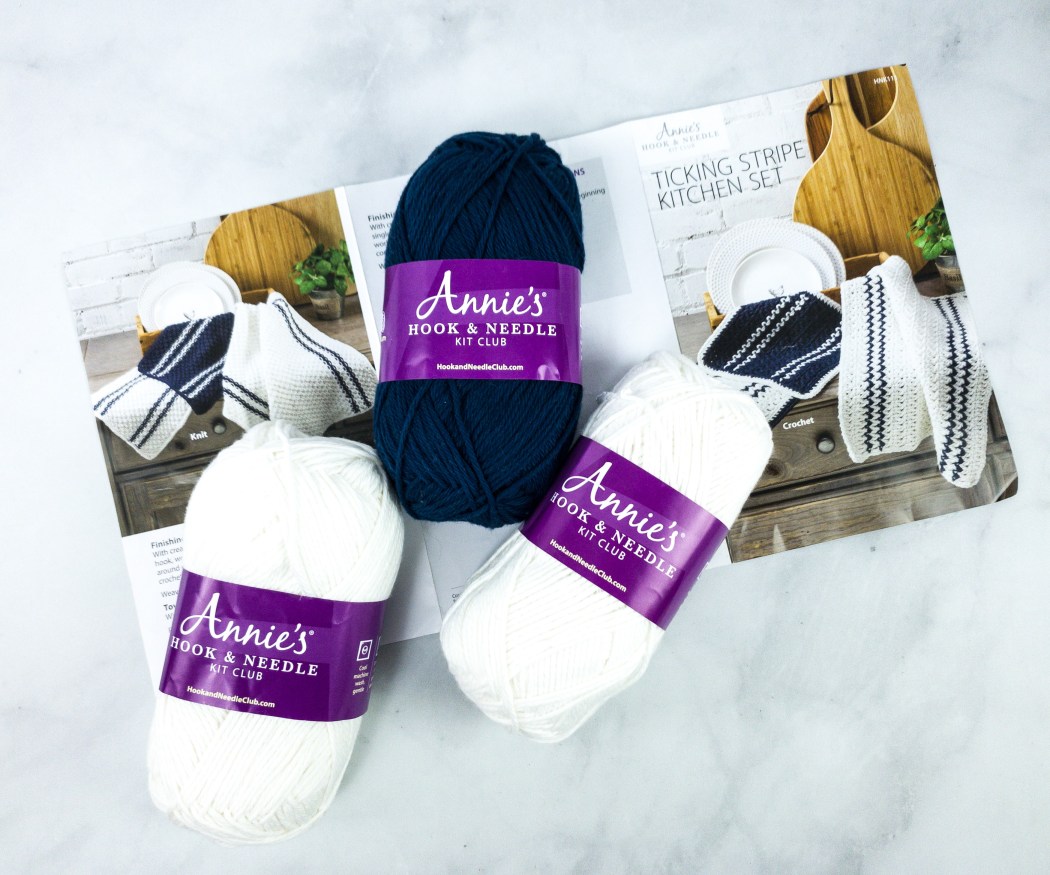 Image from: our review
What You Get: Knit, crochet, or both? Annie's Hook & Needle Club has ready-to-go kits for a new project each month. Every kit includes pre-measured feel-good yarns in soft acrylics, natural cotton, and uniquely blended in gorgeous colors. It will also include a knit or crochet pattern with easy-to-follow step-by-step instructions that will guide you in your project, whether you're a beginner or a seasoned stitcher. With this subscription, you can improve your skills and create more beautiful and useful items for yourself or as gifts to loved ones.
Check out Annie's Hook & Needle Club Reviews for more details.
Price: Membership is at $19.99 a month.
Deal: Get 50% off your first month! Use coupon code SHARE50.
---
Image from: Nerdy Knit Kit
What You Get: Whether you like all things geek or knitting, Nerdy Knit Kit is the best subscription box for you! You'll get to enjoy both things that you love in one box. Each box has nerdy themes like Batman, Doctor Who, Wonder Woman, Hamilton, and other fandoms. It comes with an original Lady Purl Design's skein of yarn and extra goodies like knitting bags, soap bars, coupons, and more! There's also an information card describing all the items inside.
Peek at our past Nerdy Knit Kit Reviews to learn more.
Price: Subscription is billed monthly at $36
Deal: Save 10% on your purchase! Use coupon code GEEKLOVE.
---
Image from: Southern Skeins
What You Get: Southern Skeins is a monthly subscription that is all about high-quality supplies at fair prices, including hand-dyed yarns that are perfect for knitters. You'll receive 100 grams of the skein and a coordinating 20-gram mini. It also comes with a themed progress keeper, tea, and a little extra or two, all wrapped in a cute and little package. All wools are sourced from South America and are cruelty-free!
Price: Subscription starts at $28 per month.
---
Image from: Yarn or Dye Crew Yarn Club
What You Get: Yarn or Dye Crew Yarn Club is passionate about all things fiber. They provide subscribers with an exclusive skein of hand-dyed yarns each month. Every package delivered to your door is unique, and there will be no repeats! It also includes a collectible stitch marker and occasional surprise gifts!
Price: Get the box for $25 a month.
---
Image from: KnitWitNerd
What You Get: Are you a fan of stitch markers? If so, then you might want to try KnitWitNerd. It is a subscription box that offers new and unique stitch markers. You'll receive 1 matching set, 1 mix lot set, and a marker with a fun charm. High-quality stitch marker sets are unique and will be delivered to you each month. Be surprised by several different types of their bead options from Swarovski, Handmade Vintage, Reclaimed, and Glass.
Price: The monthly subscription is priced at $14.99
---
Image from: Paradise Fibers Fiber of the Month
What You Get: Get your monthly dose of fibers with Paradise Fibers Fiber of the Month. Knit with all your heart out because they offer a wide range of high-quality fibers. They want to share their fave fibers to inspire and teach you something new every month. Each box includes at least 6-8 oz of fibers, specifically picked out by their team to serve club members the highest-quality fibers in a range of inspiring colors! Every month, there's a new themed box knocking at your door with informative newsletters containing tips and tricks! Members will also get 10% off all regularly priced fiber purchases.
Price: Receive high-quality yarns at $34.99 per month.
---
Image from: HobbyBox.Club
What You Get: HobbyBox.Club curates boxes for your hobby, so you won't have to do the work of finding what you need. This subscription removes the hassle by sending a box filled with all the needed materials for your handmade project. Each box includes yarns, patterns, accessories, and some surprise goodies! You can create a new needlecraft with their three knitting subscription boxes option: Knitted Toy Chest, a box that provides hours of fun; Knitted Baby Clothes, where you can make something for your little one with color scheme options – Blues, Pinks, Neutrals; and Just Yarn, a box full of all things fiber with box options – knitting or crochet. And the great thing, no two boxes are the same! Through this subscription, you can get your hands on the best needlecraft brands in the UK.
Price: Start knitting for as low as £21.24 (approx. $29) a month.
---
Image from: The Spinning Hand
What You Get: If knitting is your thing, The Spinning Hand has got something for you! Each season, you'll receive a box filled to the brim with knitting goodies! There are two subscription tiers to choose from: Kari's Kits and Kari's Kits Deluxe. The boxes include 1-2 skeins of luxury yarn along with a printed pattern, a project bag, and an accessory, plus the right knitting needle if you opt for a deluxe sub. There are also additional pattern suggestions (in case you have excess yarns), so you can create more of what you love! Open one box up and delight yourself with quality knitting goodies your heart desires!
Price: Kari's Kits: Luxury Yarn and Knitting Project is billed quarterly for $50, and the Deluxe: Luxury Yarn, Needles, and a Knitting Project costs $65 per quarter.
---
Image from: Annie's Knit Striped Afghan Club
What You Get: Channel your creativity and build a beautiful striped afghan at just the right pace! Annie's Knit Striped Afghan Club makes it possible for you to perfectly create a little piece of paradise in the comforts of your own home. This 11-month course will help you hone your skills even more! Each kit contains yarns, patterns, and a digital stitch guide for you to make 3 new stripes every month. The final kit will guide you through adding the borders and finishing details. Not only can you make a pretty afghan, but you also feed your knowledge as you'll learn helpful tips and tricks from knitting experts! Color scheme options include Seaside, Plumberry, and Natural Pearl.
Price: The club costs $19.99 per month.
Deal: Get 50% off your first order! Use coupon code SHARE50 .
---
And that sums up our list of the best knitting subscription boxes! Have you chosen the right box for your needs and preferences?
If you want to see more, visit our list of all the best subscription boxes in every category!
Say Hello To More Subscription for Creative Crafts!