Although we eat regular meals three times a day, we also want something to chew on in between. Everyone loves a good snack, so it's never a sin to munch on something yummy and tasty when your taste buds ask you so. But sometimes the timing is just unbelievable! We crave when there's nothing else left in our pantry, and that's where snack subscription boxes come in handy. They'll deliver delectable goodies regularly, so you'll never run out of snacks whenever you feel like eating so!
Snack subscription boxes make it fun and easy to fulfill cravings or even when you need to munch on something while binge-watching. These subscriptions also offer snacks and other treats from around the globe, allowing you to try something new and discover potential favorites you'd gladly keep for yourself!
Whether you're a sweets lover, a healthy snacking advocate, or an adventurous snacker, there's a snack subscription that'll surely match your taste preferences! There are plenty of choices available, so we've gathered the best snack subscription boxes on this list to delight your taste buds. Make sure to check them out below!
The Best Subscription Boxes For Snacking That'll Satisfy Any Cravings!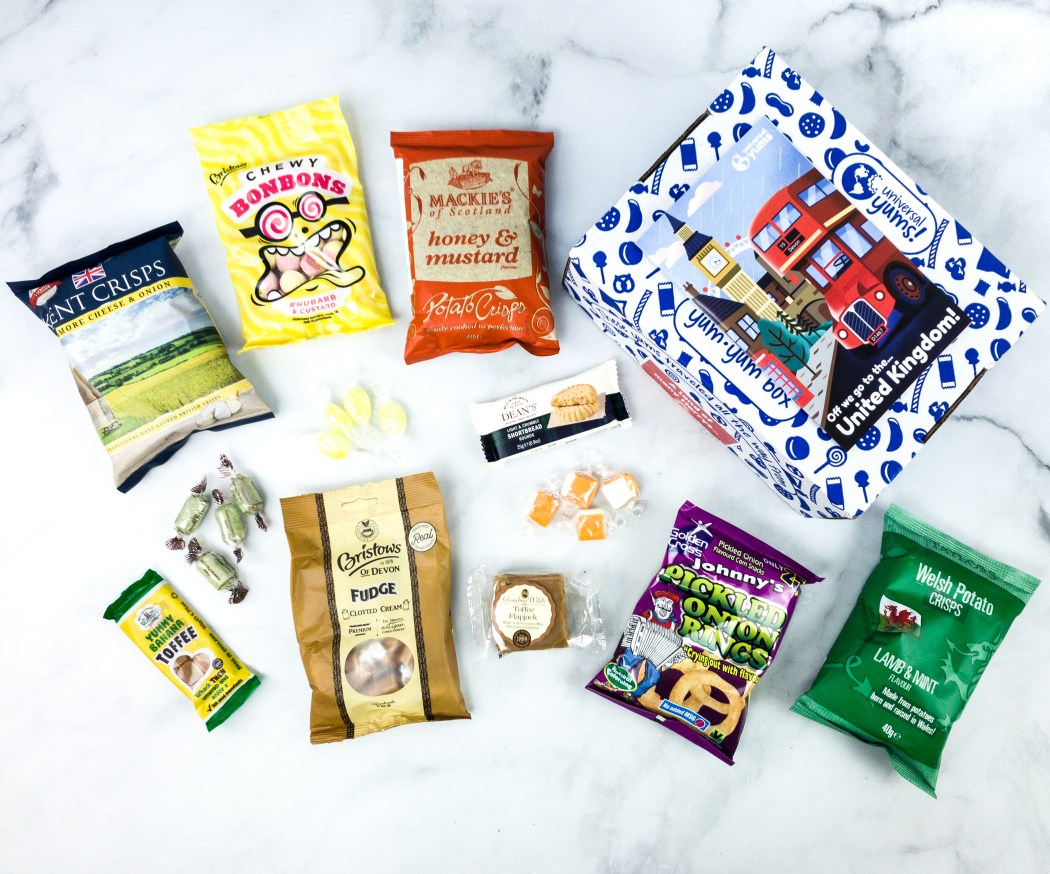 Image from: our review
Why We Love It: Universal Yums will take you on a new adventure and a fun ride around the globe! Experience different tastes and cultures even when you're in the comforts of your own home. This subscription brings you an incredible yummy experience featuring unique and extremely difficult (or even impossible) snacks to find in the US. Please your taste buds with various delicious snacks that you can find in 3 available boxes: Yum Box (5-7 snacks), Yum Yum Box (10-12 snacks), and Super Yum Box (18-20 snacks). Steer your adventure munching on different snacks from different countries each month while learning about their culture, recipes, and more through an interactive booklet included in the box! Snag one and immerse yourself in an adventurous snacking!
Read Universal Yums Reviews to know more.
Price: Snack boxes start at $15 each month.
Deal: Get $5 off your first month when you sign up for a Super Yum Box subscription! Use this link to get the deal.
---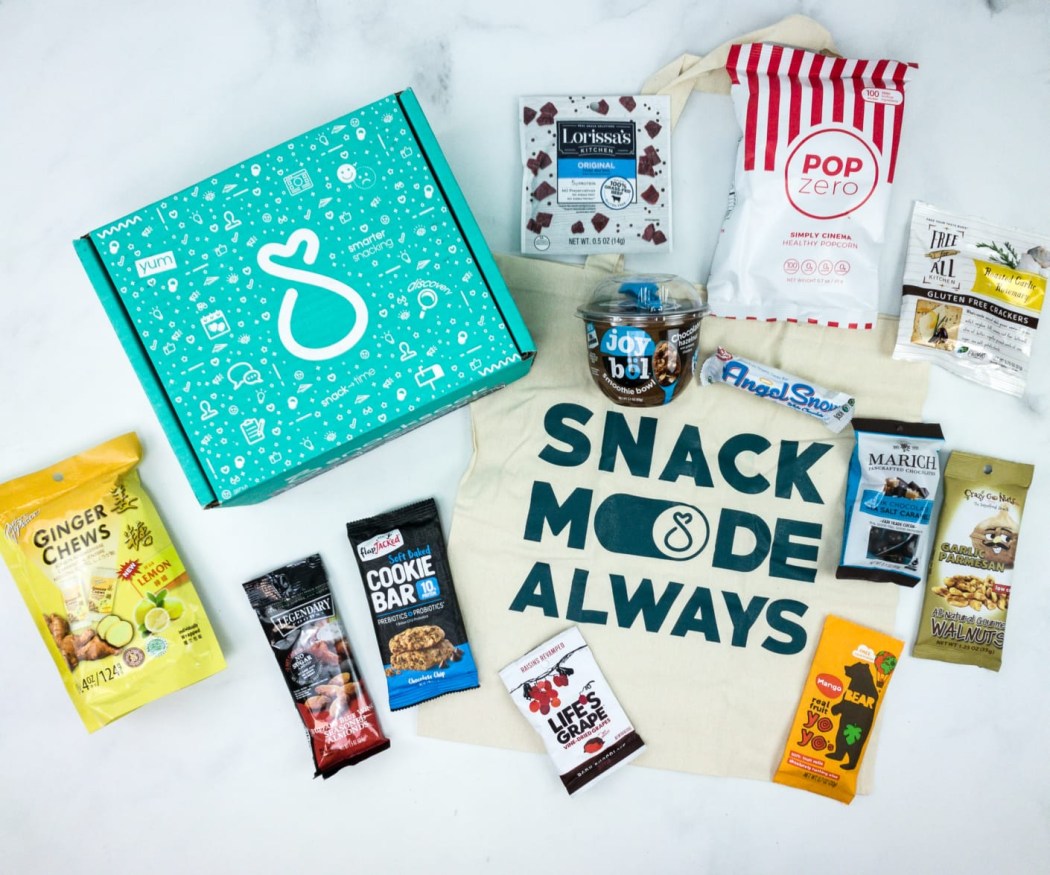 Image from: our review
Why We Love It: With SnackSack, you can dump unhealthy snacking on the side! This snack box has everything delicious and nutritious for your snacking delight. The boxes are always filled to the brim with a combination of organic, non-GMO, gluten-free, all-natural, vegan, and fair-trade snacks. Start your smart snacking adventure when you choose from 4 plans: Classic, Vegan, Gluten-Free, and Vegan+Gluten-Free. Each plan is created to satisfy your needs and contains 11-15 unique healthier snacks – junk-free – from the finest smarter snacking brands with a variety of seasonal flavors that you'll sure to love!
Visit SnackSack Reviews for more details.
Price: You can get the box for $27.95 a month.
Deal: Save 20% on any SnackSack! Use coupon code HELLO20.
---
Image from: our review
Why We Love It: Marshmallow of the Month Club by Edible Opus uses all-natural ingredients to infuse flavor into their luscious marshmallows. It is packed with all the fresh-baked gooey goodness your palate will sure to love! Instead of pork or bovine gelatin, they use fish-based gelatin for everyone to enjoy. Aside from a half-dozen marshmallows that are egg- and corn syrup-free, you'll also receive graham crackers and a chocolate surprise, making s'mores easy to prepare indoors, leaving the guilt behind while snacking! Every month, they also pair their marshmallows with a single serving of hot beverage drink powder packets – can be chocolate, tea, or coffee, based on your preference!
Check out the amazing flavors they've sent us on Marshmallow of the Month Club by Edible Opus Reviews.
Price: The box costs $33.99 each month.
Deal: Get 50% off your first box when you subscribe to a 3 month prepaid plan! Use coupon code HALFOFF.
---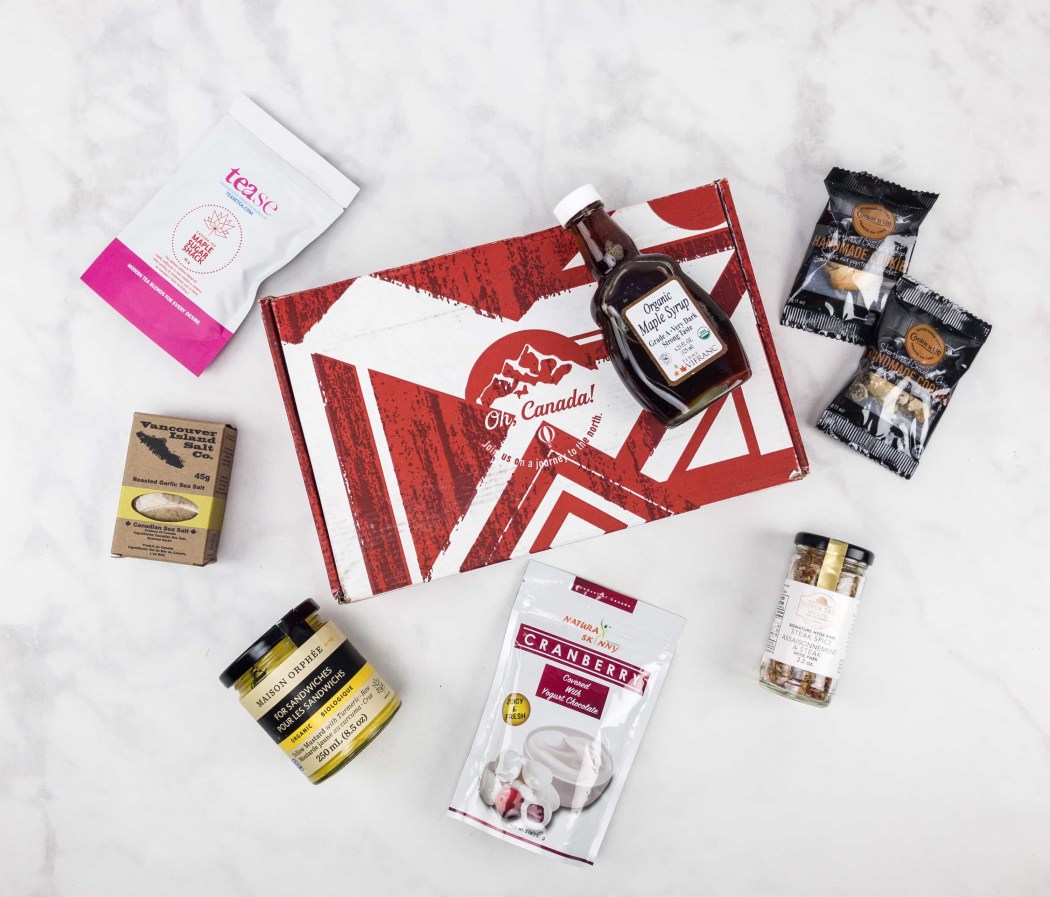 Image from: our review
Why We Love It: Snacking goes global too, and there is Try The World Snack Box for just that! This monthly international snack subscription box offers new treats and delicacies delivered to your door from around the world each month! Every box includes a selection of 6 all-natural, artisanal snacks you won't easily find in stores (they directly import many of the products featured in their boxes) from 6 different locations, a card describing each product, and a culture guide & recipes! Enjoy the snacks at home or on the go. Either way, you'll satisfy your cravings!
Learn more about this snack subscription on Try the World Snack Box Reviews. You can also view the Try the World Reviews for more information.
Price: Get the snack box for $29 each month, plus free shipping in the contiguous US.
Deal: Save 15% off all subscriptions and gift orders. Use coupon code HELLOSUBSCRIPTION15.
---
Image from: our review
Why We Love It: If you love to try eclectic and interesting snacks from around the world, there is Treats you can try! It is a monthly subscription allowing you to explore the world through snacks. Every month, a new country is featured for you to travel and explore even when you're relaxing in your own home. There are 2 pack options that you can choose from: Standard offers 5+ snacks, while the Premium offers 10+ snacks and may include cookies, crackers, chocolates, candies, chips, and more delectable treats. There is also a fun and informative postcard with trivia and recipes from the featured country. Everything comes in its original packaging, which makes it really exciting!
Learn more by visiting Treats Reviews.
Price: You can get the Standard pack for $16.95 per month and the Premium pack for $27.95 per month.
Deal: Save 15% on your first box! Use coupon code HELLOSUBSCRIPTION15.
---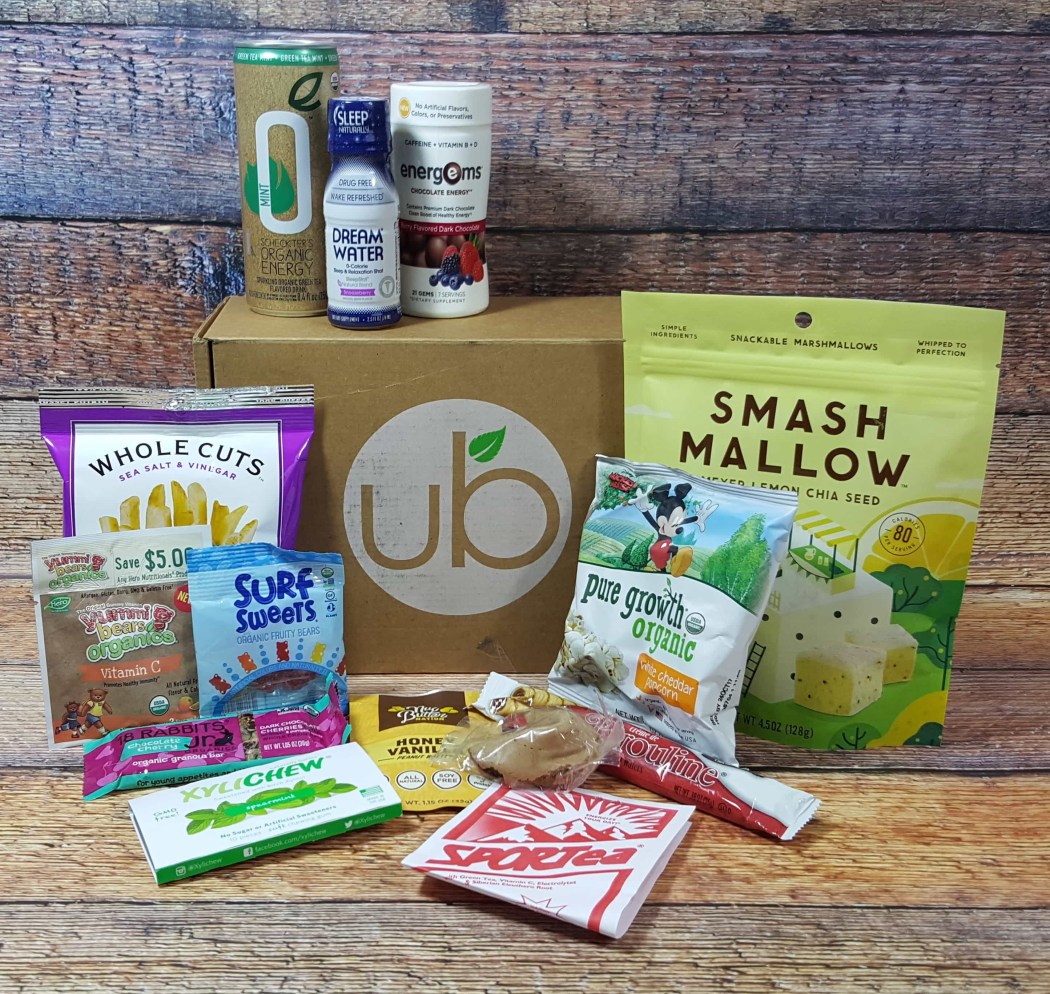 Image from: our review
Why We Love It: If you're crazy about healthy snacks, Urthbox is definitely the subscription you need. It'll surprise you with various handpicked, full-sized snacks made with organic, non-GMO, and all-natural ingredients. You can choose not just from the 4 sizes of boxes they have – Mini (7+ snacks), Small (14+ snacks), Medium (20+ snacks), or Large (27+ snacks), but also if you want the Classic, Diet, Vegan, or Gluten-Free box. There are lots of choices, and you can get the snack box that is perfect for you! The snacks are surely a good way to keep your appetites fully satisfied without the guilty feeling!
See past boxes on UrthBox Reviews.
Price: Box costs start at $27.99 each month.
Deals:
---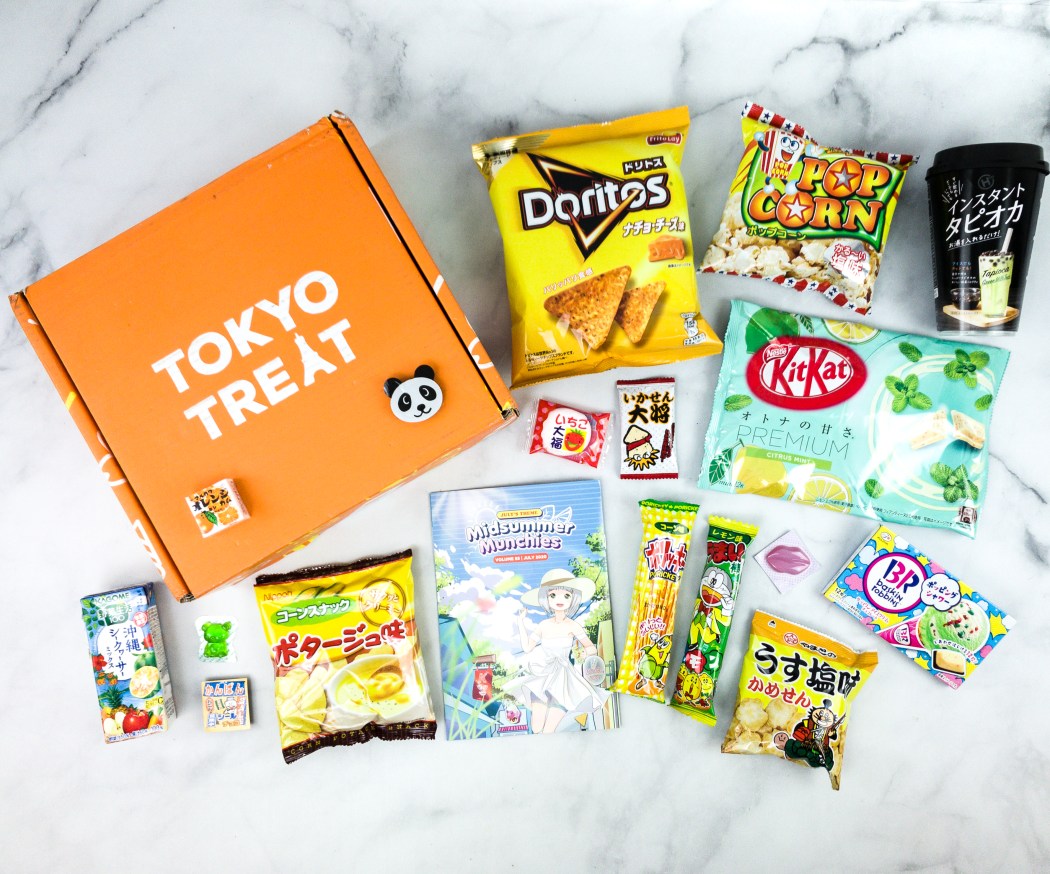 Image from: our review
Why We Love It: TokyoTreat sends the best-tasting Japanese treats that you've been craving! They carefully curate each box to ensure that you only get the best snacks that will make your heart happy and your tummy full. Every month, you'll receive a hand-picked collection of full-sized Japanese candies, DIY Kits, traditional Dagashi snacks, savory snacks, and drinks for you to indulge! The Classic Box comes with 12 items, while the Premium Box contains 17 items. Each box also includes a candy guidebook with a list of all the snacks in your box, as well as brief descriptions. With this box, you can delight yourself with Japanese flavors that are hard to find outside of Japan!
See past box contents on Tokyo Treat Reviews.
Price: You can get the Classic box for $25, and the Premium box costs $35 each month.
Deal: Check the latest Tokyo Treat spoilers to get the latest code! Use this link to get the deal.
---
Image from: our review
Why We Love It: NatureBox no longer offers a subscription but a membership option, and your first 15 days is FREE. They make it easy for you to grab delicious and healthy snacks without the guilty feeling. All snacks taste amazing, and it contains no artificial flavors, colors or sweeteners, no corn syrup of any kind, no hydrogenated oils and no MSG, just simple ingredients. They offer at least 7 snack boxes to choose from filled with snacks that'll keep you coming back for more! It's the snack delivery service perfect for those who are watching what they eat and their weight. Better snacks, less stress!
See past box contents on Nature Box Reviews.
Price: Snack boxes price starts at $33.99 with discounts for members.
Deal: Save 25% off your first purchase and get a risk-free membership free for 15 days! Use coupon code NATUREBOX25.
---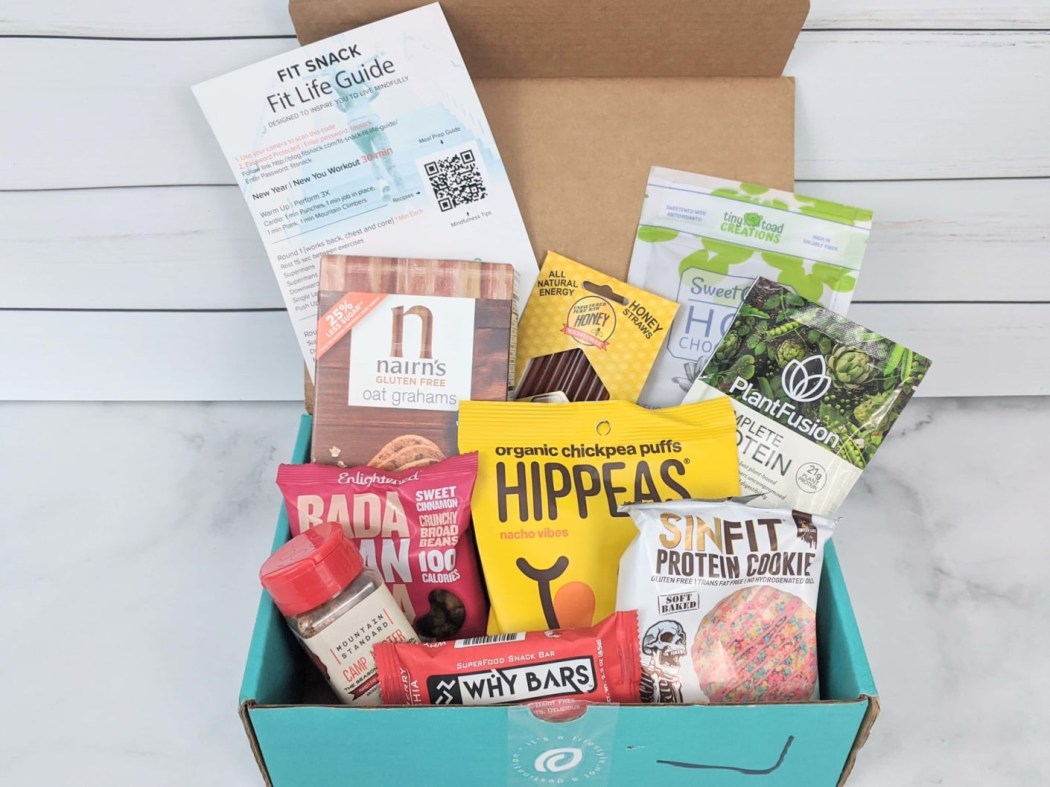 Image from: our review
Why We Love It: Snacking time can be fun and healthy at the same time with FitSnack! The tastiest snacks you can enjoy chomping even when keeping fit, that's what this subscription is made for. They gather healthy and nutritious snacks from the world's best brands. A nutritionist carefully handpicks each snack to include in your box, making sure you'll get a variety of GMO-free, high-protein, low-sugar, gluten-free, organic, and all-natural snacks. You'll receive 7-10 full-sized or deluxe samples and bonus items such as energy boosters, nutritional supplements, and even refreshing drinks, plus challenges or athletic gear to keep motivated! Included also in the box is an insert with exclusive workouts created by professional trainers. Also, with every purchase you make, they donate healthy snacks to kids in need.
Read FitSnack Reviews for more details.
Price: The box costs $28.90 each month.
Deal: Save $3 on your first box! Deal applies automatically, just visit and subscribe.
---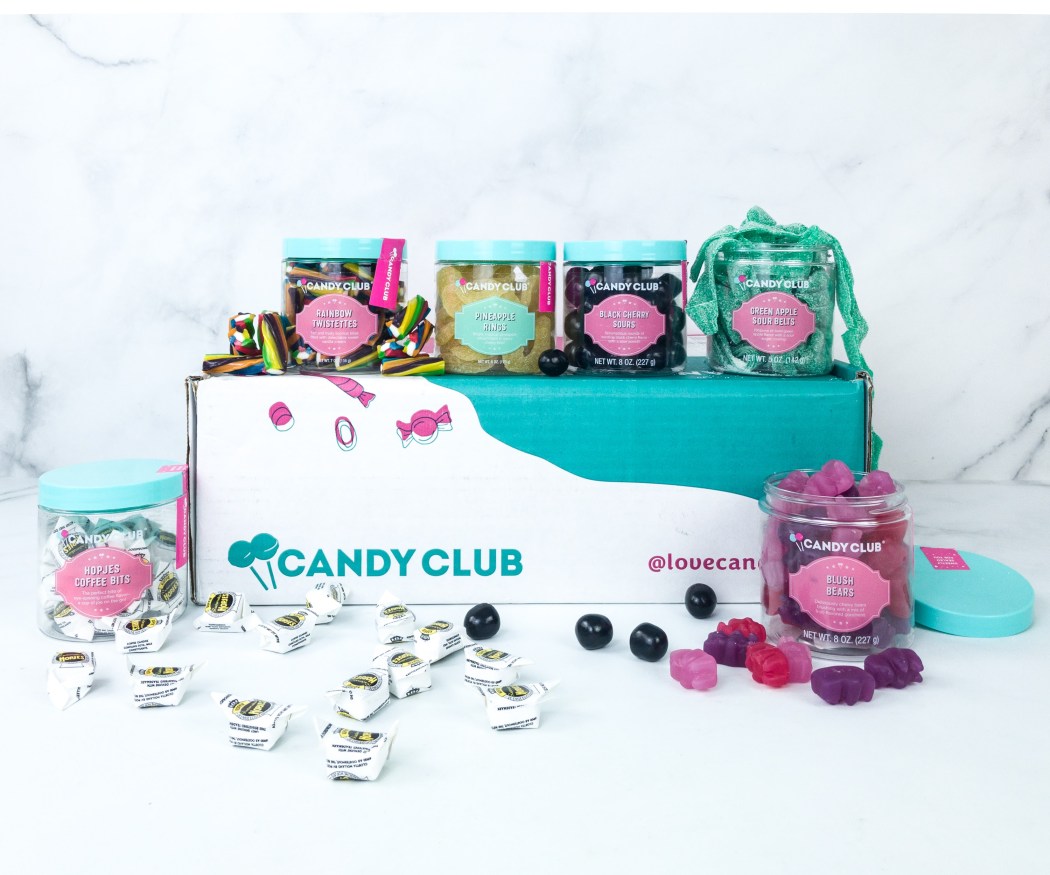 Image from: our review
Why We Love It: Candy Club offers the world's best candies in stylish cups for you to indulge in and make your day a little sweeter than usual! It is a premium candy subscription that gives anyone an extraordinary candy experience at home. Featuring both classic candies and new candy discoveries, this subscription helps satisfy your sweet tooth. They partner with artisans and famed candy producers to fill boxes with a thoughtfully curated selection of delectable candies! Get the Fun Box and receive six 6oz candy cups, or double the fun with Party Box, which consists of six 13oz candy cups in smaller twist-lid jars, all with weights and printed nutritional info on the jar. You can also choose between Mostly Sweets or Mostly Sours to satisfy your taste buds!
Visit Candy Club Reviews to see past box contents.
Price: You can get the Fun Box for $29.99 or the Party Box for $39.99, plus free shipping.
Deal: Get free shipping on your first month. Use coupon code SWEETFS.
---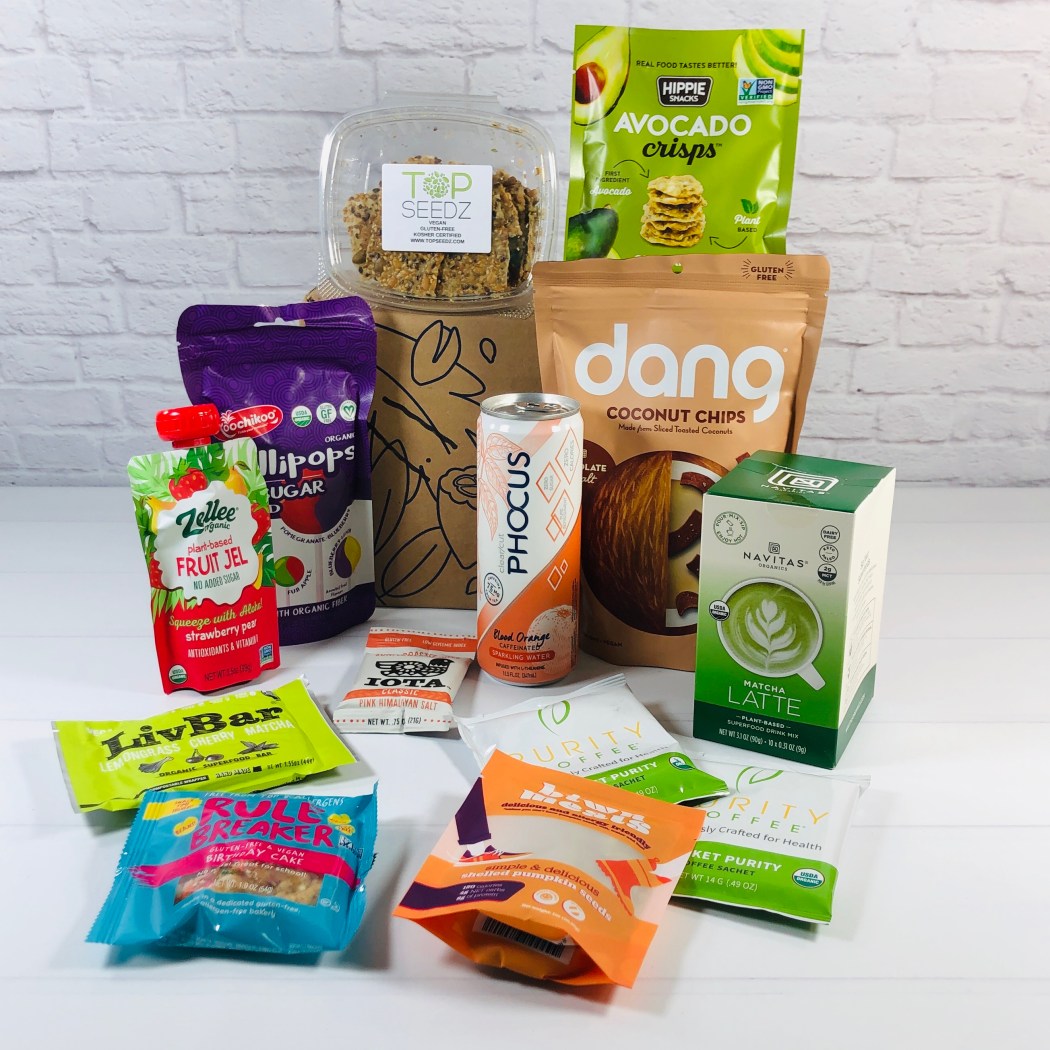 Image from: our review
Why We Love It: Healthy snacking? Vegan Cuts Snack Box is one of the best bets! They promise that they'll only include snacks that are 100% vegan and cruelty-free. The snacks range from chips and cookies to sodas and teas, and all are made only from healthy ingredients you can feel good about. Grab a box and find at least 10 sweet and savory vegan treats each month for a guilt-free snacking. So, if your health is on watch, or you just love vegan snacks, this is the box that you should try. Also, a portion of sales goes directly to animal sanctuaries across the US.
Check out Vegan Cuts Snack Box Reviews to know more.
Price: You can subscribe to this box for $24.95 each month.
Deal: Get $5 off your first box on any Vegancuts subscription! Use coupon code hellosub. The coupon can only be used once per customer, but it can be used on multiple subscriptions at once so long as they are in the same transaction!
---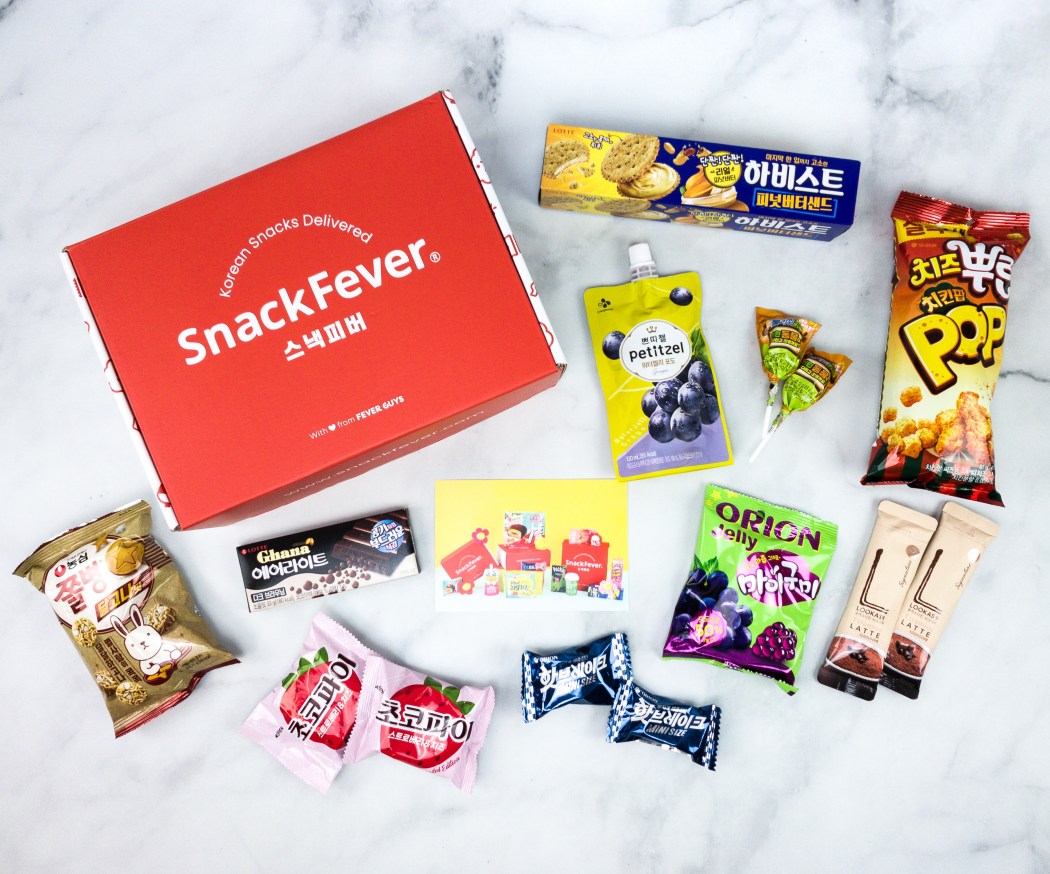 Image from: our review
Why We Love It: Koreans also have great snacks, and you can try them by subscribing to Snack Fever! It is a fun way of discovering the best and the most popular Korean snacks, from the ever-famous Samyang ramyeon to kid's favorite jellies. This monthly subscription will send everything your palate desires to satisfy your cravings. The deluxe box has 10 or more of the trendiest, exclusive, and authentic Korean snacks that'll surely make you ask for more! It also includes one ramyeon cup/pack that you can cook with no hassle or 1 doshirak (easy prep, ready meals) like Tteokbokki or Bibimbap. Snacks vary each month, so there's something new to look forward to every month!
Learn more by checking out past boxes on Snack Fever Reviews.
Price: Get the Deluxe Box for $40 a month.
Deal: Save $3 off your first box (Original, Deluxe). Use coupon code HELLOSUB3.
---
Image from: our review
Why We Love It: SnackCrate will let you get interesting, new, and exciting snacks from places around the globe! A trip from different places through snacks, while you're comfortably relaxing in your home, that's what they're about for. There are 3 box options to choose from: Mini with 5-6 snacks, Original with 10-12 snacks, and Premium with 18-20+ snacks. Each box comes with a mix of sweet and savory snacks you shouldn't miss. It's an adventure in a box and a way to learn about different cultures through snacks!
View SnackCrate Reviews to see the past boxes.
Price: The mini box costs $14.99/mo, the original box for $26.99/mo, and the premium box for $49.99/mo.
Deal: Save up to $14 on your first box. Use this link to get the deal. You'll save $2 on the mini, $6 on the regular box, and $14 on the premium box!
---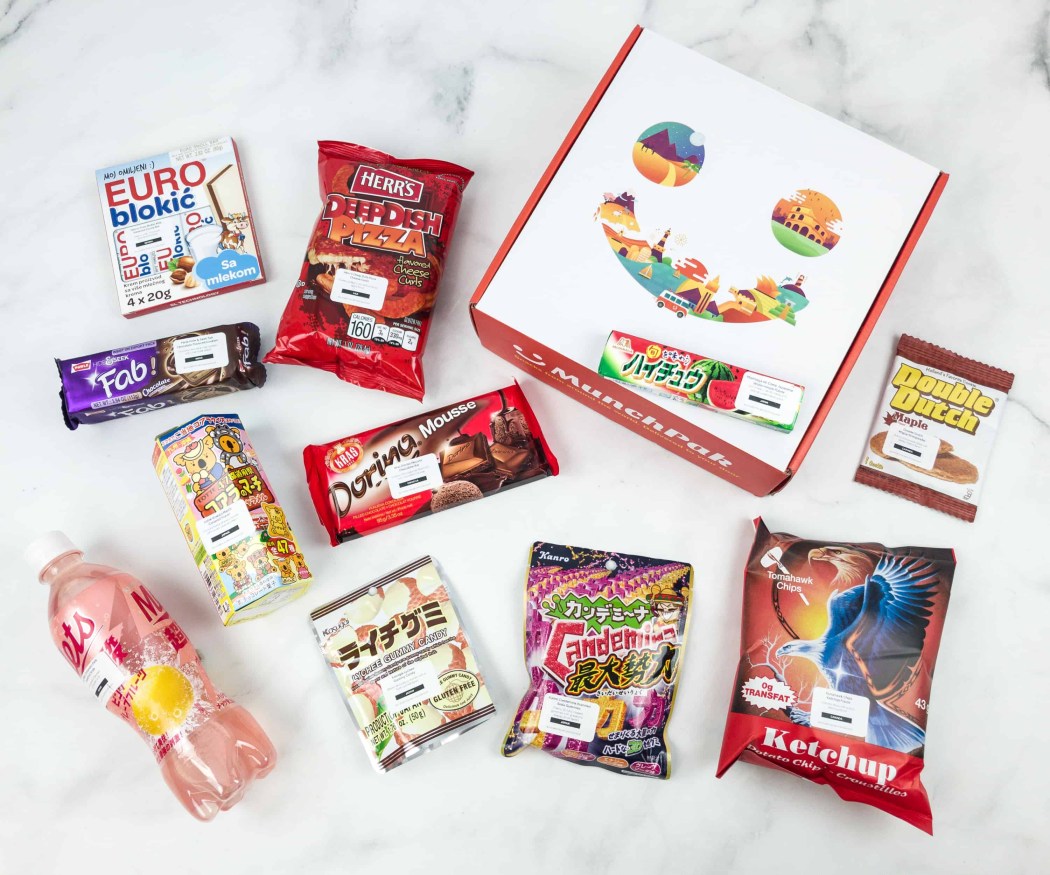 Image from: our review
Why We Love It: If you're looking for unique snack finds from all around the globe, MunchPak is the way to go! They'll deliver the types of snacks that you can't find in your local stores, directly to you, wherever you may be. Each box is carefully curated by their team of snack enthusiasts, making sure you'll only get the best and most delicious candy and snacks from all around the world. Receive 5-20 or more full-size snacks depending on your chosen box size – Mini (5 or more), Original (10 or more), FamilyPak (20 or more). Along with the snacks comes a travel guide filled with lots of interesting facts and more info you need to know about the snacks you received and the countries they originate from.
See MunchPak Reviews for more information.
Price: MiniPak costs $13.95/mo, OriginalPak is at $23.95/mo, and FamilyPak is $43.95/mo.
Deal: Save $3 off your first MunchPak. Use coupon code HELLOSUBSCRIPTION.
---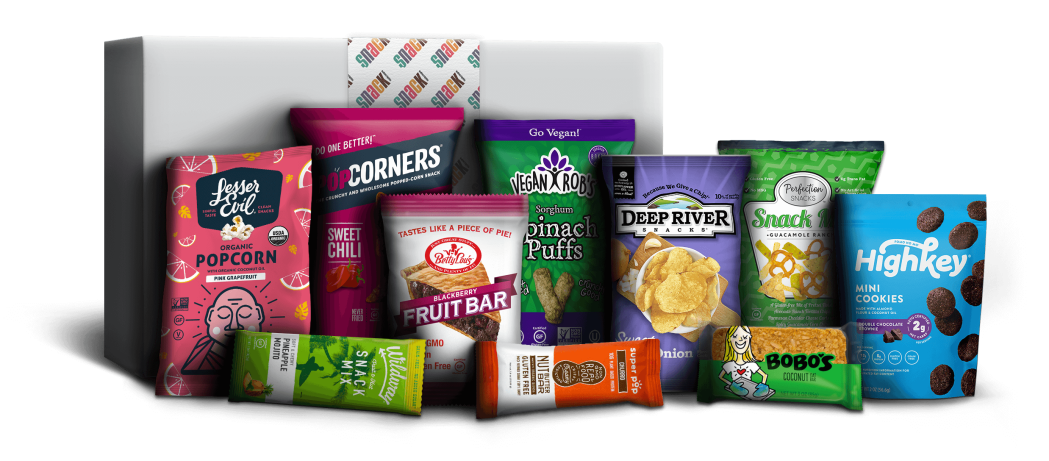 Image from: Snack! Subscription
Why We Love It: For those who can't get enough of snacks and loves munching on different treats each month, Snack! Subscription is the perfect option to bring you high-quality snacks right to your home or office! You will get 6-8 wholesome and delicious snacks carefully curated by their dedicated snack masters for a grab-and-go, hassle-free experience that'll surely delight your taste buds. Snacking has never been this easy!
Price: You can subscribe to the box for $25 each month.
---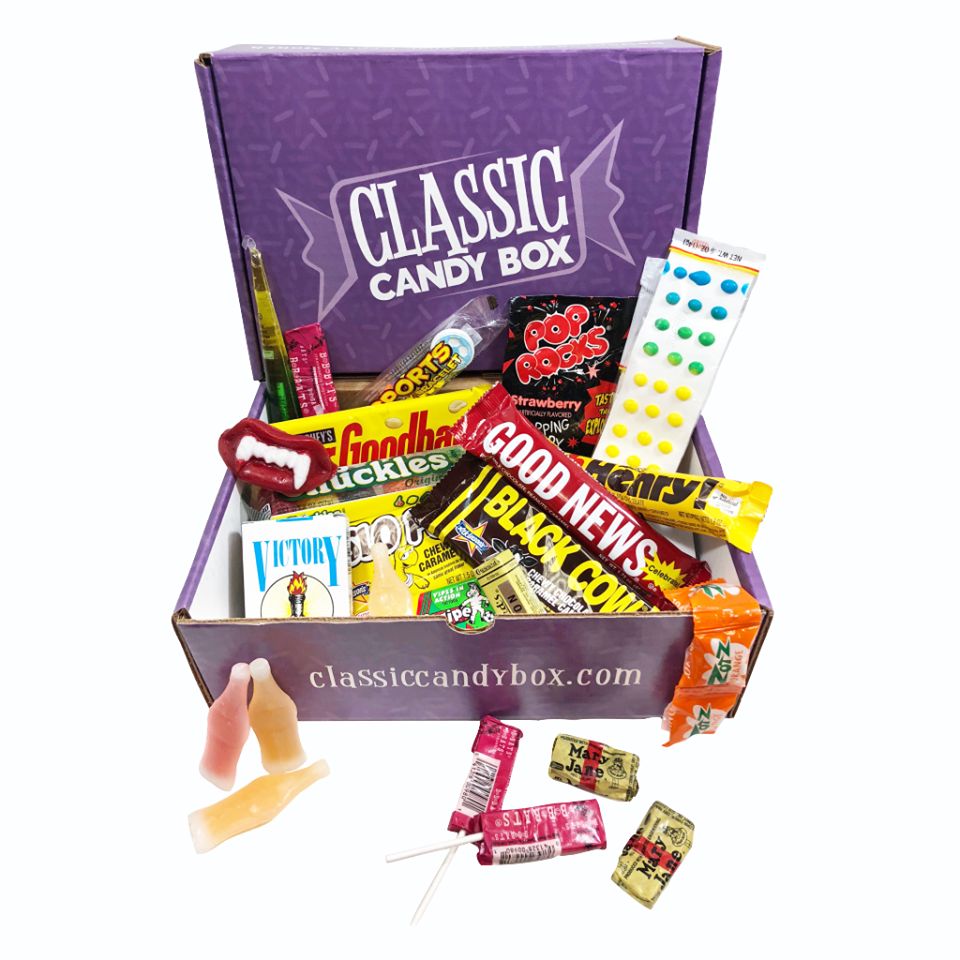 Image from: Classic Candy Box
Why We Love It: Classic Candy Box sends retro, classic candies from the 40s, 50s,60s, 70s, and 80s. Take a trip down memory lane with candies that you enjoyed during your younger years. Each box comes with 1 lb – 1.5 lb of full-sized, hard-to-find classic candies (at least 25 pieces) with a variety of chocolates, chewy candies, and anything in between throughout the decades. From pop rocks to red hots, wax lips to quarter chocolate coins, Zagnuts to zots, you can find it all here! Feel extra nostalgic as you savor and chew every bite!
Price: Enjoy a fun ride down memory lane for $29.89 a month.
---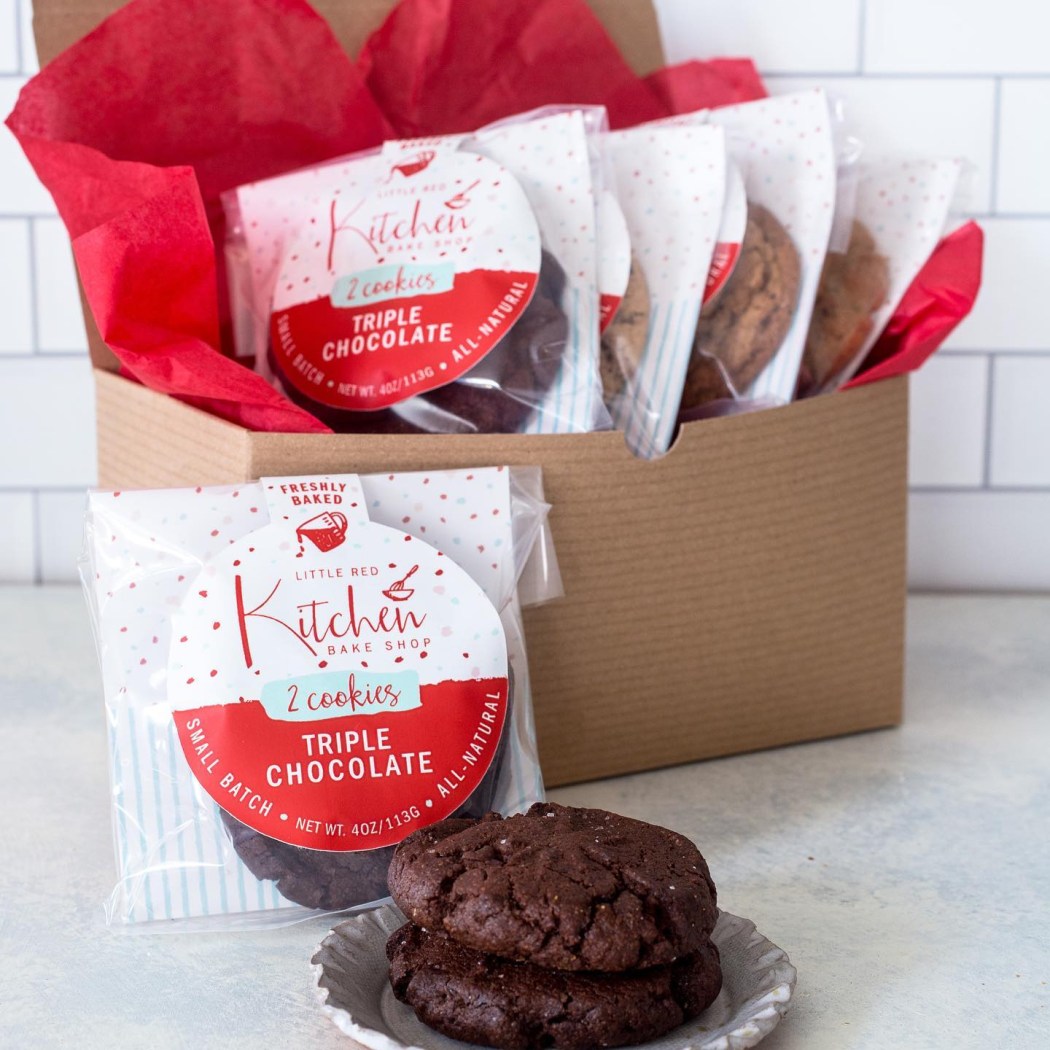 Image from: Little Red Kitchen Bake Shop
Why We Love It: Get your monthly refill of sweets with cookies from Little Red Kitchen Bake Shop. Make your day a little sweeter and better with small-batch cookies baked using mostly organic ingredients, no artificial color or preservatives! Join the Cookie of the Month Club and receive a box that contains the baker's choice cookie of the month. If you want to experience baking your own cookie, subscribe to a DIY Cookie Kit Monthly Subscription and get a kit with pre-measured dry ingredients plus easy step-by-step baking instructions. As a subscriber, you'll be the first to hear about exclusive offers, new products, and much more!
Price: Get cookie of the month for $27.
---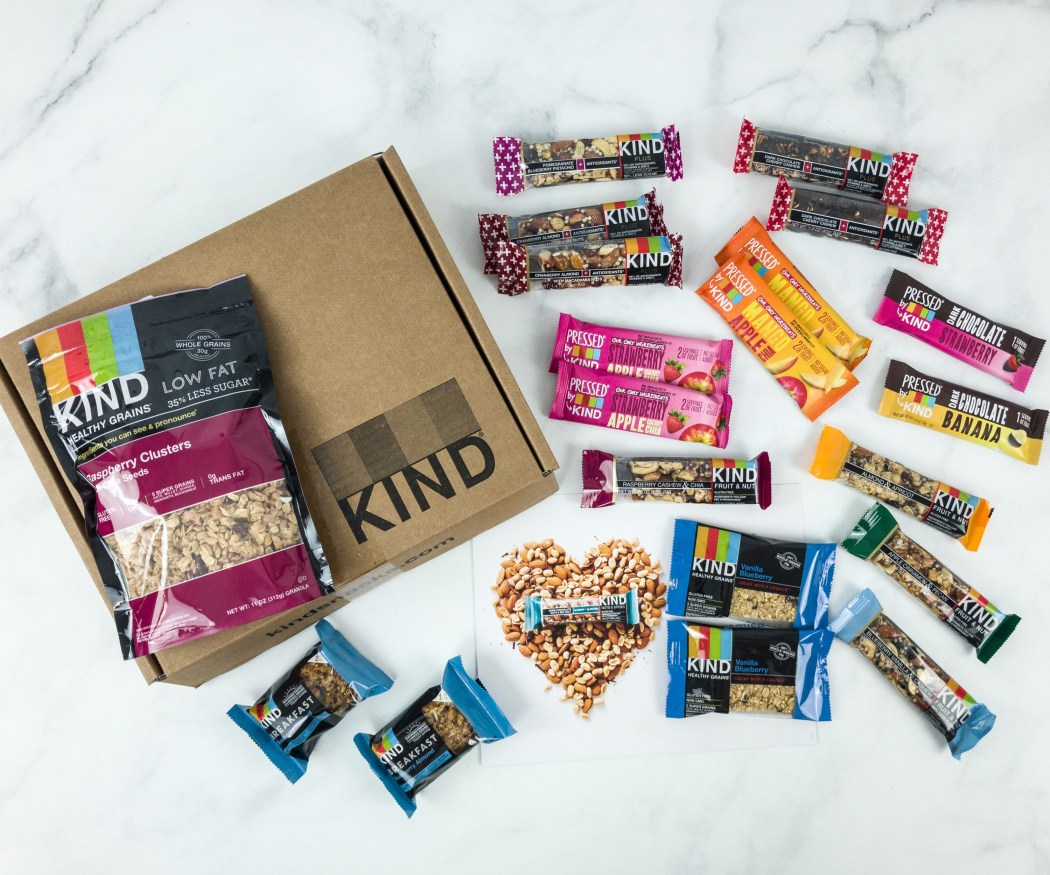 Image from: our review
Why We Love It: KIND Snack Club is a subscription offering a wide selection of snack bars with delightful flavors you can enjoy chewing and chomping! Build your own box of 20 or 40 snacks and fill it up with your favorites snack bars or let them curate the box for you to try something new. You can even select your preferred delivery frequency (30, 45, 60, or 90 days) and easily swap out your snacks to new ones or add more snacks if you wish so. Each box includes one free snack sample as well, plus shipping is free! Variety packs are also available for an assortment of flavors. Whether for a grab-and-go breakfast or a snack to keep your belly full until your next meal, this snack box will get your snacking needs covered!
Check out Kind Snack Club Reviews for details.
Price: Build your own subscription box starting at $37.77 for 20 counts, plus free shipping on all subscriptions.
Deal: Get 25% off + FREE US shipping on your first Build Your Own Box! Use this link to get the deal.
---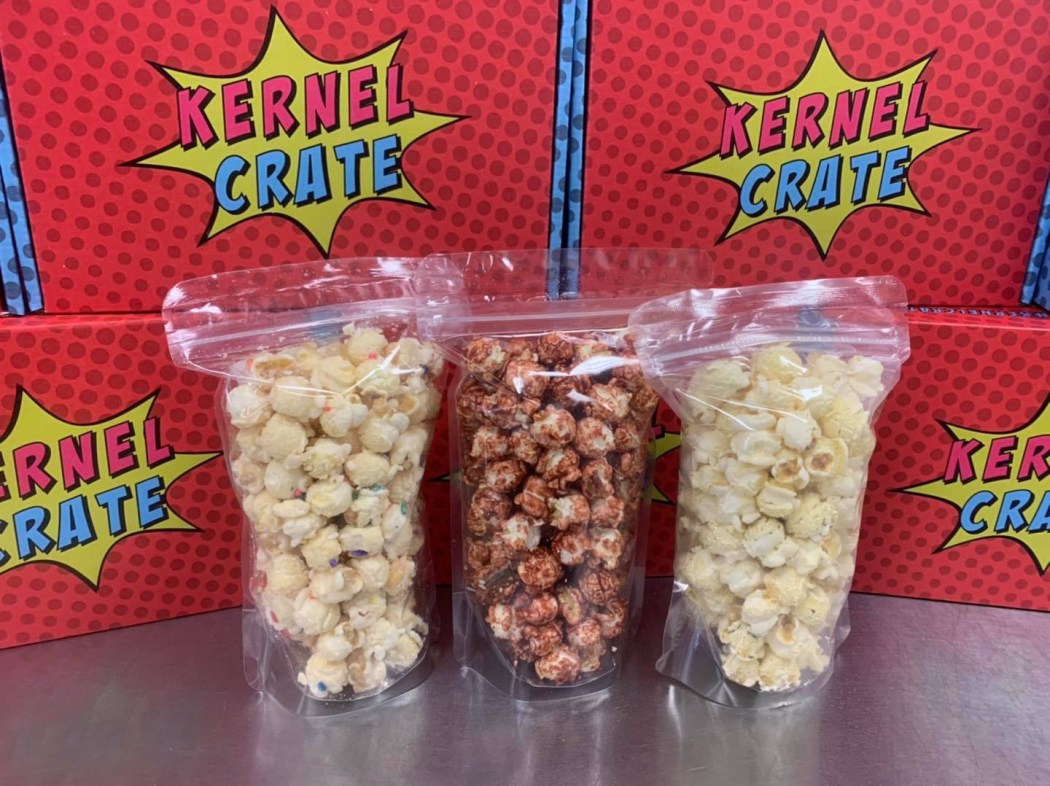 Image from: Kernel Crate
Why We Love It: With Kernel Crate, you'll get to try uniquely flavored popcorns you may not have tried before. These popcorns are popped fresh and delivered right to our door, making sure you'll have the freshest, crunchiest, and most delectable popcorn that's tree nut-free, peanut-free, and gluten-free. Each month, you'll get three new flavors that are unique from the last. Such flavors include pickle, horchata, cinnamon roll, peaches and cream, peppermint, and more! If you love trying different and new flavors, this subscription is for you!
Price: Get your monthly popcorn dose for $18.
---
And there you have it, our list of the best snack subscription boxes! Has any of them appealed to your taste buds?
Looking for more? See the entire list of the best subscription boxes around!
Say Hello To More Candy and Snacks Subscriptions!