Beers have the ability to bring joy to drinkers. The sound of bottle caps and beer cans popping makes us all giddy and excited. Plus the aroma and the fizz, which makes it more pleasant to drink! If you love beer and all things about it but hate leaving the house to get some, then it's a no-brainer that you should get one of these beer subscription boxes.
You can choose from flavored ones, new and rare brews, monthly crates from microbreweries, boxes with beer-themed accessories, clothing, food items, swag, and the list goes on. Get all the beer you could ever want to be delivered directly to your door, some of which are only available in the region they were produced! Not to mention, these subscriptions allow you to discover new tastes you may not have tried before and help expand your palate too!
Never miss out on the best beers! You can have one, two, or why not all of these? Here are the best beer clubs, delivery services, and subscription boxes for you to enjoy! Bonus beer shirt subscriptions at the end!
The Best Beer Clubs and Subscription Boxes To Pop Open!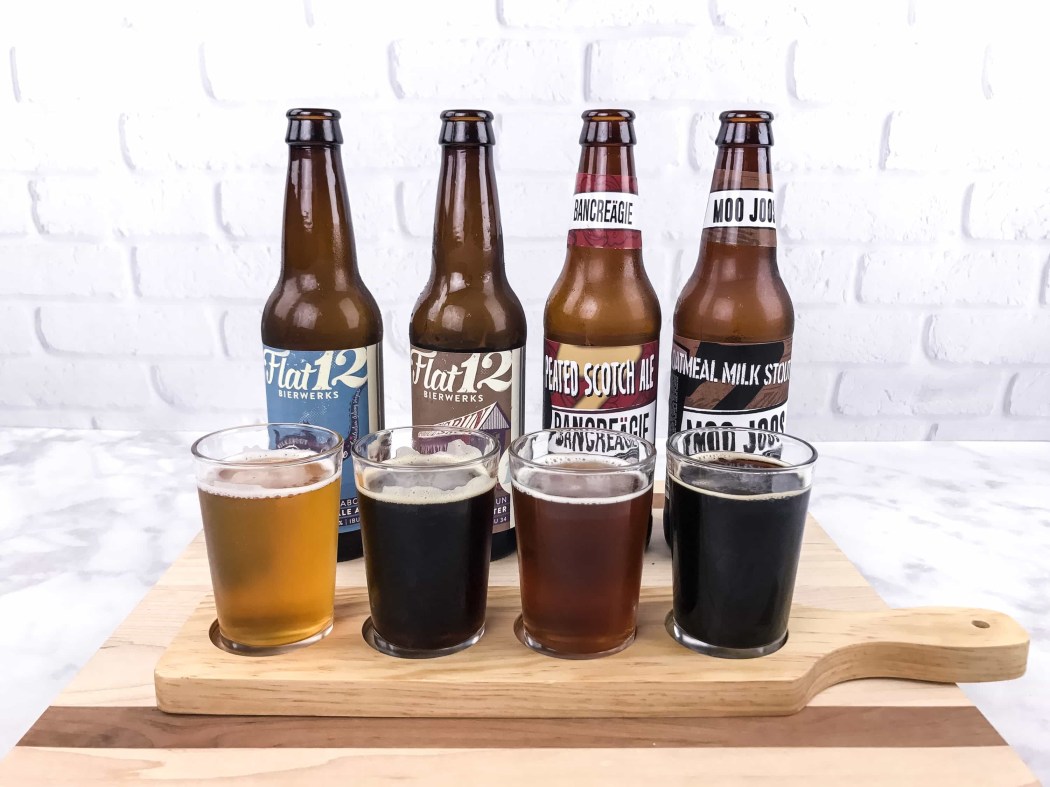 Image from: our review
What You Get: Craft Beer Club provides a practical way to try some great beers, sourced from around the country and produced by small-production, independent brewers who use only traditional brewing ingredients with creative techniques and time-honored brewing methods. Every shipment includes twelve 12 oz world-class craft beers – 4 different craft styles, 3 beers of each style – along with a newsletter containing the story behind each one, the place where it originated, and serving suggestions. Some months are bottles, and some are cans, but all are awesome!
Want to know more? Read Craft Beer Club Reviews.
Price: The beer club starts at $44.75 per month.
---
Image from: our review
What You Get: If beer is your thing, Amazing Clubs Beer of the Month Club has something boozy to offer you with. This beer club delivers 12 full-sized bottles of hard-to-find, specialty microbrews from highly-rated, regional breweries across the country. Each shipment includes four different varieties of premium, hand-crafted beer carefully selected by their experts and brewed in limited quantities to serve you with the best drinking experience. These are also paired with a beer lover's newsletter, which contains brewmaster profiles, tasting notes, histories of the featured brewer, detailed beer specifications, and more you need to know!
Check out Amazing Clubs Beer of the Month Club Review to know more.
Price: $45.95 per month.
---
Image from: our review
What You Get: Offering the greatest variety, Microbrewed Beer of the Month U.S. and International Variety Beer Club features domestic and international beers from U.S. craft breweries, as well as imported selections from time-honored breweries in some of the world's most respected brewing countries such as Germany, Belgium, and England. This monthly club offers the most variety, and members will receive twelve 12-ounce beers in each shipment, with three bottles or cans of different beer styles from both domestic and international breweries. It also comes with a monthly newsletter containing detailed tasting notes, brewery histories, food pairing recommendations, and beer specifications.
Head on to Microbrewed Beer of the Month U.S. and International Variety Beer Club Reviews.
Price: $35.95 per month, plus s&h.
Deals:
---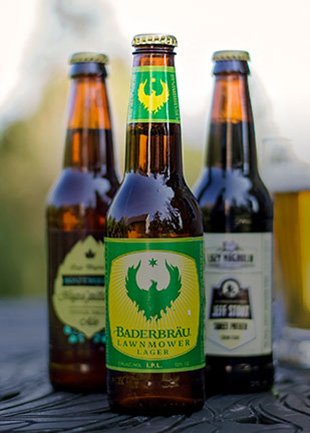 What You Get: One of America's longest-running monthly beer clubs, Great Clubs Beer of the Month Club brings the best, finest breweries in America straight to your home! Cutting back on size isn't their thing, and that's why they'll deliver 12 full-sized (12oz) beers. You'll get to taste a variety of craft beer styles as you'll receive 4 types of beers each month – 3 bottles of each type – made in small quantities from small breweries across America. These are crafted with no chemicals or additives at all, making sure you'll enjoy all-natural beers. If you truly appreciate the taste of fine, handcrafted microbrewed beer, this is the club for you.
Price: $44.95 per month. Shipping is free.
---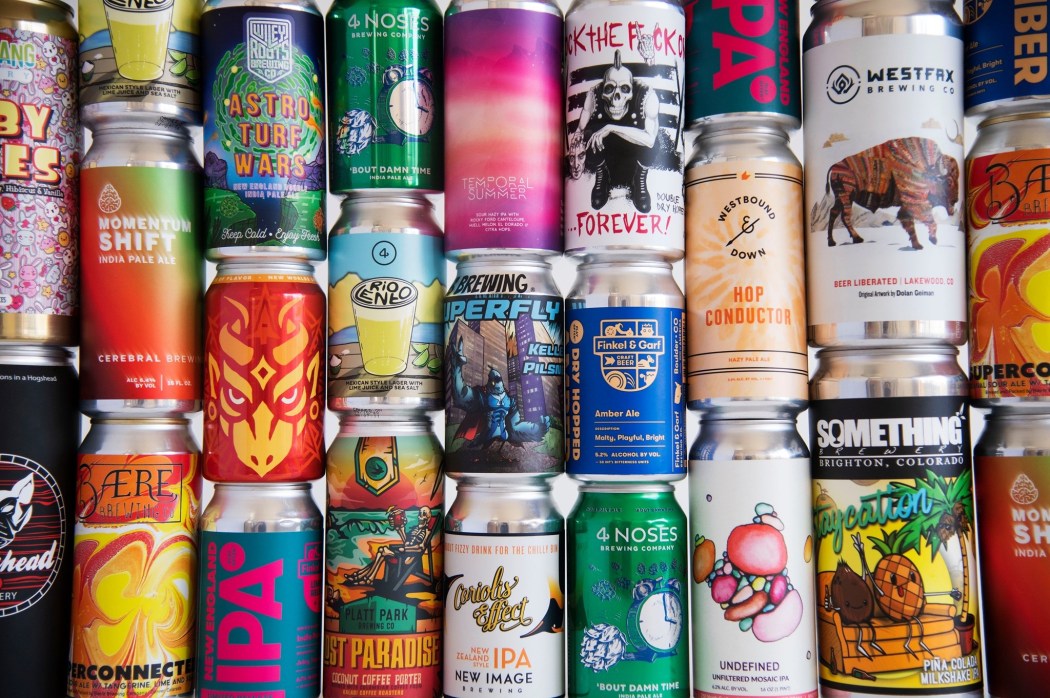 Image from: Beer Drop
What You Get: With Beer Drop's personalized selection, you can experience beer like never before! They choose the best beers available from award-winning breweries to provide beer drinkers with access to exciting brews not available in their local markets. You can choose the style mixes your palate wants and get personalized recommendations based on your flavor choices. Choose one of three plans (Beer Drop, Beer Drop Plus, Beer Drop Ultimate), and receive 10 unique beers in a can, having 2 of each kind. All there's left for you to do is sit back, relax, and wait for your beer box to be delivered, so you can get on with a relaxing drinking session alone or with the ones you love!
Price: Choose from three subscriptions: Beer Drop – $39.99/mo, Beer Drop Plus – $49.99/mo, and Beer Drop ultimate – $64.99/mo.
---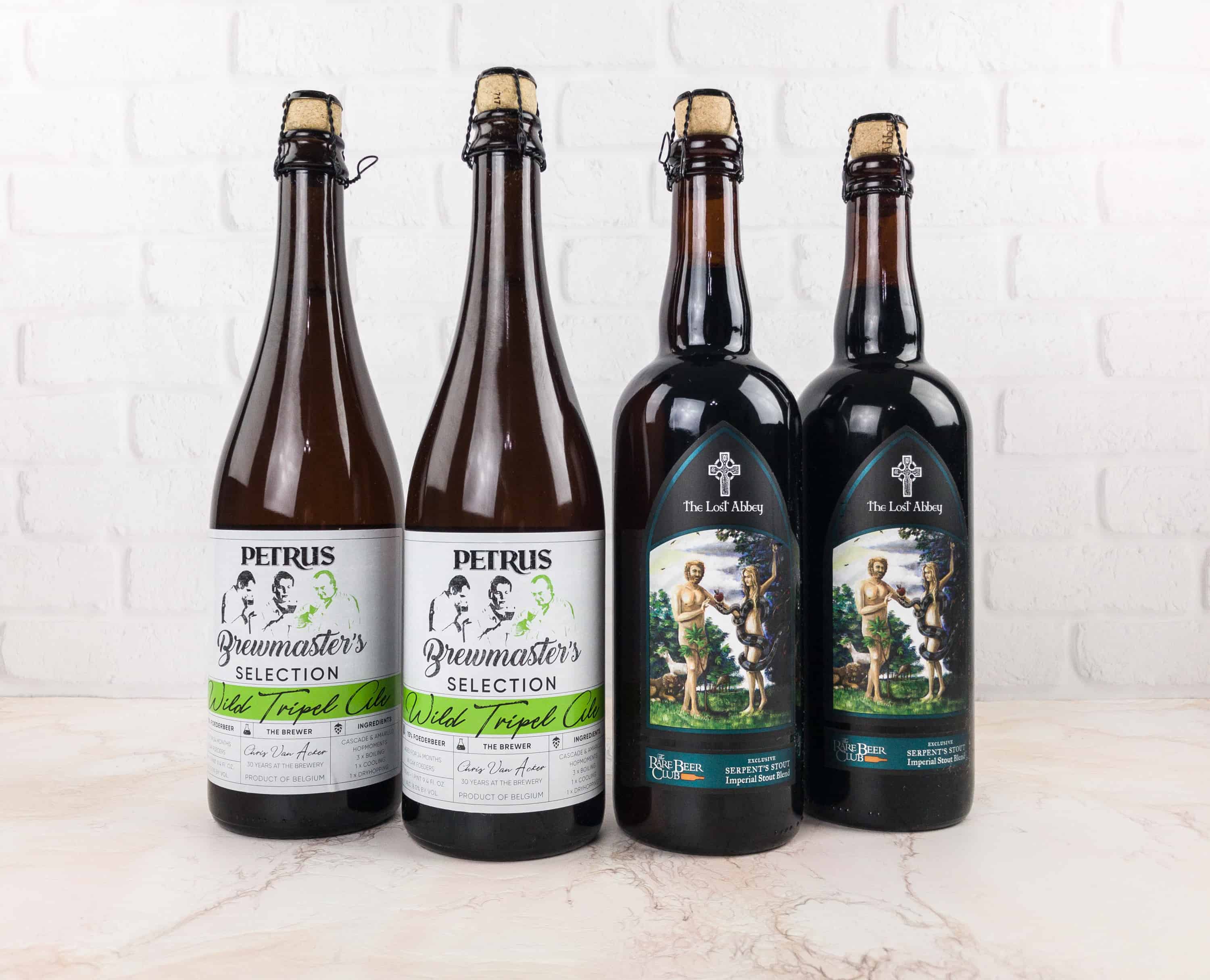 Image from: our review
What You Get: Microbrewed Beer of the Month Rare Beer Club is an absolute treasure — limited release, hard-to-find, and made by those at the top of their craft. They'll send you the rarest, most inventive beers that are really hard to come by at any store, most of which are exclusive only to the club. The selections age well, so they are perfect for cellaring and having on hand to share on a special occasion! Receive two, four, or six 750ml bottles of handcrafted, artisanal beers with a monthly newsletter containing each brewery's history, profiles of the brewers, detailed tasting notes, food pairing, beer aging recommendations, and more.
Go to Microbrewed Beer of the Month Club Review for more info.
Price: $37.95 per month, plus $15 s&h.
---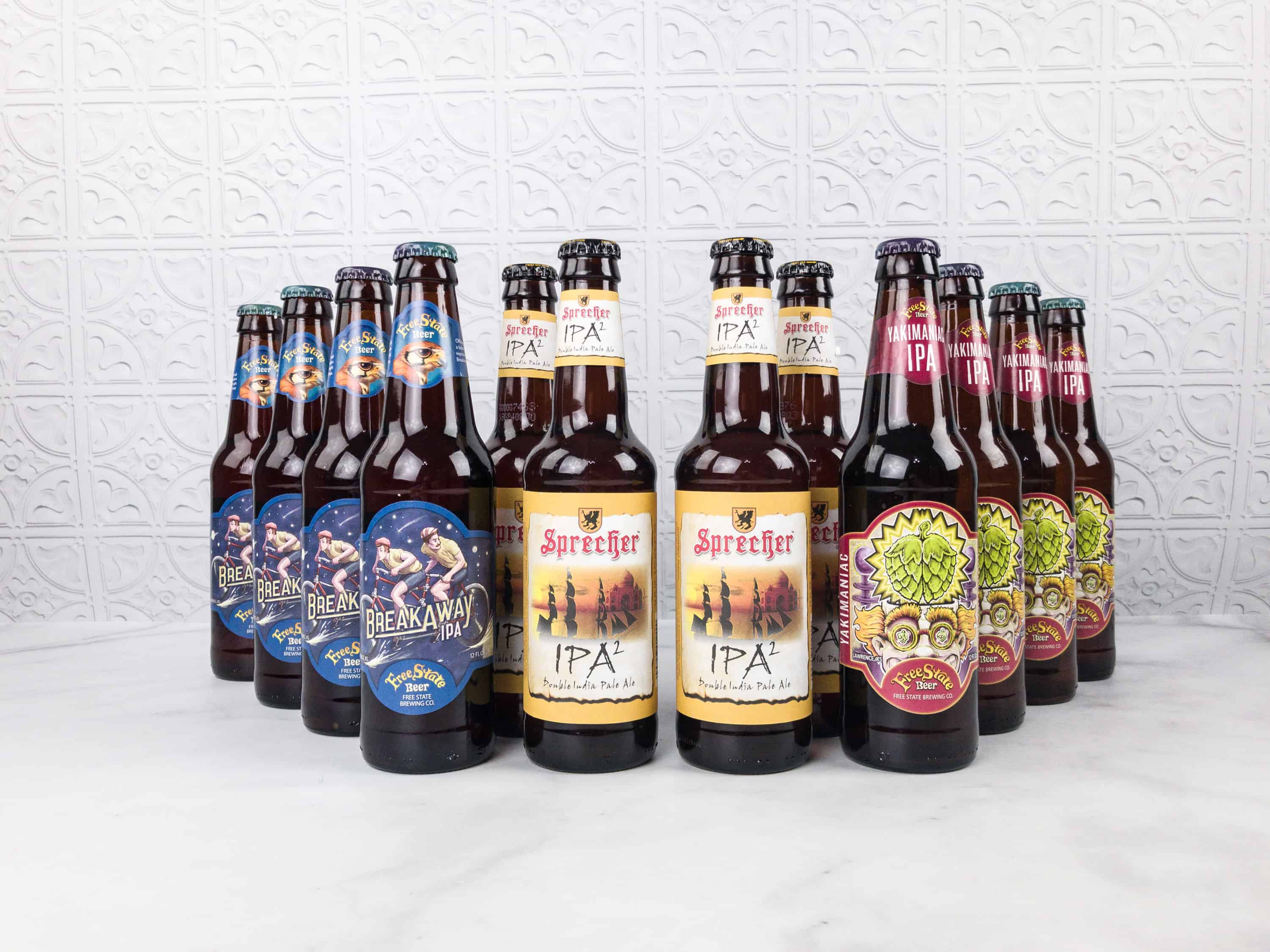 Image from: our review
What You Get: For those who can't get enough with IPAs and other hoppy beers, Microbrewed Beer of the Month Hop-Heads Beer Club is the perfect subscription to go for! They offer a variety of hoppy beer styles each month from two or more breweries, including IPAs, Double IPAs, Session IPAs, IPLs, Imperial IPLs, Session IPLs, Hoppy Pale & Red Ales, and more. The focus is not just on beers with bitter hop profiles but also beers that explore many hop flavors and aromas available to today's brewers. Receive twelve beers in each shipment, including 3 different beer styles (4 bottles or cans of each) from U.S. craft microbreweries and international breweries. It also includes a monthly newsletter with detailed tasting notes, beer profiles, brewery histories, and suggested food pairings.
See more at Microbrewed Beer of the Month Hop-Heads Beer Club Review.
Price: $34.95 per month.
---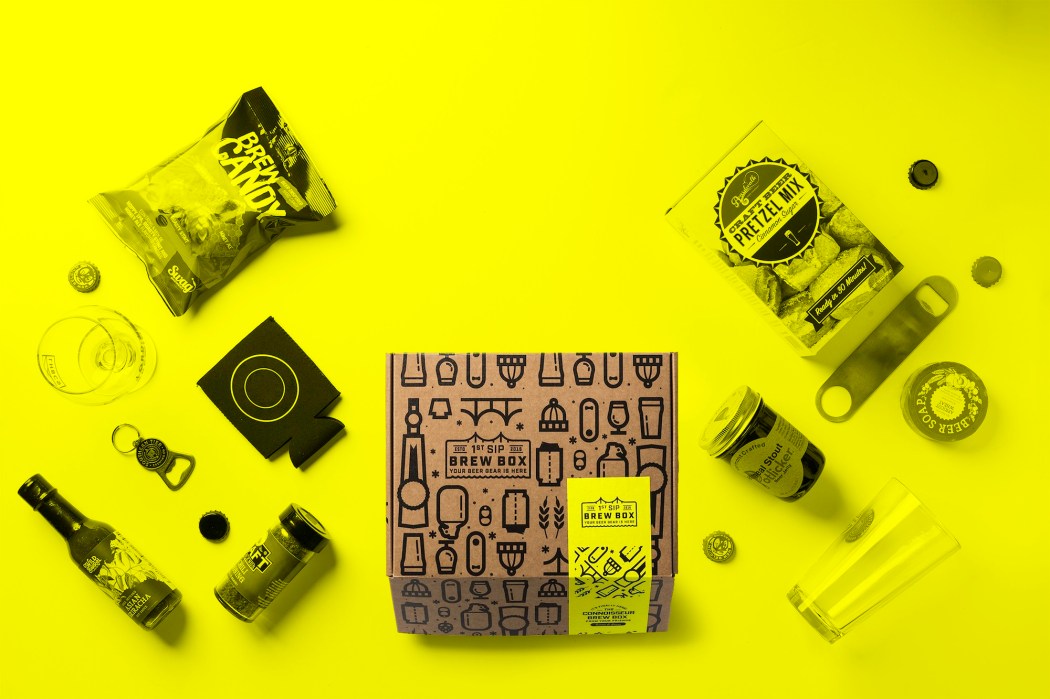 Image from: First Sip Brew Box
What You Get: Express your love for craft beers with goodies that incorporate your love for them! First Sip Brew Box is a subscription curated for all craft beer enthusiasts out there. They are all about bringing top breweries and small businesses to your door every month through fun boxes filled with beer swag. Each box features a different brewery, and it includes beer gear, branded glasses, stickers, and other amazing swag you can add to your collection! Included also in your box is a delicious treat that you can pair with your fave beer. Pick the best box from the 3 brew boxes they offer: The Brewmaster Brew Box, which includes a unique piece of brewer swag from the featured brewery; The Enthusiast Brew Box, which gives you craft-beer inspired items to eat, wear and use; or The Connoisseur Brew Box, which gives you the biggest full-size craft beer-inspired products available along with special extras too!
Make sure to check out our past First Sip Brew Box Review to obtain more information.
Price: Brewmaster Box – $24.99/mo, Enthusiast Box – $49.99/mo, and Connoisseur Box – $59.99/mo.
Deal: Get 10% off of your subscription! Use coupon code FIRSTSIP10.
---
Image from: Beer52
What You Get: There are lots of beer out there, and Beer52 makes it easy for you to grab them without setting foot outside! They are the UK's largest craft beer discovery club, which sends a selection of great-tasting craft beers to every enthusiast, and their themed boxes feature beers from a new country every month. You'll get 8, 10, or 12 beers (in bottles or in cans) paired with a snack and a 100-page full-color Ferment magazine detailing everything about the beer, the history of the brewery where it came from, and all about what's happening and who's who. You have the option to choose your beers, whether you want a mix of light and dark beers or just the lights beers (vegan-friendly). Join the club and share your passion with others who have similar interests as you do.
Price: Receive craft beers monthly for £24 (approx. $33).
---
Image from: Cooler Can Monthly
What You Get: Beer tastes extra flavorful and refreshing, especially when it's cold, and with Cooler Can Monthly, your beer will stay cold (never warm) for hours. Each month, you'll get a limited edition koozie from a place you've never heard of, will never go to, or a place you wouldn't step into. Kidding aside, these koozies make the best drinking buddy! They are made from high-quality neoprene, the same material used in wet suits, keeping your canned beer cold by up to 50%. What's even great is that you'll never receive the same design twice, 'cause when you receive the design for the month, it'll retire forever from the club!
If you want to see what we've received in the past, visit Cooler Can Monthly Review.
Price: Month to month plan is $8.
---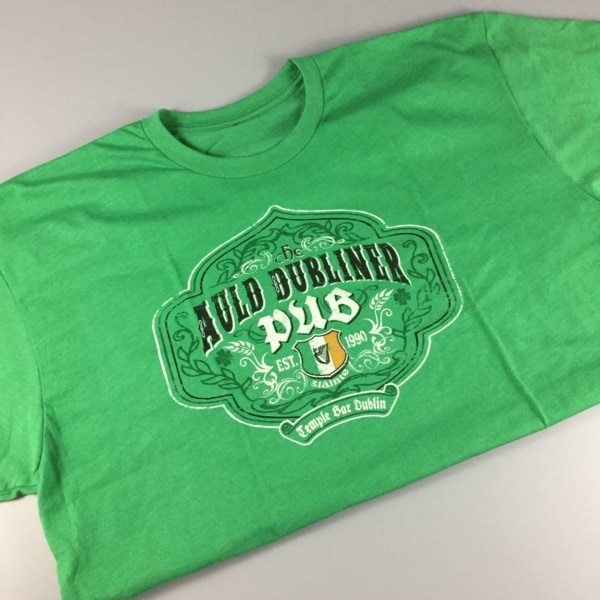 What You Get: With Pub Shirt Club, you can experience Irish pubs with just a shirt away! This monthly subscription is all about delivering great stories from Irish pubs directly to your door through t-shirts. With the participating pub's approval, they reproduce these t-shirts in limited quantities. Each month, you'll get the latest, authentic, and high-quality shirt of the month from unique and well-known pubs across Ireland. These custom-designed, limited edition shirts come with a postcard, where you can take a peek inside the pub. To ensure that these pub t-shirt designs stay unique, each "Featured T-Shirt" is only used one time. Once that pub's shirt has been featured, it'll graduate from the club forever!
Go to Pub Shirt Club Reviews to see the shirts they've sent us.
Price: $24 per month.
---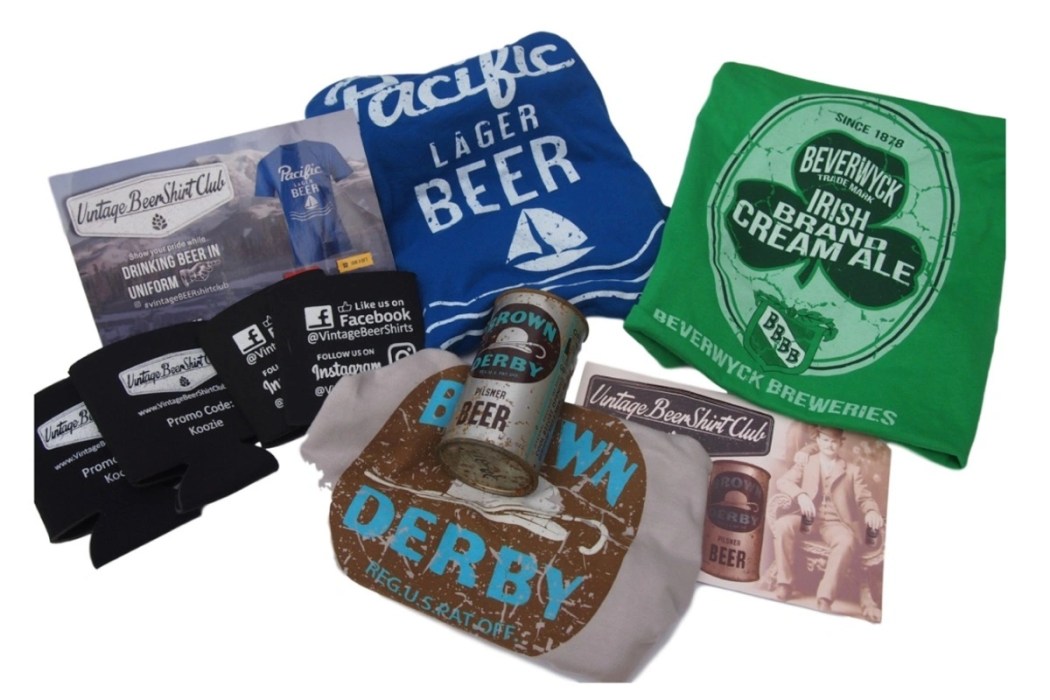 Image from: Vintage Beer Shirt Club
What You Get: It's time to discover and feed your minds with knowledge relating to vintage breweries with Vintage Beer Shirt Club. They aim to bring these breweries back to life with shirts that feature a Great American Brewery from the past. Each box includes a shirt and a postcard that explains the historical value of the featured vintage brewery. Own the most unique, vintage, cool artwork from beer cans & labels from one of these extinct breweries through shirts you can proudly show off (no repeats)! Join the club and receive an authentic vintage beer shirt at your door that can help you express your love for beers!
Check out Vintage Beer Shirt Club Review to learn more.
Price: Subscription is $24 a month. Save more when you opt for longer plans.
Deal: Get $5 off your first box! Use coupon code BEER5.
---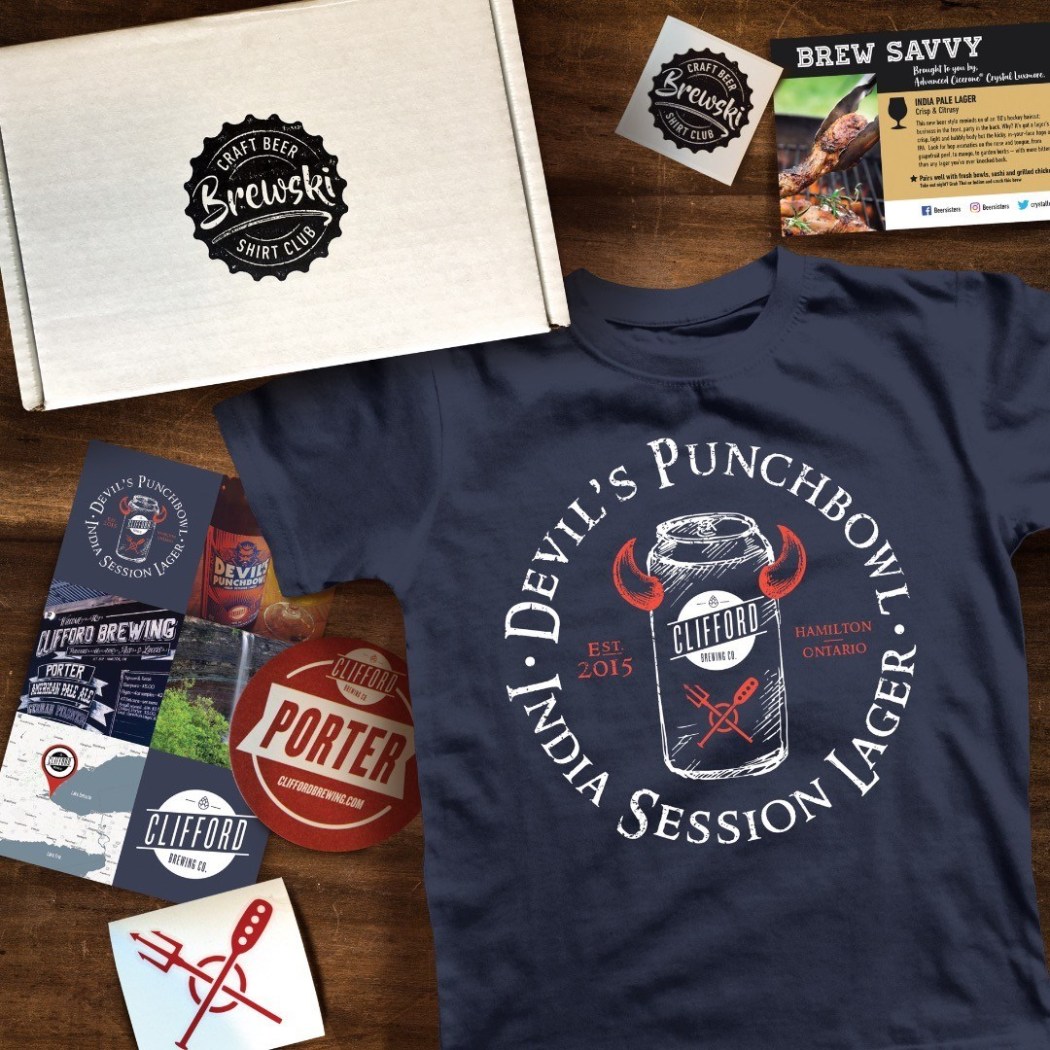 Image from: Brewski Craft Beer Shirt Club
What You Get: Tell proudly to the world your passion for beers with Brewski Shirt Club. This monthly subscription sends out limited edition shirts inspired by actual breweries from around the world. Each month, you'll receive cool, awesome tees – available in classic and vintage fit options – featuring custom designs relating to craft brew or brewery. Monthly boxes also come with a card containing information about the featured brewery, plus beer-themed swag like coasters and stickers you can add to your collection!
Price: The monthly subscription costs $22.
---
Image from: Tavour
What You Get: If you love discovering new tastes and looking to get into the brewing scene, Tavour is one of the best options. Who wouldn't like craft beers being shipped to your door anyway? With this delivery service, you'll discover the highest-rated craft beers from all over the world without leaving your homes! They have featured over 650 breweries and tasted 10,000+ beers, so you can just enjoy the best among others. All you have to do is download the app to gain access to hard-to-find, 100% independent craft beer from across the US. Build a box with all the beers that you love (light & crisp, hoppy & juicy, sour & funky, dark & intense, cider), and they will deliver it directly to your doorstep for a flat fee. Ever want a monthly fix of great-tasting beers? Subscribe and get free shipping!
Price: Get the box for $99.
---
And that's all for the best beer clubs and subscription boxes! What's your favorite beer club? Have you given any as a gift?
Try other subscription boxes from our list of all the best subscription boxes in every category!