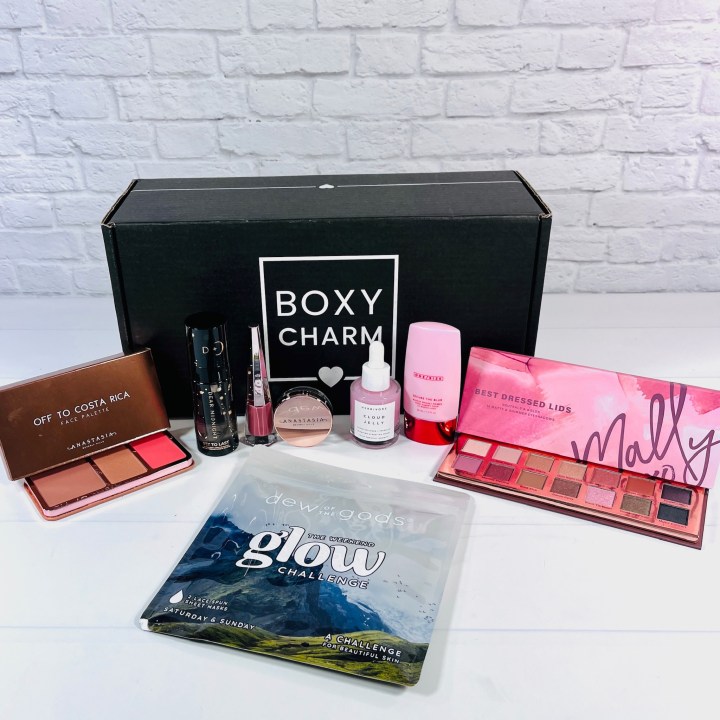 BOXYCHARM's Luxe box is a quarterly upgrade to BOXYCHARM that has 8 full-sized products to keep you going between shipments. This quarter I received several products to help me fix my face and keep everything in place. Read on to see what I received!
BOXYCHARM also has the BOXYCHARM Premium subscription, which is different than this – check out all you need to know about BOXYCHARM Premium here!
You can see the some spoilers for the different variations of the Winter 2022 BoxyLuxe boxes here.
DEAL: Subscribe now and get a FREE gift: Ciaté London Trend Edit Palette in Bronzed OR Olive OR Avant Skincare Blue Volcanic Stone Purifying & Antioxidising Cleansing Gel, PLUS $10 credit to December Drop Shop!
Use this link and pick your FREE gift at checkout AND get your exclusive $10 Drop Shop code via email within 24 hours of subscribing.
Once again, this is a BoxyLuxe review.
Dew Of The Gods The Weekend Glow Challenge ($40) I have to admit, I haven't tried this mask duo yet, but that's because I'm saving them for New Year's Eve (a Saturday) and New Year's Day (a Sunday). The price seems ridiculous to me but I guess some people will pay that and that is their prerogative (and the packaging is gorgeous!). Both masks have some ingredients in common, like glycerin, hyaluronic acid, and aloe. It looks like Saturday's mask is for rehydrating the skin while the one meant for Sunday is supposed to help repair. Both masks should be used on clean skin for around 10 minutes and excess serum can be patted into skin afterwards.
Herbivore Botanicals Cloud Jelly Serum ($48) This serum claims that it can plump skin and that it has a mushroom extract that can hold water even better than hyaluronic acid. It also has glycerin, aloe, and rose water plus other ingredients, most of which I can pronounce (although the ingredients on the box aren't the same as those listed on the Sephora website, which doesn't list those last two preservatives). Use after cleansing and before moisturizer. It doesn't have much scent and dries to a non-sticky finish.
Dear Midnight Set To Last Setting Spray ($30) Hmm, this brand only has two items available and this is one of those two (the other being an eyeliner duo). It's alcohol free and has hyaluronic acid and is supposed to set makeup without drying the skin. It smells very strongly of perfume and sets pretty quickly (but keep your eyes closed and try not to breathe in when you spray it).
One/Size by Patrick Star Secure The Blur Makeup Magnet Primer ($30) I don't use a primer but if they show up in a box then I'm going to give them a try. This one is supposed to blur the pores for a flawless appearance but maybe I didn't use enough because I saw no difference in the treated side vs the side with no primer. That's right, I used this on half of my face, or technically all of my face except for one cheek. I applied the rest of my makeup same as usual and didn't detect any difference in staying power either, my face looked exactly the same at the end of the day. This has some good skin ingredients like niacinamide and glycerin and I was happy to see that it was fragrance-free. It leaves behind a silky feeling just as I've found in other dimethicone-based primers.
Anastasia Beverly Hills Brow Freeze ($23) is a waxy gel substance that it supposed to freeze brows into place and help achieve a feathered brow look (and after looking at the models on the brand's website I have decided it's not the look for me). It's clear and it didn't leave my brows feeling stiff or waxy and I think it's good for fixing whatever brow style you desire.
Fenty Beauty Stunna Lip Paint ($26) I received this in the shade Uncuffed (rosy mauve nude) and I already love it! This matches my natural lip color pretty well so there's no weird line inside where you can tell the difference and it is long lasting and perfect for my daily makeup look. It's quick drying and matte but there's a bit of time where you can take a lip brush and get it into all the right places before it sets. Rihanna makes some good stuff, I'm always happy to get it in a box. Swatched below.
Mally Beauty Best Dressed Lids Neutrals and Bolds 14 Matte & Shimmer Eyeshadows ($45) This line comes from a makeup artist and even though I wasn't all that impressed with the swatches and blending ability, I was ecstatic with my finished look and was even able to skip the pencil eyeliner, which I can't say about all the shadows I've tried. I used four colors this morning and look forward to trying different combinations in the coming weeks.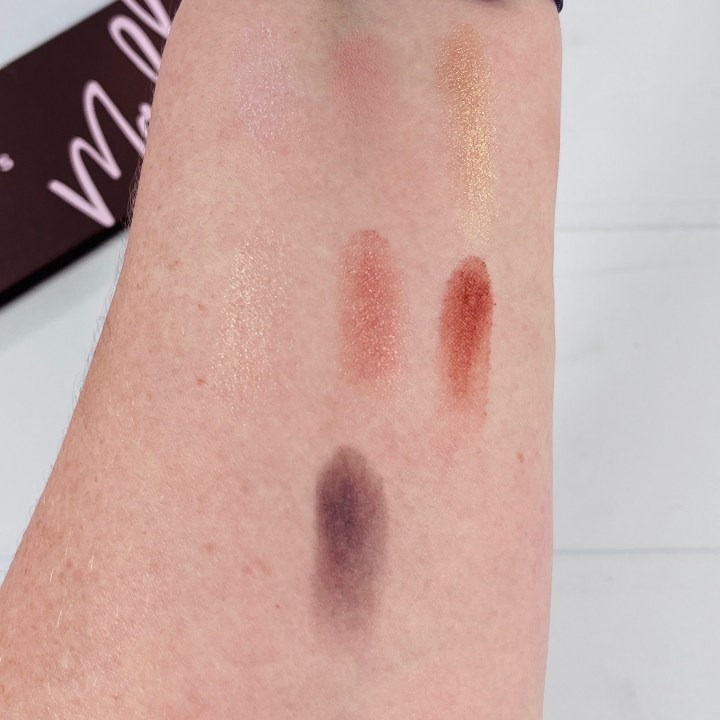 Here's the Mally swatches.
Anastasia Beverly Hills Face Palette ($58) There were three different versions of this product and I received Off To Costa Rica, which is for those with medium to tan skin (I have fair to light skin so Italian Summer would have been a better fit). This kit came with bronzer, highlighter, and blush so it sure is convenient if you are planning to carry it around. Plus, the compact is stunning, I love the look of it and it certainly gives my makeup bag an upgrade.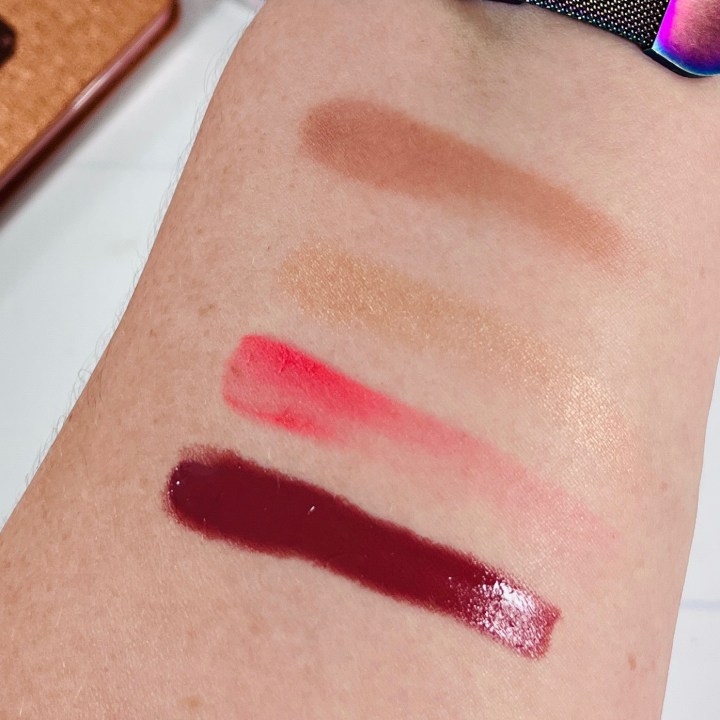 The first three swatches are from the ABH palette (bronzer, highlighter, and blush) and the bottom swatch is the Fenty lip paint.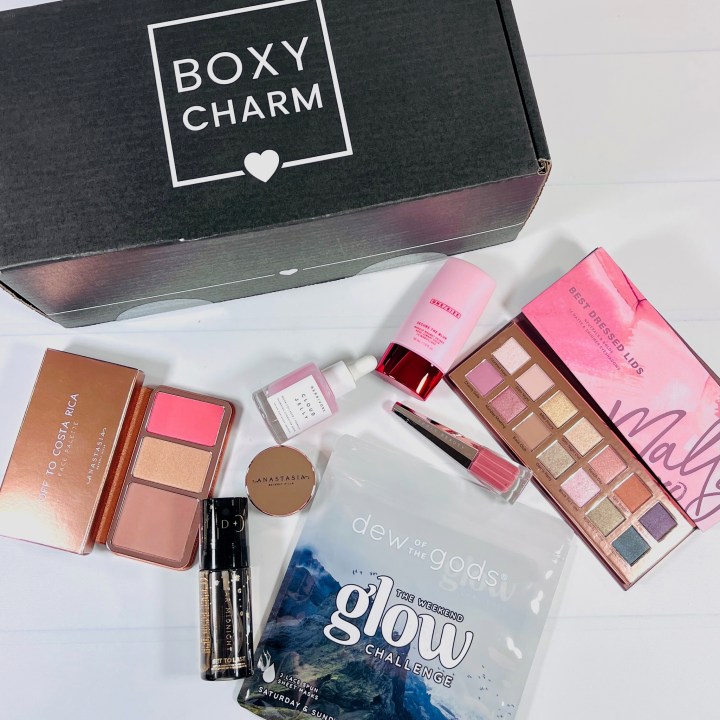 Just like in most subscription boxes, I found new favorites along with a few items that while not bad, were not really things I use, although they are certainly worthy of being included. My favorite was the Fenty Stunna Lip Paint, it was perfect for my skin tone, felt good on my lips, and stayed on for hours. Although the Mally eye shadow palette wasn't the best performance-wise, I was extremely pleased with the resulting look I came up with and will use the palette quite often. The brow freeze worked really well and didn't leave my brows feeling crunchy, and I look forward to treating myself with the face masks later this month. The face palette was a little to dark for my coloring yet I keep using it anyways. Primer and setting spray aren't products I use but I thought the jelly serum felt great on my skin. The value for this box combo was around $300.
Below you will find a few more box opening photos plus the product info card.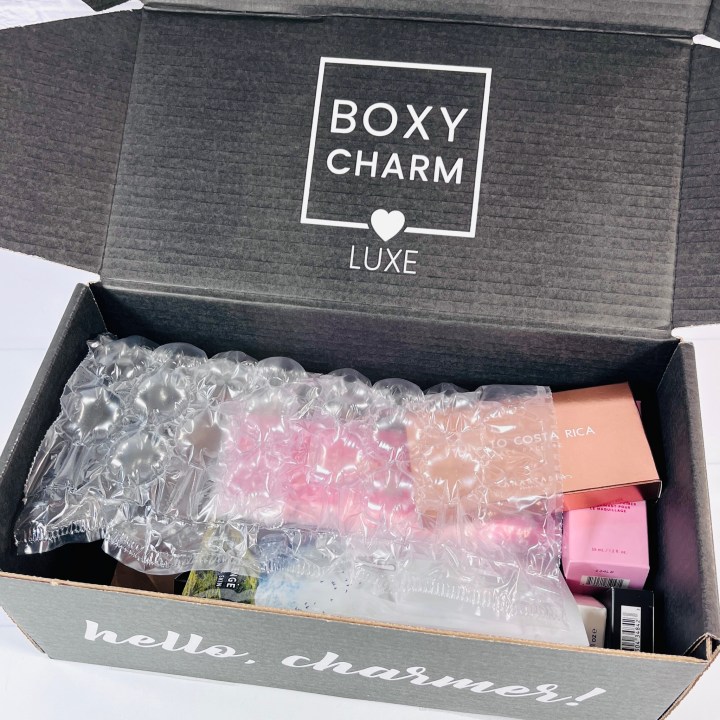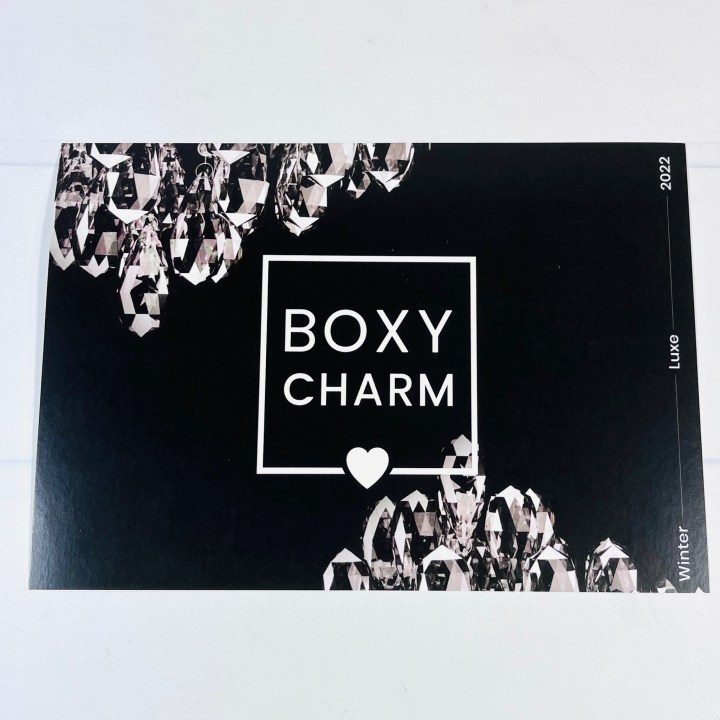 BOXYCHARM's Luxe box is a quarterly upgrade to BOXYCHARM. For an additional $32 to the base box price ($27.99 for the monthly base box, for a total of $59.99), you will get 8 full-sized products from luxury brands and you will be able to purchase add-ons at a discounted members' price. Another perk for active members is the access to BOXYCHARM PopUp, with hundreds of brands and products at up to 80% off. If it's not a Luxe signup period, your first box will be a BOXYCHARM Luxe Starter Box.
BOXYCHARM Luxe Box was chosen by our readers as one of the best subscriptions in makeup, beauty, and skincare for 2022!
What's your favorite item in this month's BOXYCHARM Luxe Box?