Having healthy and beautiful skin is one of the biggest trends that will never go out of style! There are so many skincare programs and routines that you can try, and what will work for you really depends on your skin type and even your lifestyle. From facial cleansers to face serum and masks, toner to primer, creams to moisturizers, these skincare subscription boxes are packed full of precious oils, liquids, and serums for your skin.
The best way to experiment with your skincare routine is by discovering the best skincare products through a skincare subscription box. Some of these boxes may even ask you to fill up a profile or answer a quiz upon signup to help you determine what you really need! From normal to oily to sensitive skin, there's surely a subscription box for you!
We asked our readers to pick the best skincare subscription boxes for 2021 by voting! See which skincare boxes made it to the list!
The Top Skincare Subscription Boxes As Voted By Our Readers!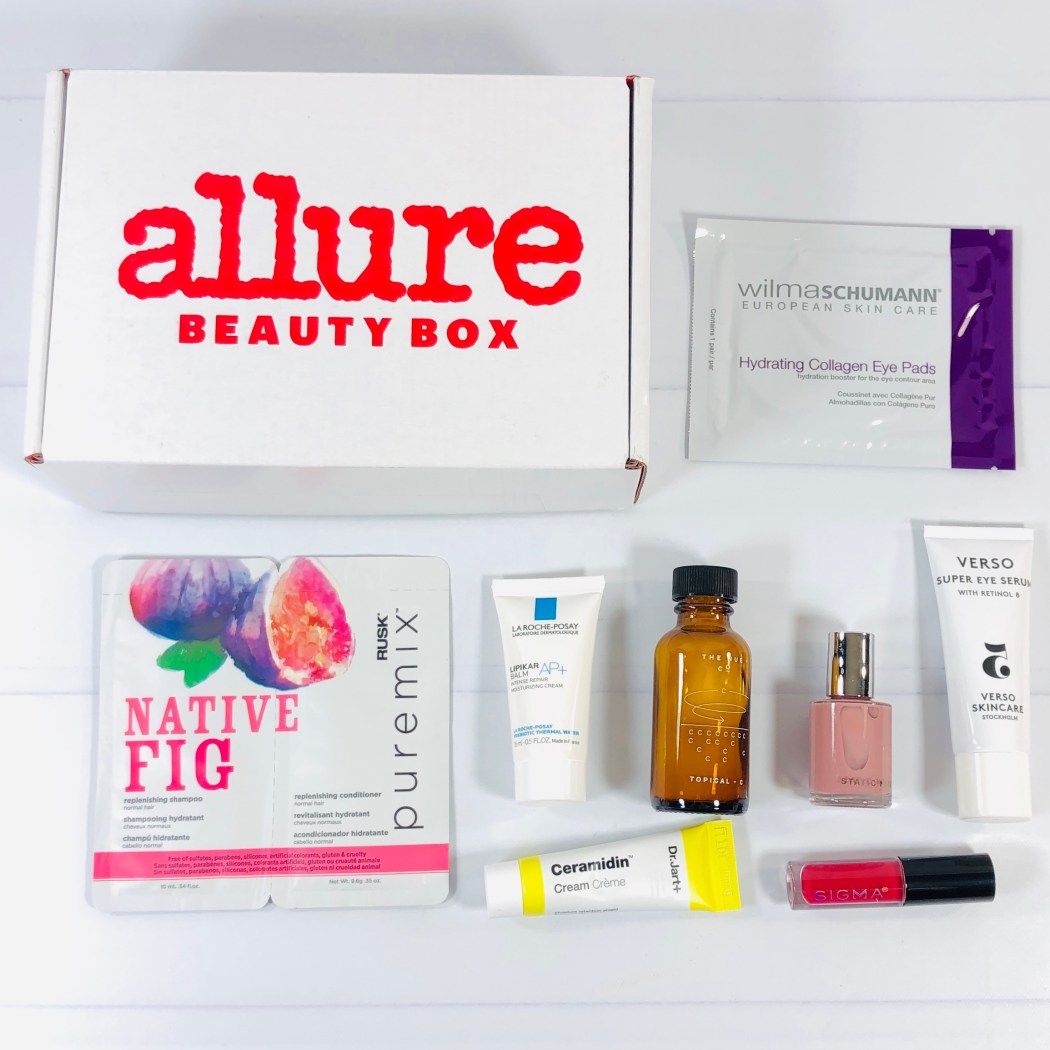 Image from: our review
Such a great variety and value every month. – Debbie

Really like their product variety and value of the samples. – Janice_92

I think that Allure is at the sweet spot for all beauty boxes – mix of samples and full sizes, good amount of skin care AND makeup items, and not too many beauty tools. Fave.  – Meagan P.
What You Get: When you get the Allure Beauty Box, you will receive 5 editor-curated products in deluxe size, and that will include skincare products that you can add to your routine! Usually, it has a mix of luxury products and indie brands. Sometimes, you may also get a bonus product from a mass brand, and each box comes with a mini-magazine that contains tips and product reviews, so you'll have an idea about the products you are getting.
Check out the Allure Beauty Box Reviews for more information!
Price: The box costs $23 per month or less for longer subscription plans.
Deal: Get a FREE new member bonus item with your first box! Deal applies automatically, just visit and subscribe.
---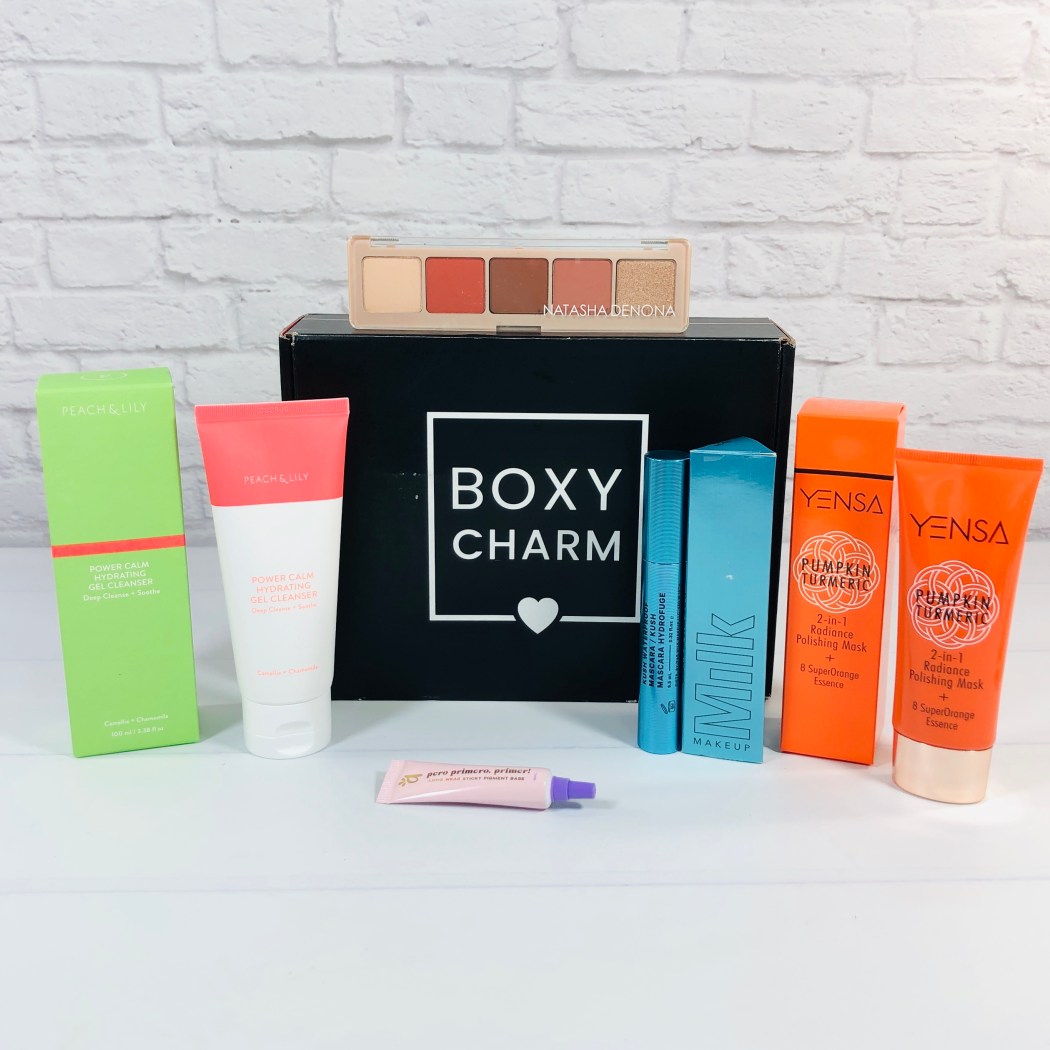 Image from: our review
I love it…with just 25 a month u can have high brand make up or skincare. – Tigresa

I'm not a huge skincare girl period but I get 99% of my skincare products that I use through this service. – Erin

Amazing variety – michelle03509
What You Get: Aside from make-up and cosmetics, BOXYCHARM often includes useful skincare products in their boxes. This subscription provides almost everything that a woman needs and addresses various beauty concerns. It's also a good box whether for beginners or professionals, as well as those who love to experiment with full-size beauty and skincare products!
Check out the BOXYCHARM Reviews to know more about this subscription!
Price: Box prices start at $25 per month, plus free US shipping! Prepay for more months for more savings!
Deals: See our latest coupons for BOXYCHARM.
---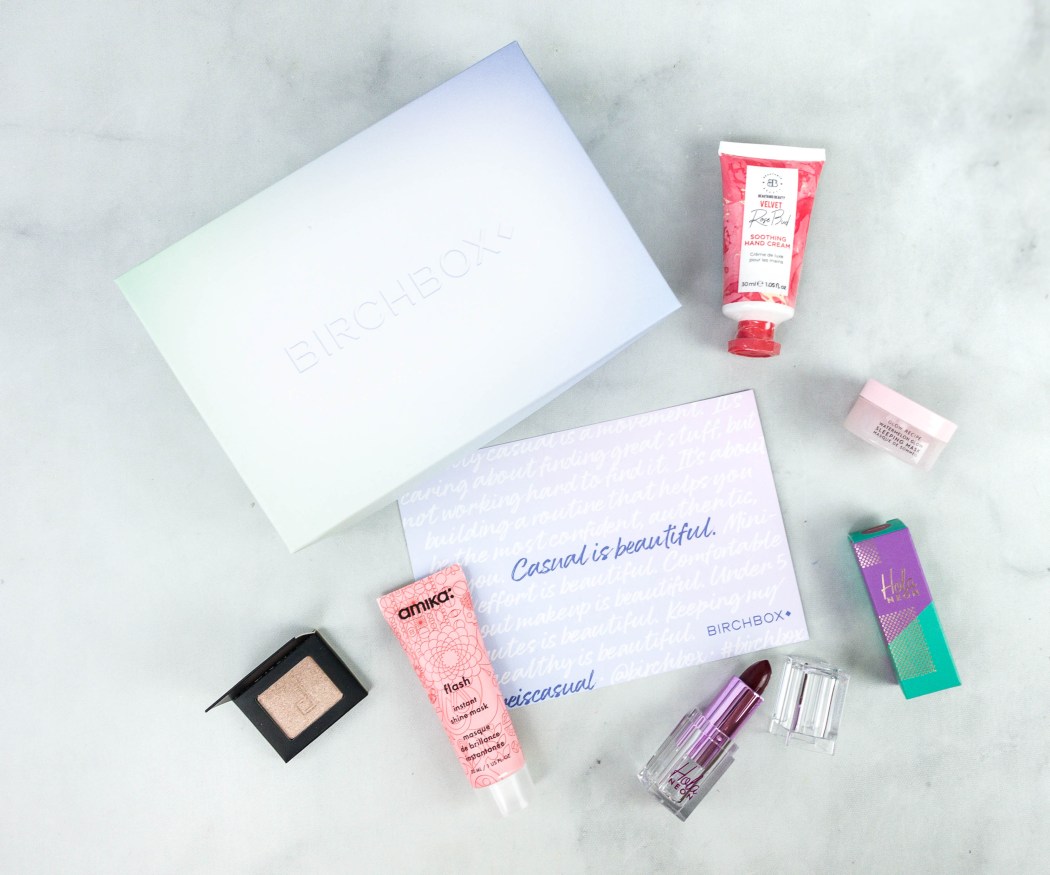 Image from: our review
I really like the ability to select my box! Since they raised the prices I think the value is really there and the brands are hot. Wearing my gold flake smith & cult polish right now! – Leny

Sooo many HG items from this box!!! – MikkiK [ed note – HG = "holy grail"!]
What You Get: Birchbox offers a selection of 5 samples and deluxe-sized items every month, which often includes products to ensure that your skin is beautiful and glowing! Some months, they even include a full-size item in their curation. The box you'll receive is customized depending on your beauty profile, which is great because you're only getting products that are suited for your skin type.
Visit the Birchbox Reviews and see past box contents!
Price: Each monthly box is $15, with minimal savings for a 12-month plan, but it's paid each month.
Deals:
---
Image from: FabFitFun
Excellent variety of products and it's so nice to be able to pick a few of the items as well as have surprises. – Mrs OB

Good selection of full-size product, many products are natural, cruelty- free and from women owned businesses – Statue86

I look forward to my FabFitFun box every season! I have tried so many products that I wouldn't have tried. Also, a huge bonus is the products are full size! I also love shopping the edit sales and getting my favorite products up to 80% off. Definitely worth the subscription price. – Jessica W
What You Get: Receive FabFitFun Box each quarter, filled with fabulous beauty, fashion, and fitness items! There's always an included skincare product that you can add to your routine! The box promises over $100 in value, but it usually reaches up to $200. Expect popular and highly-coveted brands in each box, as well as a large-format mini-magazine. Another subscriber perk is that they will have the freedom to choose from several product variations and get the product/s that they really want!
Check out FabFitFun Reviews to see more of this subscription box!
Deal: Take $10 off your first box. Use coupon code FAB10.
---
Image from: our review
What You Get: The Detox Box focuses on healthy beauty and skincare products! It introduces subscribers to the best and most effective natural beauty brands, and they even provide all the information you need plus expert tips to achieve healthier and beautiful skin. If you want to switch to green beauty, this subscription is an ideal starting point, or you can try it when you just want to spice things up with your current green beauty routine!
Read The Detox Box Reviews and find out which green beauty brands were already featured!
Price: Canadians can shop here, it costs $79.99 CAD ($58.95 USD) per box or less on a 3 month or 6 months subscription.
---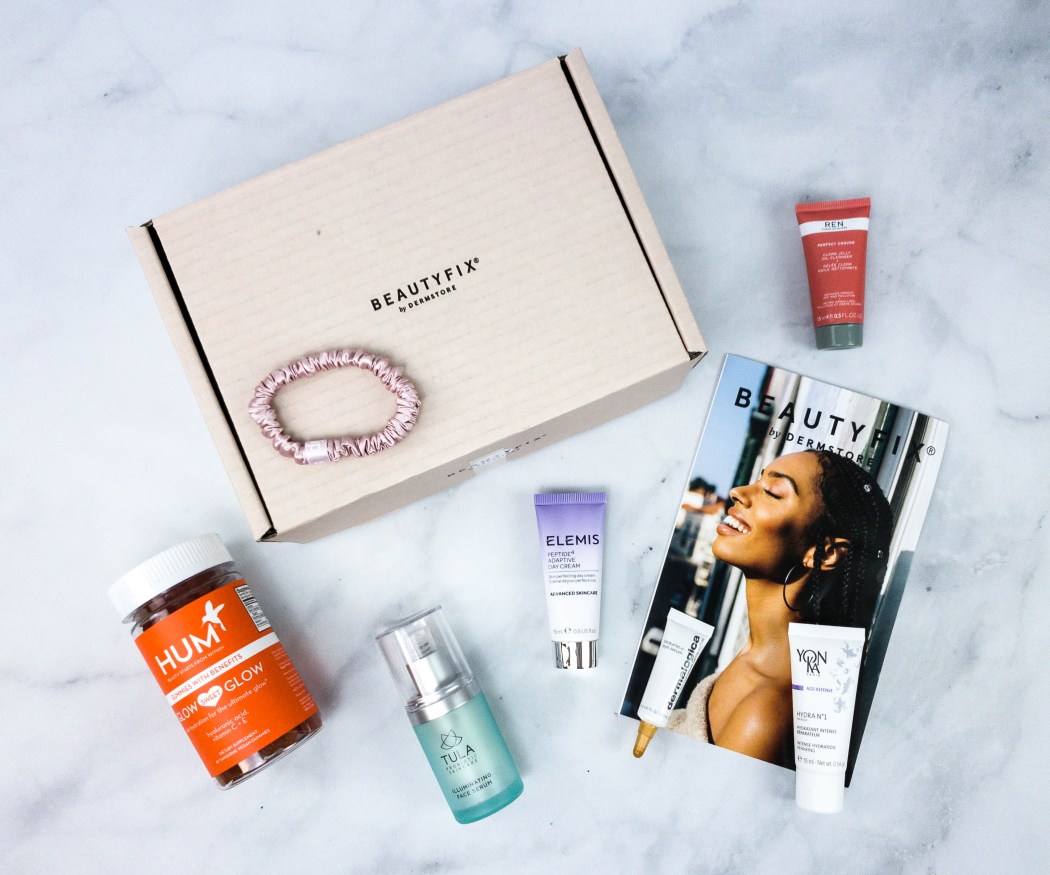 Image from: our review
The variety is sooo good here and I love all the skincare goodies they sent!!! – Cait

I think this box has the most number of products out of any boxes I subscribe to. Even though it's only $25 it's still really high value because it's so high end. Love it when they send hair tools. – Eunique

High end skincare, lots to try, perfect. – Ruth Molly
What You Get: If you want a box that focuses on healthier skin and hair, BeautyFIX is for you! Each box has a promised retail value of over $100, and aside from skin and hair care products, you might also get professional make-up handpicked by beauty experts.
Read BeautyFIX Reviews to know more!
Price: The subscription costs $24.95 per month, plus free shipping to the US.
---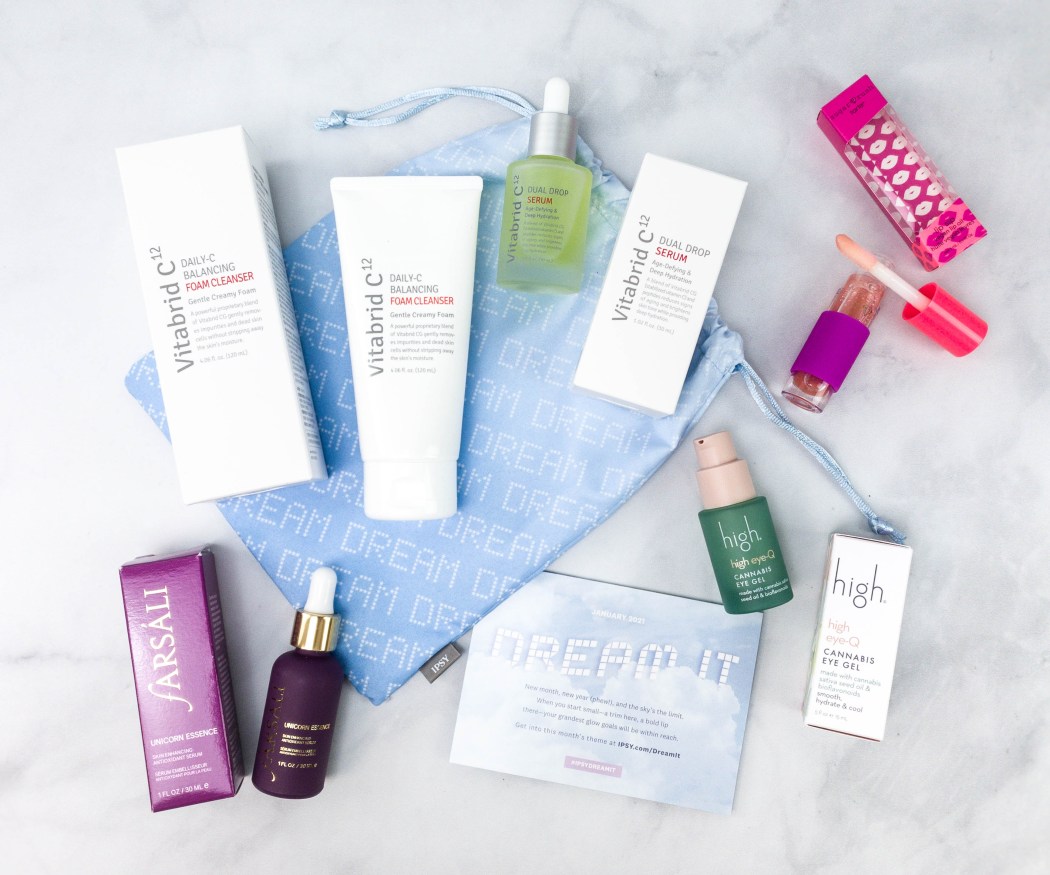 Image from: our review
Unlike the regular glam bag the plus has full sizes which is fantastic for actually using the items like a normal human being. The price and value are ridiculous. Best box. – JessicaE

I am pretty happy they brought the bag back for this sub! It's bigger than the smaller Ipsy and is really usable. The skincare you get in this box is great. Because it's full size you are really getting tons for your money. – Sherrilyn

I love that you can customize 3 of the 5 items! This way you have at least a 60% chance of being thrilled about your bag! – Reecie

LOVE the full size products. The selection is always on target – Kelsey
What You Get: Keep your skin looking healthy as Ipsy Glambag Plus also provides skincare products, aside from make-up, and hair care! An upgraded version of the regular Ipsy Glambag, the box includes 5 full-size products from brands that you love, with a promised retail value of $120! There will also be variations, but there are far fewer as compared to the regular box. Some of the amazing brands that you can find in the box are Tarte, Nyx, OFRA, Estee Lauder, Lancome, and more! 
Curious about what kind of beauty products they send? See the Ipsy Glambag Plus Reviews!
Price: Each box is priced at $28.
---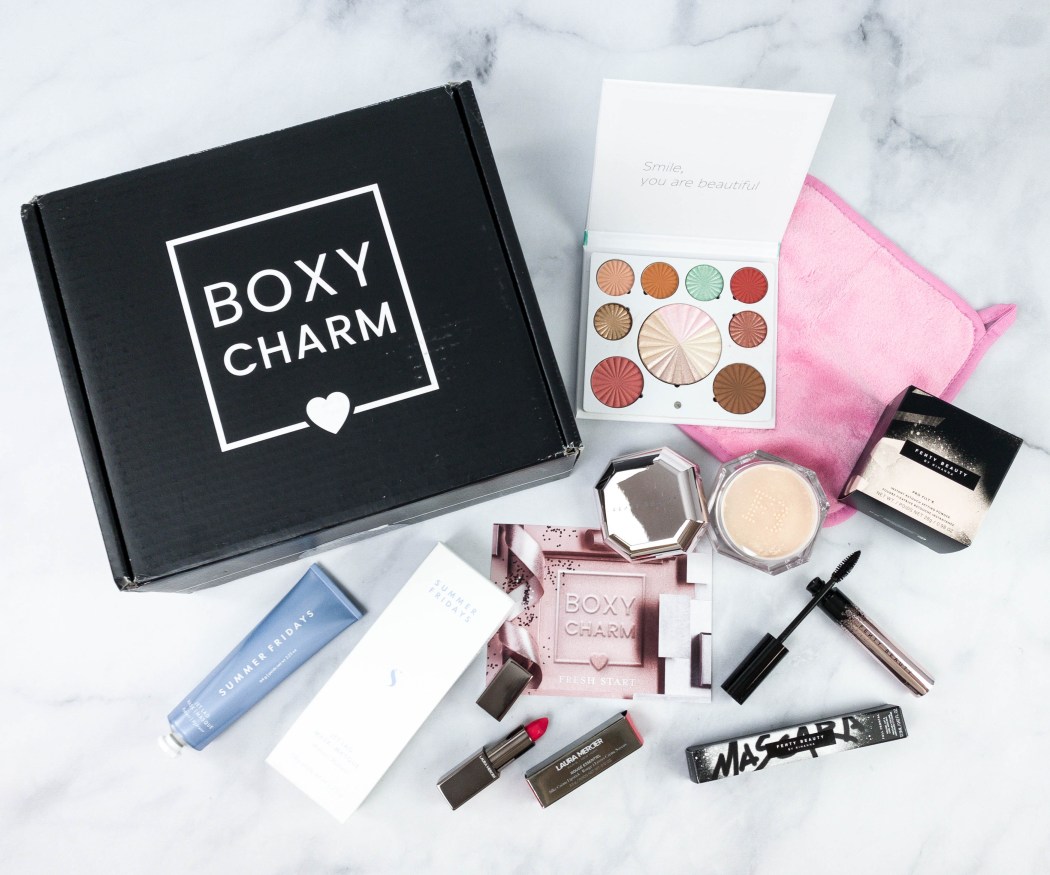 Image from: our review
It's the best value full size products – Bamagirl
What You Get: For those who have an extra budget, BOXYCHARM Premium would be a nice choice, as it contains 6 to 7 items in each box! One of them can be chosen by the subscriber, and that's really awesome. The promised retail value in every box is $175+, and they ensure that you won't get any product overlaps!
Check out the BOXYCHARM Premium Reviews to know more!
Price: The subscription costs $39.99 per month.
---
Image from: Clean Beauty Kit
Best full sized products box there is! My skin is the best its ever been! I love everything she puts in them! – Annie L

By far, this is the best subscription box I have ever received. I know that every product is clean, safe and BONUS is all made by woman owned companies in the USA!
Mona

From oil, face mists, and facial washes, the clean beauty kit absolutely DELIVERS when it comes to skincare!
Eri
What You Get: Get clean and sustainable skincare products straight at your door with Clean Beauty Kit. They offer monthly kits that are filled with woman-owned beauty, self-care, and lifestyle brands that are approved by a professional makeup artist. And because they don't skimp on their subscribers, you'll find a themed collection of full-size and deluxe products each quarter! Aside from beauty products, they also throw in a variety of emergency items like instant coffee or tea and a sewing kit. They work with brands that consider clean beauty and stays away from ingredients that you can't pronounce! You can also get Clean Beauty Kit Mini, which includes 4-5 full-sized products valued more than double the price you're paying for!
Price: Subscription costs $49.99 per month, with savings when you subscribe for more months. Mini Box is also available for $24.99 per month.
---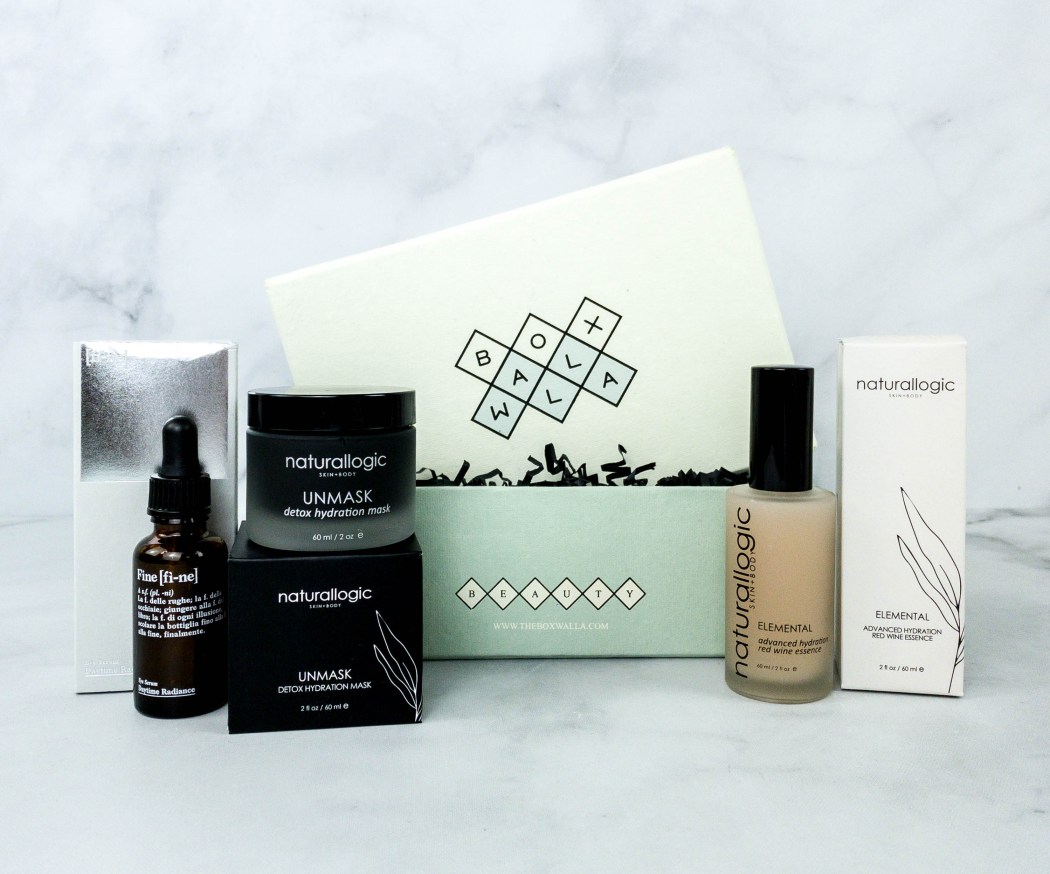 Image from: our review
What You Get: Boxwalla Beauty delivers the most luxurious green beauty products to subscribers each month. The products are also carefully crafted by artisans from all over the US, and only uses ingredients that are always cruelty-free!
See Boxwalla Beauty Reviews for more information!
Price: $49.95 every other month. Free shipping to the US, $11.95 shipping to Canada, $18.95 International.
---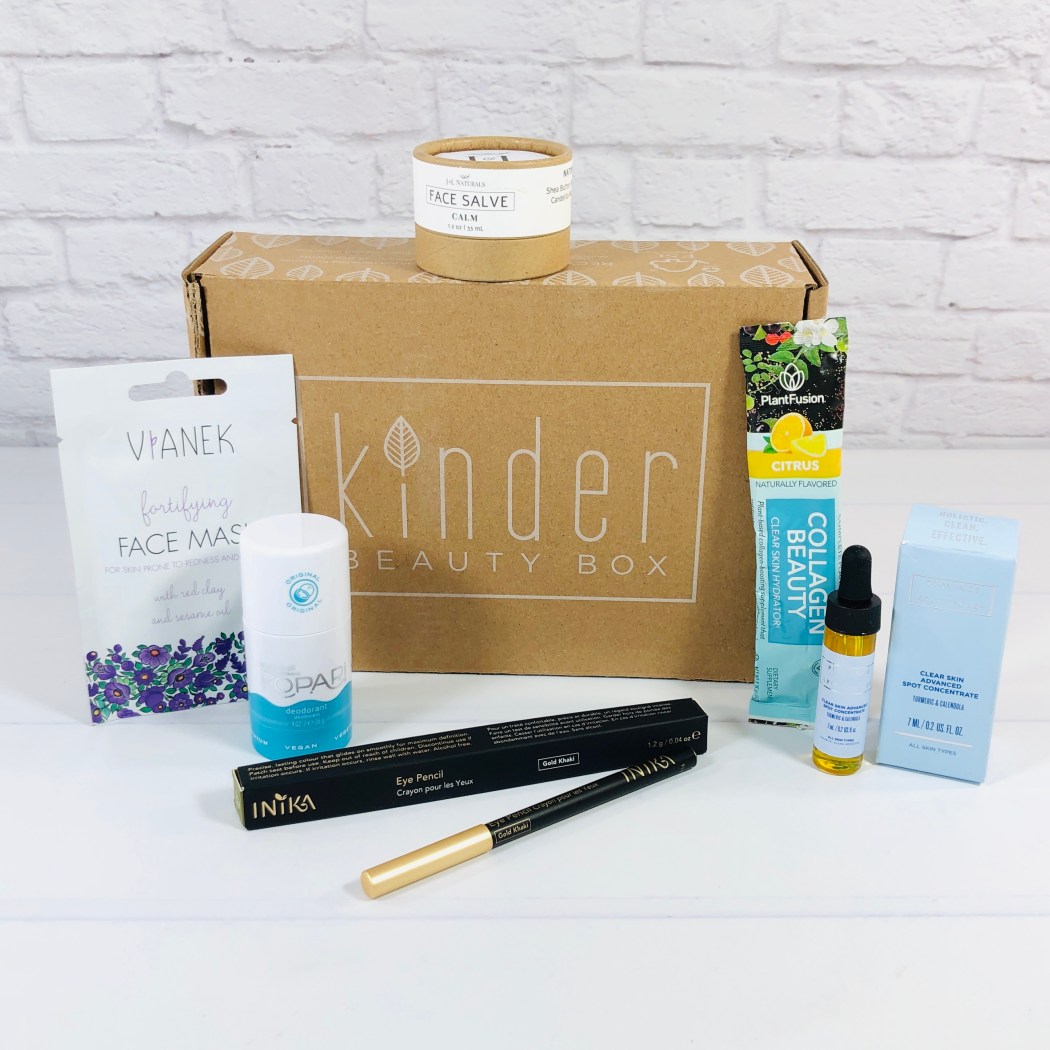 Image from: our review
What You Get: Kinder Beauty Box is your destination when it comes to clean beauty products. Every box is curated and packed with all the goodness. This subscription focuses on giving vegan products that care not just for your skin but also the environment. Get up to $165 worth of cruelty-free products ranging from skincare, makeup, haircare, and accessories, including two full-sized products to make sure you have enough for the whole month from brands like INIKA Organics, 100% Pure, Franklin & Whitman, Andalou Naturals and more! As a subscriber, you'll get access to exclusive special collections, limited edition offers, and flash sales! There's really kindness in every pack because they donate a portion of all sales to animal rights and environmental causes.
If you want to know more, take some time to visit our Kinder Beauty Box Reviews.
Price: Kinder Beauty Box is $26 a month, with free shipping to the US, $5.95 elsewhere. Price drops to as low as $23 a box with a prepaid 6-month plan
Deal: Get $5 off your first box! Use coupon code HELLO5.
---
Image from: ScentBird
What You Get: ScentBird, mostly known for its fragrances, doesn't just offer perfumes and colognes, but skincare and makeup too! They give members access to the limited-edition selection of full-size skincare products – yes, full-size – and the freedom to choose which skincare products they want to receive every month! Such products include moisturizers, serums, face masks, oils, face mist, and more. They feature the best skincare products from top beauty brands to make sure you'll have a great skincare experience. So If you want to upgrade your skincare ritual and give your skin the best care, this subscription is a go-to!
You can also get your 30-day supply of fragrances – Peek through our ScentBird Reviews to learn more about this subscription.
Price: Subscription costs $15.95 per month.
Deal: Get 50% off your first month! Deal applies automatically, just visit and subscribe.
---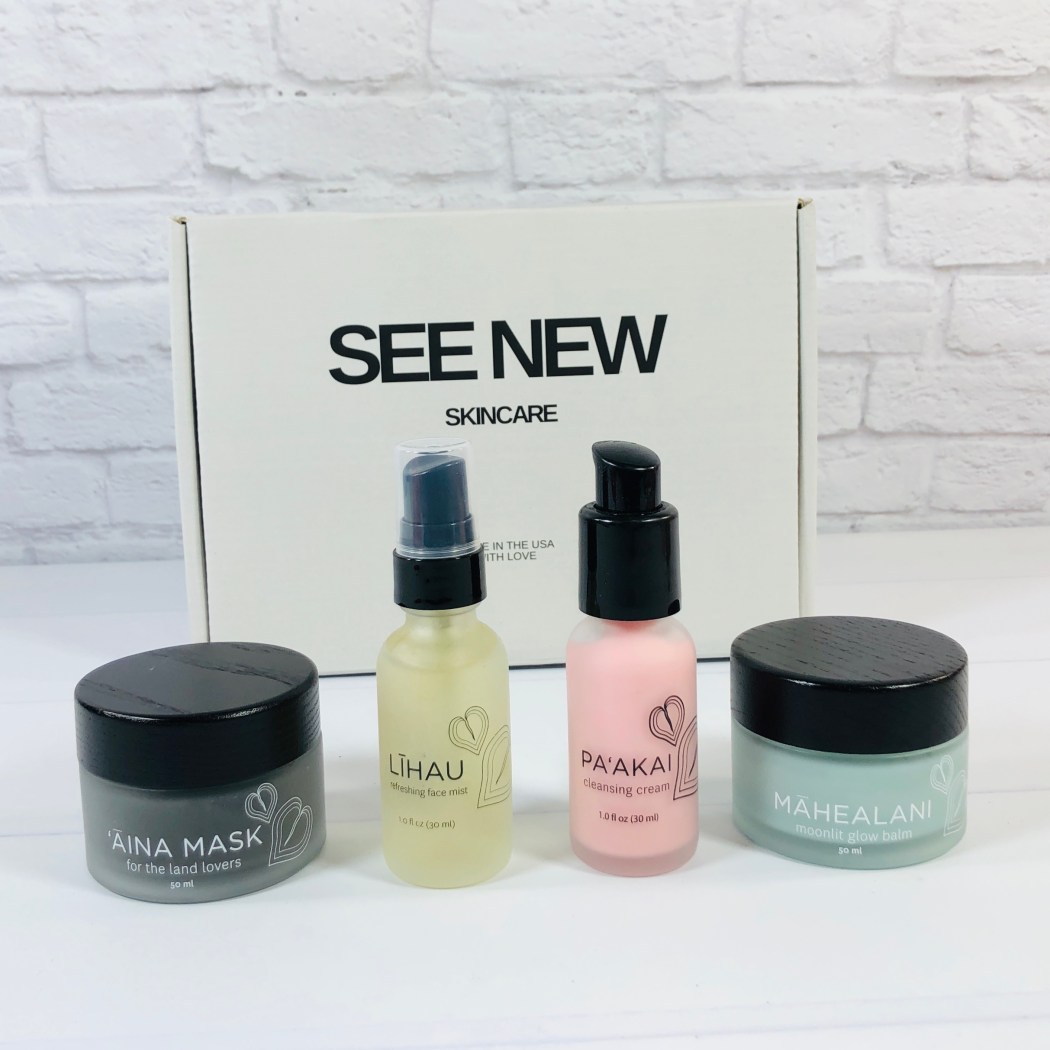 Image from: our review
What You Get: See New Skincare treats your skin to a luxurious experience by sending green skincare products from around the globe to your door every 2 months. They feature different brands that put the spotlight on vegan, cruelty-free, and sustainably sourced ingredients. Boost your self-esteem by giving love to your skin. You'll find small-batch skin care products in every box, which introduces a whole routine for your skincare regimen. It also includes a card with info about the featured green beauty brand, along with the list of the products and the suggested use for each one. Some of the brands they work with are MetaPora, Scentuals, SkinOwl, Honua, CLN & DRTY, and more!
Check out See New Skincare Reviews for more information about this skincare subscription.
Price: Shipped every other month for $47. Save up to 10% when you prepay for more months!
Deal: Get 10% off! Use coupon code HELLO.
---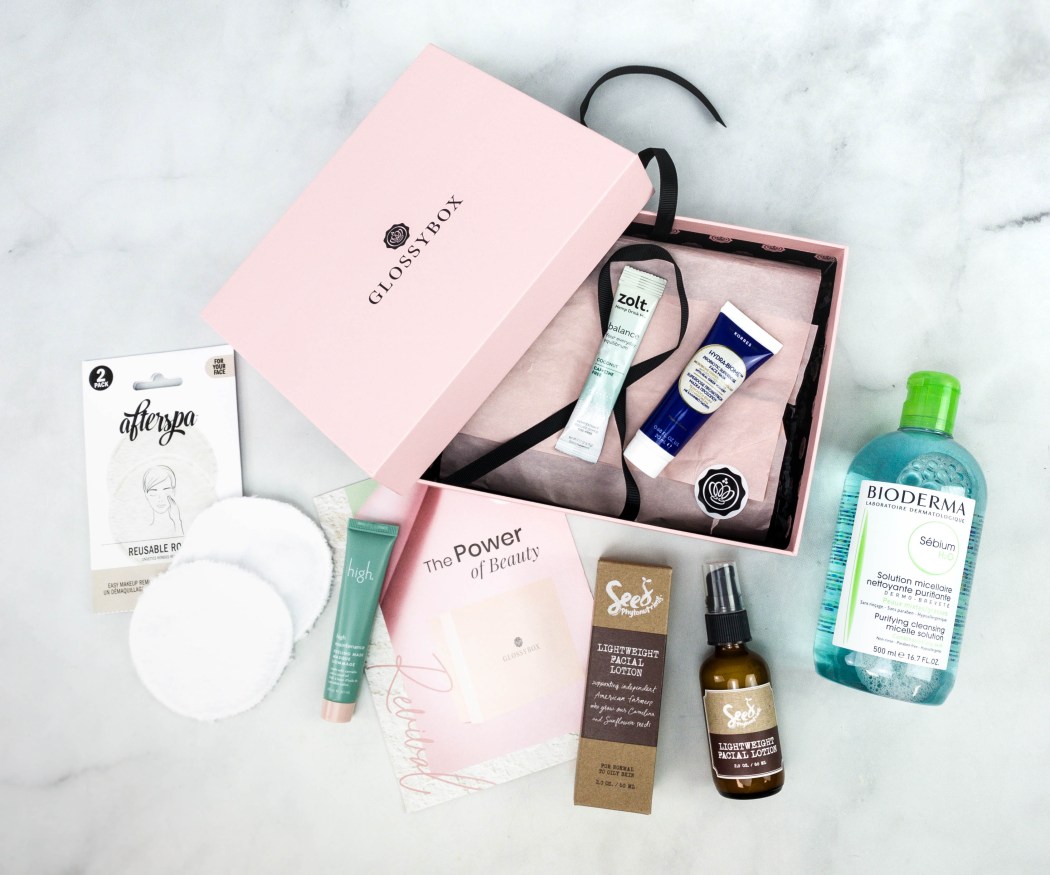 Image from: our review
Best for product/brand selection and size of products allow you to really get a sense of the product.  – beachin it

They have amazing products that you don't even know you need til you have them! – Carey
What You Get: Keeping your skin glossy has been made easy, thanks to GLOSSYBOX! Imagine getting the best essential products for your skin? GLOSSYBOX Skincare is made for you, by you. They work with skincare experts to bring subscribers safe, effective, and affordable products to use for their skin. Made from skin-loving and quality ingredients, you'll absolutely make your skin healthy and glowing – no harsh chemicals, ever! Not only do they ensure simple and kind-to-skin products for you, but they also make everything to be earth-friendly all the time. With GLOSSYBOX's skincare products, you'll say goodbye to dull and dry skin and say hello to beautiful and healthy-looking skin!
See amazing skincare products we've got on GLOSSYBOX Reviews.
Price: Subscription costs $21 per month and drops down to $18 per month when you subscribe to an annual plan.
Deal: See special savings on your subscription - just enter code on site! Deal applies automatically, just visit and subscribe.
---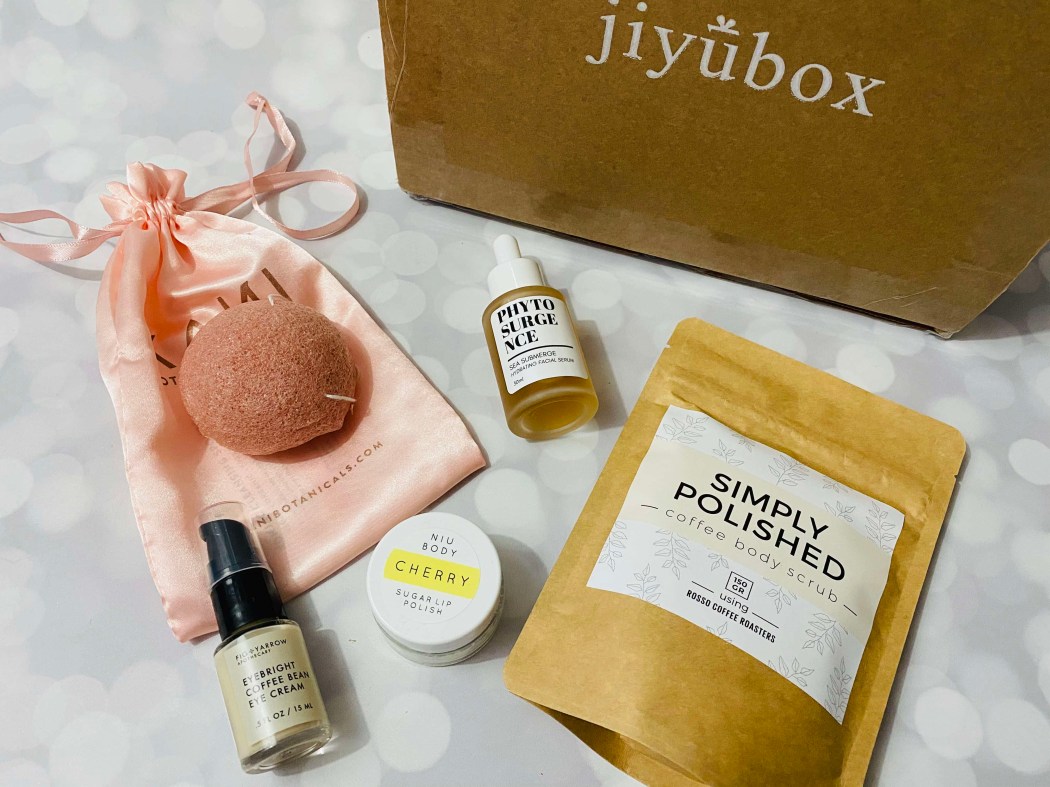 Image from: our review
The best clean beauty subscription box, that always includes at least 4 FULL size items! Love everything in every single box from the beginning! – iuls

I love my subscription to Jiyubox! I love that I receive full sized products, making the value of the box more than what I pay for it. The products are all amazing and I've enjoyed using all of the products within the box. Jiyubox also has great customer service! – Sophie

I really love the message and sustainability this business represents! – Nai

Jiyubox is a seasonal subscription of clean, Indie beauty products. They support small businesses and feature high quality skincare, bodycare, and wellness items that would have been hard to find on your own, or you might have been hesitant to try out! – Jess
What You Get: Get yourself ready for any upcoming season with the help of Jiyubox. Their mission is to make all-natural skincare, beauty, and wellness products more accessible to anyone! Each box will always have 4-6 handpicked, full-size beauty products from amazing indie brands who care about ingredients – free from toxins, fillers, and animal cruelty! Not only do you have the chance to know indie brands, but you also gift yourself the best of clean beauty!
See all our Jiyubox Reviews to find out more about this subscription!
Price: The seasonal subscription costs $59.99 and the annual subscription costs $223.96
Deals:
---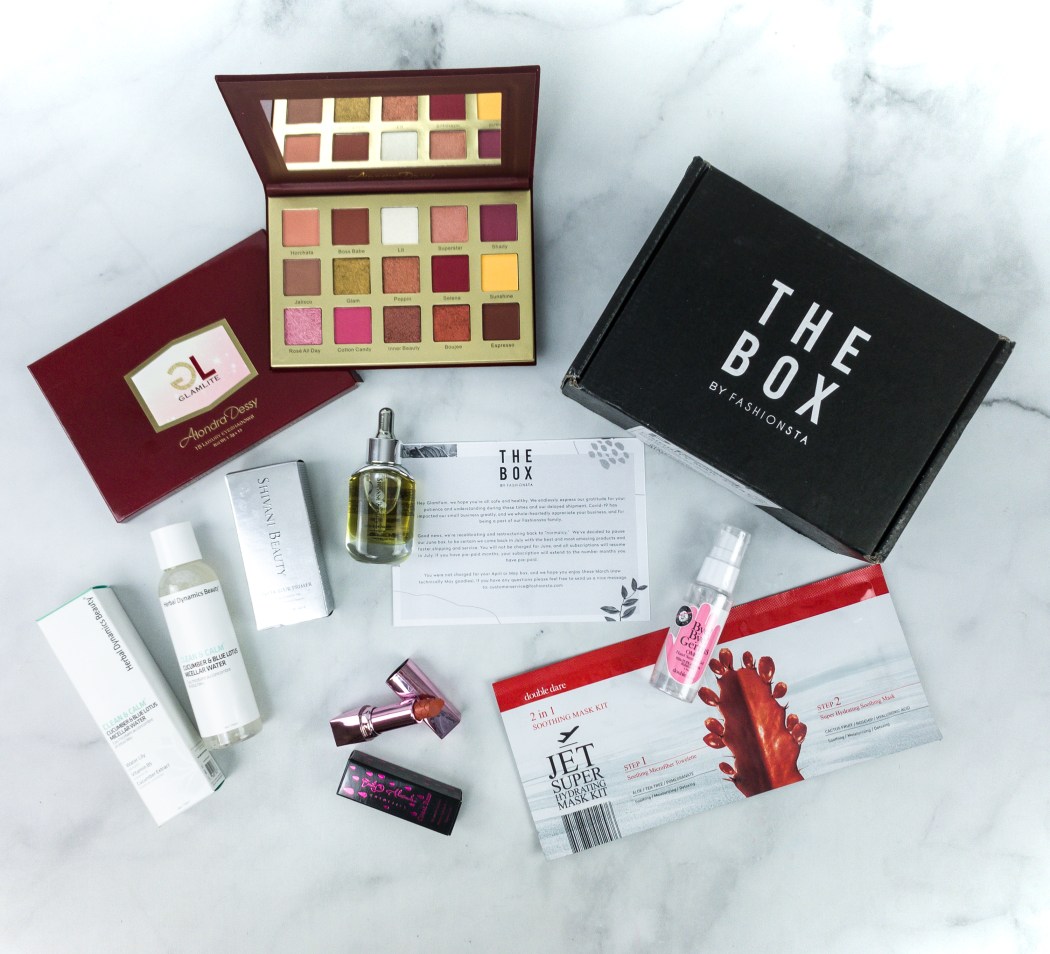 Image from: our review
Can I cal this an indie Boxycharm? Because that's what it is. I love it and the brands are real discoveries. – Emily
What You Get: THE BOX By Fashionsta includes a top-rated selection of the latest beauty trends in every box! The products are all hand-picked by their team of style influencers, make-up gurus, and TV personalities. They help you achieve that amazing glow with professional suggestions!
Check out THE BOX By Fashionsta Reviews to learn more!
Price: The subscription costs $24.99 each month. Save $29.89 when you prepay for an annual plan!
---
Image from: our review
What You Get: You can get a "Test Tube" filled with deluxe and full-size beauty products every other month from New Beauty TestTube! The items in this subscription are a mix of top brands, time-tested formulas, and targeted innovations. The subscription trends towards more mature women who are worrying about aging skin and hair.
See the New Beauty TestTube Reviews to learn about past box contents!
Price: The subscription costs $38.90 every other month.
---
Image from: Beauteque Beauty Box
What You Get: Want to get first dibs on the latest Korean beauty? Beauteque Beauty Box is the perfect subscription for K-beauty lovers! It sends a beauty box monthly jampacked with fresh and up-to-date beauty products ranging from skincare, body care, beauty tools, and more straight to your doorstep. Receive at least 6 full-size products with a value tripling the cost of the box! No sample sizes because they don't skimp on products to provide you only the best for your skin! Subscribe and receive updates, access to exclusive deals, and more.
Care to know more? Visit our Beauteque Beauty Box Reviews.
Price: The beauty box costs $24 per month. Get savings when you prepay for a 6-months and 12-months plan.
Deal: Save 10% on the Beauty Box or Mask Maven! Use coupon code CRATEJOY10.
---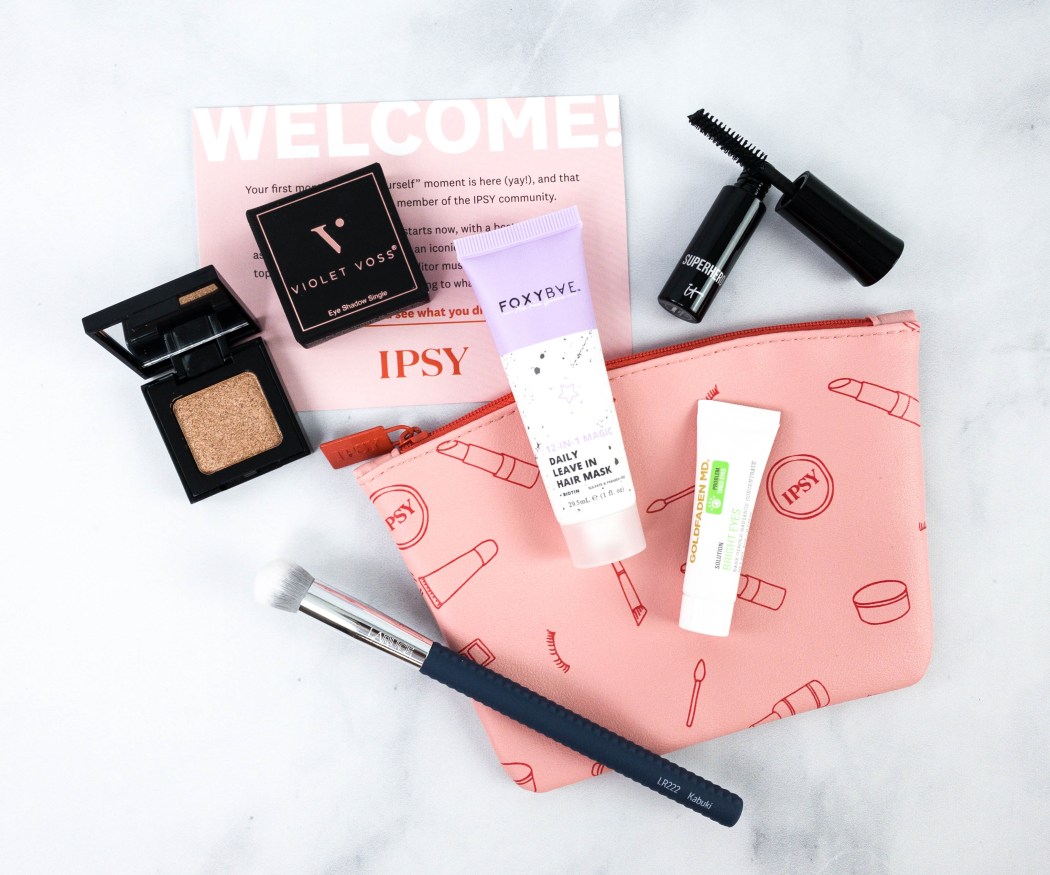 Image from: our review
This is THE entry subscription for anyone who wants to start their box journey with beauty products. – Karissa

I like the small sample sizes versus full sized products. Less waste and it's fun to try out new products before committing to a full sized product. – Elle

My first ever subscription and I still consider it the gold standard for beauty boxes. I have discovered so many favorites from this box. The price point can't be beat and I love the fact that I can choose one of my products and add extras if I want. – MaryA
What You Get: Each Ipsy box sent to your door contains a mix of makeup, beauty, hair care, and of course, skincare items! They also send a cute collectible bag that you can use to keep your new beauty stash. There's a Beauty Quiz you need to fill up when signing up, which will help them determine which products suit you best!
Read our Ipsy Reviews to know more about this subscription!
Price: The subscription costs $13 per month or less for longer subscription plans.
---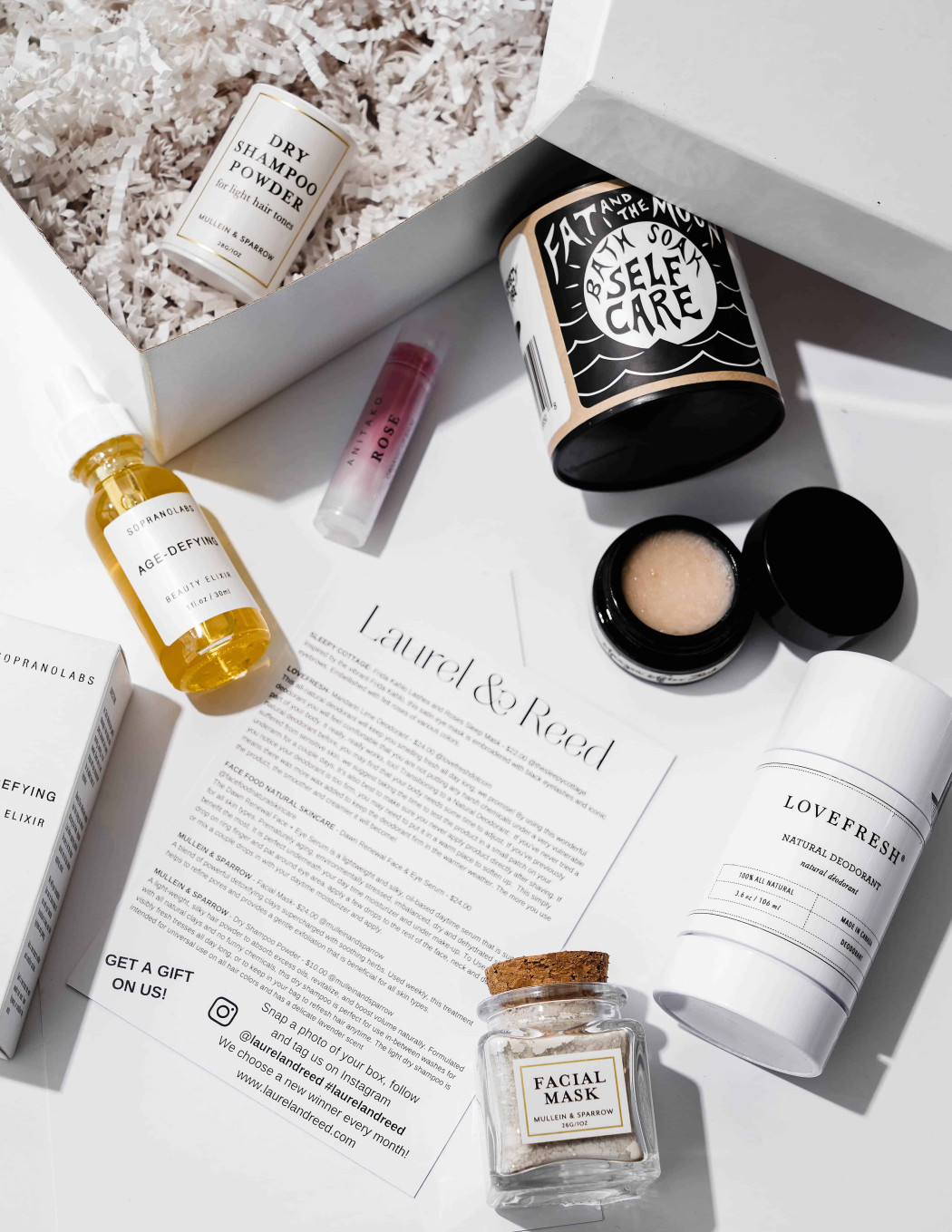 Image from: our review
What You Get: Laurel & Reed introduce subscribers to luxurious clean beauty products that they can easily incorporate into their daily routine. Each box will contain a mix of 4-6 full-size products, which totals to $100+ in retail value. All boxes come beautifully wrapped!
Price: The subscription costs $49.95 each month.
---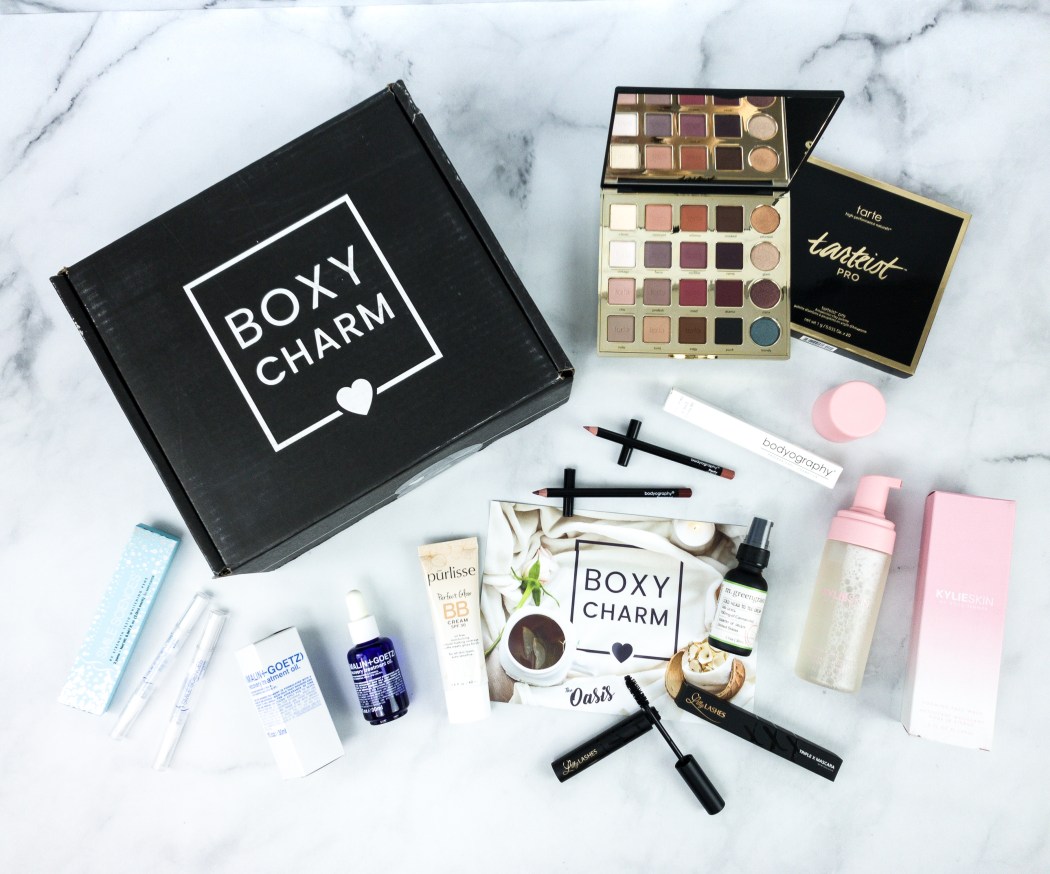 Image from: our review
Boxyluxe upgrade means that you are also subscribing to boxy, but you get the extra high end stuff once per quarter. I think this prevents overload. With both of these I can also regift because it's all full size. – Vicky
What You Get: Boxycharm Luxe can be added to your existing BOXYCHARM subscription! With this upgrade, you'll get a big box filled with makeup, beauty, and even lifestyle items 4 times a year. Every 3 months, you'll experience additional products worth over $275 plus a few items from the regular box. In the months in between, you'll still be getting the regular box as your monthly splurge!
See the Boxycharm Luxe Reviews to find out more about this beauty box upgrade!
Price: The box costs $59.99, where the quarterly upgrade is charged with an additional $34.99 (plus the regular price of $25) on your existing box once per quarter.
---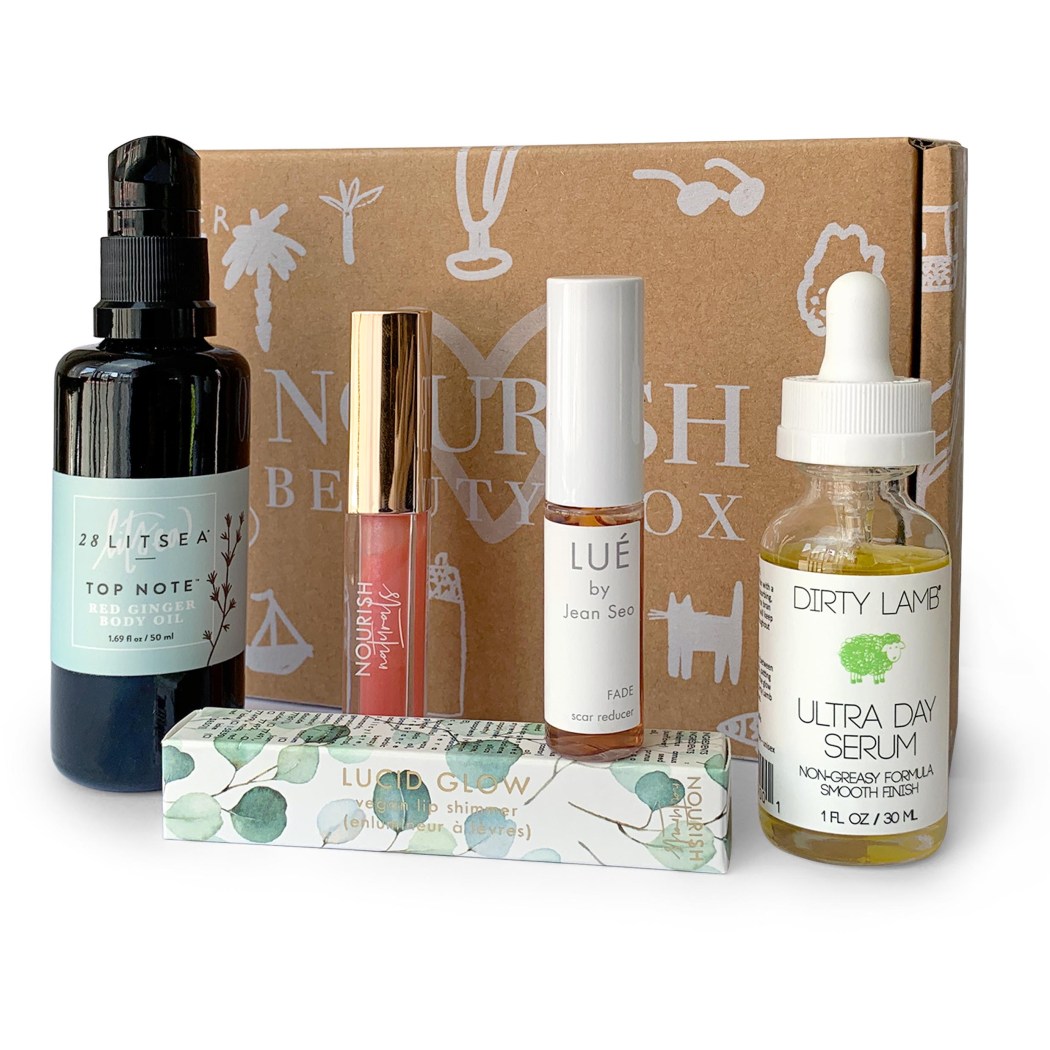 Image from: Nourish Beauty Box
This was the best new to me box this year. – Kathy
What You Get: Nourish Beauty Box helps you achieve having clean skin and a clear mind. They want to inspire everyone to have radiant skin by giving artisanal skincare products that are not loaded with toxins and ingredients you can't even pronounce! Each box comes with 4 full-size earth- and skin-loving products to pamper and care for your skin the way it should be! You can also build your own box if you wish so! Shipped each month directly to your door, you'll get nothing but healthy beauty products because why not? You deserve the best!
Price: The monthly plan costs $29.95. Get saving when you subscribe to 3-months and 6-months plan!
Deal: Get 15% off your first box! Use coupon code HELLOBOXES15.
---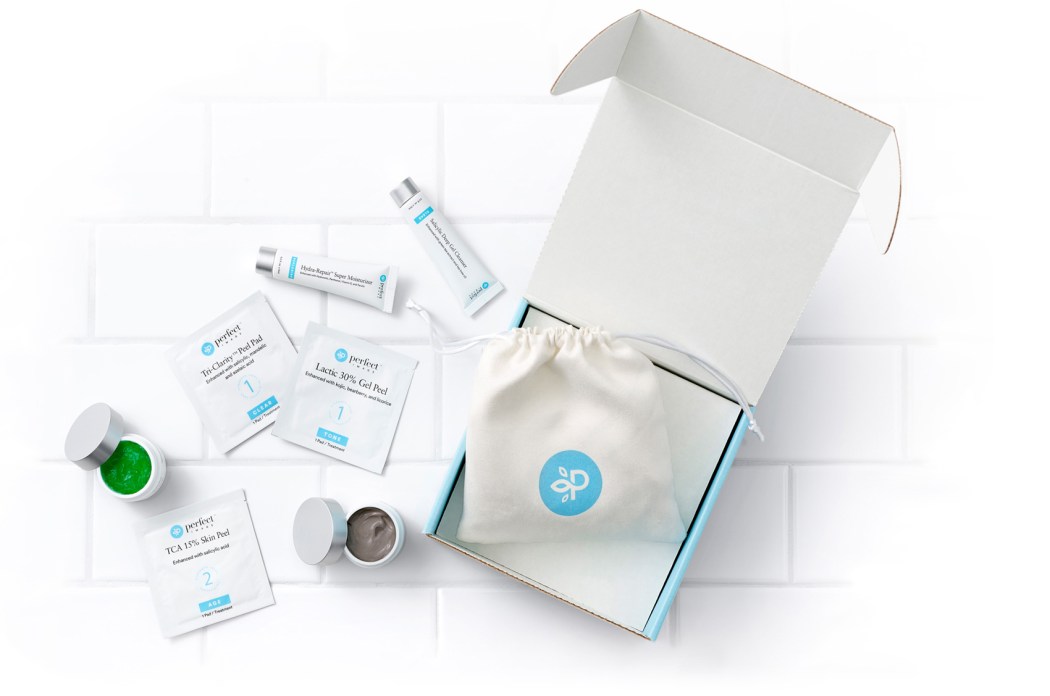 Image from: Perfect Image
What You Get: Take your skincare routine to the next level with Perfect Image. Break free from skin concerns to boost self-confidence so you can be the best version of yourself! Let licensed professionals assess your skin by answering a few questions. Select the products ideal for your skin type, let your skin peel, review your skin progress, and even get advice without leaving the comfort of your home! Get a perfect image result at an affordable price! What's even better is that for every penny you round up at checkout, they match and donate it to help aid small and rural hospitals with PPE Supplies.
See our Perfect Image Review to find out more!
Price: A box costs $29.95 per quarter.
Deal: Get 15% off your order sitewide! Use coupon code FREEDOM15.
---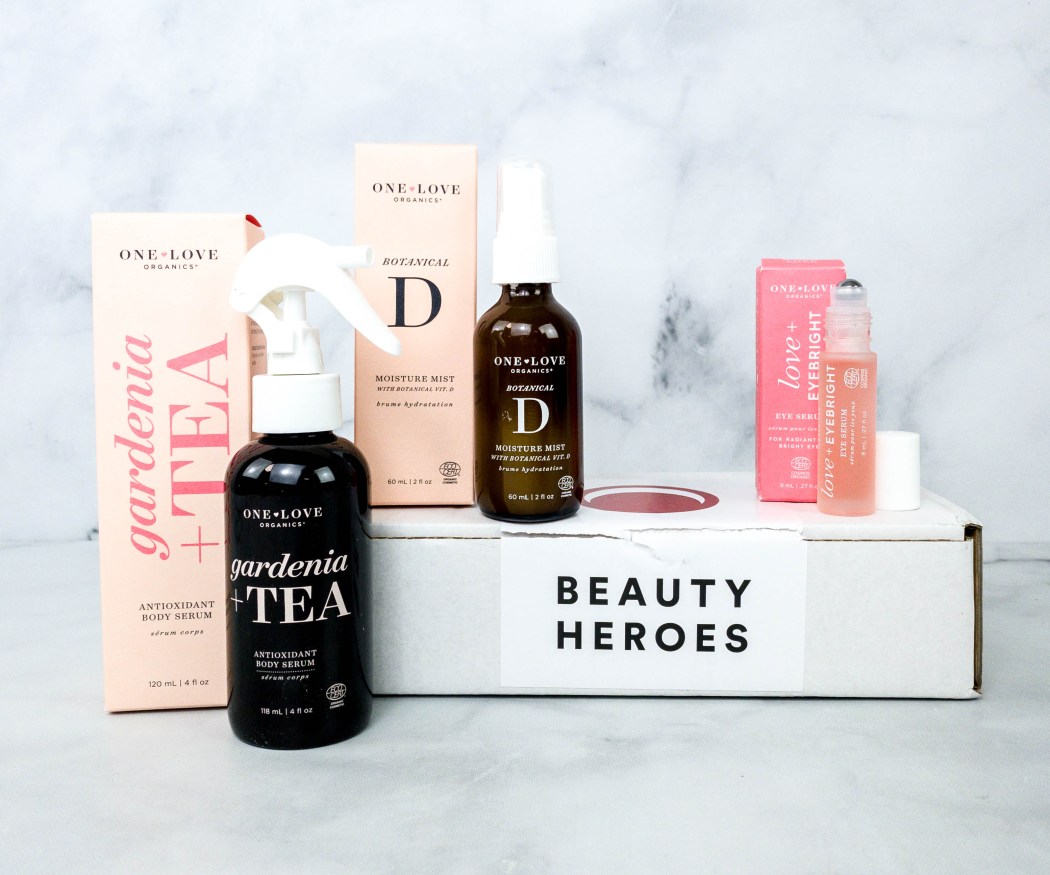 Image from: our review
I love to discover amazing new clean beauty products. – Sarah

This has always been a favorite but now with the monthly updated beauty routine which I totally follow and adapt it is now THE favorite. I could never quit it. – Sonali V
What You Get: Beauty Heroes sends one full-size product plus sample items in each box. This subscription features healthy beauty brands only, making it an ideal subscription even for discerning beauty junkies. It also includes a booklet in every package that gives more information about the inclusions for the month. Also, members with an active subscription receive an exclusive 15% discount on all the products in the Beauty Store!
Check out Beauty Heroes Reviews for more details about this subscription!
Price: A Beauty Heroes Discovery Box is $58.95 per month. You can also opt for a 3-month, 6-month, or 12-month prepay.
---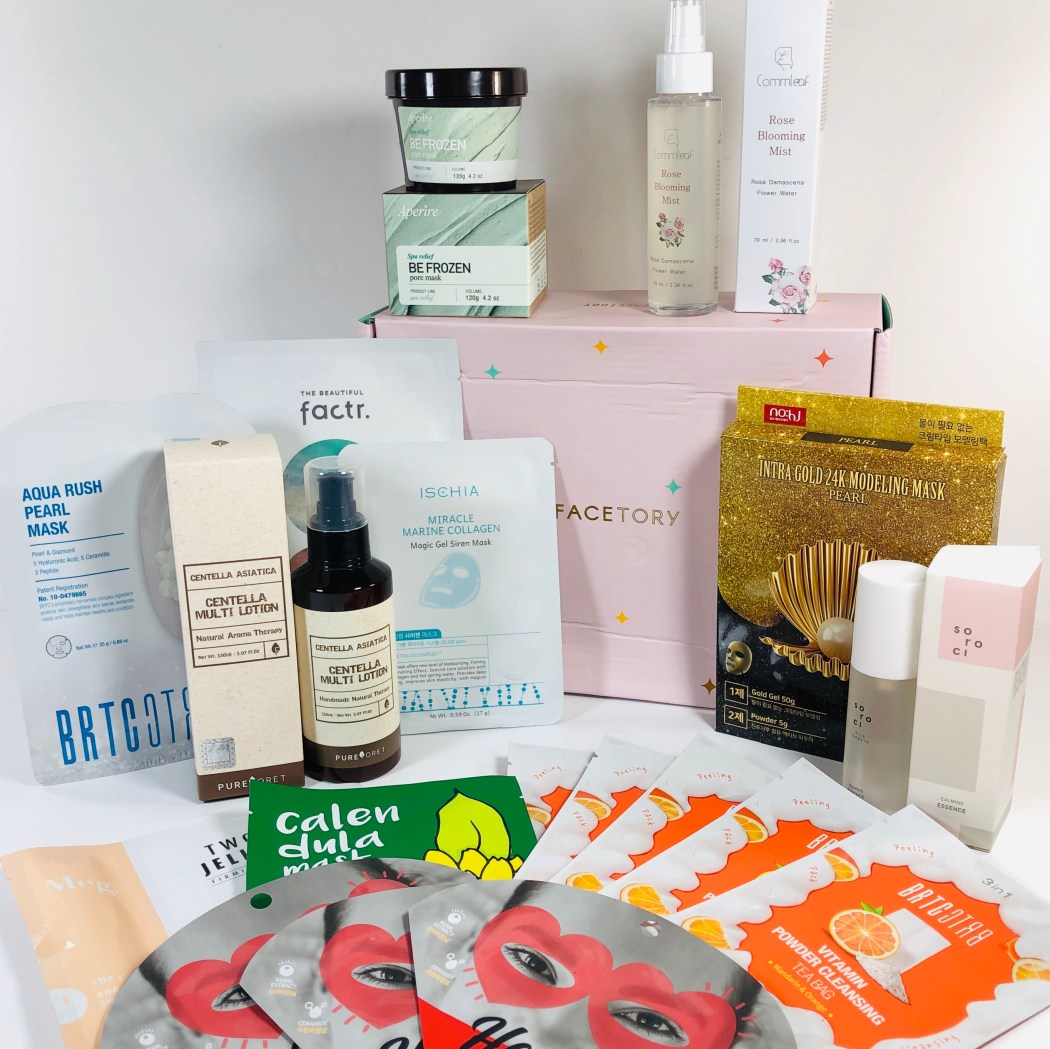 Image from: our review
What You Get: Feed your skin the right nutrients it needs the most. With FaceTory Lux Plus, you can achieve your skin goals! Every season, they curate boxes filled with beauty essentials that are approachable, functional, and most of all, affordable to keep your skin moisturized, soft, and glowing all year long! It includes 5-6 skincare products like beauty oils, foam cleansers, exfoliators, toners, mists, and more. And that doesn't stop there! There are also 5-6 sheet masks included in each box delivered conveniently to your home. Each product is tested by their skincare experts, making sure you'll only get the best ones!
Browse FaceTory Lux Plus Reviews to see past box contents.
Price: The Lux PLUS subscription comes with 10-12 products that costs $49.95 per quarter.
Deal: Get 4 free masks with your Lux Plus Subscription! Use coupon code LUXPLUS4.
---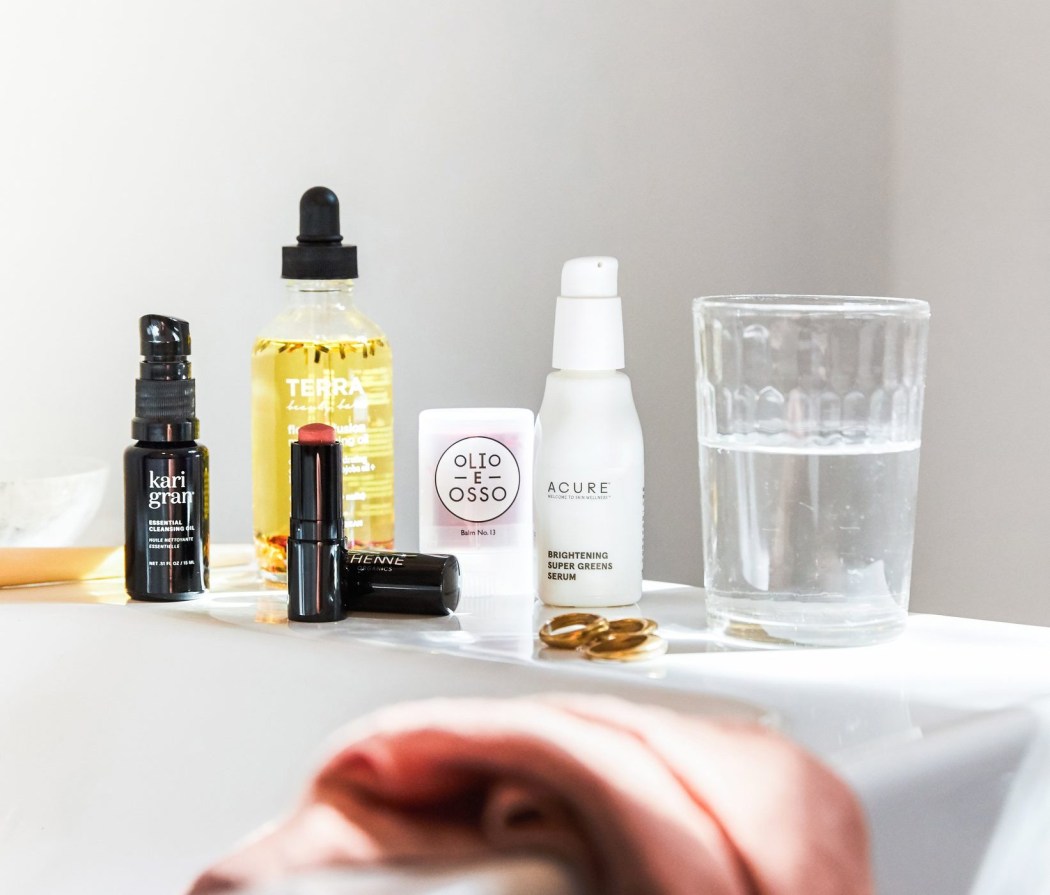 Image from: Grove Collaborative
What You Get: Searching for the most effective skincare products? If so, Grove Collaborative is the one you can trust! It started with one simple belief – make environmentally-friendly products accessible to everyone. Aside from carrying brands that share the same mission, they also craft their products using plants and natural fragrances, ensuring health not just for your skin but also for the world we live in. Take their skincare quiz so they can recommend which products you need for your skin type and help you elevate your skincare regimen! All products are non-toxic, effective, sustainable, and cruelty-free. In addition, Grove is 100% plastic neutral, which means for every plastic you receive from them, they collect and recycle the same amount of plastic pollution. Build a better tomorrow as every shipment will help them plant trees across the United States.
Learn more by visiting the Grove Collaborative Reviews!
Price: Skincare products start from $2.99 up to $72. Receive gifts and unlimited free shipping when you join the VIP membership for $19.99 per year!
Deals:
---
Image from: Clean Beauty Box
Subscription Closed.
What You Get: With Clean Beauty Box, you can discover the best of clean beauty! Packed with beauty and self-care in mind, each box will give you a meaningful skincare experience starting from unboxing to using each product! You'll receive 2-3 full-size products from established and emerging brands wh are committed to using only the safest, highest quality, and ethically sourced ingredients. Focused on connecting subscribers with the cleanest, most effective, and luxe beauty products available, it ships bi-monthly so you won't feel overwhelmed.
Price: Subscription costs $89.90 for 2 box ($44.95 per box shipped every 2 months) and $251.70 for 6 boxes ($41.95 per box shipped every 2 months).
---
That's your list for the best subscription boxes for skincare for 2021! Have your choices made it to our list?
Want more? Make sure to check out all the readers' choices for the best subscription boxes in every category!
Say Hello to more Skincare Subscription Boxes!