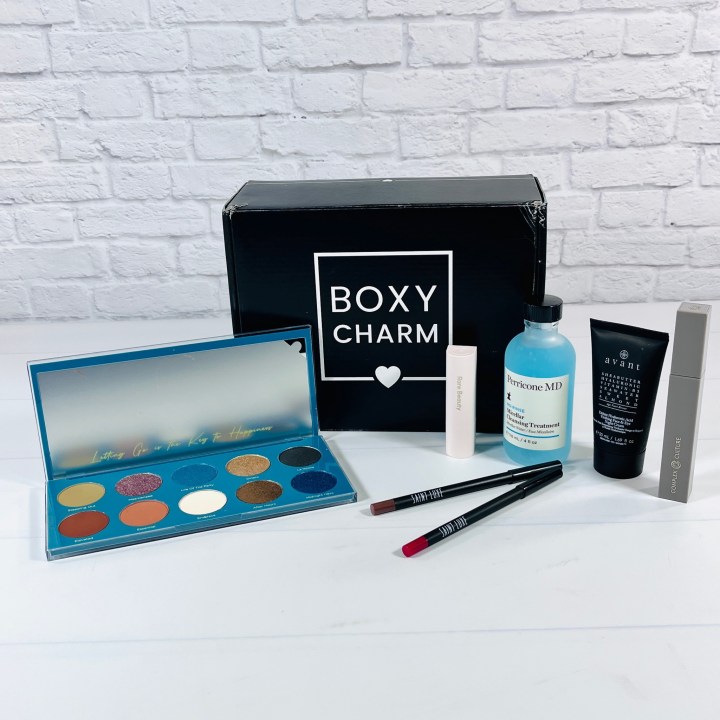 The November 2022 BOXYCHARM Premium theme was IT'S GIVING…GIFTABLE GLAM. Hmm, does that mean I should gift any items that aren't for me? Keep items on hand as last-minute gifts? Give myself the gift of beauty? However you look at it, there's probably something you'll like in here! See what I received below!
There may be variations in the box – see the full spoilers here.
DEAL: Subscribe now and get a FREE gift + $10 credit to the Drop Shop! Use this link and pick your FREE gift at checkout AND get your exclusive $10 Mega Drop Shop code via email within 24 hours of subscribing.
Perricone MD Micellar Cleansing Treatment ($45) I was intrigued when I saw that this micellar water was a cleanser, toner, and makeup remover! I already have micellar water that I use exclusively as an eye makeup remover but went ahead and used this one instead and I liked it! It's fragrance-free and worked well and I also used this as a first cleanse to remove my face makeup and followed it up with my regular cleanser. It says "no rinse" but I really need a double cleanse!
Avant Deluxe Hyaluronic Acid Vivifying Face and Eye Night Cream ($134) I absolutely cringe when I see the inflated values for this brand, especially considering that the ingredients don't seem that special: it has fragrance and dyes, and it's in a plastic tube. Some of the ingredients are shea butter, glycerin, beeswax, and sweet almond oil. It's a floral-scented moisturizing cream that is supposed to hydrate skin and minimize pores. It is non-greasy.
Complex Culture Executive Level Mascara ($28) Complex Culture is owned by Ipsy, who also owns BOXYCHARM, so you can expect to find this brand in either subscription box. I like the makeup brushes that I've tried by Complex Culture, but the jury is still out on their makeup. This mascara was fine, not $28 fine but it worked to define my lashes and that's usually good enough for me. It didn't smear or flake so that's good too. It's not perfumed but it does have citrus essential oils so it smells nice.
Rare Beauty With Gratitude Dewy Lip Balm ($16) I received the shade Thankful, perfect for November! This shade is described as "nude mauve" and it really doesn't look any different than my own lip color when applied, but it sure feels nice, smooth, and non-drying. I was ok with one swipe, and Selena recommended building it up, which I tried, but then the flavor was not ok with me so I wiped it off. I had no problems before building up though. Swatched below.
Saint Luxe Morganite & Carnelian Gel Lip Liner Duo ($30) Wow, these are pricey for lip liners, I think. I haven't actually bought lip liner in years because it comes so often in subscription boxes. (Checks out Sephora for comparison, comes back shocked). Um, ok, I guess these prices are valid. (Goes to grocery store app, comes back relieved). Well, NYX seems pretty affordable to me and I can buy 7 NYX liners for the same price as two Saint Luxe. Ok, back on topic. These were creamy, so creamy that one tip broke as I swatched it. These can be used as lip color, and I think if I use it as liner then it will smear out of bounds due to its softness. I prefer the shade Carnelian, which is a rosy red with blue tones, rather than the orangey brown Morganite.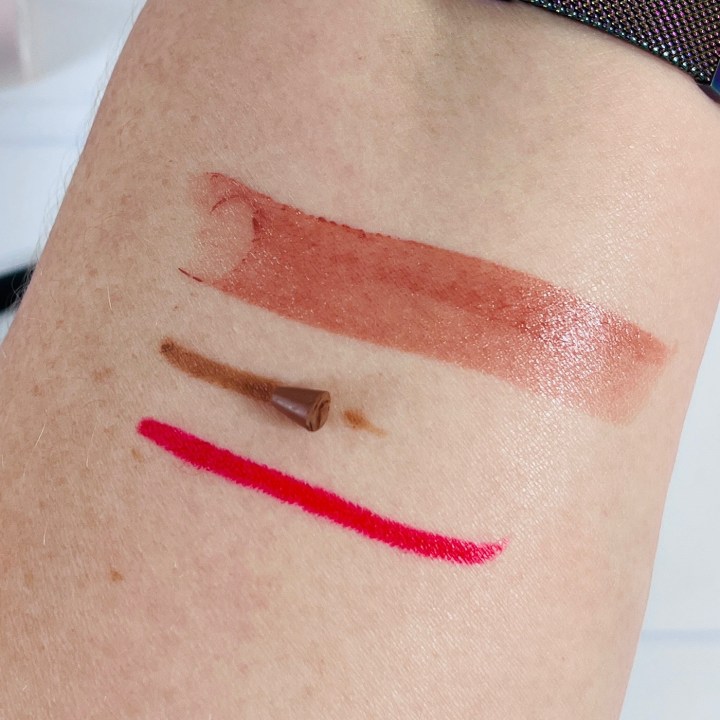 Swatched on top is the Rare Beauty lipstick in Thankful followed by the Saint Luxe liners in Morganite and Carnelian.
Dominique The Moment Palette ($49) When I first saw this palette I thought "heck no!" but then I used it and changed my mind. I guess the colors (or however I applied the) weren't super saturated so I had a wash of color instead of bright shimmery hues. I used a primer and applied Embrace in the entire eye area. I applied Mesmerized to the lid and topped it with Dinero. I used Essential in the crease and then added Elevated over top, but left some of Essential peeking out at the top. Finally, I pressed a bit of Midnight Haze to the corner, lined my eyes with black, and passed mascara over my lashes. This was surprisingly wearable, especially for fall, and a lot easier for me to wear than orange, red, and yellow shades.
Here's the palette swatched, top row on the left, bottom row on the right. There were 6 shimmery shades and 4 mattes.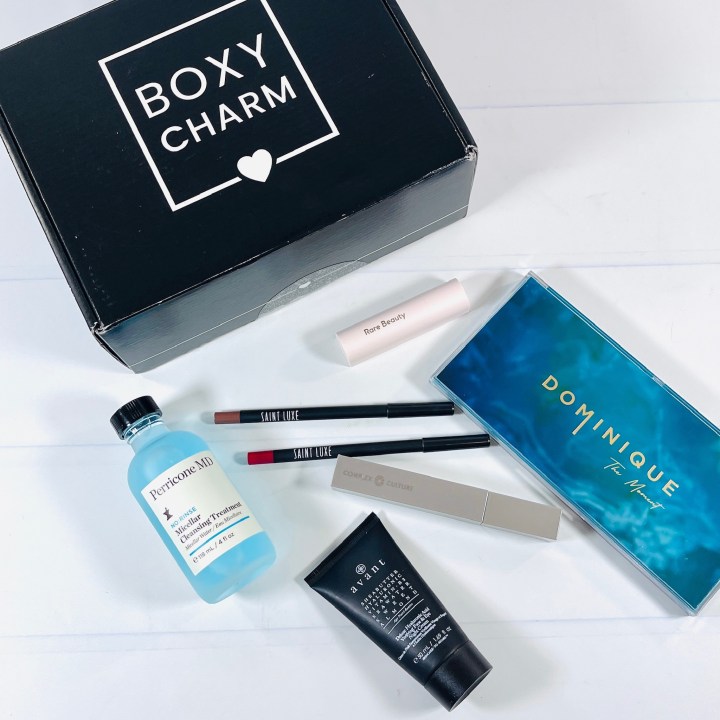 I found some hits in my latest BOXYCHARM Premium! I especially liked the Perricone MD micellar water, which is slightly thicker than my usual product and worked well to remove eye makeup without irritation. I was surprised by the Dominique palette, which scared me at first but actually turned out really nice once applied. The liners and avant seem overpriced but the Rare Beauty lipstick felt good on my lips. I also liked the mascara, which was pretty basic but that's ok by me. The value of this box was around $302.
Below is a box opening photo as well as the product info card.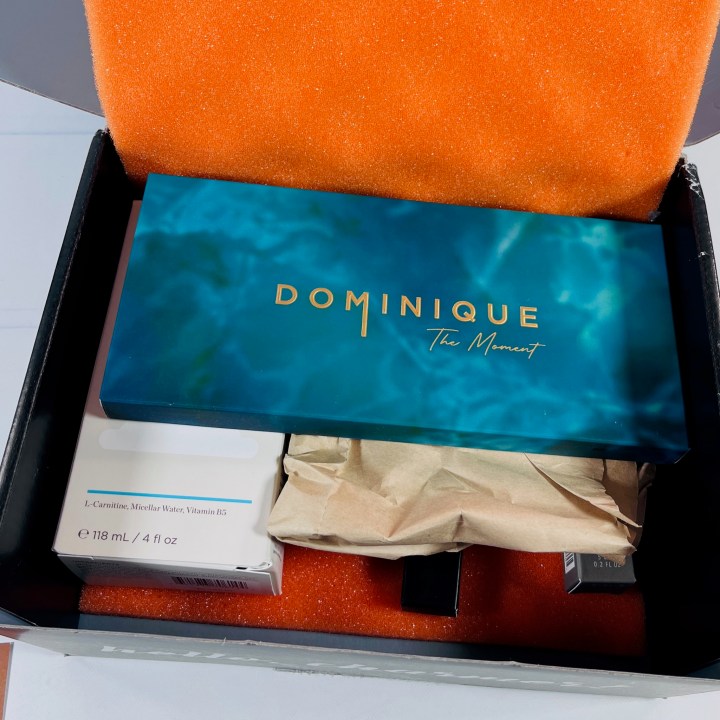 BOXYCHARM Premium is a beauty box from BOXYCHARM (who also has a base box for $27.99 a month and a BOXYLUXE upgrade option). For $39.99 per month (price drops for longer terms), you'll receive 6 items with 2 items chosen by the subscriber. They also state an average value of around $215 per box. BOXYCHARM's premium subscription box was voted by our readers as one of the best beauty subscription boxes for 2022, a best skincare box, and a best makeup subscription!
Did you get BOXYCHARM Premium? What's your favorite item?