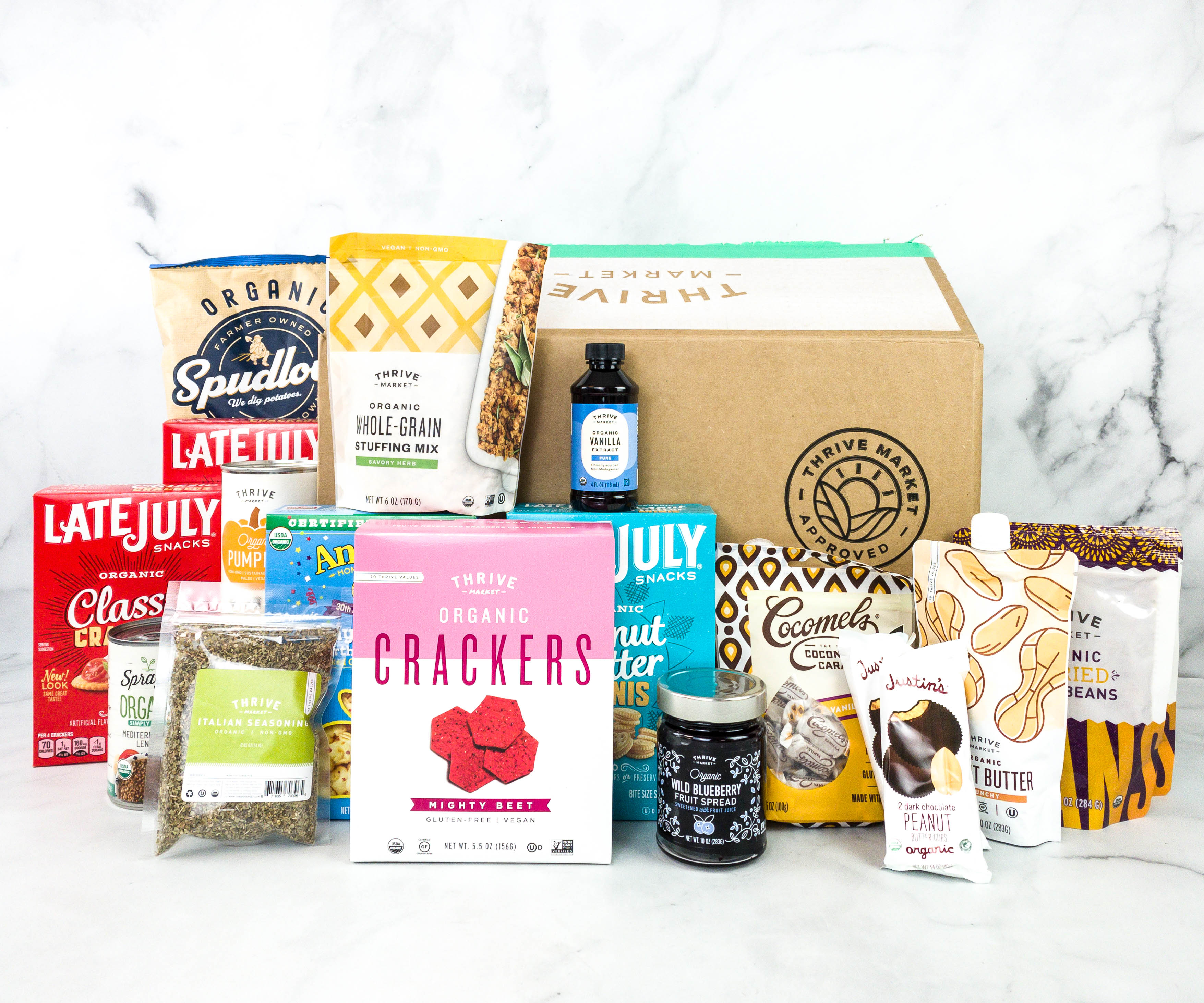 Everything you need to know about this grocery delivery service
Thrive Market Review
When it comes to overall well-being, including the food we cook and serve to the table, the word "healthy" should always come first. With so many people nowadays getting mindful about their health, organic products are on the trend. And if you're likely taking the time to search where to get the best healthy products without shelling out big bucks, you've probably come across Thrive Market.
But before you start grocery shopping, let us help you have a deeper understanding of what this e-commerce market is.
So what is Thrive Market anyways? A better market that's better for the people and the planet – that's what Thrive Market is! It is an online marketplace that offers over 6,000 wholesome products, including food, home, beauty, and pets, all made from real ingredients. They're omitting the misconception about healthy products being expensive by bringing you a wide range of non-GMO, organic, and non-toxic products at fair prices, backed by sustainable farming practices. This grocery delivery service is a great help for those who live far away from groceries, busy professionals who don't have much time to spare, just hate grocery shopping, and who want more savings!
"United by purpose, driven by passion" Founders Gunnar, Kate, Sasha, and Nick built a better way to make healthy living easily possible. They believe that everyone should have access to healthy products, reliable information, and affordable prices, and that's why Thrive Market was born. They carry thousands of organic brands, but they also produce their own brand with nothing in it but ethically sourced, organic ingredients.
Moreover, this online delivery service also gives back through its one-for-one membership program. For every paid membership, they provide a free one to a low-income family, student, teacher, veteran, or first responder. Because with Thrive Market, it's not just you who thrives, but everyone does!
DEAL: Get 25% off your first order, plus get a FREE gift when you join Thrive Market! Use this link to checkout – no coupon needed.
Guide to our Thrive Market Review
Thrive Market Benefits & Drawbacks
Now, let's discuss the advantages and disadvantages of being a Thrive Market member:
Thrive Market Benefits
Thousands of healthy products to choose from
Members can shop from the comfort of their own homes
Shop by diets and lifestyles – Paleo, Keto, Vegan, Vegetarian, etc.
Savings of up to 30% on the best organic products
Members can opt for auto-ship deliveries or place one-time orders when needed
No commitments
30-day risk-free membership trial
One free membership is given to families in need for every paid membership
Thrive Market Drawbacks
No international shipping
No dairy, eggs, or fresh produce offerings
Thrive Market Review
Summary
Thrive Market is an online marketplace that offers a wide range of healthy products, including grocery staples, clean beauty, nontoxic beauty needs, and more. Everything is ethically and sustainably sourced and packaged using earth-friendly materials. You can freely customize the box and set a delivery schedule, so you can refill your home with healthy, high-quality essentials minus the hassle!
My Thrive Market Review
Thrive Market is an online marketplace with over 6,000 wholesome products including food, home, and beauty, available at members-only prices. To make shopping easier, you can easily check products according to categories such as paleo, ketogenic, gluten-free, vegan, vegetarian, raw lifestyles, and more. Membership is free for the first 30 days, and then pay $59.95 for your membership for the full year. Also, shipping is free for orders over $49, and they guarantee carbon-neutral shipping straight to your door. Other member perks include free gifts, samples, and members' deals! Aside from being eco-conscious, this subscription also gives back! They match every paid Thrive Market membership with a free one for a low-income family, student, teacher, veteran, or first responder.
The box arrived in good condition. The products we purchased are from brands that support fair trade and prioritize sustainability.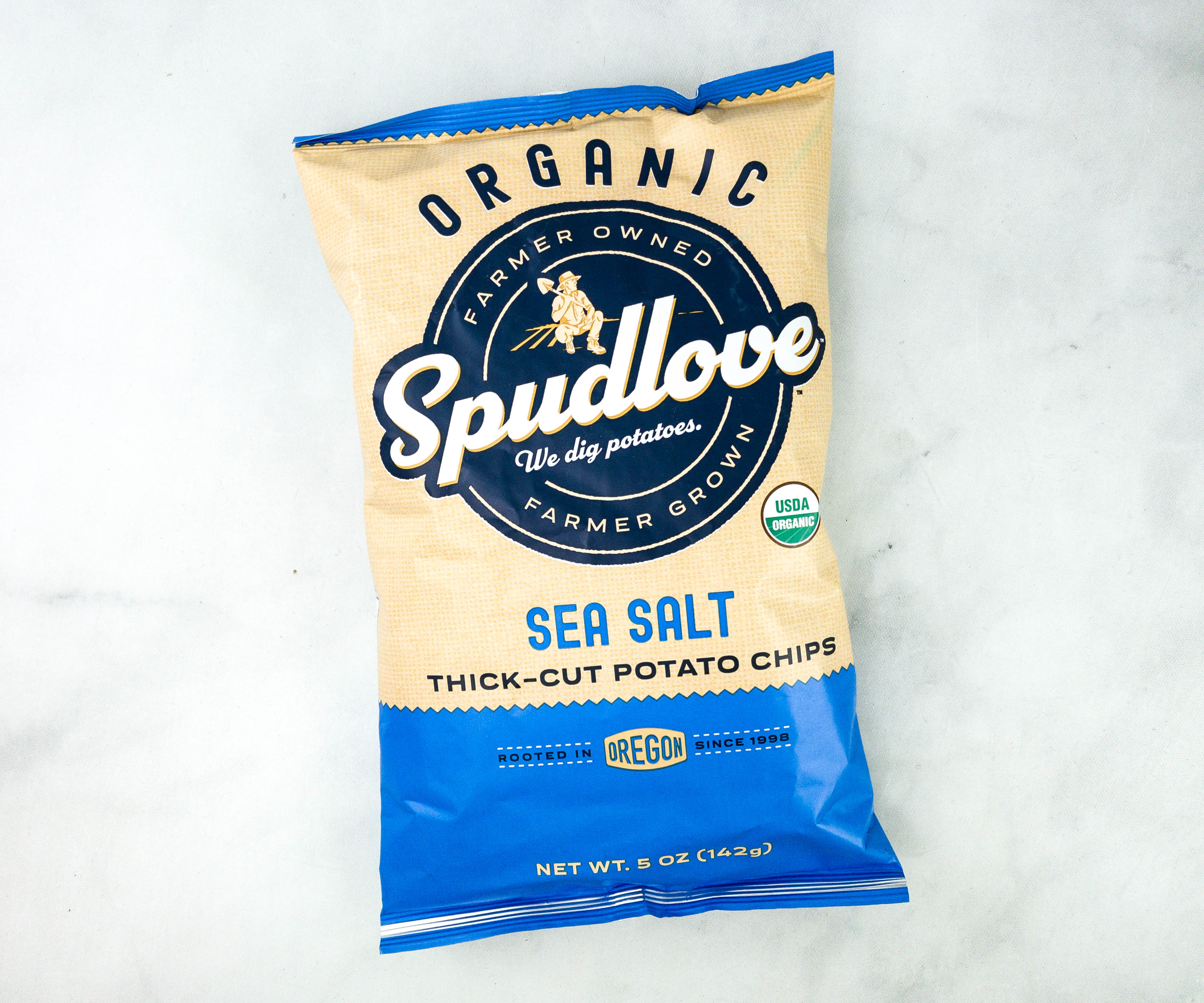 Spudlove Sea Salt Thick-Cut Potato Chips ($3.49) These thick-cut chips are perfectly seasoned with sea salt and they have the perfect crunch that I love! They were slow-cooked in small batches using sunflower and safflower oils which are healthier alternatives to regular cooking oil. These chips are also perfect for pairing with various dips!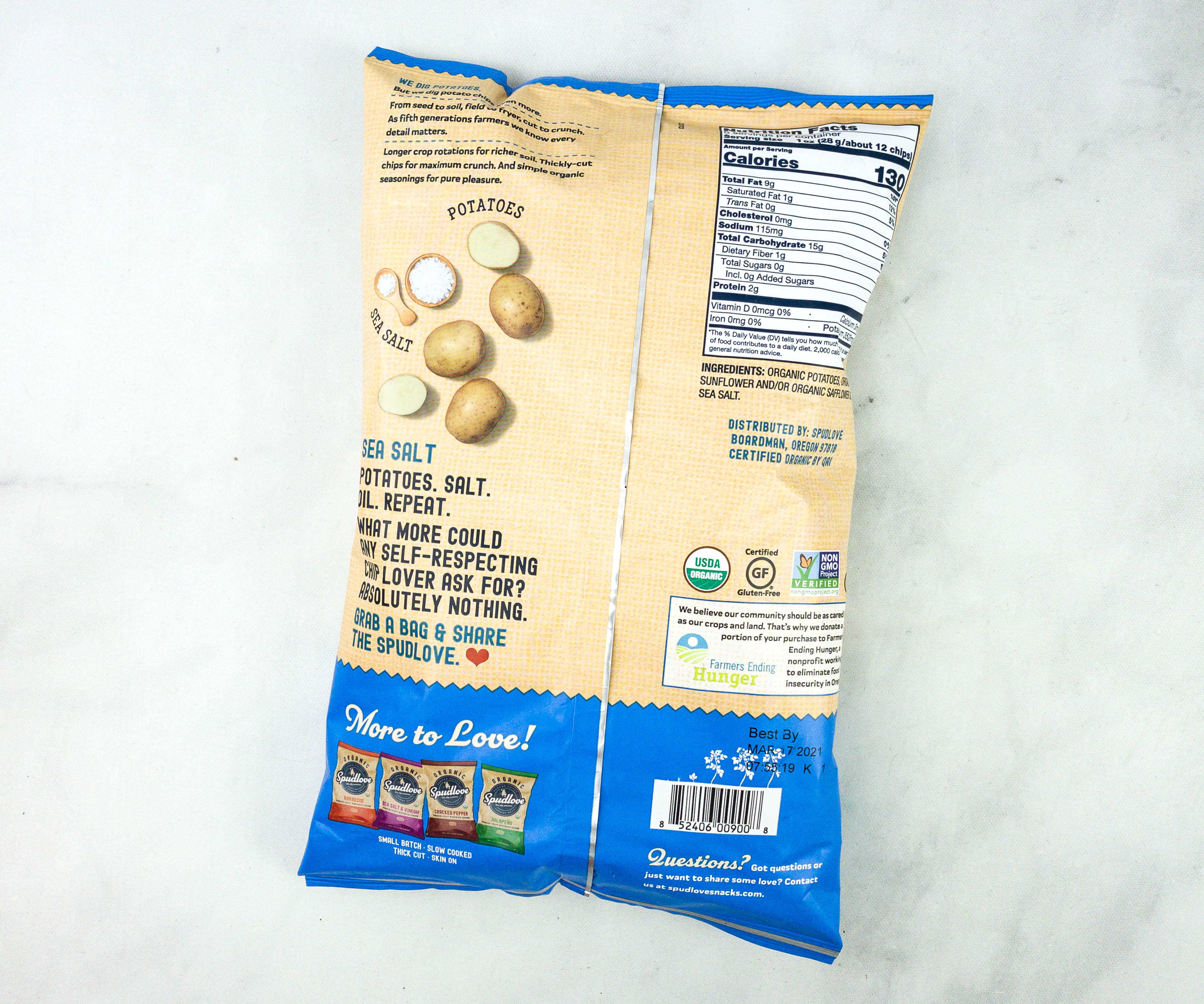 This snack is gluten-free, non-GMO, and USDA organic. Another thing to love about this potato snack is that the potatoes used were from a farm that practices regenerative agriculture!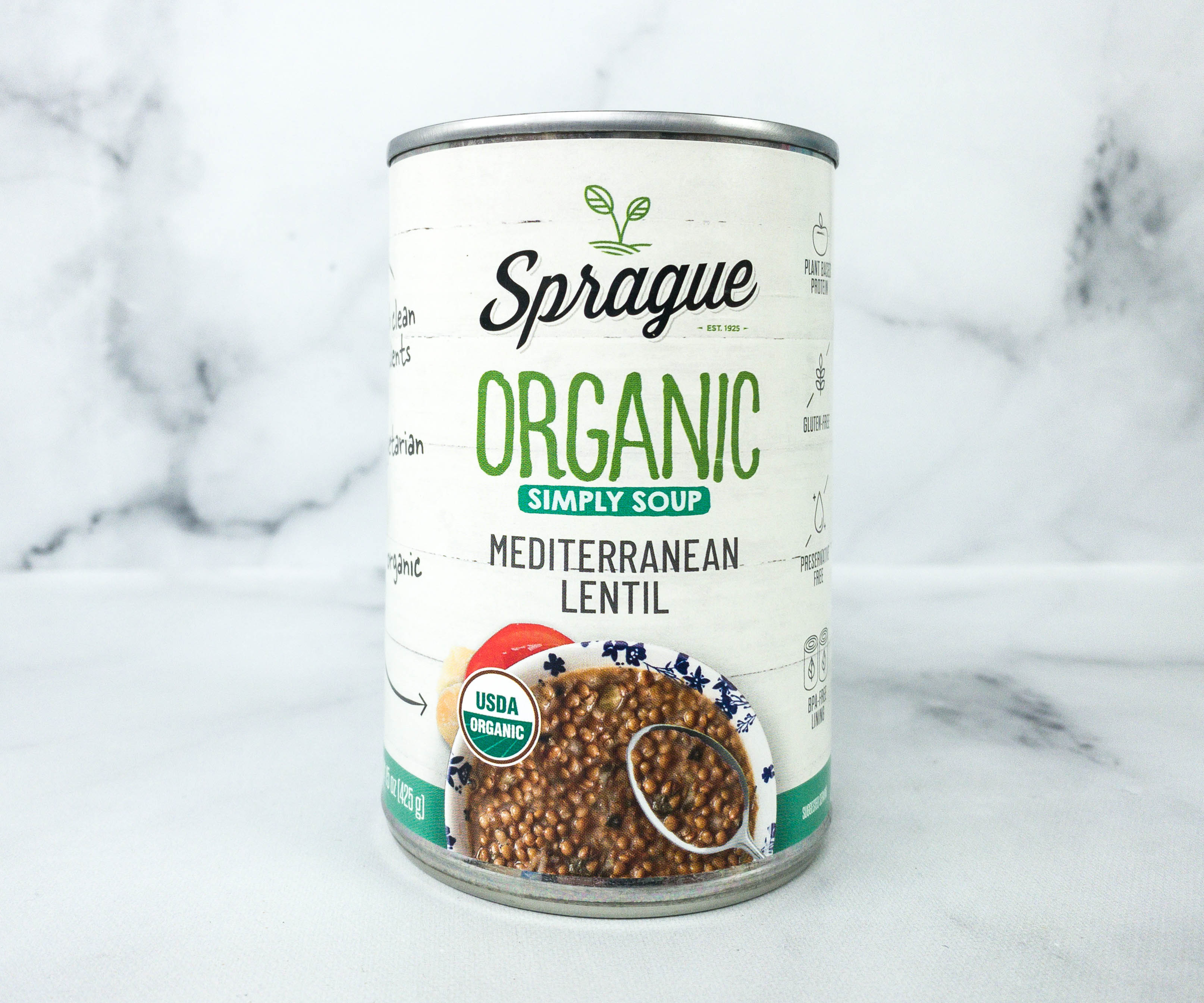 Sprague Organic Simply Soup Mediterranean Lentil ($2.79) It's the perfect lentil soup in a can! The Mediterranean taste is amazing, it also has a rich tomato paste and garlic that added more flavor to this meal. It's also organic, vegetarian, preservative-free, gluten-free, and BPA-free. Canned lentil soup is my go-to for lunch when I have no leftovers!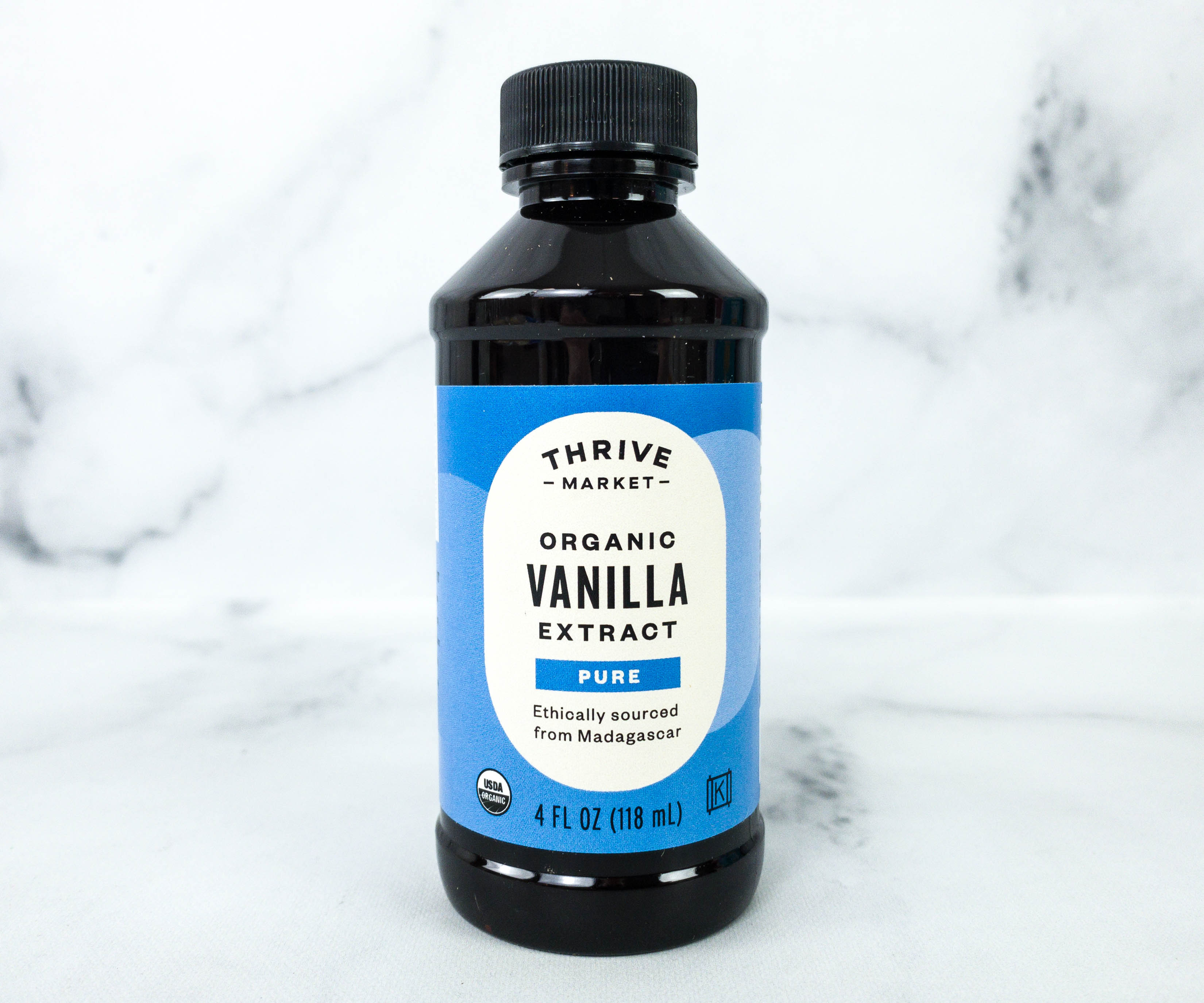 Organic Vanilla Extract Pure ($11.99) Here's a bottle of pure vanilla extract made from premium bourbon vanilla beans. It has a sweet flavor that helps enhance different recipes, including baked goods and sauces. Unlike regular vanilla extracts, this one is free from added sugar/sweetener and dyes/color additives. It's also organic, non-GMO, vegan, vegetarian, and gluten-free. I also like that they used a recycled plastic bottle for this product!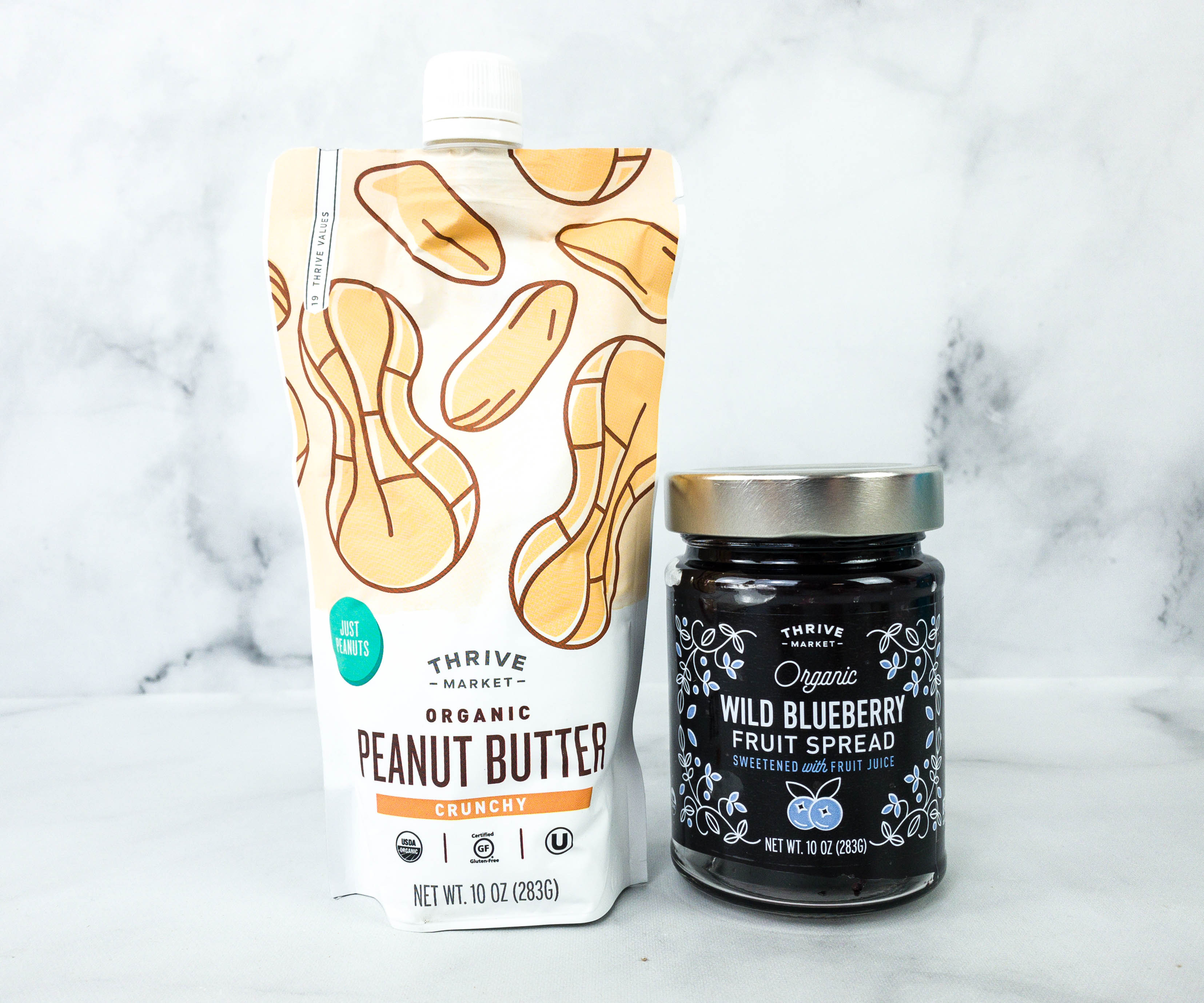 Now for some Thrive Market brand goods!
Organic Peanut Butter Crunchy ($2.62) They used lightly roasted, organic peanuts to make this organic peanut butter. The spread is crunchy and a perfect addition to savory sauces. It also came in a resealable and easy-to-squeeze pouch. I love it – get every bit out!
Organic Wild Blueberry Fruit Spread ($2.99) Another spread in my box is this wild blueberry fruit spread. It's sweetened with grape juice, and I just love the texture and flavor of it! I can even enjoy this to top my pancakes! My kids absolutely adore this for charcuterie dinner (also called "snacky dinner"). We set up a board and everyone digs in. I'm buying more of this!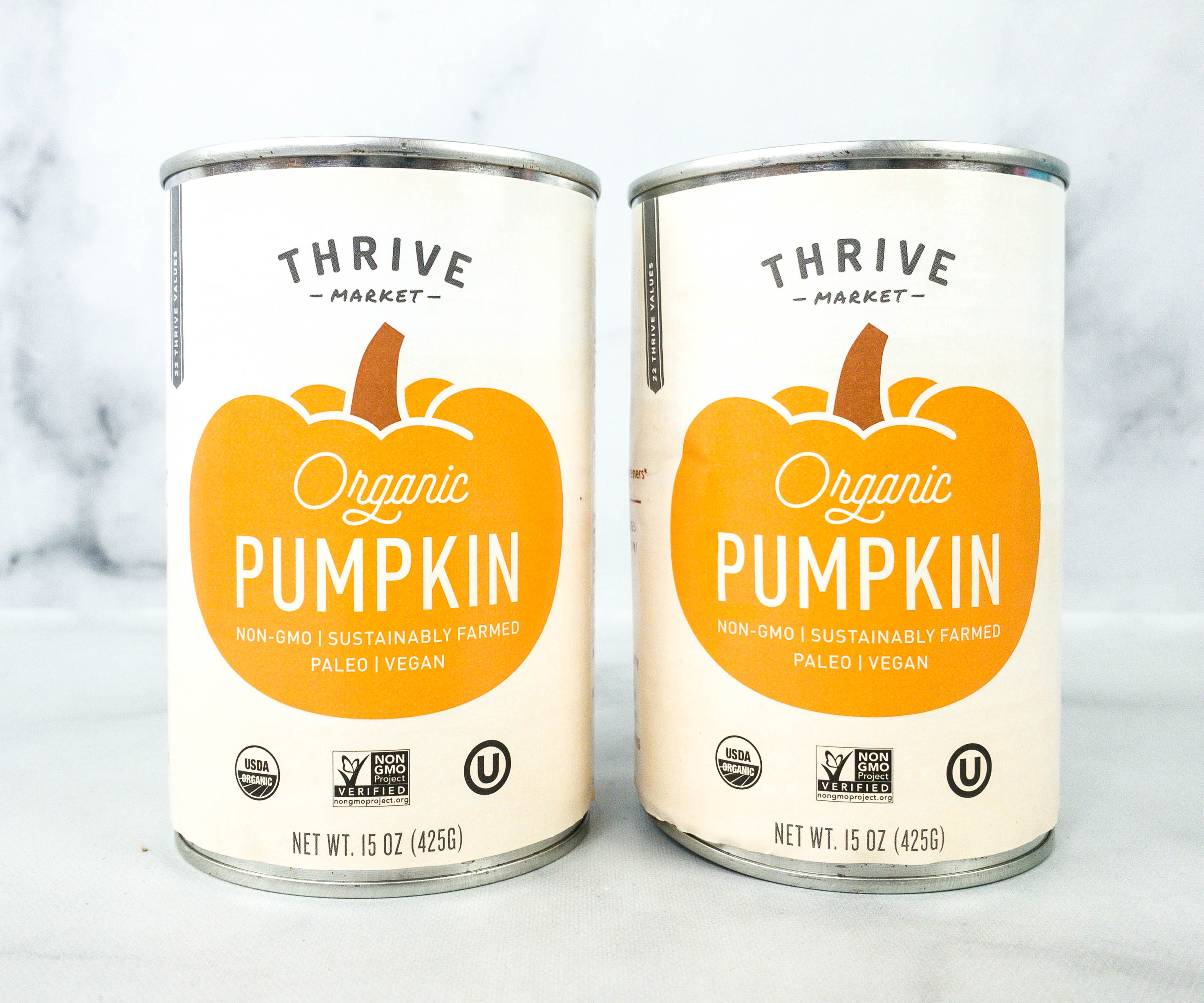 Organic Pumpkin ($1.99) I have two cans of this smooth and flavorful organic pumpkin puree! It can be enjoyed any time of the year and is perfect for making pumpkin pie or pumpkin bread. This is from Thrive Market's own line of products, and it's definitely at par with the popular canned pumpkins that we know. It even supports paleo, vegan, vegetarian, and gluten-free diets. Since we couldn't buy pumpkins for the holidays, Thrive Market turned out to be a holiday tradition life-saver! Plus, it's organic!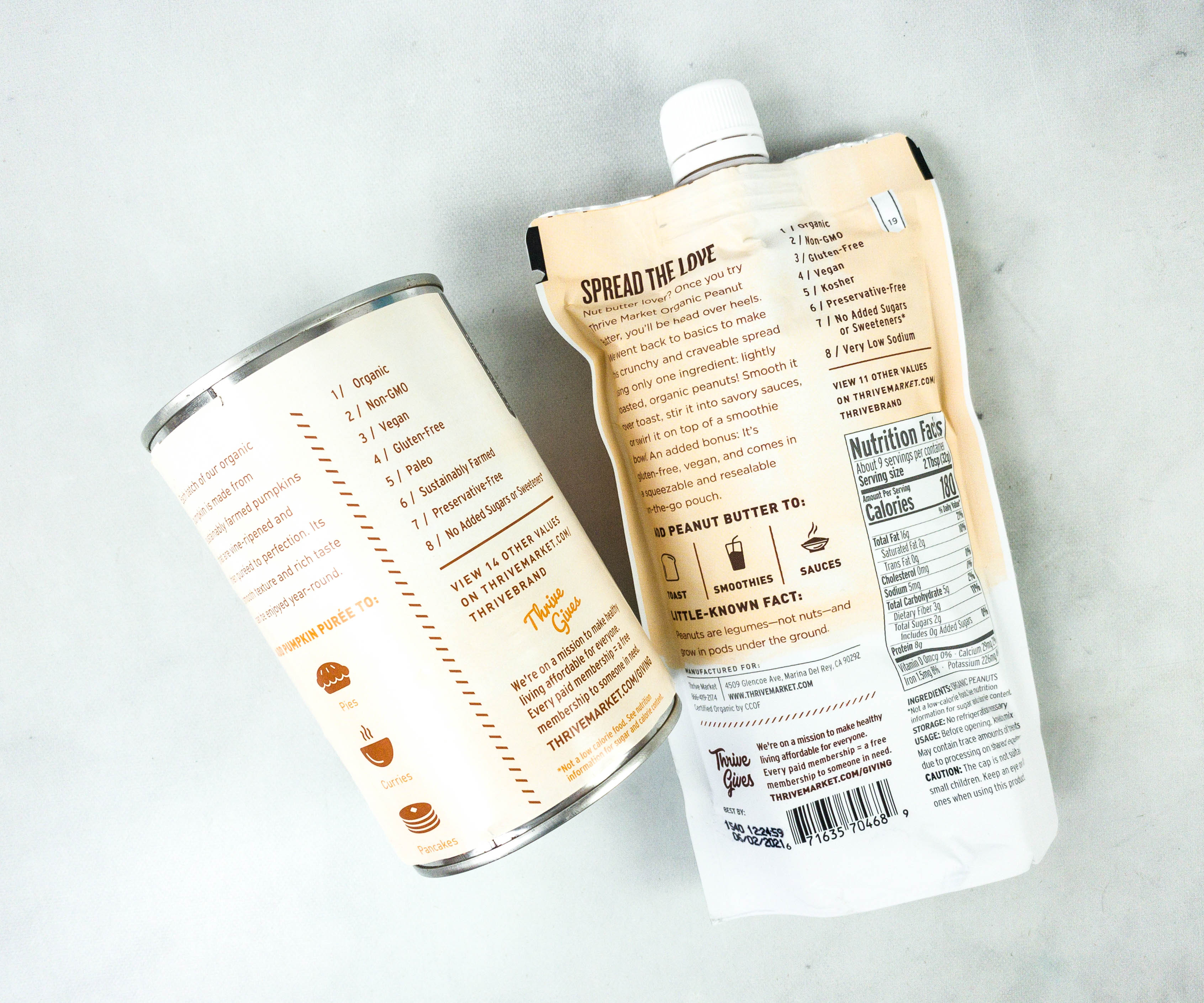 Their packaging also suggests some meals and snacks where you can use the products.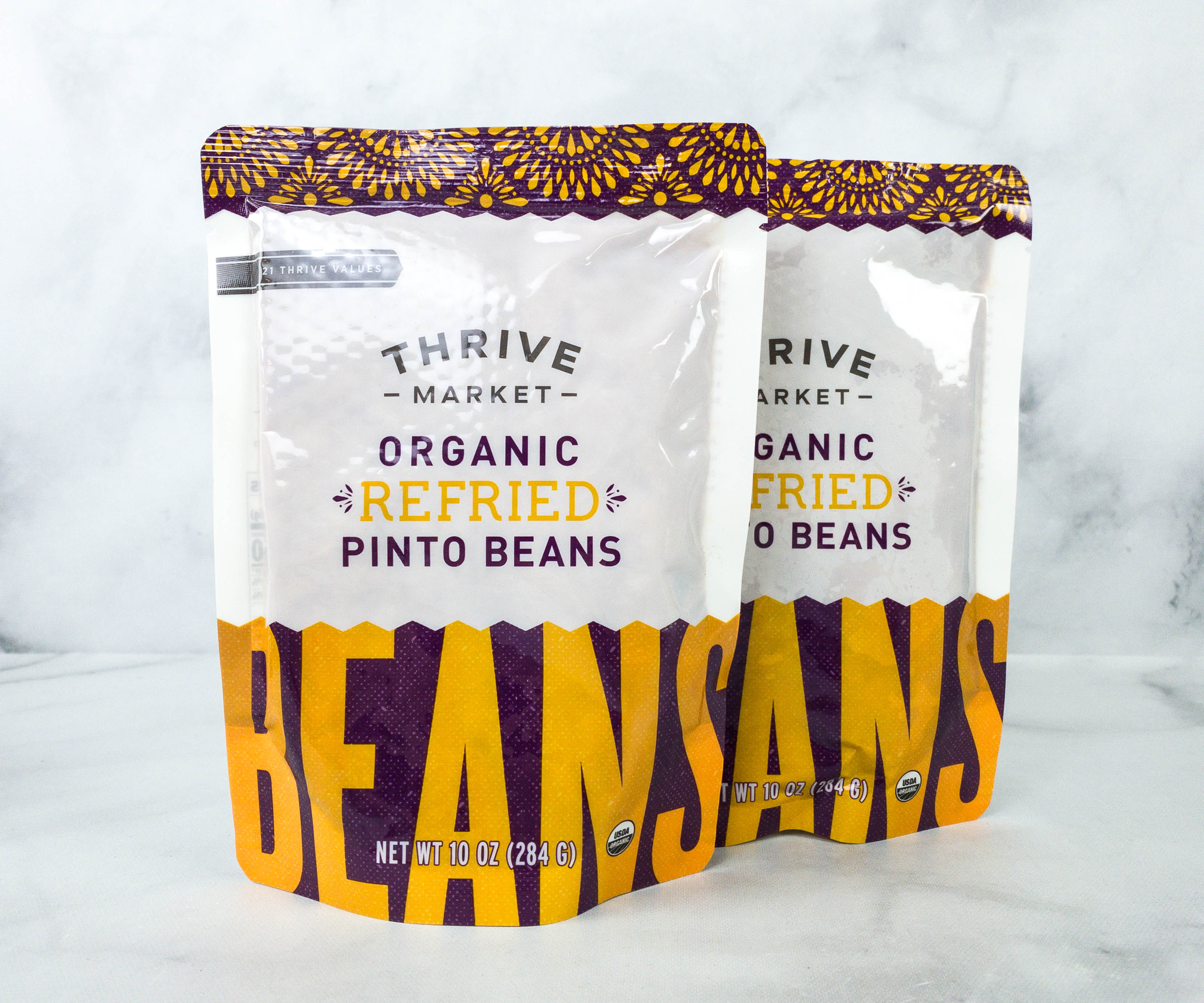 Organic Refried Pinto Beans ($1.49) These bags of pinto beans make a great addition to burritos and dips. They come in a microwaveable pouch for easy preparation. Aside from being organic, pinto beans are also known as an excellent source of plant-based protein!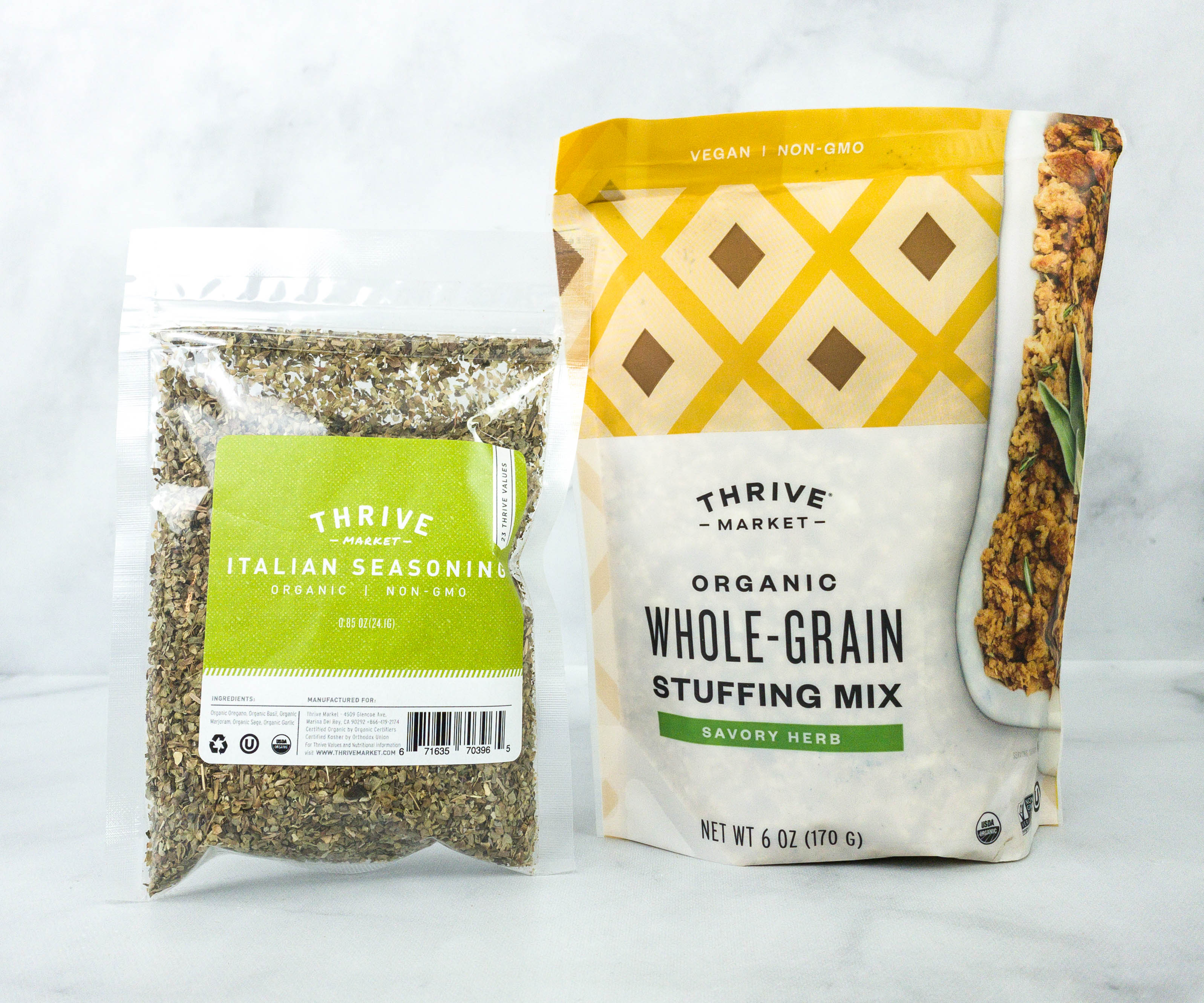 Italian Seasoning Organic ($2.99) Here's a blend of ground herbs that improves the taste of different dishes. It's organic and non-GMO, making it a safe flavor enhancer in the kitchen. We just happened to need some Italian seasoning!
Organic Whole-Grain Stuffing Mix ($3.99) I also have this pack of stuffing mix, made with organic sage and rosemary that give it a nice flavor. To prepare, just add butter and broth, then bake for 18 minutes, and enjoy!
I couldn't resist adding these goodies to my order: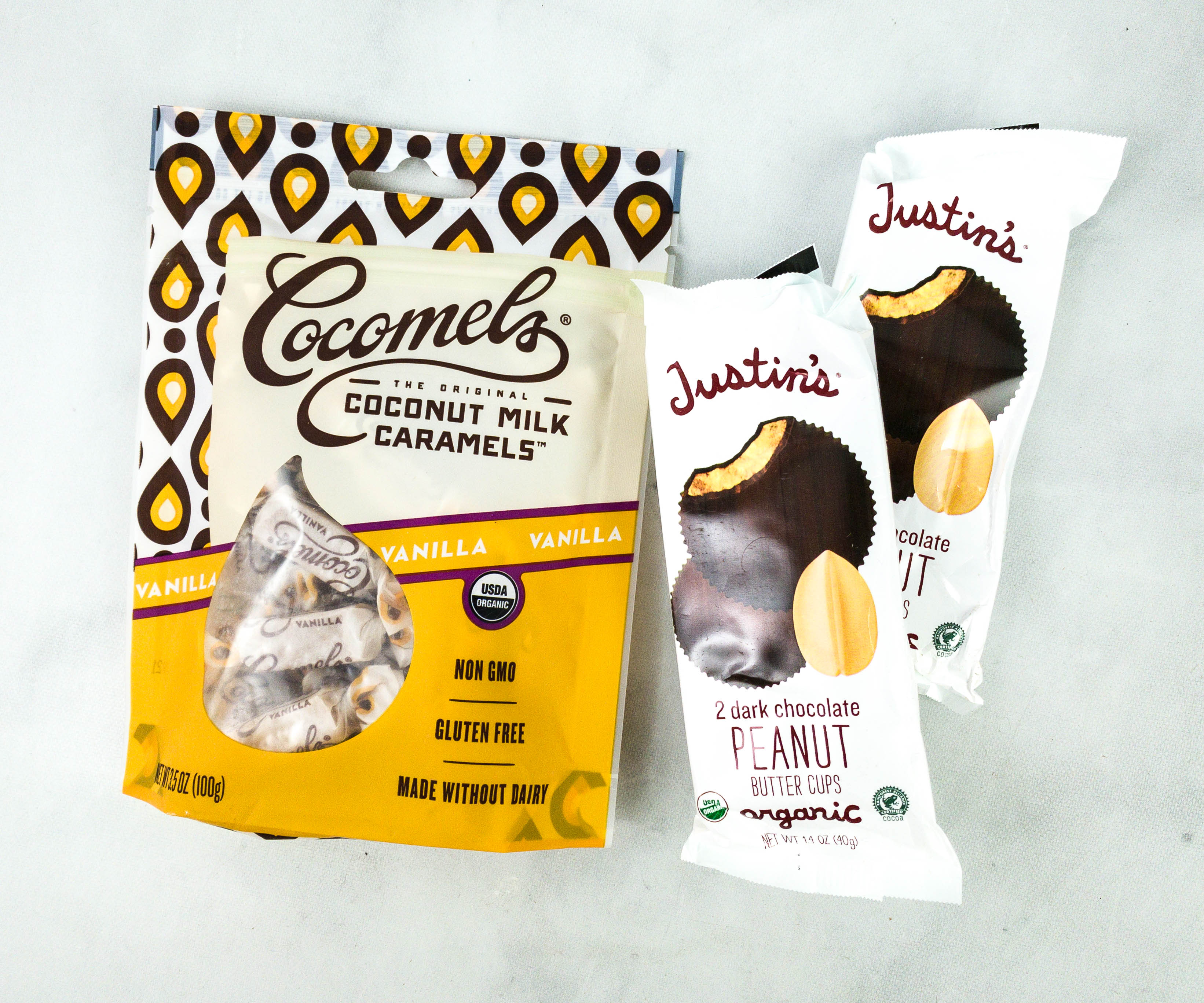 Cocomels Coconut Milk Caramels ($4.49) These vanilla caramel-flavored candies are simply irresistible! They are made with 30% less sugar but sweet enough to satisfy my sweet tooth. It's also non-GMO, gluten-free, and dairy-free!
Justin's 2 Dark Chocolate Peanut Butter Cups ($3.58) Another sweet treat in my box is this pack of organic peanut butter cups. They have an organic dark chocolate coating and a perfect blend of sweet ingredients that include organic cacao beans, organic cocoa butter, and organic vanilla powder. This is just as good as the regular peanut butter cups from popular brands, and it's way healthier!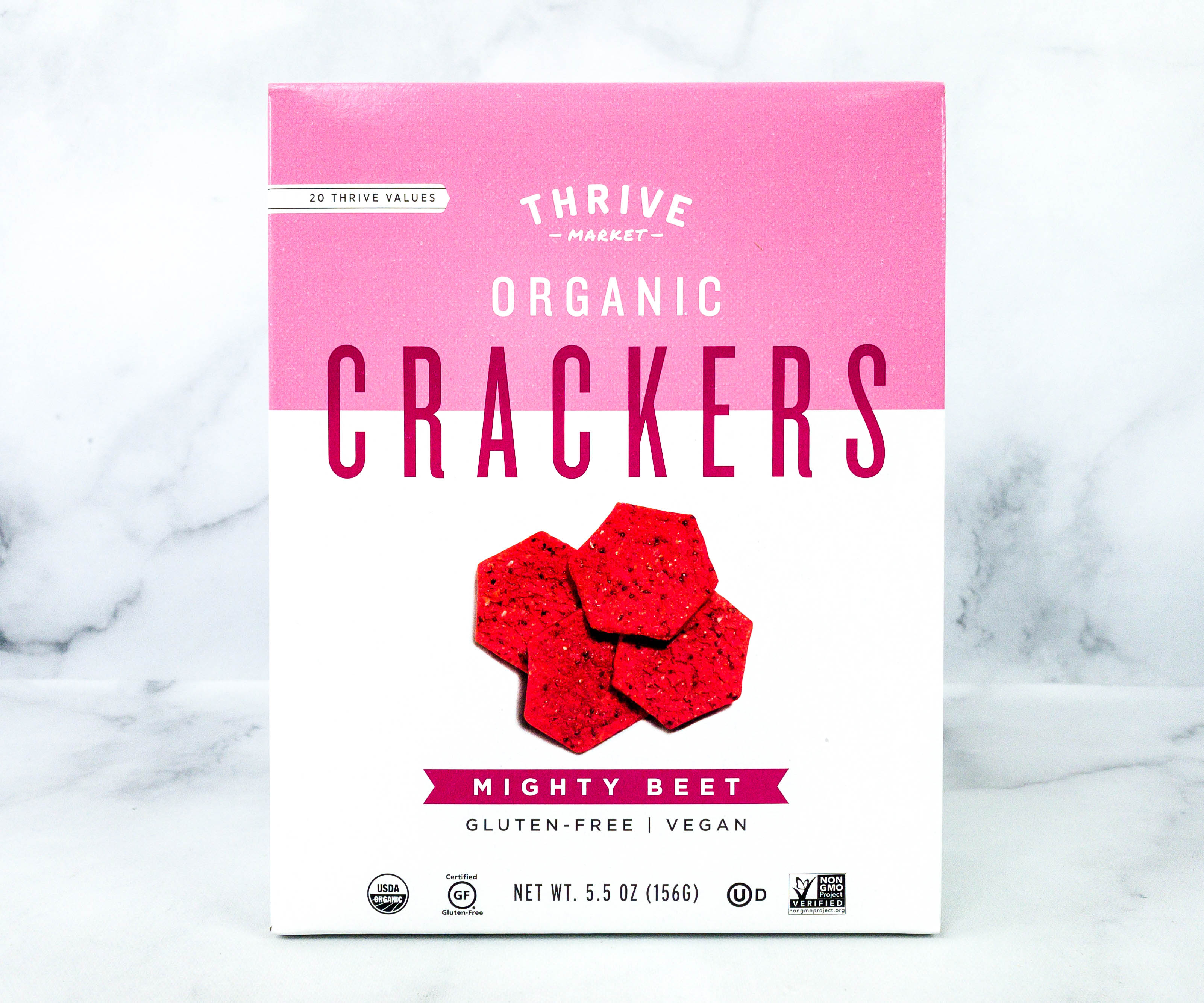 Organic Crackers Mighty Beet ($2.49) Here's something that can replace crackers filled with hydrogenated oils! They are organic crackers made with beet, thus their striking red color. Other ingredients are chia seeds and stone-ground corn. Also, each piece is crispy and satisfying. I snacked on this on its own, but it's also great for pairing with cheese or hummus.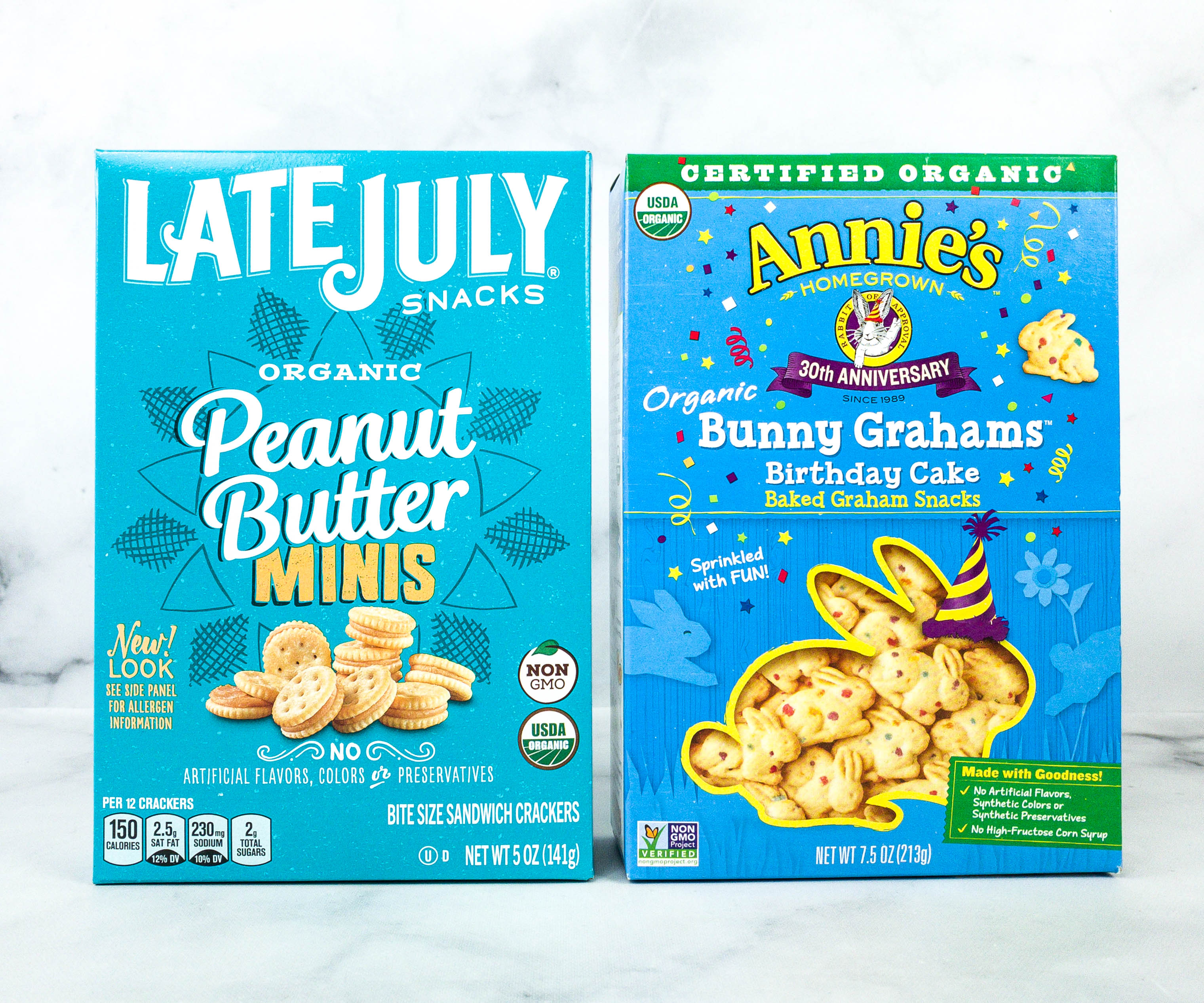 Late July Peanut Butter Minis ($3.49) My kids love peanut butter and these bite-sized sandwich crackers made them really happy. The peanut butter used for this snack is made from roasted and grounded organic Valencia peanuts. Meanwhile, the crackers are made with organic red winter wheat. They taste subtly sweet and also buttery!
Annie's Homegrown Organic Bunny Grahams Birthday Cake Baked Graham Snacks ($3.79) These bunny-shaped graham bites are so adorable! They are birthday cake-flavored and made with whole wheat flour. I also love that they contain zero artificial flavors, synthetic colors, and preservatives.
Late July Snacks Organic Classic Crackers ($2.99) Here are classic crackers with a toasty and buttery taste. It's nice to pair them with a delicious dip or add them to a cheese board! It's also organic, non-GMO, vegan, vegetarian, dairy-free, and soy-free. We love Ritz-style crackers (especially the kids) but honestly? They're gross! Late July classic crackers are my Ritz-like cracker of choice. They hold up to toppings and don't have a weird oily fake butter taste. Nothing artificial here, folks! We cannot get these locally even in non-COVID times.
Is Thrive Market Worth It?
My first box from Thrive Market is jam-packed with items that really improve the nutrition and quality profile over items we can shop for in our town! I appreciate that Thrive Market promotes eco-friendly and healthy products, plus their service is really convenient, especially for busy people like me. So far, all the snacks I picked are delicious, and I also have no regrets about the other cooking ingredients because they help make our home-cooked meals taste more delicious. The pumpkin puree and the stuffing were just some of my Thanksgiving must-haves, and I'm happy to get the organic version from their selection. I'm quite pleased with my overall experience with my membership, and I'm also looking forward to discovering other healthy and guilt-free food products! If you're looking for new food or personal items that fit your healthy lifestyle, there's no need to go out as Thrive Market will deliver the goods right in front of your doorstep. Their membership also has a lot of perks, including members-only prices and sales!
Thrive Market provides convenience all around! Although not offering fresh produce, you can still save time and money purchasing daily essentials through this online marketplace (we just wish they'll offer fresh produce sooner rather than later and more meat options too). They're pretty much transparent about everything, including the ingredients and where they source their products. Basically speaking, Thrive Market is for everyone who wishes to make grocery shopping a blissful experience.
So is it worth it? Based on our own experience, yes! Based on reviews of other shoppers, still yes! Thinking just about how they do all the work searching for organic brands and products to offer to members is a task to tick off the list. Offering over 6,000 products, you'll be sure to find what you want and need (except for fresh produce), all reasonably priced! You can restock your basics without driving to your local grocery store, push the cart, make rounds at the aisles, and carry everything back home. Although you still need to visit your local grocery store for fruits and veggies, it still is convenient! Just imagine how much time you'll save when you opt for the membership.
What we also like about this membership-based market is they provide one free membership to those in need for every paid membership. There's even a 30-day free membership to let shoppers experience the service before committing full-time.
All About Thrive Market
With Thrive Market on your side, you can grocery shop from the comforts of your own home. You can always find cheaper, yet quality products, plus shipping is fast too!
How does Thrive Market work?
No more pushing around a cart and searching every aisle to get what you want and need – grocery shopping is right in the palm of your hand! Thrive Market focuses on healthy products fit for every lifestyle and budget. There's quite an extensive quiz to take when you sign up, with questions about your diet preferences and who you need to shop for, so you get more product suggestions from that category. They also have a free gift for members enrolled annually and have a whole store with thousands of products.
One of my favorite areas of the shop is Thrive Market Goods. I'm big on quality house name brands! You can shop through the website or an app you can download on any of your iOS and Android devices.
You can easily find the products as Thrive Market has an easy-to-use interface that enables members to filter what they need and be shown a list of all the products under the categories they've chosen. Shop by aisles (food, frozen, wine, bath & body, etc.), diet (ketogenic, vegetarian, paleo, gluten-free, etc.), or brands, and find more product suggestions based on your preferences. You can shop as often as you like with no minimum or limits.
A 30-day free membership is also granted to new members to see if it'll work for them. If you cancel within the 30-day frame, you'll get your money back. Thrive Market also has the Savings Guarantee, which only applies to annual memberships. If you haven't saved enough to cover the yearly membership fee, they'll offer you the difference in the form of store credit (called Thrive Cash) when you renew your annual membership.
Make back your membership fee in savings, or we'll credit you the difference. That means if your membership fee was $60 & you only saved $40 during your membership year, we'll automatically add $20 Thrive Cash to your account after you renew.
Members can enjoy deals, free gifts & member-exclusive prices every day! There are even new products that are added weekly, so you can try more and discover a favorite. You can skip deliveries, change the delivery date or cancel the auto-ship feature at any time. And since Thrive Market is committed to reducing carbon footprint, they do not allow returns of items once they're shipped out.
When you check out, you can also choose to donate your savings to Fight For Food Equality Now.
54 million Americans—and 1 in 4 kids—lack access to healthy food. We're pledging to raise $10 million to provide healthy groceries for all. Donate a percentage of your savings today and fight for food equality now.
How much does Thrive Market cost?
A 1-month membership is $12, while a 1-year membership costs $5/month or $59.95 annually. The 1-year membership provides more value. But if you don't want to commit to a full year, then the monthly membership is still a good option. This grocery delivery service removes the middleman to bring you all the best, high-quality products without the heavy retail markup. As a member, you'll save up to 30% on organic and sustainable products.
The shipping fee is free for orders above $49 and costs $5.95 for orders less than $49. For wine orders over $79, shipping is free and incurs $13.95 if below the mark. If you spend over $120 on frozen foods, delivery is free, or shipping is $19.95.
Where can I buy Thrive Market?
If you want to experience and explore what Thrive Market is, you can do so by clicking through this link. It will direct you to Thrive Market's official website, where you can browse all products, customize a box, and sign up for auto-ship deliveries (or not), then checkout. You can order as much as you like with no order limits. That's it!
Where and how does Thrive Market ship?
Currently, Thrive Market ships to all contiguous United States street addresses via ground shipping. Unfortunately, they do not offer international shipping. They also do not ship to P.O. boxes, APO/FPO/DPO addresses, Alaska, and Hawaii.
They work with FedEx, Lasership, OnTrac, and USPS (via FedEx Smartpost) for delivering boxes. Placed orders are processed within 12 hours and shipped within 24 hours. Pantry items usually arrive in 2-4 days, frozen goods take about 2-3 business days, and wines typically arrive within 3-6 days. They'll also send you an email with tracking info to see the status of your order or log into your Thrive Market account to track shipments.
How is Thrive Market packaged?
Thrive Market shows great concern for the environment. They offer eco-friendly products, and consumer satisfaction is a priority. Orders are shipped directly to members' doors using curbside recyclable boxes and compostable packaging made from recycled materials. For frozen goods, they will deliver your order with the same curbside recyclable packaging but with paper insulation and dry ice to keep the products from thawing out.
Products arrive in their original packaging and neatly tucked inside the box with carton partitions. And even though their team uses more materials compared to packing peanuts, it is much better for the environment and more aligned with their values. All materials are recyclable, including the tape.
This box and its contents are 100% recyclable and shipped with a carbon-neutral footprint
To secure fragile products like bottles and such, they use honeycomb packing paper to provide a great cushion without being harmful to the environment. It makes sure that the items are safe during transit.
What products does Thrive Market sell?
When it comes to the products they offer, Thrive Market makes sure they carry the same brands that support their mission toward healthy living. Each passes a rigorous test, ensuring members they'll only receive non-GMO, high-quality products to trust for their homes that are all aligned with their values and beliefs. Such brands include Andalou Naturals, Gaia Herbs, Garden of Life, Primal Kitchen, Seventh Generations, and the list goes on. They also have their own brand line offered.
They have meat & seafood, beauty, bath & body, vitamins & supplements, babies & kids, home, pet supplies, and wines & beverages. Of course, there are also pantry staples like candy & chocolate, canned & packaged food, cereals & granolas, baking, and more!
Can I send a Thrive Market membership or goods as a gift?
Of course, you can! Thrive Market allows gifting options, so you can gift a Thrive Market membership or store credit to loved ones and make their year better and healthier!
The 1-year membership gift card costs $59.95, the 1-year membership + shopping credit costs $84.95, and just the shopping credit costs $25. What's much better? These gifts never expire!
Are you a Thrive Market member? What are some of your favorite items?