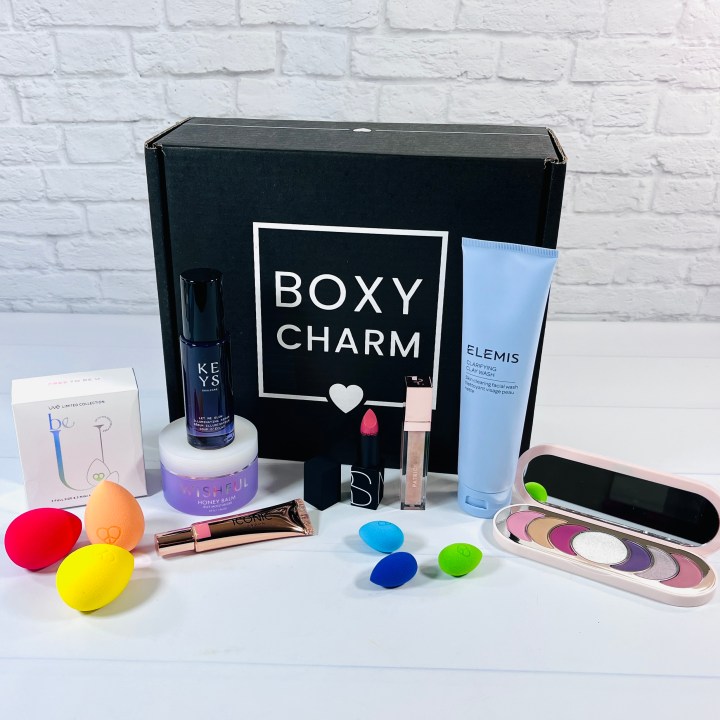 BOXYCHARM's Luxe box is a quarterly upgrade to BOXYCHARM that has 8 full-sized products to keep you going between shipments. This quarter I received a lot of makeup and makeup-related items. I found a cleanser, an eyeshadow palette, a lipstick, and more – read on to see what I received!
BOXYCHARM also has the BOXYCHARM Premium subscription, which is different than this – check out all you need to know about BOXYCHARM Premium here!
You can see the full spoilers for the different variations of the Summer 2022 BoxyLuxe boxes here.
DEAL: Subscribe now and get a FREE gift: CIATE LONDON Trend Edit Palette in Cranberry, AESTHETICA Cream Contour Kit, OR FARMACY Honey Grail Facial Oil, PLUS $10 credit to June Drop Shop!
Use this link and pick your FREE gift at checkout AND get your exclusive $10 Drop Shop code via email within 24 hours of subscribing.
Once again, this is a BoxyLuxe review.
Elemis Clarifying Clay Wash ($49) This cleanser is supposed to remove oil and makeup from the skin and while it was creamy, it didn't seem very foamy so I would suggest using with a second cleanser if you wear a lot of makeup (I used it in the morning so this was fine by itself). It's made especially for oily and acne-prone skin so I will pass it along to someone who has that skin type. Clay is the second ingredient after water and I was disappointed to see fragrance as the 7th ingredient — the product smelled funny, and the fragrance did nothing to hide that so it could probably be left out altogether.
Wishful Skin Honey Balm Jelly Moisturizer ($43) One of the crescent moons in the eye shadow palette I received (and shown below) is a duo-chrome called Pick-Me-Up, and this moisturizer is like that shade but in a face lotion! It leaves a shimmery effect on skin and while I'm still not quite sure what a jelly balm is, I will say that my skin felt moist for quite a long time after I applied this cream, which smelled a little like lavender. It also has honey and niacinamide, both ingredients that are helpful to skin. This product is from Huda's skincare line and it has earned the "Clean at Sephora" badge.
Keys Soulcare Let Me Glow Illuminating Priming Serum with Niacinamide ($26) See, niacinamide is such a helpful ingredient that some products note its inclusion in their name! Please note that this item has a pump dispenser, just pull up on the lid to remove it rather than trying to twist it off. I'm not really a face primer kind of person, and this product didn't change my mind. It is shimmery, which may be ok if you don't wear base or powder, but those products covered it up immediately. It smells like roses, which is a scent I'm not crazy about. It felt kind of weird once it dried, I knew it was there, and I shouldn't be able to feel it at all. I can't see me using this in the future, I think there are better primers out there but at least it's free of silicones, if that's something you would rather avoid.
Uvé Beauty Be U Limited Collection ($79.99) I'm having a hard time wrapping my mind around the price for this set of makeup blending sponges, it seems excessive. This set came with 3 regular size sponges and 3 minis in a rainbow's worth of colors to celebrate the Pride community. They can be used to dot and blend base, concealer, liquid blush, highlighter, or bronzer. They are vegan and are supposed to be resistant to mold and should be washed with bar soap and rinsed to help them last longer.
Narsissist Iconic Lipstick ($26) There were several shades sent out and I'm happy that I received Chelsea Girls, which is described as "sheer pink beige" (my photo makes it look pinker than it actually is). It doesn't have much color payoff and didn't change the color of my lips but enhanced them slightly. It felt comfortable on my lips, soft and pillowy, but wasn't long lasting. It seems like a good lipstick for that barely there, natural type of look, and I like that!
Patrick Ta Beauty Major Glow Lip Shine in She's Expensive ($26) There's no color payoff in this gloss that's described as "crystal pearl" but it sure looks pretty and shiny. It also smells good too, like vanilla mint. It's non-sticky and feels good on my lips. It can be worn alone or try using a liner all over and then top with the gloss for a deeper color.
Iconic London Sheer Blush in Rose Riot ($27) is described as "pale pastel pink" and starts out as a gel but then dries down and stays in place. The first time I used it I wasn't impressed, but then I watched a tutorial on the brand's website and tried it again with success. The makeup artist demonstrating the blush dotted it on rather than wiped it on and so I tried that and it was not only brighter than expected but it lasted all day. She also applied it in two layers and applied it to her eyes and lips, but for this color I preferred it exclusively on my cheeks.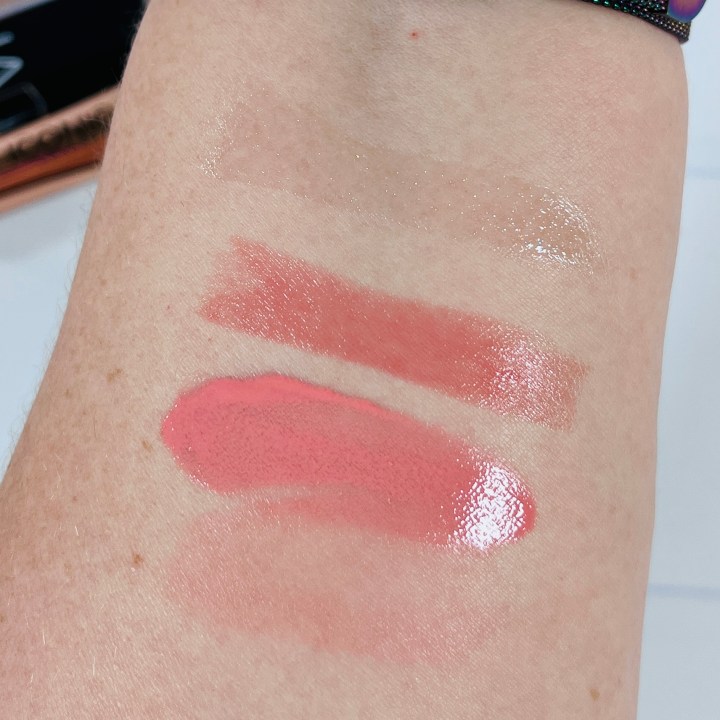 Swatched from top is the Patrick Ta lippie, NARS lipstick, and Iconic London blush.
Rare Beauty Discovery Eyeshadow Palette in Came To Play ($29) I liked the colors in this palette, which is from Selena Gomez's makeup line. Five of the shades are mattes and there's a beautiful duo-chrome and a glittery shade that is entirely too chunky for the eye area — it shouldn't feel like something you would use in an art project. The color payoff wasn't super bold but it lasted all day long and I like the color combo.
Here's the Rare Beauty palette swatched!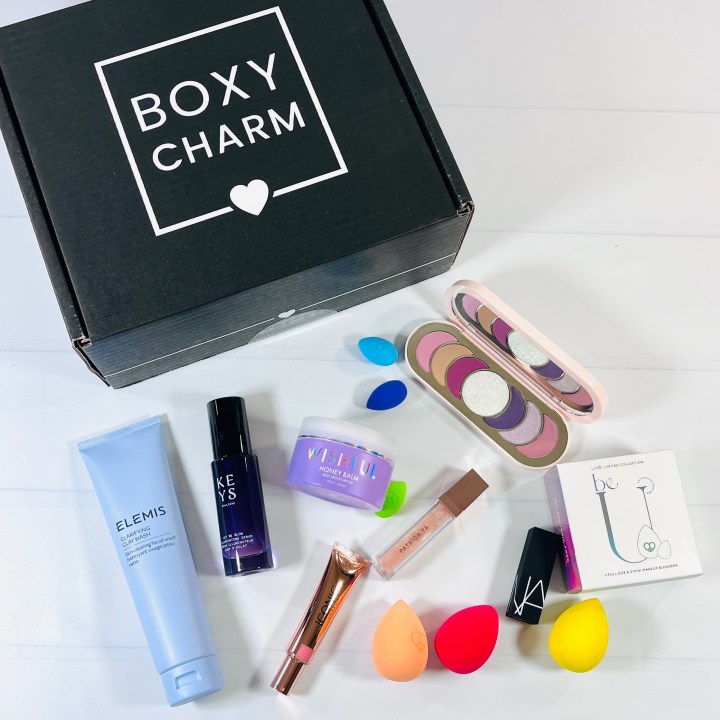 My box combo was heavy on makeup products this time (and things to put makeup on or to help makeup last longer). The moisturizer was pretty cool, and I loved having so many bright and colorful makeup sponges to use for all kinds of makeup products. The blush turned out to be my favorite item of the box, I think the dabbing method was the perfect way to apply it to my face. Of course, the NARS lipstick and Patrick Ta shimmery gloss were also sweet too. My assortment had a value of around $306, although I thought the beauty sponges were overpriced for what they are. Still a great value!
Below you will find a few more box opening photos plus the product info card.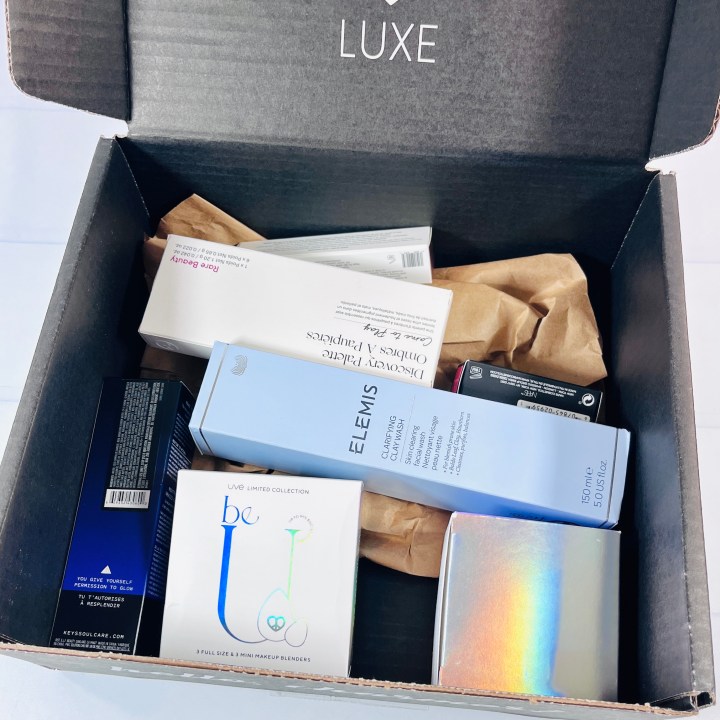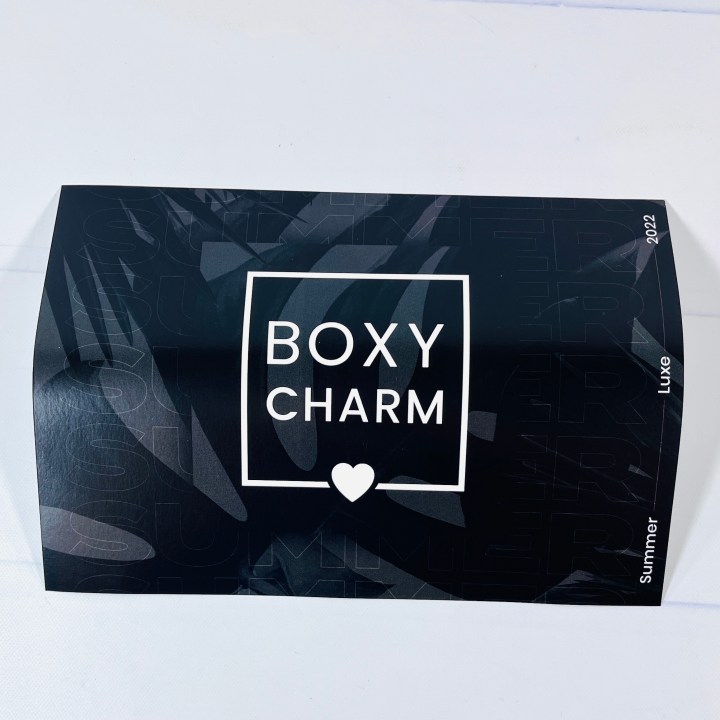 BOXYCHARM's Luxe box is a quarterly upgrade to BOXYCHARM. For an additional $32 to the base box price ($27.99 for the monthly base box, for a total of $59.99), you will get 8 full-sized products from luxury brands and you will be able to purchase add-ons at a discounted members' price. Another perk for active members is the access to BOXYCHARM PopUp, with hundreds of brands and products at up to 80% off. If it's not a Luxe signup period, your first box will be a BOXYCHARM Luxe Starter Box.
BOXYCHARM Luxe Box was chosen by our readers as one of the best subscriptions in makeup, beauty, and skincare for 2022!
What's your favorite item in this month's BOXYCHARM Luxe Box?