The Beachly Summer 2022 full spoilers are here! This Summer Box is packed with $300 of retail value to bring the beach to your doorstep at a huge discount.
This season features beach essentials designed with tropical prints, pops of color, and the promise of an endless Summer ahead— from summertime picnic staples to laid back, seaside styles. And new this season, members will have the option to customize their box, with a choice between Diff Sunglasses or a Beach Throw. This season's box also boasts a $300 retail value, at a price of just $99!
DEAL: Save $30 on your first box when you use the coupon code SAVE30 OR Get a FREE BONUS BOX with your first box when you use the coupon code BONUSBOX!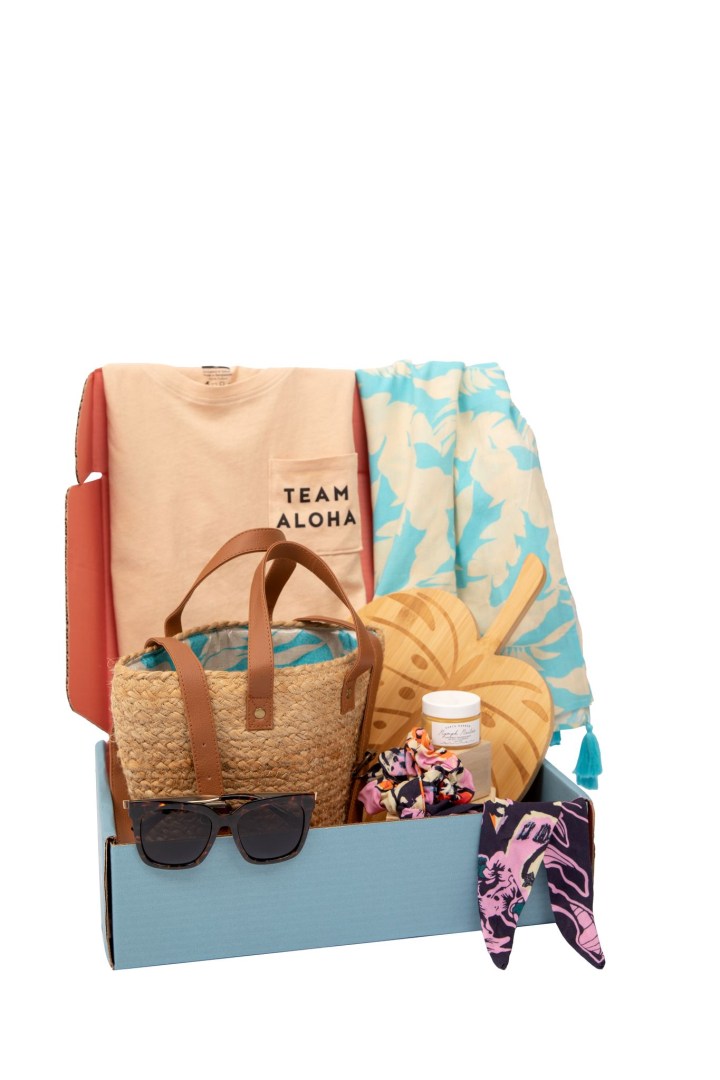 Shorebreak Picnic Cooler Bag By XIX Palms *Beachly Exclusive $99
Monstera Cutting Board By Beachly *Beachly Exclusive $44
Team Aloha Pocket Tee By Guava Shop Hawaii $44
Waimea Hair Tie and Scarf By: Maaji *Beachly Exclusive $20
Bella Sunglasses By Diff Retail $75 OR Endless Summer Throw By XIX Palms *Beachly Exclusive $75
Special Beauty Surprise From Beachly to You $18+ Value
Closer look:
In Detail:
Shorebreak Picnic Cooler Bag By XIX Palm
It's a Summer staple that is both super stylish and functional! From farmers market finds to beach bound essentials, this cooler-turned-backpack keeps everything beautifully intact for all the hot days on the horizon. From the vegan leather straps on the outside to the custom-printed cooler lined inside – this bag is about to be your Summer day sidekick. Born in Honolulu and designed on the North Shore of Oahu, this sister-founded brand brings a collection of all the tropical and bold pieces you know and love. Drawing inspo from dreamy getaways, XIX Palms was designed for the unapologetically feminine, effortlessly chic beach babe.
Monstera Cutting Board By: Beachly
Carved of natural bamboo in the shape of a monstera leaf, this Beachly Exclusive serving board is detailed with a laser-cut design. It's the perfect tropical complement to any Summertime party or beach picnic! Style it on your kitchen counter for a beachy chic touch or bring it along to all your seaside adventures all Summer long.
Team Aloha Pocket Tee By Guava Shop Hawaii
Team Aloha is the team we all want to be on! This signature soft pocket tee features an easy neutral colorway and oh-so-tropical "Team Aloha" graphic. Throw it on over your go-to swimsuit and head out into the sunshine or tuck it into your favorite pair of jeans for a laidback beach babe look. Female-founded and based on the tropical shores of Hawaii, Guava Shop is the quintessential go-to store for all the unique island finds.
Waimea Hair Tie and Scarf By Maaji
Secure your salty strands with this perfectly tropical-printed hair tie. And there's an added bonus – you can untie the longer piece for endless styling options. This 2-in-1 can be tied as a scarf, scrunchie, bracelet, headband, or even as a knotted accessory to your favorite handbag. The options with this fun, vibrant beauty are endless! Colombian-based swim brand, Maaji, is known for their fun mix of prints and bright colors. The Maaji swimline is extensive in styling and sizing (they feature XS-2XL!) which we love. They also offer the best in coverups, activewear and accessories for the sunkissed beach lover.
Bella Sunglasses By Diff
Ciao Bella! Discover the fan-fave Bella shades designed by local Southern California brand, DIFF. These sunnies are insta-worthy, beach-worthy, and YOU-worthy! Featuring an oversized fit, classic square shape, & sleek metal temples, the best-selling Bella is a true Summer beach day staple. Since 2015, DIFF has donated over 1,400,000 pairs of reading glasses to individuals in need around the world – and that's only the beginning of it. Socially conscious and charitable at heart, the DIFF Eyewear family strives for the perfect pair – handcrafted with designer quality materials and delivered to you with love.
Endless Summer Throw By XIX Palms
This exclusive throw is the perfect lightweight addition for any beach adventure, summertime picnic or poolside lounge. The beautiful print and bright colors can even make for the perfect home accent as a bed throw or hung as a tapestry piece on the wall for a dose of fun tropical flair. This custom made XIX Palms Design matches the liner in your new Shorebreak Picnic Cooler Bag AND can be tied into the picnic cooler straps for easy carrying and an added pop of beachy flair! We're obsessing over this dynamic duo and know you'll be flaunting this tropical pair to all your seaside adventures all Summer long.
A Special Beauty Surprise From Beachly to You
As a special thanks for being a loyal part of Beachly, we're giving you an extra dose of vitamin sea and a splash of sunshine to celebrate the Summer season. Enjoy this clean, cruelty-free, coastal-inspired beauty product all season long – you deserve it!
Beachly box is a seasonal subscription box of beach-inspired apparel and accessories delivered 4x per year with $250+ retail value inside each box! Proceeds from each box sold fund beach cleanups hosted by Heal the Bay. Every box includes full size, premium products with a minimum of 50% off the retail prices. Membership includes access to the Beachly members market for even more savings! Beachly offers two lifestyle subscriptions – the Men's and Women's surf subscription box!
Beachly Beauty Box includes 4-6 carefully curated, beach-inspired cruelty-free, clean beauty products to add a dose of vitamin sea to your regimen. The Beauty Box is $29 per quarter, with a promised $100+ retail value in every box. The first box ships free; thereafter, future boxes have a $2.99 shipping charge.
What do you think of this quarter's Beachly spoilers?