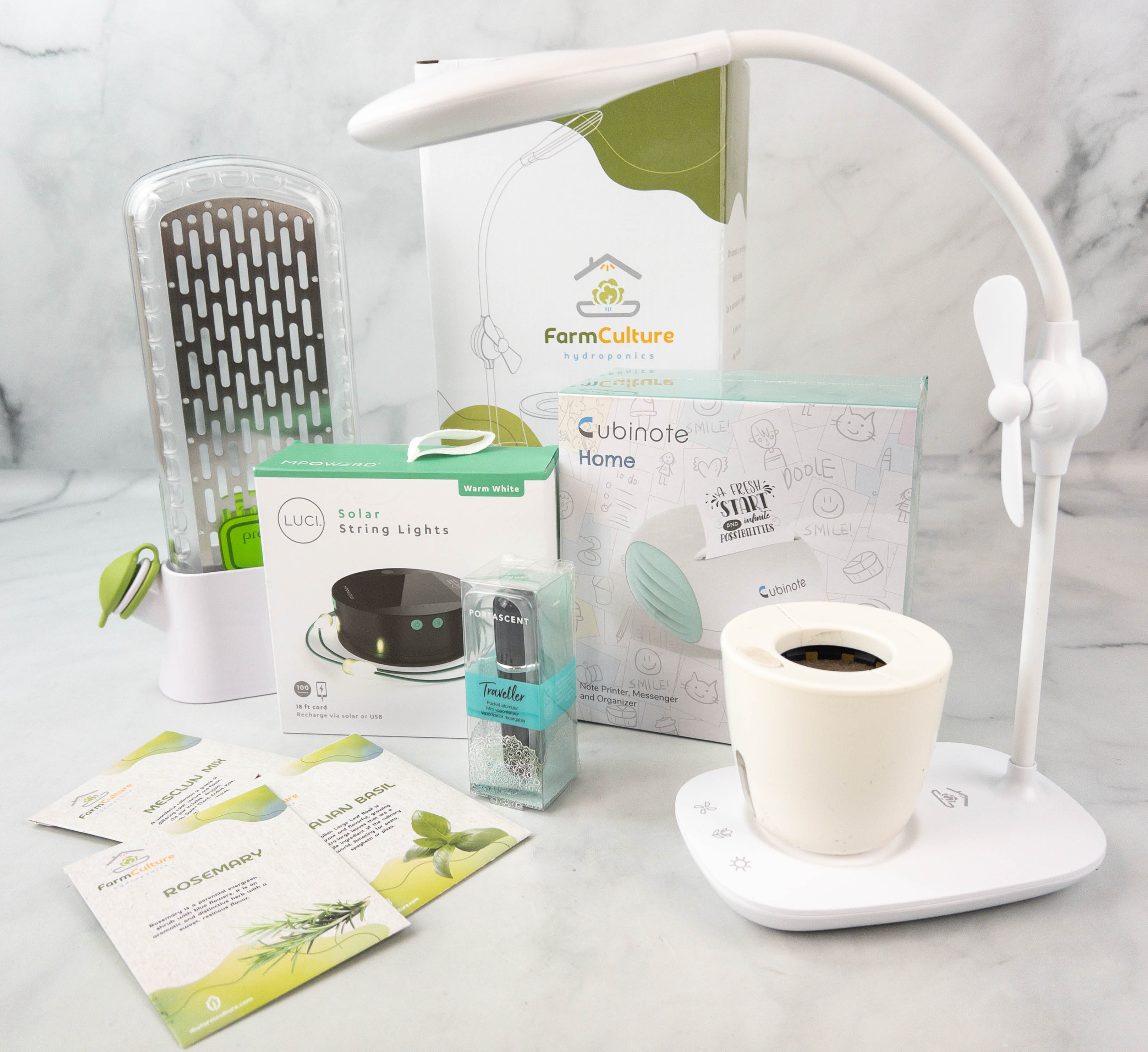 Breo Box introduced us to eco-conscious gadgets, along with home tools and spring travel must-haves for Spring 2022! This season's theme was SPRING IS IN THE AIR and it provided love and care, not just to the planet but to our humble home as well. It's another jampacked box this quarter – read on to know more!
FYI: There's more than one variant of the Spring 2022 box this quarter. Recipients receive either the Cubinote OR Lume UV Wand and Casalink Smart Wifi Plugs. Subscribers who have already received the Lume UV Wand and Casalink Smart Wifi Plugs will not receive these products again. No item repeats ever!
DEAL: Get $15 off your first box! Use coupon code HS15.
Here's a look at the first box variation this spring season. It includes a Lume UV Wand and Casalink Smart Wifi Plugs. (P.S. I already received these items back in my Winter 2020 box.)
Lume UV Wand is a great tool to keep us free from harmful bacteria and viruses. It has UVC LED lights that disinfect 99% of germs and bacteria when waved over items. This handy product has an on button and an auto-off sensor. It's rechargeable, slim, and lightweight, ideal for travel! It's also easy to use. Just turn on the device and wave it over the items to be sanitized for at least 10 seconds, with the LED light panel facing down.
Casalink Smart Plugs help you to be a smart homeowner! Two plugs were included in the box, and the best part is that they can be connected to a smartphone and are also voice-controlled. These wifi-enabled smart plugs give you complete control over your appliances, allowing you to turn them on and off remotely via an app, even when you're out and about.
The second variation for Breo Box's Spring 2022 box is Knectek Labs Cubinote ($69). It's yet another smart home item. This cute note printer is easy to use, all you need to do is download the Cubinote app on your phone to start printing. Whatever you wish to print – text, handwriting, photos, secret messages, or a grocery list – this lightweight and portable device is easy to use and does not require ink. It's a thermal printer, and you only need to replace the thermal paper once emptied. The box included a Cubinote Home Paper Tri-Color Mini ($9.95 when purchased separately) as refills. The thermal paper rolls come in the colors pastel pink, yellow, and blue.
When you plug it in, it will print instructions on how to configure the device. It's pre-loaded with white thermal paper, and you only need to press it for 6 seconds to set Wi-Fi to connect. Use the app to write what you want to print and see the magic happen! I tried it out by printing a photo of my adorable dog, and it looks good! This printer can also be used for labeling, making it easy to properly organize stuff at home.
MPOWERD Luci Solar String Lights ($49.95) are packed with ten powerful nodes that stretch across an 18ft cord to light up your space! It has a solar panel, a battery level indicator, and built-in USB ports for charging both the light and other devices! Whether you want to use it on your porch, in your backyard, or on your travels (hiking, camping, beaching, etc.), this item will provide you with 100 lumens of light in four light modes: Low, Medium, High, and a bonus external flashlight. It's compact with an expandable string light unit hidden inside the disc for no-mess storage. It lasts 20 hours on a single charge and is also splash resistant, making it ideal for adventures.
You can grow greens at home, whether on countertops, windowsills, or desktops, with Farm Culture Grow Pad Mini Hydroponic Set ($49.99). Using this gardening equipment, you don't need soil (or green thumb!) to grow your own herbs. It features a removable stainless steel rinsing basket and water compartment with a level indicator, so you'll know when to add more water. This mini home garden device also has an automatic 12-hour on/off light that provides your herbs the needed sunshine and a fan with 15-minute airflow that helps prevent bacteria growth and other harmful pathogens on your herbs. You only need a power source to connect your grow pad and see life thriving after six weeks of planting (on average)! The unit arrived preloaded with the substrate, and all I had to do was fill the basket with my selected herb seed to plant. The set came with three seed packs – Rosemary, Mesclun Mix, and Italian Basil – to start growing your herb garden at home.
Here's a nice travel item, a Portascent Traveler Scent Atomizer ($10)! It has an easy pump-to-fill technology that allows you to refill it with your fave scent, spill-free. This handy atomizer is made with aluminum and contains at least 120 sprays. There's a transparent window that lets you see if it's full or not. It's portable, lightweight, reusable, and leak-proof, so you can bring perfumes with you without carrying a full-sized bottle!
The last item was a Prepara Herb Savor Classic ($21.99), which makes it easy to keep cut herbs fresh for a longer time! This tool is a savior, it preserves the flavor of fresh herbs for up to 3 weeks. It has a water well base to keep the roots submerged and a green-house-like crystal clear pod. The base has a spout with a tethered lid, where you can fill the water. It also has a colander-like tray inside for rinsing the herbs beforehand. Plus, this kitchen tool is easy to clean.
I tried it out by with some cilantro and snuck it in the fridge. With its slim design, it saves space too! It indeed made the herb last for longer than usual. And it looks sleek!
This is such a thoughtfully curated box for spring! All the items complemented the season, allowing life to flourish wherever possible. The grow pad will help me produce my own herbs at home, while the herb savor ensured that the herbs stayed fresh for weeks. Some of the items are also meant for travel, such as the solar string lights that will provide light wherever I go and a perfume atomizer that will keep me smelling fresh all day. The personal printer is also a cute addition to the box! If I have to choose a favorite, it would be the herb savor since it will help preserve my herbs without overcrowding the fridge. The total retail value of the box is $200.93, which is a bit higher than the cost of the subscription box. Overall, I was impressed by the selection of items inside this season's box, which were seasonal and useful.
For this quarter, Breo Box made a few changes to its packaging. It's nice to know that they're going green! Upon opening the box, there is a subtle spring scent. And instead of sending a booklet with product information, they've sent a card with a QR code to scan. It will lead you to a digital page, where you can see product images, brief descriptions, and how to use them. See it here:
Breo Box is a quarterly lifestyle subscription box for both men and women. Each box will contain between 6 and 9 high-quality products revolving around health & fitness, and everyday lifestyle and tech essentials. Each box is curated around the season. The box is $159 for the quarter, with free shipping in the US ($45 to Canada). For 2021, this subscription box made our reader's choice lists for best subscription box for women, best subscription box for men, and best premium subscription box!
What did you think of Breo Box?