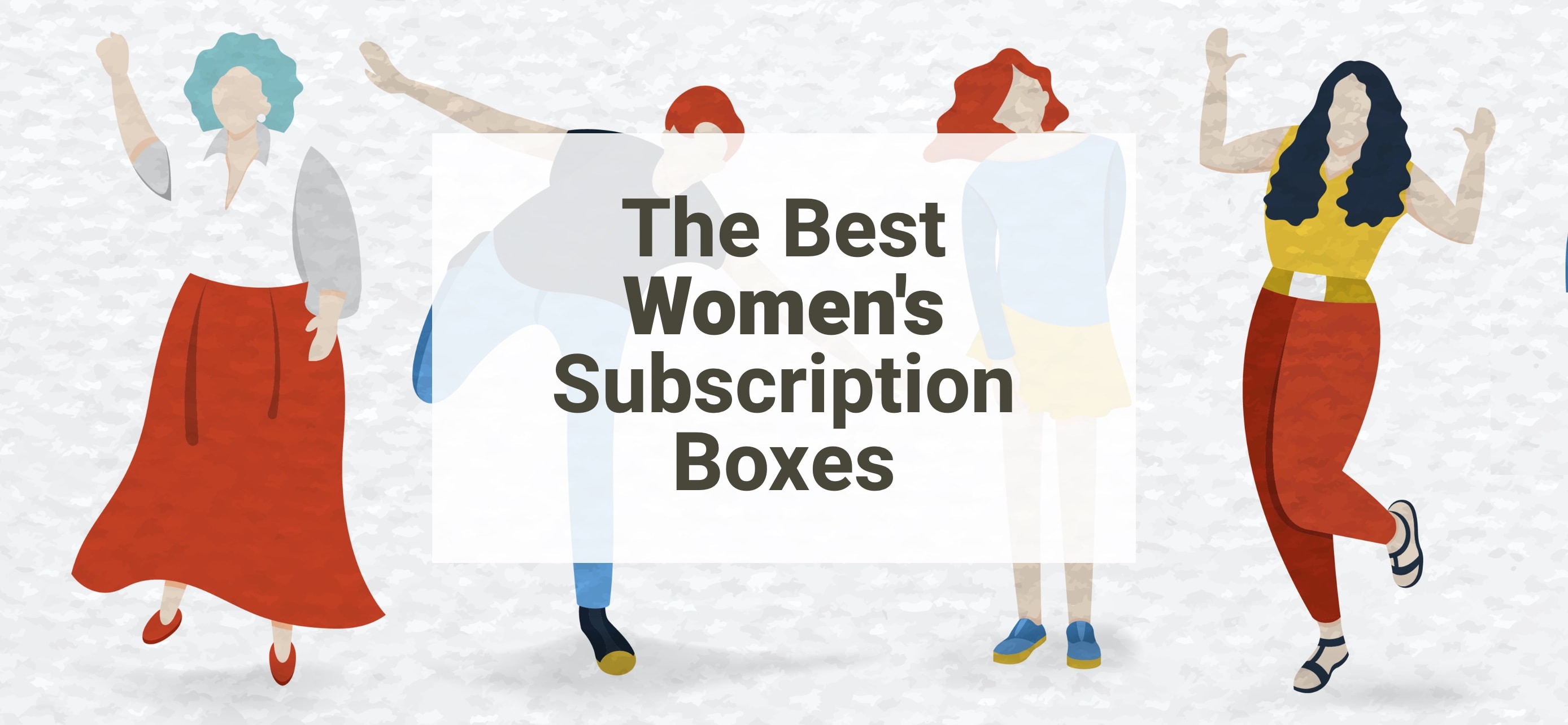 Whether you love shopping for clothes, stocking up on makeup and skincare, pampering yourself, finding new hobbies, or decorating your space, women's subscription boxes make an excellent way to shop for things women want and need without leaving the comforts of home! Subscription boxes for women cover diverse interests and life stages. Aside from making things convenient, they also know how to keep things fun with themes!
Not sure which women's subscription box to get for yourself or for a loved one? We've got you covered! Our readers voted for the best subscription boxes for the everyday woman and here are the results!
The Top 15 Women's Subscription Boxes Our Readers Recommend!
Here are YOUR favorite subscription boxes!
Image from: FabFitFun
Amazing value! I have been receiving these boxes for over a year and they never disappoint. I am always so happy with the quality and quantity in each box and will be staying with them for a long time! – Jess

Best box for variety of products, value for subscription box, awesome add-ons and overall member experience. – beachin it

Great products, all of them regular sizes, not sample. Good price for alllll that you get. – Terri S.

I think this is the best box for variety, quality and overall price. – MaryA

I've been a subscriber for several years now and have gotten so many cool things. Even my teen daughters are in on it now and want a box! – MeLinda C

Fab Fit Fun offers something for everyone.  It offers surprises that you really wanted to try as well as surprises you love and never knew you wanted until FFF sent them your way.  Clothing, beauty products, lifestyle items, health and fitness.  They have it all in one box! – Chatty Kathie

I love this box, every season I get new items, some I've never tried before, and some oldies but goodies.  I've started using certain products because I first tried them from FabFitFun.  The items are worth the price you pay, and then some.  -Yvonne R
What You Get: FabFitFun curates the best items of the season in one box! It is packed with an insane amount of value and includes fun and covetable products. Each box features a wide variety of products ranging from beauty to fashion and wellness. Sometimes, they include items for your home! Shipped four times a year, it comes with full-size products and premium items. If you're looking for value for your money spent, this is the box for you. Members can customize their boxes and buy add-ons or keep everything as a surprise!
Check out FabFitFun Reviews to learn more about this box.
Deal: Take $10 off your first box. Use coupon code FAB10.
---
Image from: our review
Absolutely love how easy it is to incorporate everything from different seasons into my home. I also love how there's a whole community of Decocraters. – Cris

Affordable, easy and fun – ClauPow

Best subscription box ever! I love decorating and the coordinating pieces add just the right touch for a fresh new look to my decor – WildcatJay

THE best subscription box!! Great variety of quality home decor and seasonal items. – Sheila

This quarterly subscription and it's social community have totally upped my decorating game. I went from a zero to a 10 in no time with these gorgeous pieces, fun community, and ideas from the team and other Decocrators on social. I really look forward to it. – Traci D

I love that each piece in the box is tied to past decorated pieces. – Beth M
What You Get: Decorating one's home is fun, and Decocrated makes it more exciting! Liven up your home's mood by putting up high-quality decorations that go well with every season. Each quarter, they'll send you 6-8 handpicked, seasonally inspired home décor items (full-sized!) that have over $200 in value! This includes interchangeable items you can use for years. You may receive tabletop decor, pillowcases, table runners, printed arts, and more that fit and work with any style you may have in your home! Also included is a booklet with product descriptions, tips, and inspiration for décor placement.
See what comes inside every box when you visit Decocrated Reviews.
Price: Each box costs $89.99 + shipping, or save more by signing up for an annual subscription.
Deal: Get $15 off on quarterly or annual subscriptions! Use coupon code HELLOSUB15. Valid to new subscribers only!
---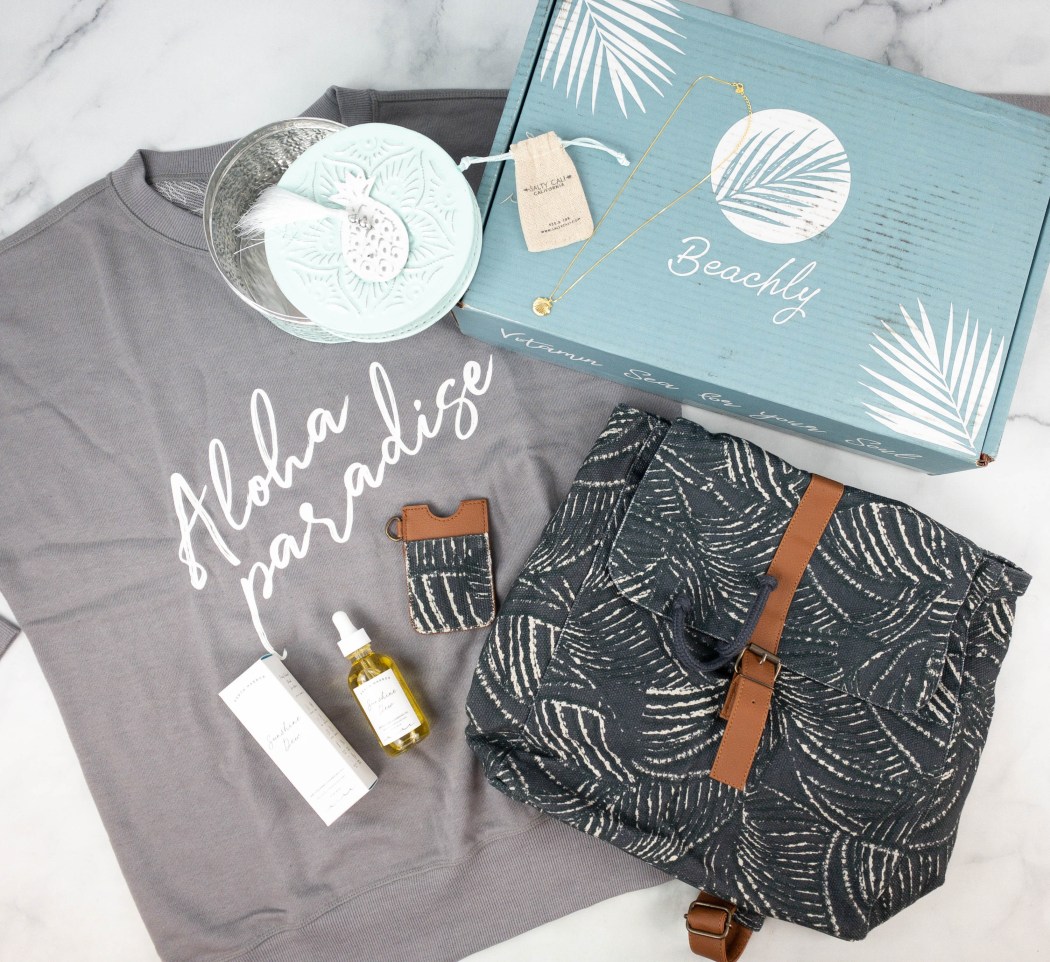 Image from: our review
Beach vibez for days! ?☀️ – Sherrilyn

I just prefer the beachy aesthetic that I get in this box. – Ravioli

Every item in every box is so wonderfully picked and sourced to local, which I love being a SoCal beach girl! I have loved every gift in the boxes has and is always a delight. – Miss Kate
What You Get: Get those summer vibes through and through! Beachly Women's Box is a beach-inspired box that gives beach bums the best of what the coastal lifestyle has to offer! Each box comes with 6-8 premium pieces from top brands and the hottest up-and-coming brands, with a $250+ retail value. Such items include apparel, accessories, and home decor! You really get the beach vibe all year round with this box! Every box sold funds beach clean-ups, leaving the coastline free from garbage and trash.
Check out the Beachly Women's Box Reviews to know more!
Price: Subscription costs $99 each quarter + shipping, or prepay for a year for $340 (save $56) + shipping.
Deals:
---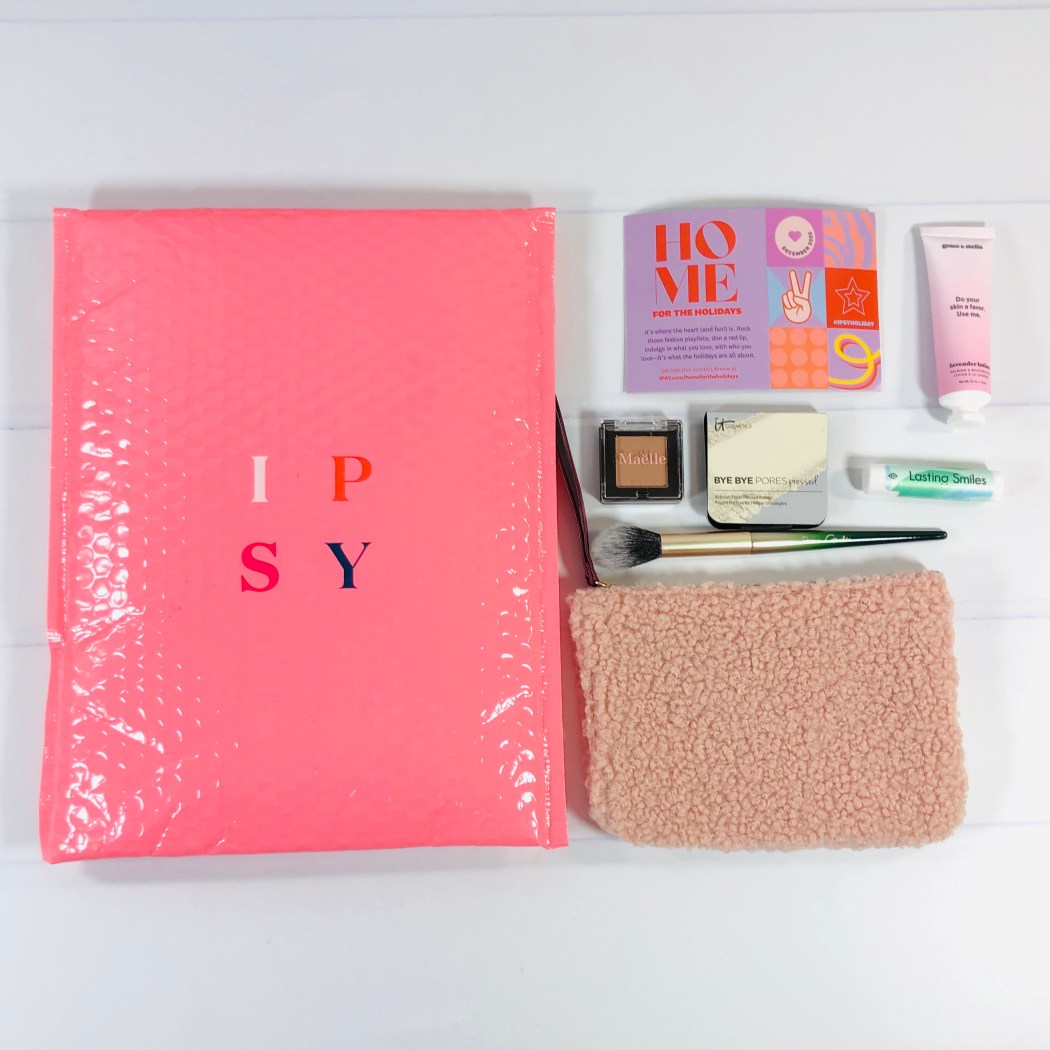 Image from: our review
This is THE entry subscription for anyone who wants to start their box journey with beauty products. – Karissa

I haven't needed to buy make up for a while. Found a selection I LOVE with out the confusing selection in a store – Kelsey

I love Ipsy! I have had other beauty subscription boxes, and really feel Ipsy does the best job of paying attention to a subscriber's preferences and catering the selections accordingly. -Kara
What You Get: Ipsy has a short questionnaire when signing up for their box, so you're sure to get products that are tailored to your needs and preferences! Receive five personalized beauty products, deluxe and full-size, along with a chic beauty bag that fits them all! They send out a wide range of beauty products, including skincare, nail care, hair care, and makeup. If you're looking for a bigger beauty box, Glam Bag Plus is an option for $28 a month or an upgrade to Glam Bag X for $55 per shipment.
See past boxes and their contents by checking out the Ipsy Reviews!
Price: The cost of a monthly Glam Bag is $13.
---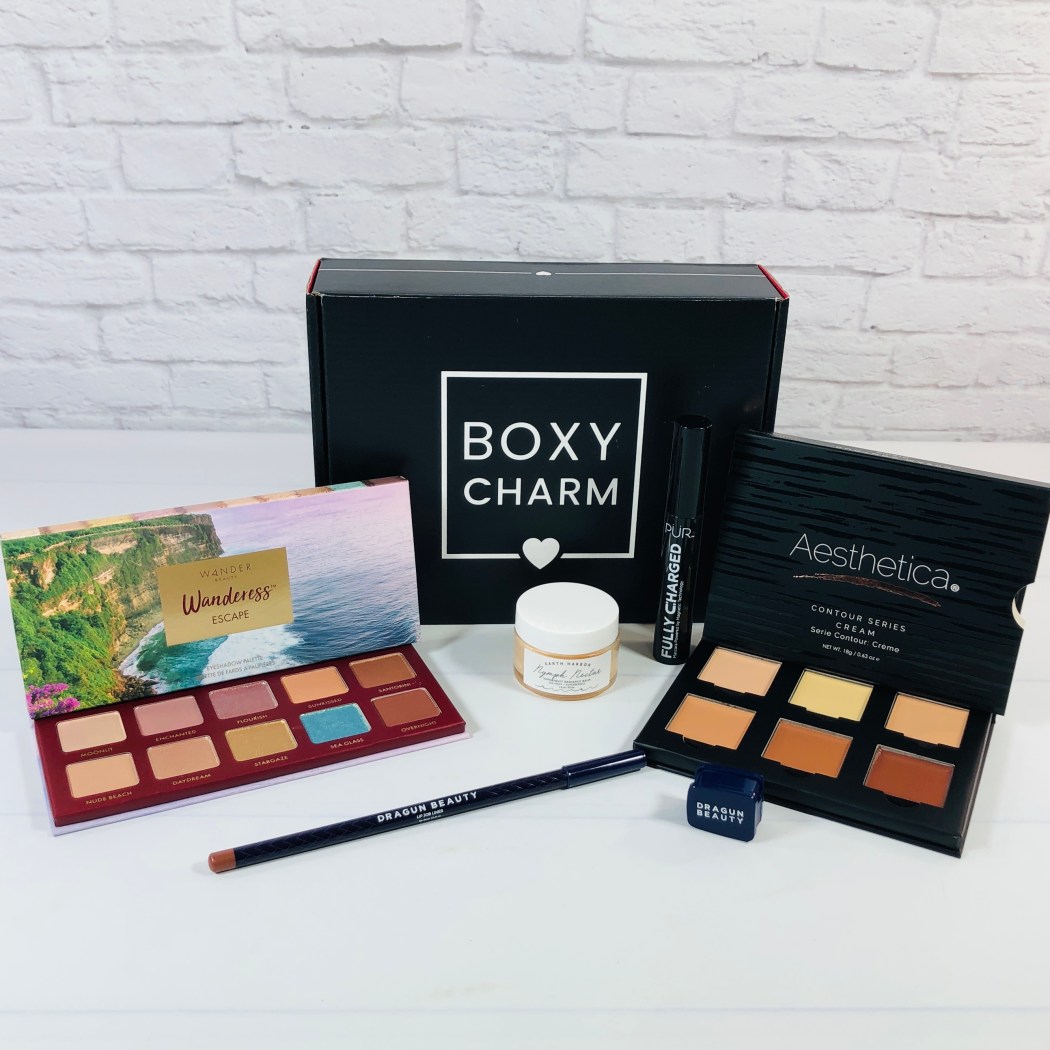 Image from: our review
Fabulous full sized products catered to me. Most others give you samples and you can barely try it out. Full sized for the WIN!! – Tara D

I love Boxycharm! I love that it's full size products, carefully packaged, and there are options for special beauty buys intermittently. – Erin

I love getting makeup picked for me in the mail, I rarely have to go to the beauty store anymore because they are so well rounded, and that saves me money! – Luci

I love the variety every month. There's always something new to try. I love we get high end products without the high end price tag. – michelle03509

BOXYCHARM has become my favorite box.  In each box almost every month I will get enough products to do a full face of makeup.  BOXYCHARM nailed it with the name brands in their boxes.  It is hard to resist their sales when they "pop up".   -Prettypony
What You Get: BOXYCHARM sends items that are carefully selected by beauty experts to ensure we get the best and the latest! They keep us up to date, so we're always in the loop about what's new in the beauty community. Each box contains 4 to 5 full-size items from well-known, popular, chic, and up-and-coming brands every month. They send a nice selection of beauty and skincare products, as well as hair care, nail care, and fragrances now and then. It's always a great variety of high-end products from the best beauty brands without paying the full price!
Check out the BOXYCHARM Reviews to see past box contents!
Price: Subscription costs $27.99 per month. They also offer 3, 6, and 12 months prepaid options for more savings!
Deal: Get a FREE Gift with Boxycharm - enter code on site! Deal applies automatically, just visit and subscribe.
---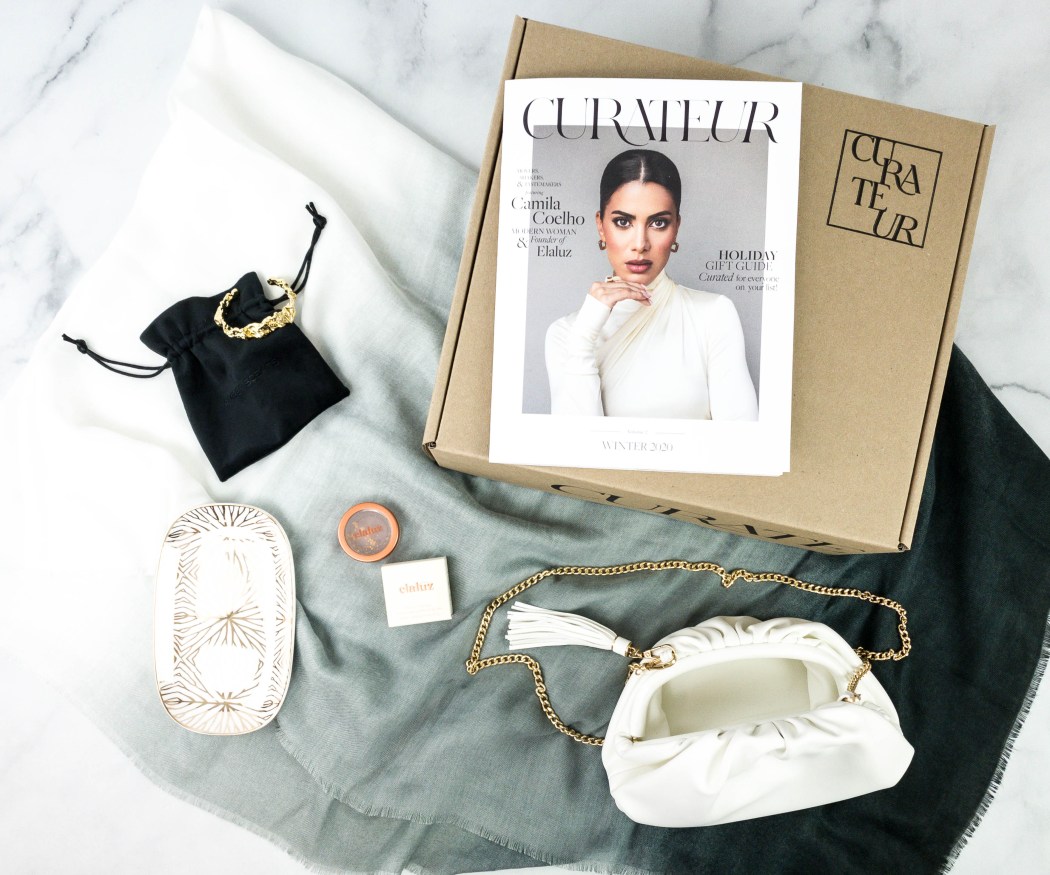 Image from: our review
Able to stay on top of fashion! – Lisa T

Her stuff is 100% on trend and classic. How does she do that! -Bookinitwnc

If you like the Glam Hollywood almost throwback look, this is the box. Everything is very high quality and I always use everything in my box. I think it helps keep my work wardrobe chic, and the summer boxes are super fun. – Mimi P

Though this box is a bit pricey, it's only quarterly and the products are high quality. Its perfect for some luxury variety. – mecularmuse
What You Get: CURATEUR is one of the most coveted box subscriptions around, and we're not surprised! Shipping quarterly, it's filled with an expertly styled assortment of fashion, beauty, and lifestyle obsessions that'll keep you looking and feeling chic for the whole season. It includes full-size items that give you a bang for your buck! Past boxes have included makeup palettes, luxurious jewelry, and high-end beauty products. Subscribers can also choose if they want to pay per box or get an annual prepaid membership, which has more perks!
Visit the CURATEUR Reviews to see past boxes!
Price: Ships quarterly for $99.99, or get the yearly subscription for $349.99 and save $50!
Deal: Save 25% on your first box! Use coupon code FALL25.
---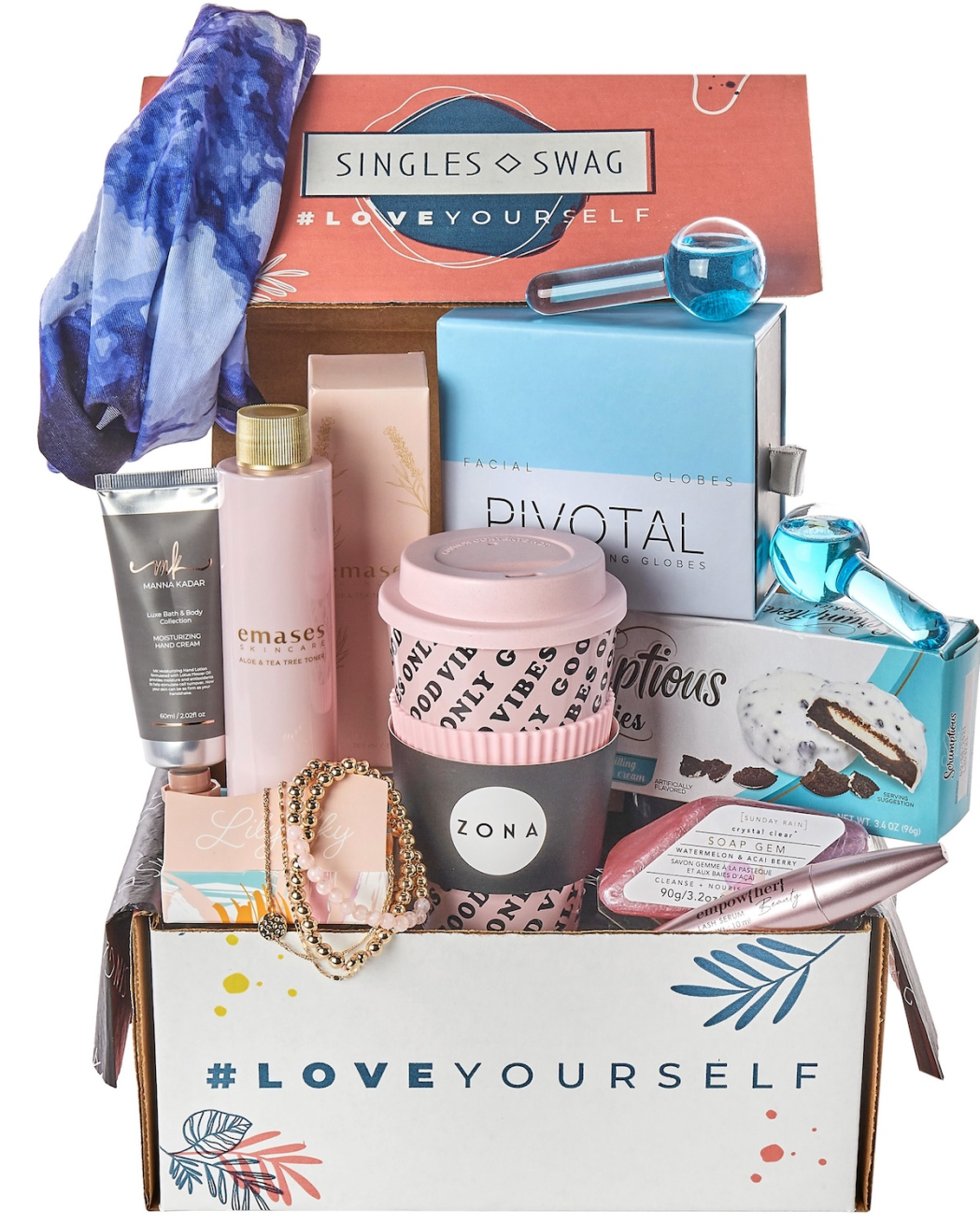 Image from: SingleSwag
I'm not single but I subscribe to this box because I like the product mix and how much I get from it. It's a great monthly pickmeup. – Karen

It's just so sweet, and a single ladies need the most love of all… -Anna MacK

Ive gotten this for two years now and I still really enjoy this box
What You Get: The perfect picker-upper, SinglesSwag, contains almost anything and everything under the sun! It has a great range of products, from organic beauty products to yummy snack treats, fun and trending fashion accessories, best-selling books, and more, all with the mission to empower and inspire. Select a plan: SinglesSwag (7-8 items) or SinglesSwag Petite (4-5 items) – all full-sized! Designed for single women, but still great for any woman in general! What makes it one of the best subscriptions is that they share the love by donating a portion of all proceeds to the Breast Cancer Research Foundation.
Check out SinglesSwag Reviews to know more!
Price: A box with 7-8 full-size products costs $39.99 a month, while the petite box with 4-5 full-size products costs $24.99 a month. US shipping is free. Get savings when you sign up for a 3-month and 6-month plan!
Deals:
---
Image from: our review
I've bought so many things after using the samples in this box! Great for travel sized stuff too – HyperJen
What You Get: Allure Beauty Box treats every beauty enthusiast to expert-approved beauty products, from luxury and indie brands, with at least $100 in value every month. Each box includes six or more top-trending makeup and beauty items, with at least three full-sized! Sometimes, they include a bonus product or two from a mass brand as a gift! It also comes with a mini-magazine that contains tips and product reviews so you'll have an idea about the products you are getting. It's a great way to discover more beauty products that are on the market!
Visit Allure Beauty Box Reviews for more details!
Price: Get the box for $23 a month, or prepay for longer plans to save more!
Deal: Get a FREE new member bonus item with your first box! Deal applies automatically, just visit and subscribe.
---
Image from: our review
After the initial parade of statement necklaces from the early days of subscription boxes, I find that I love just swapping my jewelry out and not having jewelry overload. I need to wear the latest things, but I don't need to own them. I buy pieces from my box about 3-4 times a year! – Adriana
What You Get: Rocks Box makes accessorizing more fun with its wide selection of jewelry. Whether you're going to a party, need something dainty for a first date, or in need of a statement piece for a black-tie event, they have it all! What's great is you have the option to rent! This unlimited jewelry rental service lets you have the freedom to express yourself through jewelry and experiment with different looks without breaking the bank. Also, it's a fantastic way to jazz up your look without overloading your jewelry box!
Learn more by checking out past Rocks Box Reviews!
Price: Subscription costs $21 per month with free shipping both ways, and you can buy their jewelry for 20% off!
Deal: Get your first month free! Use coupon code mommysplurgexoxo.
---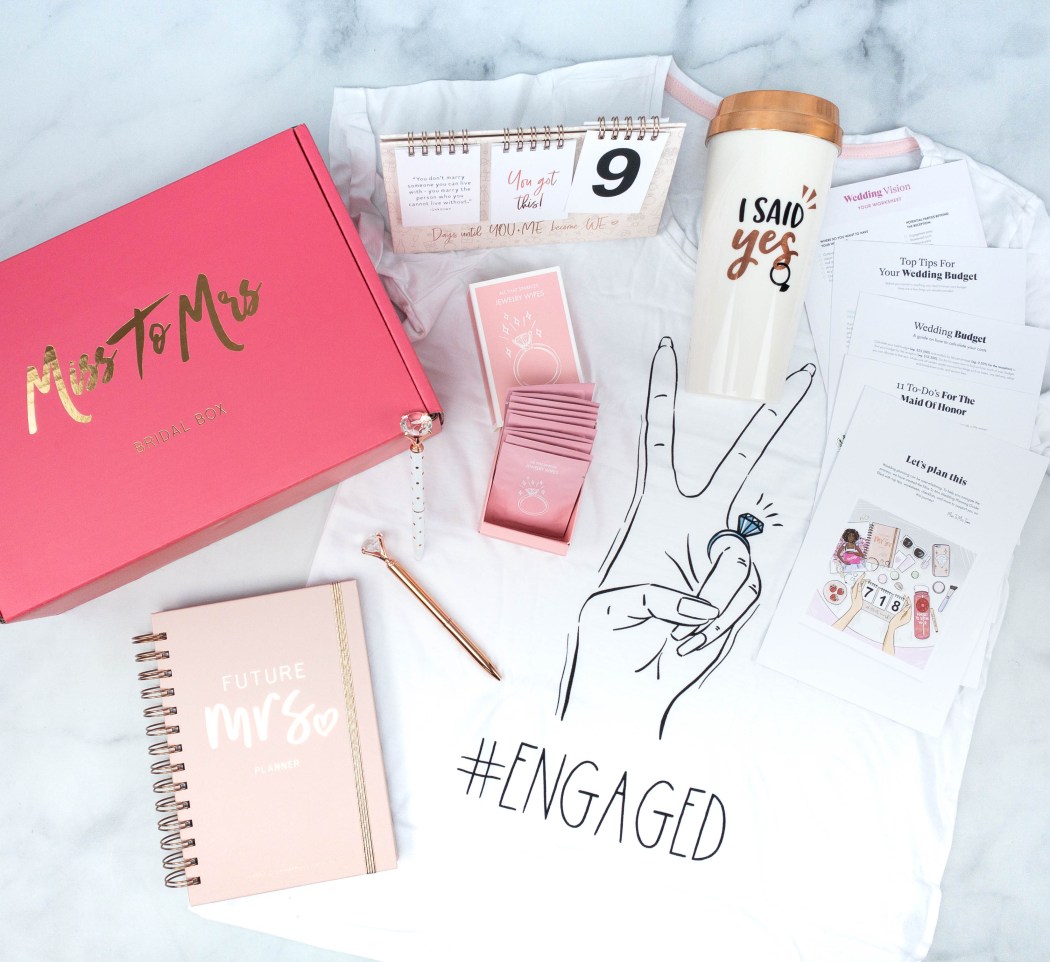 Image from: our review
This is just such a fun box for a bride to be!!! – Christina

anything that prepares people for a wedding & makes it fun is so worth it 🙂
What You Get: Miss to Mrs Box is a fun subscription box for the soon-to-be bride, customized to a specific stage of wedding planning! It makes preparations more exciting with a selection of bridal goodies you can use before the big day, on your wedding day, and even after. Themed boxes contain 6-7 exclusive full-size products, including accessories, planning tools, apparel, decor ideas, and other wedding day and honeymoon essentials, valued at over $100. The box also comes with a planning guide with checklists, tips, and inspiration.
See the Miss to Mrs Box Reviews for more information!
Price: The box costs $37 each month.
Deal: Get your first box FREE with a 6-month subscription! Deal applies automatically, just visit and subscribe. A $30 early cancellation fee applies.
---
Image from: Therabox
I love TheraBox. I've been a member for 12 months. I look forward to it every single month. It always includes some sort of beauty or skincare product that is natural, and all products give back to some sort of cause. There are always fun items (like hats, scarves, candles, etc). And a self-care/therapeutic item (journal, inspiration cards, books of poems, etc).   – Jessica

I love this I have done so many subscription boxes this one I use everything I get in the box and love everything
What You Get: "Self-care equals self-love" – that's what Therabox believes in, and we do too! It focuses on wellness and relaxation products curated to encourage a happier life! Enjoy 6 to 8 natural, organic, and feel-good wellness goodies, including aromatherapy, clean skincare, and other unique lifestyle items. The box also comes with one happiness-boosting activity inspired by research in mindfulness, psychology, and neuroscience. Keep your happy neurons flaring and make yourself feel cared for and loved with boxes that have a different theme each month!
See more on Therabox Reviews!
Price: The monthly base plan is $34.99, or save more when you prepay for a 3-month and 6-month plan.
Deal: Get 10% off your first order! Use coupon code HELLO10.
---
Image from: our review
What You Get: Vellabox sends just the perfect aromatic candles that are sure to warm up any space and help you relax. Their vegan scented candles are handcrafted in small batches using 100% natural soy wax and lead-free cotton braided wicks, then infused with seasonal fragrances! When burned, each gives a long-lasting aroma that helps set the mood – no parabens, artificial dyes, and definitely, no animal-by products! Choose from 3 different candle sizes – The Lucerna Box (one 4 oz candle), The Ignis Box (one 8oz candle), or get both candles with The Vivere Box. Each box includes a surprise gift, so strike a match and let the scent transform your home!
Check out Vellabox Reviews for more information!
Price: The Lucerna Box costs $18/mo, The Ignis Box is $28/mo, and The Vivere Box costs $38/mo.
Deal: Get 50% off your first box! Use coupon code HELLOSUB50.
---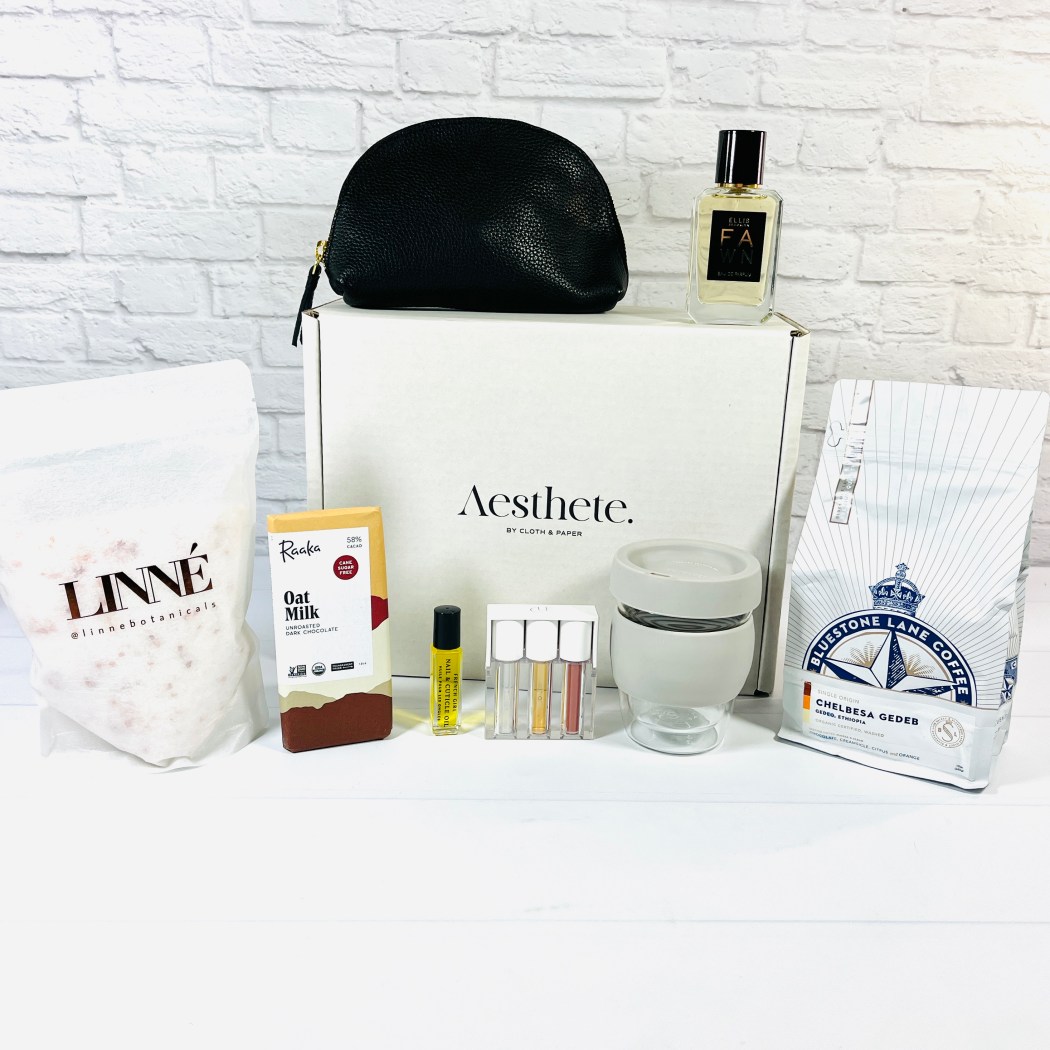 Image from: our review
What You Get: For Aesthete Box by CLOTH & PAPER, it is all about the innovative design and functionality! This deluxe quarterly subscription revolves around the idea of minimalism. Each themed box includes one deluxe item, plus six or more items from other brands that you will love. Products vary and range from makeup to home goods, with a total value of $300 or more! It's a full-blown aesthetic box, approved by your luxurious style preference! Simply saying, it's the personal shopper you didn't know you needed.
Price: The subscription costs $149.99 every quarter.
---
Image from: our review
While this box seems to have gotten very lotion heavy lately, it has provided a consistent experience with beautifully presented items. Unboxing it is a treat! – Mary L
What You Get: Margot Elena Discovery Box is one of the most elegant boxes we've seen! It is a collection of extravagant goods, made from the finest ingredients, beautifully and carefully packaged for anyone's enjoyment. It contains a great assortment of product colors and scents. Some of the items inside the box are curated especially for their subscribers. Boxes are always filled with high-quality surprises that won't disappoint! It's sent 4 times a year with over $200 value in each box—luxury, but for a lesser price. With this subscription, you can discover the world of all things beautiful!
Learn more about this subscription by checking all our Margot Elena Discovery Box Reviews!
Price: The box costs $59.99 per quarter.
---
That's all the 2022 winners for the Best Subscription Box Awards for women! What's your favorite women's subscription box?
See your choices for all the best subscription boxes in every category!
Say Hello to More Subscriptions for Women!
Find more women's subscription options in these lists: