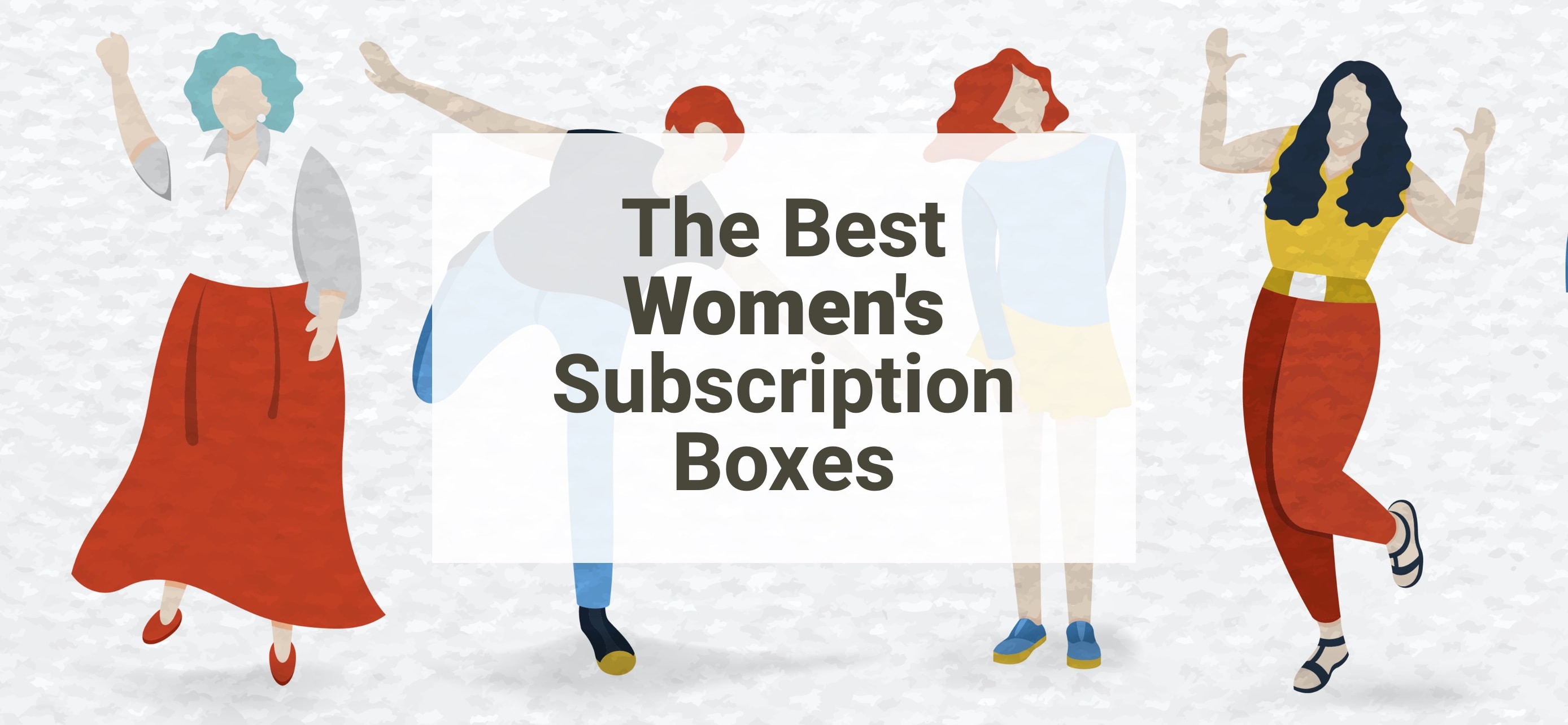 Women's subscription boxes come in all shapes and sizes. They cater to women's wants and needs, as well as their interests and passions. Some boxes for women are even designed to promote self-care and relaxation, which all hardworking women deserve!
Not sure what women's subscription box to get? Don't worry, we've got you covered! We've compiled a list of the best subscription boxes for the everyday woman. From makeup to fashion to health and wellness, we got you!
The Top 15 Women's Subscription Boxes Our Readers Recommend!
Here are YOUR favorite subscription boxes!
Image from: FabFitFun
Amazing value! I have been receiving these boxes for over a year and they never disappoint. I am always so happy with the quality and quantity in each box and will be staying with them for a long time! – Jess

Best box for variety of products, value for subscription box, awesome add-ons and overall member experience. – beachin it

Great products, all of them regular sizes, not sample. Good price for alllll that you get. – Terri S.

I think this is the best box for variety, quality and overall price. – MaryA

I've been a subscriber for several years now and have gotten so many cool things. Even my teen daughters are in on it now and want a box! – MeLinda C
What You Get: FabFitFun features a wide variety of products from beauty, fashion, and wellness. Sometimes, they even include items for your home. The box also sends out full-size products and premium items, so if you're looking for value for money, this may be the box for you! Members can also choose to customize their box and buy add-ons or keep everything as a surprise!
Check out FabFitFun Reviews to learn more about this box.
Deal: Take $10 off your first box. Use coupon code FAB10.
---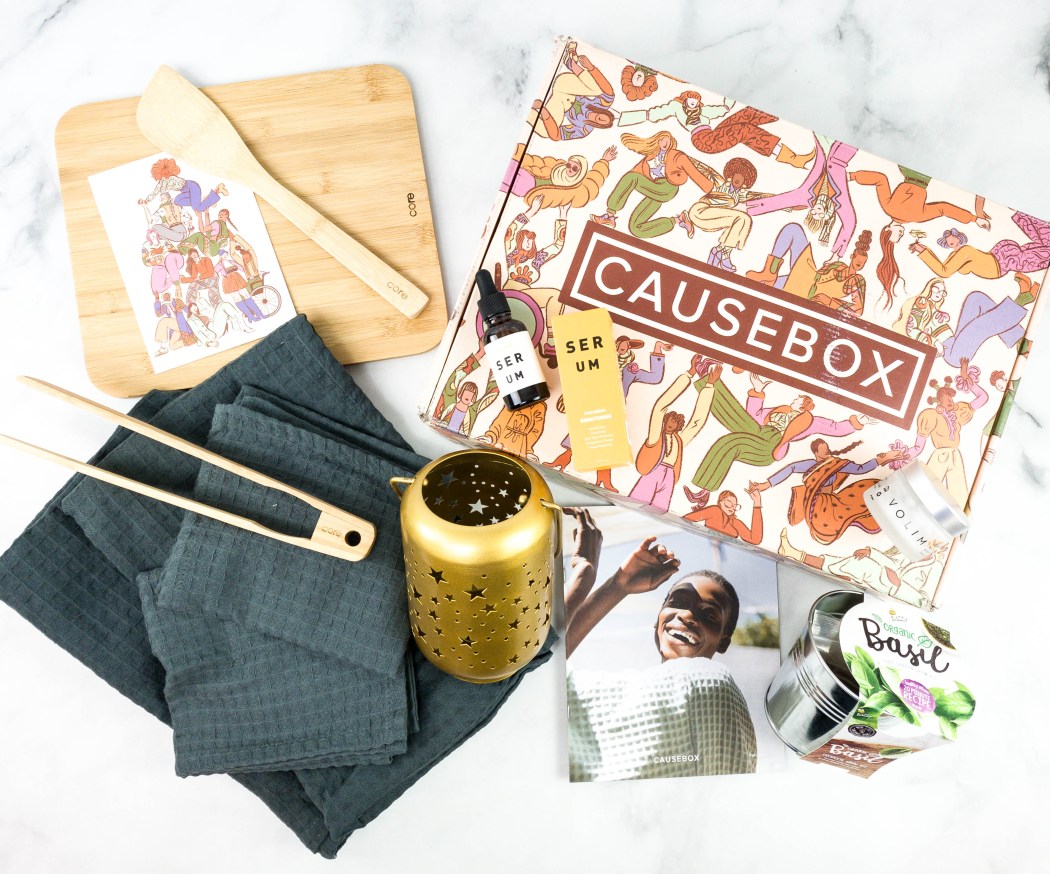 Image from: our review
Fun box that you feel great about getting every month < 3 – Mariah

Fun and useful items, with the added bonus of being eco friendly, or supporting charities. – Sro

Loved the items and felt good knowing I was helping others – Memphislisab

Very inspiring – TC Reynolds
What You Get: Alltrue donates a part of their profit to charities and their products are focused on ethics and sustainability. If that isn't enough to convince you, this box sends out 5-8 items you can use in your everyday life like wallets, bags, and even makeup brushes!
See Alltrue Reviews to find out more!
Price: The box costs $54.95 per quarter and it costs $199.80 when you prepay for a year.
Deal: Save 20% ($10.99) on your first box! Use coupon code WI22.
---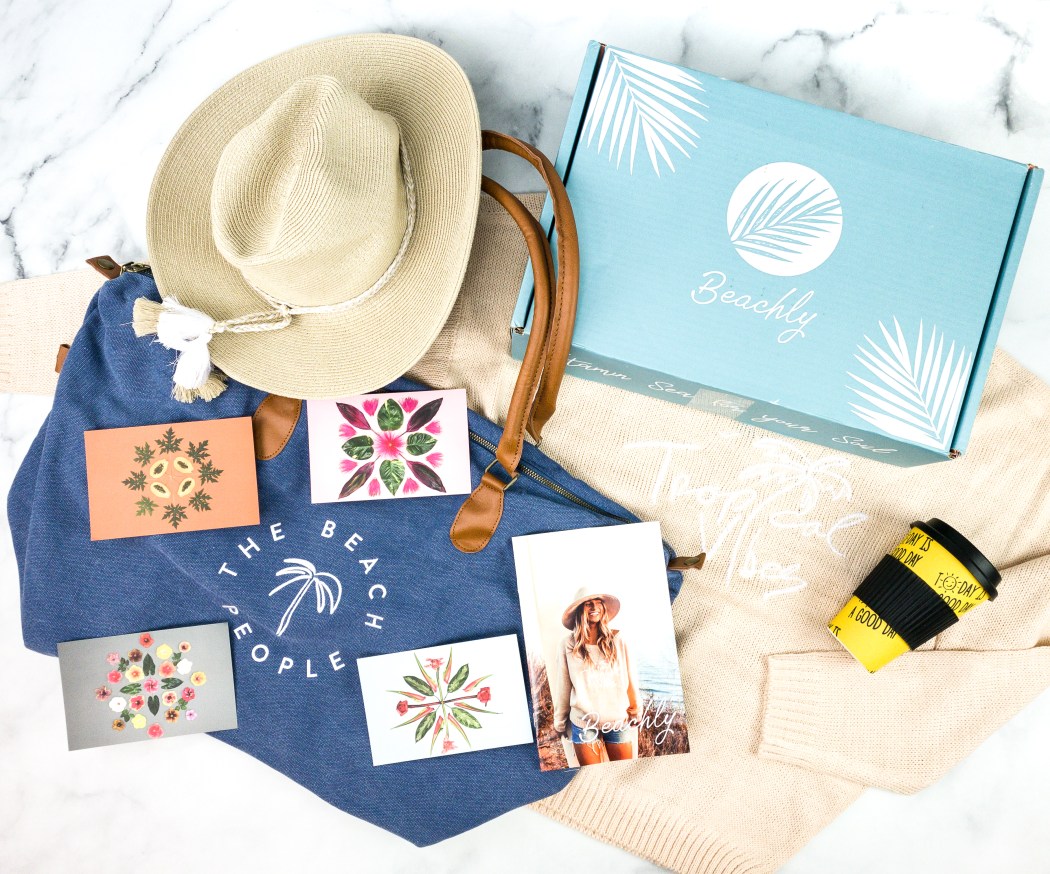 Image from: our review
Beach vibez for days! ?☀️ – Sherrilyn

I just prefer the beachy aesthetic that I get in this box. – Ravioli
What You Get: Get that summer vibes through and through! Beachly Women's Box is a beach-inspired box that sends out 6-8 premium pieces with $180+ retail value, from apparel to accessories and items you can use every day such as bags, skincare, haircare, etc. They send out home decor too! So you really get the beach vibe all year round with this amazing box!
Check out the Beachly Women's Box Reviews to know more!
Price: Subscription costs $99 each quarter, or prepay for a year for $340 ( save $56) + shipping.
Deals:
---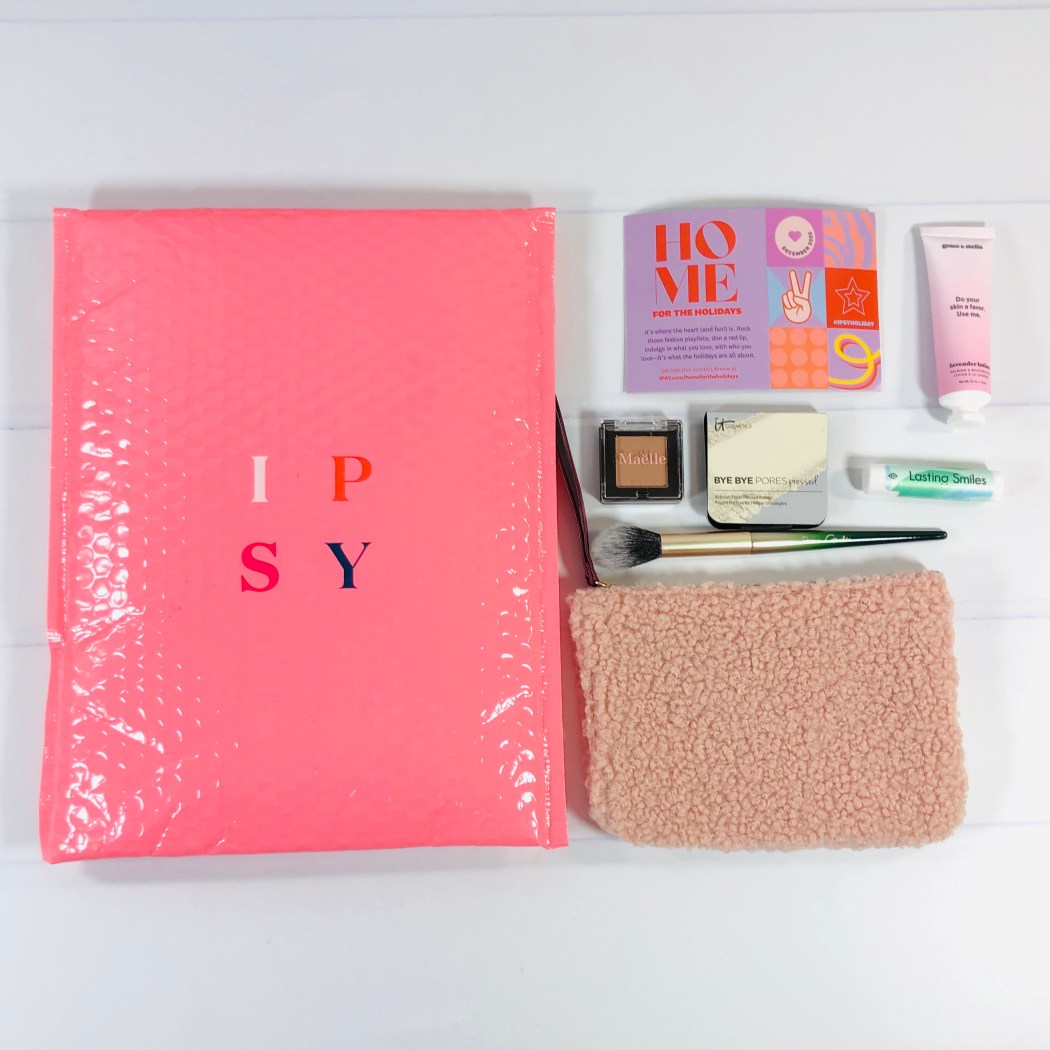 Image from: our review
This is THE entry subscription for anyone who wants to start their box journey with beauty products. – Karissa

I haven't needed to buy make up for a while. Found a selection I LOVE with out the confusing selection in a store – Kelsey
What You Get: Ipsy has a short questionnaire when signing up for their box, so you're sure you'll get products that are tailor-fitted to your needs and preferences! They also send out a great selection of items, from beauty to skin and hair care each month. The products come in deluxe and full sizes, along with a cute pouch where you can store your loot for the month!
See the past boxes and their contents by checking out the Ipsy Reviews!
Price: The cost of a monthly Glam Bag is $13.
---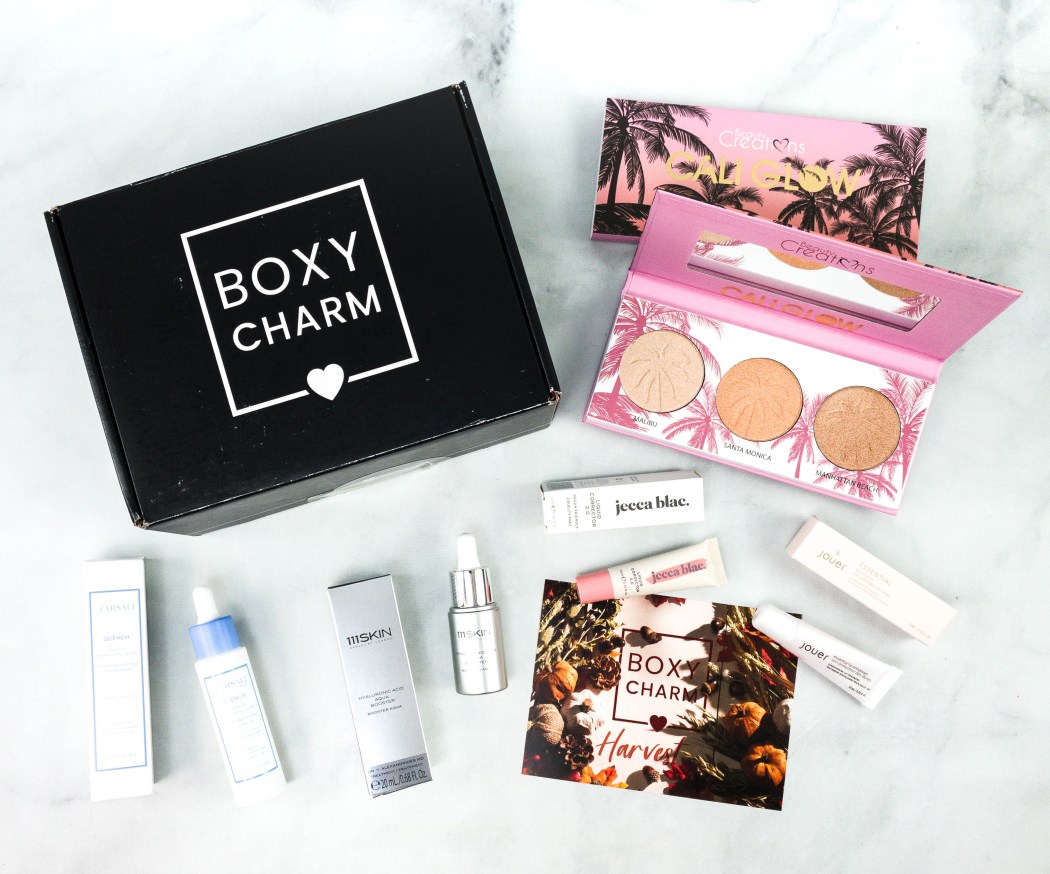 Image from: our review
Fabulous full sized products catered to me. Most others give you samples and you can barely try it out. Full sized for the WIN!! – Tara D

I love Boxycharm! I love that it's full size products, carefully packaged, and there are options for special beauty buys intermittently. – Erin

I love getting makeup picked for me in the mail, I rarely have to go to the beauty store anymore because they are so well rounded, and that saves me money! – Luci

I love the variety every month. There's always something new to try. I love we get high end products without the high end price tag. – michelle03509
What You Get: The items from BOXYCHARM are carefully selected by beauty experts to make sure we get the best and the latest! They keep us up to date with the latest trends, so we're always in the loop about what's new in the beauty community. They send a nice bunch of beauty and skincare products monthly, as well as hair care, nail care, and fragrances every now and then!
Check out the BOXYCHARM Reviews to see past box contents!
Price: Subscription costs $25.00 per month. They also offer 3, 6, and 12 months prepaid options for more savings!
Deal: Get a FREE Gift with Boxycharm - enter code on site! Deal applies automatically, just visit and subscribe.
---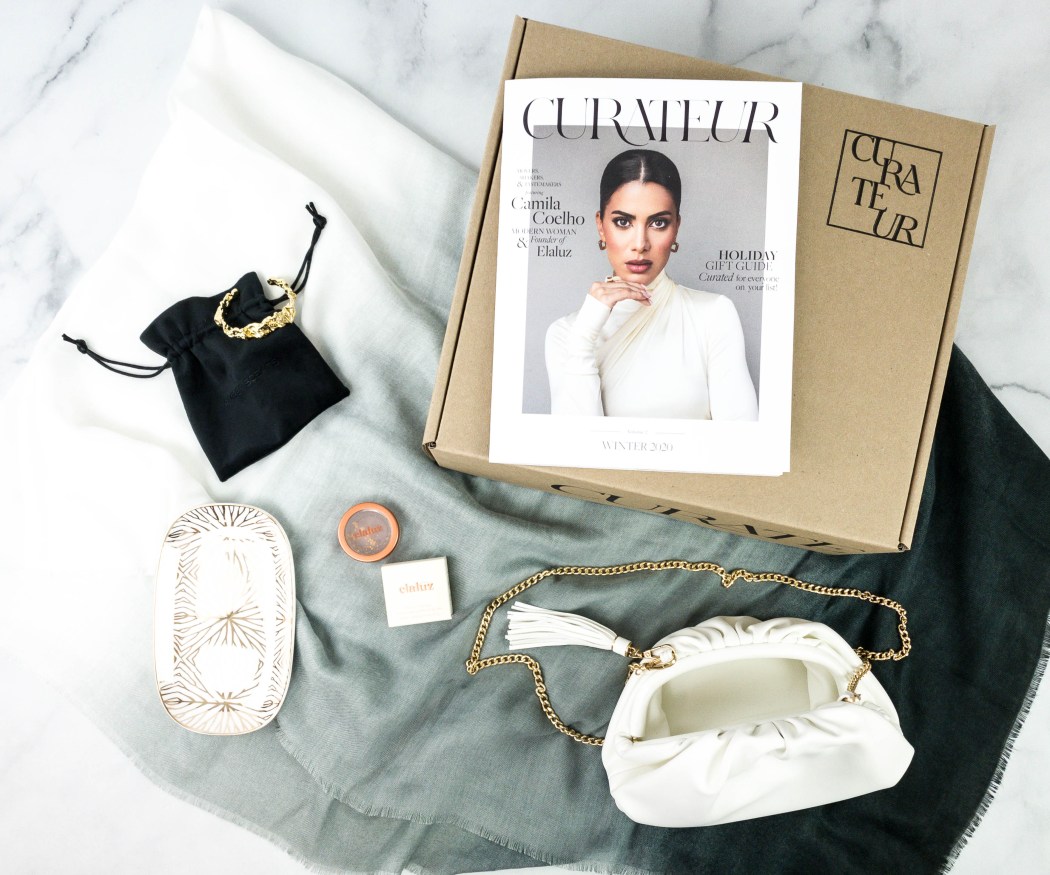 Image from: our review
Able to stay on top of fashion! – Lisa T

So cute and affordable! – Chelsea G

If you like the Glam Hollywood almost throwback look, this is the box. Everything is very high quality and I always use everything in my box. I think it helps keep my work wardrobe chic, and the summer boxes are super fun. – Mimi P

Though this box is a bit pricey, it's only quarterly and the products are high quality. Its perfect for some luxury variety. – mecularmuse
What You Get: Curated by none other than Rachel Zoe herself, each CURATEUR is anchored by an exclusive seasonal collab. It also includes full-size items that are sure to make a bang for your buck. Some of the past boxes have included makeup palettes, luxurious jewelry, and high-end beauty products. Subscribers can choose if they want to pay per box or get an annual prepaid membership, which has more perks!
Visit the CURATEUR Reviews to see past boxes!
Price: Ships quarterly for $99.99, or get the yearly subscription for $349.99 and save $50!
Deals:
---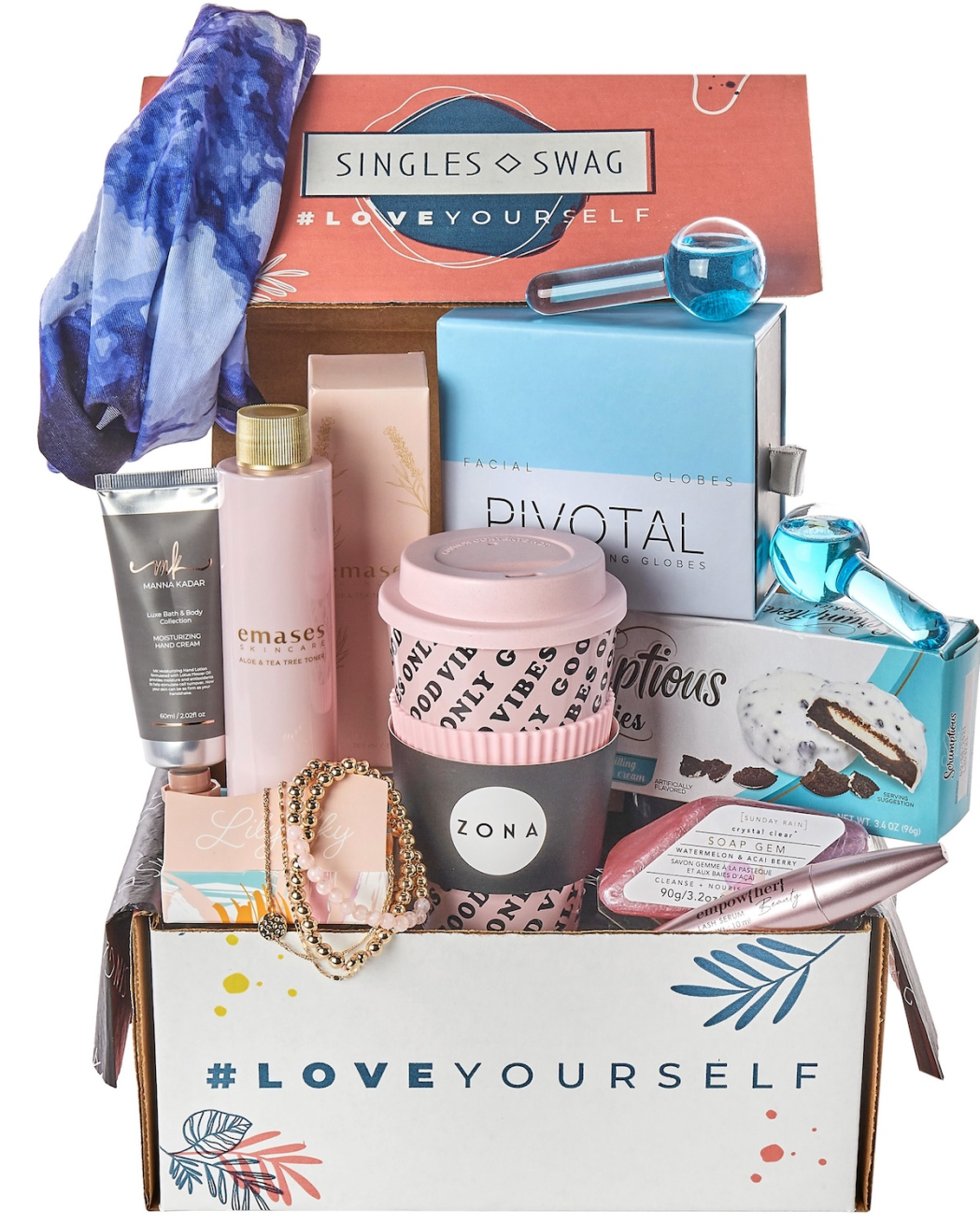 Image from: SingleSwag
I'm not single but I subscribe to this box because I like the product mix and how much I get from it. It's a great monthly pickmeup. – Karen
What You Get: The perfect picker-upper, SinglesSwag box contains almost anything and everything fun under the sun! It has a good range of products from organic beauty products to yummy snack treats, fun and trending fashion accessories, best-selling books, and more! Designed for single women, but it's great for any woman in general!
Check out SinglesSwag Reviews to know more!
Price: A box with 7-8 full-size products costs $39.99 per month, while the petite box with 4-5 full-size products costs $24.99. Get savings when you sign up for a 3-month and 6-month plan!
Deals:
---
Image from: our review
A beautiful curation of fashion and beauty items with a coastal feel- great themes each season and many unique handmade pieces – Marcy
What You Get: If you're someone who loves the ocean and enjoys dancing with the waves, then Oceanista is the perfect box for you! They aspire to touch the hearts of every sea lover everywhere with beach-themed items. Each box comes with 6-8 beach boutique products you can use on land or at sea. It includes a beach-inspired fashion line, jewelry, exclusively designed artisan pieces, skincare, flip flops, mermaid swag, Oceanista exclusives, and home decors as well, delivered every season. Traveling worldwide and finding the best products to include in each box, that's what they mostly do. They search high and low to serve everyone with the best products available. Most items you'll find inside the box are exclusive, and you can't find them in any other beach subscription box! So if you love artisan goods and a personalized experience, then this box is for you!
Read our Oceanista Reviews to know more.
Price: Get the box for $95 per quarter and $340 for the annual subscription.
Deal: Get $20 off your first quarterly box or any one-time boxes! Use coupon code HELLO20.
---
Image from: our review
After the initial parade of statement necklaces from the early days of subscription boxes, I find that I love just swapping my jewelry out and not having jewelry overload. I need to wear the latest things, but I don't need to own them. I buy pieces from my box about 3-4 times a year! – Adriana
What You Get: Rocks Box makes accessorizing more fun with their wide selection of jewelry! Going to a party? Need something dainty for your first date? How about a statement piece for a black-tie event? They got it all! What's great is that you can just rent them out! No need for you to worry about where to store the pieces you bought since you only need to use them once. With Rocks Box, you can get the full look you're aiming for, without having to spend so much on accessories!
Learn more by checking out past Rocks Box Reviews!
Price: Subscription costs $21 per month, with free shipping both ways and you can buy their jewelry for 20% off!
Deal: Get your first month free! Use coupon code mommysplurgexoxo.
---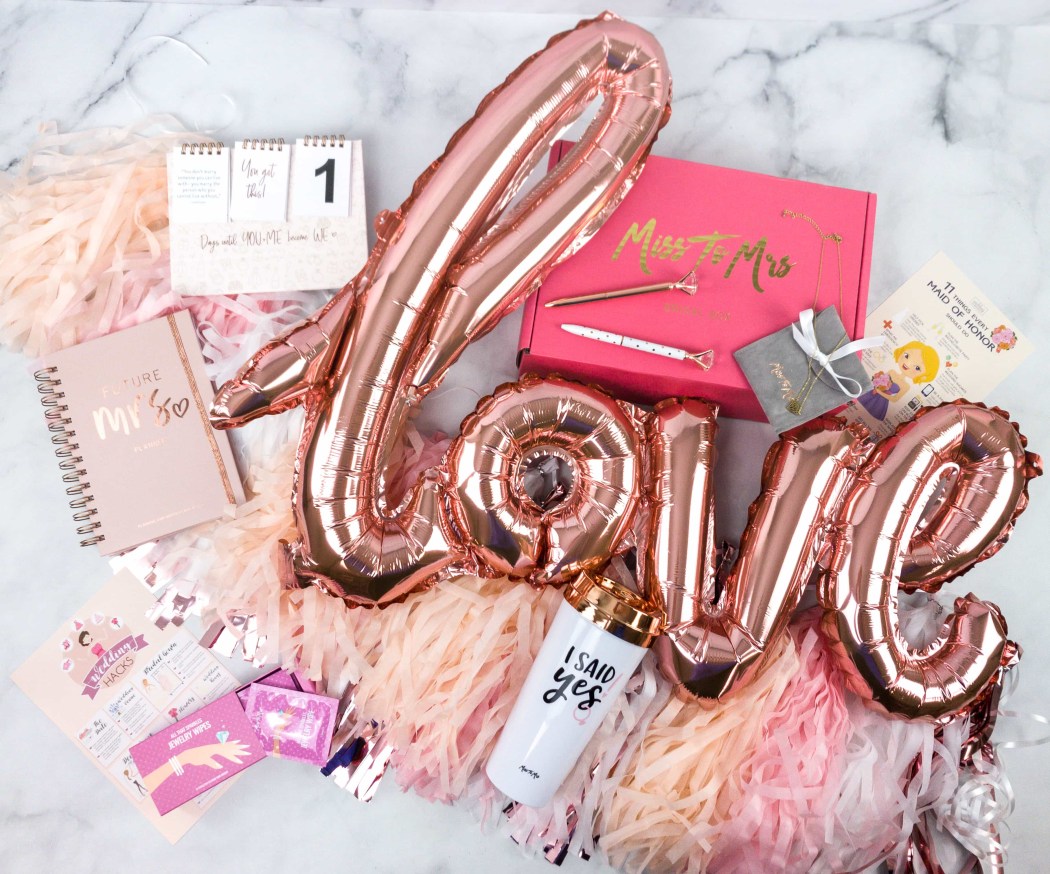 Image from: our review
This is just such a fun box for a bride to be!!! – Christina
What You Get: Miss to Mrs Box is a fun subscription box for the soon-to-be bride. It makes preparations more exciting with a selection of stunning bridal accessories, planning tools, apparel, decor ideas, and other wedding day essentials!
See the Miss to Mrs Box Reviews for more information!
Price: The box costs $35 each month.
---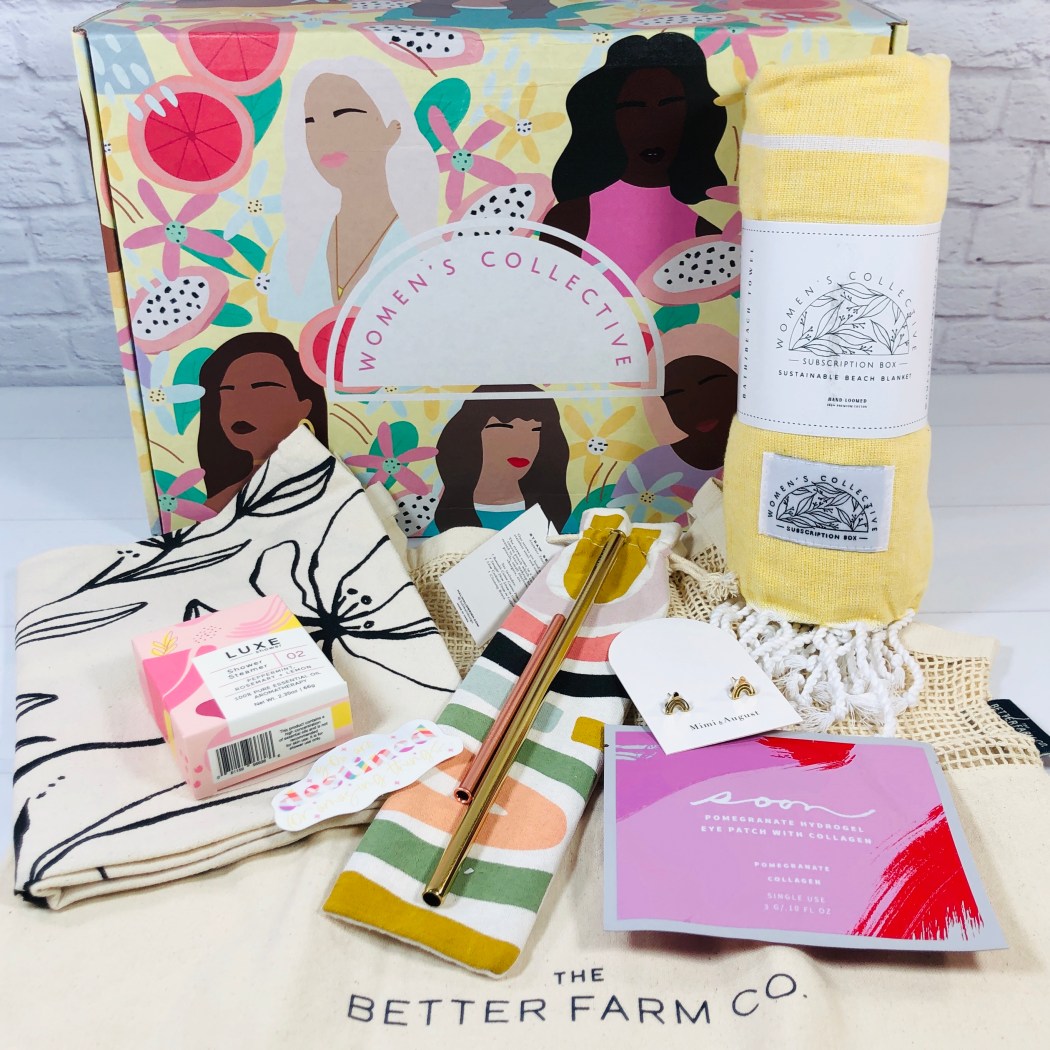 Image from: our review
This box is so thoughtful! It includes items from woman-owned businesses that I wouldn't have found on my own.The products are always useful and gorgeous. – Ash
What You Get: Women's Collective Box is a subscription created by women for women. Treat yourself to high-quality and useful items highlighting unique woman makers and curators. They aim to lift and put the spotlight on women from all walks of life! Each season, they'll send you a carefully curated collection of hand-picked, practical, pretty, and sustainable products like home goods, bath+body, jewelry, bags+accessories, and more, enveloped by the power of sisterhood from women-run brands. Through this subscription, you're helping up-and-coming female entrepreneurs as 5% of the proceeds goes towards them to take their ideas to the next level.
Visit Women's Collective Box Reviews and see past box contents.
Price: The box is $54.95 a quarter or sign up for an annual plan and save $20.
Deal: Get 15% off on quarterly subscription! Use coupon code HELLO. Does not apply to annual plans!
---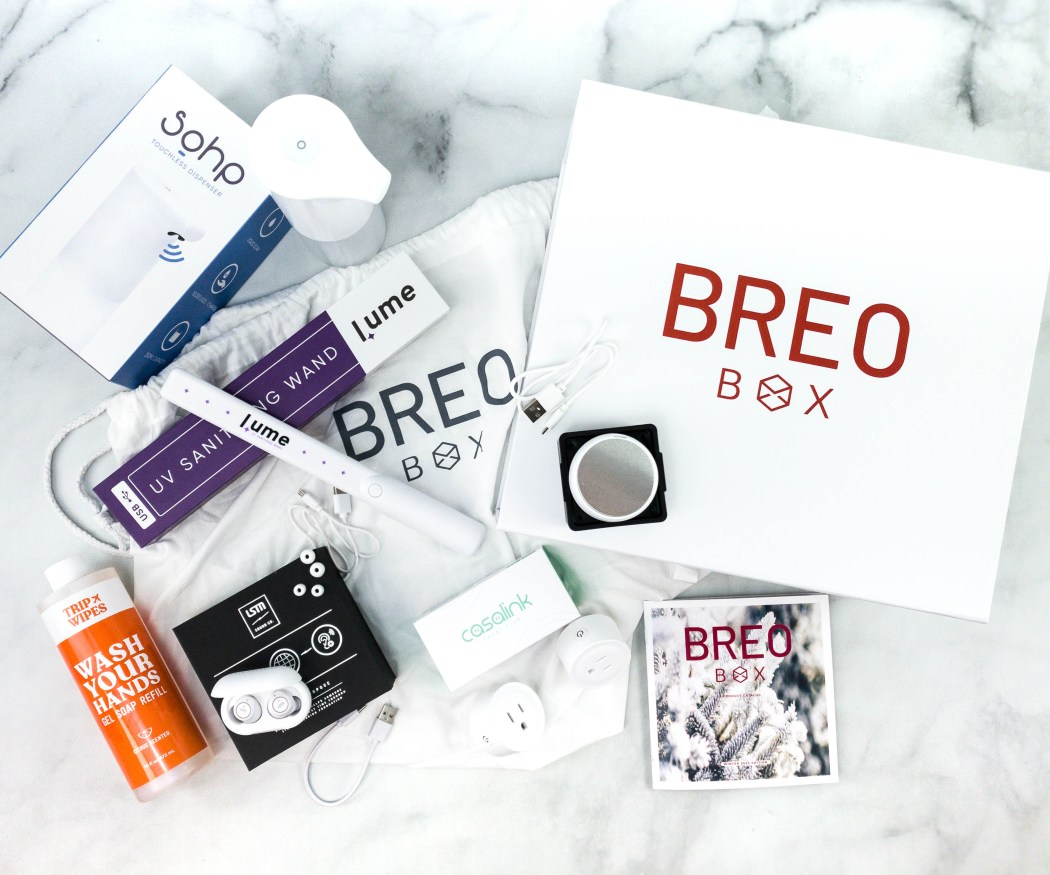 Image from: our review
What You Get: Shipped quarterly, Breo Box curates boxes with the coolest and most unique products that you never knew you needed! Each handcrafted customized wooden box contains 5 to 8 high-quality products revolving around health and fitness, tech gadgets, as well as home goods, and everyday lifestyle essentials. They also make sure that the items are curated around the season! Another great thing about this subscription is that they value their subscribers' loyalty. The longer you're with them, the more they reward you with discounted rates and exclusive perks!
Take a peek at what's inside every box by navigating the Breo Box Reviews!
Price: Delivered every 3 months for $159, or save more with an Annual Plan for $579!
Deal: Get $15 off your first box! Use coupon code hs15.
---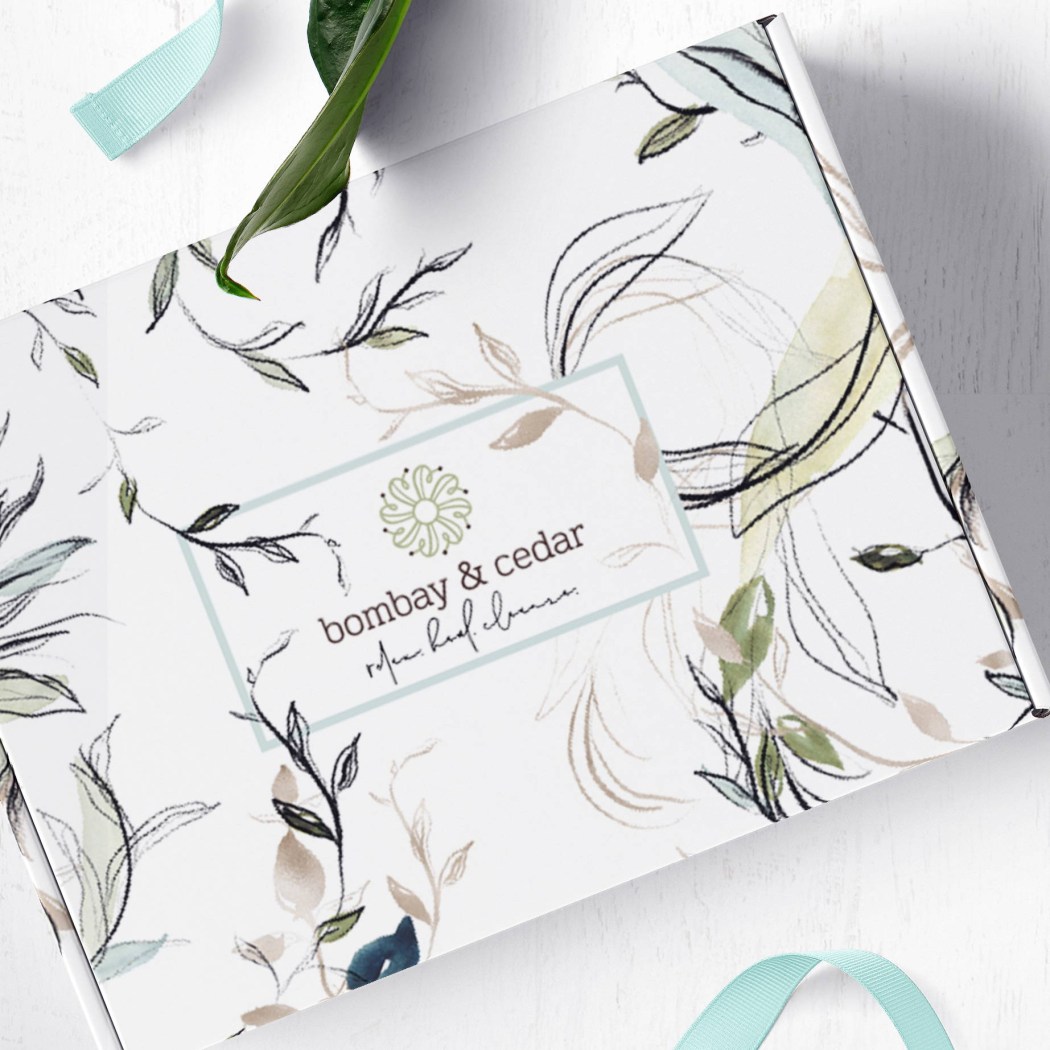 Image from: Bombay & Cedar Seasonal Lifestyle Box
What You Get: Bombay & Cedar Seasonal Lifestyle Box is a luxurious wellness and lifestyle subscription box that delivers 4 times a year. With the mission to give everyone a luxury unboxing experience, they carefully curate high-quality products for those who live a healthy lifestyle and for those who love to inspire. Packed with a retail value of over $200, it features vegan, cruelty-free, and full-size products. Each box contains 6-9 products like essential oils, skincare, books, gourmet goodies, home goods, activities, and more! Join the tribe and receive the current season's box loaded with products to help you relax, heal, and cleanse!
Price: The quarterly box costs $74.95, and drops down to $69.95 per quarter when you prepay for a year!
Deal: Get 15% off your first order! Use coupon code HEY15.
---
Image from: our review
What You Get: Margot Elena Discovery Box is one of the most elegant boxes we've seen! It is a collection of extravagant goods, usually made from the finest ingredients, beautifully and carefully packaged for anyone's enjoyment. It contains a great assortment of product colors and scents. Some of the items inside the box are curated especially for their subscribers. Boxes are always filled with high-quality surprises that won't disappoint! It's sent 4 times a year with over $200 value in each box—luxury, but for a lesser price. With this subscription, you can discover the world of all things beautiful!
Learn more about this subscription by checking all our Margot Elena Discovery Box Reviews!
Price: The box costs $59.99 per quarter.
---
That's all the 2021 winners for the Best Subscription Box Awards for women! What's your favorite women's subscription box?
See your choices for all the best subscription boxes in every category!
Say Hello to More Subscriptions for Women!
Find more women's subscription options in these lists: