Women's subscription boxes come in all shapes and sizes. They cater to women's wants and needs, as well as their interests and passions. Some boxes for women are even designed to promote self-care and relaxation, which all hardworking women deserve!
Not sure what women's subscription box to get? Don't worry, we've got you covered! We've compiled a list of the best subscription boxes for the everyday woman. From makeup to fashion to health and wellness, we got you!
The Top 16 Women's Subscription Boxes Our Readers Recommend!
Here are YOUR favorite subscription boxes!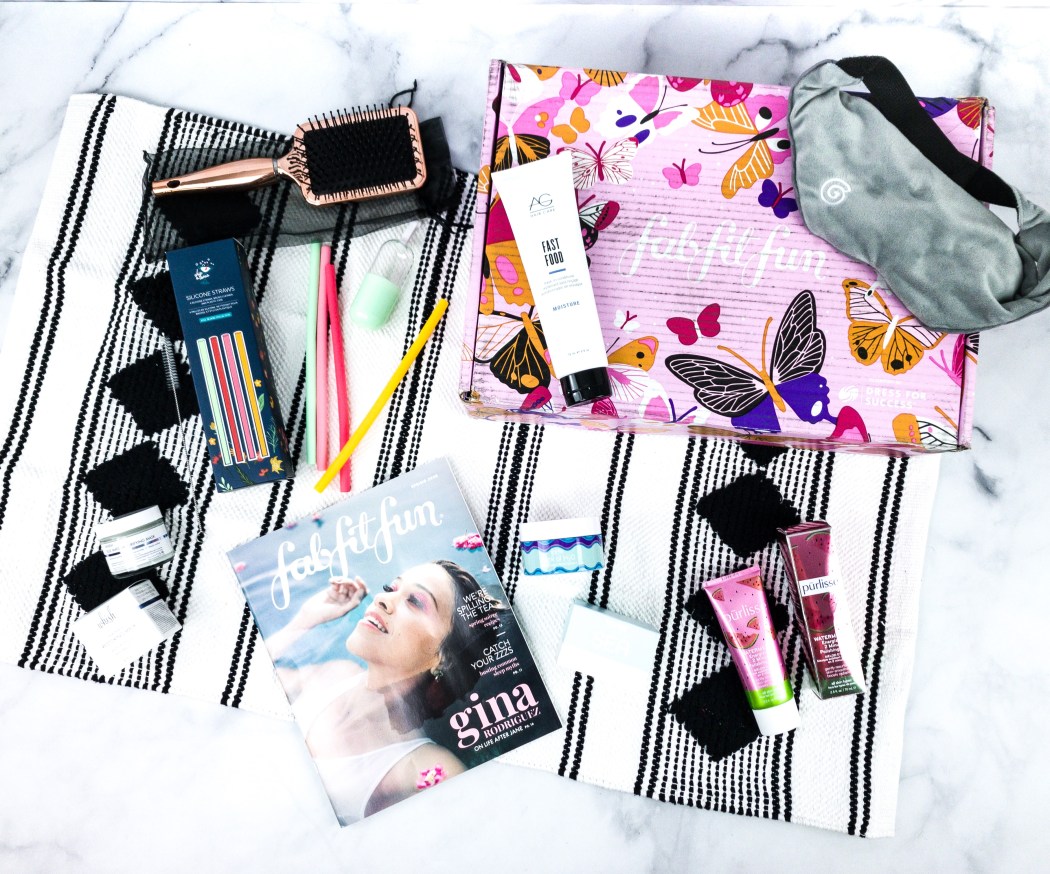 I always enjoy the fun mix of beauty, fashion, tech, home and fitness. I love that I can customize as well. I always feel that I get my money's worth in this box. – Sarah
What you get: FabFitFun features a wide variety of products from beauty, fashion, and wellness. Sometimes, they even include items for your home. The box also sends out full-size products and premium items so if you're looking for value for money, this may be the box for you!
Check out FabFitFun Reviews to learn more about this box!
Price: A subscription costs $49.99 per quarter.
Deal: Take $10 off your first box. Use coupon code FAB10.
---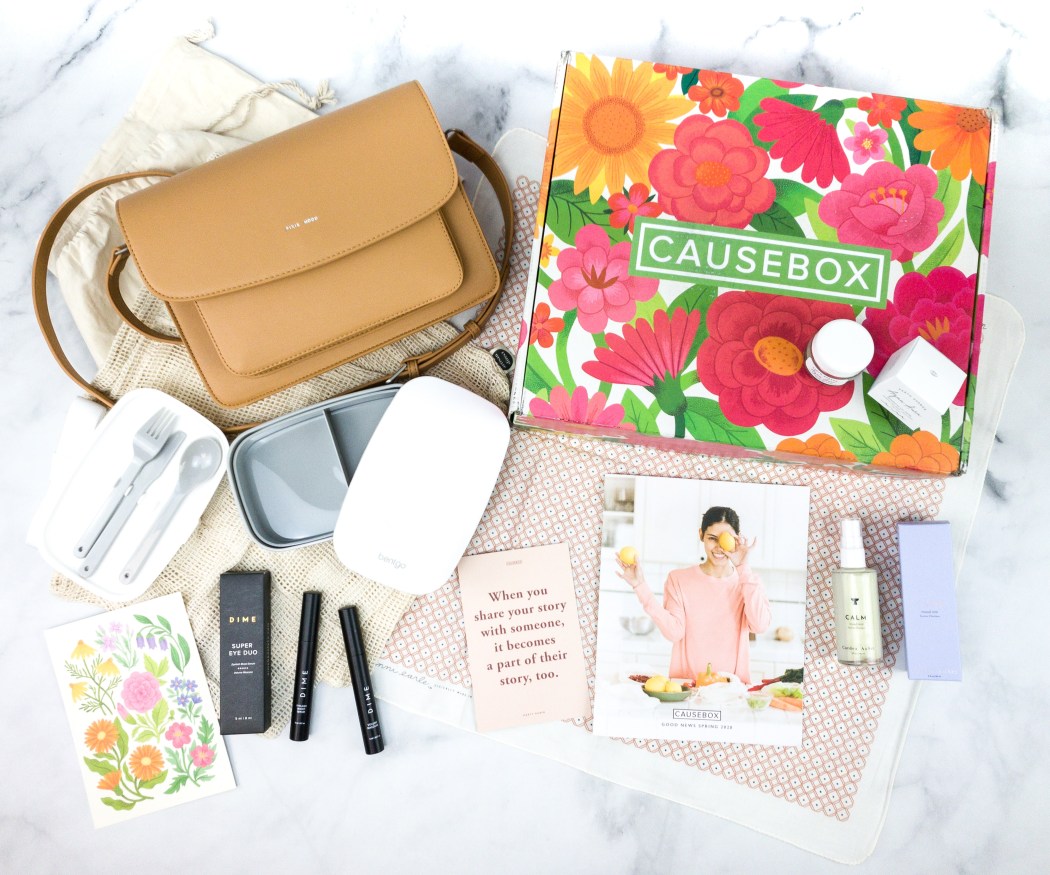 Everything in this box has a purpose. – Imani
What you get: CAUSEBOX donates a part of their profit to charities and their products are focused on ethics and sustainability. If that isn't enough to convince you, this box sends out 5-8 items you can use in your everyday life like wallets, bags, and even makeup brushes!
See CAUSEBOX Reviews to find out more!
Price: Subscriptions start at $49.95 per quarter.
Deals:
Save 20% on your first box! Use coupon code FA20.
Save $10 on your first box! Use coupon code welcome10.
---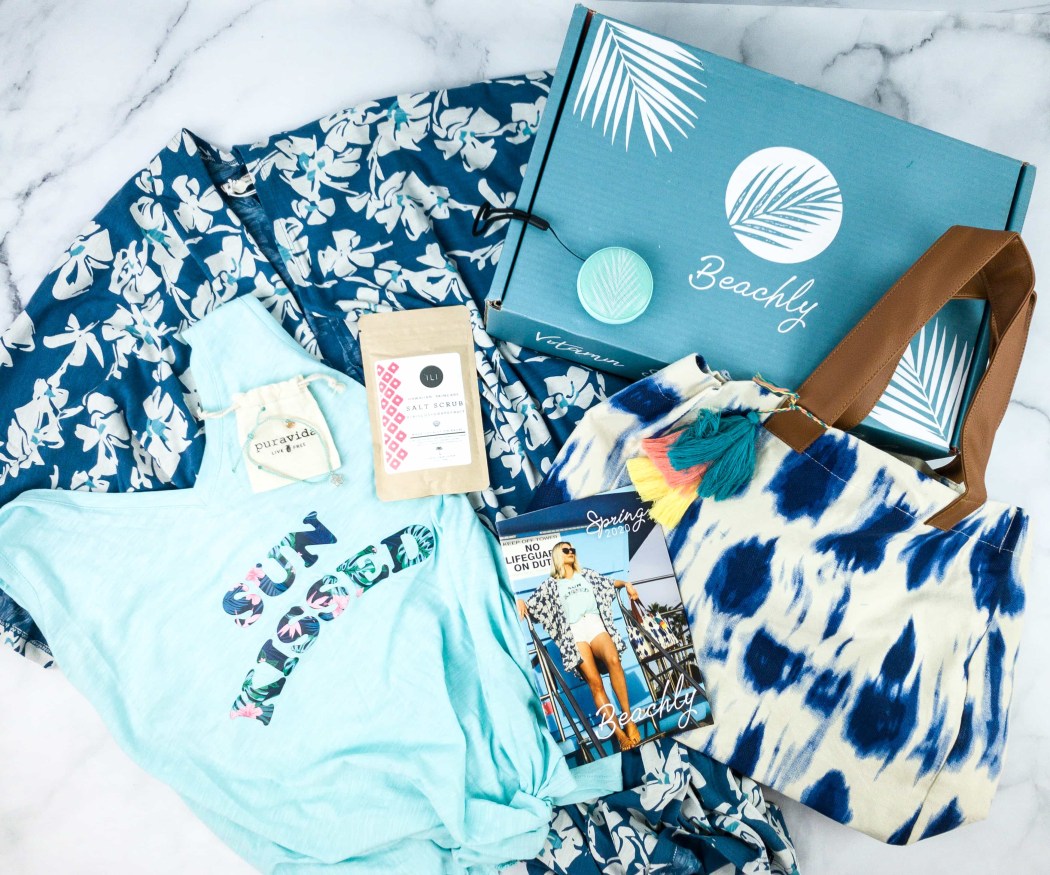 Beach vibez for days! ?☀️ – Sherrilyn

I just prefer the beachy aesthetic that I get in this box. – Ravioli
What you get: Get that summer vibes through and through! Beachly Women's Box is a beach-inspired box that sends out 6-8 premium pieces with $180+ retail value, from apparel to accessories, and items you can use every day such as bags, skincare, haircare, etc. They send out home decor, too! So you really get the beach vibe all year round with this amazing box!
Check out the Beachly Women's Box Reviews page to know more!
Price: Starts at $99 each quarter.
Deals:
Get $30 off your first box! Use coupon code BEACHDAY30 .
Save $25 on your first box! Use coupon code FALL25.
Get 20% off your first box! Use coupon code HELLO20.
---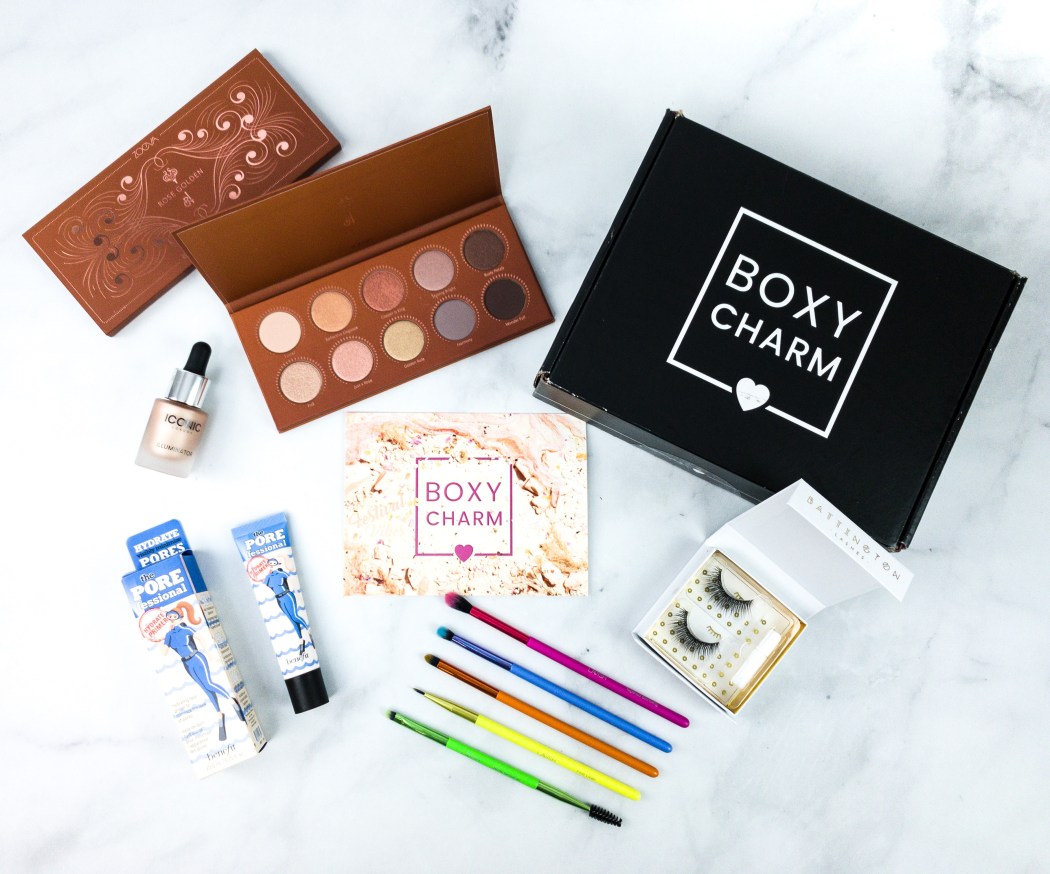 My January boxy was ? – Jennifer

It's all about the palettes and the full size goodies! How do they put so much in the box?!?!? – KellyK
What you get: The items from BOXYCHARM are carefully selected by beauty experts to make sure we get the best and the latest! They keep us up to date with the latest trends so we're always in the loop about what's new in the beauty community. They send a nice bunch of beauty and skincare products monthly, as well as haircare, nail care, and fragrances every now and then!
Check out the BOXYCHARM Reviews to see past box contents!
Price: The subscription box costs $25 per month.
Deals:
Get one month FREE when you sign up for a 12-month BoxyCharm subscription! Deal applies automatically, just visit and subscribe.
Get a FREE Gift with Boxycharm - enter code on site! Deal applies automatically, just visit and subscribe.
---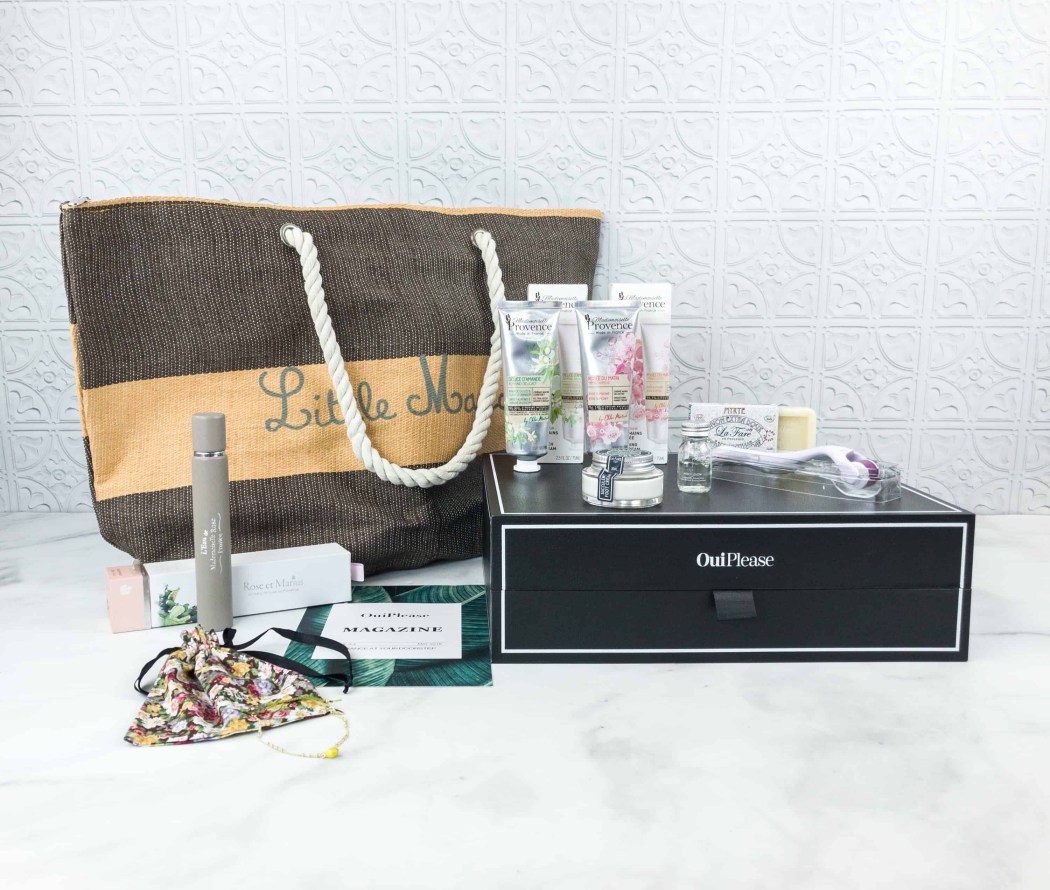 Oui I love this box. It's very classy, even if the shipping is uneven. – Thelma
What you get: Oui Please is your best source of 100% French-made luxury items from new and established luxury brands! The products are also exclusive and limited edition, making this box worth the price and worth the wait. Upon sign up, subscribers create a profile and are allowed to customize their box as well!
To learn more, check out Oui Please Reviews here!
Price: Box prices start at $150 per box, every other month.
Deals:
Save 20% on your subscription! Use coupon code SHOP20.
Save 15% on your subscription! Use coupon code hiver15 .
---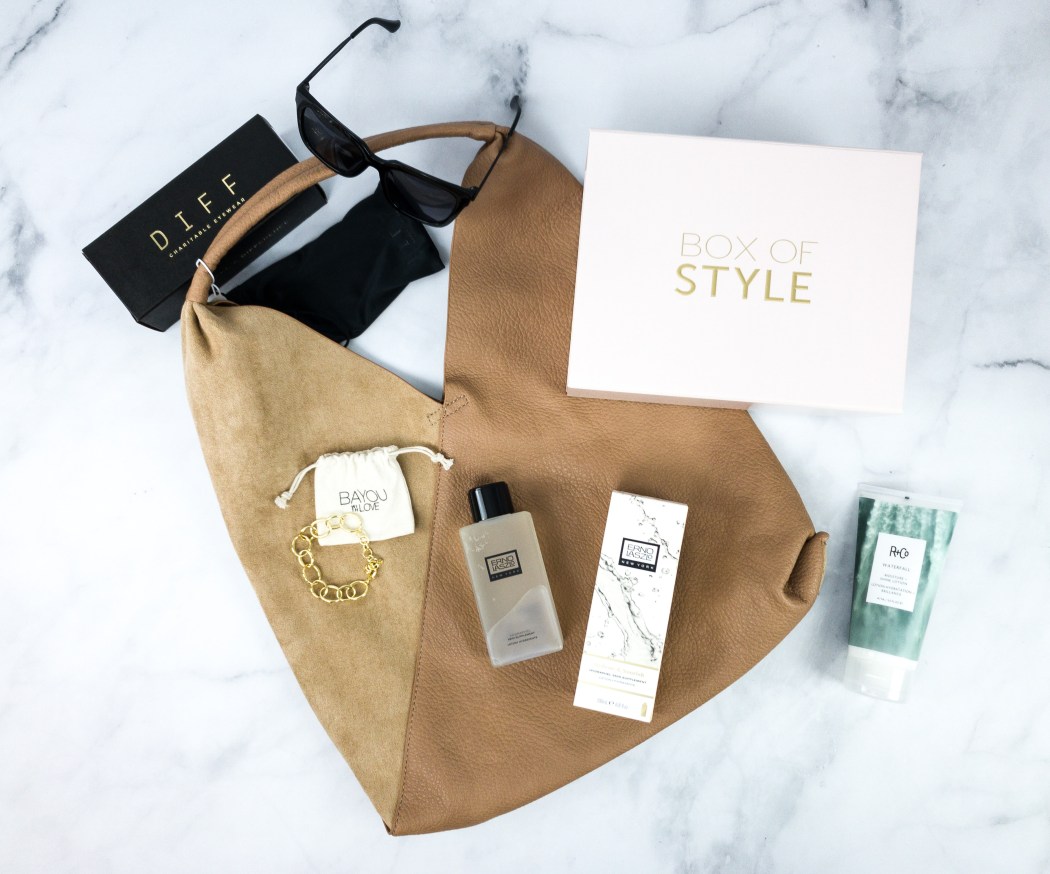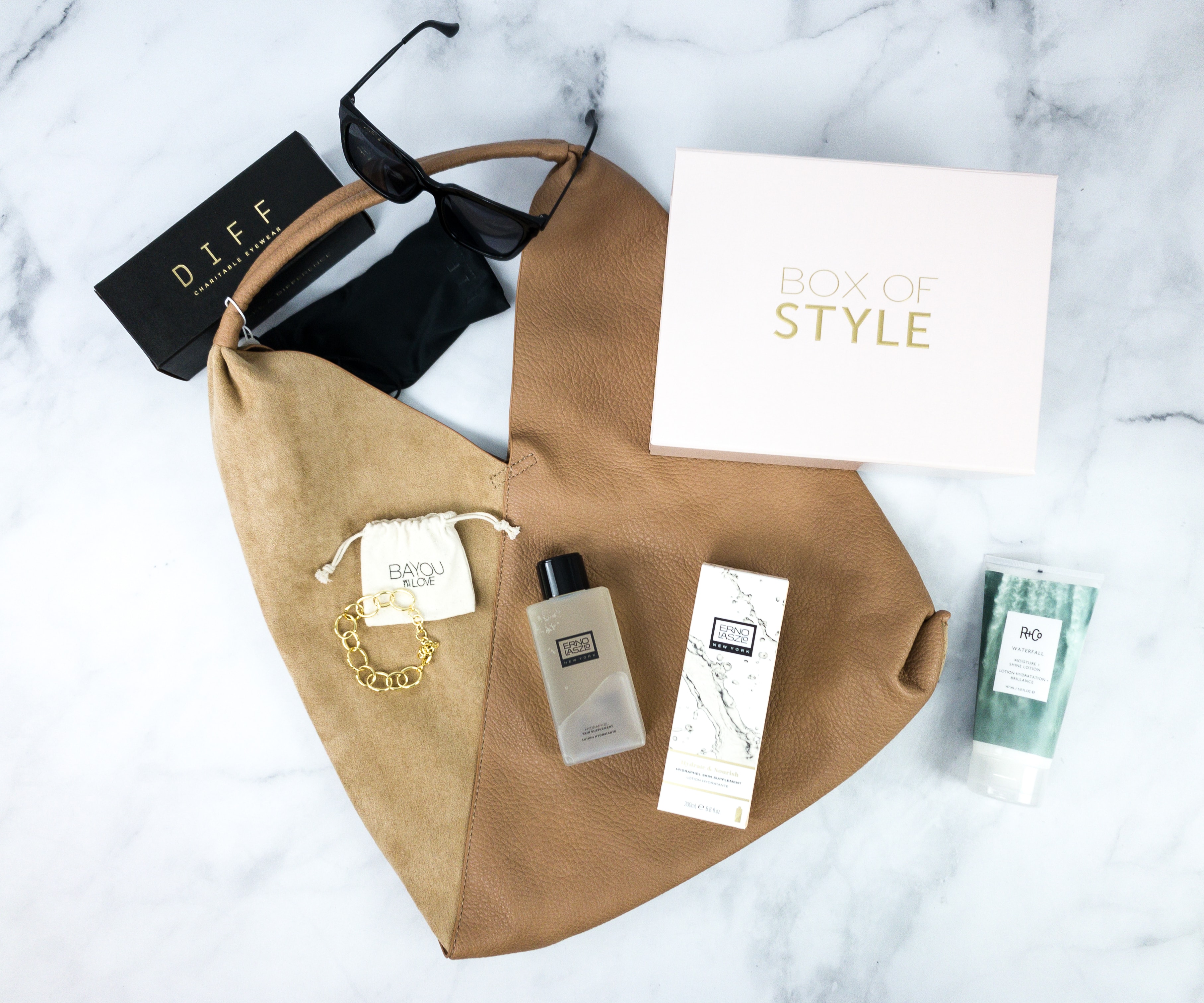 If you like the Glam Hollywood almost throwback look, this is the box. Everything is very high quality and I always use everything in my box. I think it helps keep my work wardrobe chic, and the summer boxes are super fun. – Mimi P
What you get: Curated by none other than Rachel Zoe herself, each Box of Style is anchored by an exclusive seasonal collab. It also includes full-size items that are sure to make a bang for your buck. Some of the past boxes have included makeup palettes, luxurious jewelry, and high-end beauty products. Subscribers can choose if they want to pay per box or get an annual prepaid membership which has more perks!
Visit the Box of Style by Rachel Zoe Reviews to see past boxes!
Price: You can opt for a Pay-As-You-Go box for $99.99 or get the yearly subscription for $349.99 and save $50!
Deal: Save $25 on your first box! Use coupon code FALL25.
---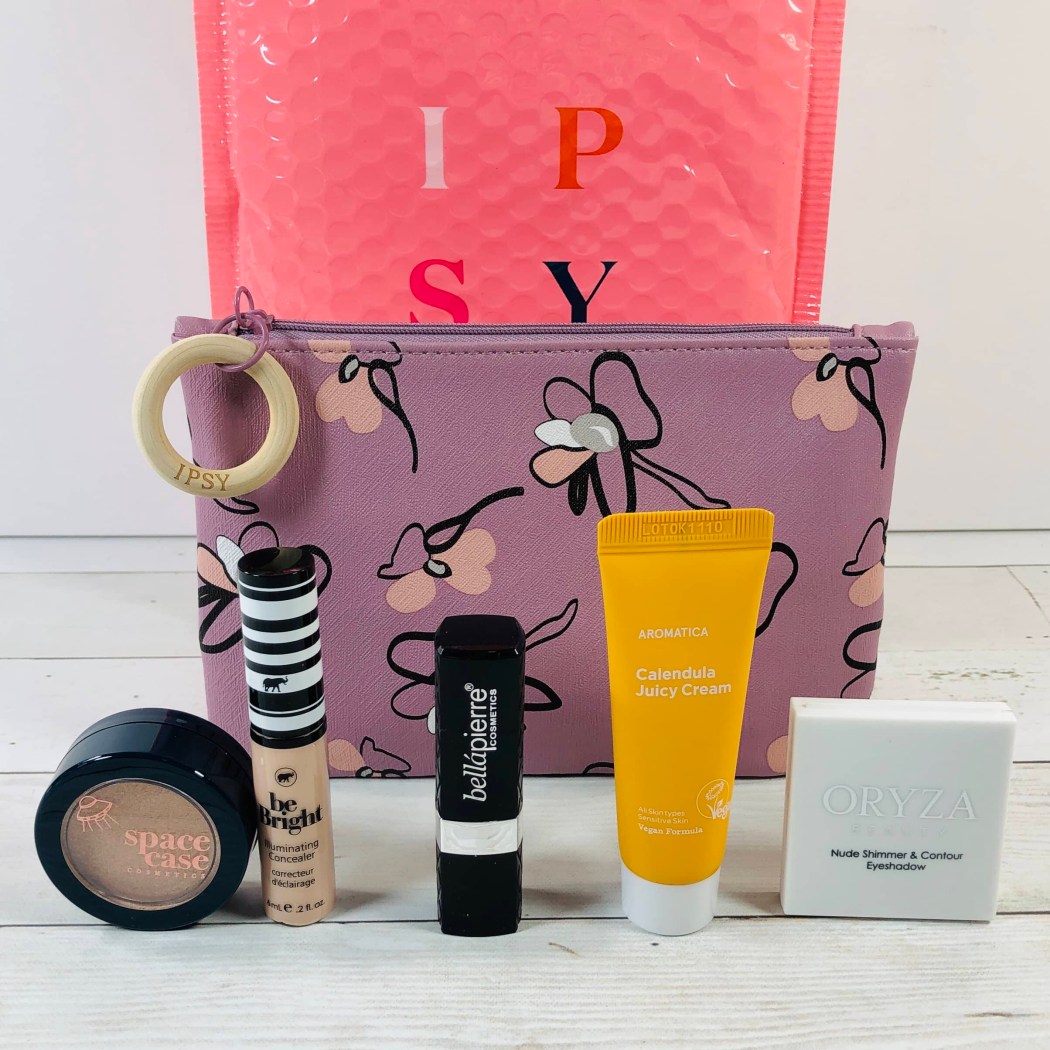 This is THE entry subscription for anyone who wants to start their box journey with beauty products. – Karissa
What you get: Ipsy has a short questionnaire when signing up for their box, so you're sure you'll get products that are tailor-fitted to your needs and preferences! They also send out a great selection of items, from beauty to skin and hair care each month. The products come in deluxe and full sizes, along with a cute pouch where you can store your loot for the month!
See the past boxes and their contents by checking out the Ipsy Reviews page!
Price: Subscriptions start at $12 per month.
---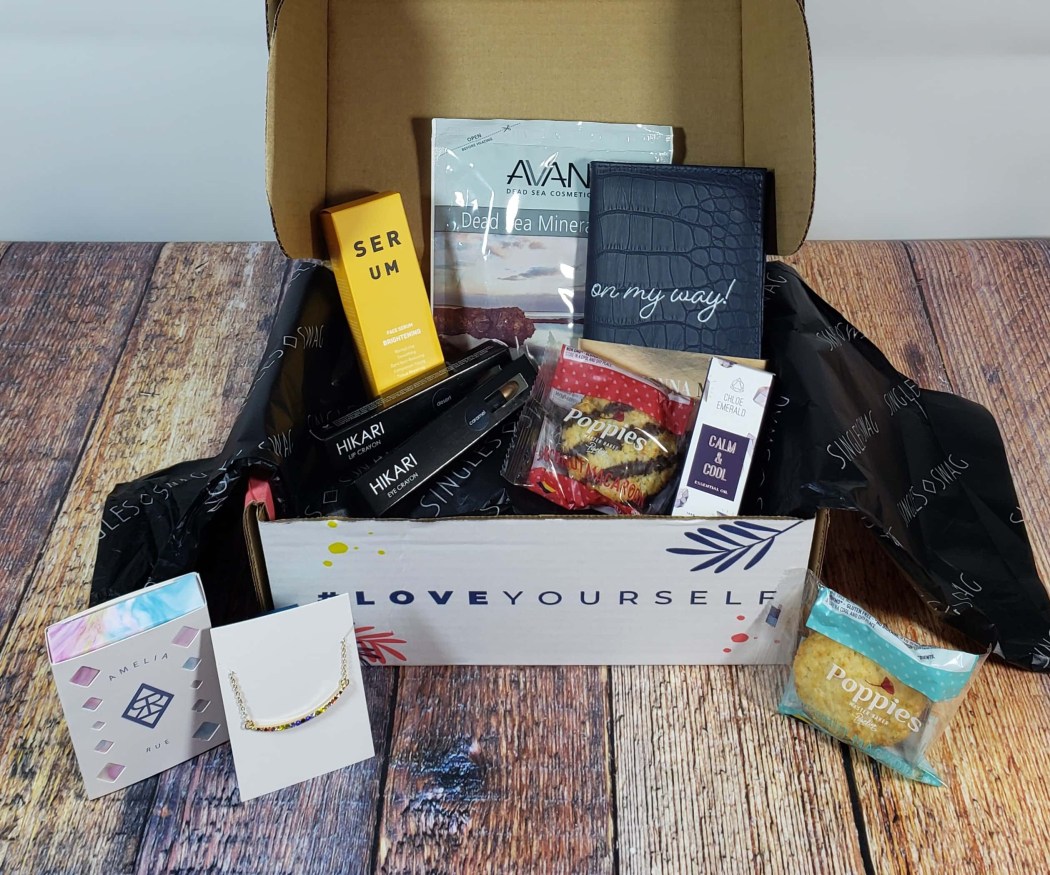 I'm not single but I subscribe to this box because I like the product mix and how much I get from it. It's a great monthly pickmeup. – Karen
What you get: The perfect picker-upper, SingleSwag box contains almost anything and everything fun under the sun! It has a good range of products from organic beauty products to yummy snack treats, fun and trending fashion accessories, best-selling books and more! Designed for single women, but it's great for any woman in general!
Check out SinglesSwag Reviews to know more!
Price: Boxes start at $39.99 per month.
Deals:
Save 40% off your subscription! Use coupon code FALLVIBES.
Receive 20% off your subscription! Use coupon code HELLO20.
---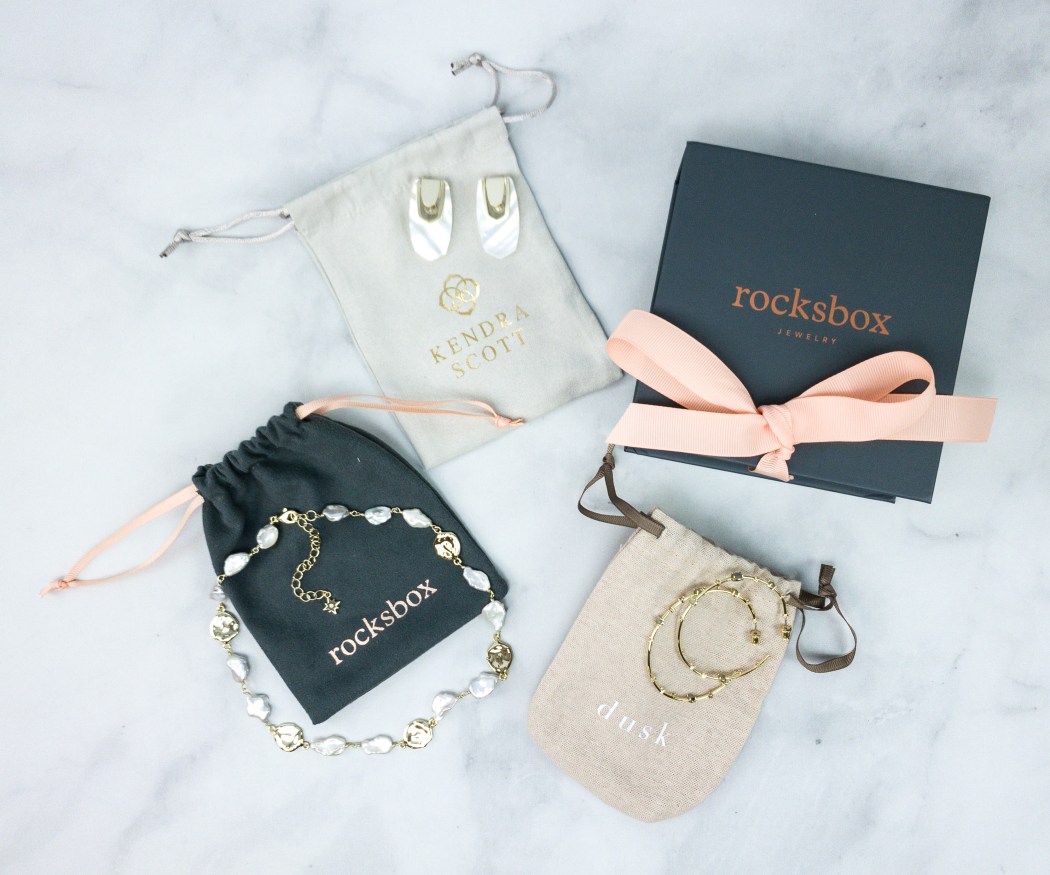 After the initial parade of statement necklaces from the early days of subscription boxes, I find that I love just swapping my jewelry out and not having jewelry overload. I need to wear the latest things, but I don't need to own them. I buy pieces from my box about 3-4 times a year! – Adriana
What you get: Rocks Box makes accessorizing more fun with their wide selection of jewelry! Going to a party? Need something dainty for your first date? How about a statement piece for a black tie event? They got it all! What's great is that you can just rent them out! No need for you to worry about where to store the pieces you bought since you only need to use it once. With Rocks Box, you can get the full look you're aiming for, without having to spend so much with accessories!
Learn more by checking out past Rocks Box Reviews!
Price: Subscription is at $21 per month, with free shipping both ways and you can buy their jewelry for 20% off!
Deal: Get your first month free! Use coupon code mommysplurgexoxo.
---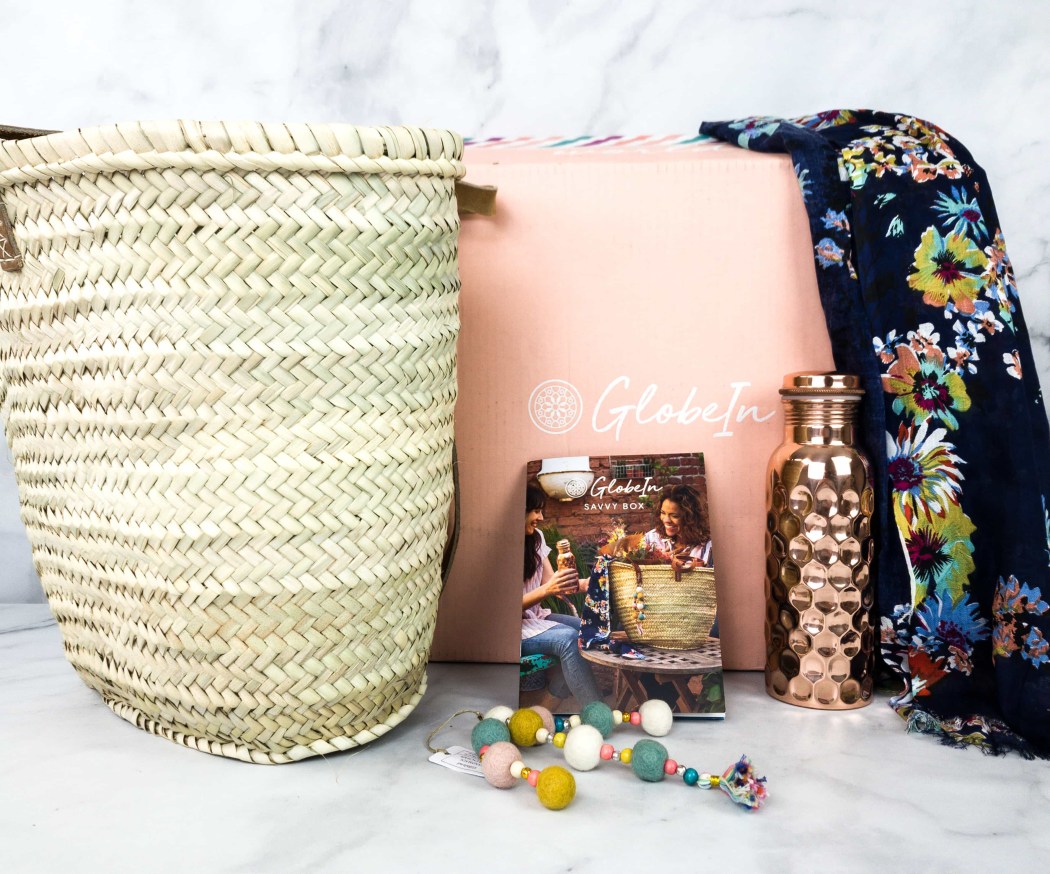 I just find GlobeIn so inspiring, and useful too. I like to know that my subscription box spending goes to something that matters. – B. Hargan
What you get: GlobeIn Artisan Box get artisan crafted items from all over the world! If that's not enough to convince you, you can preview your box on their website and you have the power to customize it! Keep it, swap it, skip it — it's all up to you! They also have 24/7 customer support to make sure you're satisfied with everything you got in the box!
To learn more, check out the GlobeIn Artisan Box Reviews page!
Price: The subscription box is at $40 per month but less expensive box levels are available.
Deals:
Save $10 OFF your 3-month or longer Artisan Box subscription. Use coupon code WELCOME. Valid to new members only.
Get 50% off your first box on any 3-month Artisan Subscription Box! Use coupon code TRYUS50. Valid to new members only.
Get 10% off shop purchases! Use coupon code ARTISAN and Use this link.
---
This is just such a fun box for a bride to be!!! – Christina
What you get: Miss to Mrs is a fun subscription box for the soon-to-be bride. It makes preparations more exciting with a selection of stunning bridal accessories, planning tools, apparel, decor ideas, and other wedding day essentials!
See the Miss to Mrs Reviews for more information!
Price: Boxes start at $35 per month.
Deal: Get 30% off your first box! Use coupon code BOX30.
---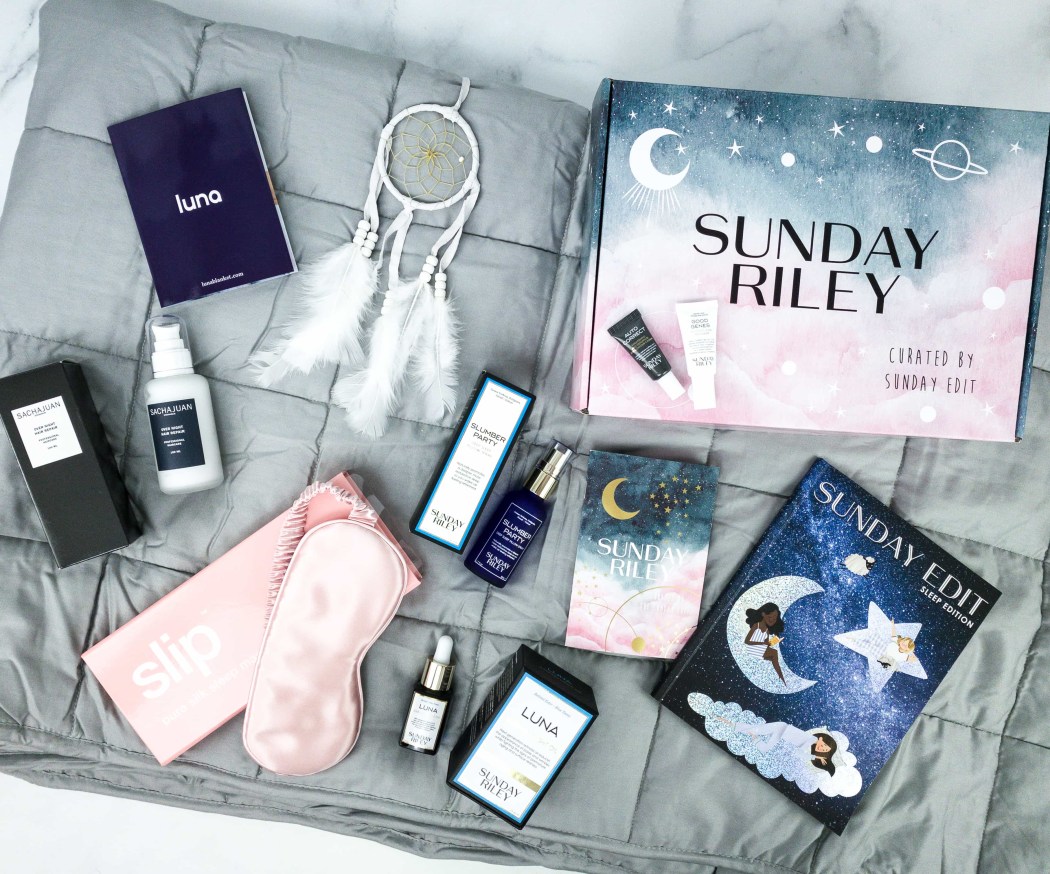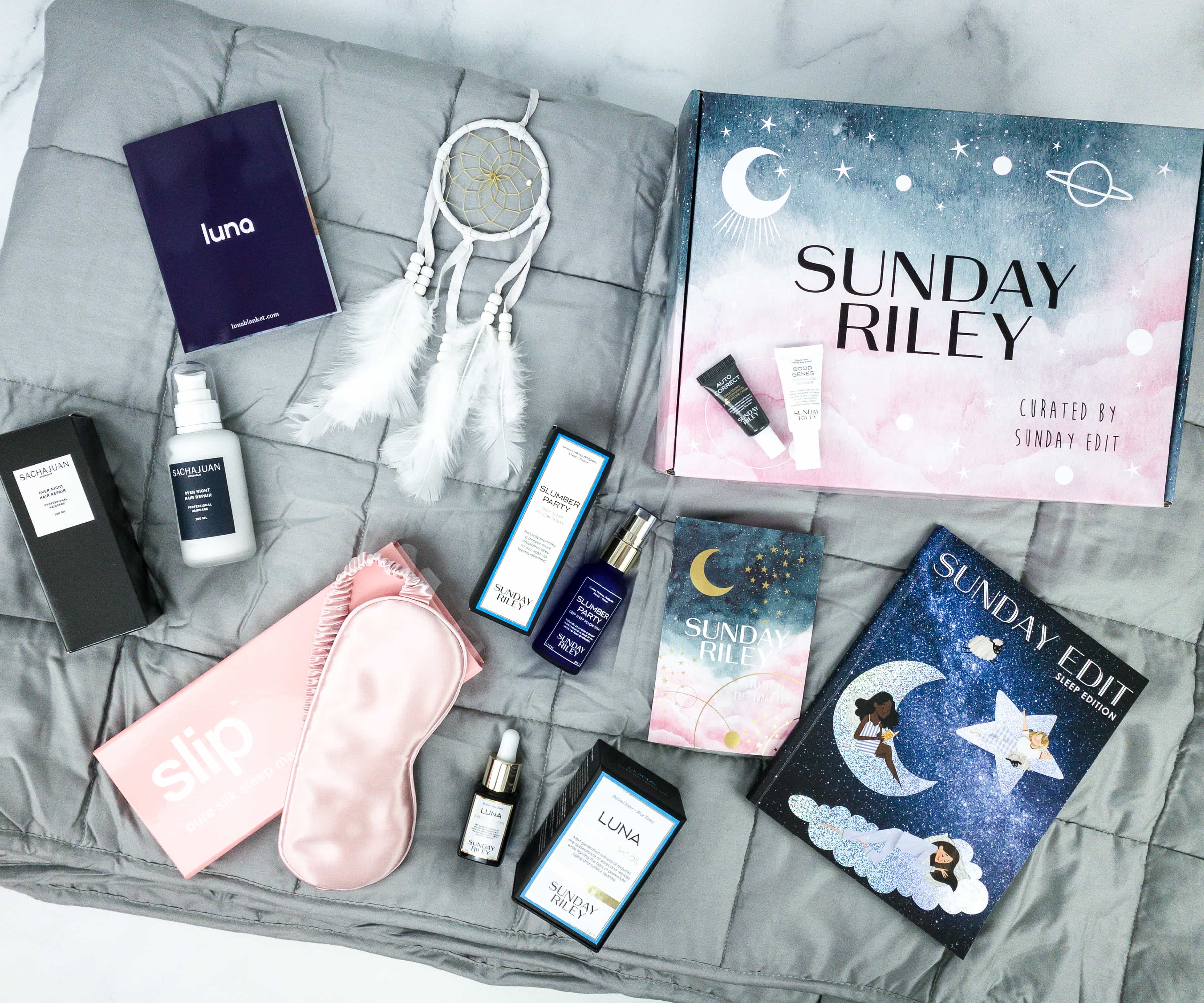 Ummm Sunday Riley don't need to say more but also how inventive for a skincare brand to curate seasonal and themed boxes like this!!!!  – Warren20
What you get: An assortment of popular Sunday Riley products is packed in each box, along with other lifestyle goodies that follow a theme! Sunday Riley Box is a great subscription for the fans of the skincare brand, or just about anyone who needs some pampering! Expect full-sized creams, serums, and more, as well as collabs with other brands!
Visit Sunday Riley Reviews page to know more!
Price: A quarterly box costs $95.
---
Every box is handmade with love. It has unique products in it that are good for your soul, house and belly. Products are often times multipurpose so you get so much use out of everything. I've got to support multiple different women from all over by getting one box and that's an incredible feeling. There's a healthy snack in each box and a new stone along with many other items. It comes with an handwritten note by Wanda, which is a nice touch. They also donate to a charity to each month. Its truly my favorite subscription box. – Mackie James

This box is curated with moms in mind and such an amazing way to keep mom's aware of their self-care needs – Kristen

I have purchased other boxes but none are like the Crunchy mama box! It is simply the one with the best products! – Izzy de la Sovera
What you get: Crunchy Mama Box puts the spotlight on small businesses and home-made items! Each box contains 5-8 full-sized items in the box, varying from beauty to self-care and wellness, as well as other eco-friendly and sustainable goodies! Also included in their monthly boxes is the Stone of the Month, information card, meditation instructions, and exclusive "Momtra"!
Learn more about this subscription at our Crunchy Mama Box Reviews!
Price: Boxes start at $39.99 a month.
---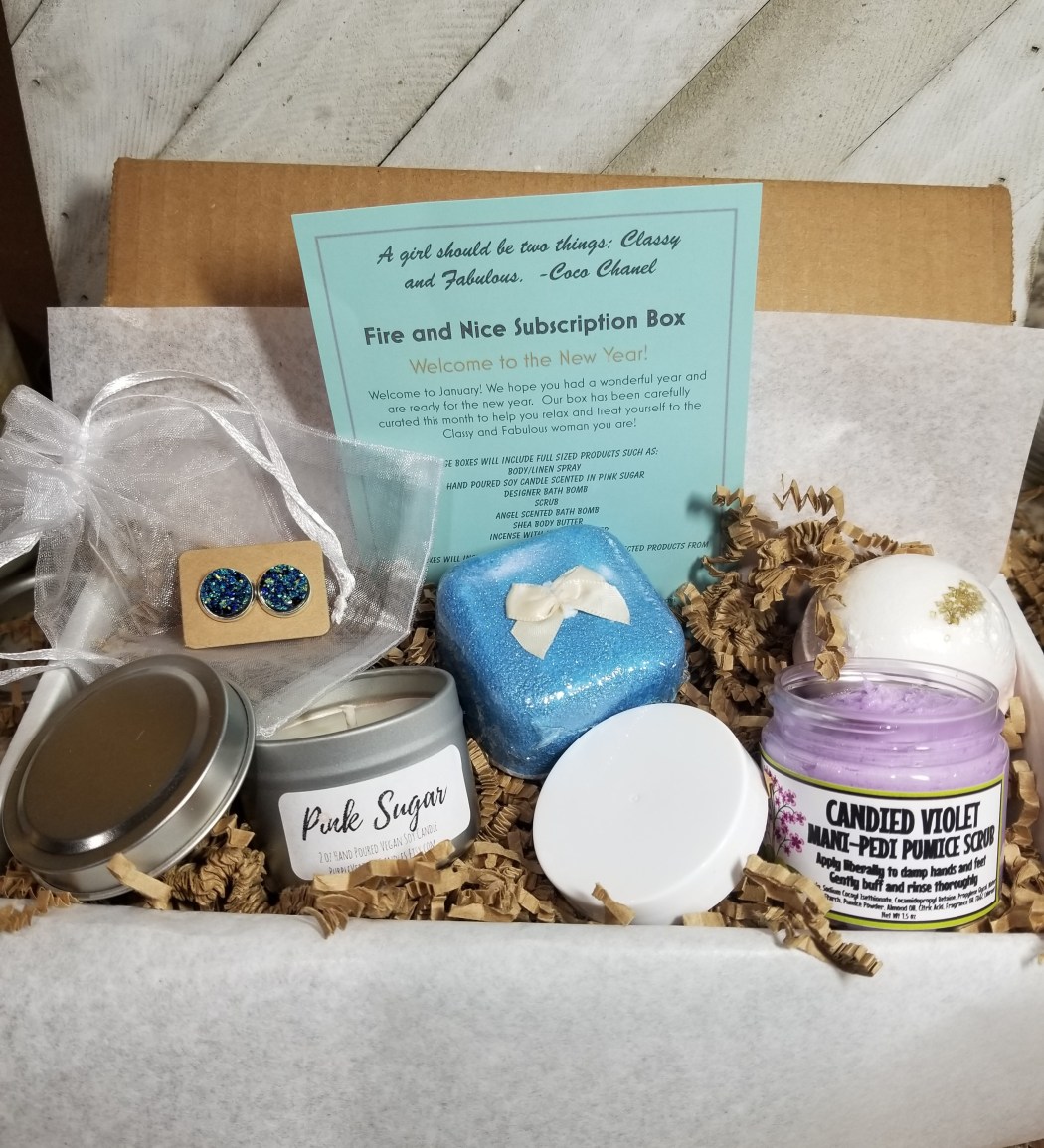 I love how all of the products in the boxes are handmade. They're all such high quality and so well put together. It's super refreshing knowing these things weren't made in some big factory. They were made with love in someone's home. – ADHDexplainsME

Smells absolutely amazing! Completely hand-made. And the prices are extremely affordable!!!! – Schmeegan
What you get: Every box from Fire and Nice is a reminder to relax! They send boxes full of handcrafted items, designed with fun and relaxation in mind. Some of the self-care products they send are soaps, bath bombs, and even candles. All in all, it's a perfect way to treat yourself!
Price: Subscriptions start at $14 per month.
---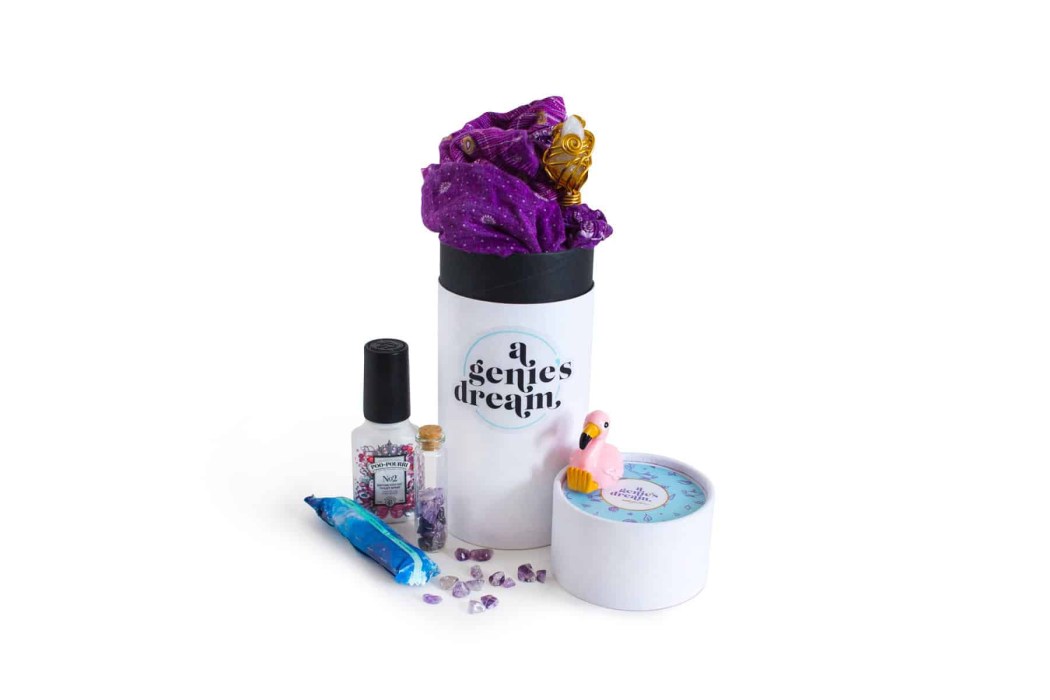 What you get: A subscription with youthful vibes, A Genie's Dream sends goodies in tubes instead of boxes. There are 4-6 items per tube, which may include soaps, essential oils, and local teas, as well as healing crystals and spiritual Items!
Price: Boxes start at $30 per month.
---
 The box was voted onto the list but has closed
Luxury items I would never buy for myself. – Sarah
What you get: POPSUGAR sends a seasonal curation of beauty products, home essentials, personal care items, and beautiful jewelry. Their picks match luxurious tastes and they also offer a good value for your money, with over $250 promised retail value in every box!
Check out POPSUGAR Must Have Box Reviews for details!
Price: Each box costs $75 per quarter.
Deal: Save $20 on your first box! Use coupon code MSA20.
---
That's all the 2020 winners for the Best Subscription Box Awards for women! What's your favorite women's subscription box?
See your choices for all the best subscription boxes in every category!
Say Hello to More Subscriptions for Women!
Find more women's subscription options in these lists: