Vine Oh! is a quarterly wine and lifestyle box that aims to help women relax and recharge. The theme for this shipment was Oh! Happy Day! and it had 3 wines (check out the offer below to see how to get that 3rd bottle free for the life of your subscription) and some helpful products like super soft washcloths, a cool drinking glass, and a floral body lotion.
DEAL: Save $10 off + FREE extra bottle of wine + FREE shipping on your first box with coupon code HELLOWINE. For a limited time, use this same code to get an extra free bottle FOR LIFE!
Vine Oh! comes with two bottles but the code above will get you a third bottle free for the life of your subscription. You choose from red, white, or a mix of both when you sign up, and I want to let you know that there is a monthly wine-only box if you prefer (or in addition to the quarterly wine and lifestyle item box). I opened a red and a white and will save the other red for later in the summer, and knowing that the next box will ship in August. I go for a mix because white is my favorite, while my husband prefers red, and whatever doesn't get sipped will be added to recipes like risotto or bolognaise sauce. All three of my wines are from California.
2018 New Crush California Red Wine Blend ($24)
New Crush Red Blend – aromas and flavors of blackberry jam, vanilla, and toasted oak combine with smooth tannins that lead into a well-balanced finish. A perfect pairing with roasted pork and grilled vegetables.
2018 Wicked Bliss California Syrah ($24)
In a world of doing things "responsibly" we raise a glass to those who break the unwritten rules of life. May we all be bold enough to play hooky, eat cake for breakfast, and shatter glass ceilings in the pursuit of Wicked Bliss.
2021 Tines California Reisling ($24)
Our Riesling is filled with the aromas of citrus, stone fruit, white flowers, followed by hints of apricots, peaches, and pears on the finish.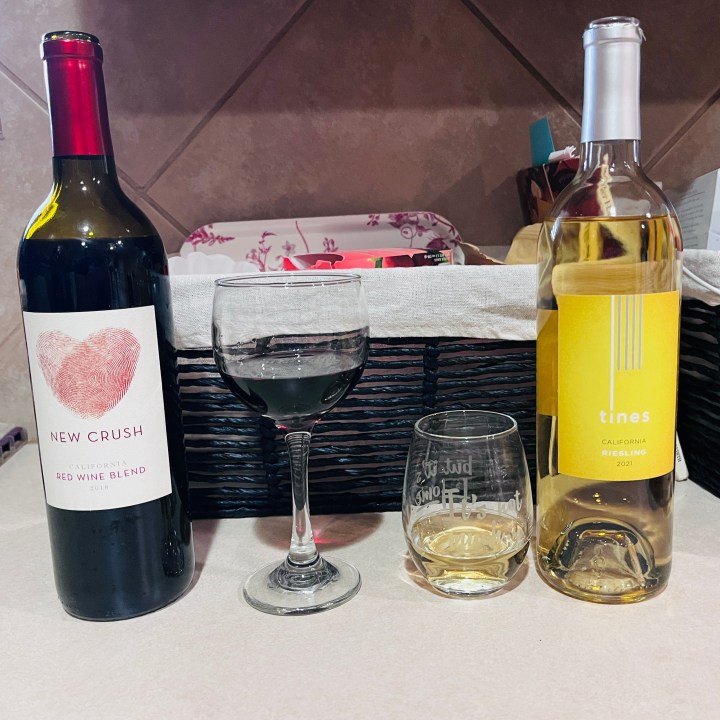 The description for the red blend was spot on! It was jammy and has a hint of sweetness and the body was somewhere between light to medium. My husband really liked it, I think he wants me to get some more, and it is perfect for sipping on summer days. The white wine, a Riesling, was one of the nicest wines that I've tried, but then I like my wine sweet and light. It's almost like a non-fizzy Moscato and I believe the alcohol by volume is probably higher than that other type, and by almost double. It's like a trip through the orchard, with hints of peach, apricot, and other sweet fruits. I usually use the remainder of my wines for cooking but I think this would be too sweet for that use.
The Potted Plant Herbal Blossom Body Lotion ($19.98) I'm ready for lighter body lotions since it's warming up here in Texas. This one was perfect, both in scent and feel. It has ingredients like glycerin, coconut oil, aloe, cica, and cannabis seed oil. It is a perfumed type of lotion, like a spring garden in bloom, but it isn't super strong in scent.
Slant Collections Wine Glass ($14) The wine glass design may vary but I must say I was surprised to find it is actual glass and not acrylic, and that makes me super happy (I don't care to drink out of plastic). While I couldn't find this design on the brand's website, I found it here for $15.99. It's pink glass and has sparkly words on it and holds 20 ounces.
Rule Breaker Deep Chocolate Brownie Bites ($4.99) My husband saw these in the office and couldn't wait to help me test them out for this review. The first ingredient is chickpeas (aka garbanzo beans, the stuff they use to make hummus), and let me tell you, it doesn't taste like hummus. It tastes like a soft, fudgy brownie bite and there are chocolate chips sprinkled here and there and these are quite addictive.
Annie + Austen Cream Tassel Earrings ($30) I was unable to find a link to these earrings but you can find similar items on Etsy. These are super cute but I don't have pierced ears so they will be gifted but I don't feel like they are super heavy and shouldn't drag down the lobes.
Modern Monkey Clip & Sip Umbrella Drink Markers ($8.87) I remember when I was a kid I would beg my parents to order a fancy drink because I wanted the teeny little umbrella, which even opened and closed with the push of a finger. Now that I'm an adult I don't really order those drinks because they tend to cost as much as my whole meal but now I can whip up my own pina coladas and strawberry daiquiris at home and stick one of these cuties on the rim! Of course, they also work as drink markers if you are having guests, just slide them over the rim of your glass!
Host & Home Microfiber Makeup Removal Cloths ($20) I shared a picture of this item with my daughter and she seemed really excited, I know she will be happy to have her own set of makeup-removing cloths! These measure 13″ x 13″ before washing and are super soft, it's like washing your face with a teddy bear! I've never been able to fully remove all of my makeup, whether for eyes or face, with just warm water and the cloths but they are my first step when cleansing and then my regular washcloths aren't stained with mascara and foundation. Make sure to wash before using for the first time as they will shed. You can throw them in the washer and dryer and I use a clean one each night before bed.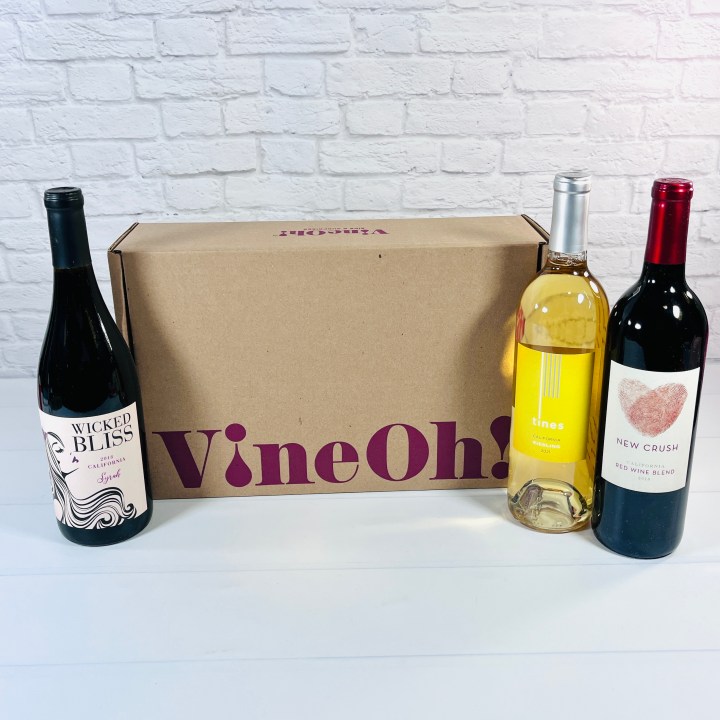 I was really pleased with the items from my Spring Vine Oh! Oh! Happy Day box! I was pleasantly surprised to find a glass made out of actual glass and not acrylic, which means it will get used as I don't like drinking out of plastic. I couldn't believe that they sent a huge bottle of lotion, perfect for the warmer temperatures we've been having. The brownie bites were delicious and the earrings have been passed to my older daughter and my favorite item, the teddy bear-soft washcloths, have been shared with my younger daughter (but I made sure to keep one for myself!). I've tried two of the wines so far and they were perfect for me and my husband, they fit well with our tastes and flavor preferences.
Below you will find the product info brochure as well as a box opening picture.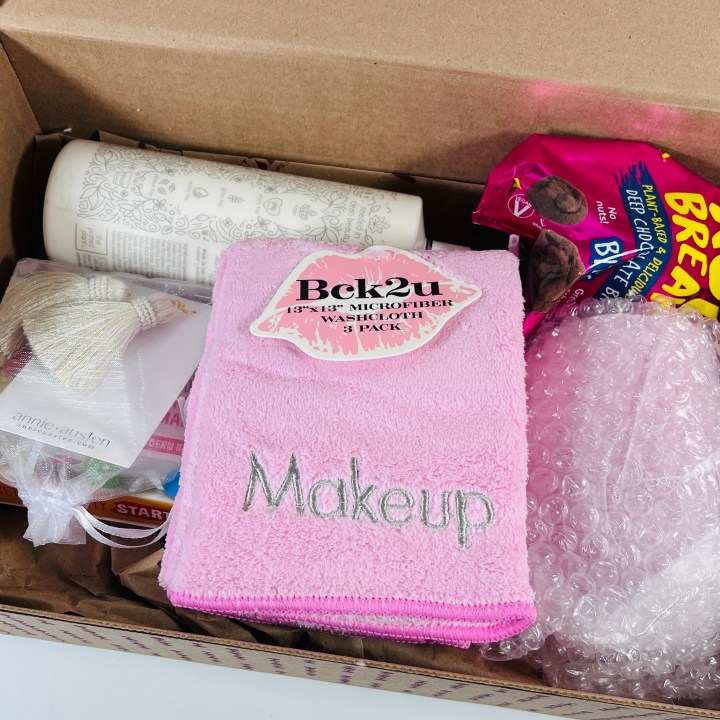 Vine Oh! is a quarterly subscription box and one of the first wine subscription boxes to include lifestyle items for women. Each seasonal box will include 2 bottles of premium wine, plus 5-6 full-size items that are fun, rejuvenating, and delicious. Subscribers can choose their wine type preference: white wine, red wine, red & white wine, or sweet wine. Every box will have a retail value of $120 or more! Vine Oh! is $59.99 a box and shipping is free and delivered to your door.
What did you think of Vine Oh?