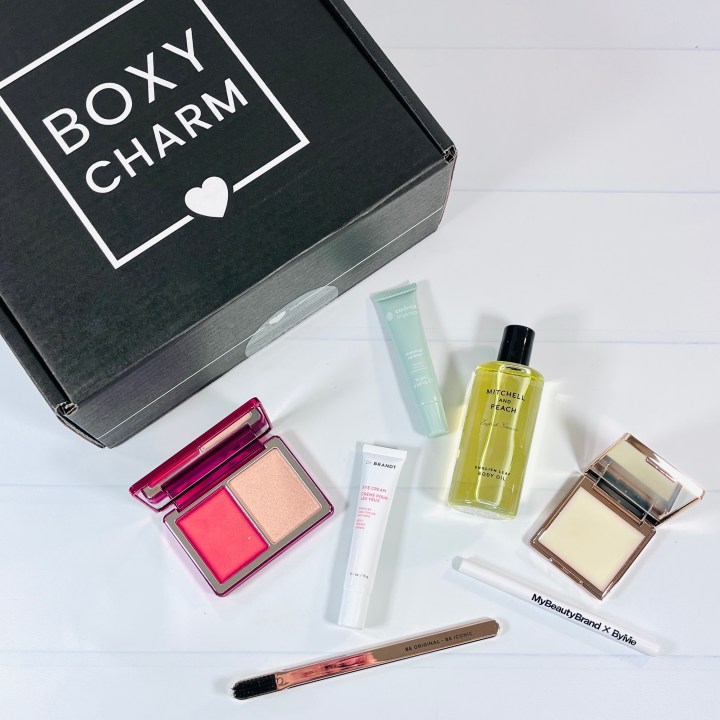 The April 2022 BOXYCHARM Premium theme was #BoxySpringRevival and featured items to help brighten up my spring beauty routine. My box had a good assortment of products, see what I received below!
There may be variations in the box – see the full spoilers here.
DEAL:
Subscribe now and get a FREE gift: Farmacy Filling Good Hyaluronic Acid OR Illamasqua Eyeshadow Palette, PLUS $10 credit to April Drop Shop!
Use this link and pick your FREE gift at checkout AND get your exclusive $10 Drop Shop code via email within 24 hours of subscribing.
Mitchell and Peach English Leaf Body Oil ($67) I adore a luxurious body oil and always apply it right after I get out of the shower. This one was absolutely lovely with a perfumed scent that smelled both green and purple at the same time, like I had walked through a garden in bloom. It left my skin soft and lightly scented, it wasn't super strong but there was a hint of scent for a few hours afterwards. The oils used as the base are sunflower and sweet almond.
Dr. Brandt Eye Cream ($82) I love to try new eye creams and found this one to be creamy but not oily — it left the area smooth but not so greasy that I had to worry about my eyeliner smearing. It's supposed to help those fine lines and wrinkles look less noticeable while fading dark areas and depuffing the area. It has hyaluronic acid and glycerin and the barest hint of scent comes from rose extract (at least, that's all I could smell). I like that it's easy to dot around the eye area without having to dip my fingers inside the container and it felt good under my eyes, I'm not sure if I will see a difference in the area but I am forever hopeful.
Endota Hydrating Lip Balm ($25) I came back from vacation with dry, chapped lips so I am happy to pamper them with this lip balm! I had to squeeze extra hard to get the product to come out, there's no stopper in there, it's just shy due to the cooler weather during shipping. Inside was a creamy Vaseline-type of goo but it's made with ingredients like coconut oil, cocoa butter, and beeswax, no petroleum products to be found. It has a slight peppermint flavor added but nothing that made my lips tingle, it was soothing and not irritating.
Iconic London Brow Silk ($25) "Boy brows" is one term for natural looking brows which may be held in place with soap, wax, or gel and this kit gives you the results but without leaving brows feeling crunchy or weird. The ingredients all sound natural and include jojoba and castor oils plus shea and cocoa butter (plus a plant wax). It comes with the compact and a tool very similar to a toothbrush and you could totally use a toothbrush and a bar of soap or hair pomade, but this looks cooler. Apply the brush (either damp or dry) to the product and brush brows up and leave them or brush them however you prefer. There was no color left behind but you could use it with brow pencil, powder, etc., just apply this over top.
My Beauty Brand ByMe Black Liquid Eyeliner ($20) I don't think it matters how many different brands of black liquid eyeliner I receive, I will always prefer pencils. This one worked well enough, it dried fairly quickly without feeling super saturated (no getting in my waterline or eye lid crease) and stayed in place all day long, but I have application issues and think it looks too harsh for my age. Luckily my daughters prefer this type of product so I can share with them!
Natasha Denona Cupid Cheek Duo (a Boxy EXCLUSIVE!, $42 listed value) I think I'm going to enjoy using this duo again and again. It has a creamy blush on one side that has just a hint of color, not a lot of payoff but just enough to add some oomph to my cheeks. Next to it is a powder highlighter that brightened up my nose, forehead, and tops of cheeks. Both products were easy to use and had no scent.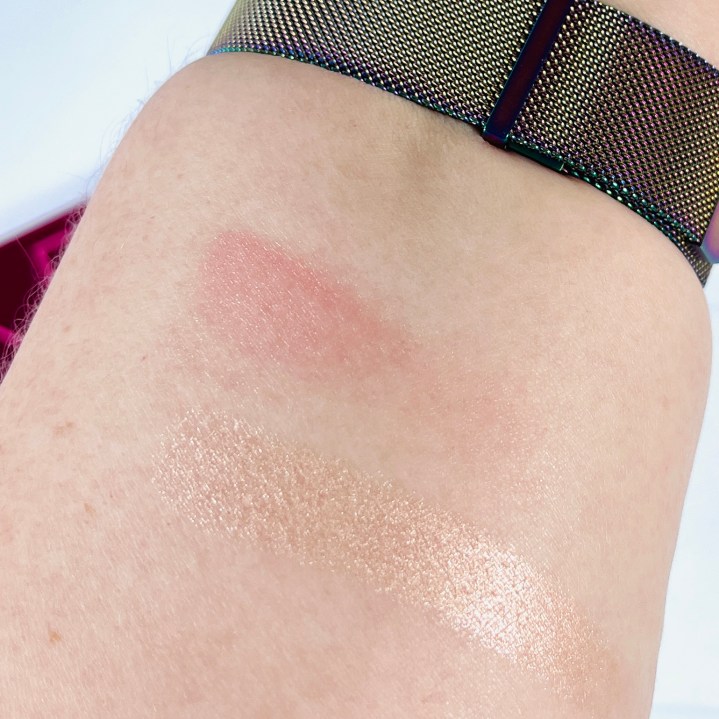 Here's the blush swatched on top and the highlighter below.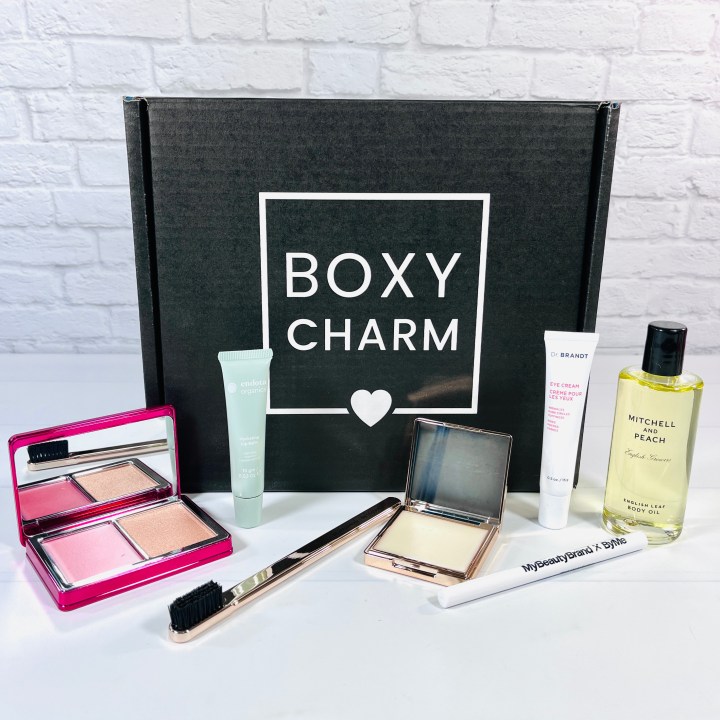 I have to say, I was pretty pleased with my April BOXYCHARM Premium! The body oil was such a treat, and it smelled good and felt nice on my skin. I also liked the cheek duo, eye cream, and brow gel. The lip balm worked well and my lips are back to their smooth selves. The only product I wasn't thrilled about was the liquid eyeliner but that's a personal preference, I just don't use liquid liners. The value was around $261 but mainly the value is that I will continue to use 5 out of 6 products (and will gift the liner).
Below is the product info card plus a couple of box opening pictures.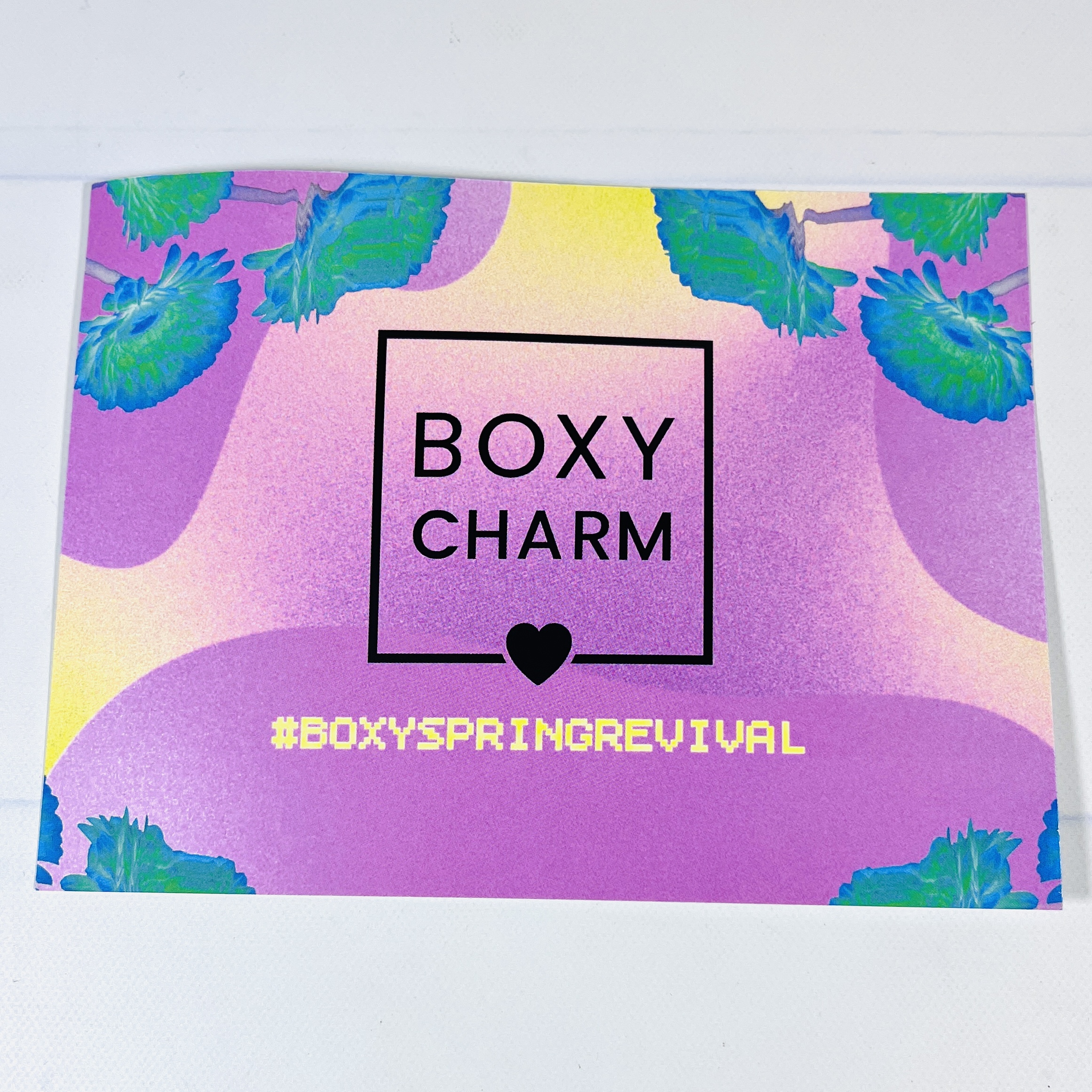 Below are some box opening pictures and the product information card.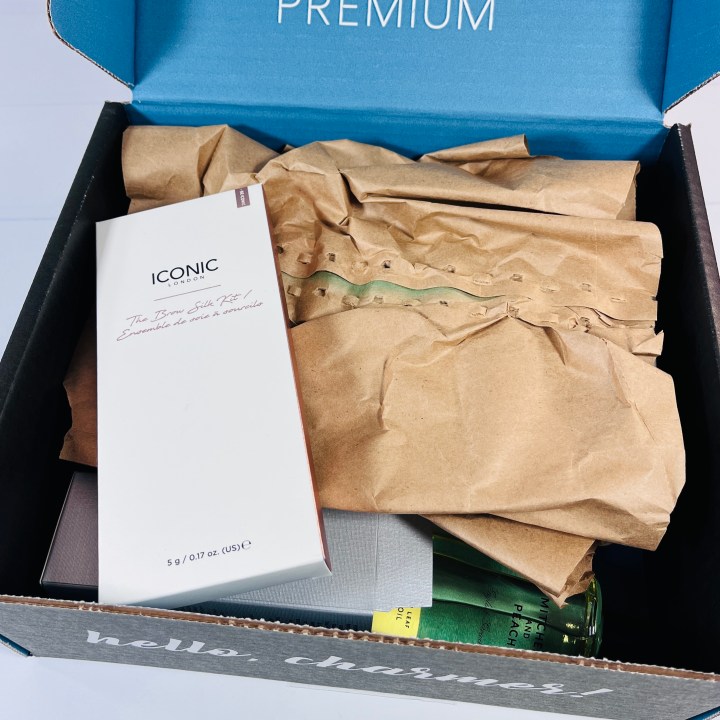 BOXYCHARM Premium is a beauty box from BOXYCHARM (who also has a base box for $27.99 a month and a BOXYLUXE upgrade option). For $39.99 per month (price drops for longer terms), you'll receive 6 items with 2 items chosen by the subscriber. They also state an average value of around $215 per box. BOXYCHARM's premium subscription box was voted by our readers as one of the best beauty subscription boxes for 2022 – and a best skincare box, and a best makeup subscription!
Did you get BOXYCHARM Premium? What's your favorite item?