The best mom deserves the best cookies ever – it's always more delightful to have her indulge with a sweet treat! There's a long list of delectable desserts to enjoy whenever your appetite calls, including pies, cakes, tarts, parfaits, and cookies. Making sure you have these tasty treats on hand when cravings strike is pure pleasure, and Levain Bakery assures you'll never run out of ooey-gooey cookie goodness to grab and bite! If you're running out of idea on what to get Mom this Mother's Day, this is a great treat to satisfy cravings – one of NYC's most famous cookies!
Spoil someone special (or yourself) with crunchy-outside-but-moist-inside cookies! Levain Bakery offers different gift boxes, available in 4-pack ($27), 8-pack ($49), and 12-pack (68). Each set includes decadent pieces of Levain Bakery's signature six ounce cookies! The shipping fee varies depending on your exact location.
Freshly-baked cookies with a molten-like center. People of all ages will love Levain Bakery's cookies! These delectable desserts are baked to perfection to deliver a new kind of melty goodness. They're jam-packed with all the good stuff to create the perfect cookie confection, bringing you a dose of sugar rush and a ton of guilty pleasure.
Although not a subscription, you can easily place an order with Levain Bakery. They currently offer seven different gift sets featuring their delicious cookie flavors. Each is baked to order in small batches by hand, then packed in cellophane bags and hand-tied with blue ribbons for a beautiful presentation!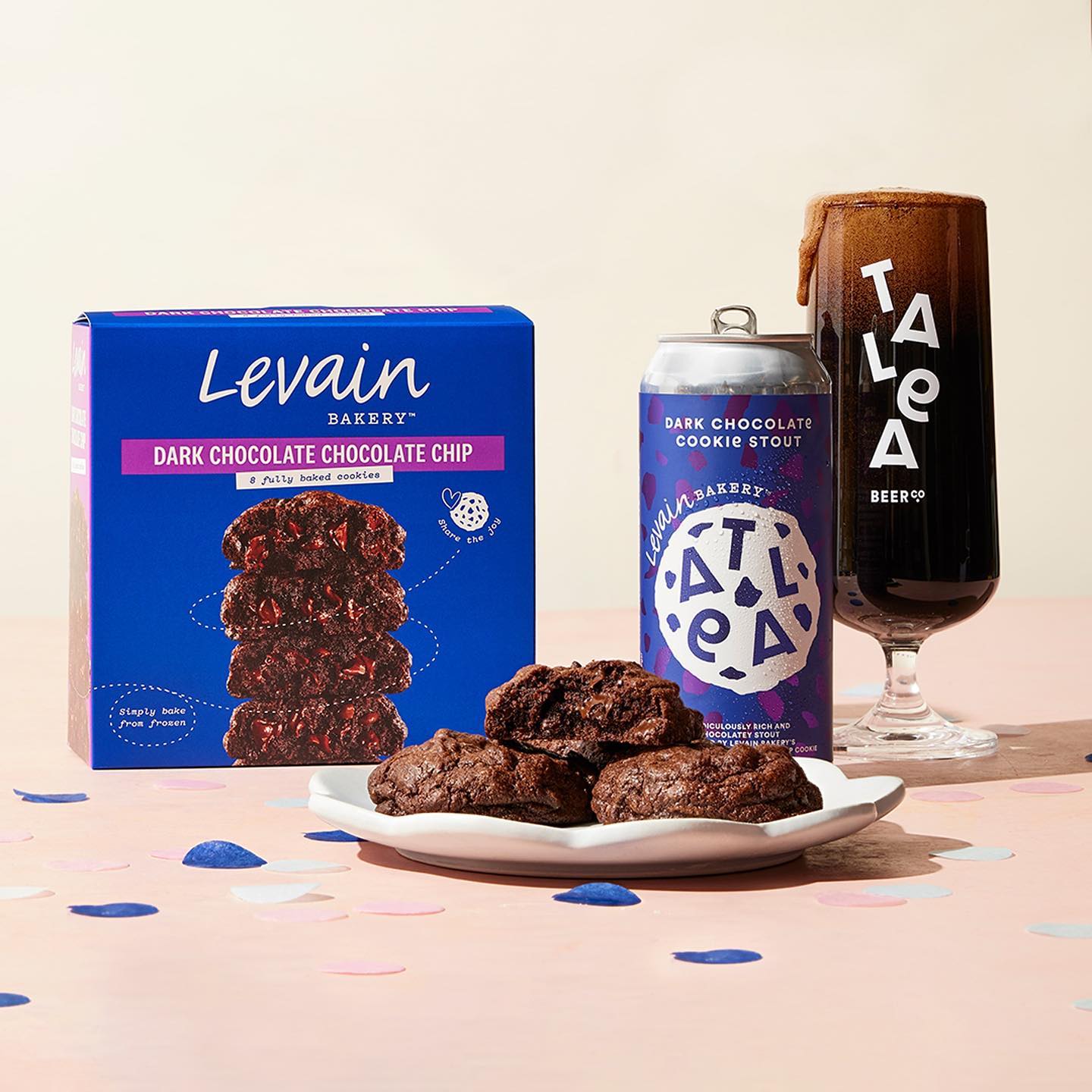 You can try each original cookie flavor with their gift set offerings – Chocolate Chip Walnut Cookie Gift Box, Dark Chocolate Chocolate Chip Cookie Gift Box, Dark Chocolate Peanut Butter Chip Cookie Gift Box, and Oatmeal Raisins Cookie Gift Box. There is also an option to try all four when you opt for a Signature Cookie Assortment Gift Box. Another gift set offering is the Two Chip Chocolate Chip Cookie Gift Box, which is a decadent take on the classic chocolate chip cookie without nuts for a rich depth of flavor. All these gift boxes are available in 4, 8, and 12-pack. The Chocolate Lovers 8-Pk Cookie Gift Box is also an option, and it includes four dark chocolate chocolate chip cookies and four two-chip chocolate chip cookies.
Even if you're not within eating-distance of the bakeries where they make these fresh, this is the next best thing, and you can still enjoy them warm and molten, and totally fresh.When ready to eat, simply heat your cookies in a 350℉ oven for 5-10 minutes until warm and gooey.
Levain Bakery can also help you spread the cookie love with Bakery Gift Cards. The amount ranges from $25 to $100 and can be used in stores only. There are ten retail stores you can visit physically – check out Levain Bakery's website to see which ones are near you. It's the ultimate indulgence for cookie connoisseurs!
Are you getting Levain Bakery cookies for mom this Mother's Day?
Find more goodies for mom in our Mother's Day gifts and deals roundup!