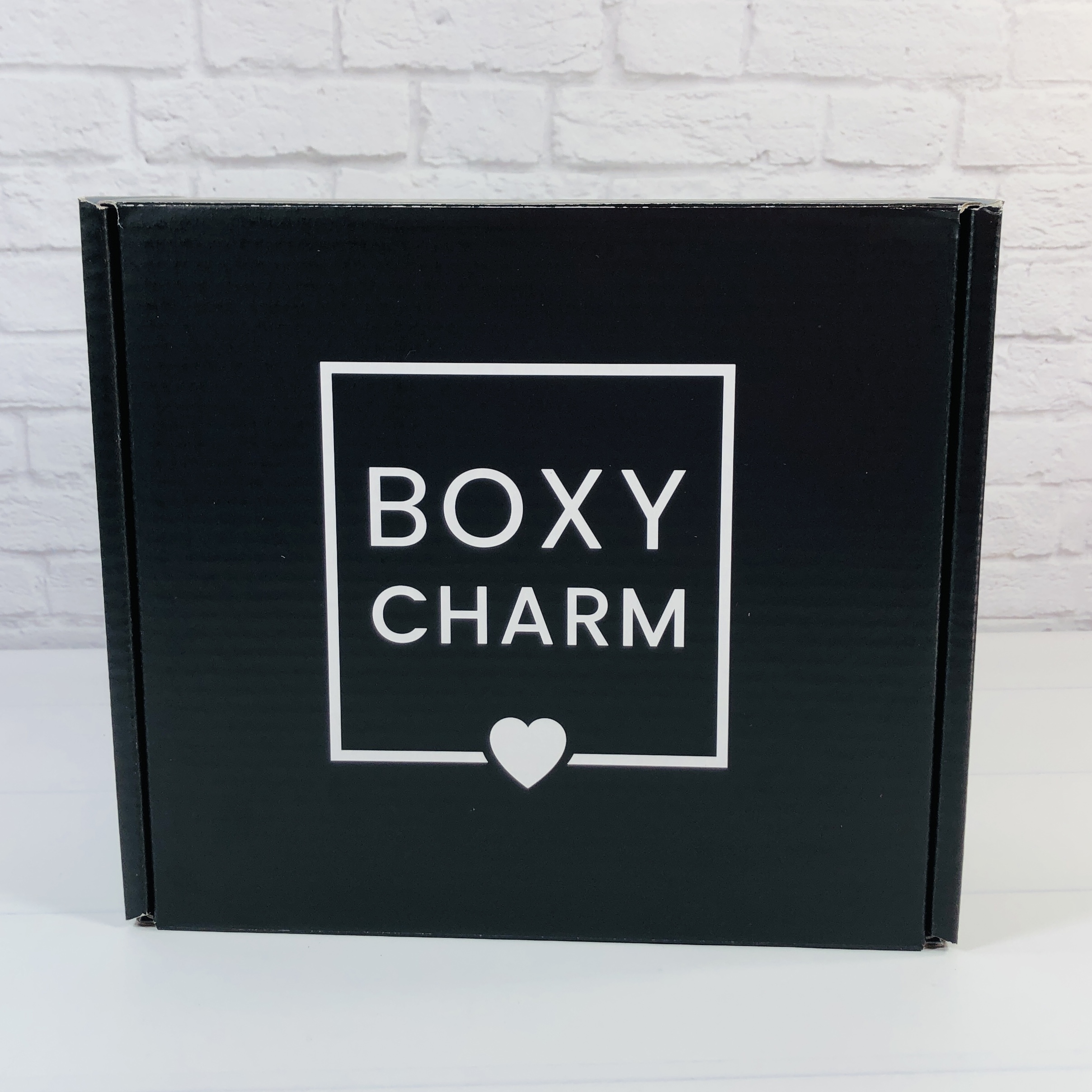 BOXYCHARM Premium is a beauty box from BOXYCHARM, separate from the regular/base BOXYCHARM and BOXYLUXE upgrade. For $35 per month, you'll receive 6-7 items with 1 item chosen by the subscriber. They also promise $175+ value in every box and no product overlaps. When you sign up for Premium, you must get the base/classic box for the month you signed up for and stay subscribed to that until you're off the waitlist for Premium. After you score Premium, you can let go of the base box if you choose. Boxycharm's premium subscription box was voted by our readers as one of the best beauty subscription boxes for 2021 – and a best skincare box, and a best makeup subscription!
DEAL: Subscribe now and get a free gift: PLUS $10 credit to May PopUp!
Use this link and coupon code QUEENBEE to get a FREE Eloise The Queen Eye Shadow Palette OR use the coupon code BESTBUDS to get a FREE Beauty Bakerie Breakfast in Bed Eyeshadow Palette AND get your exclusive $10 Popup code via email within 24 hours of subscribing.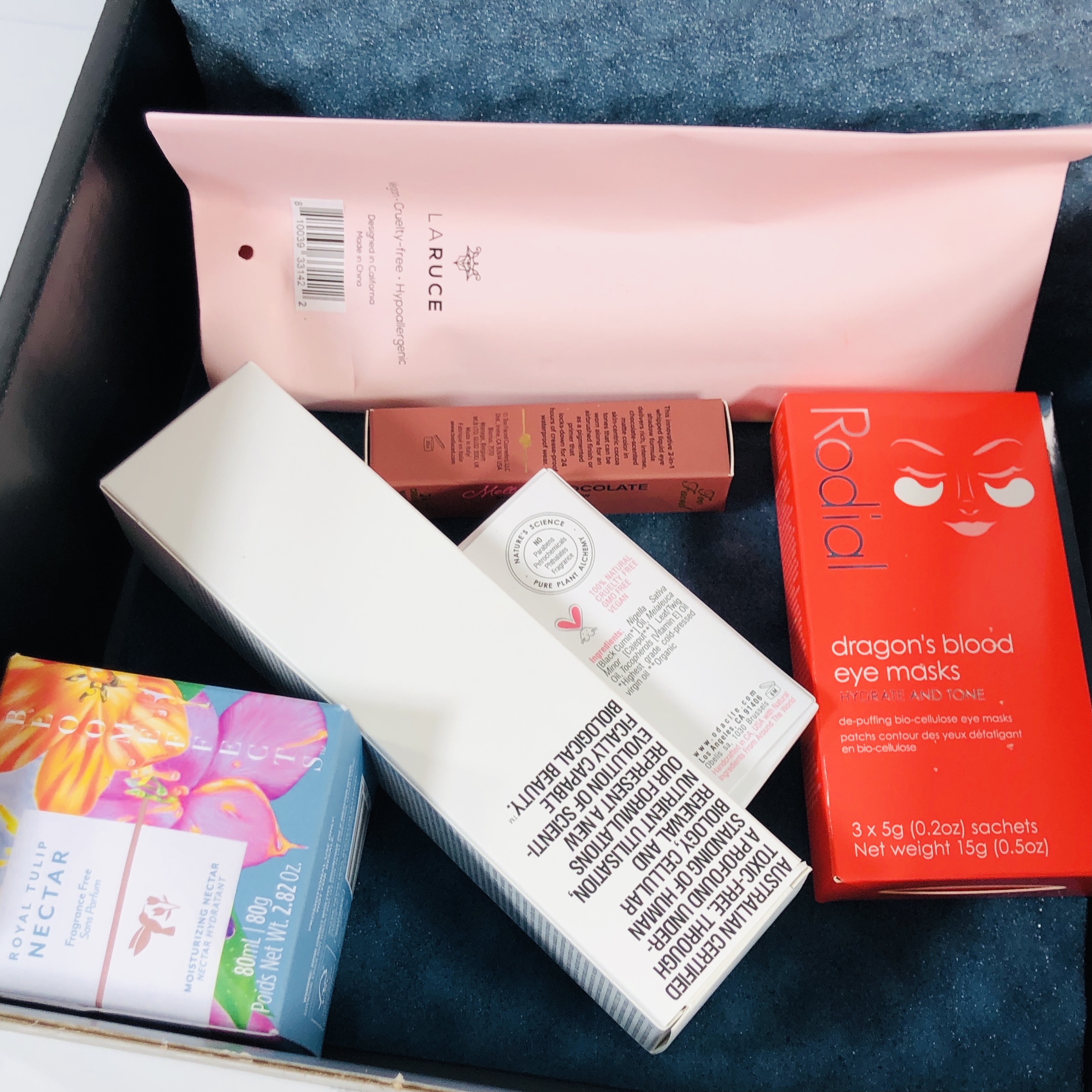 The items arrived in their original packaging and were cushioned with a foam insert.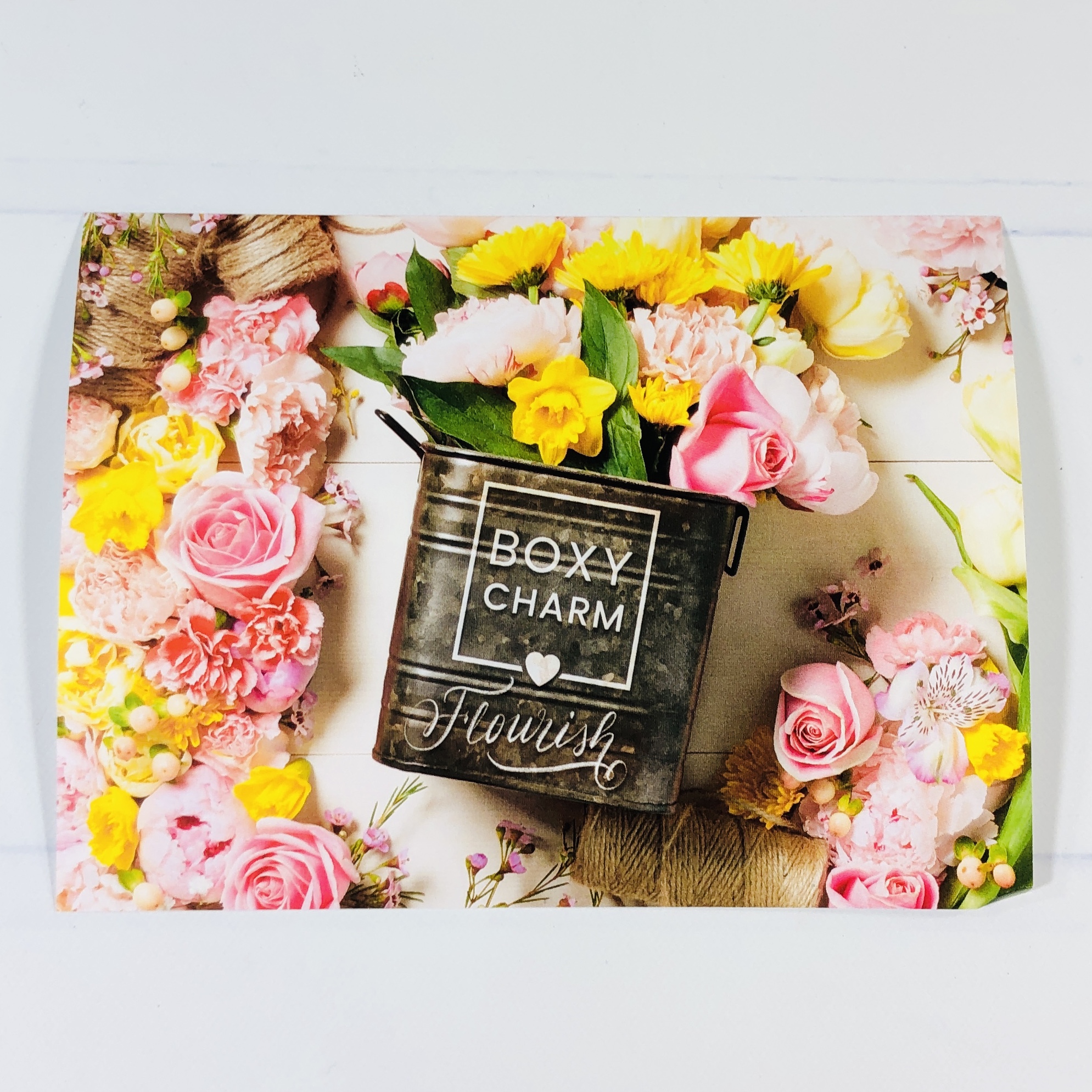 The theme for May is FLOURISH!
Listed at the back are the products inside the box along with MSRP's.
Everything in my May 2021 BOXYCHARM Premium! There may be variations in the box – see the full spoilers here.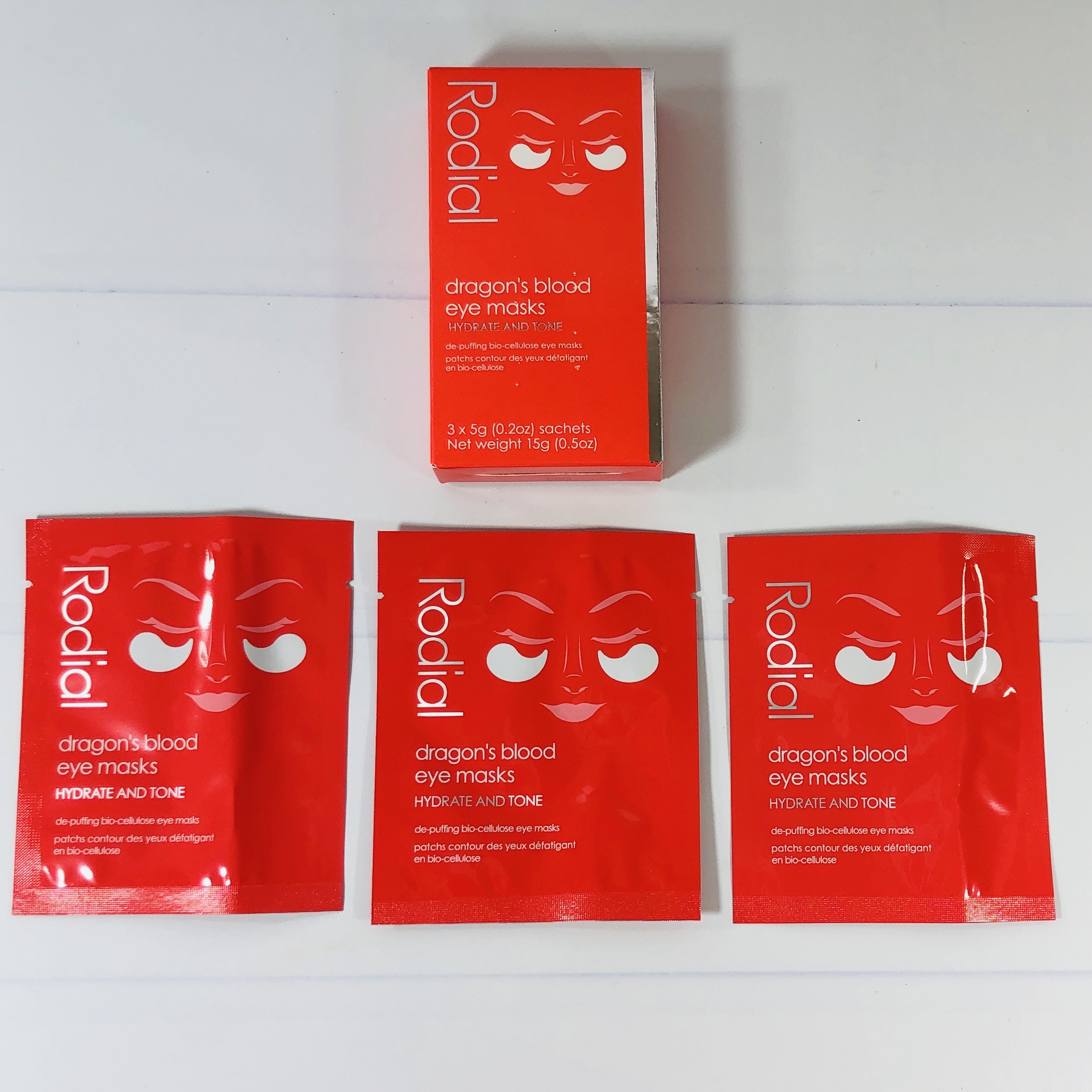 Rodial Dragon's Blood Eye Mask Trio ($18) I love trying eye masks and I must say, this was one of my favorites! Luckily, I have two more to use this month, which is a busy one for me with little sleep so I can use all the help I can get in looking like I actually rest.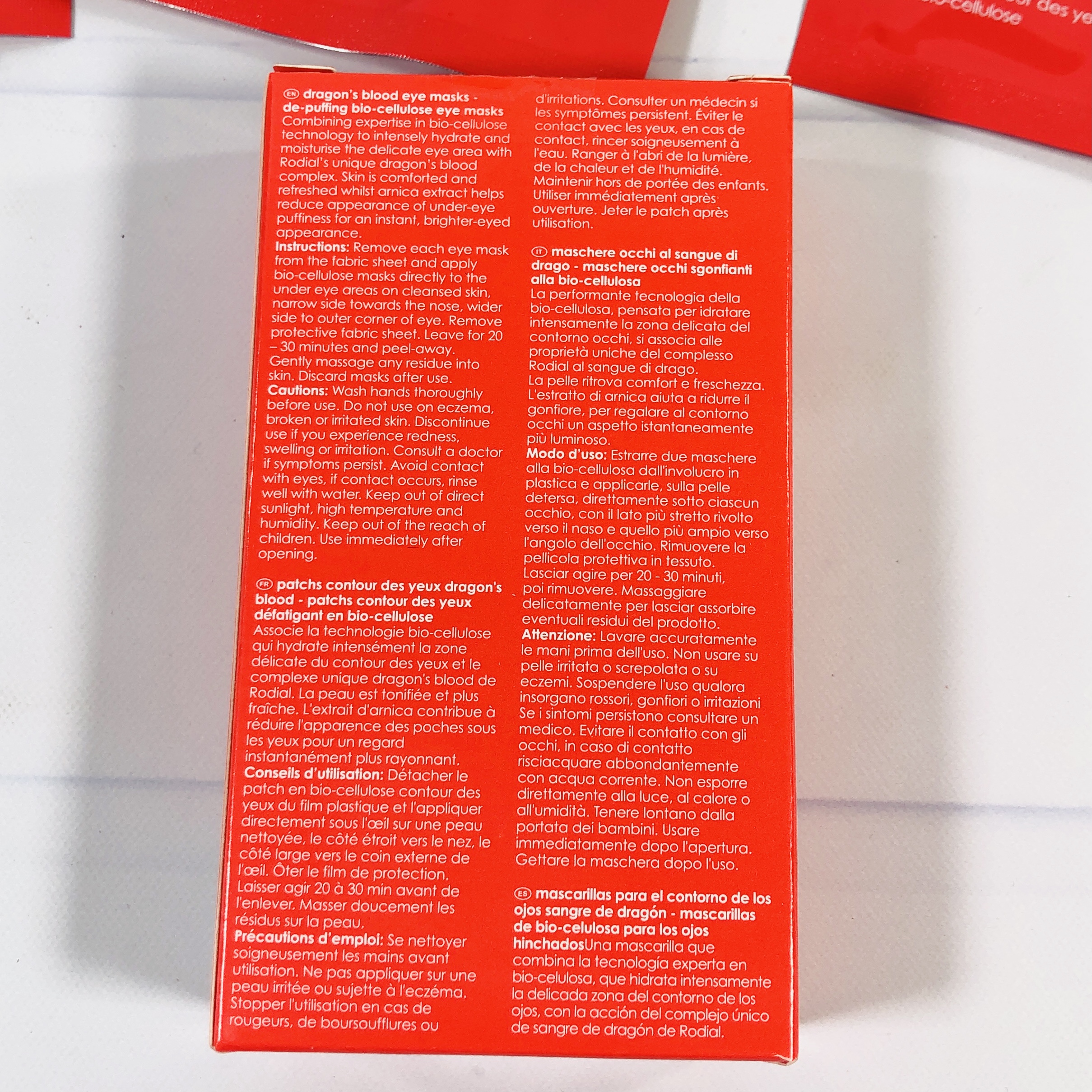 I have never heard of Dragon's Blood before but it comes from a plant that "bleeds" red latex sap. It is antimicrobial and may help heal wounds. Here it is supposed to help improve hydration, which is aided by the inclusion of sodium hyaluronate. It's supposed to have fragrance, although I didn't smell anything and didn't experience any irritation.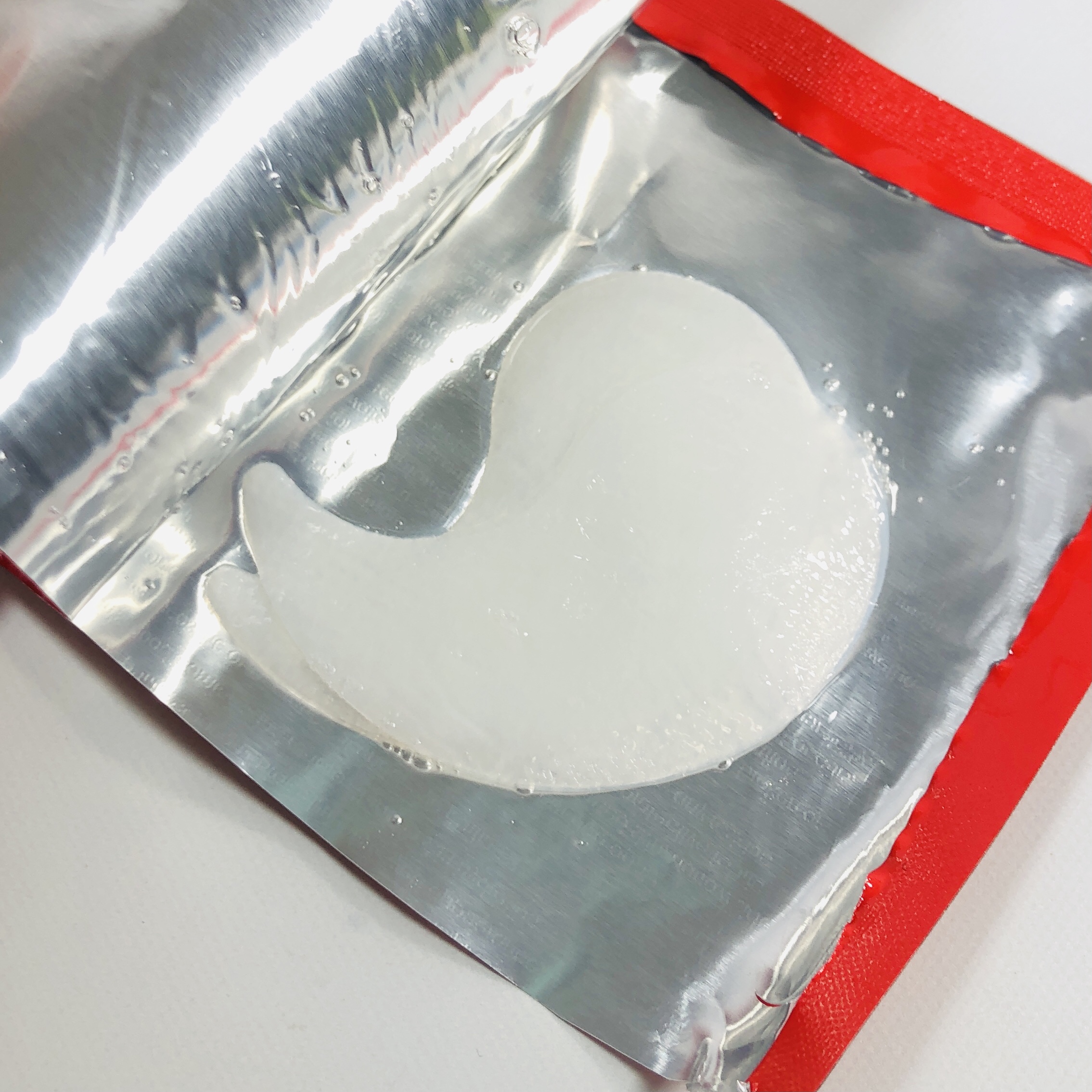 There was a lot of serum in the packet and each mask had a protective fabric sheet on each side. The skinny end goes towards the inner eye and the masks were easy to place and even better, they stayed in place. I was able to wear my reading glasses and enjoy my breakfast while the serum-soaked masks sat without moving for at least a half hour (I was also reading a book and lost track of time). When I removed the masks and patted in the remaining serum I could feel that the area was cool to the touch and it felt soothing and refreshed. It didn't feel oily and overall, I loved these masks!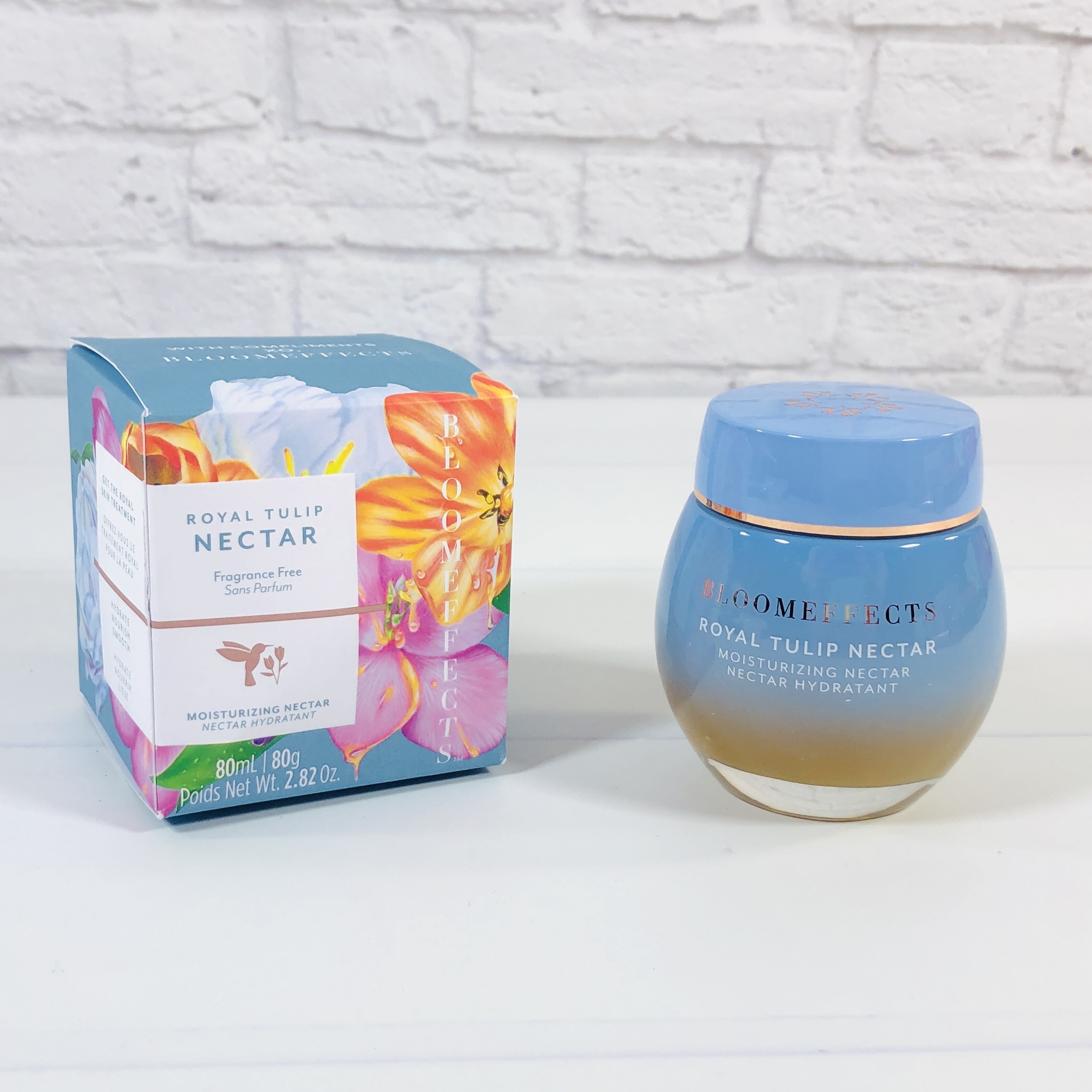 Bloomeffects Royal Tulip Nectar ($65) I love discovering new brands in my various subscription boxes and this one was new to me! I love the box and the container, which is glass and has lovely shades of blue with gold accents. The version online comes with a tulip-shaped scoop and this promotional packaging didn't include the scoop.
The product is free of parabens, fragrance, and dyes, all things I prefer to avoid in skincare. It has tulip extract to help skin glow and sodium hyaluronate to keep skin moist. This hydrating product is supposed to repair the skin's barrier to gently help skin heal.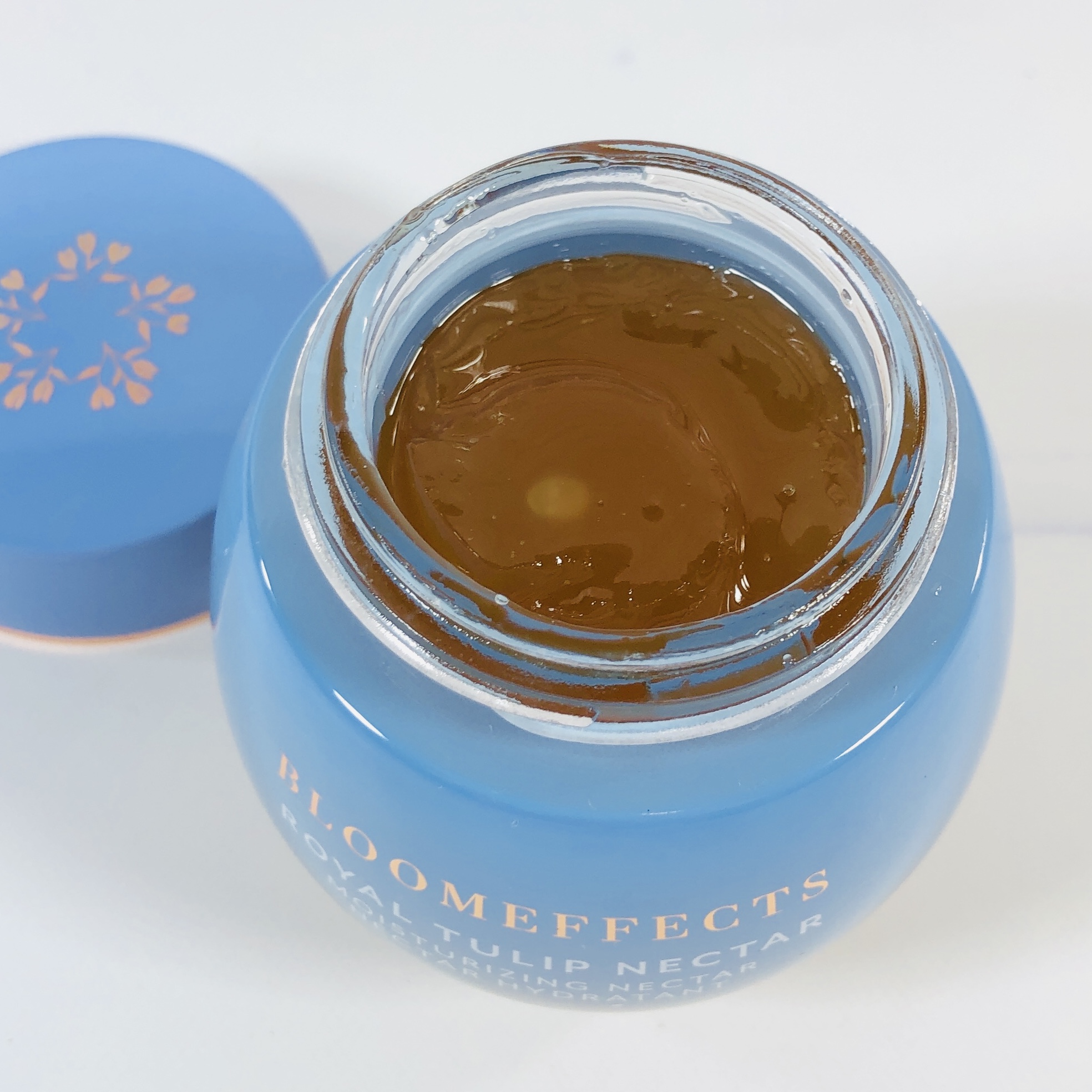 The product needed a good stir before using, and it thickened as I mixed it up with a wooden chopstick. The consistency is described as ointment to serum and it flows a bit like honey. I liquified it between my fingers before massaging it into my face. I used it before bed and it left an emollient feeling on my face that was still there in the morning. It doesn't have much smell at all, maybe a hint of spice? I would suggest getting a little wooden or plastic spatula applicator to use with this nectar because it will need to be stirred each time and it seems unhygienic to use fingers.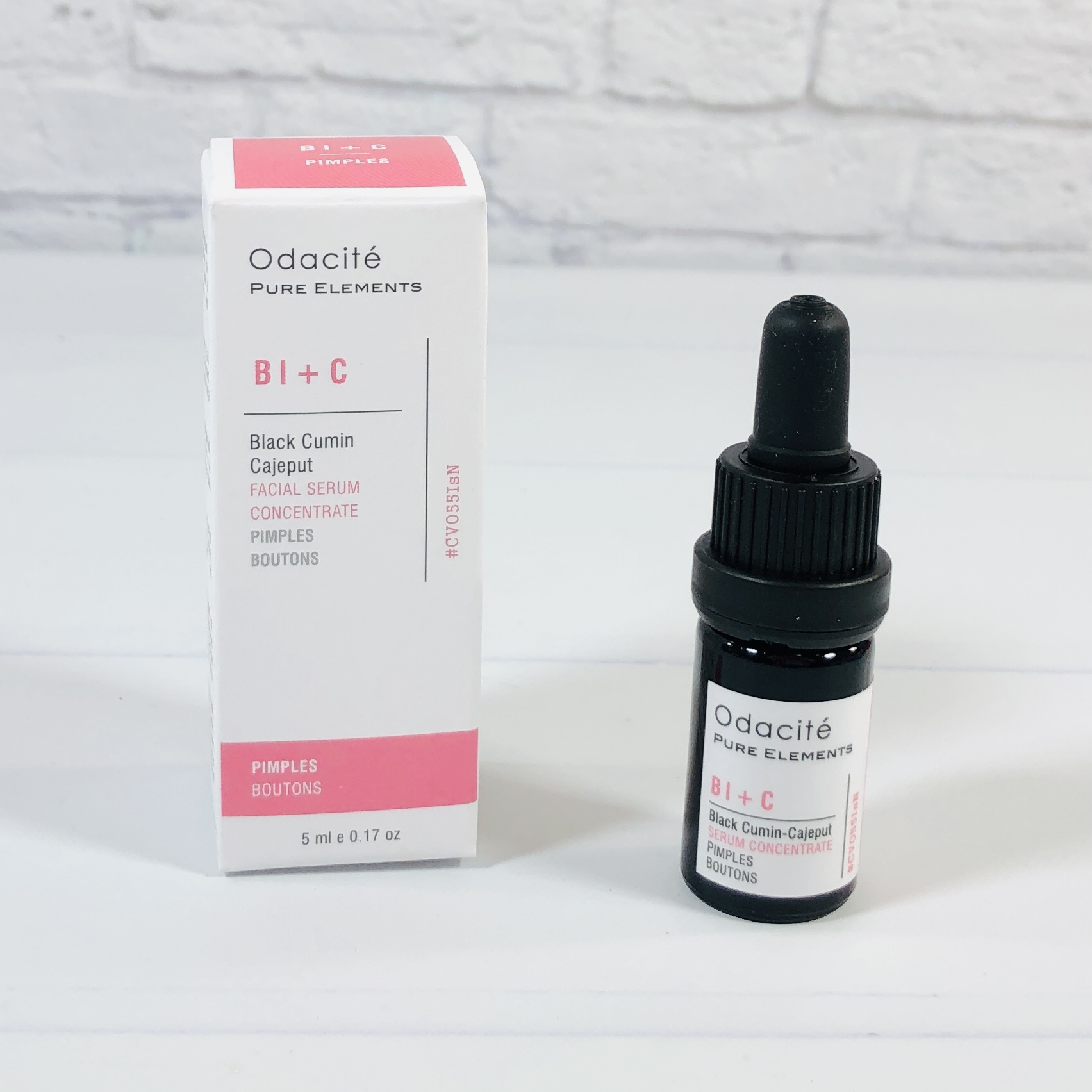 Odacité Bl+C | Pimples Black Cumin + Cajeput Serum Concentrate ($36) While the previous product was perfect for those, like me, with dry or combination skin, this item is meant for those who frequently have acne outbreaks.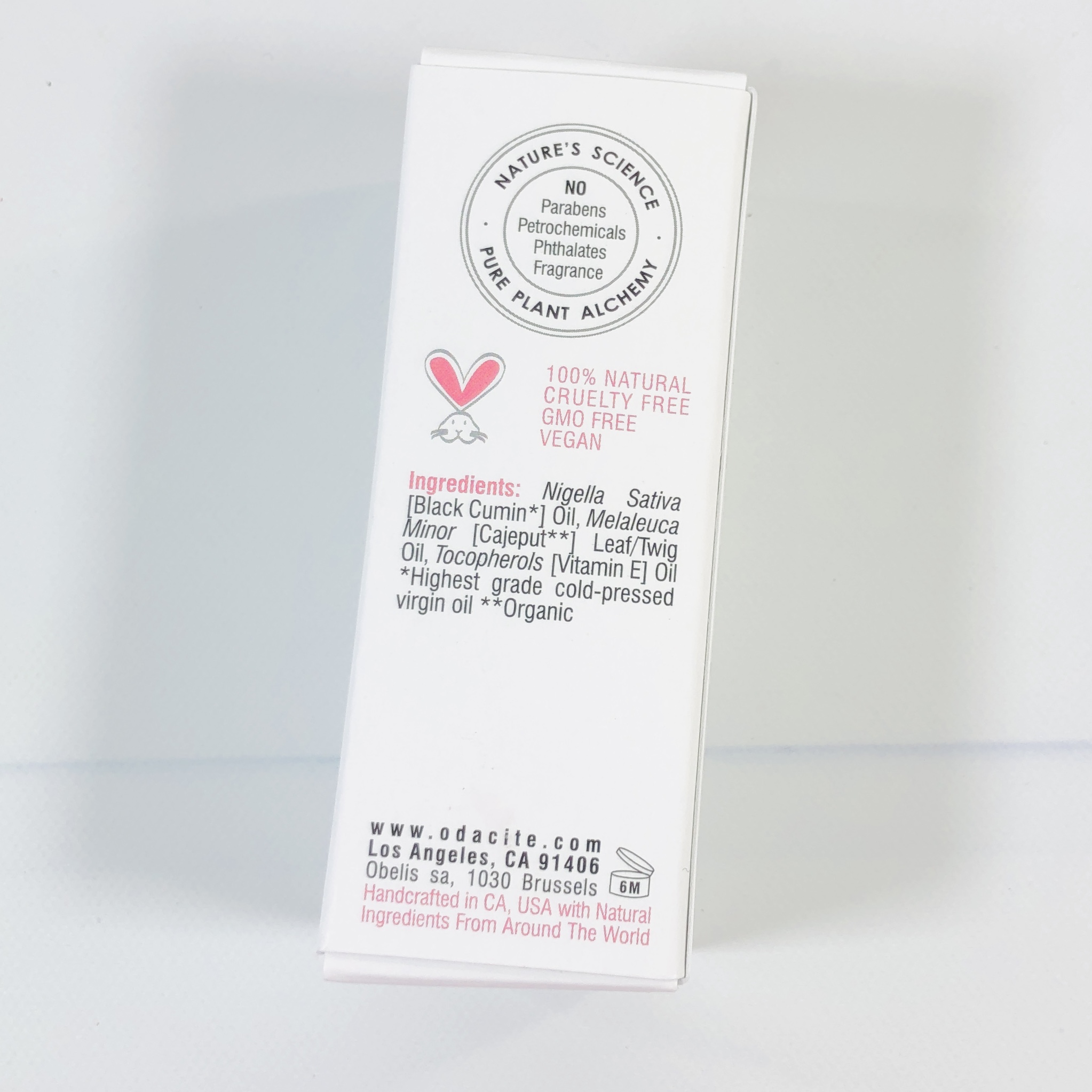 The ingredients are simple, only black cumin seed oil, cajeput oil (from a type of tea tree), and vitamin E.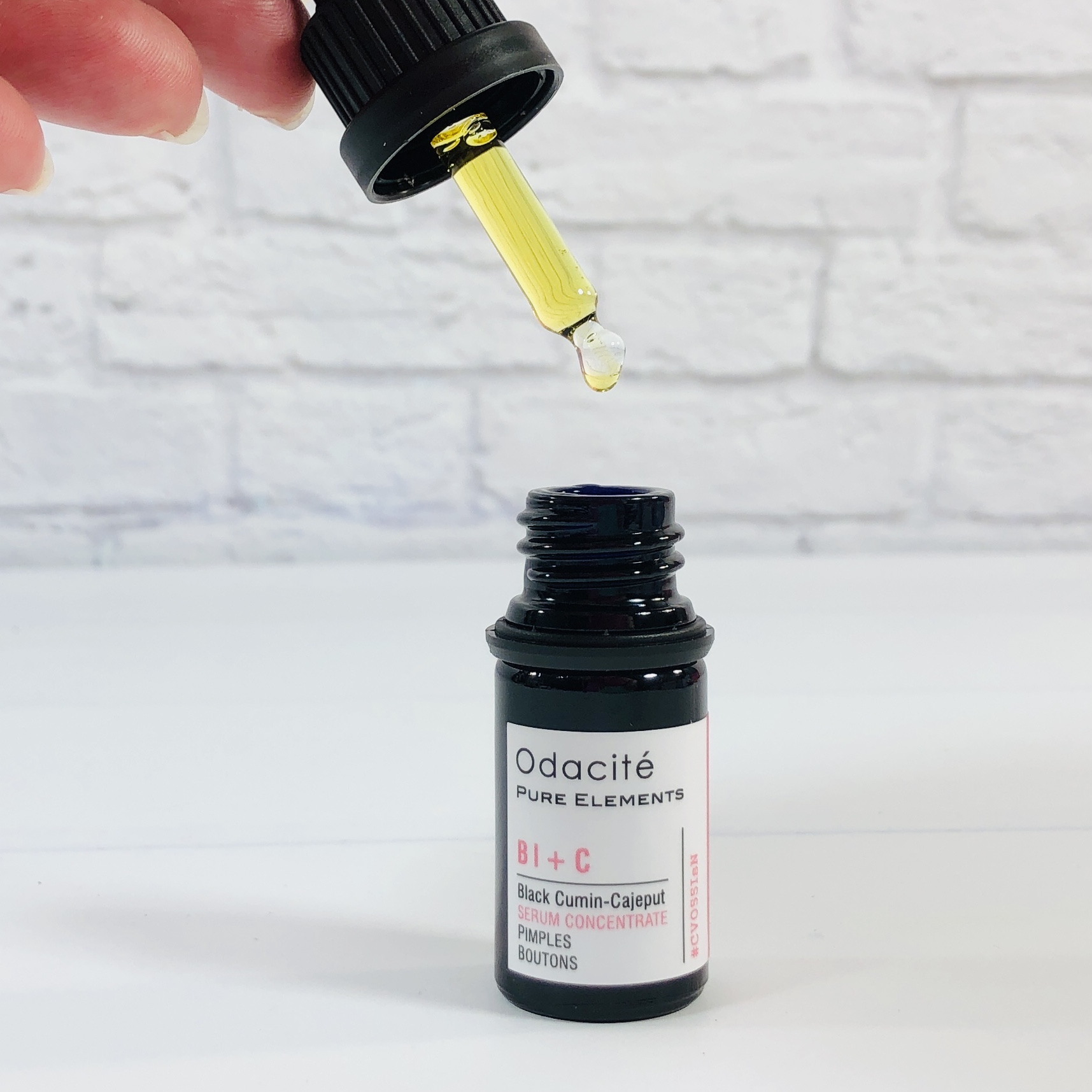 The serum can be applied to spots or it can be mixed into a face cream for an all-over treatment. The scent is rather strong, as tea tree and cumin both are highly scented, and just a drop goes a long way. I will be passing this along to my teenager!
Grown Alchemist Body Cream: Mandarin, Rosemary Leaf ($26) I love to receive body care products in subscription boxes! Body lotions are probably my favorite item of all.
Aloe, sweet almond oil, glycerin, and shea butter are a couple of the ingredients that lead the list and the lotion is scented with orange peel, rosemary, and mandarin essential oils.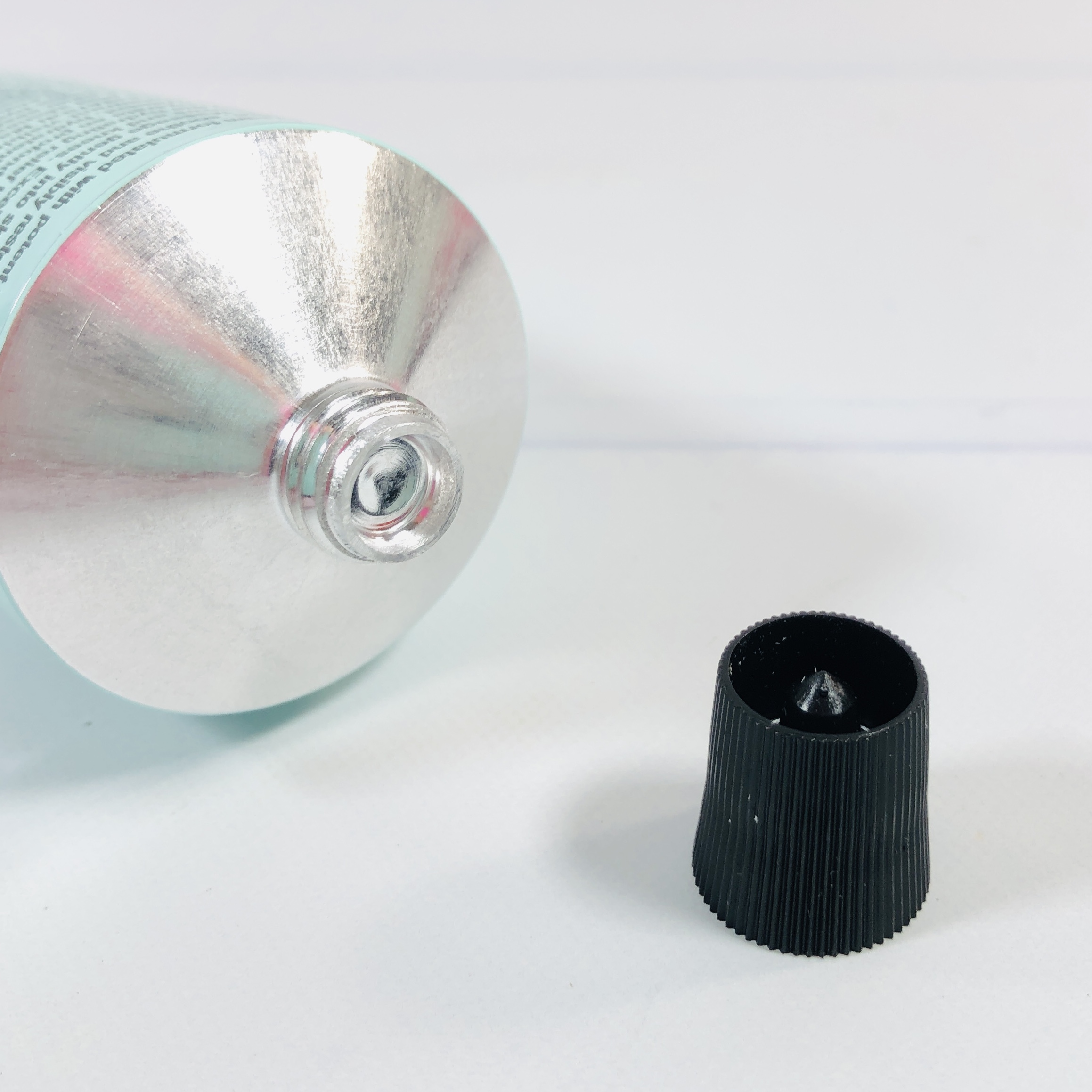 The cream has a seal over top so you will need to pierce the metal with the backside of the cap. The cream is non-greasy and I decided to use it on my arms only since I can't smell it on my legs (and this way it will last longer). The scent is very light and natural and fades quickly. I think this is a good daily body cream, as opposed to a heavy healing cream, although I would probably avoid it if I'm going to be exposed to the sun for very long due to those citrus oils.
Laruce Beauty On The Go Set ($96 listed value) I couldn't find a set containing just these three brushes but the value comes from the current selling price of the individual brushes. There is a set containing these three brushes plus three others that's currently selling for $88, look for the red barreled Year of the Ox set. The brushes have vegan bristles, the barrel colors are called Midnight, and the ferrules are silver-toned. I like LARUCE brushes and find that they work well, last long, and don't shed. There will be LARUCE brushes in the June Allure Beauty Box!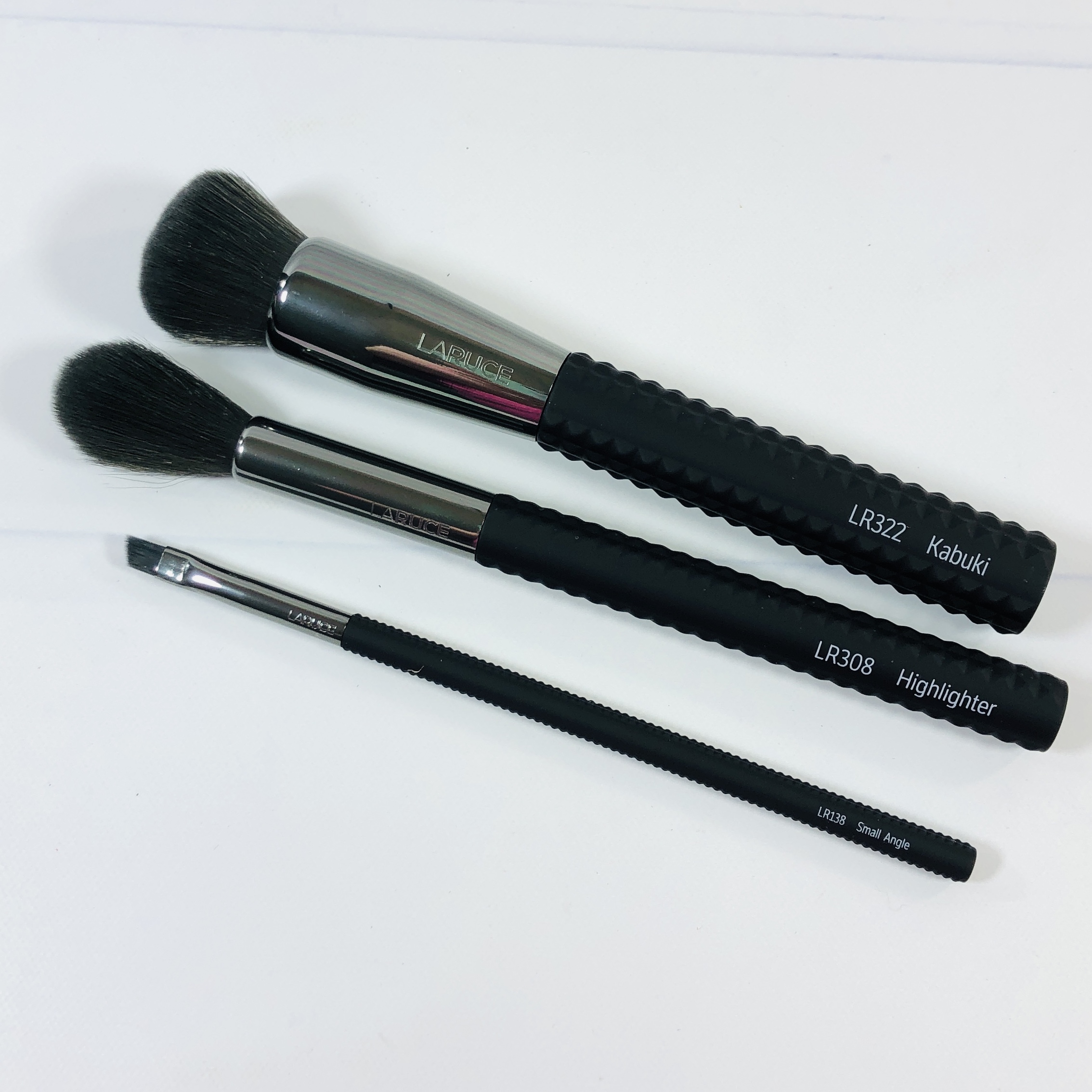 Laruce Beauty Kabuki LR322 Brush ($30) The Kabuki Brush (top) is meant to be used to blend out undereye concealer but of course most brushes can be used for multiple purposes. I thought it did a good job on my concealer and would probably work as an applicator for my powdered mineral makeup.
Laruce Beauty Highlighter LR308 Brush ($32) The Highlighter Brush is just that, a fluffy brush that helps me get some sheen on my nose, cheeks, and forehead. The bristles aren't tightly packed so if you prefer a lighter hand with the sparkle and sheen, this is your brush.
Laruce Beauty Small Angle LR138 Brush ($30) The Small Angle Brush can be used with powder or liquid liner to line eyes or create winged looks.
From left: Kabuki, Highlighter, Small Angle.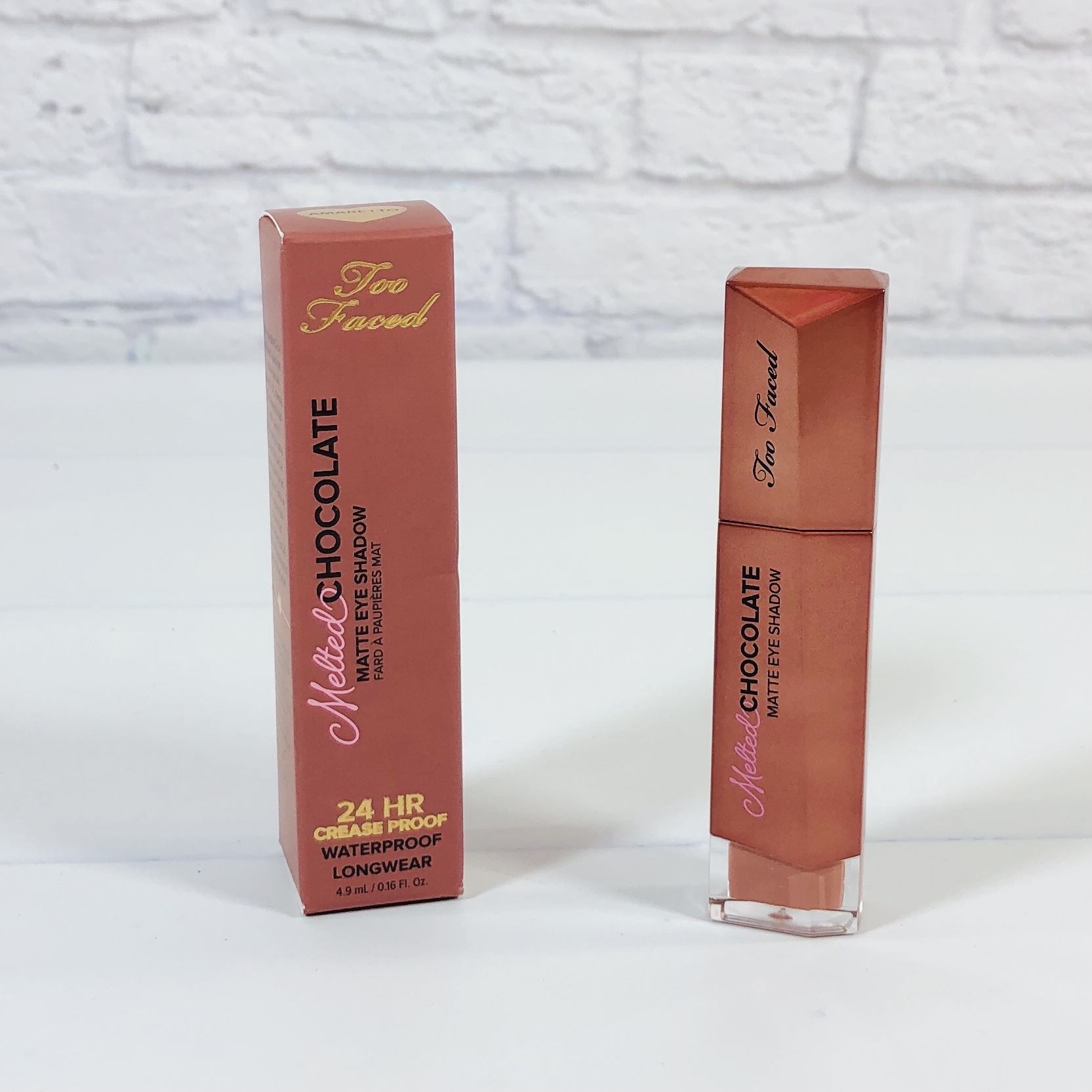 Too Faced Melted Chocolate Liquid Matte Eyeshadow in Amaretto ($21) Here is a product that is supposed to be like long-wearing lipstick for your eyes! I actually thought it was lipstick at first but luckily I figured it out.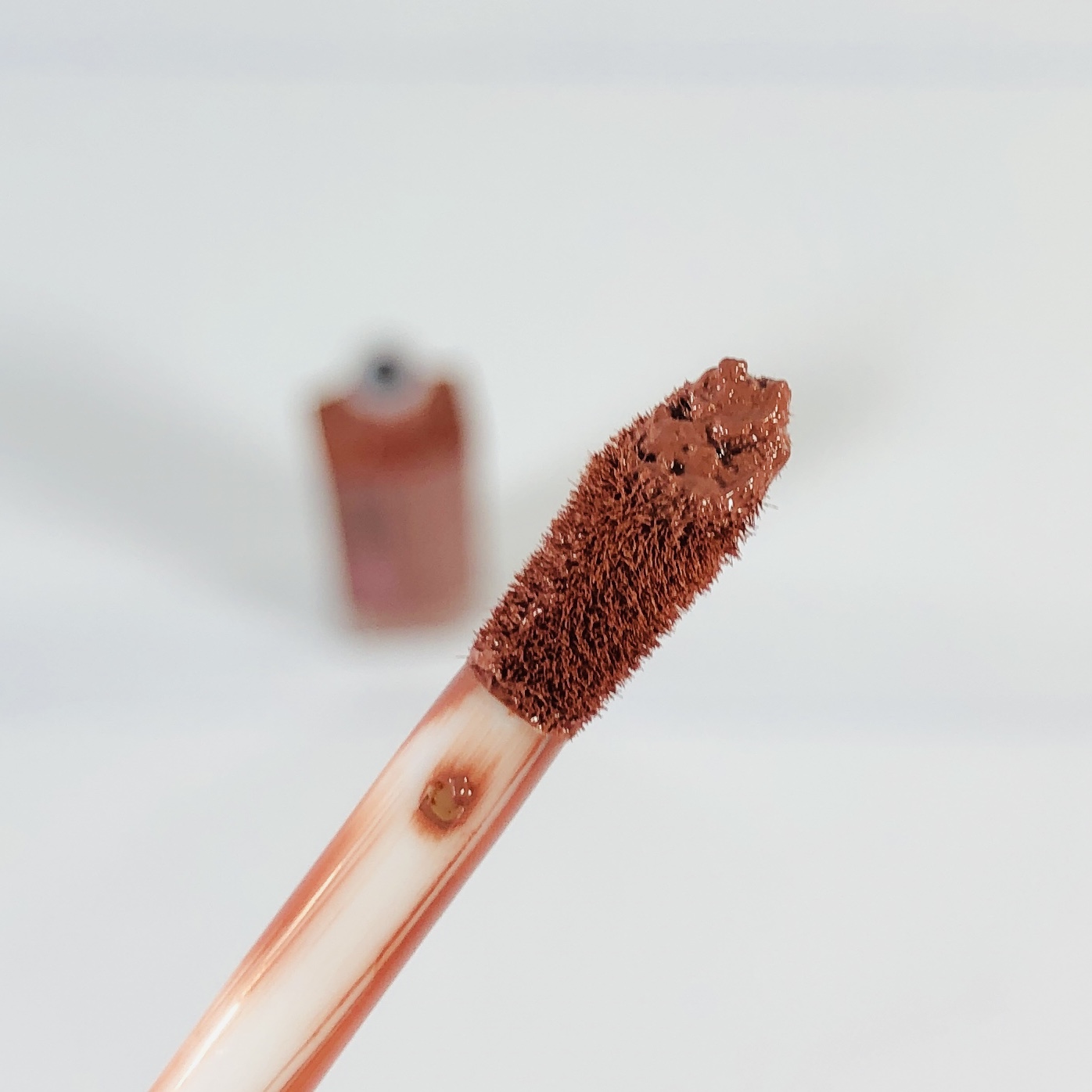 It has a doe-foot applicator and the formula is a creamy mousse that dries matte. It dried very quickly so put it on one eye, spread it around with your finger, and then do the other eye. I wasn't sure about the color at first and I probably applied it thicker than I should have. I went over it with a lighter powder shadow and fell in love. Turns out this makes a great eye primer too! I used a darker color in my crease and then was surprised at how much I liked it, and it lasted all day too.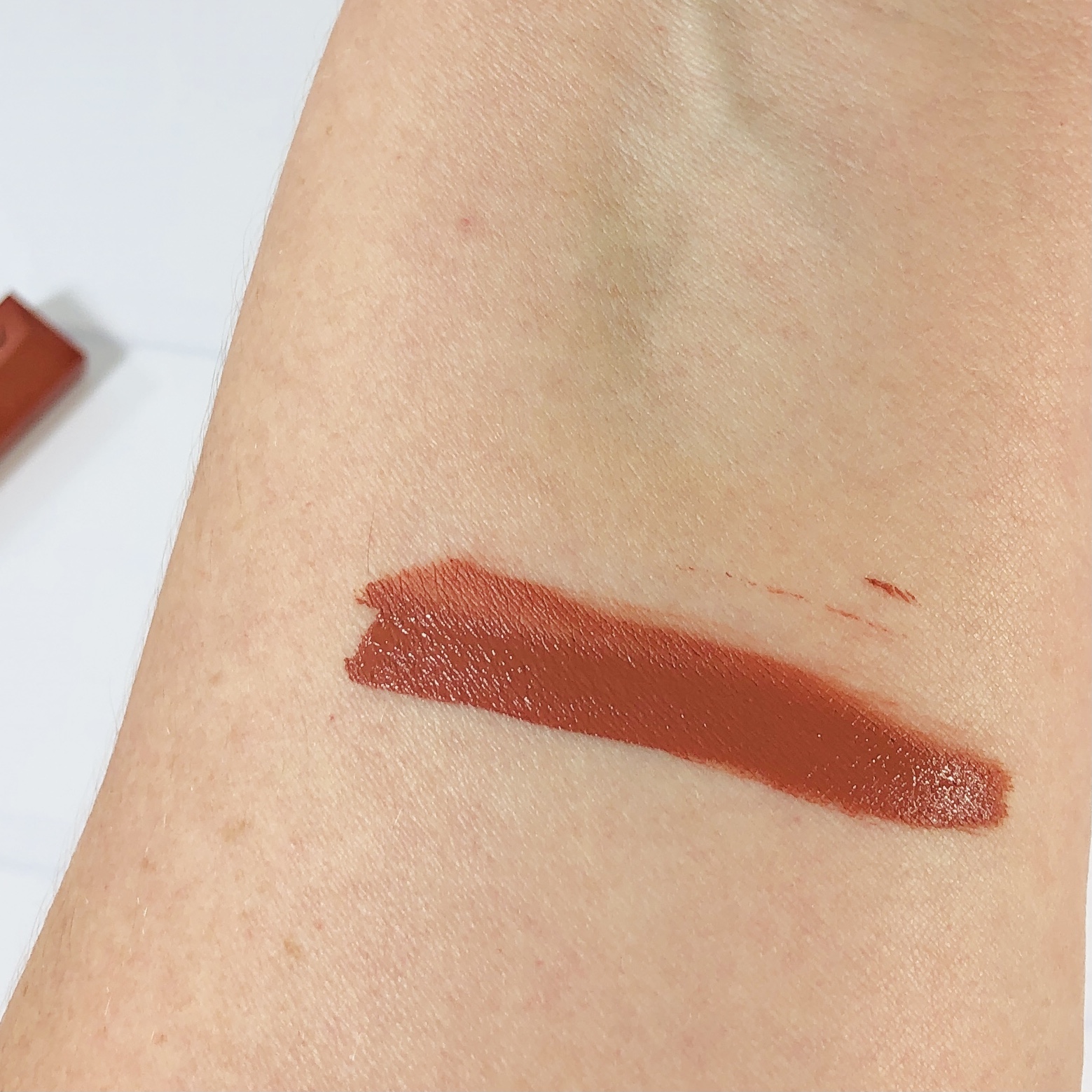 Here it is swatched. It is supposed to smell like chocolate but I didn't really notice that, and it didn't smell bad or perfumed, always a plus. The shade Amaretto was a sort of pink adobe brown shade and I was really happy with this shadow!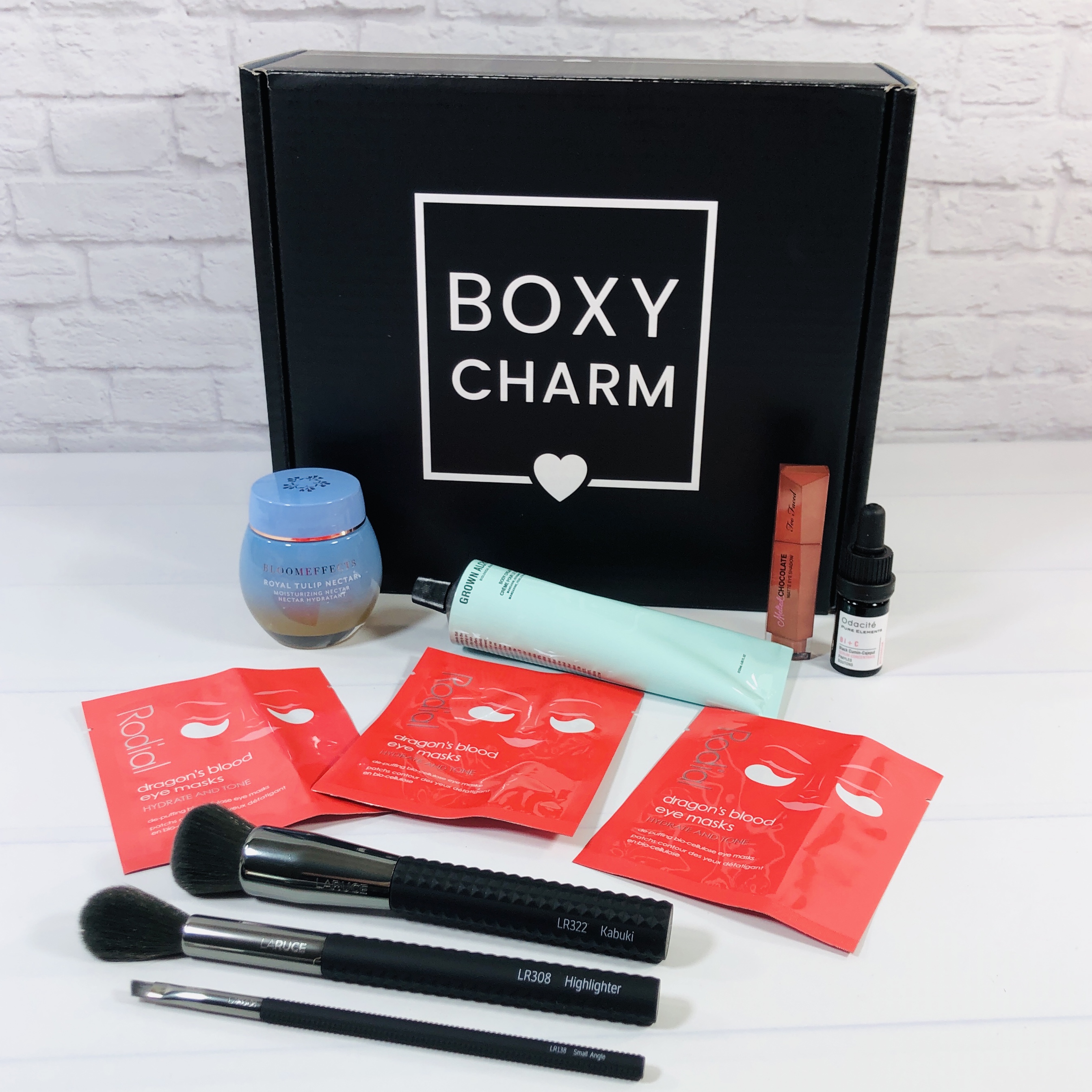 I was super impressed with my May BOXYCHARM Premium collection! The eye masks were the best I've ever tried while the tulip serum was one of the most interesting things I've ever sampled in a subscription box. I like the short list of ingredients in the acne spot treatment, I can feel good about passing that item along to my daughter. The body lotion worked well and had a light scent that I found enjoyable. I didn't think I would like the mousse eyeshadow but again, that is the fun of subscription boxes, discovering products I might not try otherwise. The makeup brushes are sturdy and work very well, I am always happy to add more from that brand to my collection. The value for my May assortment was around $262!
Did you get BOXYCHARM Premium? What's your favorite item?