Butcher Box is a subscription box service that delivers premium quality meat for $129 per month. Each box comes with a selection of meat (about 15-20 meals worth) that has been carefully cut and prepared. The Butcher Box brings back that unique experience you get when you visit your local butcher shop. Their specialty is 100% grass-fed beef, but they also provided mixed subscription options where you can swap in some pork or chicken. You can also have the box delivered every two or three months depending on your needs.
For this review, we're featuring some of the dishes we made using our items from Butcher Box. This is different from our regular Butcher Box reviews! We hope it gives you some great ideas what to make with your Butcher Box goodies!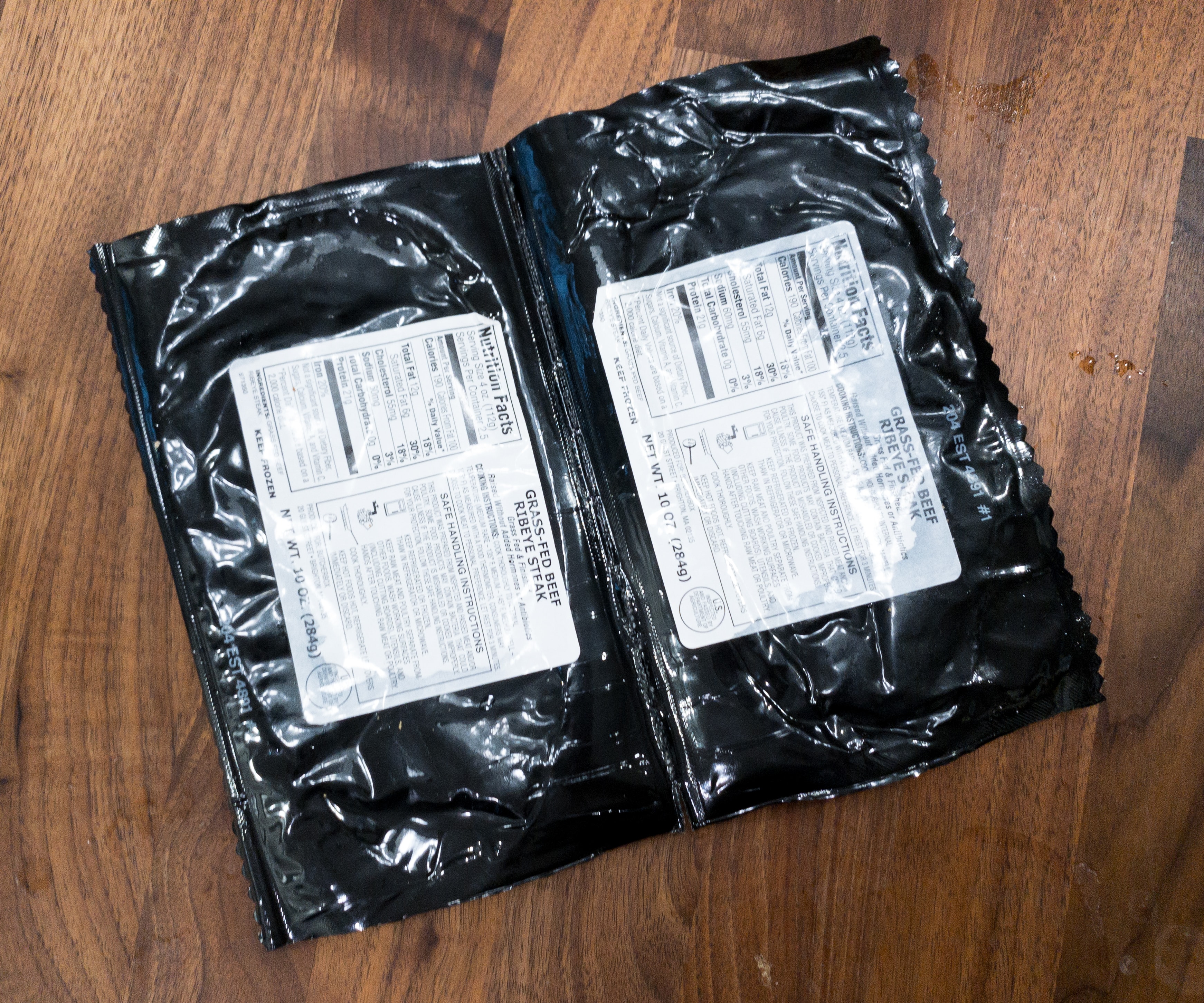 I figured we'd start by showing what some of the more popular cuts look like when simply prepared. First up is the antibiotic and hormone-free Beef Rib-eye Steak from the December 2019 Butcher Box, also known as the king of steaks!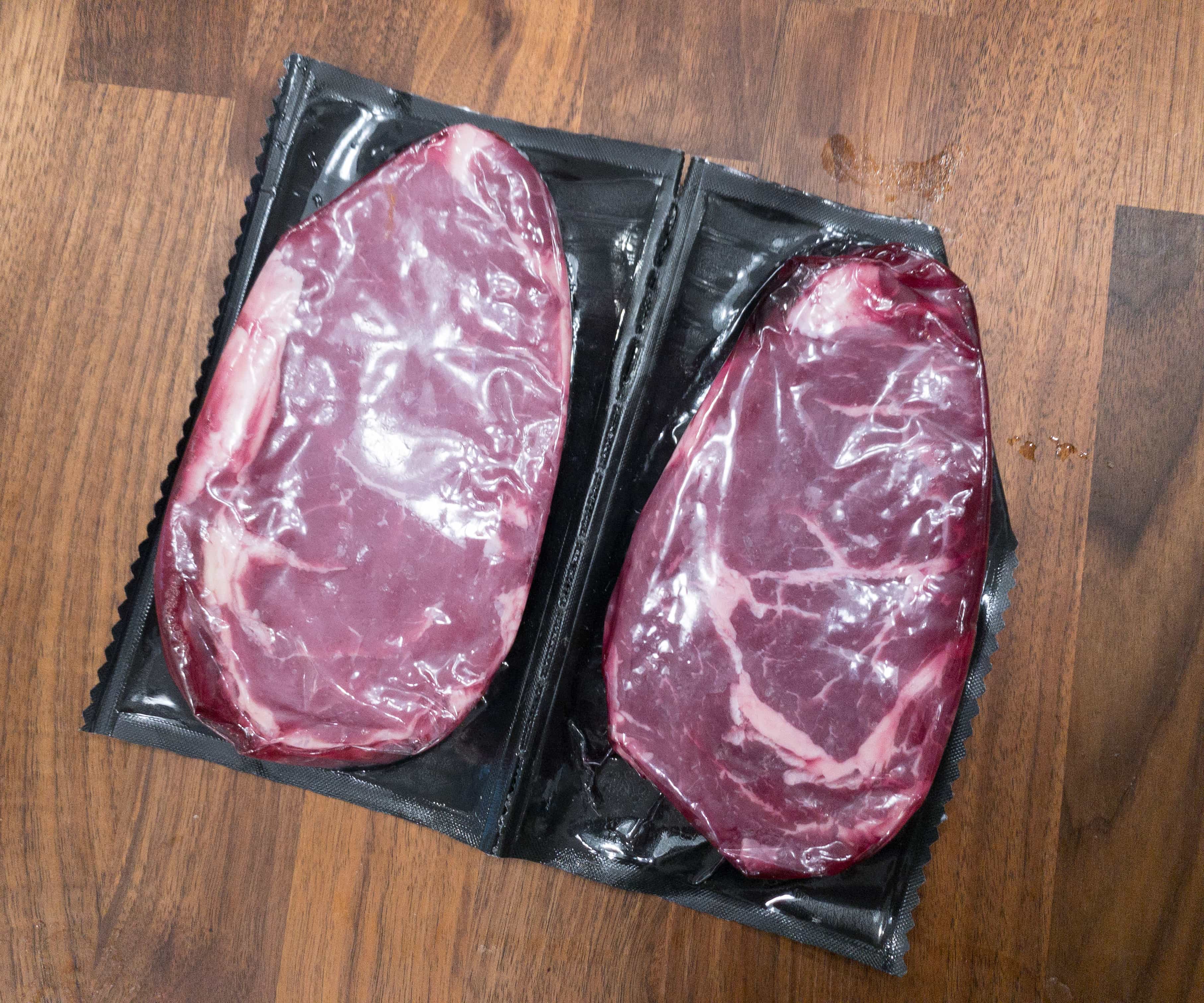 This cut is the favorite of many a steak guy because it's relatively tender with lots of fat and lots of flavor. It comes from the center of the rib section and has enough marbling to make a very juicy steak that is very satisying!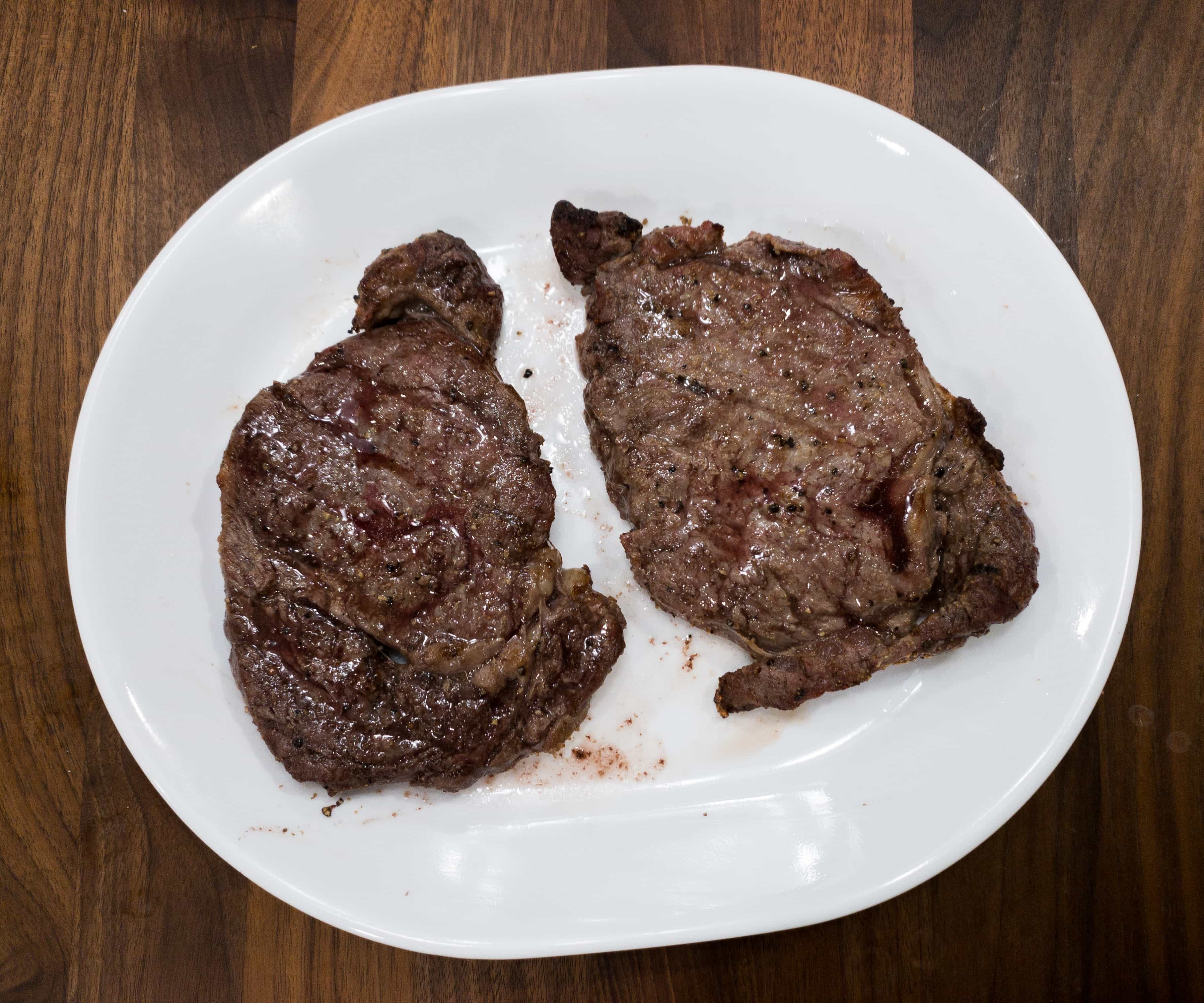 We seasoned this with a bit of Montreal seasoning, grilled it to medium-rare, and it was marvelous. The steak was tender and very juicy, with the flavors oozing in every bite.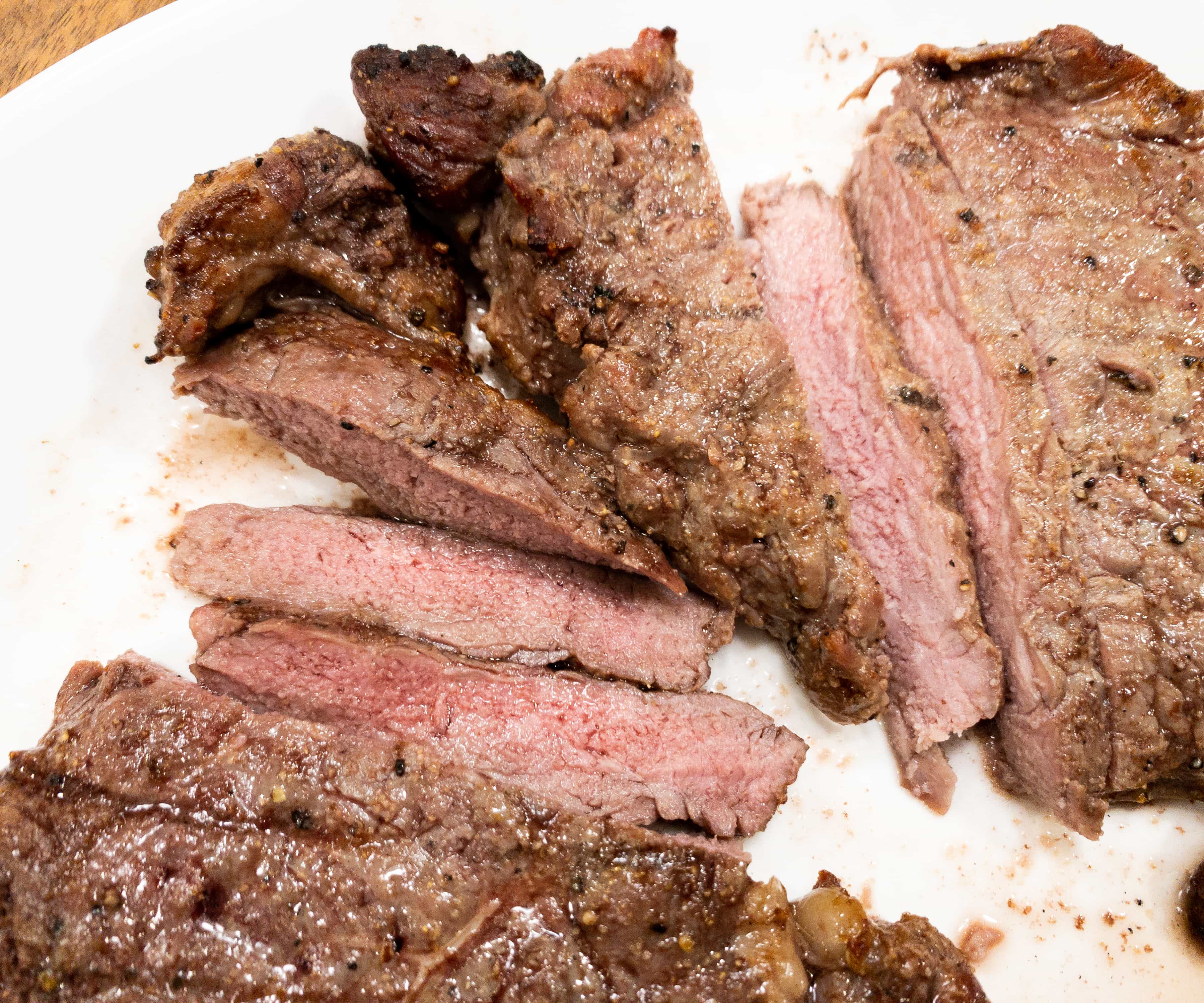 It's such a thick and juicy cut of meat. I'm so happy came out perfect!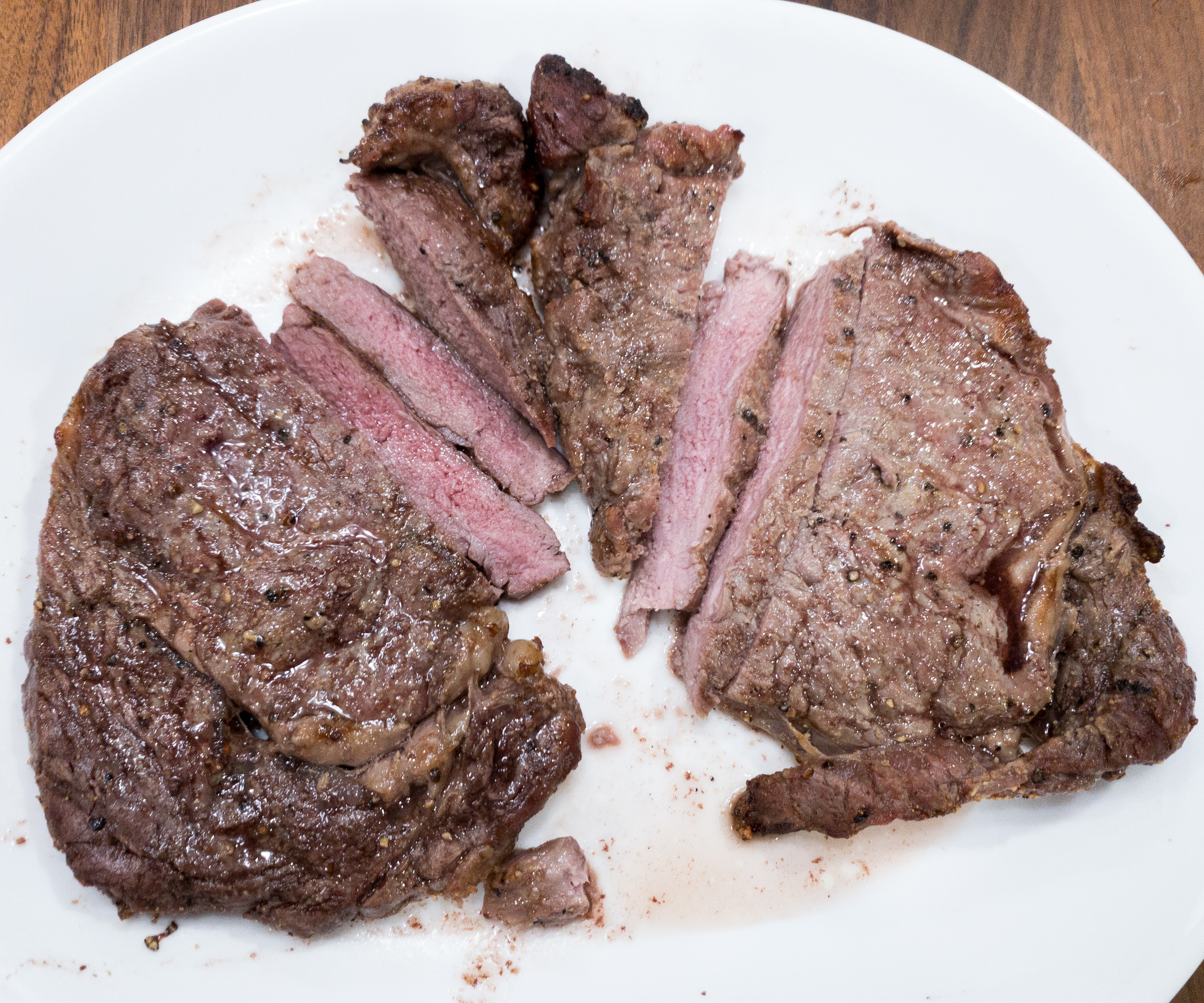 The hardest part is waiting the few minutes while the steak rests — I just want to dig right in. This is the perfect meal to pair with a glass of luscious red wine, or a salad, if you are into that kind of thing.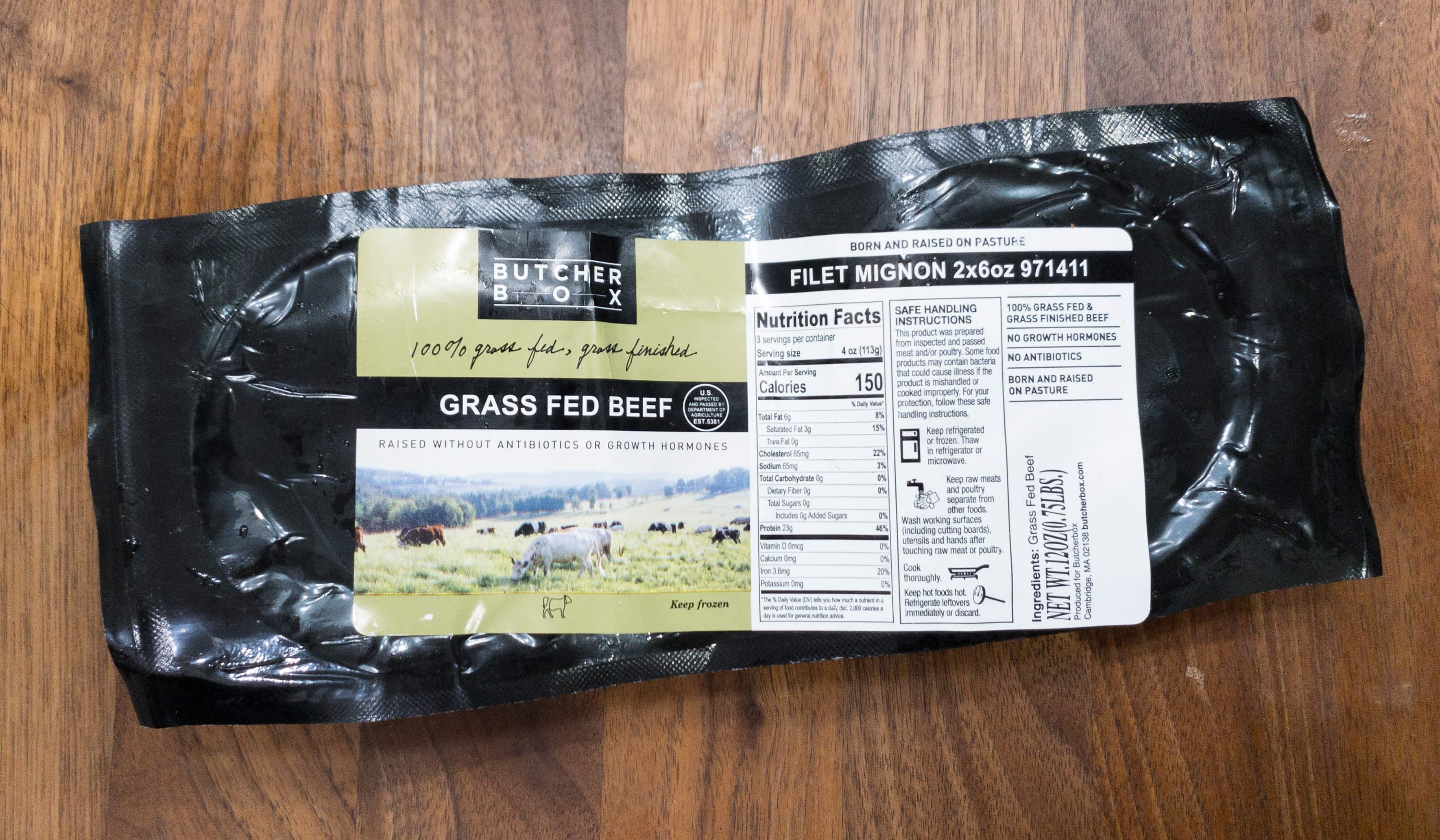 Next, we have Filet Mignon from the October 2019 Butcher Box, a small steak cut of beef sourced from the smaller end of the tenderloin muscle of the cow.
Each pack contains a pair of 170 grams of pure hand exquisitely trimmed filet and once they are cooked, you'll see that there is virtually no waste at all. This cut has a big reputation, and it doesn't disappoint.
This type of meat is so easy to cook. This cut is great, because it will turn out tender no matter how you like to prepare it.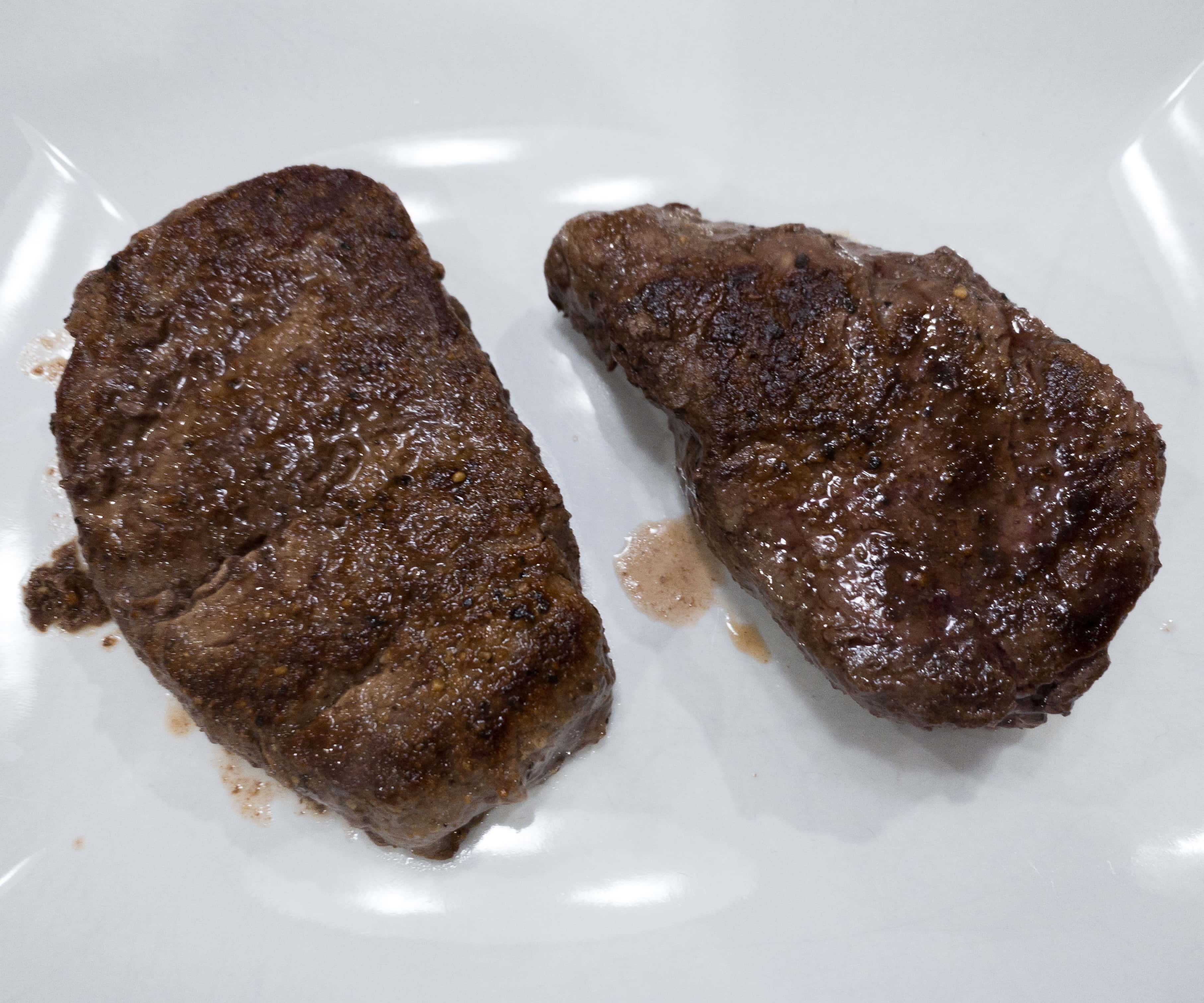 I like to sear it in a skillet and then bake it to achieve the perfect crust and juicy middle.
Our filet mignon steak came out really tender, to the point that we can easily cut it using a basic table knife. The only tricky part is figuring out which way the grain runs once there is a nice crust on the steak.  I cut the one of the left along the grain by mistake, but it was tender enough that it didn't really matter!
Strip Loin Steak is a well-known beef cut, stripped from the top of the rump part of the cow. This one is from the September 2019 Butcher Box. It features a long triangular-shaped cut that usually comes with a nice layer of fat to add flavor and tenderness!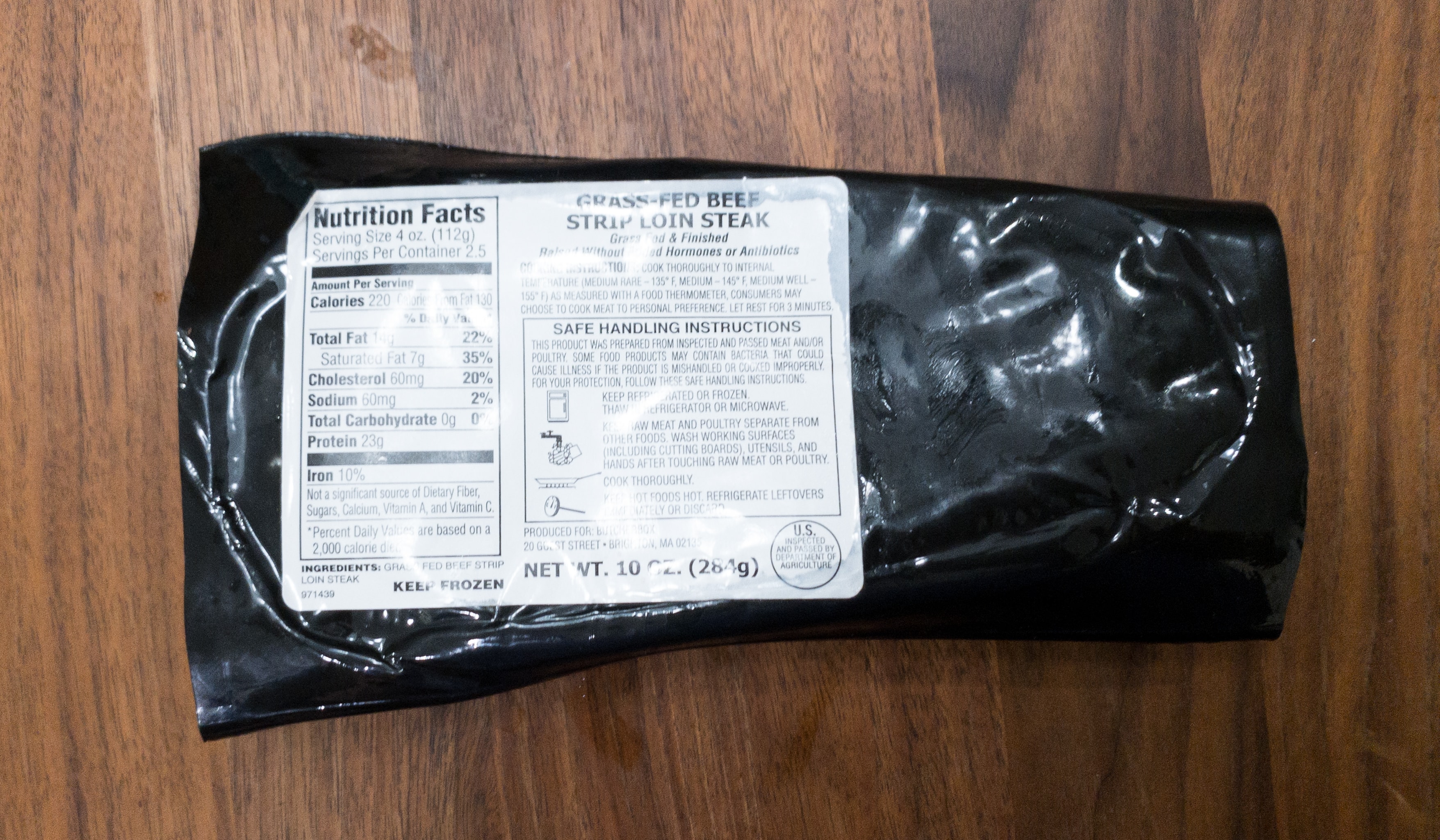 This cut is an all-around great steak. It has more fat and flavor than the tenderloin, but it isn't quite as greasy as the ribeye.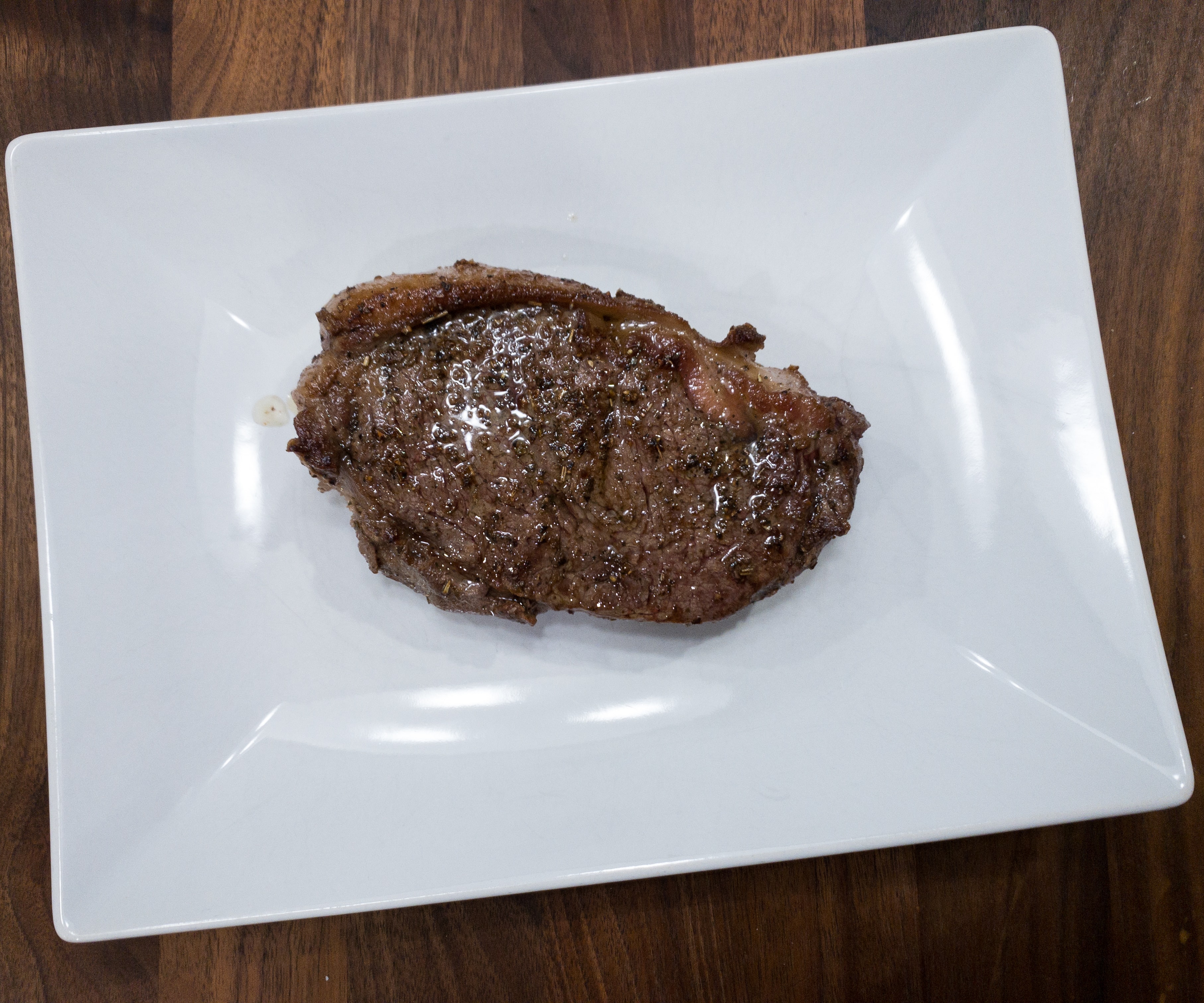 Again, I seared and then oven-finished this steak.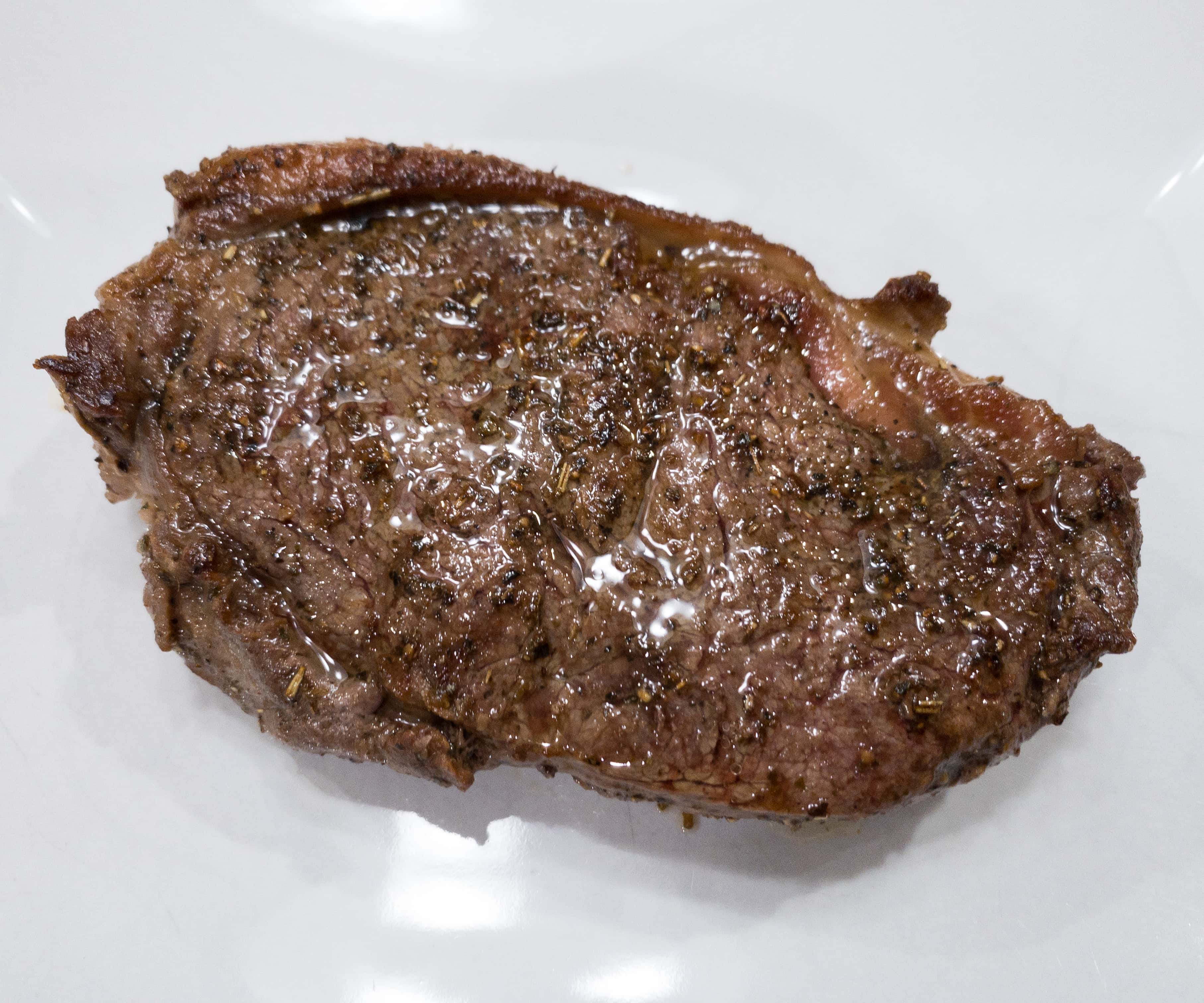 We love this cut for its good marbling. When it comes to flavor, it's just as beefy as ribeye.
It's a rare done steak, a lightly charred meat with browned edges, and a warm bright red color in the middle.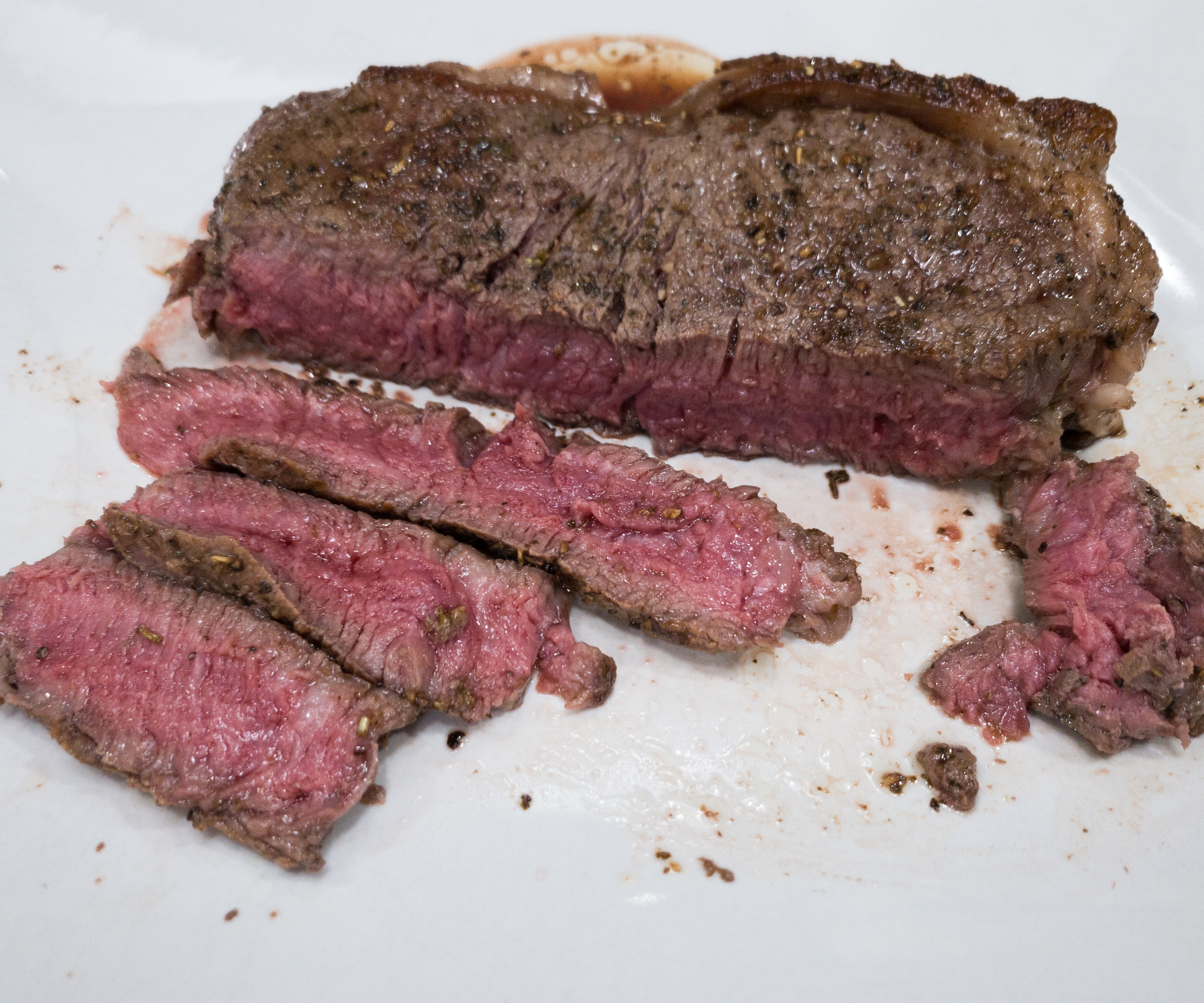 I was really impressed with the tenderness and juiciness of this cut. Normally, I would expect it to be a little firmer than either of the steaks we've seen so far, but it was tender, moist, and flavorful.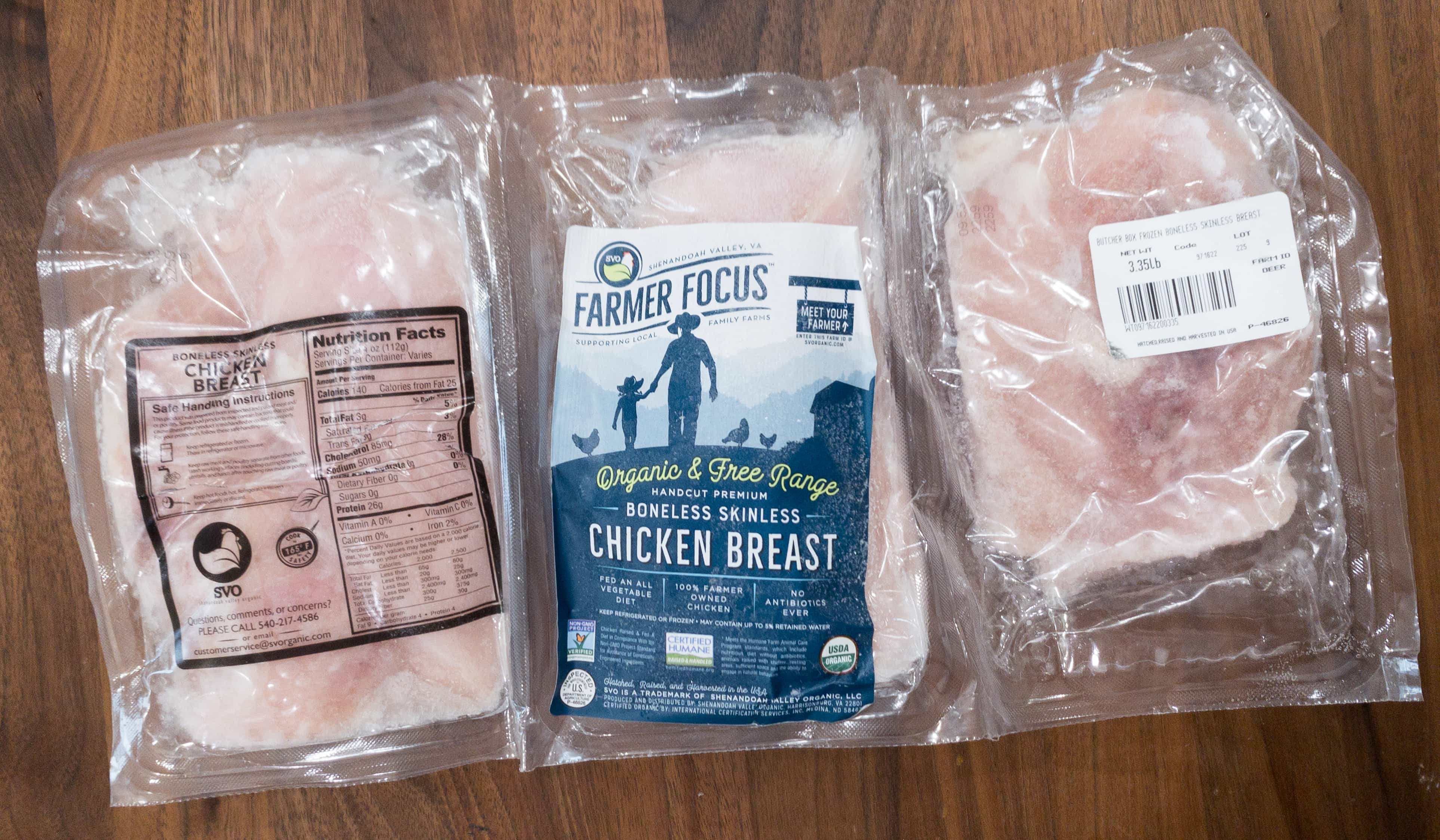 These packs of organic and free-range Chicken Breast are from the December 2019 Butcher Box. It's definitely one of the most versatile and desirable cuts of chicken meat, and a great source of protein as well.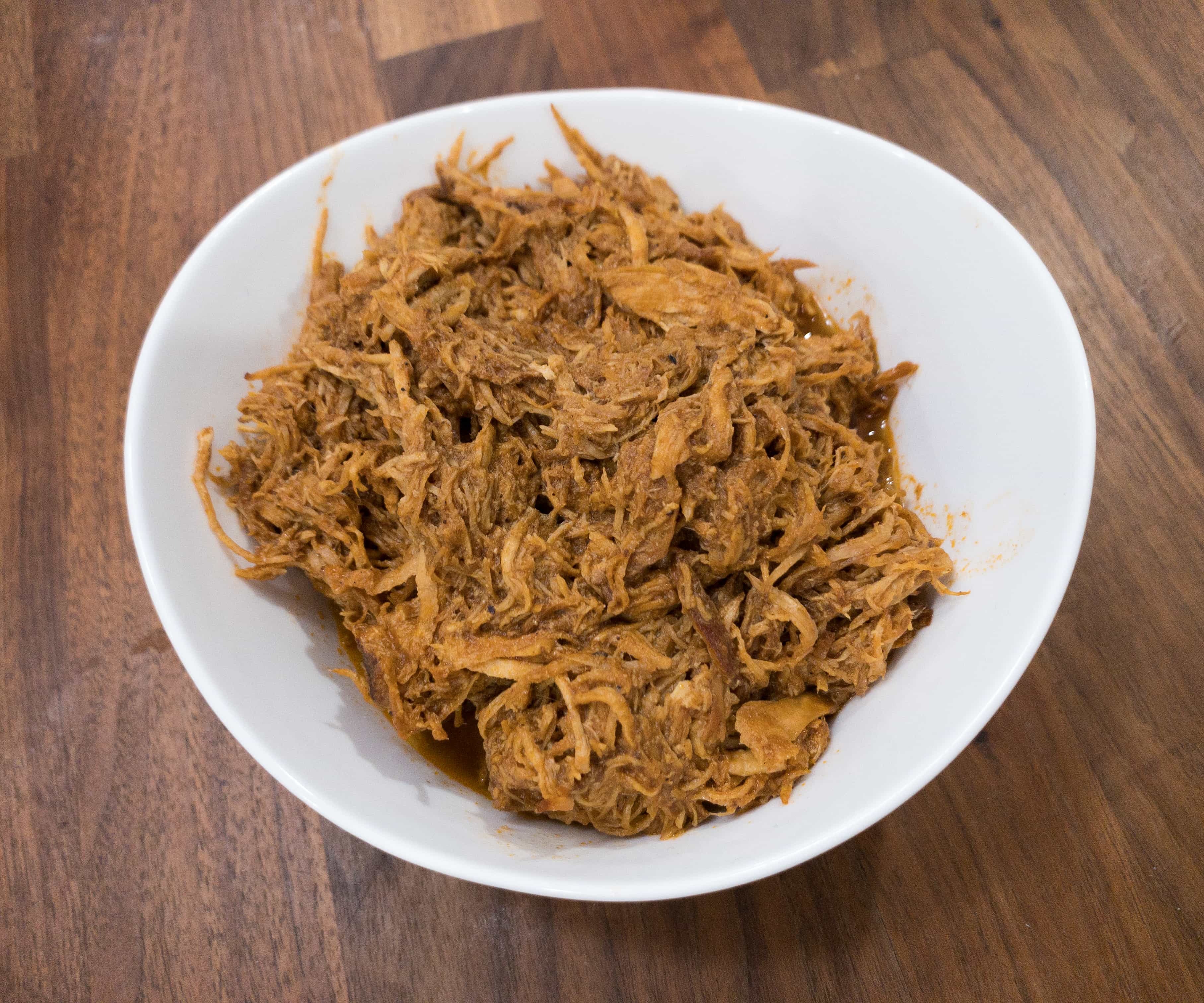 We prepared this as pulled BBQ chicken. We Instantpotted it and then shredded it into pieces, spooning some of the delicious BBQ-laden juices onto the shredded meat. This would make a great pulled chicken sandwich, but we opted for shredded chicken tacos!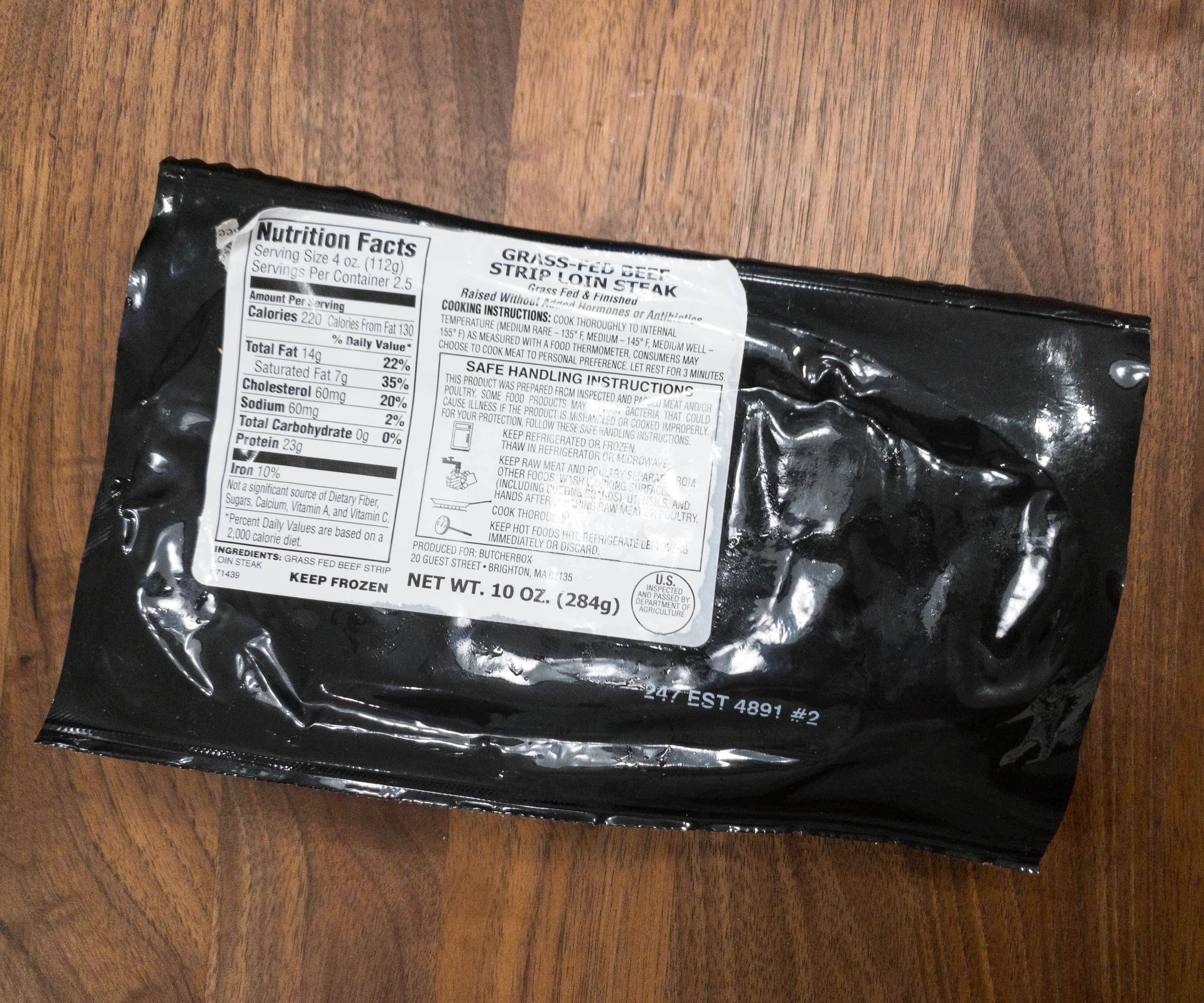 Here's another Strip Loin Steak from our September 2019 Butcher Box.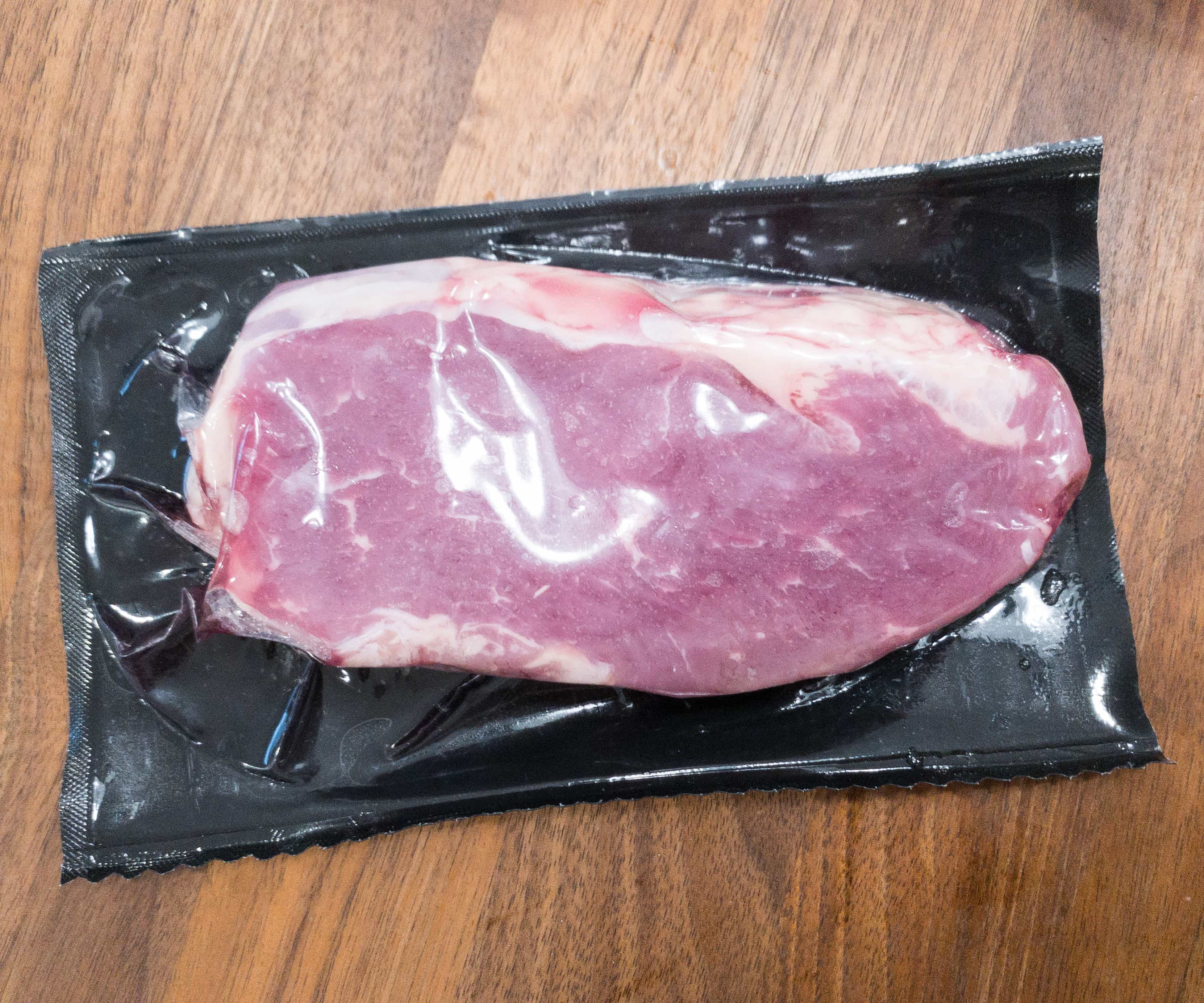 Just like the first one, this one is lean and meaty! You can see that the marbling is delicate and well-distributed.
Again, we opted for a pan-fry and oven finish.
This one cooked very evenly, with a nice pale pink medium rare throughout.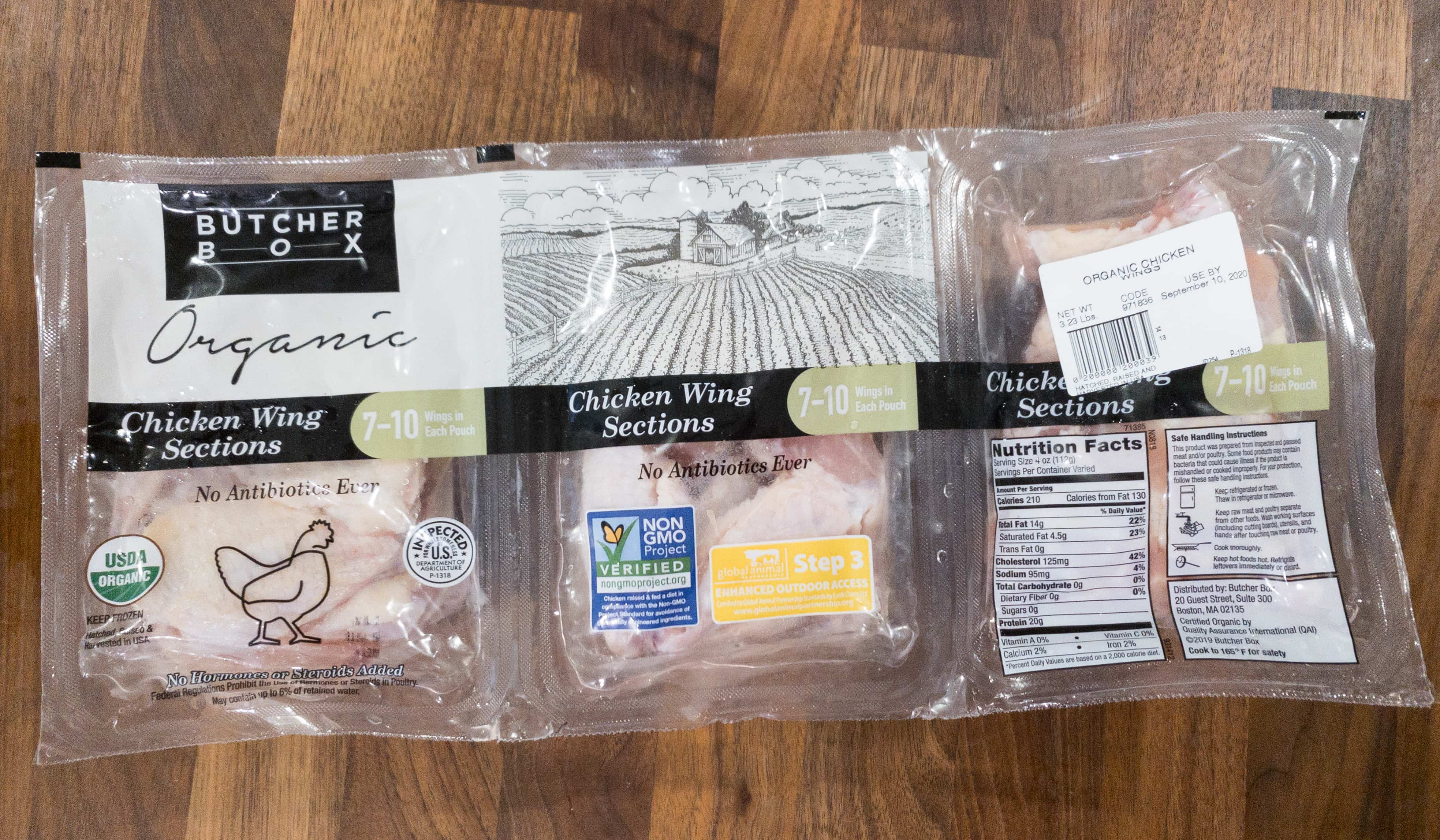 These organic chicken wings from our October 2019 Butcher Box are non-GMO and USDA-certified. Each of the three pouches contains 7 to 10 pieces, which is enough for a two people (or a hungry wing fanatic).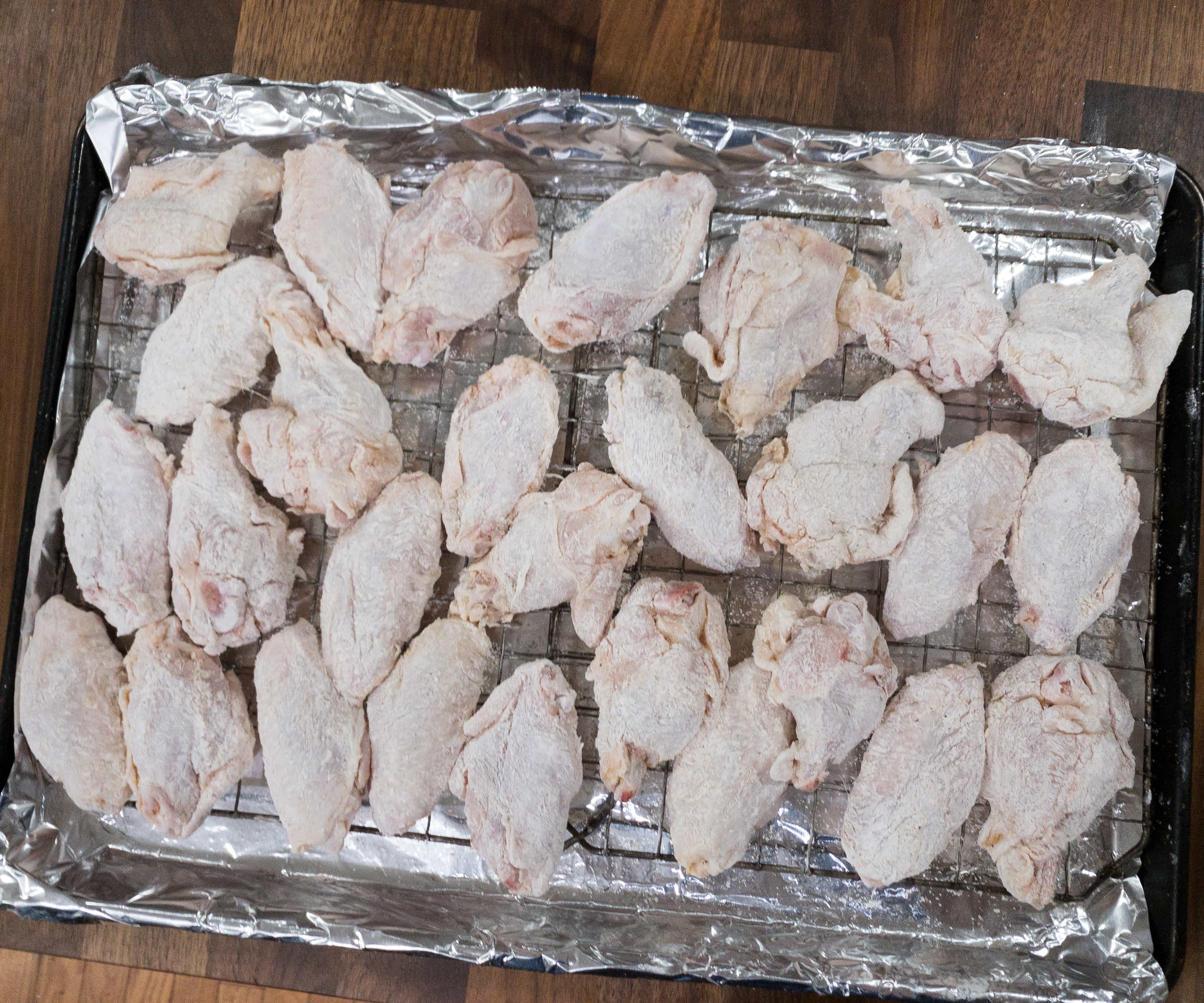 I like to make all three pouches at once. I find that a dusting in some corn starch makes for a nice crispy coating.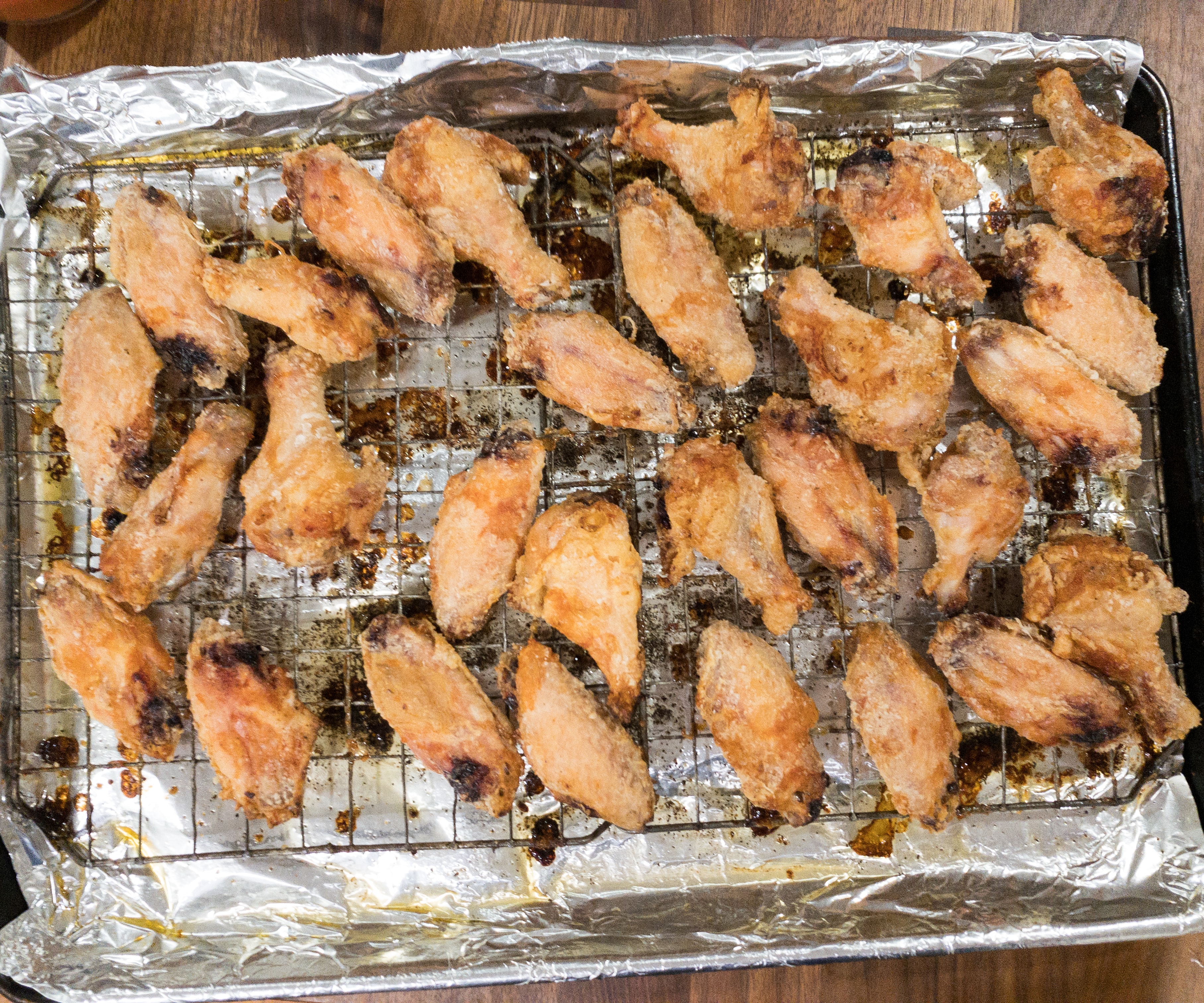 Fifty minutes in the oven lets the fat render and gets the skin nice and crisp.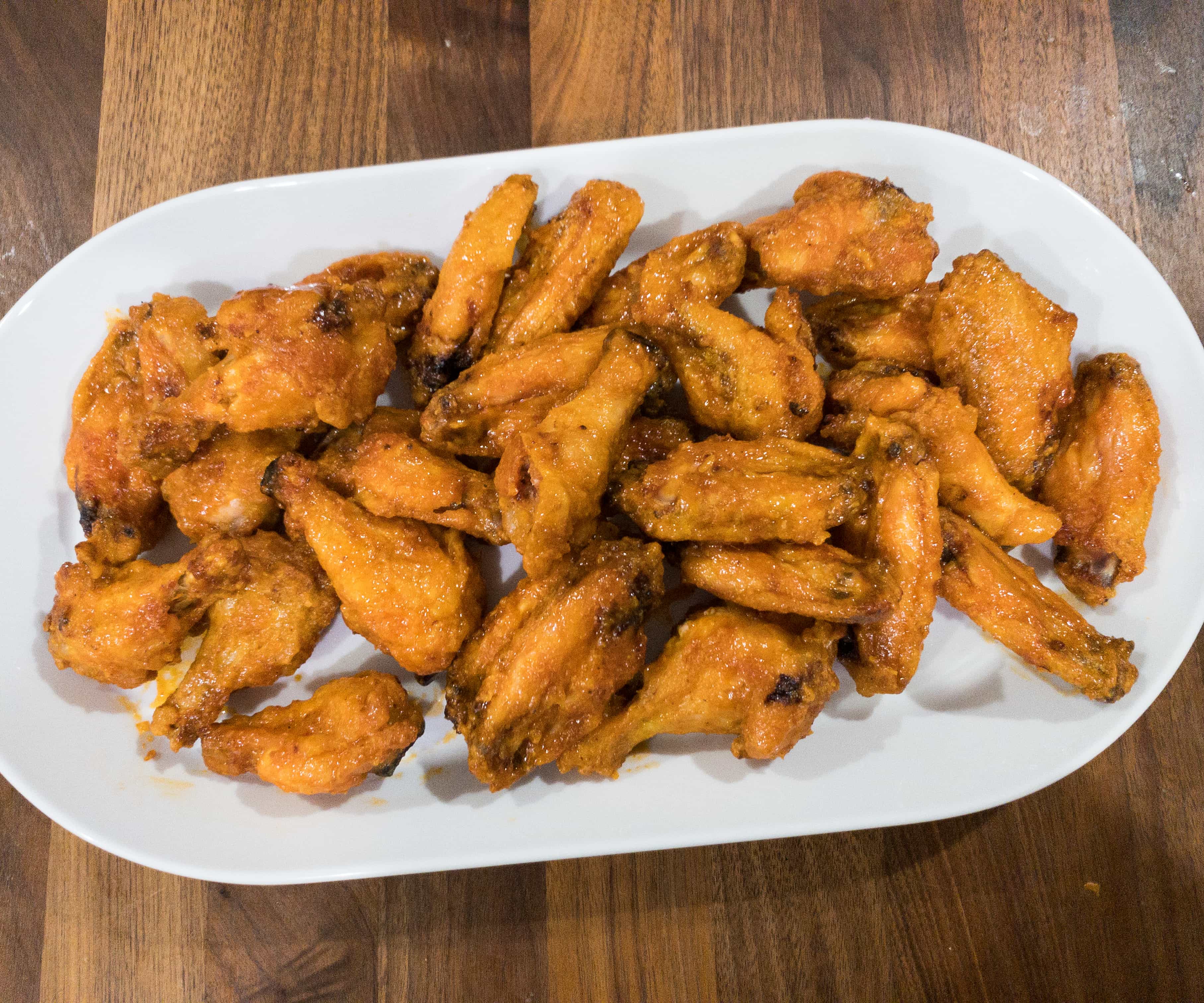 Then we toss it with some buffalo sauce!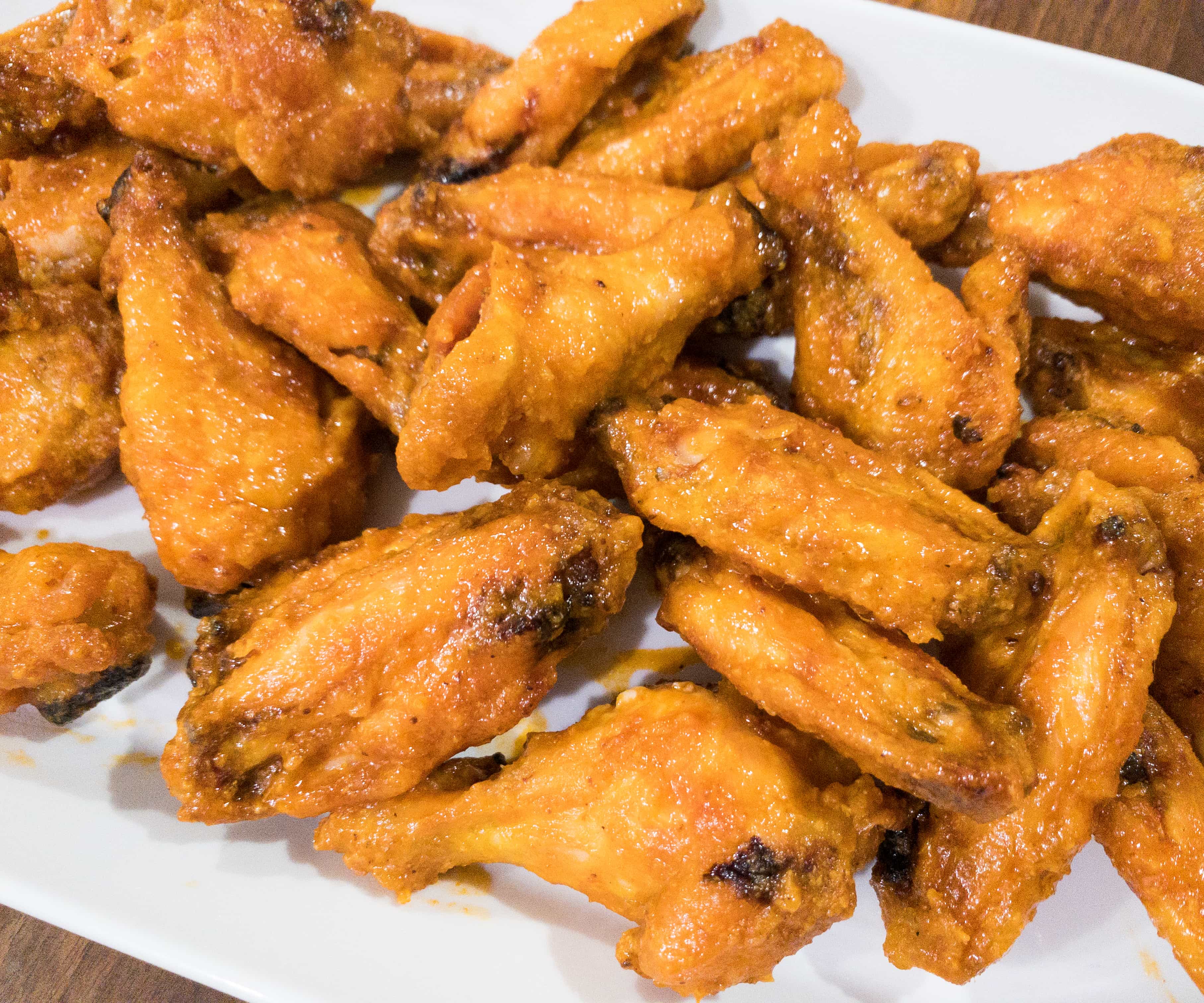 They're tasty and also crispy on the outside, perfect as a quick fix for our mid-week chicken wings cravings!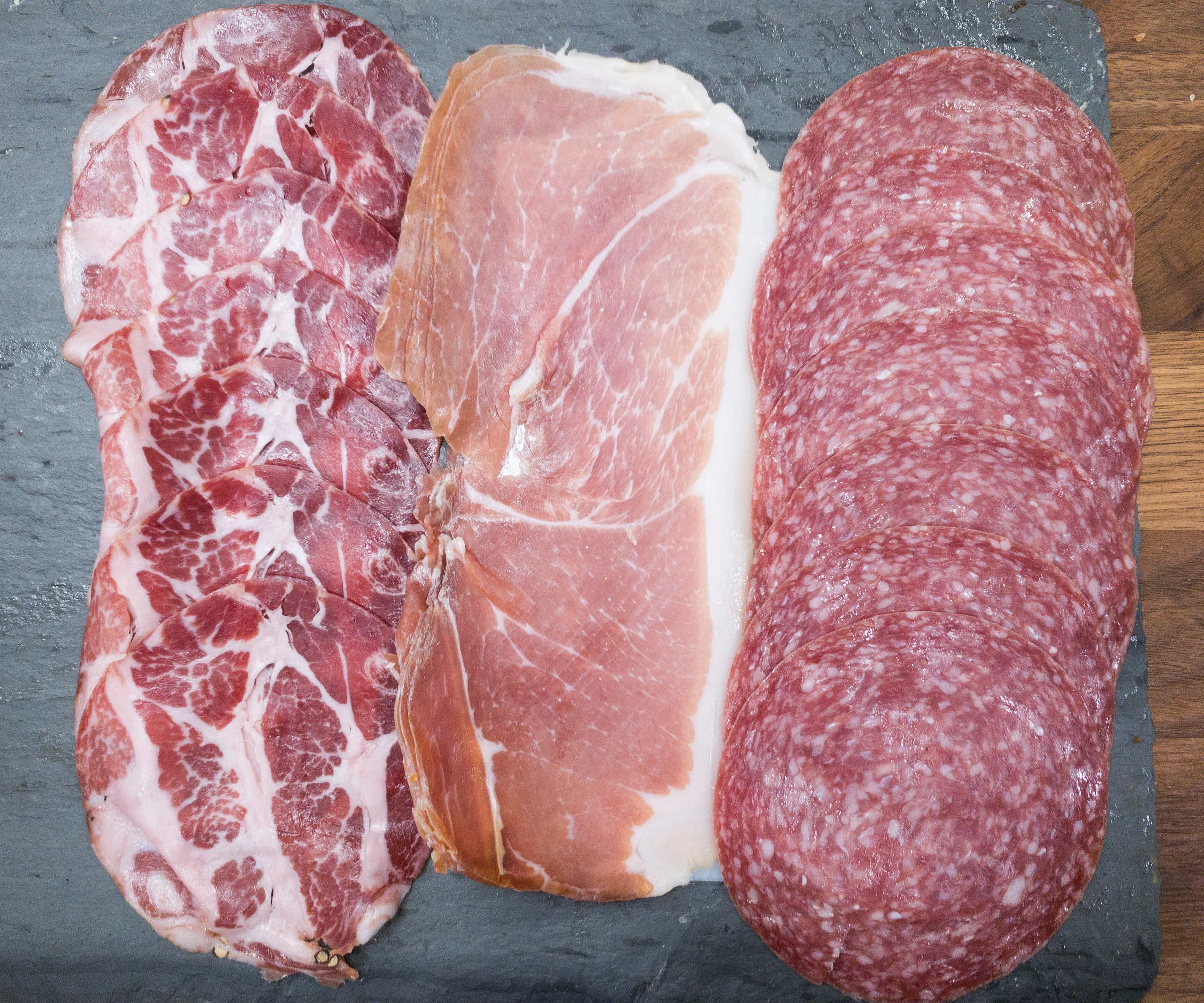 These from the Charcuterie Packs in our December 2019 Butcher Box! They include Genoa Salame, Prosciutto, Capocollo.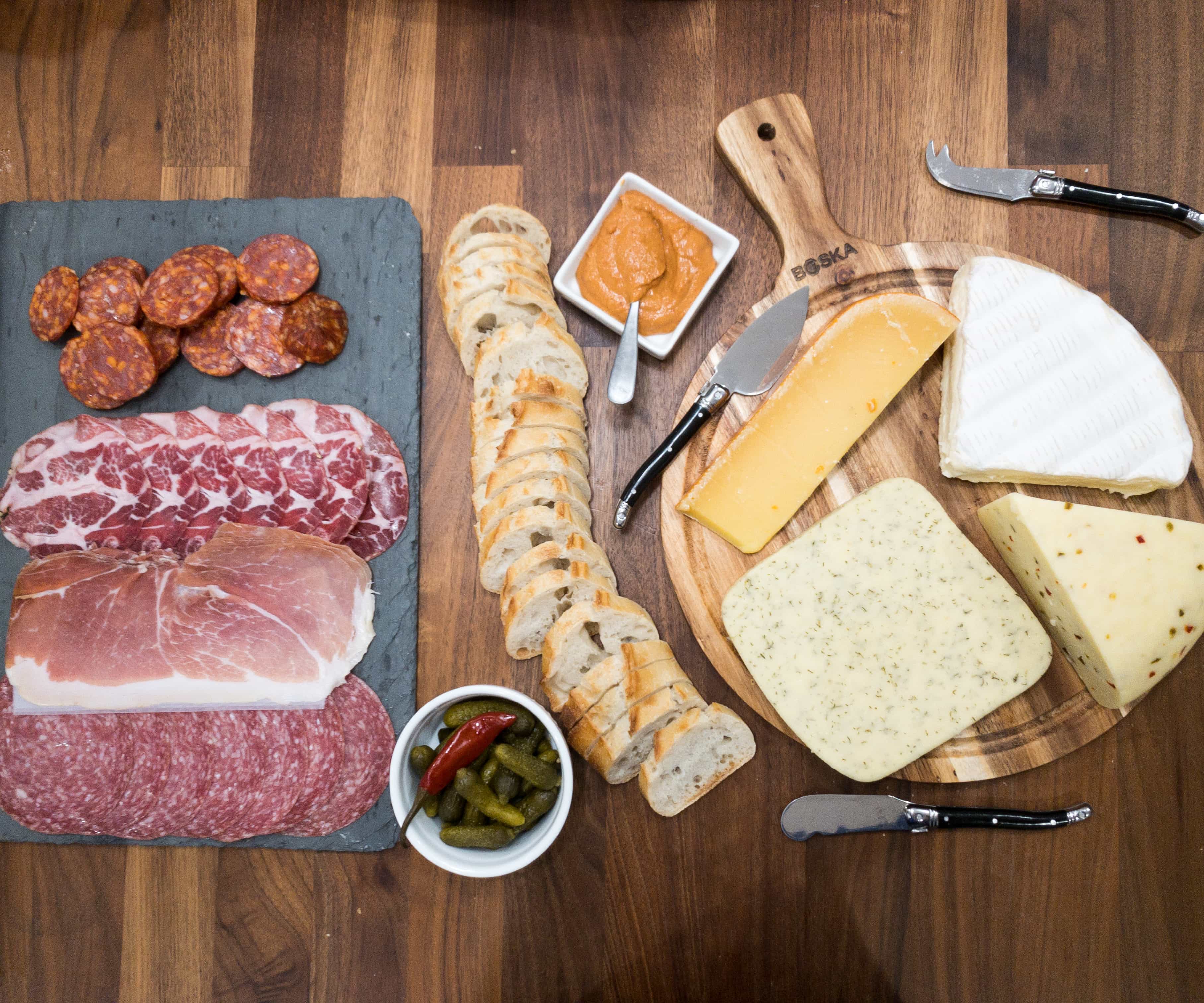 We used the cold cuts for our cheeseboard! We served with some Camenbert, pepperjack, aged gouda, Havarti dill, and some dips and it was perfect!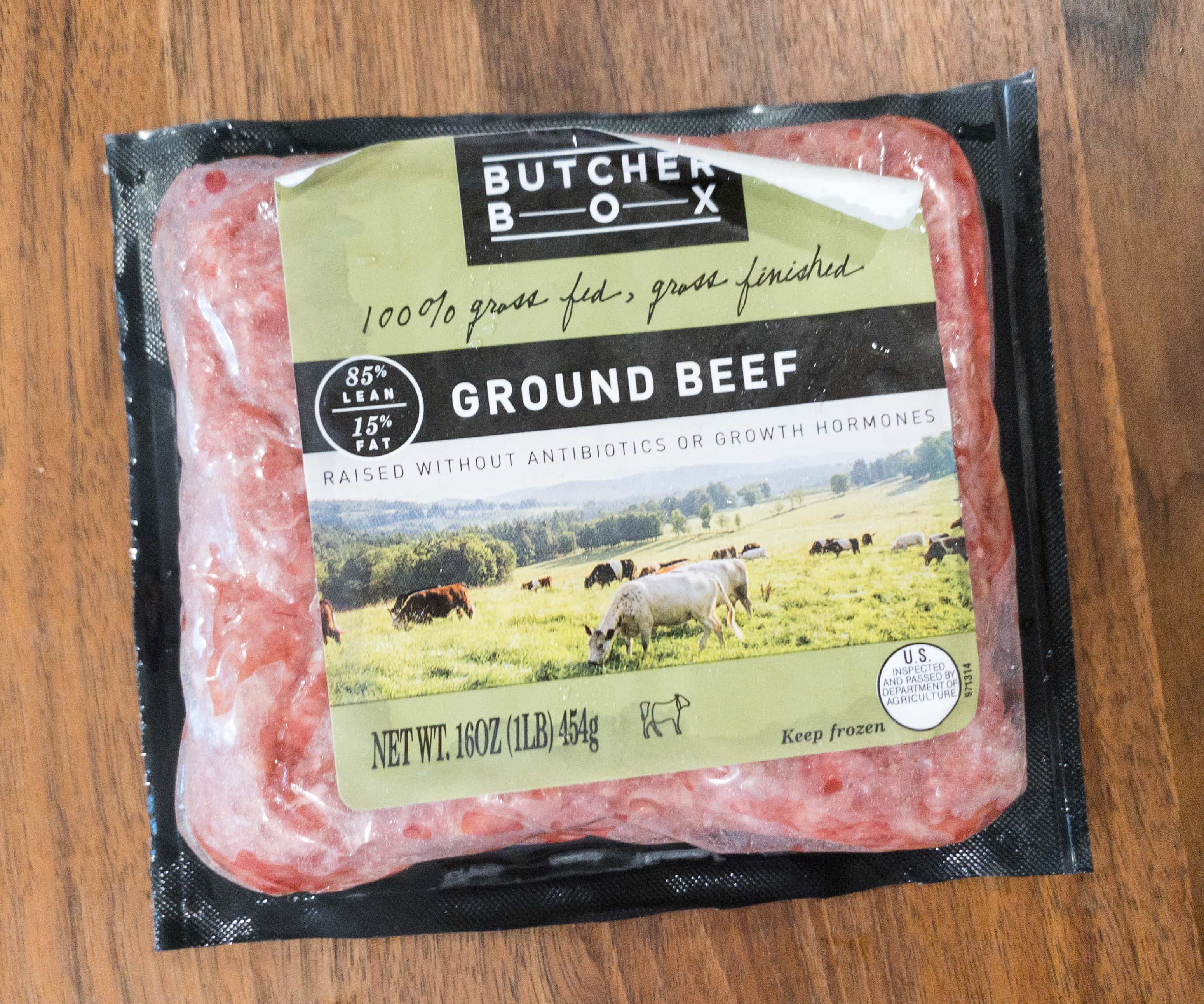 Ground beef is a staple in our every Butcher Box! It's grass-fed ground beef made of 85% lean and 15% fat.
Ground beef is already known to be great for making burger patties. This time, we decided that it's time to use the ground beef to bake a delicious and meaty beef and green bean pie!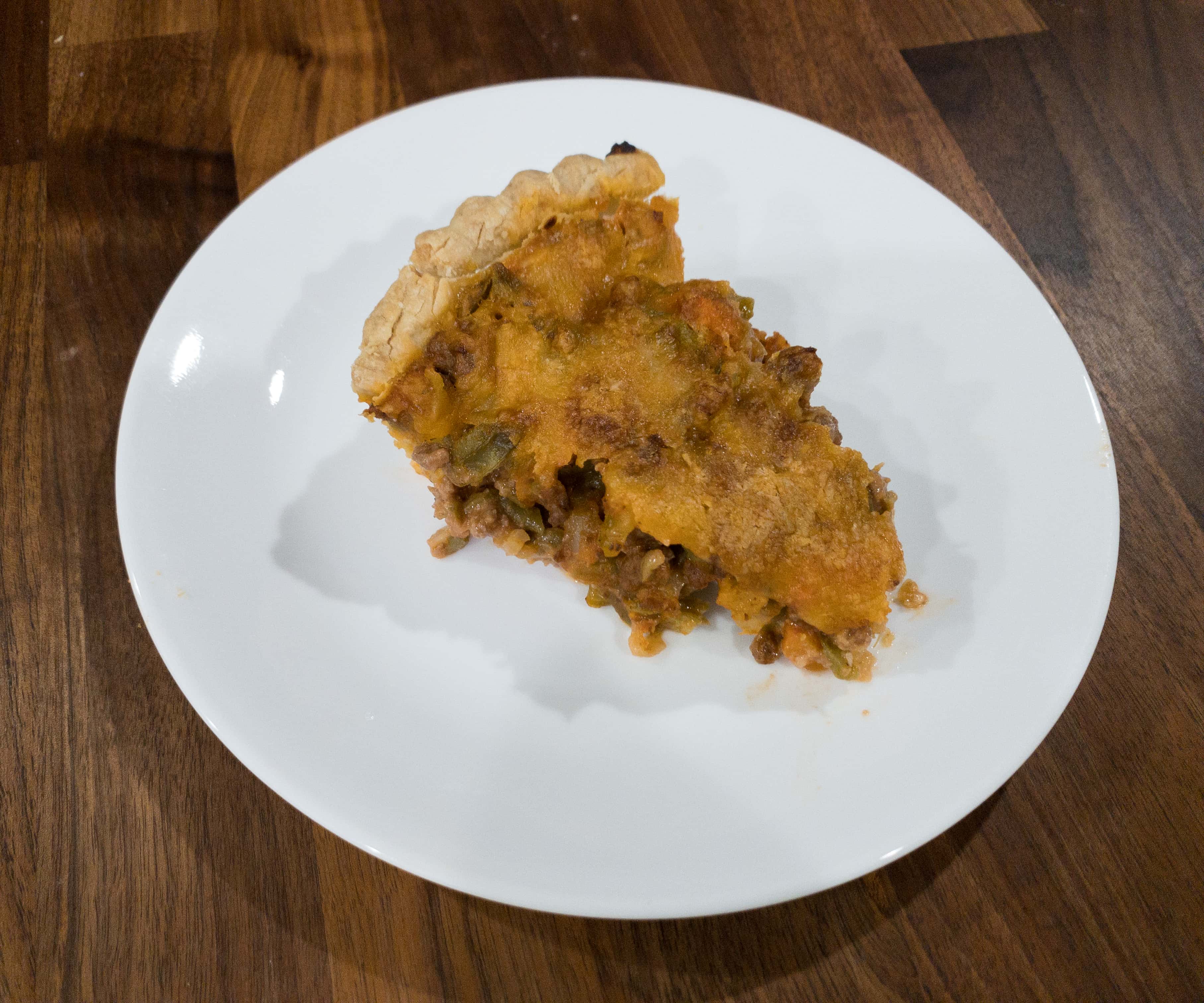 This was really quick to make, and as always, nothing beats homemade pie for dinner. The key to making this dish yummy is to brown ground beef with onion and garlic and to drain the fat well.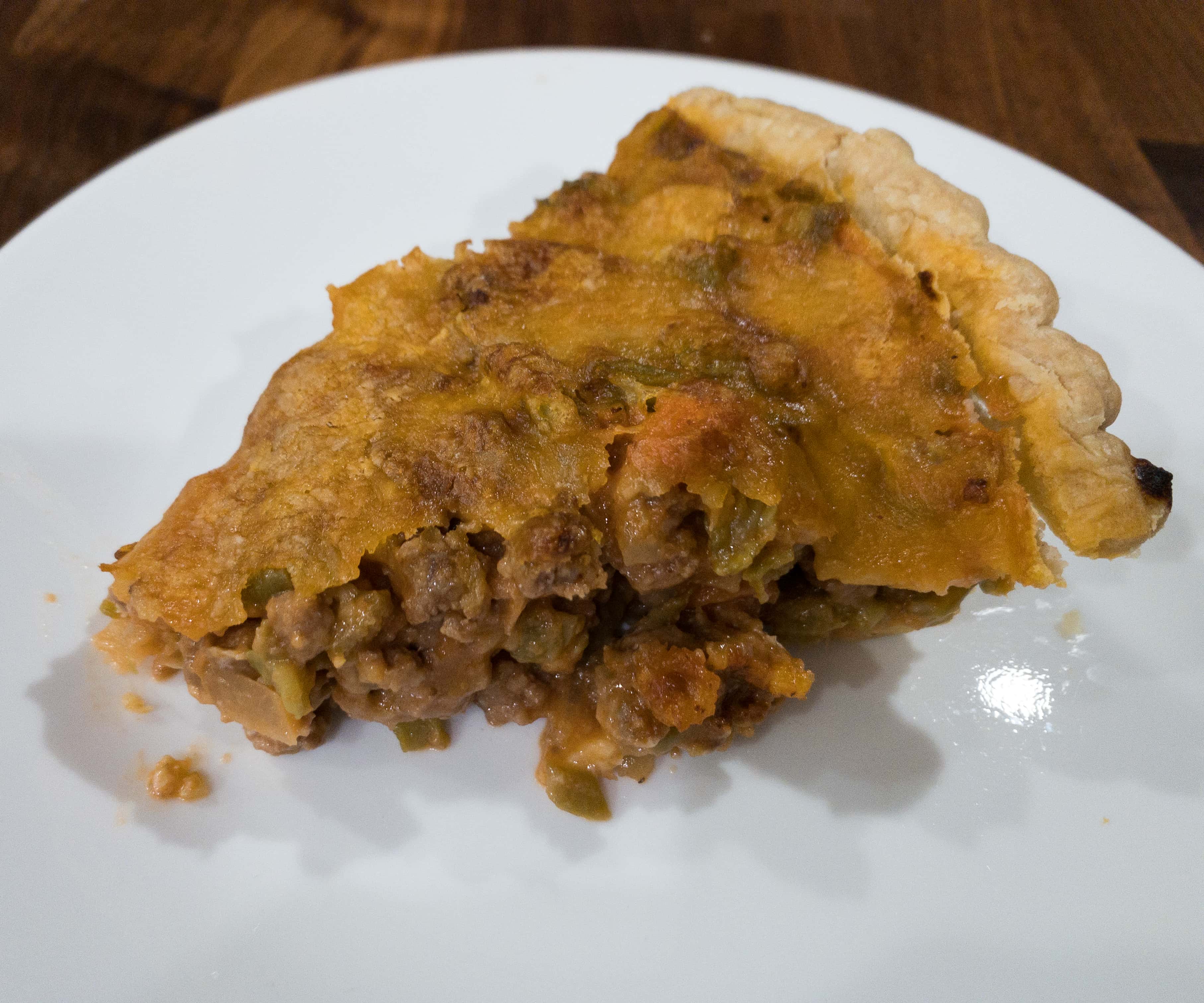 Our crust came out really crunchy. Of course, don't forget to add lots of cheese!
Butcher Box has top-quality meat and we could tell because all the meals we whipped up using those meats came out really delicious. This month, we made a lot of grilled dishes and they were all satisfying. I really love how everything arrived in their best condition, and they even portioned everything perfectly, so all you just have to do is take out a pack from your freezer, thaw, and cook. I also appreciate that all the meats are antibiotic and hormone-free. I'm really thrilled to try out more recipes in the coming months using all the meats from Butcher Box!
Are you planning to get Butcher Box?