Robb Vices is a monthly subscription service that delivers a collection of "storied treasures." The subscription costs $89.95 per month, and each box comes with incredible products and experiences that have been curated for your enjoyment.
The box is huge! It is the size of a padded laptop shipping box. The large size lets them ship fragile and really expensive stuff with adequate padding.
DEAL: – Use codes/links to get these offers!
Want to start with one box? Just use coupon code TEATIME if you wish to get the Robb Vices Tea Experience box (see review) as your first box OR CELEBRATION18 if you want the Great Celebration box (see review) first.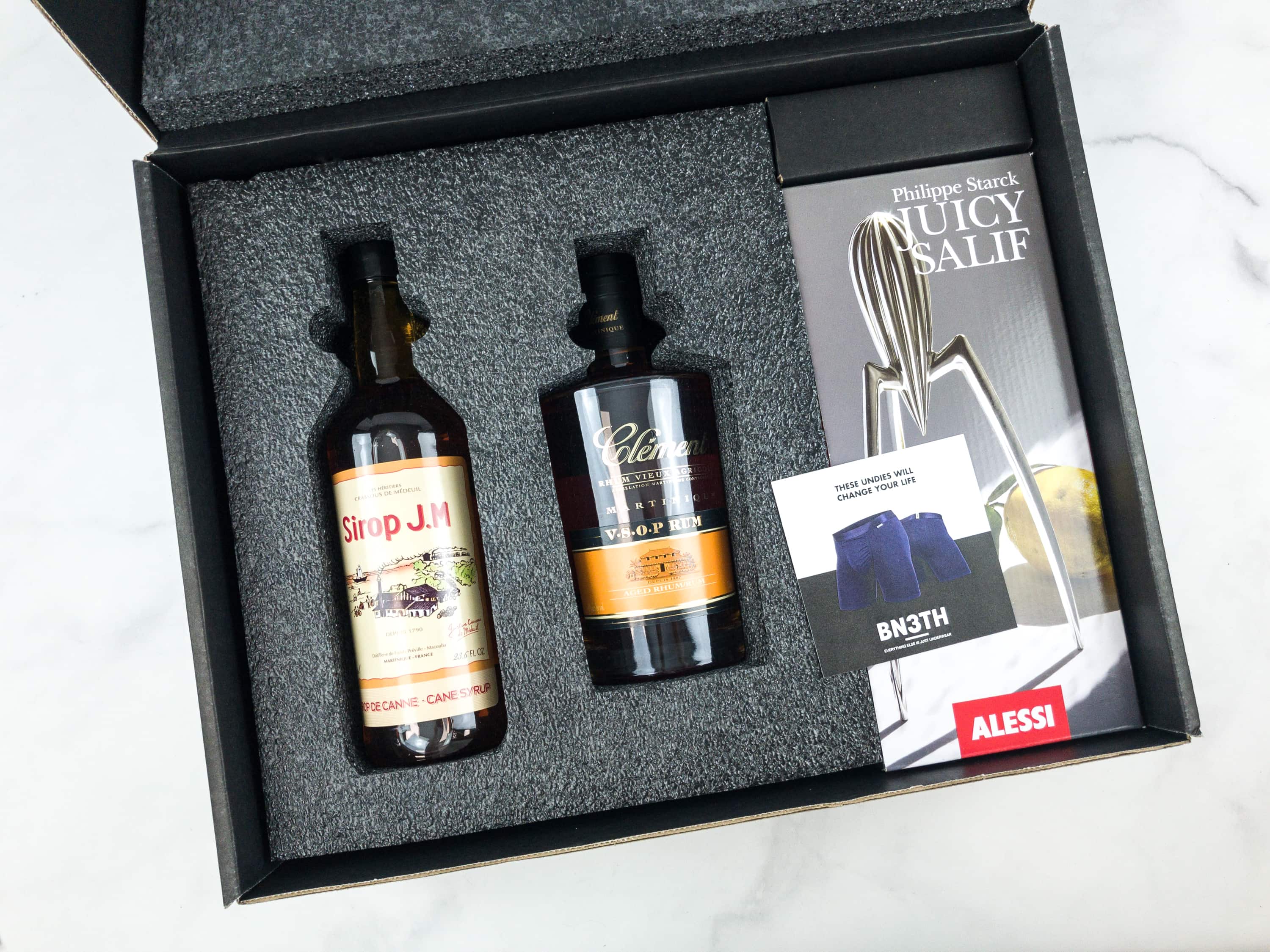 All the items came sheltered in a custom-fitted foam case. The foam protected everything well, but I do miss the luxurious look and feel of the soft, velvety foam of previous boxes. This packaging has a bit more of a utilitarian feel to it.

The story of the premium products is told through a giant, novella-sized booklet with a multi-page featurette on each selection.
It has the most thorough exploration of products I've seen in a curation, as each one has the equivalent of a magazine article written about it. The articles explore the company and people behind each product and include the history and philosophy of each selection, complete with excerpts from interviews and many luscious photographs.
The high-quality photography is one of the features that sets Robb Vices apart from other curated subscriptions. They truly create a sense of place, showcasing the amazing scenery, historic facilities, and vibrant personalities involved in producing the items in the box.
There's a long introduction that transports us to the island of Martinique, a tropical paradise and home to the Habitation Clément, currently overseen by Ben Jones.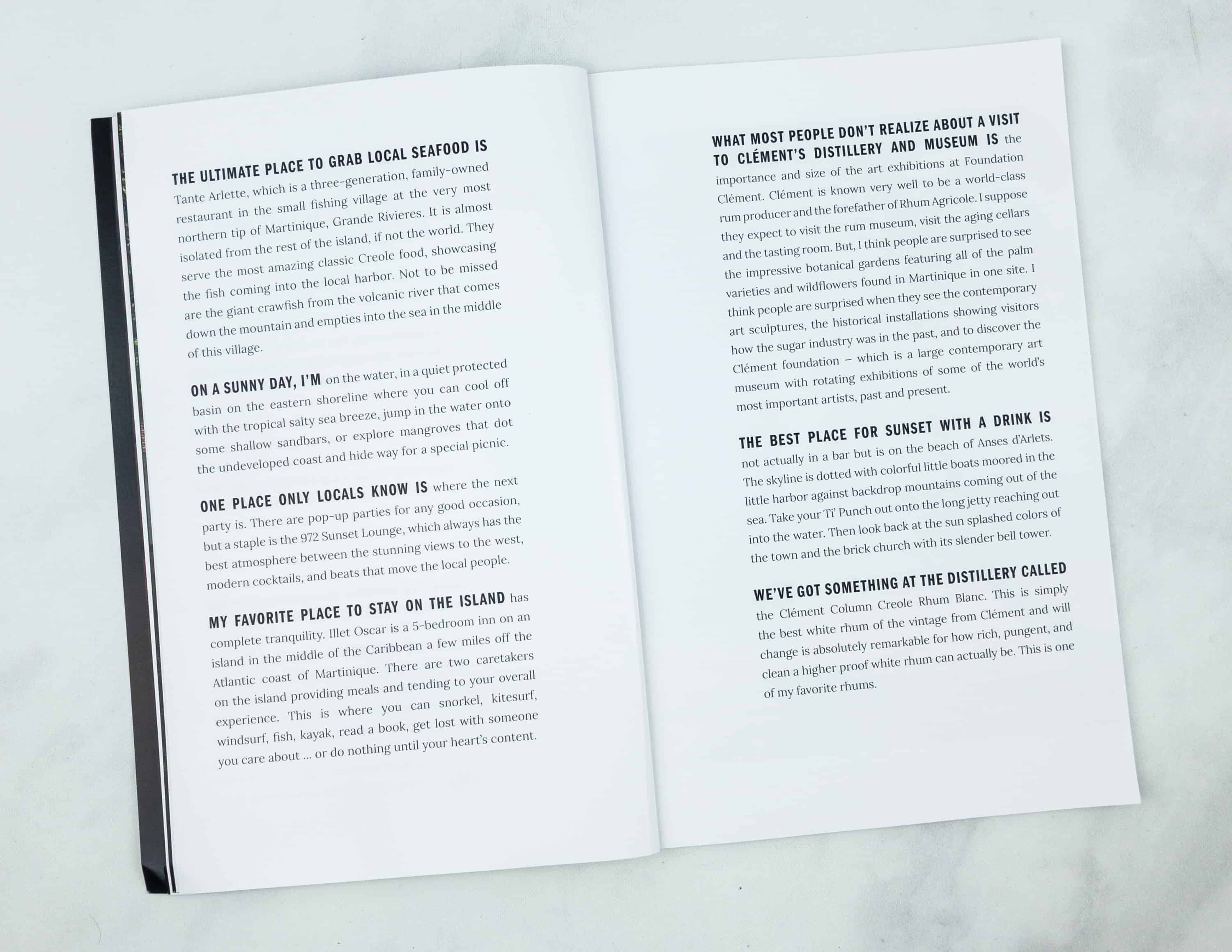 Listed here are some of Ben Jones' suggested places to go to experience some of the best sights, sounds, and flavors on the beautiful island of Martinique!
According to him, Les Salines is definitely the best beach on the island.
The back of the booklet always lists the brands who contributed items to the box, and it restates any discount codes and offers that appeared in the pages of the booklet, just in case you flipped past them.
Everything in the July 2018 Robb Vices box!
Clément VSOP Rhum Agricole – This Rhum Clement was founded by Dr. Homere Clement in 1887 in Le Francois, Martinique. Each rum has a minimum age of four years inside the virgin Limousin barriques and carefully transferred to Bourbon casks, producing an exceptional aged rum.
The rum has a very complex palate that includes warm caramel, exotic spice, coconut, banana creme brulee, nut, and dried fruit flavors. It is soft and silky with a slightly dry body.
And it finishes with a long fade of seared sugarcane, coconut custard, peppery spices, and exquisite wet minerals.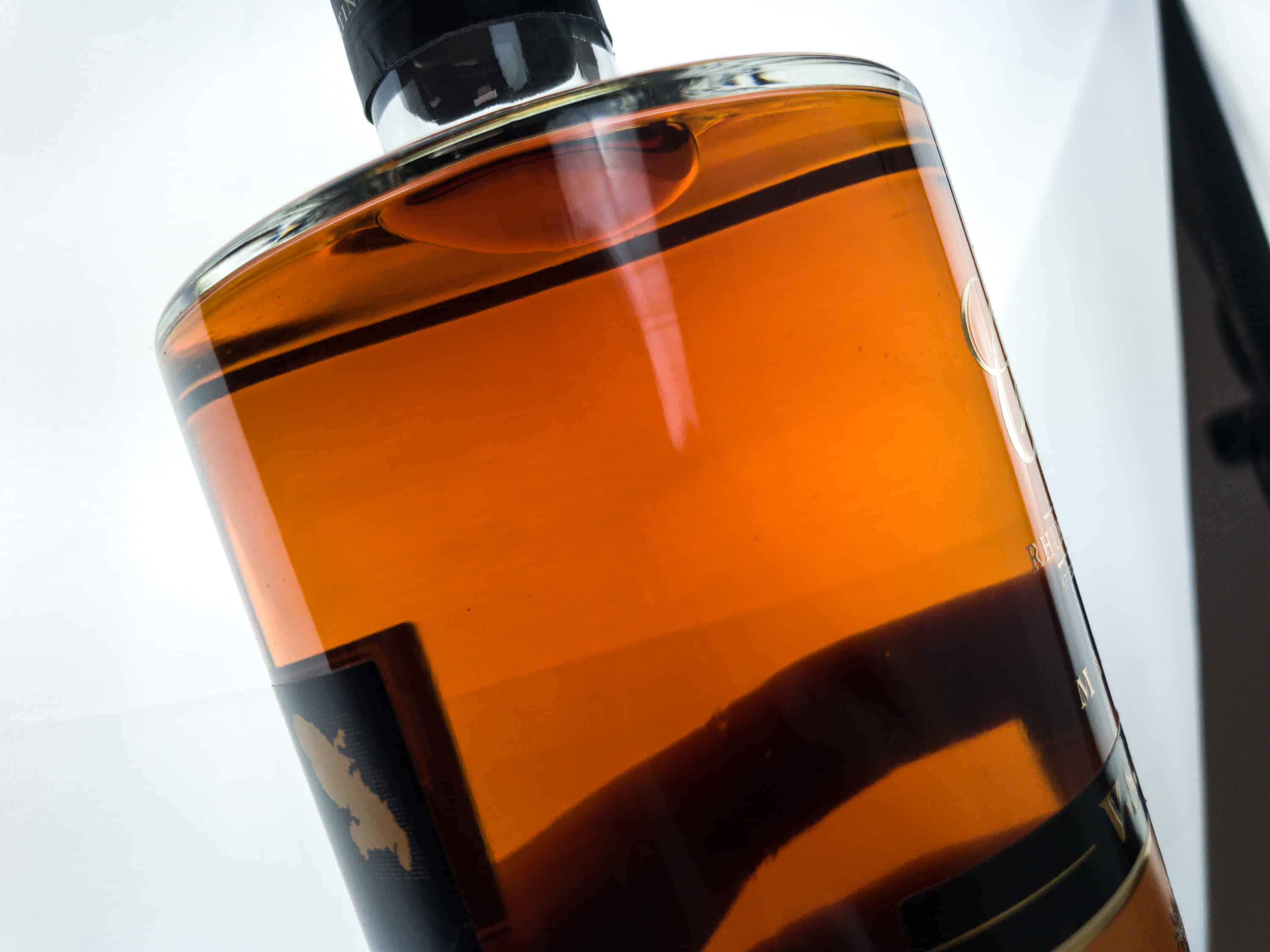 Clement VSOP Rhum has a gorgeous mahogany color, roasted cocoa bean aroma and distinguished smooth mellow character. A truly unique and sophisticated drink!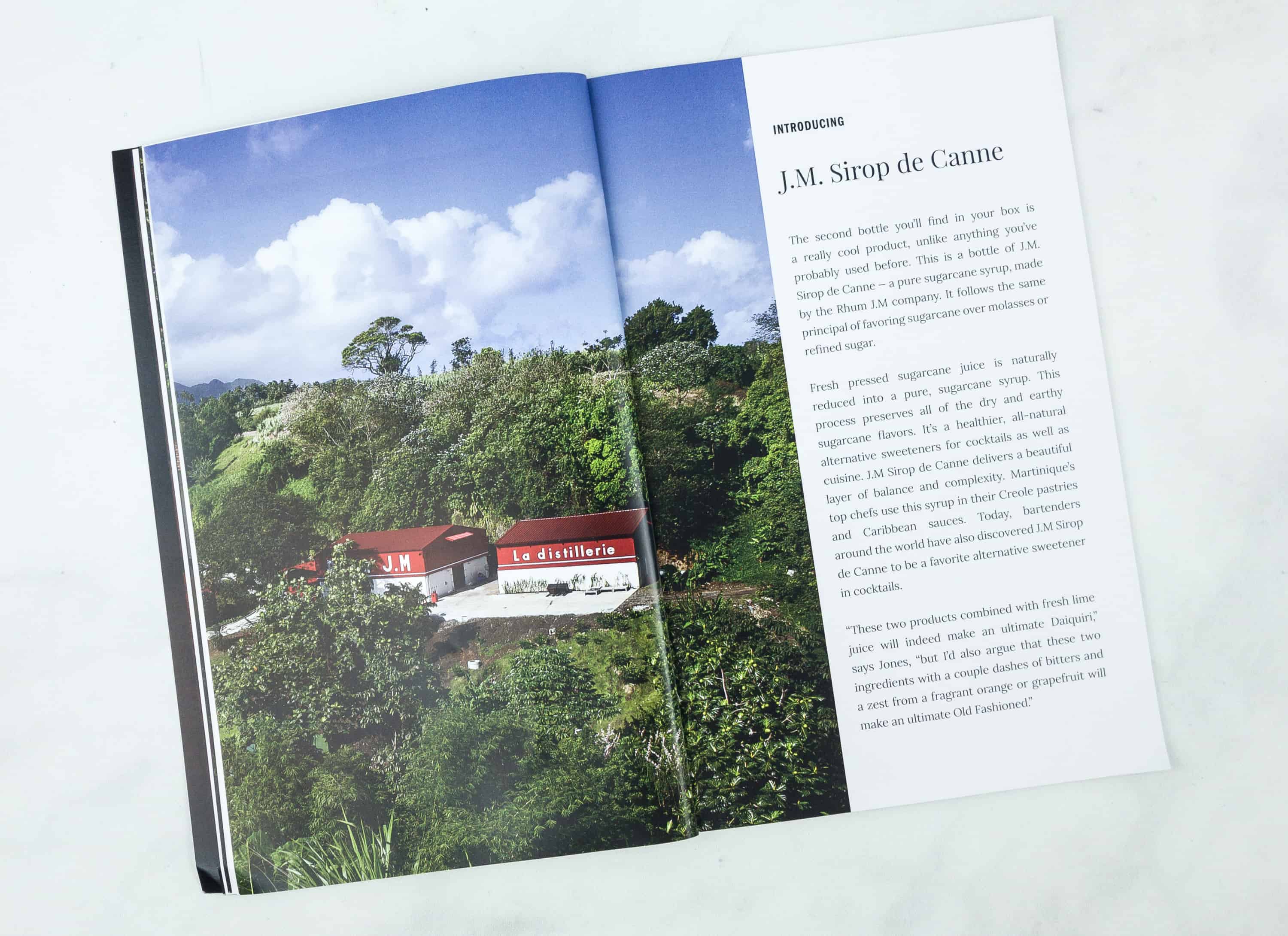 Sirop JM – The second bottle is made by Rhum J.M. company using pure sugarcane syrup freshly pressed from sugarcane juice. This procedure maintains all of the dry and earthy sugarcane flavors, creating a more flavorful and elegant mixer that makes simple syrup seem, well, simple.
J.M. Sirop de Canne provides a wonderful layer of stability and complexity, making it an all-natural alternative sweetener for cocktails and a variety of culinary applications.
Some natural vanilla flavor is added to complement the natural characteristics of the syrup.
With this tiny arsenal, you've got the world at your fingertips in terms of cocktails.
Juicy Salif Citrus Juicer ($72.40) I've never seen a manual juicer as unique and extreme as this one. They look a little like those Soviet terror drones from Command & Conquer: Red Alert!
This juicer is designed by Philippe Starck and Alberto Alessi, both well-known designers!
The squeezer looks unique but it's really uncomplicated to use since it's based upon grooves and gravity.
This side of the box gives us a glimpse behind the curtain, revealing some of the artistic turbulence underlaying Alessi's design. Who knew housewares were so avant garde?
Juicy Salif could very well be viewed as a small alien who happened to stop by and pay us at a visit at home.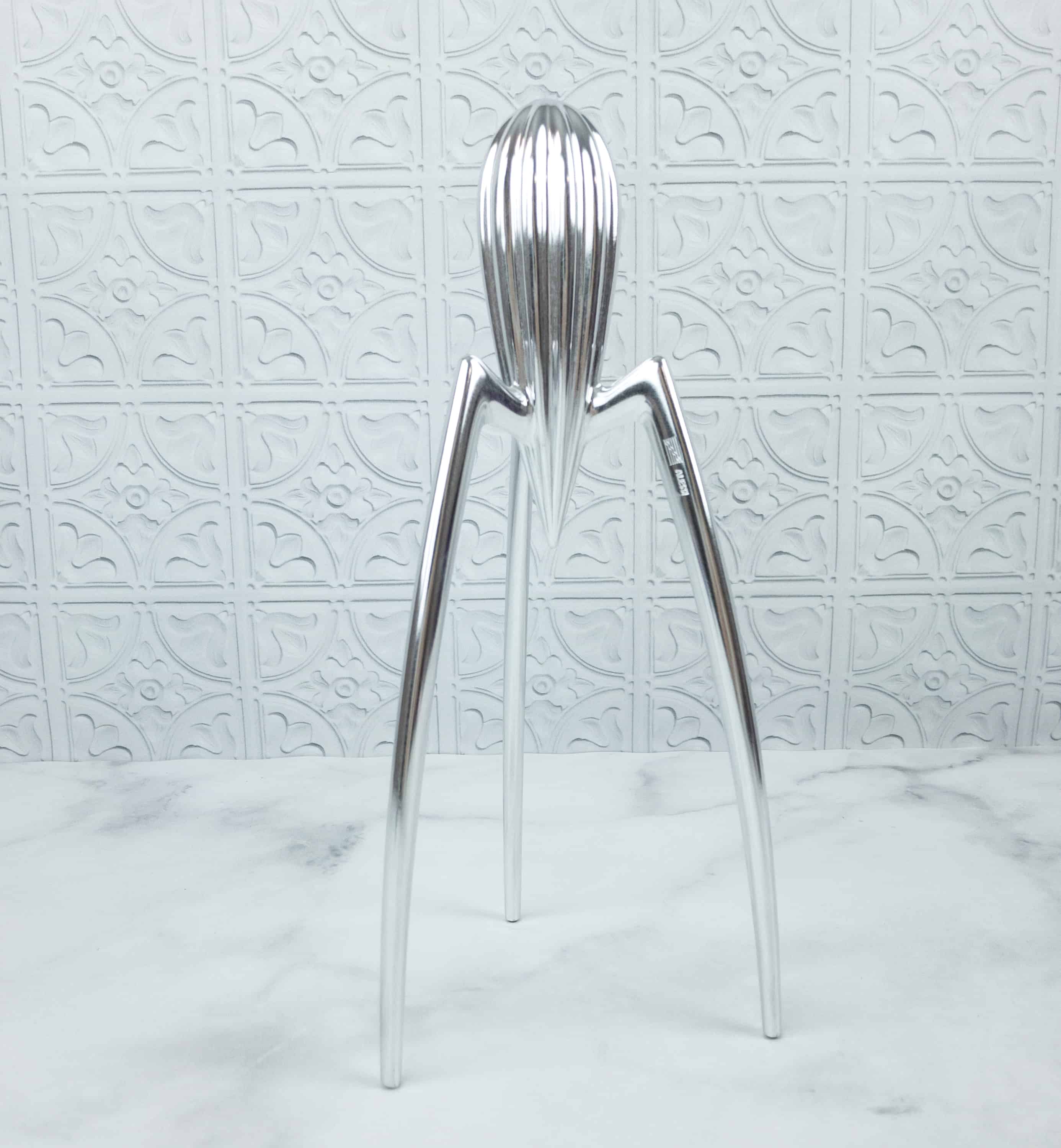 The squeezer stands tall at 29 cm height and 14 cm diameter with a full aluminum coating. It's also lightweight and can easily be moved anywhere. Much of the form is empty space, so it would actually pack quite well, although you may receive some puzzled looks were you to try and take it through airport security.
To use the juicer, simply put the cut lime, orange, or lemon on top and press it down on the head of the sculpture while twisting at the same time. This aspect of the juicer is about its only ordinary characteristic. Instead of juicing in to a catch basin, you can jice directly into a short glass, as the contours of the juicer channel all liquid downward to the void between the legs.
Engraved at one of the juicer's leg is the designer's name, ALESSI!
It's so easy to use and clean (you need only rinse, and there is nothing to disassemble), that I will certainly opt for fresh lemon and lime next time I make daiquiris or Margaritas.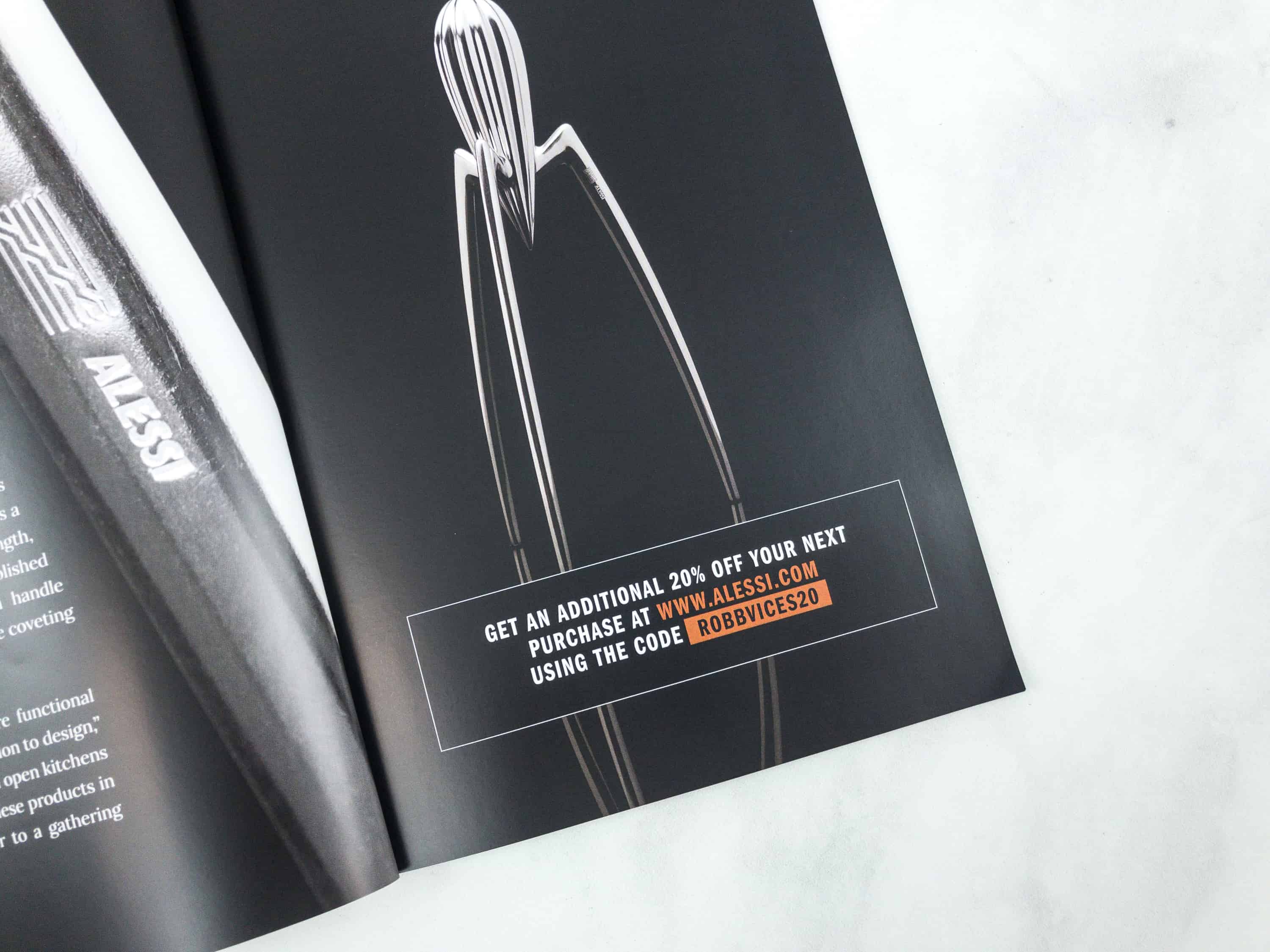 Also included is a 20% off coupon code from ALESSI!
The booklet has detailed instructions for using and maintaining the Juicy Salif. What follows is a compilation of classic and innovative drinks using the products in our box.
The booklet provided easy to follow recipes for Rhum Agricole Ultimate Daiquiri, The Pirate Slave, and Rhum Old Fashioned using Sirop J.M., Clement VSOP, and other ingredients.
BN3TH Men's Underwear – BN3TH also pronounced as "beneath" is a men's apparel developing men's underwear using their patented technology which focuses on providing all-day comfort and a fit that stays close to the body but feels like air!
Included inside the box is a BN3TH discount card.
The code lets you get your first item for free, you just need to pay for its shipping fee amounting to $7.66.
Note: It only applies to Classics Boxer Briefs of Trunks.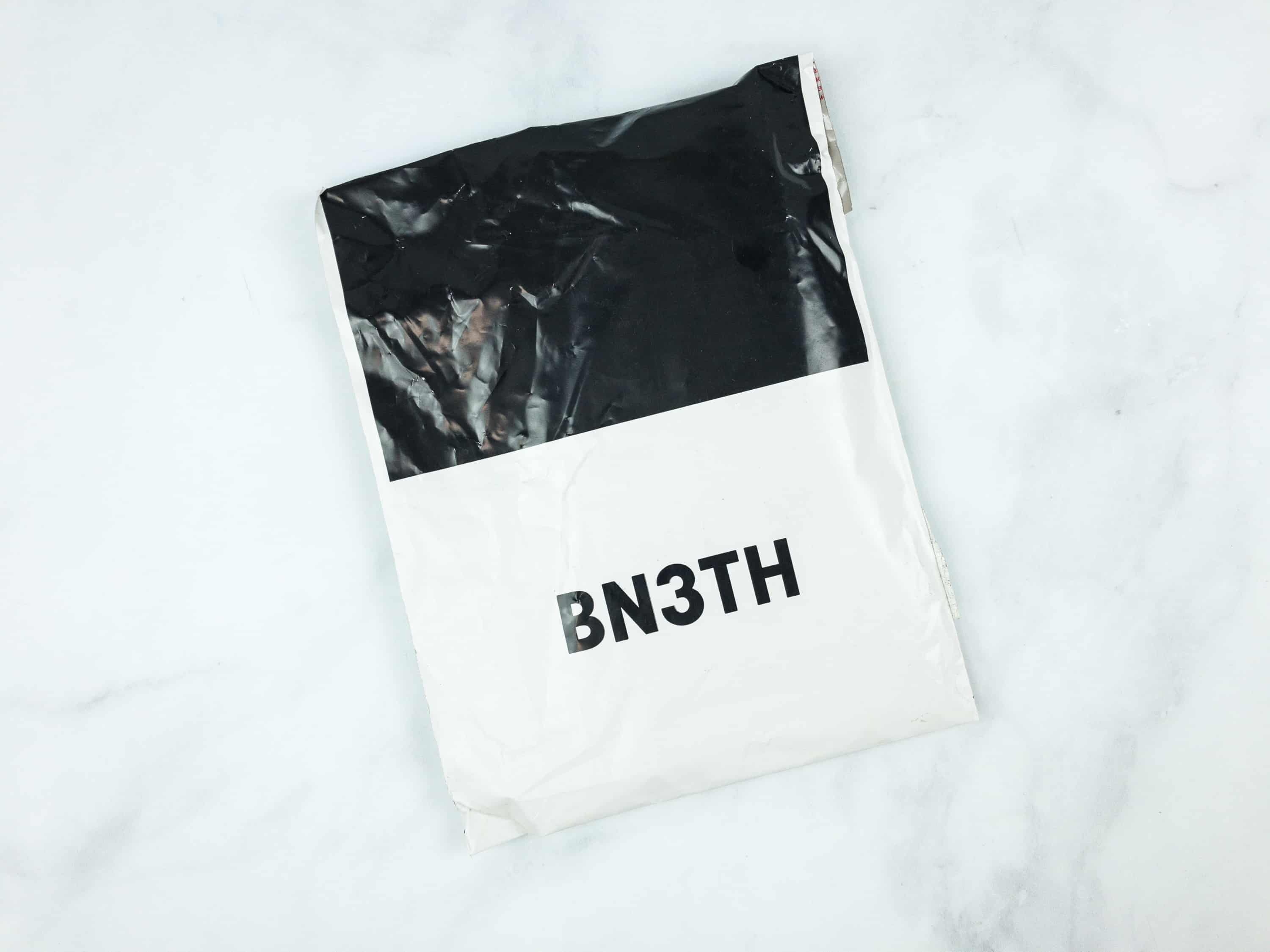 BN3TH Lifestyle Classic Trunk Boxer Brief ($25) I immediately used my code to get a pair of classic trunk boxer briefs!
It arrived securely in a pouch.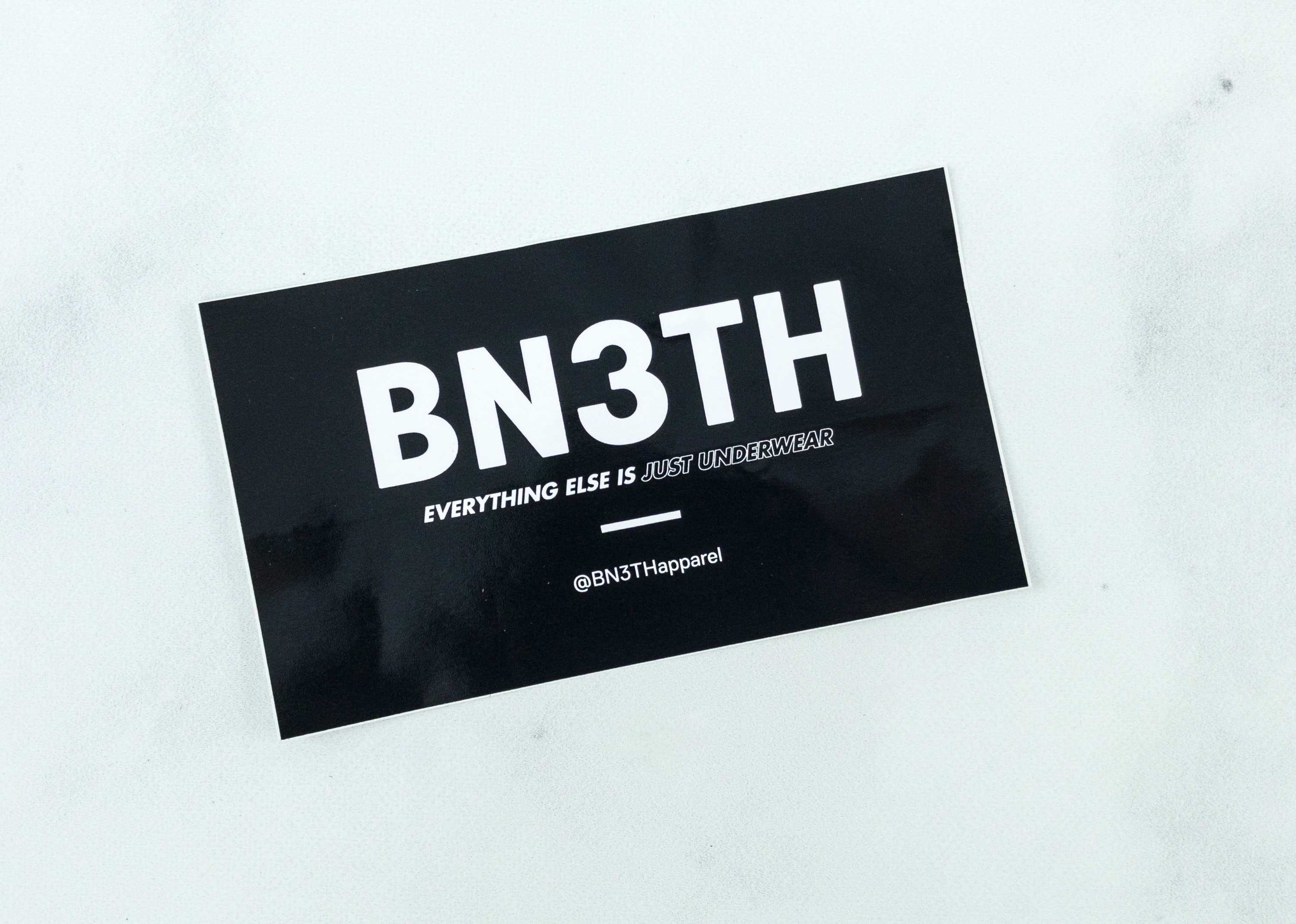 The package included a card from BN3TH.

The boxer brief is made from modal, a natural fabric that is more absorbent than cotton.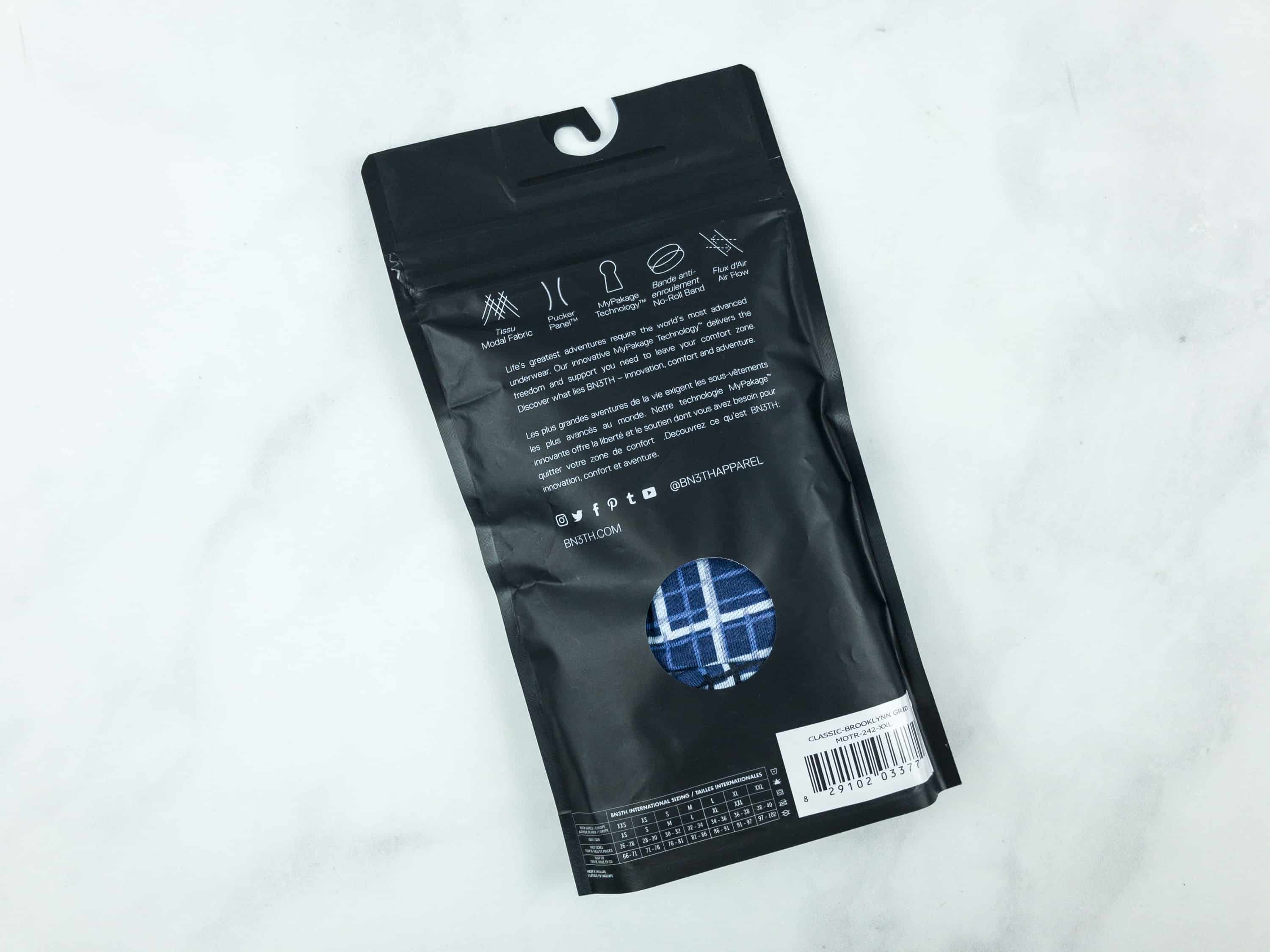 This boxer brief is also breathable, and wrinkle and pill resistant.
The design is BN3TH's new take on plaid — they call it Brooklyn Grid.
The 3-dimensional pouch provides complete support and was purposely designed to give you a gentle lift and enhanced shape.
The back has a centered panel, so there is no vertical seam in the middle to get all up in your business.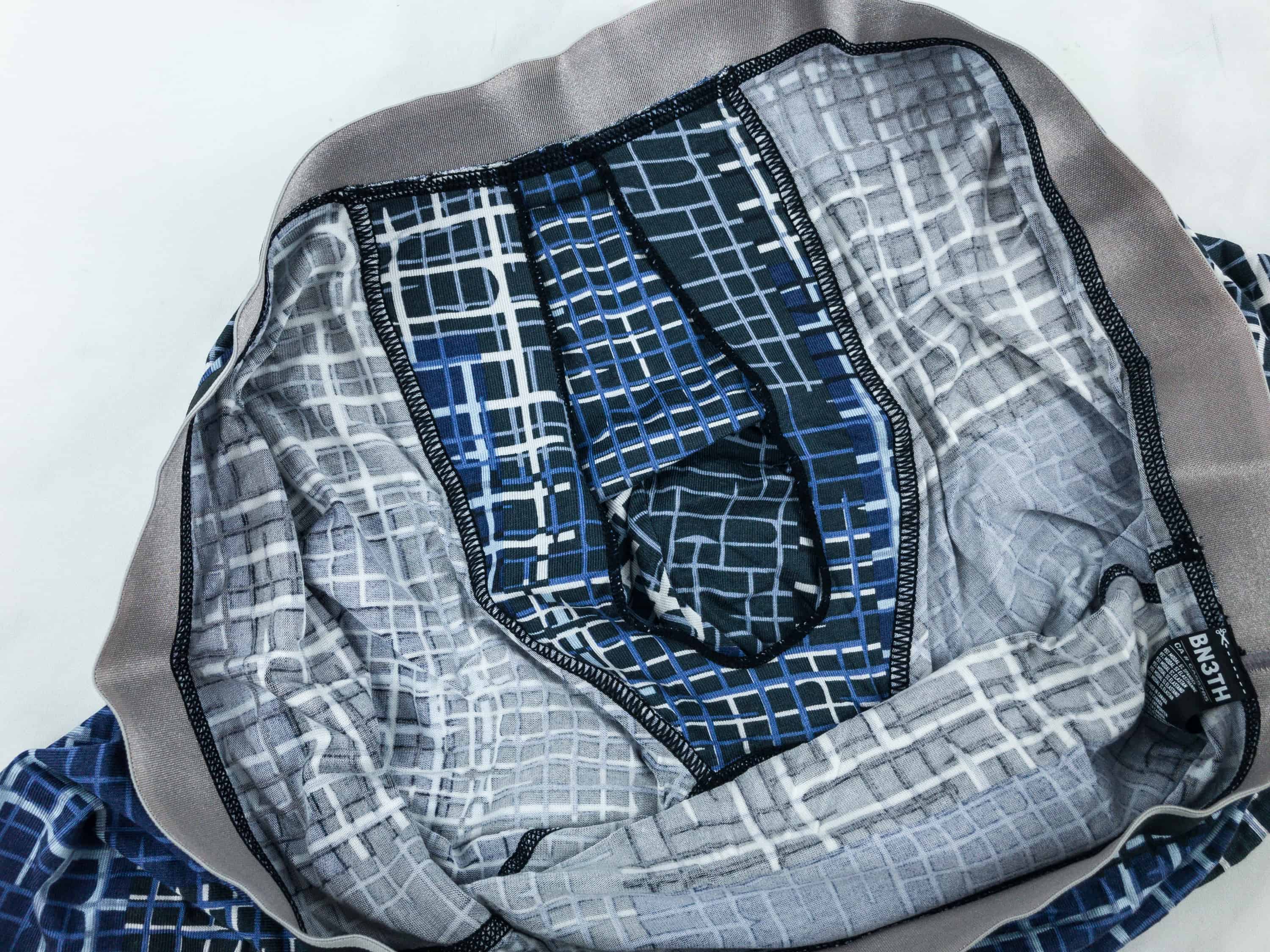 It also has a 2 Layer Pucker Panel that gives the wearer comfort even in the sensitive areas. The front pouch has flaps that isolate your man parts from your legs, so they get a compartment all to themselves. I've never seen the whole comfort pouch concept taken to this level!
To top it all off, the boxer brief has a 1 3/8 inch knitted waistband for maximum comfort. It's not too tight, and it doesn't easily slip as well.
Fish Fixe Seafood Grill Kit – Re-introducing Fish Fixe! The first time it was featured was on the April edition of Robb Vices.
They're a premium delivery service that started in 2017, sending out the world's freshest seafood right at your doorstep.
Here's a recipe for Drunken Shrimp, Scallop and Salmon Kabobs with Peppered Coconut Rice.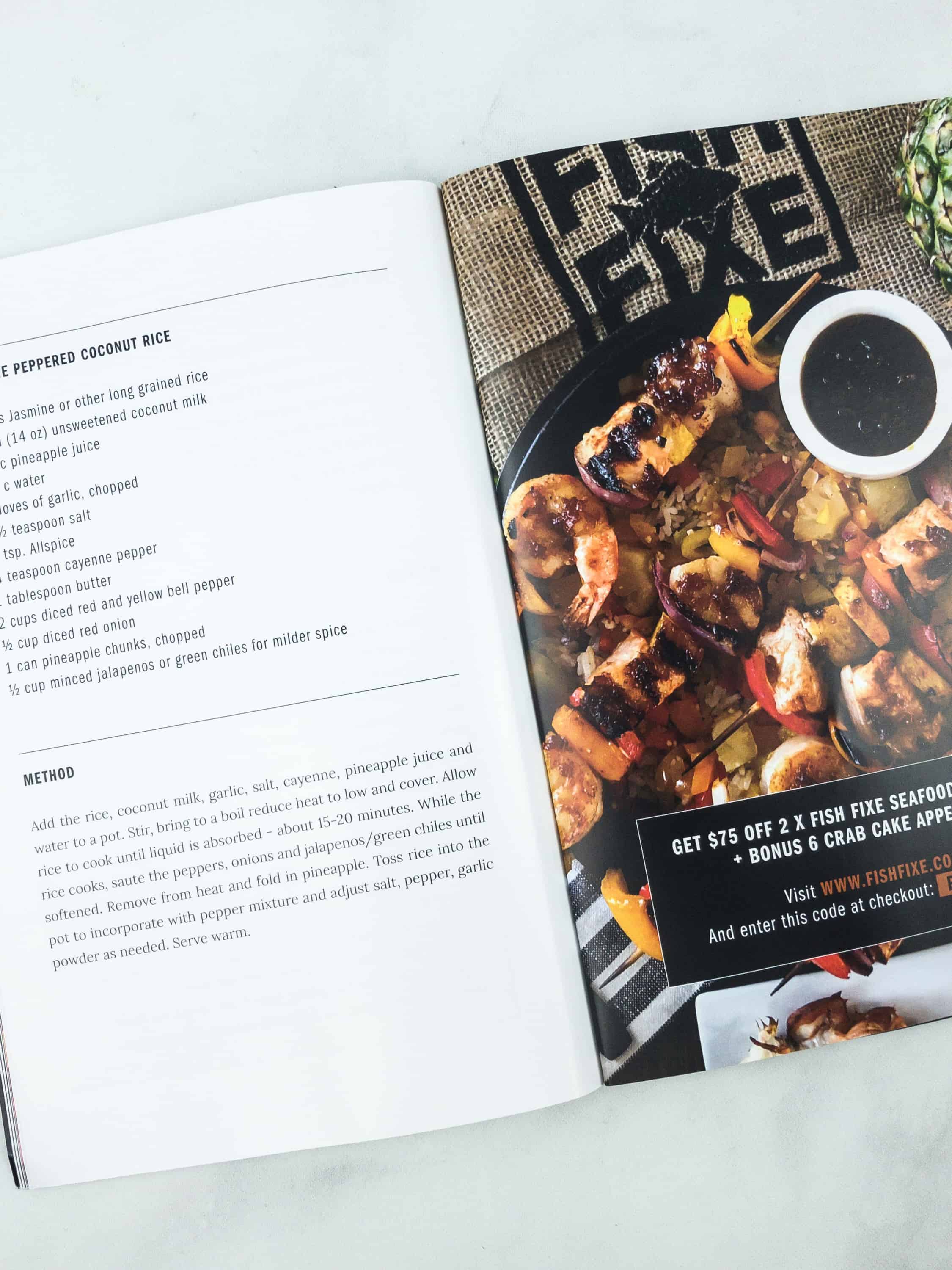 The method is so detailed and super easy to follow.
They gave us a coupon code for $75 off when a purchase of 2 x fish fixe seafood grill kits + bonus 6 crab cake appetizer.
Here are other seafood recipes you can make using J.M. Sirop de Cannes and Clement Rhum!
The long wait came to an end, and the July 2018 box has finally arrived! This month's box was a blast, though they really are known for their sophisticated curation of premium quality drinks, treats, and items, I still am really amazed. I guess I'm just a sucker for boxes with booze in them! I can't wait to experiment with the syrup and rum (or sirop and rhum) and try all of the drink recipes. I also like my new juicer, its design is so cool. The discount coupons aren't as exciting as receiving something in hand, but I do like that Robb Vices tends to include sizable discounts or credits, so they are of actual value to you and not merely promotions. This system works particularly well for garments, as you get to specify your size and pattern instead of being stuck with whatever might come in the box. The recipes are nice to have, tool! They are so detailed, and they look really delicious. The value of this box is decent, too, coming in at about $156, excluding the fish discount of $75, more than covering the cost of subscription. It's not astronomical like some of the early boxes, but it's plenty when you are enjoying the items. This subscription is such an awesome way to indulge and it would make a perfect gift for anyone who has an opulent taste!
What do you think of this month's Robb Vices box?