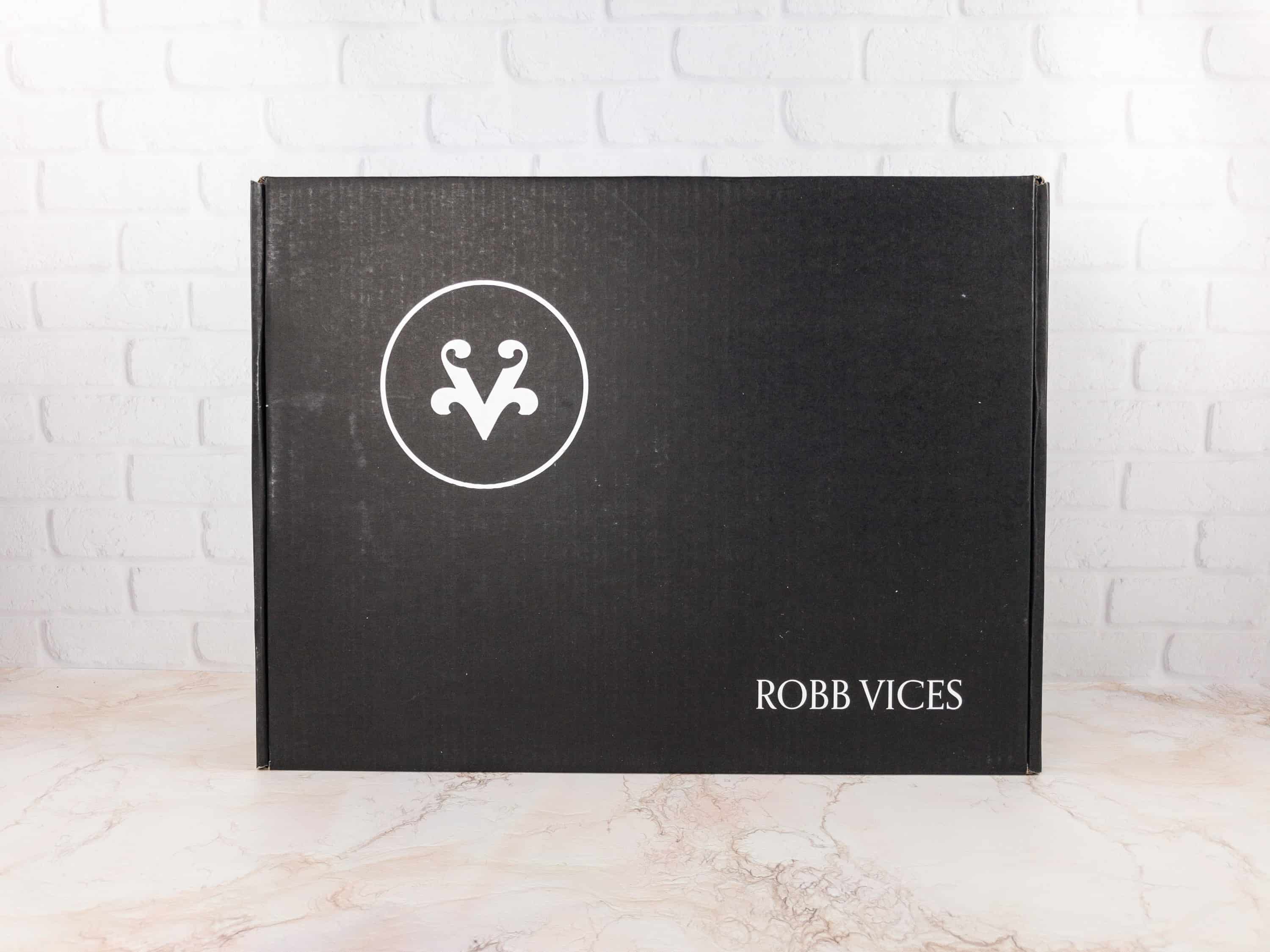 Robb Vices is a monthly subscription service that delivers a collection of "storied treasures." The subscription costs $89.95 per month, and each box comes with incredible products and experiences that have been curated for your enjoyment.
The box is huge! It is the size of a padded laptop shipping box. The large size lets them ship fragile and really expensive stuff with adequate padding.
DEAL:
Get a complimentary bottle of Highspire Whiskey with New 3, 6 or 12-Month Subscription! Use coupon code HIGH.
Get a Complimentary Breville Smoker with New 3, 6 or 12-Month Subscription at Robb Vices. Use coupon code SMOKE.
Want to start with one box? Just use coupon code TEATIME if you wish to get the Robb Vices Tea Experience box (that is THIS box) as your first box OR CELEBRATION18 if you want the Great Celebration box (see review) first.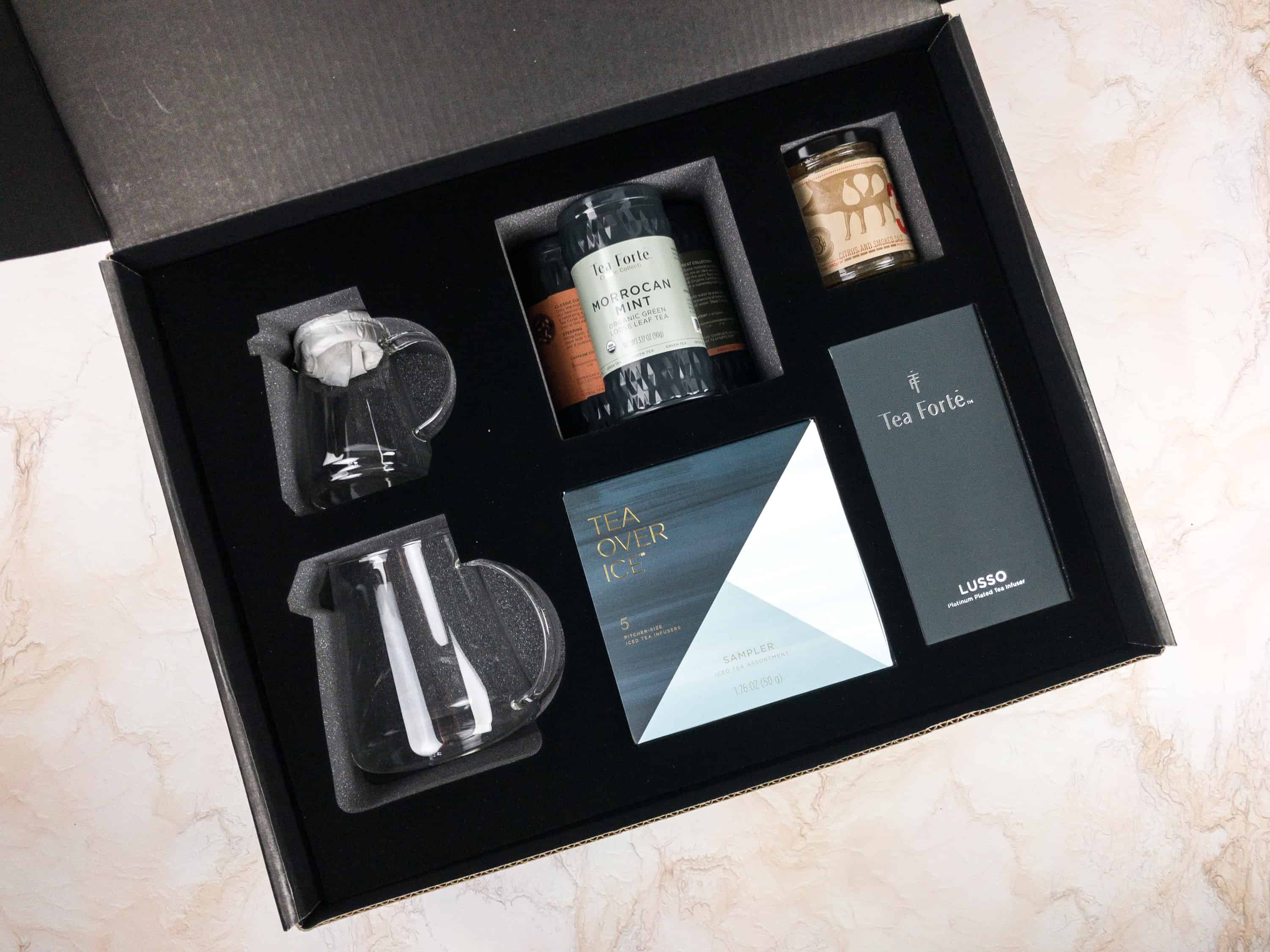 Even the padding in the box is exquisite! It has a foam insert that cradles everything inside, and it even has a velvety surface. It all has a very high-end feel to it, and unboxing everything from the custom case makes you feel a bit like a secret agent selecting your gear.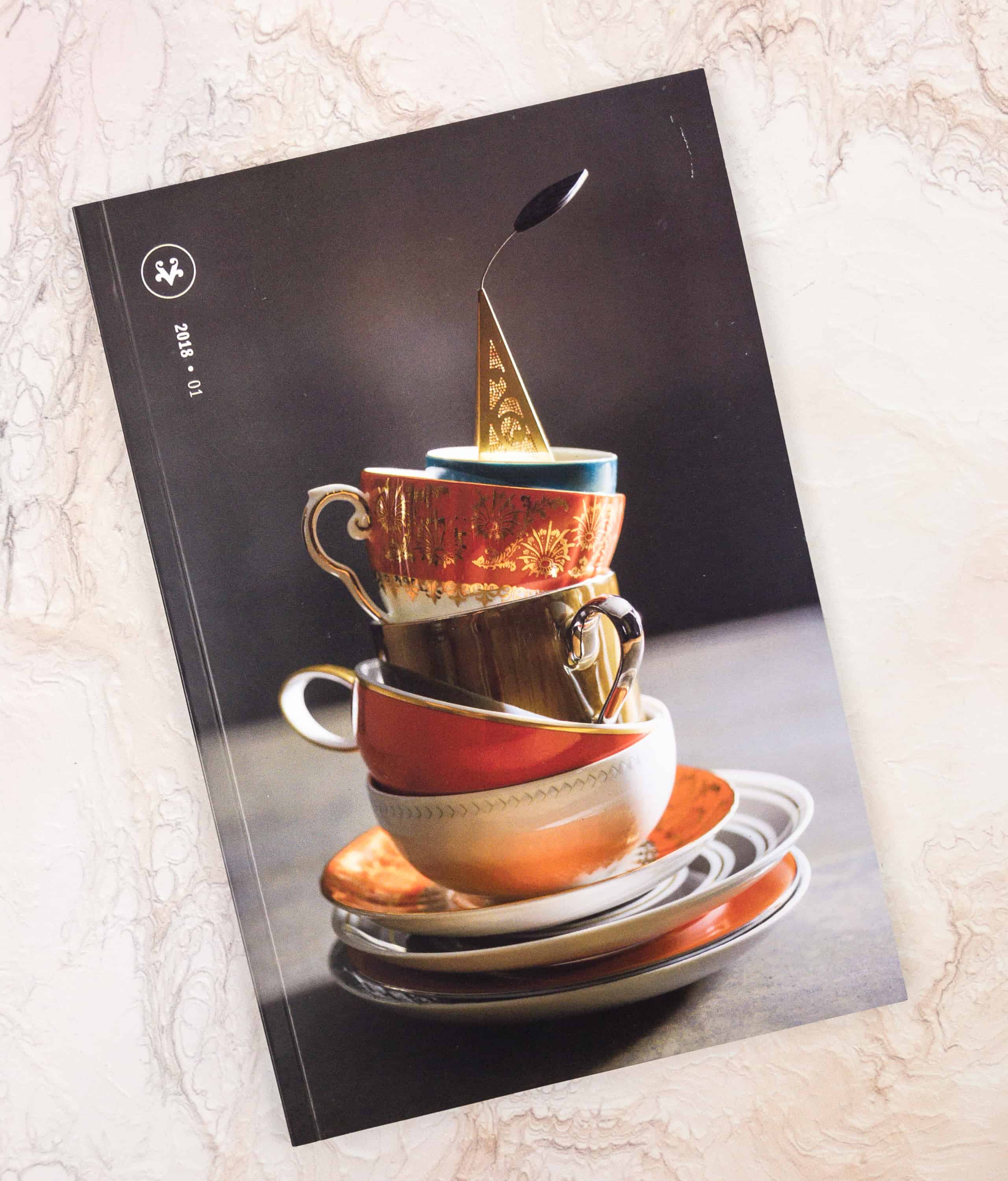 The story of the premium products is told through a giant, novella-sized booklet with multi-page featurettes on each selection. It is the most thorough exploration of products I've seen in a curation, as each one has the equivalent of a magazine article written about it.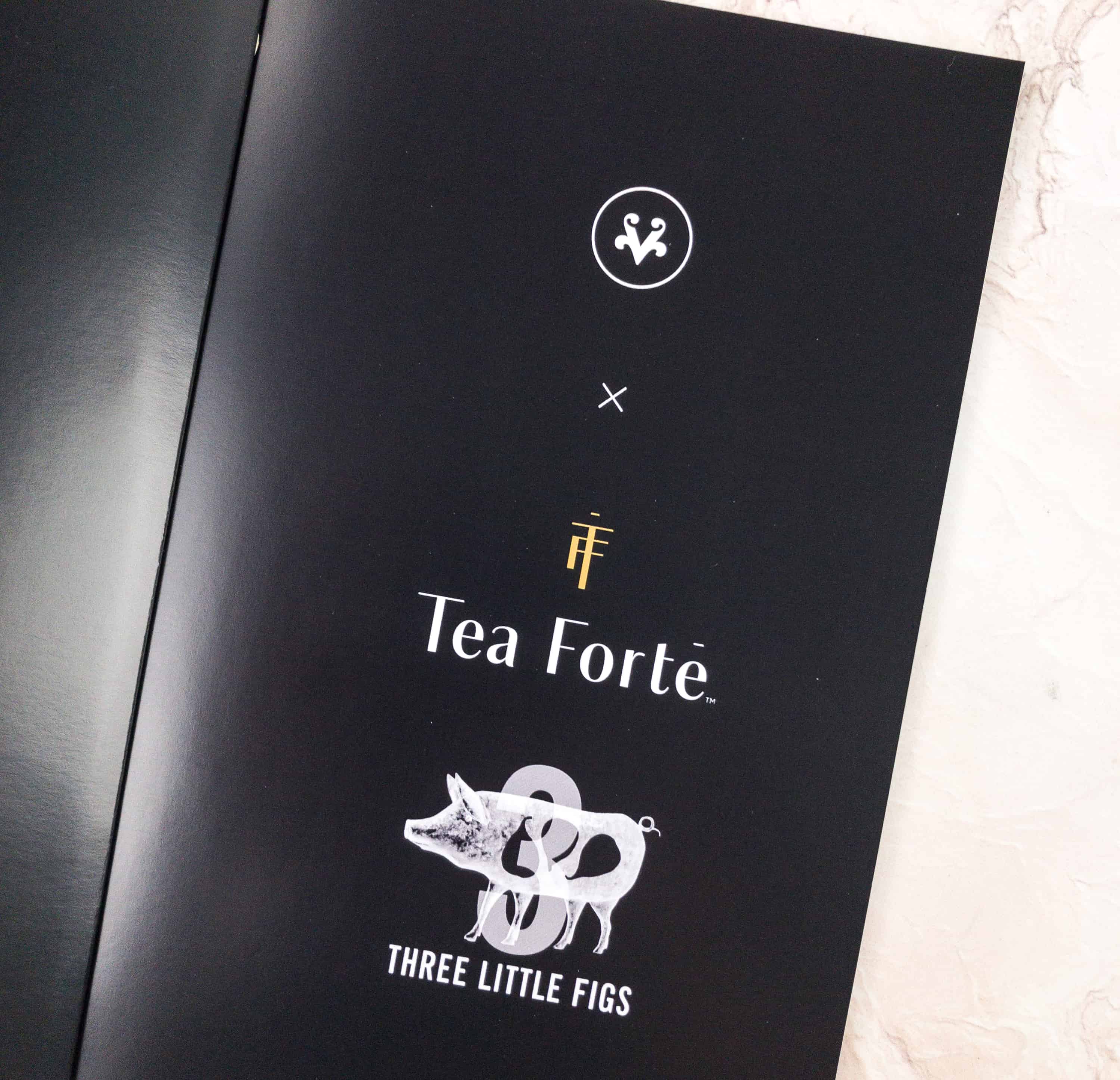 This month is all about TEA.
There's a long message from Robb Vices founder, Daniel Curtis.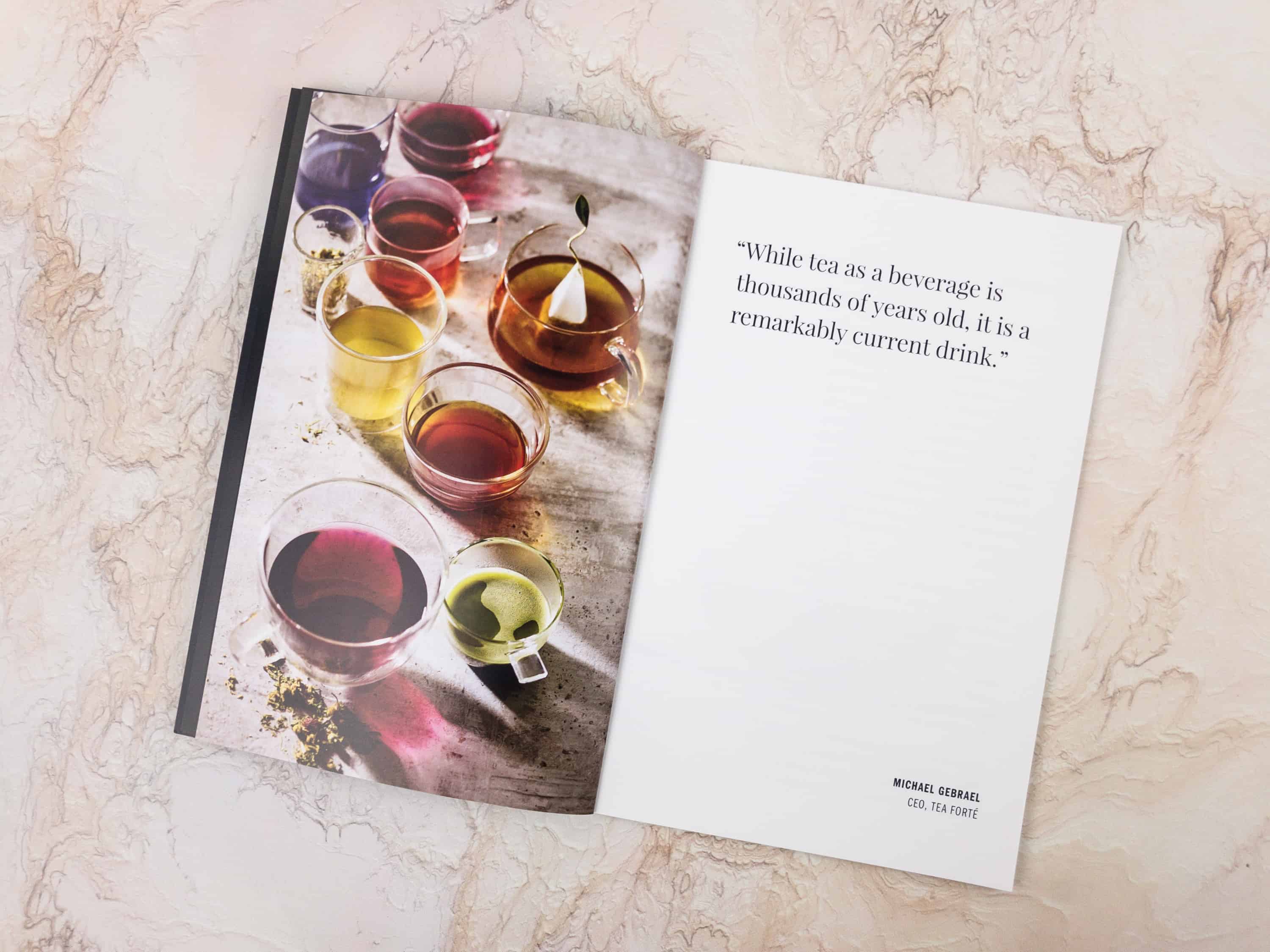 Meanwhile, another page features a quote from Tea Forte CEO, Michael Gebrael.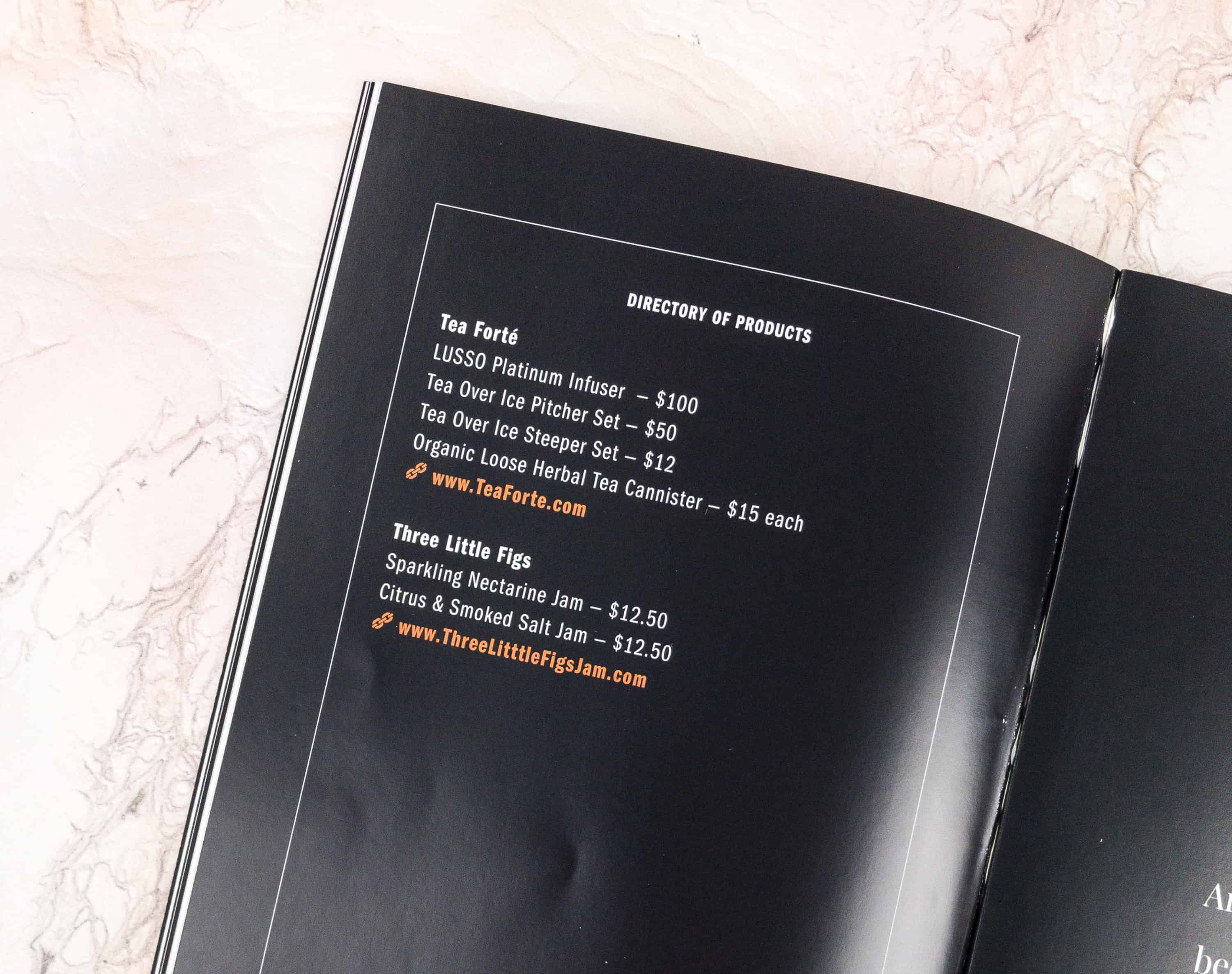 There's also a page that lists the brands who contributed items to the box.
The styling of the booklet is very sleek and elegant, with tons to read. Tons of high-quality photography, too. 56 pages in all!
Everything in the January 2018 Robb Vices box!
According to the magazine, the act of tea drinking was pioneered by a Chinese emperor named Shen Nung in 2737 B.C.
Tea Forte Lusso Platinum Infuser ($100) To start off our upscale tea drinking experience, they sent a tea infuser plated with non-reactive platinum.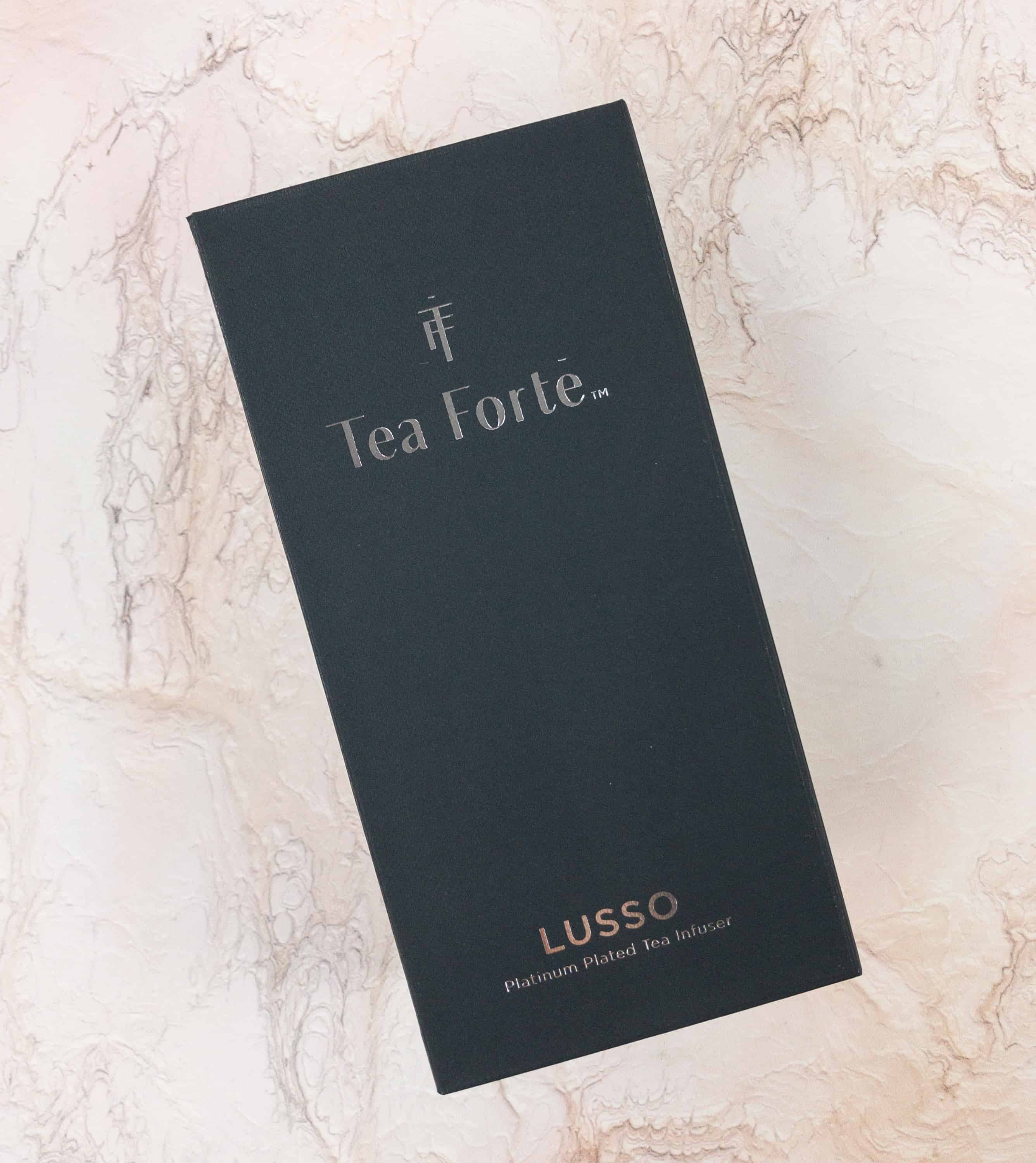 Our signature pyramid-shaped LUSSO platinum plated tea infuser takes steeping to the next level. Non-reactive platinum plate preserves the varied and unique characteristics of fine tea.
It has a high-end feel to it, but it's quite easy to use. Just remove the silicone base and fill the infuser with tea. Then secure the base, steep, and enjoy the hot drink. After steeping, you can rest the infuser on the handcrafted ceramic tea tray.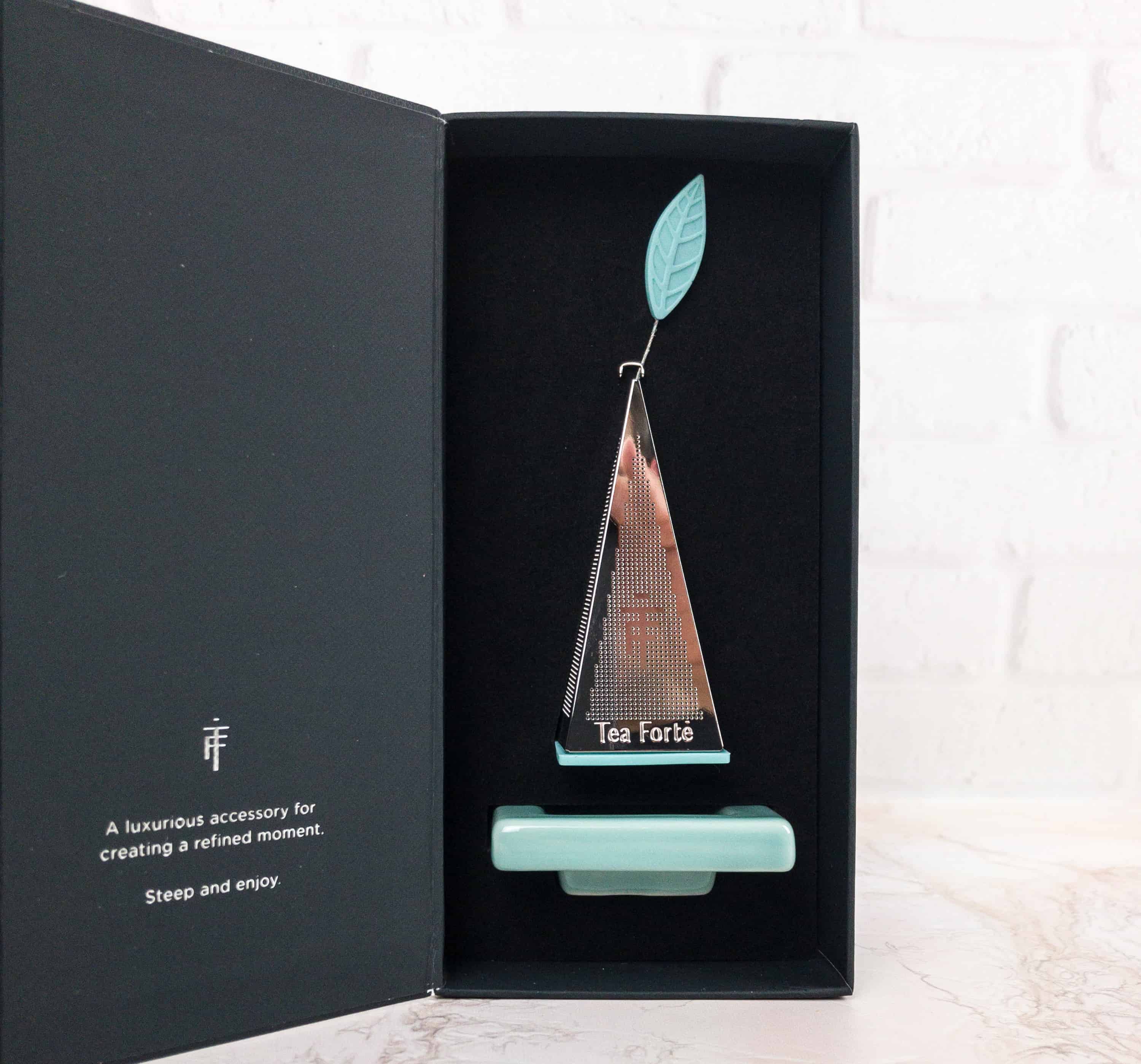 The tea infuser was packaged elegantly in a magnetic-closure gift box.
While the infuser is plated with non-reactive platinum, its base is made of silicone. It is also accompanied by a monogrammed turquoise ceramic tea tray.
The infuser is designed to preserve the varied nuances of tea. It is also dishwasher-safe, but non-microwaveable.
Tea Over Ice Steeper Set ($12) Of course, our luxurious tea experience wouldn't be complete without the actual tea to steep!
There are 5 tea bags included in the sample package.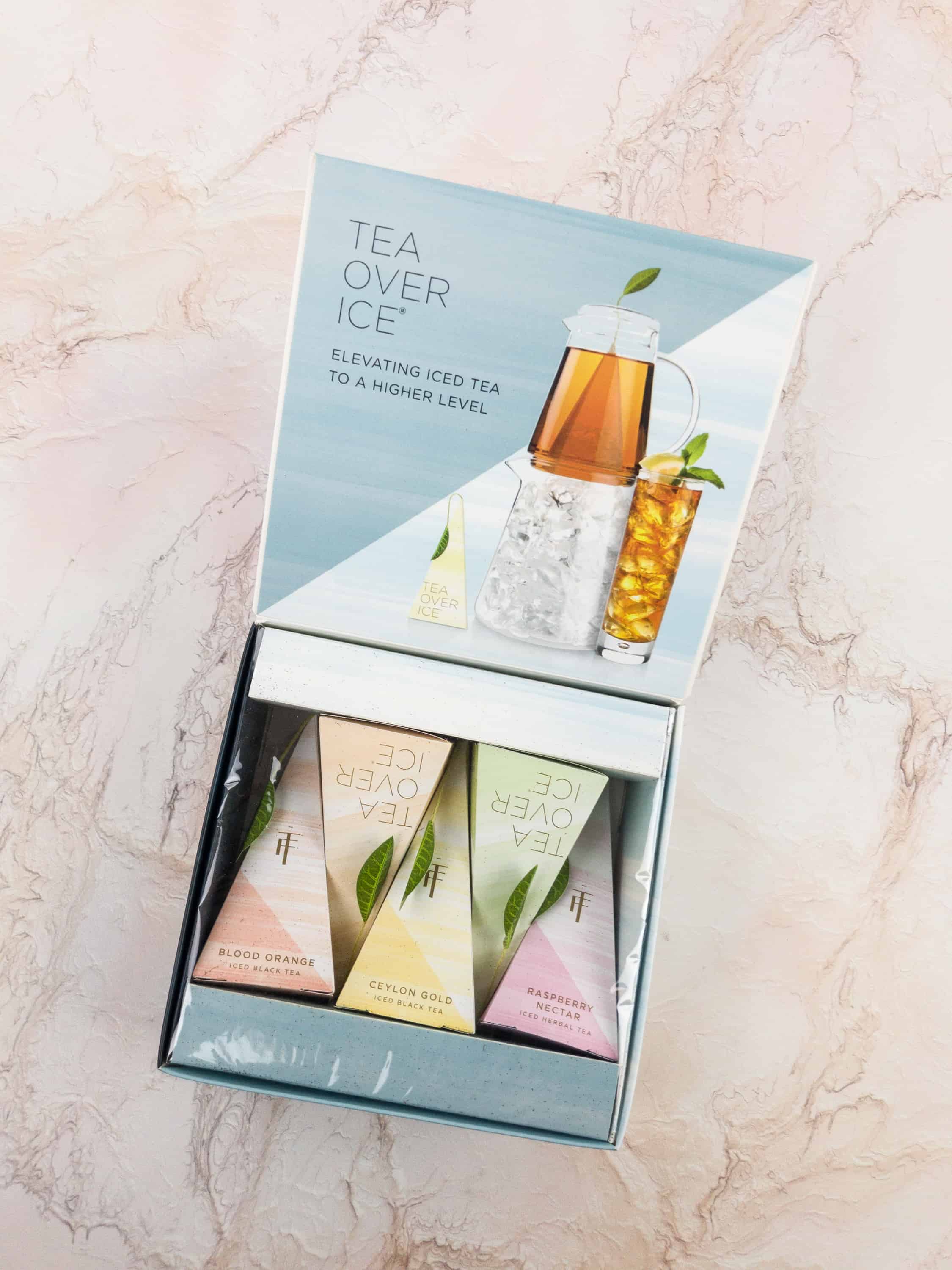 Also shaped like a pyramid, these tea bags fit our new infuser perfectly!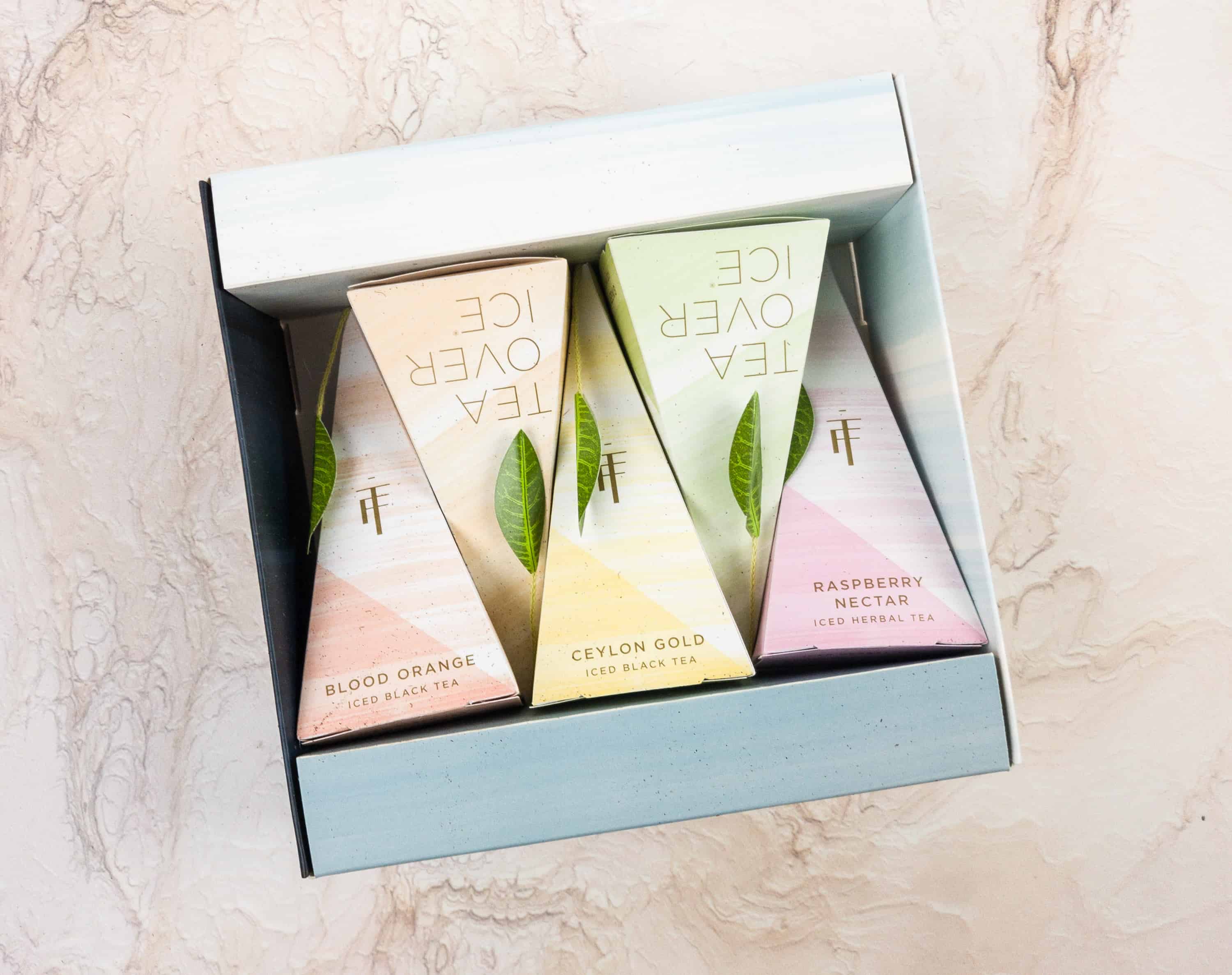 All of the teas included in my box have fruity flavors!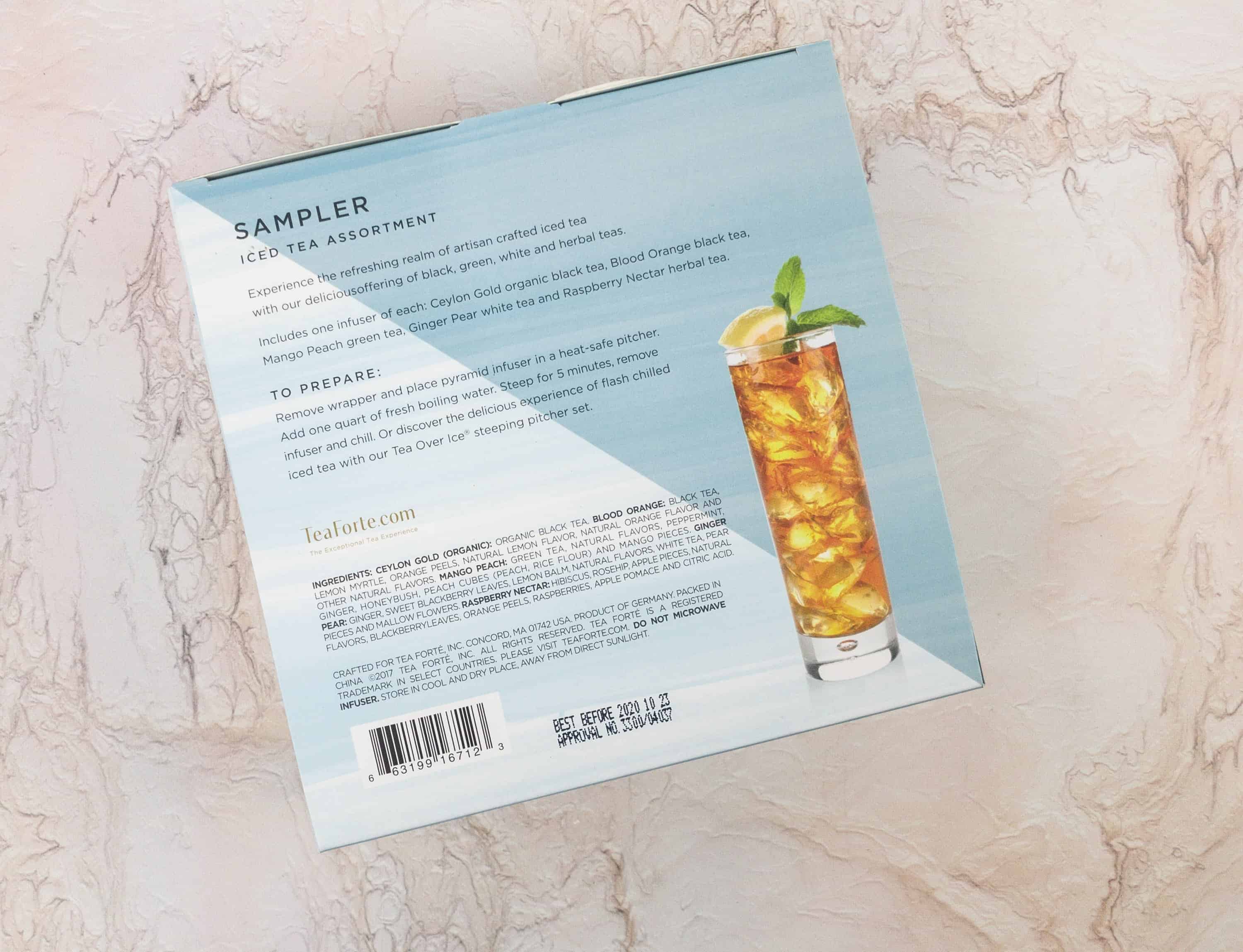 The tea packaging contains instructions on how to prepare and enjoy the tea samplers.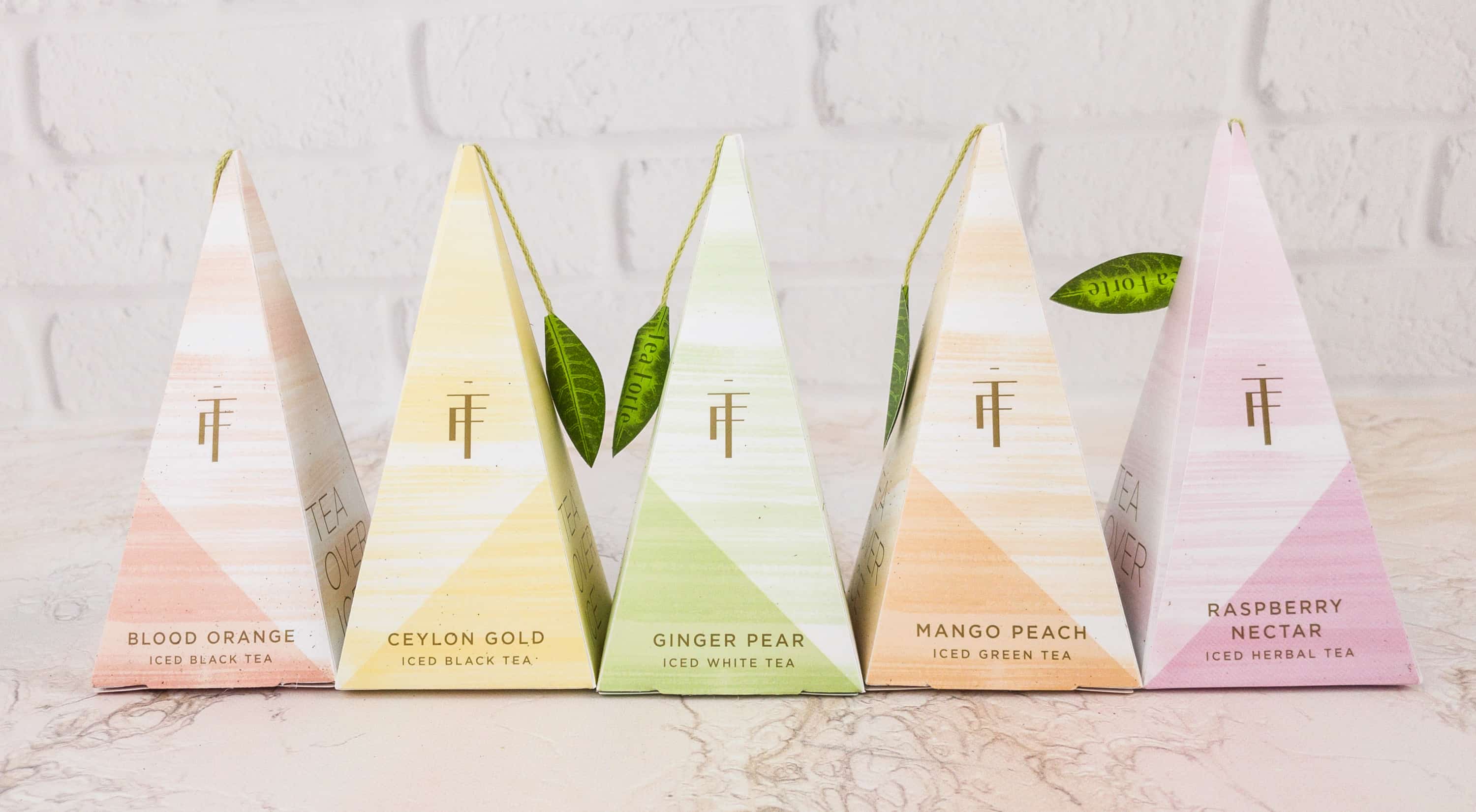 Blood Orange has a citrusy blend of orange, grapefruit and bergamot, while Ceylon Gold boasts of a sweetened spritz of lemon. For white tea lovers, there is Ginger Pear which has a refreshing flavor from sweet blackberry leaves and lemon balm. Another interesting blend is Mango Peach, which is a green tea mixed with mango, peach, and cool peppermint. Lastly, there's Raspberry Nectar, an herbal tea with hibiscus, apple and orange as its primary notes.
Additional information about each tea blend is printed at the bottom of the pyramid-shaped container.
Each bag can easily steep and can also be flash-chilled.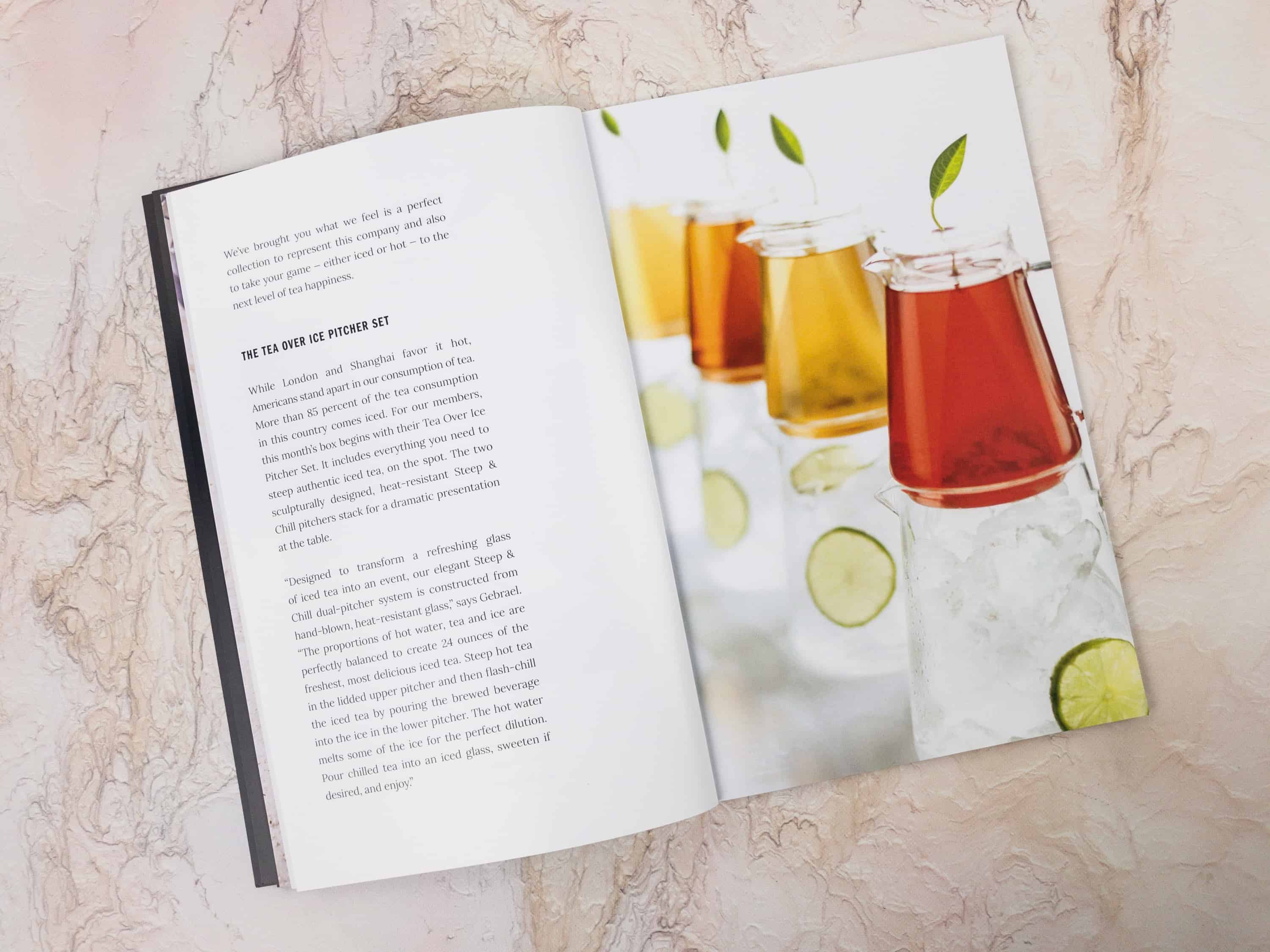 Tea Over Ice Pitcher Set ($49) This tea set includes two glass pitchers: one small pitcher for steeping, one large pitcher for ice.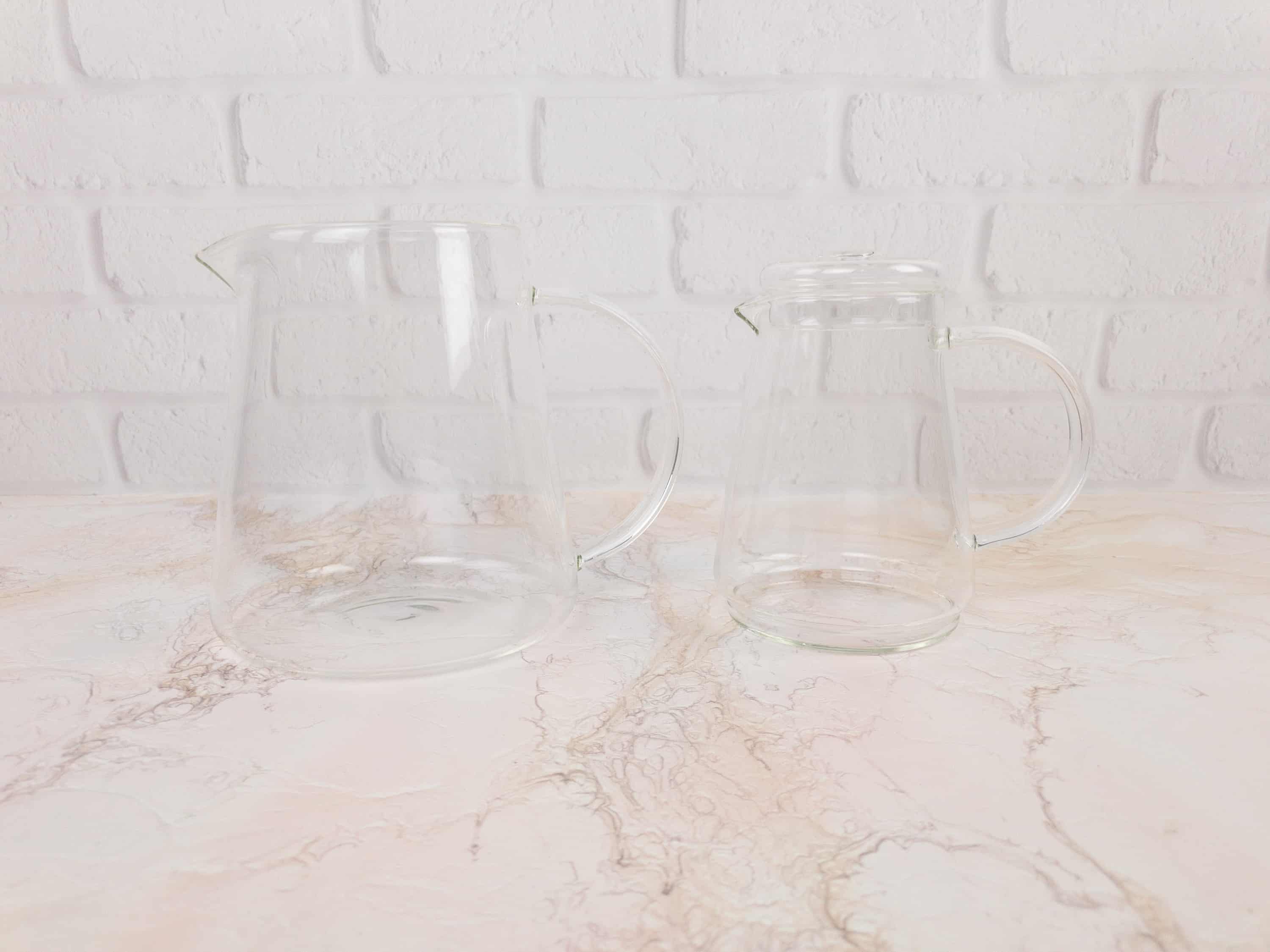 It's perfect for those who prefer iced tea more than hot tea!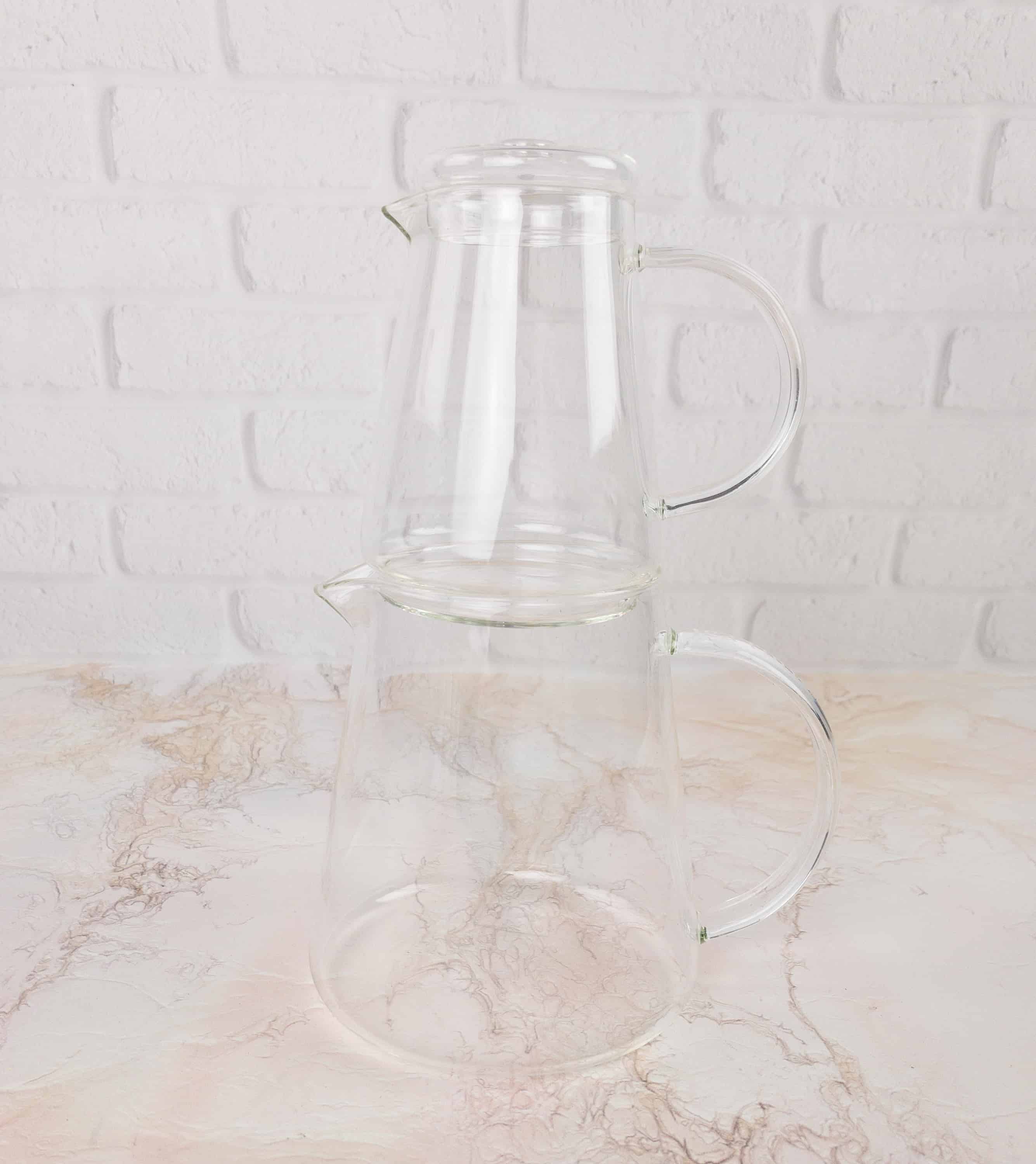 The two sculpturally designed pitchers can stack for a dramatic presentation.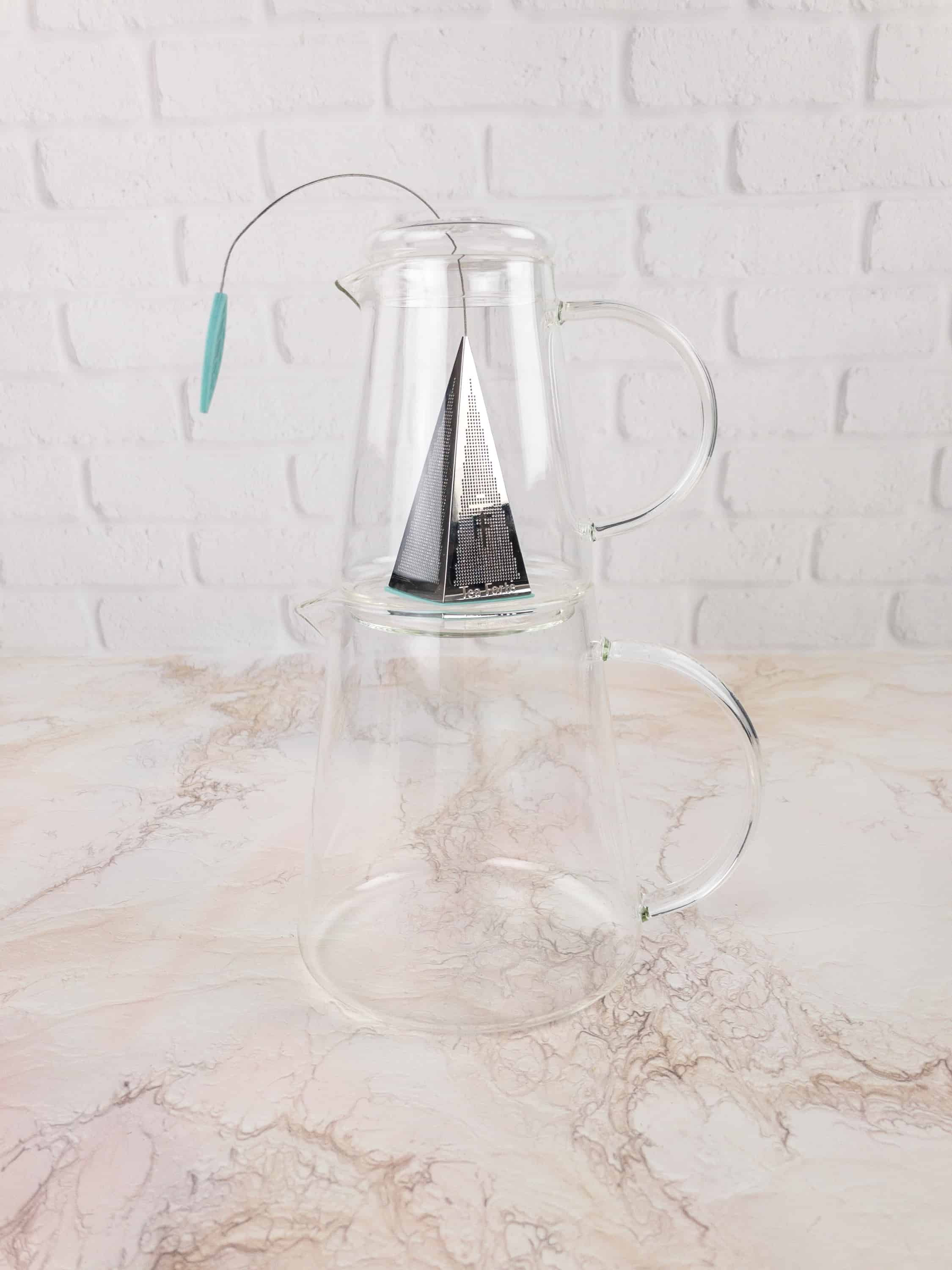 The infuser fits well inside the smaller pitcher!
According to Robb Vices, here's how you can effectively use the pitchers.
Steep hot tea in the lidded upper pitcher and then flash-chill the iced tea by pouring the brewed beverage into the ice in the lower pitcher.
To fully discover and experience the Tea Forte collection, they provided a coupon code exclusive for Robb Vices subscribers which can be used at Tea Forte's online store.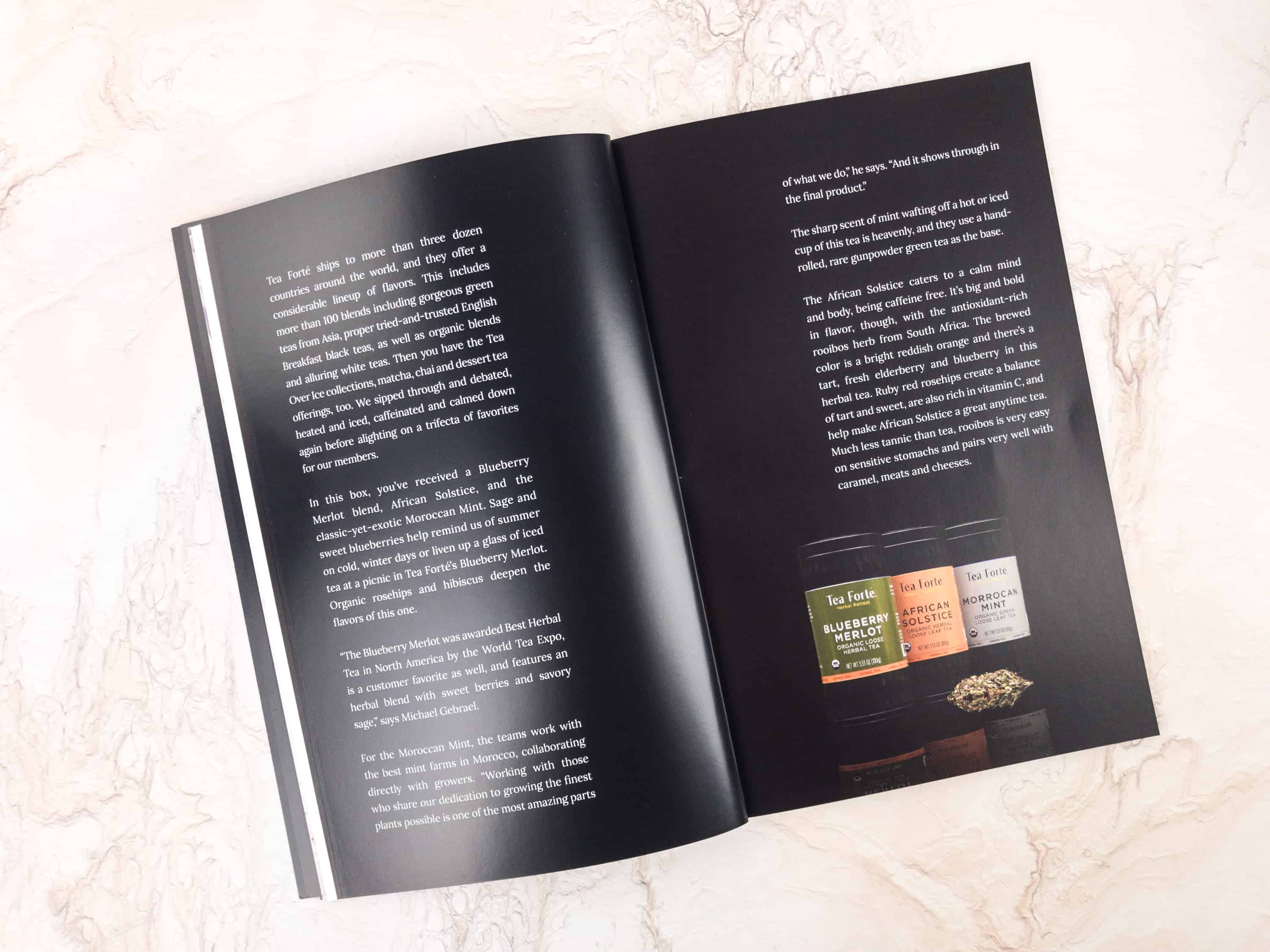 Organic Loose Herbal Tea Canister ($15 each) Our tea journey is not yet over because here's another batch of tea blends from Tea Forte and they're packed in canisters.
I received three canisters of loose herbal teas in different flavors: Blueberry Merlot, Moroccan Mint, and African Solstice.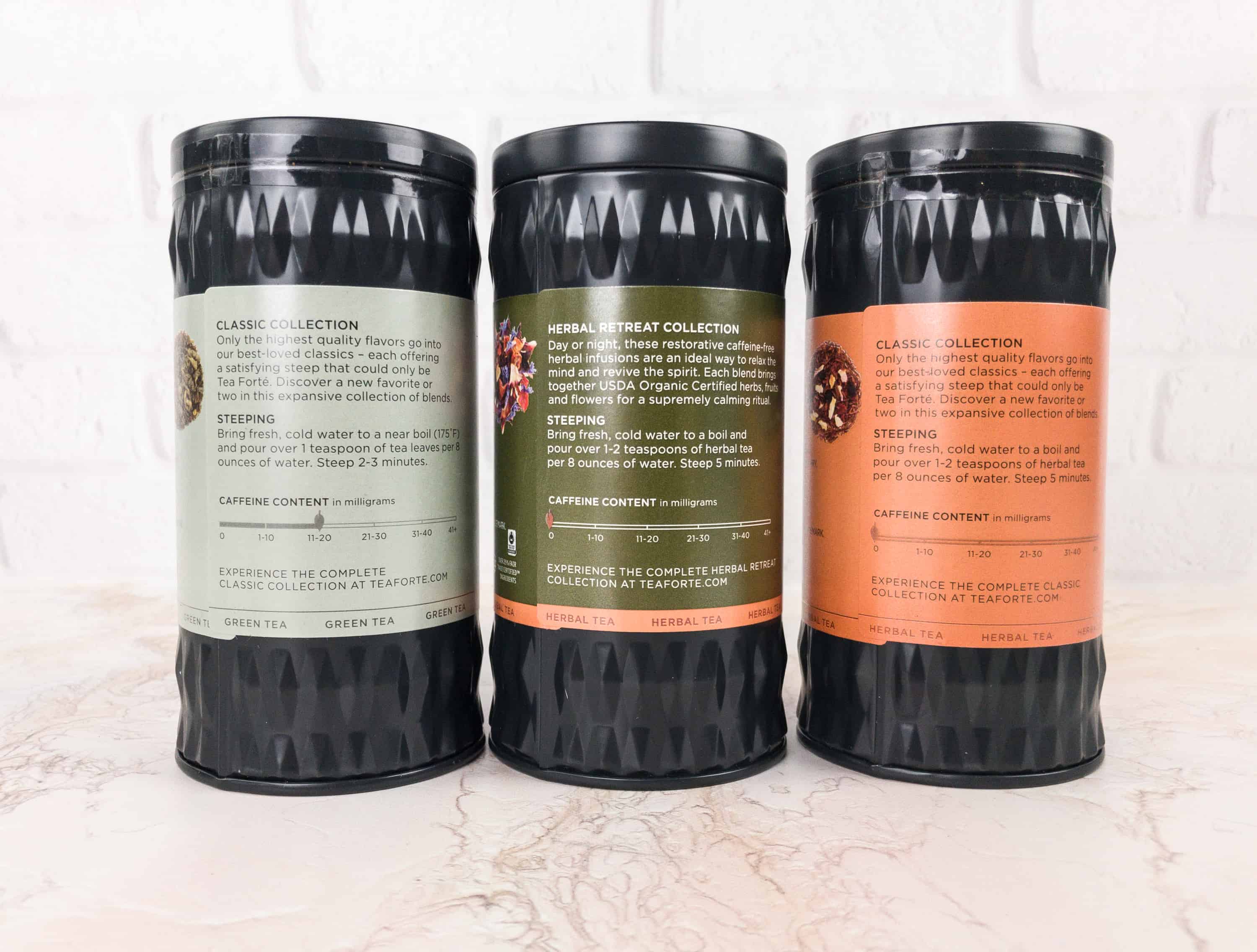 Tea Forte offers high quality blends and the weight of the tea ranges from 30-130 grams depending on the volume of each blend.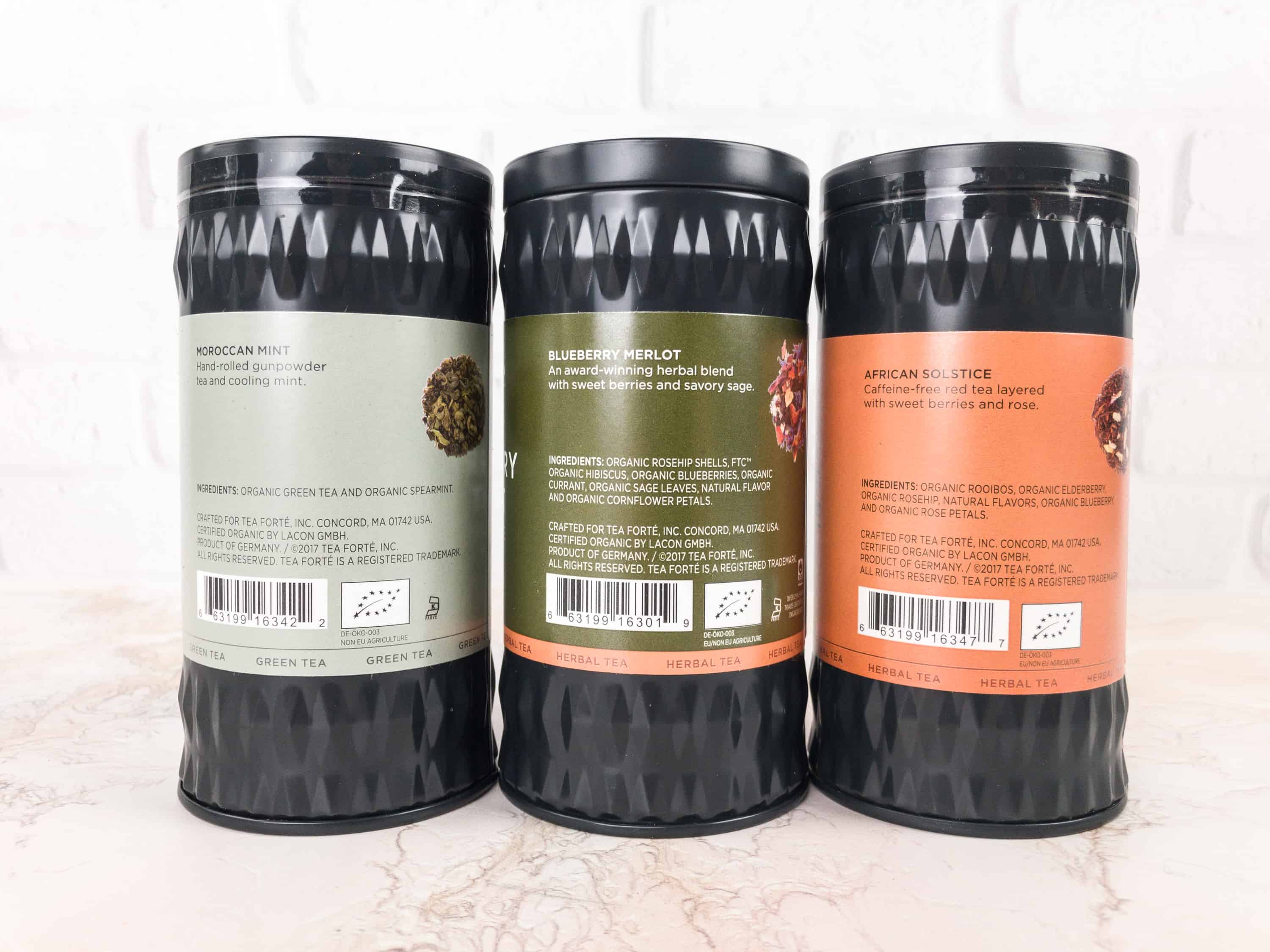 Also, each 100% recyclable canister contains approximately 35-50 servings. There's more tea time to enjoy!
Moroccan Mint is a hand-rolled gunpowder tea with cooling mint.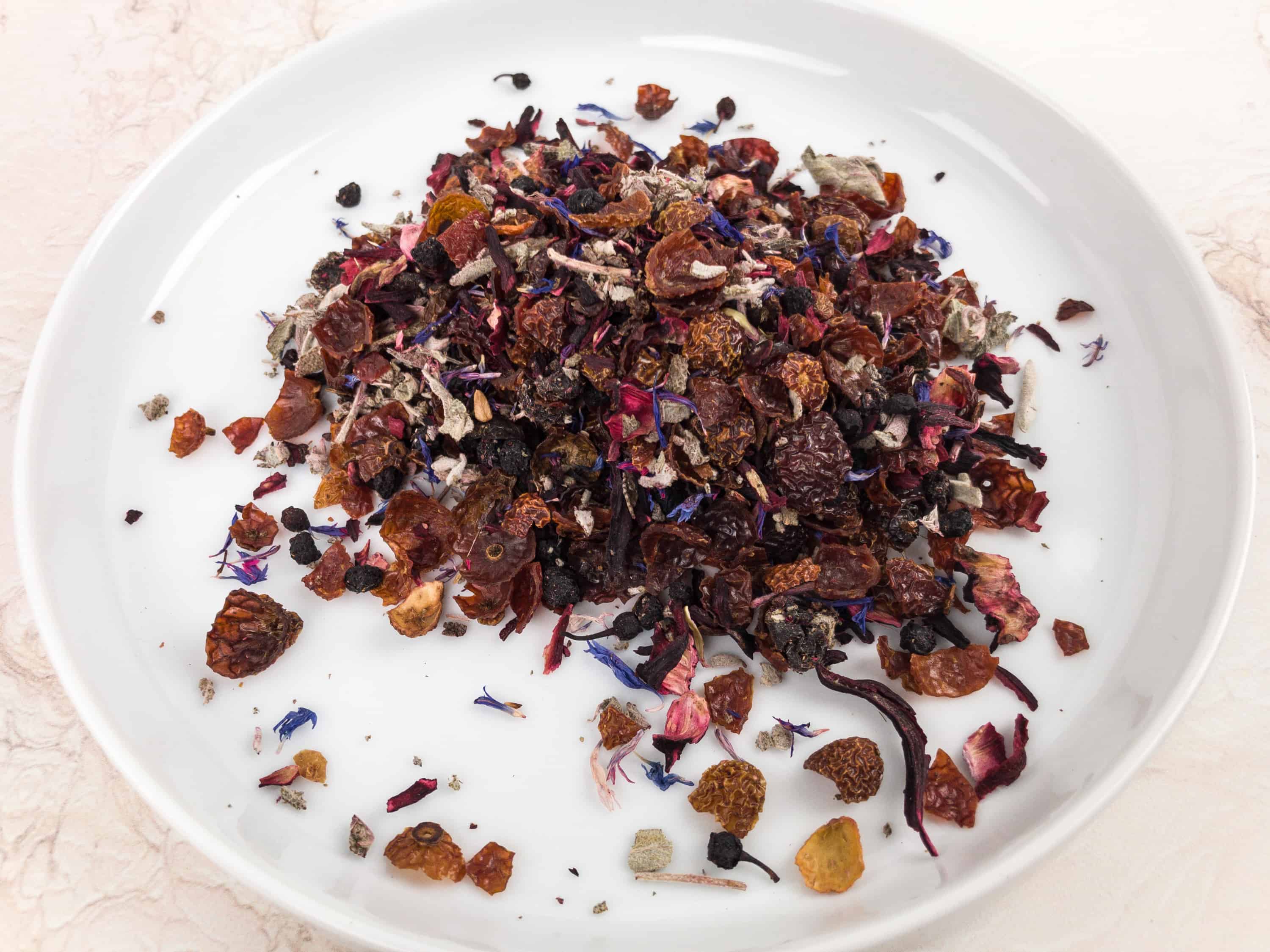 Blueberry Merlot is an award-winning herbal blend with sweet berries and savory sage.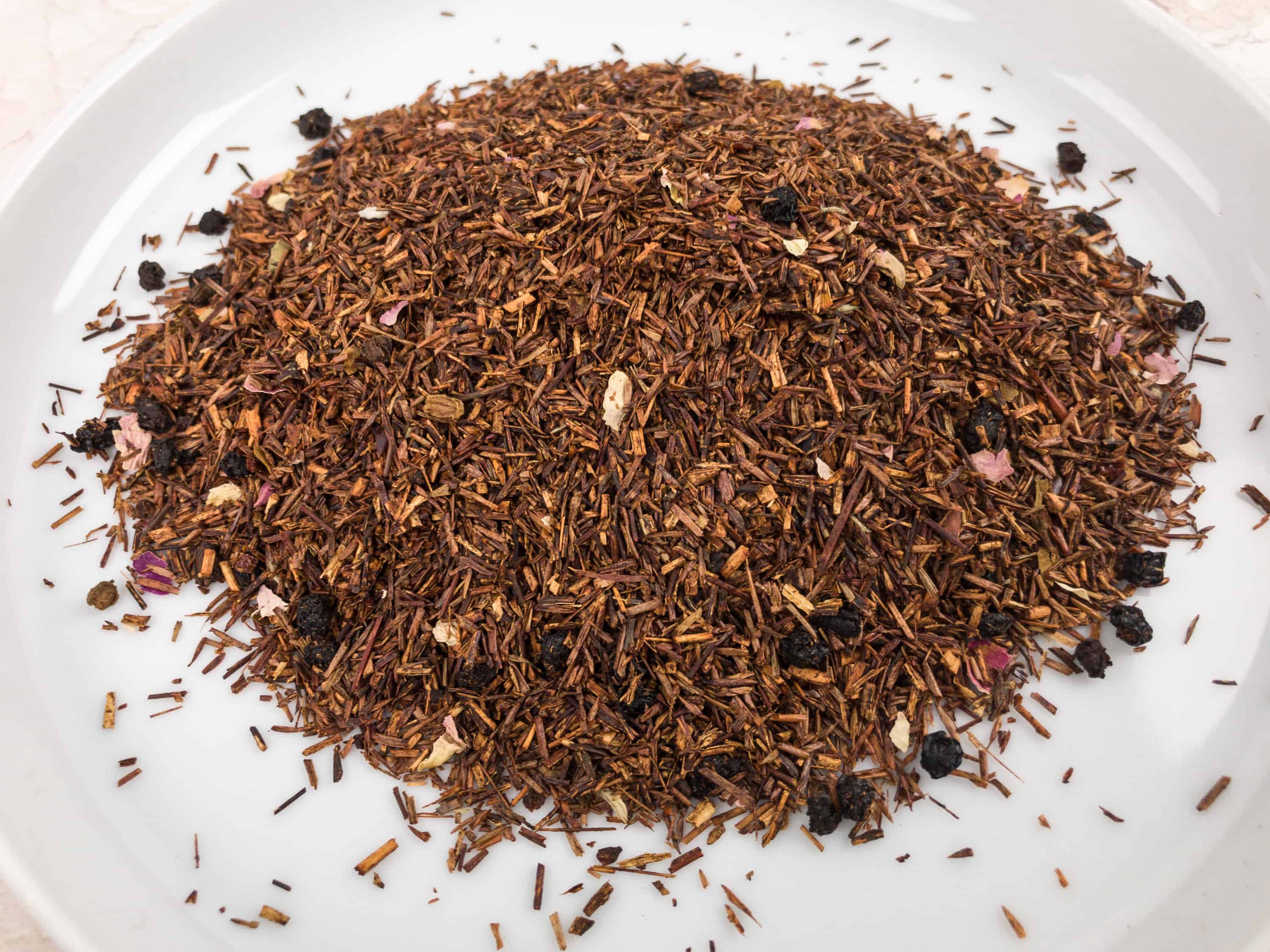 African Solstice is made with naturally caffeine-free and antioxidant-rich rooibos herb which is layered with sweet berries and rose.
Three Little Figs Citrus And Smoked Salt ($12.50) We're wrapping up the box with a jam in citrus and smoked salt. It is perfect with biscuits and desserts, which you can serve with tea.
At Three Little Figs, our goal is to revive the age old art of preserving by giving our products new and exciting flavor profiles while honoring traditional cooking methods. We love the connection we have with where our food comes from and believe that amazing food is an affordable luxury. Three Little Figs is dedicated to the creative use of quality ingredients with a focus on flavor and sustainability.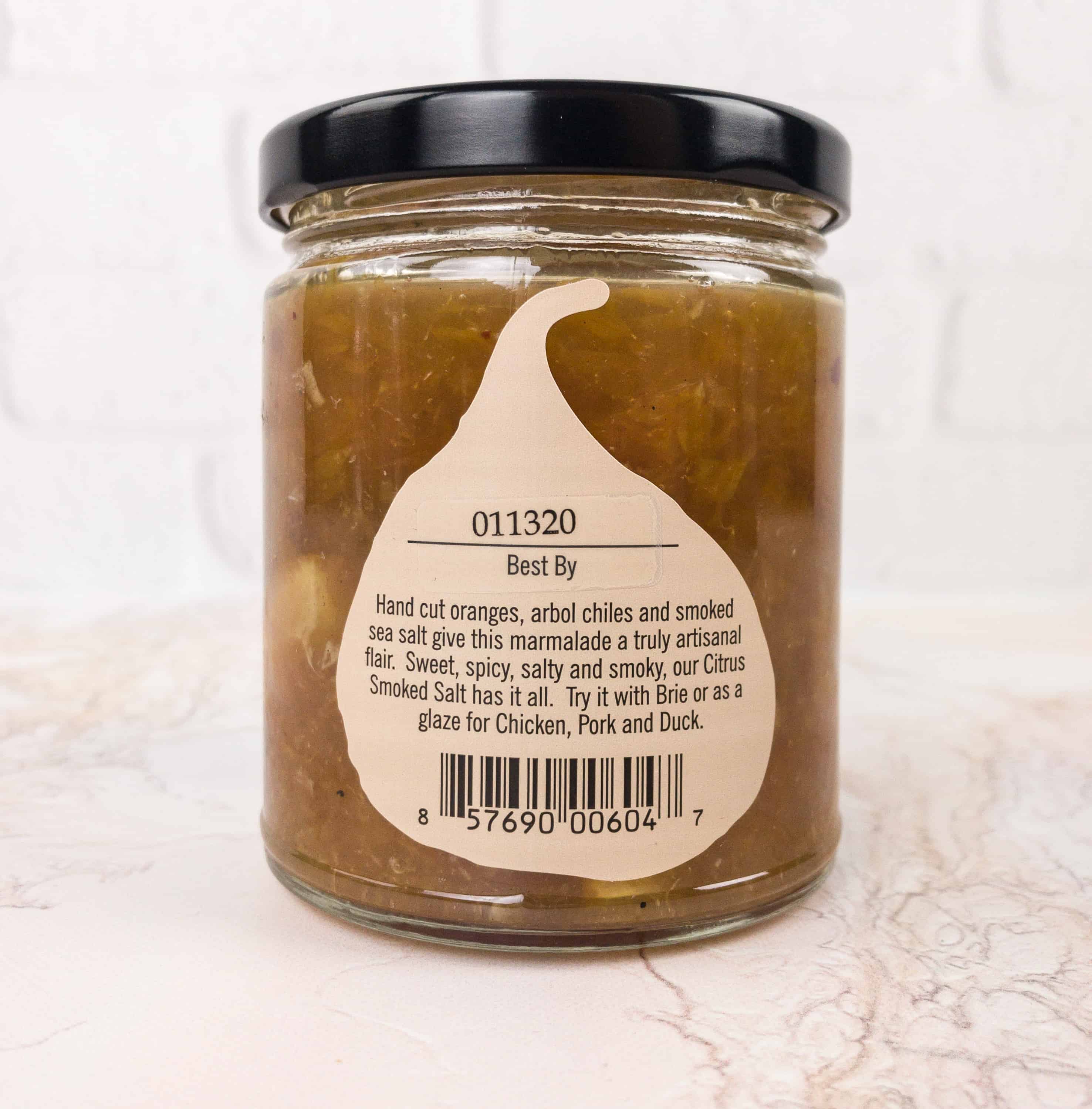 It's a combination of cara cara oranges, grapefruit, arbol chiles, and local alderwood smoked salt. The result? A unique marmalade!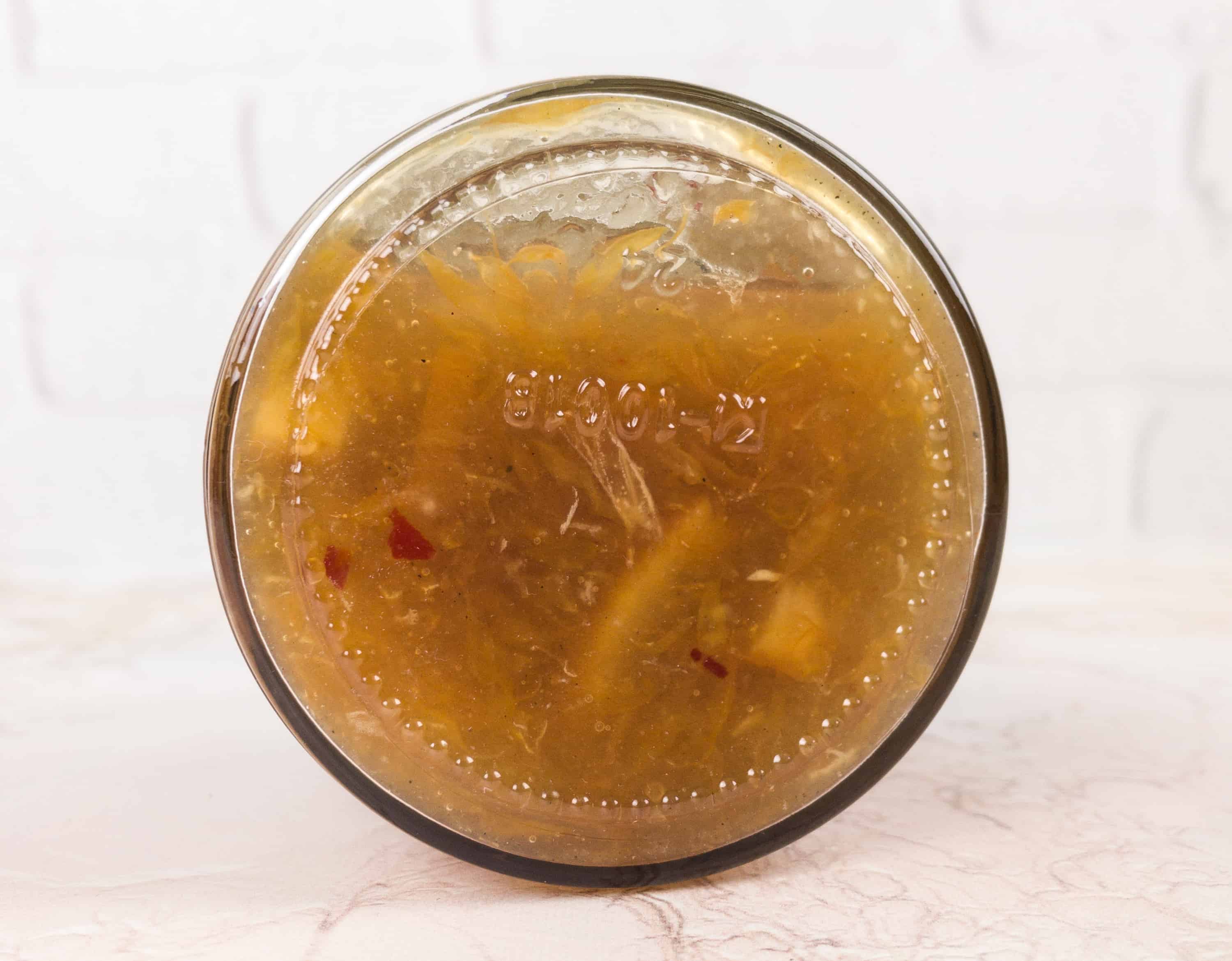 Other ingredients are organic cane sugar, fresh lemon juice, and natural fruit pectin.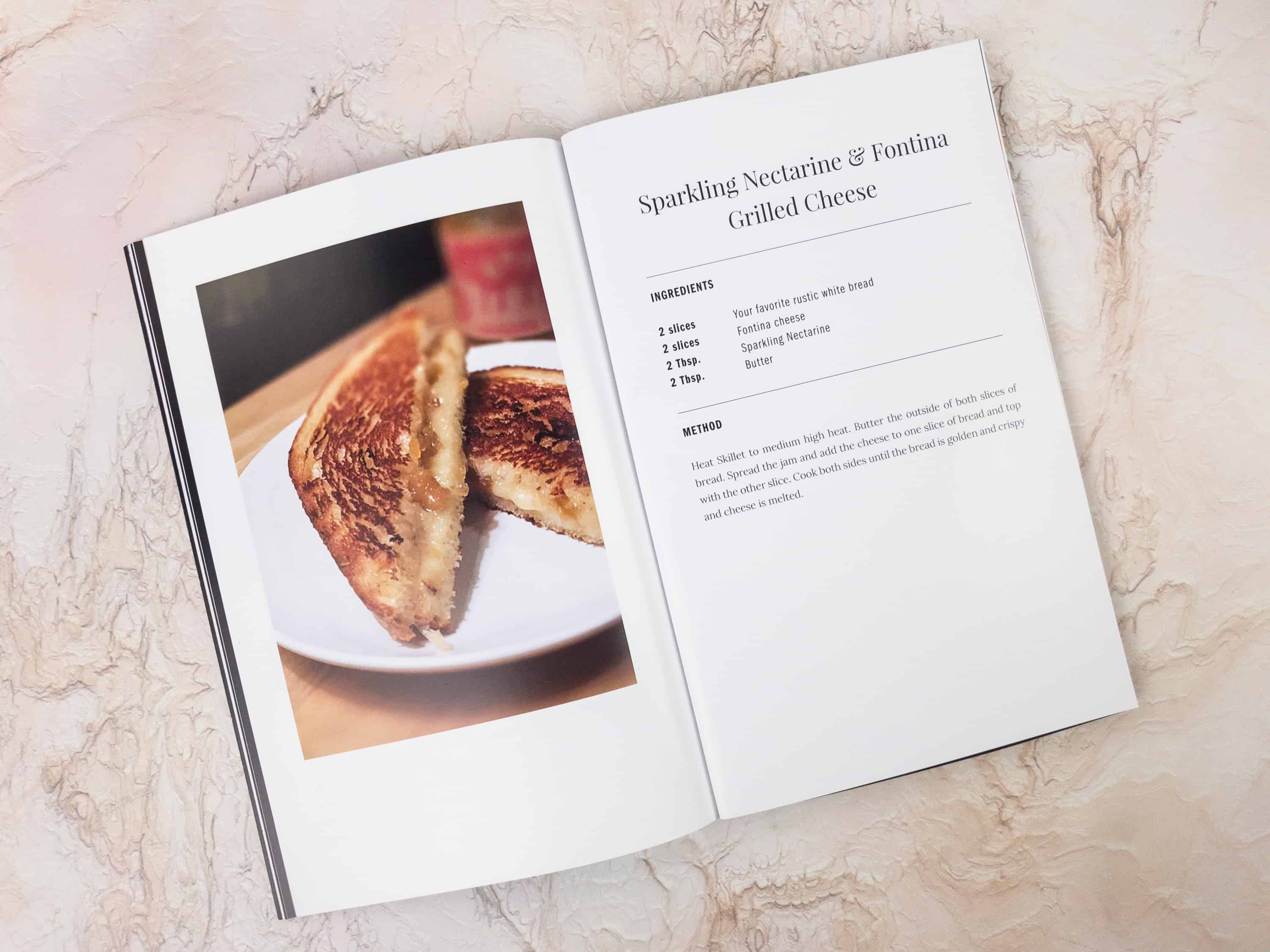 Lastly, the magazine featured a grilled cheese recipe…
…and a cheese cake recipe, where we can use the Three Little Figs jam!
This month's Robb Vices box will be hard to top because of its well-thought-of curation of tea and tea making paraphernalia. Everything's so beautiful and useful, definitely worth each penny spent. I am excited to try every tea blend in the box, as well as the recipes involving the jam. Also, this month's retail value totals to $218.50, which is a nice multiplier over the box's monthly price! This subscription is such an awesome way to indulge and it would make a perfect gift to anyone who has an opulent taste! The only negative thing we might say is that tea was an entirely unexpected choice, and if you're not a fan of the drink, you wouldn't like this box, but everything would still make a great gift.
What do you think of this month's Robb Vices box?