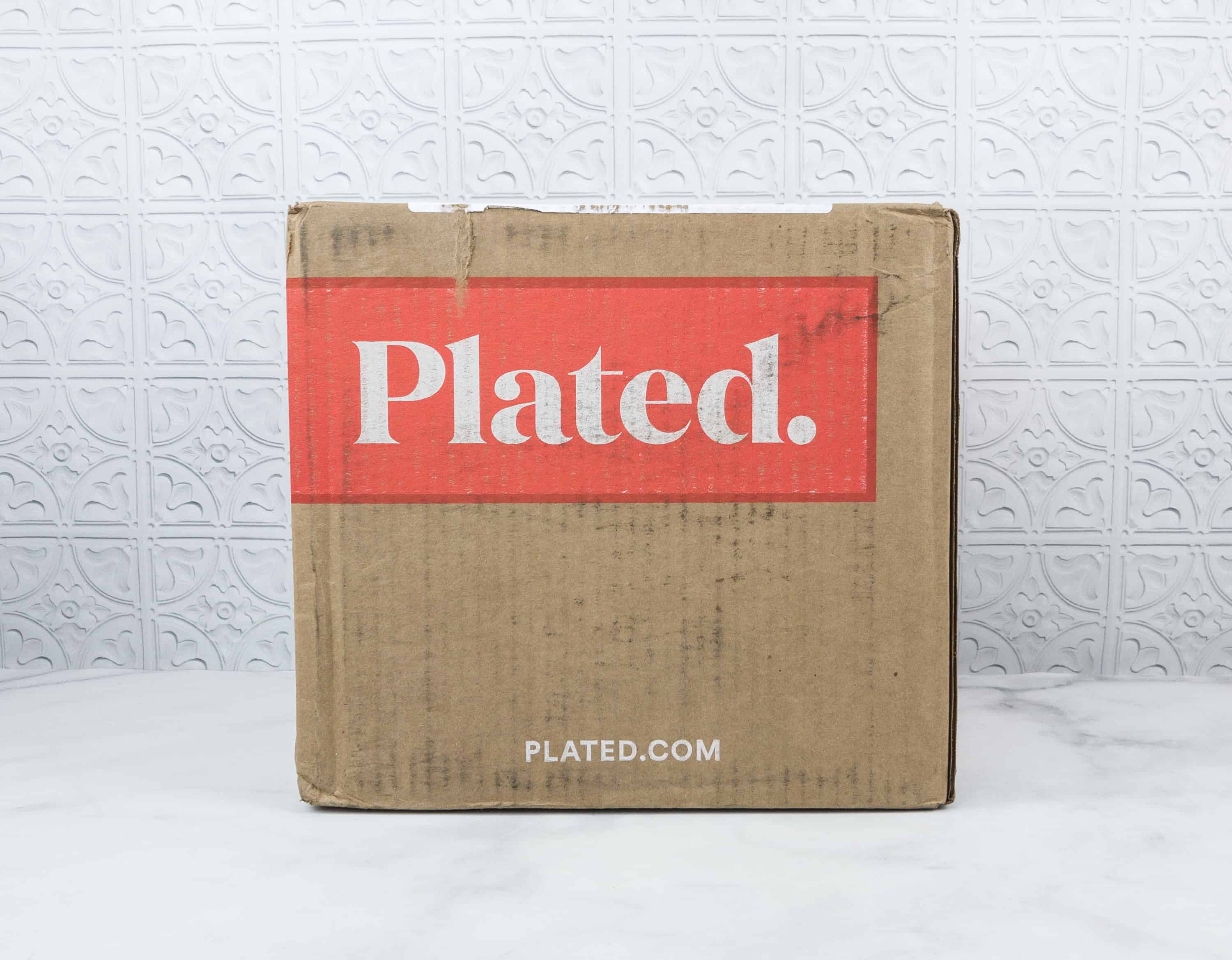 Plated is a weekly dinner kit subscription box with high-quality ingredients and chef-created recipes. Each week you'll choose from a variety of quick gourmet meals that range from meats, chicken, and seafood, to purely vegetarian options. There's enough selection to please all palates, and the recipes are seasonally focused. You can choose any lineup of recipes from the available options and skip any week you don't want.
The food is set atop a cardboard barrier, preventing any frost damage to the more delicate veggies from the ice in the lower compartment .
DEALS:
Get 25% off your first four orders, up to a $159 value! USE THIS LINK to get the deal.
Save $25 off your first two orders! USE THIS LINK to get the deal.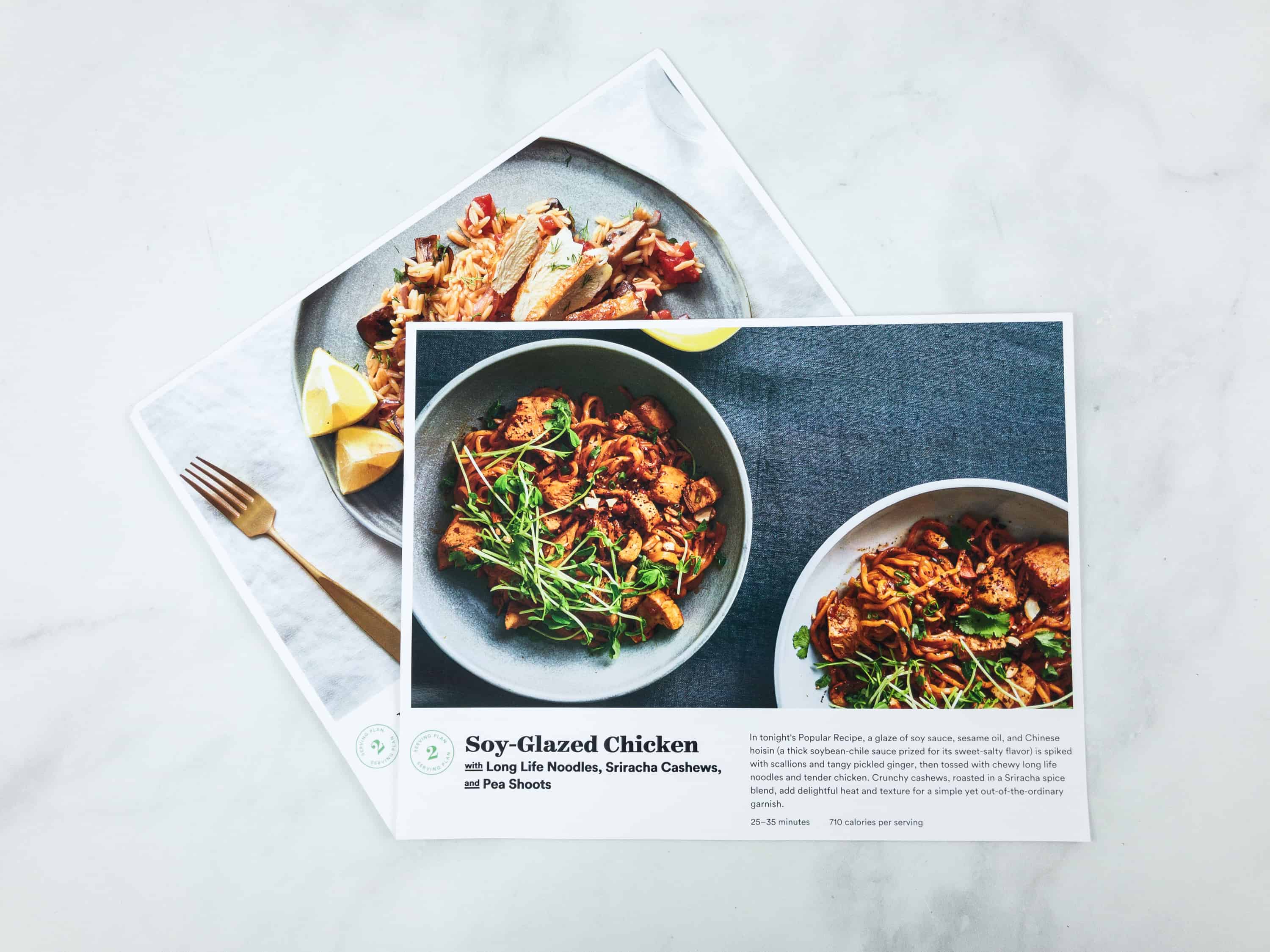 Each Plated dish has its own recipe card.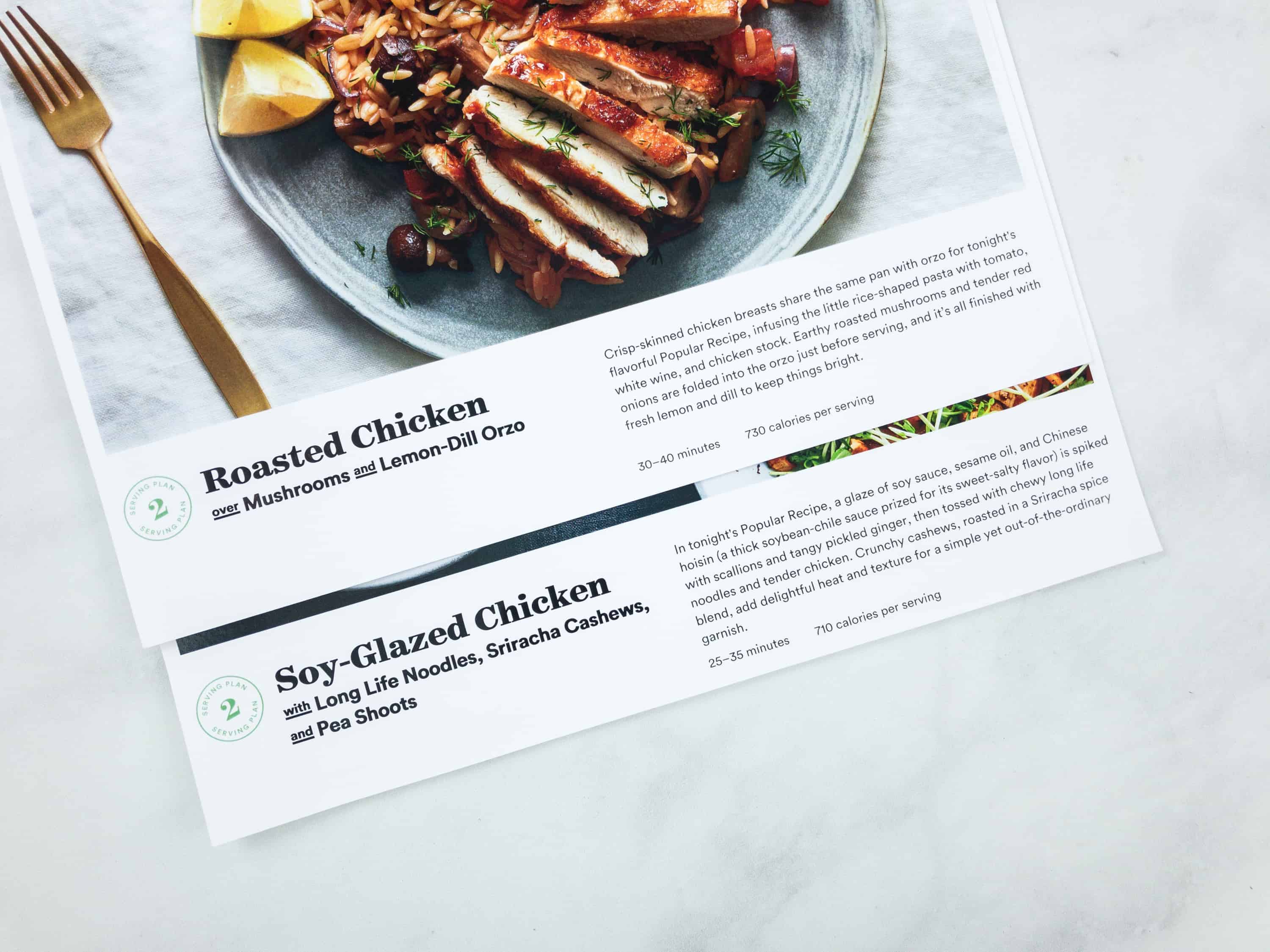 On-card information is streamlined and includes only prep-time, number of servings and calorie count. Most of Plated's meals serve two people. Unless stated otherwise, our pics of finished dishes show a single serving.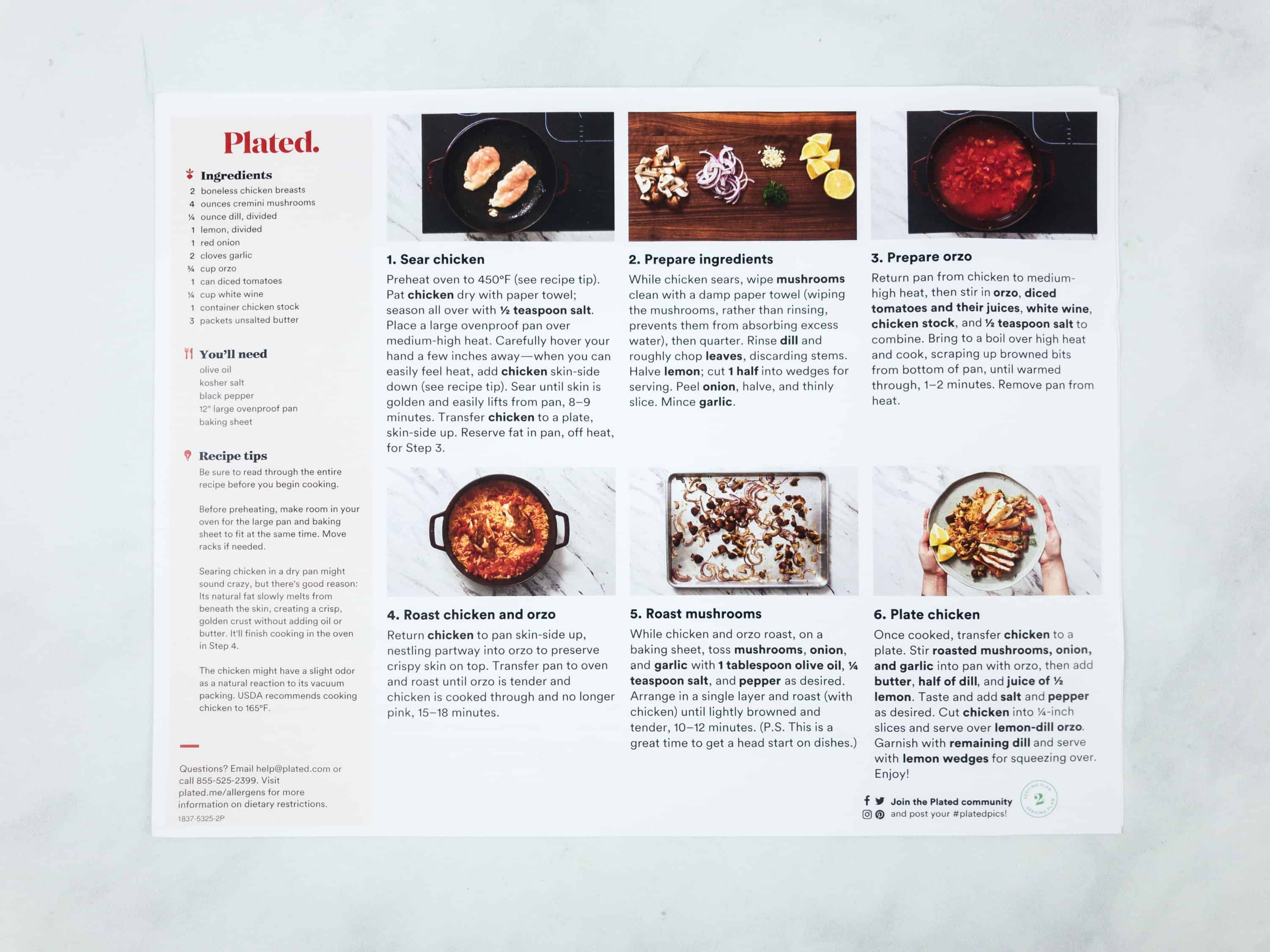 Plated's recipes often rely on mise en place, prepping everything before cooking. We've always been willing to shift steps around when its more efficient, and Plated has also adopted this practice, getting you started on long lead-time items ahead of general prep.
Everything in the box!
All the food comes bagged up and separated (mostly) into the recipes – meat and some large or delicate items are bagged separately. The recipe cards tell you anything you need from home – usually just cookware, salt and pepper, and some olive oil – occasionally you'll need an egg.
Roasted Chicken Over Mushrooms And Lemon Dill Orzo – 40 minutes, Easy, 730 calories per serving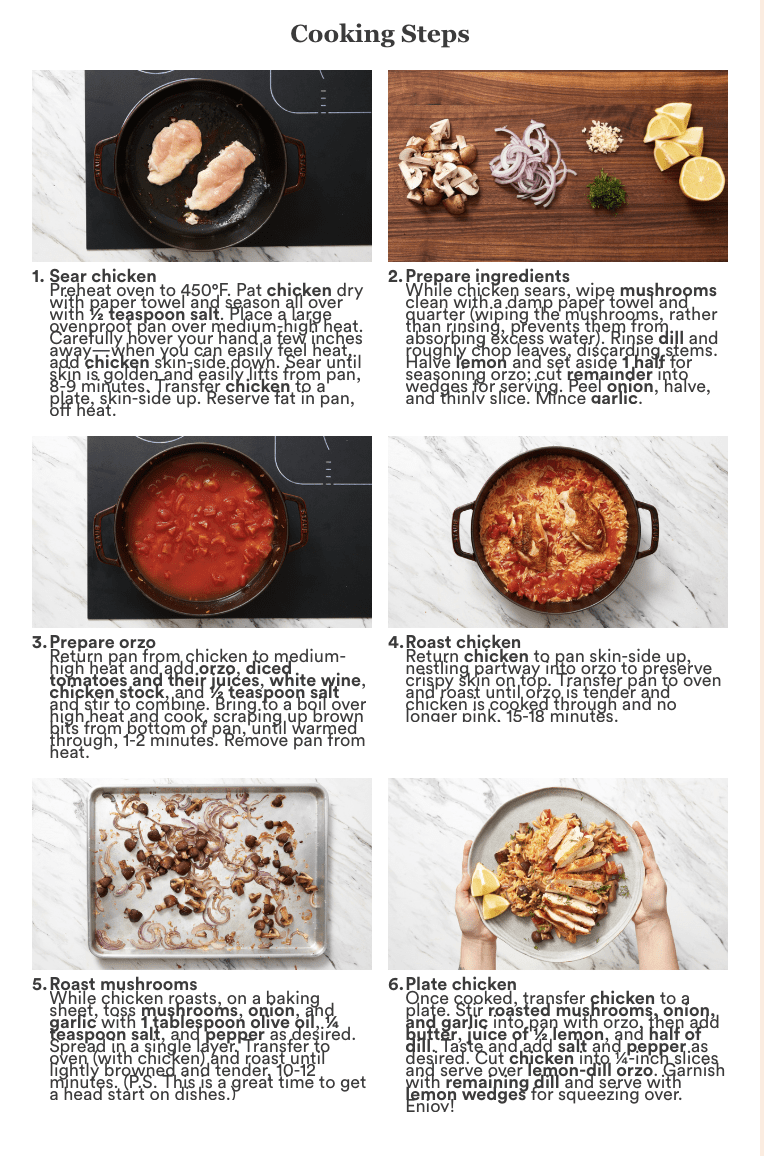 Aside from the recipe card provided, you can also check out the detailed cooking procedure on their website. This dish was cooked in three simple parts, so it was easy, but it took awhile to make.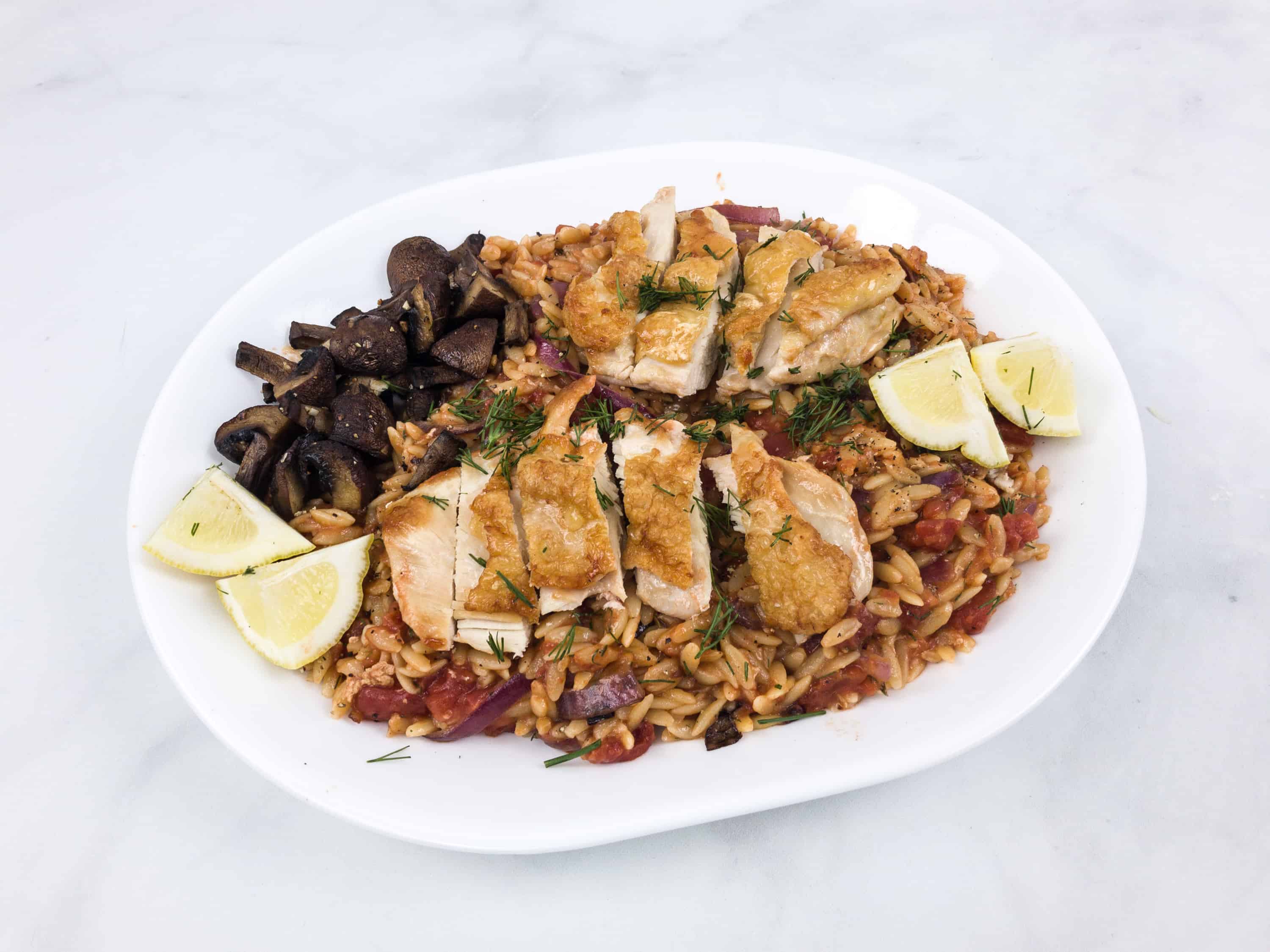 this pic shows both portions. It has everything you need for a satisfying meal! It's composed of crisp-skinned chicken breasts atop rice-shaped pasta, tomato, red onion, white wine, and chicken stock. I served the roasted mushrooms on the side, and finished it by squeezing fresh lemon and dill on top to keep everything bright. I liked the composition of the meal, but the tomatoes didn't really sing, and I think an oil-based sauce would have worked better with the lemon, dill, and wine.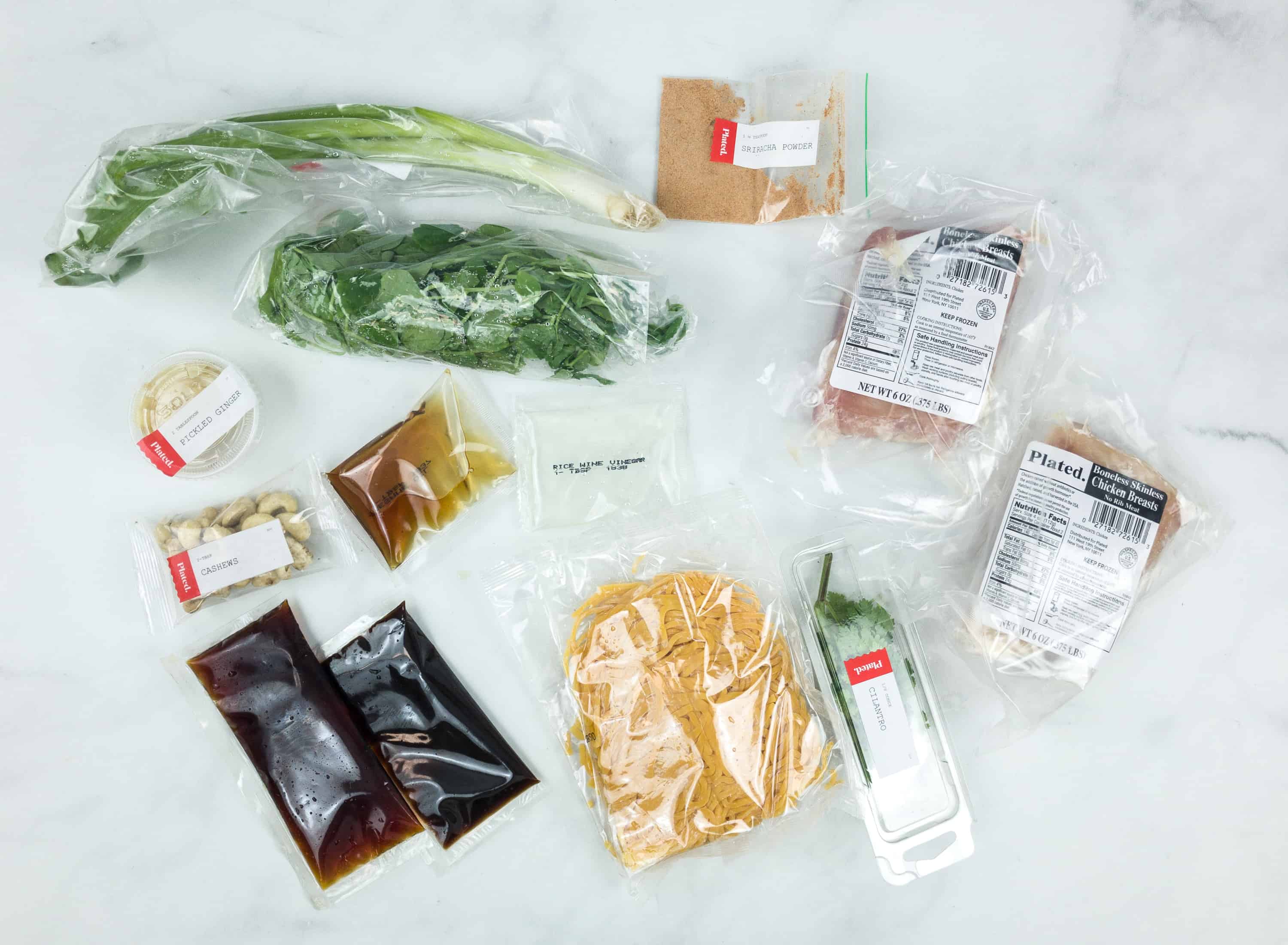 Soy-Glazed Chicken With Long Life Noodles, Sriracha Cashews, and Pea Shoots -35 minutes, Easy, 710 calories per serving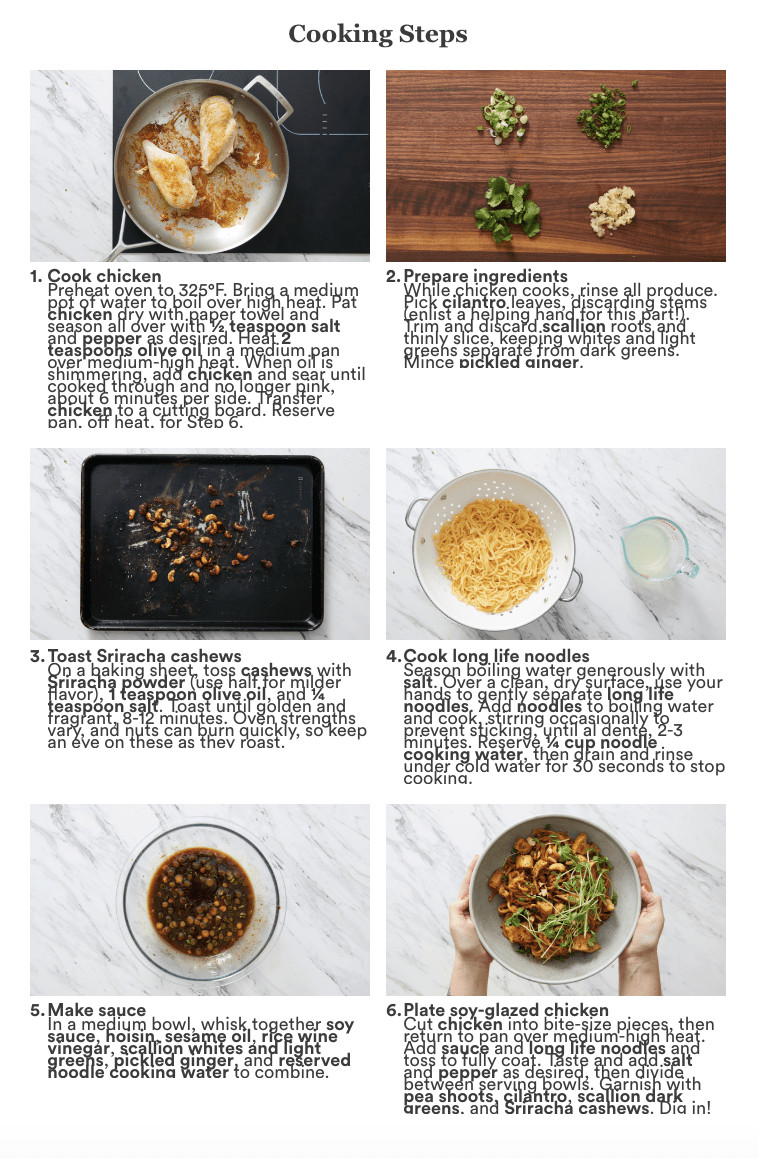 These recipes are easy to follow, with ingredients printed in bold and tips to avoid common pitfalls.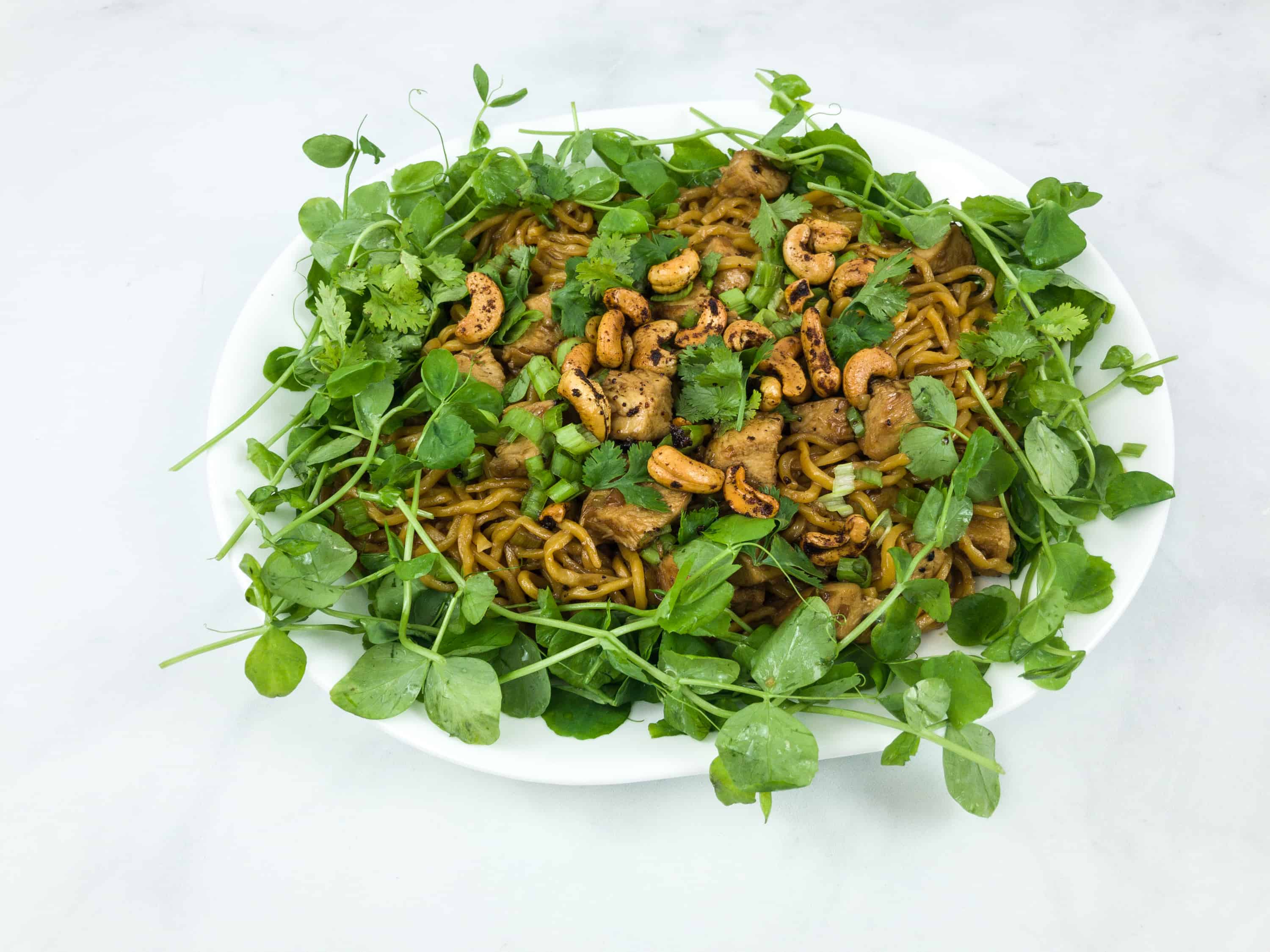 A glaze of soy sauce, sesame oil, and Chinese hoisin makes this chicken and noodle dish delicious. Both portions are shown, served family style. This dish went together easily, and I was able to cook everything in one pan, apart from a quick boil on the noodles.
The dish is topped with sriracha flavored cashews, scallions, and crisp pea shoots, ensuring a serious bit of crunch in every bite and a unique texture for a simple yet out-of-the-ordinary garnish. The pea shoots were a perfect bit of greenery — they weren't overpowering, they added some crispness, and they complemented the noodles well. I had a little trouble getting the spice mixture to adhere to the cashews, so they ended up being roasted cashews with blackened spice, but they were tasty anyway. The overall dish was very satisfying — a perfect mixture of textures, umami, and sweet. So great, that you'll definitely ask for more!
We can't stop loving Plated, as they continue to deliver a variety of delicious, healthy, and simple to prepare meals. They also provide a detailed recipe guide which is easy to understand and to follow, making the whole cooking experience uncomplicated and truly enjoyable! Both the dishes were good, but the noodles definitely were our favorite. The roasted chicken dish was hearty and filling, and the soy-glazed chicken with noodles tasted way better than the usual Chinese take-out. I'm already looking forward to the next one!
What meals are you getting this week from Plated?