When you open your wardrobe, it's not complete without these little wearables that are truly a staple, socks! These days, socks are not just about comfort but also about fashion and style. There are tons of sock subscriptions that promise not just comfortability and functionality, but trendiness as well. Some subscriptions send socks particularly for men, for women, and for kids, and there is themed socks subscription that will suit your taste or preference, like geek sock subs!
we gave our readers the power to vote for what they think are the best sock subscription boxes, and here's the result! You can see every single sock subscription in our complete list! Don't forget to hit the heart button at the top of this post to save it for later so you can try more boxes on the list!
The Best Sock Subscription Boxes for 2020 As Voted By Our Readers!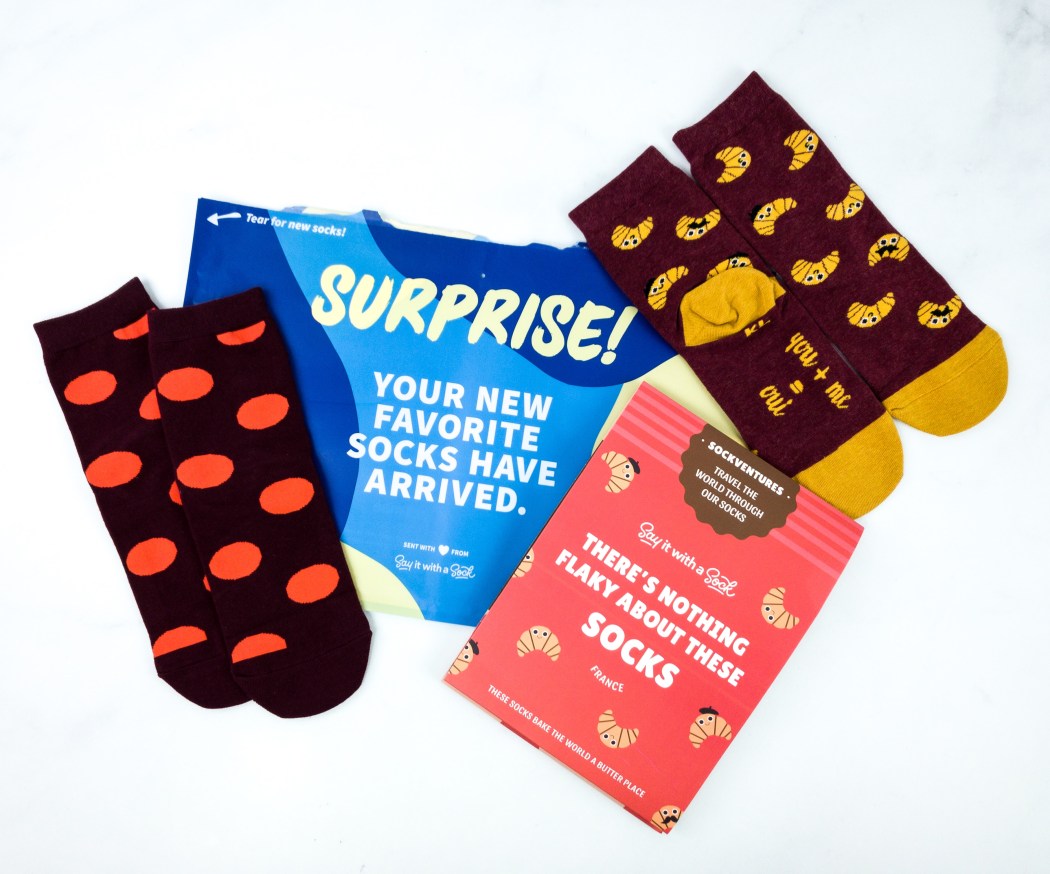 What You Get: Say It With A Sock features socks from a different sock brand, and that includes Happy Socks, Richer Poorer, Sock it to Me, and other high-quality sock brands. The amazing and cozy pairs are available for men, women, or children in 1, 6, and 12-month terms. You can always get a fresh, new pair!
Visit the Say It With A Sock Reviews page to see past sock designs from the subscription!
Price: The subscription costs $12.99 per month, with a free pair for 12-month subscriptions.
Deals:
Get your first month for $9.99! Use coupon code WELCOMETOTHECLUB.
Save 15% on your first order. Use coupon code Socks15.
---

What You Get: Both men and women can subscribe to Society Socks and get the pair they always wanted. Every package will give you two amazing pairs and sock designs range from simple to bold. And there's more: for each pair sold, they will donate a pair of socks to a homeless shelter. It's always amazing to get a fuzzy pair and help a cause!
See the Society Socks Reviews and get an idea about the socks they send!
Price: The subscription starts at $16, with 5% savings for 6-month subscriptions and 10% savings for 12 month-subscriptions.
Deal: Take 50% off your first box. Use coupon code TAKE50.
---

What You Get: If unique and humorous is your thing, Lucid Socks sends unique and humorously-designed pairs of socks! Each month, you will get a random hand-picked pair of socks, and although the designs are whimsical and sometimes oddly unique, you can always depend that the quality is superb, and you will feel so comfy when you try them on.
Price: Box prices start at $12 a month, plus shipping.
---

They are super soft and don't cut off my circulation, plus the designs are wonderful! -Debbie
What You Get: What we love best about Spiffy Socks is that they're made with bamboo fiber which is known to be lightweight and easily wicks moisture, as it also combats odor naturally and has a thermo-regulating ability! If you don't believe that a pair of socks could be this amazing, you should give this subscription a shot!
Learn more about this subscription by checking out Spiffy Socks Reviews!
Price: The subscription costs $11 per month plus free shipping.
Deal: Get 10% off for the life of your subscription! Use coupon code HELLOSUBSCRIPTION.
---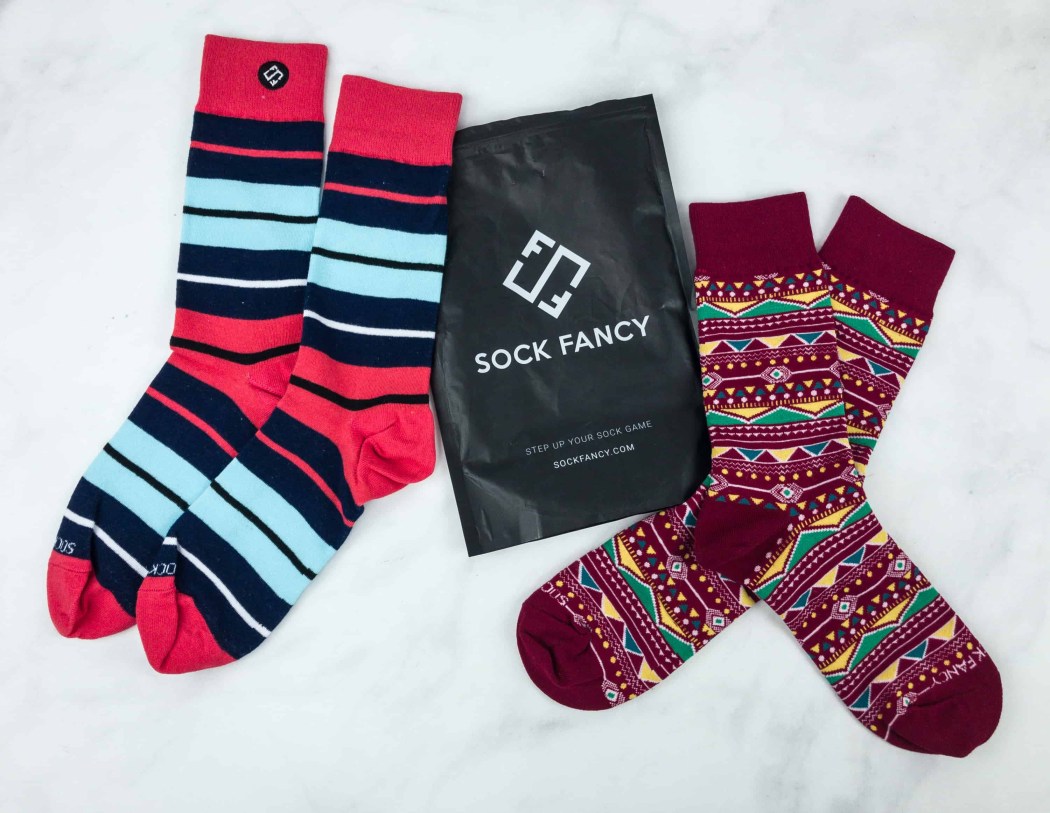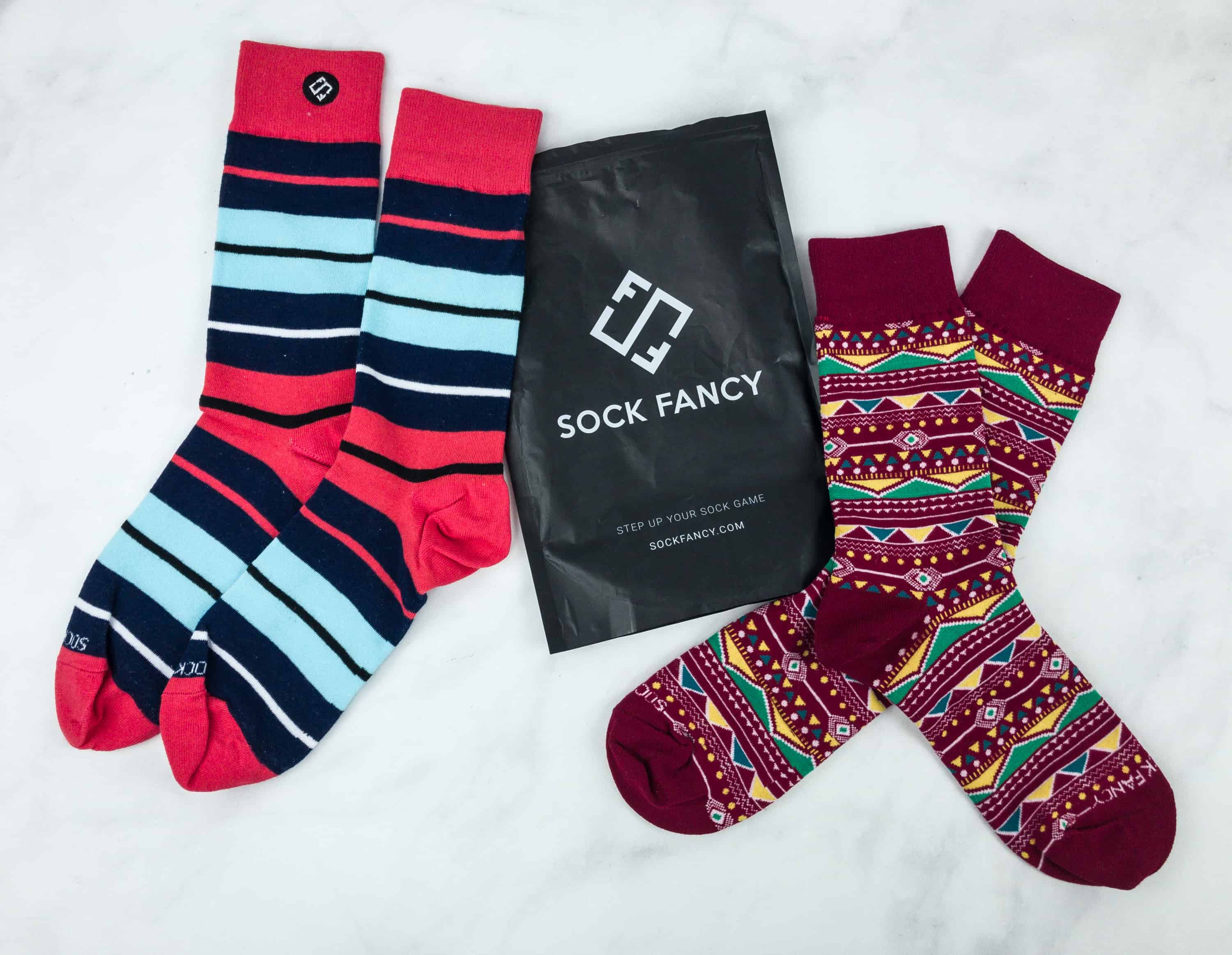 What You Get: Attending to various sock needs, you got several options from Sock Fancy, whether you need just a single pair, two pairs, or even as many as six pairs! They also ensure that what they are sending gives the best comfort and quality, as all of their socks are made from 70% cotton! 
Learn more about the socks they offer by visiting the Sock Fancy reviews page!
Price: The subscription cost starts at $11 a month for a single pair subscription, with two and six pair subscriptions available for $19 and $57, respectively.
Deal: Save $5 on your first month! Use coupon code hellosub.
---

What You Get: Sock Panda offers socks for all the members of the family, and they have subscriptions for men, women, tweens, and kids! Aside from getting high-quality and amazingly designed fresh pairs, they also have this mission, to donate a pair of socks to those in need! 
Check out Sock Panda Reviews for more details about this amazing socks subscription box!
Price: The subscription price starts at $12 per month, with savings for longer subscriptions.
Deal: Save 10% off a new subscription! Use coupon code PANDA10.
---

What You Get: One thing that we love about Wohven Socks is that the socks are unique because they have a different knit on the calf and foot section, also, the foot part is smooth for comfort, while the calf part has a texture that helps socks stay up. The socks also have unique designs that you will surely love to show-off! 
Check out the unique sock designs by visiting the Wohven Socks reviews page!
Price: You can get the subscription for $10 per month, plus shipping fee.
Deal: Get 30% off of your first box! Use coupon code HELLOSUB30.
---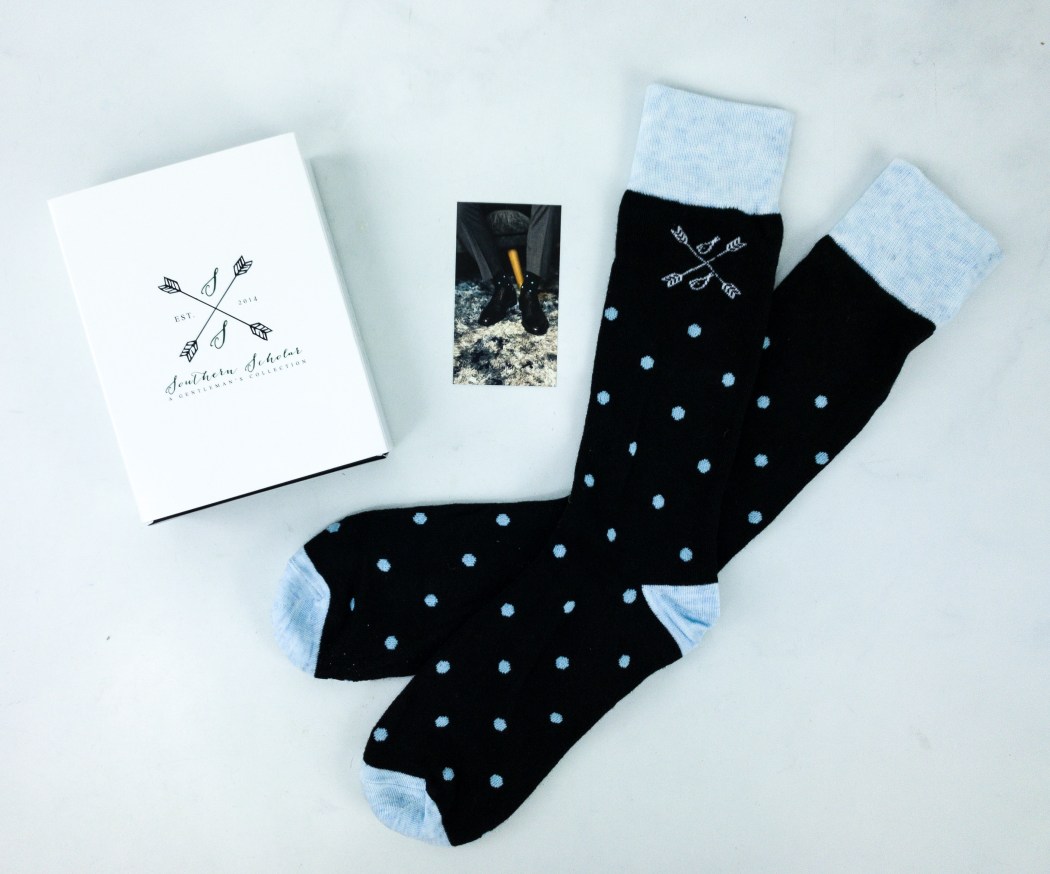 Best fit, comfort, and style -TiiBone
What You Get: One of the men's staple pieces of clothing are socks, and Southern Scholar Socks is all about fashionable socks for them. They pick the best sock styles to go with men's finest business attires, they even describe their socks as "simple, subtle, and sophisticated", and also expect that their pairs have a nice fit and they're really comfy to wear. 
Check out the Southern Scholar Socks reviews page to know more!
Price: Subscription cost starts at $15 per month or less with longer plans.
---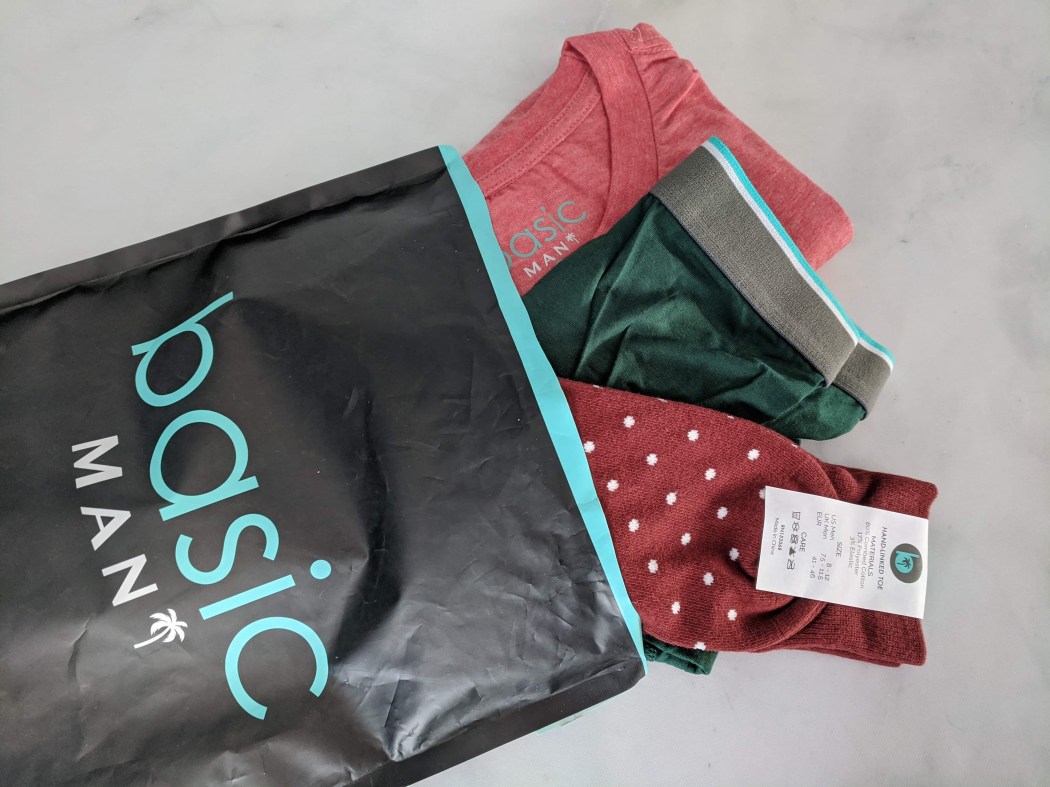 What You Get: Aside from other clothing basics like shirts, and boxer briefs, Basic MAN also offers amazing pairs of socks! It's really convenient as this subscription works as a one-stop-shop for clothing essentials, right at your fingertips. All you have to do is to choose your size and then wait for the items to arrive at your door.
Read the Basic Man reviews to know more about this cool sock subscription!
Price: The subscriptions start at $19.99 per month, with savings for longer subscriptions.
Deal: Get 50% off your first month! Use coupon code HELLO50.
---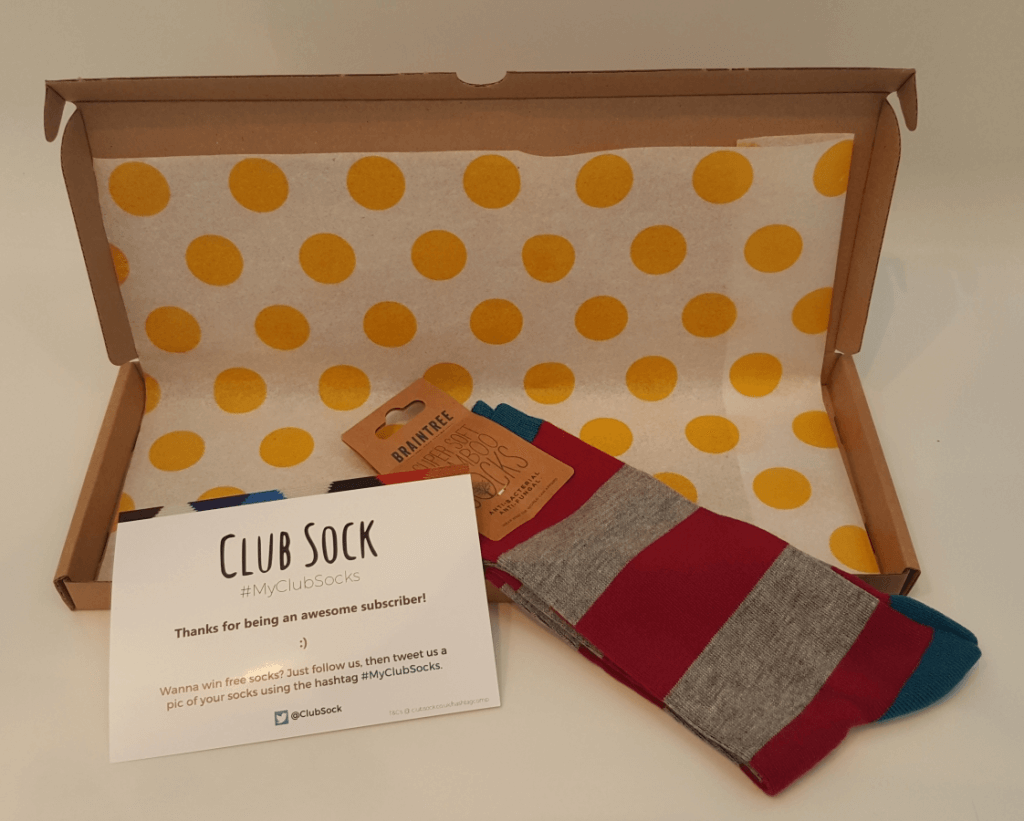 What You Get: You can get high-quality and awesomely designed pairs of socks from Club Sock, for less than the high street prices! They work with brands that are known for high-quality and their sense of fun. You can also choose the frequency of when you wanted to receive new pairs. You can never have too many socks, that's for sure!
Price: You can get the subscription starting from £7 (about $9) a month, or you can get a 3-, 6-, or 12-month prepaid subscription from £22.49 (about $29), with a free month for the annual subscription and free shipping for the UK orders.
---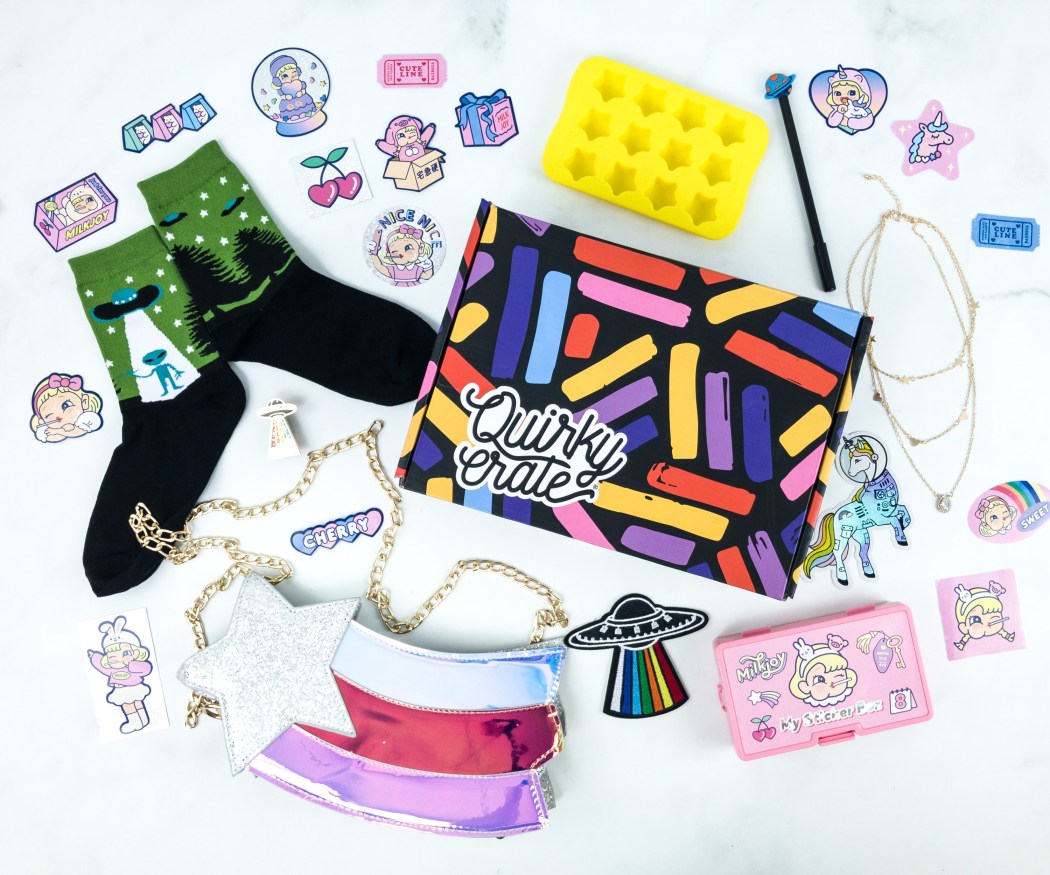 What You Get: Quirky Crate is an amazing box for women, as you get at least 5 to 8 quirky items, and one of them can be a fuzzy pair of socks! The socks are always awesomely designed, and made from the finest materials that promise comfortability! Aside from socks, you can also get collectible pins, handbags, accessories, household items, and more!
You can view the past items that we got from this box by heading over to the Quirky Crate reviews page!
Price: You can get the subscription for $36.95 each month.
---

What You Get: Unlike the regular Sock Fancy subscription, the Sock Fancy Seasonal Box offers socks that are perfect for the season! Get fuzzy socks perfect for the Winter, or cool and comfy ones for the Summer, you will never run out of reasons to wear amazingly designed and well-made pairs all-year-round!
Price: You can get the seasonal box for $57 each quarter.
---
That's your list for the best socks subscription boxes! Have you seen your favorite on this one?
Make sure to check out all the readers' choices for the best subscription boxes in every category!
Say Hello to More Socks and Clothing Subscription Boxes!