How do you get the best men's clothes, at the best prices, with the least amount of effort? Try a men's clothing subscription box or personal styling service! This list features the best men's clothing subscription and styling services as voted by the readers. They'll send you everything you need (and didn't know you needed, but you do) at the click of a button!
Get your daily basics on autopilot and upgrade your wardrobe with perfectly curated sets of socks, squares, and ties, or get a whole new wardrobe styled just for you, one box at a time. Whether it's for work or play, classic or trendy, there's a clothing subscription box out there for every guy! For even more options, see the full list of men's clothing subscription boxes!
2022's Best Men's Personal Styling Services and Clothing Subscription Boxes!
Here are the subscriptions and services that our readers voted as the best ones!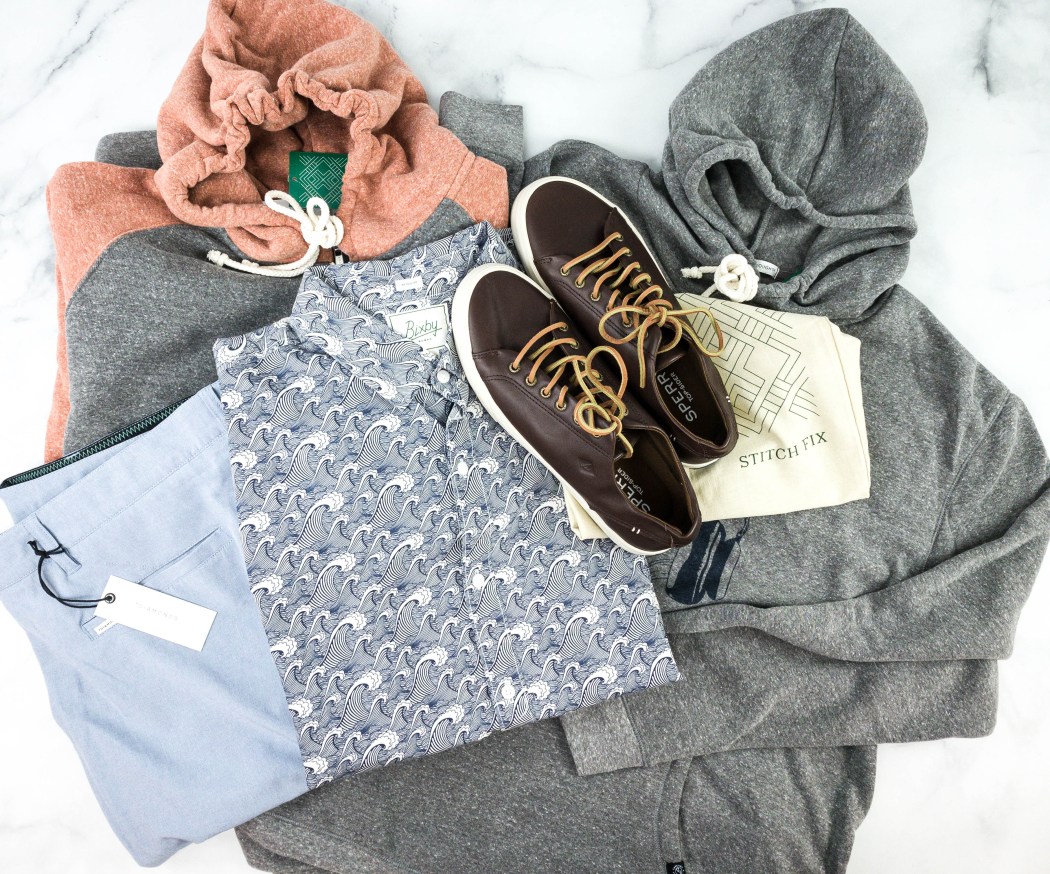 Image from: our review
What You Get: Men need not worry about styling themselves as Stitch Fix Men can do it for them! The subscription is similar to having a personal stylist who will select up to five pieces of clothing and accessories based on your style profile. You can also leave notes to your stylist about your preferences, so they can find the best items for you! Featured brands include Ben Sherman, Original Penguin, Scotch & Soda, 7 For All Mankind, Mavi, and Converse.
Take a look at the Stitch Fix Men Reviews to know more!
Price: Styling fee is $20.
---
Image from: Beachly
Cool stuff. Great gifts!! – Mal1994

Love the clothes. -Jody

super fun and great items! -Greg
What You Get: Beach buddies will definitely love this subscription as it sends a curated box of premium, beach-inspired apparel, accessories, and lifestyle items four times a year, depending on your style preference! Beachly Men's Box sends 4 to 5 premium products from top brands and the hottest newcomers who show what the coastal style is all about. Also, members will receive exclusive access to their members-only, online store where they can get and shop products in between boxes for up to 70% off retail price! And as a way to give back, proceeds from every box sold help restore coastal ecosystems.
Dive into our Beachly Men's Box Review to know more!
Price: The subscription costs $99 every 3 months, plus shipping.
Deals:
---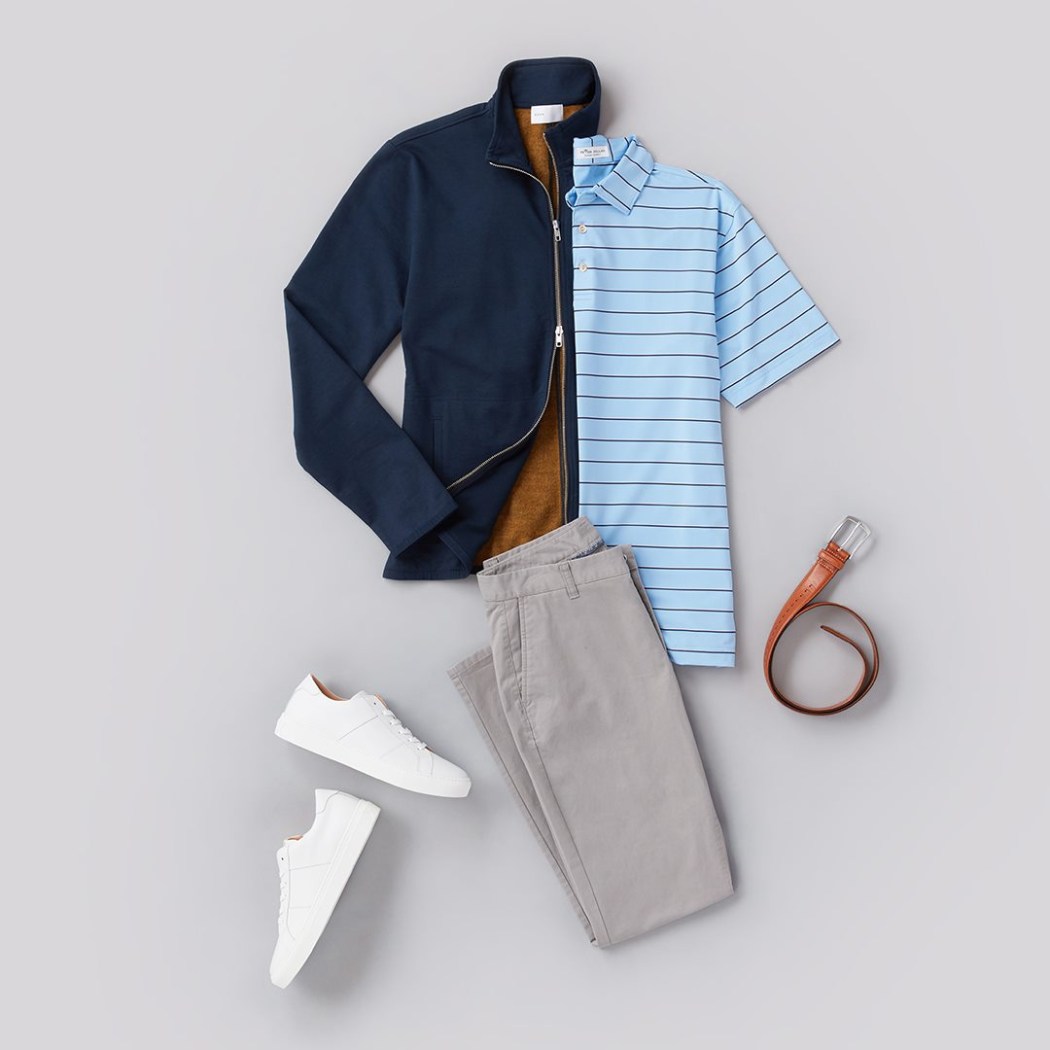 Image from: Trunk Club
What You Get: For men who struggle with shopping for their outfits, Trunk Club Men is a great help! They make it easy for gentlemen to discover the perfect outfit for every occasion by providing thousands of top brands in a wide range of styles and sizes. Each trunk typically contains 6-8 items, including shirts, pants, accessories, and shoes that'll fit just right within your budget. They conveniently deliver the clothing pieces in one box with brands like Paige, Hugo Boss, and Zachary Prell. A stylist picks each apparel based on a brief style quiz. Keep what you love, then send the rest back.
Visit our other Men's Clothing Reviews for more details!
Price: It comes with a styling fee of $25 but will be credited at your final purchase. Shipping and returns are always free.
---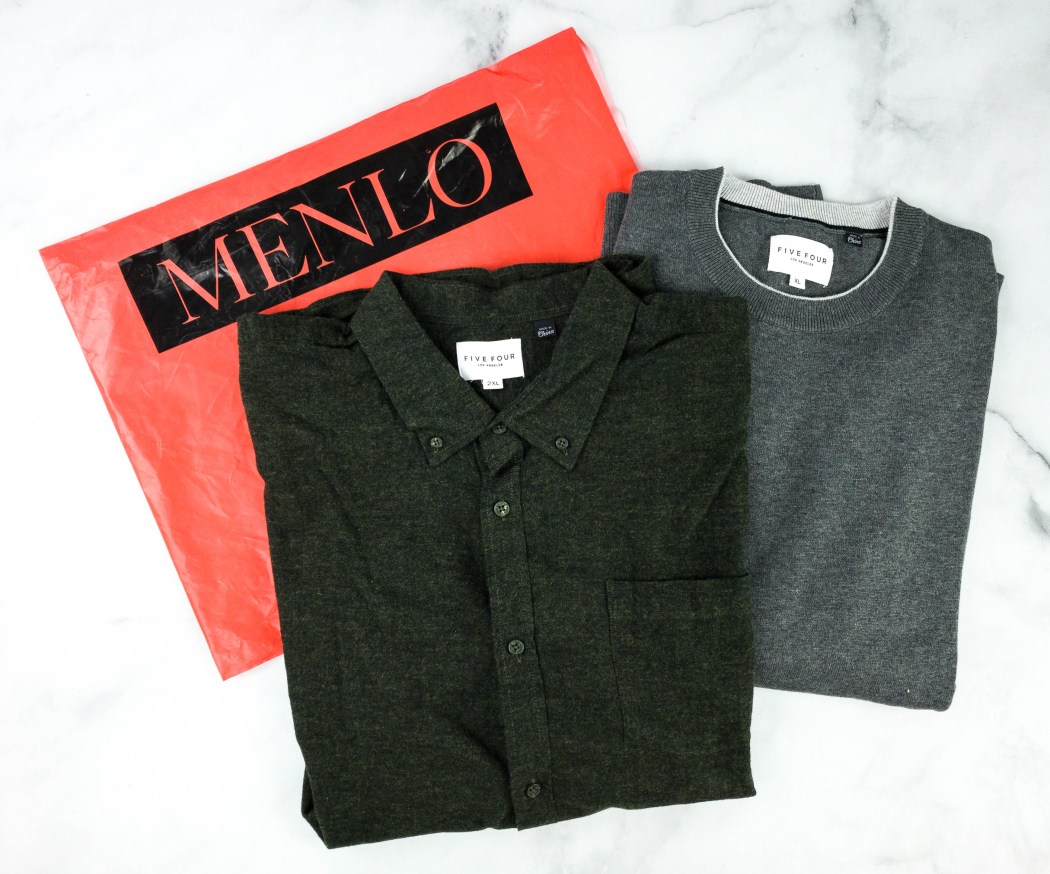 Image from: our review
I love the menlo club. Specifically their jackets and shoes are bomb. The months you get those are my favorite months. Also love the fact i get a fresh outfit every month, just keeps me fresh.  – Billy A

Nice variety of clothes that mix-and-match quite well from month-to-month. – McMonkey

My fiance lived in high school era skater boy clothes aka – very old tees and ripped jeans (and not ripped on purpose). Menlo Club helped him develop a stylish adult wardrobe which helped me not lose my mind every time we had an event or wanted to go out on a date!  -Julie514

I've been a Menlo Club member for over 8 years now.  The clothes are high quality and affordable with customer service that is absolutely second to none.  -Brendan
What You Get: With Menlo Club, all you have to do is sign up, pick a style profile, enter your sizes, and get the best and trendiest men's clothes every month! Expect 2-3 pieces of curated apparel from Five Four, Grand AC, Melrose Place, Grand AC, and New Republic, ranging from tops to bottoms to footwear. Along with monthly packages, members also receive up to 25% off items in the Menlo House E-Commerce store, as well as free shipping on all orders and access to exclusive member-only items.
Read Menlo Club Reviews and see past box contents!
Price: Membership is $60/month.
Deals:
---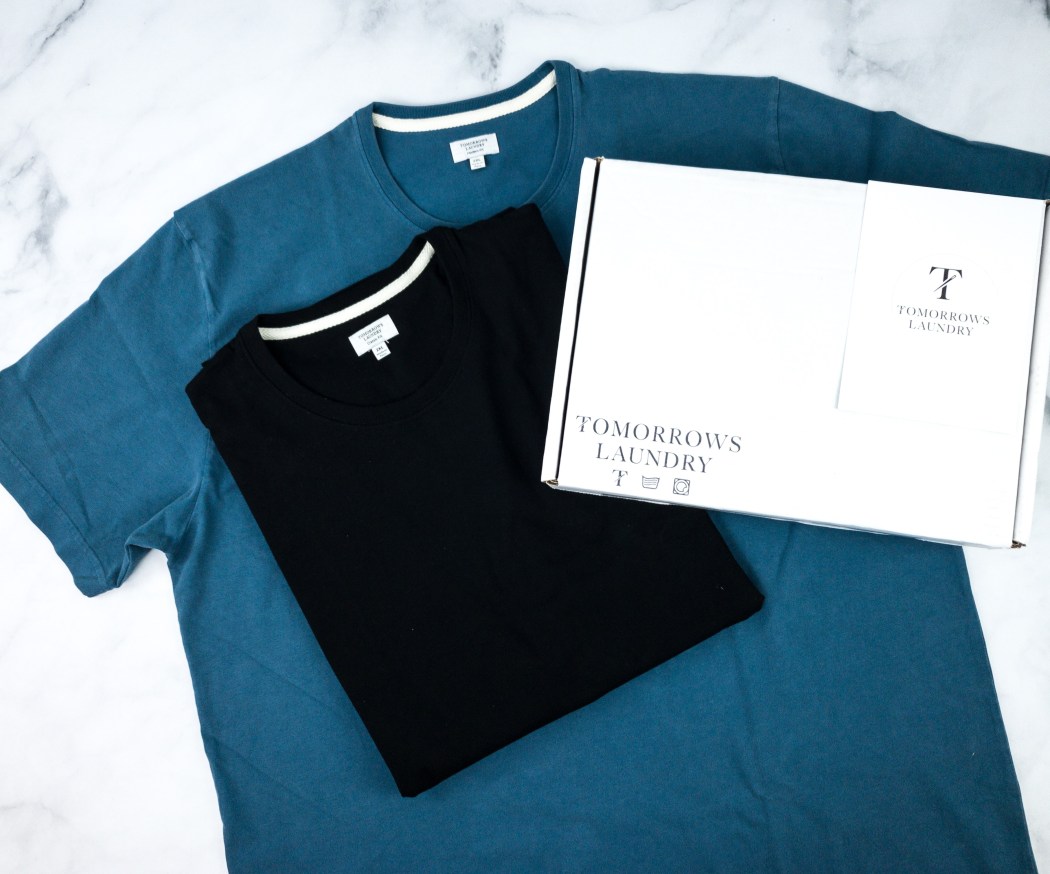 Image from: Tomorrow's Laundry Facebook
What You Get: Get a monthly delivery of luxury wardrobe items without breaking the bank through Tomorrows Laundry. Every piece is made with pre-shrunk sustainable fabrics, higher stitch counts, and stronger seams to ensure you'll only receive high-quality essentials that have a longer life span. Create a profile with your preferred color palette, size, and fit – classic fit or modern fit (1.5" longer), and a stylist will then curate an Essential Box matching your style. Receive 1-2 luxury essentials valued at over $120 or more, which means you get almost half the price off! Expand your wardrobe as they expand their collection, giving you more choices you are sure to love.
See our Tomorrows Laundry Reviews to know more!
Price: You can subscribe to the box for $75 each month, shipping included.
Deal: Get $10 off your first $65 subscription box! Use coupon code HELLO55.
---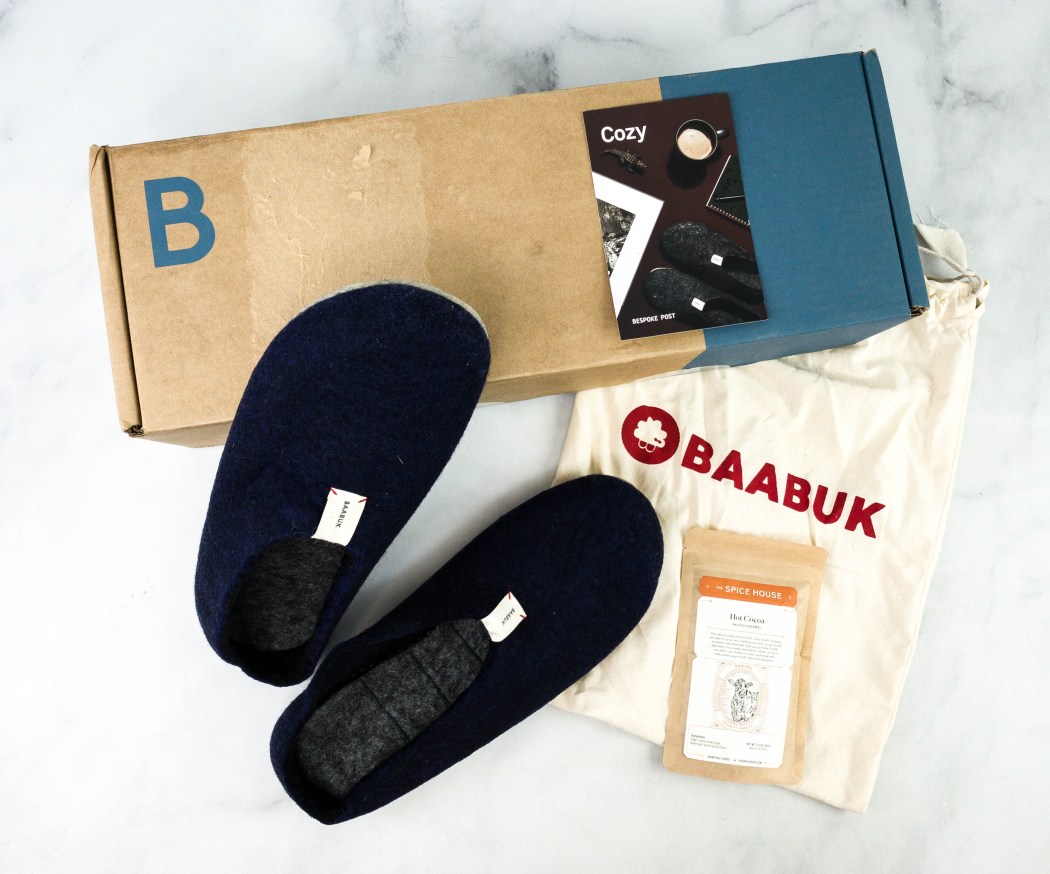 Image from: our review
What You Get: Each Bespoke Post box contains luxury items revolving around a central theme. This subscription is all about elevating small parts of every day with sophisticated, accessories, gear, and goods. It has a unique model that allows subscribers to select what kind of boxes they're most interested in, making sure they'll only get what's right up their alley. Past boxes have included bar mixology, fashion accessories, charcuterie entertaining, and more!
Check out Bespoke Post Reviews to see past box contents!
Price: Get the box for $49 a month.
Deals:
---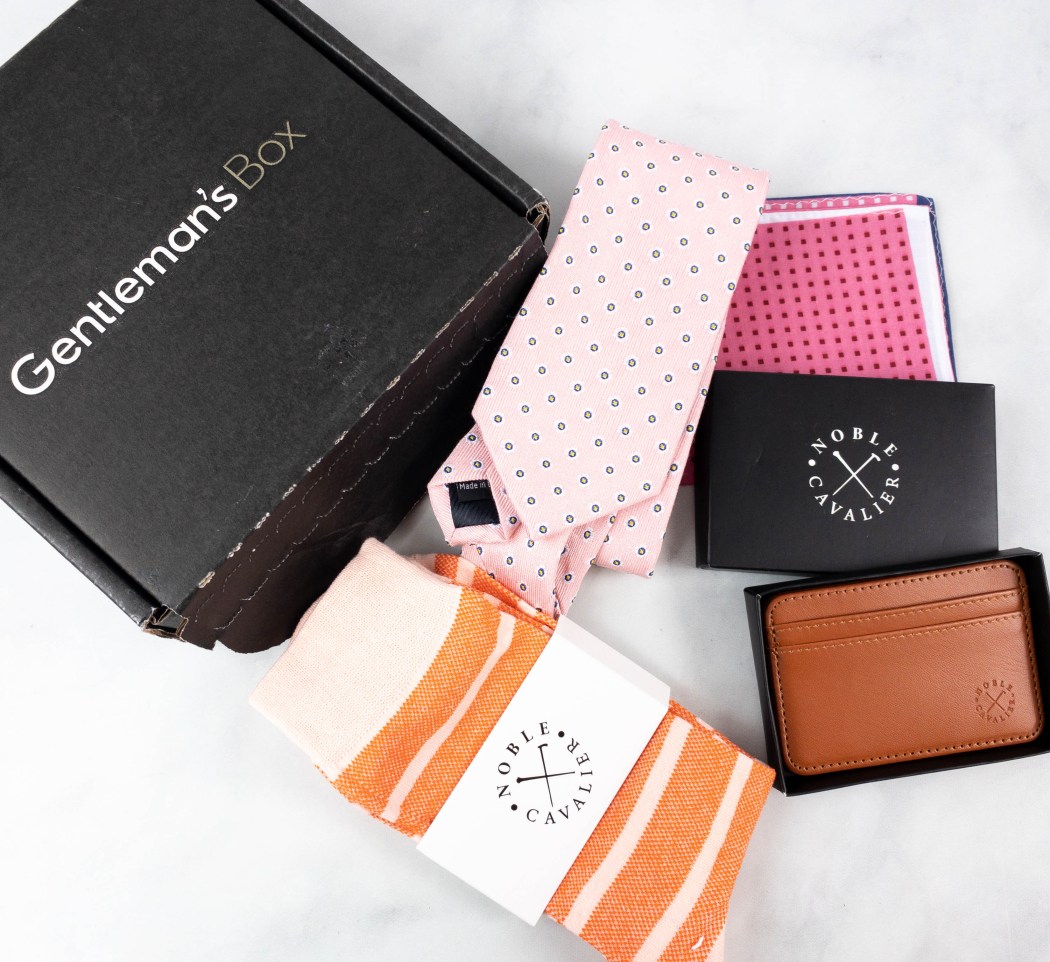 Image from: our review
What You Get: Focused on sending premium quality lifestyle items, The Gentleman's Box is a subscription that aims to help you become the gentleman you're meant to be! Each box comes with 4 to 6 hand-picked fashion and lifestyle accessories like genuine leather goods, necktie, lapel pin, watch, and socks, all valued at over $100. They even include grooming product samples for you to try!
See the past The Gentleman's Box Reviews for more information.
Price: The subscription is $35 a month, and it drops down to $26 per month when you subscribe to an annual plan.
Deal: Save $5 on your first box. Use coupon code HELLO.
---
Image from: our review
What You Get: Shinesty offers ball hammock pouch boxers for men! They'll send you the most supportive underwear each month with designs that are exclusive only to the subscription. Choose which style matches your preference (standard or fly), as well as the patterns that you would like to receive – classic, wild, or a surprise! These boxer briefs are made from micro modal and spandex, making them lightweight, comfy, and breathable. Members can also save up to 35% per pair on men's' underwear, plus free shipping all the time!
Learn more on Shinesty Reviews.
Price: The monthly subscription is $16.99.
Deal: Get $10 off on $30+ orders! Use coupon code HELLOSUB10.
---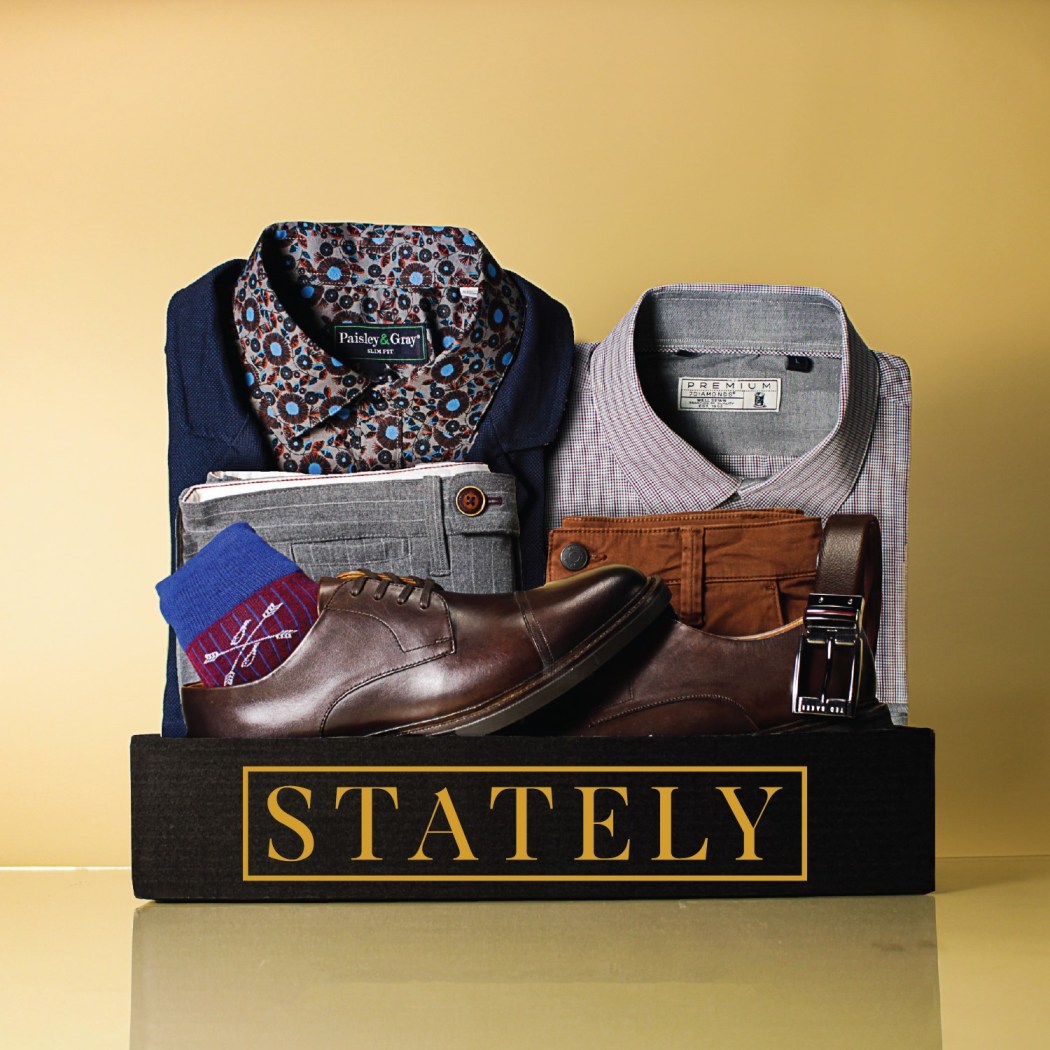 Image from: Stately
Clothes are awesome! – MK
What You Get: With Stately, it's easy for you to find outfits without the hassle of lining up at the department store! They'll send fashion items right to your doorstep, saving you time and effort. Pay one low price for stylist curated outfits you can wear on any runway, be it in your office or at home! Take a style quiz to let them know your style and fit preferences, so they can recommend the best outfits for you. Choose from three subscription plans: Sharp (3+ pieces), Luxe (5+ pieces), and Regal (6+ pieces). The entire box is yours to keep!
Price: Choose your subscription plan: Sharp – $129 per month, Luxe – $179 per month, and Regal – $299 per month.
Deals:
---
Image from: our review
What You Get: Watches are one of the most sought after accessories for men. Watch Gang sends only the best watches, and they partner with a new watch brand every month, meaning you won't get the same style twice! Choose a tier – Original, Black, or Platinum – and receive a watch that is worth more than what you paid for. The subscription is perfect for those who love to wear and accessorize with different types and styles of timepieces.
Visit the Watch Gang Reviews to see what we received in past boxes!
Price: Choose a subscription: Original Tier – $49.99 per month (worth up to $150 of watches), Black Tier – $99.99 per month (worth up to $500 of watches), and Platinum Tier – $299.99 per month (worth up to $1500 of watches ). Save up to $200 if you prepay for longer plans!
Deal: Get 10% off your first box! Use coupon code GET10.
---
Image from: our review
Great value for necessary items. – Torrie
What You Get: Basic MAN offers clothing basics like shirts, boxer briefs, and socks! It's really convenient as this subscription works as a one-stop shop for clothing essentials, right at your fingertips. What makes this subscription unique is that every item has an expiration date! Just provide them with your size, and they'll do the rest for you. Styles and designs vary from month to month, but rest assured you'll love them!
Read the Basic MAN Reviews to know more about this subscription!
Price: The subscription is $24.99 per month, with savings for longer subscriptions.
Deal: Get 50% off your first month! Use coupon code HELLO50.
---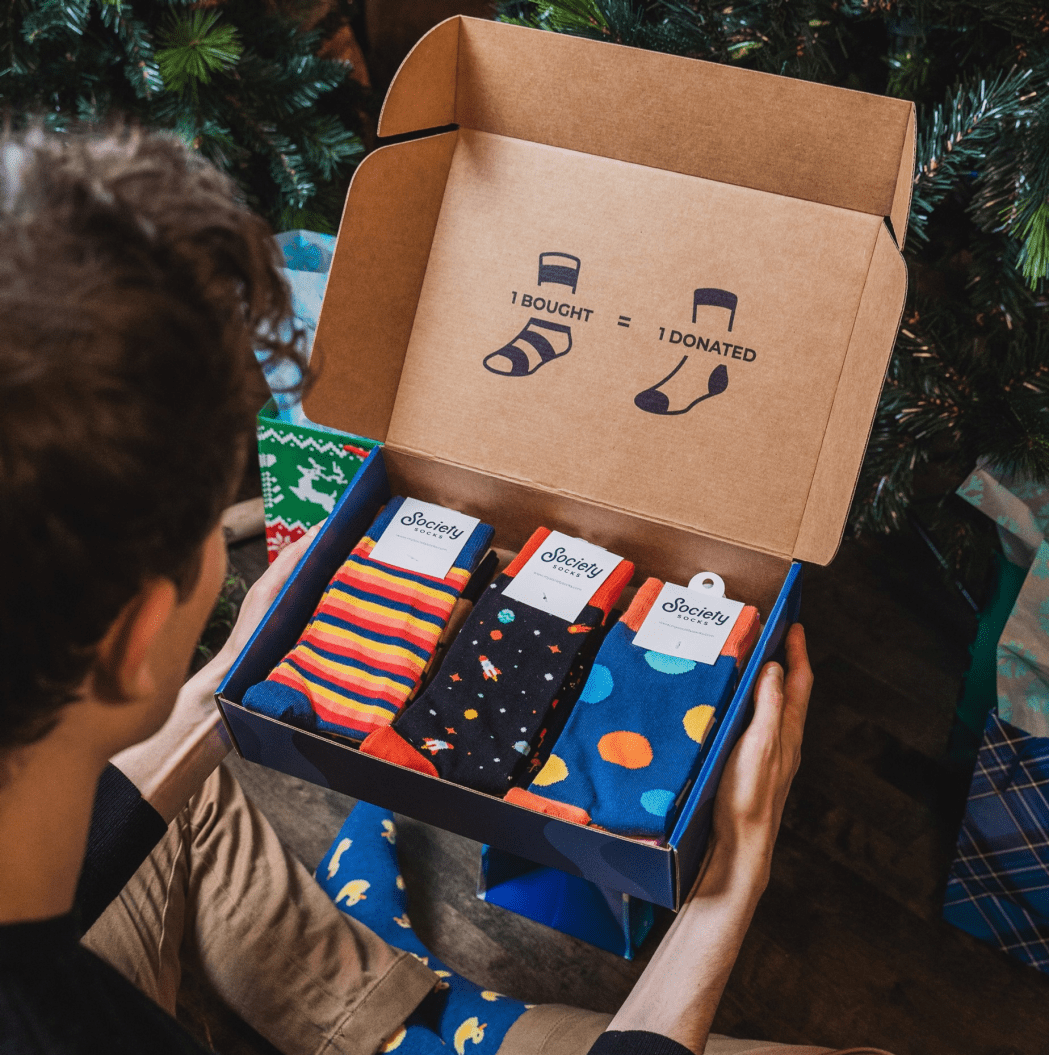 Image from: Society Socks
What You Get: Society Socks have subscription options for both men and women. Every box comes with two pairs of socks ranging in styles from simple to bold. They are made of ultra-soft combed cotton, have unique and fun patterns, and even a non-slip cuff to keep you comfortable while wearing them! This subscription also pledges to donate a pair of socks to a homeless shelter for each pair of socks sold. Truly a sock subscription with a social cause!
Check out the Society Socks Reviews to get an idea about the socks they send!
Price: The subscription starts at $20, with 10% savings for 6-month subscriptions and 20% savings for 12 month-subscriptions.
Deal: Take 50% off your first box. Use coupon code TAKE50.
---
Image from: our review
Their undies are the BEST -Emily
What You Get: MeUndies is a monthly underwear service subscription for men and women, providing the most fun and comfy modal underwear. Every piece is designed for comfort and made for self-expression. You'll get a fresh pair of underwear each month in your chosen style and colors – prints, bold colors, or classic ones. As a member, you can enjoy discounted pricing – save up to 30% on each order. You can also control your shipments and unlock early access to get their most popular prints and products before they sell out!
Want to know more? Check out our MeUndies Reviews!
Price: Prices for men's subscription boxes start at $16 per month.
Deal: Save 15% on your first order! Use coupon code MEFAM15.
---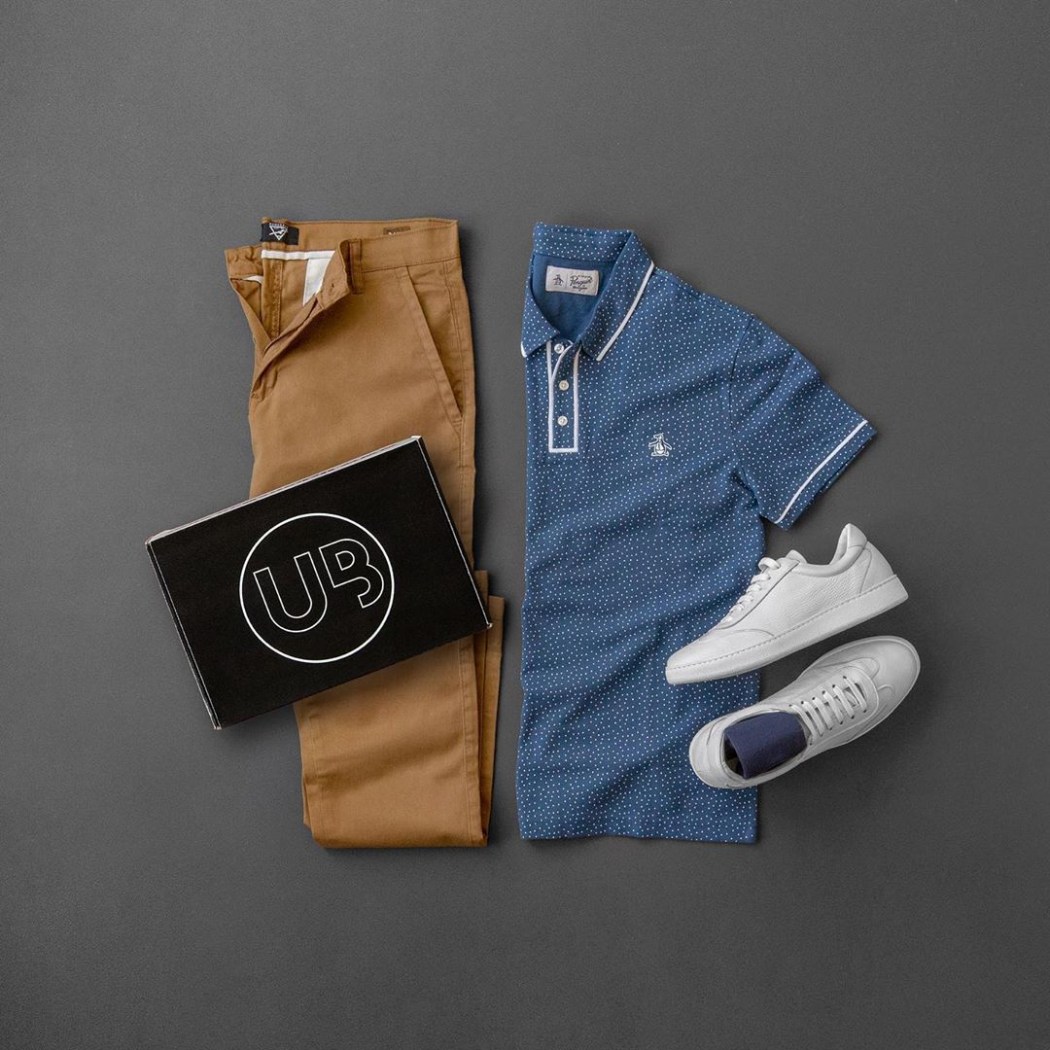 Image from: UrbaneBox
What You Get: Wear clothes that meet your style, budget, and lifestyle. Tailored for men who are always on the go, UrbaneBox delivers carefully curated packages based on your style and preferences! Boxes are shipped every month, and it includes 2-3 staple items for your wardrobe, specially customized by an expert stylist. These fashion items are for you to keep – no need to pay more!
Price: Membership costs $65 per month.
Deal: Get $30 off your first box - just pay $35! Use coupon code SAVE30.
---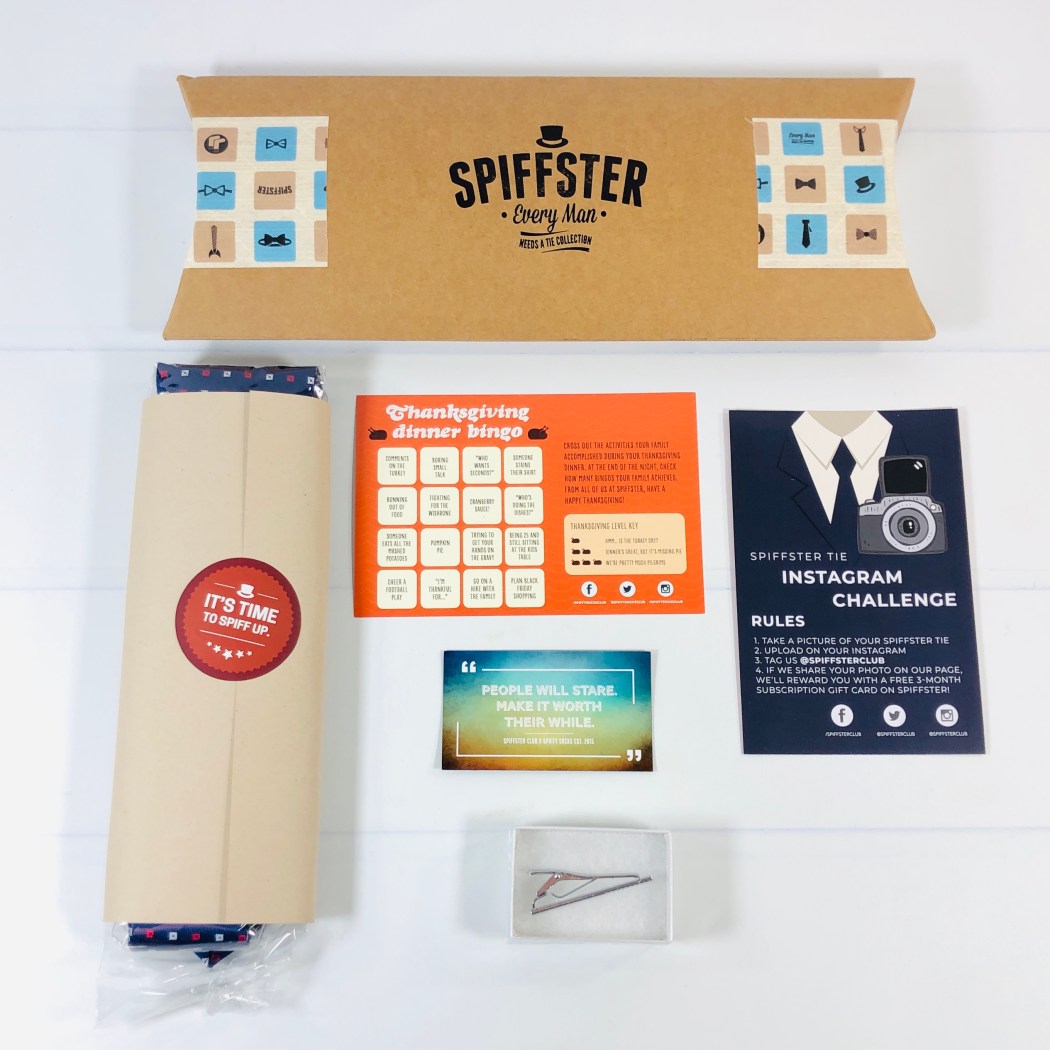 Image from: our review
Best tie club ever. Great as a gift for men. -Jon
What You Get: Spiffster is a subscription box for men that sends premium handcrafted classic and skinny neckties, bow ties, and socks. You can choose from various categories that suit your style. The Original Tie Subscription offers ties made with premium microfiber, cotton, and wool. There's also The Silk Tie Subscription, The Skinny Tie Subscription, and The Bow Tie Subscription. You can also opt for The Spiffy Sock Subscription or The Tie + Sock Subscription, so it'll be easier for you to dress up and coordinate your look. Select which style matches your preferences – Business Mix, Bold Mix, or Variety Mix – to help their designer pick out a tie!
Go to our Spiffster Reviews for more details!
Price: Box prices start at $10.95 up to $24.95 per month. Get savings when you subscribe to prepaid plan options.
---
Image from: our review
Men can never have enough underwear – Groot
What You Get: Underwear Expert offers an assortment of men's underwear with a combination of expert curation and tech for your comfort. Tell them your preferences, including styles and cuts, colors, and size, and they'll provide the best fitting and most comfortable underwear you'll be delighted to wear! You can choose to customize your box or let them pick everything for you and be surprised with their selection. Receive 1, 2, or 3 pairs every month, every other month, or every quarter – it's all up to you!
Find more at our Underwear Expert Reviews!
Price: The box price starts at $26 for a pair. Get free shipping when you opt for the 2 and 3 pair subscriptions, no matter the frequency.
Deal: Get 50% off your first box! Deal applies automatically, just visit and subscribe.
---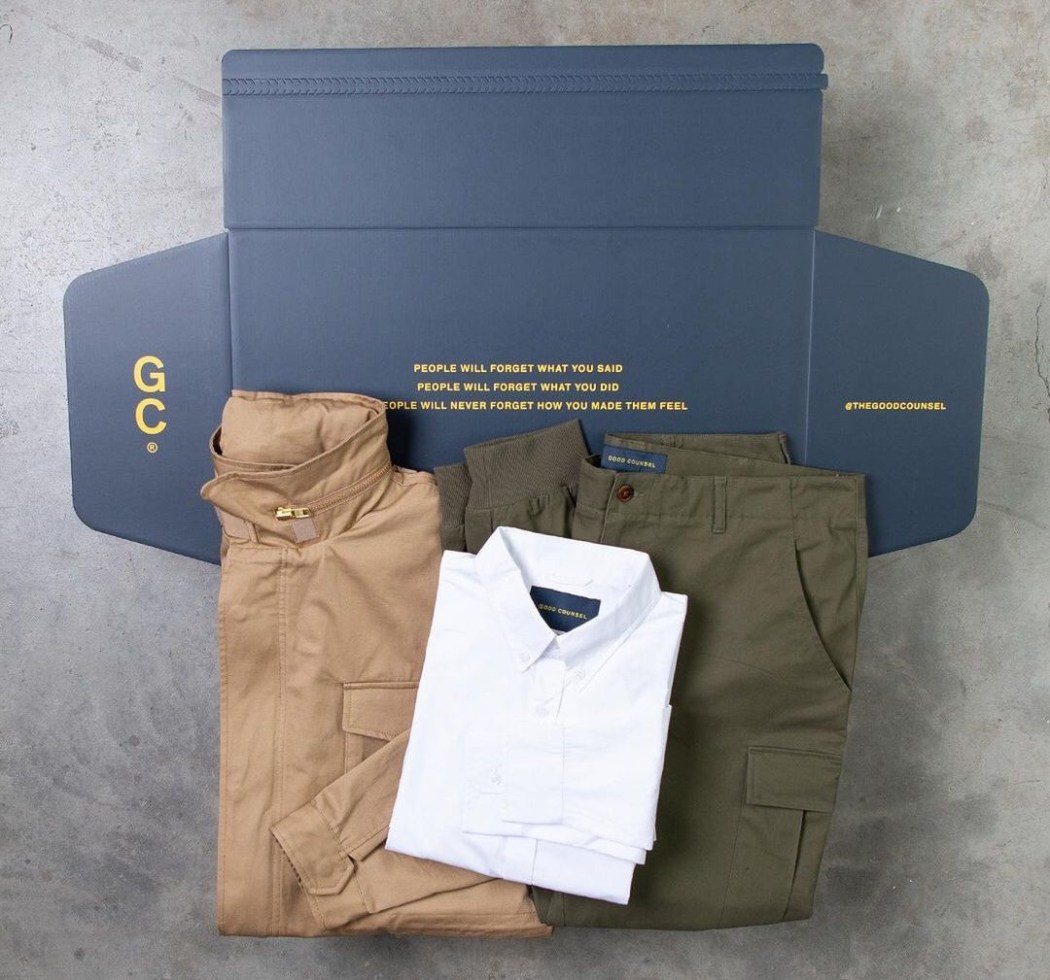 Image from: Good Counsel
What You Get: All men should have access to clothes that best fit them and are affordable at the same time. There is no such thing as one size fits all, and that's where Good Counsel comes in. They offer clothes in sizes that cater to all sizes! All you have to do is fill out a style profile, and they'll take it from there. Receive 4-6 hand-selected items, including clothing, accessories, and shoes, with every box delivered at your desired delivery frequency.
Price: The cost of styling fee is $30 and will be credited to any item you want to keep.
Deal: Get your first box FREE! Deal applies automatically, just visit and subscribe.
---
That's all the best 2022 Award Winners for the Best Clothing Subscription Boxes and Styling Services for Men! Are your favorite men's fashion boxes on the list?
Discover even more of our readers' picks for all the best subscription boxes in every category!
Say Hello to more subscription boxes for men!