How to get the best clothes at the best prices with the smallest amount of effort? Try a men's clothing subscription box or personal styling service! This list was voted the best men's clothing subscription and styling services and they'll send you everything you need (and didn't know you needed but you do) at the click of a button!
Get your daily basics on autopilot, upgrade your wardrobe with perfectly curated sets of socks, squares, and ties, or get a whole new wardrobe styled for you, one box at a time. Whether for work or for play, classic or trendy, there's a clothing subscription box out there for every guy! For even more options, see the full list of men's clothing subscription boxes!
2020's Best Men's Personal Styling Services and Clothing Subscription Boxes!
Here are the subscriptions and services that our readers voted as the best ones!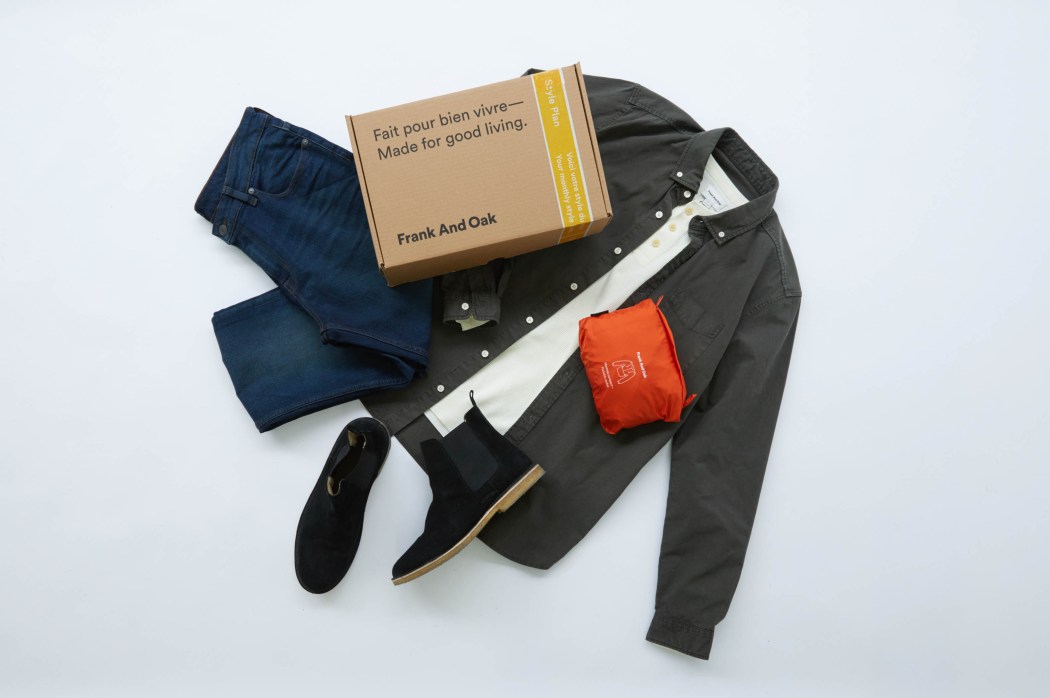 What you get: Frank And Oak aims to make subscribers look well-put-together all the time by sending stylist-picked clothing pieces. They now have a Style Plan for men, which may include denims, tees, sweaters, and accessories. The stylists will pick out the latest seasonal pieces based on your personal preferences and send them straight to you. You can try the items and just decide on and pay for what you would like to keep.
See the Frank and Oak Men's Style Plan reviews to find out more!
Price: There's a $25 styling fee per month. Then, you'll only pay for the pieces that you would want to keep.
---
What you get: Beach buddies will definitely love this subscription as it sends a curated box of premium, Coast-inspired apparel, depending on your style preference. Beachly Men's Box, formerly Coastal Co. Men's box, sends 4 to 5 premium products from top brands and hottest newcomers that are definitely showing what coastal style is all about. Also, members will receive exclusive access to their members-only, online store where they can get and shop products in between boxes for up to 70% off retail price!
Dive in to our Beach Themed Subscription Boxes here!
Price: The subscription costs $99 every 3 months.
Deals:
---
What you get: Underwear Expert promises to deliver the comfiest, stylish underwear directly at your door. You can choose what you like to see in your box, or let them surprise you! You can choose from different underwear styles like briefs, boxer briefs, trunks, jockstraps, and even thongs! You can tell them what you prefer like the color and style, and provide your size. You can also choose how many pairs you will receive (up to 3) and the frequency that you like: monthly, every two months, or every quarter.
Find more at our Underwear Expert reviews!
Price: The box price starts at $26 per pair, and get free shipping when you opt for the 2 and 3 pair subscriptions, no matter the frequency.
Deal: Get 50% off your first box! Deal applies automatically, just visit and subscribe.
---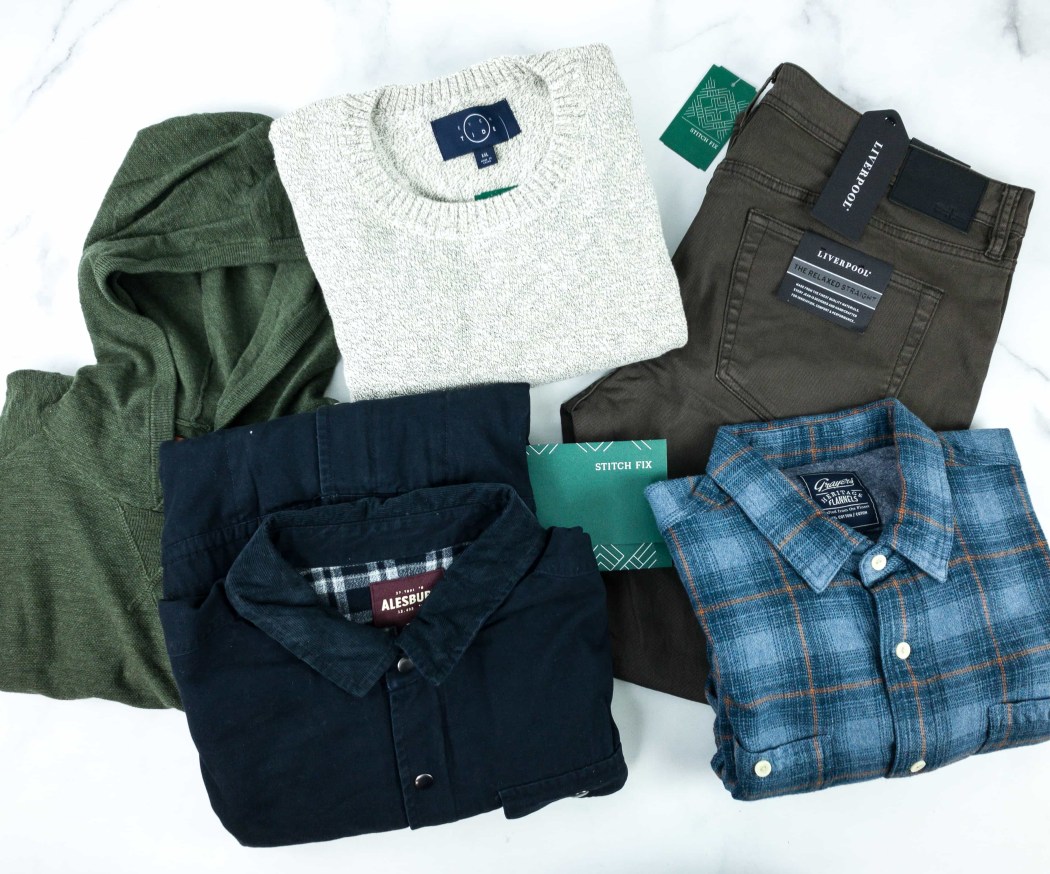 What you get: Men need not worry about styling themselves as Stitch Fix Men can do it for them! The subscription is like having your own personal stylist who will choose up to five clothing and accessories that are based on the style profile that you fill out upon sign up. You can also leave notes to your stylist, on what you prefer and don't like, so they can find the best items for you. Featured brands include Ben Sherman, Original Penguin, Scotch & Soda, 7 For All Mankind, Mavi, and Converse.
Take a look at the Stitch Fix Men Reviews page to know more!
Price: Styling fee is $20.
---
What You Get: If unique and humorous is your thing, Lucid Socks sends unique and humorously-designed pairs of socks! Each month, you will get a random hand-picked pair of socks, and although the designs are whimsical and sometimes oddly unique, you can always depend that the quality is superb, and you will feel so comfy when you try them on.
Price: Box prices start at $12 a month, plus shipping.
---
What you get: Discover awesome clothes that are perfect for you without ever having to go out shopping. Each Trunk Club Men subscription box contains 6 to 8 items, including shirts, pants, accessories, and shoes, and you can only keep what you want from the bunch and pay for them. You can work out a budget with your stylist as well. You can also purchase items right away using the Self Checkout feature on their app!
Visit our other Men's Clothing Reviews for more awesome details!
Price: It comes with a styling fee of $25, but will be credited at your final purchase, as you pay for the pieces that you want to keep, while shipping and returns are always free.
---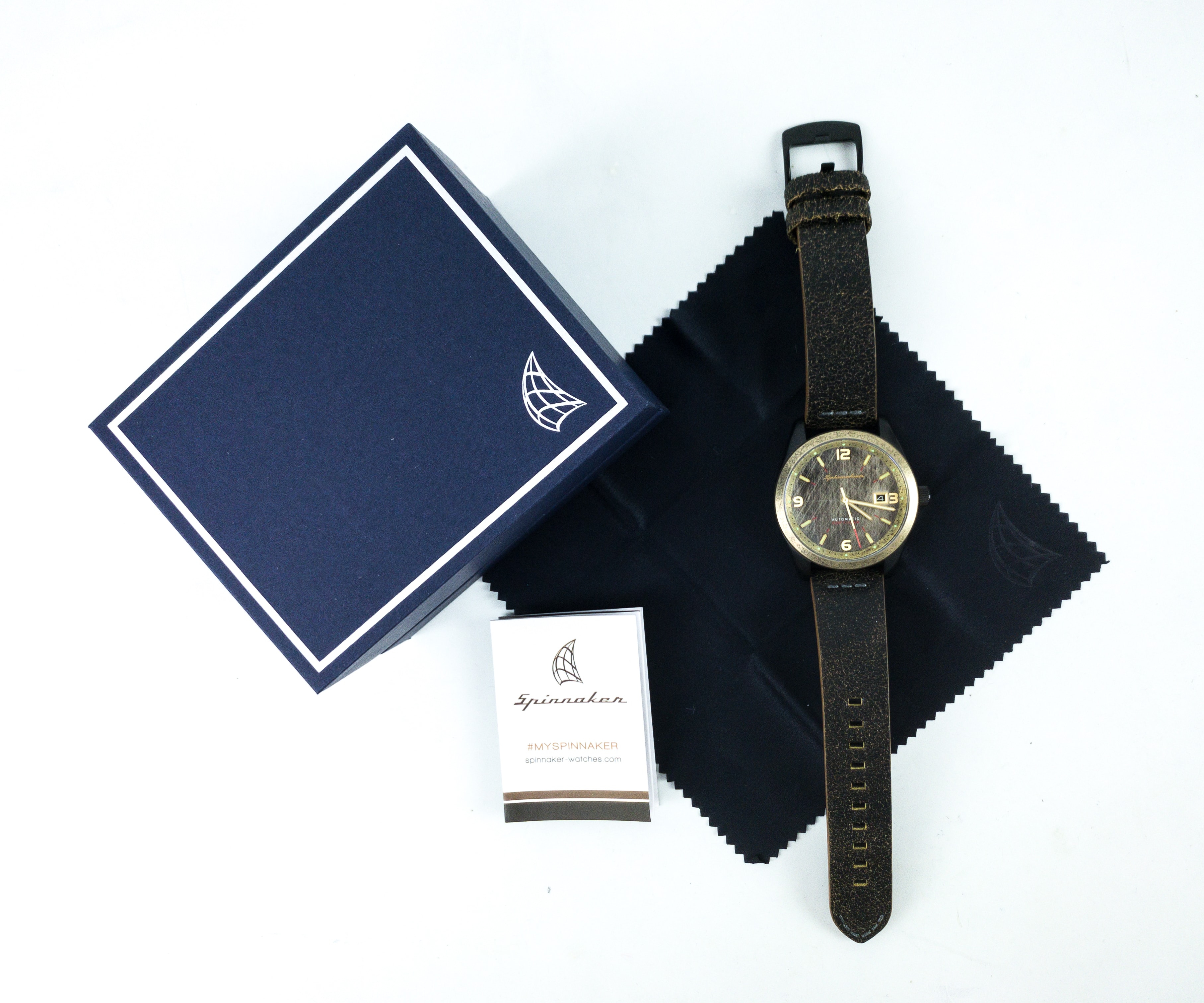 What you get: Watches are one of the most sought out accessories for the guys. Watch Gang sends only the best watches, and they even partner with a new watch brand every month, meaning you won't get the same style each month! The subscription is perfect for those who love to wear and accessorize with different types and styles of timepieces.
Visit the Watch Gang Reviews page to see what we received in past boxes!
Price: The subscription price starts at $29.99 per month.
Deal: Get 10% off your first box! Use coupon code GET10.
---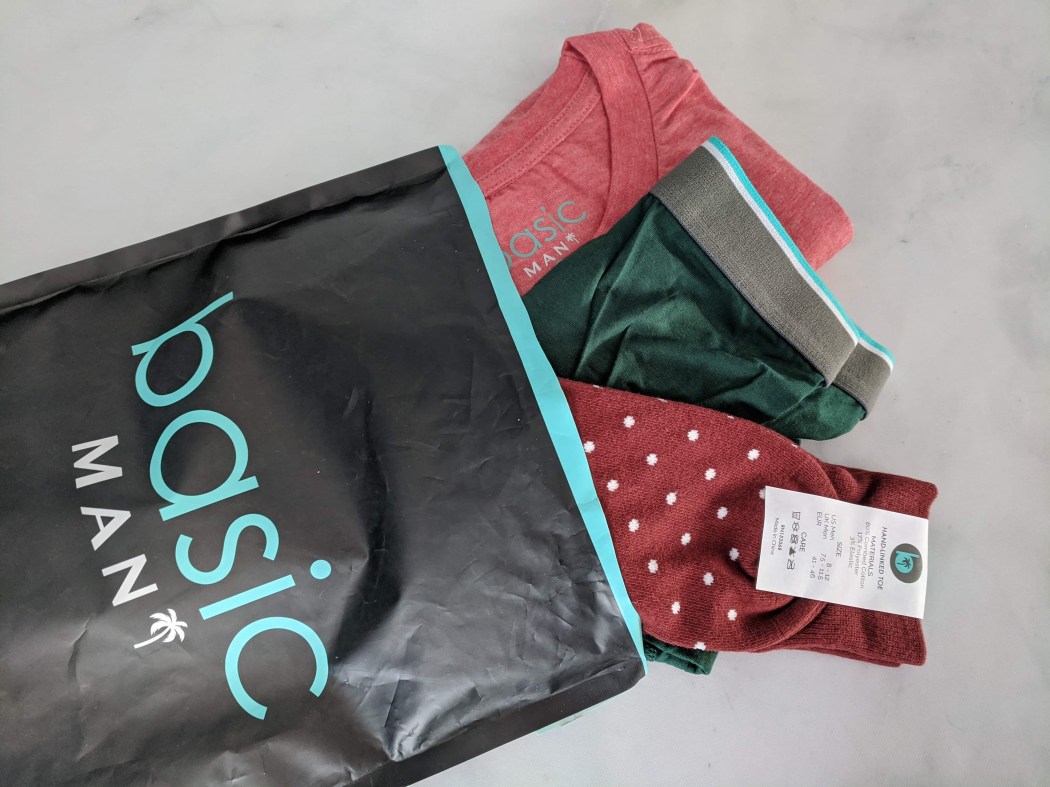 Great value for necessary items. – Torrie
What You Get: Basic MAN offers clothing basics like shirts, boxer briefs,  and amazing pairs of socks! It's really convenient as this subscription works as a one-stop-shop for clothing essentials, right at your fingertips. All you have to do is to choose your size and then wait for the items to arrive at your door.
Read the Basic MAN reviews to know more about this cool sock subscription!
Price: The subscriptions start at $19.99 per month, with savings for longer subscriptions.
Deal: Get 50% off your first month! Use coupon code HELLO50.
---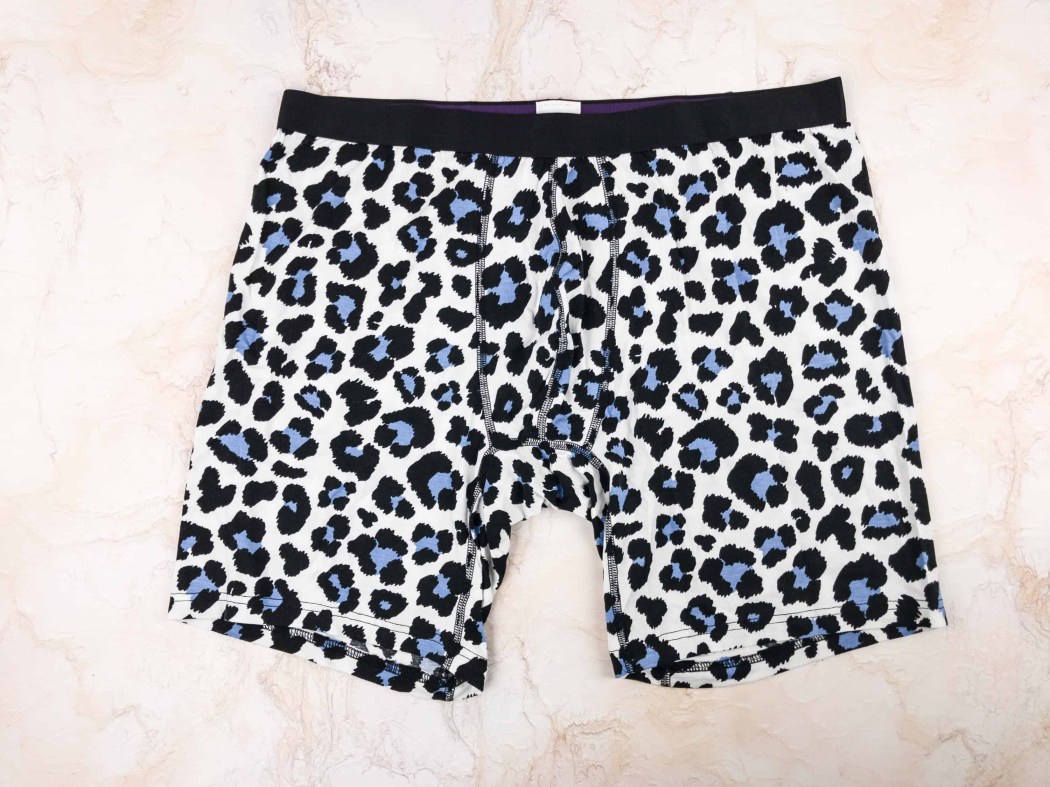 Their undies are the BEST -Emily
What you get: MeUndies is a monthly subscription underwear service for men and women that provides the most fun and comfy modal underwear. The undies are all super-soft, made of high-quality materials and super comfy! For men, you can choose from the following styles: boxer briefs, boxer briefs with fly, trunks, boxers, briefs, and even opt for undie packs! They also offer shirts and socks!
Want to know more? Check out our MeUndies reviews!
Price: Prices for men subscription boxes start at $16 per month.
Deal: Save 15% on your first order! Use coupon code MEFAM15.
---
What you get: Loot Wearables is a part of the Loot Wear collections from Loot Crate, and they send out exclusive geek and gamer premium wearables, with a monthly theme. You will receive either a top or bottom like limited edition hoodies, sweaters, shirts, pants, and more from a featured franchise!
Learn more about this box at our Loot Wearable reviews!
Price: The subscription costs $17.99 per month. 
Deals:
---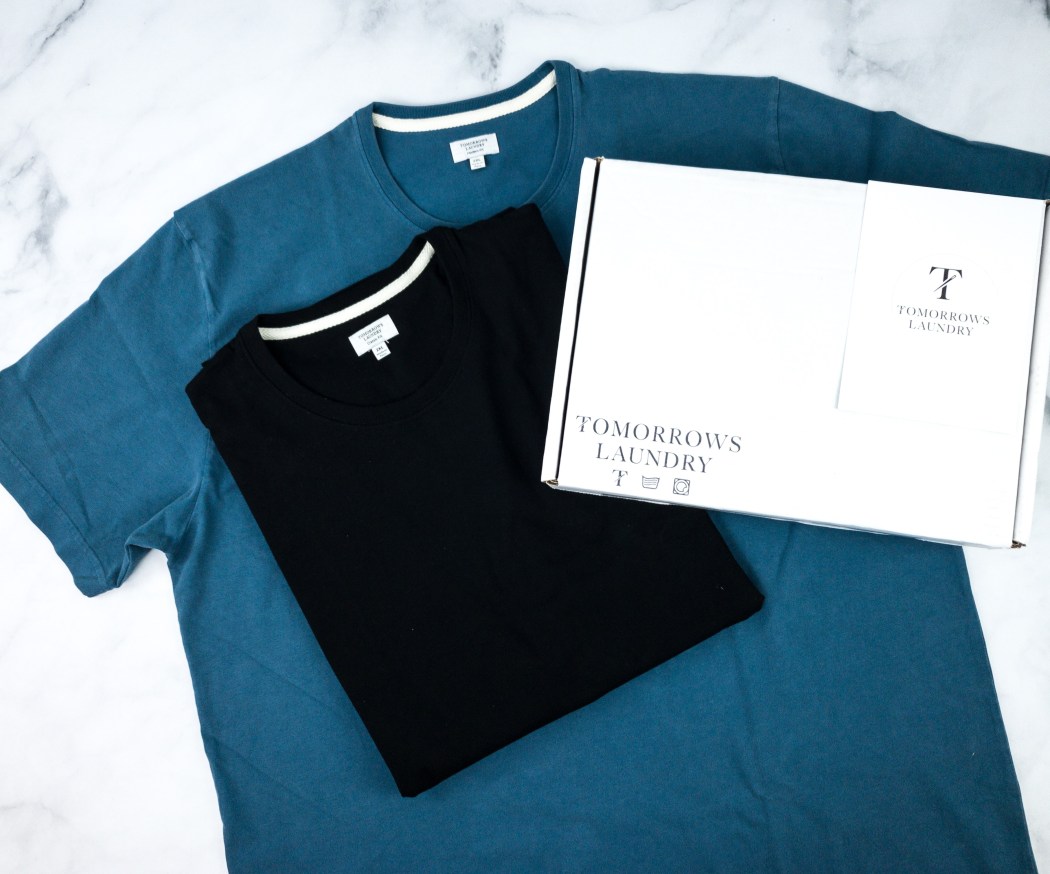 What you get: Get luxury wardrobe items without breaking the bank by subscribing to Tomorrows Laundry! Each month, receive 1-2 high-quality essentials like basics and t-shirts that match your personal style. Expand your wardrobe as their collection expands as well, giving you more choices that you will surely love.
See our Tomorrow's Laundry reviews to know more!
Price: You can subscribe to the box for $68 each month, shipping included.
Deal: Get $10 off your first $65 subscription box! Use coupon code HELLO55.
---
What you get: Streetwear or sneakers, you can get the perfect shoes that goes with your style with JetSole! They have stylists that will help you select the premium shoes that you need, based on your style profile. The subscription also partners up with up and coming and established brands like Supreme, KITH, Roc Nation, Obey, Air Jordan Retros, Adidas Ultra Boost & NMD, New Balance, Reebok, and many more! You can save time and effort, and also get 40% off retail with each box!
Check our other Shoe Subscription boxes here, to know more!
Price: The subscription cost starts at $59.17 per month.
---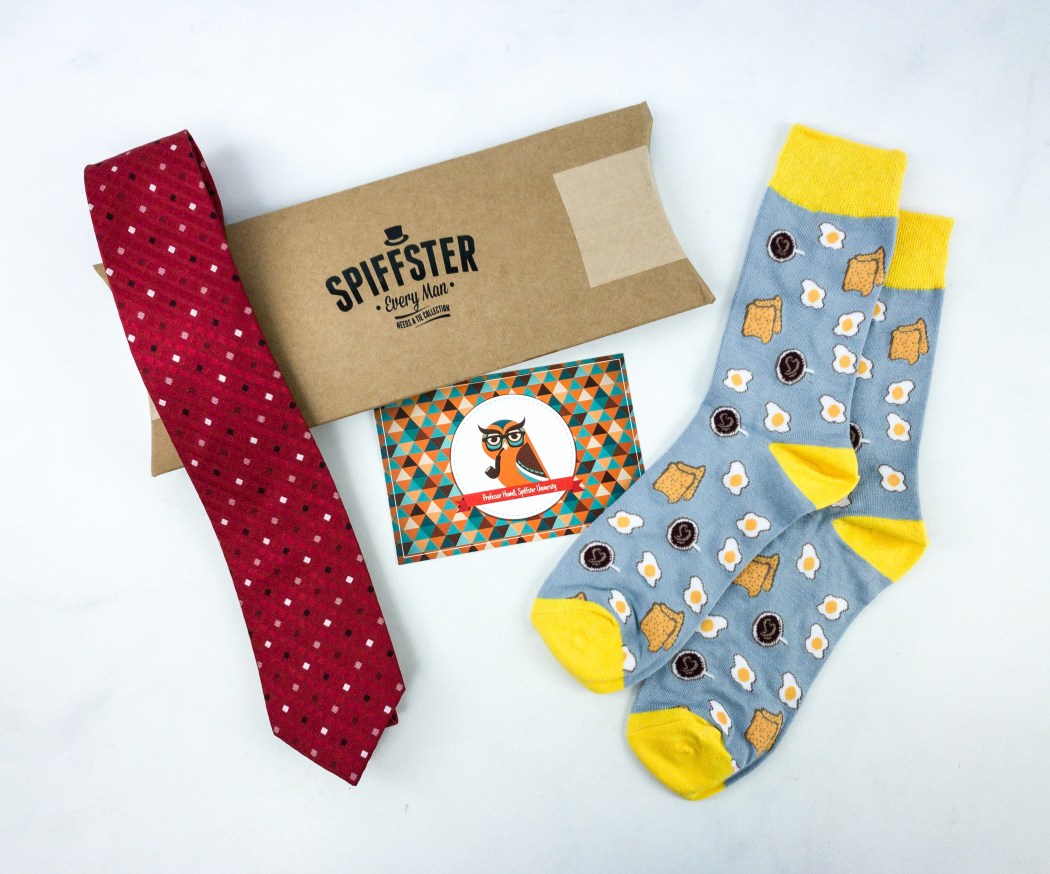 Best tie club ever. Great as a gift for men. -Jon
What you get: The Spiffster Club Box is a subscription box for men that sends premium handcrafted classic and skinny neckties, bow ties, and socks. You can choose from the 7 different offerings: The Original Tie Subscription, The Skinny Tie Subscription, The Silk Tie Subscription, The Bow Tie Subscription, The Spiffy Socks Subscription, The Tie + Sock Subscription, and The Silk Tie + Sock Subscription. Once you join the club and subscribe, you can choose your style and select your preferences!
Go to our Spiffster Box reviews for more details!
Price: Box prices start at $10 per month.
---
What you get: With Menlo Club, you just have to sign up, pick a style profile, and enter your sizes, then get the best and trendiest men's clothing pieces monthly! Expect items from Five Four, Grand AC, and New Republic, ranging from tops to bottoms to footwear. On average, members receive 2 items per month. Members also receive up to 25% off items in the Menlo House E-Commerce store, as well as free shipping on all orders and access to exclusive member-only items.
Read Menlo Club reviews and see past box contents!
Price: A $60 flat monthly fee applies.
Deal: Get your first box for just $25! Use coupon code HelloSubscription and Use this link to subscribe.
---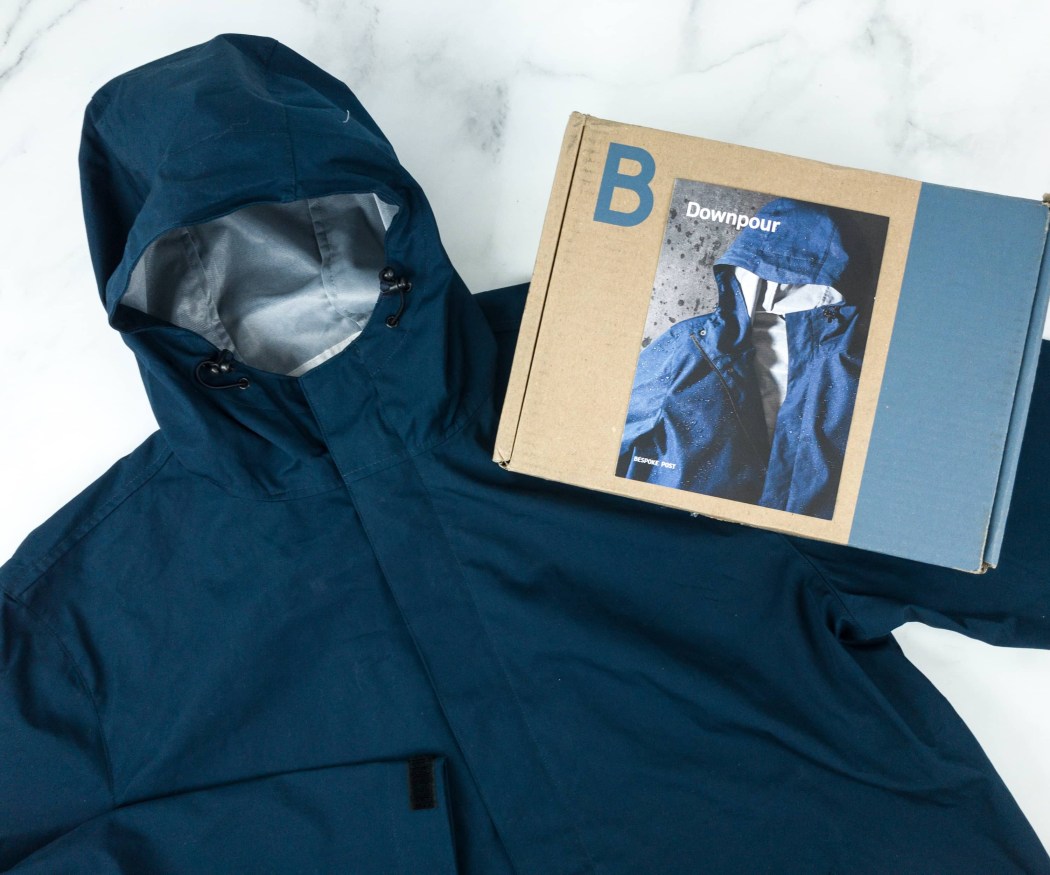 What you get: Bespoke Post's unique model lets subscribers select a box from a variety of offerings, making sure that you get only boxes that are right up your alley. And for those who like surprises, you can choose to receive their automatic monthly selection which is picked just for you! Boxes usually include sophisticated accessories, gear, and other kits curated based on men's interests!
Check out Bespoke Post reviews to see past box contents!
Price: Box prices start at $45 monthly.
Deals:
---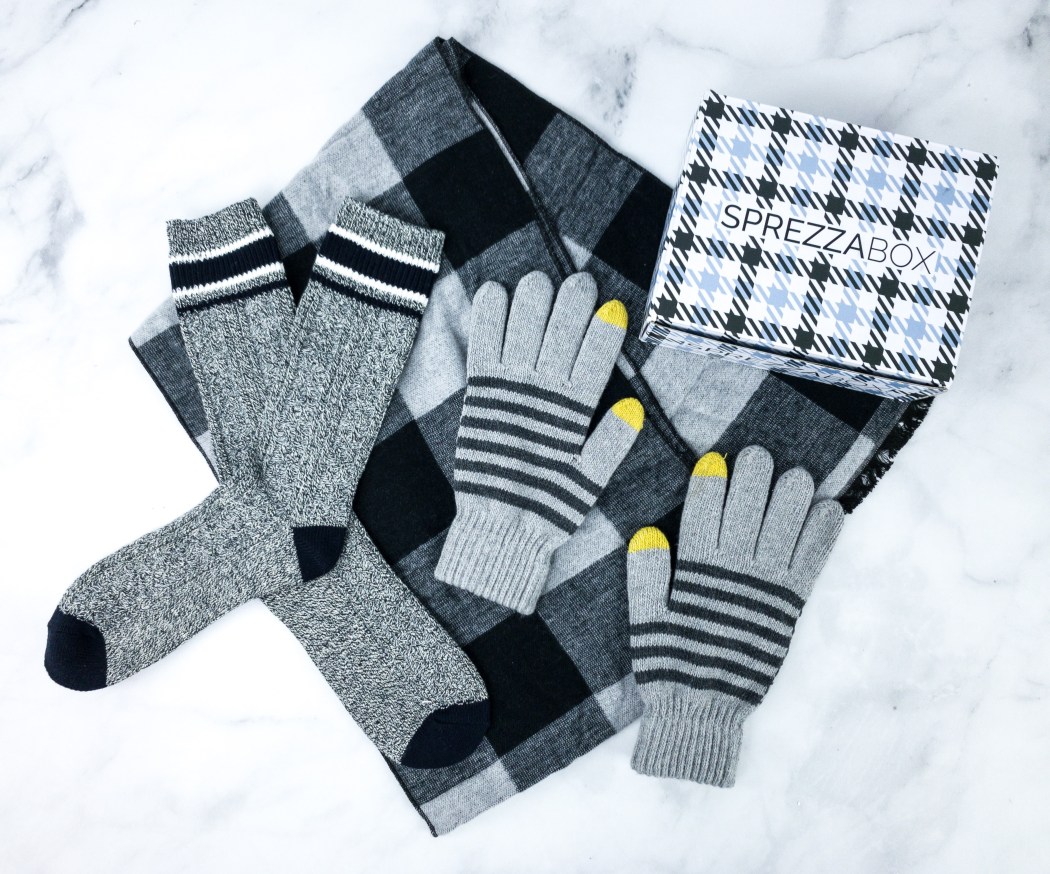 What you get: Sprezza Box is all about stylish men's accessories! Each box contains 5-6 high-quality accessories, like ties, socks, lapel pins, and more. Sometimes, they even throw in men's grooming items and other must-haves. Subscribers now have the option to pick their own box! They typically send the instructions on your email on how to pick your box. There are 5-6 box options monthly and there's still an option to have their stylists pick for you, in case you'd need help in choosing your box.
See SprezzaBox reviews to learn more!
Price: Subscriptions start at $28 per month.
Deal: Take 20% off the first box! Use coupon code HELLO20.
---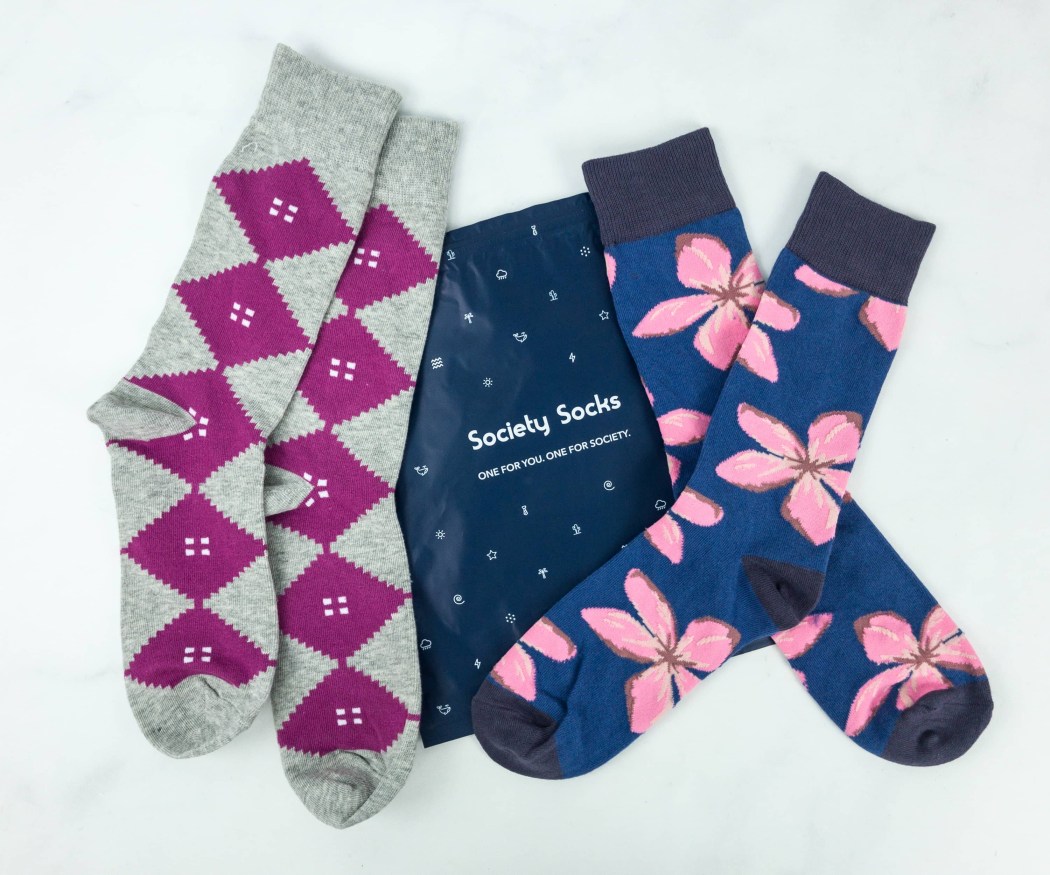 What You Get: Both men and women can subscribe to Society Socks and get the pair they always wanted. Every package will give you two amazing pairs and sock designs range from simple to bold. And there's more: for each pair sold, they will donate a pair of socks to a homeless shelter. It's always amazing to get a fuzzy pair and help a cause!
See the Society Socks Reviews and get an idea about the socks they send!
Price: The subscription starts at $16, with 5% savings for 6-month subscriptions and 10% savings for 12 month-subscriptions.
Deal: Take 50% off your first box. Use coupon code TAKE50.
---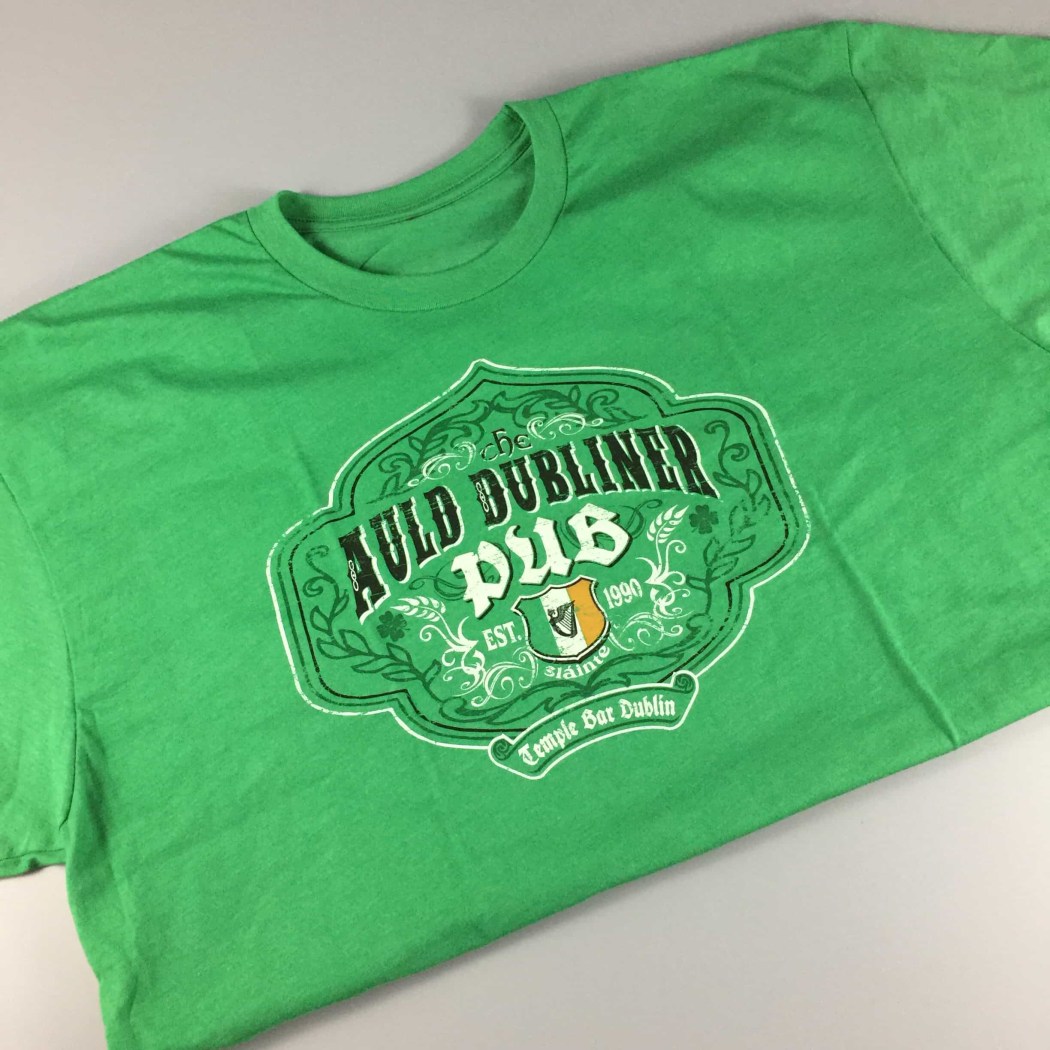 Who doesn't love awesome one of kind pub shirts
What you get: Get a cool shirt that is tagged as the "T-shirt of the Month" from various pubs and places with the Pub Shirt Club! Each month, receive new, authentic, and high-quality shirts that are produced in limited quantities. A "Featured Shirt" is only used one time, and if it has been featured, the club retires it, forever!
Take a look at Pub Shirt Club Reviews to learn more!
Price: The subscription cost starts at $22 each month, and choose from 3, 6, or 12-month subscriptions to get best deals.
---
That's all the best 2020 Award Winners for the Best Clothing Subscription Boxes and Styling Services for Men! Are your favorite men's fashion boxes on the list?
Discover even more of our readers' picks for all the best subscription boxes in every category!
Say Hello to more subscription boxes for men!
Find more men's subscription options in these lists: