Beauty subscription boxes are a great way to try and discover new products on the market. Sure, we need to test new beauty goodies, but what if we need more than just the samples or travel size? What if we want to take it more seriously? Well, don't get worked up because we've gathered the best beauty subscription boxes, which offer full-size products – yes, you've read it right!
These boxes generally feature full-size beauty items – which is usually the best bang for your buck, too! Stop dating your beauty finds and develop a serious relationship with full-size mascara, brushes, creams, serums, lipsticks, glosses, brushes, and more! Take your beauty regimen to a new level with our list of the best beauty subscription boxes with full-size products.
All the Best Beauty Subscription Boxes with Full-Size Products!
Image from: our review
What You Get: Ipsy GlamBag Plus has got us covered with everyday makeup, skincare, and hair care essentials every month! It's an upgraded version of the Ipsy Glam Bag, and it includes five full-size products from brands you love. What makes it worthy is that it has a promised retail value of $120, and products will always be full-sized. It has ultra personalization features that allow members to choose 3 products they want from a curated assortment. Ipsy then chooses the final two beauty items just for you based on your quiz and monthly item reviews, so you can fill up your bag with products that are tailored to your preferences. STarte, Nyx, OFRA, Estee Lauder, and Lancome are just some of the brands included in past boxes!
Curious about what kind of beauty products they send? See Ipsy GlamBag Plus Reviews.
Price: The box includes 5 full-size items from brands you love for $28 a month, plus a stylish makeup bag with every shipment.
---
Image from: our review
What You Get: BOXYCHARM subscribers receive 4 to 5 full-sized beauty products from well-known, popular, chic, and up-and-coming brands each month. Items are selected based on current and emerging trends and often include full-size palettes & makeup tools, like high-quality brushes & magnetic pan holders. Aside from makeup and cosmetics, they also include nail care, skincare, haircare, fragrance, and more. It's always a great variety of full-size, high-end products from the best beauty brands without paying the full price! We recommend this subscription for heavy makeup users, teens starting out with their own makeup collections, and anyone who loves to have fun experimenting with full-size makeup products!
Check out BOXYCHARM Reviews to know more about this subscription.
Price: The box costs $25 a month with discounts if you prepay for longer terms.
Deal: Get a FREE Gift with Boxycharm - enter code on site! Deal applies automatically, just visit and subscribe.
---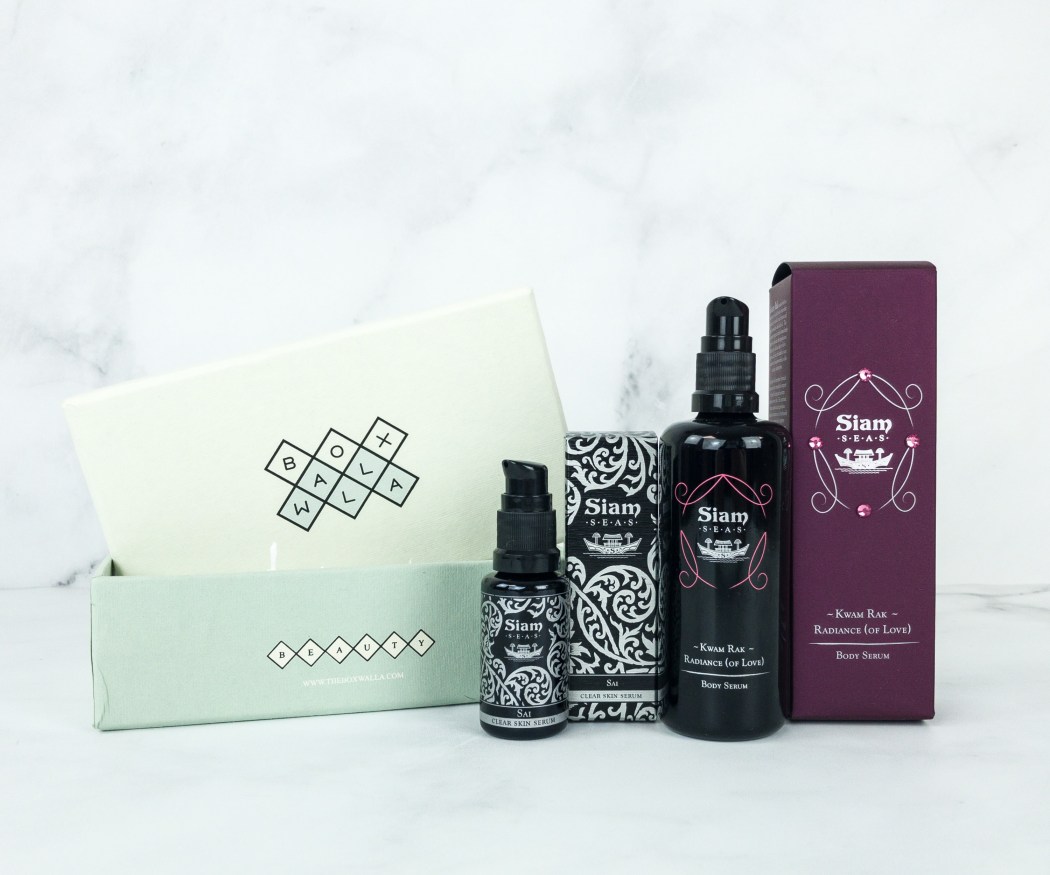 Image from: our review
What You Get: Boxwalla Beauty takes pride in delivering the most luxurious green beauty products to its subscribers every other month. They work with artisans to deliver gentle and ingredient-conscious, full-sized beauty products straight to your door each month! You'll experience not only luxury but also the most effective, nutrient-rich beauty products, harnessing all the potency of plant-based ingredients. And yes – it's always cruelty-free! This beauty box finds unique, top-quality luxury green beauty and delivers fantastic value and products that really work.
Visit Boxwalla Beauty Reviews to learn more about this green beauty subscription.
Price: This package is $49.95 + shipping & handling, and each box has a total value of $165 with 2 full-size items! (Shipping is free to the US, $11.95 to Canada, and $18.95 International)
---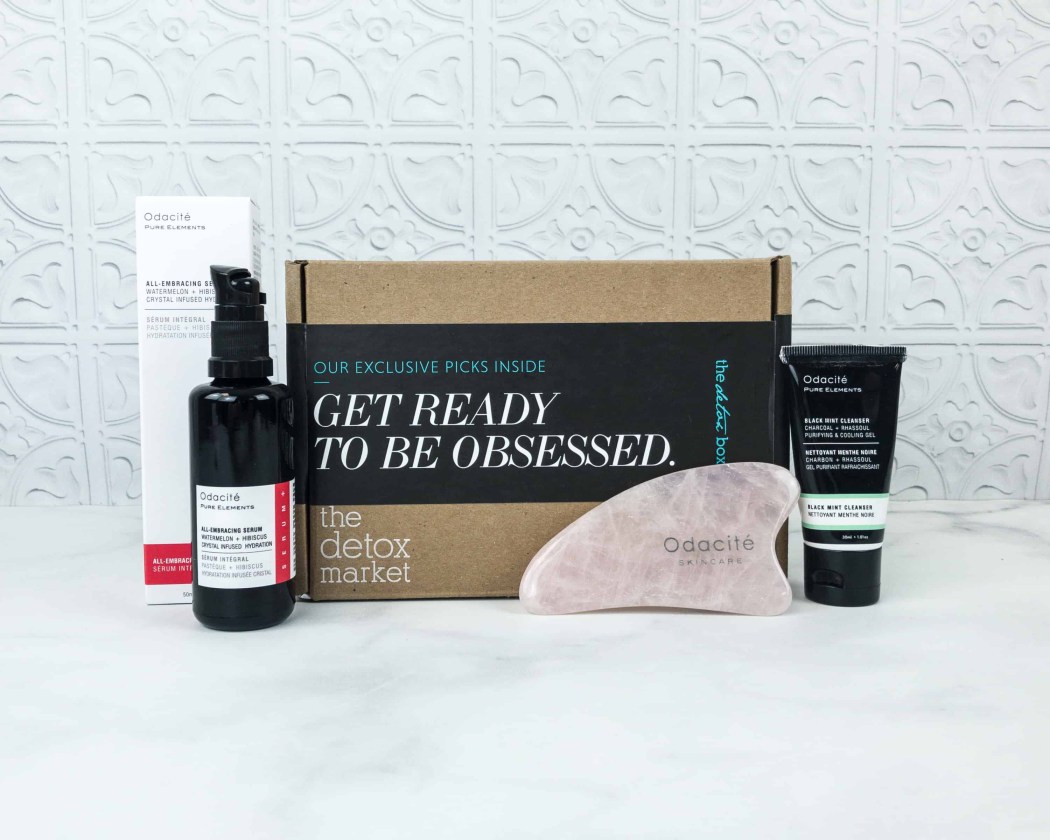 Image from: our review
What You Get: Guided by strict ingredient standards, The Detox Box introduces the best and most effective green beauty brands every month. They make us understand the importance of switching to healthier beauty products, and they even provide us all the information we need about the month's featured brand, plus expert tips! Each box includes one or more full-sized green beauty products from tried-and-true favorites and game-changing discoveries and has a promised value of at least $90. So if you want to switch to clean and green beauty or even when you only want to spice things up with your current green beauty routine, this subscription is an ideal starting point!
Read The Detox Box Reviews to find out more about this subscription.
Price: The monthly plan costs $58.95, which lowers to $45.95 a box per month for a 3-month subscription, and 6 months prepaid costs $39.95 a box per month.
---
Image from: our review
What You Get: Beauty Heroes helps bring out the best in you by putting the highlight on natural beauty. The subscription focuses on luxurious, healthy beauty brands, making it an ideal subscription even for discerning beauty junkies. They work with different brands like Zoe Organics, Henne Organics, Cleo + Coco, and more, which share the same goal and provide members healthy beauty. Each box contains one full-size hero product and a 'sidekick' (can be trial or full-sized). The booklet in every package is always a nice read as it's loaded with vital information about the featured brand and product. What makes it even better is that members with an active subscription receive an exclusive 15% discount on all the products in the Beauty Store, insider exclusives, and early access to new product launches.
Check out Beauty Heroes Reviews to know more about this subscription.
Price: They offer membership subscription for 1 month – $58.95, 3 months – $137.85 ($45.95/month), 6 months – $251.70 ($41.95/month), and 12 months – $479.40 ($39.95/month).
Deal: Get 10% off your first Beauty Heroes subscription of any length! Use coupon code HELLOBH10. Valid for new subscribers only.
---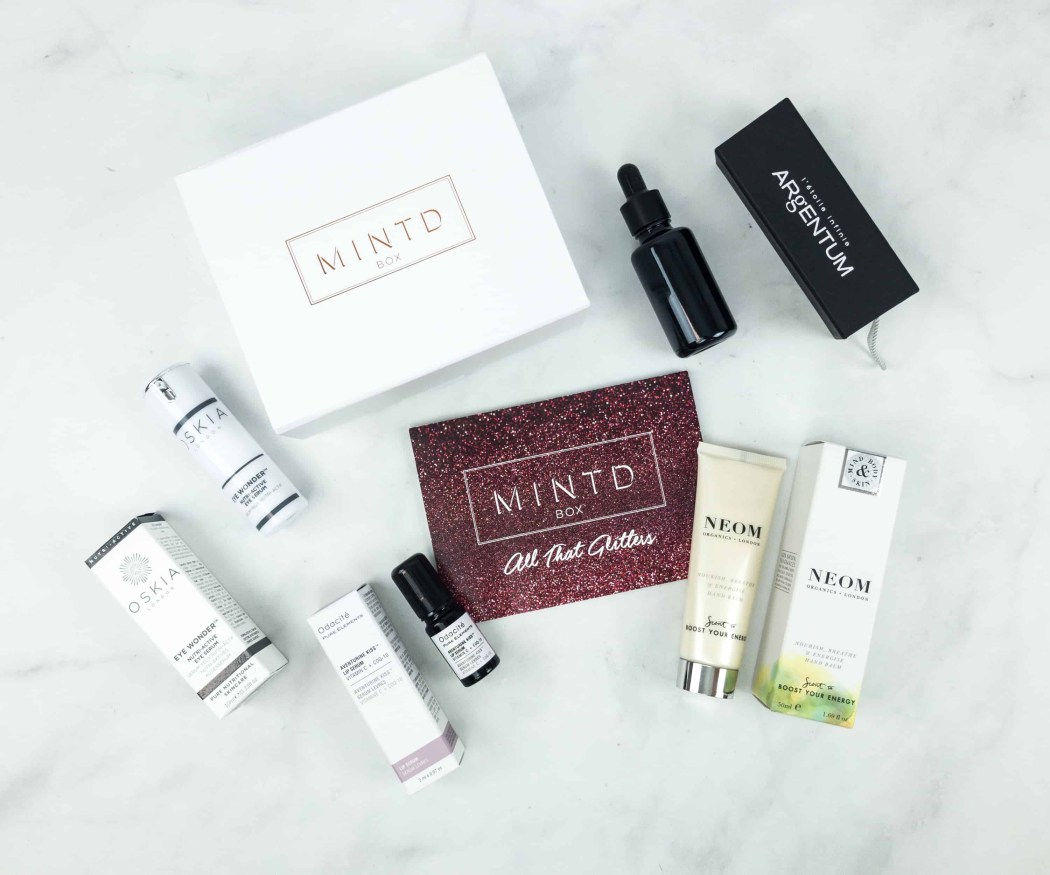 Image from: our review
What You Get: When it comes to the best and most innovative beauty products, MINTD Box is the answer to all our needs! They aim to inspire and encourage women from all walks of life to reveal their inner beauty. Each box is exclusive and contains 4-5 full and deluxe-sized items. It's usually themed, which of course, keeps things exciting every month, but what's really impressive is that they curate it in tune with global trends. They work with respected brands to ensure you receive only the best quality of beauty items for your arsenal! Past boxes have included items from Sunday Riley, Oskia London, Farmacy, and Omorovicza.
Visit MINTD Box Reviews to get an idea about how the subscription works.
Price: Choose whether you want to have it monthly or every other month for £70.00 (about $95).
---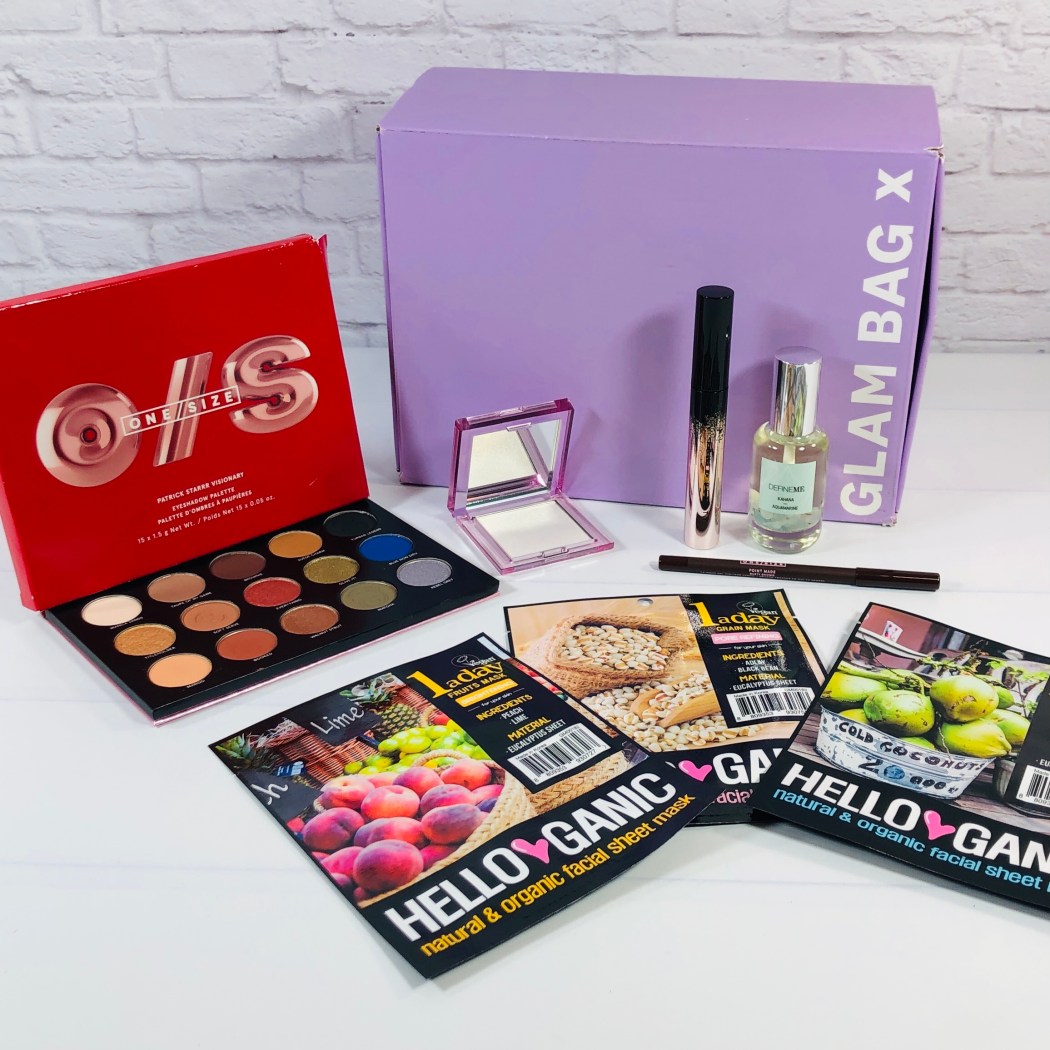 Image from: our review
What You Get: Ipsy Glambag X is one great option if you want to upgrade your usual beauty regimen! It's a limited edition, quarterly upgrade to your Ipsy membership – Glam Bag or Glam Bag Plus, that speaks extra glam and luxury as each box is specially curated by beauty's biggest celebs! Replace your usual beauty bag each month with something more and receive 7-8 full-size products from the most-coveted brands. A featured curator of the month will hand-select 4-5 products for you, and you have the power to choose the remaining three for yourself! It's like a full VIP pass on your fave brands, on-trend & hottest launches, and must-try beauty products!
Want to know more? Check out Ipsy Glambag X Reviews.
Price: Glam Bag X is available as a quarterly upgrade for Glam Bag and Glam Bag Plus members for $55 per quarter (including the cost of the bag it replaces – an upcharge of $30 for Glam Bag Plus and $43 for Glam Bag).
---
Image from: COCOTIQUE
What You Get: COCOTIQUE is a deluxe subscription box filled with full-size beauty, wellness, self-care, and lifestyle products that are curated specifically for women of color. Their goal is to remind everyone of the importance of self-care, to love themselves more, and to embrace their uniqueness. Each box contains 5-8 expertly curated products in full-size and deluxe travel sizes, delivered each month at your door. Items may include skincare, haircare, makeup, fragrances, wellness, and lifestyle from established and well-known brands to emerging and indie ones! Discover your ultimate beauty arsenal with every box you'll receive from them.
Find out why every beauty junkie loves this box on COCOTIQUE Reviews.
Price: The subscription costs $30.99 a month with discounts for longer plans. Shipping is free!
Deal: Get 10% off your entire subscription. Use coupon code BOX10.
---
Image from: our review
What You Get: If you're looking for innovative, reliable, and affordable skincare essentials, then you must subscribe to FaceTory Lux Plus. All skincare products they offer are cruelty-free and tested by their skincare experts. With each box delivered to your door seasonally, you'll get 5-6 skincare products and 5-6 sheet masks. They don't skimp on their subscribers because they only send full-size products that any beauty junkie will sure to take delight in! You have nothing to worry about because they'll give you just the right products to help you keep your skin fresh, soft, and moisturized whatever weather or season it may be. As a subscriber, you'll also get amazing rewards and exclusive promotions.
Check out FaceTory Box Reviews to get an idea of what's in every box.
Price: Subscription is $49.95 per season, or prepay for 4 seasons for $199.80 and receive one Lux PLUS every 3 months.
Deal: Get 4 free masks with your Lux Plus Subscription! Use coupon code LUXPLUS4.
---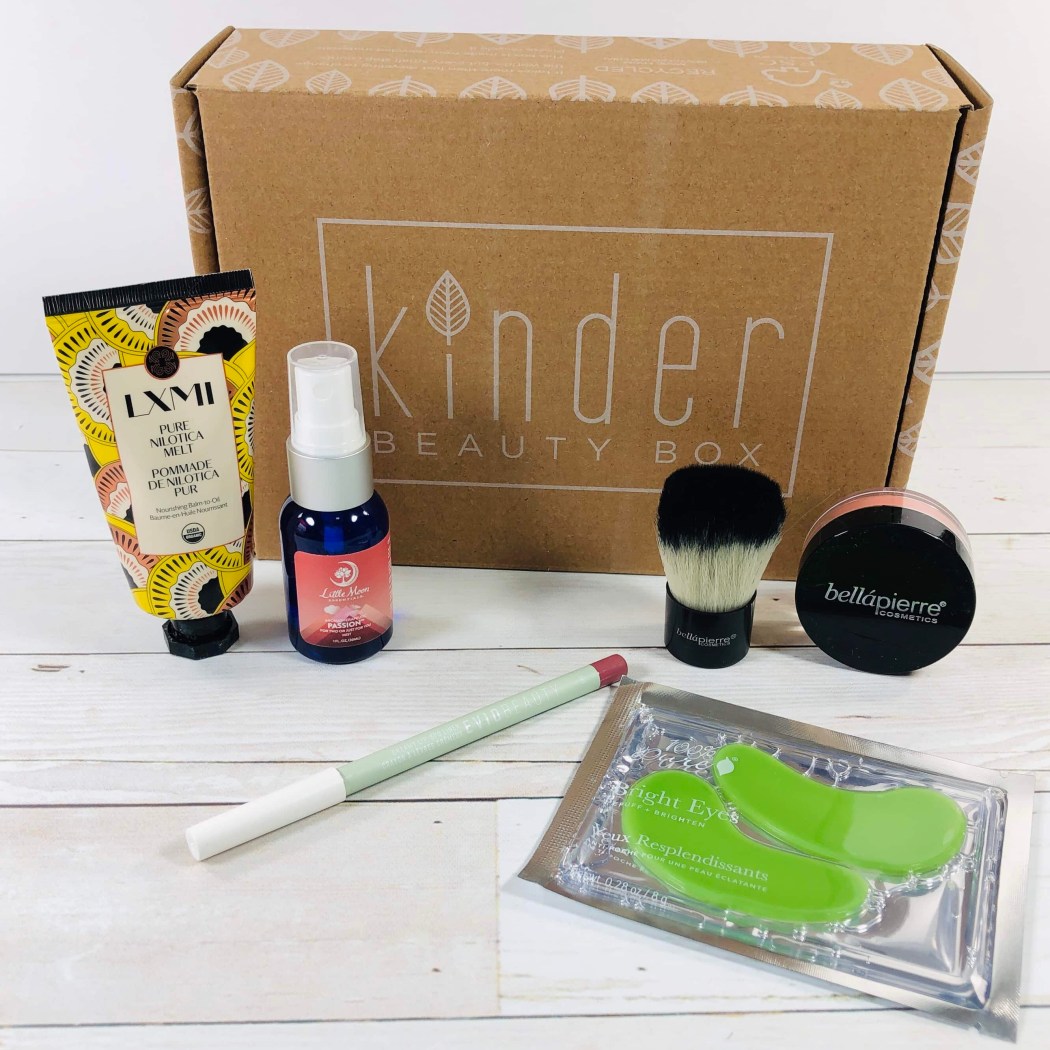 Image from: our review
What You Get: Packed with all the goodness inside, Kinder Beauty Box focuses on giving solutions to our skin woes using clean beauty products! This subscription focuses on giving vegan products that care not just for your skin but also the environment. Each month, you'll get up to $165 worth of vegan and cruelty-free products, ranging from skincare to makeup to haircare and accessories. Each box includes at least 2 full-sized products to make sure you have enough for the whole month from brands like Andalou Naturals, 100% Pure, INIKA Organics, Franklin & Whitman, and more! As a subscriber, you'll get access to exclusive special collections, limited edition offers, and flash sales. What's more, is they donate a portion of all sales to animal rights and environmental causes.
Check out Kinder Beauty Box Reviews to know more.
Price: Subscription costs $26 a month, or choose to prepay 3 months for $72 ($24 per box) and 6 months for $138 ($23 per box) to get a Free Bonus Beauty Box!
Deal: Get $5 off your first box! Use coupon code HELLO5.
---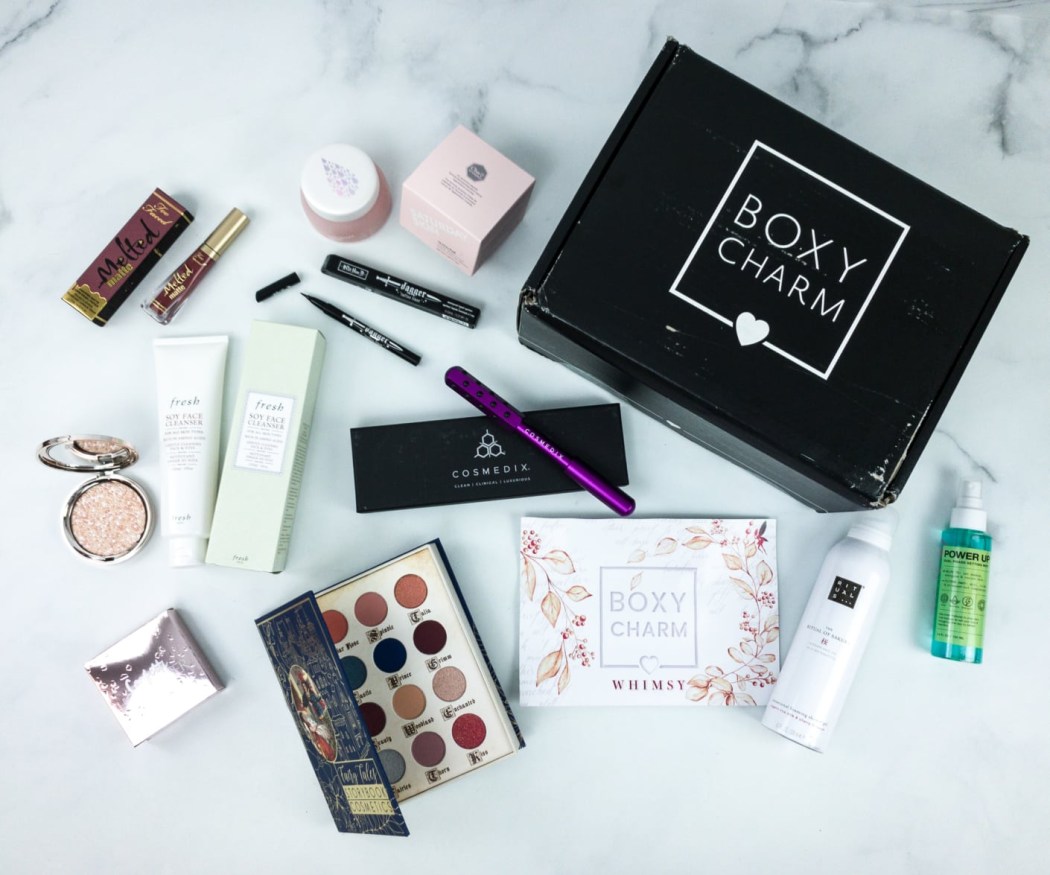 Image from: our review
What You Get: A box worth over $175 in value is what BOXYCHARM Premium offers. Each month, you'll receive 6 full-size premium beauty products from well-known and emerging brands as well. Although they focus on makeup and cosmetics, they also offer other beauty items such as skincare, nail care, hair care, fragrance, and even beauty tools! All items in your box are full-sized, so you don't have to save and use tiny amounts every day. You have the power to choose two items to include in your upcoming box when you subscribe. You can also enjoy exclusive, members-only offers, win free products, and receive reward points you can use in the charm shop!
See more at BOXYCHARM Premium Reviews.
Price: Billed monthly for $39.99, or less for prepaid plans of 3, 6, and 12 months!
---
Image from: Love Goodly
What You Get: Love Goodly is a non-toxic bi-monthly subscription that delivers cruelty-free, eco-friendly, and vegan subscription boxes containing a mix of full-sized items straight to subscribers' doors. Each box has 4+ full-sized products focusing on non-toxic beauty and skincare, as well as eco-style or home accessories, healthy snacks, and wellness products with a value that's 2x the price. Choose from 2 subscriptions that they offer: Essential with 4-5 items and VIP, which contains all the same items from the essential box, plus one more full-sized product. What's even good is that for every purchase you make, they always support a good cause. Some of the organizations they've supported are Farm Sanctuary, Cure Cervical Cancer, Beagle Freedom Project, and Paw Works.
Curious about what products they send? See our past Love Goodly Reviews.
Price: Receive one box every 2 months for $34.95.
Deal: Save 20% on your first subscription box - that's $6.99 off on Essential or $9.79 off on VIP! Use coupon code TRYLOVE.
---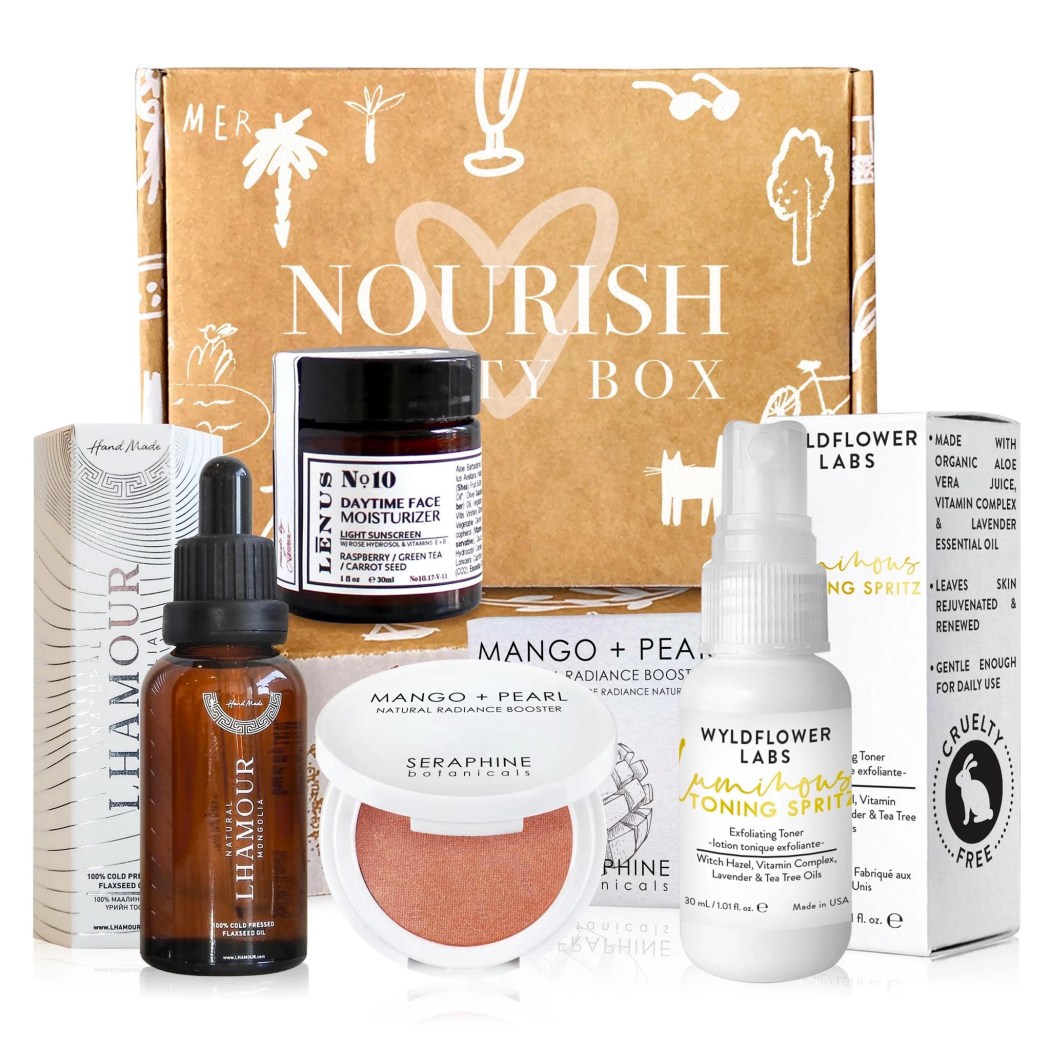 Image from: Nourish Beauty Box
What You Get: Keep your skin healthy and radiant with Nourish Beauty Box. It's a monthly subscription box perfect for beauty enthusiasts. They believe that we should be mindful of what we put in and on our bodies, and that's why they offer cruelty-free, ingredient-conscious, skin-loving, artisanal, and sustainable beauty products. Each box includes 4 full-size, earth-activated, bio-natural products – without parabens – hand-packed and delivered straight to your doorstep every month. These will surely last you for a month or so because they just don't cut back on their products to give you the ultimate satisfaction you deserve!
Price: Choose between Monthly ($29.95 a month), 3 Months prepaid $86.95 ($28.98 per month), and 6 Months prepaid $159.90 ($26.65 per month).
Deal: Get 15% off your first box! Use coupon code HELLOBOXES15.
---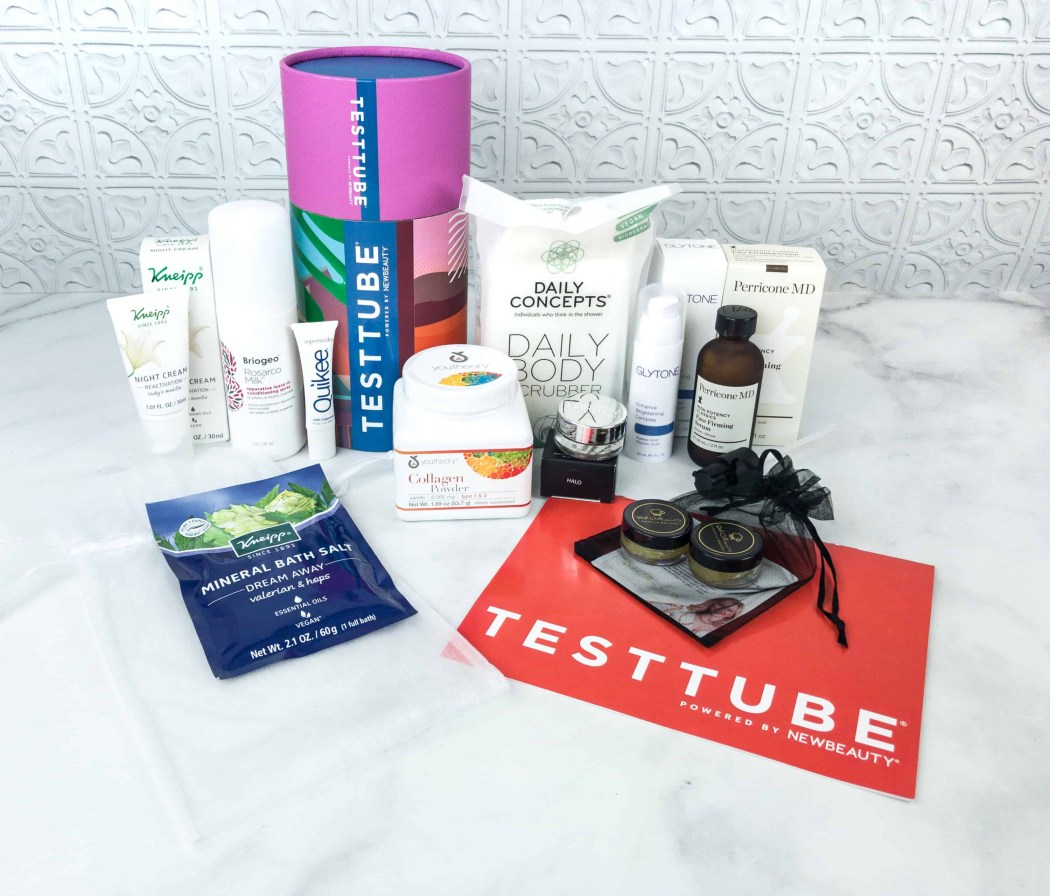 Image from: our review
What You Get: Six times a year, New Beauty Test Tube subscribers receive a "TestTube" filled with deluxe and full-size beauty products valued at over $180. Items are usually a mix of top brands and newly discovered brands with a stamp of approval from editors. Each box contains 8 or more beauty luxury samples, along with a subscription to NewBeauty Magazine that ships separately from TestTube, delivered quarterly. It's the beauty solution that will help solve our biggest makeup, skin, hair, and body concerns. This subscription trends towards more mature women who are concerned about aging skin and hair, whether that's the mid-20s or 60s and beyond!
See the New Beauty TestTube Reviews and check out the contents of past boxes.
Price: This box costs $59 per quarter.
---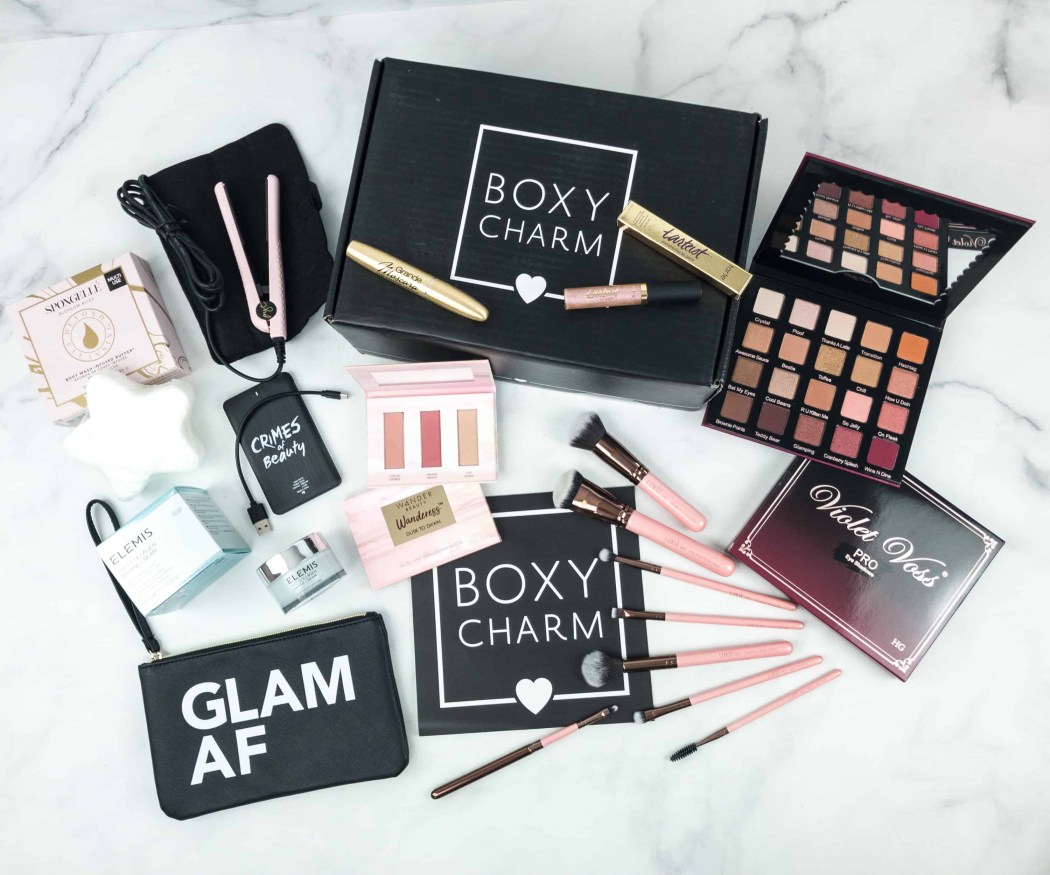 Image from: our review
What You Get: Boxycharm Luxe sends a hand-curated box filled with full-sized products from luxury brands each quarter. This is only available to base subscribers, so update your BoxyCharm to Luxe and receive 8-9 full-size products such as makeup, skincare, hair tools, and lifestyle must-haves. They also give you the option to choose two items to include in your Luxe upgrade. Every box is valued at an average of $395, which is really a good pennyworth! Once you receive your shipment, you can review everything in it for free items. As an active member, you're also entitled to purchase add-ons at amazing mega-discounts and treat yourself at PopUp to hundreds of amazing brands and products at up to 80% off!
Find out more about this subscription by checking out Boxycharm Luxe Reviews.
Price: Once a season, BoxyLuxe combines extra luxury items with some of the base box for an upgrade of $34.99.
---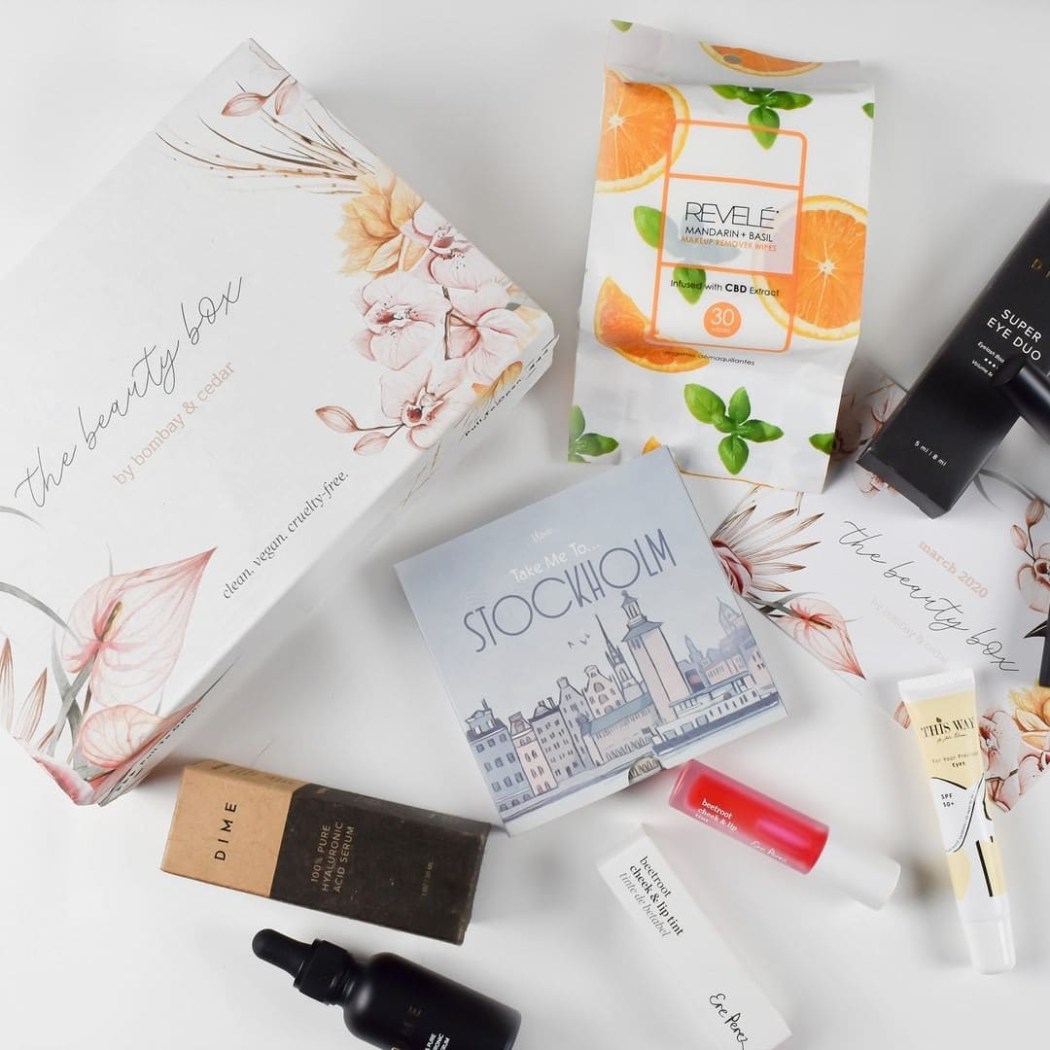 Image from: The Beauty Box by Bombay & Cedar
What You Get: With The Beauty Box by Bombay & Cedar, you can replenish your beauty needs each month! This subscription offers skincare and makeup for all beauty junkies out there looking for the best ones in the market. You'll get to discover 5-6 clean, vegan, and cruelty-free beauty products! Everything is valued at over $100, has a theme to enhance your beauty routine, and includes full & deluxe size products – all in just one box! Boxes are a mixture of indie and well-known clean beauty brands, carefully curated with high-quality products to give the inspiration to live healthily!
Price: The beauty box costs $31.95 per month with minimal savings for longer plan options. Free shipping and handling in the U.S., $5.95 Canada per box, and $10.95 International per box.
Deal: Get 15% off your first order! Use coupon code HEY15.
---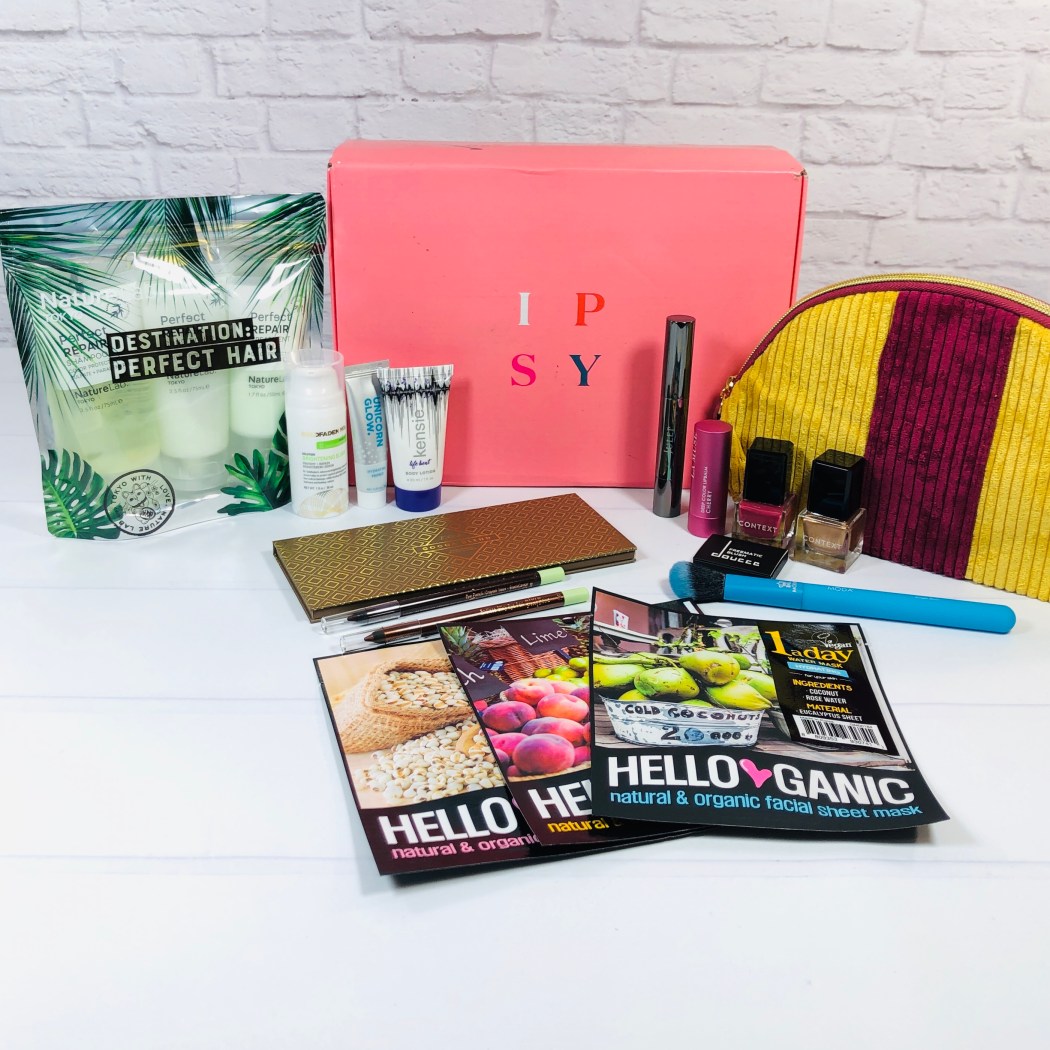 Image from: our review
What You Get: A personalized beauty subscription box is what Ipsy GlamBag Ultimate offers. They inspire individuals around the world to express their unique beauty. Take their beauty quiz so they'll know your preferences, and they'll curate a box full of beauty items for you. You'll receive 8 full-size products and 4 deluxe samples from brands that you love and will surely love! There's also a makeup bag included in every package where you can store or keep your beauty items. What's great is that you won't receive identical products in any of your bags.
Remember to check out Ipsy GlamBag Ultimate Reviews to see past box contents.
Price: Get the Ultimate Glambag for $50 a month and receive 12 products: 8 full-size and 4 deluxe samples, plus a monthly makeup bag.
---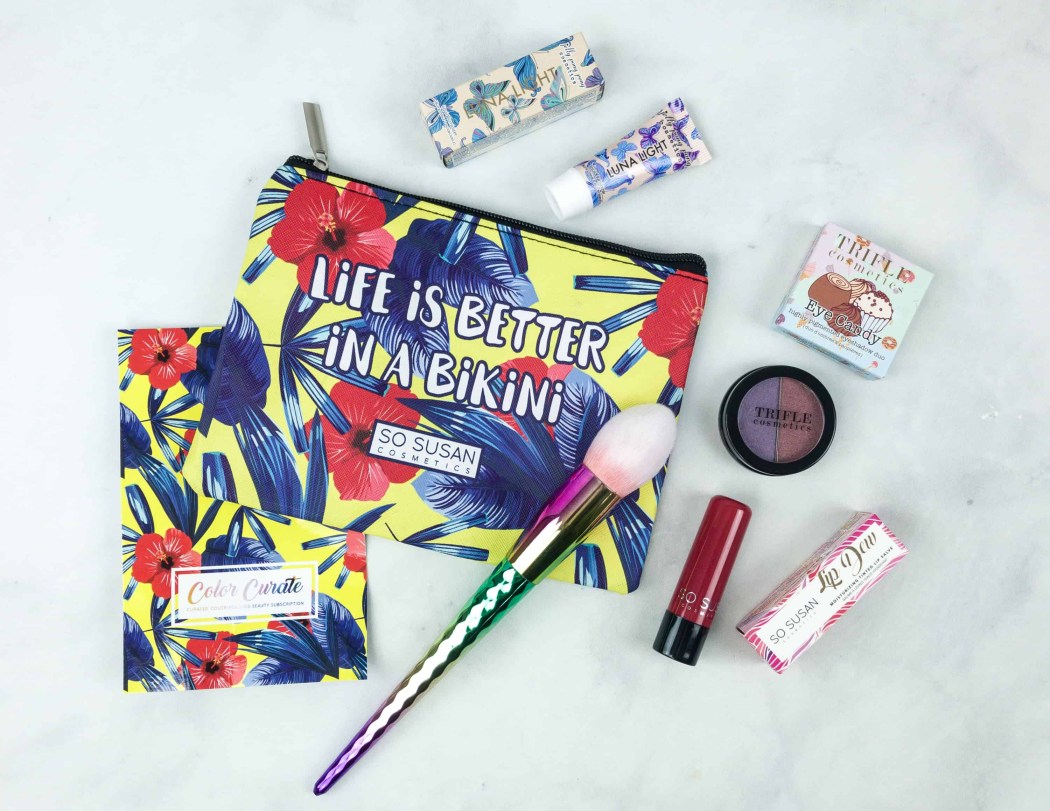 Image from: our review
What You Get: So Susan Color Curate is a monthly beauty subscription that delivers 4vegan, cruelty-free, and paraben-free beauty products to your door each month. Receive 4 full-sized innovative, color-intense products that are carefully packed by hand in a limited-edition make-up bag with the theme printed on it to give inspiration and to revamp your beauty regimen. Each product contains a combination of highly concentrated color pigments with healing plant extracts, bioferments, and natural botanical oils to keep skin looking healthier and smoother. Review your bags and earn points to redeem discounts off any full-priced purchases, so you can enjoy more and flaunt those colors without compromise!
See So Susan Color Curate Reviews and check out past box contents.
Price: Receive 4 full-sized makeup products when you subscribe every month for $20.95!
---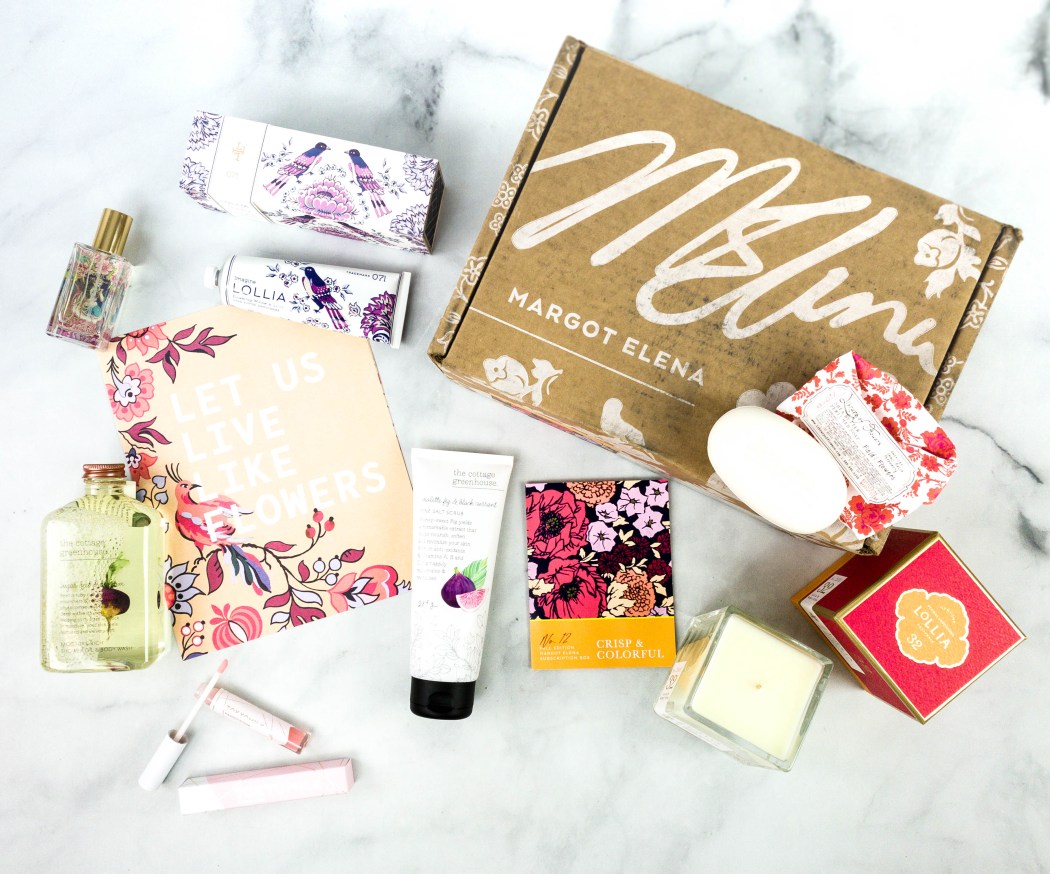 Image from: our review
What You Get: Margot Elena Discovery Box is filled with all things beautiful. They continue to charm customers with beautiful, well-thought treasures to fall in love with. Every box is designed with you in mind, down to the last enticing detail of each package. Each seasonal box contains a collection of full-sized, extravagant goods made from the finest ingredients, beautifully and carefully packaged for anyone's enjoyment. They include an assortment of product colors and scents made exclusively for you with over $200 worth of luxuries, full-size items like shower gels, perfume, hand creams, candles, bubble baths, journals, and more!
Visit Margot Elena Discovery Box Reviews to see past box contents.
Price: This subscription is shipped for $59.99 per box, delivered four times a year.
---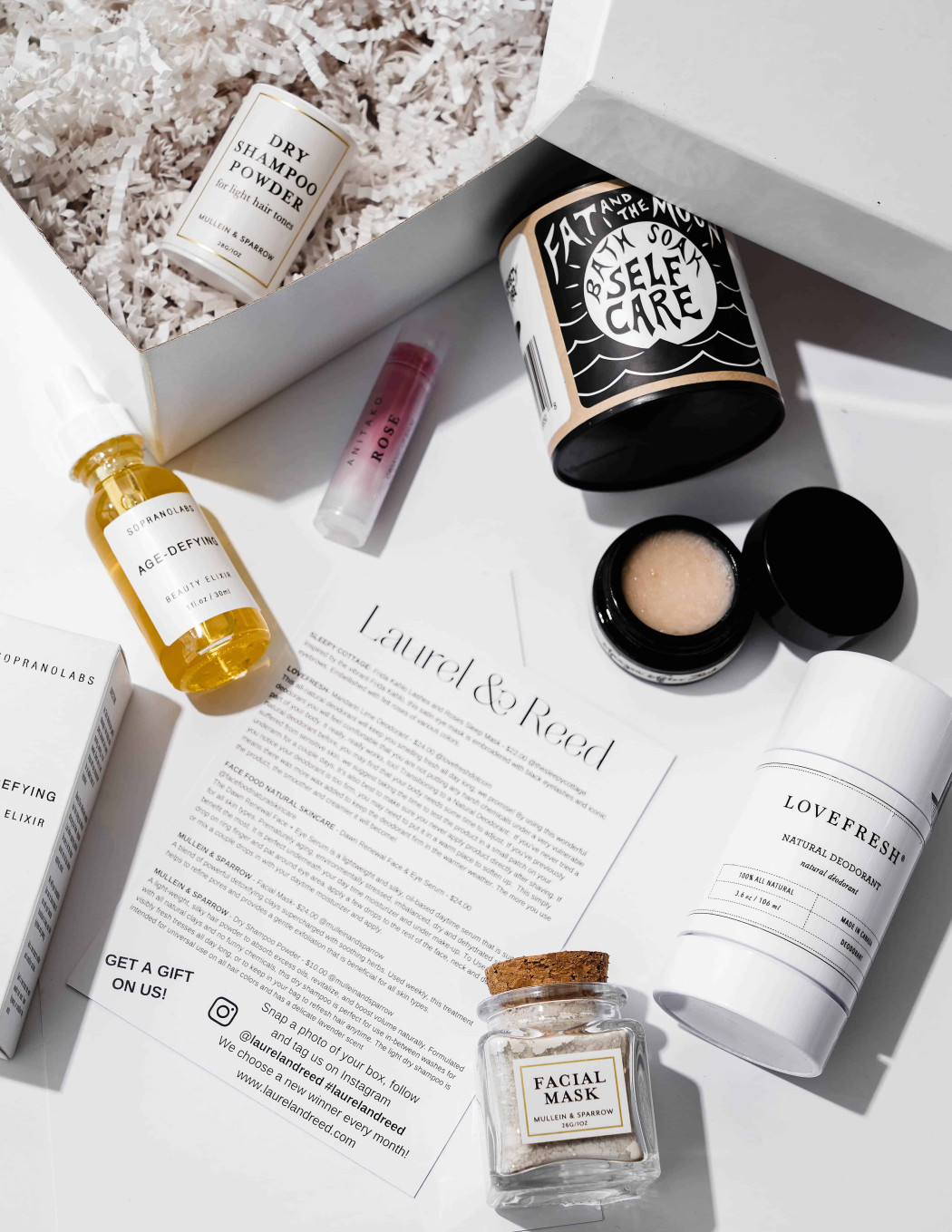 Image from: Laurel & Reed
What You Get: Whatever type of skin you have – sensitive or not, Laurel & Reed will provide just the safest products to use while introducing you to luxurious green beauty brands. They are committed to contributing to the clean beauty movement, which is why they provide all-natural, non-toxic, and cruelty-free products, ranging from beauty to wellness to lifestyle! Each box will give you 3+ full-sized top-shelf products that are valued at $125+ every month. Items may include face oils, moisturizers, eye creams, and more. You can achieve gorgeous healthy skin with clean products that work wonders!
Price: You will receive a combination of 3+ full-size items per month with a minimum total retail value of $125+ for just $54.95!
---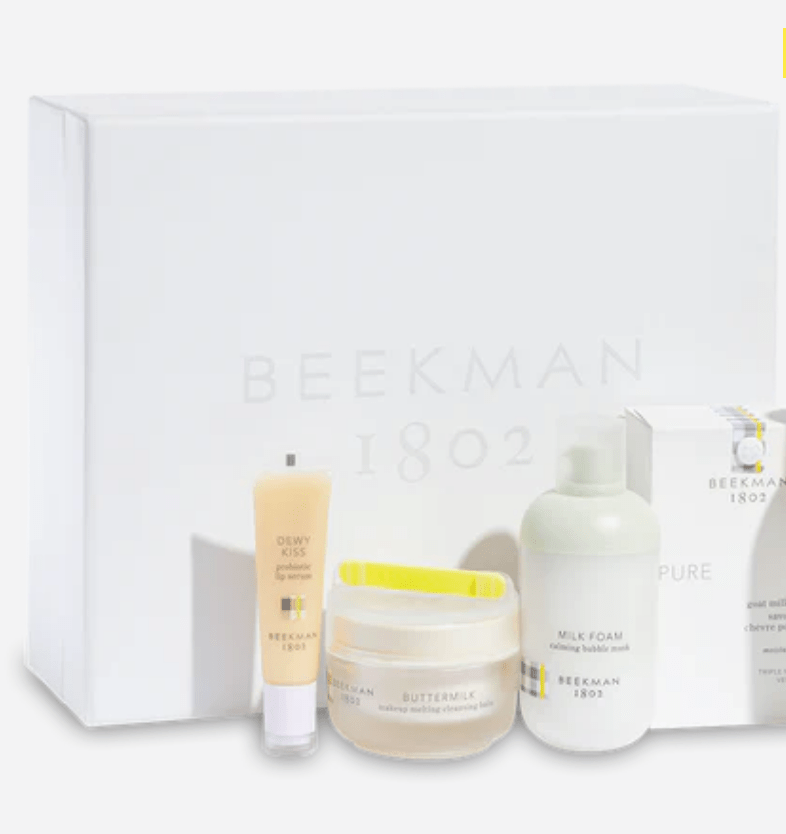 Image from: Beekman 1802 Beauty Box
What You Get: For the best beauty products you need to add to your beauty regimen, there's Beekman 1802 Beauty Box to give you goat milk goodness! This subscription offers the kindest collection and best deals on Beekman 1802 products every 3 months. Shipped quarterly, you'll receive an assortment of new full-sized and deluxe-sized products to try and old favorites to love more, valued at least $150, sourced from local artisans! Everything in your box will be kept as a secret not until you unbox one, so it's always a little exciting!
Price: Get the box for $65 per quarter.
---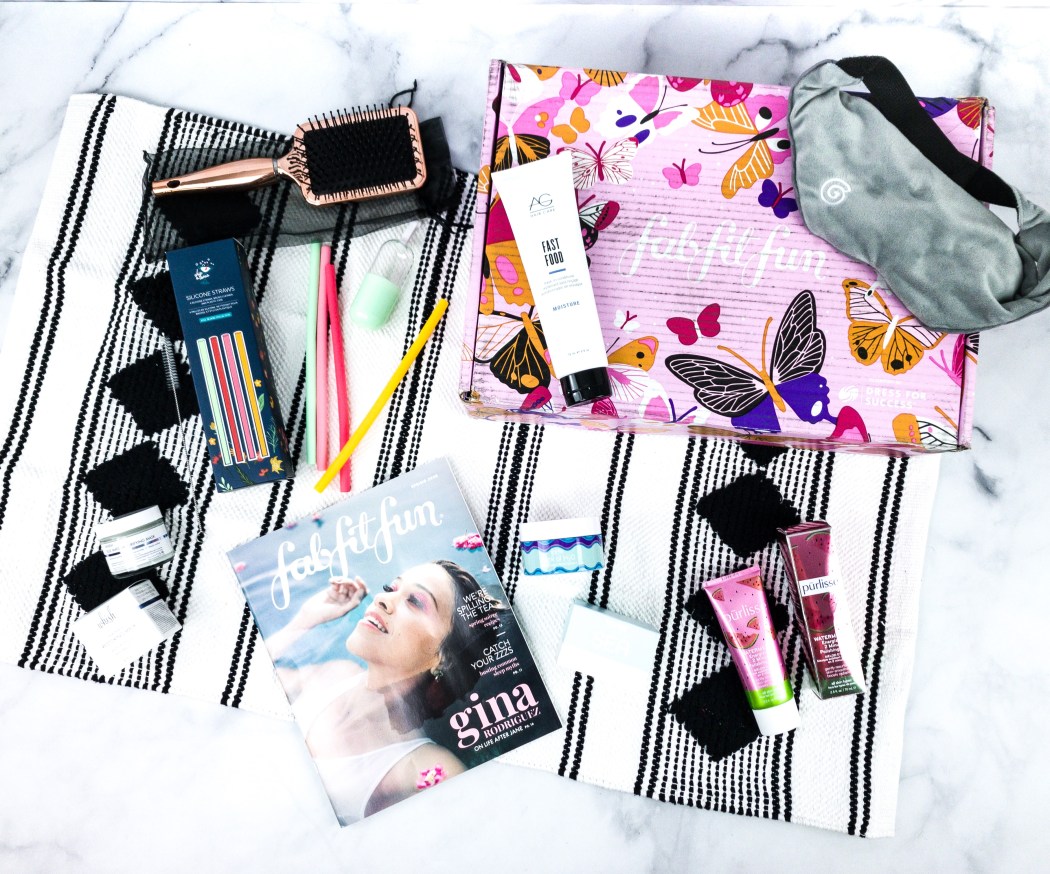 Image from: our review
What You Get: FabFitFun ships every quarter and includes full-sized fabulous beauty products along with makeup, fashion, lifestyle, fitness items, and more! They often feature well-known brands, making this box worth the long wait. Each box also includes a magazine containing details about the items, as well as fun lifestyle articles. Subscribers have the freedom to choose from several product variations and get the product/s that they really want or keep the entire box as a surprise!
Check out FabFitFun Reviews to know more.
Price: The subscription is $49.99 per quarter, and $179.99 annually ($45 per quarterly shipped box – a $20 savings per year!).
Deal: Take $10 off your first box. Use coupon code FAB10.
---
And there you have it, our list of best beauty subscription boxes with full-size products! Which of these boxes caught your eyes?
Want more? Browse our list of the best subscription boxes for 2022!
Say Hello To More Beauty Subscriptions!