Wanting to color your hair but have no time to go back and forth to the salon? And with so many products out in the market – touch-ups, treatments, dyes – choosing the right ones can be a little daunting. With easy-to-use color kits delivered straight to your home, you can get the perfect color for your hair and save time & energy as well!
These at-home hair color kit subscriptions will give you the unique finish you desire for your hair. Some are even designed based on one's hair type, structure, goals, or current color. Others allow you to speak with real hair experts, so you can just leave all the worrying behind! Not to mention, it's also practical because you can save a great deal of money rather than paying at a salon.
Easily color your hair and keep it looking great all the time, whether covering up your grays or trying new vibrant colors! We've compiled on this list the best hair color kit subscriptions you can use in the comfort of your home.
The Best Hair Color Kits To Use At Home!
Image from: Madison Reed
Why We Love It: With Madison Reed, you can love your hair from roots to tips! They offer a hair coloring kit in a box that'll help you have the best hair color ever. It has a complete system of hair care products that works perfectly together, all made from rich nutrients like keratin, argan oil, and ginseng root extract, and they smell nice as well! All you need to do is supply them with information about the hair color you like, your current color, and any hair issues you encounter through a simple survey. From there, they'll recommend you the perfect shade and send you an artisan-crafted color kit that's ammonia-free and cruelty-free, leaving you with beautifully colored hair!
Visit Madison Reed Reviews to find out more.
Price: With Membership, you'll get auto-delivery every 8 weeks for $22. A one-time purchase is $26.50.
Deal: Get 10% off + FREE SHIPPING on your first order! Use coupon code affMR10.
---
Image from: eSalon Custom Hair Color
Why We Love It: eSalon Custom Hair Color lets you color your hair with individually blended hair color, crafted based on your profile. What you have to do is tell them your hair history, hair color goals, and your current look, so a hair care expert can analyze them. They will craft the product to match your hair type, then ship it right to your doorstep, complete with personalized instructions and everything you need to color at home. Plus, the bottles are even labeled with the subscriber's name! This hair color kit is custom blended, made using an advanced formula with high-quality ingredients for the long-lasting color and gray coverage you want most!
Check out eSalon Custom Hair Color Reviews for more info.
Price: Color Plan costs $15 for the initial order and $24 thereafter. A single order is $30.
Deal: Get your first box of color for just $15 instead of $24! Deal applies automatically, just visit and subscribe.
---
Image from: Arctic Fox
Why We Love It: Wanting vibrant hair but worries about breakage? Arctic Fox conditions your hair while you color and leaves it with a sweet scent of grapes that your olfactory senses will love. Their mission is to give access to high-quality hair color and care products that can also be used as a tool for self-expression. They'll provide you with a highly pigmented color formula that's vegan & cruelty-free, made with your hair healths in mind. Although this brand offers semi-permanent dye, each hair color blend is made to be quite long-lasting and free of harsh chemicals, allowing you to enjoy the vibrant color while it lasts. They even donate 15% of their profit to prevent animal cruelty.
Price: Each 4 fl oz hair color costs $10.99, while 8 fl oz is $16.99.
---
Image from: Violet Grey
Why We Love It: Violet Grey offers a wide variety of beauty products that you might need from head to toe, including bath & body, skincare, wellness, and of course, hair care. They sometimes offer occasional sets from their curated collection of products, loaded with tips and inspiration. Their individual temporary color gel will give a brilliant mask to roots and grays without the toxic stuff. It's made up of natural ingredients and pure pigments, leaving your hair looking great! The formula camouflage gray hairs, and it self-adjust, creating a more natural color you'll love.
Price: A 3.4 fl oz temporary color gel costs $35 each. Different Gift Sets are also available starting at $35.
---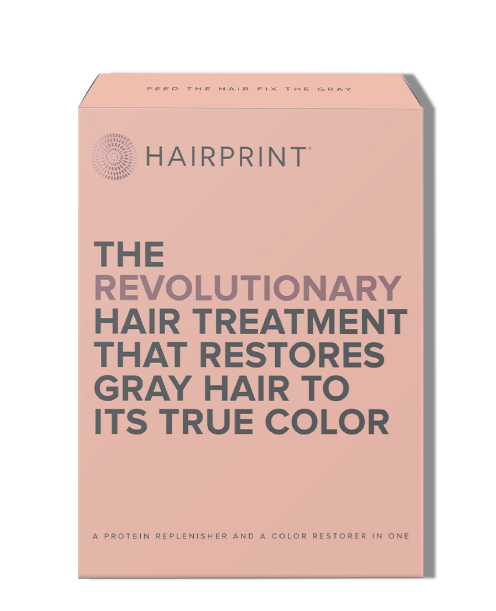 Image from: Hairprint
Why We Love It: Gray hair showing? With the help of Hairprint, it's now easy to restore your hair's natural color. This at-home hair color kit sends the only product that infuses melanin back to the hair, therefore bringing your hair back to its original color while enhancing the hair's internal structure. It is a true protein, 100% non-toxic treatment with no dyes or harmful chemicals at all, adding strength, texture, and sheen to one's hair while reducing frizz, and it's fragrance-free too! It has an all nature-based formula that works for all hair types, and it's safe enough to use by pregnant and nursing moms – really!
Price: Biological Hair Color is priced at $37.80 a month, and Biological Hair Color Plus costs $40.50 a month.
---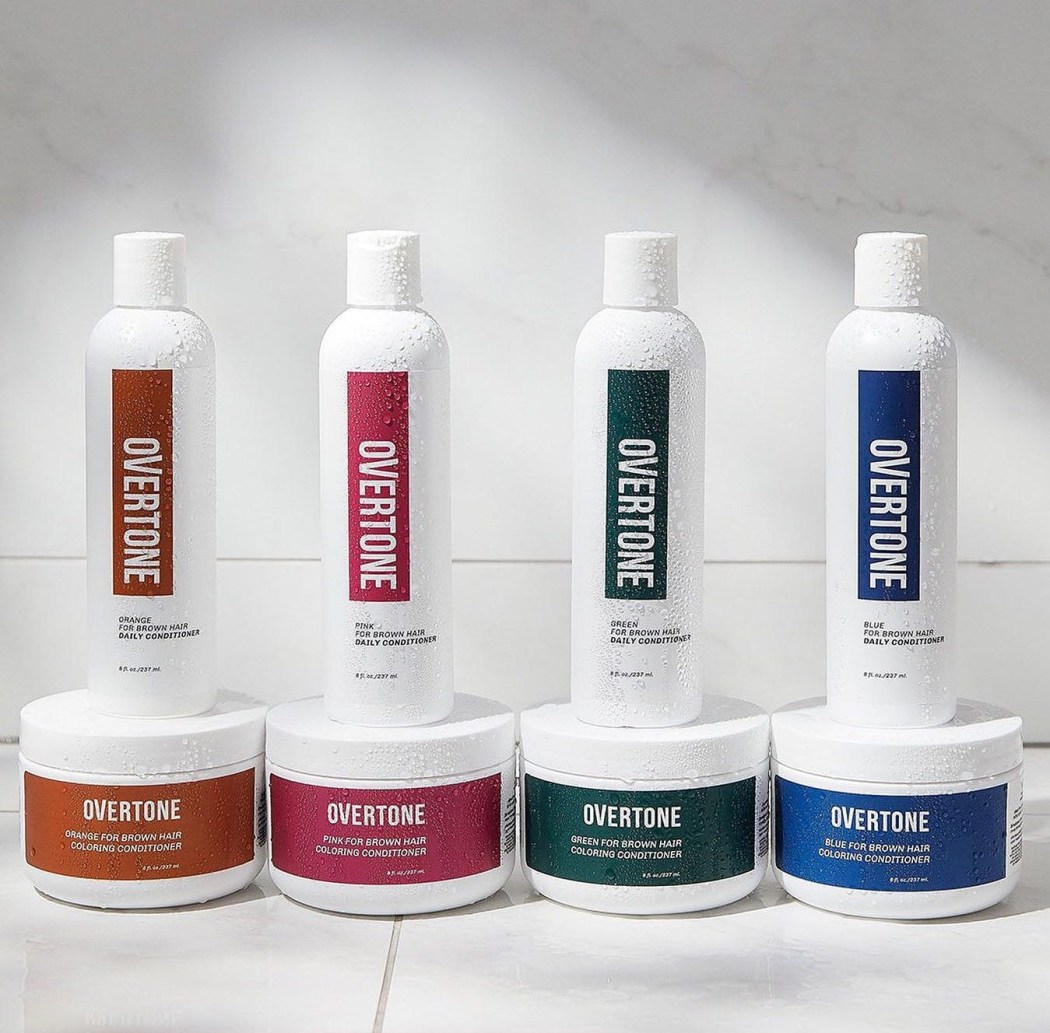 Image from: oVertone
Why We Love It: With oVertone, you can color your hair while leaving it in its best condition – moisturized and nourished! They offer semi-permanent pigmented conditioners (not dyes) that are suitable for all hair types, giving you one easy step to keep your hair vibrant, shiny, and healthy. Not to mention, it's free of sulfates, parabens, and ammonia, and it's also vegan and cruelty-free! If you already have a color in mind, you can just choose from their wide offerings or take the quiz if you don't know which color to pick. It's one great way to find a coloring routine for your hair, plus it's hair-healthy too!
Price: A 2 oz sample costs $13, and an 8 oz full-size conditioner is $32. Custom Color Kits start at $34.
---
Image from: Cover Your Gray
Why We Love It: Cover Your Gray lets you get away from gray hair and bald spots by offering a wide selection of temporary solutions to cover, of course, your gray hair. They have an affordable solution to all your hair woes and to help you achieve your hair goals, all at home. There's a broad range of product application methods for a variety of hair shades, and it includes touch-up sticks, sprays, and fill-in powders. Subscribe to individual products or get the Cover Your Roots Kit to save more. Now you can instantly cover your grays at home or even on the go!
Price: Product prices start at $5.99. Bundles are also available starting at $24 a month.
---
Image from: Cleverman.
Why We Love It: Looking for a way to achieve your hair and beard color goals? Cleverman has you covered! This hair color kit for men customizes boxes based on the subscriber's needs and desires, allowing them to look the most natural. They have nourishing formulas enriched with organic argan, baobab, and walnut oils, without ammonia or parabens, tailored to every look and customized to one's hair type and skin needs. Just take the quiz so they can create a box that's truly yours. Each kit is a 4-step system that's easy-to-use, complete with all the tools you need to help you finish coloring both your hair and your beard even when at home.
Price: First Kit is $12.95 + s&h. Future shipments costs $18.95 + s&h, and one-time purchase costs $23.95 + s&h.
---
And that sums up our list of the best hair coloring kits you can try at home! Have you decided on the best coloring kit to fill your hair goals and needs?
Remember to check out our list of all the best subscription boxes in every category!
Say Hello to More Beauty Subscriptions!