Enjoying premium wines doesn't have to break the bank. Contrary to popular belief, affordable wine subscriptions make it possible to indulge in your favorite bottles without draining your wallet. These wine clubs bring the world of fine wines directly to you, eliminating the need for expensive middlemen. With these subscriptions, you can savor exceptional wines without compromising on quality or value. Plus, many of these clubs offer a satisfaction guarantee, ensuring your wine experience is nothing short of delightful.
Show More (7 items)
Whether you're an aspiring wine connoisseur or simply enjoy the occasional glass, affordable wine subscriptions open a world of possibilities without straining your budget. You can explore different regions, grape varieties, and winemaking styles, expanding your palate and deepening your appreciation for the art of winemaking.
Join us as we uncork the best affordable wine clubs, where affordability and quality converge to create a wine journey that's accessible to all. Get ready to embark on a flavorful adventure that will redefine the way you enjoy and experience wine!
The Best Affordable Wine Clubs!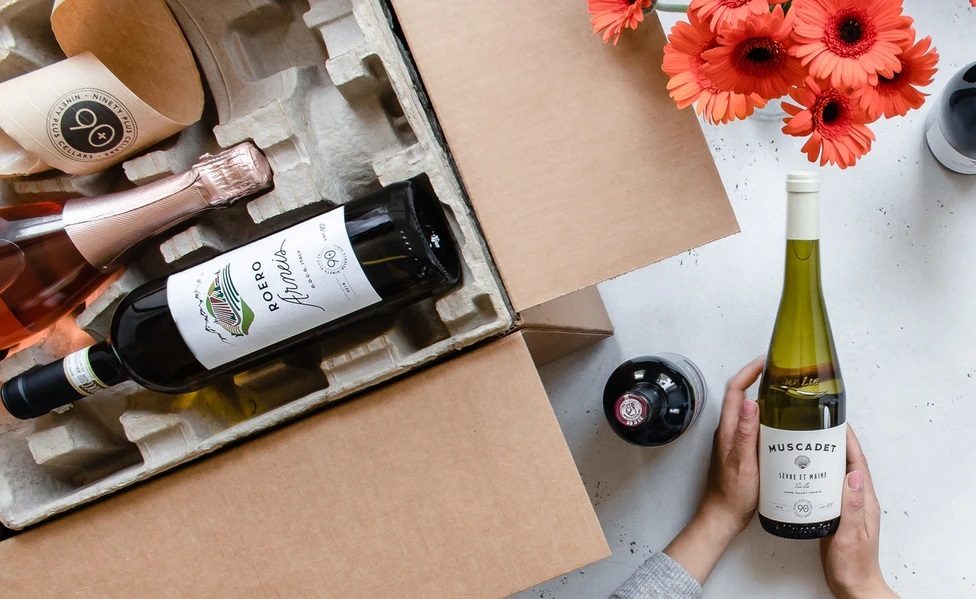 Image from: 90+ Cellars
What You Get: With 90+ Cellars, you'll find great-tasting wines you can enjoy sipping whatever occasion there is without spending big bucks! They scour the globe, taste thousand of wines, and select only the best to bring great tasting wines from highly-rated wineries and vineyards straight to your door! Load up your cellar by joining the club and receive 3, 6, or 12 bottles of reds or mixed every quarter, from California to Italy to New Zealand and beyond. Whether you're a wine novice or a connoisseur, this wine club will satisfy your palate every season!
---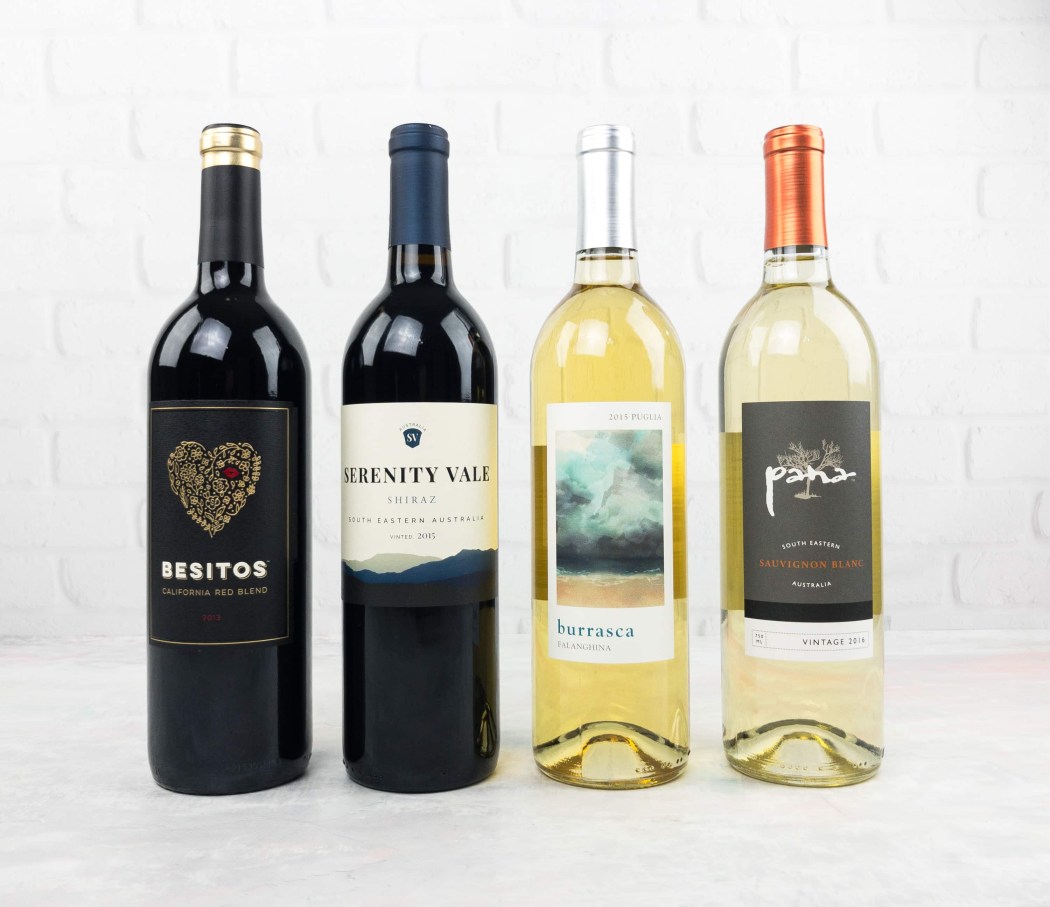 Image from: our review
What You Get: You can count on Bright Cellars if you want the "hidden gems" or those unique wines from small vineyards across the globe, including Spain, Italy, Portugal, and South America. They'll match your taste buds with familiar flavors you enjoy most by taking a short palate quiz. Receive four bottles of wine chosen specifically for you at a fair price! If you don't like a bottle in your package, they'll gladly replace it for you in your next shipment.
Deal: Get up to $200 off on your first FOUR wine boxes! Use this link to get the deal.
---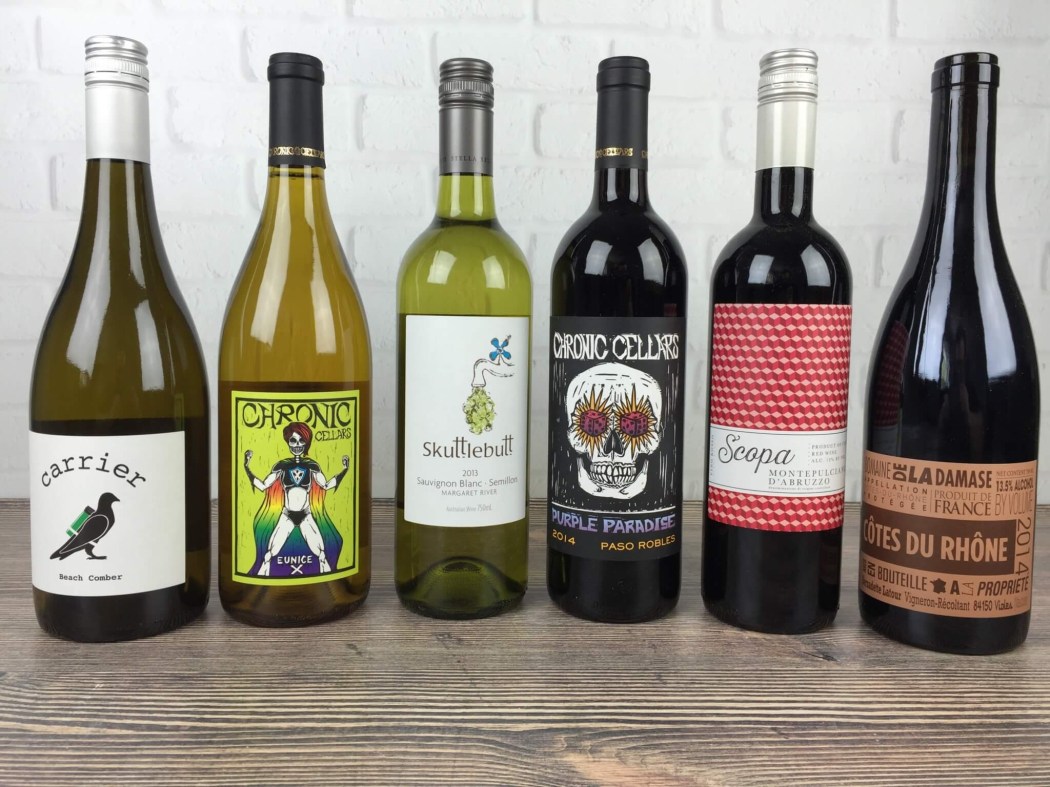 Image from: our review
What You Get: Wine Awesomeness is basically everything you need if you love discovering and learning about wine! They offer a 3-bottle membership and a 6-bottle membership of red, white, or mixed from well-known winemakers around the world monthly, with exclusive perks like deals on wines and wine accessories and a copy of the back label magazine with tasting notes, recipe pairings, and more. If you like a bottle in your box, you can reorder the bottle for 20% off, plus free shipping. Simply full of awesomeness!
Deals:
Get 15% off on your first month! Use coupon code WINE15.
Get 10% off on your shop orders! Use coupon code WINE10 and Use this link.
---
Image from: our review
What You Get: Wine drinking has never been this fun and more rejuvenating! Vine Oh! is a quarterly subscription that will give you sips and surprises. Each shipment includes 2 bottles of wine and an assortment of 5-6 fun seasonal goodies for just almost half their regular prices! Whether you receive only reds, only whites, a mix of both, or sweet is totally up to you. You can also opt for the wine club, wherein you'll get four or six 750ml bottles of premium California wine monthly at a great price. It's the subscription to try, so you'll always have an excuse for an all-girls wine night!
Deal: Save $10 Off + An Extra Bottle of Wine with your first box! Use coupon code HELLOWINE.
---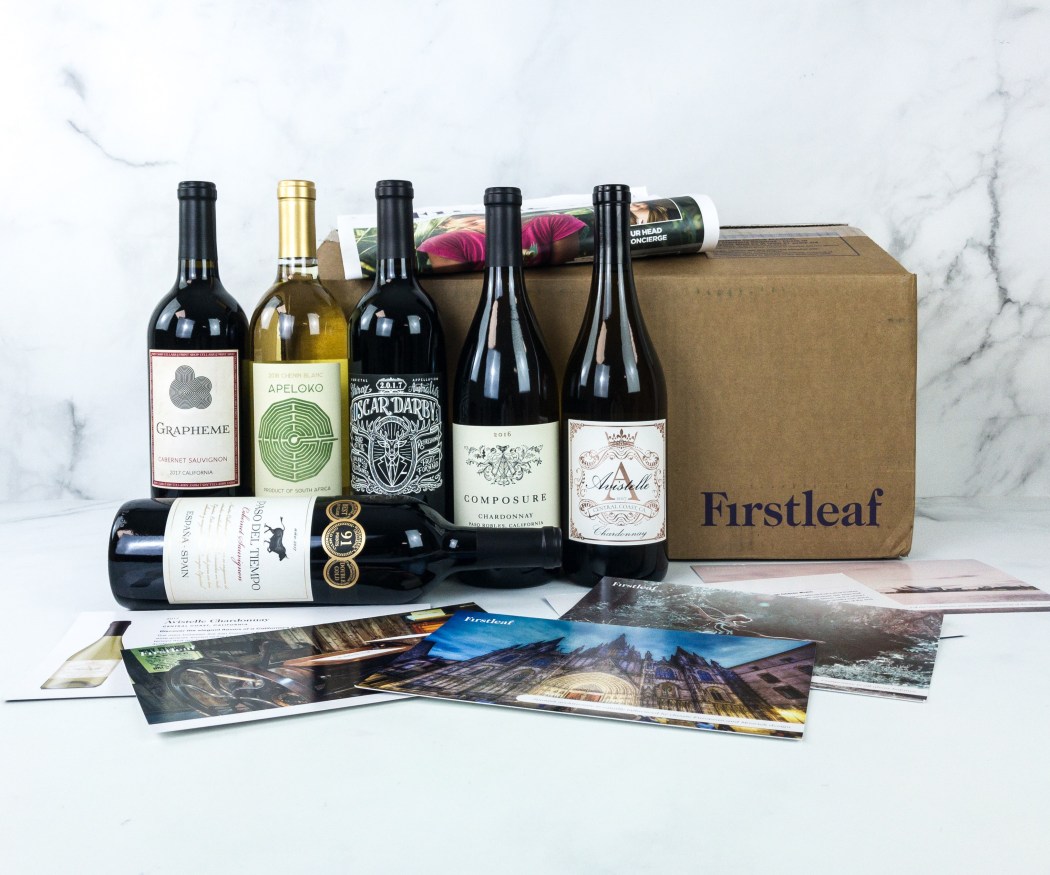 Image from: our review
What You Get: Firstleaf offers a convenient way of introducing award-winning, exclusive, small-batch wines by delivering them straight to your door! Connect yourself to great-tasting wines tailored to your specific palate. What's even better is they work closely with winemakers to develop wines with feedbacks provided by members, making sure selections are improving and evolving. Take the quiz, and you'll be matched with high-quality wines that cater to your unique taste at the lowest possible price! Reds, Whites, or a mix? The choice is yours. Just rate the wines after you receive your box, and their proprietary algorithm will do the trick. It gets better and better with every box!
Deal: Get your first 6 wines for only $44.95, plus FREE shipping! Deal applies automatically, just visit and subscribe.
---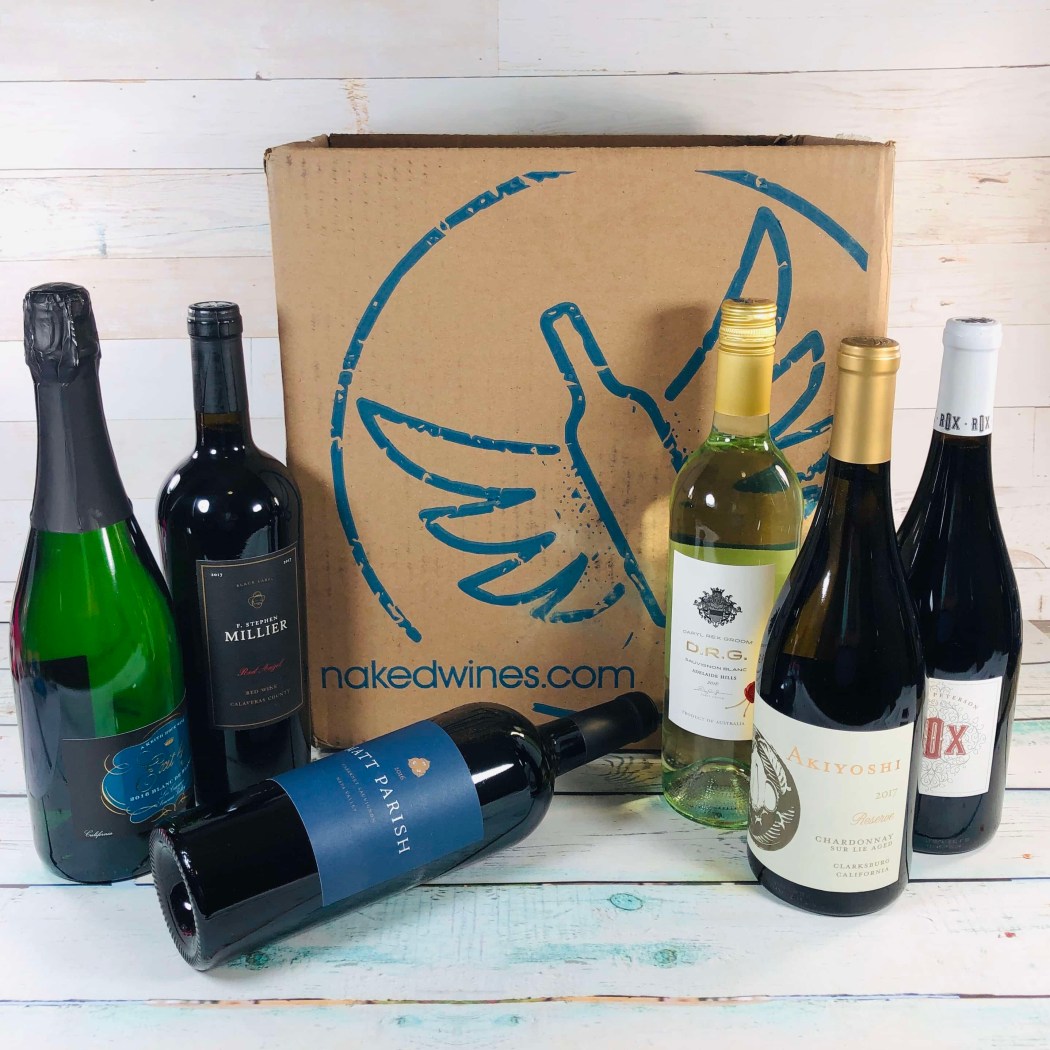 Image from: our review
What You Get: Get the best wines sourced from well-known winemakers around the world at NakedWines.com. This direct-to-consumer wine service is your way to enjoy great wine without setting foot outside. Every wine you'll receive from this club is hand-made by real winemakers. Get your bottles of wine at up to 60% off market prices! Your membership will give you access to not only their amazing wines but also to angel executive bottles, pre-release wines, and member-exclusive discounts. With Naked Wines, you'll have fine wines at accessible prices to share with family and friends!
Deal: Get 6 bottles of wine for just $34.99 + FREE Shipping! Deal applies automatically, just visit and subscribe.
---
Image from: The Original and Only Wine of the Month Club
What You Get: The Original and Only Wine of the Month Club features a great collection of different kinds of local and international wines made by famous winemakers from all over the world that you can enjoy at the convenience of your home. Join the Classic Series Membership and receive 2 or 4 full bottles of wine, along with a newsletter containing winery and winemaker history, recipes, and serving suggestions. You can expect wines from all over the globe, including Italy, Germany, California, Argentina, New Zealand, and Chile! It's quality wine at a great value delivered straight to your doorstep!
Deals:
Receive a FREE wine accessory with the purchase of ANY Gift Membership. Use this link to get the deal.
Receive a FREE Gift with the purchase of ANY Wine Club Membership. Use this link to get the deal.
---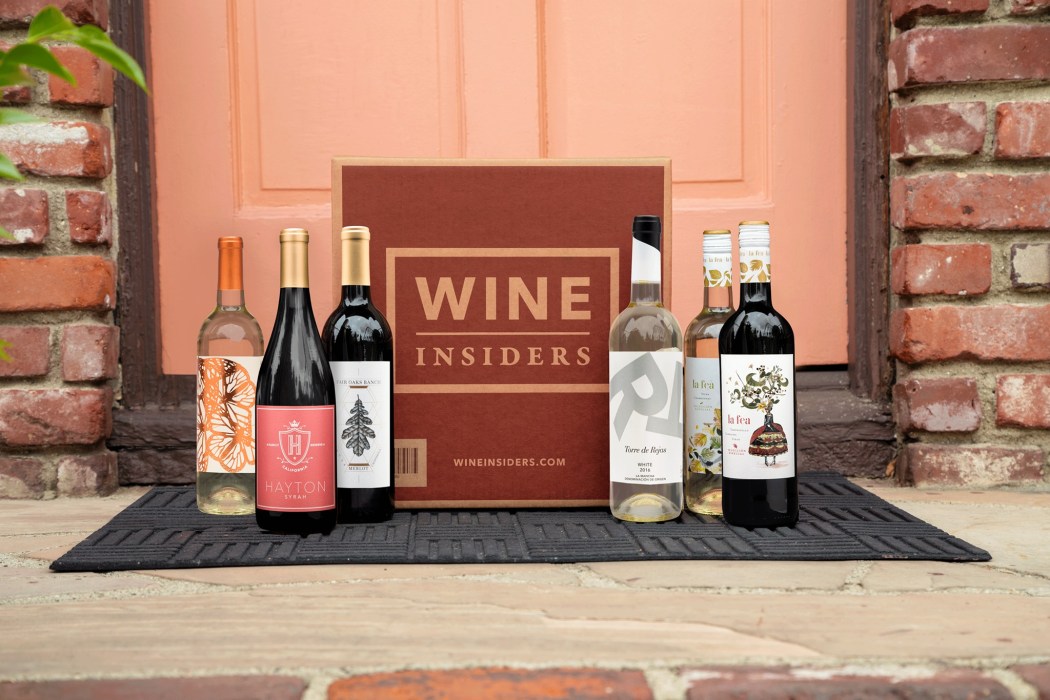 Image from: Wine Insiders
What You Get: An easy way to get your hands into premium wines without the high price is through Wine Insiders. With over 38 years of experience, they surely know how to make each wine lover's heart flutter! They have a wide range of great-tasting wines, where you can find a new artisanal favorite from top wine regions around the globe. Get 12 exclusive and high-quality wines directly to your door each quarter – your choice of reds, whites, or mixed, coupled with detailed tasting notes, serving tips, and pairings. You may also get surprise gifts with select shipments. Subscribe and get an introductory shipment with 3 free bonus bottles of Bordeaux!
Deals:
Get $25 off your purchase of $75 or more! Use coupon code GET25 and Use this link to subscribe.
Get your introductory case of $12 wine bottles for only $89, instead of $155. Deal applies automatically, just visit and subscribe. You'll also get 3 Bonus Bottles of Bordeaux and FREE Shipping!
Get 6 Mediterranean Classics for $45 - that's over 50% off! Use this link to get the deal. You'll also get FREE Shipping and Corkscrew!
---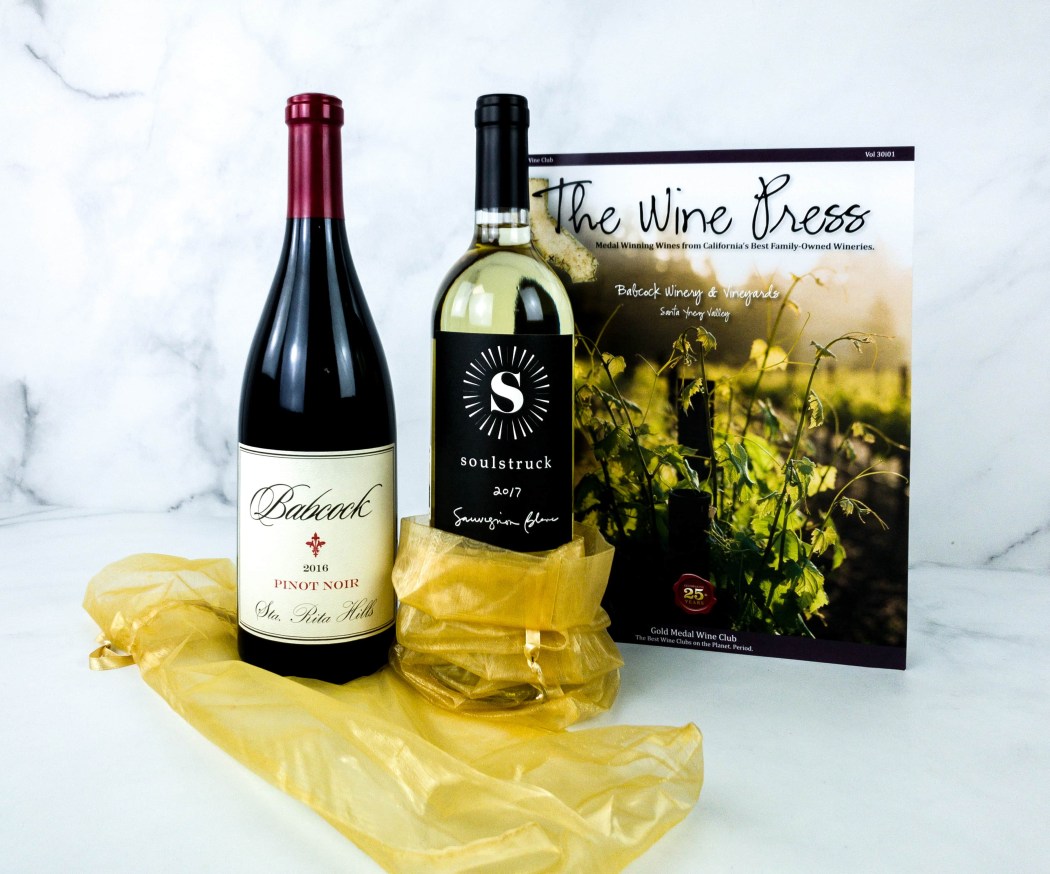 Image from: our review
What You Get: Take a sip of the award-winning and highly-rated wines from the best and authentic family-owned wineries when you subscribe to Gold Medal Wine Club. They're in the business for 28+ years, so they really know what appeals to wine drinkers. Choose one of the six wine clubs and enjoy small-production, highly rated wines at up to 40% off winery retail prices!
The Gold Wine Club – superb California wines
Platinum Wine Club – 90+ rated premium wines
International Wine Club – rare access to wines from family-owned estates around the world
Garagiste Wine Club – authentic garagiste wines by indie winemakers
Pinot Noir Wine Club – highly rated pinot noirs
Diamond Wine Club – 93-99 rated, cellar selection luxury wines
Each shipment contains 2-4 bottles of wine (your choice of reds, whites, or mixed), and you can have it monthly or quarterly depending on which club you choose, along with wine tasting notes and complementary recipes.
---
Image from: California Wine Club Premier Series
What You Get: Get your monthly fix of handcrafted wines from California Wine Club. Since the '90s, they've been helping artisan wineries to showcase their small-batch wines. Each month, they hand-select 2 or 4 full bottles from the month's featured winery, together with the latest issue of Uncorked Magazine, which contains fun and informative features about wines, tasting notes, and pairing tips. You also have the option to customize your Premier Series delivery and receive all reds, all whites, or both in your chosen delivery frequency! Members can also score up to 50% off normal retail prices on wine reorder. It's definitely a great way to learn about wine and the California Wine scene!
---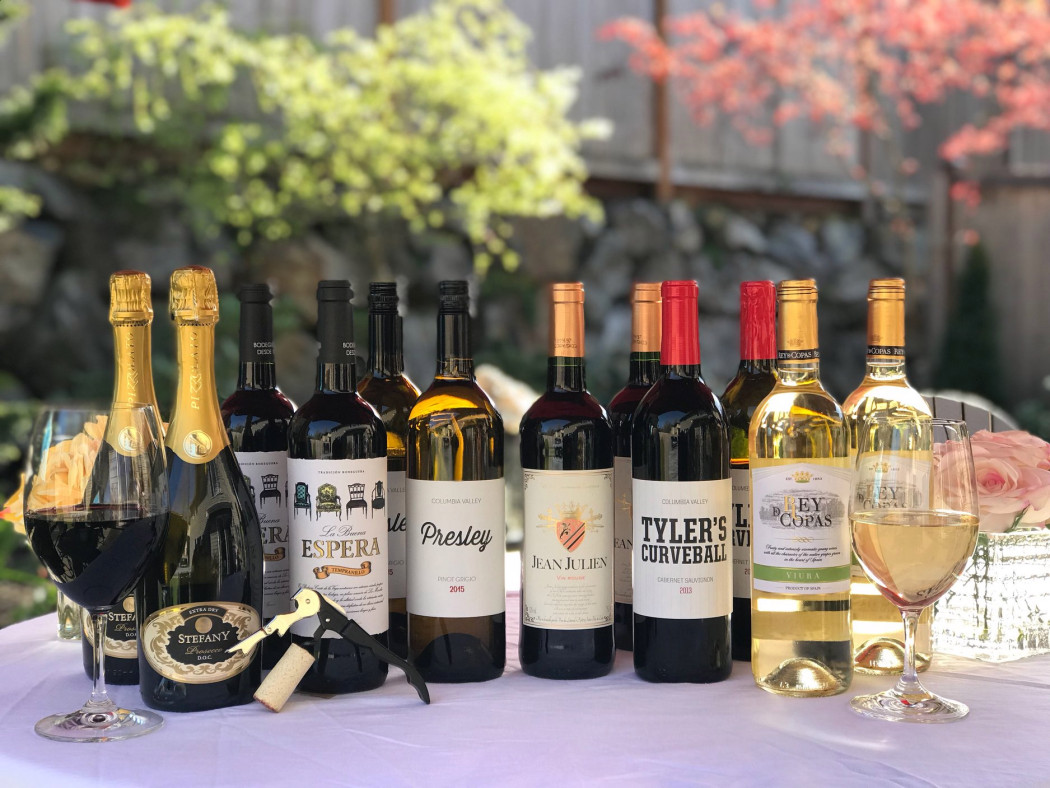 Image from: Cellars Wine Club
What You Get: Treat your taste buds to some fine wines without breaking the bank! Explore new flavors and discover a new favorite every month with the help of expert tasters. Cellars Wine Club offers an option for every wine preference and any occasion! They have single-bottle subscriptions for beginners and even case clubs for those who want wines in bulk. Feel free to explore your options with 12 wine club offerings, choose a favorite, then enjoy the wine when it arrives at your door. Your bottles come with wine tasting notes, tips, and even insights into the wine scene. Cellars Wine Club also offers a 100% "no bad bottle" guarantee. Let them know if there's a bottle that's not up to your liking, and they'll instantly replace it for you!
---
Image from: WSJ Wine
What You Get: WSJ Wine has the finest wine recommendations to members at great prices! Their team of experts tastes over 40,000 wines a year and selects the best bottles that surpass their standards. They offer two wine clubs: Discovery Wine Club, featuring some of the world's leading small estates, and Premier Wine Club, featuring luxurious and limited-release wines from Bordeaux, Napa, Tuscany, and beyond. Both clubs send a box of 12 wine bottles to members every quarter! It also comes with information about wines, as well as serving advice and food matching tips so you can make the most out of your wine tasting experience. Members also save 20% on all club cases!
Deal: Get your first box of 12 great wines for just $59.99 plus Bonus Items! Deal applies automatically, just visit and subscribe.
---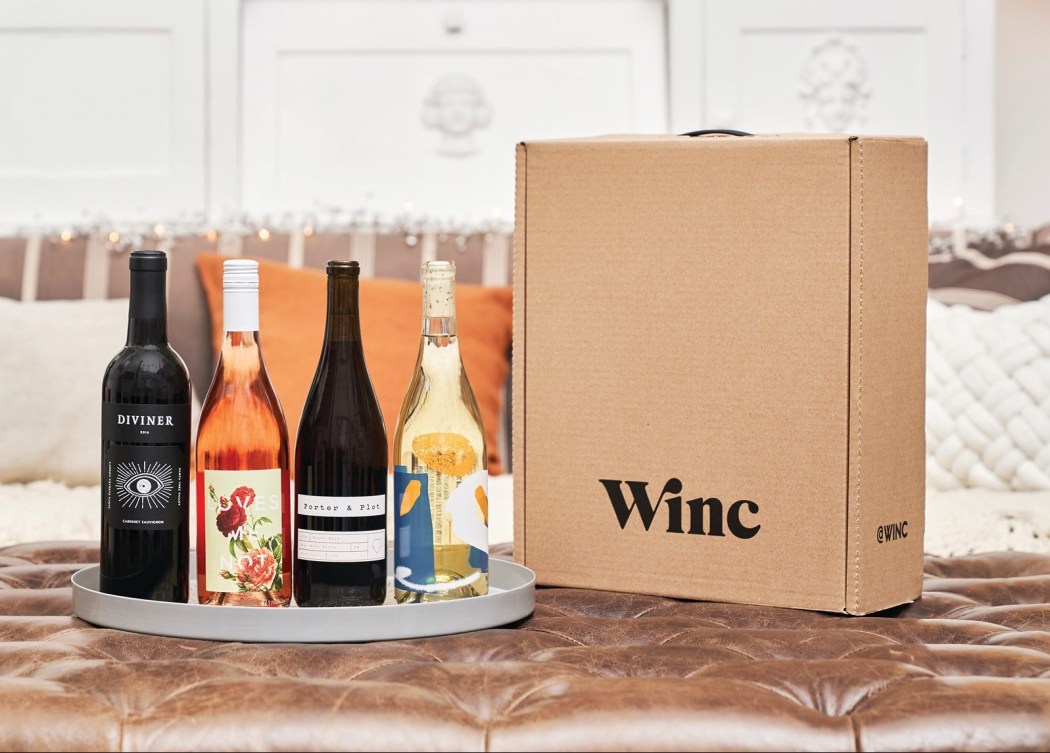 Image from: Winc
What You Get: With Winc, you can find your perfect bottle of wine! This monthly subscription takes the guesswork out of your way by sending unique wines best suited to your tastes. They work directly with winemakers, meaning there are no middlemen, and you'll be getting great wines for less! Get 4 delectable wines tailored to your preferences by answering a series of questions that will define your palate. This wine subscription even offers low-sugar wines with less than 2g or less of sugar, making wine nights possible for health-conscious individuals! You can also rate the wines on your account to get better recommendations on your next shipment.
Deals:
---
And that wraps up our list of the best affordable wine clubs!
Visit our complete list of all the best subscription boxes in every category to find more awesome subscriptions!