Kinder Beauty Box is a vegan beauty subscription box. This subscription sends out two variations every month and I received the Fresh Faced Box for January 2023 (the other box was called the Radiance box). I received a cleanser, headband, and more! The difference between the Fresh Faced box and the Radiance box is the scent of the bamboo body scrub.
DEAL: Use coupon code HELLO5 for $5 off your first order!
ShiKai Relax Lavender Bamboo Scrub ($11.99) This was a slightly gritty body scrub in a gel formula so it doesn't really feel like it's doing much to get those skin cells off, so I ended up pairing it with a shower pouf and just used it like a gel. I couldn't get it to create suds on its own but again, the pouf helped somewhat in that area. The scrubby bits come from bamboo and there's some plant and sugar extracts in here too.
Estate Cosmetics Precision Felt Tip Liquid Liner ($12) I'm never going to jump for joy when receiving a liquid eyeliner but I must say, this one was easy to use. The tip made me think of a calligraphy pen or brush pen, so cool. I applied it and was happy to find that it wasn't super wet so nothing leaked into my waterline. Plus, it didn't migrate to my crease when I blinked. I'm still not going to use this because it's a harsh look for my age, but my daughter loves liquid liner and I think she will be pleased with this version.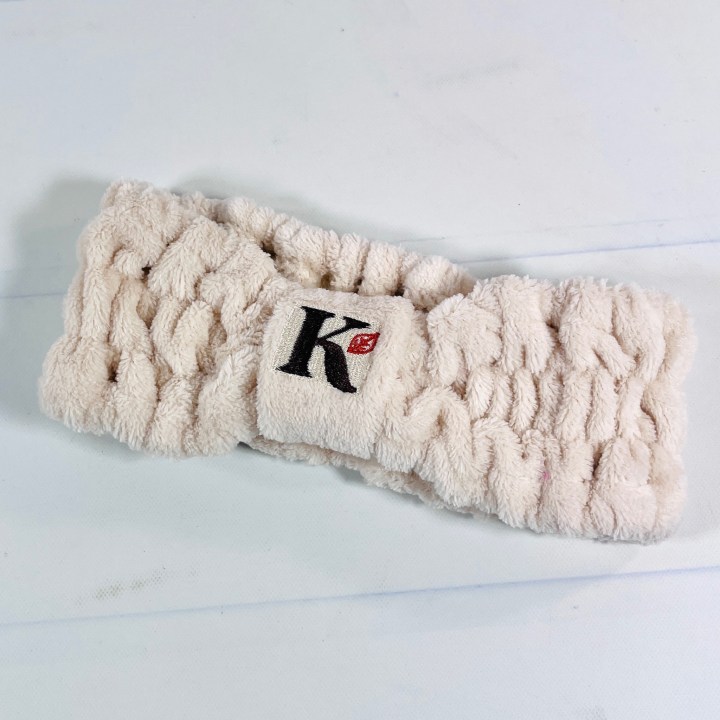 Kinder Beauty Embroidered Spa Headband Oh, I wanted to love this but it's too small for my head! It's super soft and when I put it on it kept all of the hair out of my face. Then it kept going up, up, up until it looked like a weird ponytail then fell off, and it happened every single time I used it. Good try though and it looks machine washable.
Collective Laboratories Hair Growth Activating Serum ($39) I saw a person on the Kinder IG who took this serum and ran it through her ends and I have to tell you, that's not how this is supposed to be used. It may help hair grow when applied to the scalp by stimulating the follicles and promoting increased blood flow. You can apply to a towel-dried or damp scalp. You take one dropper full, apply drops all over the scalp, then take the time to massage it in, for like a minute. Then zap it with a hair dryer. It's supposed to boost volume but I didn't see that effect, and as for hair growth, that could take several months. I smelled it a couple of days ago and I think it had a natural scent, although I can't smell it now due to Covid, but I don't remember it being a bad smell.
Pure Am Beauty Amino Acid Mild Cleanser ($12) This cleanser is meant for those with oily or acne-prone skin, not my concern at this point but I still gave it a try (and will pass along to my daughter). It lathered well enough and it seemed to leave my skin feeling clean, but a little tight. It has salicylic acid to gently exfoliate skin. I can't remember what it smells like, sorry.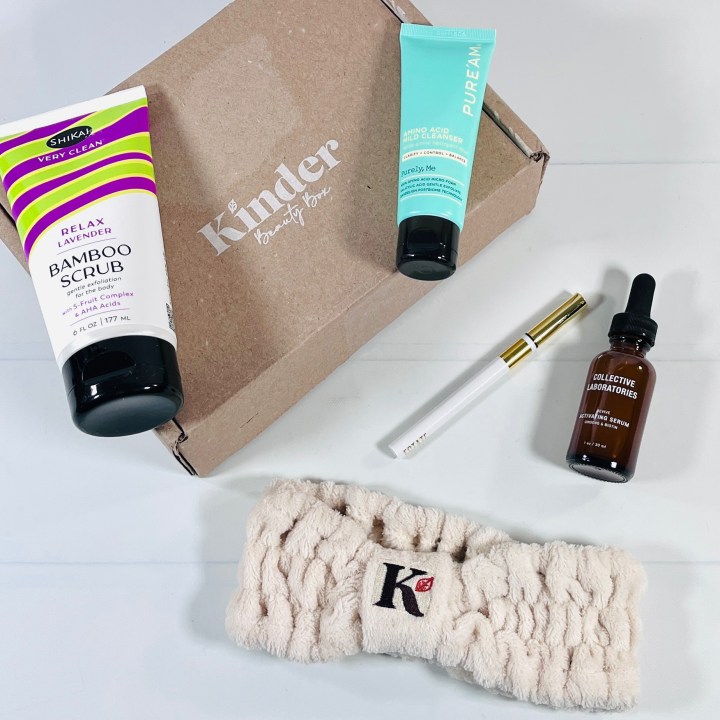 The January Kinder Beauty Box had some helpful beauty products! Even if they weren't the perfect fit for me personally, they were still solid performers. I was especially happy with the liner, and I don't say that about liquid liners very often. The headband would have been better if it stayed on my head, but so far I haven't had a negative reaction to the the scalp serum (I used it in one section only to see if would set off my allergies, will try using it a few days in a row all over to see what happens). The face cleanser will be appreciated by my teenager but the bamboo scrub was a nice way to start the day (and I do remember that it smelled like lavender!).
Below is the product info card and box opening pics!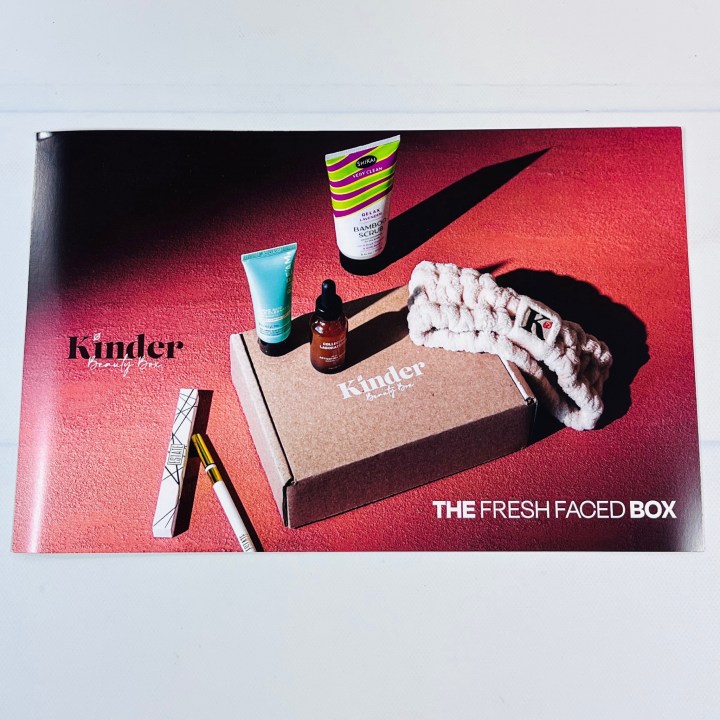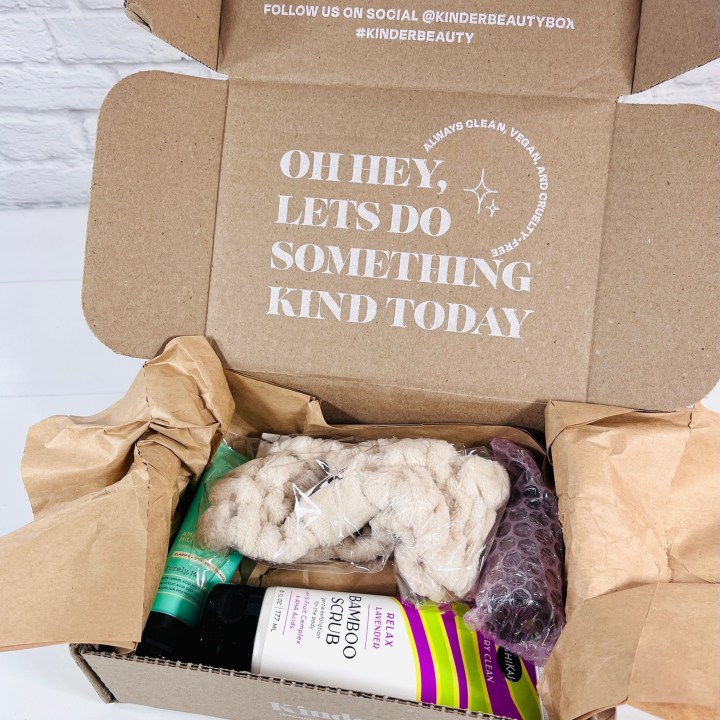 Kinder Beauty Box is a vegan and cruelty-free subscription box that sends skincare, haircare, makeup, and accessories. Each month you will receive more than $85 worth of products. The items are compassionately curated by Daniella Monet and Evanna Lynch. All Kinder Beauty Box products are guaranteed to be 100% vegan and cruelty-free. Kinder Beauty Box is $26 a month, with free shipping to the US, $5.95 elsewhere. Price drops to as low as $23 a box with a prepaid 6-month plan. Buy a multi-month plan to receive a free bonus box and to pick out which of the two monthly boxes you prefer (after the first box). A portion of all sales will go towards benefiting the founder's favorite animal rights and environmental causes.
Kinder Beauty's subscription box made the list in our 2022 readers' choice picks of best skincare subscription boxes!