We have the reveals of the July 2022 Ipsy Glam Bag for the regular Ipsy Glam Bag and Glam Bag Plus with notes on the inspiration from Ipsy's bag designer Joanne Wong.
The burst of color you've been waiting for is here. We're pulling out all the stops to kick off June correctly (Vibrant shades! Popsicle prints! Cute fruit charms!) and get you in a summer state of mind. Put simply, this month's Glam Bag and Glam Bag Plus designs aren't afraid to make a statement—and we hope they inspire you to do the same. Show off the colors you love (yes, neutrals count too!), express your style, and savor every moment of summer.
July 2022 Glam Bag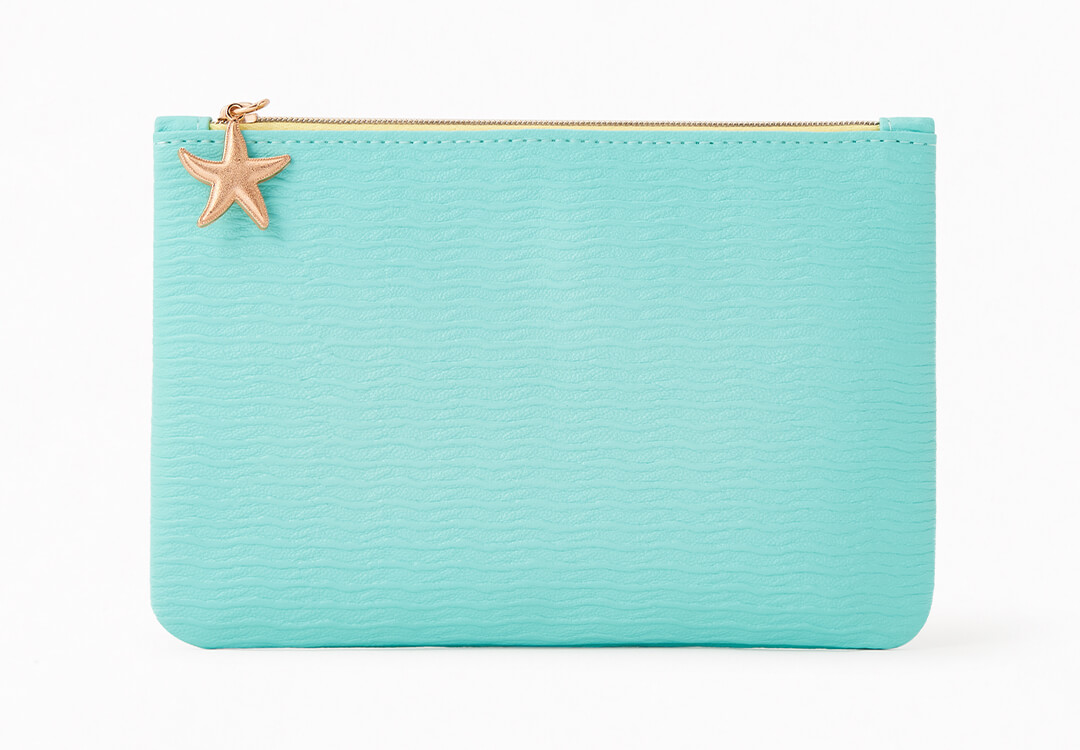 "The teal, blue, and yellow are inspired by the beach, ocean, and summer fruits," Wong tells us. The July Glam Bag is constructed with a pool blue faux leather, embossed with a wave-like texture, lemon sorbet-colored zipper tape and lining, and a gold starfish charm on the zipper pull as a final touch.

It's also the perfect size for storing your small must-haves (in addition to your five new deluxe-size samples) for all your pool and beach days—the zip-up feature will help keep everything sand-free. "I always put my sunscreen, tinted moisturizer, lip balm, and waterproof mascara inside my Glam Bag during the summer time," Wong adds as a pro tip.
July 2022 Glam Bag Plus
The wavy striped pattern is the ultimate accompaniment for any beach outfit, and this month we have two colorways making their way to Ipsters: ocean blue and lemon sorbet yellow. We also think it's the perfect design for a summer manicure!

Made with a lightweight microfiber, the July Glam Bag plus is easy to pack your larger essentials (think spray sunscreen, deodorant, hair combs), then fold and stow away. "I love to using the Glam Bag Plus pouch to organize my swimwear and comfy cover-up inside my large beach tote bag. This way, I can easily keep my clean or dirty clothes separate from my other belongings," says Wong.
What do you think of the Ipsy bag spoilers this month? 
Ipsy is a monthly beauty subscription that's just $13 per month and the most popular beauty subscription box! Ipsy Glam Bag Plus is an upgraded beauty subscription with full-size items (5 per month). When you subscribe to either of these, you can purchase additional items for your bag. You'll also be eligible to select the quarterly Glam Bag X upgrade featuring curator-picked full-size products! See all the latest Ipsy spoilers for every bag!