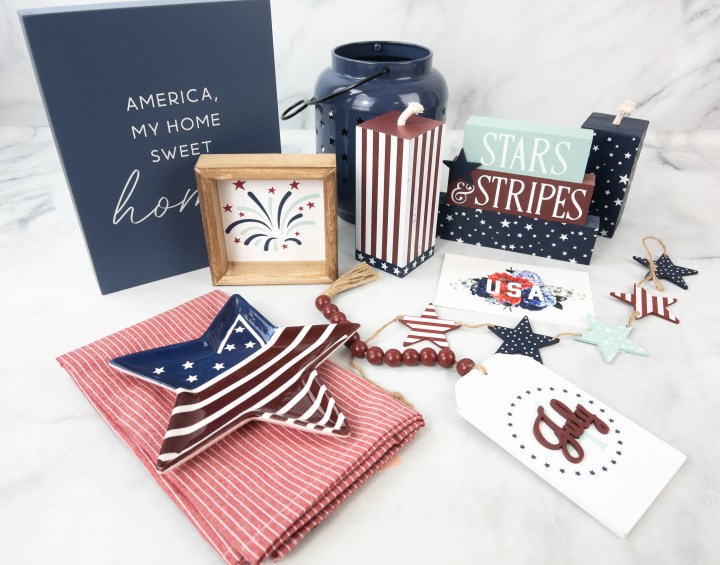 Holiday celebrations at home are more fun when you redecorate your space with seasonally-appropriate pieces! To help us create a fun and festive mood for the 4th of July, Decocrated released a NEW AMERICANA 2022 Add-On box, full of patriotic home decors in a red, white, and blue color scheme.
Note: There is a regular Add-On box and an option for an Add-on PLUS box, which includes additional American-themed decorative pieces. The regular Add-On box costs $49.99, while the Add-On PLUS box costs $79.99. We're reviewing the PLUS box.
DEAL: Get $20 off on your first quarterly or annual subscription box! Use the coupon code HELLOSUB20 at checkout. Valid to new subscribers only, and ends 8/1.
Decocrated's art prints are always high-quality and this patriotic 4×6 double-sided art print is no exception. One side features the American flag with the texts "Land of the free" and "Because of the brave". The flip side is in a horizontal orientation and features red, blue, and white flowers. I just love this art print – it screams patriotism all over!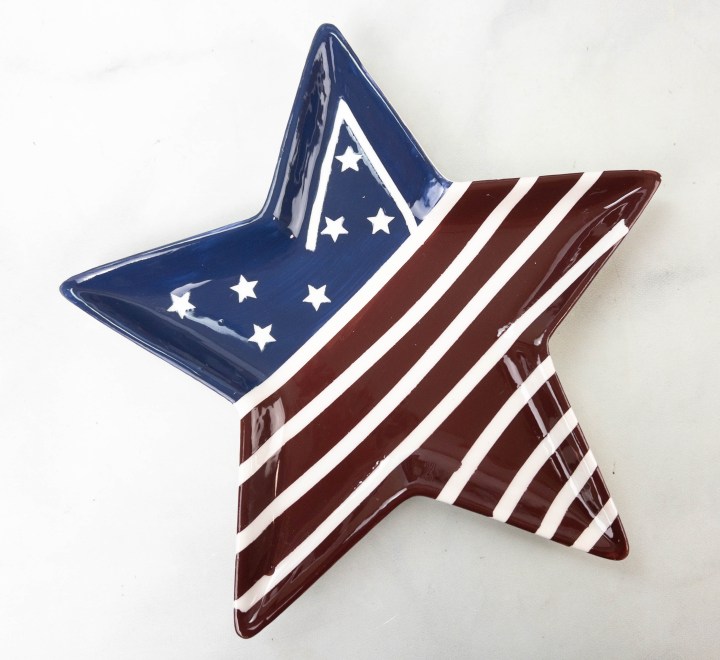 The ceramic star dish is such a cute and versatile piece! The back of the dish says it can't be used for food, but it's okay since it will look excellent when used as a jewelry dish or when displayed with candles. It can also work as a succulent plant coaster on a coffee table. The dish has an American flag-inspired print with red and white stripes and stars over a blue base. It also has a glossy finish!
The next item is an art block, and I like how clean, pleasant, and simple it looks! It has the text "America, My Home Sweet Home" printed on it. You can add some deco around it if you like, but I prefer mine this way. A sawtooth hook is already installed on the back for convenient hanging on walls.
The metal lantern is one of my favorite items in the box! It has star-shaped holes, and it will look beautiful at night, especially when you put LED or flameless candles inside. You can place it on countertops, fireplace mantels, or patio. You can also use it as a planter and add faux greenery for added flair! It also has a metal loop, so you can easily hang it if you want.
Here's a set of July 4th-themed tea towels! Each towel measures 24″x20″, and it's the perfect size for my kitchen. With a red base and white pinstripes, these towels are pretty versatile and can be used year round for some pop of red color (even on Christmas!). There's also a loop stitched on each one for hanging in the kitchen. Although they're a bit thin, I still like them!
Americana Add-On Plus Box Items
The New American Add-On PLUS box includes everything in the regular Add-On box + five smaller decorative items with a more patriotic aura!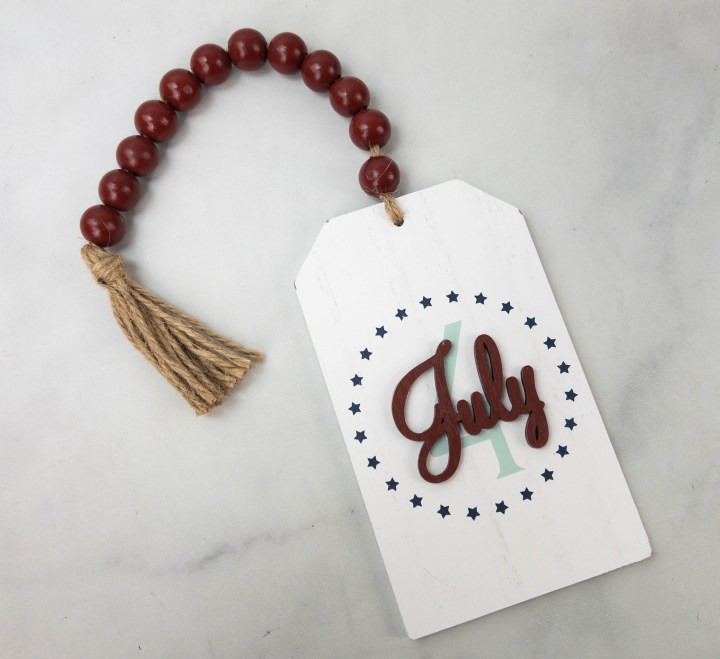 A unique Independence Day decor, this oversized hang tag comes with wooden red beads and a jute twine tassel. In the middle, there's the date and it's bounded by blue stars. I love that the month is a cutout, so it stands out more from the tag. This piece will look incredibly pretty on a tiered tray!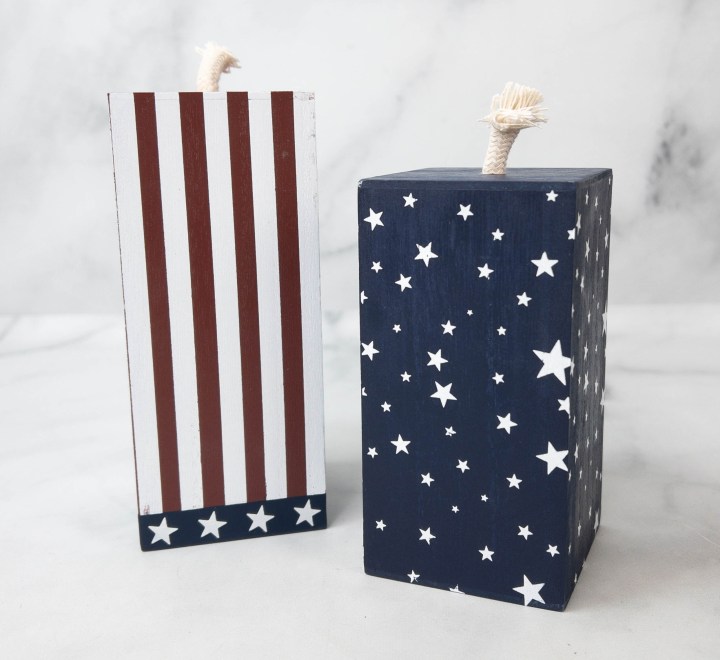 The reds, whites, and blues are looking great on these two wood blocks that look like candles. The individual designs are well-coordinated and they also have "wicks" on them. These blocks are ideal to display on countertops, bookshelves, tiered trays, or windowsills.
There's another wood block for our July 4th-themed ensemble! The upper blocks say "Stars and Stripes," and the bottom block has star prints on a navy blue background. Meanwhile, the back part is plain, giving you more options for decorating. You can place this on top of a stack of books, or just on a shelf. Either way, it would look lovely!
Another cute inclusion is a frame with a homestead vibe! Printed in the middle is a firework illustration with USA colors. It has a metal tab closure on each side and a sawtooth hook on the back so you can hang it if you wish.
The decorative item to cap off the box is a garland. It looks very festive with cutout stars hanging on jute twine. Each piece is painted in red, blue, and white and decorated with stripes, dots, and more stars! Hang it on a door, mix with others on a tiered tray, or lay it on a tabletop, there are so many ways to use this pretty garland for our July 4th celebration at home!
Like the regular seasonal boxes, Add-On boxes from Decocrated serve true happiness with unique decors! The New Americana 2022 Add-on PLUS box kept me excited from one high-quality piece to another. They all show patriotism, and I appreciate how Decocrated incorporated the red, white, and blue colors into such cute and classy pieces. Everything fits our home well, combined with other decors I already have. If you want to get into the trend of elevating your home for every season or holiday, Decocrated might be exactly the subscription you're looking for!
With each box you'll receive from Decocrated (seasonal or add-on), there is a booklet with information about the featured artist, the items, and design inspirations. Here's a closer look: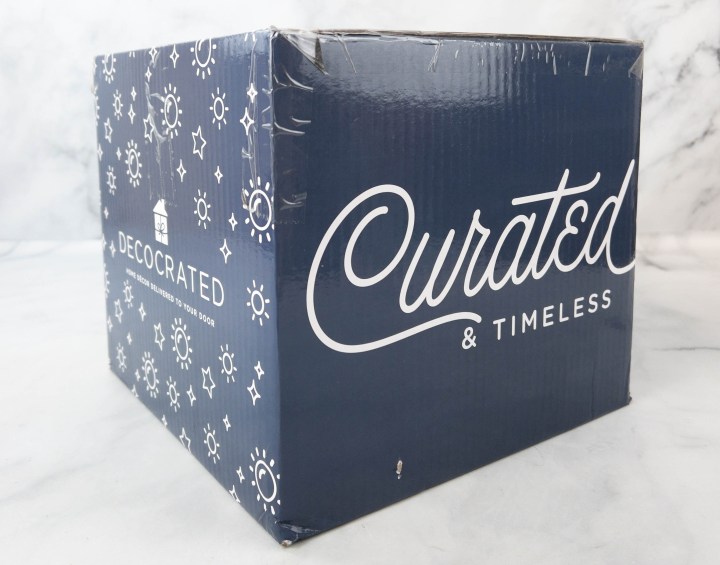 Decocrated is a quarterly subscription that sends beautiful home decor! Shipping every 3 months, each box will include a handpicked selection of home decor based on the season to keep your place feeling fresh, as well as items that work with the pieces you already own and love. The idea is that at the end of a year's subscription you will have a whole-home collection that works together to help you look like a seasoned decorator. Each Decocrated box is $79 and you can save 10% by signing up for a whole year of subscription. It's a reader fave, taking home the top spot in the best home and decor subscription boxes for 2022, as voted by our readers.
What do you think of this season's Decocrated box?