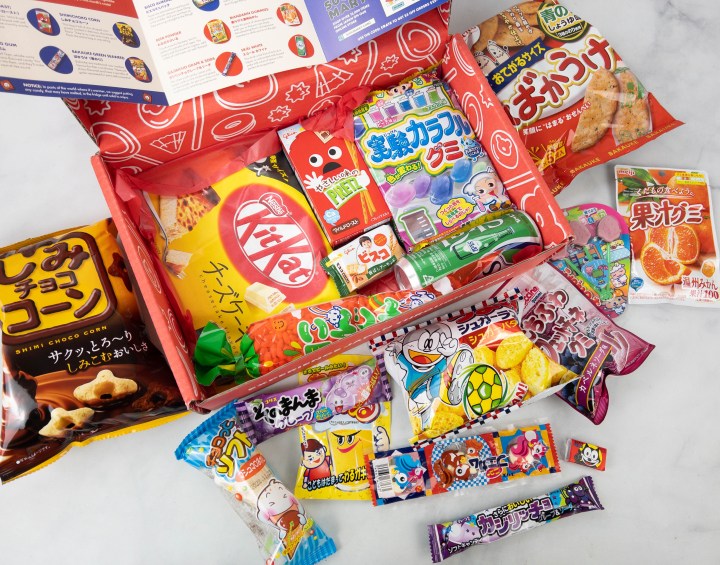 With Japan Crate, you'll experience Japan through snacks and candies loved by locals! The May 2022 box took us to SHOUTENGAI, a Japanese local shopping street where we can taste different treats, including chips, candies, and old-school favorites!
The subscription levels available are the Original Box and the Premium Box. You can choose depending on your budget or how many new snacks you want to try in a month! We received the Premium Box to review.
DEAL: Save $3 on your first regular or premium crate! Use coupon code HELLO.
Umai Sugar Rusks are crispy corn snacks with a sugar butter flavor. They smell and taste very sweet. Although I'm not a fan of the sweetness, I love the crunch with every bite! Another snack with a crunch is the Bakauke Green Seaweed. Many people enjoy this traditional rice snack because of its crunchy texture and delicious flavor. Each bite of this snack has a savory taste of soy sauce and nori.
Of course, we also have a mix of candies and other unique Japanese goodies! See the carrot-shaped snack? That's the Carrot Rice Puffs, which are not really made of carrots but are classic rice puffs. You can enjoy eating them on their own or use them as toppings for your favorite dessert for an extra crunch. There's also a powdered drink in the box, and it's called Beer Powder. Although named beer, all ages can enjoy this one! You only need to mix it with cold water, and you'll have a fizzy, foamy, beer-like drink to enjoy.
Kids will love the Chocolate Ice Cream snack, a cone-shaped marshmallow treat with a decadent choco filling. There's even a Whistling Gum, a doughnut-shaped banana-flavored chewing gum that makes a squeaky noise when blown through the hole. Next up are grape-flavored candies: the extra chewy Gajiricho Grapes & Soda that looks like the taffy sticks and the Grape Chewing Gum with a gooey grape center that makes it fun to chew.
Felix The Cat Gum looks nostalgic with its classic gum packaging. It's a soft gum candy with a light strawberry flavor that you can enjoy chewing on for minutes! Cheers for more sugar rush! Strawberry Picking is another yummy candy treat. There are three strawberry-chocolate lollies inside, and you can pick one from the bunch whenever you want. They're tasty and fun! What makes it more exciting is that every packet comes with a collectible sticker. So cute!
Pretz (Mild Roast) are basically pretzel sticks. These are similar to Pocky but without the chocolate coating. The baked breadsticks are flavored with some honey, so they're sweet instead of salty. Bisco Almonds are like the baby biscuits that kids enjoy. It has an almond cream filling sandwiched between two crunchy biscuits. You can bite straight into them or eat the cream filling first like an Oreo! Both biscuit snacks go well with the canned drink called Skal White. It's a carbonated milk-based soda, which tastes light with a hint of lemon.
Not in the photos but we also received Mandarin Gummies and Fettuccine Gummies! Mandarin gummies taste sweet and refreshing, and they look like mini mandarin slices, which is cute. Meanwhile, Fettuccine Gummy is like fruit roll-ups, flavored with Cabernet soda. It's sweet, sour, chewy, delicious, and smells like wine!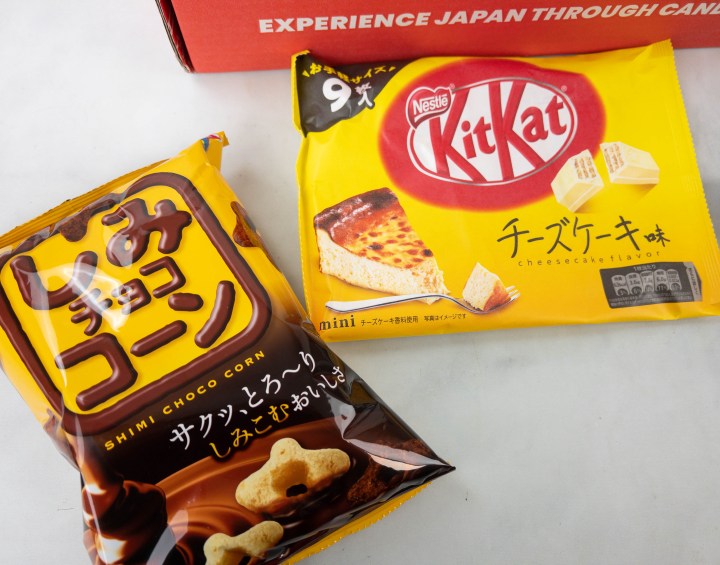 Shimichoko Corn is a tasty snack that frequently comes in crates. They're star-shaped corn puffs with an indulgent, rich choco flavor, which tastes pretty good! Each piece is light and crispy (similar to cereal), and I enjoy munching on them!
BONUS! Every crate comes with a pack of uniquely flavored KitKat. For this month, we received Cheesecake Flavored KitKat Bites. If you're a fan of cheesecake, you'll love it as it tastes just like one. It's so creamy!
Colorful Gummy Experiment is a DIY candy kit that got us excited! It's easy and fun to make, especially with detailed instructions in the booklet. Kids will enjoy doing this kit, and so are grown-ups because it's just so much fun mixing your own candy.
The variety of snacks from Japan Crate never disappoints. This month, we received a bunch of candies, gummies, and even traditional snacks. There are also pretzel sticks and almond biscuits that make a great afternoon snack along with the canned drink. I'd pick the Bakauke green seaweed snack and the mandarin gummies as my favorites from the box. The KitKat pack is a nice bonus too! Its cheesecake flavor is such a delight to the tastebuds. If you're an adventurous snacker, this subscription box is worthy to be your next venture!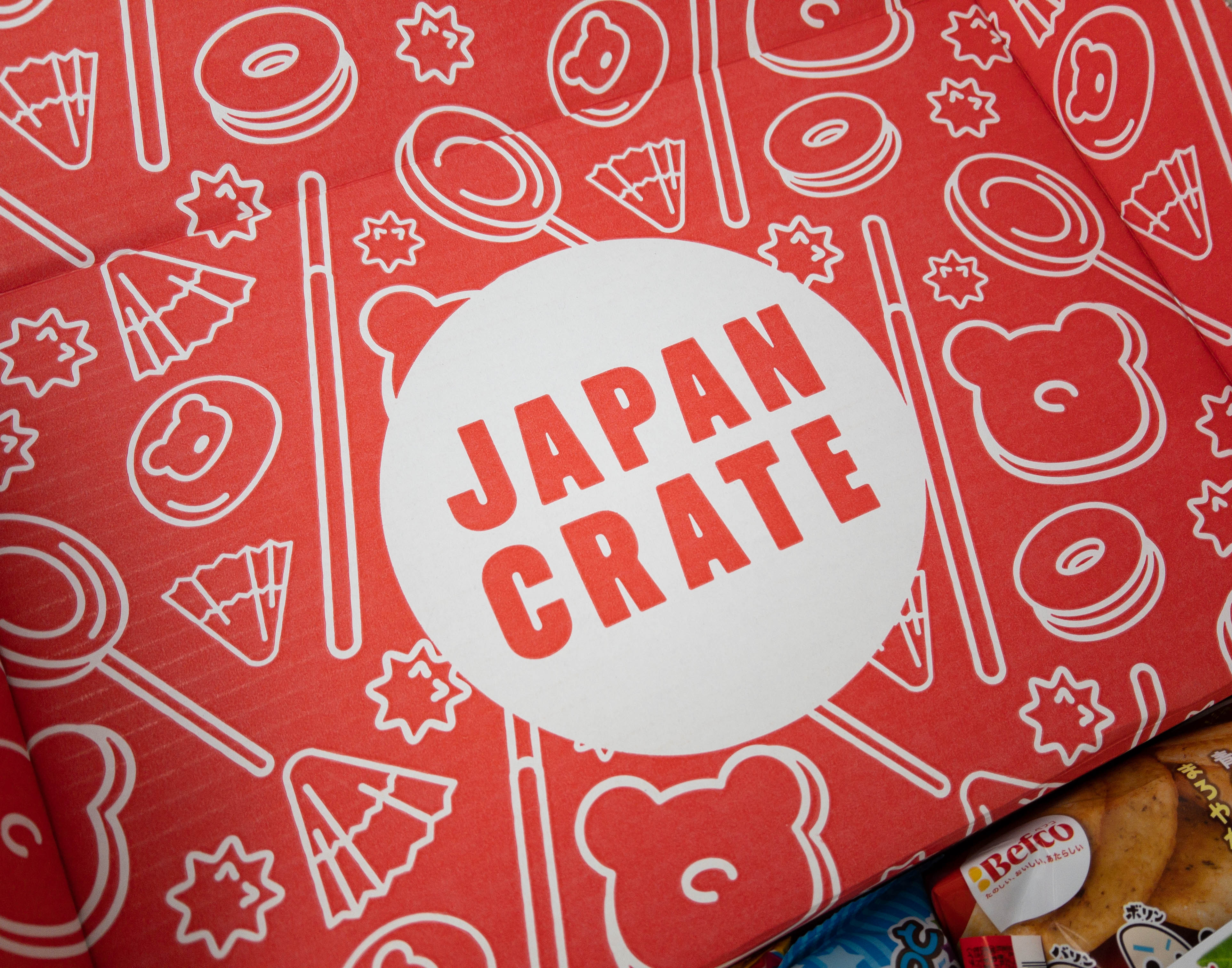 Japan Crate is a monthly subscription of Japanese candy and snacks, curated for you to "experience the excitement of Japan"! Currently, there are three subscription levels – Original ($35.95 per month) and Premium ($49.95 per month). All crates ship free from Japan around the world. Yes, this subscription is based in Tokyo, Japan which means you will only receive authentic Japanese snacks!
What item are you excited to try from this month's Japan Crate? Let us know in the comments!