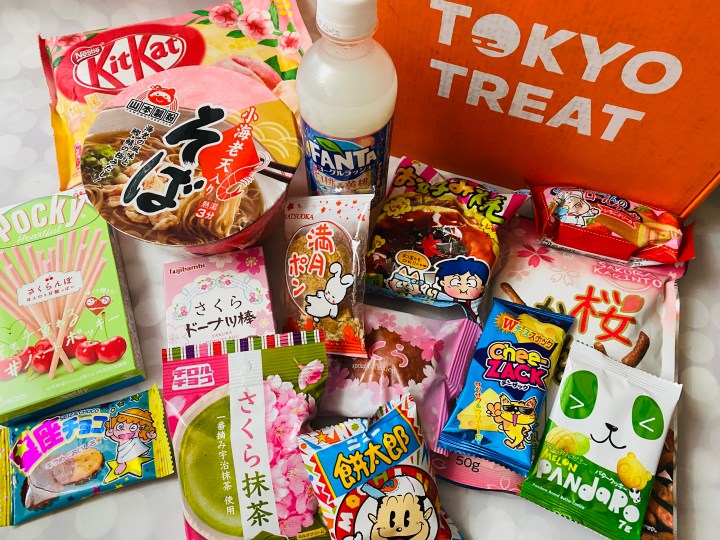 Cherry Blossom season in Japan is a huge deal, as the beautiful pink flowers bloom all over Japan from coast to coast! But did you know that cherry blossom flavour itself is also popular? It has a salty, light flavour that is used for limited edition sakura sweets! This month's Supremely Sakura themed Tokyo Treat box included a selection of tasty sakura-flavoured snacks! Read on as I try all of them!
DEAL: Use this link and use the coupon code SAKURA2022 to get Starbucks Sakura 2022 Bonus! Ends 3/31 JST.
Sakura Karintou. This is a popular snack food made of flour, yeast, brown sugar, and other flavours. It's fried so think of it like tiny little crunch donuts! This version has the distinctive sakura flavouring, so they are a good salty-sweet combination!
Peach KitKats. This month's KitKat selection is a lovely fruity peach flavour! I think this goes really well together with the cherry blossom theme. These are delicious!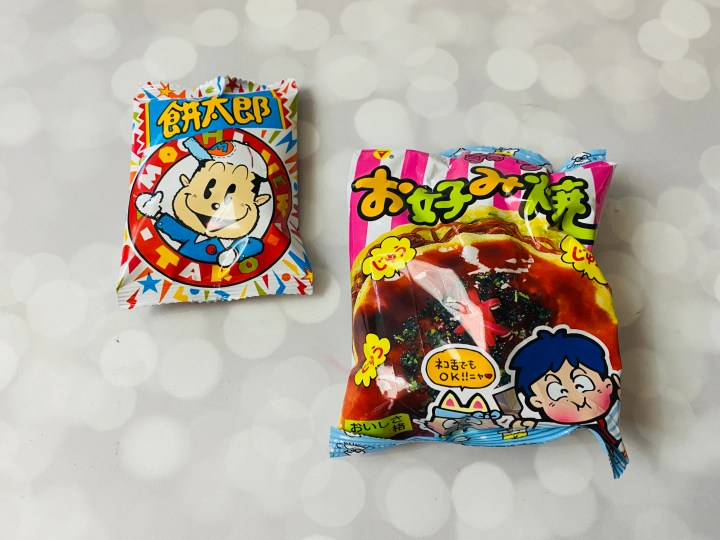 Taro Rice Crackers. Tiny rice crackers with a deliciously addicting spicy salty flavour.
Okonomiyaki Corn Snacks. Crunch corn puffs are coated in tasty okonomiyaki sauce! Okonomiyaki is a pancake street food loaded with cabbage, bonito flakes, and other delicious ingredients. I can't have real okonomiyaki but these snacks are giving me a taste of the delicious sauce!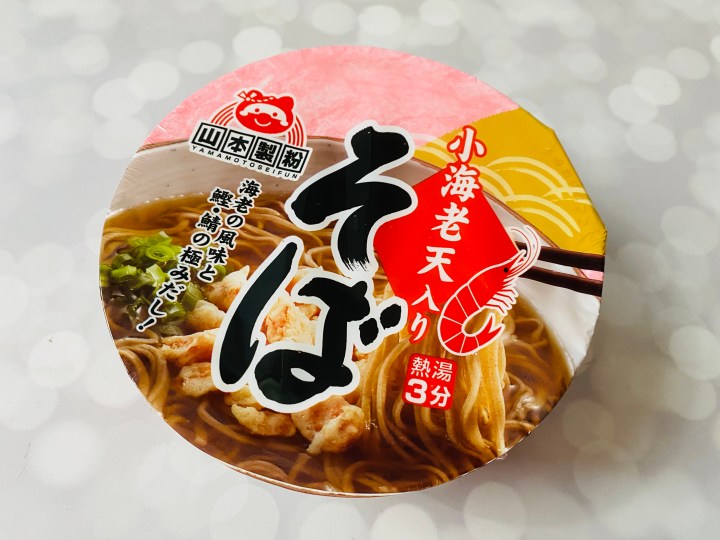 Shrimp Soba. A savoury soba noodle style instant ramen. Soba noodles are quite thin and delicate. This has a shrimpy flavour, and I'm not a shrimp fan unless it's actual shrimp in a frying pan, so I passed this on to a coworker to enjoy. I love that Tokyo Treat now sends us ramen!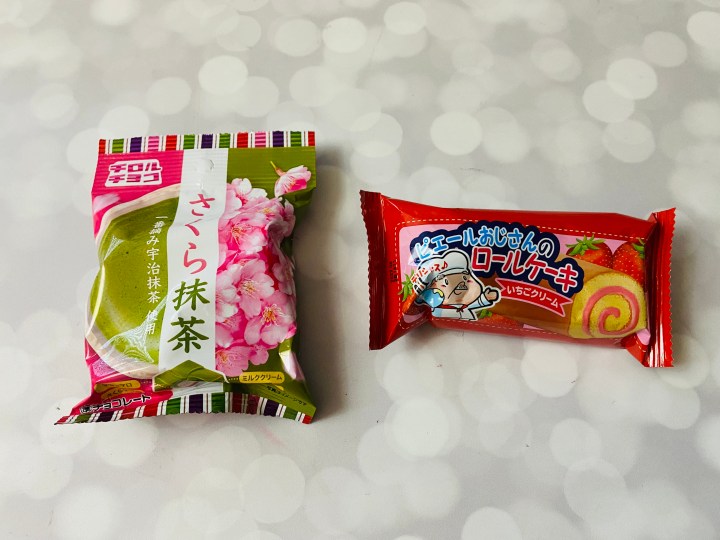 Sakura Matcha Cookies. The blend of sakura and matcha is in a marshmallow covered in chocolate. I don't like marshmallow so I wasn't able to enjoy these, but if you love matcha and sakura I think it's the perfect flavour combination! Tokyo Treat has been sending more of these lighter, delicate treats since their relaunch and I am really enjoying it.
Strawberry Swiss Roll. A white cake rolled around strawberry jelly. This was entirely too tasty and I wish it had been bigger!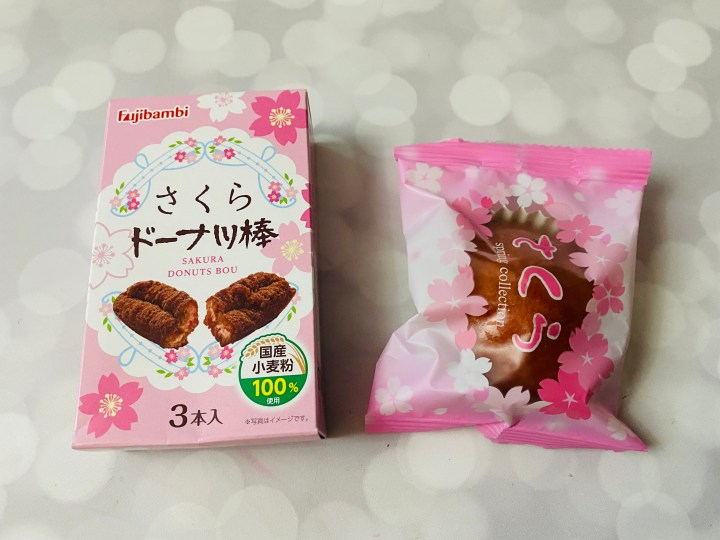 Sakura Donuts. Tokyo Treat knocked it out of the park with these two treats – the first is a set of small donuts with a very strong brown sugar and sakura flavour. They are a bit more firm, not a soft donut.
Madeline Cupcake. And the other baked treat was a sakura cupcake with a delicious soft fluffy texture.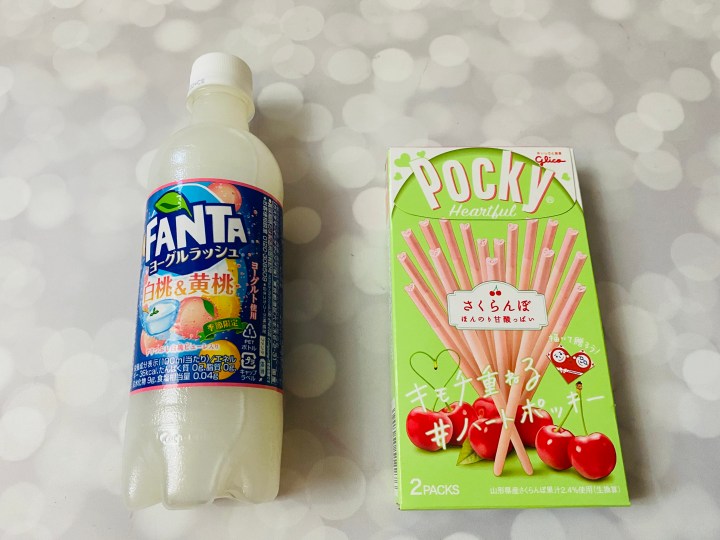 Peach Yoghurt Fanta. This is a fizzy yoghurt drink with a sweet peach flavour. I really liked it and thought it was a great limited edition on the classic Fanta taste.
Cherry Pocky. Pocky with a unique cherry flavour! I've never tried this before and I thought it was great! The ends of the cookies are heart-shaped.
Melon Pandaro. Normally, Pandaro is a plain sugar cookie but this one was a delicious melon flavour! "Pandaro" is a pun since "pan" means bread in Japanese!
Mangetsu Bread. This full moon-shaped rice cracker has the texture of a rice cake, it's very dense and light. It had a traditional soy sauce glaze and was very tasty!
Cheese Zack. My new favourite snack is this deliciously crunchy and cheesy Cheese Zack! It reminds me a bit of Japan's Scon snack which is very similar in texture.
Choco Constellation Cookie. A pretty simple but tasty biscuit cookie covered in chocolate.
Springtime in Japan means sakura-flavored snacks abound! My April box was filled with delicious goodies infused with a unique sakura flavor, as well as other Japanese spring treats like peach-flavored KitKats and cherry-flavored Pocky. If you love Fanta or fizzy drinks, you might want to try the Japan exclusive Fanta flavors like the peach yoghurt Fanta in this box. Through this snack box, I was able to experience Japan's spring flavors without having to travel far and I love it!
The snack menu goes through the whole magazine, giving more details on why the item was chosen, if it's safe for vegetarians, and allergy info all in one easy place! See it here: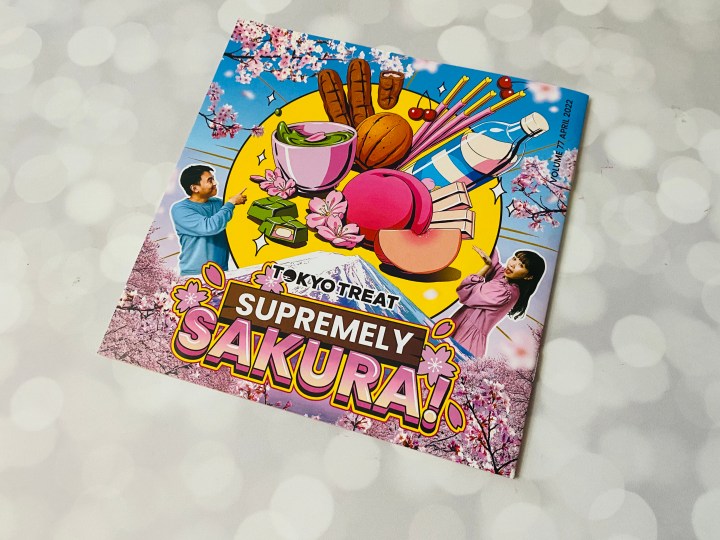 Tokyo Treat is a monthly Japanese snack and candy subscription box that is shipped directly from Japan. Tokyo Treat's Japanese snack and candy subscription box is a reader fave and made the list in our 2022 readers' choice picks of best snack and candy subscription boxes!
ICYMI, Tokyo Treat boxes just got bigger and better! Starting December 1, they removed the Classic option to ensure all TokyoTreat subscribers received the full Japanese snacking experience. Tokyo Treat boxes are now $37.50 per month. Some of the yummy things you can expect in this new version include ramen, udon, soba, jelly, purin, and Japanese desserts. There will still be a Culture Guide, but it will now have 24 pages – which means more articles and cultural information about Japan!
What did you think of this month's Tokyo Treat?