Spiffy Socks is a monthly subscription that sends snazzy socks made with bamboo fiber. They offer subscriptions for both men (sizes 6-12.5) and women (sizes 5-10) and subscriptions are $11 per month and even lower for longer terms. It automatically renews, but you can cancel anytime. Shipping is free to the U.S.
The most comfortable, hygienic, stylish, and sustainable pair of socks you'll ever wear. Learn the advantages of wearing socks made of bamboo fiber and why it compares to no other.
Super Light and Comfortable – Twice as soft as cotton!
Natural Antibacterial Fighting Qualities – Wicks away moisture and combats odor naturally
Thermo-regulating Abilities – Warms comfortably on the cold days but stays cool when it's hot
Shock and Wrinkle Protection – Spiffy Socks are naturally durable and never require any type of ironing
Note: Order by the 31st to get the current month's box! Also, email them to make absolutely sure you get the sock of the month!
DEAL: Get 10% off for the life of your subscription! Use coupon code HELLOSUBSCRIPTION.
Spiffy's sock subscription made the list in our 2021 readers' choice best sock subscription list!
Everything in my November 2021 Spiffy Socks box for women!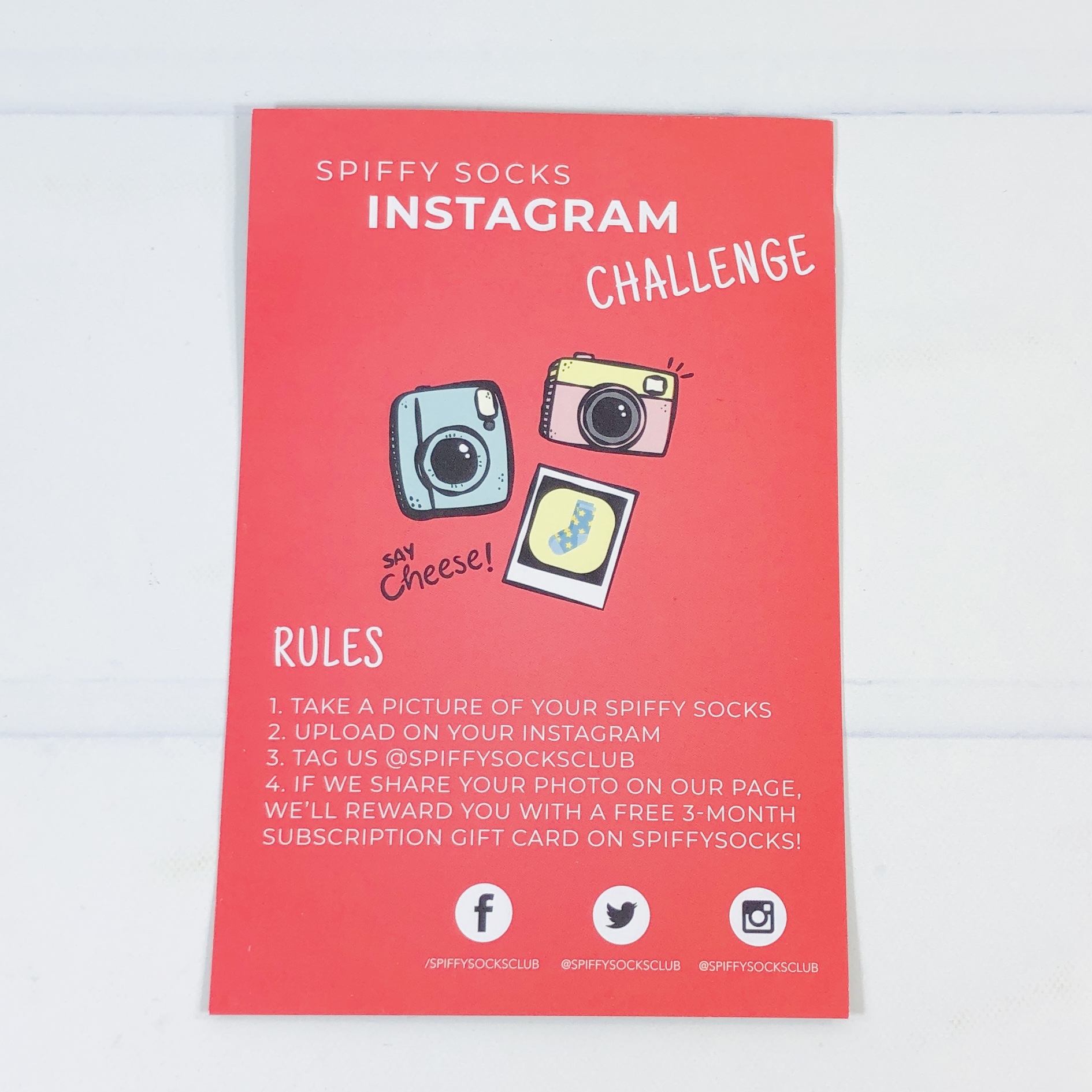 I received a card with info on how to win some free socks!
The back had info on a contest from their sister, or um, brother brand.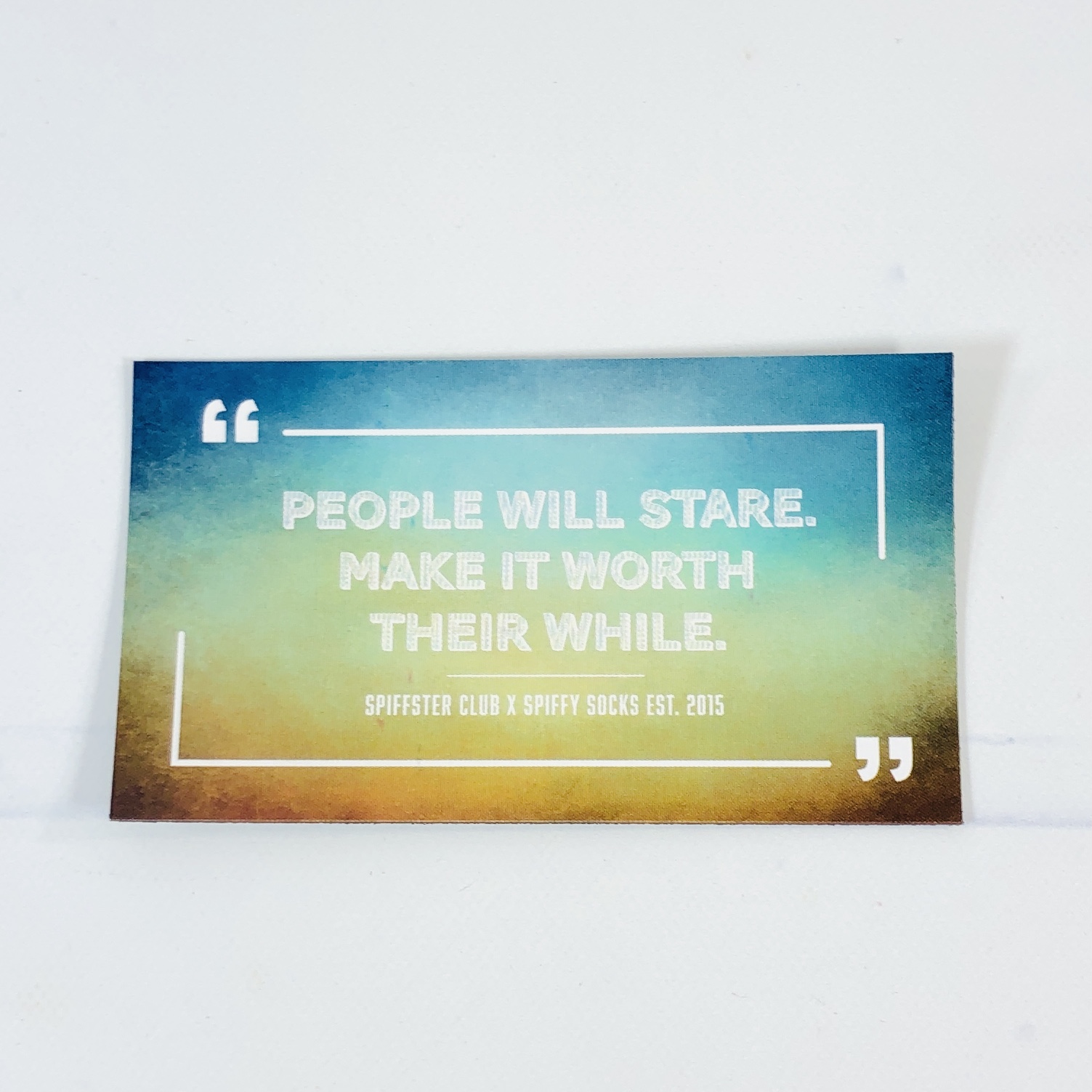 I also got a magnet!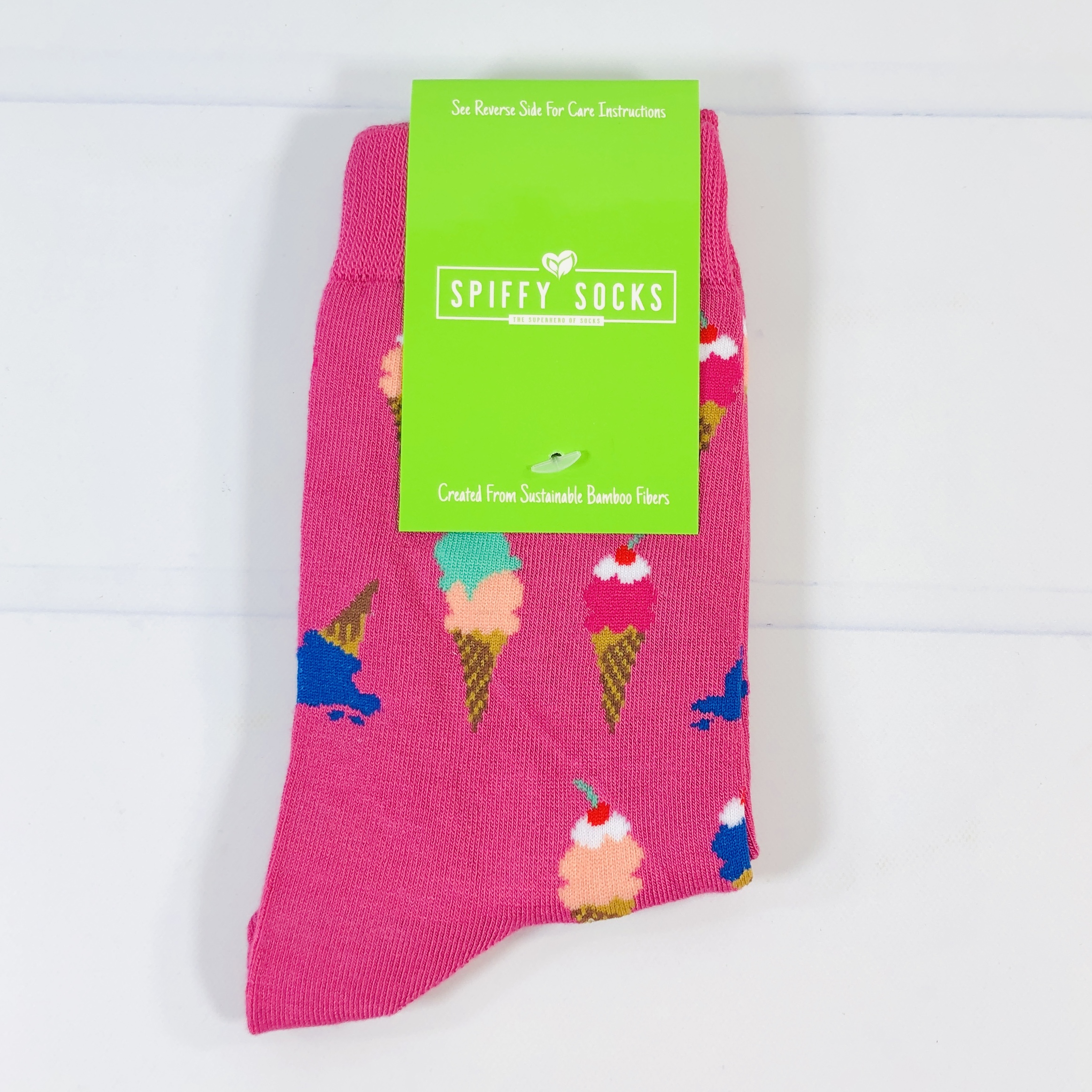 Spiffy Socks Ice Cream Social Socks ($20) Well, November's print has taken a detour back to summer! My mom always said ice cream was better in winter, because it doesn't melt as quickly! (I grew up in Southern California and wore shorts even in winter and we had ice cream in our freezer year round).
The tag says these are made of 75% bamboo fiber and 25% microfiber. They are supposed to be antibacterial and extra absorbent. The directions for washing and drying are too complex for me so they go into my regular wash and dry cycles and I've had no problems with excessive shrinkage but of course do what you prefer.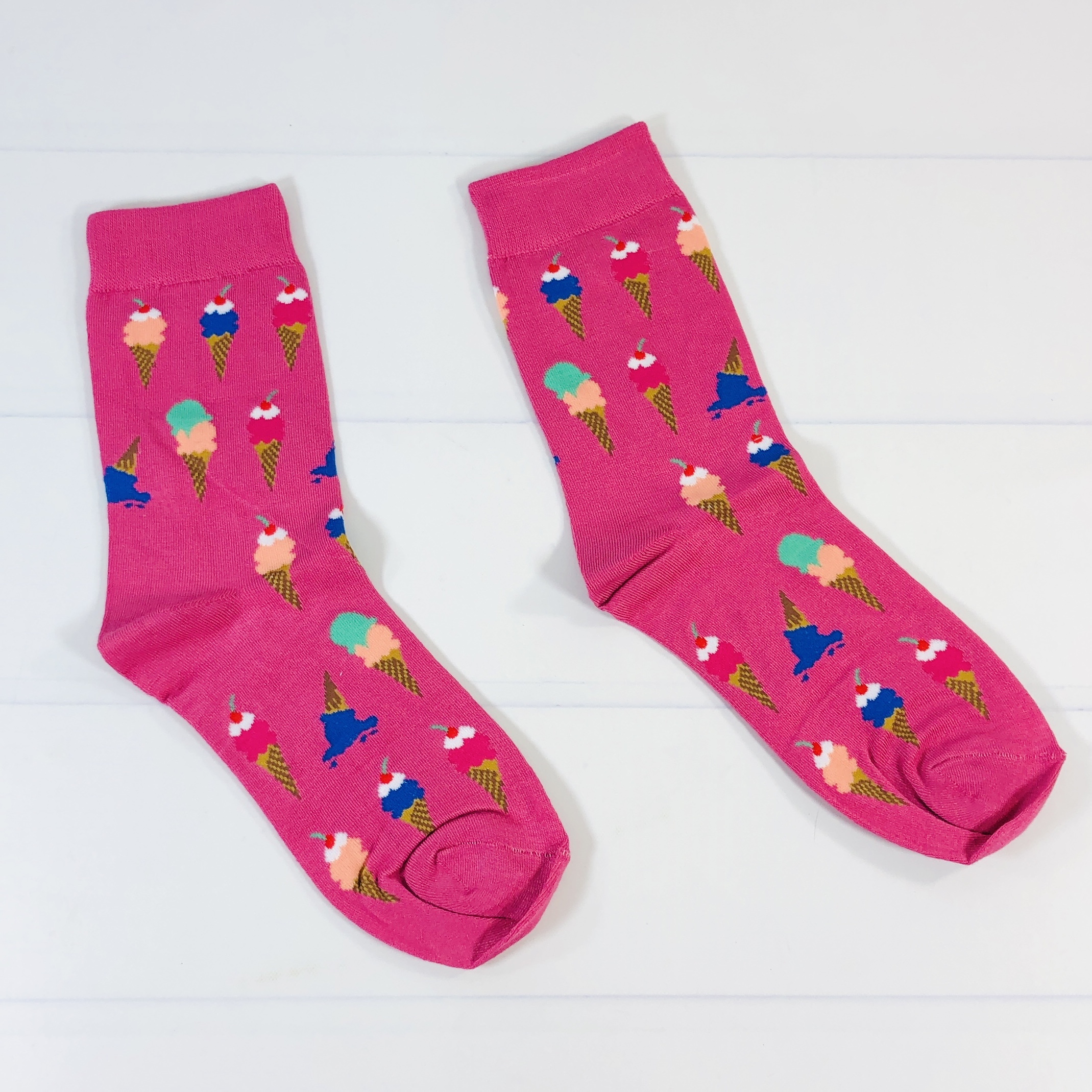 This month the body is raspberry pink, and the cuffs, heels, and toes are that same color.
There are all kinds of ice creams in different shades inside the cones. Some even have a cherry on top!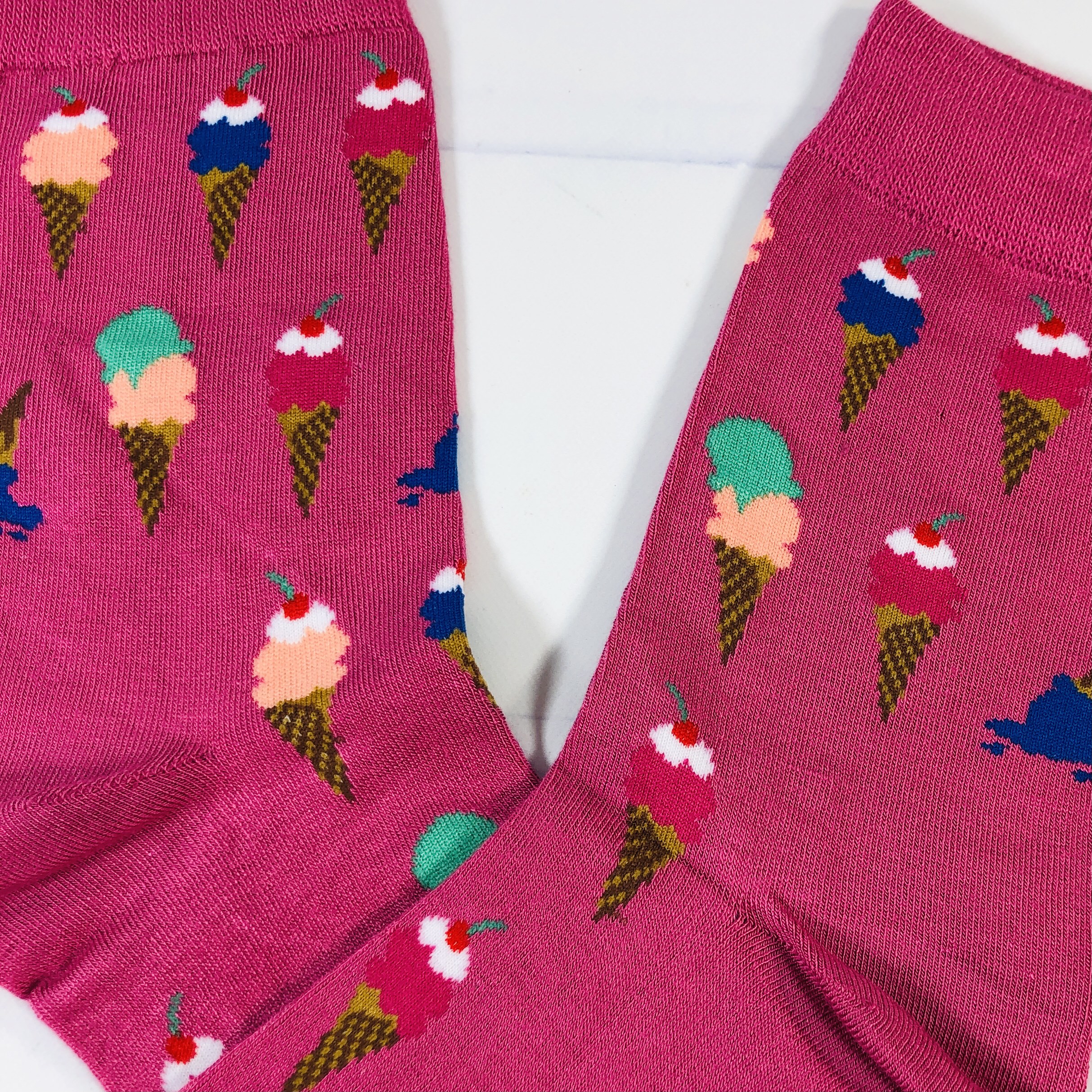 Here's a closer look at that print.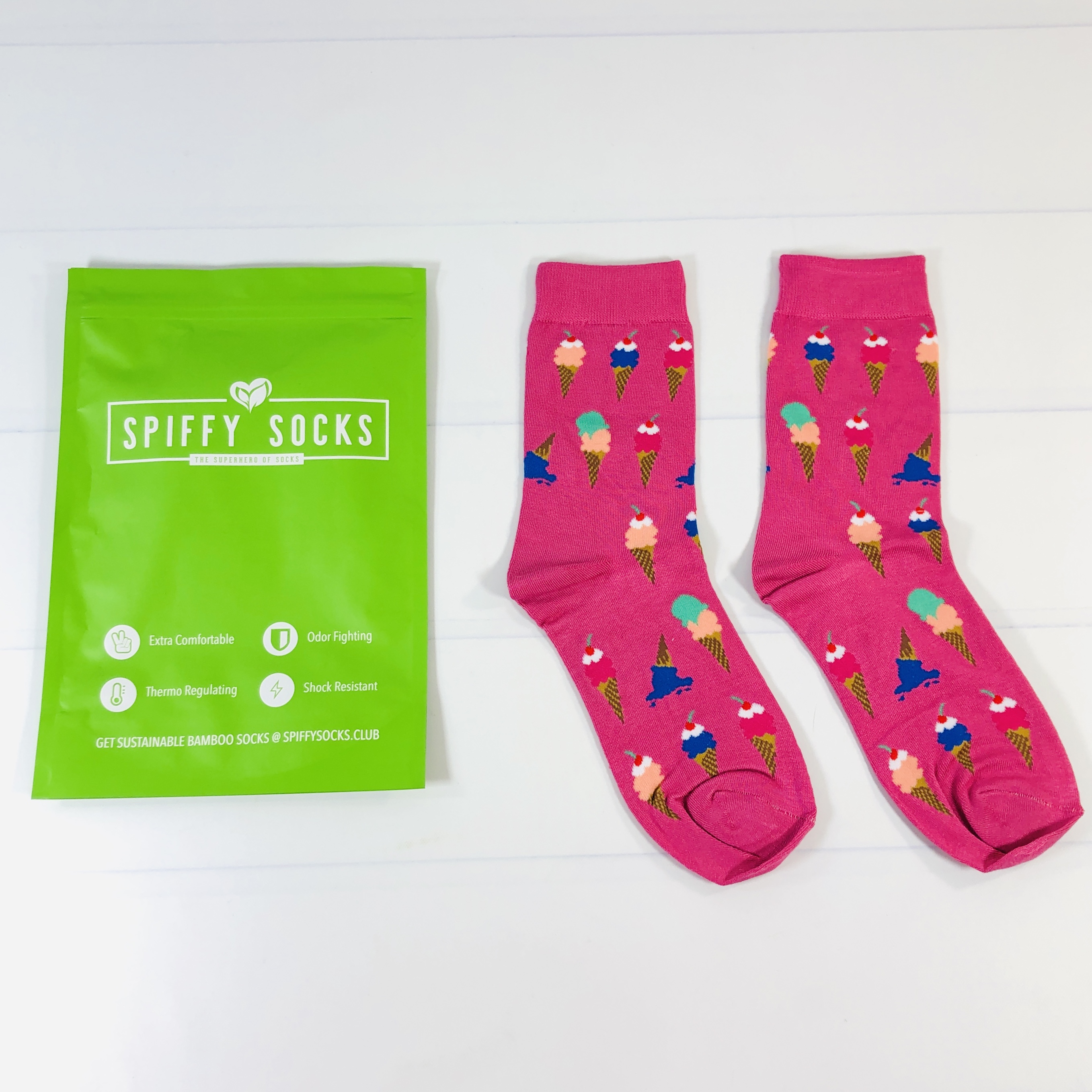 Spiffy Socks has reminded me that I need to add ice cream to my shopping list. They sent an adorable pair of socks and while my daughter and I share this subscription, she has told me these are too pink for her tastes so they are MINE, all MINE! I think Spiffy Socks are super comfortable and luckily they don't cut off my circulation either. They send cute prints and they can be a little kooky but nothing super odd. Sometimes they have simple geometric shapes and we've even received striped socks too. I always reach for them when I'm looking for long socks to wear with jeans and sometimes I even match them to the color of my shirt, but not always because I like to mix it up.
Have you tried Spiffy Socks? Let me know what you thought by leaving a comment!