The Dapper Dog Box is a monthly box for your best friend in the world – your dog! They source organic and natural items from passionate small companies that love dogs, hand-picking each item for your dog based on a personalized survey. The survey lets you customize your dog subscription box for gender, five different dog sizes, and also any allergies. The regular sized box has 4-6 items with an average $50 value.
DEAL: Save 10% off your first shipment! Use coupon code HELLOSUBSCRIPTION.
Dapper Dog's treat, toy, and bandana subscription made our 2021 readers' choice list of best subscription boxes for dogs!
Some of the items were wrapped in plastic.
Here's a note from the Dapper Dog Box team! They informed us that this month's treats are made by a local kitchen because of supplier limitations. I'm really glad they addressed this issue – the supply issues are real, and I think this is a way better solution than using treats that don't meet my expectations for this subscription.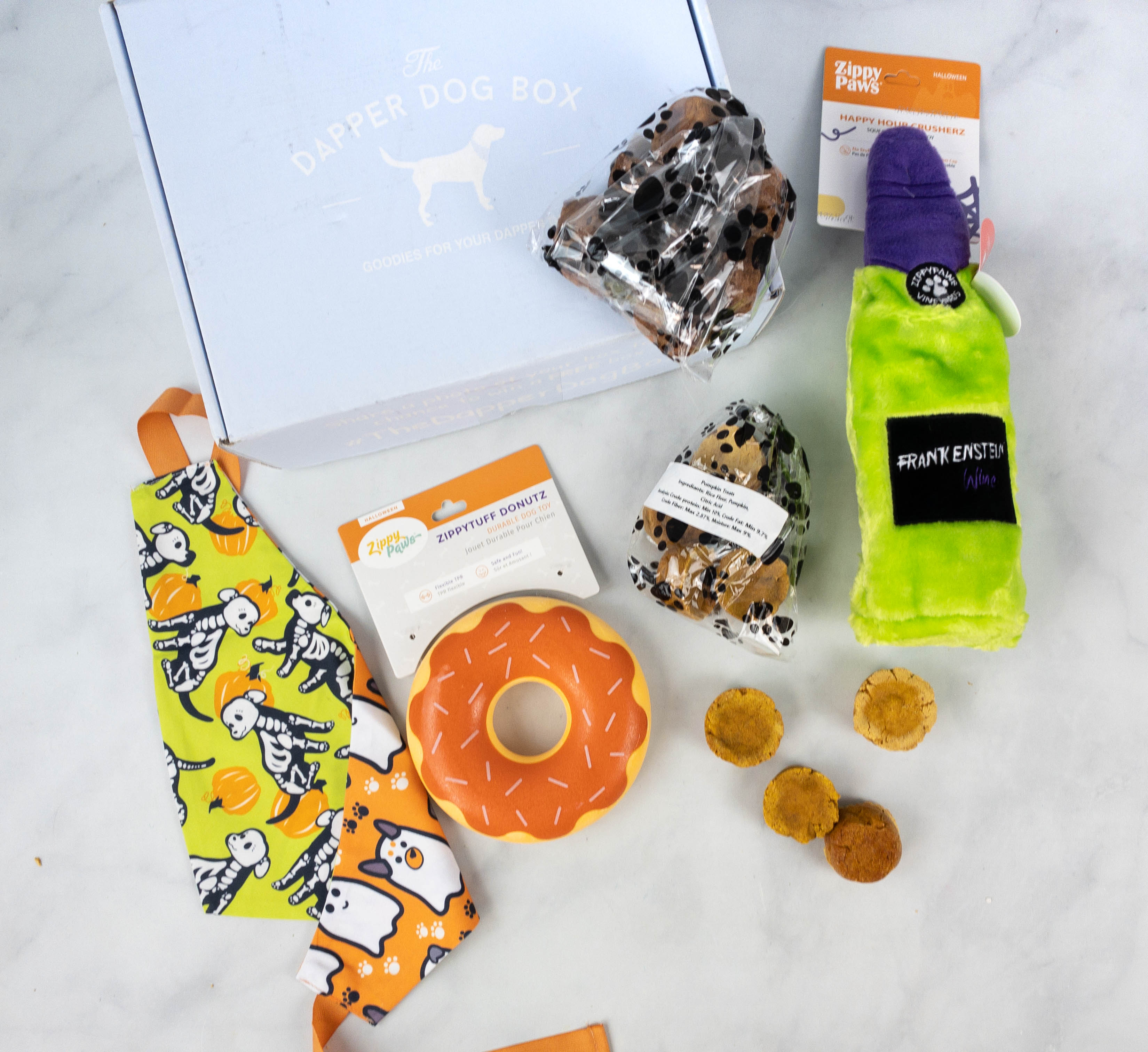 Everything in my September 2021 box!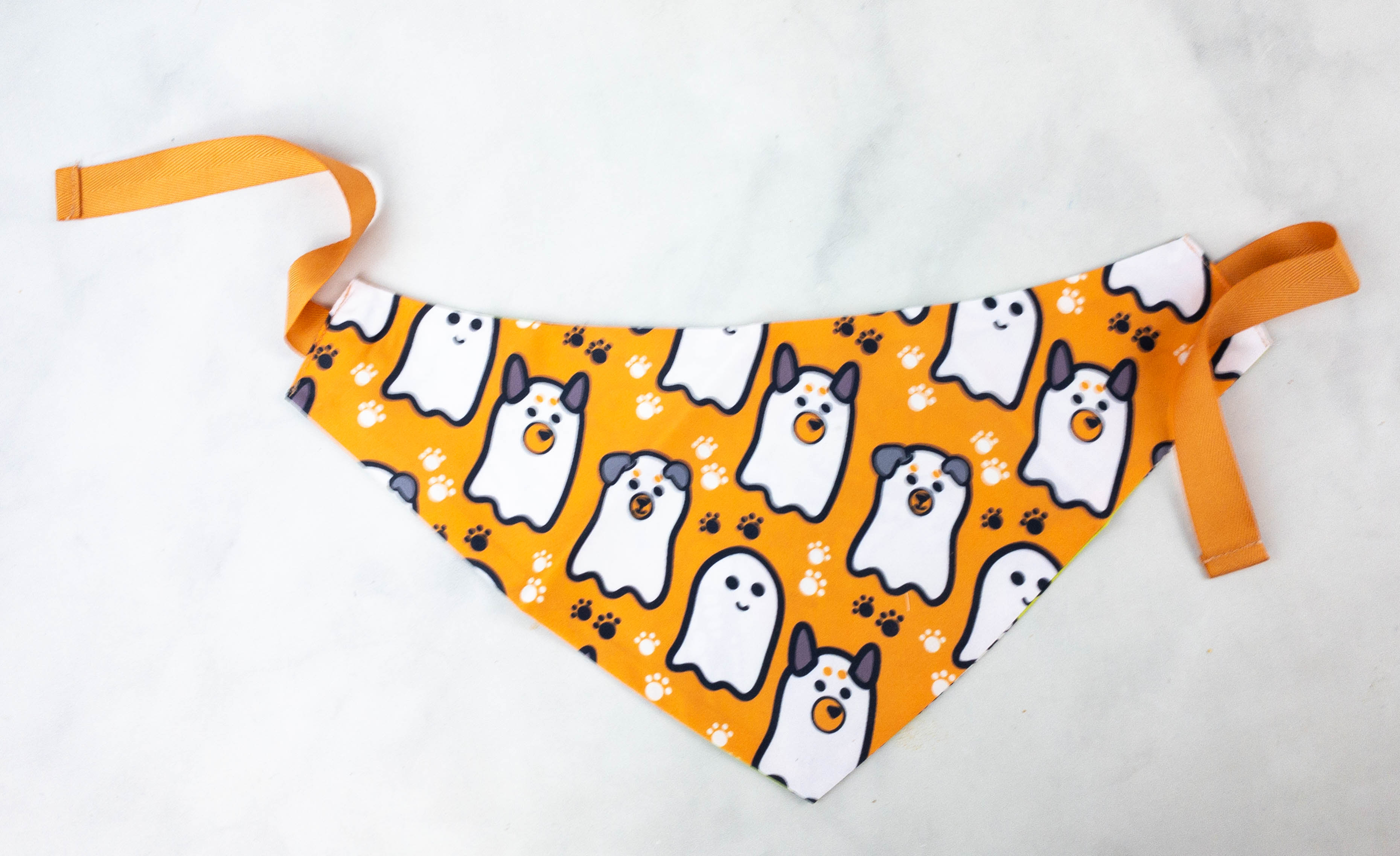 Bandana. This month's double-sided bandana is Halloween themed! The first side has an orange base color with cute dog ghosts all over!
The other side is in yellow and it features dog skeleton and pumpkin designs.
Here's Buffy with her new bandana!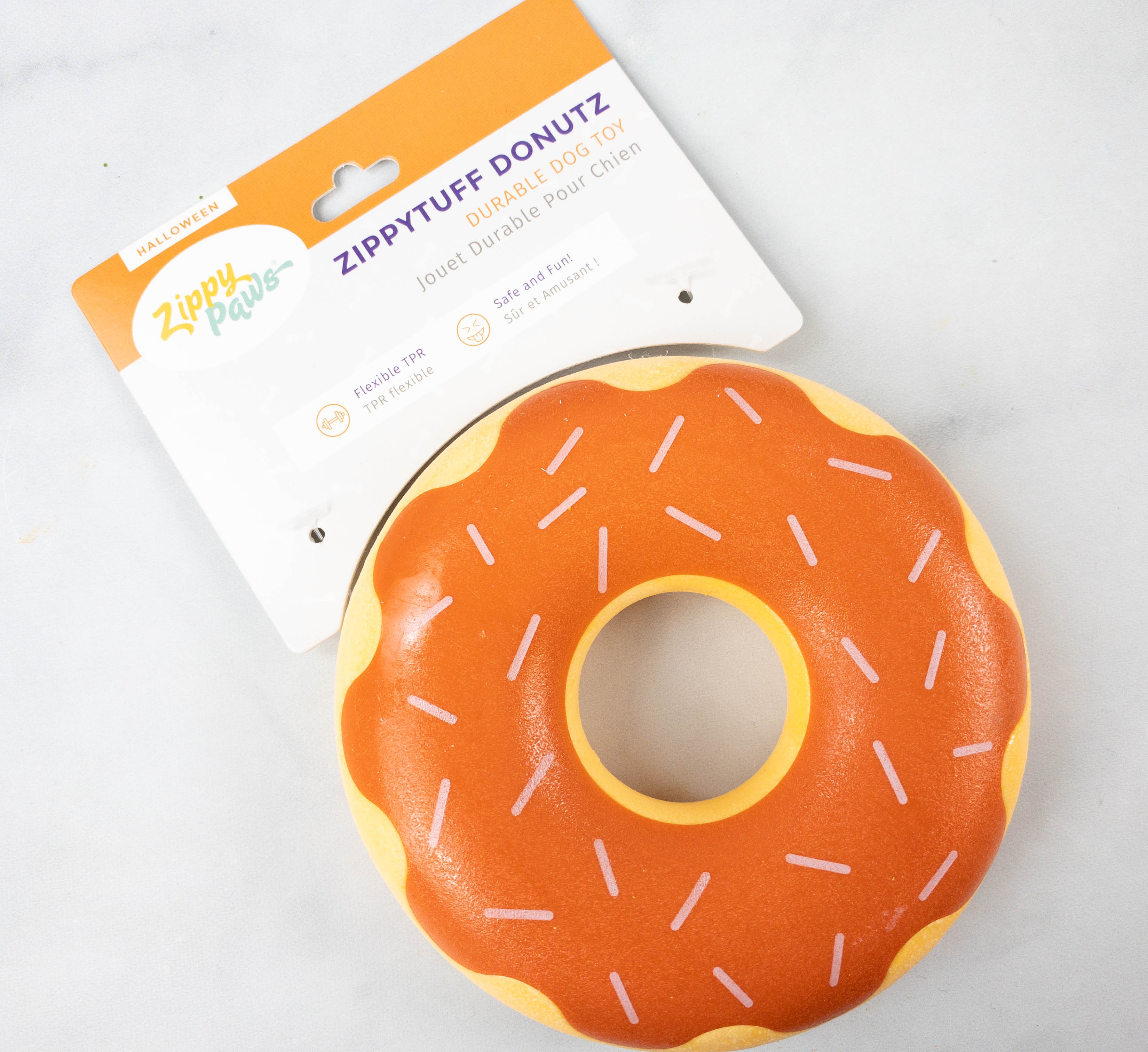 Zippy Paws Zipptuff Donutz Durable Dog Toy – SIMILAR ($7.80) The first toy resembles a tasty donut and it's specially made durable for dogs of all sizes. It has a built in squeaker and flexible as well.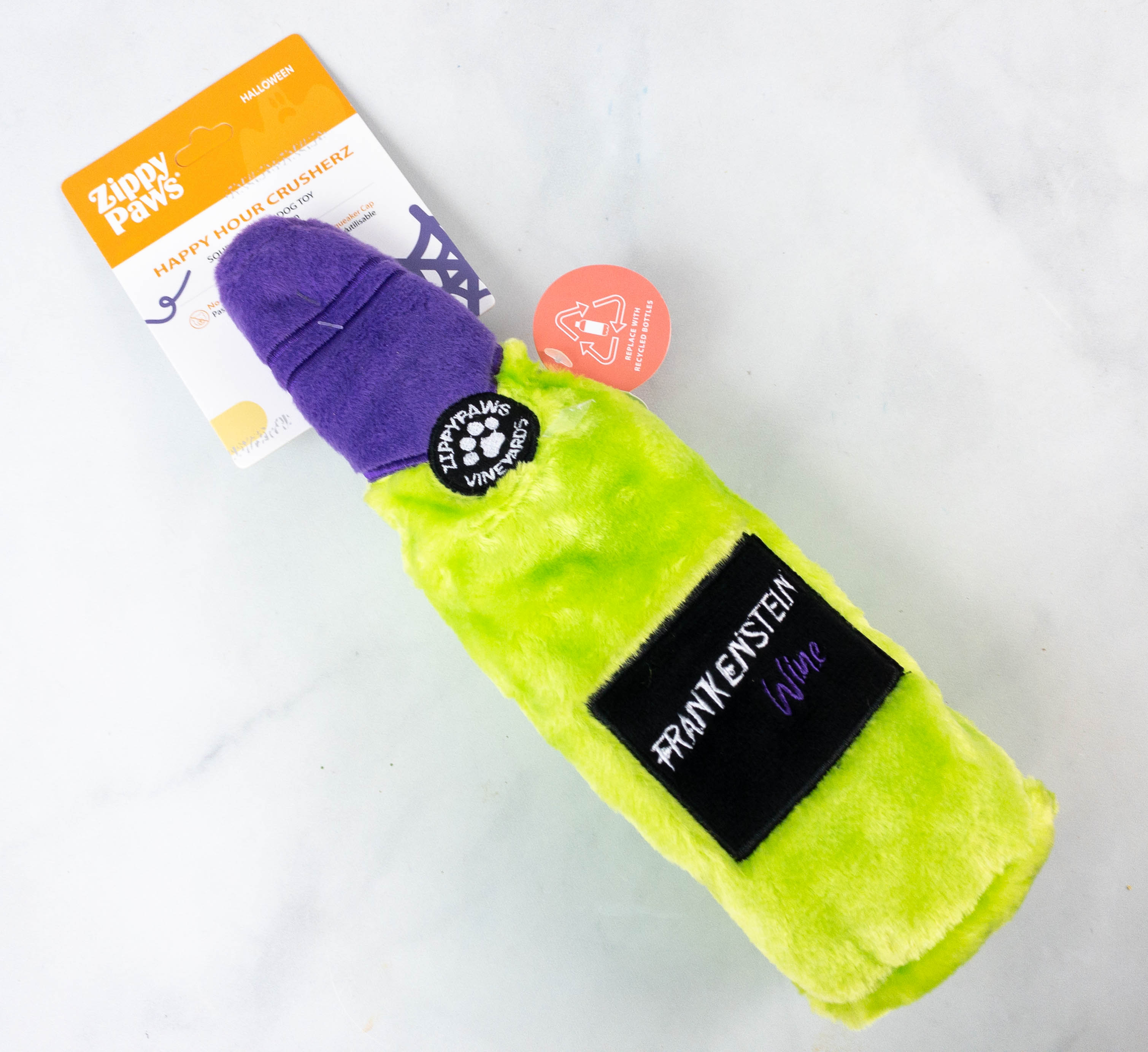 Zippy Paws Frankenstein Wine Dog Toy ($9.99) The second toy is also perfect for chewers and it's shaped like a wine bottle. It's made from durable materials so our dogs can enjoy it for a long time.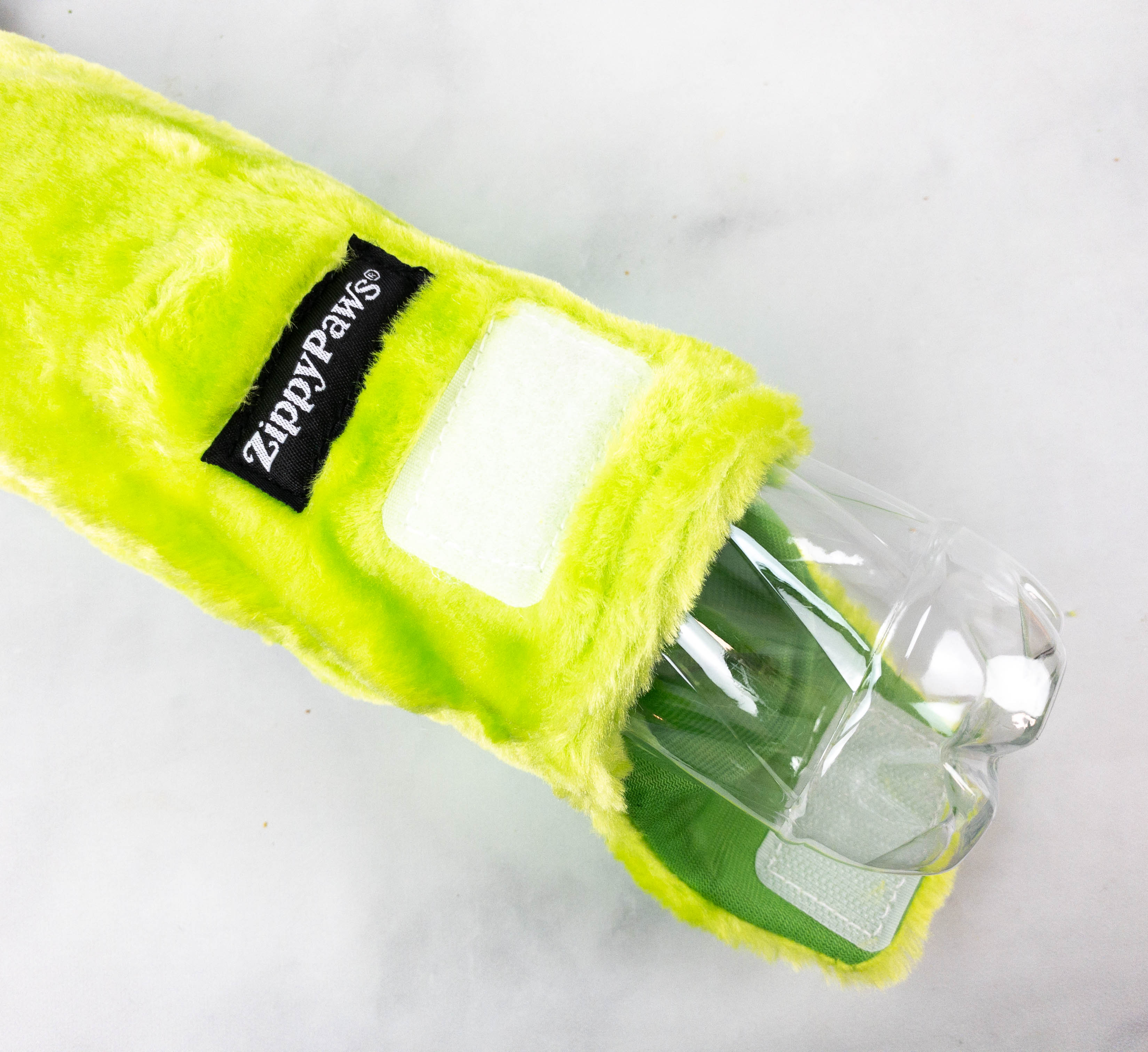 It came with a free water bottle and a reusable squeaky cap so we can replace it with empty water bottles in the future.
Pumpkin Dog treats. These local kitchen-made pumpkin dog treats are soft and bite sized, making them a perfect reward for dogs of all sizes. Aside from pumpkin, it also contains rice flour and citric acid.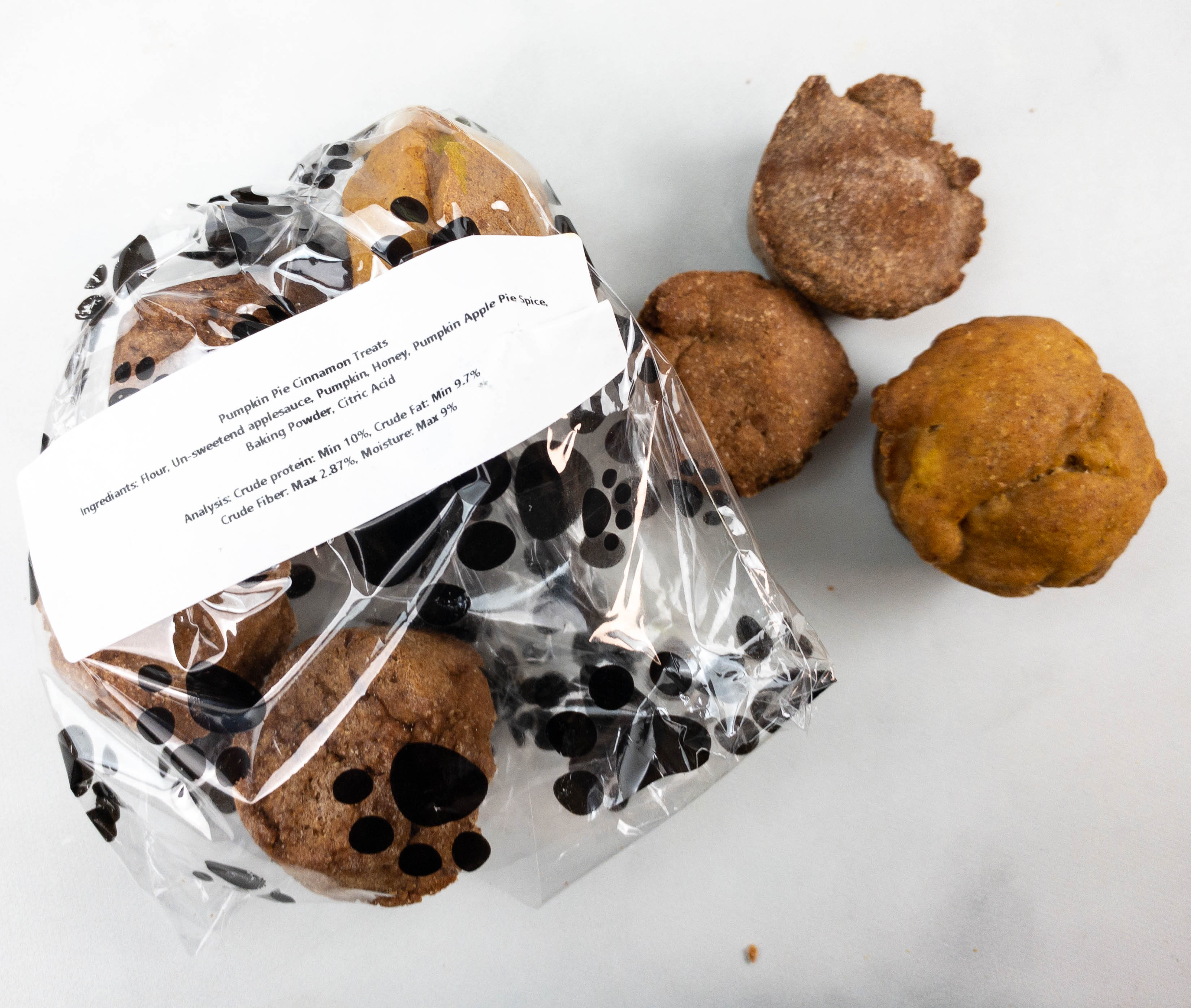 Pumpkin Pie Cinnamon Treats. The second bag of treats combines pumpkin with unsweetened applesauce, honey, and apple pie spice. This is the perfect fall treat for dogs!
My pups LOVED these snacks!! The bags weren't quite sturdy enough – one broke open in shipping – but everything was ok, because the toys and the bandana were all wrapped in plastic. I hope they improve the packaging for next time, and I'm thinking this could be the start of a new phase for Dapper Dog!
This month's Dapper Dog Box includes 2 fun and exciting toys and 2 pumpkin treats. As always, the toys are made from high quality materials. They are perfect for chewers and for active dogs. The treats are great for training or just for everyday snacking. Of course, there's also a double sided bandana and this time, it's Halloween-themed! It makes a simple but cute Halloween accessory for Buffy! Overall, this was another fun box. They had supplier problems, but it's good to know they were still able to turn things around and come up with a great solution!
What do you think of this month's box?