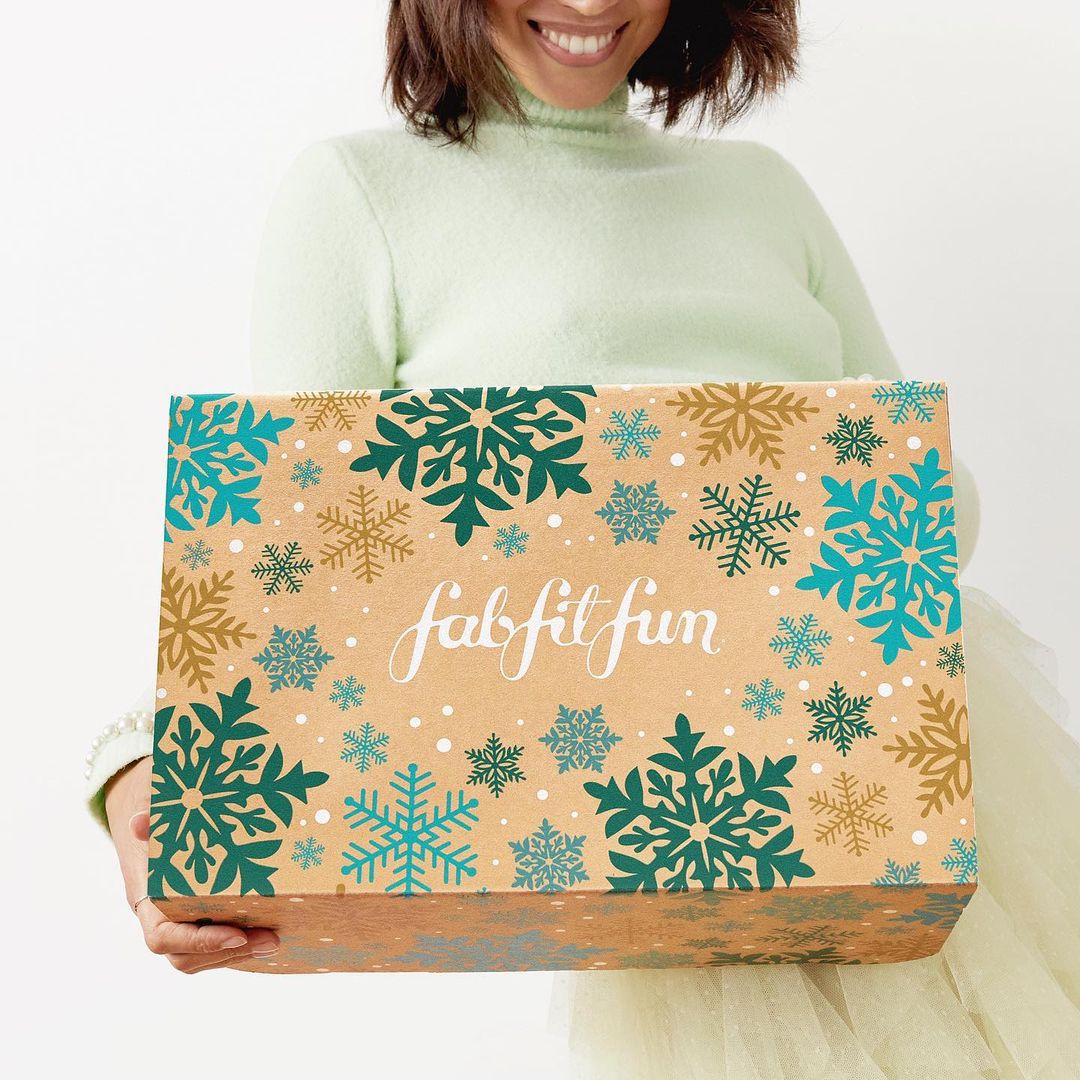 We have the full spoilers for third and fourth round of choice spoilers for the FabFitFun Winter 2021 box! For choices one and two, all members (that's annual and seasonal) can take their pick! Annual member customization starts on November 2, and seasonal member customization starts on November 16. Missed the previous spoilers? Check out everything for choices 2 and 1, see the goodies that help you say Tis the Season or check out cozy and chic products for the holidays or the items to glam it up and get a fantastical finish plus products for a New Year, New You!
Not a subscriber? Use this link and coupon code FAB10 to get your first box for $10 off!!
All customization categories this season will include a mystery/surprise option!
Also, starting this Winter season, we're offering a Mystery Surprise choice in each Customization category! What this means is that if you choose this option, you will be surprised either with an item from that Customization category or another exciting item that will remain a mystery. These items could include products from past sales, boxes, or new items we haven't featured yet.* *We'll be offering this option across all Customization categories, and you can choose "Mystery Surprise" for any grouping you don't make a selection for, from categories 1-6. This is a fun way to add a little mystery to your box or if you're extremely indecisive like me, let us make the decision for you!
---
Winter 2021 Choice 3 – All Members May Choose:
BITE Beauty™ Power Move Hydrating Soft Matte Lipstick in Sugar Buns ($28 Value)
Bold clean color in a hydrating, soft matte finish lipstick. Lasting lightweight wear. Nourishing cocoa butter. Power Move Soft Matte Lipstick in the shade Sugar Buns in the signature, soft-touch Bite lip component.
Kate Spade Rise & Shine Stud Earrings – Set of 2 ($68 Value)
These petite studs set glass pearls and cubic zirconia crystals against gold-plated metal for a sublime effect.
Koral 1lb Ankle/Wrist Weights ($35.00 Value)
These 1LB ankle weights can help you tone and tighten your body. Targeting your legs and glutes by adding extra resistance. Suitable to wear whilst working out, running and walking.
True + Luscious Lucky Glow Palette Vol. 2 ($46 Value)
A multi-dimensional complexion palette that features expertly curated, buttery bronzers, highlighters and blush that can be layered together seamlessly to create a luminous glow. Handcrafted with pure, concentrated pigments in a sheer base, each luxurious shade can be worn on its own or blended to create an endless range of looks from a healthy glow to full glam.
Masontops Mason Jar Cocktail Shaker Kit ($40 Value)
Shake up your favorite cocktails in the comfort of your own home! The bundle includes a mason jar, spoon and fork, strainer with pour spout, and rubber shot glass for all your cocktail needs.
Dr. brandt skincare Collagen Serum ($60 Value)
This concentrated serum is infused with a custom blend of key amino acids that help preserve and boost collagen levels to maintain younger-looking, glowing skin. This formula contains six key amino acids, which together make up almost 80% of collagen's natural composition. These six key amino acids work to help minimize the breakdown of collagen by counteracting the effects of skin scavengers, including free radicals while supporting the skin to continually produce its own natural collagen. The peptide-rich formula also maximizes and strengthens the formation of collagen fibers, increasing skin's resilience and elasticity over time.
Michael Kors Beanie with Pom ($48 Value)
Add a flirty touch to your winter ensembles with this chic gray beanie. The cozy beanie features ribbed detailing, a fluffy pom pom, and a Michael Kors metal logo stitched on the fold.
---
---
Winter 2021 Choice 4 – All Members May Choose:
Briogeo Scalp Revival Charcoal + Tea Tree Scalp Treatment ($32 Value)
A soothing and detoxifying scalp treatment that balances hydration and provides relief to an itchy, irritated, flaky scalp.
Briogeo Curl Charisma™ rice amino + avocado leave-in defining crème ($20 Value)
For those with wavy, curly and coily hair texture types – 2A to 4C. This curl crème is infused with rice amino acids, avocado oil, quinoa extract, and tomato fruit ferment extract to enhance moisture and definition for soft, bouncy, and vibrant curls.
Briogeo Farewell Frizz Heat Protectant ($24 Value)
This lightweight finishing formula is infused with a nourishing blend of rosehip, argan, and coconut oils to smooth hair, enhance shine, tame frizz, and thermal protect up to 450°F.
TULA The Cult Classic Purifying Cleanser ($28 Value)
A cult favorite, this refreshing gel-based face cleanser removes dirt, impurities & makeup without stripping or over-drying. Prebiotics, probiotic extracts & turmeric leave skin purified, clarified & balanced. Get ready for a good skin day, every day.
Shipping Restrictions: cannot be shipped to UK
Way of Will Slim Deep ($37.50 Value)
Formulated with pure essential and carrier oils designed to penetrate deep into the skin to firm, tighten, and tone. The delicate citrus scent instantly uplifts, creating a feeling of liveliness and brightness.
Here's the full schedule for the Winter Box!
Customization, Add-ons, Swaps, Boosts, and reFills schedule:
Annual Add-Ons: Annual Access to Winter Add-Ons begins November 1 and ends on November 5
Annual Customization: Annual Member Customization & Boost My Box & reFills starts November 2 through November 5
Annual Member Swap for Credit: Swaps for the Winter 2021 season are available now until November 4
Add-Ons For All: All Members Winter Add-Ons begins November 15 and ends on November 19
Seasonal Customization: Customization & Boost My Box & reFills open to seasonal members November 16 and ends on November 19
Seasonal Members Swap for Credit: Swaps for the Winter 2021 season are available now until November 18.
All opening times are at 9am PT and all closing times are at 11:59 p.m. PT.
Let us know what you're hoping to find in your Winter box!
FabFitFun Box is a quarterly women's subscription box that promises fabulous full-size beauty, fashion, and fitness items every quarter. Pick between quarterly or annual subscription, and get full-sized, premium products including makeup, skincare, fashion, wellness, and home decor! You can choose to customize your box every season (or buy add-ons), or keep everything as a surprise! Each season, FabFitFun partners with an amazing charity or organization to bring awareness to a worthy cause!