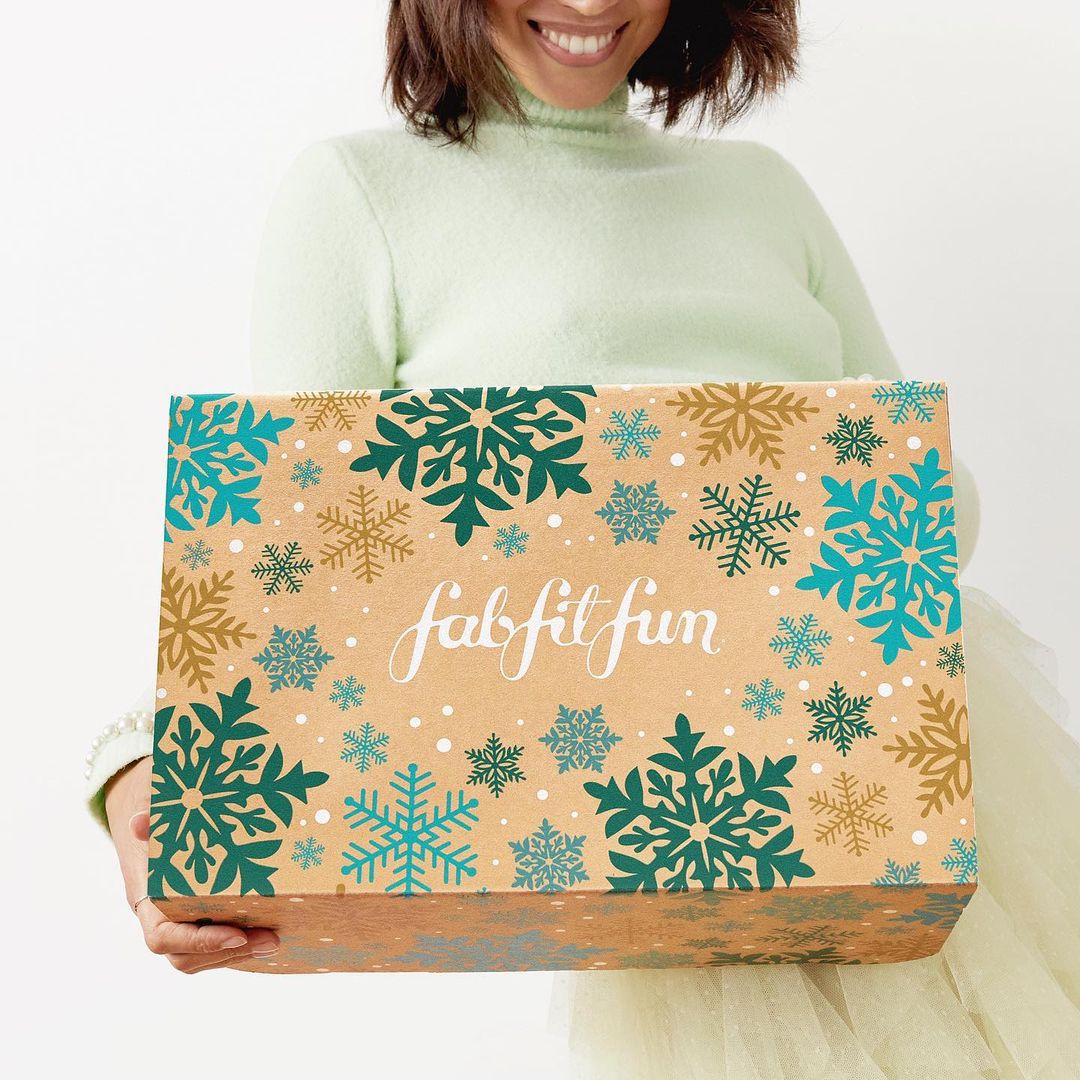 Tis the Season for the FabFitFun Winter Box! This quarter, FFF is doing it differently by spoiling the items by theme, and customization categories products will all be spoiled next week! Up now, ALL the spoilers for the FabFitFun Winter 2021 Tis the Season theme!
It's the most wonderful time of the year. Celebrate with friends, family, and all the cheer!
Not a subscriber? Use this link and coupon code FAB10 to get your first box for $10 off!! 
---
Winter 2021 Tis The Season spoilers:
Masontops Mason Jar Cocktail Shaker Kit ($40 Value)
Shake up your favorite cocktails in the comfort of your own home! The bundle includes a mason jar, spoon and fork, strainer with pour spout, and rubber shot glass for all your cocktail needs.
How To Use: Mix your favorite cocktail, shake, stir, and pour! Hand wash with soap and water. Pro Tip – apply a small amount of water to the inside of the sleeve to assist in sliding on and off the jar.
Product Inclusions:
1x Masontops regular mouth Mason jars in 16 oz (made of soda-lime glass).
1x Teal silicone Mason jar sleeve.
1x Strainer lid made of BPA-free and phthalate-free plastic.
1x Silicone lid cap/shot glass.
1x Metal swizzle fork/spoon swizzle stick.
---
Epare Milk Frother ($24.95 Value)
A barista-grade frother built to last. Prepare frothy coffee creations at home with the push of a button. Foams half & half, soy, almond or coconut milk; whips cream; mixes matcha and stirs protein shakes quick. Save money by making delicious lattes, cappuccinos and more in the comfort of your own kitchen! The stainless steel whisk shaft won't wobble or bend when foaming your favorite milk. And it cleans up easily in soapy water. Battery-powered, easy to hold, and quiet!
How To Use: Fill a glass 1/3 full with milk and lower the whisk halfway into the milk. Press and hold the button to begin whisking. Raise the frother just below the surface of the milk, and continue to raise and lower it at a 45° angle for 30-45 seconds for rich, creamy foam.
---
GLAMNETIC Virgo Magnetic Eyelashes + Soo Future! Mini Magnetic Felt Tip Eyeliner Pen in Deep Space ($72.98 Value)
Add an extra "wow" factor to your makeup look with these gorgeous lashes. The eyeliner pen gives you a highly pigmented wing while keeping your lashes in place all day with its strong magnetic hold. The lashes are made from top-quality synthetic fibers for an all-natural look. They're also vegan-friendly and feature six magnets on the back to hold tight onto the magnetic eyeliner all day.
Shipping Restrictions: UK restricted
---
Vahdam Teas Recovery Sampler ($25 Value)
A signature assortment of our in-house blends that boast of enriching flavors, range of health benefits, immunity-boosting properties, and the most exquisite aromas. Tastefully handpicked.
Turmeric spiced Herbal Tea Tisane – 5 Tea Bag Sachets
Turmeric Ginger Herbal Tea Tisane – 5 Tea Bag Sachets
Sweet Cinnamon Masala Chai – 5 Tea Bag Sachets
India's Original Masala Chai – 5 Tea Bag Sachets
Vanilla Spiced Chai Tea – 5 Tea Bag Sachets
---
BENNKAI Hot Chocolate Bomb Maker ($15 Value)
Hot Chocolate Bomb Maker; Designed to support 4 half-spheres and included a custom swirl effect on two half-spheres to provide the effect of a chocolate swirl and a belly band.
Dimensions: 6.3" X 6.3" X 1.07"
How To Use: Supplies: Melting Chocolate, Baking Sheet, Mug, Fillers such as hot chocolate mix, mini marshmallows, sprinkles, sea salt, etc. The options are endless!
Melt chocolate in the microwave.
Add a heaping TBSP of melted chocolate into the molds and spread using the back of a spoon.
Place mold on a small baking sheet and freeze for 5 minutes.
Gently press each cavity to release the chocolate.
Fill half the molds with a TBSP of hot chocolate mix and your favourite fillings.
Use leftover melted chocolate to pipe or brush two halves together to seal them. \n7 Decorate with sprinkles and extra piped chocolate. \n8 Freeze finished chocolate bomb for 5 minutes.\n9 Place hot chocolate bomb in a mug. Pour one cup of piping hot milk over the bomb. Stir and enjoy!
Materials: 100% BPA Free Silicone
---
UnHide Lil' Marshmallow Blanket in Charcoal, Rose, or Silver ($65 Value)
The member-favorite blanket is back! This time, the faux fur blanket is featured in a gorgeous charcoal shade. Snuggle up with this blanket on the couch or use it as chic home decor.
Cruelty-free and eco-conscious
Light-weight
Extra soft
Dimensions: 50 X 60
Materials: 100% polyester
---
FFF also has a message on shipping and availability:
Now, as many of you may have probably read in the news, businesses around the nation are being impacted by global supply chain and shipping issues relating to Covid-19, and FabFitFun is not immune to these challenges. However, our warehouse team was as proactive as possible, moving up delivery dates for Winter products, ensuring a timely and efficient quality assurance inspection for all inventory, and working in real time with our many shipping couriers to try to avoid as many issues as possible.
To remain transparent, we still have a percentage of Winter inventory that is held up at the port. This is due to a shortage of labor to unload the ships currently on the water and transport them to our warehouse. While we are working very closely with our partners and hope to bring them into the warehouse asap, there is still a chance that a percentage of these products may not arrive in time. And while we hope to get all the items into customization, if we can't, we will quickly try and get them into Add-Ons, the Shop or future sales so all members still have a chance to snag these products! We know this may not have been the update you wanted to hear, but the Covid related transportation issues remain a real, pretty crazy challenge.
Finally, please know we have heard your concerns and feedback and we can assure you that improving our inventory planning process is the highest priority for us, especially going into the new year. In an effort to avoid overselling or overpromising, we are proactively communicating these issues and making the tough decisions on what we can and cannot include in both Customization windows due to fluctuating inventory. Due to these proactive decisions we have made, we are still confident that we will ship your box within our standard timeframe, especially because it is the holidays and we understand FabFitFun is a source for holiday shopping! We appreciate your continued patience as we navigate the ever changing supply chain situation and will keep you updated if there are any changes to this plan.
---
Here's the full schedule for the Winter Box!
Customization, Add-ons, Swaps, Boosts, and reFills schedule:
Annual Add-Ons: Annual Access to Winter Add-Ons begins November 1 and ends on November 5
Annual Customization: Annual Member Customization & Boost My Box & reFills starts November 2 through November 5
Annual Member Swap for Credit: Swaps for the Winter 2021 season are available now until November 4
Add-Ons For All: All Members Winter Add-Ons begins November 15 and ends on November 19
Seasonal Customization: Customization & Boost My Box & reFills open to seasonal members November 16 and ends on November 19
Seasonal Members Swap for Credit: Swaps for the Winter 2021 season are available now until November 18.
All opening times are at 9am PT and all closing times are at 11:59 p.m. PT.
Let us know what you're hoping to find in your Winter box!
FabFitFun Box is a quarterly women's subscription box that promises fabulous full-size beauty, fashion, and fitness items every quarter. Pick between quarterly or annual subscription, and get full-sized, premium products including makeup, skincare, fashion, wellness, and home decor! You can choose to customize your box every season (or buy add-ons), or keep everything as a surprise! Each season, FabFitFun partners with an amazing charity or organization to bring awareness to a worthy cause!