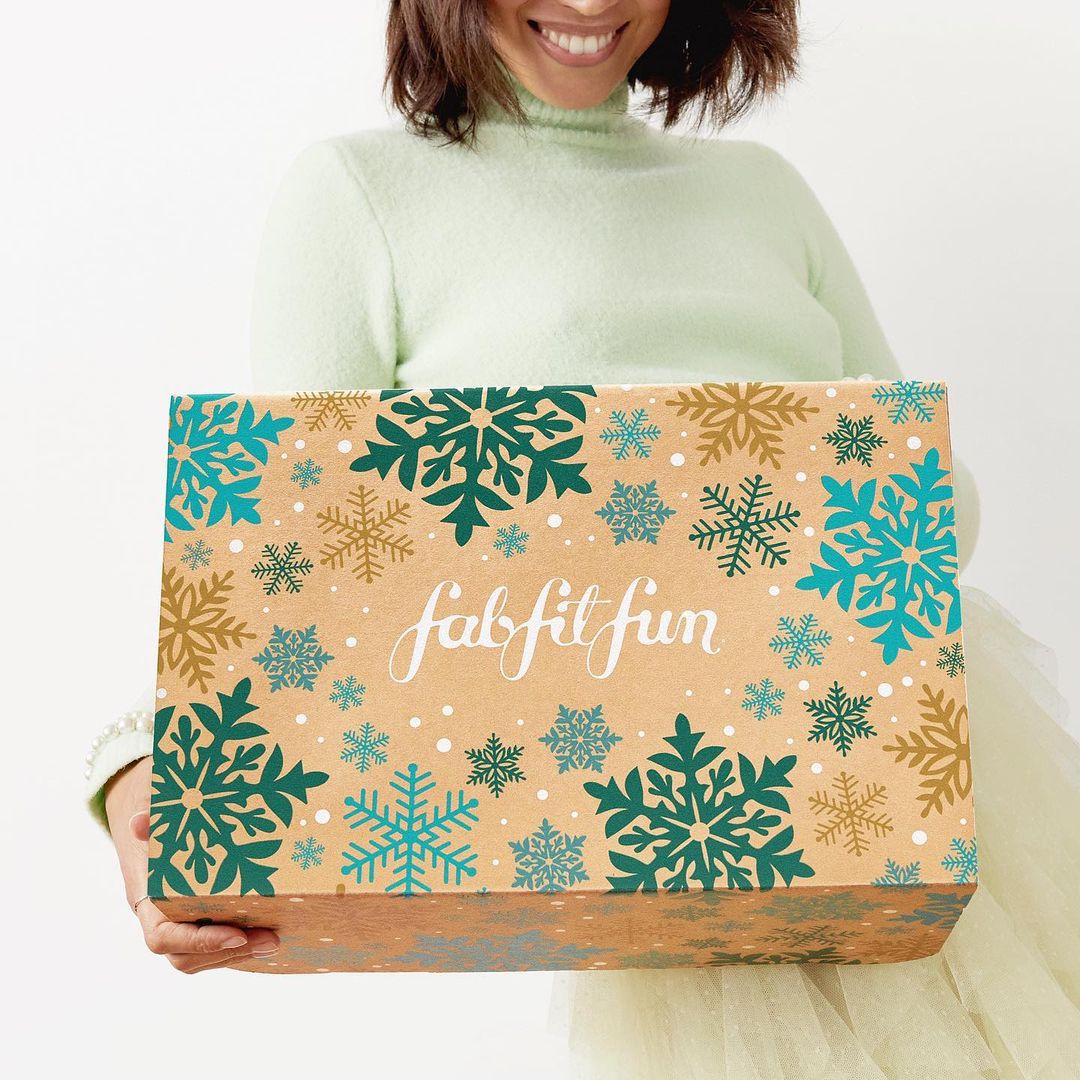 We have the full spoilers for first and second round of choice spoilers for the FabFitFun Winter 2021 box! For choices one and two, all members (that's annual and seasonal) can take their pick! Annual member customization starts on November 2, and seasonal member customization starts on November 16. Missed the previous spoilers? See the goodies that help you say Tis the Season or check out cozy and chic products for the holidays or the items to glam it up and get a fantastical finish plus products for a New Year, New You!
Not a subscriber? Use this link and coupon code FAB10 to get your first box for $10 off!!
All customization categories this season will include a mystery/surprise option!
Also, starting this Winter season, we're offering a Mystery Surprise choice in each Customization category! What this means is that if you choose this option, you will be surprised either with an item from that Customization category or another exciting item that will remain a mystery. These items could include products from past sales, boxes, or new items we haven't featured yet.* *We'll be offering this option across all Customization categories, and you can choose "Mystery Surprise" for any grouping you don't make a selection for, from categories 1-6. This is a fun way to add a little mystery to your box or if you're extremely indecisive like me, let us make the decision for you!
---
Winter 2021 Choice 1 – All Members May Choose:
Sunday Riley A+ High-Dose Retinoid Serum ($85 Value)

Advanced-strength retinoid serum delivers a 6.5% solution of stabilized retinoid blends and botanical, retinol-alternative extracts into the skin. Combining 5% retinoid ester blend, 1% liposomal-encapsulated retinol blend, and 0.5% blue-green algae with natural, retinoid-alternative activity, this serum fights the signs of aging and improves the look of congested and UV damaged skin. Encapsulated CoQ10 helps to improve the appearance of aging or damaged skin, while rare, Hawaiian white honey, bisabolol, cactus extract, and ginger balance and soothe the skin for the appearance of a calmer, even-toned complexion.
Shipping Restrictions: CA restricted

Sunday Riley Luna Sleeping Night Oil (CAN ONLY) ($55 Value)

A next-generation retinol oil that boosts the look and feel of skin plumpness, while improving the appearance of wrinkles, redness, and pores for visibly younger-looking skin. Luna works throughout the night to deliver visibly youthful, luminous, even-toned skin in the morning. Trans-retinoic acid ester complex reduces the appearance of pores and wrinkles, while visibly improving the signs of premature aging: fine lines, uneven texture, age spots, dryness, and dullness. Balanced with blue tansy and German chamomile essential oils, both rich in soothing, blue azulene, visible redness and the signs of sensitivity are neutralized, for a calm, even-toned complexion.
Shipping Restrictions: US and UK restricted

UnHide Lil' Marshmallow Blanket in Charcoal, Rose, or Silver ($65 Value)

The member-favorite blanket is back! This time, the faux fur blanket is featured in 3 gorgeous shades: Charcoal, Rose, or Silver! Snuggle up with this blanket on the couch or use it as chic home decor.

Herschel Mica Tote ($59.99 Value)
We found the most perfect tote that will comfortably carry all of your essentials. The Ash Rose tote features a zippered compartment, two inside pockets, and extended handles that allow it to be easily worn on the shoulder. You can pack your laptop, phone, makeup, and more! We know hopping from holiday parties to family events (not to mention getting back into the office) can be chaotic, so let us help you keep all your holiday cards and gifts organized! We love the dusty rose shade that is the perfect neutral to go with just about anything in your closet! And of course Hershel is amazing – the Canadian based accessories brand is known for it's timeless style, attention to detail and overall quality. This is going to be a bag that is with you for a while.
Mark & Graham Wine Opener ($49 Value)

Designed to open your favorite wine at the touch of a button, this electric corkscrew makes happy hour a breeze. Crafted from durable stainless steel, this battery powered wine opener works on all cork types and features a built-in foil cutter for added convenience. You're sure to impress your guests when it's time for happy hour! If you have ever suffered from corkscrew crumbles in a glass of wine – you already know why this is a must have. It's super high quality with a sleek design that we know you will love.
---
Winter 2021 Choice 2 – All Members May Choose:

GLAMNETIC Virgo Magnetic Eyelashes + Soo Future! Mini Magnetic Felt Tip Eyeliner Pen in Deep Space ($72.98 Value)

Add an extra "wow" factor to your makeup look with these gorgeous lashes. The eyeliner pen gives you a highly pigmented wing while keeping your lashes in place all day with its strong magnetic hold. The lashes are made from top-quality synthetic fibers for an all-natural look. They're also vegan-friendly and feature six magnets on the back to hold tight onto the magnetic eyeliner all day.
Shipping Restrictions: UK restricted

Glow by Daye Pacific Dream Duo Set ($40 Value)

2 in 1 reversible bonnet duo set is perfect for overnight protection to prevent frizz, maintain hair's moisture, reduce breakage, preserve styles and more. Designed to fit any and all your many hairstyles. This spacious, luxurious sleep cap is also adjustable.
Our Place Layered Lunch Box with Clips + Utensils ($35 Value)

The cutest way to meal prep! Just about the same size as Bentgo but slightly taller. 2 stackable containers with 2 compartments on top layer and one large bottom layer. The top layer nests into the bottom for storage.
Sur La Table 4-Piece Silicone Utensil Set in Red or Grey ($40 Value)

Set includes Spatula, Spoon, Slotted Spoon, and Slotted Turner. Engraved Sur la Table logo on handle, FSC wood handle.
Lilly Pulitzer Ceramic Mugs Set of 2 ($42 Value)

Coffee or tea? Whatever your morning routine calls for, give it some color with our printed ceramic mug. Ceramic mug with gold handle.
Soia & Kyo Woven Scarfigan with Fringe ($85 Value)

The perfect scarf-cardigan crossover by SOIA & KYO is crafted with our signature woven fabric in a modern colour blocking design with a simple fridge edge. It drapes beautifully over the shoulders, and is staple for an effortless change in season.

The Bright Angle Elixir Olive Oil Bottle – White ($56 Value)
The Elixir Bottle is designed to store olive oil, vinegar, soap, and other liquids. Handcrafted from white clay, the Elixir Bottle adds a touch of beauty to any decor. Includes oil stopper.
Dimensions: 3″ x 3″ x 9.5" excluding oil stopper.
Size: 24 fl oz
Short Stories Black & White Bowl Set ($39 Value)

These stackable bowls make the perfect addition to all your holiday parties and family get-togethers! Layout your food spread in style with this chic ceramic bowl set! Cause we can agree that food tastes better when it's in a cute dish right?
---
Here's the full schedule for the Winter Box!
Customization, Add-ons, Swaps, Boosts, and reFills schedule:
Annual Add-Ons: Annual Access to Winter Add-Ons begins November 1 and ends on November 5
Annual Customization: Annual Member Customization & Boost My Box & reFills starts November 2 through November 5
Annual Member Swap for Credit: Swaps for the Winter 2021 season are available now until November 4
Add-Ons For All: All Members Winter Add-Ons begins November 15 and ends on November 19
Seasonal Customization: Customization & Boost My Box & reFills open to seasonal members November 16 and ends on November 19
Seasonal Members Swap for Credit: Swaps for the Winter 2021 season are available now until November 18.
All opening times are at 9am PT and all closing times are at 11:59 p.m. PT.
Let us know what you're hoping to find in your Winter box!
FabFitFun Box is a quarterly women's subscription box that promises fabulous full-size beauty, fashion, and fitness items every quarter. Pick between quarterly or annual subscription, and get full-sized, premium products including makeup, skincare, fashion, wellness, and home decor! You can choose to customize your box every season (or buy add-ons), or keep everything as a surprise! Each season, FabFitFun partners with an amazing charity or organization to bring awareness to a worthy cause!