A new Holiday Crate from Kiwi Crate is now available in the Holiday Shop – the Christmas Candle Carousel!
DEAL:  Use this link to save 50% off your first month of any subscription in the KiwiCo Family – Kiwi Crate, Koala Crate, Doodle Crate, Tinker Crate, Panda Crate, Atlas Crate, Eureka Crate, or Maker Crate!!
AND Save 10% off on Kiwico shop purchases! Use coupon code HAPPY10.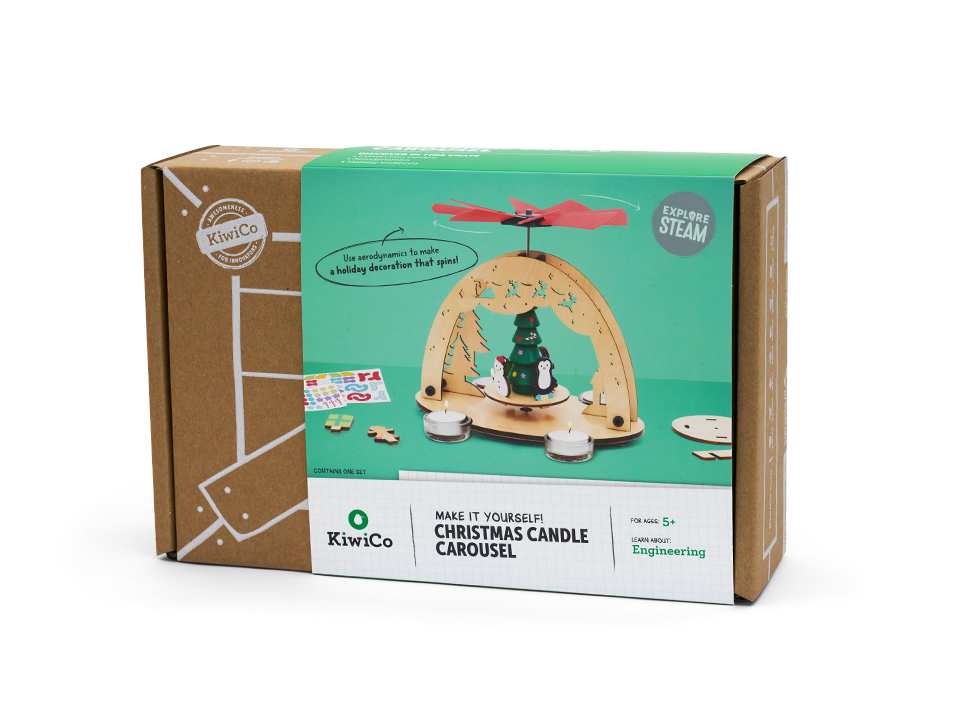 Christmas Candle Carousel ($19.95)
Get into the holiday spirit with STEAM! Harness the power of aerodynamics to build your very own spinning Christmas candle carousel. Explore how the candles in your carousel are for more than just show — they also heat up the air around them, causing it to rise in a gust of wind that spins the whole carousel around! Then discover the history, culture, and technology behind these de-light -ful decorations.
Here are more Holiday Crates available , ranging from about $14.95-$24.95 per kit.
Ice Skating Rink ($24.95)
Crystal Chemistry Tree ($22.95)
Science of Cooking: Bread and Butter ($19.95)
Santa Sleigh Automaton ($24.95)
Little Tree ($14.95) See our review!
Santa's Light-Up Workshop ($24.95) See our review!
Swirly Ornaments ($14.95) See our review!
STEM Holiday (3-Pack) ($59.95)
Our family has had so much fun with the KiwiCo holiday crates, we highly recommend these activities!