I wanted to get the first of our holiday Kiwi Crates up right away, because they just released a new coupon code! Take $5 off each holiday box with code HOLLY5. If you spend over $50 you'll get free shipping! We splurged and bought all the holiday crates for the kids! They received everything but the Penguin one for their birthdays this weekend – we saved that one for a Christmas gift!  The box we did today is "My Little Christmas" and is so sweet! It turned out great!
You can also save $10 on any subscription with code CHEER! or save 10% off everything (??) using code HOLIDAYFUN. Exp 12/31 on the second one!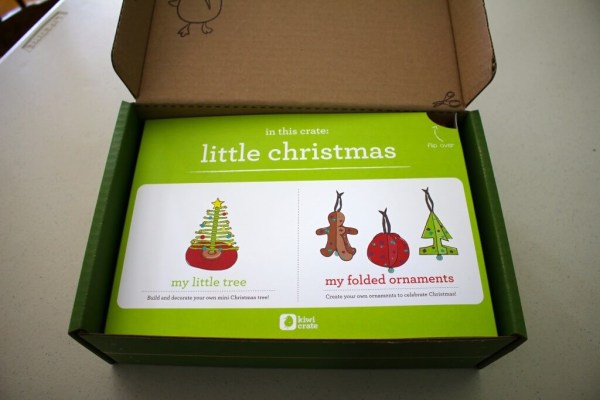 The Subscription: Kiwi Crate
The Description: Arts, crafts, and science activities subscription for kids ages 3-7.. Each box is organized around a theme!If you are a busy mom that needs to spend your extra time with your kids instead of hunting down a craft, a subscription craft and activity box is the way to go.
The Price: $20/month
The Coupon: Save $5 on every holiday box with code HOLLY5. Exp Unknown. Save 10% off everything? using code HOLIDAYFUN. Exp 12/31.
Kiwi Crate Holiday Box Review – Little Christmas
The Little Christmas box contained 2 great projects. The kids just love decorating for Christmas, and even more than that, they love making it themselves! It was perfect! Just like the normal Kiwi Crates the back of the information card has the sticker and the coloring cutout!
My Little Tree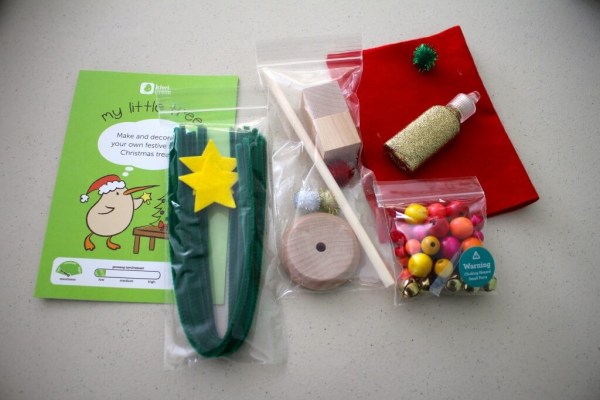 Everything we need to make this cute & simple craft – wrap the pipecleaners around the tree, decorate, and add a skirt with some gifts underneath the tree!
Obviously she can do it by herself, I just love this photo because I caught the perfect moment!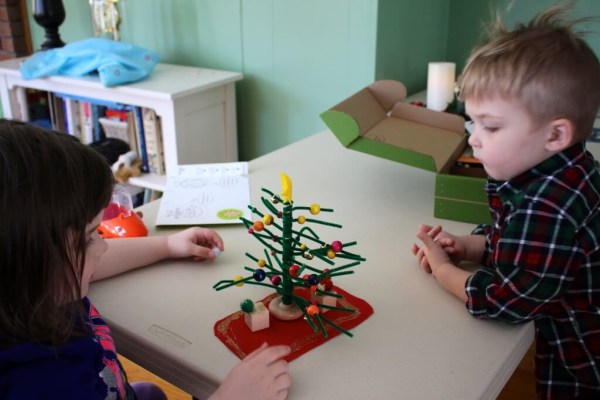 This is absolutely adorable. I suggested that Santa might leave a gift under this tree. Won't that be cute? Even just a few chocolates or something fun!
My Folded Ornaments
I hate to admit that we didn't get a great shot of the final product, but these turned out great!
The box contained everything we needed to make 4 folded ornaments. My mother in law was totally impressed that it really did have everything! I think the gluestick snuck its way out of the photo, but it was in the box!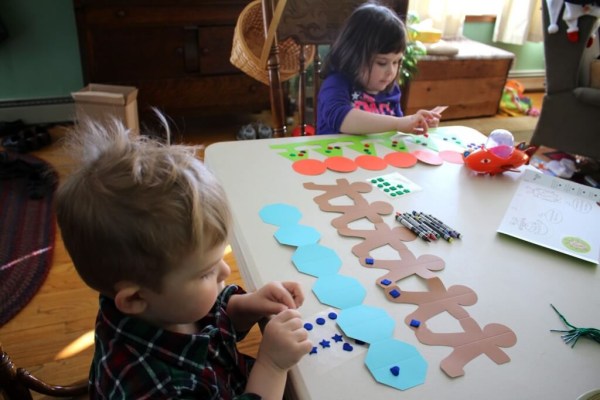 My guys loved this craft! They each did their own in their own way. I loved the felt stickers – they were super easy for little hands to manage.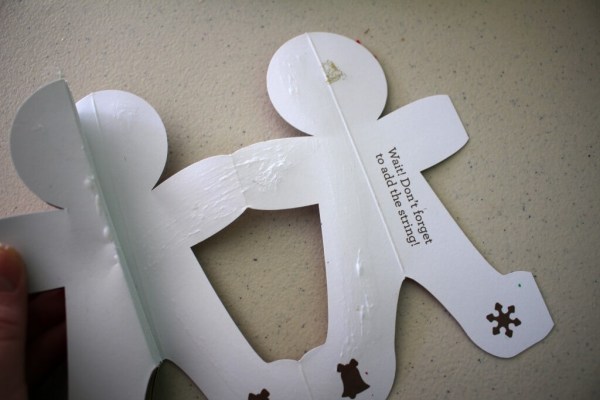 Thank you Kiwi Crate! I don't always read all the directions! Just an example of the thoughtful design in the crafts! If you want to subscribe or pick up some holiday boxes, head over to Kiwi Crate! Don't forget to use code HOLLY5 to save $5 off each Holiday Crate! We can't wait to do our next two boxes – Crafty Christmas & Gifts Made by Me!
Check out all my Kiwi Crate Reviews! Don't forget to take a look at the list of Subscription Boxes for Kids!