Nuevo is a culinary subscription featuring the flavors of New Mexico! Each box will include 4-5 New Mexican food items, from new products to classics and old favorites. It may include salsas, sauces, soup mixes, dip mixes, spice mixes, dried red and green chile, and more! The subscription is $43 per month.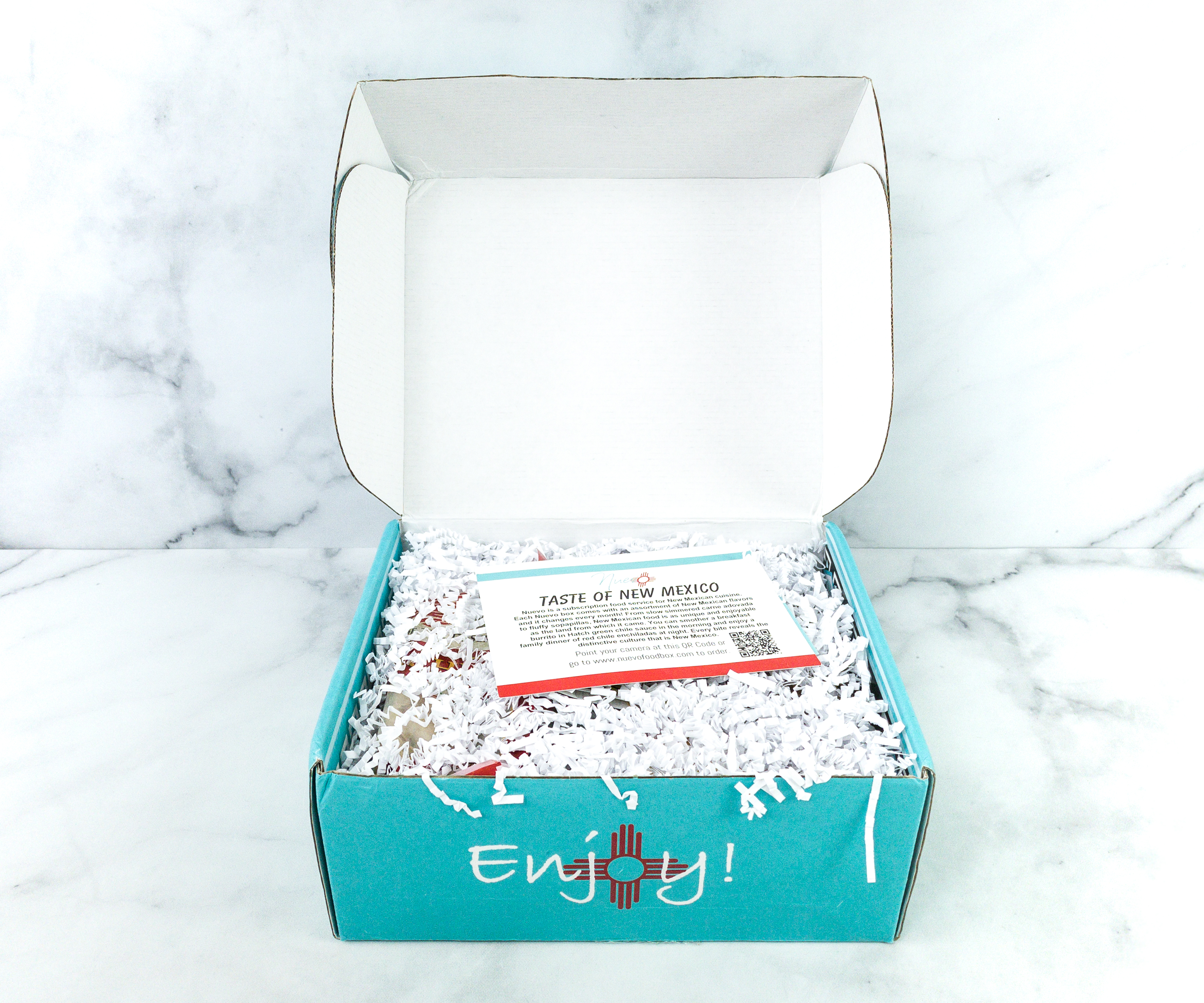 Upon opening, we were greeted by a card.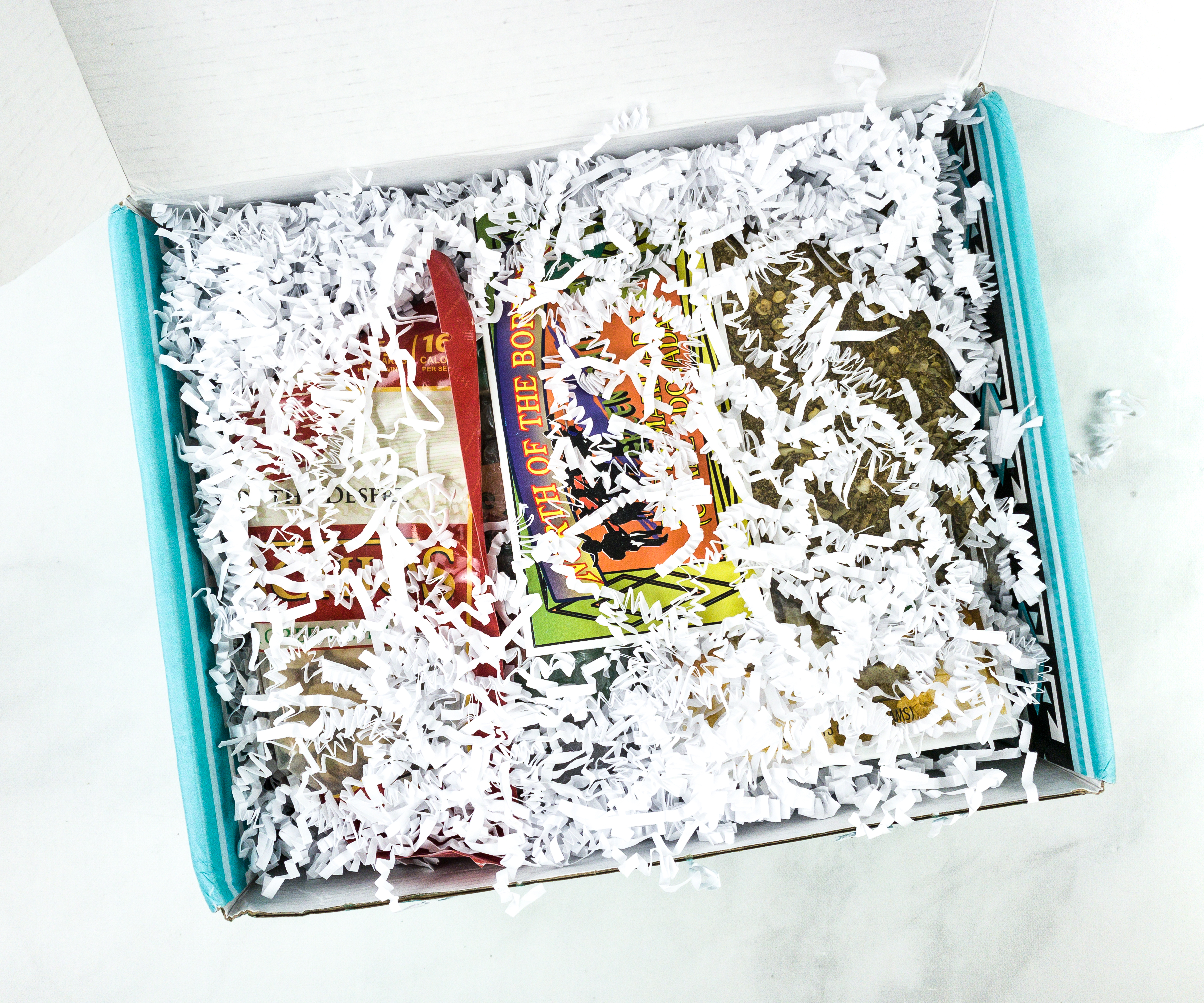 The box is filled to the brim! There's also white squiggles all over!
The card tells us what this box is all about.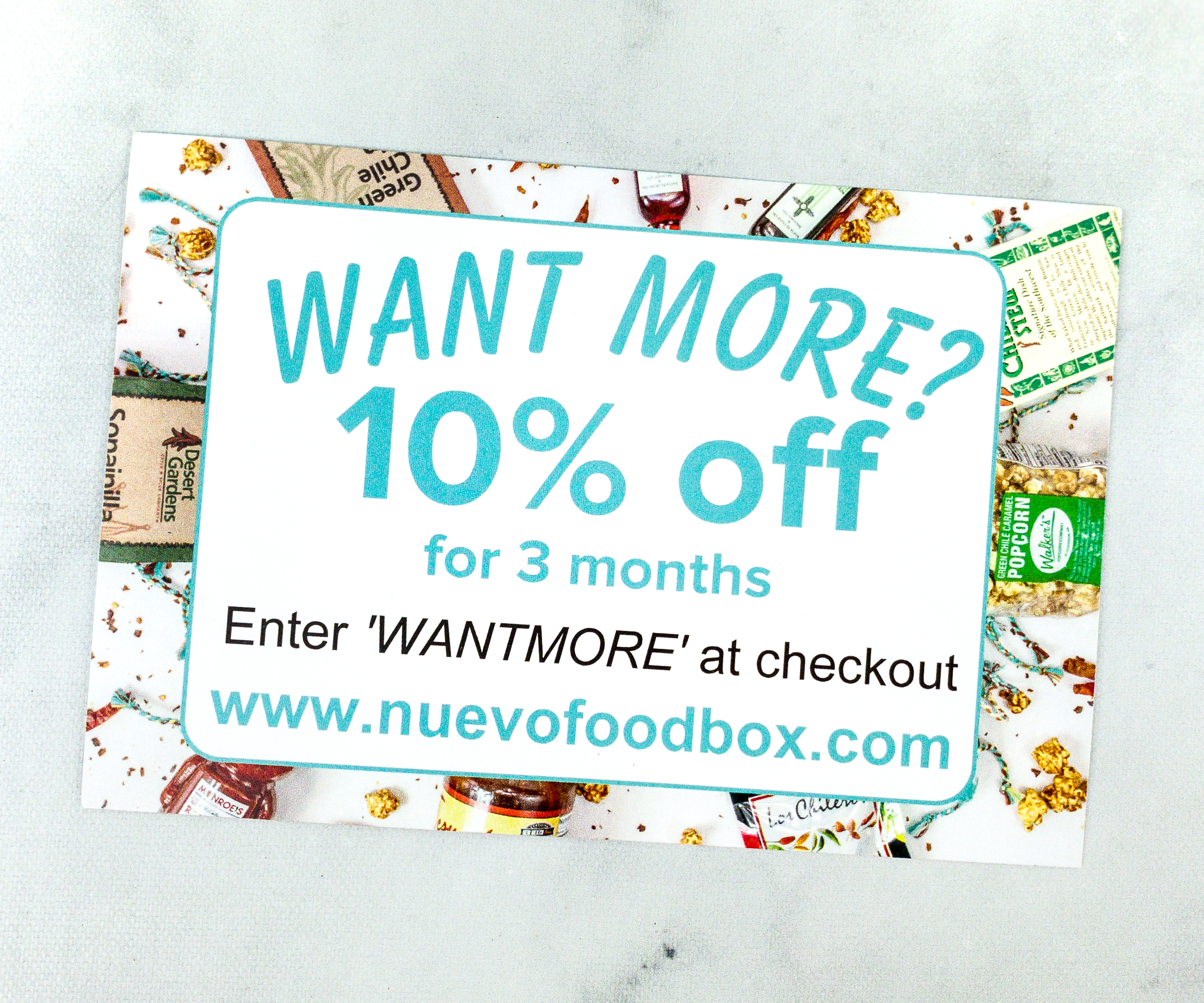 There's also a 10% off coupon that we can use on their website!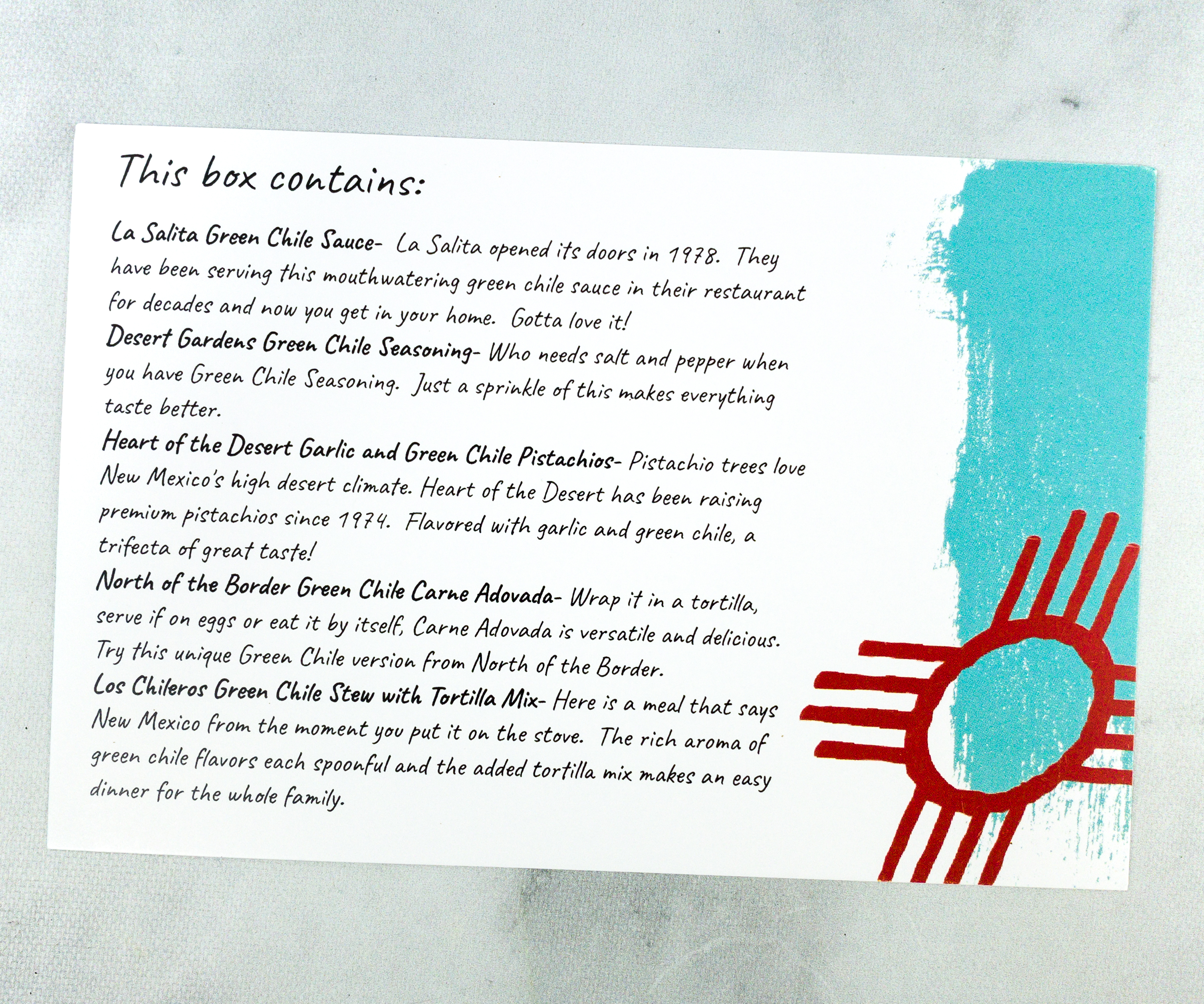 They also gave us a list of all the items included inside this box along with a short description for each!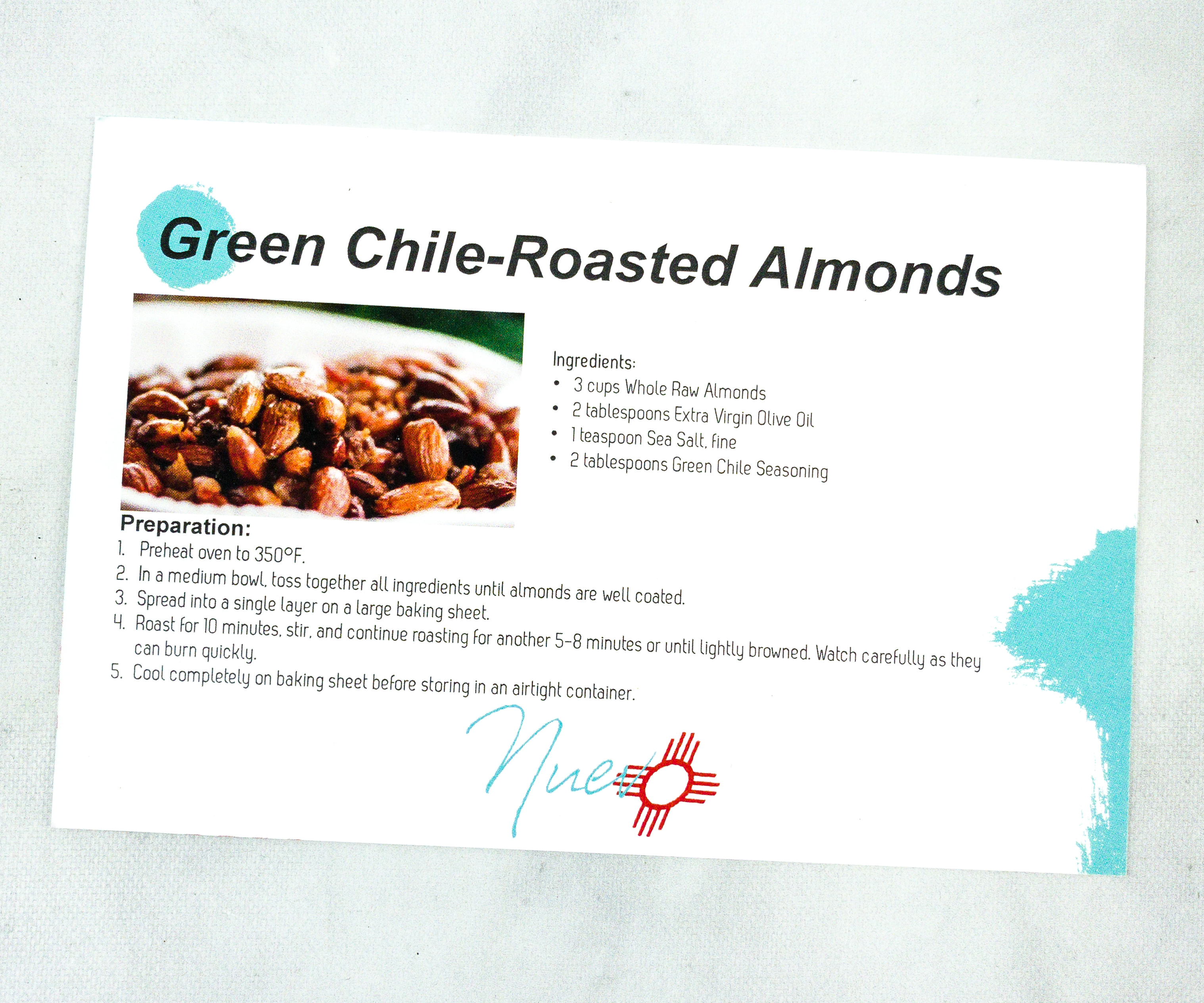 They even threw in some recipe! This month, it's Green Chile-Roasted Almonds.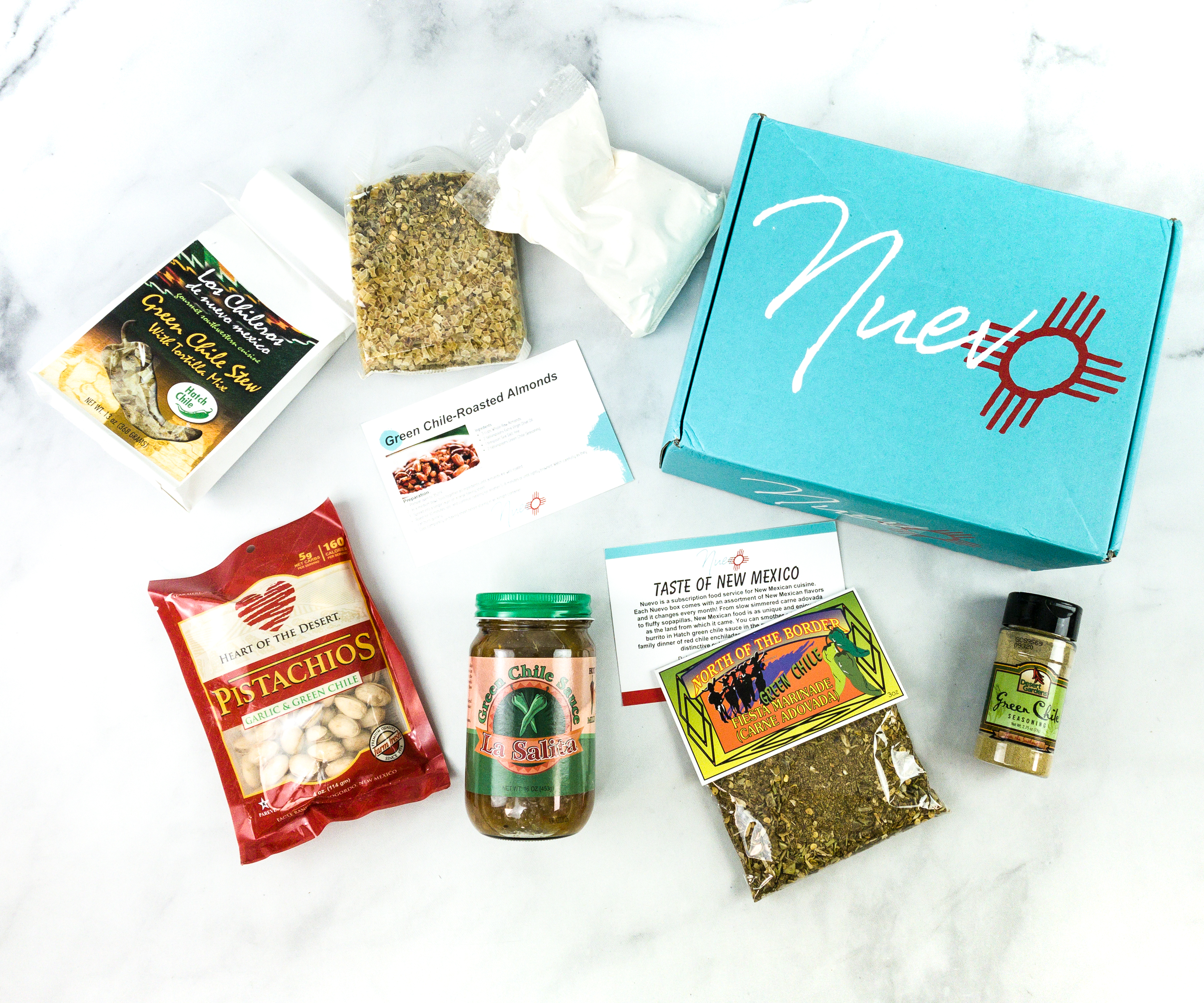 Everything in my box!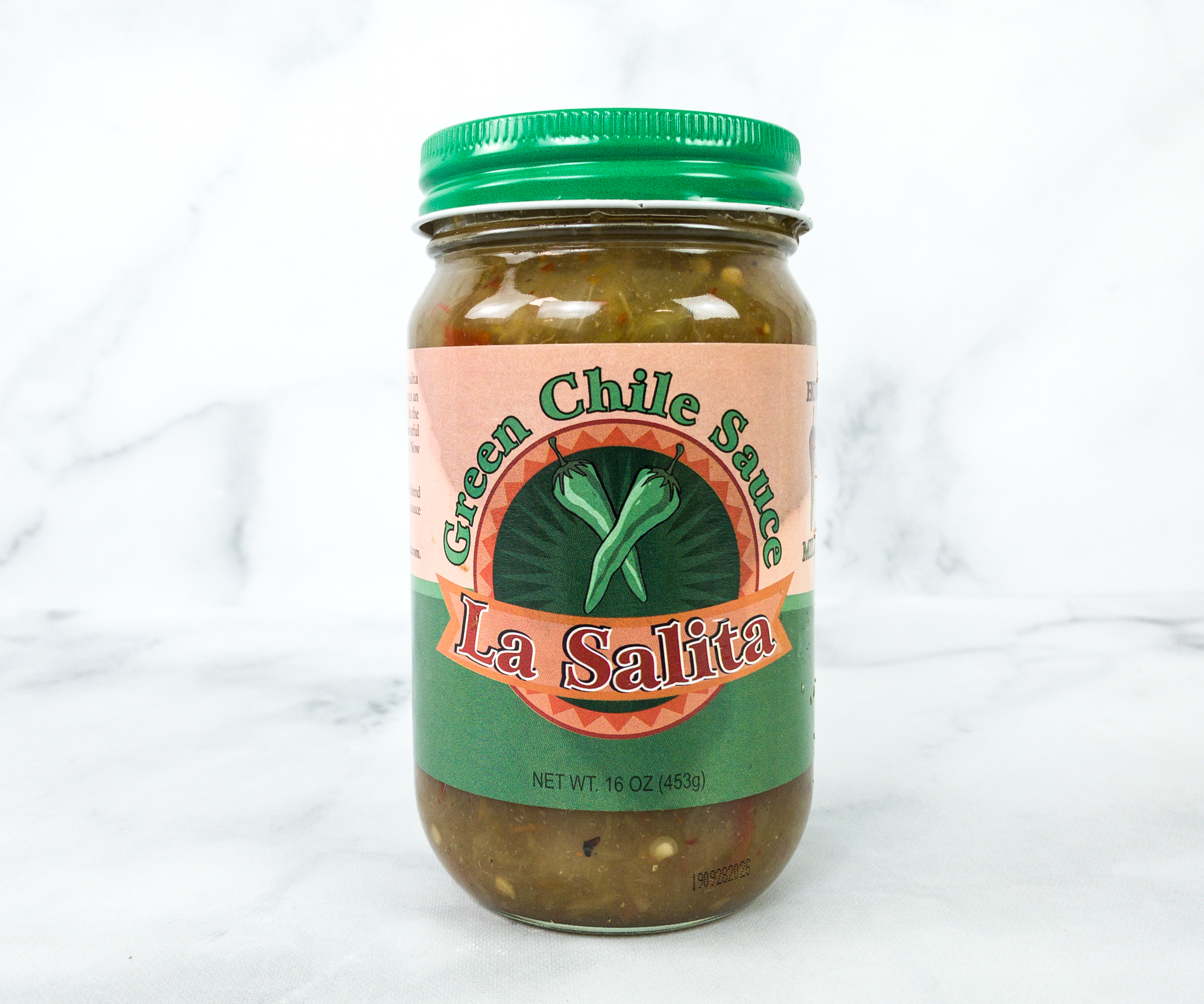 La Salita Green Chile Sauce ($5.75) This is a green chili sauce and it's has a delicious scent for me that I want to eat with everything and it definitely smells spicy!
Made with unique spices, this sauce is hot and flavorful which easily amps up any dish!
It is made with flame-roasted Mexico hatch green chilies that give it that unique flavor profile. This Mexican staple is great with burritos, enchiladas, and even burgers!
Desert Gardens Green Chile Seasoning ($5.03) Here's another way to spice up your dishes, a green chili powder seasoning! This is perfect as an add on to your dry rub for meat before grilling.
Aside from green chile, it also contains garlic, salt, and onion. I also tried sprinkling this on top of eggs and it tasted amazing. Just the right kick of spice to take usual eggs up a notch.
Also great with tacos!
Los Chileros Green Chile Stew with Tortilla Mix ($8.49) The next green chili product is green Hatch chile stew with tortilla mix!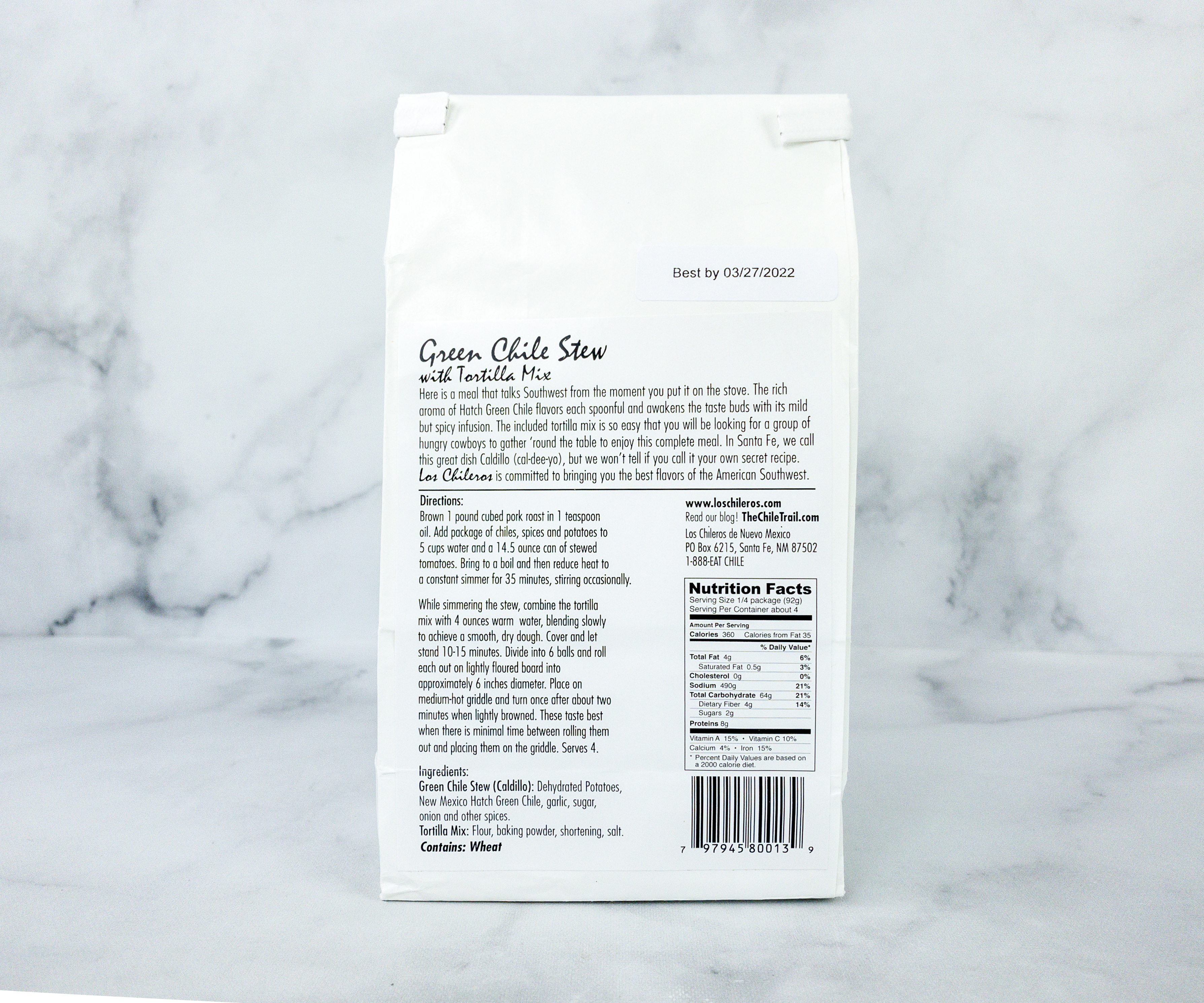 This dish is also known as Caldillo! The cooking instructions are at the back of the packaging and it's pretty easy to follow.
There are two packets inside! One is a tortilla mix made with flour, baking powder, shortening, and salt, while the other pack contains dehydrated potatoes, dried green chili, onion, garlic, sugar, and other spices.
To cook, you'd need to brown 1 pound cubed pork roast in 1 teaspoon oil, then add the package of chiles, spices, and potatoes to 5 cups of water. While waiting for it to simmer, blend the tortilla mix with warm water to create the dough. Cover and wait for 10-15 minutes before dividing it into balls. Then, roll each ball into 6 inches in diameter. Finally, place them on a griddle and turn when lightly browned.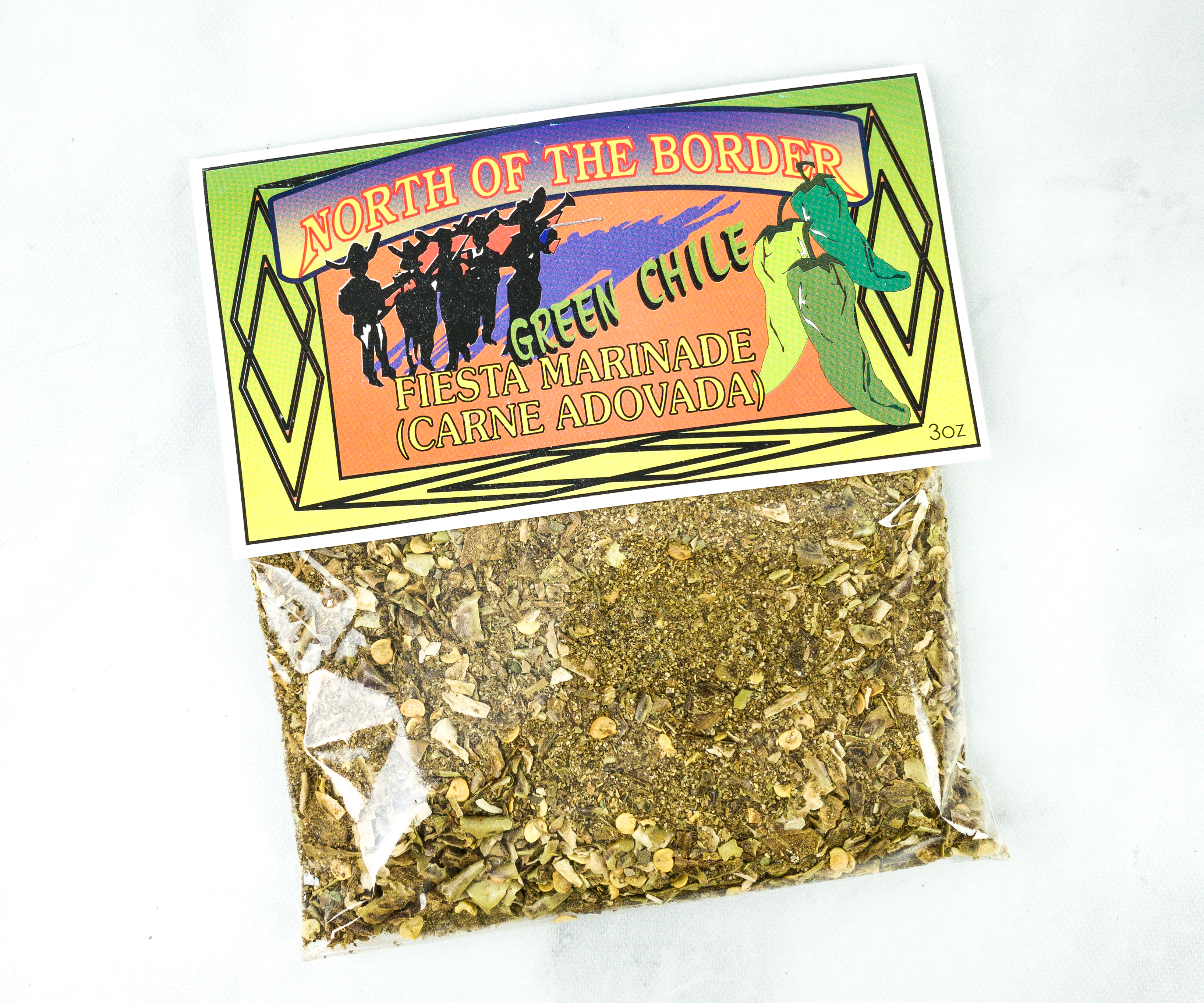 North of the Border Green Chile Carne Adovada ($5) This pack of green chili is for making a less traditional Carne Adovada, where you marinate the pork with green chile rather than red. Carne Adovada also goes well with tortillas and grated cheese!
Aside from green chile, this mix contains onion, garlic, red/green bell, oregano, comino, citric acid, and salt. Cooking instructions for Carne Adovada is indicated on the packaging. First, you need to mix the entire bag with 3 cups of cold water in a slow cooker, add your favorite cut of pork, then cook for 3 hours on low/medium.
Heart of the Deseret Garlic & Green Chile Pistachios ($5) I love pistachios and this snack takes it to a whole new level because it is flavored with garlic and green chili!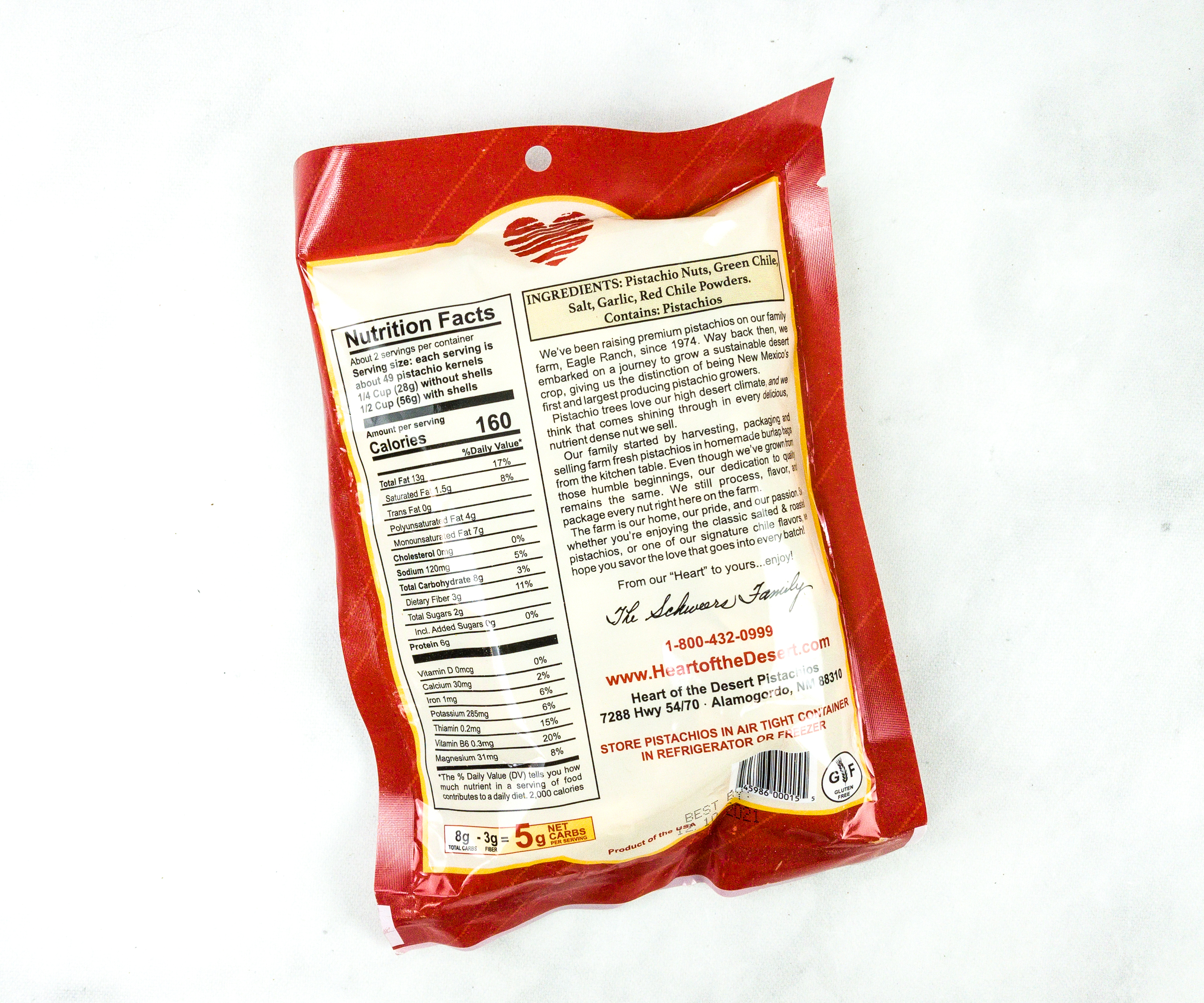 It's so good! The green chili and garlic flavor go well together and they really bring out more of the pistachio flavor. I love snacking on these during movie nights with the family!
Nuevo is a great way to get New Mexican culinary goodies without leaving home! As someone who loves to cook, I'm so delighted to see the spices included in the box, which can spruce up even the most ordinary dishes. I'm also looking forward to cooking New Mexican favorites such as Carne Adovada and tortillas. Another item I liked is the bag of pistachios flavored with garlic and green chile. They are so good I couldn't stop eating them! This box is pretty awesome. I recommend it to foodies and cooks who are fans of New Mexican cuisine or anyone looking for a new culinary adventure!
What do you think of the Nuevo box?