Erin Condren's Seasonal Surprise Box is a quarterly planner accessories and stationery box featuring early access items, popular accessories, and exclusive surprises from Erin Condren. This box isn't available by subscription; you must purchase each box individually. This box usually sells out quickly but click here and tap that blue bell to get notified when the next box becomes available! The box is $40 and includes free shipping to the US.
This colorful collection of stylish, stress-reducing fall surprises is designed to motivate & inspire you!
DEAL: FYI – if you use this referral link to register for the site, you'll get a $10 coupon code emailed to you. It may not work on the box purchase. You can use it on pretty much anything on the site.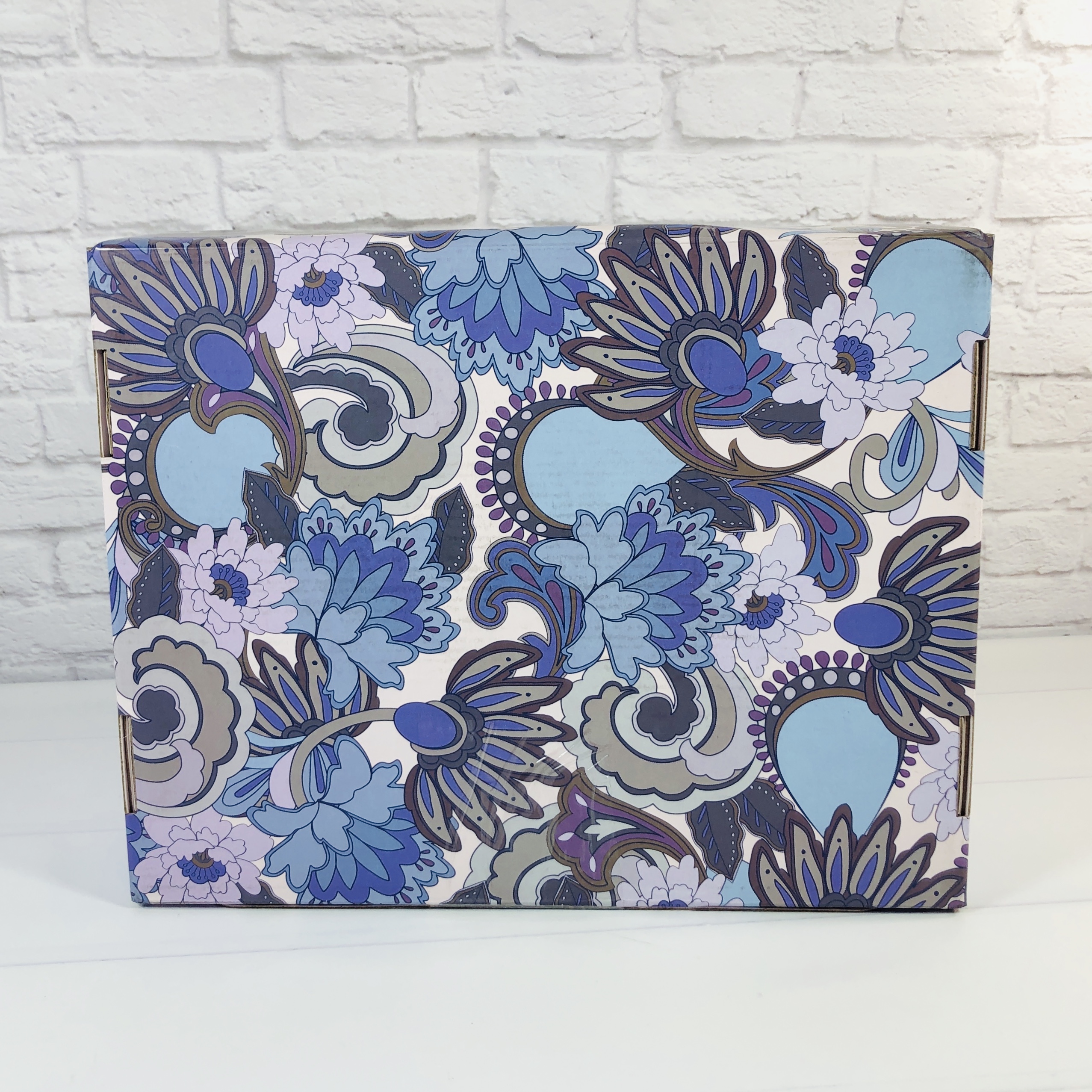 The box is beautiful, I love both paisley and purple! You can reverse the box so that this part is on the inside and the motivational statement is on the outside.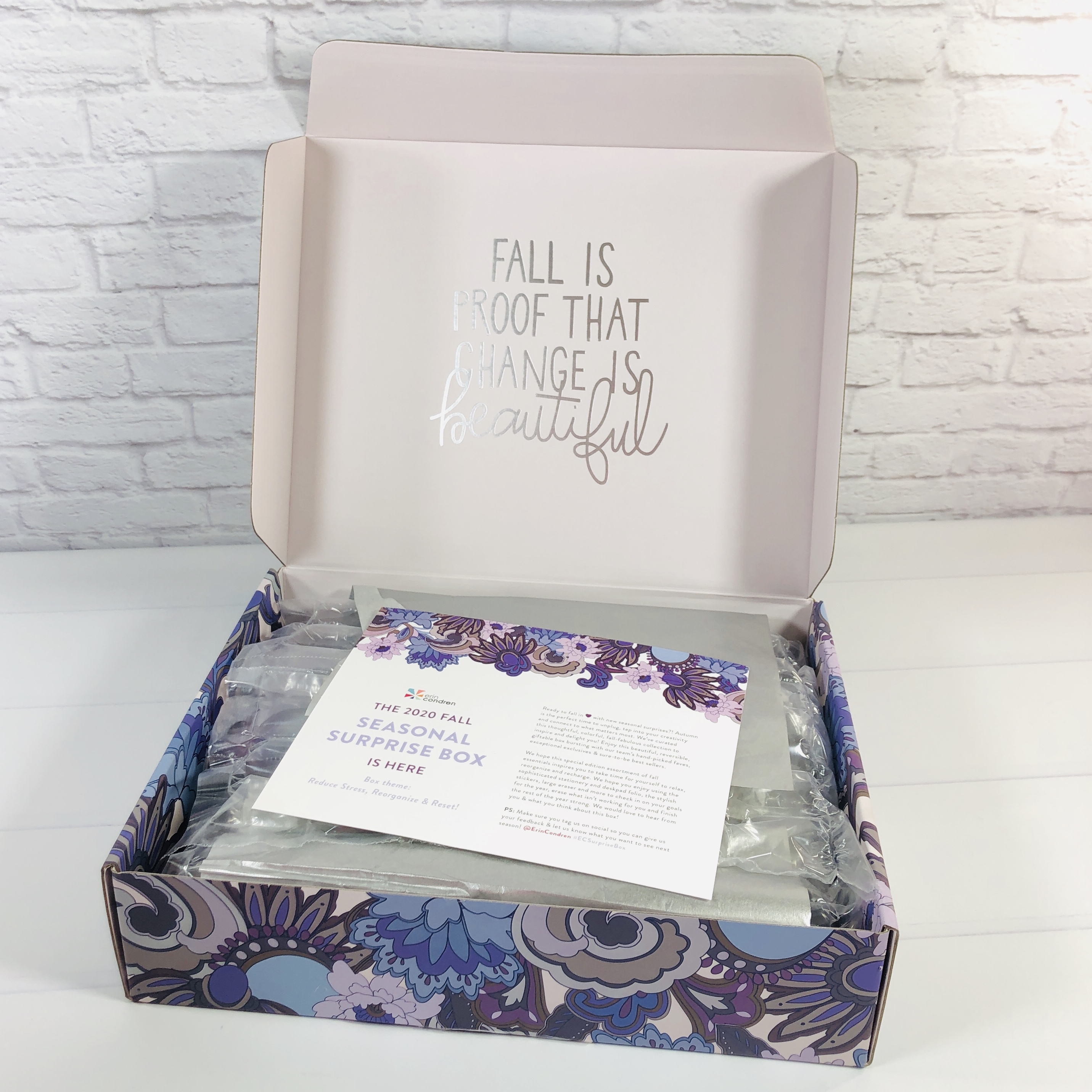 The inside of the box has an inspirational saying printed in silver metallic.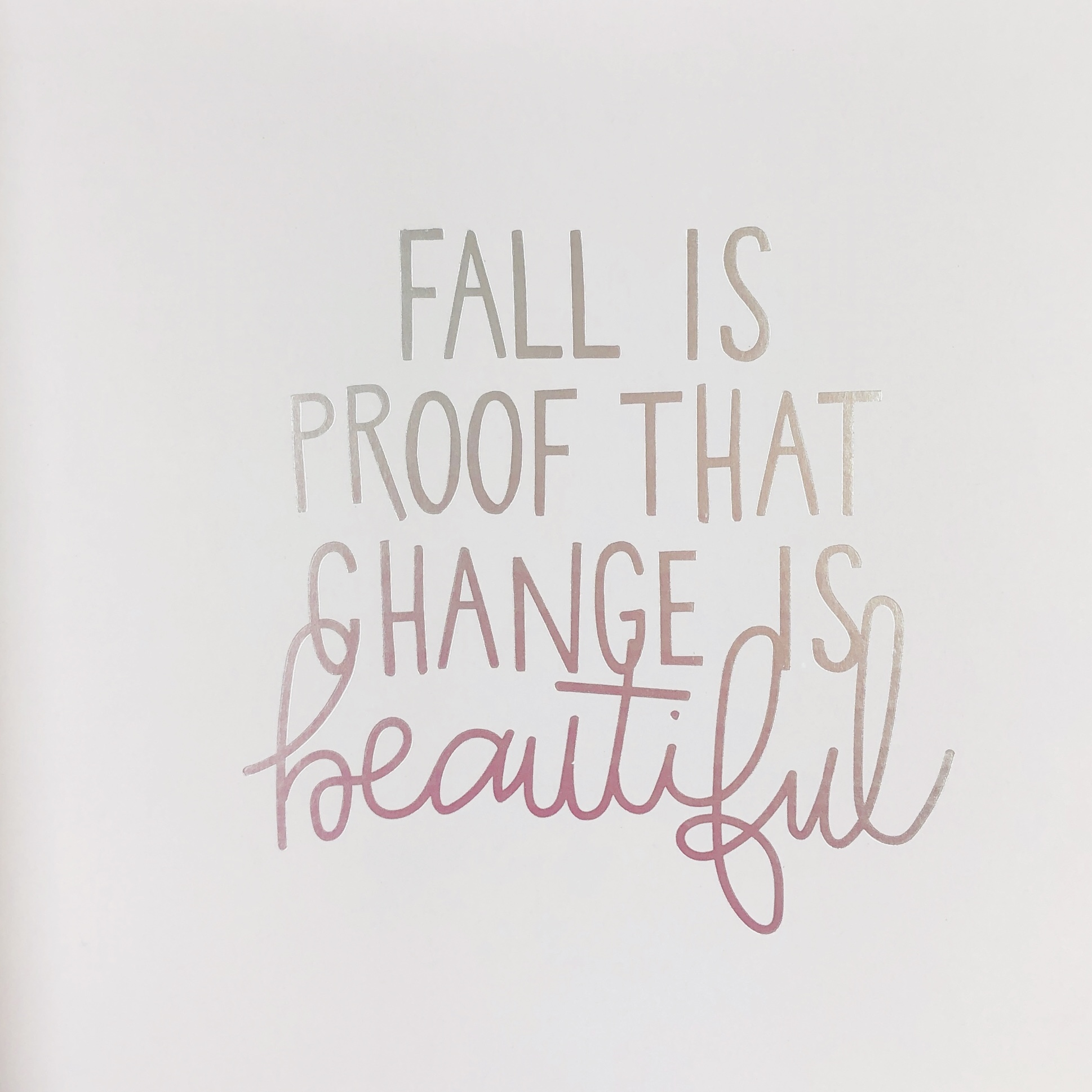 I love fall so much!
Even the tissue paper was silver!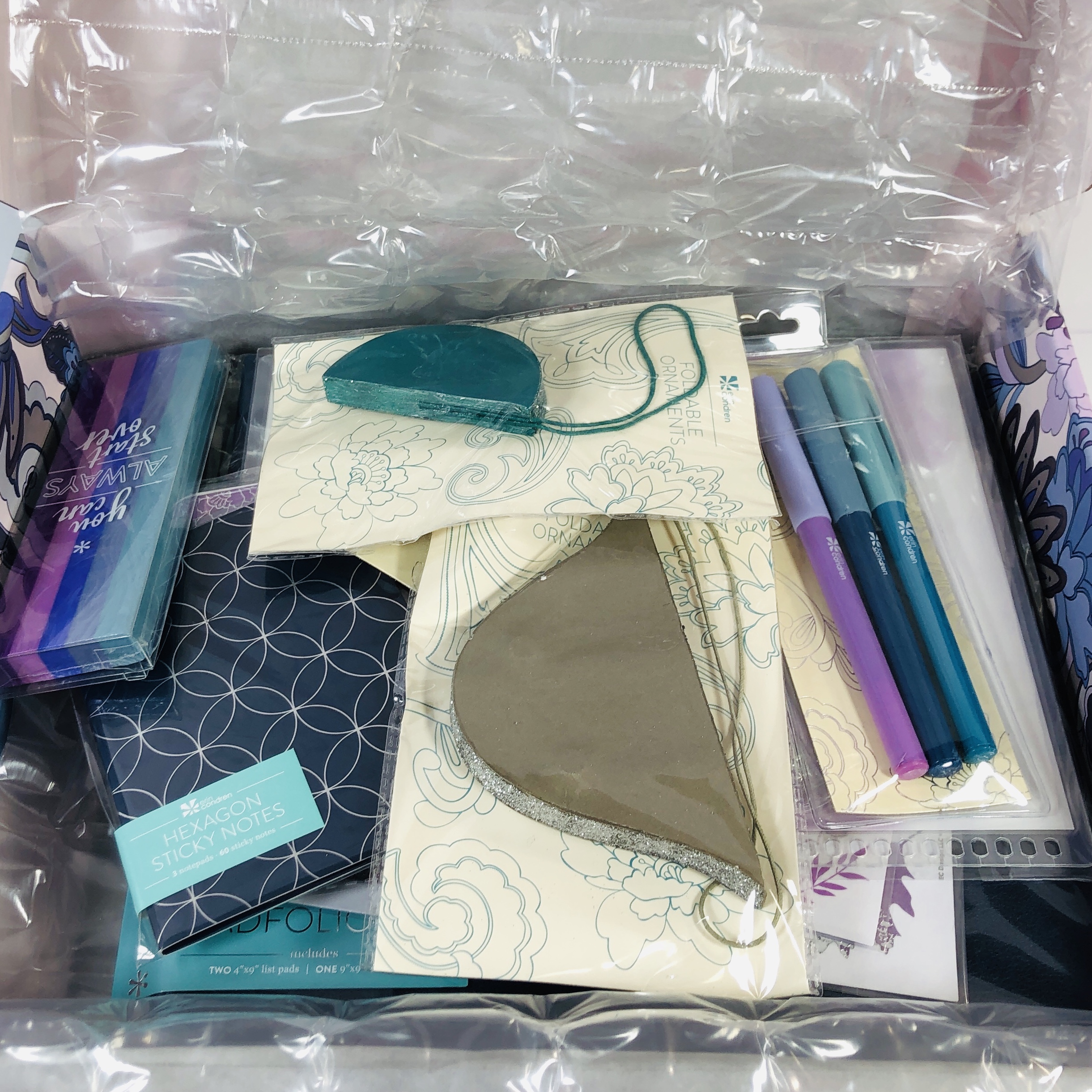 My items were cushioned with bubble wrap and the items look so pretty and colorful!
The theme for the Fall 2020 Box is Reduce Stress, Reorganize & Reset! Time to finish the year strong!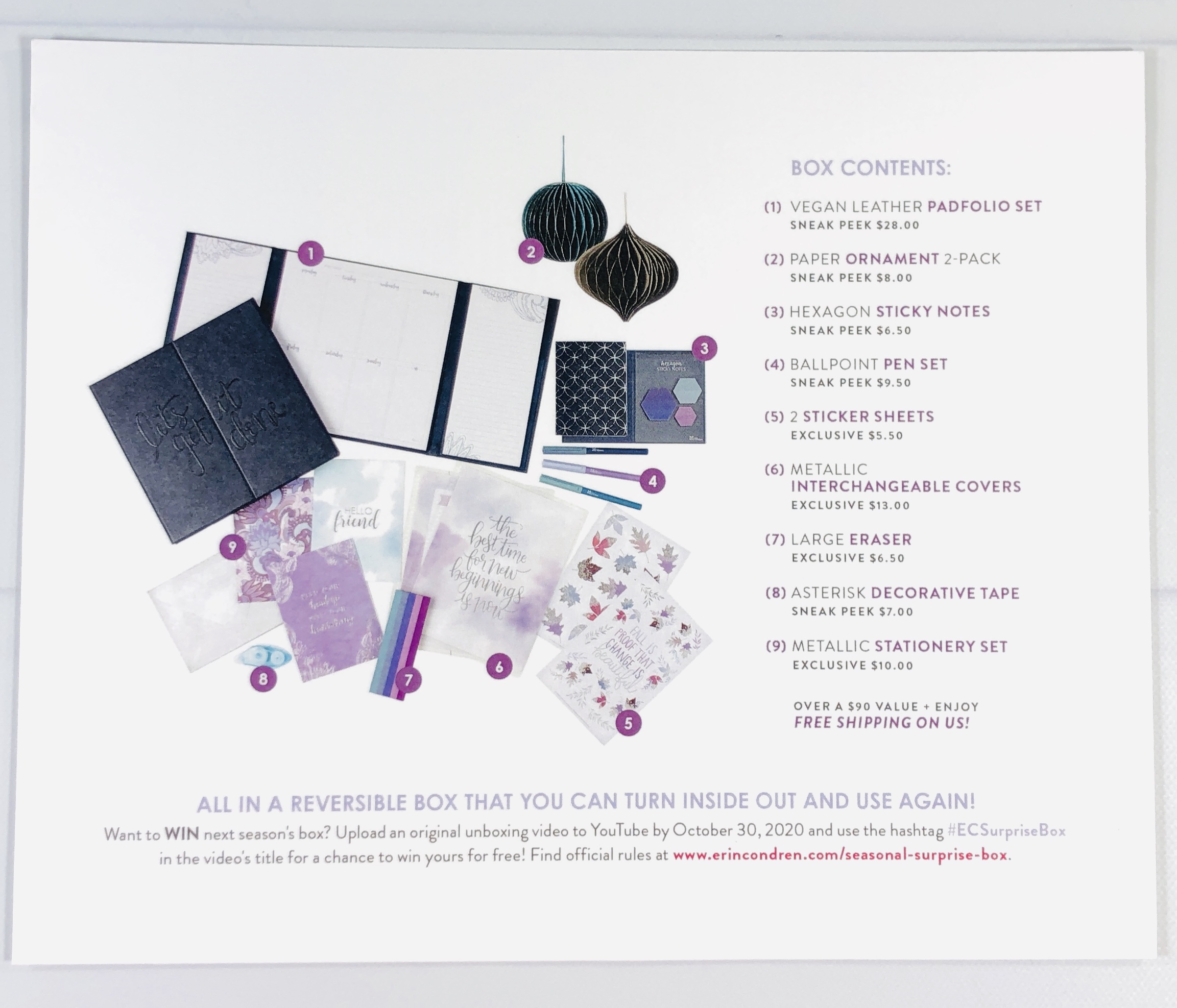 The information card gives a picture list of all the items included. Some of the items may be available at Erin Condren retail locations, some may be coming soon, and others are exclusive to the box.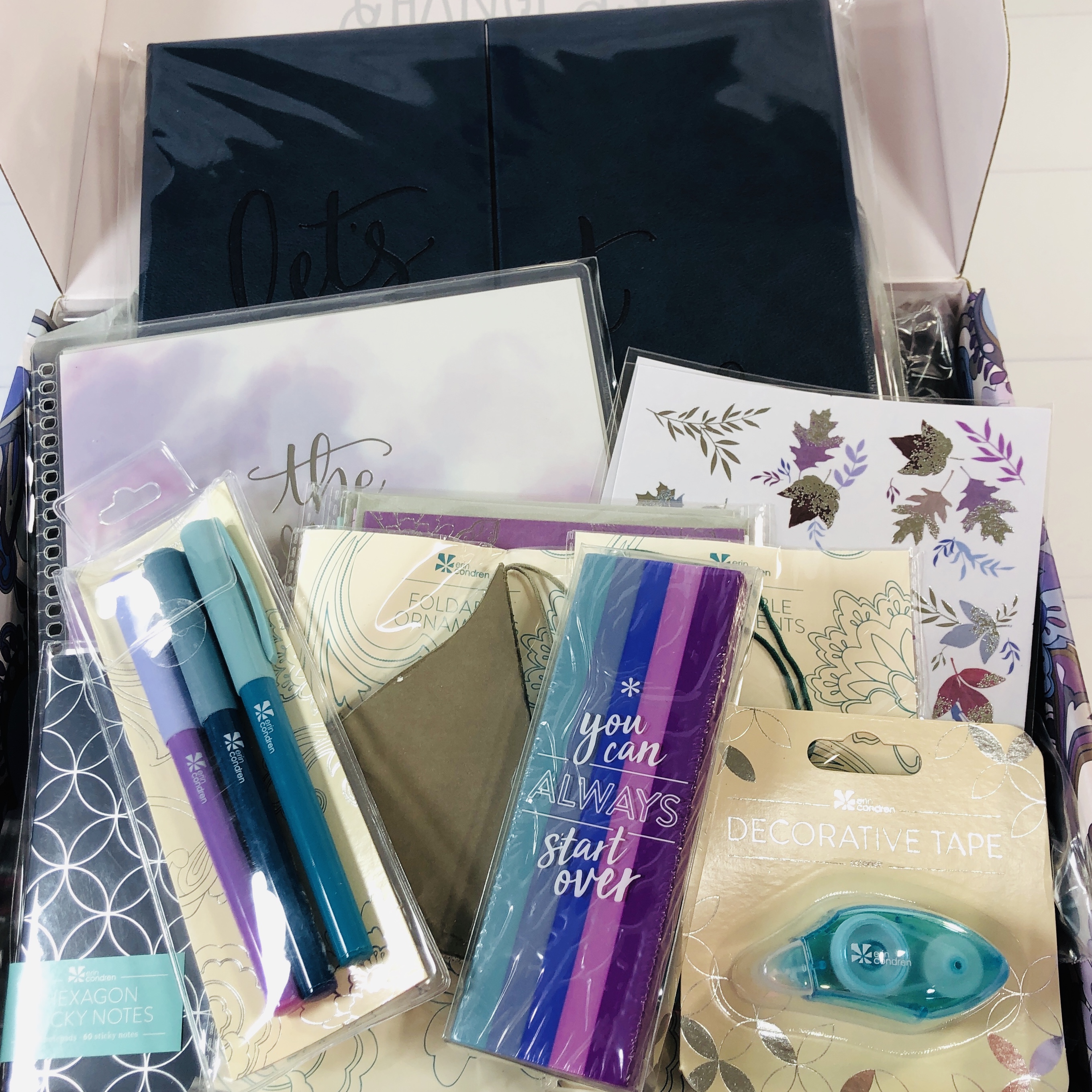 Most of the items had additional plastic or packing and so I removed them for the next pic.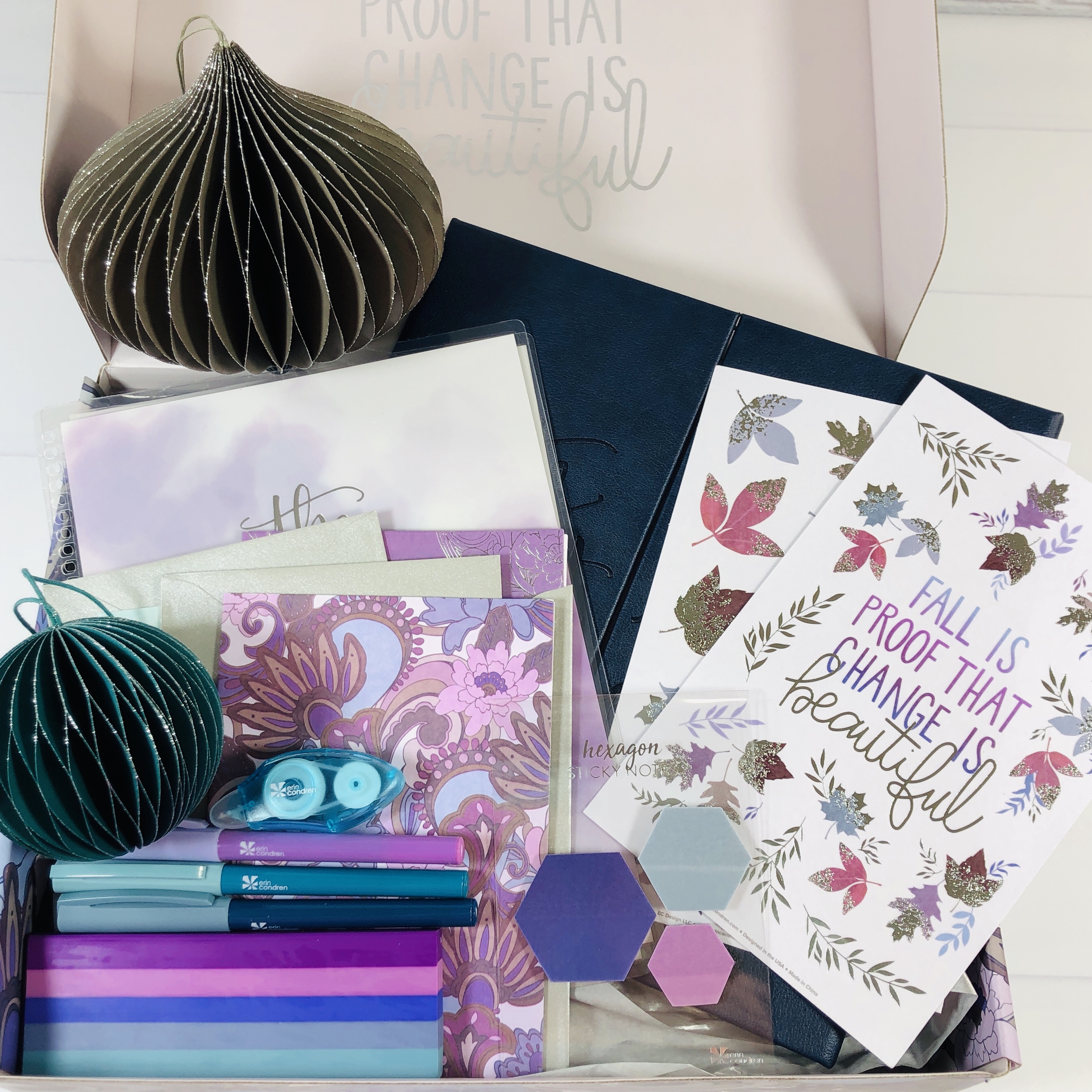 Everything in my box!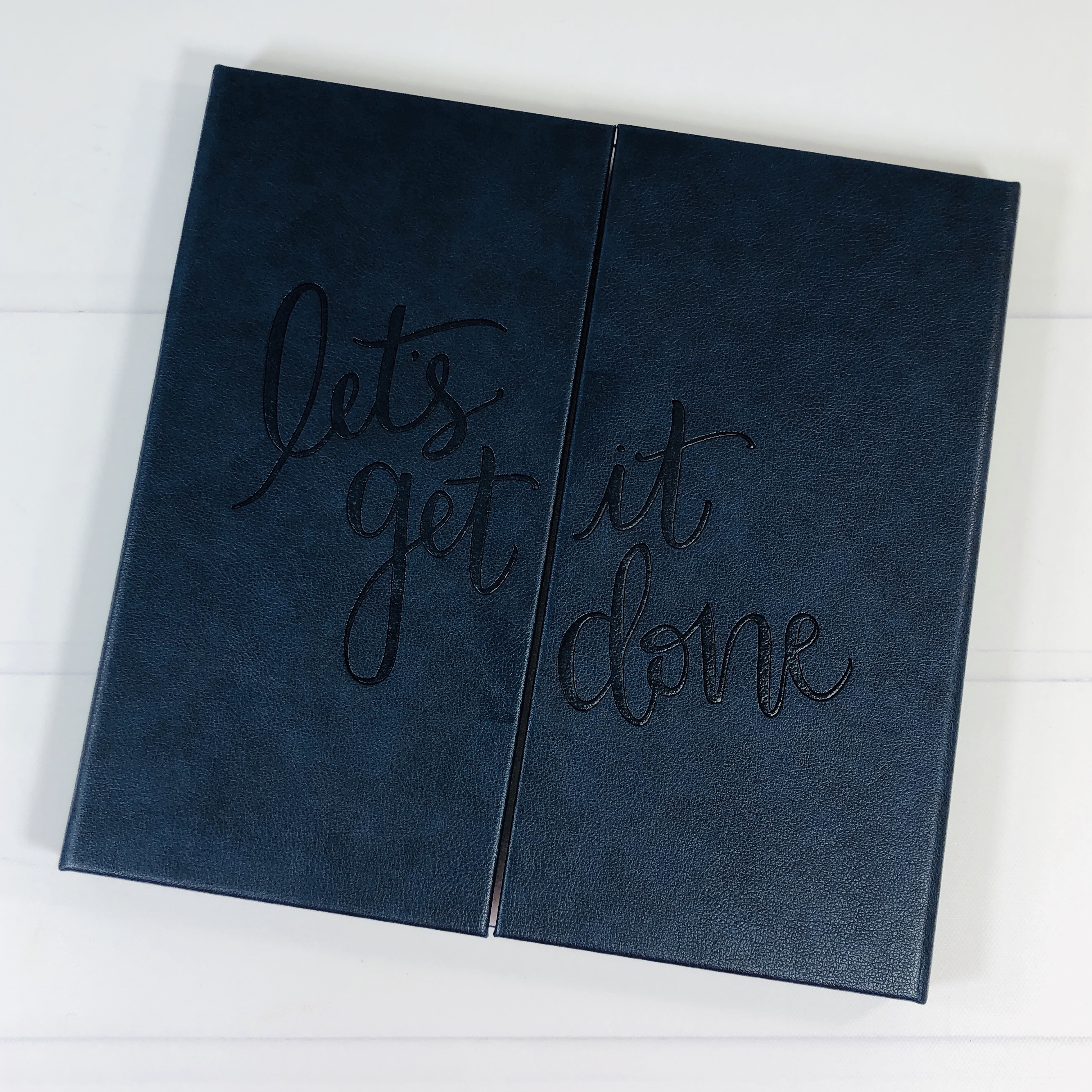 Vegan Leather Padfolio Set ($28) is a sneak peek item so you may be able to find this in the Erin Condren online store in the future! The cover is vegan navy blue leather and "let's get it done" is impressed across the front.
The inside opens up to reveal this is a trifolio. I may have just made up that word but I think you get my meaning!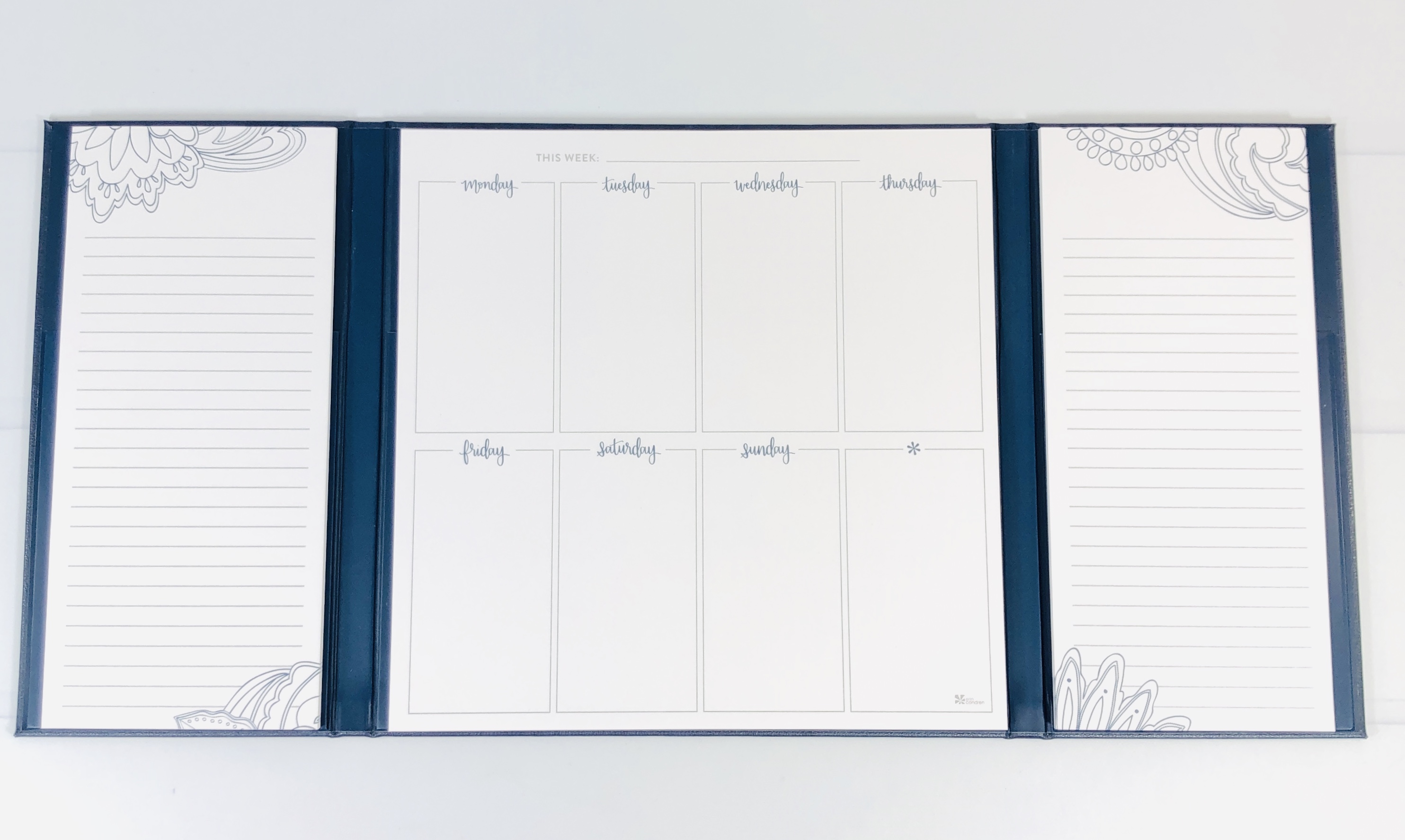 There are two 4″ x 9″ list pads on each side, and a 9″ x 9″ weekly pad in the middle. The paper is cream colored with navy blue deco and writing. The pads are removable in case you want to reuse the padfolio after you run out of sheets. I think I counted 23 pages for the weekly pad.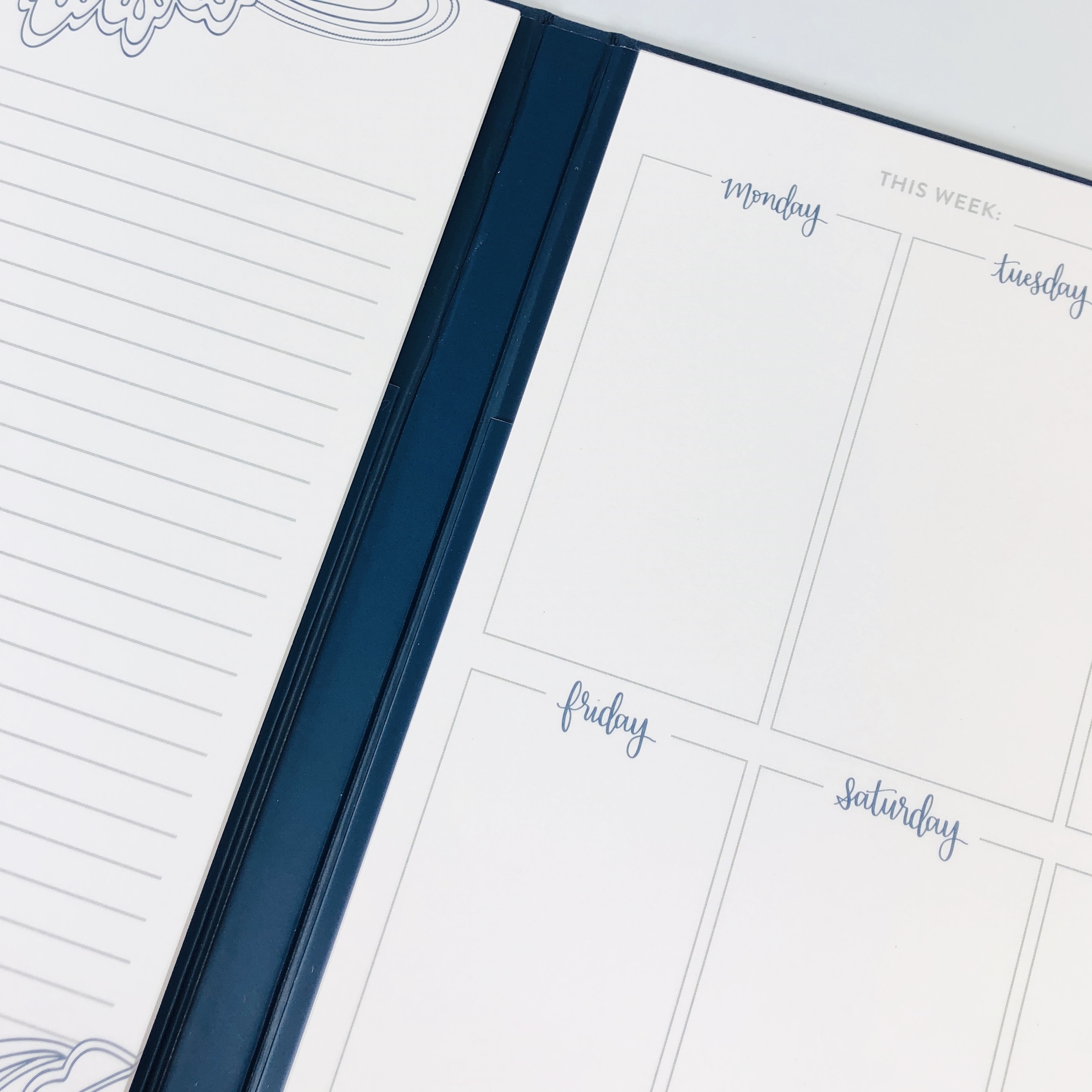 Here's a close up! This is a great way to plan ahead, or sketch out a week in advance. You can jot down a work schedule, home cleaning plan, homework plan, etc. I think it would be useful to write out an eating plan for the week, then use the side pads as grocery lists!
Paper Ornament 2-Pack ($8) Here is another sneak peek! It's two paper ornaments that pop up in no time, but that can be unpopped too, so they can be stored for future use.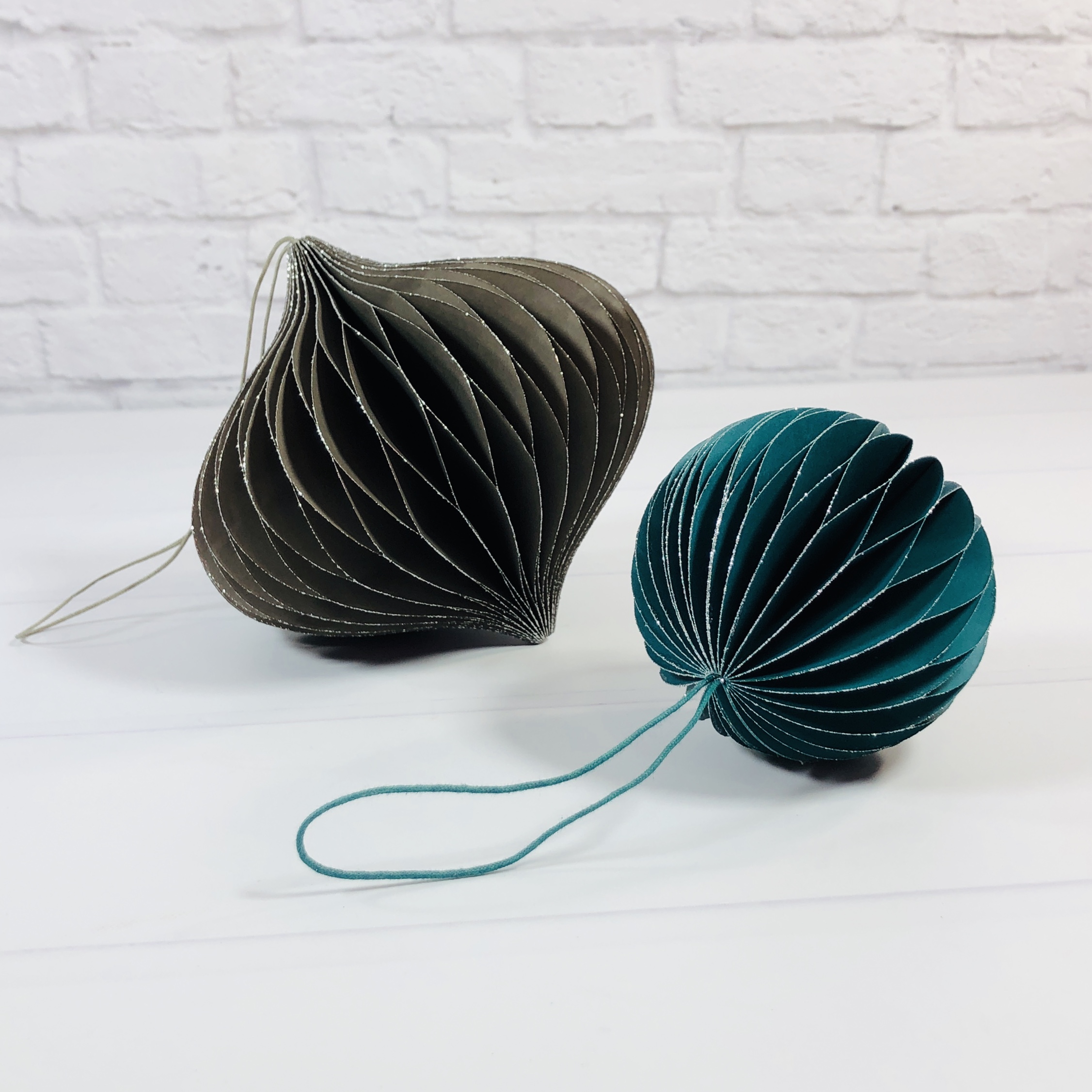 The larger ornament is made of sturdy grey paper and has silver metallic edges and a string for hanging. It is about 5″ high and wide when open. The ornaments have a magnet in them that holds the ends together, then just pull apart to close back up.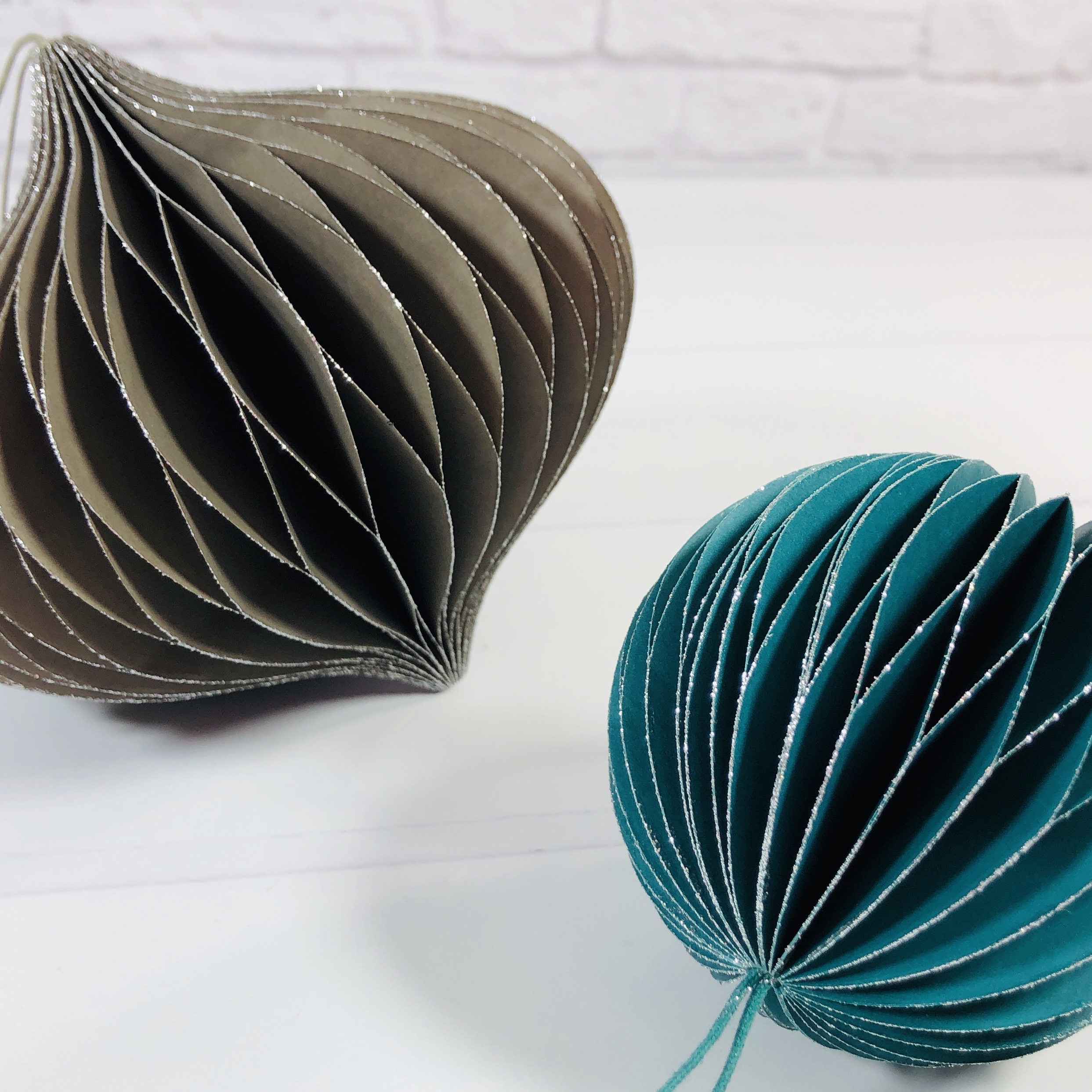 The smaller ornament is about 3″ tall and wide and is made of sturdy teal paper, or maybe the color is called peacock blue now. The ornament also has silver metallic edges.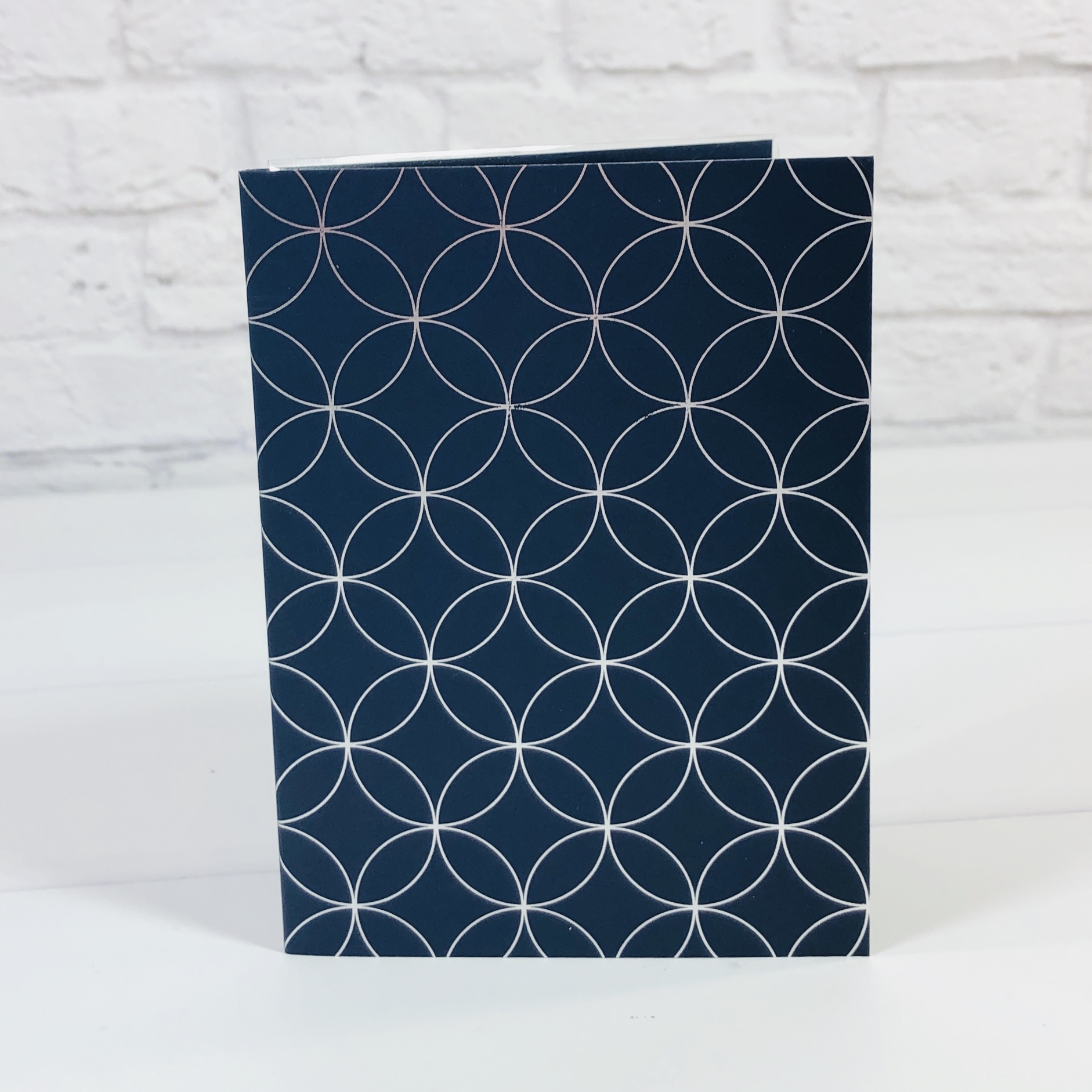 Hexagon Sticky Notes ($6.50) came in this little card that could be repurposed, just attach a hand-written note inside!
Each notepad has 20 sheets so there are 60 sticky notes total. The larger blue pad is about 2″ across, the grey is 1.5″, and the mauve is 1″.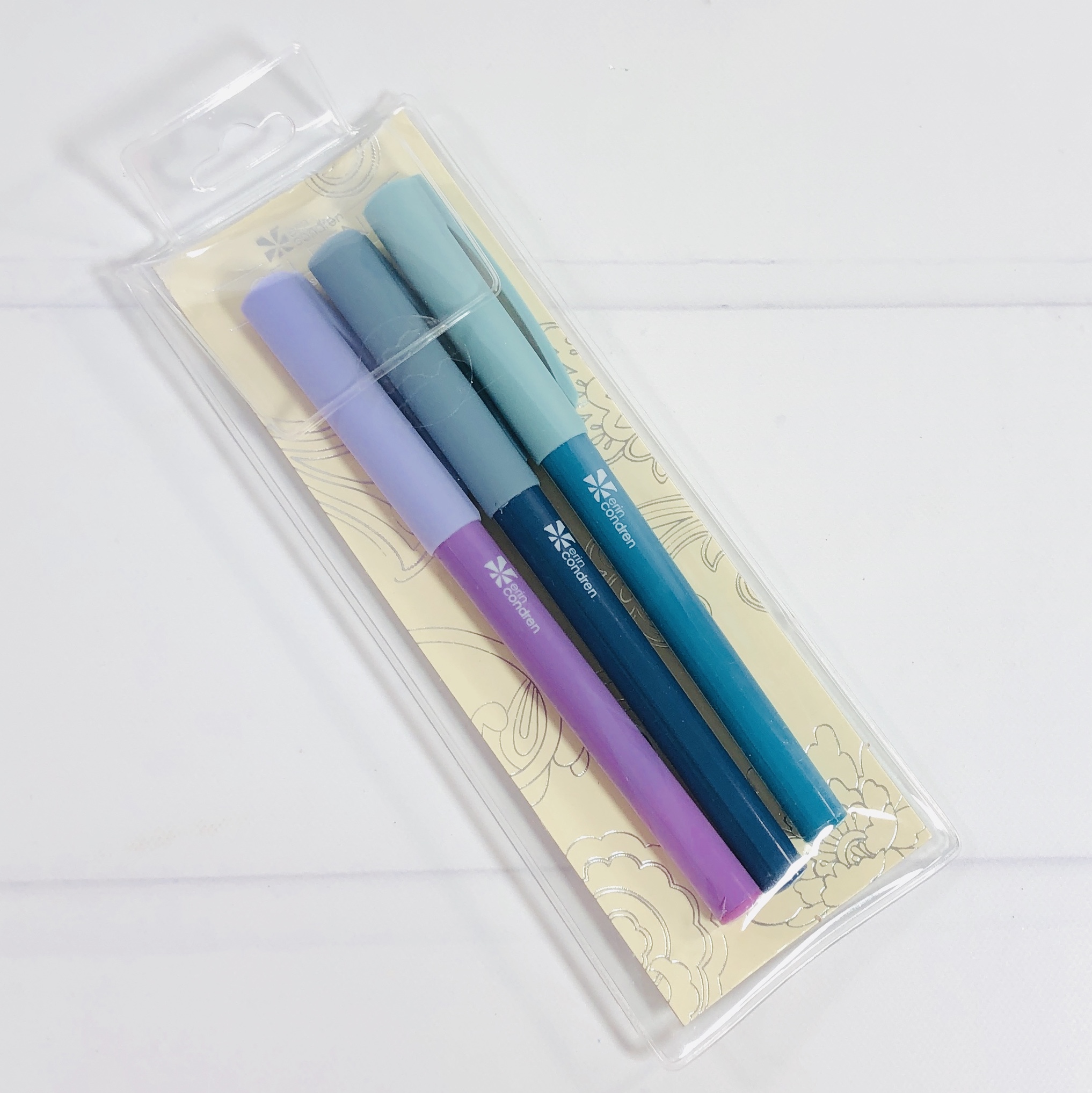 Ballpoint Pen Set ($9.50) I am loving the color scheme this season! Here we have a set of 3 gel ink ballpoint pens.
One pen is teal/peacock, one is mauve, and the other is navy.
They all write in black ink.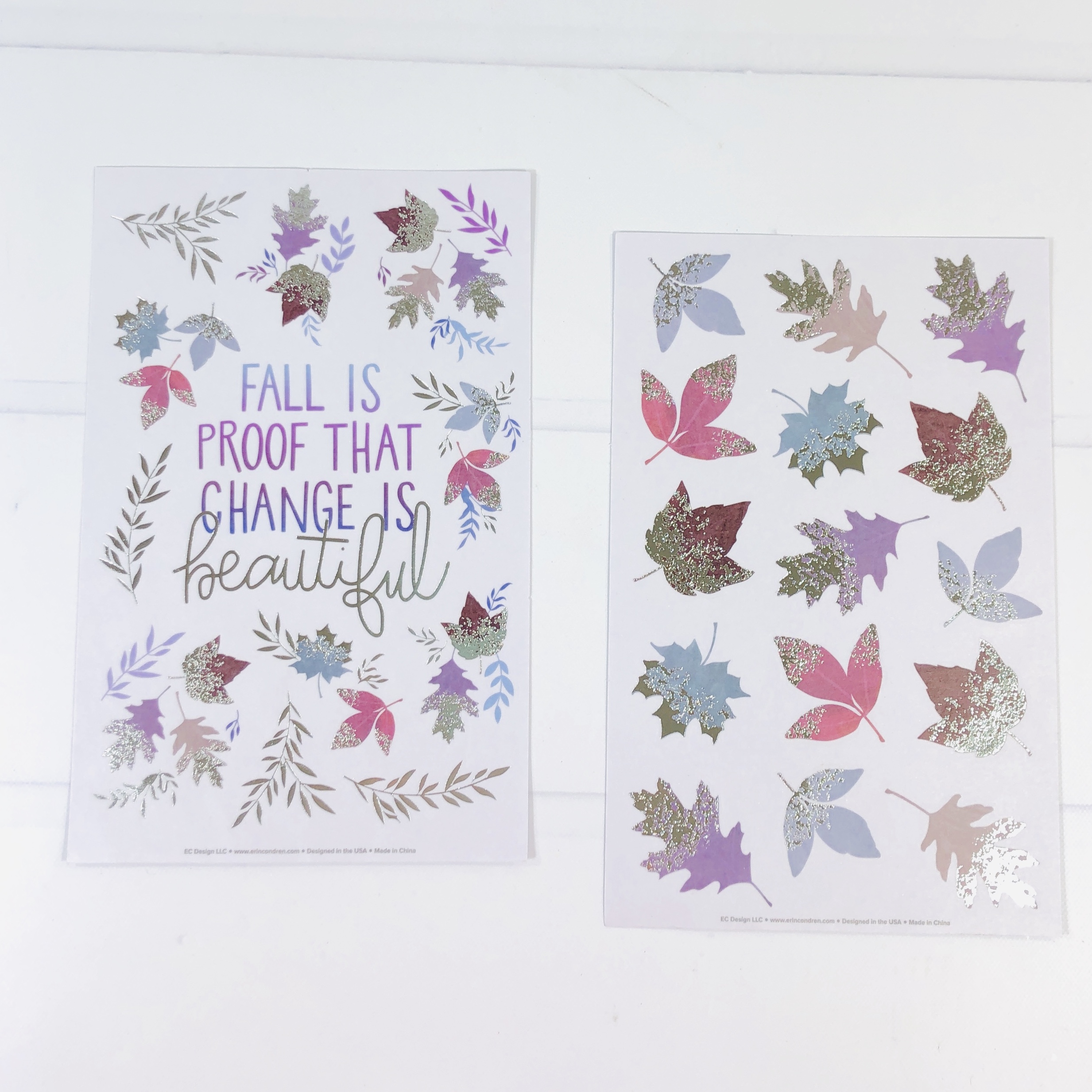 Sticker Sheets ($5.50) Erin Condren has the best stickers ever!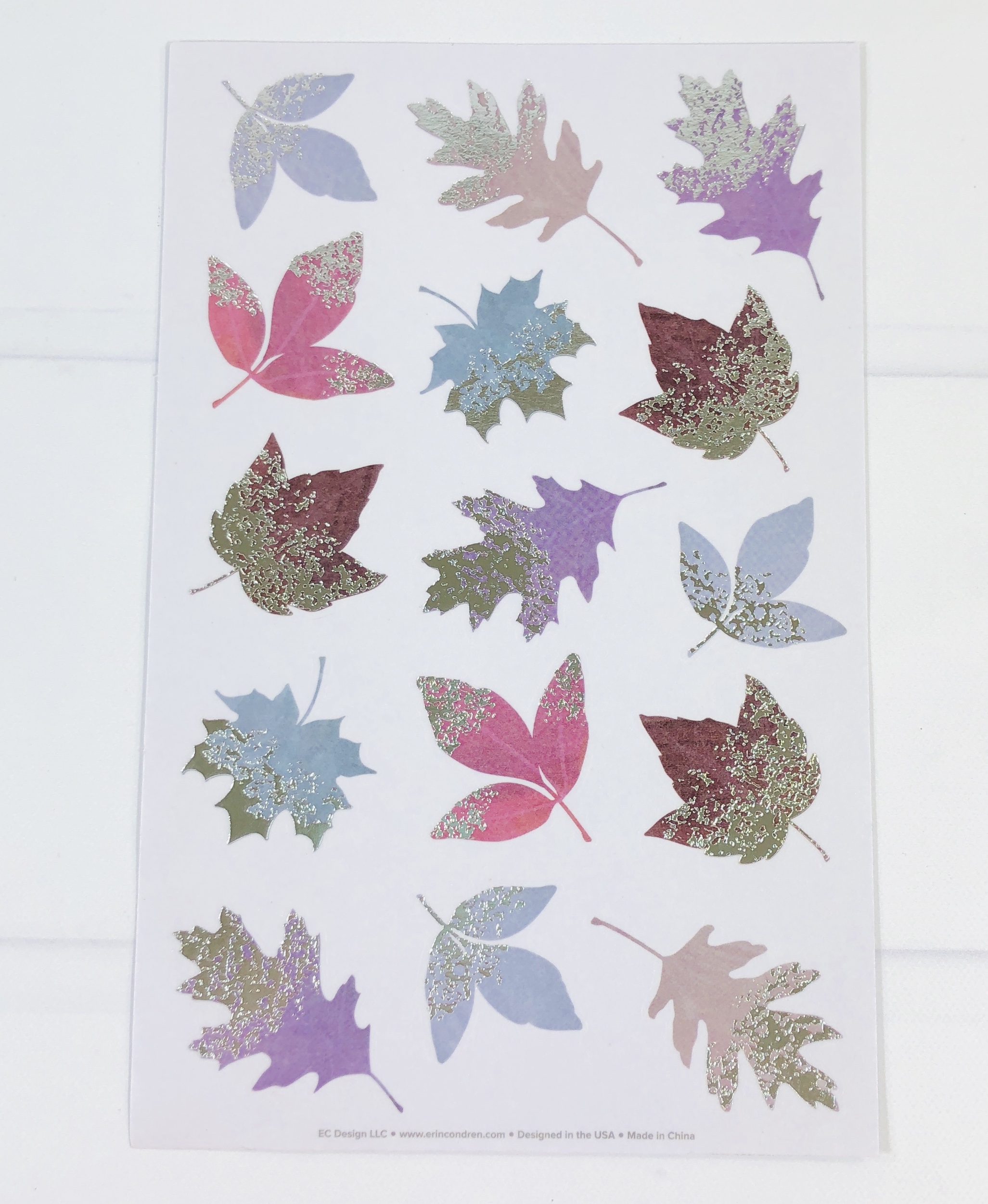 One sheet has various leaves with silver metallic accents.
The paper feels like washi and the longest ones are about 2″ long.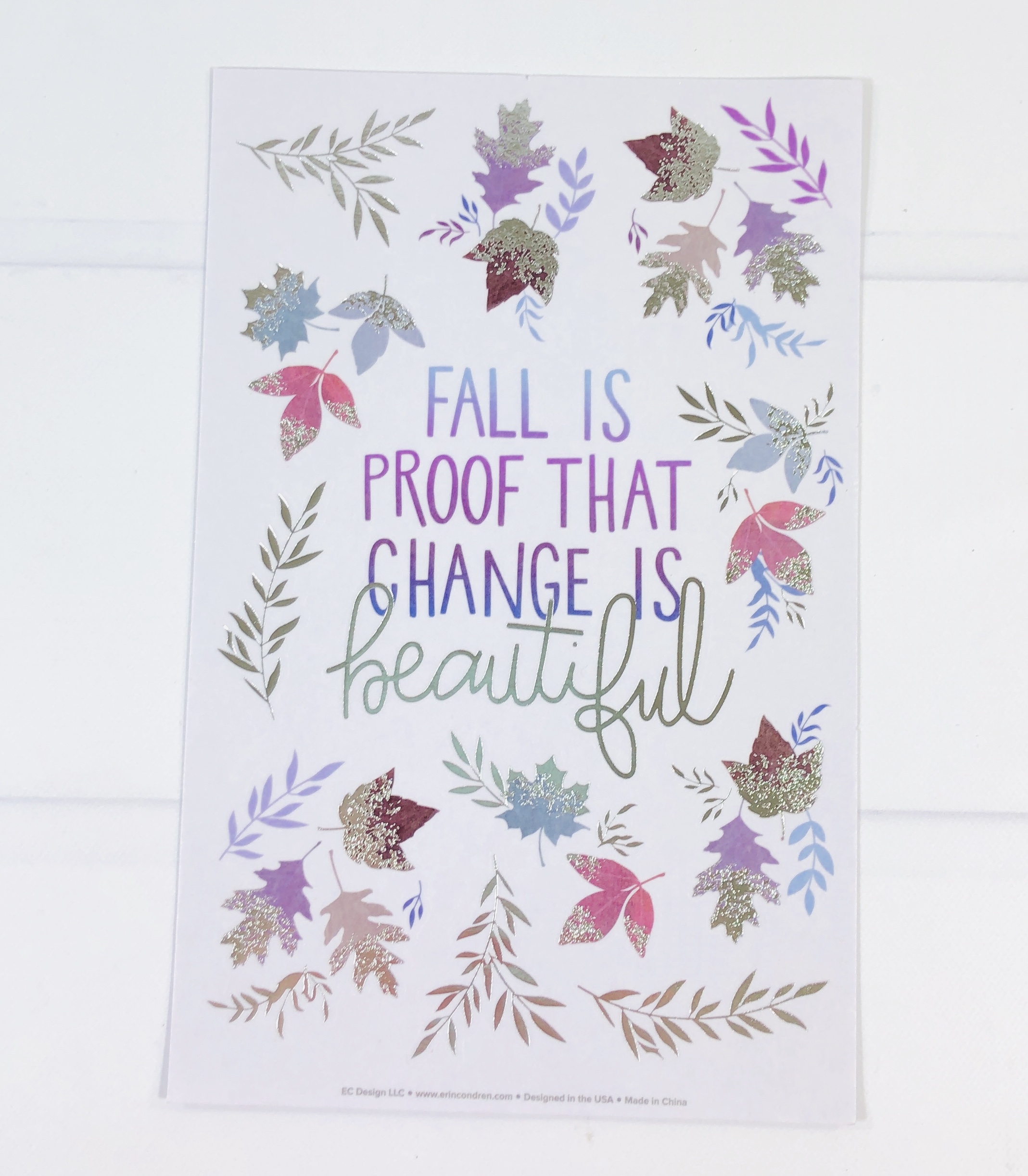 The second sheet has a large single sticker in the middle and smaller stickers on the edges. It's the same saying and font as the inside of the shipping box!
This sheet is also printed on washi and has silver metallic accents.
Metallic Interchangeable Covers ($13) are exclusive to the box!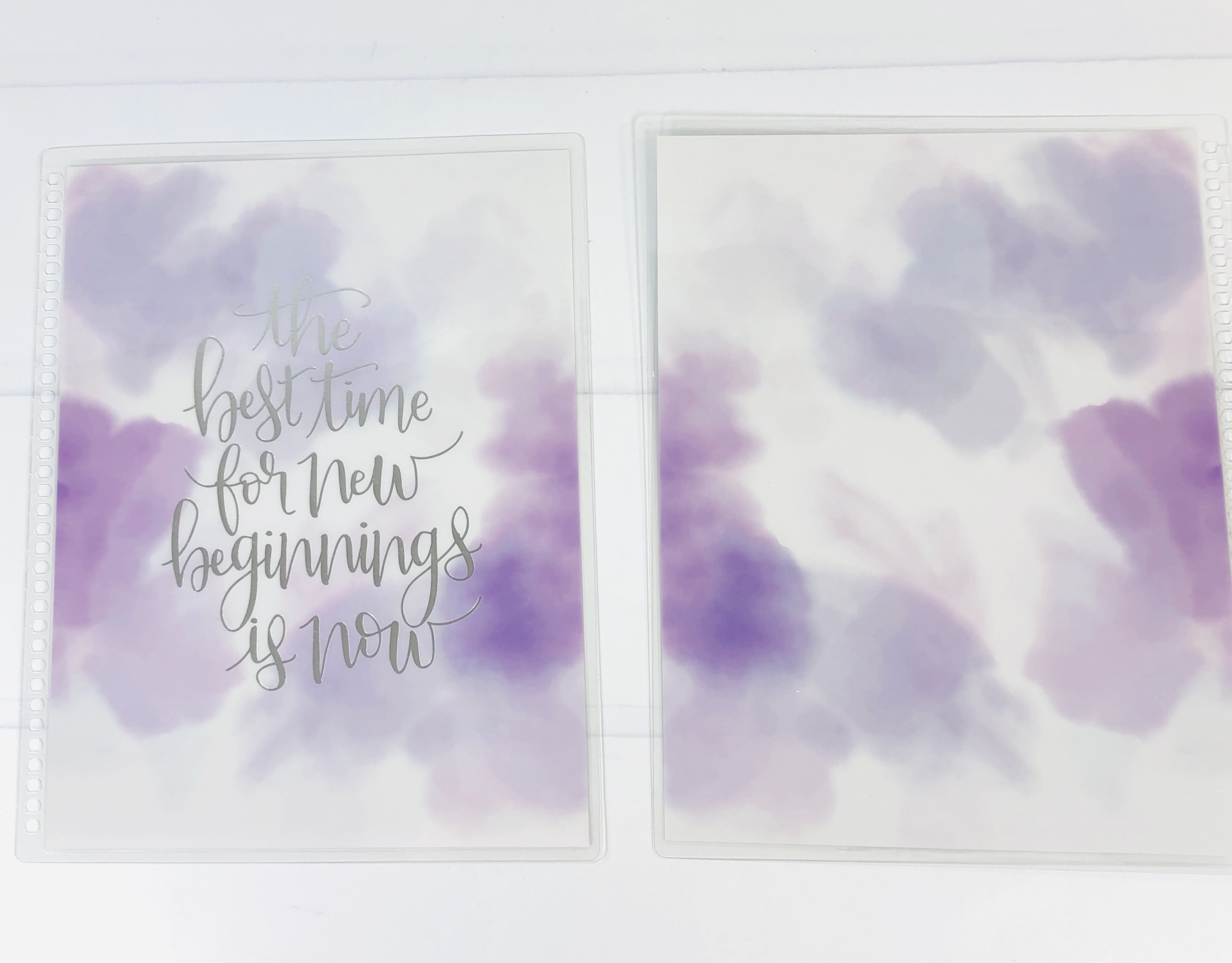 The front cover is on the left, the back cover on the right. The colors are shades of purple with white and there is a different inspirational saying here, but it is in silver metallic!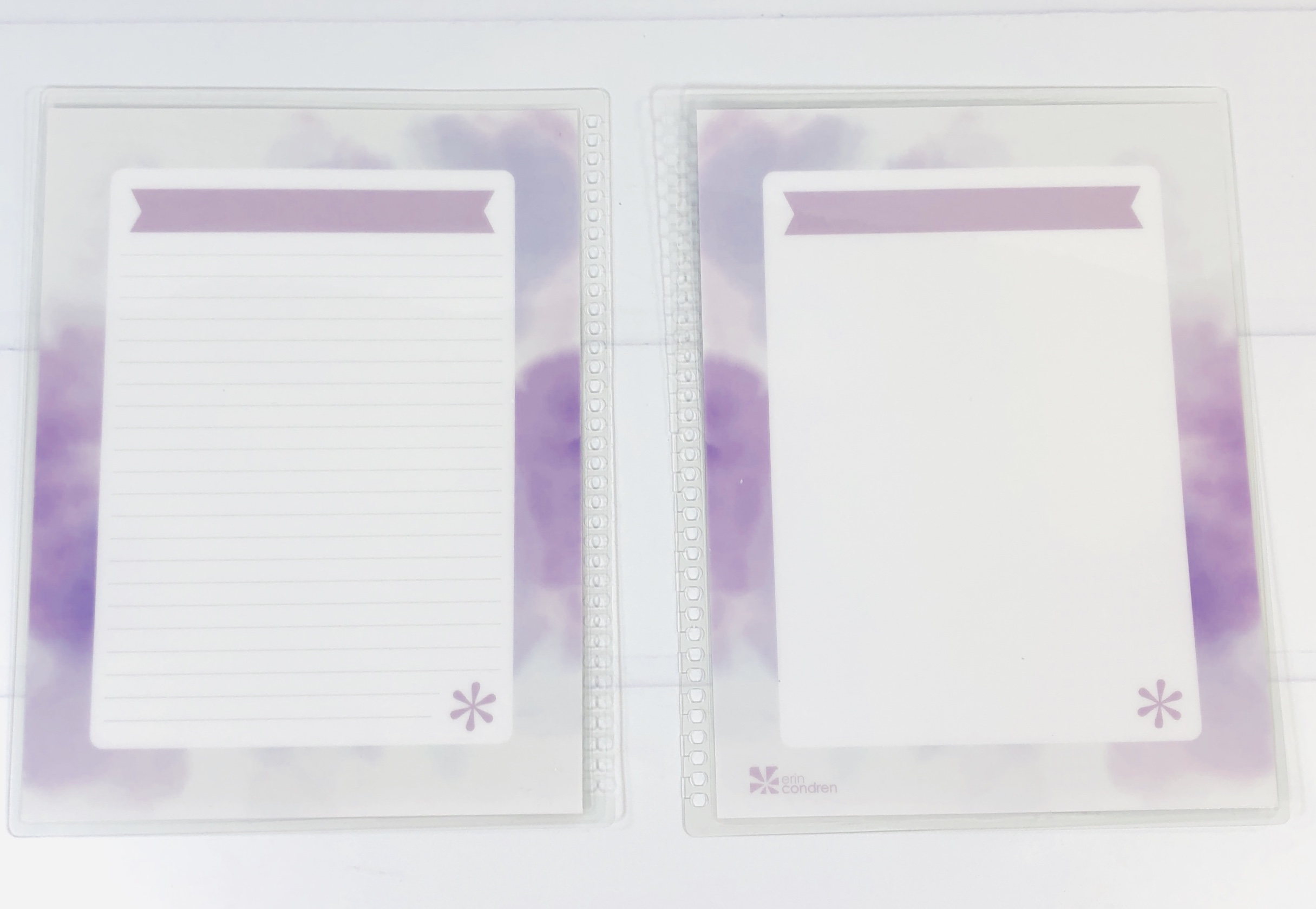 The inside of the covers can be written on with wet erase markers.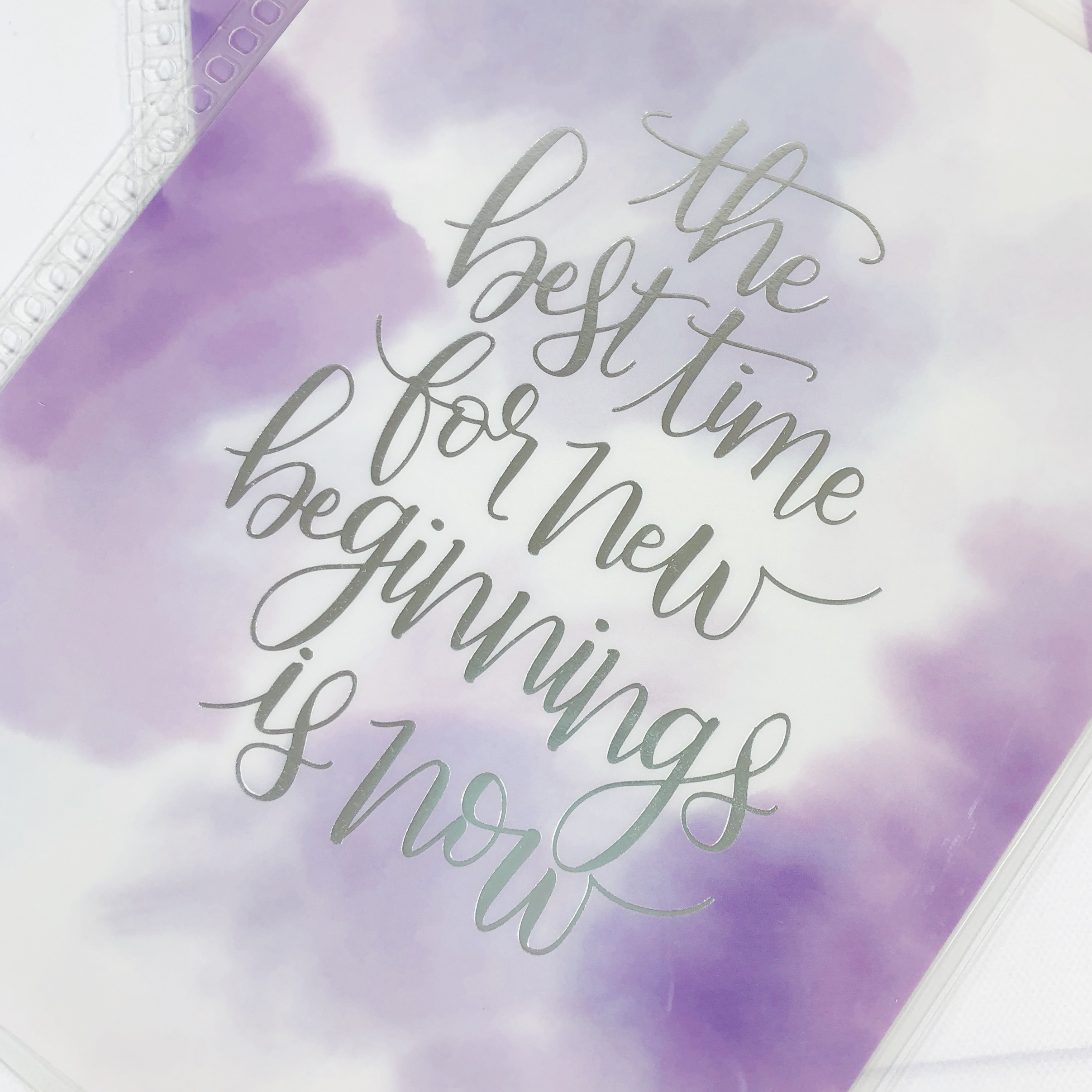 Yes, let's have a new beginning now, I am so over the past 6 months!
Large Eraser ($6.50) Remember how fun it was to use the big pink eraser back in school? This is so much more awesomer!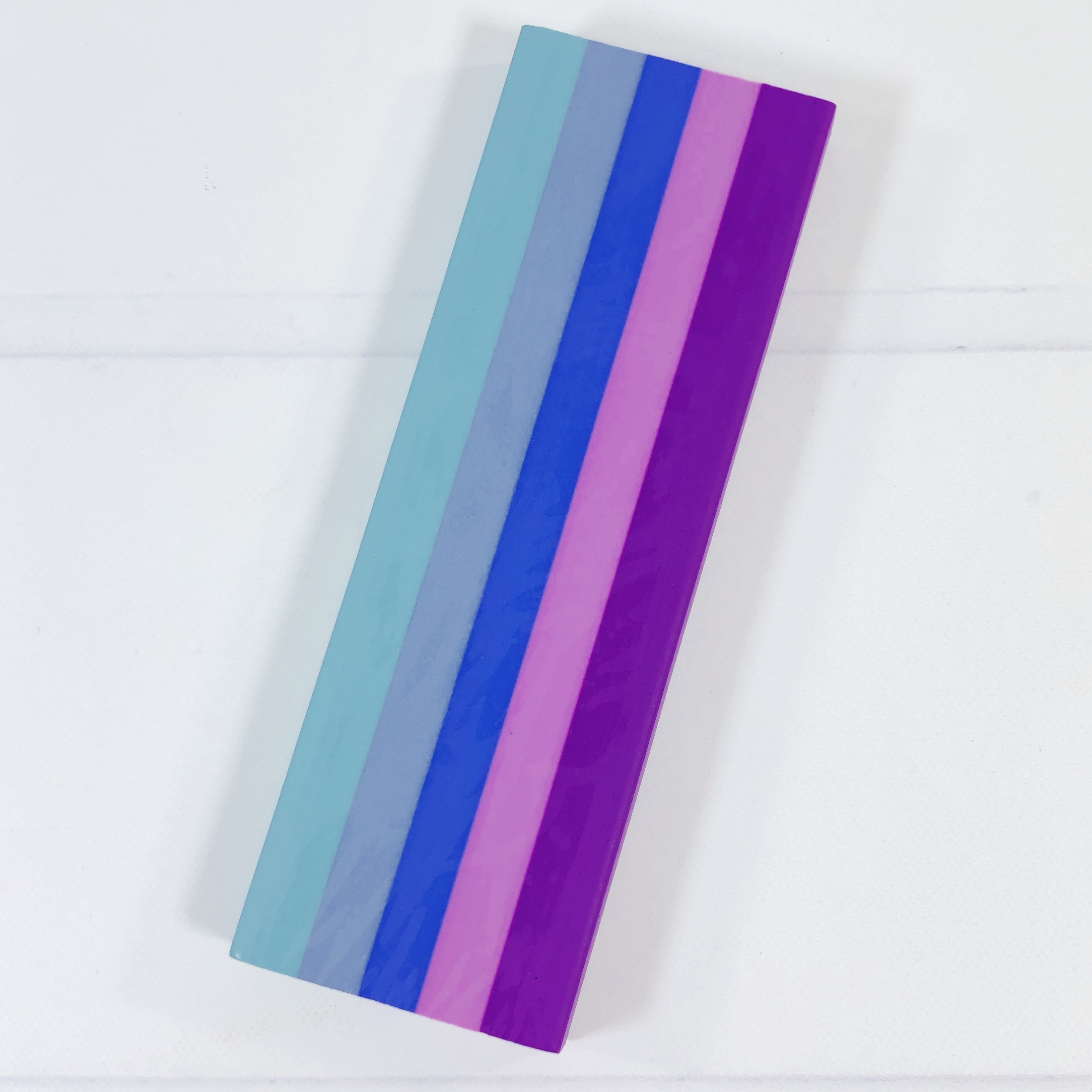 For one thing, it's HUGE! It's 5.25″ x 1.75″ x 0.25″!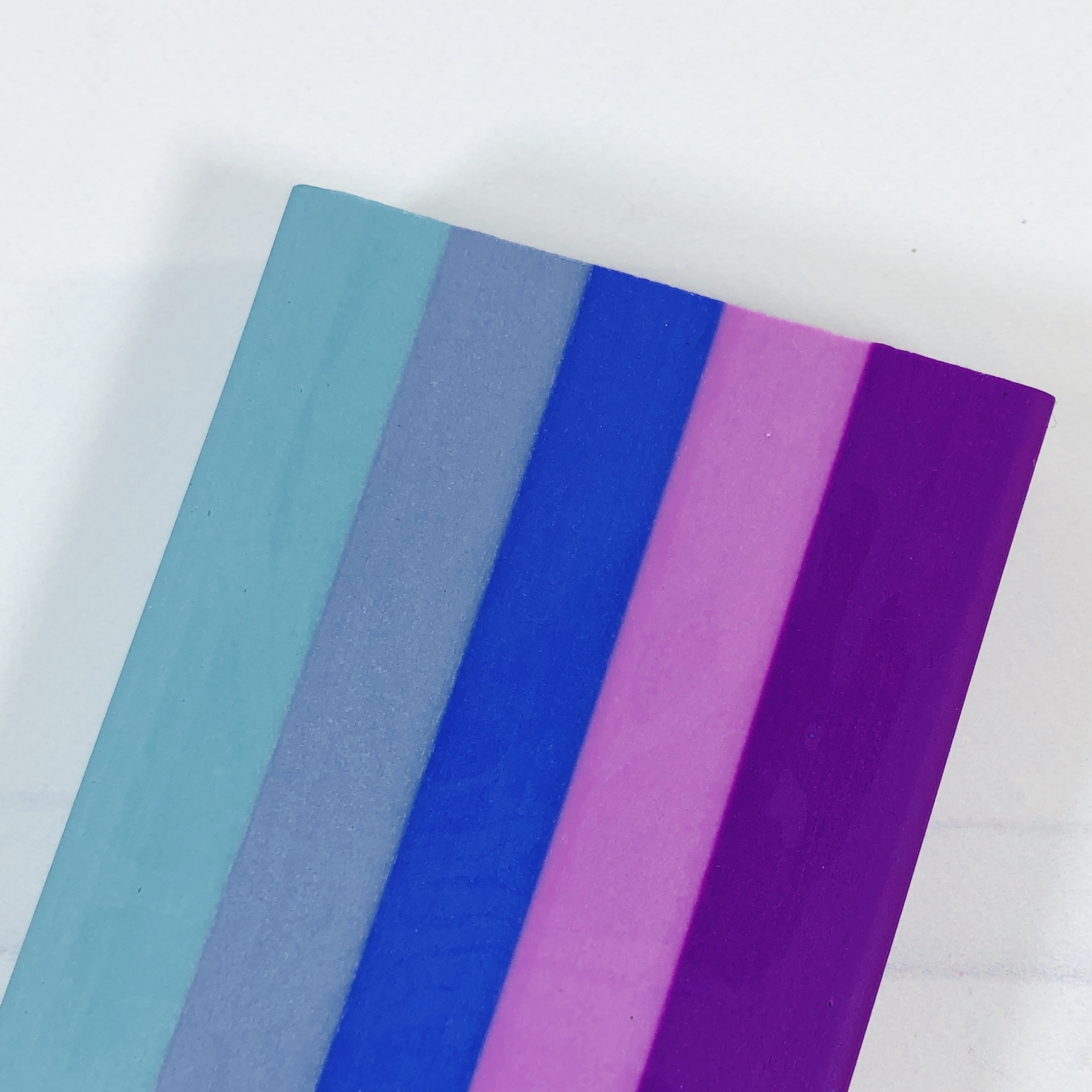 Also, check out those colors! So much cooler than just pink!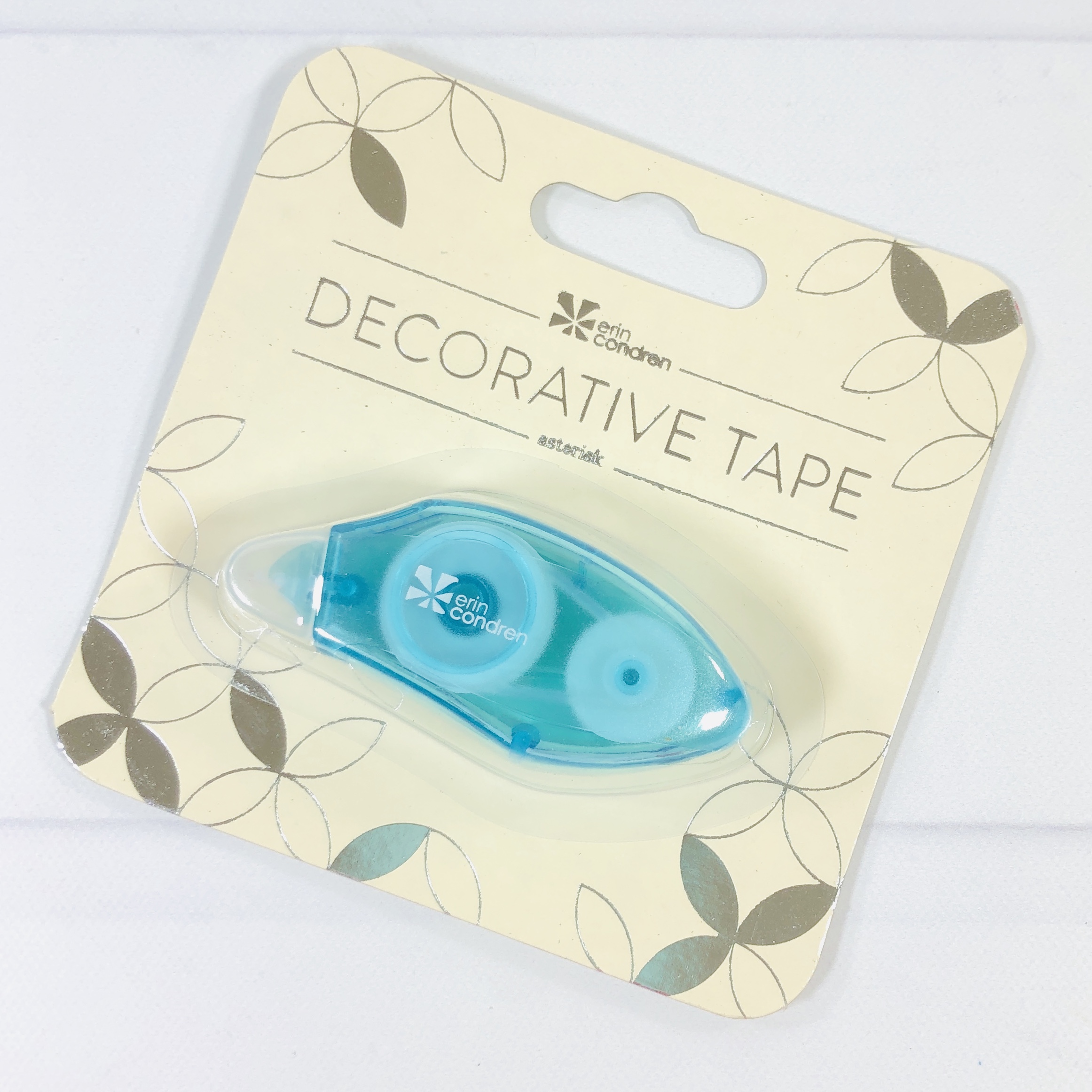 Asterisk Decorative Tape ($7) I love the color blue, so serene, like in this tape dispenser!
The tape that comes out is in the classic Erin Condren asterisk design!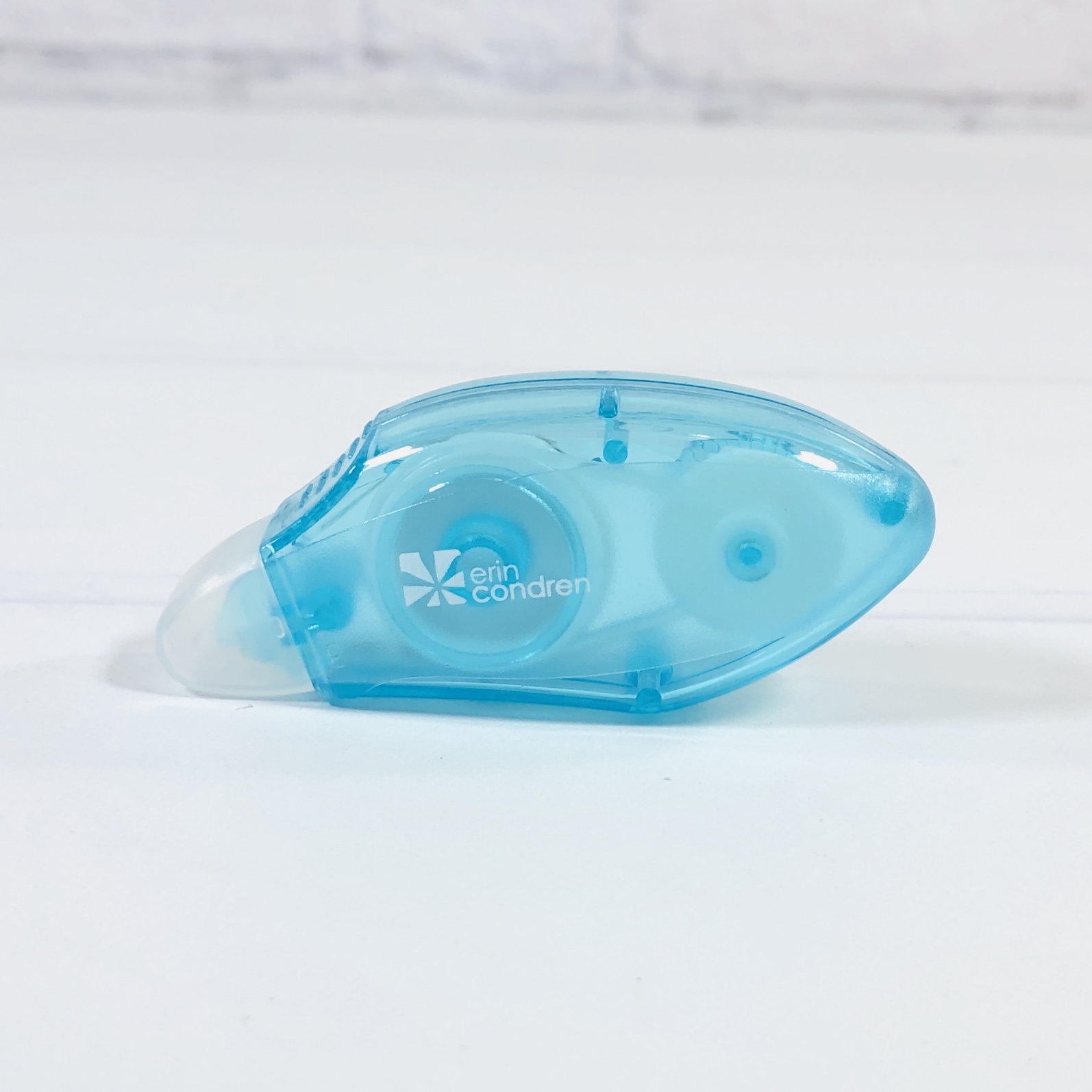 There is a clear cover on the left that comes off to expose the tape.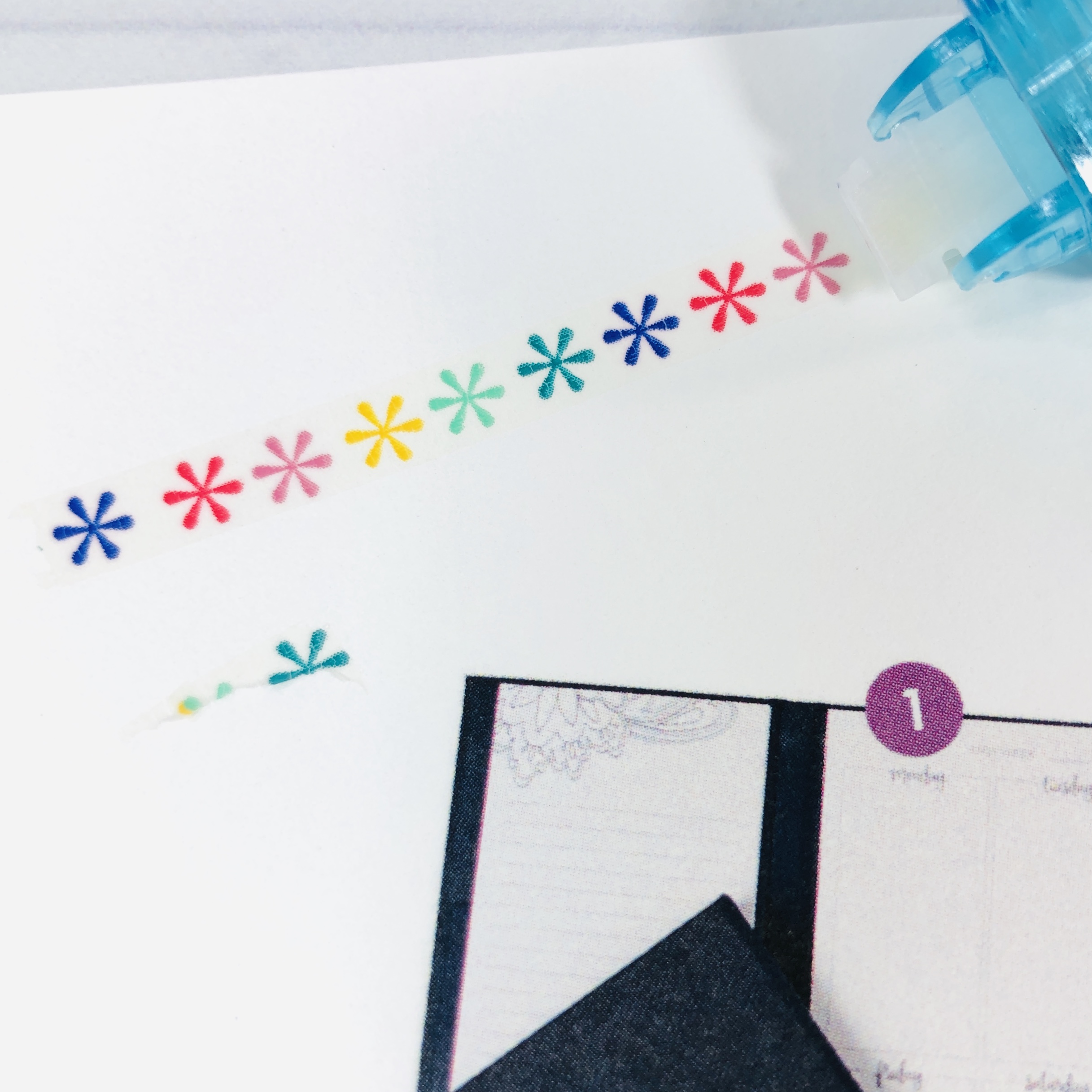 Roll it along to see the design! I love the colorful asterisks, so pretty. You can use it to seal envelopes or decorate a planner.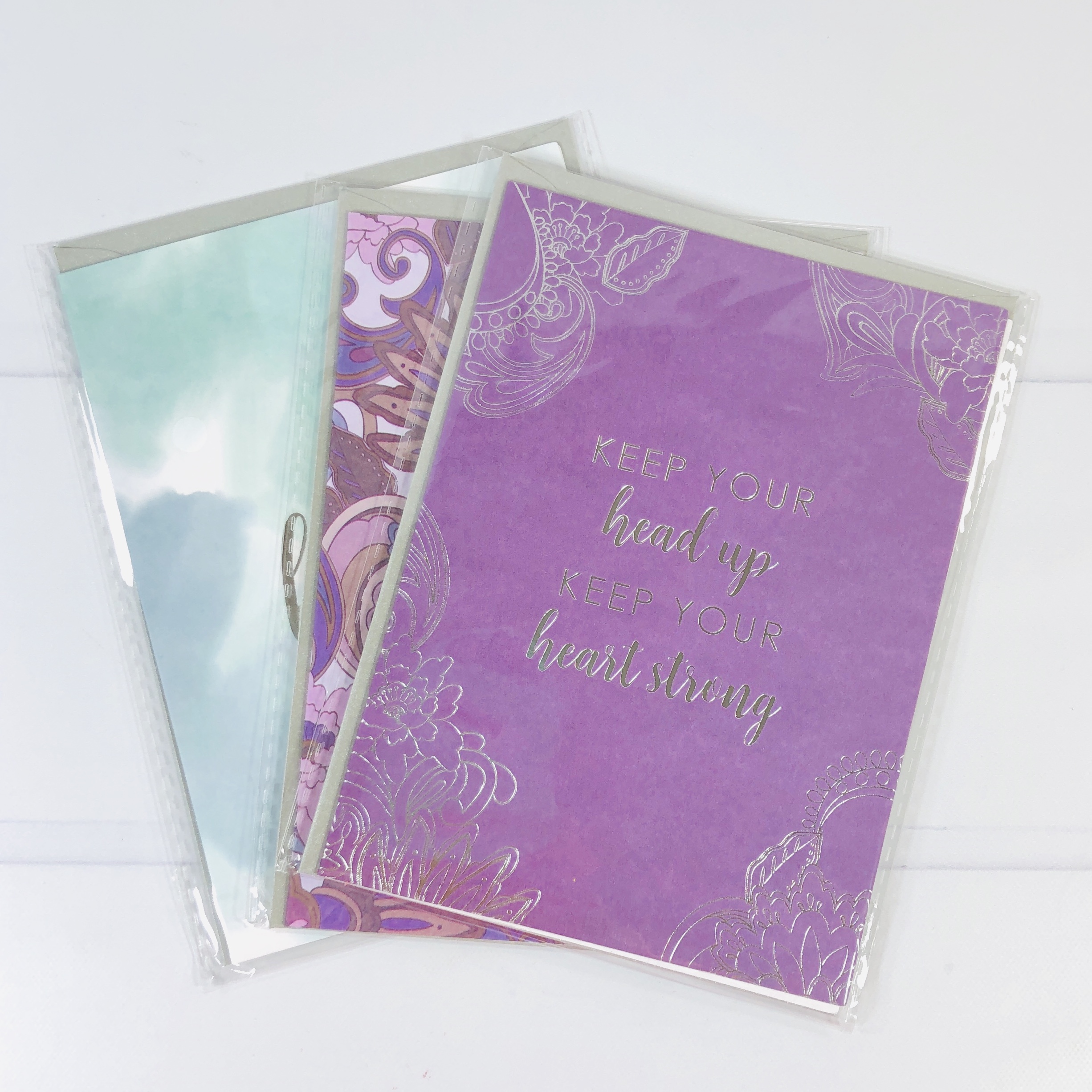 Metallic Stationery Set ($10) Our final item is an exclusive card set!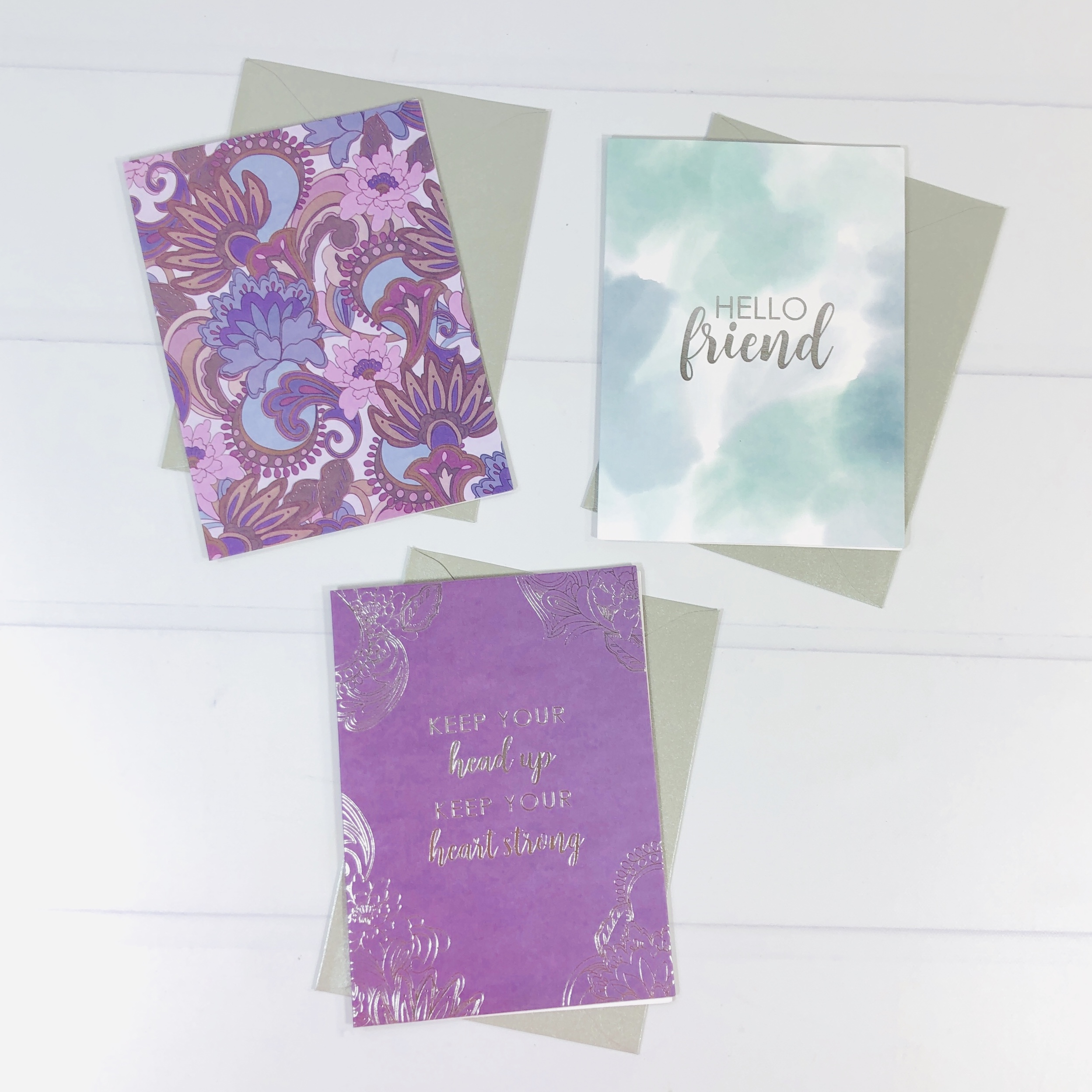 There are three cards total, each with an envelope.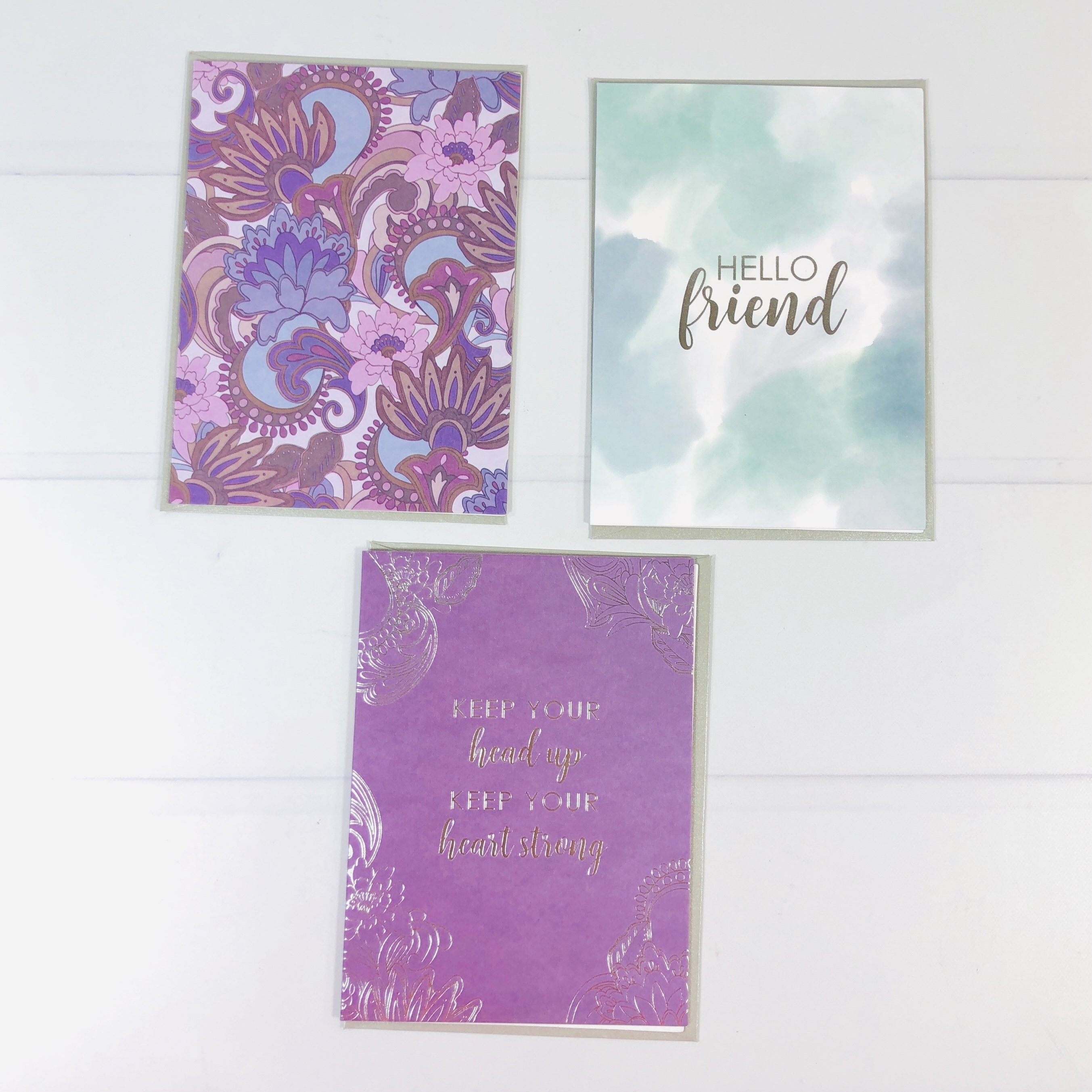 The cards are 6.25 x 4.75″ and are printed on sturdy cardstock and are blank inside. One has a beautiful paisley design, another says "HELLO friend" on the front in silver metallic, and a third says "KEEP YOUR head up KEEP YOUR heart strong" on the front in silver metallic. Even the backs of the cards are colorful!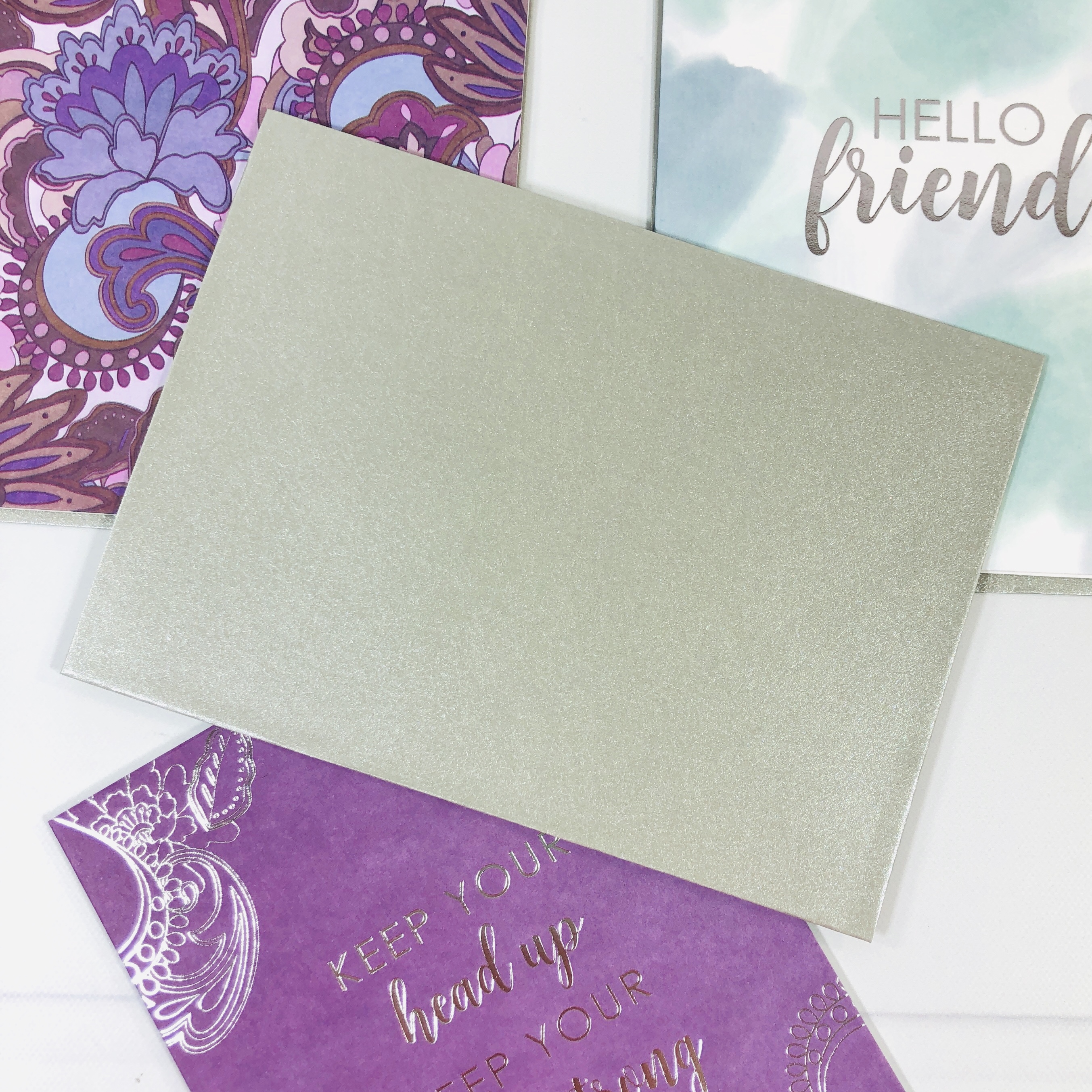 Each envelope is silver metallic!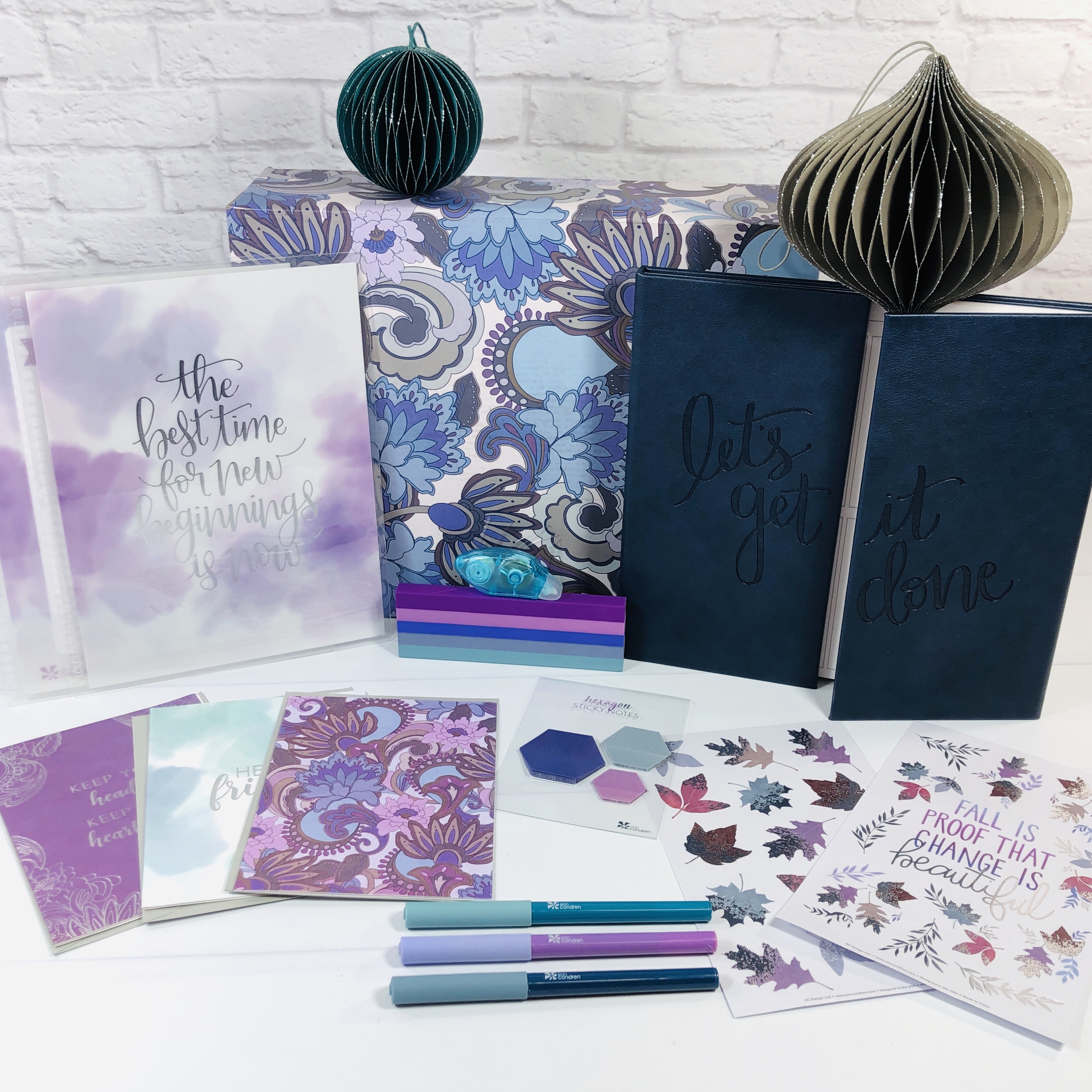 Erin Condren sure knows how to pull a box together! The Fall 2020 items had an exotic purple, navy, and peacock blue color theme along with silver metallic accents. The padfolio is helpful and versatile, the ornaments are quick to put up or down, and the pens and eraser are colorful takes on standard desk accessories. The stickers and card set are amazing, I would love more of those purple paisley cards especially! The interchangeable covers, decorative tape, and hexagonal notes help keep my planner looking spiffy as we change seasons. Don't forget to turn that box inside out, you can use it to store stationery items!
What did you think of the box?
Visit Erin Condren Seasonal Surprise Box to subscribe or find out more!