Pawstruck is a monthly subscription box that features tasty, natural, and safe meat chews for your beloved pup. It's a box that is designed to make your life simple while keeping your dog happy, healthy, and out of trouble all the time. Each box includes 7 types of premium chews, which may include bully sticks, jerky, and bones. They promise to send only responsibly sourced items, and none of those rawhide and artificial treats. You can choose from the 3 plans available, depending on your dog's size: Small (<20 lbs dogs), Medium (20-50 lb dogs), and Large (50+ lb dogs).
This is the review of the Small box for <20 lbs dogs!
DEAL: When you subscribe to Pawstruck on Amazon, you'll get 50% off your first box!
The box is packed with love by Tyson, their Chief Canine Officer!
There's also a thank you card!
The back of the card features the list of items in the small, medium, and large dog box, respectively.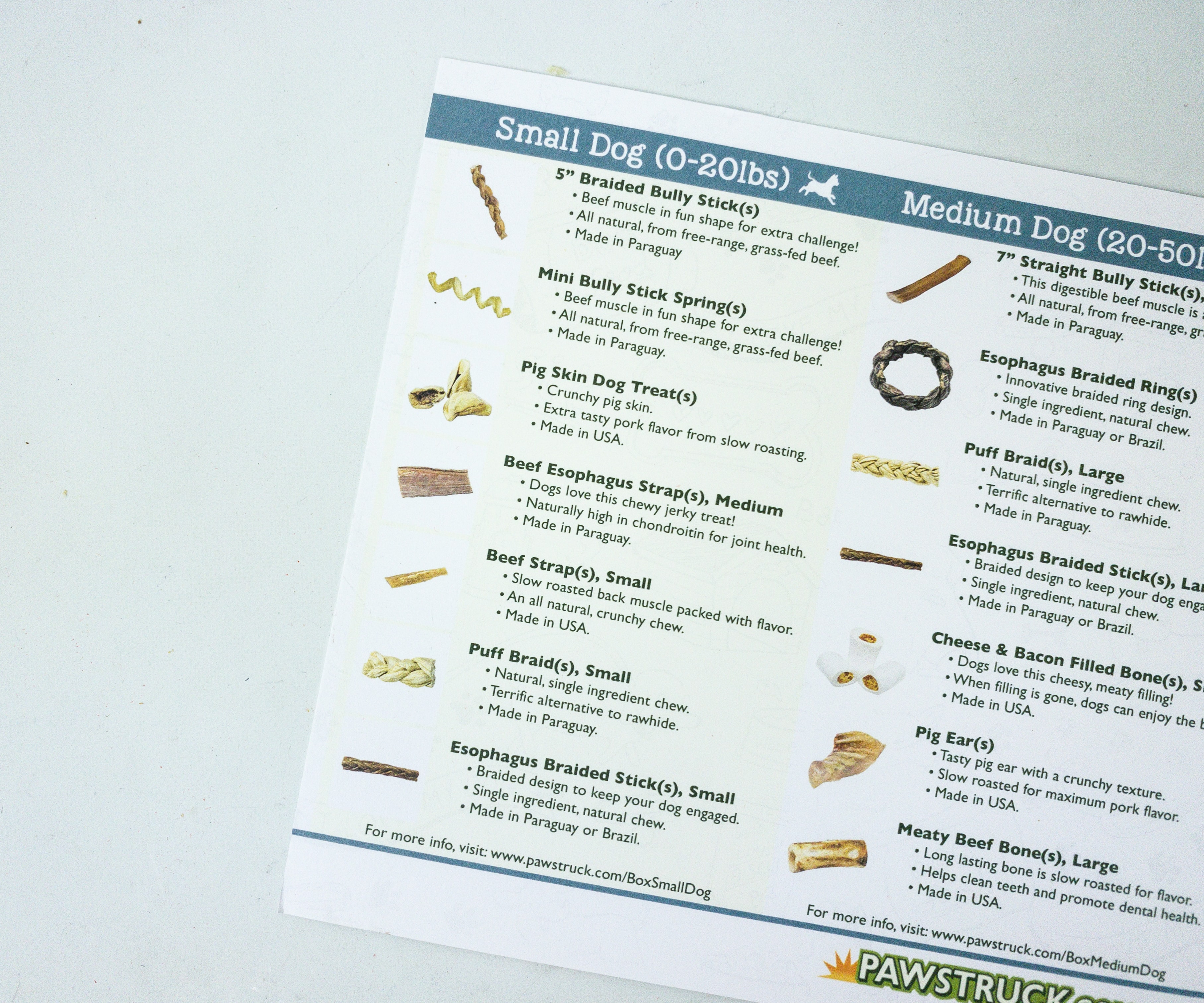 Here's everything in our Small dog box!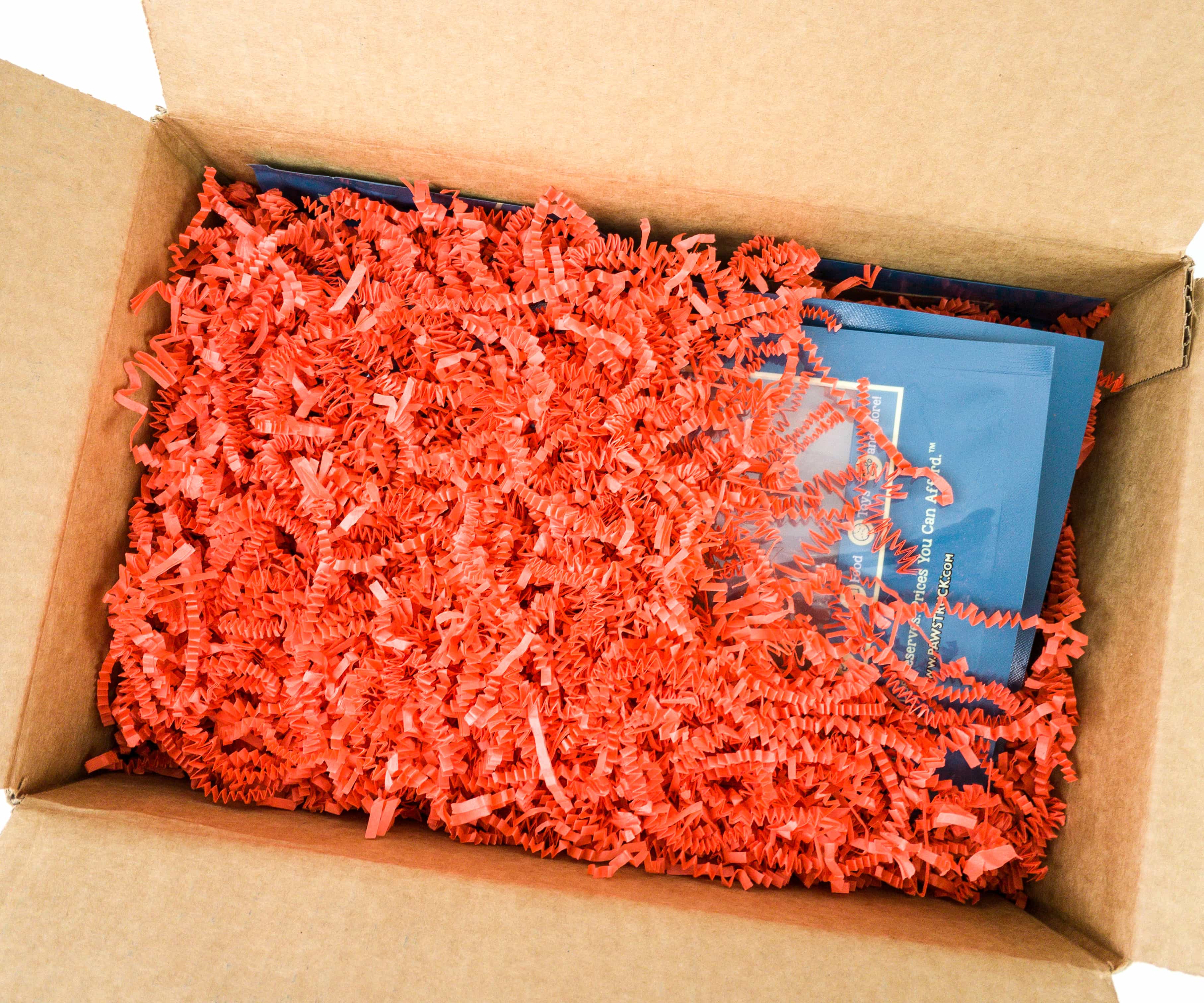 The box welcomes us with a lot of orange squiggles that covers the items inside the box.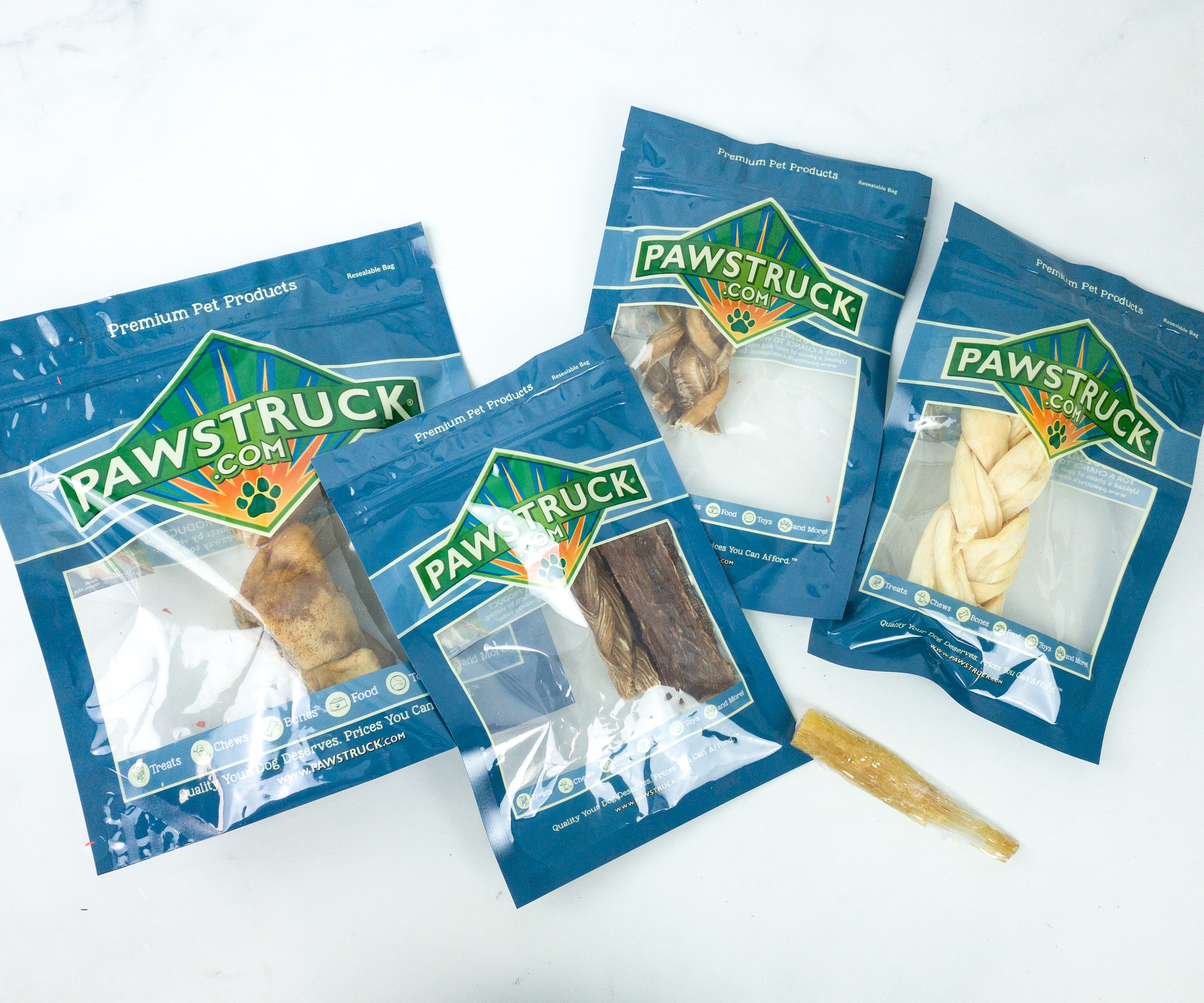 Each dog treat came in their individual resealable packaging to preserve their freshness and make sure they arrive in good condition.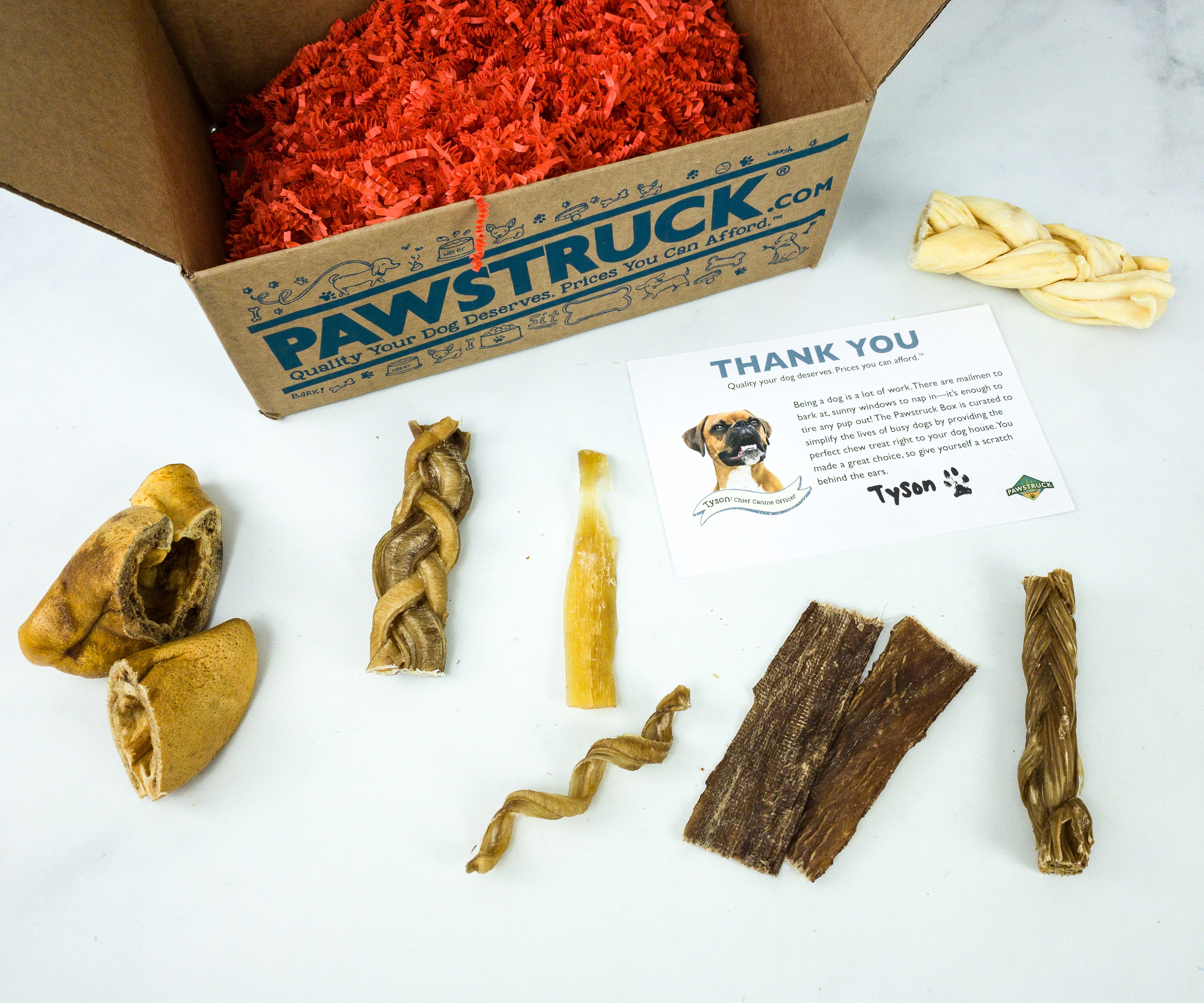 Everything in the box!
Esophagus Braided Stick. This first treat we got is from Paraguay, a 5-inch chewy stick made from all-natural, free-range, grass-fed beef. It's shaped like braided hair!
Mini Bully Stick Spring. The next chewy treat, also from Paraguay, is shaped like a spring. It's thinner than the braided stick, but still an enjoyable treat for our pups. This is also made with all-natural, grass-fed beef sourced from the muscle's beef.
Pig Skin Dog Treat. There are 2 ear-shaped treats made from pig skin! Roasted to perfection, they are crunchy, flavorful, and chewy as well.
Beef Esophagus Strap. This treat is simply irresistible! It's a chewy dog snack made from a cow's esophagus which is known to be high in chondroitin, a major constituent of cartilage and other connective tissue that is good for joint health.

Beef Strap. It's a US-made dog treat that contains strips of beef's back muscle roasted to perfection, producing a delectable dog snack that is packed with juicy flavor!
Puff Braid. We got another braided treat in our box, but this time it's made with natural single ingredient chew that is an awesome alternative to rawhide. It looks so yummy, too!
Braided Bully Stick. This third braided treat kept our dogs drooling and wanting for more! It's a tough and chewy dog snack that is made with beef esophagus. It also helps break down tartar and plaque buildup in their teeth!
It's our first Pawstruck box, and I really find it impressive! All 7 dog treats are made from high-quality, natural ingredients, and they were tough and chewy as well. My pups loved everything, I could tell because they wag their tail and jump happily every time I give them one. If you're looking for a chews-only subscription for your beloved furry friend, this is definitely the ideal subscription to try. We're looking forward to discovering other kinds of dog chews in future boxes!
What do you think of the Pawstruck box?