Chef'd is a meal kit delivery service delivered straight to your door – you get pre-portioned ingredients to prepare delicious meals at home! Chef'd is unique, in that they offer several meal plans designed by their partners, including Atkins, Weight Watchers, American Diabetes Association, and many others specializing in nutrition or just culinary excellence. There are tons of recipes to choose from within each plan.
TIP: Prices vary by meal — this one was $43 and serves four. The price for a 2 person meal was $46 so it was a no-brainer for us to try out, and many of the meals have a deep discount for getting that second set of servings. There's free shipping for orders over $40 (before the discount!).

You select how many servings you want to receive, as well as the number of meals per week. This meal delivery service is a little different than some of the others we've reviewed – there are tons of options – hundreds of recipes – along with the subscription meal plans.
The shop also lets you filter the meals quickly and when you sign up you can quickly state any allergens and your preference in proteins so your meals are pre-screened!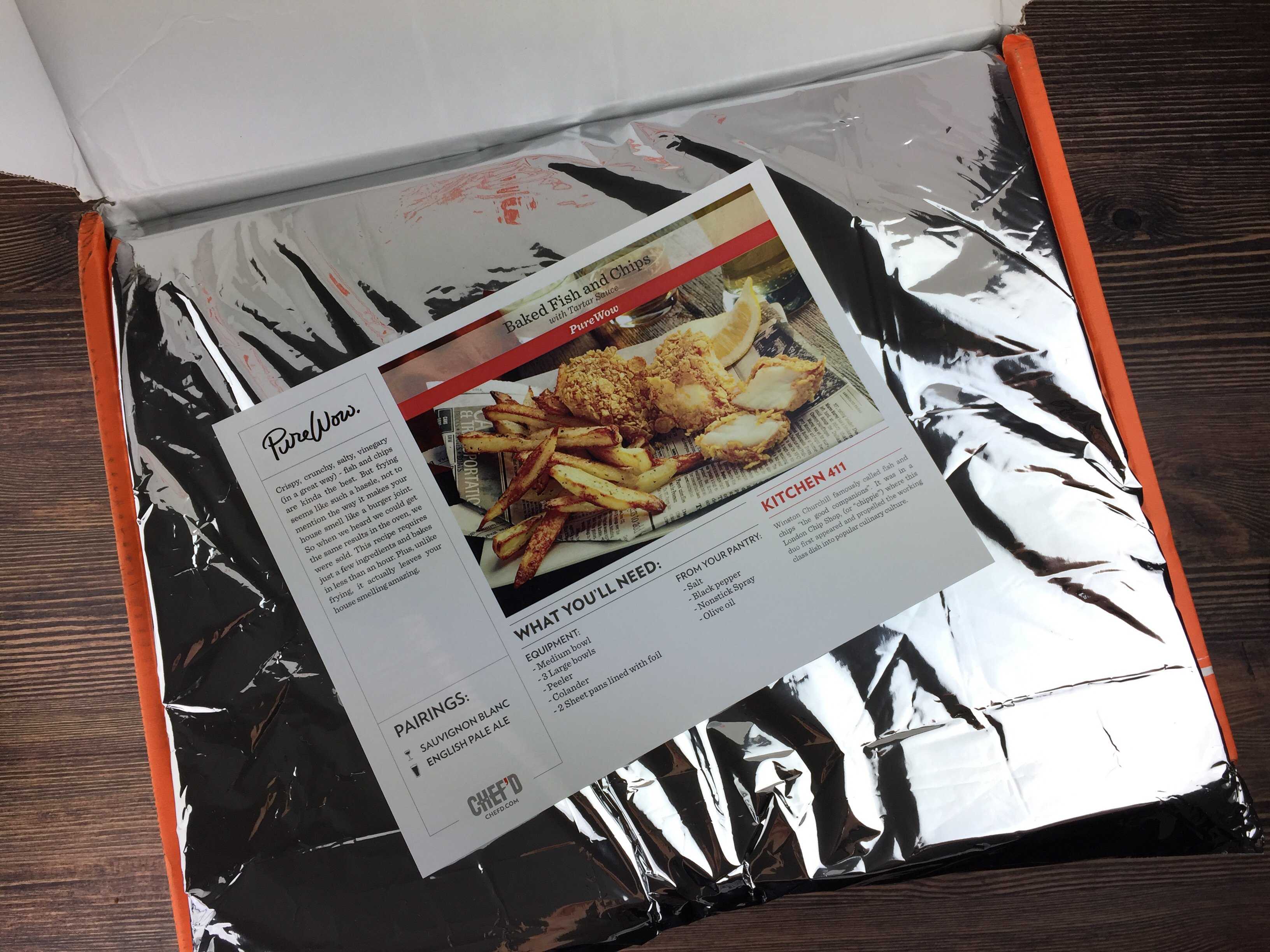 This is a Pure Wow Cooking Box.
DEAL: Save $10 on your first order with this link!
You can also get 250 loyalty rewards points when you sign up. No coupon needed – just use this link to subscribe.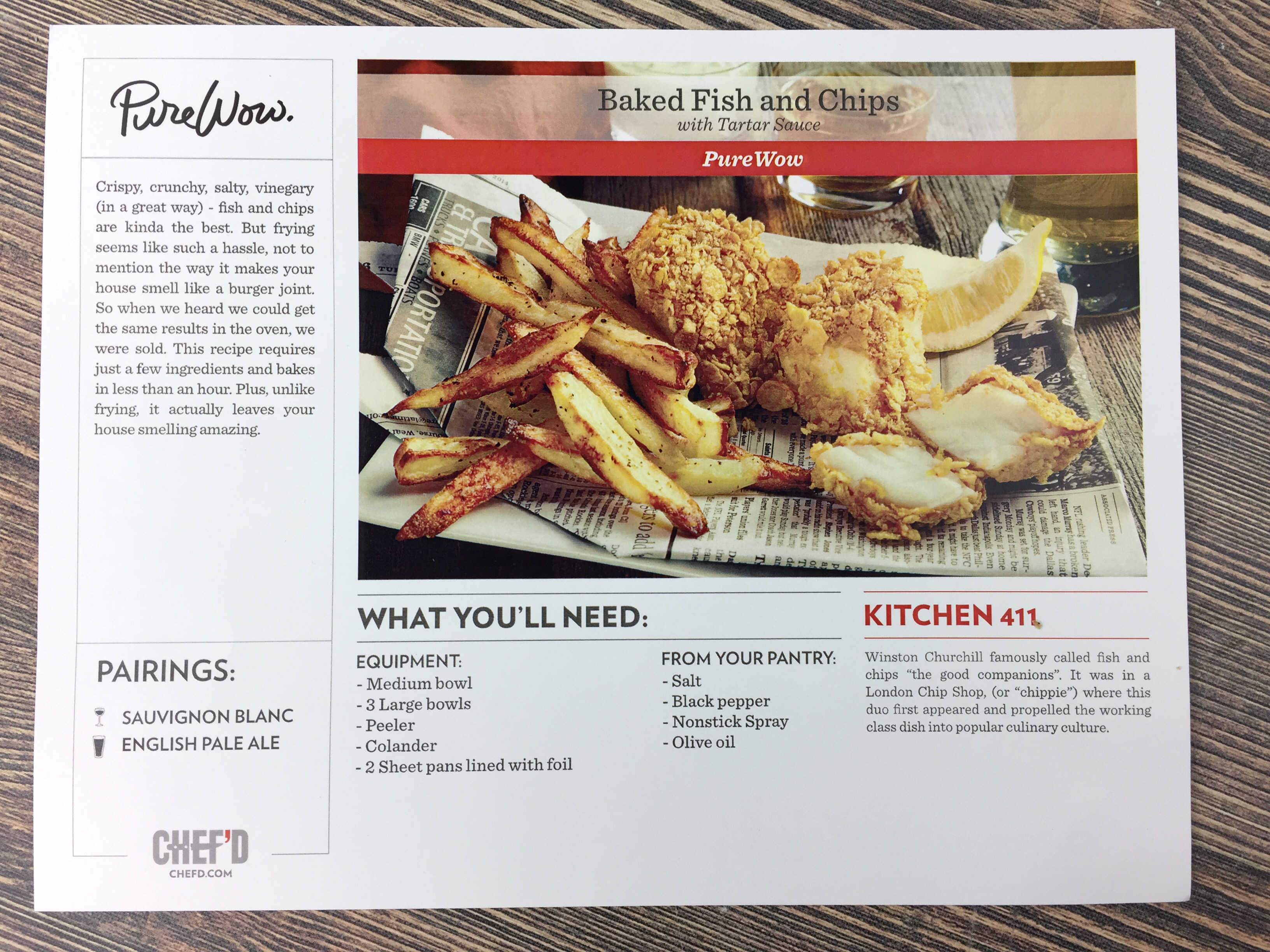 The format of the recipe card should be very familiar to anyone who has tried a meal kit subscription, as nearly everyone uses this format now. The front includes a photo of the prepared meal, a list of items you'll need from home, and even a Kitchen 411 blurb and drink pairing suggestions.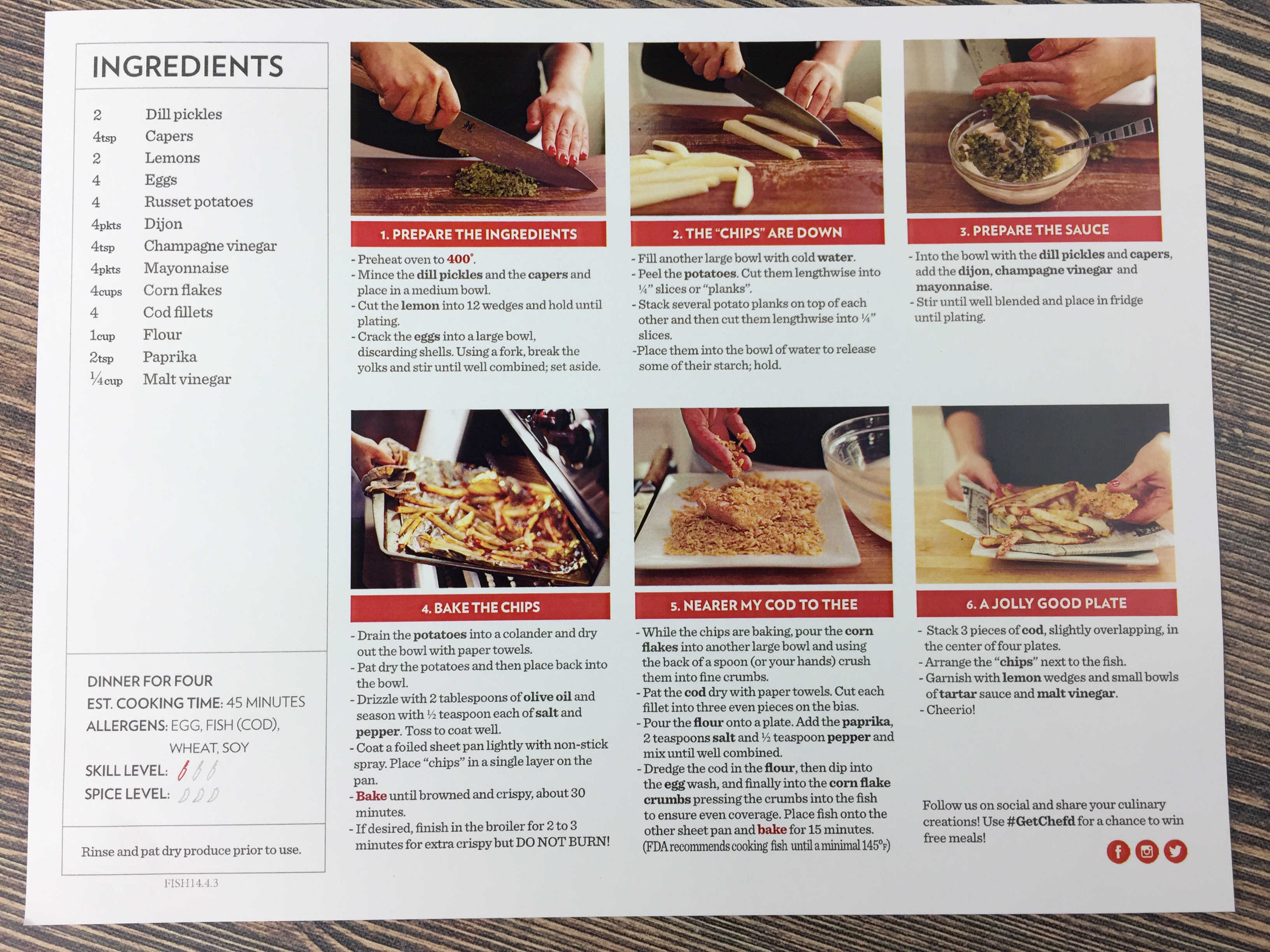 The back has a full listing of the box's contents, as well as info on number of servings, cooking time, allergens, skill level required, and spice level of the dish. Chef'd has great instructions, and they are easy to follow even if you are an inexperienced cook. With the exception of nutrition information (fat and calories), the Chef'd card packs in more info than most services. I think only Hello Fresh has a more comprehensive info and recipe card.
Our box contained one recipe, the Baked Fish and Chips, sized to serve four. The food was bagged neatly together, with only the fish and eggs packed separately.
The box ships from California (which is a ways from us), but the food sits atop a ton (figuratively) of icepacks, protected by cardboard barrier. The fish was in the bottom compartment and was so cold it was frozen – which was great. Everything looked beautiful!
Everything in my box! As you can see, there were a few extras (more on that below)!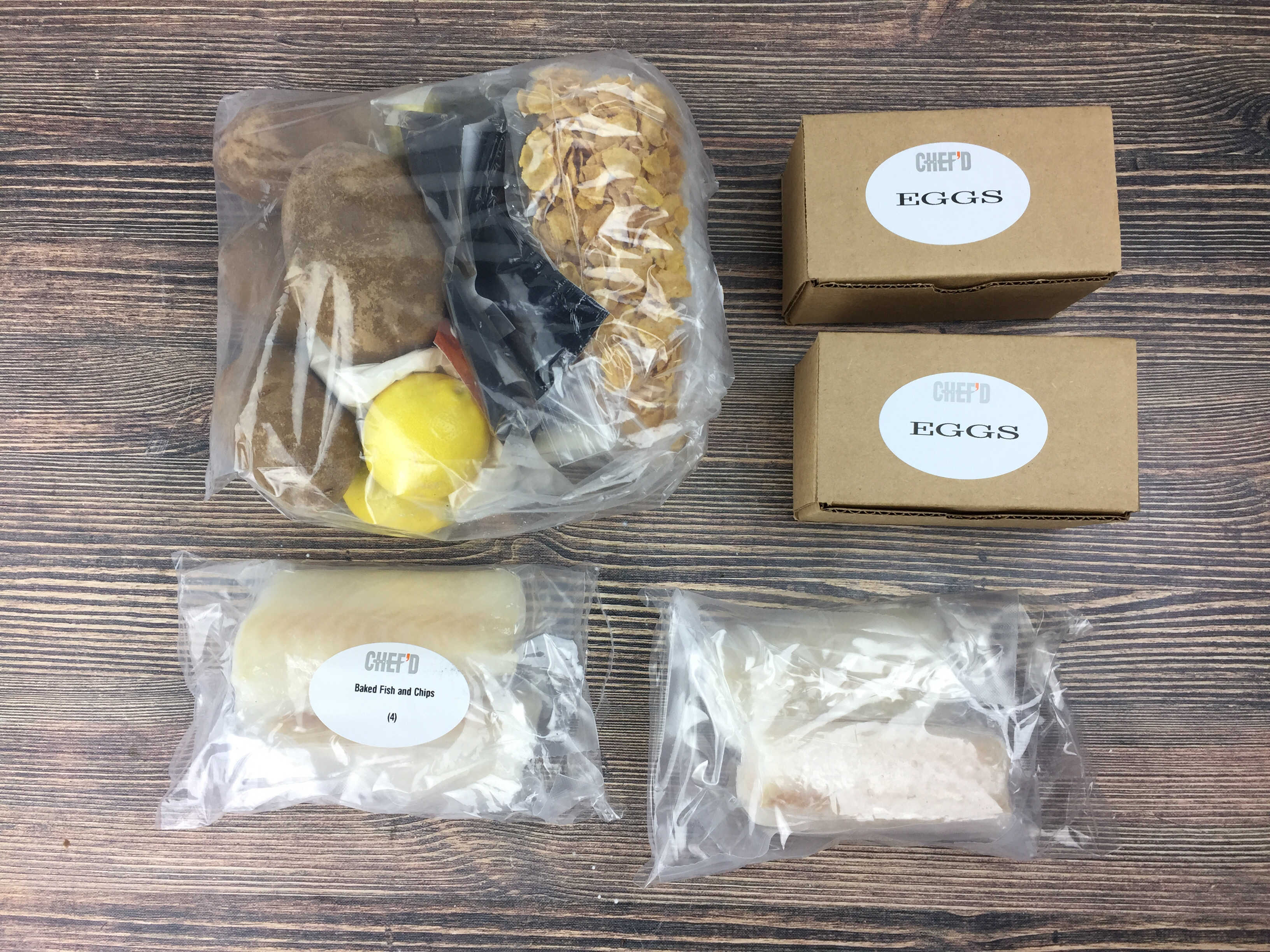 Here are the components of our selected meal. Unlike any other service, they send real eggs, carefully packed in a separate holder and box!  In contrast, Plated requires you to provide eggs, while Home Chef provides liquid eggs when needed.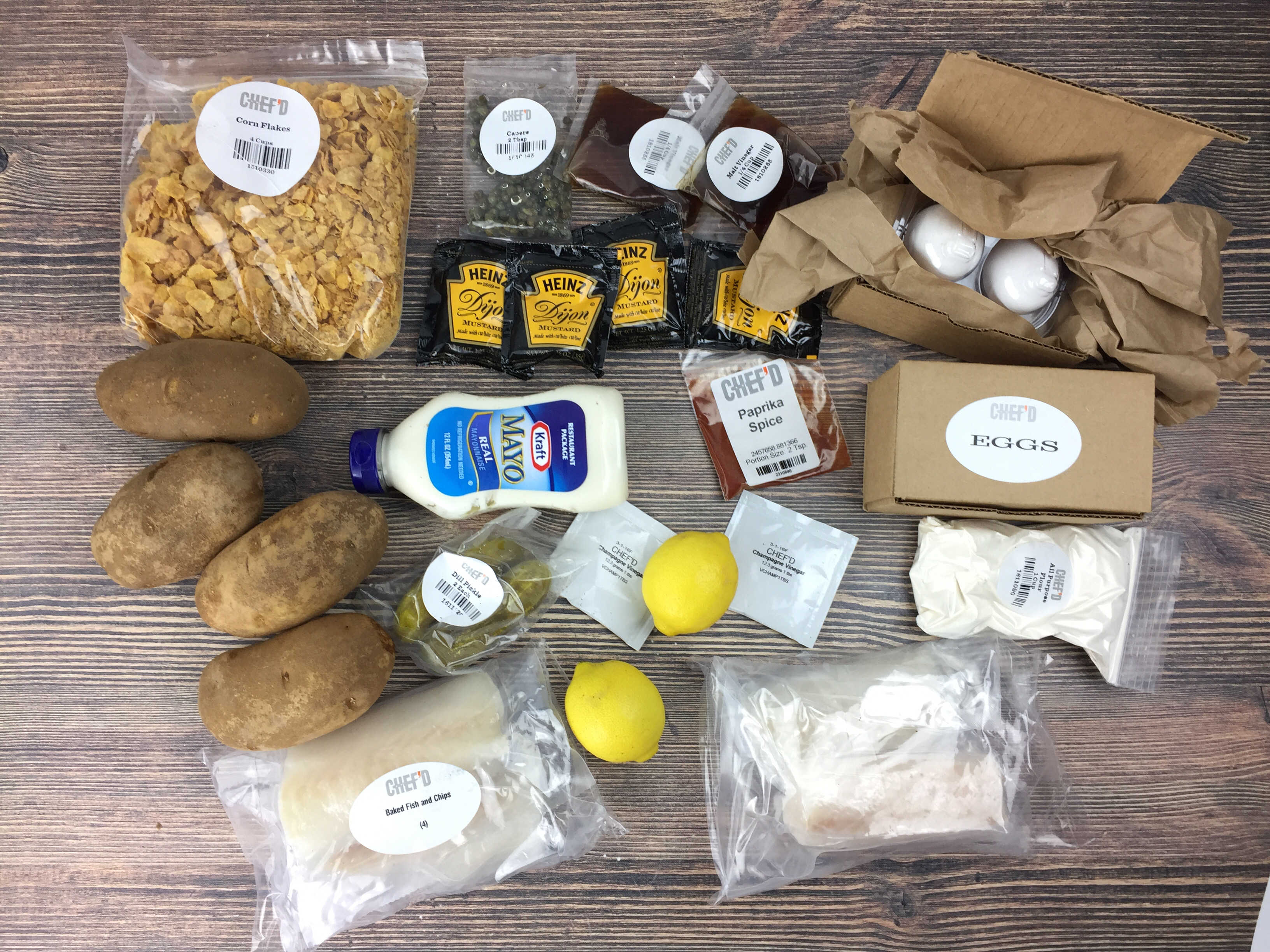 Baked Fish And Chips With Tartar Sauce. 45 minutes, easy, 320 calories per serving.
Crispy, crunchy, salty, vinegary (in a great way) – fish and chips are kinda the best. But frying seems like such a hassle, not to mention the way it makes your house smell like a burger joint. So when we heard we could get the same results in the oven, we were sold. This recipe requires just a few ingredients and bakes in less than an hour. Plus, unlike frying, it actually leaves your house smelling amazing.
This is the enormous pile of food from our four serving recipe! Each of the four fish fillets was cut into three hunks, creating a dozen beautiful pieces of fish. It was nice and firm, obviously very fresh when packed. The cornflake breading was easy to apply and adhered extremely well.  Pure Wow was right, too – our house didn't stink after cooking the meal! The fries were a delight (I make mine the same way). The dish was served with a ton of malt vinegar, lots of lemon, and a giant vat of caper, dill, and parsley laden tartar sauce. The sauce was primarily made of mayo, Dijon, freshly-chopped pickle, and some champagne vinegar. We had so much of it that we used it as a sandwich spread for a week – it goes great on roast beef!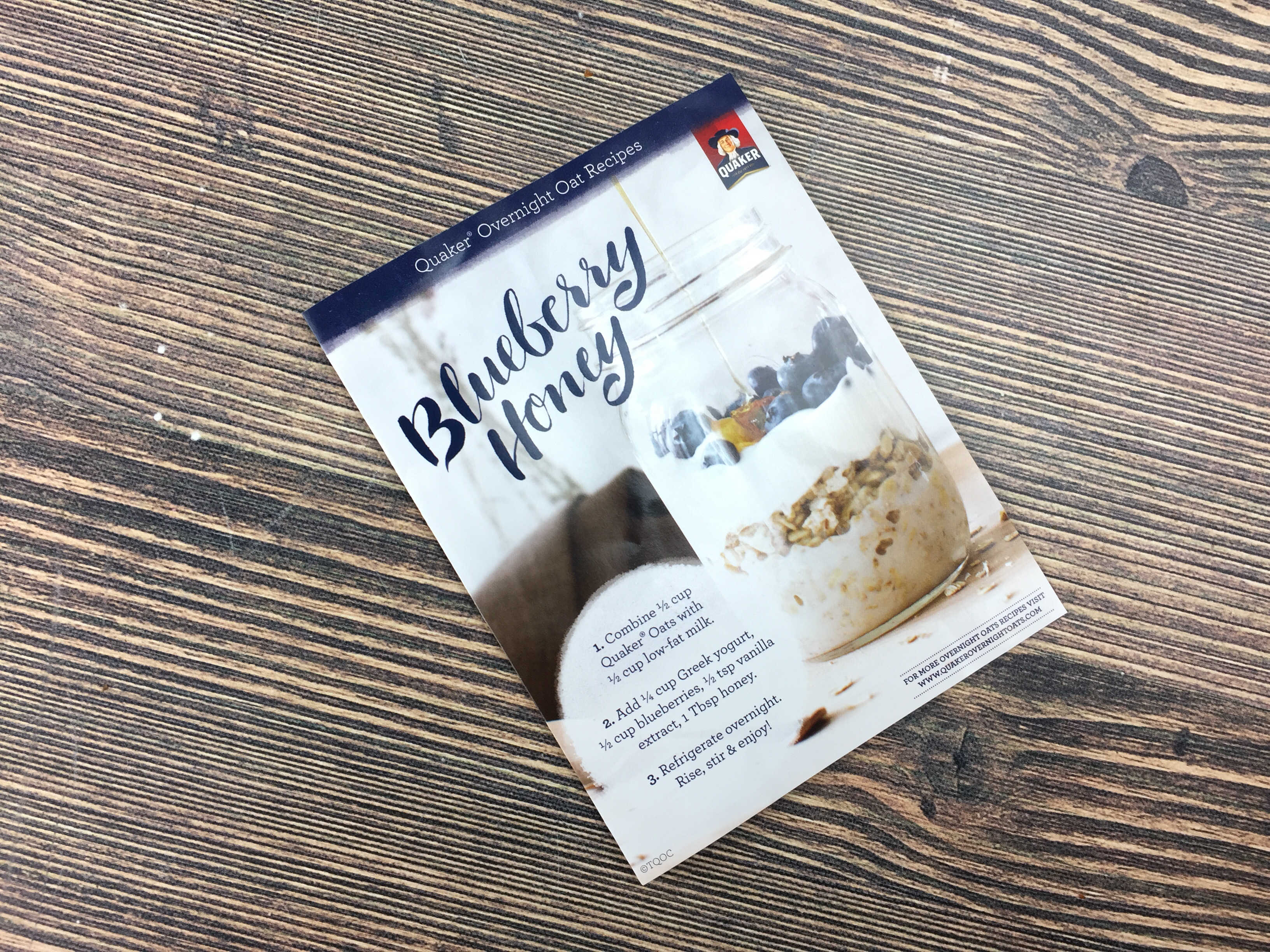 So what was all that extra stuff in the box? Our kit came with a bonus trial of a Quaker Oats "overnight oats" recipe. The included booklet had several variations on the basic recipe, but our box had all the ingredients to make the blueberry honey version.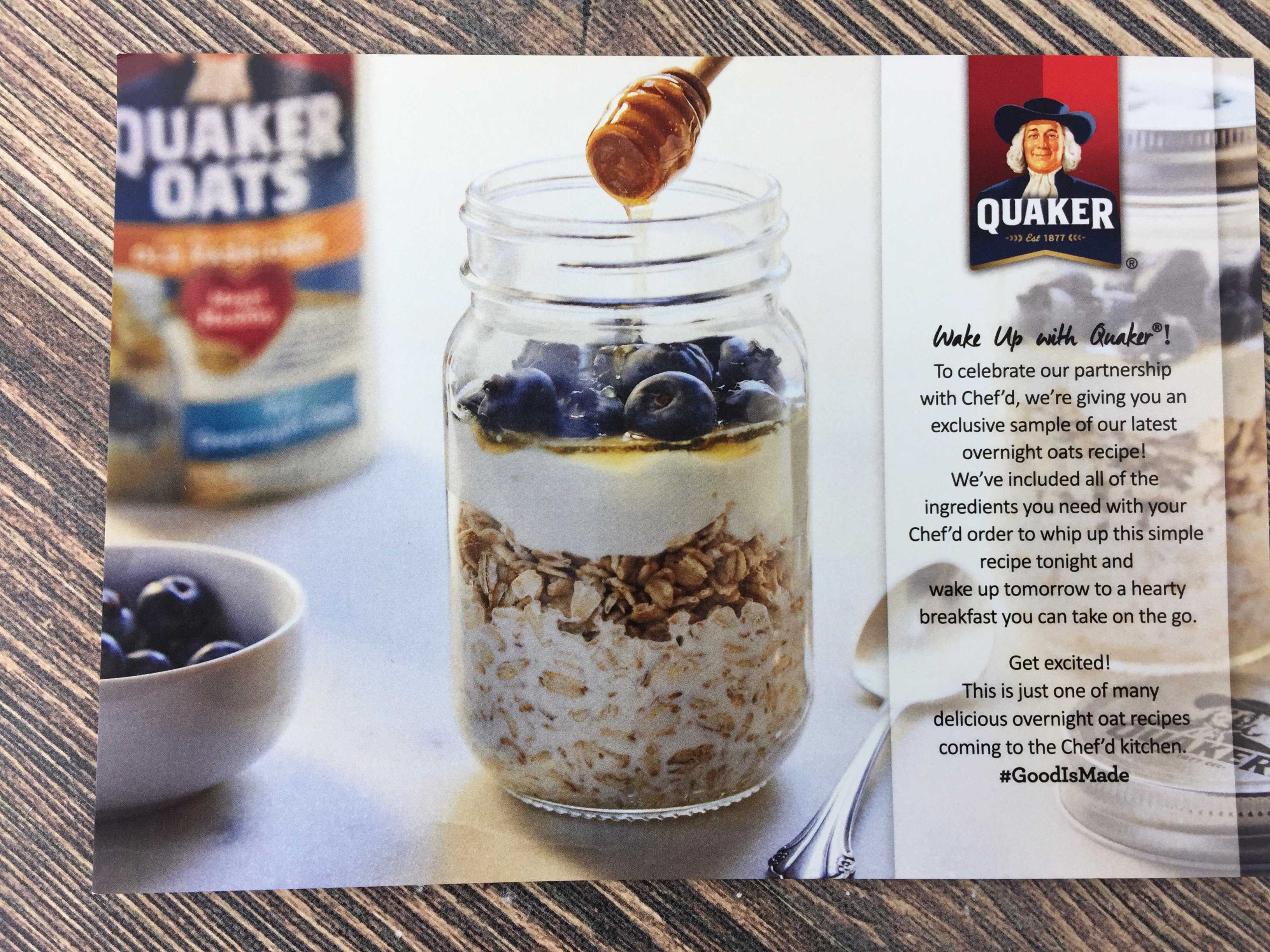 The gift was a promotion celebrating the Chef'd / Quaker partnership.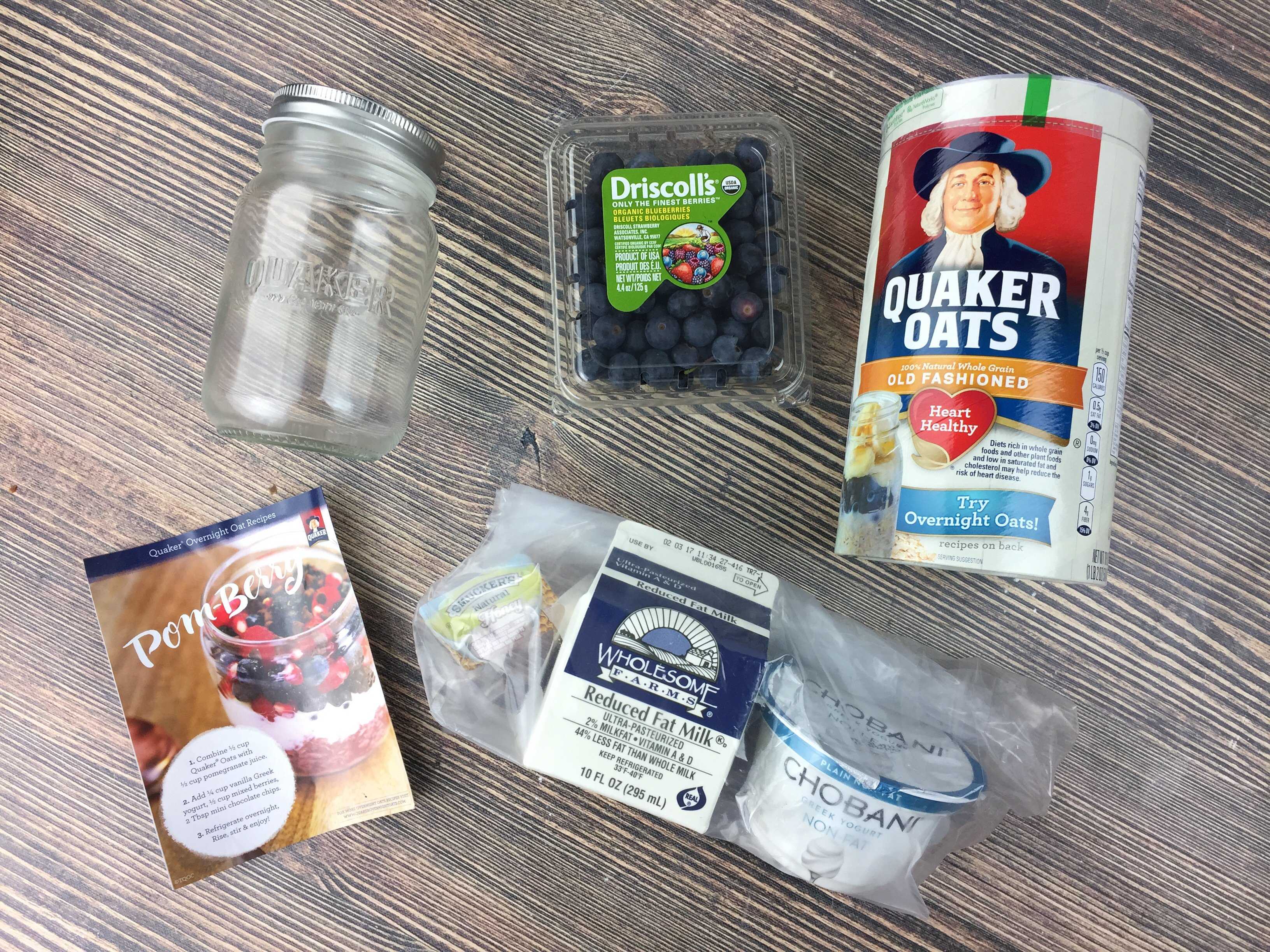 Quaker® Overnight Oats With Blueberries And Honey. 5 minutes, easy, 270 calories per serving.
Nothing is worse than leaving the house on an empty stomach. Fill your belly and your soul with delicious overnight oats, packed with blueberries, honey, and delicious Greek yogurt. Assemble this simple breakfast before you go to bed, and wake to enjoy a cool and creamy—yet hearty—delicious oat breakfast. Your morning will be chaos-free!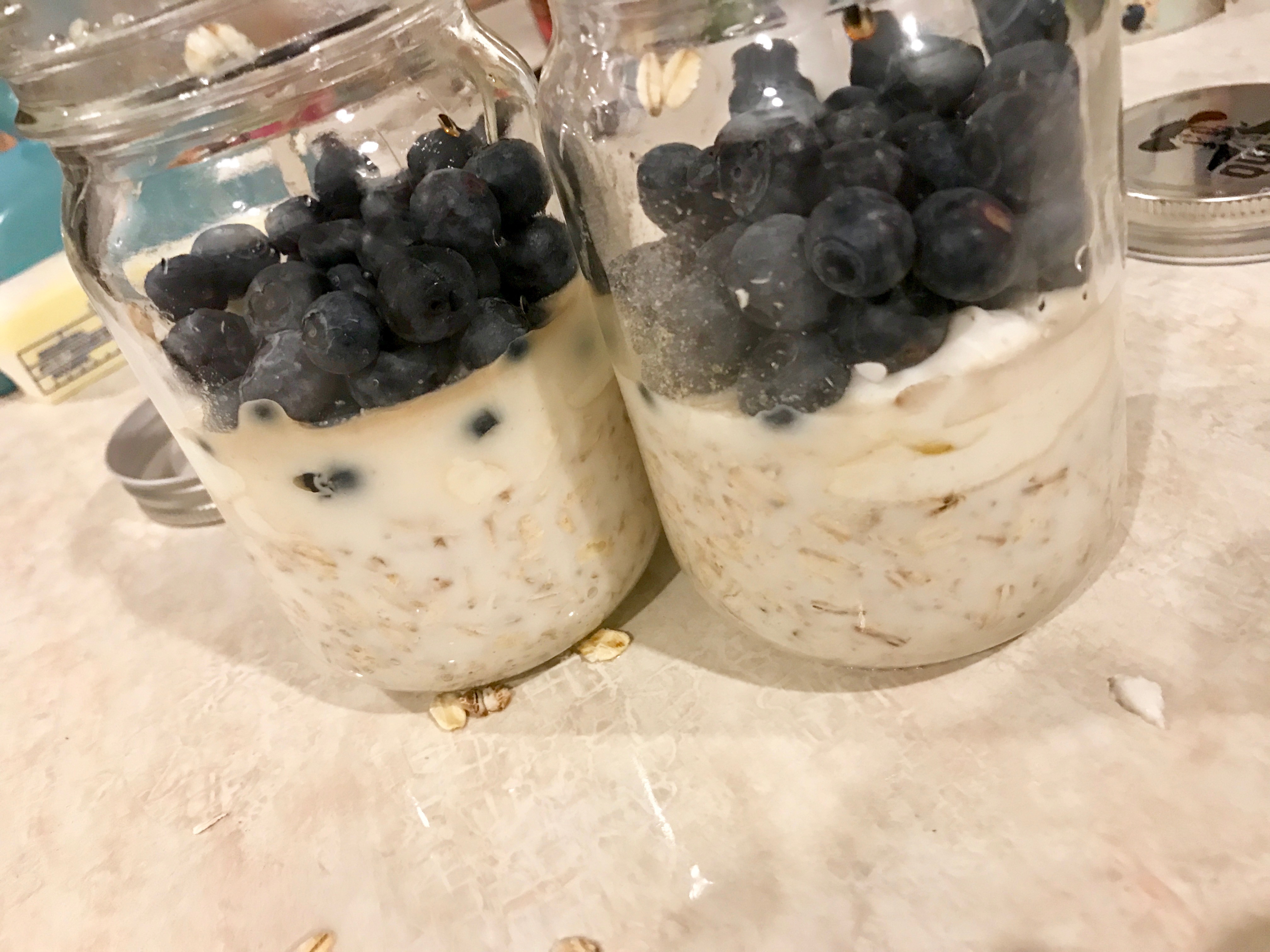 The kit came with a lidded small Mason-style jar. The recipe actually made enough to fill two jars, so we filled the jar from another Chef'd meal, too. The overnight oats turned out quite well, retaining some firmness and the raw heartiness of the oat, but they were soft and a bit creamy, as well. (This photo was before soaking).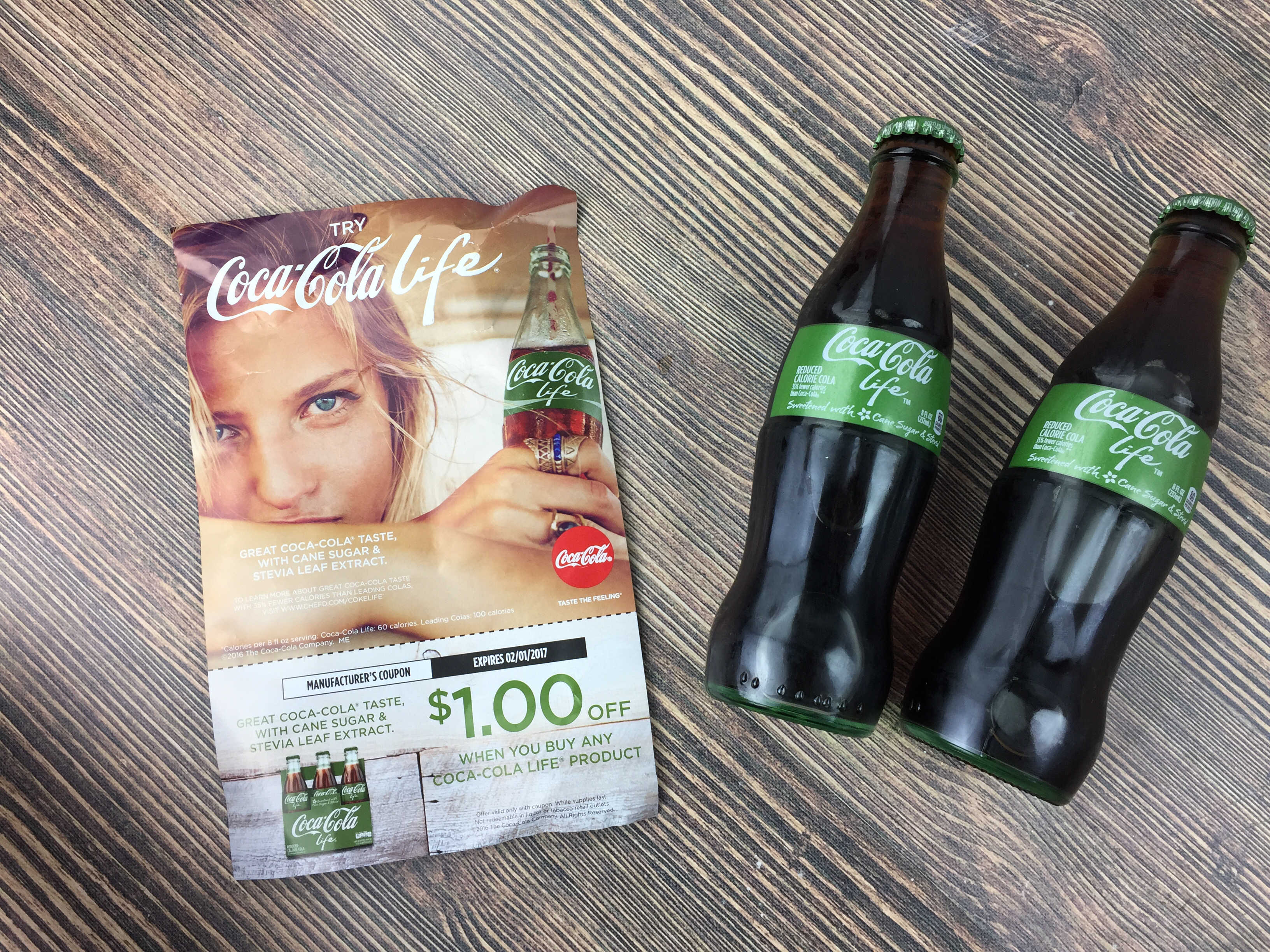 Coca Cola Life: We also received a couple bottles of Coca-Cola Life (their newest offering, flavored with cane sugar and Stevia), plus a coupon. It was pretty tasty, and I definitely prefer it to Classic, as it doesn't have the cloying feel from the corn syrup.  I am, however, still more of a PepsiMax or Coke Zero kind of guy – I actual prefer the taste.
This Chef'd was awesome! The ingredients arrived in superb condition, and the finished recipe was delicious.  It made a lot of food, and we were never in fear of running out of the condiments. The instructions were very clear and thorough.  Lots of great info and guidance.  I thought the techniques used in this particular recipe were perfectly suited to it – easy to employ and very successful.
This was a great dish. It is a perennial favorite, and this version lived up to the reputation. It was also a fun surprise to see all the bonus items (although we were perilously close to running out of fridge space)!
We highly recommend trying Chef'd – the multitude of meal plans and options guarantees you'll find something you'll love.