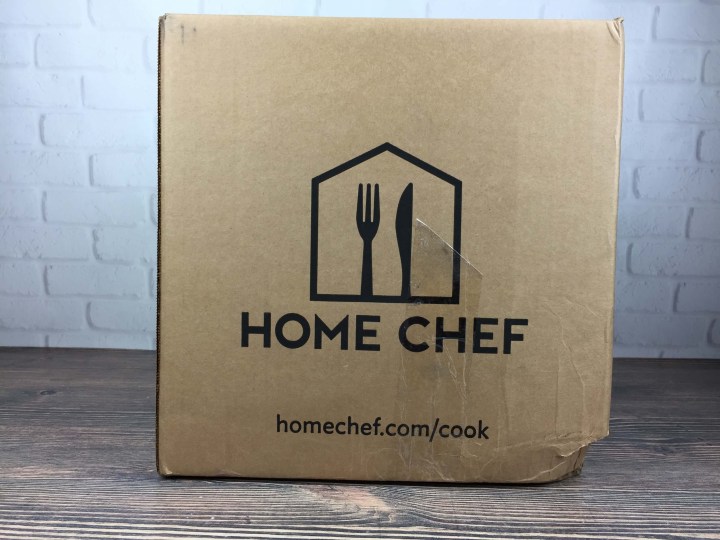 This week's Home Chef included a fun and spooky dish for Halloween! Home Chef is a meal in a box subscription – every week, you choose from a variety of recipes and have all the ingredients and preparation instruction delivered to your door. It's similar in concept to other weekly meal delivery services, but it has its own unique features and perspectives.
Meal selections are suggested automatically according to a profile you fill out noting your family's preferences, but you can change your selections any time. Home Chef offers an incredible 10 selections available for 2, 4, or 6 people, a breakfast choice, a smoothie choice, and a fruit basket selection. The portions are huge, and this is currently the least expensive and has the most choice out of any similar major subscriptions (for 2 people) – $9.95 per person per selection (they typically have one meal a week that's a premium meal).
Our food was packed within an arrangement of puffy, padded cooler pads. The food is segregated in bags, and each bag has nearly everything needed to make a complete meal. You have to have a basic kitchen set-up (stove/oven, cookware, etc.), but a couple tablespoons of cooking oil and salt and pepper are usually the only ingredients you have to have at home. Unlike other boxes, Home Chef includes liquid egg when needed rather than expecting you to have eggs on hand, and they even include a bottle of oil for shallow-frying when a recipe calls for more than a few tablespoons worth.
DEAL: Get $30 of free food when you sign up – just use this link to get the deal!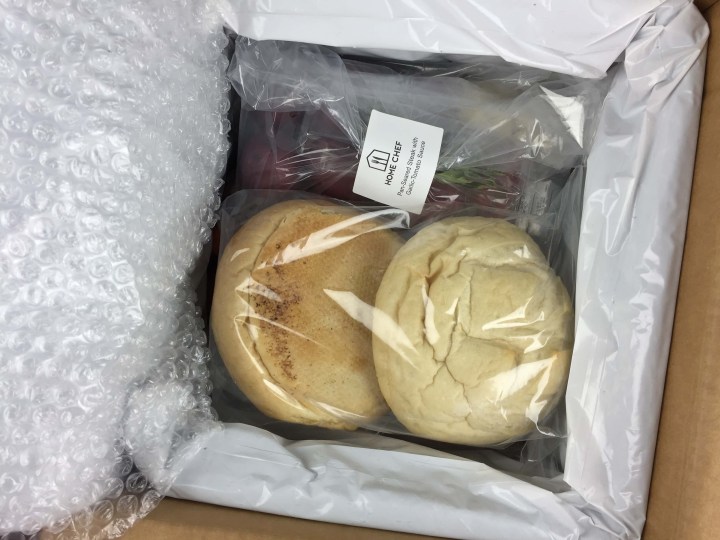 The box is always packed with a sufficient number of ice packs – the meat is placed in the bottom of the box with several of them. I like that they now put all the meat in a giant bag to protect against leakage and to let you get the meat out without fishing around. They now stamp the inside of the box with inspection stamps, so we know that no fewer than two people have inspected our box before it ships!
The recipe cards display prep time, difficulty, a "best cooked by" time frame, and even a spice level. There is also a list of stuff you may need from your own kitchen such as cookware and salt and pepper.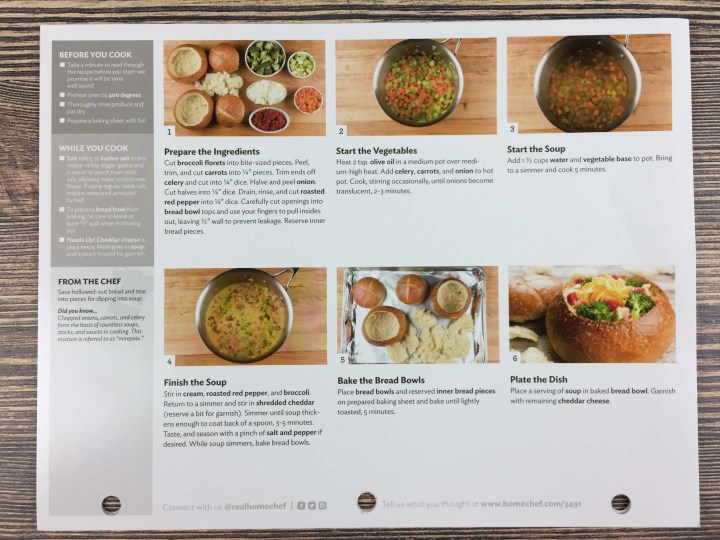 The back of the card has the actual recipe guidance, complete with pictures and boldfacing of ingredients. The recipes are accompanied by pro-tips and explanations of cooking terminology and techniques. The tips appear in a sidebar so they don't clutter the actual recipe.
The prep is done is a sensible order, with long lead time items first. This helps everything finish cooking close to the same time. The recipe cards have pre-punched holes so you can store them in a recipe binder – we usually prefer to just wait till the recipe is offered again instead of attempting to gather the ingredients to recreate it ourselves.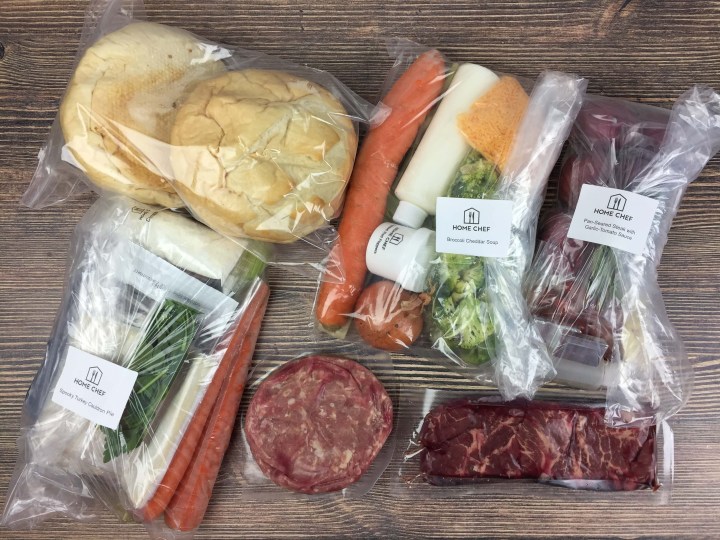 Each recipe was packed separately, and neatly, in its own bag, except for a few larger items. Unless otherwise noted, each of the pictures of prepared food below shows one of two servings made by each recipe.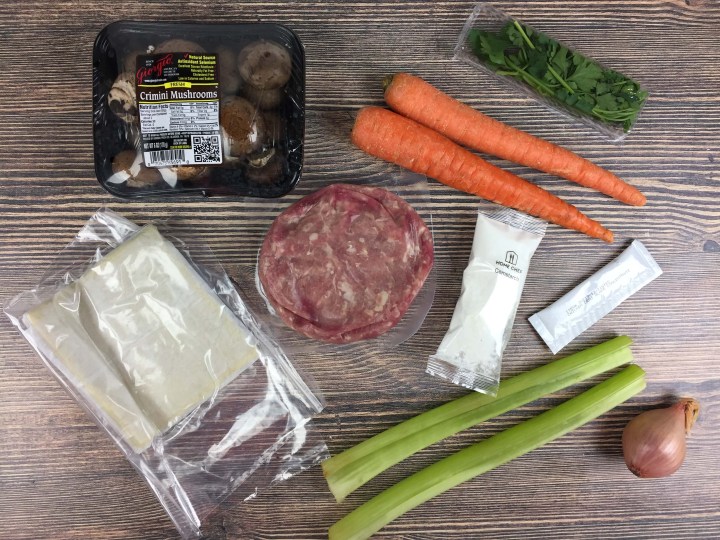 Spooky Turkey Cauldron Pie With Vegetables And Puff Pastry. 35-45 minutes, intermediate, 744 calories per serving.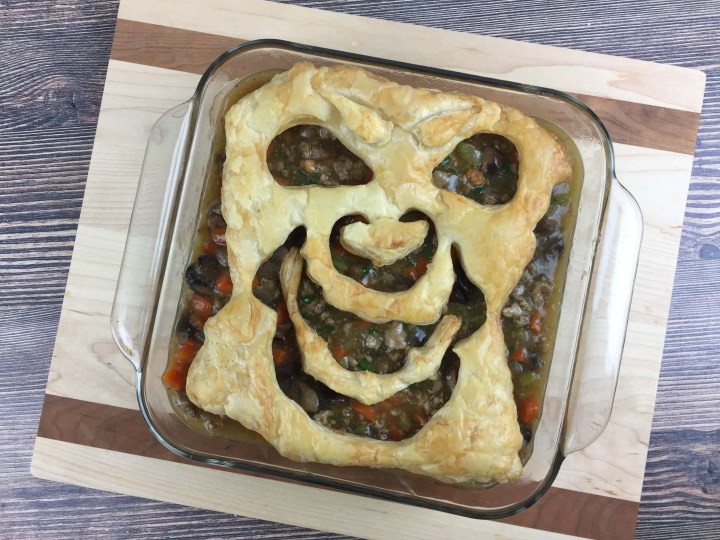 This was fun and easy to make.  The pastry is simply place atop the cooked stew at the end, so it stays flaky and pristine until you dig in.  I caught a lot of flack at home for straying from the traditional, harmless jack-o-lantern, opting for a ghoulish sculpture.  The stew was very thick and tasty!
[Editor's Note: This dinner was TERRIFYING! It was also one of the best meals we've had! I would buy it again – with strict instructions for regular pumpkin features!]
 Pan-Seared Steak With Garlic-Tomato Sauce And Crispy Parmesan Potato Cakes. 35-45 minutes, intermediate, 690 calories per serving.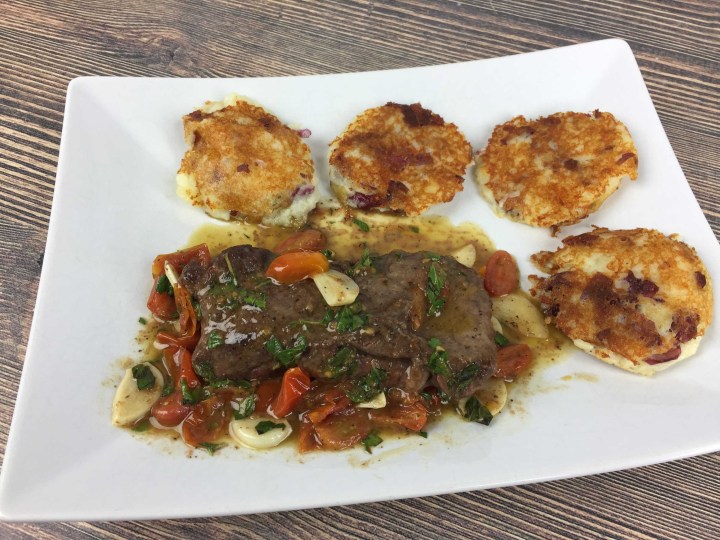 The potato-Parmesan cakes were creamy on the inside, with a crispy outer coating where the cheese seeped out.  They were very delicate, but also very easy to make.  The lead time required for boiling, cooling, mashing, mixing, forming, and frying the cakes was a bit lengthy if you only have a single pan to do the cakes, steak, and sauce in.  The steak was super tender and well-complemented by the fresh oregano in the sauce.

 Broccoli Cheddar Soup With Baked Bread Bowl. 30-40 minutes, easy, 1000 calories per serving.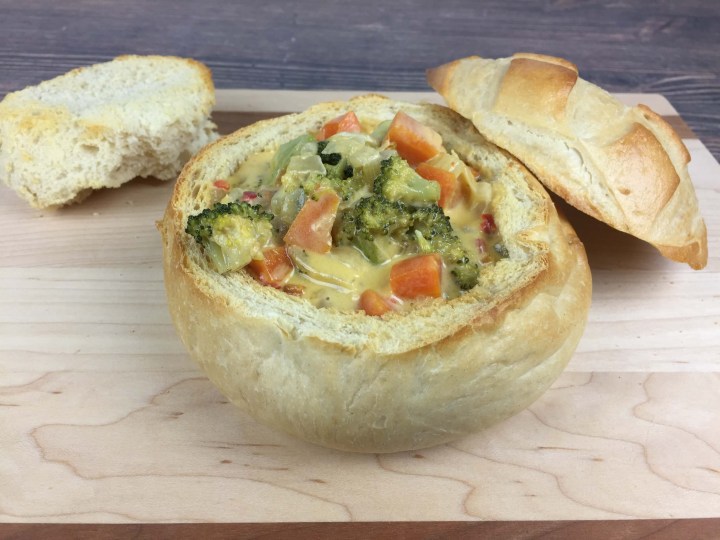 This was a very filling meal!  The soup was nice and thick, with lots of chunks of vegetables.  The bread bowls were ample and worked very well holding the soup — we even had the interior plug and cap for dipping!  We loved the tangy sourdough.
From Brandy: This was one of my favorite sets of meals from Home Chef! With their homey comfort food selections this subscription really shines in the fall & winter months!
Home Chef tends to be the most mainstream of the meal kit subscriptions, featuring dishes that are familiar and comforting. Home Chef has always had a huge selection of meal options to choose from each week, and it is the undisputed portion king of the meal kit subscriptions!
Have you tried Home Chef? What did you think of your meals?