Lucha Loot is a monthly subscription box devoted to all things Lucha Libre! Lucha Loot is committed to officially licensed 100% items with lucha libre collectibles including DVDs, magazines, posters, art and more, plus lucha masks, all with royalties paid to or purchased directly from luchadores.
T-shirt, autograph picture, DVD and more.  There is a lot of loot packed into this treasure box. There are two sizes of Lucha Loot – the Lucha Loot Standard Chest ($19.95 + $8 shipping), and the Lucha Loot Deluxe Booty Chest ($29.95 + $8 shipping). I subscribed to the Deluxe Booty chest!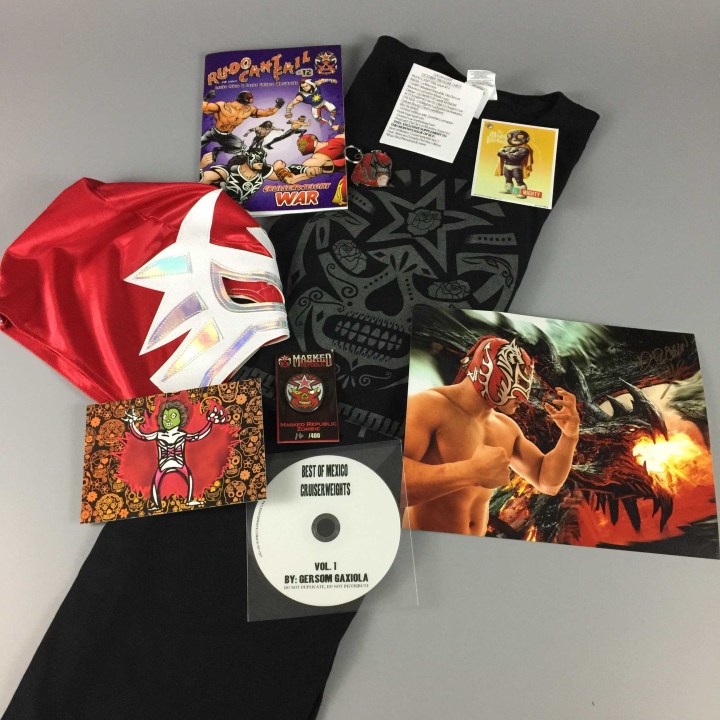 DEAL: Save 10% on your first box! Use coupon code TRYLL.
Masked Republic Dia De Los Muertos Luchador Mask T-Shirt. Just in time for my birthday(which is on Dia De Los Muertos).  This is a great looking t-shirt!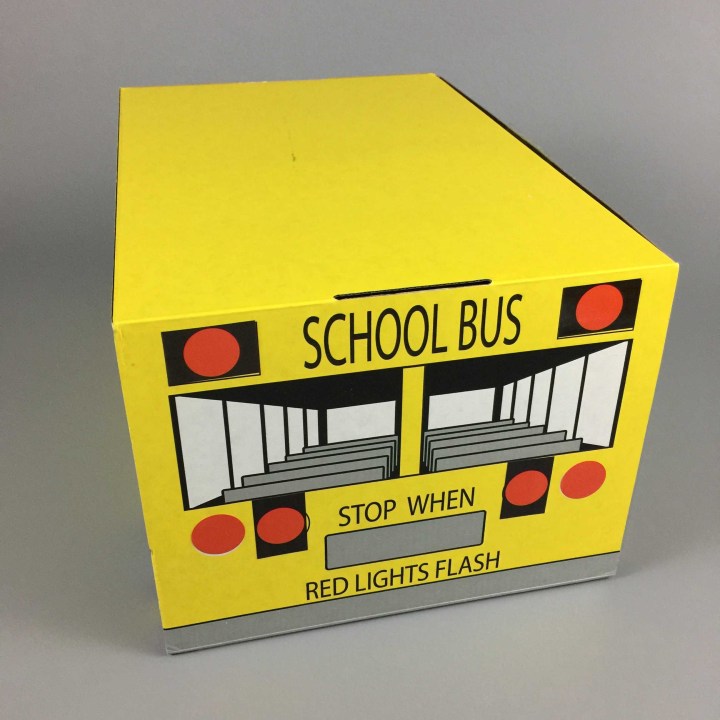 La Mascara Mask. The mask uses a zipper as opposed to being tied in back. Red, white and silver look amazing together on this mask.  The material feels a bit thicker than in previous months and it wears incredibly well.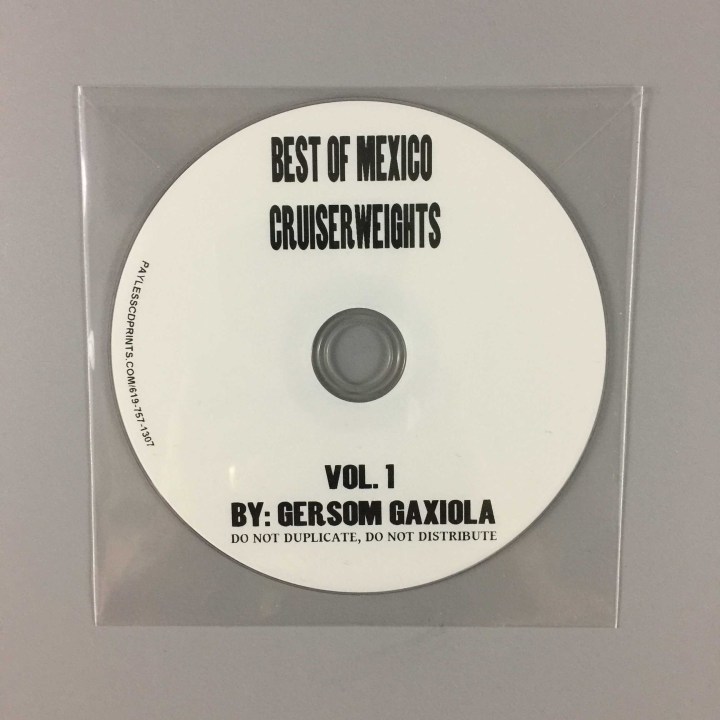 Best of Mexico Cruiserweights Volume 1. The DVD is packed with amazing lucha libre action with some of the greatest luchadores around. Mascara Dorado, Flamita, Ultimo Ninja and more!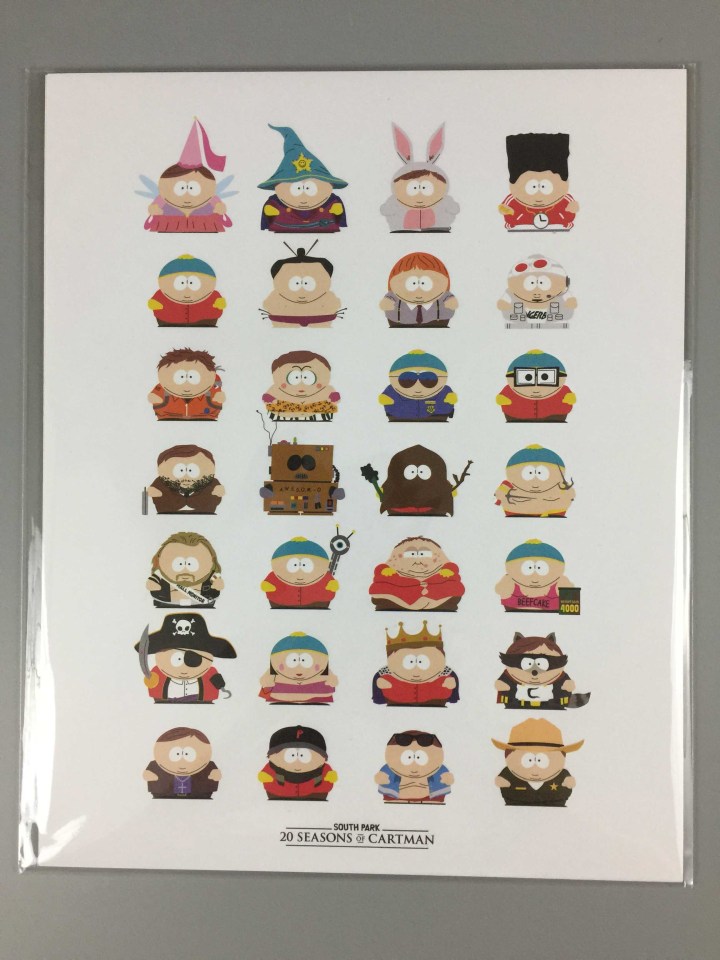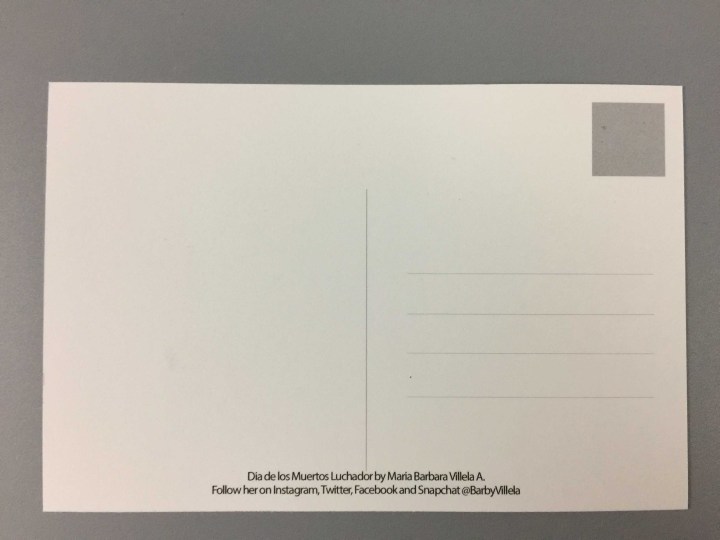 "Dia De Los Muertos Espectro" Postcard. A postcard from Maria Barbara Villela A, a remarkably talented artist. Be sure to follow @BarbyVillela on Twitter to see more artwork.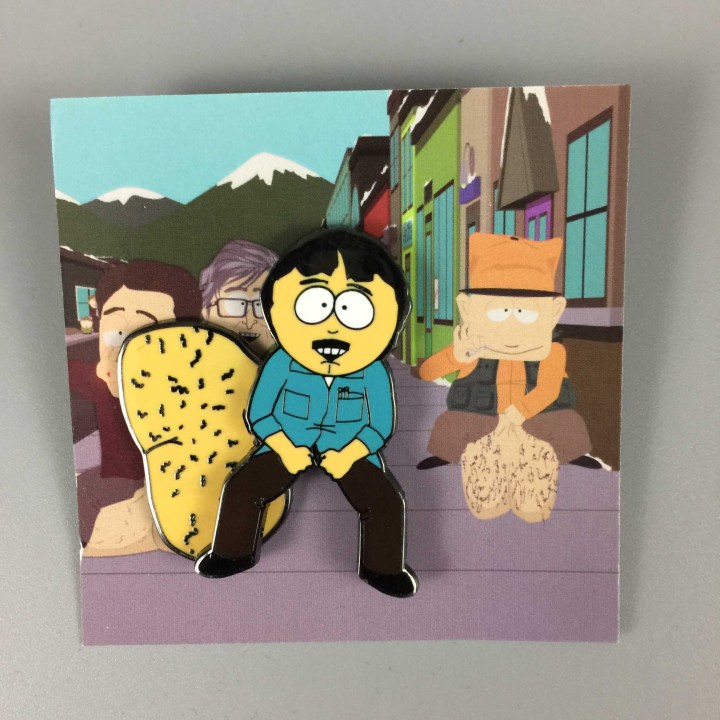 El Mighty Sticker. A sticker featuring a character from The Mighty Luchadore series.
Rudo Can't Fail magazine.  Issue #12 has tons of news and photos from the world of Lucha Libre. I enjoy receiving this magazine each month with Lucha Loot. I just wish I was able to get my hands on issue #1.
Dragon Lee Autographed 8×10 photo. Lucha Loot is amazing with the way they include autographed items from some of the greatest in lucha libre today. The description sheet says the photo glows in the dark but it didn't seem to work for me(I may not have had it exposed to the light long enough). No matter, this picture looks awesome!!!
Dragon Lee Keychain. An autographed 8×10 and a keychain of Dragon Lee! This is a great box this month!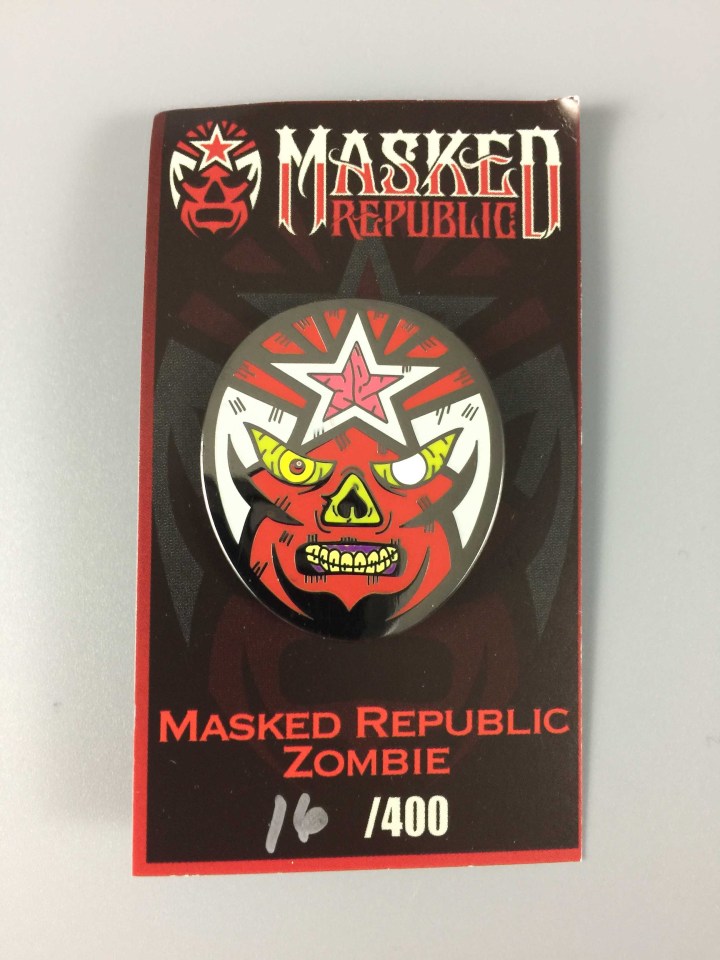 Masked Republic Zombie Pin. This is a nice looking pin and it is a limited run of 400.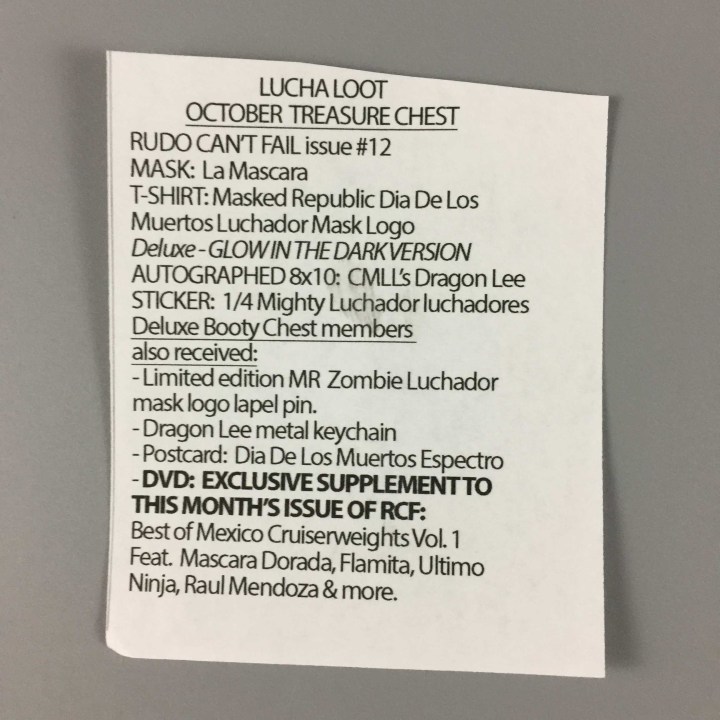 Lucha Loot Description List. A nice and concise list of everything packed inside this extraordinary subscription box. You can see which items come in the Standard and Deluxe boxes. I look forward to seeing what's in these boxes every month!
This is easily one of my favorite subscription boxes.  There is a nice variety of items which is something I definitely love about this box.  I'm looking forward to seeing what Lucha Loot has in store for the upcoming months!