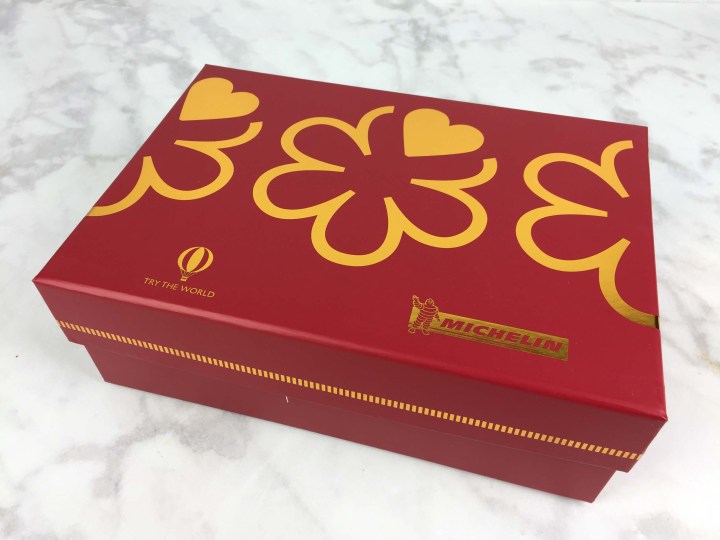 Try The World is a monthly international food subscription box – every month you'll get new treats and delicacies delivered from a new destination! Every Try The World box includes 7-10 artisanal food items, a card describing each product, and a culture guide & recipes! So far they have curated boxes from France, Japan, Brazil, Italy, Turkey, India, Thailand, and the UK with the most unique and authentic products you won't easily find where you live (they directly import many of the products featured in their boxes). Every box includes $60+ of delicious food from a different country. Boxes are $39 – lower with longer subscriptions!
This is the review of the Try The World Michelin Limited Edition Box coming out this November for only $39.  The selections are curated by Chef Thomas Raquel of Le Bernardin, a New York City Three Michelin Star restaurant. Michelin stars are highly coveted – earning three Michelin Stars is NOT equivalent to a movie earning three stars – it's more like earning three Emmys!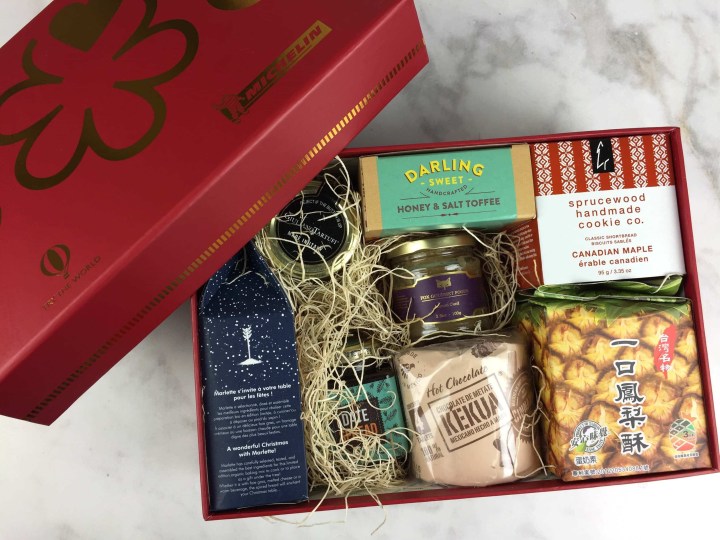 DEAL: Save 15% off all subscriptions and gift orders with coupon code  HELLOSUBSCRIPTION15. Or, get a bonus box free with your first month – just use this link!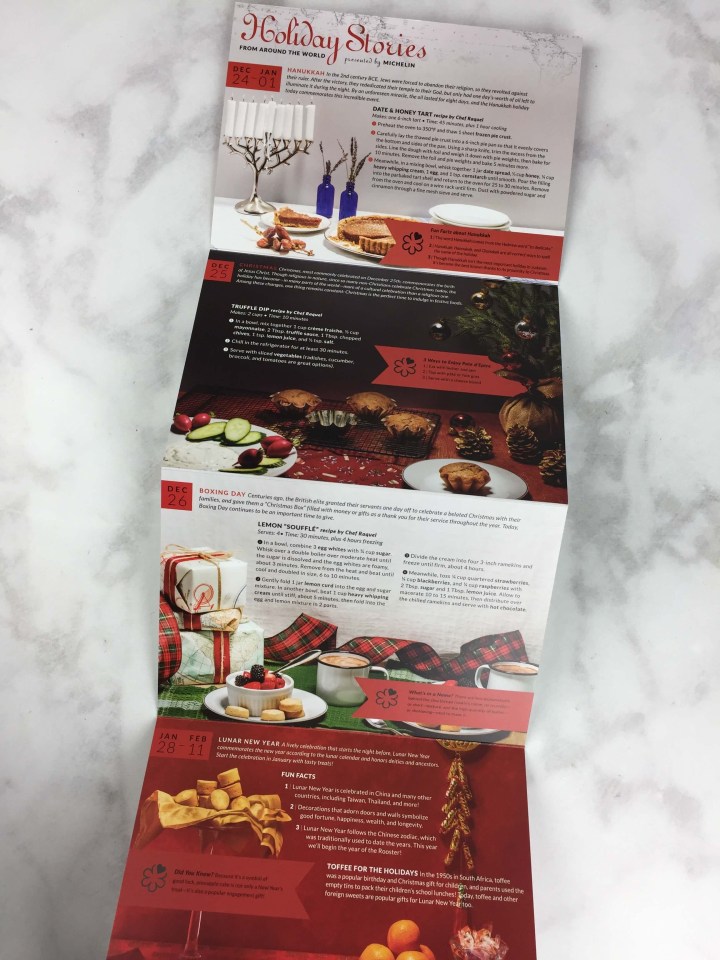 The card illustrates different Holidays around the world — this truly a "Holiday" box and not just a Christmas box by another name.
The product card provides a key identifying items which are All-Natural or Organic, Traditional Recipe, Family Business, Sustainably Grown, and/or Supports Local Community. There is also a story behind each item in the box.
On the reverse of the card (pictured above), are recipes you can make using the items from the box. The card has recipes for the lemon curd, truffle sauce, and date spread, with even more available on their website.
Giuliano Tartufi Truffle Sauce – Italy ($6.60): This sauce contains 1% summer truffle, sprinkled among mushrooms, olive and sunflower oils, and black olives. It is a wonderful, classy addition to a cheese or charcuterie platter, or as a topper for crostini or pasta.
Fox Gourmet Lemon Curd – United Kingdom (estimate at $5): This tangy, custard-like preserve is traditionally served at tea, but it is equally delicious as a breakfast spread or dessert topper. Fox Gourmet makes their version the traditional way, incorporating eggs and cooking the curd in an open pan.
Each has a nice texture. The truffle sauce is flaked for easy use as a tapenade, and the lemon curd is very thick and creamy.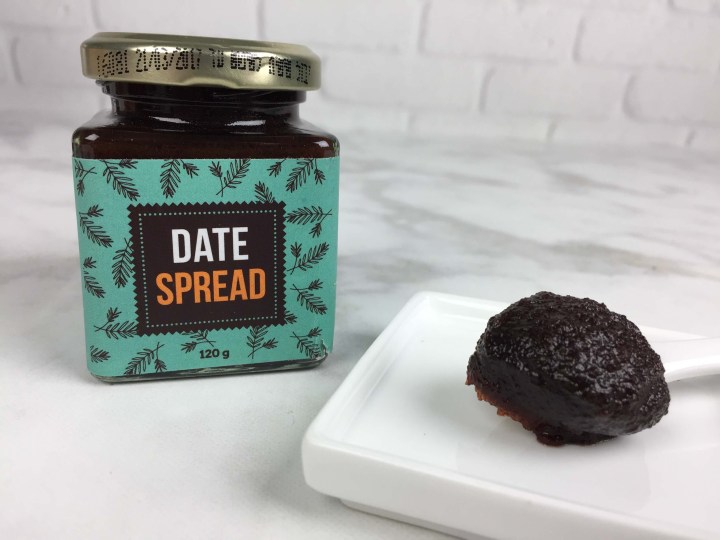 Yoffi Date Spread – Israel ($5.69): This spread is very thick, almost like a guava or quince paste.  It has a powerful date flavor that is really lovely, but it also isn't overly sweet. Great for spreading on baked goods or, due to the viscosity, using as a filling for baked treats.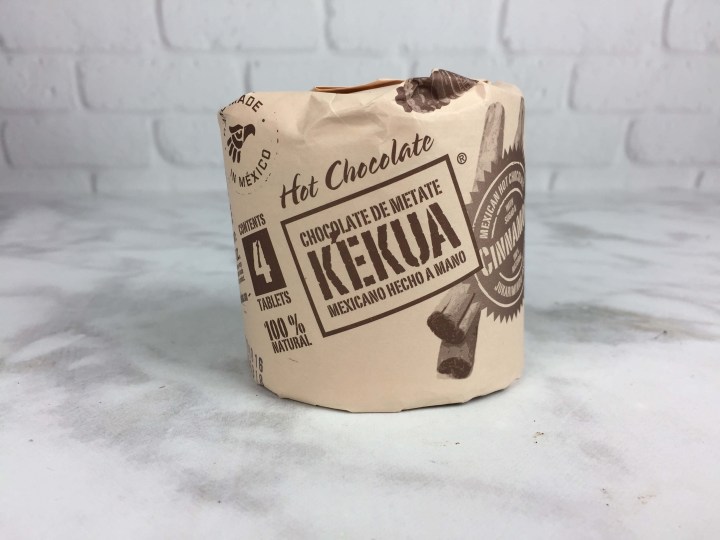 K'ekua Hot Chocolate Tablets – Mexico (estimate at $5): Authentic Mexican chocolate, made by hand and mixed with cinnamon and sugar.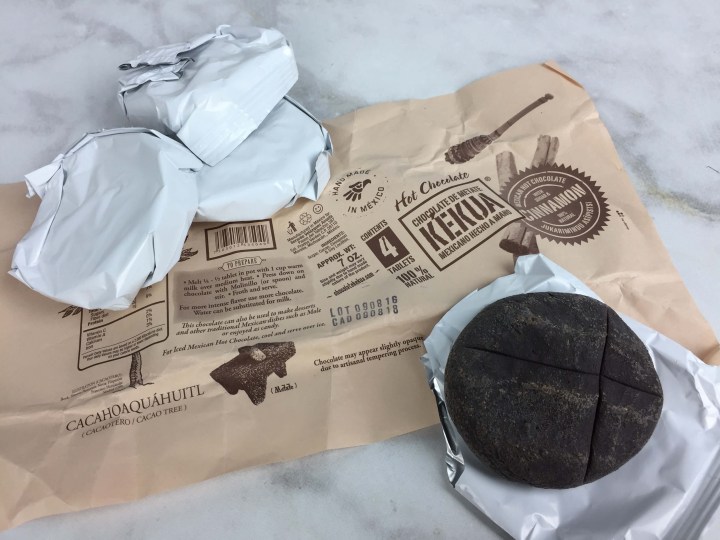 The chocolate is very rustic, with each patty showing the traditional processing through its shape and patina. The tablets are meant to be bathed in hot milk and muddled into a delicious drink.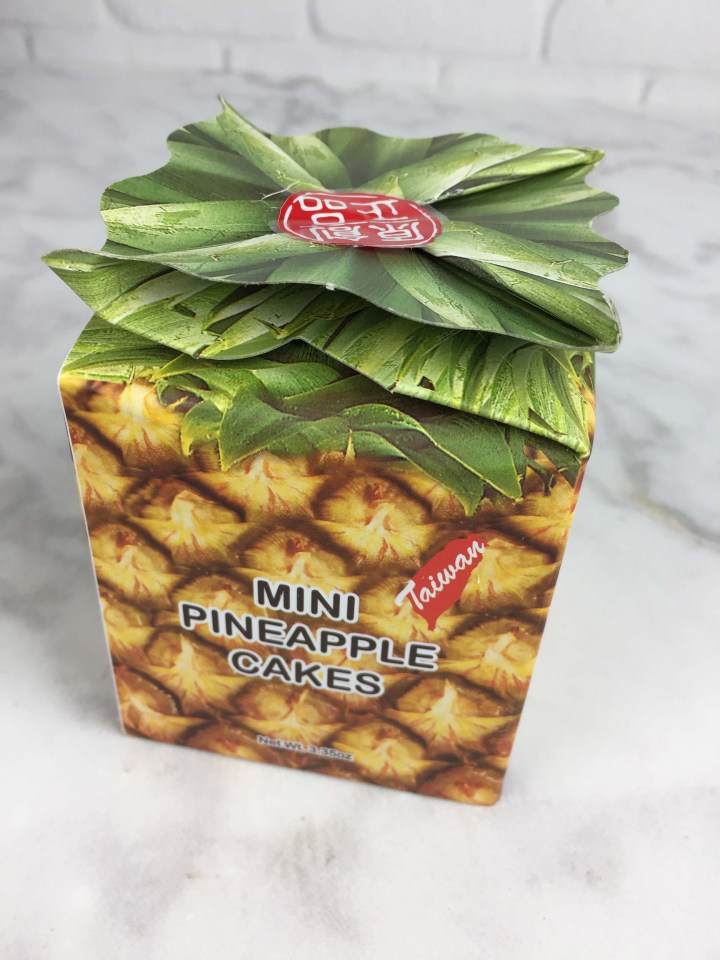 En Luen Pineapple Cake – Taiwan (estimate at $5): Authentic Taiwanese pineapple cakes, typically shared around the New Year. This mini version has a very gummy and jammy filling, with an unctuous and fairly dry pastry.
As a stand-alone pastry, these were OK, but they seemed like they would go really well with tea.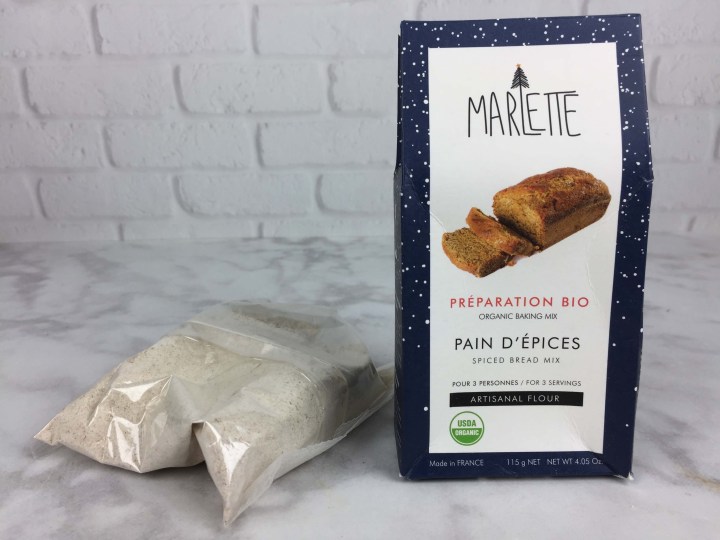 Marlette Pain D'Epices Baking Mix – France (approx. $7.56 US): An organic mix made with artisanal wheat and rye flours, lots of baking spice, and sea salt from the Isle of Re.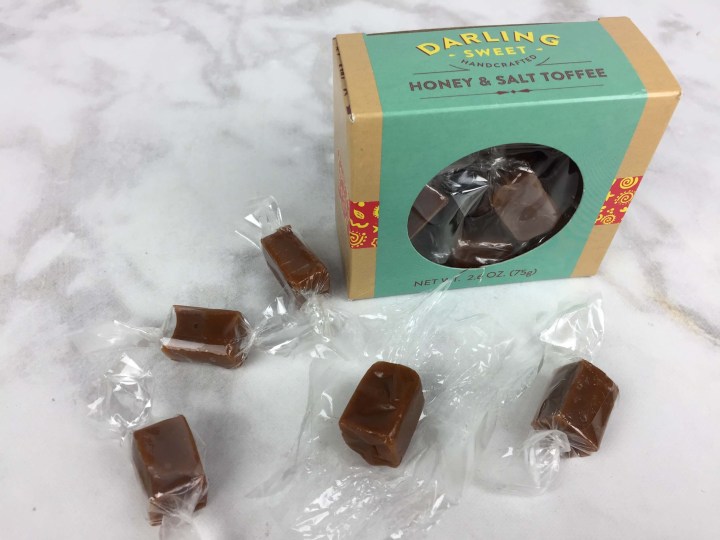 Darling Sweet Toffee – South Africa (approx. $3.84 US): These toffee are made with butter from the Town of Darling. The flavor of the honey really comes through, setting them apart from your typical caramel. They are chewy and very dense!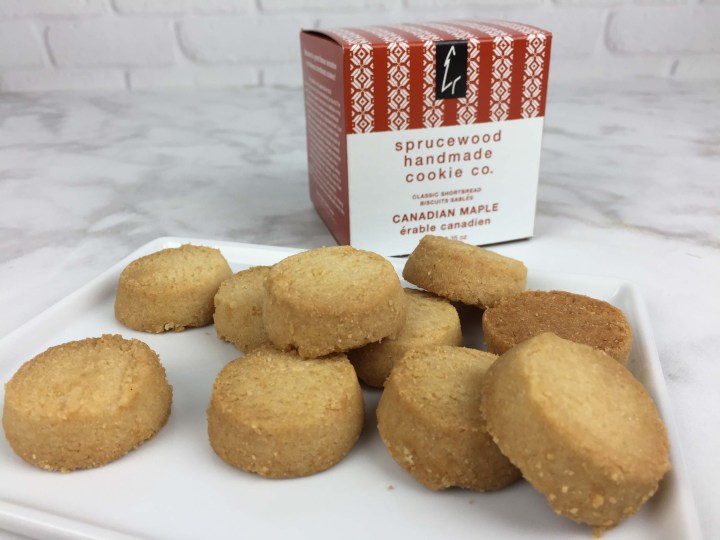 Sprucewood Handmade Cookie Co. Shortbread – Canada (approx. $5.86 US): These little gems have the nice, crisp texture you want in a shortbread cookie, but it is the flavor that truly stands out.  The lovely maple flavor taste like fancy grade syrup, very light, sweet, and clean.
I calculated the value of this box to be about $44.55 , though that includes ascribing a somewhat arbitrary value of $5 to several items that are only available in bulk, under negotiated pricing, direct from the manufacturer. The quality of the items is really great.  Every is made from super-premium ingredients.  Most Try The World boxes have an even mix of ready to eat items and artisan ingredients to incorporate into your own dishes or the provided recipes.  This box leaned more heavily to the ready-to-eat, with only one baking mix.  I loved the way the selections really clung to the traditional, sharing flavors that have long been associated with the Holiday season in the respective countries.