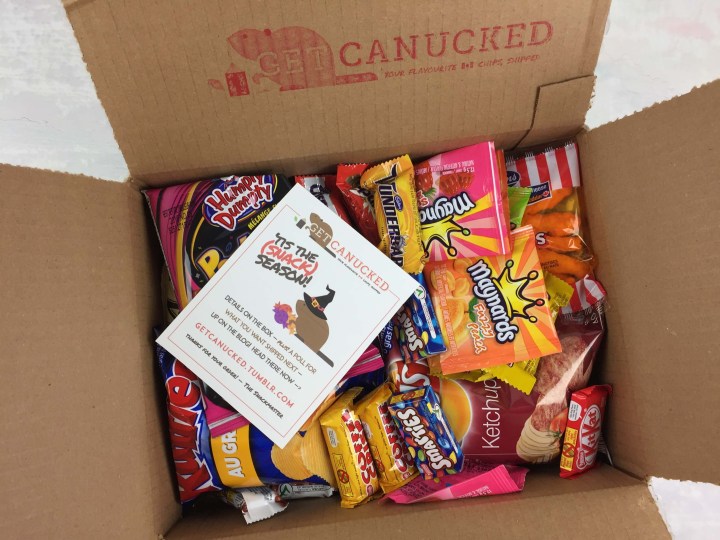 Get Canucked is a subscription box that brings you the best Canadian snacks every month right to your door. The subscription costs $25 per month to the US or Canada, $35 to the UK, and each box typically includes 5 bags of chips, 5 chocolate items, and a monthly bonus surprise!
The beaver themed insert won our favor immediately.
Everything in my October 2016 box! The box contains an impressive pile of snacks. The contents are evenly split between chips and candy bars. This box is designed for Canadian expats, as it features common favorites (you just can't get them this far south). To make it hilarious, we tried out the snacks here in the US, and Valerie has provided "colour commentary."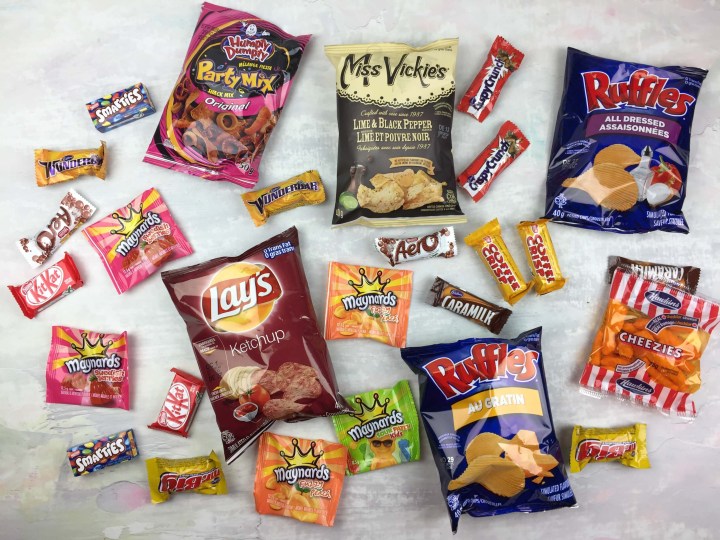 DEAL: Save 15% on your first box! Use coupon code  HELLO15.
Ruffles Au Gratin:  We have Ruffles in the states, but the Canadians get some special flavors of their own.  The Au Gratin is flavored like the dish of the same name – creamy and cheesy.  They are much like the cheddar and sour cream flavor we have down here, but with less sharpness to the cheese.
Ruffles All Dressed Assaisonnees:  These have a bit on onion, red pepper, vinegar, and.  They taste a bit like a combo of salt 'n vinegar and sour cream and onion flavors.
Lay's Ketchup Flavor:  I don't care for ketchup flavored chips as a rule, but these were very good!  The deep purple color was a bit unusual, but the taste was less sweet than domestic brands, with nice tomato flavor.
Hawkins Cheezies:  Very crispy, like the Planters crunchy Cheetos-things that come in the can.  I was expecting a strong cheese or even a buttery flavor, which is the dichotomy for these style snacks in the U.S., but I was very surprised — the strongest flavor note was that of a freshly fried doughnut!  The flavor was unmistakable, with the distinct deep-fried dough flavor.  Yum!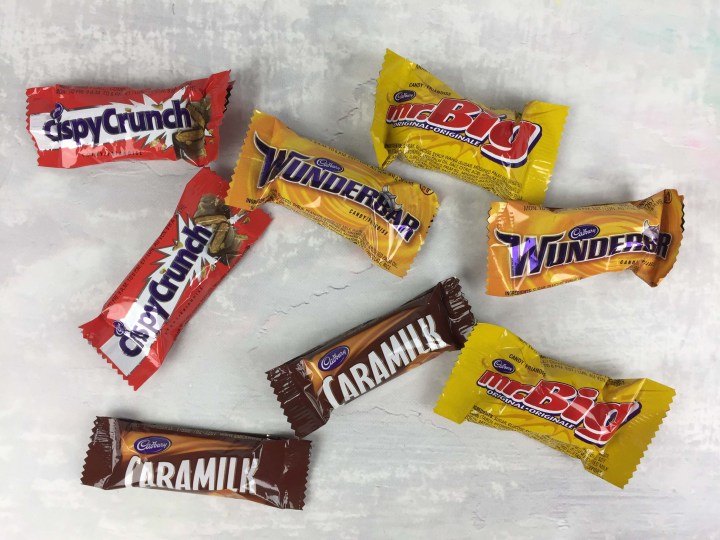 Cadbury Crispy Crunch: Crispy peanut flake covered in chocolate.
Cadbury Caramilk: Milk chocolate with a gooey caramel center.
Cadbury Mr. Big: This milk chocolate-coated bar has a vanilla wafer and vanilla creme center with a rivulet of caramel.  A very uncommon combo – It didn't seem to work in the fun size (I think they skimp on the caramel), but I thought this bar was one of my new favorites when I had previously tried a larger version of it — the ratios may differ in the small version of "Mr. Big."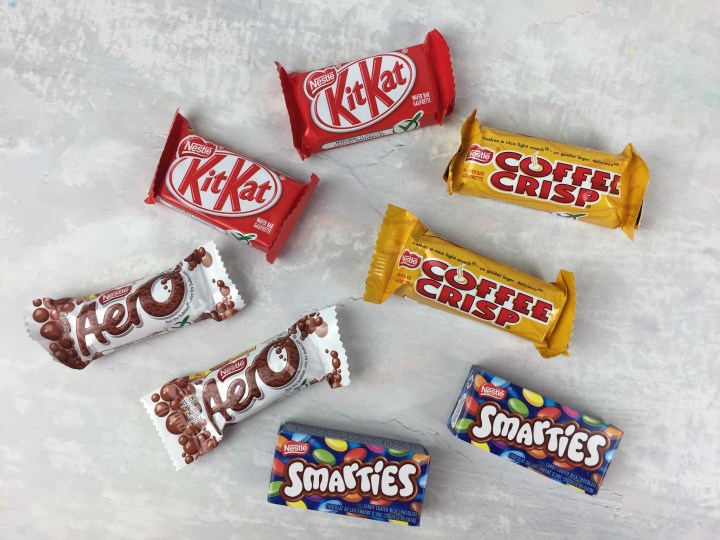 Cadbury Wunderbar: Really delicious! This bar has a bit of peanut flake mixed with caramel and crispy bits, all coated with a chocolate-type coating.
Nestle Aero: Bubbly and incredibly light air-engorged chocolate sealed within a chocolate coating.
Nestle Coffee Crisp: Coffee creme and wafer combo covered in chocolate.  Very vibrant coffee flavor, so the kids don't steal them!
Nestle Smarties: Not sweet and tangy hard candies – the Canadian version is like an unbranded M&M.
Nestle KitKat: Same as in the States.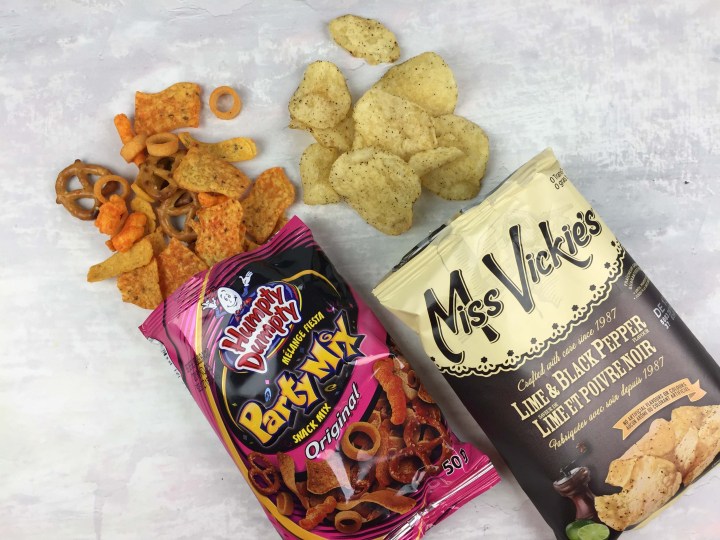 Humpty Dumpty Party Mix: Not too crazy about this one. The individual items were pretty good, but the mix didn't have much flavor and was mostly just dry – also not liking the calamari-looking rings, as they were dry and flavorless.
Miss Vicky Lime & Black Pepper Potato chips: We loved the salt & vinegar Miss Vickie's we got last time. These were also pretty good – very zesty and a tad spicy.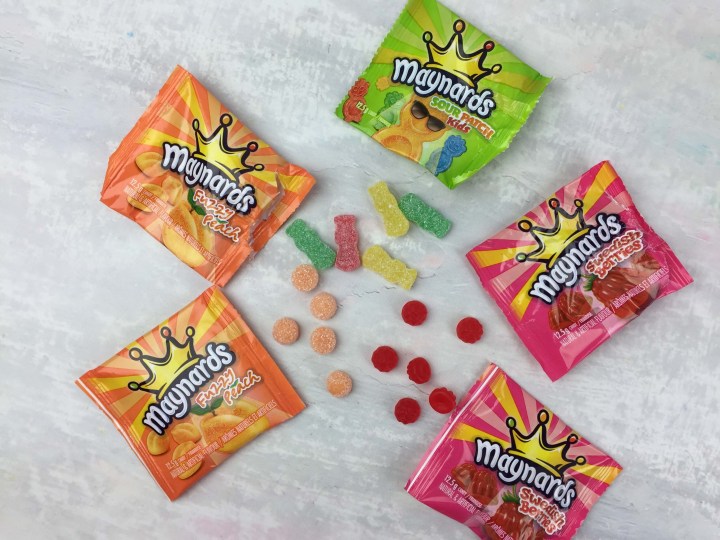 Maynards Fuzzy Peach: Sweet sugar-coated gummies with a nice peach flavor.
Maynards Sour Patch Kids: Just like the kind made by other brands, but not very intense with the sour.
Maynards Swedish Berries: Similar in composition to the Malaco/Mondelez version in composition. but less potent with the fruity tang.
We really like this box. They do a great job of selecting candy bars that aren't marketed in the U.S. (though a couple are available as an import bar). The chips are also chosen with care – though Lay's and Ruffles are popular in the U.S., they included Canada-specific flavor offerings. The even split between chips and bars also makes for really nice snacking! This box is great for Canadians wanting a taste of home, or for everyone else wanting to see what's up north!